Reactions to Brexit in Chinese (Social) Media
News of the United Kingdom leaving the European Union is fully dominating international headlines and has become the number one trending topic on Sina Weibo. As Brexit is now also making front-page news in China, What's on Weibo provides an overview of reactions to Brexit in Chinese (social) media
News of the United Kingdom leaving the European Union is fully dominating international headlines and has become the number one trending topic on Sina Weibo. As Brexit is now also making front-page news in China, What's on Weibo provides an overview of reactions to Brexit in Chinese (social) media.
Britain's vote to leave the EU is dominating the headlines worldwide. On June 24, 'Brexit' also made it to the number one spot of Weibo's trending topics list under the hashtag of 'Britain out of EU Referendum' (#英国脱欧公投#). For many Chinese media outlets and netizens, the outcome of the Brexit referendum shows the risks of democracy and populism.
"We're eyewitnesses to history."
"We've become eyewitnesses to history," Chinese netizens said ("我们竟然成为了历史的见证人"), with others already advising younger generations to remember this day: "Dear students, this will be an exam question. In which year, what month and what day did Britain leave the European Union?"
British prime minister Cameron announced that he would resign after the referendum outcome and that a new leader would be needed by October. That news was shared on Sina Weibo over 6050 times within twenty minutes after its release. "The UK is surely moving fast today," one Weibo netizen responded. Another commenter jokingly writes: "Cameron says: 'You stupid retards, I was just playing around and you fools took it seriously!'"
Other Chinese netizens also make fun of Cameron (卡姆伦), saying that by allowing this referendum over the UK's EU membership to take place, he has "crushed his foot while trying to move a rock" ("搬起石头砸自己的脚") – that he has fallen into the pit of his own digging. "You're not careful for a second, and before you know it you've made history," one netizen comments.
There are also netizens who seem to understand Britain's choice for leaving the EU: "It is like a husband and wife," one commenter says: "If you can go on, you stay together, but if you cannot go on, you get a divorce. Staying together would only intensify the conflict."
"Britain leaving the EU is a reflection of the ongoing global trend of populism."
On Tencent's opinion and commentary In Touch Today platform, Chinese author Xi Yinghong (奚应红) says Britain leaving the EU is a reflection of the ongoing trend of populism (民粹主义) that is currently spreading not only in Europe, but throughout the world. Xi writes that the division between those voting to "remain" and "exit" the EU can be crudely seen as a disagreement between the British (political) elite and the ordinary people, who seem to "speak a different language" on a variety of issues, "making communication difficult":
"While London's social elite is still loudly debating the negative implications of Brexit for UK economy, migration, and national sovereignty, the masses are more likely to be infected by these kinds of slogans: 'We want to control our own borders, formulate our own laws, and get our money back from Brussels.' Although they are talking about the same issues, the way they are expressed reflect a different psychological and emotional stage – and this difference is especially evident when it comes to the issue of immigration."
According to a Tencent opinion poll that accompanied the article, a majority of Tencent readers already expected Britain to leave the EU.
On the question: "Do you think populism is a dangerous global trend?", 35% of netizens indicated they do not perceive populism as a potential threat, whereas nearly 65% of participants do feel it is potentially dangerous.
One much-upvoted comment to the article says: "The issue of Britain leaving the EU is a very complicated one that involves political, economic, as well as diplomatic problems. It is an issue that should've been be left to the experts, not to ordinary people who do not have a fundamental understanding of economics and foreign diplomacy. Now the British need to bear the consequences of their choice."
"The democratic system will drag Britain through the mud."
Influential economic newspaper The Economic Observer (观察) made Brexit big front page news (featured image) today, with headlines saying: "Britain Leaves EU, Cameron Resigns". In the leader, journalist Li Lin (李晽) wonders "whether Cameron will be condemned by history in the UK and throughout Europe" for the outcome of the Brexit referendum, that could cause a "butterfly effect" (蝴蝶效应).
One reader comments: "Some people will be happy and some will be sad that UK is separating itself from Europe. Fact is that the democratic system will further drag Britain through the mud. It seems that a major reshuffle in the world is really about to begin now."
China's biggest newspaper The People's Daily (人民日报), the official news outlet of the Chinese Communist Party, did not make Brexit front page news. Instead, their headlines are all focused on the Shanghai Cooperation Organization (SCO, 海合作组织) in Tashkent, Uzbekistan, where Chinese president Xi Jinping met with Russian president Vladimir Putin.
The two presidents reportedly spoke about the promotion of the SCO in regional development and security. Apart from Russia and the PRC, the 2001-founded Shanghai Cooperation Organization currently has 6 other members, including Kazakhstan, Kyrgyzstan, Tajikistan, Uzbekistan, India and Pakistan. Putin and Xi also spoke about enhancing the Sino-Russian bilateral ties and their strategic partnership. Brexit was not part of their agenda meeting.
"This day will go into the history books as the moment that led to the collapse of the European Union."
Some media and netizens also discuss to what extent Brexit will influence China. According to the West Strait Morning Post (海西晨报), experts say the referendum's outcome will be positive for Chinese students studying abroad due to the devaluation of the pound. They also state that Britain's vote to leave the EU is expected to have a "limited impact" on the trade relations between China and Europe.
Many Chinese netizens follow the news about Europe with much interest. A post by the Chinese Wall Street Journal saying: "After Brexit, Dutch politician Geert Wilders has promised to organize a referendum about the Netherlands leaving the EU" has attracted much attention and was shared over 10,000 times within a couple of hours.
"First Britain leaves the EU, and then the Netherlands will follow. The EU is crying," a Weibo user says.
"I can understand it," one other commenter says: "Even countries like Turkey will enter the EU, and the Netherlands would not want that." "Muslim immigration has greatly contributed to countries leaving the EU," another netizen comments.
Overall, many netizens see Britain's vote to leave the EU as the beginning of a further disintegration of the EU. Apart from a potential referendum in the Netherlands, there are also many expecting a second independence referendum in Scotland. News and analysis outlet Caixin.com writes: "The UK decision will encourage the Netherlands, Denmark, Sweden, Austria and other countries to also leave the EU," reporting about a speech given by U.K. Independence Party leader Nigel Farage earlier today.
"I have an inkling that this day will go into the history books as the moment that led to the collapse of the European Union," one Weibo user concludes.
– By Manya Koetse
Follow @WhatsOnWeibo
[rp4wp]
©2016 Whatsonweibo. All rights reserved. Do not reproduce our content without permission – you can contact us at info@whatsonweibo.com.
Searching for Yue: Contact Tracing Information Exposes Sad Story Behind One Beijing Covid Case
Because Yue tested positive for Covid19, the entire country came to know the recent whereabouts of "the hardest-working man of China."
While being quarantined due to Covid19, he is going viral on Chinese social media. "The hardest-working Chinese man in contact tracing" has touched the hearts of many netizens, leading to public questions about the disappearance of his son – a story without a happy ending.
On January 18, one person tested positive for Covid19 in Chaoyang District, Beijing. That person, who was asymptomatic, was one of the three reported cases of Covid19 detected in the Chinese capital on Tuesday.
The patient's contact tracing records showed that from January 1st of this year to January 18, in a time frame of 18 days, he went to many districts in Beijing and worked odd jobs all around the clock at more than twenty different construction sites throughout the city. This earned him the title of "the hardest-working Chinese man in contact tracing" ("流调中最辛苦的中国人").
In China News Weekly (中国新闻周刊), reporter Chao Xiang (赵翔) interviewed the Chaoyang Covid patient and provided more information about him. That article, titled "A Conversation with the 'Hardest-Working Chinese in Contact Tracing Records'" ("对话"流调中最辛苦的中国人"") soon went viral on Chinese social media. (Pekingnology did a full translation on the article here).
Who is this hard-working and industrious man? It is the 44-year-old Mr. Yue, a migrant worker from Shandong's Weihai who rents a tiny room in Shigezhuang for 700 yuan ($110) per month. Just as he was about to start his train journey from Beijing South Station to go home to his wife and youngest son in Weihai, anti-epidemic workers alerted him that he had tested positive for Covid19 and got him off the train.
While was immediately quarantined at a designated hospital in Beijing, his recent movements and personal story soon became a major item of discussion on WeChat and Weibo after a press conference and media release detailed his recent whereabouts (#北京朝阳无症状感染者轨迹公布#).
Although Yue formerly worked as a sailor, he is now a manual laborer in construction in Beijing. He started working in the city in search of his eldest son, who went missing at the age of 19 and who previously worked as a kitchen helper in Beijing.
Yue's son, Yue Yuetong (岳跃仝), allegedly complained about a stomach ache when he was working at a food factory in Rongcheng, Weihai, in the summer of 2020. He was supposed to take a bus home, but he never got on that bus and never returned home again. Besides Beijing and Rongcheng, Mr. Yue went to a least ten other cities looking for his son, always believing that he could not have gone very far and that it was possible to find him.
Authorities allegedly were not very helpful in setting up a thorough search for the then 19-year-old. Yue told China News Weekly that it took weeks before the family could officially register Yue Yuetong as a missing person. Mr. Yue also claimed that the police did not trace his phone records and video surveillance in the initial days after he went missing due to privacy reasons.
Yue tells China News Weekly (translation by Pekingnology):
"I also asked in the hospital morgues. On October 12th, 2021, they [not clear who] saw me were petitioning, and told me that a corpse was of my eldest son, and asked me to go to Rongcheng Second Hospital to identify the corpse. I saw that man, whose face was hard to see but fat and round. My son is 1.74 meters tall, thin, and has a long face. I don't think that was my son. I asked to test the bones of the body, but they weren't willing to do that. They initially said the test would be done at Weihai Public Security Bureau which would take dozens of days. Later, it was said that the forensic doctor was on a business trip. After half a month, they/he [unclear] called me and said don't bother them/him anymore.
My wife couldn't stop crying when she heard that our eldest son was dead. I don't believe that corpse was my son.
When this dead body was first discovered, I asked the police station, and they said it was not my eldest son. As soon as I began petitioning, they said it was my eldest son in order to close the case."
All the money Yue earns has gone towards the search for his son and towards his parents who suffer from multiple health problems. The medicine and medical costs for his bedridden paralyzed father and for his mother, who recently broke her arm, are not covered by insurance and Yue does all he can to cover these for them. His wife makes a meager income and his youngest son, who is only 12, is attending junior high school.
Despite his tough life, Yue told China News Weekly he does not feel sorry for himself.
There are multiple reasons why Yue's story struck a chord with Chinese netizens. One of the reasons is that although his story stands out, he is not the only one facing such difficulties in China today. In that regard, the responses to Yue's story bear some resemblance to the reactions dominating social media after the publications of the essay by Fan Yusu, a female migrant worker living in Beijing.
Her story about her life and struggles with work, marriage and family became a viral hit in 2017 (read more here). At the time, commenters wrote "We are all Fan Yusu," suggesting that Fan's account was just one voice among thousands of migrant workers dealing with similar problems and struggles.
"Yue is not the only hard-working Chinese person," one commenter wrote, with another person writing: "I might work even more than him."
Numerous netizens said Yue's story made them tear up due to his dignity and resilience, something that many people admire him for – especially at a time of Covid19.
There were also many who hoped that Yue, who received so much attention over his peculiar contact tracing records, could use his sudden, unexpected fame to his advantage to get the help of the public and police to finally find his son. The calls to conduct a massive search for Yue's son also came with criticism for how the case was apparently handled by authorities back in 2020 and 2021.
The hashtag "Yue Yuetong Come Home" (#岳跃仝请回家#) soon went trending on Chinese social media, together with the hashtag "The Internet Helps Searching for Yue Yuetong" (#全网帮忙寻找岳跃仝#).
Meanwhile, the police in Rongcheng responded to the public's questions and comments on January 20th, saying they would re-investigate to "understand" the case.
On January 21st, Weihai authorities issued a statement regarding the story. The statement explains that the Rongcheng City Public Security Bureau was notified on the evening of August 12 of 2020 by Li, Yue's wife, that her son had gone missing earlier that day after he left work.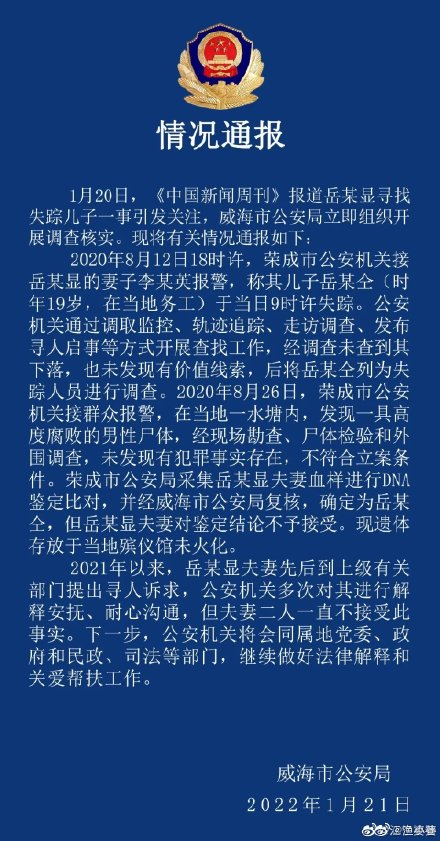 The police claim that their team investigated the case and tracked Yue Yuetong's last known movements and retrieved surveillance details. After their search efforts did not result in any leads, they classified Yuetong as a missing person.
On August 26 of 2020, two weeks after Yue Yueyong went missing, the Rongcheng authorities learned of a deceased person and found a man's body. After his DNA was compared to the DNA from Yuetong's parents, the authorities confirmed that the remains belonged to Yue Yuetong. They also said there were no suspicious circumstances surrounding his death.
According to the statement, Yue Yuetong's parents refused to believe that the deceased man was their son. Despite repeated attempts made by the local police to communicate to the family that their ongoing requests to find their missing son were in vain, the family did not want to accept the facts. The remains have been transferred to a funeral home.
One Weibo commenter wrote: "So to summarize this, they already knew their son was dead around ten days after he went missing, but they could not accept it and traveled the entire country to look for him…I'm speechless. What a tragedy."
"So, their son was actually already gone two years ago.. but they couldn't identify him because he'd bee in the water and the parents did not want to believe it despite the DNA results. They kept searching for two year. How sad!"
Other people criticized the police for not apologizing to the family about the circumstances surrounding the investigation into their son's disappearance, and also express their hope that Mr. Yue can receive psychological help at the Beijing hospital where he is still being treated for Covid.
Ironically, it was his bad luck of catching Covid19 and his remarkable contact tracing records that triggered the public's interest and finally put an end to the long and costly search for his son.
Despite the official statement, there are still lingering questions left unanswered. Why did the police allow Mr. Yue and his wife to continue searching for their son for so long if they already knew he was dead? Why was Mr. Yue so convinced that the body that was found was not his son? How and why did Yue Yuetong die? Many of these questions might never be answered. One thing that the majority of those discussing this topic agree on is that they wish Mr. Yue a speedy recovery, hoping that he will be able to find some peace of mind after struggling for so long.
By Manya Koetse, with contributions by Miranda Barnes
Spotted a mistake or want to add something? Please let us know in comments below or email us. First-time commenters, please be patient – we will have to manually approve your comment before it appears.
©2022 Whatsonweibo. All rights reserved. Do not reproduce our content without permission – you can contact us at info@whatsonweibo.com.
Dutch Olympic Committee Warns Athletes Not To Bring Phones to China, Hu Xijin: "They've Watched Too Many Movies"
"These people are participating in the Winter Olympics as if they're entering a cave with wolves and tigers."
News about Dutch Olympic athletes being advised by the country's Olympic Committee not to bring their own smartphone or laptops to the Winter Olympics in China has become a much-discussed topic on Chinese social media.
On January 11, Dutch newspaper De Volkskrant reported that NOCNSF, the umbrella organisation for sports in the Netherlands, issued a warning to partipating Dutch athletes that they should not bring their personal smartphones, tablets, or laptops with them to the Beijing Olympics to avoid Chinese espionage.
NOCNSF spokesman Geert Slot said cybersecurity was part of the risk assessment made but declined to further comment on specific measures. In the article, the advice is described as a "precautionary move" related to concerns over potential cybersecurity safety issues in China.
The Dutch CEO of security company Zerocopter, Erik Ploegmakers, calls the move a "very wise" one, referring to the difficulties of using a VPN within China and mentioning how all online traffic would flow via Chinese internet infrastructure, saying that "China is able to view and manipulate all internet traffic, 'so you basically carry your past information with you,' including old messages, training schedules, medical data, contact details, and photos."
On Chinese social media site Weibo, Global Times commentator Hu Xijin (@胡锡进) commented on the Dutch 'precautions.' Until recently, Hu was also the editor-in-chief and party secretary of the state media outlet, and he has over 24 million followers on his Weibo account. He writes:
"According to Dutch media reports, the Dutch Olympic Committee has called on Dutch athletes participating in next month's Winter Olympics in Beijing to leave their mobile phones and laptops at home to avoid having their personal information intercepted by Chinese surveillance systems. Last month, the Australian newsgroup quoted a Canberra security expert as saying foreign athletes' movements and communication in China would all be monitored around the clock.
This cracks me up. These people are participating in the Winter Olympics as if they're entering a cave with wolves and tigers. They've watched too many movies. Is this is how they look at China, which the IOC entrusted to serve athletes from all around the world? They must think they're all that. Athletes are just common people once they're off the field, what kind of intelligence value do they have? Even if a western athlete wanted to 'defect' and would shout out "I have information for you!", the Chinese would probably still ask them to leave.
This entire issue reflects the degree to which Western public opinion has demonized China. It has eroded people's common sense. How can China have the manpower and resources to build such a gigantic surveillance system? To do what? Western people are looking at China through an American lens. The Winter Olympics are mirroring the ghostly appearance of some Western extremist powers.
Ordinary Chinese people have a good impression of the Netherlands and welcome Dutch athletes to Beijing. The extremists should stop pouring cold water over the warm mutual friendship between the Dutch and Chinese people."
Hu's post received over 7000 likes and hundreds of comments.
"Do people from around the world think we're like North Korea or something?" one person responded. Another commenter wrote: "They'd better not come. All of our snowflakes are equipped with small 5G chips, they will be monitored as long as they participate, it's mainly to see if they'll pick up things to eat from the floor, to see what they do when it rains, and to check if their urine and stool is showing any irregularities and stuff."
In other Weibo posts, users said: "I wonder what the Dutch and the Belgian people have to hide?"
The Belgian Interfederal Olympic Committee has also recommended that all Belgian athletes traveling to the Beijing Olympics leave personal laptops and smartphones at home.
The nationalistic blogger GuyanMuchan (@孤烟暮蝉), who has over 6 million Weibo fans, also responded to the issue, writing: "Ridiculous, this is just shameless. As an athlete, what kind of classified information do you have that China would steal from you? Are you all spies with a second identity?"
This is not the first time Dutch people are advised not to bring their regular smartphones or laptops with them to China. In 2018, before a Cabinet delegation went on a trade mission to China, the Dutch Ministry of Foreign affairs also advised travelers to only bring devices without personal data to China. The same advice was also issued for those traveling to Russia, Iran, or Turkey.
By Manya Koetse
With contributions by Miranda Barnes.
Spotted a mistake or want to add something? Please let us know in comments below or email us. First-time commenters, please be patient – we will have to manually approve your comment before it appears.
©2021 Whatsonweibo. All rights reserved. Do not reproduce our content without permission – you can contact us at info@whatsonweibo.com.