Reactions to Brexit in Chinese (Social) Media
News of the United Kingdom leaving the European Union is fully dominating international headlines and has become the number one trending topic on Sina Weibo. As Brexit is now also making front-page news in China, What's on Weibo provides an overview of reactions to Brexit in Chinese (social) media
News of the United Kingdom leaving the European Union is fully dominating international headlines and has become the number one trending topic on Sina Weibo. As Brexit is now also making front-page news in China, What's on Weibo provides an overview of reactions to Brexit in Chinese (social) media.
Britain's vote to leave the EU is dominating the headlines worldwide. On June 24, 'Brexit' also made it to the number one spot of Weibo's trending topics list under the hashtag of 'Britain out of EU Referendum' (#英国脱欧公投#). For many Chinese media outlets and netizens, the outcome of the Brexit referendum shows the risks of democracy and populism.
"We're eyewitnesses to history."
"We've become eyewitnesses to history," Chinese netizens said ("我们竟然成为了历史的见证人"), with others already advising younger generations to remember this day: "Dear students, this will be an exam question. In which year, what month and what day did Britain leave the European Union?"
British prime minister Cameron announced that he would resign after the referendum outcome and that a new leader would be needed by October. That news was shared on Sina Weibo over 6050 times within twenty minutes after its release. "The UK is surely moving fast today," one Weibo netizen responded. Another commenter jokingly writes: "Cameron says: 'You stupid retards, I was just playing around and you fools took it seriously!'"
Other Chinese netizens also make fun of Cameron (卡姆伦), saying that by allowing this referendum over the UK's EU membership to take place, he has "crushed his foot while trying to move a rock" ("搬起石头砸自己的脚") – that he has fallen into the pit of his own digging. "You're not careful for a second, and before you know it you've made history," one netizen comments.
There are also netizens who seem to understand Britain's choice for leaving the EU: "It is like a husband and wife," one commenter says: "If you can go on, you stay together, but if you cannot go on, you get a divorce. Staying together would only intensify the conflict."
"Britain leaving the EU is a reflection of the ongoing global trend of populism."
On Tencent's opinion and commentary In Touch Today platform, Chinese author Xi Yinghong (奚应红) says Britain leaving the EU is a reflection of the ongoing trend of populism (民粹主义) that is currently spreading not only in Europe, but throughout the world. Xi writes that the division between those voting to "remain" and "exit" the EU can be crudely seen as a disagreement between the British (political) elite and the ordinary people, who seem to "speak a different language" on a variety of issues, "making communication difficult":
"While London's social elite is still loudly debating the negative implications of Brexit for UK economy, migration, and national sovereignty, the masses are more likely to be infected by these kinds of slogans: 'We want to control our own borders, formulate our own laws, and get our money back from Brussels.' Although they are talking about the same issues, the way they are expressed reflect a different psychological and emotional stage – and this difference is especially evident when it comes to the issue of immigration."
According to a Tencent opinion poll that accompanied the article, a majority of Tencent readers already expected Britain to leave the EU.
On the question: "Do you think populism is a dangerous global trend?", 35% of netizens indicated they do not perceive populism as a potential threat, whereas nearly 65% of participants do feel it is potentially dangerous.
One much-upvoted comment to the article says: "The issue of Britain leaving the EU is a very complicated one that involves political, economic, as well as diplomatic problems. It is an issue that should've been be left to the experts, not to ordinary people who do not have a fundamental understanding of economics and foreign diplomacy. Now the British need to bear the consequences of their choice."
"The democratic system will drag Britain through the mud."
Influential economic newspaper The Economic Observer (观察) made Brexit big front page news (featured image) today, with headlines saying: "Britain Leaves EU, Cameron Resigns". In the leader, journalist Li Lin (李晽) wonders "whether Cameron will be condemned by history in the UK and throughout Europe" for the outcome of the Brexit referendum, that could cause a "butterfly effect" (蝴蝶效应).
One reader comments: "Some people will be happy and some will be sad that UK is separating itself from Europe. Fact is that the democratic system will further drag Britain through the mud. It seems that a major reshuffle in the world is really about to begin now."
China's biggest newspaper The People's Daily (人民日报), the official news outlet of the Chinese Communist Party, did not make Brexit front page news. Instead, their headlines are all focused on the Shanghai Cooperation Organization (SCO, 海合作组织) in Tashkent, Uzbekistan, where Chinese president Xi Jinping met with Russian president Vladimir Putin.
The two presidents reportedly spoke about the promotion of the SCO in regional development and security. Apart from Russia and the PRC, the 2001-founded Shanghai Cooperation Organization currently has 6 other members, including Kazakhstan, Kyrgyzstan, Tajikistan, Uzbekistan, India and Pakistan. Putin and Xi also spoke about enhancing the Sino-Russian bilateral ties and their strategic partnership. Brexit was not part of their agenda meeting.
"This day will go into the history books as the moment that led to the collapse of the European Union."
Some media and netizens also discuss to what extent Brexit will influence China. According to the West Strait Morning Post (海西晨报), experts say the referendum's outcome will be positive for Chinese students studying abroad due to the devaluation of the pound. They also state that Britain's vote to leave the EU is expected to have a "limited impact" on the trade relations between China and Europe.
Many Chinese netizens follow the news about Europe with much interest. A post by the Chinese Wall Street Journal saying: "After Brexit, Dutch politician Geert Wilders has promised to organize a referendum about the Netherlands leaving the EU" has attracted much attention and was shared over 10,000 times within a couple of hours.
"First Britain leaves the EU, and then the Netherlands will follow. The EU is crying," a Weibo user says.
"I can understand it," one other commenter says: "Even countries like Turkey will enter the EU, and the Netherlands would not want that." "Muslim immigration has greatly contributed to countries leaving the EU," another netizen comments.
Overall, many netizens see Britain's vote to leave the EU as the beginning of a further disintegration of the EU. Apart from a potential referendum in the Netherlands, there are also many expecting a second independence referendum in Scotland. News and analysis outlet Caixin.com writes: "The UK decision will encourage the Netherlands, Denmark, Sweden, Austria and other countries to also leave the EU," reporting about a speech given by U.K. Independence Party leader Nigel Farage earlier today.
"I have an inkling that this day will go into the history books as the moment that led to the collapse of the European Union," one Weibo user concludes.
– By Manya Koetse
Follow @WhatsOnWeibo
[rp4wp]
©2016 Whatsonweibo. All rights reserved. Do not reproduce our content without permission – you can contact us at info@whatsonweibo.com.
From Hong Kong Protests to 'Bright Future' – The Top 3 Most Popular Posts on Weibo This Week
These are the most-read posts on Weibo this week.
The three most-read posts on Weibo over the past week – an overview by What's on Weibo.
The protests in Hong Kong have been dominating Chinese social media throughout August, and the past week has been no different. Two out of three most-read posts on Weibo, one of China's most popular social media platforms, were about Hong Kong this week.
A wrap-up:
#1 Hundreds of Hong Kong Taxi's Flying Chinese National Flag
While Hong Kong is gearing up for the 13th consecutive weekend of mass anti-government demonstrations, there are no signs of the protests fizzling out any time soon.
The Hong Kong protests started in March and April of this year against an extradition bill that would allow local authorities to detain and extradite people wanted in mainland China, and have intensified over the past weeks.
Although authorities in mainland China initially remained quiet on the topic, the Hong Kong demonstrations have been dominating the trending streams on China's popular social media platforms for all of August.
Through videos, online posters, and slogans, Chinese state media have propagated a clear narrative on the situation in Hong Kong; namely that a group of "separatists" or "bandits" are to blame for the riots that aim to "damage public security" in Hong Kong and are "dividing the nation."
News outlets such as People's Daily and CCTV are sharing many stories that emphasize the One China principle and praise the Hong Kong police force. Those voices in Hong Kong speaking up for the police force and condemning protesters using violence have been amplified in Chinese media.
One story that became the number one trending post on Weibo this week is that of dozens of Hong Kong taxi drivers hanging the Chinese national flag from their cars (video).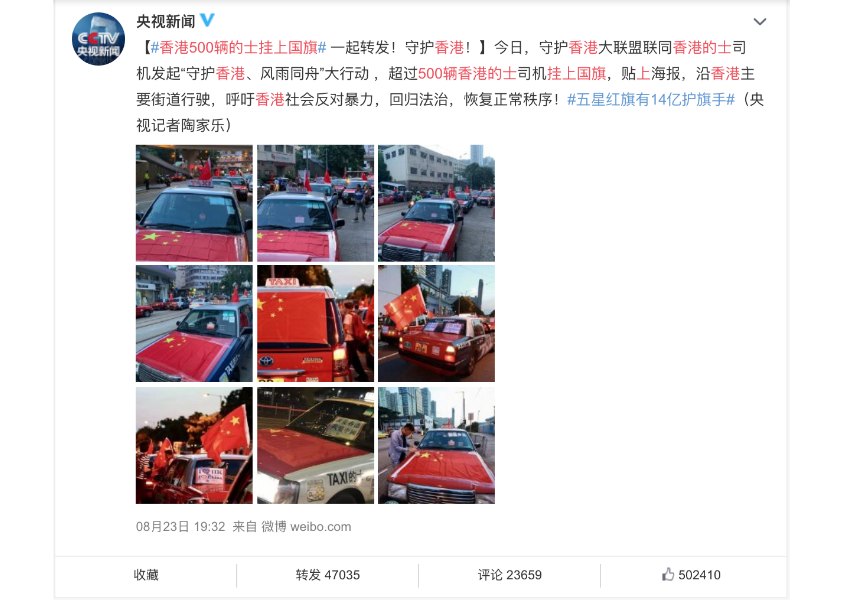 On August 23, the taxi drivers reportedly formed a rally against violence at Tsim Sha Tsui, waving the flags and putting up signs saying "I love HK, I love China."
The hashtag "500 Hong Kong Taxi's Hanging up Chinese National Flags" (#香港500辆的士挂上国旗#), hosted by CCTV, attracted over 700 million views on Weibo. The CCTV post reporting on the event received over half a million likes and 47000 shares.
The commenters mostly praise the Hong Kong taxi drivers for "standing up for Hong Kong" and flying the Chinese flag.
In English-language media, it has mostly been Chinese state media reporting on the rally. Xinhua, Women of China, ECNS, and Global Times all reported on the August 23 peace rally.
CNN only shortly reported how "a number of taxis have been spotted driving around the city displaying Chinese flags — something that has not happened on this scale during previous protests" (link).
#2 'Bright Future' Title Song for Upcoming Movie 'The Moon Remembers All'
Over 266.000 Weibo users have been sharing a post by Chinese actor Li Xian (李现) on the title track for the new Chinese movie The Moon Remembers All or River on a Spring Night (Chinese title: 春江花月夜).
The upcoming movie itself is a very popular topic on Weibo recently, attracting 430 million views on its hashtag page alone. The movie just finished shooting and will be released in 2020.
The song titled "Bright Future" (前程似锦) is sung by Taiwanese singer Chen Linong (陈立农) and Li Xian, who are both the leading actors in the fantasy movie. The song was released on August 29.
The Moon Remembers All is produced by Edko Films and directed by Song Haolin (宋灏霖), also known for Mr. Zhu's Summer (2017) and Fatal Love (2016).
#3 Interview with Hong Kong Pro-Beijing LegCo Member Junius Ho
The third most popular Weibo post of this week comes from Xia Kedao (侠客岛), a popular commentator account for the People's Daily Overseas Edition, and concerns a live broadcasted interview with Hong Kong lawmaker and Legislative Council (LegCo) member Junius Kwan-yiu Ho.
Junius Ho (何君尧) is known as being 'pro-Beijing' and stirred controversy earlier this summer when a viral video showed him shaking hands with men wearing white T-shirts who allegedly were linked to the mob attacking people at the Yuen Long MTR station on July 21.
Xia Kedao describes Junius Ho as a "straightforward" politician who "speaks out for justice" and denounces "reactionaries."
In the August 28 interview, that was live-streamed on Sina Weibo and later also written up, the Hong Kong legislator discussed the background of the protests.
Ho argues that the people with "ulterior motives" used the extradition bill for their own power struggle, distorting and exaggerating the facts behind the regulation.
The politician also partly links the protests to a "weak national consciousness" in Hong Kong due to its education curriculum and says that there have not been enough legal consequences for those participating in illegal activities and riots.
Thousands of commenters on Weibo write that they appreciate Ho for speaking out against the "pro-independence riot youth" and praise him for his "deep understanding" of mainland China.
By now, Junius Ho, who is also active on Weibo with his own account, has gathered more than half a million fans on his page.
By Manya Koetse
Follow @whatsonweibo
Spotted a mistake or want to add something? Please let us know in comments below or email us. Please note that your comment below will need to be manually approved if you're a first-time poster here.
©2019 Whatsonweibo. All rights reserved. Do not reproduce our content without permission – you can contact us at info@whatsonweibo.com
CCTV Launches Dramatic Propaganda Video Condemning Hong Kong Protests, Praising HK Police Force
This CCTV video leaves no doubt about what narrative on the Hong Kong protests it's trying to convey.
This week, while the protests in Hong Kong were intensifying, Chinese state broadcaster CCTV published a video on its social media channels in support of the Hong Kong Police Force. The hashtag used with the video is "HK Police, We Support You!" (香港警察我们挺你#).
"Evil will not press [us] down! A Sir [HK Officers], 1.4 billion compatriots support you!" is the sentence used to promote the video.
The video was initially issued by Xiaoyang Video (小央视频), CCTV's short video platform, on August 13. There is a Cantonese and a Mandarin version of the same video, which is spread on various channels from Weibo to Bilibili, from YouTube to iQiyi.
"Hong Kong is not a place you can do whatever you please with" is the other message promoted in the video, that uses words such as "terrorists" and "bandits" to describe the Hong Kong protesters.
The sentence that Hong Kong is not a place "to do whatever you like with" ("香港,不是你们为所欲为的地方") comes from one of the movie scenes incorporated in the video (Hong Kong movie Cold War 2 / 寒战2).
The video is a compilation of footage using TV dramas and movies combined with actual footage from the recent protests.
By using spectacular images and dramatic film scenes, the video conveys a dramatic narrative on the Hong Kong protests, clearly portraying the Police Force as the good guys fighting against evil.
As the video is being liked and shared by thousands of web users on various platform, one popular comment on video platform Bilibili says: "No matter whether it's a natural disaster, or a man-made disaster, we can overcome this."
Some of the footage used in this video comes from Firestorm, a 2013 Hong Kong action film (the first 3D Hong Kong police action film). Hong Kong police thriller films Cold War and its sequel are also used, along with Hong film The White Storm (2013), Shock Wave (2017), Tactical Unit: Comrades in Arms (2009), Kill Zone (2005), crime drama Line Walker, L Storm (2018), Project Gutenberg (2018), The Menu (2015), and Chasing the Dragon and its sequal (2017/2019).
All of the fictional segments are from made-in-Hong Kong productions.
Watch the propaganda video here.
By Manya Koetse
Follow @whatsonweibo
Spotted a mistake or want to add something? Please let us know in comments below or email us. Please note that your comment below will need to be manually approved if you're a first-time poster here.
©2019 Whatsonweibo. All rights reserved. Do not reproduce our content without permission – you can contact us at info@whatsonweibo.com