10 State Media Cartoons on China's Social Credit Implementation
This is how state media propagate the Social Credit System.
First published
Chinese state media roughly illustrate the country's much-discussed Social Credit implementation in two ways; as punishing individuals and bringing harmony to the collective.
The growing importance of China's Social Credit implementation is a hot topic in the media – both in- and outside of China.
Ever since the Chinese government announced its first plans in 2014 on the construction of a nationwide Social Credit System to be rolled out by 2020, media coverage on the issue has seemingly been growing month on month.
According to the official government website, the system (or policy) is meant to "assess individuals and government agencies on areas ranging from tax payment and local government bonds to judicial credibility," and focuses on credit in the areas of (1) administrative affairs, (2) commercial activities, (3) social behavior, and (4) the judicial system.
Part of the Social Credit plan is the implementation of blacklist systems that punish the "untrustworthy" behavior of companies or individuals through various measures. Already in 2013, China's Supreme Court launched its online publicly available 'blacklist' with the names of people that have an effective court order against them.
In 2017, there were more than a hundred regions in China where local governments worked with blacklists. Earlier this year, Chinese media published reports claiming that more than 9,5 million people were blacklisted nationwide in 2017. Those on these lists could face a hold on their loans or travel bans, and will have to deal with a range of other restrictions in their daily lives until they comply with court orders.
In foreign media, the system has been called "Black Mirror-like" or "Orwellian," while Chinese state media generally emphasize "innovation" and "harmony" when discussing these new implementations.
The cartoons that are published together with news reports on social credit also clearly show the big differences in how the social credit implementation is perceived in foreign media versus in Chinese media.
Below, on the left, is Financial Times' Ingram Pinn's illustration which was featured in a 2018 article  discussing both private credit scores (e.g. Sesame Credit) and the national social credit implementation (for the difference between them, please see our "Open Sesame" article). On the right is a cartoon by state media outlet Xinhua – the same illustration is regularly posted across dozens of news sites when featuring social credit-related stories.

While the cartoon on the left illustrates people as carrying the heavy burden of their 'credit score' (note that only commercial programmes such as Sesame Credit actually have these scores), the cartoon on the right shows the social credit as flying over a group of cheering people.
In general, the illustrations on Social Credit in Chinese state media roughly present China's nascent Social Credit implementation in two ways; (1) as punishing individuals for bad behavior and (2) as benefiting the collective, which builds on a more harmonious society together.
This cartoon above was used in a local government post about social credit and shows people dressed as construction workers literally 'building' on the characters for 'honest' and 'trustworthy' (诚信).
The idea of literally 'building' on a Social Credit System together is also illustrated in other cartoons used by Chinese state media, such as the one above by Xinhua that shows a person waving a flag that says "construction," standing in front of a number of blocks that form the term "personal integrity system" (个人诚信体系).
The applauding and cheering keeps coming back in other cartoons, such as the one above that is published across multiple news platforms. The characters in the flying heart say "chéngxìn" (诚信) , meaning 'integrity.'
Besides the illustrations propagating the benefits of the Social Credit system for the collective, there are also many which emphasize the downsides for individuals who get blacklisted. This illustration, published on on the Economic Weekly zhonghongwang.com, shows a person on the left that has a heart on his chest saying 'keeping trust' (or: 'trustworthy'), and the text above his head says "I can go anywhere" (路路通). The person on the left has a 'lose trust' black heart on his chest; this 'blacklisted' individual sees "limits" on all the signs around him and the cloud text above his head says: "I'm blocked everywhere" (处处受限).
This illustration published on Party newspaper People's Daily shows an individual being punished through a pillory which has the term for "blacklisted person" on it. The man's thinking cloud says: "Lose your trust in one place, and there's no place to go" ("一处失信、处处受限"), which is a slogan that is recently applied a lot by Chinese media writing about the Social Credit system.
To be fair, the illustration above was not published by state media outlet but by various commercial sites, but I still wanted to include it here; these illustrations travel from news article to news article and it is not always easy to detect their origin. This cartoon shows a big ball and chain, the ball says "Social Credit System," which is tied to the chain which holds a "Resident Identification Card" (official ID of the PRC) and is then tied to the individual.
This Xinhua illustration, also published on the official government Credit site, shows a man caught in a "black list name" confinement for tax evasion, with the cloud saying: "I can't move a single step!" (寸不难行). On the flying carpet that says "honor list for paying tax" is another man who holds a "legal tax paper" in his hand and who says: "I can go wherever."
This widely circulating illustration shows four individuals from A to D, standing on a block that says "Trust credit levels." The A man holds a sign that says "special treatment" (or: "favored"), whereas the number D man is put a dunce on his head that says "constrained," while he falls into a black whole.
The cartoon above, by state media outlet Xinhua, shows a computer that has the term "government information sharing" on it, and says: "[We] unite in taking disciplinary measures!" He holds a big net that is titled "Social Credit Web," and captures a man with a briefcase who is "blacklisted," and also says, as we've seen in previous illustration, that there is "no way to go" for him.
All in all, the message these various illustrations propagate is straight-forward: those who stay off the black lists and behave like good citizens are free to go wherever they want, those who do not will be caught and lose their freedom of movement. They further emphasize that the Social Credit System is a combined effort, that will, allegedly, benefit the collective and make China a safer and more harmonious place.
Want to understand more? Also read our previous articles explaining social credit in China here and here.
By Manya Koetse
Follow @whatsonweibo
Directly support Manya Koetse. By supporting this author you make future articles possible and help the maintenance and independence of this site. Donate directly through Paypal here. Also check out the What's on Weibo donations page for donations through creditcard & WeChat and for more information.
Spotted a mistake or want to add something? Please let us know in comments below or email us.
©2018 Whatsonweibo. All rights reserved. Do not reproduce our content without permission – you can contact us at info@whatsonweibo.com.
Exchange Student to Be Deported from China for Harassing Young Woman at University
An exchange student studying at the Hebei University of Engineering has been expelled and will soon be deported after harassing a female student.
An exchange student from Pakistan who was studying at the Hebei University of Engineering (河北工程大学) has been expelled and detained after harassing a female student at the same university.
The incident, that is attracting much attention on Chinese social media this week, adds to the wave of recent controversies over the behavior and status of overseas students in mainland China.
On July 31, a female student at the Hebei university filed a police report against a Pakistani student who allegedly harassed her and attempted to forcefully kiss her and touch her breasts.
Screenshots of a supposed WeChat conversation between the exchange student and the female student, in which the man apologizes and claims the interaction is a "requirement for friendship," are being shared on social media.
According to various reports, the police initially tried to mediate between the two students, which the female student refused.
Together with the school principal, the police then further investigated the case and found ample evidence of harassment after examining the university's surveillance system.
On August 1st, the Hebei University of Engineering announced that they had expelled the student and that he will be deported from China. The announcement received more than 14,000 reactions and 150,000 'likes' on Weibo.
The student is now detained at the local Public Security Bureau and is awaiting his deportation.
A photo of two officers together with a man in front of the detention center in Handan is circulating on social media in relation to this incident.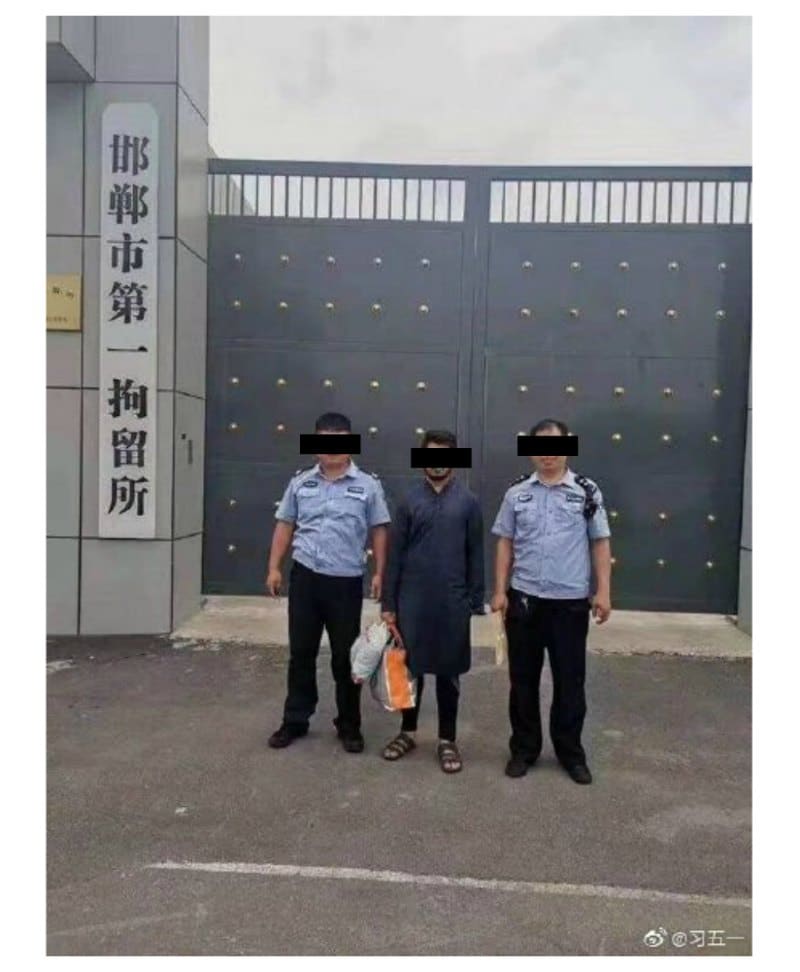 At time of writing, the hashtag page "Exchange Student to Be Deported after Molesting Female Student" (#留学生猥亵女学生将被遣送出境#) has been viewed over 310 million times on Weibo.
Among thousands of reactions, there are many who praise the Hebei university for supporting the female student after she reported the exchange student to the police.
"This may not be the best university, but at least they stand behind their students!", some say, with others calling the university "awesome."
Many say that the Hebei university should serve as an example for other Chinese universities to follow, with Shandong University being specifically mentioned by Weibo users.
Shandong University was widely criticized earlier this summer for its "buddy exchange program," which was accused of being a way to arrange Chinese "girlfriends" for male foreign students.
Another incident that is mentioned in relation to this trending story is that of an exchange student who displayed aggressive behavior towards a Chinese police officer in July of this year. The student was not punished for his actions, which sparked anger on Chinese social media.
By Manya Koetse
Follow @whatsonweibo
Spotted a mistake or want to add something? Please let us know in comments below or email us. Please note that your comment below will need to be manually approved if you're a first-time poster here.
©2019 Whatsonweibo. All rights reserved. Do not reproduce our content without permission – you can contact us at info@whatsonweibo.com
"Bolt from the Blue": Mainland Tourists Can No Longer Independently Travel to Taiwan
Chinese tourists who were planning a solo trip to Taiwan are out of luck.
Starting from August 1st, 2019, mainland residents can no longer individually travel to Taiwan for tourism purposes, and can only visit the island with a pre-approved travel group until further notice. The news has become top trending on Chinese social media.
After Chinese authorities announced on July 31st that China will stop issuing individual travel permits for mainland residents visiting Taiwan, the topic became one of the most-discussed topics on social media this week.
China's Ministry of Culture and Tourism stated on its website that independent travel to Taiwan will be suspended from August 1st "in view of the current cross-strait situation."
State media outlet Global Times writes that the individual travel suspension is a result of "repeated provocative actions by the Tsai Ing-wen administration and secessionist forces on the island."
Taipei Times explained the move as "another attempt to isolate Taiwan in the hope of spoiling President Tsai Ing-wen's re-election chances." Taiwan will hold its presidential elections in January 2020.
On Wednesday night local time, hashtags relating to the individual travel ban had gathered millions of views and comments on Sina Weibo.
ROC Restrictions for Mainland Travelers
Tourists from mainland China face restrictions when traveling to Taiwan, Republic of China (ROC), and must hold a travel permit to visit.
In July of 2008, PRC passport holders were first legally allowed to visit Taiwan for tourism purposes, but only if they joined a pre-approved group tour organized by a selected travel agency.
In 2011, these rules were relaxed after Taiwanese and mainland authorities agreed on a trial to allow mainland residents visiting Taiwan as individual tourists.
Under the terms of that 'trial,' mainland residents from 47 cities could apply for individual entry permits to Taiwan. These cities included places such as Beijing, Tianjin, Shanghai, Harbin, Xiamen, and others.
With Wednesday's statement, that program is currently put on hold. According to Focus Taiwan, this is the first time Beijing authorities have banned individual travelers from visiting Taiwan since June 2011.
Mainland tourists who want to visit Taiwan will now have to go back to joining tour groups again.
The Taiwanese tourism industry relies heavily on Chinese tourists. In 2015, the year before Taiwan President Tsai Ing-wen was elected, 4.2 million mainlanders visited the island, making up 40 percent of all tourists.
"A Bolt From the Blue"
On Weibo, the "Taiwan Individual Travel" account, an information channel for tourists, called the ban "a bolt from the blue" and said that it is unclear how long the restrictions will last: "We just hope that it is temporary."
The post received over 11,500 comments from netizens, many of whom are confused about the ban and concerned on how it will affect their personal travel plans.
"I already received my permit, can I still go?" many wondered.
According to the China International Travel Service, mainland travelers with permits issued before August 1st can still go on their planned individual trips.
In a Weibo poll answered by more than 210,000 social media users, state media outlet China Daily asked people if they would still consider visiting Taiwan after the restrictions on individual travel permits.
While more than 10 percent indicated they would be willing to join a tour group and still visit, a staggering 89,5 percent indicated they preferred free traveling and would not go at all.
"I will go once [the mainland and Taiwan are] unified," some popular comments said.
Discussions over the ongoing Taiwan Strait Issue often flare up on Chinese social media. In August of 2018 for example, Taipei-born actress Vivian Sung ignited a storm of criticism on Weibo for a comment she made about Taiwan being her "favorite country."
Last November, Taipei's Golden Horse Film Festival was overclouded by controversy due to a speech about Taiwan independence (read here). Chinese state media responded to the issue by promoting the hashtags "China Can't Become Smaller" and "Not Even a Bit Can Be Removed from China" (#中国一点都不能少#).
Earlier this year, many Chinese netizens were furious to discover that the super popular Taiwanese online game Devotion contained secret insults toward President Xi Jinping.
Although big discussions on the current Taiwan travel ban are filtered on Chinese social media, there are still some smaller threads where Weibo users are speculating about the reasons behind the move.
Some blame Taiwan leader Tsai Ing-wen, and see the latest travel measures as a way for Beijing to economically impact the island's tourism industry to influence upcoming elections.
Others argue that the current ban is more of a "protective measure," to make sure Chinese travelers who individually roam Taiwan will not be influenced by its election campaigns and media.
Then there are also those who think the entire issue is all about the ongoing Hong Kong protests.
Responses are overall very mixed. Although there are netizens supporting the solo travel ban, there are also those who think the measure will have an 'opposite effect' of that desired.
Although Weibo is mostly popular in mainland China, the social media platform is also used by Taiwanese netizens.
"I heard many of our Taiwanese online friends are happy to hear the news [about the travel restrictions]. Finally, this is something that cross-strait netizens can agree on!" one popular Beijing blogger (@地瓜熊老六) writes, sharing an online meme that shows Taiwanese scenery with the line 'Welcome to Taiwan, without Chinese.'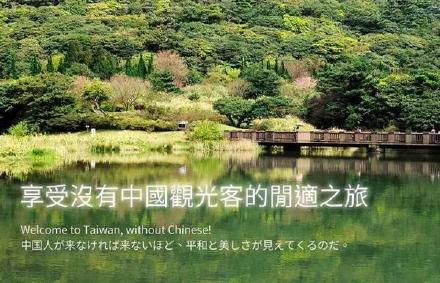 Still, there are also many Weibo users who want to visit Taiwan by themselves and are just concerned about the practicalities: "So, when do you think I will be able to visit again?"
"I was just preparing to go and visit Taiwan," one commenter writes, posting a crying emoji: "Nevertheless, I will still support China in this."
By Manya Koetse , with contributions from Miranda Barnes
Follow @whatsonweibo
Featured image: Photo by Vernon Raineil Cenzon
Spotted a mistake or want to add something? Please let us know in comments below or email us. Please note that your comment below will need to be manually approved if you're a first-time poster here.
©2019 Whatsonweibo. All rights reserved. Do not reproduce our content without permission – you can contact us at info@whatsonweibo.com