Changchun Vaccine Scandal Causes Outrage on Weibo
Another vaccine scandal heightens parents' distrust of vaccines.
Within three years time, a third scandal has been exposed in the Chinese vaccine industry, adding to parents' mistrust of vaccines in China.
A new vaccine scandal involving Changchun Changsheng, China's second-largest producer of anti-rabies vaccines, has caused a tsunami of outrage and media coverage in China this week.
China's State Food and Drug Administration found that the Jilin-based Changchun company did not only produce fake anti-rabies vaccines, but also substandard DPT vaccines, Caijing News reports on Weibo.
The news about Changchun's violations already came out on July 15th, but especially led to a social media storm this weekend after reports leaked online exposing that the same company had already violated production laws as early as October of last year.
It is not the first time China faces serious problems in its vaccine programmes. In November of 2017, over 650,000 faulty – uneffective – vaccines were recalled in Shandong, Hebei and Chongqing.
In 2016, another scandal concerning the distribution of illegal and potentially deadly vaccines also became a major trending topic on Chinese social media.
It is mandatory for children to be vaccinated in line with the China National Immunization Programme.
At time of writing, the hashtag "Changchun Changsheng Counterfeit Vaccines" (#长春长生造假疫苗#) has already received over 49 million views on Weibo.
The current scandal adds to parents' mistrust of vaccines in China, with thousands of people on Weibo demanding that those responsible for these violations should be given capital punishment.
On the various Weibo accounts of Chinese state media and local authorities, however, a post has been published that asks people to "not let anger and panic spread," and to trust that "the relevant departments will deal with this issue in a timely manner."
Various essays and comments threads about the faulty vaccines were no longer visible as of Sunday afternoon. While Beijing News reports that the Changchun vaccines were not used in Beijing, many questions still linger for worried parents in many other parts of the country.
By Manya Koetse
Follow @whatsonweibo
Spotted a mistake or want to add something? Please let us know in comments below or email us.
©2018 Whatsonweibo. All rights reserved. Do not reproduce our content without permission – you can contact us at info@whatsonweibo.com.
Rejected for Being Blind: Shaanxi Normal University Denies Female Student Braille Entrance Exam
No exam, no entrance – this student ran into a brick wall at the famous Chinese university.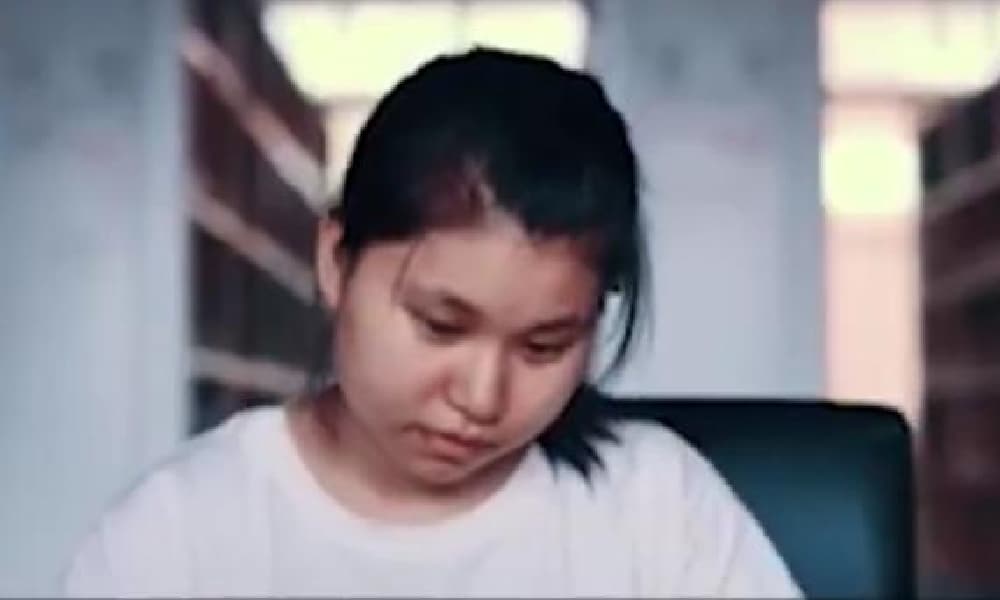 The story of a young blind woman whose application for a Chinese university's entrance exams was rejected due to her visual disability has sparked discussion across Chinese social media.
Last week, Shaanxi Normal University made headlines in China for rejecting a blind student from their psychology Masters program.
Debates arose online about how universities should accommodate disabled students. The related hashtag (#盲人女孩报考陕西师大研究生遭拒#) received 41 million clicks and about 2,600 related posts on social media platform Weibo.
According to Chinese news site The Paper, the female student named Wu Xiao (吴潇) was turned down after she tried to apply for Shaanxi Normal University's postgraduate entrance exam. The university reportedly claimed they were not equipped to teach students with visual impairments.
In an interview, the 24-year-old Wu Xiao said that, despite encountering obstacles, she had managed to study with non-blind students for the past four years already. As a fourth-year student of applied psychology at the Nanjing Normal University of Special Education, all she needed was a chance to take the entrance exam, but this request was denied. The university allegedly stated they could not provide a Braille version of the exam.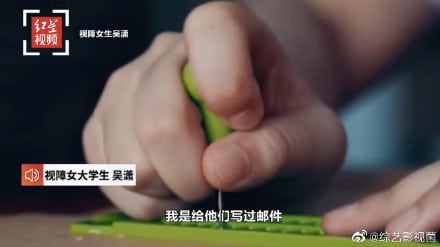 Wu Xiao said she was perplexed about the rejection, especially since Shaanxi Normal University previously organized a college tour for students with physical disabilities.
Shaanxi Normal University, located in Xi'an, is a well-known university under the direct administration of the Ministry of Education of China.
In the news report shared by Lifeweek, a staff member at Shaanxi Normal University explained the situation, saying that psychologists need to be able to see their patients in order to treat them. Students with vision loss should therefore aim for another career, the man said.
The university cited guidelines from 2003 issued by the Ministry of Education and the China Disabled Persons' Federation. These guidelines allow for a physical examination to affect the chances of studying a certain subject.
According to article 3.6 of the guidelines, students with visual impairments are "unsuitable" to study psychology. Among other things, the guidelines also state that universities can reject students from studying journalism if they have a stammer or hunchback.
On Weibo, one of the main issues discussed was whether or not Wu Xiao was right in speaking out against the university.
Some Weibo users defended the university's decision, arguing that nonverbal, visual communication plays a vital role in the field of psychology. There were also those saying that Wu could not demand the school to adapt to her needs.
But there are also many social media users advocating equal opportunities and equal access for persons with disabilities. "A lot of people are acting as if she's asking for special treatment…but she hasn't even been able to get equal access to education," one person commented, "It's not her fault she can't go to this school – it is the fault of backward universities and society."
Over the past few years, stories of Chinese blind people encountering ignorance and accessibility issues have been receiving more attention on social media.
Earlier this year, a video showing the failed design of a tactile-paved path in Inner Mongolia caught the attention of web users. The tactile paving steered blind and visually impaired pedestrians straight into trees on the sidewalk. Local authorities later fixed the paths.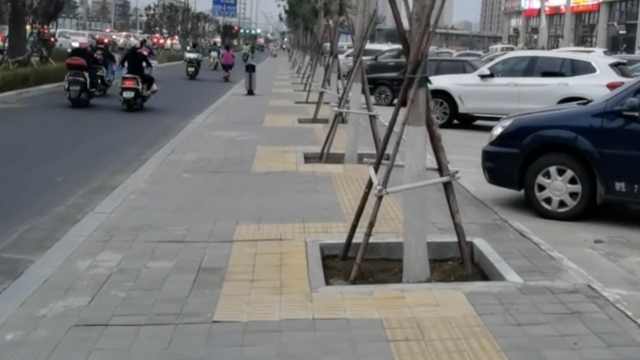 Another video posted on Douyin (the Chinese version of Tiktok) in August of this year also attracted a lot of attention, receiving over 150,000 likes. The video, posted by a visually impaired blogger (@盲探-小龙蛋), showed the difficulties encountered by Chinese people with blindness or low vision when using public transportation. In Shenzhen, where the blogger lives, most buses do not have speakers announcing their direction, making it impossible for him to know which bus to take. Shenzhen has to do better if it wants to call itself a "city without hindrances" ("无障碍城市"), he argued.
Over recent years, the Chinese government has done more to strengthen the protection of rights and interests of persons with disabilities in the country. Although there is a focus on the prevention of birth defects and disability – even launching a "National Disability Prevention Day" – there seems to be a lesser focus on transforming China's social organizations to actually help those with disabilities.
Children with visual impairments often attend specialized schools isolated from the rest of society. Only since 2015 have blind students been able to take the university entrance exam (gaokao) in Braille. According to Toutiao News, Wu Xiao was the only student in Shaanxi to take the Braille version of the gaokao.
To promote more inclusivity for disabled citizens in the workforce, China has an employment quota system in which companies must reserve at least 1.5 percent of their positions for disabled persons, yet many companies do not meet the quota.
On Weibo, some commenters argue that people such as Wu Xiao will continue to face discrimination in society unless something changes in the education system.  "We can only build a fair society if our education is fair," one person writes: "Caring for the disadvantaged and giving them equal opportunities is a measure of a civilized society. We have to care for them and help them fulfill their dreams."
By Saga Ringmar ( follow on Twitter) 
Follow @WhatsOnWeibo
Spotted a mistake or want to add something? Please let us know in comments below or email us. First-time commenters, please be patient – we will have to manually approve your comment before it appears.
©2020 Whatsonweibo. All rights reserved. Do not reproduce our content without permission – you can contact us at info@whatsonweibo.com.
Chinese Baby Dies of Suffocation after 'Swimming' with Baby Neck Float
One fatal incident has turned baby neck floats into a topic of debate.
Neck float rings for babies have become popular in many countries over the past few years.
The inflatable plastic rings are designed to cradle a baby's head as their body moves around underwater, and are thought to help infants' motor development.
These 'neck float donuts' became top trending on Chinese social media today after the death of a 1-month-old baby in the province of Hunan. The neck float was used to let the baby girl have a bath under the supervision of the mother and grandmother.
According to state media outlet CCTV, the mother and grandmother did not notice anything was wrong with the infant until the father returned home and found her silent and motionless.
A local doctor reports that the caregivers initially thought the baby was just sleeping after her bath. At the hospital, the baby was found to have died of asphyxiation.
Doctors now warn about the dangers of using these inflatable neck rings for babies.
The 'neck float donuts' are commonly sold on Chinese e-commerce sites, promoted to use for babies from age 0 to 1.
On Weibo, the topic received a lot of attention, with one hashtag relating to the news receiving over 450 million clicks (#婴儿在家人监护下游泳窒息身亡#).
Some people are surprised to hear about the 'neck float craze,' saying that babies should never be put in such an inflatable ring to begin with.
These kinds of swim rings are sold all over the world and have also become a popular item among vlogging parents who show off their cute babies swimming around the bathtub, pool, or baby spa.
In the US and Europe, experts have recurringly warned parents of the potential dangers of using such neck floats.
"A 1-month-old baby should never be put in such a thing," some Weibo commenters write, with many people criticizing these kinds of parenting fads. "Why should a 1-month-old swim at all?"
There are also many people who simply do not understand how the incident could happen, blaming the mother for being "careless."
But there are also those who just express their sadness about the death of the little baby and the family's loss. "The mother must be heartbroken," one top comment said: "Nobody wanted this to happen."
By Manya Koetse
Follow @WhatsOnWeibo
Spotted a mistake or want to add something? Please let us know in comments below or email us. First-time commenters, please be patient – we will have to manually approve your comment before it appears.
©2020 Whatsonweibo. All rights reserved. Do not reproduce our content without permission – you can contact us at info@whatsonweibo.com.