Kawaii Dolls & Digital Tools: How The Forbidden City Caters to Modern Audiences
The century-old Forbidden City is finding new ways to cater to younger, tech-savvy audiences. From its online 'kawaii' dolls to interactive apps, Beijing's Palace Museum is using e-commerce and digital tools to keep up with China's fast-moving trends while preserving its traditional culture.
The century-old Forbidden City is finding new ways to cater to younger, tech-savvy audiences. From its online 'kawaii' dolls to interactive apps, Beijing's Palace Museum is using e-commerce and digital tools to keep up with China's fast-moving trends while preserving its traditional culture.
Over the recent years, the 6 century-old Forbidden City, that houses the Palace Museum, has started to make the traditional trendy again by focusing on e-commerce, creative design, and tech tools.
The Forbidden City, the former Chinese imperial palace in the center of Beijing, was constructed from 1402 to 1420. It was declared a World Heritage Site in 1987 for its grand architecture and embodiment of traditional Chinese culture.
In the modern age of internet and technology, the Forbidden City faces the same challenges as many museums around the world: how to close the gap between the distant history and tradition of the museum, and the modern, tech-savvy people visiting it?
The Forbidden City's answer to this challenge lies in its use of digital tools and creative products. Especially the Forbidden City museum products, promoted on Chinese e-commerce platform Taobao or Apple's app store, have become popular amongst a younger audience.
The core idea of these creative products is to "root in traditional culture and bind with popular culture". By the end of 2015, the Forbidden City had already developed over 8600 different trendy products.
'Taobao Forbidden City'
In 2010, the Palace museum opened an online shop on China's biggest e-commerce site Taobao. Called Taobao Forbidden City (故宫淘宝), the e-commerce shop goes beyond the traditional museum souvenir shop and offers a wide variety of innovative products. The online museum shop annually sells thousands of items and is given a good rating by 99.51% of the buyers.
Key to the success of the online museum shop is how it combines popular design and modern functionality in its products.
One of the most popular items of the shop is the Forbidden City Doll (故宫娃娃). The dolls represent Chinese historical figures, with a 'kawaii' design. This concept of 'cuteness' comes from Japanese pop culture and has also become popular in China.
With big round heads, chubby rosy cheeks and small beady eyes, these dolls are supposed to typify former residents of the Forbidden City during the Qing Dynasty. They are emperors, empresses , guards, officers and soldiers – wearing the traditional clothing of their time.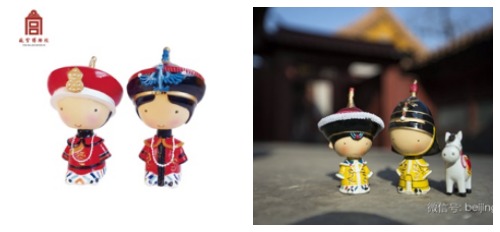 Dolls sold at the Taobao Forbidden City e-shop.
Apart from just being decorative, the cute figures also have useful functions. They can, for example, serve as phone holders or picture clippers.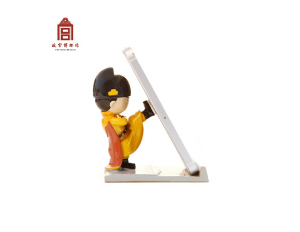 The items sold on the Palace Museum's Taobao shop are all daily products with a touch of Chinese traditional culture. Other popular items sold at the online museum shop include stationary tape decorated with emperor Qian Long's handwriting or historical figure keychains.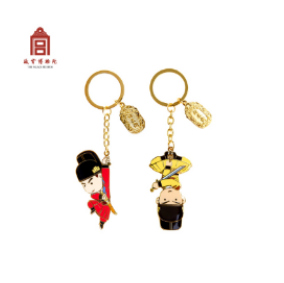 The shop also plays around with the concept of Chinese online memes by photoshopping traditional paintings, such as that of Emperor Yongzheng, making these historical figures smile or adding popular hand gestures (see image below of the Taobao shop of the Forbidden City).
Besides selling creative products on their online shop, the Forbidden City is also going digital in other ways.
Forbidden City on the App Store
The Forbidden City (aka Palace Museum) has launched a series of apps on the on the Apple App Store since 2013. Some of these apps digitize the museum's collections.
The Twelve Beauties App, the first app developed by the museum's app development team, revolves around the screen painting set 'The Twelve Beauties' by Emperor Yongzheng, so that users can view them in detail on their mobile devices. The app received recognition as an outstanding app by "App Store 2013".
Image: from the Forbidden City app Twelve Beauties by Emperor Yongzheng.
A newer app, the Palace Museum Ceramic App (故宫陶瓷馆), allows users to see the museum's ceramic vase collection from their iPhone or iPad. The 2016 app 'Everyday Palace' (每日故宫) highlights a different item from the museum collection every day and explains its history and details to the app users.
The Palace Museum official apps have generally been well received, with average App Store ratings between 4.5 and 5 stars. Especially the app developed for children receives high ratings. In 'One Day in the Life of an Emperor' (皇帝的一天), children learn all about the Forbidden City by playing various games around the digitalized city.
Users can play games while learning about the Palace Museum in this app.
The Forbidden City also uses technology in another way to enhance visitor experience – also for those who cannot come to the actual museum.
As early as 2003, it published its first virtual reality DVD, titled "Forbidden City: Palace of the Son of Heaven (紫禁城-天子的宫殿)", that allowed people to virtually explore the Taihe Palace (太和殿), the very first palace at the entrance of Forbidden city, from every perspective.
This September, the Forbidden City and Fenghuang TV signed a strategic contract to use augmented reality (AR) in presenting its collections. AR technology makes it possible for audiences to experience artworks multidimensionally. It can, for example, bring paintings to life via a smartphone camera, or it can show 3D holograms that can answer questions from visitors to make museums more interactive.
One important project incorporated in the contract is a lively presentation of Along the River During the Qingming Festival (清明上河图), a 5-metre long painting that depicts urban life in the capital of North Song Dynasty (960-1127).
600-Year-Old 'Grandpa' Catches up with Time
The attempts of the 600-year-old Forbidden City to catch up with time seems to be paying off. According to Xinhuanet, the museum's creative products earned a staggering 1 billion RMB (±150 M US$) revenue for the Palace Museum in 2015.
Chinese netizens seem to appreciate the efforts of the Palace Museum to become more modern. A much talked-about topic on Chinese social media, the Palace Museum has become a new "internet celebrity" (网红 – an online hit). Under Taobao Forbidden City's Sina Weibo account, netizens lovingly address the Forbidden City with the cute nickname "gong gong" (from Chinese word "宫", gong, meaning palace).The official Weibo account of the Palace Museum now has over 2.1 million followers (@故宫博物院).
The Palace Museum is not the only museum or historical tourist site that is exploring new technologies to promote its collection and appeal to modern audiences. The Longquan Temple (龙泉寺) in Beijing, for example, made headlines earlier this year with the launch of its robot monk Xian'er, a chubby boy monk that can answer questions about Buddhism to tourists who visit the temple.
Through its recent uses of digital tools and trendy design, the Forbidden City is transforming its distant and serious image to one that is more approachable and new-fashioned.
"Now I feel like I really know the Forbidden City", one netizen writes.
-By Diandian Guo, edited by Manya Koetse
Follow @WhatsOnWeibo
©2016 Whatsonweibo. All rights reserved. Do not reproduce our content without permission – you can contact us at info@whatsonweibo.com.
Dutch Vlogger Discovers Her Boyfriend's Photo on a Chinese TV Drama
Dutch vlogger Rianne Meijer was surprised to discover her boyfriend being somebody else's lover in this Chinese television drama.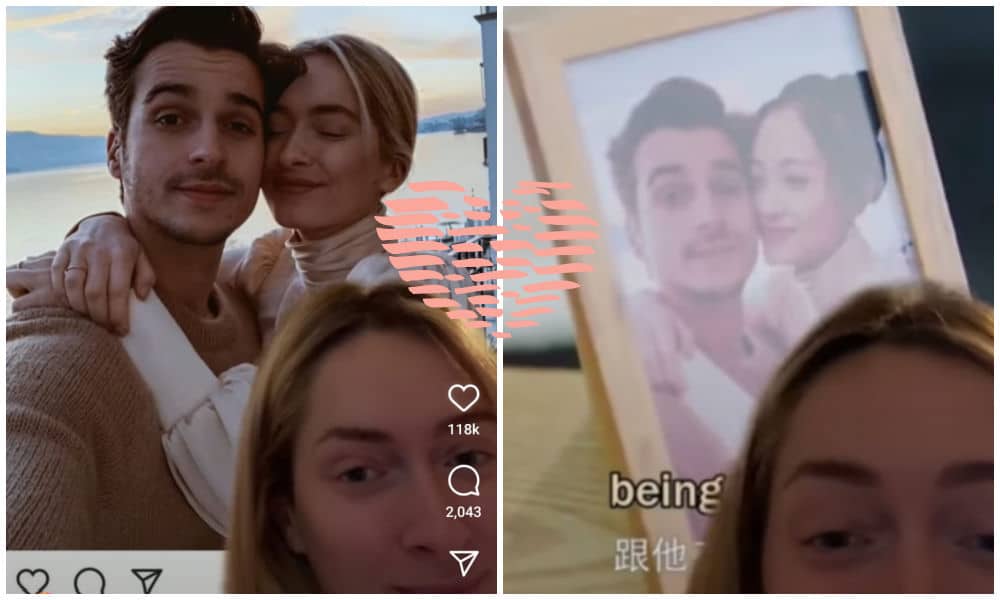 The Dutch influencer Rianne Meijer has gone viral in the Netherlands and on Chinese social media after she posted a TikTok video in which she shared the discovery of her boyfriend's photo in a Chinese TV drama.
"Remember this picture? This is a picture that I posted with my boyfriend a while ago," Rianne says in the TikTok video, then showing a scene in Chinese TV drama in which a photoshopped photo of Rianne's boyfriend is featured.
Although Rianne stood next to her boyfriend in the original photo, her face was replaced in the photoshopped edition featured on the Chinese TV drama.
"They look good together, it's fine!" Rianne jokingly responded to the scene.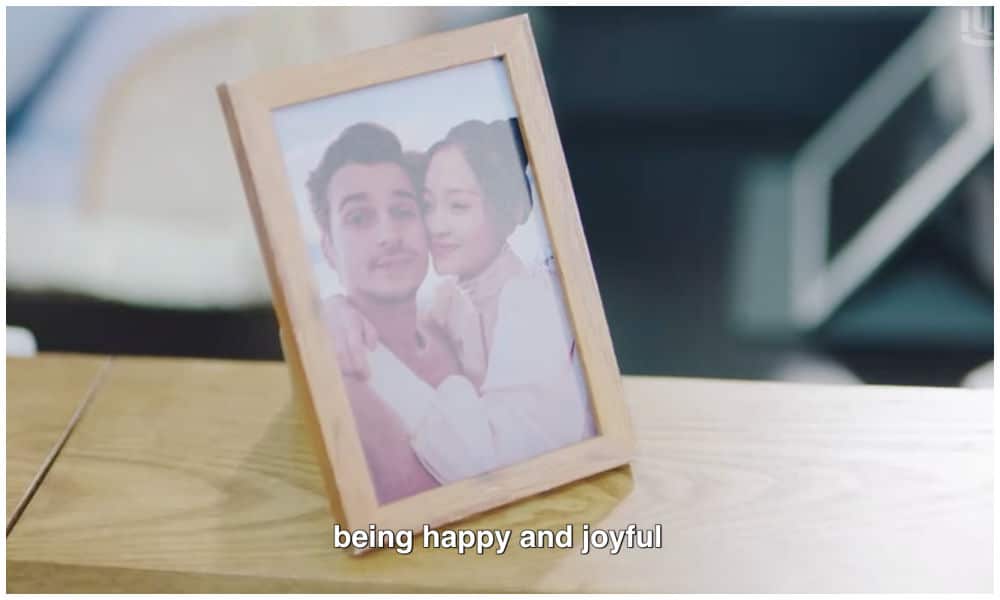 Rianne Meijer is an online influencer and YouTuber with some 1.5 million fans on her Instagram. She is known for often posting funny videos and photos, sometimes together with her boyfriend Roy.
The scene featuring Roy's photo comes from the Chinese TV drama Summer Again (薄荷之夏), which premiered on iQiyi in the summer of 2021.
The scene shows a lady named Mi Ya (played by actress Li Borong 李柏蓉) talking about her relationship with a man named 'Andre.'
On the Chinese social media site Weibo, many netizens found the incident "embarrassing" and did not understand why the staff would just steal someone's portrait: "Couldn't the production team even find a foreign guy to take a picture?"
Others also thought the incident was very funny: "This is the reality of our global village. You'd think nobody would find out, but it's really not so secret."
According to Rianne's most recent Tiktok post update, the show's production staff has since sent her an apology. She also writes it's "all good," adding: "They are so sweet and this gave us a good laugh."
The Dutch online influencer Rianne Meijer recently discovered a photo of her boyfriend was used in a Chinese TV drama. They photoshopped Rianne out and instead featured actress Li Borong. Rianne's boyfriend is supposed to be a foreign guy named "Andre" in the series 😂 pic.twitter.com/5kF7mMRJmA

— Manya Koetse (@manyapan) October 16, 2021
By Manya Koetse
Spotted a mistake or want to add something? Please let us know in comments below or email us. First-time commenters, please be patient – we will have to manually approve your comment before it appears.
©2021 Whatsonweibo. All rights reserved. Do not reproduce our content without permission – you can contact us at info@whatsonweibo.com.
Chinese Musician Song Dongye Canceled (Again) after Complaining about China's Cancel Culture
Song Dongye was shut down by Weibo after airing his grievances at being shut out from China's entertainment circles.
Five years after being caught with drugs, Chinese singer Song Dongye went on Weibo to share his grievances on still being 'canceled' and asking for another chance to restart his career. Instead, he got criticized and blocked.
Chinese folk singer Song Dongye (宋冬野) has become a major topic on Chinese social media site Weibo this week after he posted a lengthy statement on his account airing his grievances regarding how he was shut out from China's entertainment world after being caught with drugs.
In Song's Weibo post of October 11 titled "I Need to Say Something" ("我需要说一些话"), the singer complained that one of his performances was canceled and that he has not been able to perform since he was detained for drug use five years ago.
The Beijing singer was scheduled to hold a concert in Chengdu on October 16th, but local authorities eventually canceled the show after receiving reports about Song being a drug addict.
According to Song, it is not the first time that one of his concerts is suddenly canceled for no apparent reason. In his post, the Beijing artist shared how disappointed he is that yet another performance was called off, even though it was previously approved and was organized in compliance with all strict regulations.
It seems that Song Dongye just cannot get rid of his tainted reputation.
The 34-year-old Song Dongye started his career as a musician in 2009 and signed with the Modern Sky record label in 2012. One of his biggest hits is the 2013 song 'Miss Dong' (董小姐) (link), after which Song's career further flourished.
Things went sour in 2016, when Song was arrested for smoking marijuana in Beijing after someone allegedly tipped off the police. Not long after news on his arrest made the rounds, Song himself posted a statement on his Weibo account on October 25th of 2016, apologizing to everyone for violating the law and promising to better himself.
Song is not the first Chinese celebrity to have been caught with drugs. There is an entire list of celebrities who were caught doing drugs, especially in the 2014-2016 years – including names such as Jaycee Chan, Kai Ko, and Zhang Mo.
In Song's most recent Weibo post, the solo artist explains how his former drug abuse deeply affected him and his family, and that he has never touched drugs again since his ten-day prison sentence five years ago in 2016.
Despite the fact that Song complied with court orders and became an anti-drug advocate, he apparently is still not able to perform – even though the prescribed three-year ban on performing (in accordance with regulations provided by the Ministry of Culture) has officially ended two years ago.
The musician writes that he feels wronged. As a former drug abuser, he feels it was right for him to be punished, but he also says that drug users are actually the victims, claiming that drug trafficking is the real crime. Song argues that it is very difficult to be in the entertainment industry and that it is not easy to say no to drugs when you are down, depressed, and pressured.
In his Weibo post, the artist actually suggests he has been victimized in two ways: firstly, as a depressed artist lured into taking drugs, and second, as a canceled celebrity who keeps on being shut out from China's entertainment circles.
"I can't understand it, I'm confused," Song writes: "I've violated the law, but I've been punished! I've been detained and then I also received five years of verbal abuse! I've been educated! I understand! I never messed up again! I got up again, and I changed! I became a better person! Is that still not enough for me to be able to make a living? Why? I'm not doing anything but playing some small offline gigs in order to get by! I'm just a singer-songwriter! What else do you want me to do? (..) Shouldn't society give people who have broken the law another chance?"
Song concludes his post by saying that, regardless of the challenges he is facing, he will not give up on his work.
Song's Post Backfires
Soon after Song Dongye posted his short essay on Weibo, thousands of reactions started flooding in. Many netizens did not feel sorry for the artist, but instead blamed him for "playing the victim."
The issue triggered a major discussion on Chinese social media on whether or not artists with a bad reputation should be allowed back into the limelight.
A recent article by What's on Weibo on 25 'tainted celebrities' in China (25 'Tainted Celebrities': What Happens When Chinese Entertainers Get Canceled?) shows that Chinese entertainers who previously got 'canceled' generally do not return to the big stage, either because they have simply fallen out of favor with most people or because they are being shunned and sidelined in the entertainment industry (or a combination of both).
Many people felt that Song Dongye was being a hypocrite, not just because they felt he was excusing his former drug use by saying drug traffickers are the real offenders, but also because Song allegedly did do multiple commercial shows over the past five years and has been actively setting up new businesses since his 2016 arrest.
For official media accounts, in the meantime, this apparently seemed to be a good moment to highlight their anti-drug informational posts.
State newspaper People's Daily posted a series of photographs on October 12th featuring police officers who got injured while doing their work combating drug trafficking and drug use, stating that over thirty staff members of the law enforcement against drugs were killed since 2017.
The post's message was clear: these Chinese officers in drug law enforcement were unable to get a second chance in life – why would Song, as a drug abuser, be allowed to get another chance to restart his career as a performer?
That idea resonated with many, who wrote: "We should have a zero-tolerance policy [towards drugs]. We can't ever revive these police officers!"
Another image circulated on social media with the tagline "taking drugs and selling drugs is the same crime," showing a musician offering money for drugs and a law enforcement officer being shot on the job (image below).
On that same day, Song's Weibo account was temporarily suspended. The hashtag "Song Dongye's Weibo Suspended" (#宋冬野微博被禁言#) received over 620 million views in the days following the ban.
Many people on Weibo share the view that those who chose to take illegal drugs for their own pleasure can never be a public figure again, earning money from commercial appearances.
Others wrote that Song should have never posted his essay at all since it only caused him to be labeled as a 'tainted celebrity' again, even though many people had already forgotten about his former drug use. They think that Song's real problem hindering his future career now is not his 2016 offense, but his 2021 Weibo post.
Song Dongye's post did not just affect him, it indirectly also affected other Chinese 'tainted celebrities.'
A planned concert by Chinese singer Li Daimo (李代沫), a previous contestant of The Voice of China (中国好声音), was also canceled this week following the Song Dongye controversy.
Li Daimo was arrested in 2014 for possession of drugs and was later sentenced to a fine and nine months in prison. After being released from prison, Li resumed his music career. Although his tainted past was still sometimes discussed on social media, he was one of the few artists who seemed to have made some sort of a comeback to the entertainment industry after such a major controversy.
The Song Dongye situation, however, also made people (and authorities) reflect on Li's current career.
Over the past year, Chinese celebrities have become a target of authorities and state media have consistently been reporting on the importance of Chinese stars setting a good example for their fans.
But amid all controversy, there are also people who come to Song's defense: "If an artist has been punished for three years, we should give people the opportunity to reappear. It might [even] be more beneficial to the anti-drug campaign."
"I really like his songs," one person wrote about Song: "But he did drugs, and I can't forgive him for that."
At this time, it is not clear when or if Song Dongye will be allowed to post on his Weibo account again. Although his Weibo page is still there, it currently says: "This account has temporarily been suspended for violating Weibo guidelines." It is not clarified which specific guidelines Song violated with his post.
By Manya Koetse
Spotted a mistake or want to add something? Please let us know in comments below or email us. First-time commenters, please be patient – we will have to manually approve your comment before it appears.
©2021 Whatsonweibo. All rights reserved. Do not reproduce our content without permission – you can contact us at info@whatsonweibo.com.