Kawaii Dolls & Digital Tools: How The Forbidden City Caters to Modern Audiences
The century-old Forbidden City is finding new ways to cater to younger, tech-savvy audiences. From its online 'kawaii' dolls to interactive apps, Beijing's Palace Museum is using e-commerce and digital tools to keep up with China's fast-moving trends while preserving its traditional culture.
The century-old Forbidden City is finding new ways to cater to younger, tech-savvy audiences. From its online 'kawaii' dolls to interactive apps, Beijing's Palace Museum is using e-commerce and digital tools to keep up with China's fast-moving trends while preserving its traditional culture.
Over the recent years, the 6 century-old Forbidden City, that houses the Palace Museum, has started to make the traditional trendy again by focusing on e-commerce, creative design, and tech tools.
The Forbidden City, the former Chinese imperial palace in the center of Beijing, was constructed from 1402 to 1420. It was declared a World Heritage Site in 1987 for its grand architecture and embodiment of traditional Chinese culture.
In the modern age of internet and technology, the Forbidden City faces the same challenges as many museums around the world: how to close the gap between the distant history and tradition of the museum, and the modern, tech-savvy people visiting it?
The Forbidden City's answer to this challenge lies in its use of digital tools and creative products. Especially the Forbidden City museum products, promoted on Chinese e-commerce platform Taobao or Apple's app store, have become popular amongst a younger audience.
The core idea of these creative products is to "root in traditional culture and bind with popular culture". By the end of 2015, the Forbidden City had already developed over 8600 different trendy products.
'Taobao Forbidden City'
In 2010, the Palace museum opened an online shop on China's biggest e-commerce site Taobao. Called Taobao Forbidden City (故宫淘宝), the e-commerce shop goes beyond the traditional museum souvenir shop and offers a wide variety of innovative products. The online museum shop annually sells thousands of items and is given a good rating by 99.51% of the buyers.
Key to the success of the online museum shop is how it combines popular design and modern functionality in its products.
One of the most popular items of the shop is the Forbidden City Doll (故宫娃娃). The dolls represent Chinese historical figures, with a 'kawaii' design. This concept of 'cuteness' comes from Japanese pop culture and has also become popular in China.
With big round heads, chubby rosy cheeks and small beady eyes, these dolls are supposed to typify former residents of the Forbidden City during the Qing Dynasty. They are emperors, empresses , guards, officers and soldiers – wearing the traditional clothing of their time.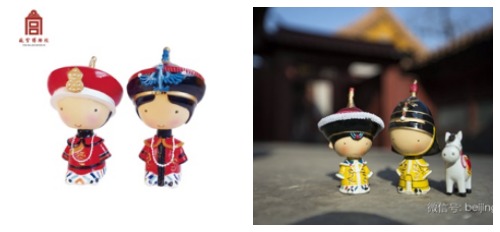 Dolls sold at the Taobao Forbidden City e-shop.
Apart from just being decorative, the cute figures also have useful functions. They can, for example, serve as phone holders or picture clippers.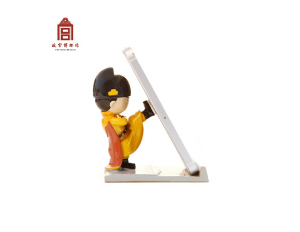 The items sold on the Palace Museum's Taobao shop are all daily products with a touch of Chinese traditional culture. Other popular items sold at the online museum shop include stationary tape decorated with emperor Qian Long's handwriting or historical figure keychains.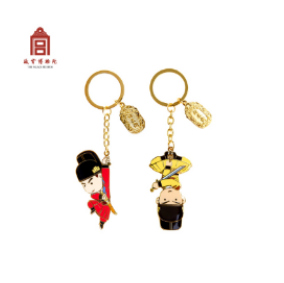 The shop also plays around with the concept of Chinese online memes by photoshopping traditional paintings, such as that of Emperor Yongzheng, making these historical figures smile or adding popular hand gestures (see image below of the Taobao shop of the Forbidden City).
Besides selling creative products on their online shop, the Forbidden City is also going digital in other ways.
Forbidden City on the App Store
The Forbidden City (aka Palace Museum) has launched a series of apps on the on the Apple App Store since 2013. Some of these apps digitize the museum's collections.
The Twelve Beauties App, the first app developed by the museum's app development team, revolves around the screen painting set 'The Twelve Beauties' by Emperor Yongzheng, so that users can view them in detail on their mobile devices. The app received recognition as an outstanding app by "App Store 2013".
Image: from the Forbidden City app Twelve Beauties by Emperor Yongzheng.
A newer app, the Palace Museum Ceramic App (故宫陶瓷馆), allows users to see the museum's ceramic vase collection from their iPhone or iPad. The 2016 app 'Everyday Palace' (每日故宫) highlights a different item from the museum collection every day and explains its history and details to the app users.
The Palace Museum official apps have generally been well received, with average App Store ratings between 4.5 and 5 stars. Especially the app developed for children receives high ratings. In 'One Day in the Life of an Emperor' (皇帝的一天), children learn all about the Forbidden City by playing various games around the digitalized city.
Users can play games while learning about the Palace Museum in this app.
The Forbidden City also uses technology in another way to enhance visitor experience – also for those who cannot come to the actual museum.
As early as 2003, it published its first virtual reality DVD, titled "Forbidden City: Palace of the Son of Heaven (紫禁城-天子的宫殿)", that allowed people to virtually explore the Taihe Palace (太和殿), the very first palace at the entrance of Forbidden city, from every perspective.
This September, the Forbidden City and Fenghuang TV signed a strategic contract to use augmented reality (AR) in presenting its collections. AR technology makes it possible for audiences to experience artworks multidimensionally. It can, for example, bring paintings to life via a smartphone camera, or it can show 3D holograms that can answer questions from visitors to make museums more interactive.
One important project incorporated in the contract is a lively presentation of Along the River During the Qingming Festival (清明上河图), a 5-metre long painting that depicts urban life in the capital of North Song Dynasty (960-1127).
600-Year-Old 'Grandpa' Catches up with Time
The attempts of the 600-year-old Forbidden City to catch up with time seems to be paying off. According to Xinhuanet, the museum's creative products earned a staggering 1 billion RMB (±150 M US$) revenue for the Palace Museum in 2015.
Chinese netizens seem to appreciate the efforts of the Palace Museum to become more modern. A much talked-about topic on Chinese social media, the Palace Museum has become a new "internet celebrity" (网红 – an online hit). Under Taobao Forbidden City's Sina Weibo account, netizens lovingly address the Forbidden City with the cute nickname "gong gong" (from Chinese word "宫", gong, meaning palace).The official Weibo account of the Palace Museum now has over 2.1 million followers (@故宫博物院).
The Palace Museum is not the only museum or historical tourist site that is exploring new technologies to promote its collection and appeal to modern audiences. The Longquan Temple (龙泉寺) in Beijing, for example, made headlines earlier this year with the launch of its robot monk Xian'er, a chubby boy monk that can answer questions about Buddhism to tourists who visit the temple.
Through its recent uses of digital tools and trendy design, the Forbidden City is transforming its distant and serious image to one that is more approachable and new-fashioned.
"Now I feel like I really know the Forbidden City", one netizen writes.
-By Diandian Guo, edited by Manya Koetse
Follow @WhatsOnWeibo
©2016 Whatsonweibo. All rights reserved. Do not reproduce our content without permission – you can contact us at info@whatsonweibo.com.
'First Lady of Hong Kong TV' Lily Leung Passes Away at Age 90
Chinese netizens pay their respects to veteran actress Lily Leung Shun-Yin (1929-2019), who passed away on August 13.
While the Hong Kong protests are dominating the headlines, the death of Hong Kong veteran actress Lily Leung Shun-Yin (梁舜燕) has become a top trending topic on social media site Sina Weibo under the hashtag "Hong Kong Actress Liang Shunyan Dies from Illness" (#香港演员梁舜燕病逝#).
The actress was born in Hong Kong in 1929. She starred in dozens of television series, including the first TV drama to be locally broadcasted. She became known as "the first lady of Hong Kong TV."
Leung acted for TVB and other broadcasters. Some of her more well-known roles were those in Kindred Spirit (真情) and Heart of Greed (溏心风暴).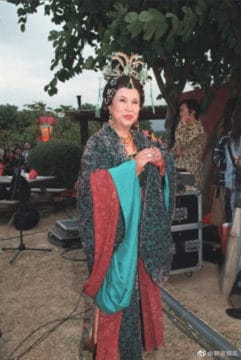 Leung, also nicknamed 'Sister Lily' (Lily姐), passed away on August 13. According to various Chinese media reports, the actress passed peacefully surrounded by family after enduring illness. She was 90 years old.
"I've seen so much of her work," many Weibo netizens say, sharing the favorite roles played by Leung. "I always watched her on TVB while growing up, and will cherish her memory," one commenter wrote.
Another well-known Hong Kong actress, Teresa Ha Ping (夏萍), also passed away this month. She was 81 years old when she died. Her passing away also attracted a lot of attention on Chinese social media (
#演员夏萍去世#).
Many people express their sadness over the fact that not one but two grand ladies from Hong Kong's 20th-century entertainment era have passed away this month.
"Those people from our memories pass away one by one, and it represents the passing of an era," one Weibo user wrote.
"Two familiar faces and old troupers of Hong Kong drama – I hope they rest in peace."
By Manya Koetse
Follow @whatsonweibo
Spotted a mistake or want to add something? Please let us know in comments below or email us. Please note that your comment below will need to be manually approved if you're a first-time poster here.
©2019 Whatsonweibo. All rights reserved. Do not reproduce our content without permission – you can contact us at info@whatsonweibo.com
The Mulan Makeup Challenge: Traditional Chinese Makeup Goes Trending
Recreating the Mulan make-up look was the biggest beauty challenge on Chinese social media this July.
Will traditional Chinese make-up make a comeback because of Disney's Mulan?
Since Disney released the official trailer for its live-action Mulan movie earlier this month, Mulan is recurringly appearing in the top trending lists on Chinese social media.
Among all the different topics relating to the upcoming Mulan movie, the Mulan make-up challenge is one that jumps out this month.
The Disney live-action trailer showed a scene in which Mulan, played by Chinese American actress Crystal Liu Fei (刘亦菲), has a full face of betrothal makeup. The original animated Disney movie also features a full makeup Mulan.
Although there was also online criticism of the 'exaggerated' makeup, there are many people who appreciate Mulan's colorful makeup look.
On Weibo, many showed off their skills in copying Mulan's makeup look this month.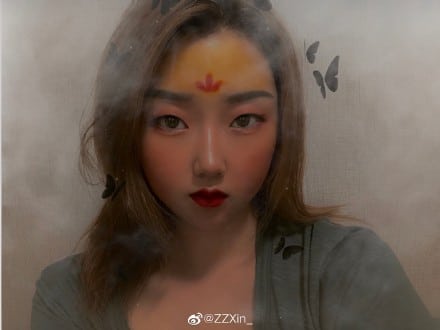 By now, the hashtags "Mulan Makeup Imitation" (#花木兰仿妆#) and "Mulan Makeup Imitation Contest" (#花木兰仿妆大赛#) have attracted over 300 million views.
Makeup such as lipstick has been used in China as far back as two or three thousand years ago.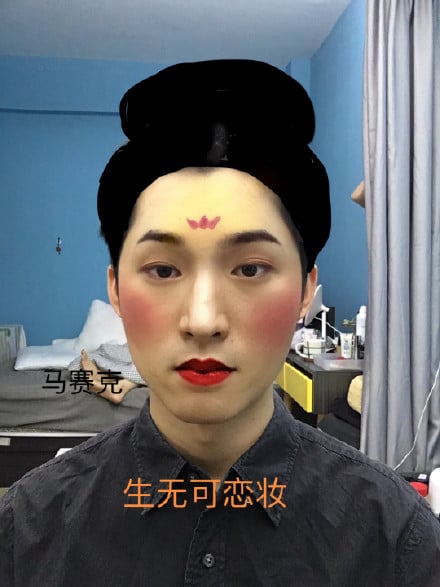 Makeup vlogger Emma Zhou explains more about Tang Dynasty (618-907) makeup customs here; the skin would be whitened with rice flower, followed by the application of 'blush' (pigment of strong-colored flowers) to the cheeks and eyes in a round shape, to emphasize the roundness of the face.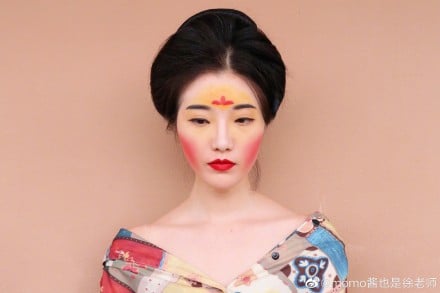 A floral-like decoration would be placed in between the eyebrows.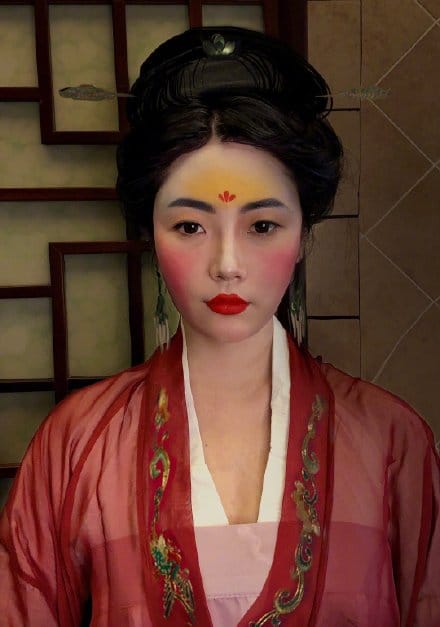 The yellow forehead, as can be seen in the live-action Mulan, is also known as "Buddha's makeup," and was especially popular among ladies during the Tang Dynasty. A yellow aura on the forehead was believed to be auspicious (Schafer 1956, 419).
Although contemporary Chinese makeup trends are much different than those depicted in Mulan, traditional makeup seems to make somewhat of a come-back because of the Disney movie, with hundreds of Chinese netizens imitating the look.
Beauty bloggers such as Nico (@黎千千Nico, image below) receive much praise from Weibo users for their makeup look. Nico wrote: "I even opened the door for the delivery guy this way!"
It is not just girls imitating the look; there are also some boys showing off their Mulan makeup.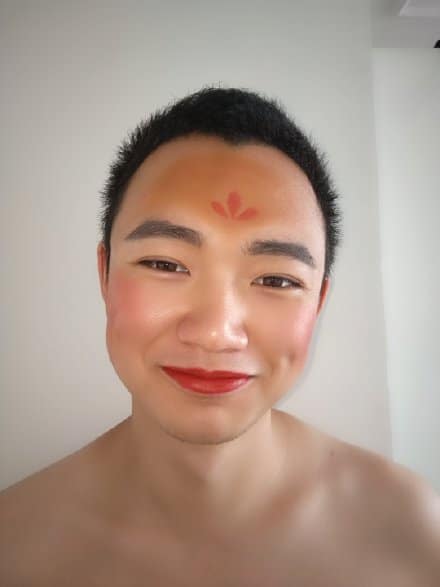 Although many still find the Mulan makeup look exaggerated and even "laughable," there are also those who think it looks really "cool" – of course, depending on whether or not the application is successful.
Want to try it out for yourself? There are various amateur tutorials available on Youtube (in Chinese), such as here, here, or here.
The Mulan make-up hype will probably continue in 2020; the Mulan movie will come out in late March.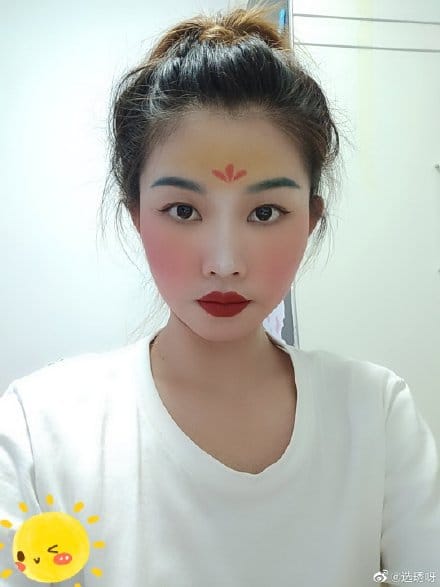 To read more about Mulan, please see our latest feature article on Mulan here.
By Manya Koetse
Follow @whatsonweibo
References
Schafer, Edward H. 1956. "The Early History of Lead Pigments and Cosmetics in China." T'oung Pao, Second Series, 44, no. 4/5: 413-38. http://www.jstor.org/stable/4527434.
Spotted a mistake or want to add something? Please let us know in comments below or email us. Please note that your comment below will need to be manually approved if you're a first-time poster here.
©2019 Whatsonweibo. All rights reserved. Do not reproduce our content without permission – you can contact us at info@whatsonweibo.com