Man Dies of Heart Attack after Being Told Not to Smoke in Elevator, Now Family Is Suing
A young doctor has ended up in court after objecting to a man's cigarette smoke in a public elevator.
Who is to blame when two men argue because one of them is smoking in the elevator, and then dies of a heart attack moments later? The family of the deceased smoker is now suing the man who told him not to smoke.
In early May of this year, security cameras captured how an elderly man lit a cigarette in the elevator of an apartment building in Zhengzhou, Henan province. When another man also gets into the elevator, he points at the man's cigarette and objects to his smoking.
The two men end up in a dispute over the smoking, which also continues when they exit the building. CCTV cameras from inside the building's lobby and from the other side of the street record how neighbors interfere and separate the two men from each other.
The argument, which remains verbal and does not become physical, stops when the two men each go their own way. Not much later, the elderly man suddenly passes away due to heart failure.
This incident is now at the center of a remarkable court case, in which family members of the man who smoked in the elevator are suing the other man over his death. Although the deceased man was known to have dealt with a heart condition before, his family blame the heated discussion for his sudden death. They are seeking a compensation of CNY 400,000 (±60,000$).
The man they are suing is the 37-year old Yang Jun (alias), who is a doctor by profession.
This week, the court ruled that it can not be fully proven that Yang Jun is responsible for the man's sudden heart failure and that he, therefore, does not need to pay the CNY 400,000 that is demanded by the family.
The court, however, did hold rule that Mr. Yang needs to pay a total of CNY 15,000 (±2260$) as compensation to the family, as a matter of "principle of fairness" (公平原则).
The family is appealing the court decision.
The story, that is reported by The Paper and other Chinese media outlets, has triggered discussions on social media.
Many netizens object to the court's decision. "The old man probably died because of smoking, the doctor cannot be burdened with this," some comment.
There are also people who offer to contribute money for Yang to pay the man's family. "By this decision, the court is actually choosing the side of the evildoers," some say.
"Poor doctor, who could have imagined it would end this way? Can't we even tell people not to smoke now anymore?"
By Manya Koetse
Follow @whatsonweibo
Spotted a mistake or want to add something? Please let us know in comments below or email us.
©2017 Whatsonweibo. All rights reserved. Do not reproduce our content without permission – you can contact us at info@whatsonweibo.com.
China is Changing Its Fangcang Quarantine Locations Into "Sub-Designated" Covid-19 Hospitals
Earlier in 2022, temporary 'fangcang' (方舱) makeshift hospitals across China were changed into permanent ones.
As Covid cases are surging while measures are eased, China is going to change many of its Covid quarantine locations into facilities where patients can be treated.
On December 9, Chinese health authorities gave a press conference regarding the next stage in China's epidemic situation. During this press conference of the Joint Prevention and Control Mechanism of the State Council, Jiao Yahui (焦雅辉) director of the National Health Commission's Bureau of Medical Administration, addressed measures to improve Covid-related healthcare resources in China.
One of these measures became popular on Chinese social media as the hashtag "Fangcang Will Be Turned Into Sub-Designated Hospitals" (#将方舱改造为亚定点医院#), receiving over five million clicks on Weibo on Friday.
During the press conference, Jiao Yahui talked about upgrading and transforming Fangcang locations across the country, turning them into designated COVID-19 hospitals where patients can be treated.
Fangcang (方舱) literally means 'square cabin,' referring to China's Covid-19 makeshift hospitals which have been pivotal in 'fighting Covid-19 the Chinese way,' along with local lockdowns, mass testing, and the Health Code system.
Fangcang were introduced during the initial Covid breakout in Wuhan to alleviate the pressure on public hospitals and lower Covid-19 mortality rates by quarantining and treating patients with confirmed infections. Within a matter of 2,5 years, Fangcang emerged as a novel concept on China's coronavirus battleground and became a part of everyday life in a zero Covid society.
The Fangcang locations are generally mainly used to isolate Covid-positive people instead of treating symptomatic patients (read more about the Fangcang phenomenon here).
Since Chinese authorities announced on Wednesday that Covid-positive patients are now allowed to quarantine at home if they meet local requirements, many Fangcang locations – if they are suitable – will now have beds available to actually treat patients.
In a video that went viral on Chinese social media, an anti-epidemic worker at a Fangcang hospital in Guangzhou can be seen informing patients through a megaphone that they can now choose to go home to isolate if they want to.
Guangzhou fangcang (quarantine location) staff informs patients that they can choose to go home to isolate if they wish, in accordance with the new optimized Covid rules. pic.twitter.com/BWhF0B1551

— Manya Koetse (@manyapan) December 9, 2022
The sudden end to China's 'Fangcang era' is especially noteworthy because only seven months ago, Chinese authorities still announced that the temporary makeshift hospitals across China would need to be changed into permanent ones (read here).
On Weibo, some commenters also wondered why Chinese authorities prioritized building Fangcang over the past few years, instead of investing more into building extra Intensive Care units.
Jiao Yahui did address the need for IC expansion on Friday, saying that China's tertiary hospitals need to expand their critical care resources and increase their bed capacity by approximately 20-30%, depending on the hospital, to accommodate more (Covid-19) patients. These transformations and expansions are required to be completed by the end of this month.
She also mentioned that Covid-positive patients no longer need to worry about being denied access to regular hospitals because they are testing positive for Covid. This also became a popular topic on Weibo (#不用再担心核酸阳性医院不接诊#, 110 million views).
Despite some relief expressed by commenters, many are also worried about the latest developments and how this will all affect hospitals and their staff. "The medical staff is going to be damned," some wrote, worrying about an inevitable surge in Covid-19 among China's doctors and nurses.
"It's going to be difficult for all of us working in the hospitals," one medical worker from Liaoning wrote.
Read more about 'Zero Covid' ending here. To get more insights into China's Fangcang, check our articles here.
By Manya Koetse 
Get the story behind the hashtag. Subscribe to What's on Weibo here to receive our newsletter and get access to our latest articles:
Spotted a mistake or want to add something? Please let us know in comments below or email us. First-time commenters, please be patient – we will have to manually approve your comment before it appears.
©2022 Whatsonweibo. All rights reserved. Do not reproduce our content without permission – you can contact us at info@whatsonweibo.com.
"Goodbye, Health Code": Chinese Netizens Say Farewell to the Green Horse
"For three years, I was able to guard my green horse," some said after many places in China have now stopped checking Health Code apps.
China's Health Code apps and the green QR code have been a crucial part of China's Covid strategy for nearly three years. Today, many Chinese bid farewell to the Health Code app and their lucky 'Green Horse.'
Since 2020, China's Health Code apps have become utterly ingrained in everyday life as a pivotal tool in the country's ongoing fight against Covid-19. The Health Code system (there are at least 31 different regional health code applications across China) uses different sources of information, from self-reported health status to travel history and Covid test results, to determine whether or not a person gets a Green QR Code, a Yellow one, or a Red one.
Health Code scans are required when entering communities, malls, supermarkets, commercial buildings, and are basically key to moving around the city.
The Green color means you're safe (low-risk) and have free movement, the Yellow code (mid-risk) requires self-isolation and the Red color code is the most feared one: it means you either tested positive or are at high risk of infection. Clinging on to one's green code was also referred to as 'Guarding the Green Horse' (read all about this in our article on Health Codes).
'Health Code' in Chinese is jiànkāngmǎ 健康吗. 'Green Horse' in Chinese is lǜmǎ 绿马 , which sounds exactly the same as the word for 'green code' (绿码). In a social media environment where homophones and online puns are popular and ubiquitous, it did not take long for the 'green code' to turn into the 'green horse.'
But a lot is changing when it comes to China's fight against Covid. Following an unstoppable Omicron outbreak across China, earlier optimization of Covid measures in November, major Covid outbreaks and unrest at Foxconn in Zhengzhou, and protests in various Chinese cities, and a prior easing of Covid measures in various cities, Chinese central authorities announced far-reaching changes to the country's dynamic Zero Covid policy on Wednesday.
These changes also include a stop to Health Code checks when traveling, and an end to the requirement of negative nucleic acid tests for many places (unless it is about special places such as nursing homes, orphanages, medical institutions, etc.)
On Thursday, December 6, Chinese social media users started saying goodbye to the Health Code system (#告别健康码#), posting photos and videos of QR posters and travel code information being taken down at stations.
The hashtag "Saying Goodbye to Health Code" became a top trending hashtag on Weibo, and by 22:00 local time, had already received over 660 million clicks on the platform.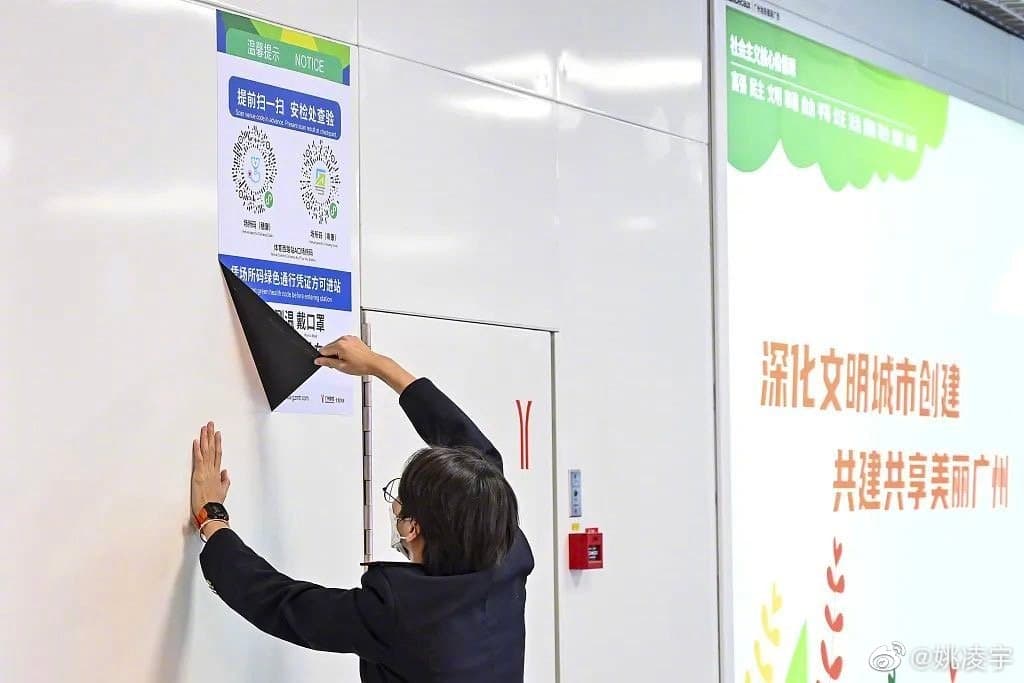 The Zhengzhou subway station is among the places that have already removed their Health Code posters (#郑州地铁撤下健康码海报#).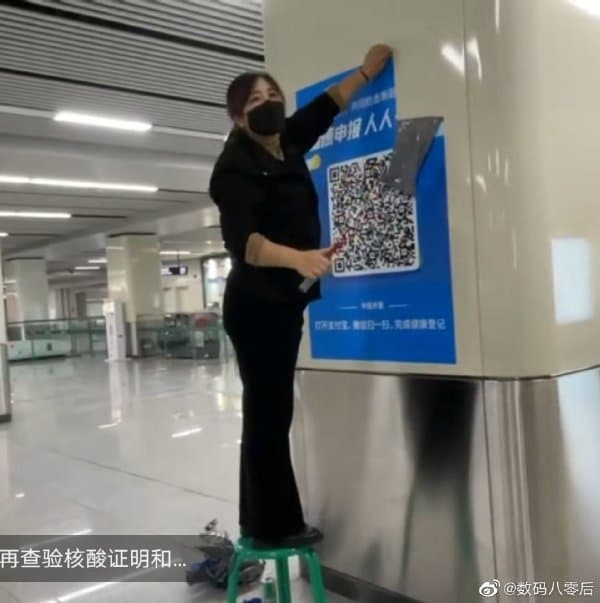 In the Guangzhou subway, posters were already removed on Wednesday.
Chinese media outlet The Observer (观察者网) also published various photos of station staff taking down QR code posters, using the hashtag "Many Stations Removing Health Code Posters" (#多地车站撤下健康码海报#).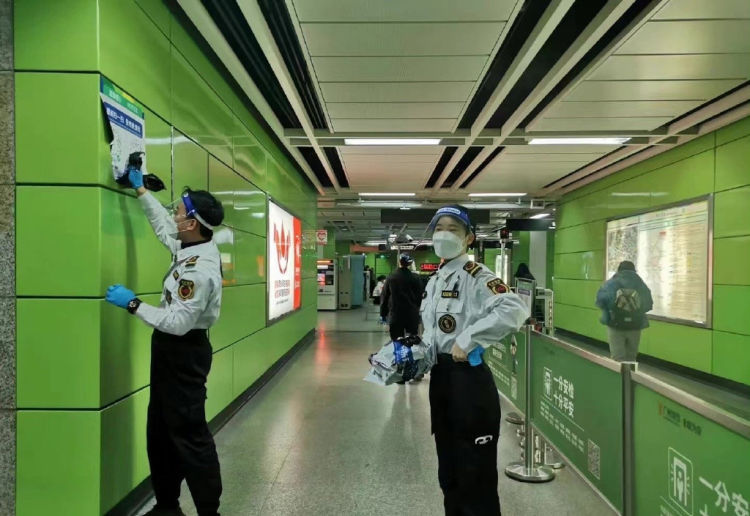 "I didn't need to scan the Health Code when entering university today. Bye bye, Health Code!" one netizen said, with another Sichuan-based blogger also writing: "The sport stadium, the mall, I didn't need to scan anything today."
"I've been waiting for this for so long, and it still came unexpectedly. From now on, we will need to protect ourselves," one comment said. "This just feels amazing," one Guangdong blogger wrote.
This idea of the government protecting people for three years, and that it is now up to the Chinese people to protect themselves, is a recurring one that you can see all over social media. Many people feel that zero Covid measures such as mass testing, local lockdowns, centralized quarantines, Health Code systems, 48-hour negative nucleic acid tests requirements, etc. were all government measures that were protecting the people.
Without this layer of protection, many say that individuals should now take responsibility for their own health.
But there are also those who criticize this line of thinking:
"I particularly dislike that talk of 'the nation has protected you for three years, you can't count on them any more and will have to rely on yourself now,' the people who say this are either stupid or spoiled. What is the nation? The nation is the people, the people are the nation, the three-year-long fight against the epidemic is one in which the masses sacrificed their time, space, money, and even their freedom. Every person paid their share of obligations. What is your talk of 'they won't look after us, it's up to you now'? The best fight against the epidemic is one with an objective and scientific approach. Not a single country in this world really 'laid flat' [to be completely passive in light of epidemic]; every country has actively explored and sought for better ways to live with the virus. This is a people's war. And in war, you'll always have casualties. What we need to do is to balance between survival and development, to minimize the damage as much as possible."
"There's no use in saying goodbye to it," one netizen said: "The most crucial time will be when the virus is gone."
There are also those who expect the coming time is going to be strange: "I think most people will have a moment after this that they'll take out their QR code for scanning whenever they enter a public place. After all, this wasn't just a few days, it's a habit we learned for three years."
Some people are complaining that they are not seeing any differences yet in their area or city, from Changsha to Shenzhen, and that they are eagerly waiting for changes to be implemented.
Meanwhile, green horse images are circulating on Weibo, where many bid farewell to the mystical creature. "For three years, I was able to guard my green horse," one person wrote: "Goodbye, green horse."
"Goodbye and I hope never to see you again," another Weibo user replied.
Read more about China's Health Codes here. To read more about 'Zero Covid' ending, read here.
By Manya Koetse 
Get the story behind the hashtag. Subscribe to What's on Weibo here to receive our newsletter and get access to our latest articles:
Spotted a mistake or want to add something? Please let us know in comments below or email us. First-time commenters, please be patient – we will have to manually approve your comment before it appears.
©2022 Whatsonweibo. All rights reserved. Do not reproduce our content without permission – you can contact us at info@whatsonweibo.com.