Nobody's Baby? Chinese Girl in Canceled Surrogacy Case Has No Birth Certificate, No Hukou
From surrogacy baby to 'heihaizi' – her biological parents canceled the surrogacy agreement, but she was born anyway.
The news story of a child born through surrogacy is the talk of the day on Weibo, leading to heated discussions on China's 'underground' surrogacy practices.
The tragic story of a 3-year-old girl born through surrogacy is top trending on Chinese social media today, where the child is referred to as the 'unregistered surrogacy girl' ("黑户代孕女童").
The child was meant to grow up with her two biological parents, but when the surrogate mother tested positive for a syphilis infection halfway through the pregnancy, the intended parents canceled the surrogacy agreement. The story was told in a short video report by Chinese news outlet The Paper.
The poverty-stricken surrogate mother ended up having the baby herself, but could not afford her bills and sold the baby's birth certificate. The biological parents have refused to take responsibility for the girl.
Without her formal papers and household registration, the 3-year-old girl cannot go to school and is not registered anywhere.
From Surrogacy Baby to 'Heihaizi'
On January 12, Chinese media outlet Time Weekly (时代周报) published a lengthy interview with the surrogacy mother recounting the entire story of the canceled surrogacy agreement.
The story starts in 2016 when the then 38-year-old* Wu Chuanchuan (吴川川, alias) became a surrogate mother as a way to earn money. The older couple who wanted a baby came from Inner Mongolia and had previously lost a child. *(In the interview, Wu claims she is actually younger than the age indicated on her official papers, which say she is now 47.)
The surrogacy agreement, arranged through an underground company, was settled at 170,000 yuan ($26,200). It concerned a gestational surrogacy, in which the child is not biologically related to the surrogate mother.
During the pregnancy, Wu was living together with other surrogate mothers. When she was four months pregnant, she unexpectedly tested positive for syphilis. Wu says she suspects that the infection was spread within the small surrogacy mother community she lived in.
Syphilis in pregnant women is risky and can have a major impact on the baby's health. It can cause miscarriage, stillbirth, or death as a result of the infection as a newborn.
"The intended parents decided to withdraw from the surrogacy arrangement, asking for a refund and offering to pay for an abortion."
Due to syphilis, the intended parents of the baby decided to withdraw from the surrogacy arrangement, asking for a refund and offering to pay for an abortion. Wu would only receive 20,000 yuan ($3085).
This situation left Wu, who already felt the fetus moving, in a very difficult situation. She eventually refused to terminate the pregnancy and withdrew from the surrogacy agency's home.
Staying at cheap hotels in the city of Chengdu and unable to find a suitable adoption family, Wu eventually gave birth to a baby girl that she would raise herself.
But there was one major issue: money. Wu already could not afford the hospital admittance fee, let alone the 12,000 yuan ($1850) in hospital bills she had to pay after needing a C-section delivery.
To pay for her medical bills, Wu was forced to take desperate measures and ended up selling her baby's birth certificate. Through the internet's black market, she found someone who would pay 20,000 yuan ($3085) for it.
Once the baby was born, things looked up for Wu. She soon married a kind man who was willing to raise baby girl 'Xiao Rang' (小让, alias) together with her, and the child's congenital syphilis was cured.
But Xiao Rang still had no birth certificate, and thus no hukou.
The hukou or 'household registration' system is a registered permanent residence policy. A hukou is assigned at birth based on one's community and family. China's hukou system, amongst others, separates rural from urban citizens and is essential to access social services, including education and healthcare.
Without a hukou, the child cannot attend kindergarten, and will not be able to go to school – she will be a heihaizi (黑孩子, lit. 'black child'), an 'illegal child' not registered anywhere.
In December of 2020, as reported by The Paper, Wu traveled from Chengdu to Inner Mongolia in search of her daughter's biological parents.
The girl's intended parents turned out to have twin sons now. They bought a house and went through the process to get their twins through another surrogate mother. After spending approximately 700,000 yuan ($108,000), the family allegedly could not afford to also be legally responsible for Xiao Rang. Afraid of the consequences, the 50-year-old biological father initially also seemed unwilling to formally arrange adoption papers for his daughter, Wu told Time Weekly.
Banned Baby Business
On Weibo, a hashtag page about Xiao Rang's story received over 550 million views on Tuesday, making it one of the most-discussed topics on January 12 (#首个遭代孕客户退单女童无法上户#).
Due to the media attention, and the biological father's identity being exposed, the case was still developing while Chinese netizens looked on.
According to the latest reports, Xiao Rang's biological father will now provide assistance in arranging registration papers for the little girl while Wu Chuanchuan will still raise the child.
The fact that the father himself came forward to tell his side of the story also became a trending topic (#遭退单代孕女童生物学父亲现身#), garnering over 260 million views by Tuesday night Beijing time. The biological father confirms that they gave up on the baby once they were informed of Wu's syphilis infection, and that they did not expect Wu to have the baby after all.
Meanwhile, on social media, there seems to have been a shift in sentiments regarding this story. Netizens initially sided with the surrogate mother and her tragic story.
But as the media continue to report on this story, more and more people are starting to doubt Wu's sincerity, wondering if she used media exposure to portray herself as a victim to gain the public's sympathy.
Online commenters criticize Wu for being part of the surrogacy agreement, for choosing to have the child despite her syphilis, and for selling the child's birth certificate. Many call her 'immoral' and 'irresponsible.'
"Surrogacy exploits women, and it is a serious violation of social ethics and morals. Taking part in surrogacy should be severely punished."
Surrogacy has been a hot topic on Chinese social media recently. Just a month ago, a short film titled "10 Months With You" ('宝贝儿') by famous Chinese director Chen Kaige (陈凯歌) also stirred controversy for supposedly presenting surrogacy in China in a relatively positive light.
The 30-minute film revolves around a young girl who signs a surrogacy contract with intended parents without telling her boyfriend. When she gets emotionally attached to the baby during her pregnancy, things get complicated. But she eventually is persuaded by her boyfriend that the child is not intended to be with them, after which she is willing to part with the baby.
Chinese state media outlets, including Global Times and China Daily emphasized that surrogacy is illegal in China and that those who take part in surrogacy will face fines or even criminal prosecution.
Nevertheless, the practice of surrogacy is a somewhat legislative grey area in China. China's Ministry of Health introduced regulations in 2001 that made it illegal for medical staff to offer surrogacy services. In 2015, there were official plans to completely curb surrogate pregnancies. But that strict ban on surrogacy pregnancies was later reversed.
In 2017, People's Daily even published a controversial article that suggested a loosening of surrogacy bans to boost China's birth rates. Meanwhile, there have been ongoing reports about China's booming underground surrogacy market (here, here ).
In 2018, state media outlet Global Times quoted Qiu Renzong, a bioethics expert at the Chinese Academy of Social Science in saying: "The Chinese government should consider setting some rules to allow surrogacy in certain circumstances."
With discussions on Xiao Rang's case and surrogacy in China being a major topic on Weibo, the legal side is also receiving much attention. Law expert Zhang San (@普法达人张三) uses the hashtag "Criminalize Surrogacy" (#建议代孕入刑#) when he writes:
"Although surrogacy is illegal, it is a blank space in the criminal law. Surrogacy exploits women, and it is a serious violation of social ethics and morals. Taking part in surrogacy should be severely punished. If the freedom is not restricted, it will surely lead to exploitation of the weak by the strong."
Some people on Weibo argue that most of the people involved in Xiao Rang's story are filthy and immoral, and that they need to be punished. But virtually everyone agrees that the little girl needs to be registered in order to still have a chance to lead a normal life: "The child is innocent."
By Manya Koetse
Follow @WhatsOnWeibo
Spotted a mistake or want to add something? Please let us know in comments below or email us. First-time commenters, please be patient – we will have to manually approve your comment before it appears.
©2021 Whatsonweibo. All rights reserved. Do not reproduce our content without permission – you can contact us at info@whatsonweibo.com.
Who's to Blame for Hangzhou Toddler's Deadly Fall from 8th Floor Window?
Nanny was distracted by her phone, the open window was easily accessible; both factors played a role in the fatal fall of the Hangzhou child.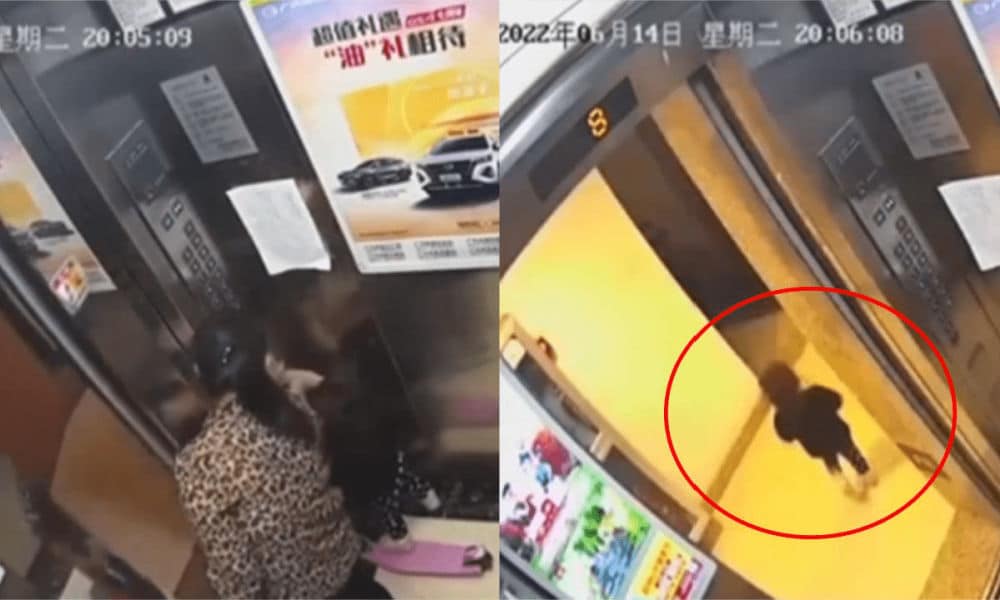 A tragic incident that happened in Hangzhou, Zhejiang province, has become a trending topic on Weibo this week.
On June 14, a 21-month-old girl in the city's Gongshu District was left in an elevator by herself while her nanny was not paying attention. The elevator went up to the building's 8th floor, where the toddler walked out and ended up falling from a window. The little girl unfortunately did not survive the fall.
The details surrounding this tragedy have triggered much discussion on social media, where a security camera footage from the elevator was posted by the girl's father on June 25.
The video shows the girl and the nanny getting into the elevator together on the 15th floor at 20:04. While the elevator goes down, the nanny is seemingly distracted and watches her phone while the little girl is playing on her little pink scooter.
When the elevator arrives at the first floor, the nanny steps out and takes the pink scooter with her, probably assuming that the toddler is right behind her. But then the elevator doors close and the little girl is left behind alone in the elevator, which automatically goes up to the 8th floor.
The footage shows that the little girl, Xiaotao (小桃), is crying after she is locked inside the elevator. Once the elevator stops and opens on the 8th floor, she can be seen exiting and walking into the hallway.
According to Xiaotao's father, he received a call from the nanny after 20.00 that night, saying that she could not find the little girl. The father was at home at their 3rd floor apartment that evening. His daughter and the nanny had gone to the apartment of Xiaotao's grandparents, who live on the 15th floor of the same building.
Rushing out to search for his daughter, the father inspected every floor of the building. The nanny had reportedly first told him she thought Xiaotao might be on the 8th floor, but later she changed her story and said she might be on the first floor.
The father later stated he did not trust what the nanny was saying. She had only been working for the family for seven days, and they had agreed to pay her a monthly wage of 8000 yuan (US$1195) for her services.
After he knocked on their doors, some neighbors on the 8th floor told the father they had heard a child crying. Going outside in search of Xiaotao, the father eventually discovered her body lying on the 2nd floor terrace right below the window on the 8th floor.
The question of whether the nanny can be held legally responsible for the deadly incident is one that is being discussed on Weibo. Although the nanny has stated that she very much blames herself for what has happened, many people also think those overseeing the construction and property management of the building should be held accountable.
An image of the window in question shows that children can easily climb up to the windows and that there are no safety bars.
"This is a major design fault by the developers," one commenter writes: "It's the developer who is the main culprit. The nanny is the second."
One Weibo user from Shanghai writes: "This kind of property management is life-threatening for any young child. These high-rise buildings have a barbarous design. In the end, it's a matter of architectural design in China that doesn't take the protection of young children into consideration at all."
Many others also agree that the building's construction and property management is mainly responsible for the deadly accident: "The window has a serious safety problem, that comes first. Second comes the nanny, who was too careless."
Recently, there have been multiple news stories about young children falling from windows across China. On June 19, an 8-year-old child fell from the 17th floor of an apartment building in Chenzhou, Hunan.
"One mistake, one human life, such huge consequences"
While the Hangzhou case is currently being investigated by local authorities, the toddler's mother spoke out in the media on June 27th that she felt that before exploring the criminal liability of the property management, the nanny's legal responsiblity should be looked into first.
The hashtag "Mother of Hangzhou Girl Who Fell Out of Building Speaks Out" (#杭州坠楼女童母亲发声#) received over 180 million views on Monday. Xiaotao's mother openly wonders why it took the nanny a total of eight minutes before she called to say she could not find Xiaotao. She also accuses the nanny of lying about why she was watching her phone while she was in the elevator; the nanny had allegedly claimed that she had received a message from Xiaotao's parents about running some errands, but the mother says such messages were never sent.
The problem of caregivers not paying attention to their children because they are more focused on their phone has become a trending topic on Chinese social media before. In 2017, the shocking footage of a woman playing on her phone while her 4-year-old son drowned in the pool just a few meters away from her sparked discussions on the dangers of being a 'smartphone addict' (低头族).
There are also many commenters on Weibo who think the nanny is the main culprit. One commenter (@DareGoos__) wrote: "She is a high-end nanny, looking after the child is her job. I am unmarried and childless, and even I know that you're supposed to hold a child with you when you're taking the elevator, isn't this common knowledge among adults?"
"I am more careful with my cat than she is with this child," one commenter wrote. "One mistake, one human life, such huge consequences," another person said.
But many people do not agree, suggesting that the elevator doors automatically closed way too fast, and that checking one's phone on an elevator is a normal thing to do.
Others reacting to the Hangzhou news also say the parents bear some responsibility for this tragedy in handing over the care of their young child to this nanny. "When my mother gave birth to me, she stopped working and made our family – taking care of me – her job. The mom and dad should follow their kid closely, especially if it's just two years old," one Weibo user (@李佑嘉的前女友) wrote.
"I feel so sorry for the child," a typical comment said: "This totally could have been avoided."
For some, the Hangzhou case brought back memories of another tragedy that took place in Hangzhou which also involved a nanny. In 2017, a mother and her three children died in a fire on the 18th floor of a luxurious high-rise building in Hangzhou. After the fire broke out in the early morning around 5.00, the mother saw the fire and then alerted the nanny, asking her to run and seek for help. The nanny, who escaped the fire and survived, later turned out to be responsible for starting the fire (read more here).
By Manya Koetse
Get the story behind the hashtag. Subscribe to What's on Weibo here to receive our weekly newsletter and get access to our latest articles:
Spotted a mistake or want to add something? Please let us know in comments below or email us. First-time commenters, please be patient – we will have to manually approve your comment before it appears.
©2022 Whatsonweibo. All rights reserved. Do not reproduce our content without permission – you can contact us at info@whatsonweibo.com.
Unanswered Questions Linger in the Aftermath of Tangshan BBQ Restaurant Beating Incident
The deafening silence surrounding the female victims of the Tangshan incident is trending on Weibo, where people are demanding answers.
The shocking attack on female customers at a Tangshan BBQ restaurant on June 10 is still a major topic of conversation on Chinese social media, where the incident is also referred to as the "Tangshan Barbecue Restaurant Beating Incident" (唐山烧烤店打人案).
For a detailed description of the incident, which was captured by the restaurant's security cameras (video link), see our previous article here.
In short, three women were sitting at a table together at 2:40 AM when a man came up and tried to touch one of them (a woman dressed in white). After the woman made it clear that she did not want him to touch her, the situation turned violent within seconds.
All of the women ended up getting beaten and kicked by a group of men. The woman dressed in white was dragged outside, where security cameras captured her being severely assaulted by the men. Another woman who tried to help her also ended up being beaten. After the outburst of violence, the men fled the scene, leaving the injured woman lying on the street. A day later, a total of nine men were arrested for their involvement in the attack.
The 'Tangshan Barcebecue Beating Incident' sent shockwaves across the country and triggered discussions on gang crimes, the safety of women, and what people can do to protect themselves and others.
Many restaurants took steps to provide women reassurance that they were safe and some businesses put up warning signs that any form of violent or aggressive behavior would not be tolerated.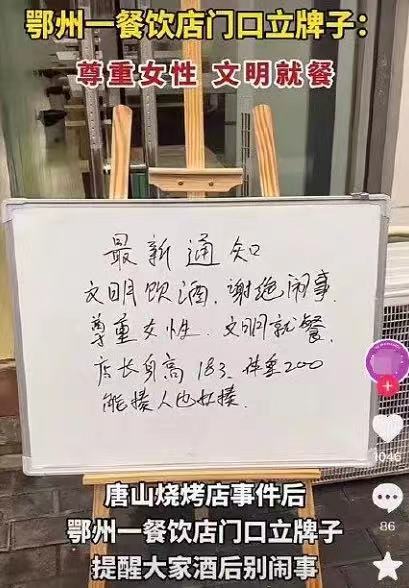 Tangshan authorities also took action against crime in the city, introducing operation 'Thunderstorm' (雷霆风暴) on June 12, a two-week campaign for which a team of police officers are mobilized and deployed throughout the city to ensure public safety and crackdown on gang crimes.
The Tangshan incident led to dozens of people publicly discussing and exposing gang-related crimes. The fact that at least five of the suspects had criminal records was a cause of anger among those who felt that they should not have been allowed to be out and about at all. One former victim of a man involved in the attack also spoke out. He said he recognized Chen Jizhi (陈继志) from the security footage and that he was locked inside the trunk of a car for ten hours by Chen a few years prior. A hashtag related to the story received over 300 million views on June 17th (#男子称曾被陈继志等殴打险被活埋#).
Other people exposed other gang-related crimes via social media, disclosing their real names and holding their own ID in their hand to make their statements more credible.
One of them was a woman by the name of Zhang, who claimed that she was held hostage in May of this year at the bar where she worked by a local gang and was forced to sign IOUs together with her colleagues. After escaping and reporting to the police, they allegedly did not show up until seven hours later when everyone was gone. This story heightened people's suspicions regarding police corruption in Tangshan.
Another story that went viral this week is that of a local 'cake shop boss,' who also claimed to be a victim of a local gang that has been extorting him since July of 2021, going as far as violently smashing up his shop and closing his business. One news post about this matter received over 340,000 likes on Weibo.
Deafening Silence Surrounding Victims
In light of the Tangshan restaurant beating, it seems as if everyone has stepped forward to have their say over the past week. The city has come forward with its special action, local businesses have put up signs, the owner of the restaurant where the assault took place published a tearful video in which she said that she too was a victim, some suspects' family members also spoke out and pleaded with the public not to let their children suffer cyberbullying, and then other locals have spoken out about gang-related violence in the city.
The Tangshan bbq restaurant owner speaks out: she can't run her business nor stay sane under the stress after the outburst of violence that happened on Friday. She's being blamed for not doing enough to prevent the men from attacking the women, but she says she is a victim, too. pic.twitter.com/X8xjQpacMK

— Manya Koetse (@manyapan) June 12, 2022
But what about the female victims of the June 10th violence themselves? No statements, no updates, no family coming forward – the silence surrounding the female victims has been attracting a lot of attention on Chinese social media these days.
Many Weibo users suggest that news about the victims is purposely withheld and that people are being silenced about how the women are actually doing.
According to previous official media reports, two female victims had been sent to the hospital for treatment and were in stable condition. Two other women reportedly suffered minor injuries and were not hospitalized. No further updates have been given, although the hospital did deny recent rumors that one female victim had passed away (hashtag #医院否认唐山被打女子去世传言#, 190 million views on June 17).
Online calls are growing louder for a follow-up on the victims' situation and a more detailed report on what actually happened at the Tangshan Barbecue Restaurant. There are many people who are wondering what happened outside the view of the security cameras.
The original footage shows that when the violence starts, a woman (dressed in black) stands up from the table to defend her friend: she hits the aggressive man at their table with a beer bottle. Once her friend (dressed in white) is dragged out of the restaurant, we do not see her come out after.
On social media, people are speculating about what might have happened to the girl dressed in black and about what occurred in an alley behind the restaurant.
Security footage that was recorded from another angle shows that after the moment when the original video that spread online ends (at the end the guys leave, the girl is left on the street), the incident still continues. One of the women can be seen running into an alley or street behind the restaurant, with the others following. The woman in white, who was dragged by her hair, also stands up and runs away in the same direction.
c
"What happened in the back alley?" is a question that lingers online, along with multiple other questions relating to what went on after the original video footage ended that night. One Weibo post asking many of these questions received over 275,000 likes within a day.
The hashtag "Follow-up to the Tangshan Beating of Women" (#唐山被打女生后续#) received over 210 million views on Weibo on June 17. "The entire nation is waiting for a follow-up," one Weibo user wrote.
Meanwhile, various videos, images, and sound recordings are flooding Weibo, but nothing has been verified at this point regarding what might have happened in the alley behind the restaurant. "I don't want to believe it's real. But I don't know what to believe anymore," one commenter said.
On Friday night, Chinese media reported that 320 Weibo accounts had been shut down for spreading rumors about the Tangshan incident and its aftermath. The hashtag related to the news received over 580 million views on Friday (#发布唐山打人事件谣言320个微博账号被关闭#).
Underneath the post, many commenters wrote: "We just want to know if the girls are okay" and "We just want to know the truth."
By Manya Koetse
with contributions by Miranda Barnes
Get the story behind the hashtag. Subscribe to What's on Weibo here to receive our weekly newsletter and get access to our latest articles:
Spotted a mistake or want to add something? Please let us know in comments below or email us. First-time commenters, please be patient – we will have to manually approve your comment before it appears.
©2022 Whatsonweibo. All rights reserved. Do not reproduce our content without permission – you can contact us at info@whatsonweibo.com.