Nobody's Baby? Chinese Girl in Canceled Surrogacy Case Has No Birth Certificate, No Hukou
From surrogacy baby to 'heihaizi' – her biological parents canceled the surrogacy agreement, but she was born anyway.
The news story of a child born through surrogacy is the talk of the day on Weibo, leading to heated discussions on China's 'underground' surrogacy practices.
The tragic story of a 3-year-old girl born through surrogacy is top trending on Chinese social media today, where the child is referred to as the 'unregistered surrogacy girl' ("黑户代孕女童").
The child was meant to grow up with her two biological parents, but when the surrogate mother tested positive for a syphilis infection halfway through the pregnancy, the intended parents canceled the surrogacy agreement. The story was told in a short video report by Chinese news outlet The Paper.
The poverty-stricken surrogate mother ended up having the baby herself, but could not afford her bills and sold the baby's birth certificate. The biological parents have refused to take responsibility for the girl.
Without her formal papers and household registration, the 3-year-old girl cannot go to school and is not registered anywhere.
From Surrogacy Baby to 'Heihaizi'
On January 12, Chinese media outlet Time Weekly (时代周报) published a lengthy interview with the surrogacy mother recounting the entire story of the canceled surrogacy agreement.
The story starts in 2016 when the then 38-year-old* Wu Chuanchuan (吴川川, alias) became a surrogate mother as a way to earn money. The older couple who wanted a baby came from Inner Mongolia and had previously lost a child. *(In the interview, Wu claims she is actually younger than the age indicated on her official papers, which say she is now 47.)
The surrogacy agreement, arranged through an underground company, was settled at 170,000 yuan ($26,200). It concerned a gestational surrogacy, in which the child is not biologically related to the surrogate mother.
During the pregnancy, Wu was living together with other surrogate mothers. When she was four months pregnant, she unexpectedly tested positive for syphilis. Wu says she suspects that the infection was spread within the small surrogacy mother community she lived in.
Syphilis in pregnant women is risky and can have a major impact on the baby's health. It can cause miscarriage, stillbirth, or death as a result of the infection as a newborn.
"The intended parents decided to withdraw from the surrogacy arrangement, asking for a refund and offering to pay for an abortion."
Due to syphilis, the intended parents of the baby decided to withdraw from the surrogacy arrangement, asking for a refund and offering to pay for an abortion. Wu would only receive 20,000 yuan ($3085).
This situation left Wu, who already felt the fetus moving, in a very difficult situation. She eventually refused to terminate the pregnancy and withdrew from the surrogacy agency's home.
Staying at cheap hotels in the city of Chengdu and unable to find a suitable adoption family, Wu eventually gave birth to a baby girl that she would raise herself.
But there was one major issue: money. Wu already could not afford the hospital admittance fee, let alone the 12,000 yuan ($1850) in hospital bills she had to pay after needing a C-section delivery.
To pay for her medical bills, Wu was forced to take desperate measures and ended up selling her baby's birth certificate. Through the internet's black market, she found someone who would pay 20,000 yuan ($3085) for it.
Once the baby was born, things looked up for Wu. She soon married a kind man who was willing to raise baby girl 'Xiao Rang' (小让, alias) together with her, and the child's congenital syphilis was cured.
But Xiao Rang still had no birth certificate, and thus no hukou.
The hukou or 'household registration' system is a registered permanent residence policy. A hukou is assigned at birth based on one's community and family. China's hukou system, amongst others, separates rural from urban citizens and is essential to access social services, including education and healthcare.
Without a hukou, the child cannot attend kindergarten, and will not be able to go to school – she will be a heihaizi (黑孩子, lit. 'black child'), an 'illegal child' not registered anywhere.
In December of 2020, as reported by The Paper, Wu traveled from Chengdu to Inner Mongolia in search of her daughter's biological parents.
The girl's intended parents turned out to have twin sons now. They bought a house and went through the process to get their twins through another surrogate mother. After spending approximately 700,000 yuan ($108,000), the family allegedly could not afford to also be legally responsible for Xiao Rang. Afraid of the consequences, the 50-year-old biological father initially also seemed unwilling to formally arrange adoption papers for his daughter, Wu told Time Weekly.
Banned Baby Business
On Weibo, a hashtag page about Xiao Rang's story received over 550 million views on Tuesday, making it one of the most-discussed topics on January 12 (#首个遭代孕客户退单女童无法上户#).
Due to the media attention, and the biological father's identity being exposed, the case was still developing while Chinese netizens looked on.
According to the latest reports, Xiao Rang's biological father will now provide assistance in arranging registration papers for the little girl while Wu Chuanchuan will still raise the child.
The fact that the father himself came forward to tell his side of the story also became a trending topic (#遭退单代孕女童生物学父亲现身#), garnering over 260 million views by Tuesday night Beijing time. The biological father confirms that they gave up on the baby once they were informed of Wu's syphilis infection, and that they did not expect Wu to have the baby after all.
Meanwhile, on social media, there seems to have been a shift in sentiments regarding this story. Netizens initially sided with the surrogate mother and her tragic story.
But as the media continue to report on this story, more and more people are starting to doubt Wu's sincerity, wondering if she used media exposure to portray herself as a victim to gain the public's sympathy.
Online commenters criticize Wu for being part of the surrogacy agreement, for choosing to have the child despite her syphilis, and for selling the child's birth certificate. Many call her 'immoral' and 'irresponsible.'
"Surrogacy exploits women, and it is a serious violation of social ethics and morals. Taking part in surrogacy should be severely punished."
Surrogacy has been a hot topic on Chinese social media recently. Just a month ago, a short film titled "10 Months With You" ('宝贝儿') by famous Chinese director Chen Kaige (陈凯歌) also stirred controversy for supposedly presenting surrogacy in China in a relatively positive light.
The 30-minute film revolves around a young girl who signs a surrogacy contract with intended parents without telling her boyfriend. When she gets emotionally attached to the baby during her pregnancy, things get complicated. But she eventually is persuaded by her boyfriend that the child is not intended to be with them, after which she is willing to part with the baby.
Chinese state media outlets, including Global Times and China Daily emphasized that surrogacy is illegal in China and that those who take part in surrogacy will face fines or even criminal prosecution.
Nevertheless, the practice of surrogacy is a somewhat legislative grey area in China. China's Ministry of Health introduced regulations in 2001 that made it illegal for medical staff to offer surrogacy services. In 2015, there were official plans to completely curb surrogate pregnancies. But that strict ban on surrogacy pregnancies was later reversed.
In 2017, People's Daily even published a controversial article that suggested a loosening of surrogacy bans to boost China's birth rates. Meanwhile, there have been ongoing reports about China's booming underground surrogacy market (here, here ).
In 2018, state media outlet Global Times quoted Qiu Renzong, a bioethics expert at the Chinese Academy of Social Science in saying: "The Chinese government should consider setting some rules to allow surrogacy in certain circumstances."
With discussions on Xiao Rang's case and surrogacy in China being a major topic on Weibo, the legal side is also receiving much attention. Law expert Zhang San (@普法达人张三) uses the hashtag "Criminalize Surrogacy" (#建议代孕入刑#) when he writes:
"Although surrogacy is illegal, it is a blank space in the criminal law. Surrogacy exploits women, and it is a serious violation of social ethics and morals. Taking part in surrogacy should be severely punished. If the freedom is not restricted, it will surely lead to exploitation of the weak by the strong."
Some people on Weibo argue that most of the people involved in Xiao Rang's story are filthy and immoral, and that they need to be punished. But virtually everyone agrees that the little girl needs to be registered in order to still have a chance to lead a normal life: "The child is innocent."
By Manya Koetse
Follow @WhatsOnWeibo
Spotted a mistake or want to add something? Please let us know in comments below or email us. First-time commenters, please be patient – we will have to manually approve your comment before it appears.
©2021 Whatsonweibo. All rights reserved. Do not reproduce our content without permission – you can contact us at info@whatsonweibo.com.
Censorship of Chinese 6B4T & Feminist Groups Prompts Wave of Support for "Douban Sisters"
Even those who don't agree with '6b4t' views condemn Douban's recent crackdown on 6b4t and feminist groups.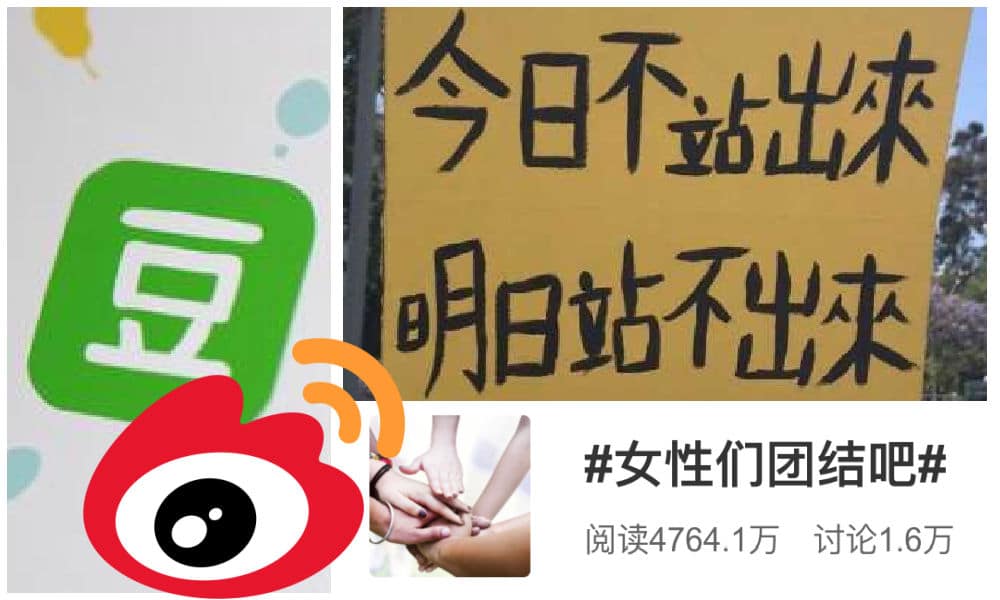 What is 6b4t? That is the question popping up in several places on Chinese social media this week after the popular networking platform Douban closed down several feminist groups and targeted the keyword '6B4T.'
Douban (豆瓣) is an influential Chinese social media platform that allows users to discuss and review books, music, films, and other topics. The platform has a 'group' (小组) function, with groups being like online forums revolving around a particular topic where Douban users can subscribe, post, and interact.
On the night of April 12, Douban closed down more than ten Douban feminist groups, of which some were linked to '6b4t' views.
6b4t is an online movement that originated in South Korea and is about female empowerment and independence that shifts away from patriarchal society and male-dominated fields in popular culture and beyond.
The '6B' stands for no husband, no children, no boyfriend, no male sex partner, not buying any products/brands that are unfriendly to women, and offering support to single women. The movement received some media attention earlier in 2019, when it was still about '4B' or the '4 no's' (no marriage, no kids, no boyfriend, no sex; the 'single women support' and 'refusal of buying misogynistic products' were added later). The '4T' stands for the rejection of shapewear (corsets), religion, otaku culture, and idols.
"A devastating blow for Chinese radical feminists"
The censorship of 6b4t-related groups on Douban sparked sharp criticism and anger online. On Twitter, 'HAL 10000' (@dualvectorfoil) called the crackdown "a devastating blow" for Chinese radical feminists.
Chinese radical feminists just suffered a devastating blow. On April 12, the Chinese government disbanded all radical feminist groups on Douban, a popular social networking website. Those are the only discussion forums that Chinese feminists could find.

— HAL 10000 (@dualvectorfoil) April 13, 2021
The Twitter account FreeChineseFeminists (@FeministChina) posted a screenshot of Douban's notification that the '6B4T' group had been removed, with the platform calling it an "extreme" and "radical" "ideology."
Douban, a social media site used by Chinese urban youth, closed more than 10 feminist groups and banned the keyword 6B4T, a feminist view from South Korea that advocates women not getting married and having no children. Douban calls 6B4T an "extreme" and "radical" "ideology." pic.twitter.com/o9QxhIZoqj

— FreeChineseFeminists (@FeministChina) April 13, 2021
On Weibo, many commenters also spoke out against the removal of the feminist Douban groups.
"I am 6b4t and although it might seem extreme in the eyes of some, I am not harming anyone at all," one person wrote, with another commenter adding: "This is completely limited to myself, I do not influence others."
"I've been 6b4t for years without even realizing," one Weibo user jokingly wrote: "I've been single forever!"
Another person admitted: "I don't really look at Douban, and I don't really understand 6b4t, but blowing up those groups like this goes too far."
"We have to firmly support our Douban sisters"
The account of Xianzi, the woman who became famous for the Xianzi versus Zhu Jun court case, also commented on the Douban censorship on April 13:
"I am not a follower of 6b4t at all, but I firmly support my Douban sisters and oppose how the feminist Douban groups have been shut out. First, 6B4T clearly is an important branch of contemporary online feminism – shutting these groups out is shutting out discussions on female topics. Seconds, the viewpoint of 6B4T is not radical at all, it just asserts that women do not need to enter heterosexual relationships and can break away from masculine control. This is completely up to women themselves and has nothing to do with anyone else. When even such a viewpoint is banned, and women insisting on being single are still seen as rebellious — this is the fundamental reason why we have to firmly support our Douban sisters."
Many people support Xianzi's statement, and meanwhile, the hashtag "Women Let's Unite" (#女性们团结吧#) also took off on Weibo, with many commenters calling on women to let their voices be heard.
"If someone is covering your mouth to try and silence you – scream louder," one person wrote.
The hashtag was also used to address issues of domestic abuse, a topic that has received a lot of attention on Chinese social media over the past year. In October of 2020, the death of the female vlogger Lamu, who was burnt by her ex-husband, also sparked an online movement that called on authorities to do more to protect and legally empower female victims of domestic abuse.
The 'Women Unite' hashtag page had received over 47 million views by late Tuesday night. Another relating hashtag, 'Douban Feminism' (#豆瓣女权#) was viewed over 40,000 times.
"You can disagree, but you can't silence them"
While the search for '6b4t' gave few new results on the Douban site at the time of writing, there were still some older posts on the topic.
One noteworthy one is that by user *Blossom*, who took the time earlier this year to explain what 6b4t means to her, saying "6b4t is an act of struggle, it is not a discipline."
In the post of February 2nd of this year, 'Blossom' explains that 6b4t is a way of resistance where the keyword is "sovereignty," namely the female sovereignty over her own body. 6b4t is a way to fight for radical feminism, Blossom claims:
"In the context of patriarchal society, women are sexually objectified while male sexuality equals power. Under this premise, marriage, childbearing, romantic love, and sexual activity are all about reinforcing the power of men and benefiting them. So we advocate 4b, which essentially is a non-violent and non-cooperative struggle mode, with the same characteristics as workers' and slaves' strikes."
Although there are also people expressing disagreement with the 6b4t movement, many defend their right to have online discussion groups about their ideas.
"You can disagree, you can call them into question, but you can't cover their mouths to silence them," one Weibo user wrote.
"We can have groups advocating marriage and childbirth, why can't we have groups advocating being single and childfree?", another person asked, with one commenter stating: "I do not advocate 6B4T, but I will defend to the death the right of these women to advocate 6B4T."
Throughout the years, feminist movements have often become a target of censorship on Chinese social media. Douban previously also censored content relating to the Zhu Jun sexual harassment case, and in the case of demanding justice for Lamu, some hasthag pages were also removed from Weibo. The renowned feminist Weibo account 'Feminist Voices' (@女权之声) was permanently banned in 2018, along with other feminist accounts.
"A new era of witch-hunting has started," one top comment in a thread of 2200 comments said: "Get ready to fight, let your voice be heard!"
A somewhat ironic consequence of Douban's latest censorship is that many people who had never heard about this 'radical feminism' now know what 6b4t is because it became a 'banned term.' "I've learnt a new word today," some commenters say, with others vowing to support their silenced 'Douban sisters.'
By Manya Koetse
Spotted a mistake or want to add something? Please let us know in comments below or email us. First-time commenters, please be patient – we will have to manually approve your comment before it appears.
©2021 Whatsonweibo. All rights reserved. Do not reproduce our content without permission – you can contact us at info@whatsonweibo.com.
Video Showing Suihua Female Worker Hitting Deputy Director with a Mop Goes Viral on Weibo
The Suihua deputy director was attacked with a mop after female workers accused him of harassing them.
A video showing a woman beating the director of her work department with a mop has gone viral on Chinese social media. The woman who posted the video accuses the office leader of harassing his female subordinates.
The incident took place on April 11th in the city of Suihua, Heilongjiang province. The man who was beaten in the video is Mr. Wang, the deputy director of the poverty alleviation department of the Beilin district of Suihua.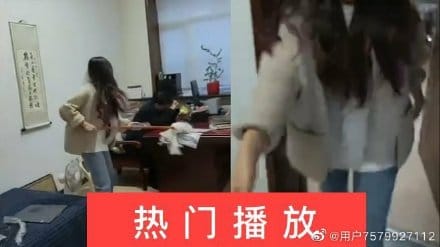 The 14-minute video shows a woman storming into Wang's office while another woman is behind her, filming. The first woman initially goes to Wang's desk and throws some stuff on the ground, before she asks the other woman to give her the mop. She then proceeds to hit Wang in the face and head with the mop multiple times. The other woman yells at Wang that she cannot put up with his harassing texts anymore.
At one point in the video, Wang claims he was "just joking," but the woman claims he is guilty of harassing multiple women in the department. Local authorities investigated the case after the video went viral.
According to Chinese news reports, Mr. Wang has now been removed from his office and Party position for "lifestyle violations of discipline" (for more information on this, China Law Translate has translated the Chapter XI of the Chinese Communist Party Disciplinary Regulations here.)
The woman hitting Wang with the mop reportedly has not been punished for her actions due to "mental illness."
On Weibo, many people praise the women for stepping up and rebelling against the deputy director, and fighting to protect themselves. Some people call it "courageous" and a "brave revenge."
"Harassers deserve to be hit," one commenter writes, with another person adding: "It is good that young people nowadays come forward against older and more powerful leaders."
There are also people on Weibo who question the reported "mental illness" condition of the woman who hit Wang, with some suggesting she could have not been a state office worker if she suffered from serious mental issues. Others also denounce the fact that the woman was labeled this way, while allegedly having been harassed and finding no help after reporting it to the police. At the same time, a majority of commenters express relief that the woman will not face punishment for hitting Wang with the mop.
Since the outcome of the investigations has not been made public, some netizens demand to see the investigation's conclusions to know if the official was indeed guilty of sexual harassment and why nothing was done about the female worker's alleged reports to police about his behaviour.
Over the past year, the problem of sexual harassment in the workplace has been receiving more attention on Chinese social media. In March of this year, a Shanghai court awarded approximately $15,000 to a plaintiff in a sexual harassment suit against a colleague who had sent disturbing text messages to her over a period of six months (link). In December of 2020, a landmark court case of the female scriptwriter Zhou Xiaoxuan versus Chinese famous TV host Zhu Jun attracted major attention on social media.
By Manya Koetse, with contributions by Miranda Barnes
Spotted a mistake or want to add something? Please let us know in comments below or email us. First-time commenters, please be patient – we will have to manually approve your comment before it appears.
©2021 Whatsonweibo. All rights reserved. Do not reproduce our content without permission – you can contact us at info@whatsonweibo.com.