"Daddy Ma, Are You OK?" – Jack Ma's Situation Discussed on Chinese Social Media
Public sentiments on Jack Ma have shifted, but the fans still defend their idol.
Chinese tech superhero Jack Ma has become a hot topic on international social media this month since he has been missing in action for weeks, while Alibaba is facing an anti-monopoly investigation. Ma seems to have fallen out of favor, not just with authorities but also with many Chinese web users.
This month, the alleged 'disappearance' of Alibaba founder Jack Ma made headlines in various English-language media, from Reuters to CNN and the Financial Times.
The direct reason for speculation about Jack Ma's whereabouts was his absence at Africa's Business Heroes, a talent show he helped create in which Ma was part of the finale judge panel. According to FT.com, the final – which won't be broadcasted until spring – took place in November.
Although an Alibaba spokesperson explained Ma's absence from the show as a "schedule conflict" that made it impossible for the tech tycoon to participate, many Twitter users directly tied his 'suspected missing' to a critical speech he gave at the Shanghai Bund Finance Summit on October 24 of 2020.
In this speech, Ma made critical remarks on how China's financial market is regulated and supervised. Kevin Xu at Interconnected provides an English translation of this speech here.
On November 3rd, two days before Alibaba's fintech subsidiary Ant Group was set to raise around $37 billion with the biggest initial public offering of all time, Chinese regulators abruptly suspended the process. A report by the Wall Street Journal claimed that Chinese President Xi Jinping personally made the decision to halt the IPO of Ant Group after years of rising tensions between Ma and the government.
Pressure on Jack Ma and Alibaba further increased in December when Chinese regulators launched an anti-monopoly investigation into Alibaba and the Ant Group.
Alibaba announced the investigation of its company on its official Weibo channel on December 25 of 2020.
On December 25, People's Daily also reported the anti-monopoly investigation. The state newspaper hosted a hashtag page about the matter on Sina Weibo (#人民日报再评阿里巴巴被调查#) which garnered over 240 million views. They wrote:
"Large Internet platform companies should take the lead in strengthening industry self-discipline, in further enhancing their sense of social responsibility, and in safeguarding a favorable Internet economic ecosystem. The Internet industry has never been, and should never become, a place that is outside the law for anti-monopoly. Regarding platform economy, reinforcing anti-monopoly regulations is never a "winter" for the industry – it is just a new starting point for better and healthier development."
Although Chinese official media have since not reported much on the issue, and have not published about Ma's alleged 'disappearance', Ma's whereabouts and his situation has become a much-discussed topic on various Chinese social media platforms.
Jack Ma in Short
Being among the top 20 richest people in the world, Jack Ma is world-famous as the founder of Alibaba, a multinational tech company specializing in e-commerce that was founded in 1999.
Jack Ma, whose Chinese name is Ma Yun 马云, was born in Hangzhou in 1964 to a family of low status. His life story has been retold in many books. Ma was bullied at school, had poor math skills, and flunked the entrance exam twice before he was accepted into the Hangzhou Teacher's Institute, where he graduated in 1988 with a Bachelor of Arts in English.
Ma had been interested in English since he was a young boy. He would cycle to the main hotel in his city to connect with foreign tourists, acting as their local tour guide in return for English classes. The name 'Jack' was given to him by one of the tourist friends he made at that time.
Ma went on to become an English teacher and barely even touched a keyboard before he traveled to the US in 1995 as an interpreter. It was during this trip that he was first introduced to the internet, after which he became inspired to set up his own commercial web site in China – a web site named 'China Pages' for Chinese businesses.
Although that business flopped, Jack Ma founded Alibaba in 1999, which would turn into an internet giant influencing virtually all corners of China's digital world. The Alibaba Group now operates numerous businesses, including Taobao, TMall, AliExpress, and the Ant Group.
Ma's success is a source of inspiration to many, and his 'crazy Jack' energetic behavior and willingness to make fun of himself has only made him and his story all the more captivating.
Ma officially stepped down as Alibaba's CEO in 2019 but is still the company's largest individual shareholder.
"What's up with Ma Yun?"
Until recently, Jack Ma was one of the more popular Chinese celebrities on social media. Jack Ma quotes, memes, videos, or stories would frequently go viral.
As one of the most respected and powerful entrepreneurs of China, bookstores have entire sections dedicated to Jack Ma and his role as a business magnate, the richest man of China, and also as a welldoer and an inspiring influential.
Whatever Ma would say or do would go trending, with many people praising what he did, what he said, or where he went.
In 2017, the meeting between US President Trump and Alibaba's Ma was a big topic of discussion, with many Chinese web users taking pride in Ma's meeting with Trump, calling him the perfect ambassador to China in their dealings with Trump. "Ma Yun [Jack Ma] for president!" was a much recurring phrase.
It is a phrase you won't read as much, if at all, on Chinese social media these days anymore. The silence surrounding Jack Ma recently has led to speculation and reflections on his current situation.
On Chinese search engine Baidu, the search prediction reflects web users' confusion over his whereabouts; upon searching for 'Ma Yun' in the first week of January, the first five automatic predictions are the following:
– Jack Ma fled abroad
– Did Jack Ma really flee abroad?
– Jack Ma sentenced to prison
– Jack Ma disappeared
– Jack Ma Shanghai Bund speech
On Douyin (the Chinese TikTok), the first sentence to come up when searching for Ma Yun, is "What's up with Ma Yun?"
On Weibo, where Jack Ma has over 26.4 million followers on his official account, there have not been any new posts since October 17. But Ma's last post, which talks about an educational event, is still attracting new comments every few minutes.
"Daddy Ma, come on, ok? We're rooting for you," one commenter writes.
"We haven't seen you in a long time, Brother Ma," some write: "When will you come back into the public arena?", with others saying: "Teacher Ma, what happened?"
But besides the messages from those who seem concerned about the well-being of the tech tycoon, there are many angry ones.
Some blame Ma for praising the '996' work system (working from 9am-9pm, 6 days a week). In 2019, Ma called the 12-hour working day a "blessing," causing much controversy online. Because the death of a young employee at Pinduoduo was also linked to her long working hours, the '996' work system is a hot topic this week, with many condemning how Chinese tech companies are exploiting their employees and revisiting Ma's 2019 comments.
Others also turn to Jack Ma's Weibo page to complain about the shutdown of Alibaba's music streaming app Xiami. Although Xiami only holds a small percentage of China's music streaming market – apps such as QQ Music and KuGou are more popular – there are still many people who have been using the app for years and hate to see it go: "Why can't you give it another chance, why can't you take care of our Xiami!?"
And then there are those commenters who, in light of the recent developments and anti-monopoly investigations, call Ma a "greedy capitalist" and a "bloodsucker." "Maybe he'll be punished," one person writes: "Is that a 'blessing' too?" "I went from being a fan to a hater," another commenter writes, with others calling him an opportunist.
Changing Sentiments on Social Media
Jack Ma used to be an idol for many young people in China, but now it seems they have started to oppose him. On the Chinese video sharing site Bilibili, mainly used by younger generations, comments appearing in some videos featuring Ma are filled with anger and scolding.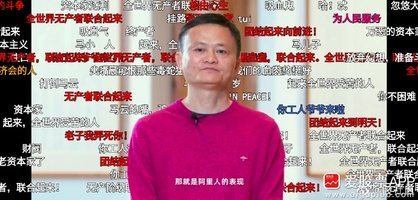 This shift in Ma's popularity among young people was recently also explained by young Chinese vlogger Yu He in this video, who argues that young people do not adore Jack Ma in the same way older Chinese people do.
Ma's vision of working really hard, praising the '996' work culture, and "everybody can be successful if you really try hard" was an inspiration to previous generations, but many post-90s people in China today – who are struggling in a highly competitive job market – do not have a lot of faith in Ma's work philosophy when their everyday lives are not about working to live, but about living to work. To them, Ma's ideas about working around the clock to get further in life do not make sense, as some feel they are working themselves to death while others get rich.
There is also anger over consumer lending platform Huabei, a product of Alibaba's Ant Group. Huabei previously encouraged users to spend more money in its ads, and its platform makes it very easy to spend money first and pay it back later – even for those who might not oversee the long-term consequences of excessive debt.
The question of why Jack Ma seems to have fallen out of favor with many Chinese people is also a topic of discussion on question-and-answer platform Zhihu.com.
One popular analysis by the e-commerce account Zhiser claims that Jack Ma used to be supported by the ordinary people because he made it possible for so many of them to make money through the Taobao marketplace platform, which started in 2003. Alibaba's Alipay online payment platform made it possible for common people to conveniently transfer money without extra fees.
But over recent years, Zhiser argues, Alibaba's business strategies have changed in such a way that its own profits are maximized and small sellers are negatively impacted.
With the arrival and growth of Alibaba's Tmall, where only brand owners or authorized dealers can open an online store & where transaction commissions are much higher, the traffic of small sellers on the Taobao marketplace has been reduced. Alibaba's activities are increasingly focused on benefiting the bigger companies – and itself -, while small entrepreneurs are increasingly struggling to be noticed and make money.
Without the means to open their own Tmall shop, without the capital to afford advertisement and paid promotions for their shops, the small sellers are watching helplessly how the big boys dominate the platform algorithms and take the money, Zhiser explains.
Alibaba is now also increasingly focusing on the fruit & vegetable market. There's Alibaba's Hema Fresh supermarket brand, for example, with big plans to open hundreds of stores nationwide in the upcoming years. The rise of Alibaba's fresh food businesses directly impacts the livelihood of ten thousands of ordinary Chinese who have their own small vegetable shops or street stalls – exactly those people who are already in vulnerable social groups.
Although the rise of Alibaba was once a great opportunity for common people, the changing business strategies have now resulted in Jack Ma getting more enemies, including small entrepreneurs, small sellers and buyers, offline shops, offline vendors, etc.
For them, the 'Alibaba dream' of using the power of the Internet and technological advancement to enable small businesses and young people to share the benefits of free trade has lost credibility.
"These years, Jack Ma has played the role of the destroyer rather than the savior," the author writes. His article received over 10,500 endorsements.
Zhiser's article reflects a perspective that surfaces in many places. "We believed him, that he really was making things better for us," another blogger writes.
Others think that Jack Ma was true about his intentions and dreams when he was a teacher and then started his business, but changed when he became surrounded by money-driven big investors, causing him to become alienated from his former ideas and philosophies, losing touch with China's younger generation, the small shop owners he promised to serve and the ordinary people.
"He changed China, he changed the world"
Despite the recent criticism of Ma, many people still defend and support him. There are even those who criticize him but still express their admiration for him.
Regarding the criticism coming from post-90s generations, one Chinese web user commented:
"You have no idea what it was like before Jack Ma came around. You're too young to know. If you want to go back [in that time], I suggest you go live on the moon."
Discussing the changing sentiments regarding Ma, Zhihu author Qing Rui writes:
"Jack Ma is a great entrepreneur of this era. He changed China, he changed the world. A lot of nonsensical people scold him for damaging China's real economy, while he's actually worked hard to improve the efficiency of the business sector, which has not only greatly boosted the real economy, but also greatly improved the living standards of the Chinese people."
It is a sentiment shared by many, who express that they think the recent shift in views on Ma is uncalled for, or reminding people of the positive effect Ma and his businesses have had on China's development.
"Those who scold Jack Ma are brainless idiots," some write.
"How is it possible for the public opinion on Daddy Ma shifting 180 degrees? It's like throwing stones at someone who fell down," one Weibo user from Shenyang writes.
Although perhaps less crowded than before, online 'Ma Yun Fanclubs' are still active. One Weibo fan writes: "Let's all hope our favorite idol Ma Yun will smoothly sail through this crisis!"
As for the 'disappearance' of Jack Ma that has previously been reported – although Ma has not been out in public, it is highly unlikely that he is actually missing.
CNBC reported on January 5 that the Chinese billionaire is lying low, according to a person familiar with the matter.
When famous Chinese actress Fan Bingbing got caught up in a tax evasion scandal in 2018, her 'disappearance' also made headlines in international media. After months of silence and wild rumors, the actress returned to social media with a public apology. She was ordered to pay taxes and fines worth hundreds of millions of yuan.
Meanwhile, Jack Ma's Weibo page is still receiving dozens of new messages. In between the "evil capitalist" scoldings, there are some who really hope Ma will come back to public life soon: "We'll support you, teacher Ma, don't give up!"
By Manya Koetse
Follow @WhatsOnWeibo
Spotted a mistake or want to add something? Please let us know in comments below or email us. First-time commenters, please be patient – we will have to manually approve your comment before it appears.
©2021 Whatsonweibo. All rights reserved. Do not reproduce our content without permission – you can contact us at info@whatsonweibo.com.
Will Weibo Become 30% State-Media Owned?
Alibaba is allegedly ready to give up its Weibo shares to SMG.
Bloomberg recently reported that Chinese e-commerce giant Alibaba is preparing to sell its 30% stake in social media platform Weibo. According to people familiar with the matter, Alibaba is negotiating with the state-owned Shanghai Media Group (SMG).
News about Alibaba planning to sell all of its Weibo shares has triggered some online discussions on the Chinese social media platform. Bloomberg was the first to report that the Chinese e-commerce and IT enterprise is talking to the state-owned Shanghai Media Group (SMG) to sell all of its 30% stake in Weibo.
According to Bloomberg, the move relates to regulators wanting to curb the influence of Chinese tech giants in the media sphere. The Bloomberg article claims that SMG, as one of China's largest state-owned media and cultural conglomerates, stands a higher chance of gaining the approval of Chinese authorities than a private acquirer.
SMG is a large state-owned enterprise with over a dozen TV and radio stations, many newspapers and magazines, various drama & film production and distribution businesses, and more. The company has a major media influence, not only in Shanghai but throughout the country.
According to Weibo's 2020 annual reports, New Wave held a 45% stake in Weibo, followed by Alibaba with its 30%. New Wave is the holding company by Weibo chairman Charles Chao.
"Weibo will change into another channel for SMG," some Weibo users predict, with others also sharing their fear that Weibo would become more and more like a platform for official media ("微博现在越来越官方化").
"This would be a big milestone in the crumbling of Alibaba's media empire," another commenter wrote. Some wonder if the developments have more to do with Weibo as a platform, or with Alibaba and its media influence.
In March of 2021, the Wall Street Journal already reported that the Chinese government asked the Alibaba Group to dispose of its media assets due to concerns over the company's influence in the sensitive media sphere.
"When Alibaba exits and state-owned capital enters, Weibo is expected to magnificently transform into a 'state-owned enterprise'," another Weibo user wrote.
Although some commenters worry that Weibo will change for the worse and that there will be more censorship, others see a sunnier future for the social media platform: "It would be good for Weibo to be 'state-owned' so that it won't be controlled by capital to influence public opinion anymore."
Chinese tech site 36kr also reported about the issue on January 1st, but neither Weibo nor Alibaba or SGM have officially responded yet.
By Manya Koetse
With contributions by Miranda Barnes.
Spotted a mistake or want to add something? Please let us know in comments below or email us. First-time commenters, please be patient – we will have to manually approve your comment before it appears.
©2021 Whatsonweibo. All rights reserved. Do not reproduce our content without permission – you can contact us at info@whatsonweibo.com.
China's Livestreaming Queen Viya Goes Viral for Fraud and Fines, Ordered to Pay $210 Million
Viya, the Queen of Taobao, is under fire for tax evasion.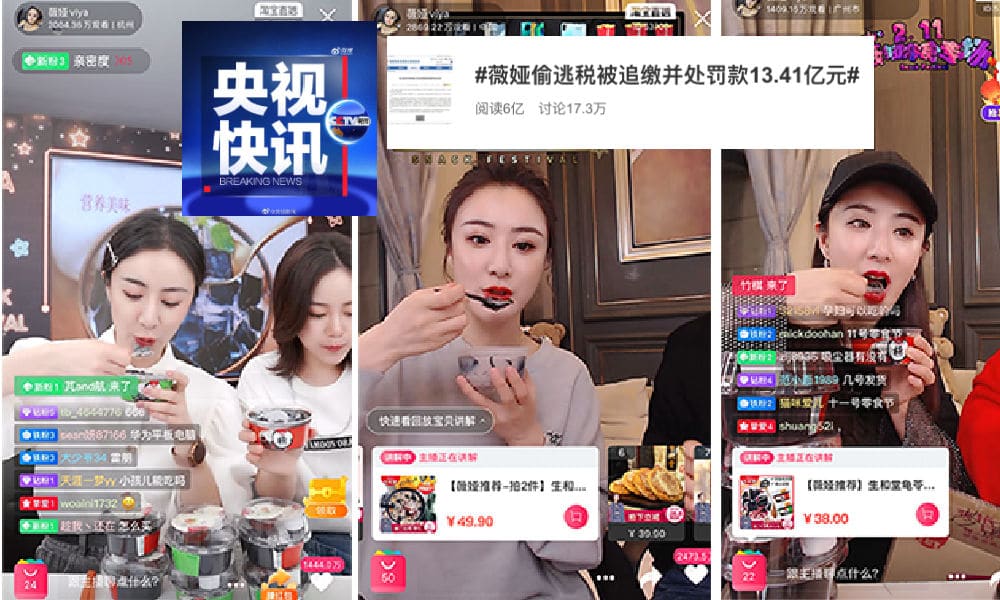 Viya, one of China's most well-known and successful live streamers, is trending today for allegedly committing tax fraud by deliberately providing false information and concealing personal income.
The 'Taobao queen' Viya (薇娅, real name Huang Wei 黄薇) reportedly committed tax fraud from 2019 to 2020, during which she evaded some 643 million yuan ($100 million) in taxes and also failed to pay an additional 60 million yuan ($9.4 million) in taxes.
The Hangzhou Tax Administration Office reportedly ordered Viya to pay an amount of over 1.3 billion yuan ($210 million) in taxes, late payment fees, and other fines. On Monday, a hashtag related to the issue had garnered over 600 million views on Weibo (#薇娅偷逃税被追缴并处罚款13.41亿元#).
Viya made headlines in English-language media earlier this year when she participated in a promotional event for Single's Day on October 20th and managed to sell 20 billion yuan ($3.1 billion) in merchandise in just one live streaming session together with e-commerce superstar Lipstick King.
China has a booming livestreaming e-commerce market, and Viya is one of the top influencers to have joined the thriving online sales industry years ago. When the e-commerce platform Taobao started their Taobao Live initiative (mixing online sales with livestreams), Viya became one of their top sellers as millions of viewers starting joining her channel every single day (she livestreams daily at 7.30 pm).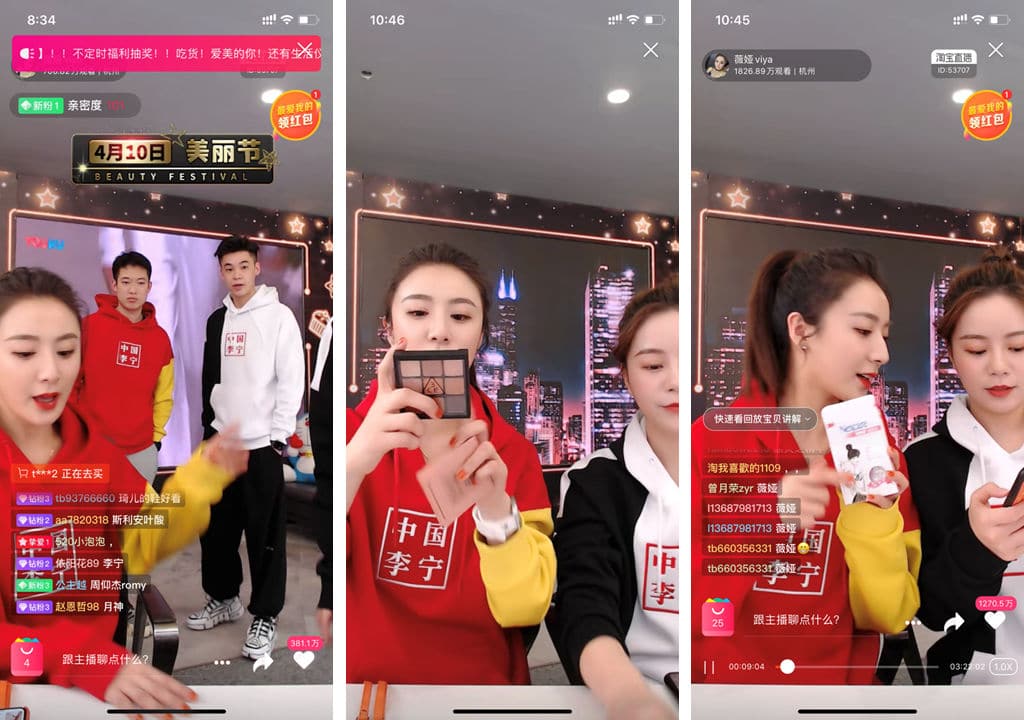 With news about Viya's tax fraud practices and enormous fines going viral on Chinese social media, many are attacking the top influencer, as her tax fraud case seems to be even bigger than that of Chinese actress Fan Bingbing (范冰冰).
Chinese actress Fan Bingbing went "missing" for months back in 2018 when she was at the center of a tax evasion scandal. The actress was ordered to pay taxes and fines worth hundreds of millions of yuan over tax evasion. The famous actress eventually paid approximately $128,5 million in taxes and fines, less than Viya was ordered to pay this month.
Like Fan Bingbing, Viya will also not be held criminally liable if the total amount is paid in time. This was the first time for the e-commerce star to be "administratively punished" for tax evasion.
Around 5pm on Monday, Viya posted a public apology on her Weibo account, saying she takes on full responsibility for the errors she made: "I was wrong, and I will bear all the consequences for my mistakes. I'm so sorry!"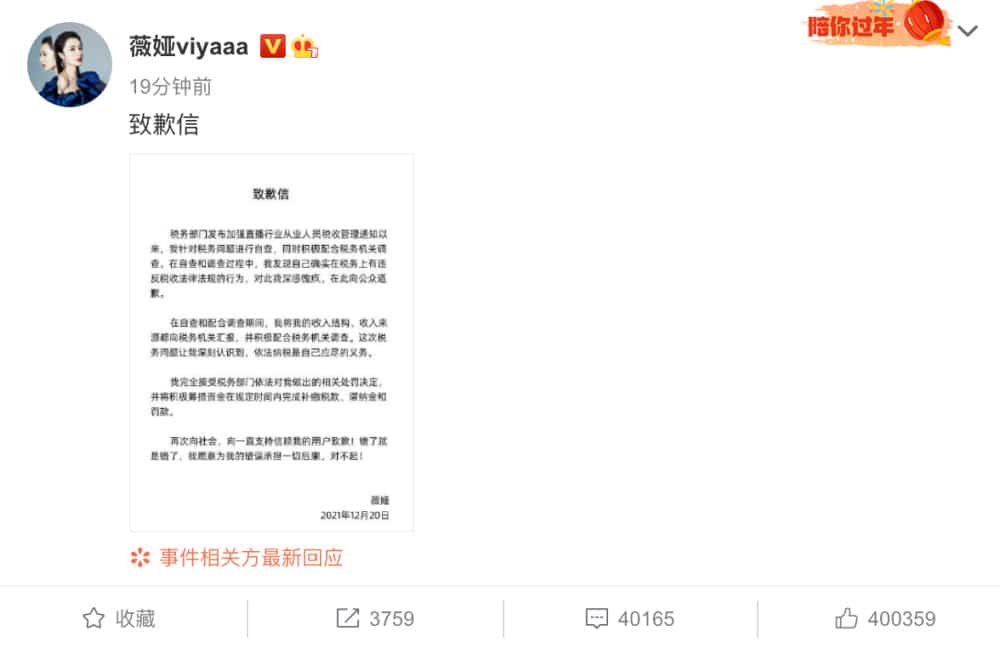 It is not clear if she will still do her daily live stream later today and how this news will impact Viya's future career.
Update: Vaya's live stream was canceled.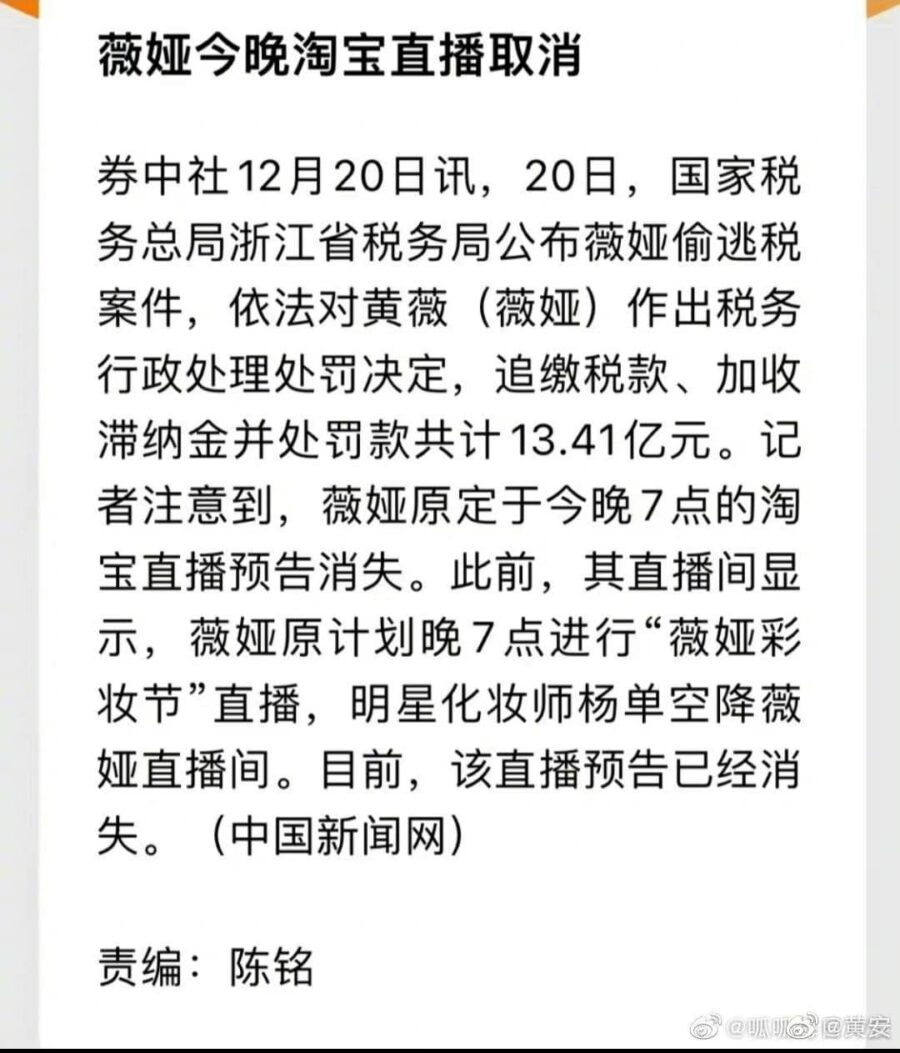 Update 2: Vaya's husband also issued an apology on Weibo.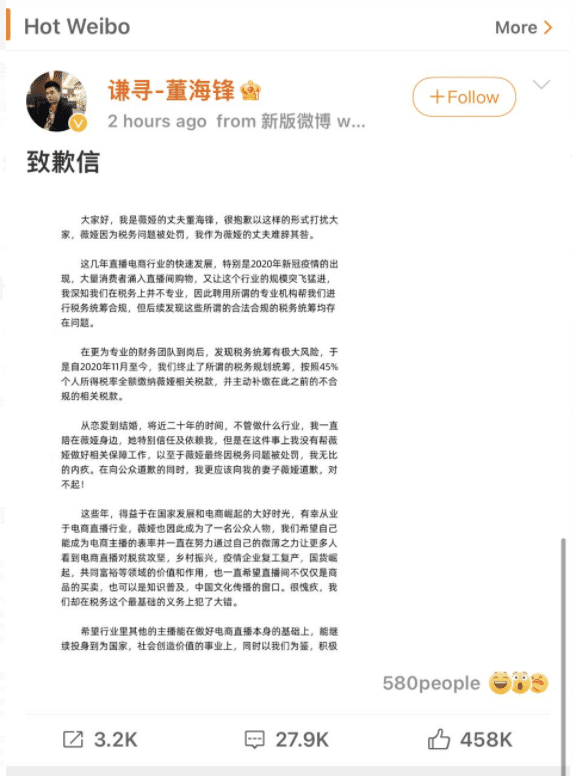 Update 3: Taobao has suspended or 'frozen' ("冻结") Vaya's livestreaming channel. Her Taobao store is still online.
By Manya Koetse
With contributions by Miranda Barnes.
Spotted a mistake or want to add something? Please let us know in comments below or email us. First-time commenters, please be patient – we will have to manually approve your comment before it appears.
©2021 Whatsonweibo. All rights reserved. Do not reproduce our content without permission – you can contact us at info@whatsonweibo.com.