Chinese Couple Murdered in Cambodia, Last Moments Caught on CCTV Camera
The bodies of the 38-year-old man and 22-year-old woman were found by the cleaning staff.
On January 13, Cambodian media reported that two Chinese citizens were murdered in an apartment building in the Cambodian capital Phnom Penh.
CCTV cameras captured the chilling last moments of the two as they were taken into the apartment against their will by two men with a weapon.
The victims have been identified as a 38-year-old man from Guangdong by the name of Xiao Bo (肖波), and his 22-year-old girlfriend. The two had just met a few months ago. Xiao was locally also known as 'Bobo' (波波).
The man and woman reportedly were first held hostage and then brutally killed by two gunmen in an apartment on the ninth floor of the Phnom Penh building.
The incident happened on January 12 in the LH Residence (澜海总裁公寓) apartment complex. The cleaner found their bodies, after which the police were alerted.
Some media report that Xiao had previously sought help because he was being chased by 'enemies.' Cambodian police are currently investigating the case.
Meanwhile, the murders have attracted major attention on Chinese social media, where the hashtag "Chinese citizens murdered in Cambodia" (#两名中国人在柬埔寨遇害#) received 180 million views by Thursday evening.
While many people express shock and sadness over the Chinese couple's death, there are also those who speculate that the man might have been caught up in gambling and the local criminal underworld.
We will add further details to this story when more news comes out.
By Manya Koetse
Follow @WhatsOnWeibo
Spotted a mistake or want to add something? Please let us know in comments below or email us. First-time commenters, please be patient – we will have to manually approve your comment before it appears.
©2021 Whatsonweibo. All rights reserved. Do not reproduce our content without permission – you can contact us at info@whatsonweibo.com.
Bad Apples? Chinese Actor Liu Jin Smashes iPhone 13 Pro Max, Anger over 'Chinese' Employee Photo on Apple Website
Who's the bad Apple? There's much ado about Apple on Chinese social media this week, but things turn out differently than expected.
There is a lot of Apple anger on Chinese social media this week. Two separate trending topics have ignited discussions. One revolves around Chinese actor Liu Jin, who smashed his iPhone 13 Pro Max in front of the Apple flagship store, while another one centers on an image of an Apple employee deemed inappropriate by Chinese netizens. But both viral trends have unfolded with surprisingly 'juicy' twists.
The Chinese actor Liu Jin (刘金) has become a big topic of discussion on Chinese social media this week for a remarkable statement he made in a 2-minute video that has gone viral.
The 'statement video' shows the actor angrily throwing his iPhone 13 Pro Max on the ground until it breaks, right in front of the Wangfujing Apple flagship store in Beijing, pledging he will never buy another Apple product again and accusing the company of being arrogant and overbearing after running into some repair issues.
Liu Jin is an actor who played in various productions, but he made his major breakthrough in 2015 when he played in the Chinese CCTV series Don't Let me See (别让我看见) and in the successful comedy movie Goodbye Mr Loser (夏洛特烦恼).
This was not the only Apple incident going viral on Chinese social media this week. Another trending topic revolves around actor Liu Jin, who angrily smashed his iPhone 13 Pro Max in front of the Apple flagship store in Beijing. (Caps autogenerated, but you get the idea.) pic.twitter.com/MdPvnKqh1T

— Manya Koetse (@manyapan) September 19, 2023
In the video, recorded on September 17, Liu explains he just visited the Apple store to get his iPhone back after bringing it in for repair. Liu claimed that he bought his iPhone 13 Pro Max in August of 2022 through the official store and that, after a year, it had a hardware problem that needed to be fixed.
According to Liu, the Apple store has now returned the iPhone to him without repairing it, saying that the phone was "modified without authoritization" by a third party, and that Liu should pay a 6,960 yuan ($950) fee to get it fixed.
Refusing to pay such an amount of money, and denying he got the phone through a third party, Liu then smashes the iPhone on the ground until it is broken, promising never to buy Apple again.
A hashtag related to the video was viewed a staggering 270 million times on Weibo, where it became a top trending topic (#演员刘金苹果店前怒摔iphone#).

Apple vs Huawei Rivalry

The actor's recent actions have garnered considerable attention, primarily because they coincide with the escalating rivalry between Huawei and Apple. This rivalry has become a prominent topic of discussion in China recently, due to various things coming together at the same time.
Notably, Apple unveiled its iPhone 15 shortly after Huawei introduced its latest flagship, the Mate 60 Pro 5G. Noteworthy enough (and unlikely coincidentally),it was launched on the same date as the return of Huawei executive daughter Meng Wanzhou from Canada in 2021 (read here).
The official launch ceremony for Huawei's new products is coming up on September 25, and people are hoping to find out more about the powerful Kirin 90000s chip that is being used by Huawei despite facing heavy US sanctions regarding Chinese access to crucial chip technology.
Simultaneously, reports emerged about alleged Chinese restrictions on iPhones within government and state agencies, resulting in a significant decline in Apple's stock value. The Foreign Ministry later stated that that China has actually not issued any law, regulation, or policy document to ban the use of Apple phones.
All of these developments have reignited the ongoing tech giant competition in China, that is now about much more than smartphones alone and has come to symbolize geopolitical rivalry, encompassing themes of nationalism, anti-Western sentiments, and a growing sense of pride in products made in China.

Much Ado about Apple Employee Photo

As Liu's phone-smashing video went viral, so did another controversy concerning an Apple customer service employee's photo depicted on the official website of Apple.
A Chinese netizen pointed out that a photo of an Apple Watch Specialist representative on the Apple site may have been purposely "insulting China" (辱华) due to the appearance of the person in the photo.
Initially, many people thought the image was specifically used on the Chinese-language Apple site, and that it concerned a Chinese individual with a hairstyle that resembles a queue: a single long braid of hair that was traditionally worn by male subjects of China during the Qing.
Some people also thought the individual had a pockmark near the mouth and that their looks reinforces stereotypes surrounding Chinese appearances regarding eyes and forehead. The image therefore sparked wide-spread resistance among netizens who thought Apple deliberately and inappropriately used such an image to show Chinese individuals as being backward and unattractive.
On the same day as Liu's video first came out, September 17, the topic of the "braid-wearing customer service representative" went trending, and the hashtag of "how do you feel about the Apple China website image of the braided customer service representative" (#如何看苹果中国官网辫子客服形象#) has since received over 200 million views on Weibo.
Political commentator Hu Xijin (胡锡进) also responded to the issue, explaining how the Chinese people are particularly sensitive to issues related to "perceived insults to China by Westerners," due to historical and cultural factors which are further amplified by current tensions in US-China and broader China-Western relations.
Hu therefore argues that "American and Western companies should be more careful and cautious when promoting their products and try to avoid using images and texts that could be misinterpreted by Chinese people."1

Who's the Bad Apple?

But to what extent is criticism of Apple reasonable in both incidents?
In the case of the "braid-wearing customer service representative", it soon triggered a response from Apple's customer service (#苹果客服回应辫子客服形象#, hashtag with 180 million views) and led to more information.
It has since become evident that many assumptions about the image were unfounded. Contrary to the initial belief that the photo was exclusive to the Chinese page, it was also featured on Apple's official websites in the United States, Japan, South Korea, and other countries.
Furthermore, it was revealed that the Apple employee in question is not of Chinese descent at all; she is a Native American female employee (also see Wen Hao's post on this). Additionally, the perceived pockmark near her mouth was, in fact, a piercing.
In response to this, some people mocked Hu Xijin for how he responded to the controversy.
But Liu's video also turns out to be a bit different than the version of the story he presented.
The actor seemed to voice a popular public sentiment by taking a stand against Apple's dominant position, that rivals that of China's tech darling Huawei, by smashing an Apple smartphone in public.
But where is the proof that Liu actually bought his iPhone at an Apple store in 2022? Where is the receipt showing that his phone was indeed not coming from a third party that might have modified it?
To the dismay of many netizens, the actor refused to show the official store receipt of his Apple phone, and many people started to doubt if the actor might have just put on a show to gain attention at a critical moment in the market competition between Apple and Huawei.
Moreover, the actor's story seemed even less credible when he tried to further explain it in a recent social media post.
Why?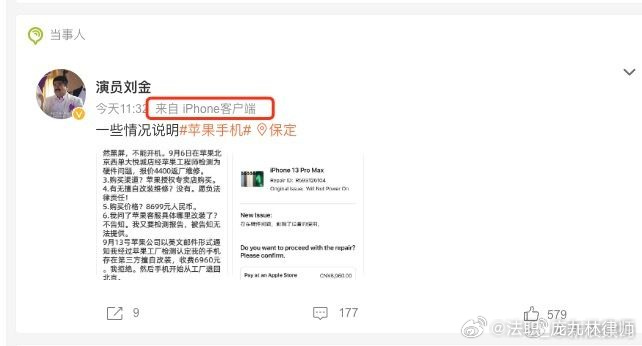 As many netizens noted: the post he sent was actually sent from an iPhone.
By Manya Koetse
1 "(..)一些国人在西方人"辱华"的问题上很敏感,有其真实的历史和文化原因。目前中美关系很紧张,中西关系也不如过去,美国和西方公司在做产品宣传时,多一些细心、谨慎,尽量不要选用有可能引发中国人误解的图文,这是他们开展跨文化交流时一份应有的素养和水平。"
Get the story behind the hashtag. Subscribe to What's on Weibo here to receive our newsletter and get access to our latest articles:
Spotted a mistake or want to add something? Please let us know in comments below or email us. First-time commenters, please be patient – we will have to manually approve your comment before it appears.
©2023 Whatsonweibo. All rights reserved. Do not reproduce our content without permission – you can contact us at info@whatsonweibo.com.
"Oppenheimer" in China: Highlighting the Story of Qian Xuesen
Qian Xuesen is a renowned Chinese scientist whose life shares remarkable parallels with Oppenheimer's.
They shared the same campus, lived in the same era, and both played pivotal roles in shaping modern history while navigating the intricate interplay between science and politics. With the release of the "Oppenheimer" movie in China, the renowned Chinese scientist Qian Xuesen is being compared to the American J. Robert Oppenheimer.
In late August, the highly anticipated U.S. movie Oppenheimer finally premiered in China, shedding light on the life of the famous American theoretical physicist J. Robert Oppenheimer (1904-1967).
Besides igniting discussions about the life of this prominent scientist, the film has also reignited domestic media and public interest in Chinese scientists connected to Oppenheimer and nuclear physics.
There is one Chinese scientist whose life shares remarkable parallels with Oppenheimer's. This is aerospace engineer and cyberneticist Qian Xuesen (钱学森, 1911-2009). Like Oppenheimer, he pursued his postgraduate studies overseas, taught at Caltech, and played a pivotal role during World War II for the US.
Qian Xuesen is so widely recognized in China that whenever I introduce myself there, I often clarify my last name by saying, "it's the same Qian as Qian Xuesen's," to ensure that people get my name.
Some Chinese blogs recently compared the academic paths and scholarly contributions of the two scientists, while others highlighted the similarities in their political challenges, including the revocation of their security clearances.
The era of McCarthyism in the United States cast a shadow over Qian's career, and, similar to Oppenheimer, he was branded as a "communist suspect." Eventually, these political pressures forced him to return to China.
Although Qian's return to China made his later life different from Oppenheimer's, both scientists lived their lives navigating the complex dynamics between science and politics. Here, we provide a brief overview of the life and accomplishments of Qian Xuesen.
Departing: Going to America
Qian Xuesen (钱学森, also written as Hsue-Shen Tsien), often referred to as the "father of China's missile and space program," was born in Shanghai in 1911,1 a pivotal year marked by a historic revolution that brought an end to the imperial dynasty and gave rise to the Republic of China.
Much like Oppenheimer, who pursued further studies at Cambridge after completing his undergraduate education, Qian embarked on a journey to the United States following his bachelor's studies at National Chiao Tung University (now Shanghai Jiao Tong University). He spent a year at Tsinghua University in preparation for his departure.
The year was 1935, during the eighth year of the Chinese Civil War and the fourth year of Japan's invasion of China, setting the backdrop for his academic pursuits in a turbulent era.
One year after arriving in the U.S., Qian earned his master's degree in aeronautical engineering from the Massachusetts Institute of Technology (MIT). Three years later, in 1939, the 27-year-old Qian Xuesen completed his PhD at the California Institute of Technology (Caltech), the very institution where Oppenheimer had been welcomed in 1927. In 1943, Qian solidified his position in academia as an associate professor at Caltech. While at Caltech, Qian helped found NASA's Jet Propulsion Laboratory.
When World War II began, while Oppenheimer was overseeing the Manhattan Project's efforts to assist the U.S. in developing the atomic bomb, Qian actively supported the U.S. government. He served on the U.S. government's Scientific Advisory Board and attained the rank of lieutenant colonel.
After the war, Qian went to teach at MIT and returned to Caltech as a full-time professor in 1949. During that same year, Mao Zedong proclaimed the establishment of the People's Republic of China (PRC). Just one year later, the newly-formed nation became involved in the Korean War, and China fought a bloody battle against the United States.
Red Scare: Being Labeled as a Communist
Robert Oppenheimer and Qian Xuesen both had an interest in Communism even prior to World War II, attending communist gatherings and showing sympathy towards the Communist cause.
Qian and Oppenheimer may have briefly met each other through their shared involvement in communist activities. During his time at Caltech, Qian secretly attended meetings with Frank Oppenheimer, the brother of J. Robert Oppenheimer (Monk 2013).
However, it was only after the war that their political leanings became a focal point for the FBI.
Just as the FBI accused Oppenheimer of being an agent of the Soviet Union, they quickly labeled Qian as a subversive communist, largely due to his Chinese heritage. While the government did not succeed in proving that Qian had communist ties with China during that period, they did ultimately succeed in portraying Qian as a communist affiliated with China a decade later.
During the transition from the 1940s to the 1950s, the Cold War was underway, and the anti-communist witch-hunts associated with the McCarthy era started to intensify (BBC 2020).
In 1950, the Korean War erupted, with the People's Republic of China (PRC) joining North Korea in the conflict against South Korea, which received support from the United States. It was during this tumultuous period that the FBI officially accused Qian of communist sympathies in 1950, leading to the revocation of his security clearance despite objections from Qian's colleagues. Four years later, in 1954, Robert Oppenheimer went through a similar process.
After losing his security clearance, Qian began to pack up, saying he wanted to visit his aging parents back home. Federal agents seized his luggage, which they claimed contained classified materials, and arrested him on suspicion of subversive activity. Although Qian denied any Communist leanings and rejected the accusation, he was detained by the government in California and spent the next five years under house arrest.
Five years later, in 1955, two years after the end of the Korean War, Qian was sent home to China as part of an apparent exchange for 11 American airmen who had been captured during the war. He told waiting reporters he "would never step foot in America again," and he kept his promise (BBC 2020).
Dan Kimball, who was the Secretary of the US Navy at the time, expressed his regret about Qian's departure, reportedly stating, "I'd rather shoot him dead than let him leave America. Wherever he goes, he equals five divisions." He also stated: "It was the stupidest thing this country ever did. He was no more a communist than I was, and we forced him to go" (Perrett & Bradley, 2008).
Kimball may have foreseen the unfolding events accurately. After his return to China, Qian did indeed assume a pivotal role in enhancing China's military capabilities, possibly surpassing the potency of five divisions. The missile programme that Qian helped develop in China resulted in weapons which were then fired back on America, including during the 1991 Gulf War (BBC 2020).
Returning: Becoming a National Hero
The China that Qian Xuesen had left behind was an entirely different China than the one he returned to. China, although having relatively few experts in the field, was embracing new possibilities and technologies related to rocketry and space exploration.
Within less than a month of his arrival, Qian was welcomed by the then Vice Prime Minister Chen Yi, and just four months later, he had the honor of meeting Chairman Mao himself.
In China, Qian began a remarkably successful career in rocket science, with great support from the state. He not only assumed leadership but also earned the distinguished title of the "father" of the Chinese missile program, instrumental in equipping China with Dongfeng ballistic missiles, Silkworm anti-ship missiles, and Long March space rockets.
Additionally, his efforts laid the foundation for China's contemporary surveillance system.
By now, Qian has become somewhat of a folk hero. His tale of returning to China despite being thwarted by the U.S. government has become like a legendary narrative in China: driven by unwavering patriotism, he willingly abandoned his overseas success, surmounted formidable challenges, and dedicated himself to his motherland.
Throughout his lifetime, Qian received numerous state medals in recognition of his work, establishing him as a nationally celebrated intellectual. From 1989 to 2001, the state-launched public movement "Learn from Qian Xuesen" was promoted throughout the country, and by 2001, when Qian turned 90, the national praise for him was on a similar level as that for Deng Xiaoping in the decade prior (Wang 2011).
Qian Xuesen remains a celebrated figure. On September 3rd of this year, a new "Qian Xuesen School" was established in Wenzhou, Zhejiang Province, becoming the sixth high school bearing the scientist's name since the founding of the first one only a year ago.
Qian Xuesen's legacy extends well beyond educational institutions. His name frequently appears in the media, including online articles, books, and other publications. There is the Qian Xuesen Library and a museum in Shanghai, containing over 70,000 artefacts related to him. Qian's life story has also been the inspiration for a theater production and a 2012 movie titled Hsue-Shen Tsien (钱学森).2
Unanswered Questions
As is often the case when people are turned into heroes, some part of the stories are left behind while others are highlighted. This holds true for both Robert Oppenheimer and Qian Xuesen.
The Communist Party of China hailed Qian as a folk hero, aligning with their vision of a strong, patriotic nation. Many Chinese narratives avoid the debate over whether Qian's return was linked to problems and accusations in the U.S., rather than genuine loyalty to his homeland.
In contrast, some international media have depicted Qian as a "political opportunist" who returned to China due to disillusionment with the U.S., also highlighting his criticism of "revisionist" colleagues during the Cultural Revolution and his denunciation of the 1989 student demonstrations.
Unlike the image of a resolute loyalist favored by the Chinese public, Qian's political ideology was, in fact, not consistently aligned, and there were instances where he may have prioritized opportunity over loyalty at different stages of his life.
Qian also did not necessarily aspire to be a "flawless hero." Upon returning to China, he declined all offers to have his biography written for him and refrained from sharing personal information with the media. Consequently, very little is known about his personal life, leaving many questions about the motivations driving him, and his true political inclinations.
We do know that Qian's wife, Jiang Ying (蒋英), had a remarkable background. She was of Chinese-Japanese mixed race and was the daughter of a prominent military strategist associated with Chiang Kai-shek. Jiang Ying was also an accomplished opera singer and later became a professor of music and opera at the Central Conservatory of Music in Beijing.
Just as with Qian, there remain numerous unanswered questions surrounding Oppenheimer, including the extent of his communist sympathies and whether these sympathies indirectly assisted the Soviet Union during the Cold War.
Perhaps both scientists never imagined they would face these questions when they first decided to study physics. After all, they were scientists, not the heroes that some narratives portray them to be.
Also read:
■ Farewell to a Self-Taught Master: Remembering China's Colorful, Bold, and Iconic Artist Huang Yongyu
■ "His Name Was Mao Anying": Renewed Remembrance of Mao Zedong's Son on Chinese Social Media
By Zilan Qian
Follow @whatsonweibo
1 Some sources claim that Qian was born in Hangzhou, while others say he was born in Shanghai with ancestral roots in Hangzhou.
2The Chinese character 钱 is typically romanized as "Qian" in Pinyin. However, "Tsien" is a romanization in Wu Chinese, which corresponds to the dialect spoken in the region where Qian Xuesen and his family have ancestral roots.
This article has been edited for clarity by Manya Koetse
References (other sources hyperlinked in text)
BBC. 2020. "Qian Xuesen: The man the US deported – who then helped China into space." BBC.com, 27 October https://www.bbc.com/news/stories-54695598 [9.16.23].
Monk, Ray. 2013. Robert Oppenheimer: A Life inside the Center, First American Edition. New York: Doubleday.
Perrett, Bradley, and James R. Asker. 2008. "Person of the Year: Qian Xuesen." Aviation Week and Space Technology 168 (1): 57-61.
Wang, Ning. 2011. "The Making of an Intellectual Hero: Chinese Narratives of Qian Xuesen." The China Quarterly, 206, 352-371. doi:10.1017/S0305741011000300
Get the story behind the hashtag. Subscribe to What's on Weibo here to receive our newsletter and get access to our latest articles:
Spotted a mistake or want to add something? Please let us know in comments below or email us. First-time commenters, please be patient – we will have to manually approve your comment before it appears.
©2023 Whatsonweibo. All rights reserved. Do not reproduce our content without permission – you can contact us at info@whatsonweibo.com.
Subscribe to our newsletter
Stay updated on what's trending in China & get the story behind the hashtag
Sign up
here
to become a premium member of What's on Weibo today and gain access to all of our latest and premium content, as well as receive our exclusive Weibo Watch newsletter. If you prefer to only receive our free newsletter with an overview of the latest articles, you can
subscribe for free
here.
Would you like to become a contributor, or do you have any tips or suggestions for us? Get in touch with us here.