Online Controversy over Mandatory GPS Tracking Smartwatches for Chinese Street Cleaners
Being a street cleaner in 2019 China now involves wearing a mandatory smartwatch with GPS tracking.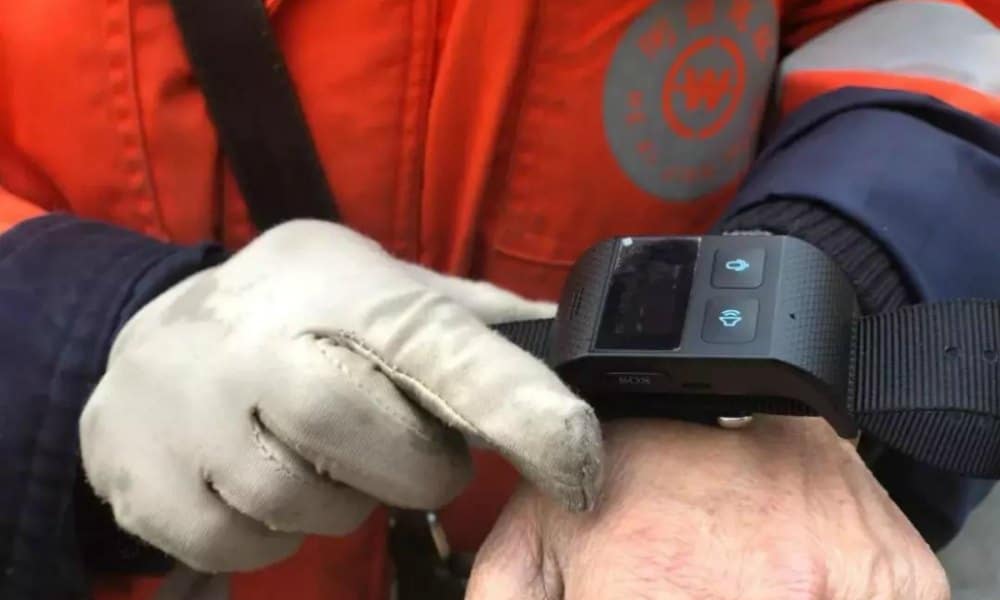 The times of chatting with the neighbors, taking a break, or doing some shopping during work hours are seemingly over for Nanjing's street cleaners now that their every move is monitored through a special smartwatch. News of the mandatory GPS tracking bracelets for sanitary workers triggered public outcry earlier this month. But it's not just Nanjing street cleaners that are subjected to this policy.
Earlier this month, the introduction of smartwatches tracking the movements of street cleaners in Nanjing attracted the attention of Chinese netizens and international media after the new policy was made public on April 3rd.
In March of this year, the sanitation department in the Hexi area of Nanjing, Jiangsu, started a pilot with a smartwatch that sanitation workers are obliged to wear. The watch has a built-in real-time GPS tracking system, allowing the Nanjing Hexi Smart Sanitation Center to monitor workers' movements.
In a short video published by Toutiao News, a spokesperson of the Smart Sanitation Command Center* explained that the smartwatch currently allows the company to assess the workers in three ways: they can register workers' attendance, collect statistics of workers leaving their designated work area, and report on workers that remain in the same position exceeding the allowed amount of time.
Sanitation workers also commented on their new working system. One person interviewed said: "Why wouldn't I be allowed to have a half-an-hour break? Look, the street is all clean, there is nothing to be cleaned up. They are crazy for making us move up and down the street for no reason."
Street cleaners also said that the system would automatically report them if they had been in the same spot for more than twenty minutes. The smartwatch would then subsequently encourage them to move, calling out "Jiayou! Jiayou!" ("Come on! Come on!").
That particular function was reportedly removed shortly after public outcry on the policy.
On Weibo, the hashtag "Smartwatch Automatically Yells 'Jiayou'" (#智能手表自动喊加油#) received over 2,5 million views, with the majority of commenters strongly rejecting the new approach.
Most commenters on this issue argued that the implementation of the smartwatch is "immoral" and that the Nanjing workers are "treated as criminals." Many others also pointed out that the workers, often senior citizens, should be able to rest for more than 20 minutes.
In light of the new policy, many people on social media also referred to the infamous fictional character Zhou "Bapi" (周扒皮). In the novel The Killing Wind, this landlord Zhou would stick his head into the henhouse stirring up the roosters to wake his laborers up earlier, so they would start working.
Some netizens came with an alternative solution, suggesting that the leaders of the company should wear the smartwatches themselves instead.
While the controversial function was eliminated, the GPS tracking function still stands.
Nanjing is not the first city to introduce GPS tracking smartwatches for its sanitary workers. Other cities where the same policy has been introduced are, for example, Chengdu, Hangzhou, Guangzhou, and Qingdao, according to Chinese media outlet Global Times.
In the summer of 2018, various Chinese media outlets already reported about the introduction of smartwatches for street cleaners in Guangzhou. At the time, the smartwatch policy was described as an innovative way to solve staff deployment and management problems, giving team leaders more insights into the real-time position of the street cleaners.
Whether or not the smartwatches do indeed improve work efficiency of street cleaners is still unclear, but there are no indications that the smartwatch policy will be changed at this point.
The tough work conditions of Chinese street cleaners, who work long hours and receive minimal pay, regularly become an issue of debate on Chinese social media. Besides praising the hard work of China's public cleaners, Chinese netizens often express their sympathy for the bad circumstances under which street sweepers have to work.
By Gabi Verberg
* (南京河西建环"智能环卫"综合调度监控指挥中心 Nanjing Hexi Jianhuan "Intelligent Sanitation" Integrated Dispatching Monitoring Command Center)
Spotted a mistake or want to add something? Please let us know in comments below or email us.
©2019 Whatsonweibo. All rights reserved. Do not reproduce our content without permission – you can contact us at info@whatsonweibo.com
Will Weibo Become 30% State-Media Owned?
Alibaba is allegedly ready to give up its Weibo shares to SMG.
Bloomberg recently reported that Chinese e-commerce giant Alibaba is preparing to sell its 30% stake in social media platform Weibo. According to people familiar with the matter, Alibaba is negotiating with the state-owned Shanghai Media Group (SMG).
News about Alibaba planning to sell all of its Weibo shares has triggered some online discussions on the Chinese social media platform. Bloomberg was the first to report that the Chinese e-commerce and IT enterprise is talking to the state-owned Shanghai Media Group (SMG) to sell all of its 30% stake in Weibo.
According to Bloomberg, the move relates to regulators wanting to curb the influence of Chinese tech giants in the media sphere. The Bloomberg article claims that SMG, as one of China's largest state-owned media and cultural conglomerates, stands a higher chance of gaining the approval of Chinese authorities than a private acquirer.
SMG is a large state-owned enterprise with over a dozen TV and radio stations, many newspapers and magazines, various drama & film production and distribution businesses, and more. The company has a major media influence, not only in Shanghai but throughout the country.
According to Weibo's 2020 annual reports, New Wave held a 45% stake in Weibo, followed by Alibaba with its 30%. New Wave is the holding company by Weibo chairman Charles Chao.
"Weibo will change into another channel for SMG," some Weibo users predict, with others also sharing their fear that Weibo would become more and more like a platform for official media ("微博现在越来越官方化").
"This would be a big milestone in the crumbling of Alibaba's media empire," another commenter wrote. Some wonder if the developments have more to do with Weibo as a platform, or with Alibaba and its media influence.
In March of 2021, the Wall Street Journal already reported that the Chinese government asked the Alibaba Group to dispose of its media assets due to concerns over the company's influence in the sensitive media sphere.
"When Alibaba exits and state-owned capital enters, Weibo is expected to magnificently transform into a 'state-owned enterprise'," another Weibo user wrote.
Although some commenters worry that Weibo will change for the worse and that there will be more censorship, others see a sunnier future for the social media platform: "It would be good for Weibo to be 'state-owned' so that it won't be controlled by capital to influence public opinion anymore."
Chinese tech site 36kr also reported about the issue on January 1st, but neither Weibo nor Alibaba or SGM have officially responded yet.
By Manya Koetse
With contributions by Miranda Barnes.
Spotted a mistake or want to add something? Please let us know in comments below or email us. First-time commenters, please be patient – we will have to manually approve your comment before it appears.
©2021 Whatsonweibo. All rights reserved. Do not reproduce our content without permission – you can contact us at info@whatsonweibo.com.
China's Livestreaming Queen Viya Goes Viral for Fraud and Fines, Ordered to Pay $210 Million
Viya, the Queen of Taobao, is under fire for tax evasion.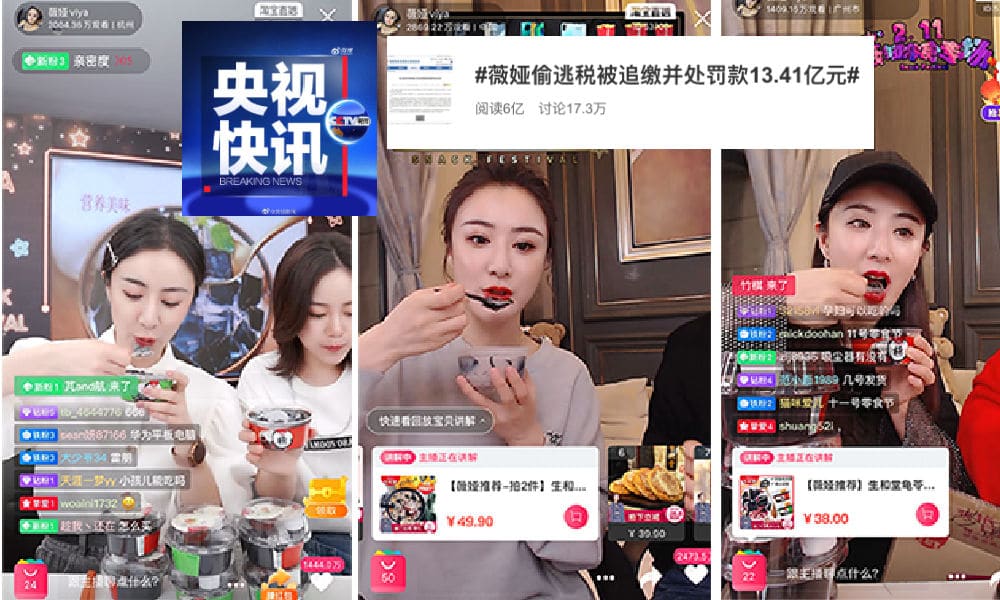 Viya, one of China's most well-known and successful live streamers, is trending today for allegedly committing tax fraud by deliberately providing false information and concealing personal income.
The 'Taobao queen' Viya (薇娅, real name Huang Wei 黄薇) reportedly committed tax fraud from 2019 to 2020, during which she evaded some 643 million yuan ($100 million) in taxes and also failed to pay an additional 60 million yuan ($9.4 million) in taxes.
The Hangzhou Tax Administration Office reportedly ordered Viya to pay an amount of over 1.3 billion yuan ($210 million) in taxes, late payment fees, and other fines. On Monday, a hashtag related to the issue had garnered over 600 million views on Weibo (#薇娅偷逃税被追缴并处罚款13.41亿元#).
Viya made headlines in English-language media earlier this year when she participated in a promotional event for Single's Day on October 20th and managed to sell 20 billion yuan ($3.1 billion) in merchandise in just one live streaming session together with e-commerce superstar Lipstick King.
China has a booming livestreaming e-commerce market, and Viya is one of the top influencers to have joined the thriving online sales industry years ago. When the e-commerce platform Taobao started their Taobao Live initiative (mixing online sales with livestreams), Viya became one of their top sellers as millions of viewers starting joining her channel every single day (she livestreams daily at 7.30 pm).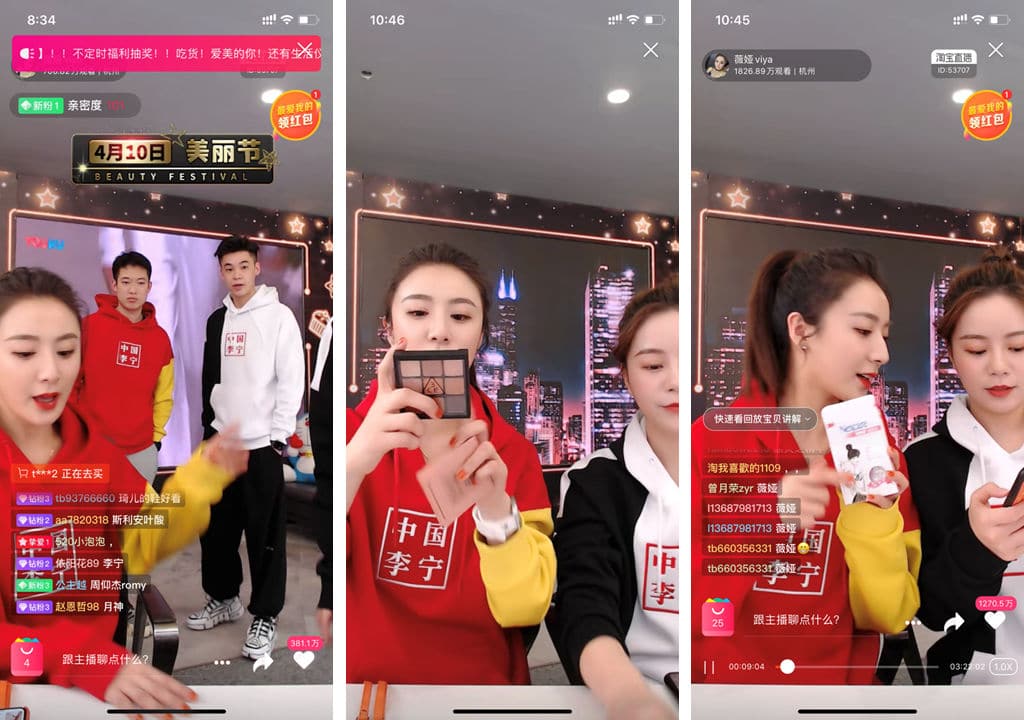 With news about Viya's tax fraud practices and enormous fines going viral on Chinese social media, many are attacking the top influencer, as her tax fraud case seems to be even bigger than that of Chinese actress Fan Bingbing (范冰冰).
Chinese actress Fan Bingbing went "missing" for months back in 2018 when she was at the center of a tax evasion scandal. The actress was ordered to pay taxes and fines worth hundreds of millions of yuan over tax evasion. The famous actress eventually paid approximately $128,5 million in taxes and fines, less than Viya was ordered to pay this month.
Like Fan Bingbing, Viya will also not be held criminally liable if the total amount is paid in time. This was the first time for the e-commerce star to be "administratively punished" for tax evasion.
Around 5pm on Monday, Viya posted a public apology on her Weibo account, saying she takes on full responsibility for the errors she made: "I was wrong, and I will bear all the consequences for my mistakes. I'm so sorry!"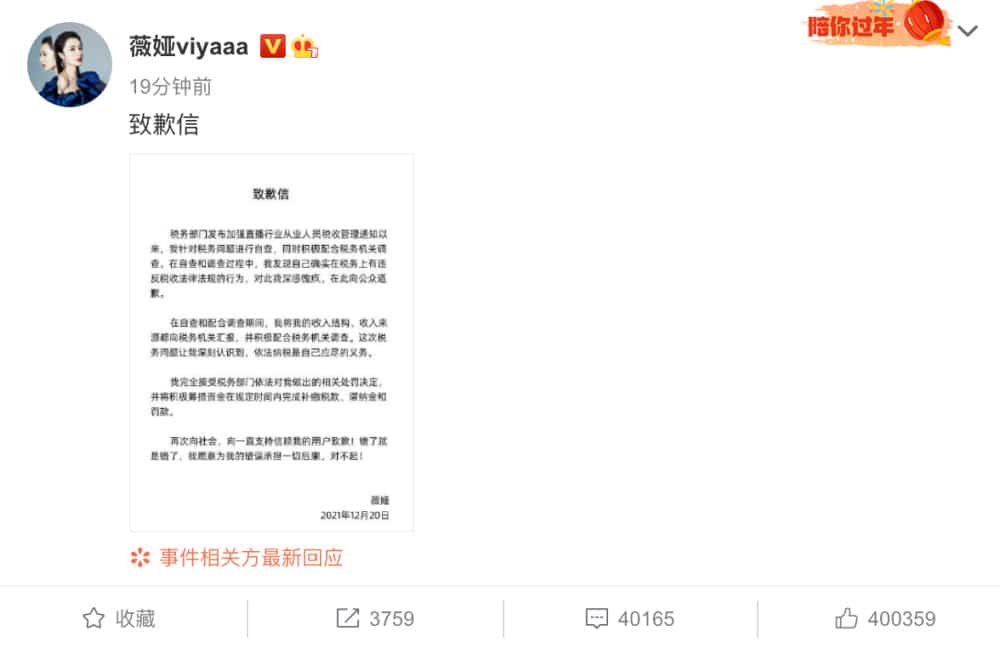 It is not clear if she will still do her daily live stream later today and how this news will impact Viya's future career.
Update: Vaya's live stream was canceled.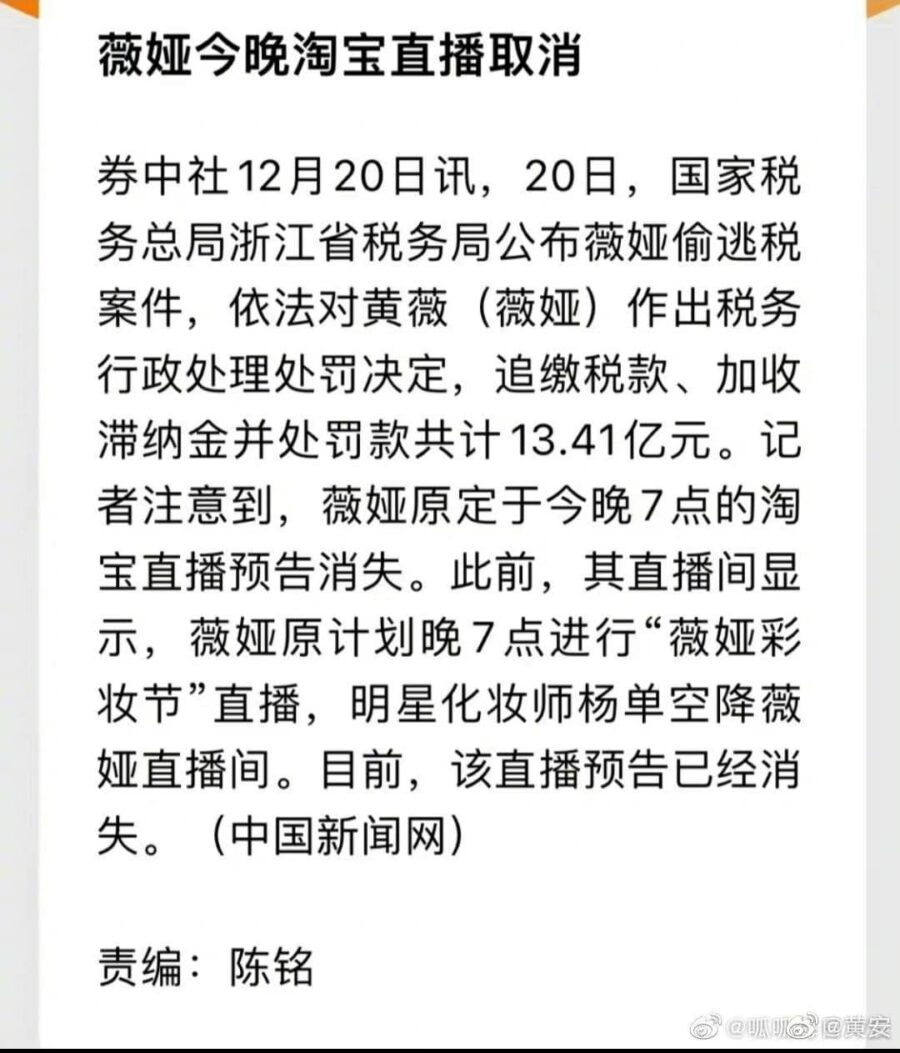 Update 2: Vaya's husband also issued an apology on Weibo.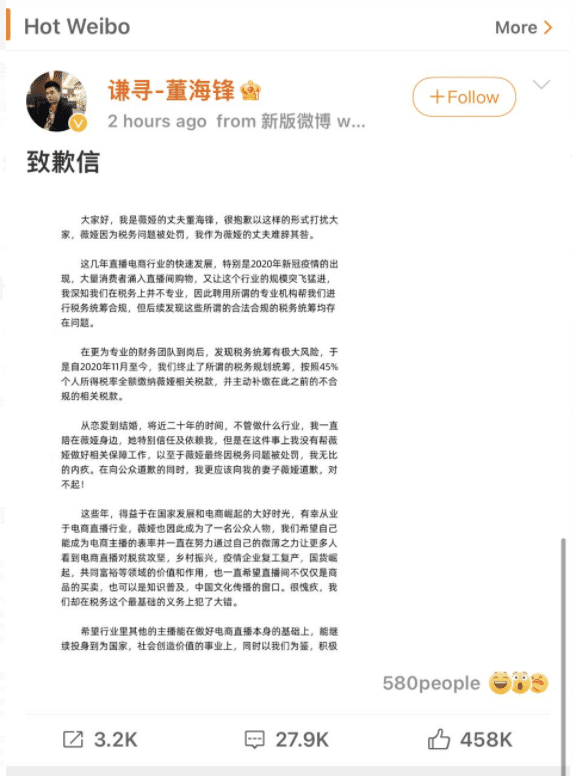 Update 3: Taobao has suspended or 'frozen' ("冻结") Vaya's livestreaming channel. Her Taobao store is still online.
By Manya Koetse
With contributions by Miranda Barnes.
Spotted a mistake or want to add something? Please let us know in comments below or email us. First-time commenters, please be patient – we will have to manually approve your comment before it appears.
©2021 Whatsonweibo. All rights reserved. Do not reproduce our content without permission – you can contact us at info@whatsonweibo.com.