After Notre Dame Blaze, Chinese Netizens Remember How the French Burned Down the Old Summer Palace
While many mourn the Notre Dame blaze, thousands of Chinese netizens point out the burning of the Old Summer Palace in Beijing was actually "worse."
While many people across the world are mourning the devastating fire that left parts of the 800-year-old Notre Dame Cathedral in Paris completely destroyed, Chinese social media users have collectively responded by remembering a painful part of China's history: the burning of the Old Summer Palace in 1860 by Western forces.
Update April 18, read: Blazing Memories: About the Comparison of the Notre Dame Fire to the Burning of the Old Summer Palace (Op-Ed)
As news of the catastrophic fire that engulfed the Notre Dame Cathedral (巴黎圣母院) in Paris on Monday made headlines across the world, the Old Summer Palace (Yuan Ming Yuan 圆明园) suddenly became a trending topic on Chinese social media.
For some, the Old Summer Palace trend was an unexpected reaction to the Notre Dame blaze. Although prominent Weibo users commented on the issue, there seemed to be no official accounts leading the trend – it seemingly came out of nowhere.
A dominating sentiment in discussions on the Notre Dame blaze on Chinese social media is that the burning of the Old Summer Palace by the British and the French, almost 160 years ago, was actually more tragic than what happened in Paris this week.
The historical event that is at the center of online discussions is that of October 18, 1860, when the Anglo-French army, ordered by the British Lord Elgin, burnt to the ground the Yuan Ming Yuan during the Second Opium War (1856-1860).
The Yuan Ming Yuan was the summer palace in the Beijing suburbs that was the main imperial residence of Qianlong Emperor, constructed in various stages from the early-18th century (see Spence 1990, 181).
Unsatisfied with the Treaty of Nanjing and, among others, demanding more Chinese cities and ports to open for trade, the Anglo-French army invaded Beijing in 1860. They plundered the Yuan Ming Yuan, which consisted of more than a hundred buildings and scenic spots filled with books and art treasures. The burning came afterward, to destroy the evidence of their looting. The fire blazed for three days and three nights, and left the enormous palace grounds in ruins (also see Dr. Ong Siew Chey 2009, 79
).
One of the persons mentioning the Old Summer Palace in relation to the burning of the Notre Dame is Chinese actor and comedian Zhou Libo, who commented on April 16 that this time, with the Notre Dame going up in flames and "Quasimodo being burned," is a good time to think about the Yuan Ming Yuan, writing: "Compared to the Yuan Ming Yuan, the Notre Dame is just a garden."
All across Chinese social media, many people showed little sympathy for the burning of the Notre Dame, comparing it to the devastating blaze of 1860 that ruined the Yuan Ming Yuan.
One commenter wrote: "A long, long time ago, a group of robbers set my backyard on fire and snatched away the precious treasures. Today, their house is on fire. I am very sorry for the treasures that were lost. But the fire was not started by me."
Others wrote: "I know I shouldn't, but I cannot restrain myself: ha ha ha ha ha!" – receiving more than 3200 likes.
Many mentioned the money needed to rebuild the Notre Dame, saying they would not contribute money and instead demanding the French to contribute to the rebuilding of the Old Summer Palace.
"I have visited the ruins of Yuan Ming Yuan. Therefore, from the perspective of architecture and culture, I feel that the destruction of the Notre Dame of Paris is really a loss for all of mankind," another commenter wrote: "But from the perspective of our nation, I feel that the French got what they deserve to see this kind of history go up in smoke."
Despite the general trend on Weibo that puts the Yuan Ming Yuan incident above the Notre Dame disaster, there are also voices criticizing this movement, and many people expressing their sadness over what happened to the historic cathedral.
"This just makes me tear up," one commenter wrote, with others saying: "Culture belongs to a nation, but also to the world. It just pains me to see these beautiful things disappear."
Author Zeng Pengyu (@曾鹏宇) writes on Weibo: "Many people say they do not sympathize with the French. I just want to say that historical buildings are innocent: it's only people who are guilty. Also, when the Yuan Ming Yuan was burned down by the British and French allied forces, the French writer Victor Hugo condemned it. This is recorded in many documents. Born in China today, we should be confident and objective."
Yan Feng (严锋), a professor at Fudan University, posted: "The Notre Dame cathedral was constructed in 1163, the Yuan Ming Yuan was destroyed in 1860. The people who burned the Yuan Ming Yuan were not the people who built the Notre Dame of Paris. They were separated by 700 years. The French feudal separatists were in no way French according to modern-day standards. Every injustice has its perpetrator and every debt its debtor, why should you let the Notre Dame bear the responsibility of burning down the Yuan Ming Yuan?"
The official Weibo account of the Yuan Ming Yuan park also responded to the controversy on Weibo, simply writing: "We wholeheartedly hope that cultural relics will be able to avert disaster, and pass on their history from one generation to the next."
Also read: Blazing Memories: About the Comparison of the Notre Dame Fire to the Burning of the Old Summer Palace (Op-Ed)
By Manya Koetse , with contributions from Miranda Barnes and Boyu Xiao
Spotted a mistake or want to add something? Please email us.
©2019 Whatsonweibo. All rights reserved. Do not reproduce our content without permission – you can contact us at info@whatsonweibo.com.
Exchange Student to Be Deported from China for Harassing Young Woman at University
An exchange student studying at the Hebei University of Engineering has been expelled and will soon be deported after harassing a female student.
An exchange student from Pakistan who was studying at the Hebei University of Engineering (河北工程大学) has been expelled and detained after harassing a female student at the same university.
The incident, that is attracting much attention on Chinese social media this week, adds to the wave of recent controversies over the behavior and status of overseas students in mainland China.
On July 31, a female student at the Hebei university filed a police report against a Pakistani student who allegedly harassed her and attempted to forcefully kiss her and touch her breasts.
Screenshots of a supposed WeChat conversation between the exchange student and the female student, in which the man apologizes and claims the interaction is a "requirement for friendship," are being shared on social media.
According to various reports, the police initially tried to mediate between the two students, which the female student refused.
Together with the school principal, the police then further investigated the case and found ample evidence of harassment after examining the university's surveillance system.
On August 1st, the Hebei University of Engineering announced that they had expelled the student and that he will be deported from China. The announcement received more than 14,000 reactions and 150,000 'likes' on Weibo.
The student is now detained at the local Public Security Bureau and is awaiting his deportation.
A photo of two officers together with a man in front of the detention center in Handan is circulating on social media in relation to this incident.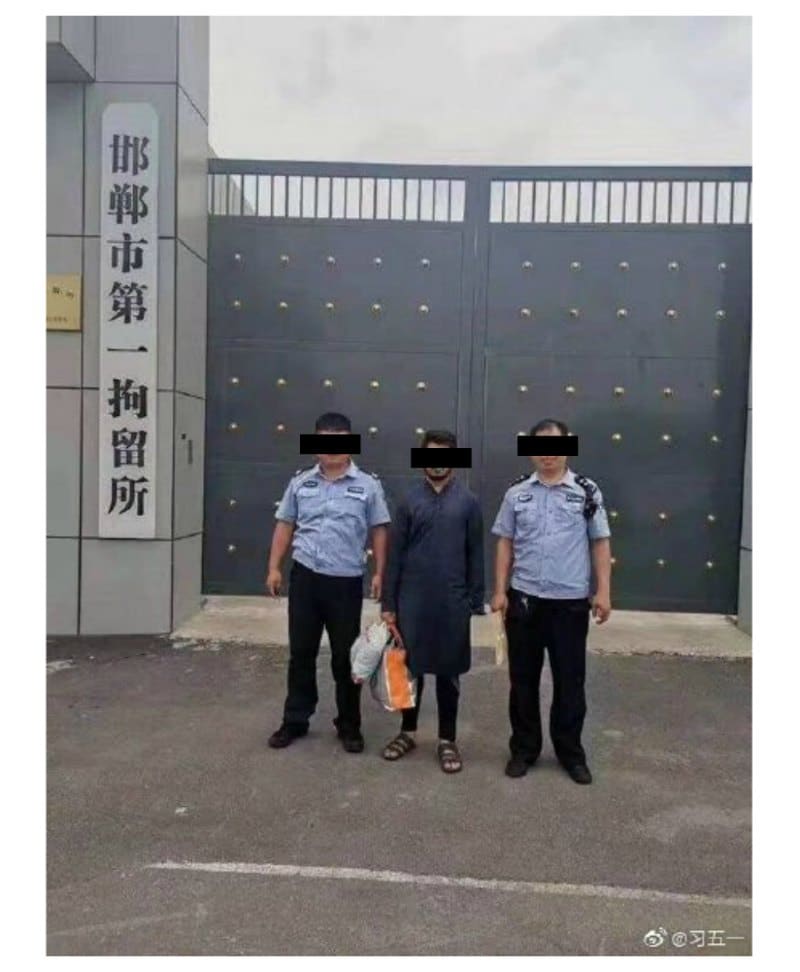 At time of writing, the hashtag page "Exchange Student to Be Deported after Molesting Female Student" (#留学生猥亵女学生将被遣送出境#) has been viewed over 310 million times on Weibo.
Among thousands of reactions, there are many who praise the Hebei university for supporting the female student after she reported the exchange student to the police.
"This may not be the best university, but at least they stand behind their students!", some say, with others calling the university "awesome."
Many say that the Hebei university should serve as an example for other Chinese universities to follow, with Shandong University being specifically mentioned by Weibo users.
Shandong University was widely criticized earlier this summer for its "buddy exchange program," which was accused of being a way to arrange Chinese "girlfriends" for male foreign students.
Another incident that is mentioned in relation to this trending story is that of an exchange student who displayed aggressive behavior towards a Chinese police officer in July of this year. The student was not punished for his actions, which sparked anger on Chinese social media.
By Manya Koetse
Follow @whatsonweibo
Spotted a mistake or want to add something? Please let us know in comments below or email us. Please note that your comment below will need to be manually approved if you're a first-time poster here.
©2019 Whatsonweibo. All rights reserved. Do not reproduce our content without permission – you can contact us at info@whatsonweibo.com
"Bolt from the Blue": Mainland Tourists Can No Longer Independently Travel to Taiwan
Chinese tourists who were planning a solo trip to Taiwan are out of luck.
Starting from August 1st, 2019, mainland residents can no longer individually travel to Taiwan for tourism purposes, and can only visit the island with a pre-approved travel group until further notice. The news has become top trending on Chinese social media.
After Chinese authorities announced on July 31st that China will stop issuing individual travel permits for mainland residents visiting Taiwan, the topic became one of the most-discussed topics on social media this week.
China's Ministry of Culture and Tourism stated on its website that independent travel to Taiwan will be suspended from August 1st "in view of the current cross-strait situation."
State media outlet Global Times writes that the individual travel suspension is a result of "repeated provocative actions by the Tsai Ing-wen administration and secessionist forces on the island."
Taipei Times explained the move as "another attempt to isolate Taiwan in the hope of spoiling President Tsai Ing-wen's re-election chances." Taiwan will hold its presidential elections in January 2020.
On Wednesday night local time, hashtags relating to the individual travel ban had gathered millions of views and comments on Sina Weibo.
ROC Restrictions for Mainland Travelers
Tourists from mainland China face restrictions when traveling to Taiwan, Republic of China (ROC), and must hold a travel permit to visit.
In July of 2008, PRC passport holders were first legally allowed to visit Taiwan for tourism purposes, but only if they joined a pre-approved group tour organized by a selected travel agency.
In 2011, these rules were relaxed after Taiwanese and mainland authorities agreed on a trial to allow mainland residents visiting Taiwan as individual tourists.
Under the terms of that 'trial,' mainland residents from 47 cities could apply for individual entry permits to Taiwan. These cities included places such as Beijing, Tianjin, Shanghai, Harbin, Xiamen, and others.
With Wednesday's statement, that program is currently put on hold. According to Focus Taiwan, this is the first time Beijing authorities have banned individual travelers from visiting Taiwan since June 2011.
Mainland tourists who want to visit Taiwan will now have to go back to joining tour groups again.
The Taiwanese tourism industry relies heavily on Chinese tourists. In 2015, the year before Taiwan President Tsai Ing-wen was elected, 4.2 million mainlanders visited the island, making up 40 percent of all tourists.
"A Bolt From the Blue"
On Weibo, the "Taiwan Individual Travel" account, an information channel for tourists, called the ban "a bolt from the blue" and said that it is unclear how long the restrictions will last: "We just hope that it is temporary."
The post received over 11,500 comments from netizens, many of whom are confused about the ban and concerned on how it will affect their personal travel plans.
"I already received my permit, can I still go?" many wondered.
According to the China International Travel Service, mainland travelers with permits issued before August 1st can still go on their planned individual trips.
In a Weibo poll answered by more than 210,000 social media users, state media outlet China Daily asked people if they would still consider visiting Taiwan after the restrictions on individual travel permits.
While more than 10 percent indicated they would be willing to join a tour group and still visit, a staggering 89,5 percent indicated they preferred free traveling and would not go at all.
"I will go once [the mainland and Taiwan are] unified," some popular comments said.
Discussions over the ongoing Taiwan Strait Issue often flare up on Chinese social media. In August of 2018 for example, Taipei-born actress Vivian Sung ignited a storm of criticism on Weibo for a comment she made about Taiwan being her "favorite country."
Last November, Taipei's Golden Horse Film Festival was overclouded by controversy due to a speech about Taiwan independence (read here). Chinese state media responded to the issue by promoting the hashtags "China Can't Become Smaller" and "Not Even a Bit Can Be Removed from China" (#中国一点都不能少#).
Earlier this year, many Chinese netizens were furious to discover that the super popular Taiwanese online game Devotion contained secret insults toward President Xi Jinping.
Although big discussions on the current Taiwan travel ban are filtered on Chinese social media, there are still some smaller threads where Weibo users are speculating about the reasons behind the move.
Some blame Taiwan leader Tsai Ing-wen, and see the latest travel measures as a way for Beijing to economically impact the island's tourism industry to influence upcoming elections.
Others argue that the current ban is more of a "protective measure," to make sure Chinese travelers who individually roam Taiwan will not be influenced by its election campaigns and media.
Then there are also those who think the entire issue is all about the ongoing Hong Kong protests.
Responses are overall very mixed. Although there are netizens supporting the solo travel ban, there are also those who think the measure will have an 'opposite effect' of that desired.
Although Weibo is mostly popular in mainland China, the social media platform is also used by Taiwanese netizens.
"I heard many of our Taiwanese online friends are happy to hear the news [about the travel restrictions]. Finally, this is something that cross-strait netizens can agree on!" one popular Beijing blogger (@地瓜熊老六) writes, sharing an online meme that shows Taiwanese scenery with the line 'Welcome to Taiwan, without Chinese.'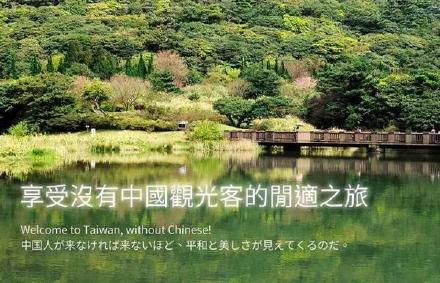 Still, there are also many Weibo users who want to visit Taiwan by themselves and are just concerned about the practicalities: "So, when do you think I will be able to visit again?"
"I was just preparing to go and visit Taiwan," one commenter writes, posting a crying emoji: "Nevertheless, I will still support China in this."
By Manya Koetse , with contributions from Miranda Barnes
Follow @whatsonweibo
Featured image: Photo by Vernon Raineil Cenzon
Spotted a mistake or want to add something? Please let us know in comments below or email us. Please note that your comment below will need to be manually approved if you're a first-time poster here.
©2019 Whatsonweibo. All rights reserved. Do not reproduce our content without permission – you can contact us at info@whatsonweibo.com