"Remember Their Faces": An Online Tribute to the Chinese Soldiers Killed in Border Clash with India
"My love is crystal clear, it is only for China" – quotes and images; this is how the PLA soldiers are remembered on Weibo.
Quotes, photos, music, and posters; this is how the four Chinese soldiers killed at the Galwan Valley clash are being remembered on Chinese social media.
In June of 2020, four Chinese soldiers of the People's Liberation Army (PLA) were killed during a bloody border clash with Indian troops. The battle in the Galwan River Valley, in the disputed frontier region of Ladakh, was the deadliest border clash between the two countries in four decades.
News of the Chinese casualties was not released until late February of this year. Directly after the clash last year, Indian authorities said 20 of its troops had been killed. After the clash, a lot of fake news about the incident was circulating online.
That allegedly also played a role in why details about the deaths were revealed now, with Chinese Foreign Ministry spokeswoman Hua Chunyin (华春莹) stating that the truth about the incident was "distorted and misled international public opinion." She also said that "China's disclosure of the truth about the border confrontation in June 2020 helps people understand the facts and show respect for the martyrs."
Hua suggested that China initially did not report on the news to promote the "cooling and relaxation of the situation." According to Foreign Policy, it is rare for the People's Liberation Army to admit its casualties.
The four Chinese soldiers who were killed on June 15 of 2020 are Chen Hongjun (陈红军), 33, Xiao Siyuan (肖思远), 24, Wang Zhuoran (王焯冉), 24 and Chen Xiangrong (陈祥榕), 18.
Their commanding officer Qi Fabiao (祁发宝), 41, was badly injured during the clash. The four killed soldiers were posthumously awarded honorary and first-class merit citations. The injured regimental commander was also conferred with an honorary title.
On social media platform Weibo, the hashtag "Four PLA Soldiers Died in China-India Border Clashes" (#4名解放军官兵在中印边境冲突中牺牲#) had received 1,2 billion views by early March. Another hashtag, 'The Central Military Commission Honors the Five Heroic Officers and Soldiers Guarding the Borders' (#中央军委表彰5名卫国戍边英雄官兵#) received 250 million views on Weibo.
Chinese state media outlets made noteworthy efforts to shape the ways in which the soldiers are to be remembered, merging the political and the personal, and praising their patriotic commitment. Various official media accounts such as CCTV and People's Daily have posted several images on social media to pay respect to the officers and soldiers, including the images below, using the phrases "The place where I stand is China" ("我站立的地方是中国") and "I will defend the motherland with my life" ("我的祖国,我用生命捍卫守护").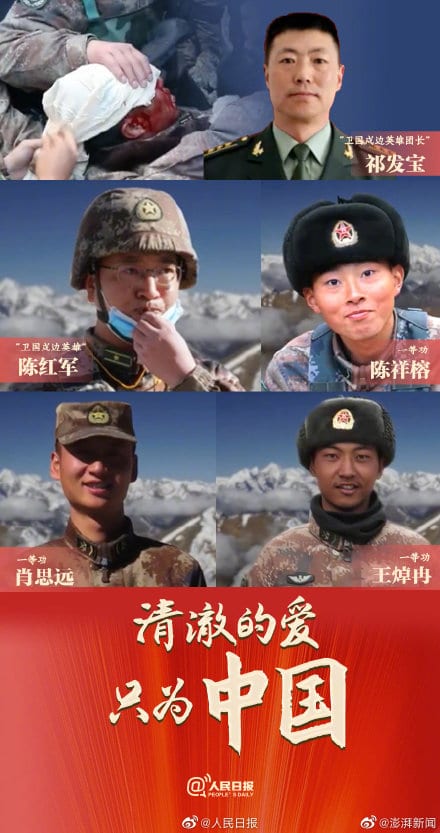 The phrase "We can't lose an inch of our motherland" (#祖国山河一寸不能丢#) was also used in posts dedicated to the remembrance of the killed soldiers.
People's Daily also published a video paying tribute to the soldiers along with the text "Please remember their faces" ("请记住他们的面孔"). The song "China Is Where I Stand" accompanies the images and footage of PLA soldiers in the video.
China Daily also published the quotes of the honored soldiers.
They are the following:
Qi Fabao: "Not everyone can understand my choice, but I have no regrets."("不是所有人都能理解我的选择,但我却无怨无悔").
According to Chinese media reports, Colonel Qi was the first one during the border clash who went forward along with just a few other soldiers and officers to negotiate with the Indian troops. He supposedly approached them with open arms when he was met with violence and was attacked with steel pipes and stones. He suffered serious injuries to the head.
Chen Hongjun: "No matter what post I hold, I will contribute my utmost."("党把自己放在什么岗位上,就要在什么岗位上建功立业".
As a battalion commander, Chen allegedly immediately came to the rescue when he saw Qi was being attacked, bringing other soldiers into what is described as a "rain of stones." Chen leaves behind his wife, who was five months pregnant at the time.
Chen Xiangrong: "My love is crystal clear, it is only for China."("清澈的爱,只为中国"). 
According to Chinese media reports on this confrontation, Chen Xiangrong rushed to the front and used his body as a shield to protect his comrades behind him. He was only 18 when he died.
Xiao Siyuan: "We are the boundary markers of our country. Every inch of soil under our feet is part of the motherland." ("我们就是祖国的界碑,脚下的每一寸土地都是祖国的领土"). 
Xiao reportedly also used his body to protect his comrades from stones, sticks, and pipes. He held a photo in his wallet of his girlfriend, with whom he was preparing to get married.
Wang Zhuoran: "Mum and dad, I may not be there until the end, but if there is an afterlife, I will still be a filial child and care for you well." ("爸妈,儿子不孝,可能没法给你们养老送终了。如果有来生,我一定还给你们当儿子,好好报答你们.")
Wang reportedly drowned while crossing a river to rescue his comrades.
After the details of these soldiers were released, many netizens on Weibo expressed their gratitude to them and praised the men.
"The battalion commander saved the regimental commander, the soldier saved the battalion commander, and the squad leader saved the soldiers. I pay my utmost tributes to you heroes!"
"Chen Xangrong, he is only an 18-year-old kid! I really don't want to call him a martyr. So heartbreaking!"
"Remember their names: Qi Fabao, Chen Hongjun, Chen Xiangrong, Xiao Siyuan and Wang Zhuoran! Salute!"
While hundreds of comments and posts on Chinese social media remember the soldiers, the ways in which they are remembered and the border clash is recounted remains a sensitive issue.
It has been reported that former Economic Observer journalist Qiu Ziming (仇子明), along with two other bloggers, have been detained for "insulting" the Chinese soldiers under a law against "defaming heroes." Qiu, who had 2.4 million fans on his (now-deleted) Weibo page, made remarks questioning the number of casualties China said it suffered in the border clash. News of his arrest received over 460 million views on the hashtag page (#辣笔小球被批捕#).
By early March, video footage came out showing a detained Qiu expressing remorse over his comments.
Meanwhile, on Weibo, the tribute to the PLA soldiers continues: "Thank you to our heroes," hundreds of commenters write: "We pay our respects to all those soldiers who are guarding the frontier!"

By Vivian Wang and Manya Koetse
Follow @whatsonweibo
Spotted a mistake or want to add something? Please let us know in comments below or email us. First-time commenters, please be patient – we will have to manually approve your comment before it appears.
©2021 Whatsonweibo. All rights reserved. Do not reproduce our content without permission – you can contact us at info@whatsonweibo.com.
"Why Is It Always the BBC That Has Problems?" – Chinese Response to Arrest of Foreign Reporter
China's Ministry of Foreign Affairs blamed the BBC for distorting facts and painting China in a bad light.
Chinese media reports about the official response to the arrest of a UK reporter during protests in Shanghai has gone viral on Chinese social media, without explicitly mentioning the circumstances in which the incident occurred. Chinese netizens are now demanding videos to 'expose' how the situation unfolded.
News about the arrest of BBC journalist Edward Lawrence while covering the second night of protests in Shanghai on November 27 has not only made headlines in English-language media, it also became a trending topic on Chinese social media.
On Tuesday, China's Ministry of Foreign Affairs spokesperson Zhao Lijian (赵立坚) responded to the incident in a regular press conference. A day earlier, UK Prime Minister Rishi Sunak denounced the arrest of the BBC journalist as "shocking and unacceptable."
BBC Statement on Ed Lawrence pic.twitter.com/wedDetCtpF

— BBC News Press Team (@BBCNewsPR) November 27, 2022
But according to Zhao, the incident has been distorted by Western media to paint China in a bad light. The Chinese side claims that Lawrence refused to cooperate with the police and failed to show his credentials. "There are many foreign media in China, why is it always the BBC that has problems at the scene? This is a question that must be seriously considered."
Zhao's comments went viral on Weibo in two hashtags, namely "Zhao Lijian Presents the Truth about the BBC Reporter Who Was Taken Away" (#赵立坚介绍BBC记者被带离真相#), and "Why Is It Always BBC That Has Problems at the Scene?"(#为什么每次都是BBC在现场出问题#).
A translation of the full statement by Zhao was also posted on the official website of the Chinese Embassy in the UK. Part of the statement said:
"On the night of November 27, to maintain public order, local police in Shanghai asked people who had gathered at a crossroads to leave. One of  those at the scene is a resident journalist from the BBC. Though the  police made it clear to the journalist and others that they needed to leave, the journalist refused to go and in the entire time did not identify himself as a journalist. The police then took him away from the scene. After verifying his identity and informing him of pertinent laws  and regulations, the police let him leave. Everything was conducted within legal procedures. This BBC journalist refused to cooperate with the police's law enforcement efforts and then acted as if he were a victim. The BBC immediately twisted the story and massively propagated  the narrative that its journalist had been "arrested" and "beaten" by police while he was working, simply to try to paint China as the guilty party. This deliberate distortion of truth is all too familiar as part of the BBC's distasteful playbook."
On Weibo, the statement by Zhao, including video, was published by state media outlet Global Times (环球时报), which did not explicitly report that the incident happened during demonstrations in Shanghai. Instead, they reported about 'the scene' and that it allegedly happened "in the course of his work" "记者在工作中").
One top comment on Weibo said: "The BBC is always making up rumors, there are engaged in an anti-Chinese campaign. They should be punished." That comment received over 6700 likes.
"Are BBC reporters really reporting on the news, or are they making the news up?" another popular reply said.
The idea that Western mainstream media outlets are 'creative' in their reporting has been a long-standing one on Chinese social media. In a well-known example from 2017, social media users accused American broadcaster CNN of staging an anti-ISIS protest in London after a Twitter user uploaded a video that showed how police and TV producers directed a group of Muslim women to stand in line with their protest signs behind the TV anchor. The BBC was also widely criticized for using the allegedly "staged" CNN footage.
Although many netizens gave their thumbs up for Zhao's remarks about the arrest of Lawrence, there were also some who wanted to know more about the incident.
One popular comment said: "Was there just one BBC reporter at the scene? Why would take away a hard-working journalist? What was the BBC reporter recording? Were there also Chinese reporters? If so, can you give us the real recordings of what was happening at the scene?"
"Domestic reporters wouldn't dare to post it," someone replied: "The scene was too electrifying."
There were also those who made sarcastic comments relating to the 'outside force' narrative that became ubiquitous in China's online media sphere in response to the (censored) protests that have been taking place across China.
"Give us the irrefutable evidence to expose these 'outside forces,'" some said.
The idea that "outside forces" or "external forces" (外部势力) had something to do with the protests first started increasingly popping up in social media discussions on late Sunday night, and it was also raised in an online column by the political commentator Hu Xijin (read here).
Zhao Lijian also reiterated this idea in Monday's press conference in by talking about "forces with ulterior motives" who had connected the Urumqi fire, which initially triggered the unrest, with the local response to Covid-19.
"Thousands of people are protesting, they must all be foreigners. CNN and BBC are fully responsible. Except for us and North Korea, the whole world is watching these news channels. The entire world – except for us – is wrong," one commenter wrote.
Many commenters kept asking for video proof of the incident: "I demand you make the video public so we can all denounce them, we will resolutely denounce them" one person wrote, adding a melon-eating emoji (吃瓜 'eating melon' is frequently used as a humorous reference to standing by and watching the scene unfold).
"We firmly denounce disturbing editing, give us the original video!"
Despite the banter, there were also some more serious comments. One Weibo user wrote: "Foreign reporters often do not have good intentions, they are often distorting the facts, and I hate that. But domestic reporters do not dare to face the epidemic situation and only report on the good news."
"So who can actually give us the truth?" others wondered.
Read more about the "11.24" unrest or "white blank paper protests" in China here.
By Manya Koetse , with contributions by Miranda Barnes
If you appreciate what we do, please subscribe here or support us by donating.
Featured image via Zhejiang Daily.
Get the story behind the hashtag. Subscribe to What's on Weibo here to receive our newsletter and get access to our latest articles:
Spotted a mistake or want to add something? Please let us know in comments below or email us. First-time commenters, please be patient – we will have to manually approve your comment before it appears.
©2022 Whatsonweibo. All rights reserved. Do not reproduce our content without permission – you can contact us at info@whatsonweibo.com.
Zhejiang Daily: 'People First' Does Not Mean 'Anti-Epidemic First'
Many Chinese netizens are showing support for Zhejiang Daily after the Party newspaper published an article that tries to find a middle ground between what authorities want to say and what ordinary people want to hear.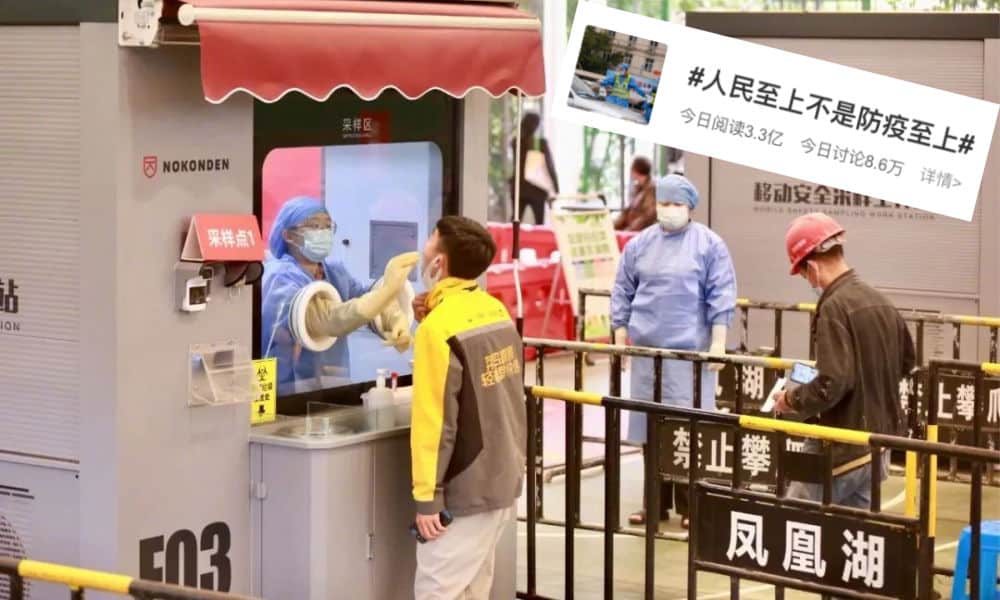 After days of unrest, Party newspaper Zhejiang Daily published an article by the Propaganda Department (aka Publicity Department) that addresses the current problems in China's epidemic situation, talks about the way forward, and stresses the importance of listening to people's demands and "putting the people first." But not everyone is convinced.
On Tuesday, November 29, after days filled with unrest and protests in various places across China, Party newspaper Zhejiang Daily (浙江日报) published a noteworthy article titled "'People First' Is Not 'Anti-Epidemic [Measures] First'" ("人民至上"不是"防疫至上").
The phrase "the people first" (人民至上 rénmín zhìshàng), also "putting the people in the first place," is an important part of the Party's 'people-based, people-oriented' governing concept. The phrase became especially relevant as part of Xi Jinping's now-famous "put people and their life first" slogan (人民至上,生命至上, rénmín zhìshàng, shēngmìng zhìshàng), which became one of the most important official phrases of 2020 in light of the fight against Covid19.
The Zhejiang article starts by addressing the recent unrest surrounding China's zero Covid policy, writing:
Since the outbreak of the novel coronavirus epidemic in late 2019, already three years have passed. As the time of preventing and controlling the epidemic situation is getting stretched, many people's psychological tolerance and endurance level are put to the test, and they are even breaking down little by little. As some netizens say: if the first year was about panic followed by the secret joy of being able to have a good rest at home; the second year began to be more bewildering and was about the hope for a quick end to the epidemic situation; the third year is then more about dissatisfaction, when will this finally end?"
The article mentioned that in addition to growing frustrations about the endless pandemic, various places across China have been intensifying their anti-epidemic efforts in the wrong ways:
"​​"(..) they are abusing their power, and are making things difficult for the people. This has led to epidemic prevention becoming deformed. They will not explicitly say they are locking down, but they are locking down, they are ignoring the interests of the masses and the demands of the people, interrupting the order of normal life at their will, and are even disregarding the lives and safety of the people, harming the image of the Party and the government, and breaking the hearts of the masses. There are even some people who will seize this epidemic situation to make money. Compared to the epidemic, it's these phenomena which are hurting people. The ensuing sense of helplessness and tiredness and anger are all understandable."
The article then stresses:
"Anti-epidemic measures are to guard against the virus, not to guard against the people; it was always [supposed to be] about 'people first,' not about so-called 'epidemic prevention' first. Regardless what kind of prevention and control measures are taken, they should all be aimed at letting society return to normal as soon as possible and getting life back on track as soon as possible. They are all are like "bridges" and "boats" to reach this goal, and are not meant to keep people in place, as blind and rash actions that disregard the costs."
Zhejiang Daily mentions how the World Cup in Qatar has made some people wonder about the crowds in the audience not wearing any masks, as if there was no pandemic at all. If they can, why can't China?
As the foremost reason, the article mentions the relatively low number of hospital beds in China.
Whereas countries such as South Korea or Japan, which are still seeing high numbers of new Covid infections, have about 12.6 beds per 1000 people (12.65 and 12.63 respectively), China only has 6.7.
With the United States being mentioned as an example of a country where Covid-19 patients were using up 32.7% of total nationwide ICU capacity early in 2022, with 7 ICU beds per 100,000 people being occupied by Covid patients, the article suggests that China does not even have this many ICU beds per 100,000 people.
The article further mentions how China, which is a rapidly ageing country, has a relatively large elderly population. With mortality rates being higher in Covid patients over the age of 60, it is estimated that if China would let go of its Covid measures, some 600,000 seniors (60+) catching the virus would die (the article bases this estimation on mortality rates in the Singaporean Covid epidemic.)
Due to Chinese historical, social and traditional values, the protection of the country's eldest is of great importance. Zhejiang Daily suggests that this is different from Western societies: "Some Western countries had nursing homes where hundreds of people passed away during the epidemic – if that would happen in China, it would be unacceptable. If you understand this point, you can also understand all the efforts we are putting out to contain the epidemic situation."
And so, Zhejiang Daily highlights the high price people in many Western countries paid to get to the stage in the epidemic where they are today.
The article repeats some of the arguments that have previously also been included in writings in other newspapers and by political commentator Hu Xijin, namely that with China's current zero-Covid policy and the adjustments that were recently made, the country is now focusing on precise and science-backed epidemic prevention that is meant to put as little strain as possible on society and economy.
However, the latest changes and the essence of China's zero Covid policy are not properly implemented everywhere, the article says, as there is a lack of understanding or an incapability to handle the situation due to a local lack of staff or available methods. Then there is also the issue of some people making money off of to strict epidemic measures. This has all led to tragic situations that should never have happened.
Although the article does not mention any concrete examples, there are many recent incidents where people did not get the help they needed because of excessive Covid measures. We have covered some of the biggest ones on What's on Weibo, including the young girl who passed away after getting gravely ill at a quarantine location in Ruzhou; the toddler who died due to carbon monoxide poisoning and a severe delay in medical help in Lanzhou; and the woman who jumped from the 12th floor of an apartment building in Hohhot, although her daughters had been seeking requesting help for her deteriorating mental state for hours.
The problem at hand, Zhejiang Daily suggests, is that some local authorities are putting epidemic prevention first instead of putting people's lives first. The problem can also not be solved by letting go of all measures, nor by adhering to a 'one-size-fits-all' zero Covid policy ("走出疫情阴霾,不是一句"放"与"不放"就能解决的事情.")
Instead of fighting for 'opening up' versus 'closing down', the point is to find a "soft landing" ("软着陆") way out the "haze of the epidemic situation" ("走出疫情阴霾").
Although the article does not give very concrete answers on what the best way forward is – although it does mention increasing China's vaccination rates, hospital beds, and available medications, – it proposes to look at the exact pain points within the bigger picture, and to deal with them one by one in order to quickly improve epidemic situations across the country.
At the same time, it also advocates that the various systems that are in place across China should be efficiently unified. The health code system in China is not operated nationally, and instead, various regions are each working with their own Health Code apps (see this article).
So, in other words: local problems should be spotlighted and dealt with, while regional innovative tools or effective measures should also be pinpointed and standardized across the country ("一地创新、全国使用").
The article does not explicitly mention the recent unrest across China, but it does hint at it: "The voices and the demands of the people have always been the central point regarding the adjustment and optimization of anti-epidemic policies. There is only one goal in the fight against the virus, and that is to benefit the people, to protect the health and safety of every person. If we hold on to this point, our steps won't be chaotic, and our actions won't stray from the intended line."
On Weibo and WeChat, the article is discussed by many netizens (#浙江宣传发文人民至上不是防疫至上#). One hashtag related to the article received over 350 million views on Weibo on Tuesday (#人民至上不是防疫至上#).
Many people spoke out in support of the article.
"This is a well-written article. It really combines the two components of 'what we want to say' and 'what the ordinary people want to hear,' it brings in some fresh air, clears up some confusion and eases the mood," one commenter from Hubei writes: "But why is only Zhejiang Daily publishing this? The Zhejiang Propaganda [department] is the pride on the propaganda front, the fact that there's just one Zhejiang Propaganda [department] is the sorrow on the propaganda front."
"Finally something that's clear-headed," others wrote. "This article actually moved me. There's been masses of people raising their voice recently because some local epidemic measures are creating problems and are not benefiting the people. No matter how we solve it, the target is unchanged."
"Well put!" others wrote: "So what do we do now?"
But not everyone was convinced that the article is meaningful. "I don't buy it," one person wrote: "This won't do much more than a fart."
"The title is welcomed by the people, the content protects the central authority," another commenter said.
The Zhejiang Daily article suggests that there is nothing wrong with the general zero-Covid policy and the twenty new measures, but instead points at how various places across the country have different interpretations of the policies and sometimes take drastic measures which actually undermine the authority of the central government ("中央定下来的"动态清零"总方针、优化防控二十条措施,一些地方有不同解读,极大降低了中央政策的权威性.")
"It only scratches the outside of the boot," another Weibo user replied: "It does not talk about the main point and avoids taking responsibility by how it's written. It shifts the conflict to ordinary people (..), the fact that we are still reading these kinds of [xxx] articles in 2022 is typical [xxx] socialism."
Regardless of criticism, many people did praise how Zhejiang authorities wrote the article: "Zhejiang has done quite well, and I'll praise their Publicity Department."
Read more about the "11.24" unrest in China here.
By Manya Koetse 
If you appreciate what we do, please subscribe here or support us by donating.
Featured image via Zhejiang Daily.
Get the story behind the hashtag. Subscribe to What's on Weibo here to receive our newsletter and get access to our latest articles:
Spotted a mistake or want to add something? Please let us know in comments below or email us. First-time commenters, please be patient – we will have to manually approve your comment before it appears.
©2022 Whatsonweibo. All rights reserved. Do not reproduce our content without permission – you can contact us at info@whatsonweibo.com.