"Love the Motherland" – New Moral Guidelines for Chinese Performers Come Into Force
New "Self-Disciplinary Measures" for performers in China come into force on March 1st.
On February 5th of 2021, the China Association of Performing Arts (中国演出行业协会), which is run by China's Ministry of Culture and Tourism, officially released new guidelines for Chinese performers in order to promote the idea that Chinese performers should abide by rules of 'social morality,' stating they could face a permanent ban from their profession if they fail to comply.
The guidelines, that come into force on a trial basis starting from March 1st, are meant to "promote the healthy development of the performer industry" ("促进演出行业健康发展"). It is the first time for the Association, which was established in 1988, to introduce "clear regulations" in this way.
The regulations are presented as being "self-disciplinary measures" for actors, musicians, dancers, opera performers, acrobats, and any other people engaged in performing within China.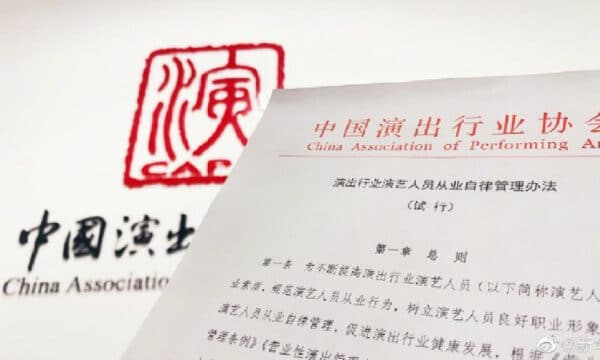 Part of the article presented by the China Association of Performing Arts includes the "practice norms", which stipulate that performers, among other things, should abide by national laws and regulations, should honor their contracts and comply with copyright laws. The article also lists other things. For example, performers should:
"..love the motherland, and support the Party's line and policies" ("热爱祖国,拥护党的路线方针政策")
"..persevere in the orientation that literature and art should serve the people and socialism" ("坚持文艺为人民服务、为社会主义服务的方向")
"..actively uphold a positive image" ("积极树立正面形象")
"..actively participate in social charity events, help the development of public welfare undertakings, consciously put social responsibility into practice" ("积极参与社会公益活动,助力公益事业发展,自觉践行社会责任")
Another part describes what performers are not allowed to do. Among other things – of which some seem obvious, such as 'do not violate the basic principles of the Constitution' – they include things like 'performers may not..':
"..jeopardize national unity, sovereignty and territorial integrity, endanger national security or damage national honor and interests" ("危害国家统一、主权和领土完整,危害国家安全,或者损害国家荣誉和利益")
"..encite hatred against ethnic groups, discriminate against ethnic groups, infringe the customs and habits of ethnic groups, insult ethnic groups or undermine national unity" ("煽动民族仇恨、民族歧视,侵害民族风俗习惯,伤害民族感情,破坏民族团结")
"..organize, participate in, or promote illegal activities regarding obscenities, pornography, gambling, drugs, violence, terrorism, or criminal elements etc" ("组织、参与、宣扬涉及淫秽、色情、赌博、毒品、暴力、恐怖或者黑恶势力等非法活动 ")
"..violate national religion policies, promote cults or superstition" ("违反国家宗教政策,宣扬邪教、迷信")
"..do lip-sync in professional performances, deceive the audience by fake playing instruments etc" ("在营业性演出中以假唱、假演奏等手段欺骗观众")
The punishment for going against these regulations is an industry-wide boycott of one year, three years, five years, or even a permanent ban depending on how serious the case is.
By stressing that art should serve the people, the China Association of Performing Arts reiterates President Xi Jinping's views on the arts, which he previously shared at a symposium of prominent artists and writers in Beijing in 2014, and where he also said that "the arts must serve the people and serve socialism."
As discussed by Chinese author Murong Xuecun in the New York Times in 2014 ('The Art of Xi Jinping' link), President Xi's comments reminded of the famous Yan'an talks by Mao Zedong in 1942 where he prescribed the new direction for art and literature in China, saying they should serve the 'people' – the workers, peasants, and soldiers – and not the petty bourgeoisie or intellectuals.
The Beijing comments by Xi signaled that the Chinese government fixed its sights on literature and the arts, with Murong Xuecun already predicting that it would be the start of new lists of forbidden films, broadcasts, and publications. Those lists may now also include banned performers.
"Idols should be a good example for others"
The China Association of Performing Arts also has a Weibo account (@中国演出行业协会) where they posted about the new regulations.
"I support this, idols should be a good example for others," one top commenter reacted to the regulations.
Others suggested that there should be a blacklist of performers engaged in illegal activities in order to "warn the industry."
But there are also voices, such as some on Q&A site Zhihu, expressing that the current regulations are too vague, as they include stipulations that are already part of the law. Some argue that there should be a clearer description of the consequences artists will face when they violate industry guidelines or when they engage in acts that are illegal.
"Surrogate pregnancies, insulting China, taking drugs, evading taxes, etc etc – this should be banned forever," another person said.
The 'surrogate pregnancy' comment refers to the controversy involving Zheng Shuang (郑爽). It already is the biggest celebrity controversy of the year in China. The 29-year-old famous Chinese actress dominated all trending topics in January of 2021 when news came out that the actress and her husband Zhang Heng (张恒) had separated and that she had left behind two children born out of surrogacy in the United States. Surrogacy is not legal in China.
Since the controversy, Zheng Shuang was dropped by the brands she represented, she was shut down by China's State Administration of Radio, Film and Television, and her honorary titles were revoked by Huading Awards.
Among all Weibo comments on the new regulations, there also many mocking them – especially the rule that stipulates performers should not lip-sync and deceive their audiences. "What about the Spring Festival Gala?", multiple commenters say, referring to the biggest live televised state media event, that is often criticized for lip-synced performances.
"Can Zheng Shuang still make a comeback?"
The recent regulations come at a time when Chinese celebrities have enormous influence in popular culture due to the blossoming of various social media platforms – some of Weibo's top celebrities have over 120 million fans.
At the same time, the past decades have seen a higher grade of commercialization of Chinese media, with entertainment and celebrities being a major driving force behind the success of hundreds of Chinese television stations. This has only further accelerated the influence of China's top performers.
Loved by millions of fans, the power of Chinese celebrity artists is often also used by authorities to promote Party ideology and policies. This is done in myriad ways. In 2017, a group of Chinese celebrities praised China's "New Era" in a song supporting Xi Jinping Thought; in 2019, influential pop stars sang about the importance of social credit.
In this thriving celebrity culture, Chinese authorities are tightening control on the culture & entertainment content that reaches millions of fans within the country. In 2019 there was a crackdown on the rising popularity of Chinese costume dramas. In 2017, China's State Administration of Press, Publication, Radio, Film and Television (SAPPRFT) issued a notice that Chinese television stations should refrain from broadcasting TV dramas "focused on entertaining" during primetime. These are just minor examples of ways in which authorities are shaping a popular culture environment that is not just about the entertainment alone – it should also serve the Party's goals.
As the "self-discipline management measures" have now gone into effect, some discussions on social media are focused on whether or not these measures should be applied retroactively, and if Chinese celebrities could still be affected now for past behaviors.
In a previous interview with Xinhua News, The Secretary-General of the China Association of Performing Arts Pan Yan (潘燕) stated that previous actions or situations will not be taken into account when it comes to the current guidelines.
"Does this mean Zheng Shuang can still make a comeback?", some netizens wondered.
Pan Yan also said that the Association has an 'ethics committee' which will be involved in the process of assessing whether or not artists have violated the practice norms.

By Manya Koetse
Spotted a mistake or want to add something? Please let us know in comments below or email us. First-time commenters, please be patient – we will have to manually approve your comment before it appears.
©2021 Whatsonweibo. All rights reserved. Do not reproduce our content without permission – you can contact us at info@whatsonweibo.com.
KFC China's Psyduck Toy is a Viral Hit
As Psyduck goes viral, KFC Children's Day toys are deemed "too childish for children but just perfect for us adults."
American fast-food chain KFC recently introduced three new Pokémon toys to go with its kids' meals in various regions across China, with one of the toys, in particular, becoming a viral hit: Psyduck (可达鸭).
The new Pokémon toys were introduced on May 21st to celebrate Children's Day (June 1). As reported by Shanghai Daily, the toys are randomly distributed in Children's Day meals and will be released in different regions at different times.
Psyduck is a yellow duck-like Pokémon that is known to be confused because it's bothered by headaches. One of the reasons why the Psyduck toy might be more popular than its fellow (Pikachu) toys, is because it dances, with its arms going up and down, and because of the catchy tune that starts once it starts moving. Psyduck is also a bit more dopey and 'uncool' than Pikachu, which makes him all the cooler (remember the Peppa Pig craze?)
Since its release, many people have been going crazy over the KFC toy. Psyduck fans have been hunting for the KFC treasure, and some have even turned it into a side business: they offer their services in getting as many KFC meals as necessary before grabbing the Psyduck toy – you'll have to pay for their meal – and they'll send the toy to their 'customers' later on.
The #Psyduck hashtag saw the first spike on Weibo on May 21st, the day of its release, when it received nearly 135 million views.
Although the toys were released for Children's Day, most of these Psyduck fans are not kids at all. In one interview moment that went viral, an older man was asked about the Psyduck while he was standing in line at KFC. "I'm only here because my son wants it," the man says. When he is asked how old his boy is, he answers: "He's over thirty years old."
A popular comment about the craze over the kids' meal toys said: "This toy is perhaps too childish for children, but it's just perfect for us adults." The comment received nearly 20,000 likes.
If you buy a set meal including the toy, you will spend in between 59-109 yuan ($9-$16), but the reselling price of Psyduck has reportedly been as high as US$200 for just the Pokémon figure alone. KFC China has stated that it does not support this kind of reselling.
Especially among students, it has become popular to stick messages to the arms of the dancing Psyduck with motivational or humorous messages. Some students say the Psyduck keeps them company while they are studying.
Since short funny videos featuring Psyduck are going viral on Weibo and Douyin, a lot of Psyduck's appeal relates to its social media success and joining in on the hype. People post videos of themselves unboxing their Psyduck, introducing it to their cat, imitating it, or they use the Psyduck in various creative ways.
We need to talk about Psyduck. pic.twitter.com/MZSWqrNoTJ

— Manya Koetse (@manyapan) May 28, 2022
This is not the first time for KFC toys to become a national craze. Earlier this year, KFC came out with limited edition blind boxes in a collaboration with Chinese toymaker Pop Mart. To get one of the dolls, customers needed to buy a 99 yuan (US$15.5) family set meal.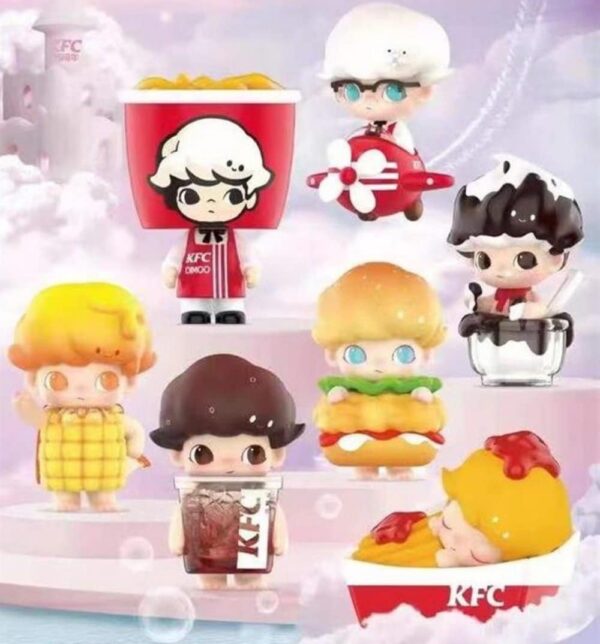 But the blind box sales also sparked criticism from China's Consumer Association for promoting over-purchasing of its food and causing food waste. In order to get all of the six collectible dolls, including the rarest ones, customers would start buying many meals just for the dolls. As reported by SCMP at the time, one customer went as far as to spend US$1,650 on a total of 106 meals to collect all six dolls.
KFC is the most popular fast-food chain in China. People outside of China are sometimes surprised to find that KFC is so hugely popular in the mainland.
As explained in the book written about KFC China's popularity ("Secret Recipe for Success"), its success story goes back to 1987, when the restaurant opened its first doors near Tiananmen Square in Beijing. Some reasons that contributed to KFC's success in China are the popularity of chicken in China, the chain's management system, the restaurant's adaptation to local taste, and its successful marketing campaigns.
Now, Psyduck can be added as one of the ingredients in KFC China's perhaps not-so-secret recipe for success.
By Manya Koetse
With contributions by Miranda Barnes
Featured image via @Baaaaaaaaal, Weibo.com
Get the story behind the hashtag. Subscribe to What's on Weibo here to receive our weekly newsletter and get access to our latest articles:
Spotted a mistake or want to add something? Please let us know in comments below or email us. First-time commenters, please be patient – we will have to manually approve your comment before it appears.
©2022 Whatsonweibo. All rights reserved. Do not reproduce our content without permission – you can contact us at info@whatsonweibo.com.
Chinese Elementary School Textbook Triggers Controversy for Being "Tragically Ugly"
This elementary schoolbook by the People's Education Press went viral for being ugly.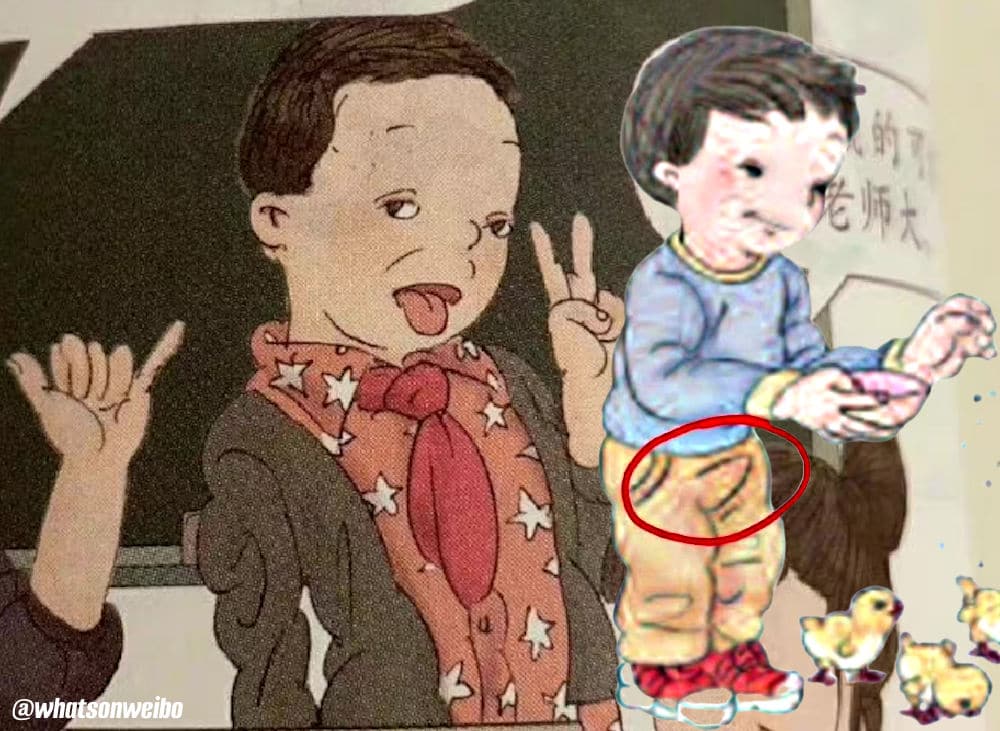 The illustrations in a Chinese schoolbook series for children have triggered controversy on social media platform Weibo, where the hashtag "People's Education Press Math Teaching Material" (#人教版数学教材#) attracted over 860 million views by Thursday afternoon, with the "People's Education Press Mathbook Illustration Controversy" (#人教版数学教材插图引争议#) garnering over 190 million views.
The illustrations went viral after some netizens spotted that the quality of the design in one math textbook series stood out from other books in how 'aesthetically displeasing' it is.
The children depicted in the teaching material have small, droopy eyes and big foreheads. Some commenters think their clothing also looks weird and that the overall design is just strange and "tragically ugly."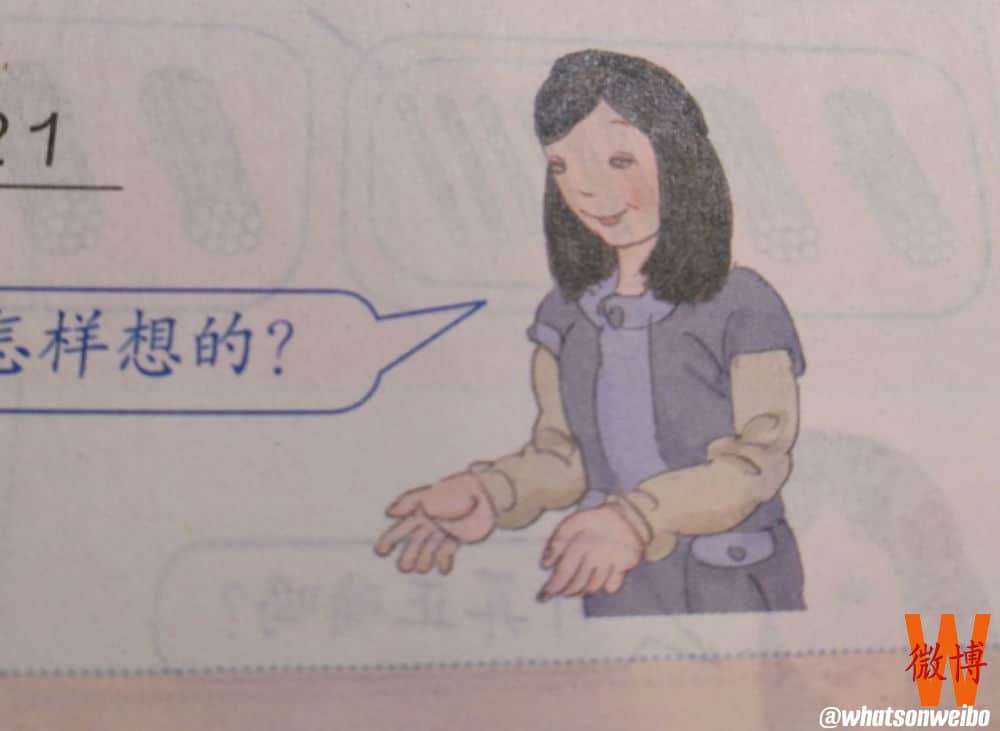 Some images depicting little boys also drew controversy for allegedly showing a bulge in the pants. Adding girls sticking out their tongues, boys grabbing girls, a reversed Chinese flag, and some depictions of children's clothing in the American flag colors, many people think the books are not just ugly but also have "evil intentions."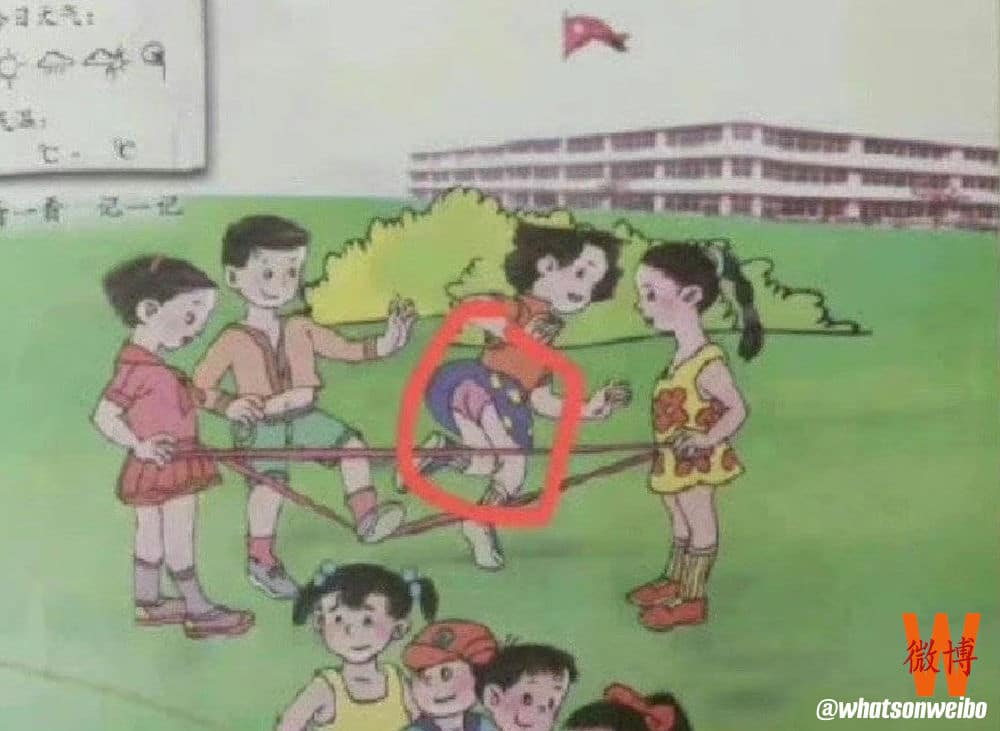 Besides the people who think the design of the textbook series is so ugly that it must have been purposely drawn like this, there are also those who are angry, suggesting China has thousands of talented art students who would welcome a project like this and do it much better.
Some parents are also concerned that such poor quality design will negatively influence the aesthetic appreciation of the children using the books.
Fueling the controversy is the fact that the textbook in question has been published and designed by a team of relatively influential and experienced designers and publishers.
The design was done by, among others, Lu Min (吕旻) and Zheng Wenjuan (郑文娟) of the Beijing Wuyong Design Studio (北京吴勇设计工作室). The book is published by the People's Education Press.
The People's Education Press (PEP) is a major publishing house directly under the leadership of the Ministry of Education. Founded in 1950, it is responsible for compiling and publishing all kinds of teaching material for elementary education.
The textbook already caught the attention of some parents in early May. One parent shared photos of the textbook illustration on Q&A site Zhihu.com, writing: "This textbook is so ugly! How did it ever pass the review?"
The ugly textbook design has made many netizens look back on their own childhood textbooks, suggesting that more traditional Chinese design is much better than what is being produced nowadays.
On May 26, the People's Education Press responded to the controversy on Weibo. In its statement, the publishing house said it would reevaluate its elementary school mathematics textbooks illustrations and improve the quality of the design. In doing so, the publishing house said it would welcome feedback from the public. The statement soon received over 600,000 likes.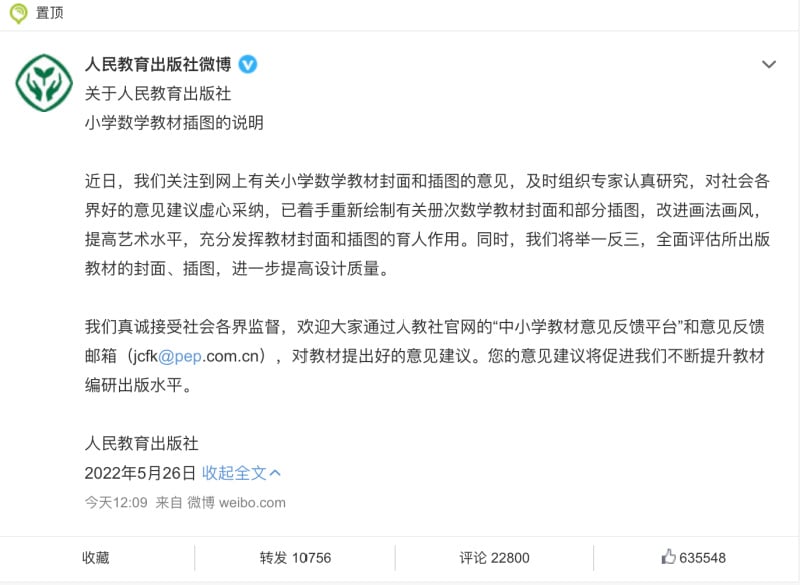 Professional graphic design artist Wuheqilin also weighed in on the discussion (read more about Wuheqilin here). In a lengthy Weibo post, Wuheqilin argues it is too easy for people to share their old textbook covers and images to show how much better they used to be, blaming poor design on the quality of illustrators in modern times.
According to Wuheqilin, it is not so much a matter of illustrators who have become worse, but of publishing houses saving more money on illustrations. Publishers do not prioritize design and are still offering the same prices to illustrators as they did a decade ago.
"The market has expanded, illustrators' prices have gone up, but the philosophy of publishing houses hasn't kept up with the times. This has led to them not really raising their budgets. When I entered the industry some 12 years ago, publishers could still a good artist for 500-800 RMB [$75-$120] to do a fine cover illustration, but now it would be difficult to find an artist to do it for 8000 RMB [$1188]. Around 2015 I was asked by a publishing house to do the cover of a sci-fi novel series they produced, and the process of our talks all went smoothly, but when I quoted my price they looked displeased and told me that even if they would do their best to give me the highest budget possible, it would still only be one-tenth of my quoted price. The price I quoted was just the normal price for a game poster illustration at the time. I never spoke to that publisher again afterward. And this was 2015, let alone how the situation is nowadays."
This is not the first time Chinese school textbooks trigger controversy online. In 2017, an elementary school sexual education textbook caused a stir for being "too explicit" (read here).
Read more about (controversial) Chinese children's books here.
By Manya Koetse
Get the story behind the hashtag. Subscribe to What's on Weibo here to receive our weekly newsletter and get access to our latest articles:
Spotted a mistake or want to add something? Please let us know in comments below or email us. First-time commenters, please be patient – we will have to manually approve your comment before it appears.
©2022 Whatsonweibo. All rights reserved. Do not reproduce our content without permission – you can contact us at info@whatsonweibo.com.