New SK-II Commercial Shows the Strong Message of China's "Leftover Women"
A new ad campaign by skin care brand SK-II on China's 'leftover women' has gained huge support on Chinese social media.
A new ad campaign by skin care brand SK-II titled 'She Finally Goes to the Marriage Corner' (她最后去了相亲角) has gained huge popularity on Chinese social media. The short video shows how women, pressured to get married by their families and society, pluck up the courage to speak out and get their message heard.
The Japanese cosmetics company SK-II released its new campaign film on April 6, which attracted over 1.2 million views on Chinese video platform Youku within a day. The film, titled 'She Finally Goes to the Marriage Corner', seems to have touched the hearts of many "leftover women" in China.
"I will not die unless you get married!"
In China, marriage often comes with social and familial pressure. This holds particularly true for women. Once over 25, single girls are soon tagged "leftover women" (剩女), and the immense pressure to marry comes into play.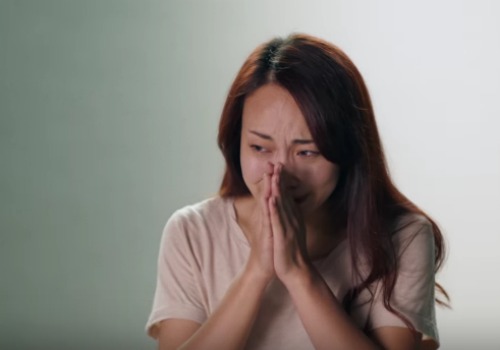 The pressure reveals itself in various ways. Parents suddenly seize every opportunity to investigate your 'relationship status', and vague relatives show their surprise upon hearing still single. Married friends become the 'perfect examples' that pop up during dinner talk: "Look at ***, her child can go buy soy sauce now!" Spring Festival, usually the time for family cosiness, turns into a nightmare where you are constantly bombarded with questions and unwanted advice concerning your marital status. You may even find yourself in an awkward situation where you are lured into meeting a total stranger on a blind date.
But it is always the parents who are the most concerned. In the ad campaign, moms and dads express their worries over their single daughters, saying "don't be so picky!", "you're already a leftover woman now", "please get this solved as soon as possible", and: "one day your single status will be a heavy burden to our heart". The most serious of these concerns appears in the beginning of the film, where a man's voice says resolutely: "Father will not die unless you get married!" ("你一天不结婚,父亲就一天不死")
Marriage Corner, People's Square, Shanghai
Why is marriage so important in China? In SK-II's campaign, it is mainly explained through Chinese culture, where the traditional view holds marriage as an indispensable part of life, and where there's a conception that only married women are 'real' women. Another cultural aspect is the Confucian philosophy of filial piety, a virtue of respect for one's father. Not getting married is perceived as a defiance of filial piety.
The SK-II ad campaign that has gone viral on Chinese social media.
The pressure to marry becomes real tangible at the 'marriage corner' in People's Square, Shanghai. For several years, parents get together at People's Square at weekends. They write their children's information on a piece of paper, including their appearance, job, income, education, and whether they have an apartment or a car. Parents can then look if any of the posted persons fits their ideal of the perfect son- or daughter-in-law. In 2014, an app named "Marriage Corner at People's Square" was even published for iOS systems, allowing parents to continue their search online.
Although the marriage corner is a popular spot for parents helping their kids look for a partner, young people are generally not particularly enthusiastic about this idea. In the ad campaign, one woman says the marriage posts are like "commercial advertisement to sell a product."
"I don't want to marry for marriage's sake. I will not be happy."
In the final part of the video, the featured "leftover women" decide to go to the Marriage Corner themselves. Not to surrender to the pressure and settle on a husband, but to make their own "advertisements" with smiling pictures, saying: "I don't want to marry for marriage's sake; even single, I have a happy life which I love."
'Confident', 'independent', 'life-loving' – that is how these women define themselves. One father responds saying: "If she is happy with being single, we will respect her choice."
Chinese netizens have collectively expressed their support for the women in the film. One netizen says, "Whether I am married or not is nobody's business… even if I don't marry until I'm 80, as long as I am happy, my dad has no say in it."
Many also write about their wish to be the boss over their own marriage choice. Another netizen says: "Our society has always taught women how to lower their heads; it has never really respected women (..). I wish all girls live a happy, confident and courageous life!"
Calling for change in traditional view on women
The popularity of SK-II's ad campaign is not surprising. Its chosen topic is a hot topic in China recently, as discussions about traditional views on women regularly flare up on social media.
On March 26, the story of a 27-year girl attempting suicide due to marriage pressure triggered heated discussions on Weibo. Many netizens identified with the girl, and told of their own experiences of being 'forced to marry' (逼婚).
Earlier this week, a heated discussion erupted about how society treats women, after the attack of a woman in a Beijing hotel.
Popular Weibo accounts such as Women's Rights Voice post daily updates on women in China, their portrayal in the media, and gender equality.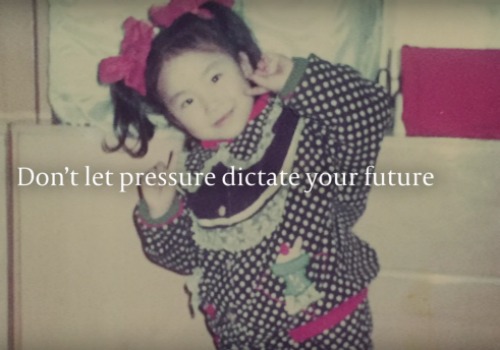 Meanwhile, the SK-II video is still being shared and discussed on Chinese (social) media. Many netizens praise the brand for its smart marketing, others only see the message it brings: "Don't let other people determine your future for you."
– By Diandian Guo
Follow @WhatsOnWeibo
©2016 Whatsonweibo. All rights reserved. Do not reproduce our content without permission – you can contact us at info@whatsonweibo.com.
Hard Measures for Durex in China after "Vulgar" Ads
One Durex sex toy ad gave off the wrong vibrations to Chinese regulators.
As if it wasn't already bad enough that fewer people are having sex during COVID19 lockdowns, leading to a decline in condom sales, condoms & sex toys brand Durex is now also (again) punished for the "vulgar" contents of its advertisements in China.
News of Durex facing penalties in China became top trending on Thursday, with one Weibo hashtag page about the matter receiving over 1,2 billion views.
Durex has over three million fans on its official Weibo account (@杜蕾斯官方微博), which is known for its creative and sometimes bold posts, including spicy word jokes. Durex opened its official Weibo account in 2010.
A post by Durex published on Wednesday about the release of Apple's super speedy new 5G iPhone, for example, just said: "5G is very fast, but you can take it slow," adding: "Some things just can't be quick." The post received over 900,000 likes.
Other ads have also received much praise from Chinese netizens. One ad's slogan just shows a condom package, saying "Becoming a father or [image of condom] – it's all a sign of taking responsibility."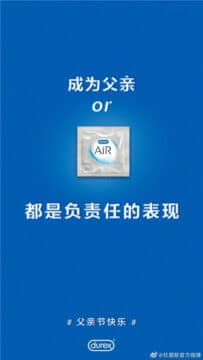 According to various Chinese news outlets, Durex has been penalized with a 810,000 yuan ($120,400) fine for failing to adhere to China's official advertisement guidelines, although it is not entirely clear to us at this point which fine was given for which advertisement, since the company received multiple fines for different ads over the past few years.
One fine was given to Durex Manufacturer RB & Manon Business (Shanghai) for content that was posted on e-commerce site Tmall, Global Times reports.
According to the state media outlet, "the ad used erotic words to describe in detail multiple ways to use a Durex vibrator." The fine was already given out in July of this year, but did not make headlines until now.
In another 2019 case, the condom brand did a joint social media campaign cooperation with Chinese milk tea brand HeyTea, using the tagline "Tonight, not a drop left," suggesting a connection between HeyTea's creamy topping and semen.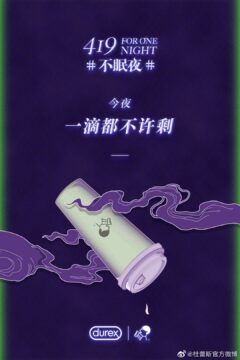 According to China's Advertisement Examination System (广告审查制度), there are quite some no-goes when it comes to advertising in China. Among many other things, ads are not allowed to be deceptive in any way, they cannot use superlatives, nor display any obscene, scary, violent or superstitious content.
Chinese regulators are serious about these rules. In 2015, P&G's Crest was fined $963,000 for "false advertising", at it promised that Crest would make your teeth whiter in "just one day."
However, advertisement censorship can be a grey area. Any ads that "disturb public order" or "violate good customs," for example, are also not allowed. For companies, it is not always clear when they are actually crossing a line.
On Weibo, there are also contrasting opinions on this matter. Many people, however, support Durex and enjoy their exciting ads and slogans. With the case dominating the top trending charts and discussions on social media the entire day, the latest penalty may very well be one of Durex's most successful marketing campaigns in China thus far.
By Manya Koetse
Follow @WhatsOnWeibo
Spotted a mistake or want to add something? Please let us know in comments below or email us. First-time commenters, please be patient – we will have to manually approve your comment before it appears.
©2020 Whatsonweibo. All rights reserved. Do not reproduce our content without permission – you can contact us at info@whatsonweibo.com.
Famous Goubuli Restaurant Calls Police for Getting Roasted Online, Gets Kicked Out of Franchise Group
Goubuli Wangfujing shows how NOT to address a social media crisis.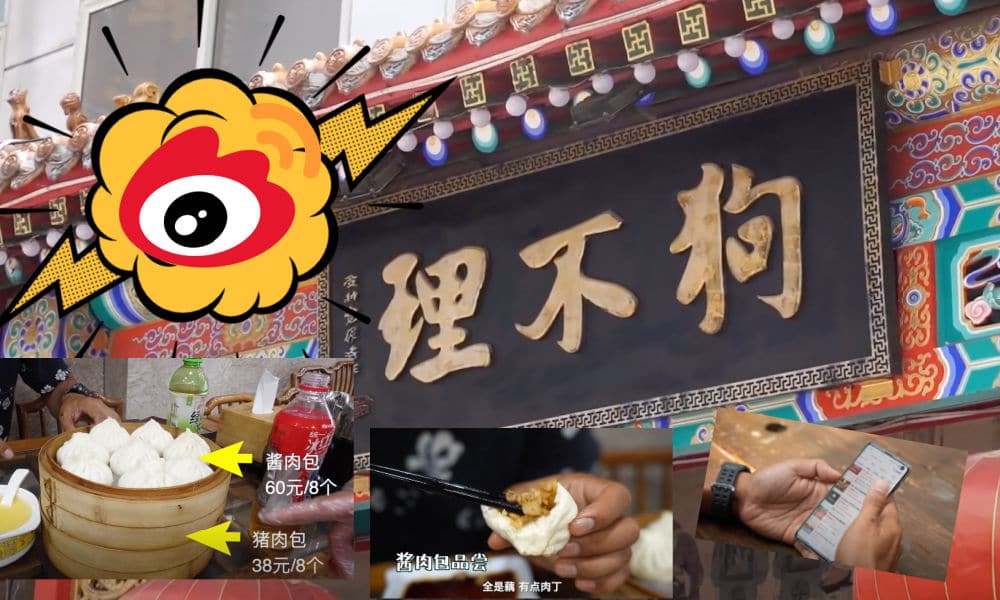 The well-known Goubuli Wangfujing restaurant just got a bit more famous this week. The branch, which specializes in steamed buns, is now not just known as one of Beijing's worst-rated restaurants, but also as a business that shot itself in the foot by handling a social media crisis the wrong way.
The famous Wangfujing main branch of Goubuli Steamed Buns (狗不理包子) is caught up in a social media storm since responding to a blogger's negative video of their restaurant by contacting the police.
The video, Goubuli's response to it, and the following consequences have hit the top trending topic lists on Weibo today.
Goubuli, sometimes transcribed as Go Believe, is a well-known franchise brand of steamed stuffed buns (baozi) from Tianjin that was founded in 1858. The brand now has more than 80 restaurants in mainland China, 12 of them in Beijing. Since Wangfujing is one of Beijing's most famous streets, the Wangfujing branch is popular with both foreign and Chinese visitors.
Gu Yue's "Visiting the Worst-Rated Restaurant" Video
The social media storm started on September 8, when Weibo blogger Gu Yue (谷岳) posted a video titled "Visiting the Worst-Rated Restaurant" ("探访评分最差餐厅"). Gu Yue is a travel blogger with over 1,7 million fans on Weibo.
In the video, Gu Yue starts by explaining he chose to visit Gubouli after searching for the restaurant that receives the lowest ratings in the Beijing Wangfujing and Dongdan areas on the super-popular Chinese mobile food app Dianping.
The blogger found that, out of the 1299 listed restaurants in the area, Wangfujing Goubuli Baozi was the worst-rated place. Ironically, the brand's name Gǒubùlǐ (狗不理) literally means 'dogs don't pay attention,' which makes the name 'Goubuli Baozi' sound like a place with stuffed buns that even dogs would not eat.
Complaining about the service, prices, and quality of food, many Dianping users rated the restaurant with just one out of five stars.
Gu Yue then sets out to visit the restaurant himself to see if Gubouli on Wangfujing really is as bad as Dianping users say. He orders some steamed braised pork dumplings, 60 yuan ($8.7) for 8, and regular pork dumplings, 38 yuan ($5.5) for 8.
The blogger concludes that Gubouli's dumplings are not worth the money: the dumplings are greasy, the dough is too sticky, and they do not have enough filling. Gu Yue's video also suggests that the restaurant's hygienic standards are not up to par, with loud coughing coming from the kitchen.
Gu Yue's video received over 97,000 likes and thousands of responses on Weibo, with many fans praising the idea of the blogger checking out the worst-rated restaurants.
Goubuli's Reaction Starts a Social Media Storm
The Wangfujing branch of Goubuli did not appreciate Gu Yue's video.
In an online statement on September 11, the branch accused the blogger of spreading lies about their restaurant and harming their reputation, and demanded a public apology.
Goubuli Wangfujing called the video "vicious slander" and stated they had contacted the police in relation to the matter.
The hashtag "Wangfujing Goubuli Responds to Netizen's Negative Video" (#王府井狗不理回应网友差评视频#) immediately went viral on Weibo, attracting some 430 million views.
Many Weibo users were outraged about the way the Goubuli branch handled the situation. "Aren't we even allowed to say if something is tasty or not?!" many commenters wondered, with others writing: "You are harming your own reputation!"
"Let's call the police over the quality of your food," others suggested.
There were also many netizens who commented that some Chinese Time-Honored brands, such as Goubuli, often only survive because of their history and fame rather than actually delivering good quality to their customers.
Following the major online backlash on its statement, the restaurant soon removed their post again. But the social media storm did not end there.
On September 15, the Goubuli Group issued a statement saying that it would directly terminate its franchise cooperation with the Goubuli Wangfujing branch over the incident.
With over 280 million views on its hashtag page (#狗不理解除与王府井店加盟方合作#), news of the franchise termination blew up on Weibo.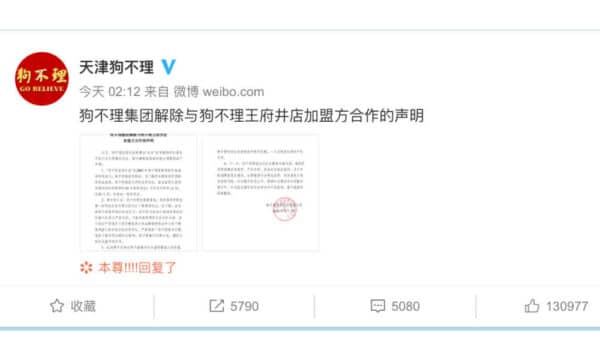 According to the latest Weibo reports on September 15, the Wangfujing Goubuli branch was closed for business on Tuesday (#狗不理包子王府井店门店关闭#).
"This is the power of clout," one person comments: "If it were not for the [Goubuli] restaurant's flawed marketing department, this would not have led to their closure."
"The restaurant has brought this on themselves. There's nothing wrong with posting a bad review."
Another person comments: "This is the first time I've seen a marketing department making something big out of something small, leading to their own closing."
Meanwhile, blogger Gu Yue says that he was not contacted by Goubuli, nor by the police. The social media controversy has only made him more popular.
"Gue Yue single-handedly crushed this restaurant," some say, appreciating how social media has increased the power of Chinese consumers to make or break a business.

Also read: Overview of the Dolce&Gabbana China Marketing Disaster Through Weibo Hashtags

By Manya Koetse
Follow @WhatsOnWeibo
Spotted a mistake or want to add something? Please let us know in comments below or email us. First-time commenters, please be patient – we will have to manually approve your comment before it appears.
©2020 Whatsonweibo. All rights reserved. Do not reproduce our content without permission – you can contact us at info@whatsonweibo.com.