The 5 Most Dreaded Questions for Chinese New Year
The count-down has started for China's most important event of the year. Chinese New Year starts February 8. Although the anticipation of Spring Festival is evident on Weibo, there are also netizens who dread going home, in fear of the questions that await them.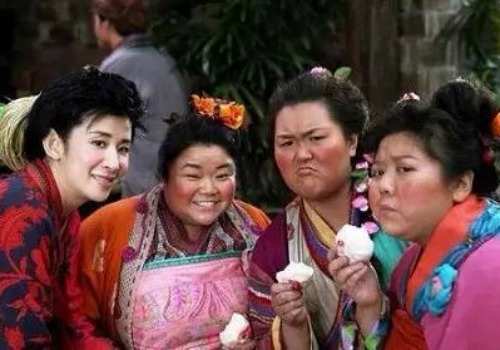 The count-down has started for China's most important event of the year. Chinese New Year, also called Spring Festival, starts February 8 (for 2017: January 28). Although the anticipation of Spring Festival is evident on Sina Weibo, there are also netizens who dread going home, in fear of the questions that await them…
During Chinese New Year, the busy streets of China's bigger cities will be deserted. Those who are able to get a train back home do so. For many people, Spring Festival is the only chance to see their friends and family in their hometown or native province.
But there are certain aspects of Spring Festival that spoil the enjoyment for some netizens: they will be faced with nagging questions from their parents and relatives.
On Weibo, the question "What questions are you most dreading for Spring Festival?" (过年你最怕别人问你啥问题) is shared amongst netizens. The following 5 questions are the most dreaded ones.
#1: "How did you score on your final exams?"

How did you score on your final exams?
Getting a good score on your exams is considered to be the ticket to a good job and bright future for many of China's young people. China's educational system is very exam-oriented and competitive. For the college entrance exams, only the students with the highest scores get to go to the best universities. But reality shows that even those with high scores do not necessarily find a good job: China's college graduates presently face grim employment prospects. The question 'how did you score on your final exams?' is therefore a dreaded one – it is never good for those who did not score well, but is also not necessarily promising for those who did.
#2: "How much money are you making?"

How much money are you making?
Making money and getting a (better) job are priorities for many young people in China, who are pressured by their family to move up in life. As described in China Online (Michel 2012), there are multiple words to label the different working class groups. There are the "Mortgage Slaves" (房奴), who have bought a house but struggle to come up with the mortgage due to China's rising cost of living. The "Ants Tribe" (蚁族) are highly educated but cannot get a steady job on China's erratic job market – they therefore end up on the outskirts of urban areas in insecure jobs. The "Corporate Insects" (公司蛀虫) are tied to their desks, and all of their private time has been consumed because of overtime work. The question "how much money are you making?" is a dreaded one for many people, who are already under a lot of pressure to get by in life.
#3: "Did you find a boyfriend/girlfriend yet?"

Did you find a boyfriend/girlfriend yet?
In a country of 1.3 billion, finding a suitable spouse is not always easy. "Why are you not married yet?" is a question many of China's bachelors and bachelorettes get to hear on a regular basis. Especially during family gatherings, such as Chinese New Year, they recurringly have to listen to their parent's plea to find a girlfriend/boyfriend and get married. Women who are still single at the age of 27 are often labelled as 'leftover women', although there are around 20 million more men under the age of thirty than women in the same age category. Both men and women face challenges in finding a partner (also read our articles on leftover men and online dating in China). Their parents' pleas are not in vain: after the Chinese New Year, there is a 40% increase in blind dates. But some women just don't want to face the questions, and rent a boyfriend to join them on family occasions. This way, their parents can stop worrying, and they will not have to go through the process of being asked nagging questions.
#4: "Do you have a house and a car?"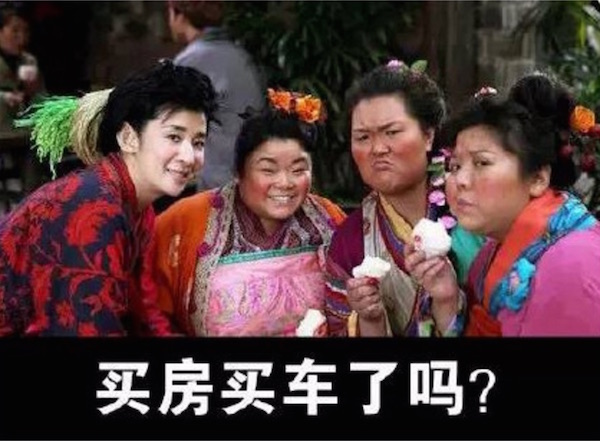 Do you have a house and a car?
Home ownership is often considered a precondition to family happiness in China. That a man has a house and a car is especially something many women find an important prerequisite for potential future husbands. As the girls in the video below say: "If you have no house, and also have no car, then hurry move aside, and don't block my way." But with the cost of living in today's society, many people simply cannot afford a house, or they refuse to become a 'Mortgage Slave'.
#5: "When are you finally having kids?"

When are you finally having kids?
The biggest wish of many Chinese parents is that their (only) child will produce offspring. But China's twenty-something generation has been postponing childbirth: they are getting married later and are therefore not having children until later on in life. Over the past thirty years, birth rates in China have been far below the world's average. It is estimated that Chinese society will even have a negative population growth in 2030. Besides getting married at a later age, child-rearing costs are currently so high that many couples cannot afford to have a baby, let alone a second one. The pressure to find a job and continue working to earn more money also does not help in the decision to have children at a younger age.
– By Manya Koetse
Follow @WhatsOnWeibo
©2016 Whatsonweibo. All rights reserved. Do not reproduce our content without permission – you can contact us at info@whatsonweibo.com.
Binging and Purging as Online Trend: From China's "Big Stomach Stars" to "Vomit Bars"
China's 'Big Stomach Stars' are all the rage – but is it really just harmless entertainment?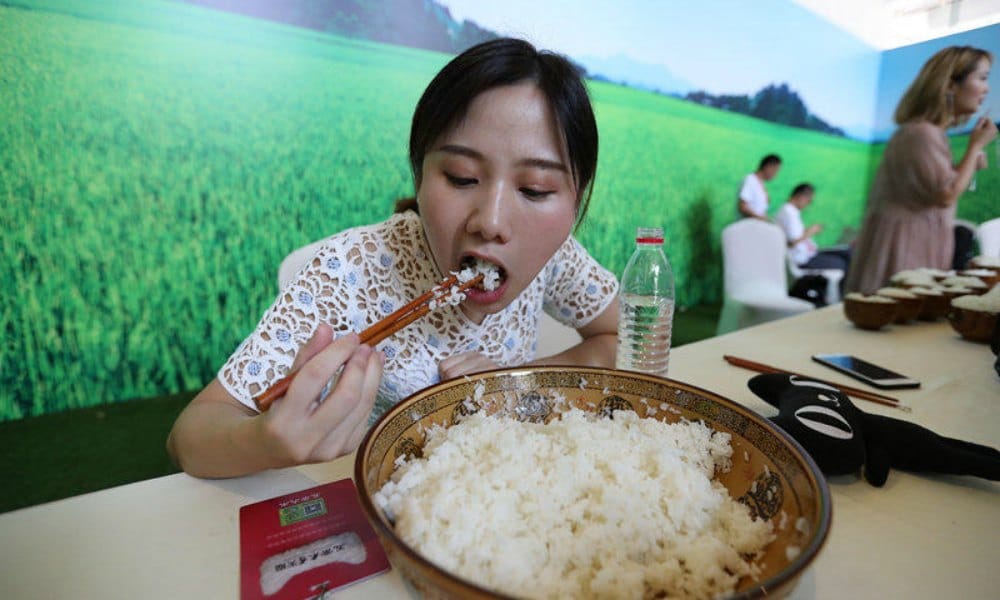 Skinny girls that eat a week's worth of food in one sitting: Chinese binge-eating vloggers are all the rage recently. But behind their cute image and happy fans, there are darker online discussions tying them to self-induced vomiting – something that is promoted in China's so-called 'vomit bars.' How innocuous is this social media extreme-eating trend?
Mimi Zhang (aka Mizi Jun 密子君) has over seven million fans on her Weibo page. She regularly hits the top trending lists on Chinese social media, and even has her own online fanclubs.
Unlike previous rising Chinese social media stars such as Papi Jiang, the 26-year-old Mimi from Chongqing did not become an online celebrity because of her comic skills or acting talent, nor for her singing voice or dance moves. Mimi Zhang became famous for eating 8 lb (4 kg) of rice in one sitting, during an eating challenge in 2016.
By now, Mimi is one of China's most successful 'Eating Broadcasting' hosts. Also called 'Big Stomach Star Eating Livestream' (大胃王吃播) or 'Livestream Eating Vlogging' (吃播女博主) in China, it is an online video genre in which hosts will consume extremely large amounts of food.
In South Korea, it is known as the 'mukbang' phenomenon, and the craze started there some years earlier, peaking in 2016. 'Eating Broadcasting' stars such as Kinoshita Yuka (video) and BJ The Diva (video) already had their moments of fame on the internet in South Korea, Japan, and beyond, but the genre only recently has become a real hype on Chinese social media.
Binging on Camera
Looking at the number of views and subscribers from YouTube to Twitch, or on platforms such as Kuaishou or Douyin, the 'Eating Broadcasting' genre obviously has millions of fans worldwide.
This online movement is innocuous in many ways. According to experts, people enjoy watching others eat because they feel a social connection, or want to stimulate their own appetite – it is one of the reasons why the craze is also dubbed 'social eating.'
For many, the genre is simply entertaining; hosts often eat unconventional dishes, they are descriptive with taste, play around with their expressions, take on challenges, talk, and make funny sounds while eating.
But what if 'social eating' becomes 'binge eating'? How harmless is the genre if it shows skinny women eating excessive amounts of food, inadvertently promoting unhealthy eating habits and unrealistic standards?
Along with Mimi Zhang, 'Big Stomach Mini'(@大胃mini) is one other among many Chinese livestreamers that has achieved online stardom by eating large amounts of food. The 24-year-old reportedly is 1,70 m. tall and only weights 47 kilograms (103lbs), yet recently managed to eat a staggering 17 kg (35 pounds) of meat (video).
More and more, netizens are starting to connect these live-streamers to a habit of purging. Ongoing rumors suggest a supposed connection between binge streaming and vomiting.
Recently, various accounts claimed that Mimi Zhang used to have an account (using the name 'Little Mi 360' 小密360) on an online forum where people, mainly women, encourage each other to binge and purge.
China's "Vomit Bar" (催吐吧) Community
China's so-called "Vomit Bars" (催吐吧), online forums focused on binging and purging, have formed a hidden community on Chinese internet for years.
The phenomenon already came to light in 2012, and started to receive news media attention within China in 2015 and 2016. Most of the bigger online forums got shut down in 2017, however, after rumors circulated that a member of a 'Vomit Bar' had reached such a low weight that her organs failed and she passed away.
Nevertheless, the online community consists of thousands of people, mainly women aged 14-40. A previously well-known forum on Baidu (now shutdown) had around 50,000 members called 'rabbits' (兔子) and over 5,5 million posts.
Since then, there are still some scattered forums, and a special Android app called 'Meet Like Rabbits' (相识于吐), where users can share their experiences and tips on message boards. On WeChat's group chats, members of the community have more freedom to talk in private with less risk of being shut down.
Members of the online 'purging community' are called 'rabbits' since the Chinese word for rabbit, tuzi (兔子), sounds similar to the word for 'purging' (tu 吐), and also because they eat all day, just like rabbits.
The main goal of these online forums is to share tips and tricks on how to lose weight by purging, while still binging on food. People also post photos of their binges or body, and share their hopes and fears in losing weight. "The way it is now, I could maintain a weight of around 46 kilograms," one 'rabbit' writes: "I think it's fat. My heart is filled with panic. I can only vomit."
Newcomers ask others about best ways to vomit, and some people who say they've been binging and purging for years share experiences about their painful stomach and tooth decay.
Doctor Ma Yongchun (马永春) from Zhejiang Tongde Hospital since long has been warning people that these kind of online forums are harmful. She told iFeng news that the so-called 'rabbits' get caught up in a vicious cycle of binging and purging, and in doing so are developing serious eating disorders that can become life-threatening.
Eating Disorders in China
The Chinese 'rabbit' community could perhaps be compared to the Western 'pro-ana' phenomenon, an online movement where people promote the behavior related to the eating disorder anorexia nervosa.
But there is one major difference; the 'pro-ana' community is connected to the term 'anorexia', suggesting that users of such forums are somewhat aware their behaviors are a sign of an actual eating disorder.
In these Chinese online communities, however, there seems to be a lesser acknowledgment that the cycle of binging and purging is one that belongs in the realm of a psychological disorder. Although people do complain that they feel they can no longer stop their irregular eating pattern, they talk more about their stomach aches and ulcers than they actually talk about suffering from an eating disorder.
This perhaps relates to the fact that there is little general awareness about eating disorders (ED) in China. Although there are no official statistics on the occurrence of bulimia, anorexia, or other ED in China, previous studies have found levels similar to Western countries (Tong et al 2014).
What various studies over the past years have also established is that there are major differences between Western countries and China in how eating disorders manifest themselves, suggesting they are not culture-bound but culture-reactive (Getz 2014, 749; Pike & Dunne 2015).
Because EDs are (1) traditionally conceptualized as a "Western mental health issue," because (2) there is a social stigma attached to mental health issues in general in Chinese society, because (3) there is little general awareness on EDs, because (4) there is a lack in Chinese healthcare facilities specialized in EDs, and because of (5) various cultural factors (e.g. a very strong food culture), Chinese patients are more prone to talk about their problems in the form of somatic symptoms such as an extreme (dis)taste for food or abdominal problems, than in the form of a psychological problem (Getz 2014, 746-750).
Growing Awareness?
Recently, Chinese media slowly seem to be promoting more awareness on eating disorders. The American video "I became Anorexic for Instagram" has gone viral on Chinese social media over the past month, as it was posted by various state media channels on Weibo.
Among thousands of reactions, many said: "It seems that this kind of disease doesn't occur much in China – we have too many tasty food!" Others said: "I want to lose weight too – I want an eating disorder like this!"
But there are also more and more people who are tying the rise of China's online unhealthy eating trends to more serious issues. "These girls who eat so much [on camera] do not just have big stomachs, they actually puke in order to eat so much. I don't find it entertaining to watch them anymore," one netizen (@有兔劳劳) says.
"I now find it sad to watch these 'big stomach stars' (大胃王)," another person says: "They definitely vomit – it's impossible for one person's stomach to hold so much food."
"What's up with all these 'big stomach stars' recently? It's not something they were born with, or something they were trained in doing; they are like those 'rabbits' and it is a disease, it's bulimic. I don't want to support them anymore by watching how they harm themselves," another commenter writes.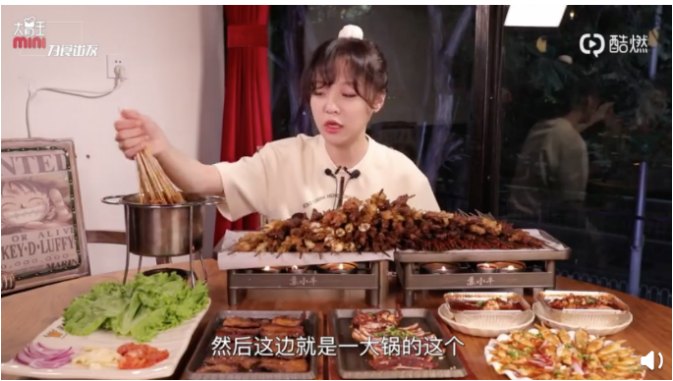 Meanwhile, China's binge-eating online stars seem to be unaffected by the online rumors that connect them to unhealthy trends and eating disorders.
This week, Mimi Zhang has posted her latest video in which she finishes a total of 15 desserts, while 'Big Stomach Mini' has posted a new video in which she eats, amongst others, 250 skewers of meat.
For some commenters, there is no issue at all: "She just has a great appetite."
Are you suffering from an eating disorder and need help? For information on eating disorders and how to help if you are worried about someone, Beat (UK) or ANAD (US) has advice for sufferers, friends and family.
By Manya Koetse
Follow @whatsonweibo
References (online references linked to in text)
Getz, M.J. 2014. "The Myth of Chinese Barbies: Eating Disorders in China including Hong Kong." Journal of Psychiatric and Mental Health Nursing 21: 746-754.
Pike, Kathleen M., and Patricia E. Dunne. 2015. "The Rise of Eating Disorders in Asia: a Review." Journal of Eating Disorders 3:33. Available online https://jeatdisord.biomedcentral.com/articles/10.1186/s40337-015-0070-2 [17.1.18].
Tong, J., Miao, S., Wang, J. et al. 2014. "A Two-stage Epidemiologic Study on Prevalence of Eating Disorders in Female University Students in Wuhan, China." Social Psychiatry and Psychiatric Epidemiology 49(3): 499-505.
Directly support Manya Koetse. By supporting this author you make future articles possible and help the maintenance and independence of this site. Donate directly through Paypal here. Also check out the What's on Weibo donations page for donations through creditcard & WeChat and for more information.
Spotted a mistake or want to add something? Please let us know in comments below or email us.
©2018 Whatsonweibo. All rights reserved. Do not reproduce our content without permission – you can contact us at info@whatsonweibo.com.
Netizens or Not? About Chinese Online Communities & Use of the Term 'Netizen'
The term 'netizens', referring to Chinese internet users, is both loved and hated.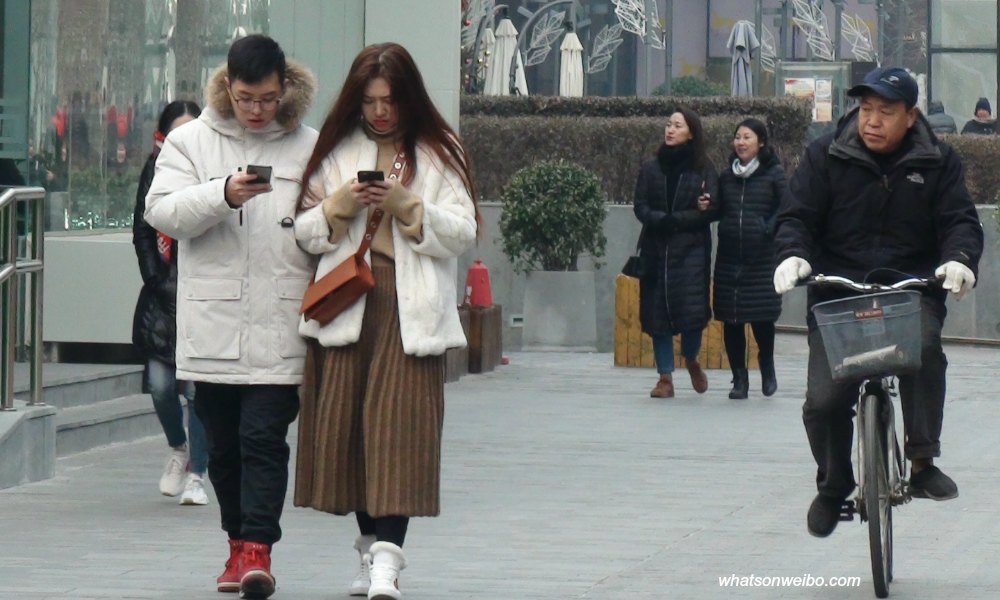 Chinese internet users are often referred to as 'netizens', but some people say the term is outdated and inappropriate. Should something change? What's on Weibo explores the term and its use in different contexts.
It has been an issue of debate for years; the use of the word 'netizen' in English-language media – especially when referring to Chinese internet users.
At What's on Weibo, it is a word we use in pretty much every article we post. Online media in China is our focus, and how 'netizens' deal with social media and trending topics is at the heart of this website.
But many people have had enough of the word 'netizen.' Already in 2013, Matt Schiavenza at The Atlantic wrote that the term was "once useful as a way to describe China's internet users," but that it is now "meaningless, inaccurate, and misleading."
Schiavenza argues that "netizens" is mainly used for Chinese internet users who are politically active or outspoken, while there is a huge number of Chinese people who are non-political in their online behavior.
The term has also been discussed among people on Reddit, where some call it a "stupid journalism" term.
At the conclusion of the recent Chinese Internet Research Conference at Leiden University, the term was also briefly discussed in the context of 'online communities,' with some scholars deeming the word inappropriate to refer to Chinese internet users – also suggesting that speaking of Chinese "online communities" in itself was problematic to begin with.
One discussion participant suggested that words such as 'community' or 'netizen' are labels used by outsiders in the academic world or in foreign media, rather than Chinese describing themselves that way – saying it is problematic because it is "our label, not theirs."
Is this really true? What's behind the term 'netizens'? Should Chinese internet users be described with other terms than 'netizens'? For what reasons?
Behind the Word 'Netizen'
The word 'netizen' was first coined in 1984 and popularized with the spread of the internet during the 1990s. The word is a blend of the words 'internet' and 'citizen,' and is (or was) generally used to either refer to people who use the internet, or more specifically, to refer to people who participate in online discussions or belong to 'online communities' (Johnson 2013).
The term is also often attributed to net theoretician Michael Hauben, who used it in his 1997 work to define people who "actively contribute toward the development of the Internet" and for a "citizen who used the Internet as a way of participating in political society."
Already in 2012,Time Magazine elected the term as one of the words that should be banished, suggesting it had become archaic since its launch in the 1980s.
But when looking at the more recent use of the word 'netizens' in academia and foreign media, the term is anything but dead. It does seem to be applied far more often to Asian online contexts, e.g. Chinese or Korean online users, than it is used to describe internet users in Europe or America.
It is often used, for example, to talk about online fans of the K-pop industry or users of the Sina Weibo platform – suggesting that there has been a shift in the use of 'netizens' from the 1980s or 1990s to describe any internet user, to more specifically describing those (often Chinese) internet users that are part of a specific online circle.
From Netizen to Wangmin
One reason why 'netizen' is used in the Chinese case specifically, is because Chinese media and social media users use the word 'wǎngmín' (网民) very frequently.
Wangmin (网民) literally means 'net-people' or 'net-citizens' (thus literally: 'netizens'), and is the generally accepted term to designate internet users in China. The term was described by the China Internet Network Information Center (CNNIC) in 2013 as "Chinese residents who are six or older and have used the Internet at least once in the past six months" (Shen 2013).
The CNNIC has used the term wangmin officially since 1997, the year of its founding, when its first 'China Wangmin Survey' (中国网民调查) came out – the same year that Michael Hauben theorized and politicized the word.
The Chinese term wangmin seems to lack the more political implications of the term 'netizen' in English in Western countries, which has come to imply that an internet user is politically involved in online issues. Chinese fans of certain music genres or TV series are hardly politically involved in online causes, yet they are still wangmin.
There are (political) implications to the term wangmin on another level, though; in Chinese media, the term is mostly connected to nations. For example; one can speak of 'American netizens' (全美网民), 'Canadian netizens' (加拿大网民) or 'Chinese netizens' (中国网民,国内网民).
There are also instances in which the term is applied to platforms rather than nations. Some Chinese media have used the term 'Sina Weibo netizens' (新浪微博网民), for example.
Netizens versus Netizens
So what does this all mean? Firstly, it means that the use of 'wangmin' or 'netizens' in the Chinese context is not the same as the way the term 'netizens' has come to be used in the English-language Western context.
It also means that the term is not archaic at all. After all, who can claim a word is 'outdated' or 'old-fashioned' when it is practically being used at all hours of the day on Chinese internet and in Chinese media today? Even though it has been used since 1997, it has proved to be anything but a word trend: wangmin has become a part of normal Chinese vocabulary.
Third, claiming that it is a "stupid journalist term" or "our label, not theirs" also does not do just to the word; in the Chinese context, the term is used far beyond journalism, and more importantly; it is used by Chinese organizations and individuals to describe Chinese internet users, meaning it is not merely a term that is used by non-Chinese to describe Chinese online populations.
Online Communities
One thing that stands out when talking about 'netizens', no matter in what context, is that it is tied to the idea of an 'online community.' Much has been researched and said about what constitutes an online community, but for the scope of this article, we could say that it minimally requires some sense of a shared collective identity or some pursue of a shared purpose (Massa 2017, 961).
In the case of China's online environment, online communities are built in two ways.
In one way, it is constructed at the state level to "define wangmin within the nation-state boundary," as Yiping Shen (2015) writes in Public Discourses of Contemporary China.
This is, amongst others, very visible in state reports or state media that define "Chinese netizens" (中国网民) in the same way in which citizens are legally recognized subjects of a nation or state, meaning citizens of the PRC. In this way, all of China's 772 + million internet users are part of this group of 'netizens' and have to follow to guidelines the government lays out for Chinese netizens.
In another way, it is used among Chinese companies and internet users to define themselves, either in the way the state has intended it, or at a smaller online community level. And these communities exist everywhere, from small-scale to large-scale, some existing for a long time, some being short-lived; from the long-standing Rage Comics community to temporary groups and Human Flesh Search Engines, to flourishing BBS or WeChat groups.
A platform such as Sina Weibo also clearly defines itself as a 'community' (社区), with its 'Weibo Community Management' (新浪微博社区管理) being an important part of the site in setting out guidelines for its members.
Wangyou: Chinese Online Friends
So what options are there for future references to Chinese internet users? Should we just stick to 'netizens'? Would it more appropriate to use the original Chinese term 'wangmin,' or should we perhaps use another widespread term, namely that of 'wǎngyǒu'?
Besides Chinese internet users defining themselves as wangmin, the word wangyou (网友), literally 'web friend', is also often used among netizens to define the members of their online 'community' (e.g. Weibo) or Chinese internet users at large.
Jessica Sun (孙慧), linguist and co-founder of the Dutch website Chinatalk, explains that 'wangyou' or 'webfriends' initially was meant to define those people one knew from cyberspace, when internet just gained traction in China.
Once China's online population grew bigger, the idea of wangyou also grew to include more people. "It could also refer to a larger group of people who share the same interests or attitudes, instead of just friends," Sun explains.
Sun compares the use of wangyou to the Chinese word for 'friend', pengyou (朋友), which is often used to sound more intimate, although the person addressed is not necessarily really considered a 'friend.'
According to Sun's analysis, wangmin (netizen) and wangyou (webfriend) are generally interchangeable, although there are some subtle differences. Sun has some remarks explaining the difference between the two terms:
1. In many cases, wangmin could also be a wangyou, but not the other way around. Wangyou can be used to show a more emotional attachment or personal relation, as in 'my webfriends' (我的网友). One can not say 'my netizens' (我的网民).
2. While wangyou is more intimate, wangmin is more neutral, and is therefore mainly used by news outlets.
3. The use of the term wangmin or wangyou depends on the attitude of the person who uses it towards a specific person/event, depending on the 'community' they are in or the stance they have towards a particular incident.
For example, when Chinese media report about wangyou doing something or being angered about something, it often means this author/publication is siding with these 'webfriends'.
The headline featured above ("As policeman bravely sacrifices his life, [some] webfriends are angered about these details") is a story about a policeman who died on duty while trying to protect pedestrians from an out-of-control car. When some online commenters said that it was the policeman's job to protect the people, suggesting his death was part of his duty, many other commenters were angered with these comments. By featuring the 'webfriends' term in this headline, the publication shows it sides with those 'webfriends' who mourn the policeman's death and who are angered about insensitive comments relating to his death.
Another story, headline above ("Shenyang policeman dies on duty, two netizens detained over insulting comments"), is about another policeman dying on duty due to an attack by a suspect, with two web users commenting that the person attacking the police was a "hero" for doing so. The headline states that "two netizens insulting [police] have been detained" – in such a case, the media report shows a distance towards the commenters – 'webfriends' would surely not be used to refer to them.
All in all, it is clear that words such as netizen or wangyou, although they might sound outdated in an English-language context, are anything but outdated in the Chinese context.
Nearly five years after The Atlantic posted its anti-'netizen' article, claiming the word "meaningless, inaccurate, and misleading," recent uses of the term and its ubiquity in (Chinese) media show that it was perhaps the author's perspective that was flawed, rather than the term itself.
For the time to come, Chinese 'netizens' are here to stay.
We'd like to hear your stance! How do you feel about 'netizens,' or would you rather see a more frequent use of the original wangmin term? Fill out the poll below:
By Manya Koetse
Follow @whatsonweibo
With contribution from Jessica Sun at Chinatalk.
References
Hauben, Michael and Ronda Hauben. 1997. Netizens: On the History and Impact of Usenet and the Internet. Computer Society Press: Los Alamitos, CA.
Jones, Paul Anthony. 2013. Haggard Hawks and Paltry Poltroons: The Origins of English in Ten Words.
Massa, Felipe G. 2017. "Guardians of the Internet: Building and Sustaining the Anonymous Online Community."Organization Studies 38 (7): 959 –988.
Shen, Yiping. 2015. "Netizens, Counter-Memories, and Internet Literature into the New Millennium." In: Public Discourses of Contemporary China. Chinese Literature and Culture in the World, Chapter 4. Palgrave Macmillan: New York.
Directly support Manya Koetse. By supporting this author you make future articles possible and help the maintenance and independence of this site. Donate directly through Paypal here. Also check out the What's on Weibo donations page for donations through creditcard & WeChat and for more information.
Spotted a mistake or want to add something? Please let us know in comments below or email us.
©2018 Whatsonweibo. All rights reserved. Do not reproduce our content without permission – you can contact us at info@whatsonweibo.com.