The Lanjisu Fire That Changed China's 'Wangba' Era
The tragic Lanjisu fire led to a nationwide crackdown on internet cafes in China.
A Beijing internet cafe fire that killed 25 young people in 2002 has become part of China's collective memory: it was a shift in China's internet cafe era. June 16 marks the anniversary of this tragic event.
On June 16, 2002, at 2:40 a.m., a devastating fire broke out at a second-story Internet cafe (wangba 网吧) in Beijing's Haidian, the city's university district.
News of the tragic fire shocked the entire nation. The fire had instantly killed twenty people and severely injured 17, of whom five later died in the hospital.
All of the dead and injured people were students; 12 of them were from the prep school of the Beijing University of Science and Technology (Wang 2009, 86).
Although it did not take long for firefighters to arrive that night, the fire at the Lanjisu (蓝极速, 'Blue speed') internet cafe was mainly so disastrous because windows were firmly secured with iron burglar-proof bars, leaving no option for people to escape. The only door was locked; it happened more often that wangba owners would (illegally) operate overnight behind locked doors (Qiu 2009, 33).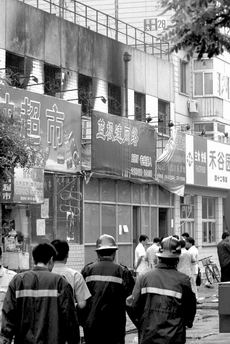 Investigators later ruled arson as cause of the fire at the cafe, which was located at Xueyuan Road 20. Traces of gasoline were discovered at the scene, and two teenage male suspects (13-year-old Zhang and 14-year-old Song) were arrested two days later.
The teenage boys were middle school students who used to play games at the internet cafe, but had gotten into a quarrel with other visitors and were not allowed to come in. To take 'revenge', they had purchased 1.8 liter of gasoline at a nearby gas station just 3-4 hours before they committed arson.
It was later revealed that the two boys both came from poor and shattered families, involving drugs and crime (Lifeweek 2003; Qiu 2015).
In August of 2002, a Beijing court sentenced the 14-year-old boy (Song X.) to life imprisonment, while the 13-year-old was sent to a juvenile re-education center as he was under the age of 14.
A third person, a 17-year-old female also named Zhang, was sentenced to 12 years in prison for being an accomplice; she gave the boys money to buy the petroleum, and knew what they were up to. A fourth minor, a 14-year-old boy by the name of Liu, was sentenced to 18 years in prison for being part of the arson plan. The internet cafe owner was sentenced to 3 years in prison for breaching business and safety rules. The gas station was fined 50,000 yuan for selling gasoline to two minors (Lifeweek 2003; Sina 2008).
A turning point in the wangba boom
The Haidian Lanjisu fire had a big impact on China's booming internet cafe culture. Internet cafes had been mushrooming in China since the mid and late 1990s. It was the time of Tencent's highly popular instant messaging software OICQ and multiplayer online games. By 2002 there were thousands of wangba across Chinese cities, many of them unlicensed and illegal, with no fire control equipment.
The Lanjisu fire made the problem of China's wangba a national concern. Not just the unsafe conditions were a reason for worry, but also the impact the internet cafes had on China's youth, with students spending days on end playing online games in these smoky rooms, leading to a rise in school absence and internet addiction. Beijing's vice mayor Liu Zhihua condemned internet cafes as "opium dens" for the country's youth.
The fire led to a huge crackdown on illegal internet cafes. The Beijing authorities launched a campaign that would stop the development of new internet cafes and that would screen all existing wangba one by one, and to close all unlicensed businesses immediately and to confiscate their operational tools (Wang 2009, 87). Across the country, approximately 400,000 internet cafes were closed (Sina 2008).
It also led to the implementation of new rules, such as that there could no longer be internet cafes within a 200-meter radius of schools, that minors were not allowed to enter, and that they had to be closed between midnight and 8 am (Venkatesh 2006, 55)
Since 2005, the remnants of the Lansiju internet cafe have been on display at the Haidian Safety Museum.
The fire is remembered in China as the "6.16 Wangba Big Fire" (6·16网吧大火), and is still being discussed on Chinese social media to this day.
By Manya Koetse
Follow @whatsonweibo
References
Qiu, Jack Linchuan. 2009. Working-Class Network Society
Communication Technology and the Information Have-Less in Urban China. Cambridge, MA: MIT Press.
Qiu, Jack Linchuan. 2015 (2009). "Life and Death in the Chinese Informational City: The Challenges of Working-Class ICTs and the Information Have-less." In: Living the Information Society in Asia, Erwin Alampay Alampay (ed), 130-157. ISEAS–Yusof Ishak Institute.
Sina. 2008. "北京蓝极速网吧老板今安在." Sina News, 29 Dec http://news.sina.com.cn/s/2008-12-29/100416941011.shtml [16.6.18].
Venkatesh, P. 2006. "China on the I-way." In: Strategic Management: Concepts and Cases, Hitt, Duane & Hoskisson (eds), chapter 2. Mason: Thomson Higher Education.
Wang, Xueqin. 2009. "Internet Cafes. What else can be done in addition to rectification?" In: Good governance in China–a way towards social harmony : case studies by China's rising leaders, edited by Wang Mengkui, Lchapter 8. London & New York: Routledge.
Zhuang, Shan 庄山, Ke Li 柯立, Li Wei 李伟, Wu Ang 巫昂. 2003 (2002). "两个纵火少年和25条生命" ["Two Minor Arsonists and 25 Lives"]. LifeWeek 2002 (26), online April 8 2003 http://www.lifeweek.com.cn/2003/0408/1594.shtml [16.6.2018].
Spotted a mistake or want to add something? Please let us know in comments below or email us.
©2018 Whatsonweibo. All rights reserved. Do not reproduce our content without permission – you can contact us at info@whatsonweibo.com.
China Association of Performing Arts Issues Online Influencer 'Warning List' with 88 Names
China's canceled celebrities won't be able to turn to live streaming once they're on this black list.
On November 23rd, the China Association of Performing Arts issued a so-called "warning list" of 88 names of internet personalities who have been reported and registered for their bad behavior. The people on the list have either violated the law or their actions have allegedly negatively impacted society and public order.
The moral responsibility of Chinese idols became a much-discussed topic earlier this year when various celebrities came under fire for sexual misconduct, tax evasion, or other controversies.
Chinese celebrities Wu Yifan (吴亦凡, aka Kris Wu), Zheng Shuang (郑爽), and Zhang Zhehan (张哲瀚) are also on the current version of the list. They previously made headlines in China; Chinese-Canadian pop star Wu Yifan was detained over rape allegations, actress Zheng Shuang was caught up in a surrogacy scandal and was fined $46 million for tax evasion, and actor Zhang Zhehan caused controversy over photos of him posing at historically sensitive places in Japan.
This is the ninth list issued by the live streaming branch of the China Association of Performing Arts, which first started its "blacklist management system" ("黑名单"管理制度) in February of 2018.
According to an interview by People's Daily with a spokesperson of the association, they further revised the management system in 2020 and then formed the so-called "Management Measures for the Warning and Return of Online Hosts" (网络主播警示与复出管理办法).
This year, Chinese (online) entertainers have faced tighter scrutiny since China's Propaganda Department and other authorities have placed more importance on their societal influence as role models.
Although the list issued by the Association's livestreaming branch focuses on online presenters and bloggers, it also includes other performers who already had a bad record. Chinese celebrities who have faced controversy will sometimes switch from acting or singing to the live streaming industry in order to generate an income. The new measures make it more difficult for 'canceled celebrities' to make a comeback as a live streamer.
This also means we won't be seeing Zhang Zhehan, Kris Wu, or Zheng Shuang on live streaming channels any time soon, as their inclusion on the list has basically banned them from the industry.
The China Association of Performing Arts issued this blacklist with 88 names of Chinese online celebrities, among them are also Kris Wu, Zheng Shuang, and Zhang Zhehan, whose return to the entertainment circles has now become highly unlikely: https://t.co/jhz6ajiglk pic.twitter.com/mB9ABG95D1

— Manya Koetse (@manyapan) November 23, 2021
Since 2018, a total of 446 online celebrities/streamers have been put on one of these blacklists.
The topic became top-trending on Sina Weibo on Tuesday, where one hashtag page about the list received over 180 million views, and another one – specifically referring to Wu, Zheng, and Zhang being shut out from the industry – receiving over 630 million clicks (#吴亦凡郑爽张哲瀚被封禁#).
Many commenters wondered about why some names weren't on the list, such as Chen Lingtao (@Cloud_陈令韬), who recently came under fire for cheating. "Of all the 88 people on the list, there are 85 I don't know," one commenter said.
Besides the three biggest celebrities, there are also names on the current list such as Tik Tok (Douyin) celebrity Tie Shankao (铁山靠) or online streamer 'Teacher Guo' (郭老师). Guo was popular on Tik Tok (Douyin) for rejecting standard beauty norms.
Guo was removed from Chinese social media in September of this year during the major crackdown on Chinese celebrity circles. Now that she is included on the list together with 87 others, her return to the livestreaming industry is very unlikely.
Update: Read Li Xuezheng Defies Online Celebrity 'Blacklist,' Says He'll Help Zhang Zhehan File Lawsuit
By Manya Koetse
Spotted a mistake or want to add something? Please let us know in comments below or email us. First-time commenters, please be patient – we will have to manually approve your comment before it appears.
©2021 Whatsonweibo. All rights reserved. Do not reproduce our content without permission – you can contact us at info@whatsonweibo.com.
Key Players, Digital Trends & Deep Dives: China Internet Report 2021
SCMP just launched its latest China Internet Report. (And What's on Weibo readers can get a 30% discount on the Pro Edition!)
As China's tech sector has been facing an ongoing crackdown by Beijing regulations, a lot has been changing in the country's digital environment over the past year. The new China Internet Report 2021 by SCMP gives an overview of the latest trends and developments.
When it comes to China's online landscape, nothing ever stays the same. Over the past year, political, economic, and social developments and measures have once again changed the Chinese digital environment.
Giving a comprehensive overview of the key leaders and major trends dominating the Chinese online field, South China Morning Post (SCMP) issued its fourth annual China Internet Report.
China's internet population has now risen to 989 million – last year's report indicated an internet population of 904 million. By now, there are 853 million mobile payment users, which indicates that over 86% of the entire mobile internet population uses mobile as a way to pay.
As China's internet population is still growing, and new online startups are still popping up every day, there have been tightening regulations on multiple fronts.
As laid out in SCMP's report, regulations mainly focus on the four areas of antitrust, finance, cybersecurity, and data privacy. Regulatory actions targeting the monopolistic behaviours of China's biggest internet companies are still ongoing, and the new Data Security Law came into effect on September 1st of this year.
While Chinese tech companies are seeing increased scrutiny at home, they have also been facing intensifying geopolitical tensions between China and other countries. Over the past year, the various probes and shutdowns into Chinese companies by countries such as the US and India have meant a serious blow to the market share of Chinese apps.
Meanwhile, the SCMP report highlights the trend of various older and newer Chinese (e-commerce) apps "downplaying" their Chinese origins when entering foreign markets. Shein is a good example of this development, but other players including Zaful, Urbanic, and Cider are also experiencing more success outside of China while not explicitly marketing themselves as Chinese e-commerce apps.
Another noteworthy trend explained in the new report is how China's shifting demographics are creating new niche segments to compete over. The COVID-19 crisis is partially a reason why China has seen an increase in senior internet users, with an increasing number of online products and content catering to the elderly.
China's Ministry of Industry and Information Technology (MIIT) even issued special guidelines earlier this year for web pages and mobile apps to carry out so-called "elderly friendliness modifications." Since this user group is still expected to see significant growth, the "silver economy" is an area that will only become more important in the years to come.
To check out all the main trends for 2021, China's latest internet statistics, its top tech competitors, internet companies, and more, here's a link to the free report.
The free report is 55 pages long and gives an overview of China's latest internet numbers and players, covers the top cross-sector trends for 2021, including the tightening regulations and the bumpy road ahead for China's tech IPOs.
The Pro Edition of China's Internet Report 2021, also launched by SCMP, is 138 pages long and provides a deep-dive into ten relevant sectors – featuring insightful and useful analysis, data, and case studies relating to China's e-commerce market, content & media, gaming, blockchain, fintech, online education, healthtech, smart cars, 5G, and Artificial Intelligence.
The China Internet Report Pro Edition is priced at US$400, but the team at SCMP has kindly reached out and made it possible for us to offer a special 30% discount to What's on Weibo readers.
You'll get the discount by using the discount code: WHATSONWEIBO30, or by clicking this link that will automatically include your discount code.
By Manya Koetse
Spotted a mistake or want to add something? Please let us know in comments below or email us. First-time commenters, please be patient – we will have to manually approve your comment before it appears.
©2021 Whatsonweibo. All rights reserved. Do not reproduce our content without permission – you can contact us at info@whatsonweibo.com.