Top 10: Overview of China's Most Popular TV Dramas of Summer 2018
These are the top-scoring TV dramas in China of this moment – and they are all produced in the PRC.
Turn on the airconditioning and get ready for some binge watching; these are the top trending TV dramas in China to watch this summer.
Note: also see our Top 30 of all-time classic Chinese TV Dramas here!
China still has one of the most booming TV drama industries in the world, with dozens of new dramas being released every month, drawing in millions of viewers through the country's most popular online video streaming platforms.
We've compiled a top ten of most popular Chinese TV dramas based on the current popular charts of the leading websites in Chinese online video, including Tencent Video, iQiyi, Sohu, Youku, LeTV, 360kan, Sogou Video, along with Baidu's and Weibo's popular TV drama charts.
Like fashion and music, TV drama trends constantly change with the times and seasons. This summer, Chinese viewers are mostly into dramas that are themed around (historical) love stories and suspense. What is noteworthy is that the often very popular fantasy & martial art series, Sino-Japanese war dramas, and the ever-popular South-Korean tv dramas are not making it to the list of top-watched series this time; the current top 10 series are all produced in mainland China.
This list has been compiled by combining the top ranking lists of this moment to make sure we have all the current top-scoring TV dramas in China included. Please note that some of these series are currently still airing and have no English subtitles available at this time. Some links we provide here (such as those to Viki) have content restrictions depending on location. To circumvent you could consider purchasing a vpn (read more).
These are the dramas Chinese netizens are watching the most right now:
#10. Shanghai Women's Manual (上海女子图鉴)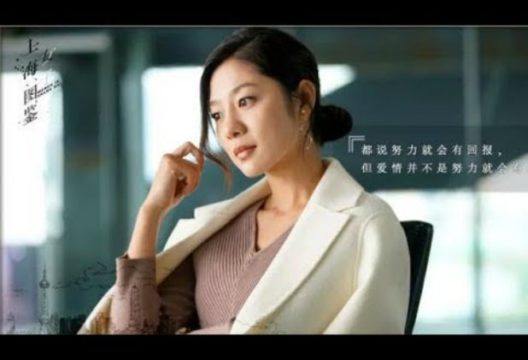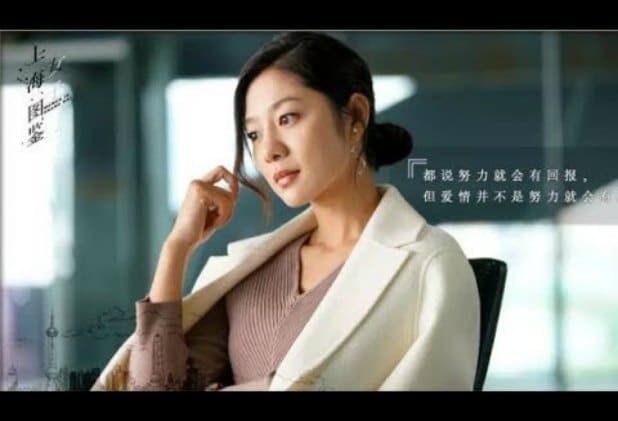 Mainland China
Genre: urban, romance
Directed by: Cheng Liang, 程亮
Episodes: 20, start May 8 2018, by Youku
Chinese video platform Youku released Shanghai Women's Manual (or Women in Shanghai) last May, following the series Beijing Women Manual; both series are adapted from 2016 popular Japanese drama series Tokyo Joshi Zukan.
This successful TV drama, that currently ranks number 5 in Youku top 30, stars actress Wang Zhen'er (王真儿) as Luo Haiyan – a small-town girl who tries to make it in the big city.
The series revolves around career and romance in Shanghai, following Luo's life from the days of university graduation to her first struggles and successes in the corporate world. Throughout Luo's career path, her university sweetheart Zhang Tianhao (played by Taiwanese actor Li Chengbin 李程彬) keeps on playing an important role in her life.
Two pluspoint aspects of this series; the scenery is enjoyable (nice images of Shanghai streets and aerial views), and some of the music used in the episodes is great. The TV drama can be watched here (no subtitles, if you know of where to watch with English subtitles please leave comment).
#9. On Fire (走火)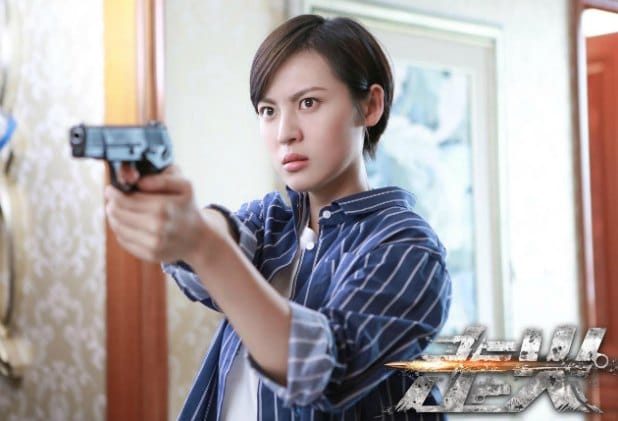 Mainland China
Genre: suspense, crime
Directed by: Li Xiaoping 李小平 and Li Xiaoting 李小亭
Episodes: 40, start June 6 2018, by Zhejiang TV
Ranking no.4 in Weibo's current most popular charts of the day and no.6 in Youku top 30, On Fire or Flame (走火) is a TV drama about a group of young police officers facing complicated and serious cases.
#8. White Deer Plain (白鹿原)
Mainland China
Genre: Contemporary historical drama
Directed by: Liu Jin 刘进
Episodes: 77, start July 16 2017
Currently ranking first in Baidu's popular drama charts and number two in LeTV top 10, White Deer or White Deer Plain is a succesful tv drama that is based on the award-winning Chinese literary classic by Chen Zhongshi (陈忠实) from 1993.
The preparation and production of White Deer Plain was certainly not rushed; it reportedly took 17 years before this TV drama finally went on air.
This work's success in China has previously been compared to that of One Hundred Years of Solitude by Gabriel García Márquez. White Deer Plain was previously also turned into a movie (2011).
The historical epic follows the stories of people from several generations living on the 'White Deer Plain,' or North China Plain in Shanxi province, during the first half of the 20th century. This tumultuous period sees the Republican Period, the Japanese invasion, and the early days of the People's Republic of China.
The series is great in providing insights into how people used to live, from dress to daily life matter. The scenery and sets are beautiful. Some Youtube channels work on providing subtitles for this show, but we couldn't find one channel with complete English subtitles yet.
#7. Great Expectations (远大前程)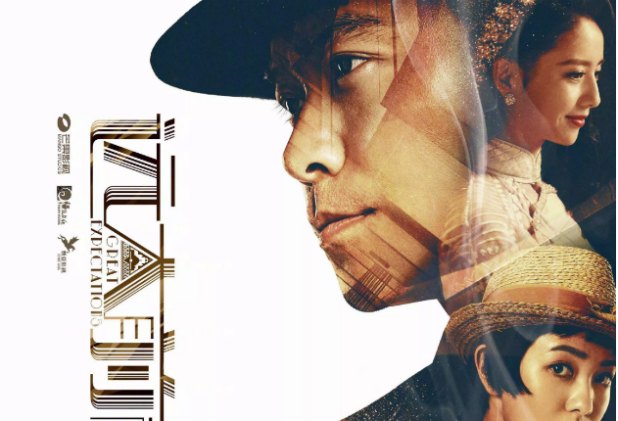 Mainland China
Genre: Period drama, romance
Directed by: Xie Ze and Chen Xitai 谢泽、陈熙泰
Episodes: 48, start April 1 2018, by Hunan TV
Scoring number one position in the LeTv popular dramas chart, Great Expectations is set in Shanghai in the early 20th century.
The drama follows the story of Hong Sanyuan (played by Chen Sicheng 陈思成), who has come to Shanghai from a small town in search for a better life together with his mother and close friend Qi Lin. The new life in Shanghai does not come easy, however, and Hong gets wound up in political affairs and power struggles as he transforms from a street hooligan to a revolutionary.
Fun fact: besides starring in this TV drama as the main actor, Chen Sicheng is also the screenwriter and producer of Great Expectations. Drama is available through Viki here.
#6. Dr. Qin Medical Examiner 2 (法医秦明2清道夫)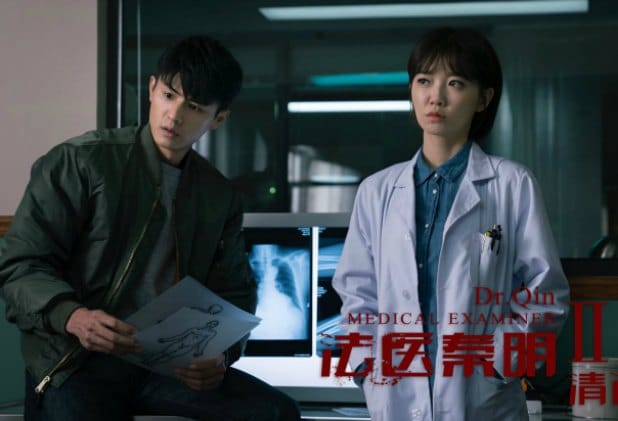 Mainland China
Genre: crime
Director: Li Shuang, Chen Jiahong 李爽、陈嘉鸿
Episodes: 20, June 15th 2018, Sohu TV
This series is currently ranking number one in the Sohu hot drama charts. It is the sequel to one of the most successful network dramas on Sohu TV: Medical Examiner Dr. Qin (法医秦明), an adaptation from best-selling novels by Chinese forensic expert Dr. Qin Ming.
The series sheds light on the profession of forensic doctors, following their hardships and professional working attitudes, and stars Eric Liu Dong Qin, Liu Chang, and Yu Shasha. The original series is now available on Viki with subtitles.
#5. Patriot (爱国者)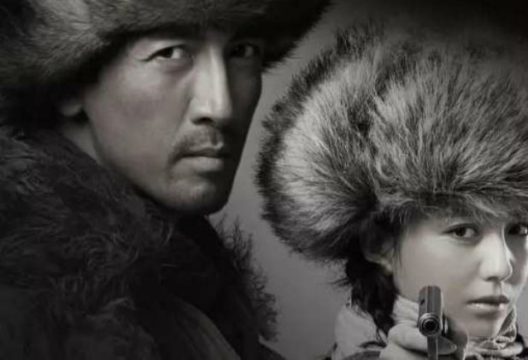 Mainland China
Genre: Historical drama
Directed by: Gong Chaohui (龚朝晖)
Episodes: 50, June 9 2018, Jiangsu
Zhang Luyi (张鲁一) and Tong Liya (佟丽娅) star in this 50-episode drama that is curerently number two in Weibo's popularity charts, getting a 7.1 rating at Sogou Video.
As the only series in this list, it is set at the time of the Second Sino-Japanese war (1937-1945), and tells the story of underground Communist party member Song Xiaqiao on a secret mission, who has to deal with spies and traitors. His love interest is played by the beautiful Tong Liya.
The marketing posters for this TV drama really stand out; they are original and quite stunning. Available to watch on YouTube (Chinese).
#4. Love Won't Wait (如果,爱)
Mainland China
Genre: Urban, family drama
Directed by: Zhang Zheshu (张哲书)
Episodes: 47, May 27 2018, Mango TV and others
After 40 years of hard work, Wan Shicheng (Zhng Shuangli 张双利) has succeeded in establishing the biggest restaurant in the city. Despite his success, his family and daughters are facing many struggles – one of them, played by Cecilia Cheung (张柏芝), is caught in an abusive relationship while the other becomes pregnant after a one-night stand.
Love Won't Wait is the top scoring tv drama in iQiyi charts at time of writing, and is ranking number 4 in Weibo's popularity charts. The series can be viewed here (no English subtitles, let us know if available.)
#3. The Way We Were (归去来)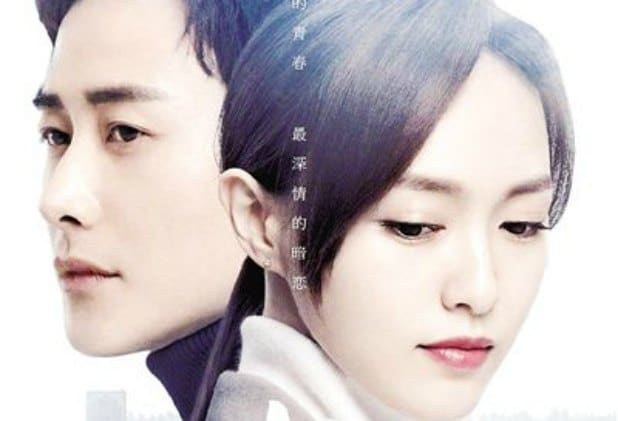 This is the number one show at 360kan and Youku, and top scoring show in Tencent Video this week.
Shu Che (Luo Jin 罗晋), Xiao Qing (Tiffany Tang 唐嫣), Liao Ying (Amelie Xu 许龄月) and Ning Ming (Tim Yu) are Chinese children from rich households living in the US. The TV drama follows the trials and tribulations of these students and their elite lives – facing challenges in love and legal battles.
The Way We Were is available for viewing on Viki or through Youtube (above) with subtitles.
#2. Summer's Desire (泡沫之夏)
Mainland China
Genre: Youth drama, romance
Directed by: Yu Zhonzhong (于中中)
Episodes: 36, May 8 2018, by Zhejiang TV, iQiyi and others
The number one hottest tv drama at Sogou at time of writing, also ranking number three at Weibo's weekly best-rated tv drama's, is "Summer's Desire."
The popular TV series is based on the 2007 novel Summer of Foam by Ming Xiaoxi. It stars Zhang Xueying (张雪迎), Qin Junjie (秦俊杰), Madina Memet, and Huang Shengchi (黄圣池) and focuses on the love story between female protagonists Yin Xiamo and Ou Chen and Luo Xi.
#1. Lost in 1949 (脱身)
Mainland China
Genre: Suspense, historical drama
Director: Lin Ke (林柯)
Episodes: 47, June 11 2018
Lost in 1949 is the number one TV drama on Weibo's popularity charts this week, along with the top scorer on iQiyi, and scoring a 8.8 rating on Tencent's Video.
The stars of this spy drama are Chen Kun (陈坤) and Wan Qian (万茜). Chen actually plays two different roles in this drama.
The story is set in early 1949 at the time of the Chinese Communist Revolution. Huang Liwen is on her way to Shanghai to mourn her lost husband when she runs into Qiao Zhicai, who has been released from prison and is on a mission to find the person who framed him. In a coincidence meting, the suitcases of Qiao and Huang get mixed up. Huang's suitcase contains an important item she needs to deliver to the underground organization of the communist party. It is the beginning of their adventure and lovestory, in which the protagonists's devotion to their country plays an important role.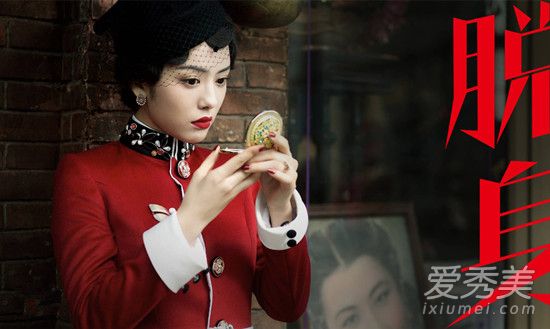 Want to read more? Check out:
– Top 10 of TV Drama in China 2017
– Top 5 of Best Drama Series Winter 2017/2018
– Best TV Dramas in China Summer 2017
– Most Popular Television Series in China in 2016
– Top TV Drama 2015
By Manya Koetse
Follow @whatsonweibo
Spotted a mistake or want to add something? Please let us know in comments below or email us.
©2018 Whatsonweibo. All rights reserved. Do not reproduce our content without permission – you can contact us at info@whatsonweibo.com.
Famous Chinese Nursery Song "One Penny" Inflates to "One Yuan"
One penny becomes one yuan in this children's song. What's next – changing it to QR codes?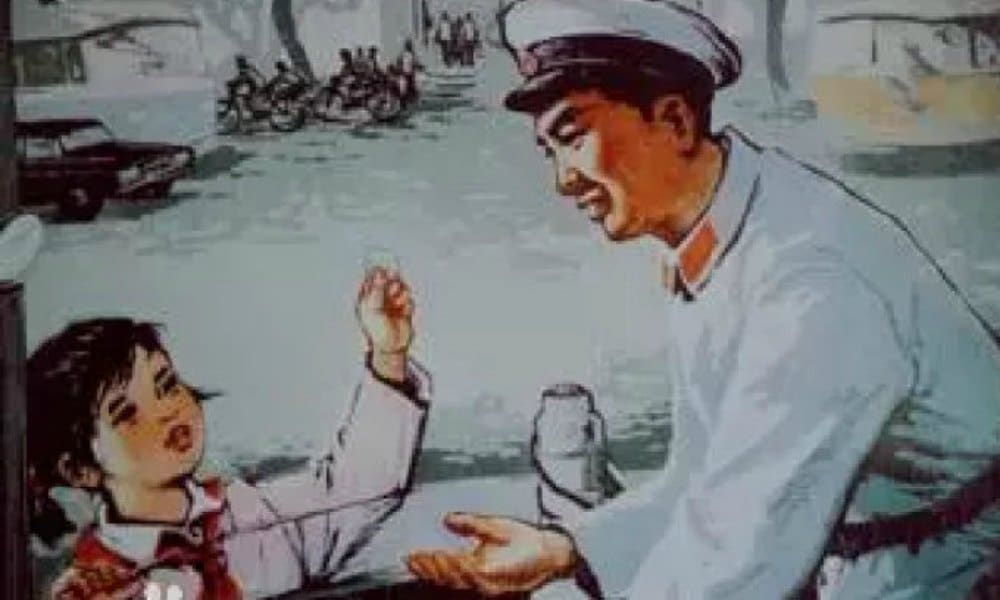 Famous Chinese children's song "One Penny" (一分钱) has changed its penny to a Chinese yuan ($0.15).
The lyrics to the song are now published online and in children's books with the different lyrics, Chinese news platform City Bulletin (@都市快报) reports on Weibo.
The classic song, in translation, says:
"I found a penny on the street,
And handed it over to Uncle Policeman.
The Uncle Policeman took the penny,
And nodded his head at me.
I happily said: "Uncle, goodbye!"
The song, by Chinese composer Pan Zhensheng (潘振声), is known throughout China. It came out in 1963.
Apparently, in present-day China, nobody would go through so much hassle for a penny anymore, and so the text was altered (although it is very doubtful people would go through the trouble for one yuan either).
The penny coin (0.01) in renminbi was first issued in 1957, and is somewhat rare to come across these days. "It's probably even worth more than one yuan now," some netizens argue.
Chinese media report that composer Pan Zhensheng said the song is just an innocent children's song, and that it should not be affected by price inflation. Sina News also quoted the composer in saying that changing the text is "not respectful."
Although some Chinese netizens think the change in the song is just normal modern development, others do not agree at all. In Hangzhou, some say, all you can find on the streets nowadays is QR codes rather than coins. Surely the song should not incorporate those new developments either?
Some commenters on Weibo say the song would never be realistic in China's current cashless society anyway: "Kids nowadays are not finding cash money at all anymore!"
By Manya Koetse
Follow @whatsonweibo
Spotted a mistake or want to add something? Please let us know in comments below or email us. Please note that your comment below will need to be manually approved if you're a first-time poster here.
©2019 Whatsonweibo. All rights reserved. Do not reproduce our content without permission – you can contact us at info@whatsonweibo.com
Controversy over Scene in Anti-Japanese War Drama Featuring Black U.S. Soldier and Chinese Nurse
Some scenes from this anti-Japanese war drama have angered Chinese netizens over 'historical nihilism.'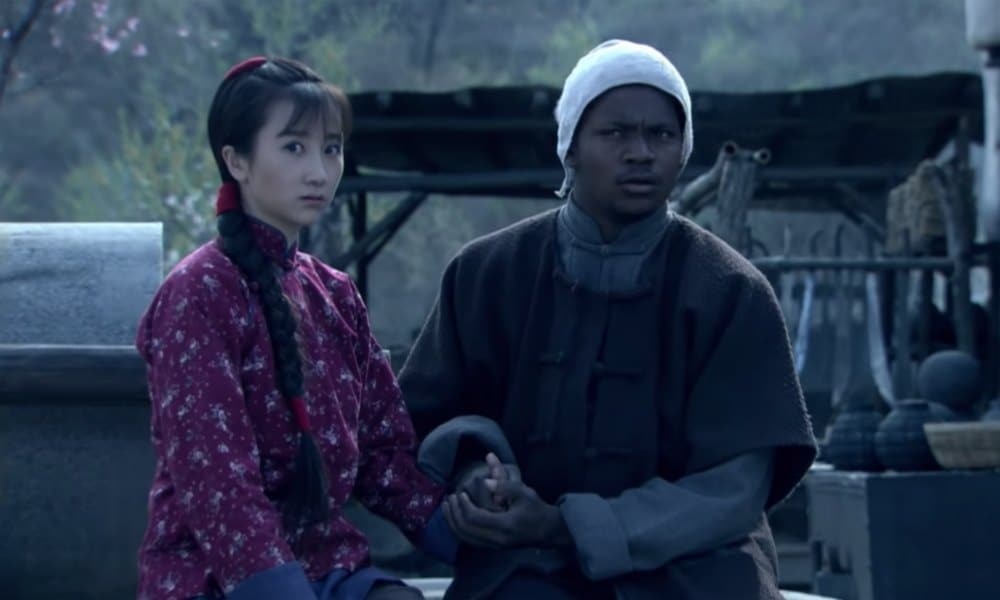 A black soldier comes to China from afar during WWII and falls in love with a Chinese villager who sacrifices her life for him. This war drama is sensationalizing the Sino-Japanese War in the wrong way, many netizens say.
"I love you, I love China," a black man tells a Chinese woman in a clip of an anti-Japanese war drama that has gone viral on Chinese social media over the past few days (watch clip in embedded tweet below).
This scene from a Chinese Anti-Japanese war drama is stirring controversy on Chinese social media this week. "I love you, I love China," the foreigner says. "Love me, love China," the Chinese woman says, before sacrificing her life for him and getting killed by Japanese shooters.

— Manya Koetse (@manyapan) September 5, 2019
The scene is set on a mountain, where the man and woman hold hands when she tells him to flee from the "Japanese devils." She repeats: "Remember: love me, love China."
The love scene takes a dramatic turn when the two get ambushed by the Japanese army. The Chinese woman immediately pushes the man off the mountain to bring him to safety. While she cries out "love me, love China" she is attacked by Japanese soldiers and dies.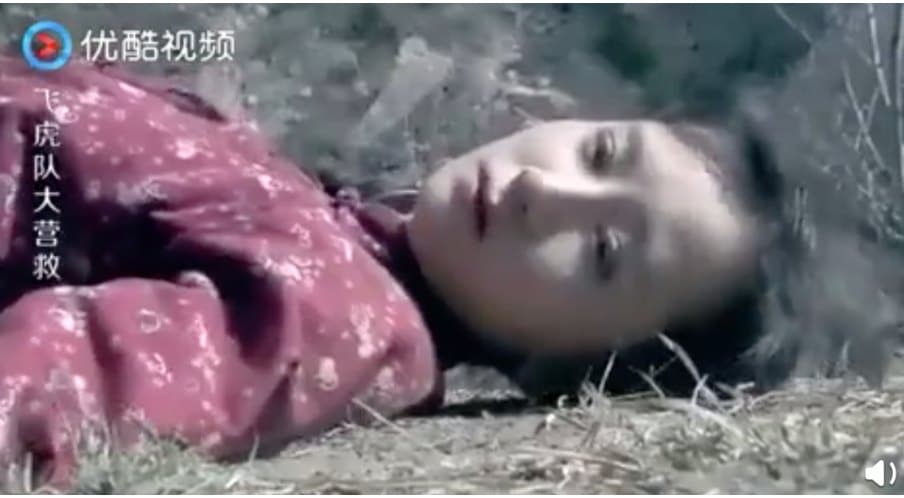 The scene comes from a 2016 TV drama titled The Great Rescue of The Flying Tigers (飞虎队大营救). The drama tells the story of Japanese soldiers chasing surviving members of a Flying Tigers aircraft after they shot it down. Various soldiers and army staff on the Chinese side try to rescue the fighters from the hands of the Japanese.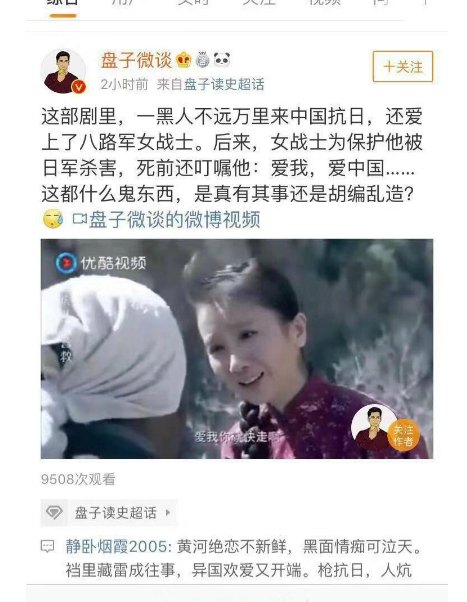 The drama's portrayal of a romance between the foreign soldier and a Chinese woman, on the side of the Communist Eighth Route Army, has stirred controversy on Weibo this week.
"The director is retarded, this is historical nihilism," one Weibo blogger writes.
Hundreds of netizens also criticize the drama's director and screenwriters: "This is not even funny, what kind of scriptwriter comes up with this trash? This should be thoroughly investigated."
The Flying Tigers (飞虎队) were a group of US fighter pilots who went to China during the final three years of the Second Sino-Japanese War to fight the Japanese invaders and defend China.
The people behind the Flying Tigers belonged to the organization of the American Volunteer Group (AVG), who came together in 1941 to strengthen the Chinese Air Force.
In the now controversial TV drama The Great Rescue of The Flying Tigers, the black soldier is 'Carl' (Cedric Beugre), a surviving member of the Flying Tigers aircraft shut down by Japanese forces. The Chinese woman is 'Xinghua,' a female nurse who sacrifices her own life to save Carl.
The dialogues between Carl and Xinghua are pretty simple and at times almost ridiculous. While Xinghua does not speak a word of English and appears clueless, Carl is depicted as a stubborn, crude and somewhat silly character, who also seems to understand very little of what is happening around him and does all he can to be with his Xinghua after a brief meeting in the Chinese base camp (also see this scene or here).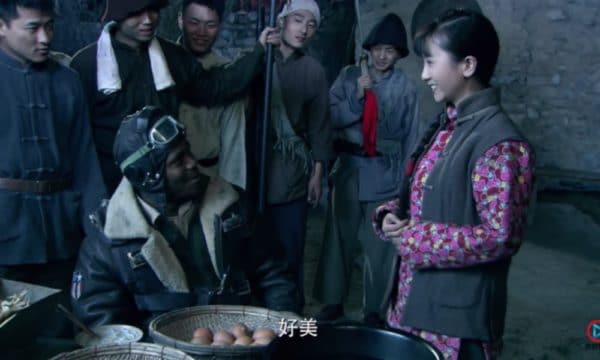 On Chinese social media, the drama is critiqued for being a so-called 'divine Anti-Japanese drama' (抗日神剧): Chinese war dramas that sensationalize the history of the war by making up unrealistic and overly dramatic or funny scenes and storylines.
In 2015, China's State Administration of Press, Publication, Radio, Film, and Television (SAPPRFT) announced a limit on these kinds of TV dramas that sensationalize the history of war, and in doing so 'misrepresent history' and 'disrespect' the Chinese soldiers who fought to defend the nation (read more).
TV series focusing on war are part of China's every day (prime time) TV schedules. These Chinese war dramas are called "Anti-Japanese War Dramas" (抗日电视剧), literally referring to the period of 'resisting Japan' during WWII (in China, the 1937-1945 war is called The War of Resistance against Japanese Aggression 中国抗日战争).
The 40-episode series The Great Rescue of the Flying Tigers was aired by Yunnan City Channel but is also available online. Since there are countless reruns of Anti-Japanese war dramas on Chinese tv, it is possible that some viewers only now viewed the 2016 drama for the first time.
Some netizens call this a "new kind of fantasy war drama", summarizing: "A black man comes from far away to China to fight Japan, falls in love with a Chinese nurse who sacrifices her own life for him and yells 'Love me love China' before she dies."
Many on social media call the script "idiotic," others question if black soldiers ever joined the Flying Tigers in the first place.
There seems to be more to the controversy than sensationalizing history alone though – relationships between foreign men and Chinese women, especially black men and Chinese women, are often met with prejudice and racism on Chinese social media. Mixing such a narrative in a drama about the Second Sino-Japanese war makes it all the more controversial.
Some see the narrative of the love between a foreign soldier and a Chinese woman as a way of 'beautifying' the war and 'adoring everything that's foreign.'
"This is not respecting history at all!", one among hundreds of commenters says.
In the TV drama, the sentence "Love me, Love China" does have some extra meaning in the end. Although Xinghua sacrifices her life for Carl in episode 19, he eventually chooses to fight side by side against the Japanese 'devils' with the Chinese army, keeping his promise to "love China" like he loved Xinghua.
By Manya Koetse , with contributions from Miranda Barnes
Follow @whatsonweibo
Spotted a mistake or want to add something? Please let us know in comments below or email us. Please note that your comment below will need to be manually approved if you're a first-time poster here.
©2019 Whatsonweibo. All rights reserved. Do not reproduce our content without permission – you can contact us at info@whatsonweibo.com