On Trump's First Day in China, Arabella Steals the Show
On the first day in Beijing, Trump's granddaughter Arabella played an important role in America's diplomatic 'charm offensive.'
The talk of the day on Chinese social media during Trump's first day in China is not the president himself, nor first lady Melania; it is granddaughter Arabella Kushner.
"Trump is here!" (#特朗普来了#) is all the talk on Chinese social media. With 62 million views by 9 pm Beijing time, the topic was among the top 3 trends of the day.
The American president landed in Beijing on Wednesday, November 8, as part of a five-nation Asia tour. Trump previously visited Tokyo and Seoul.
The President and first lady Melania Trump were welcomed by Xi Jinping and his wife Peng Liyuan, who joined them on a personal tour of Beijing's Forbidden City.
The main topic being discussed today on Chinese social media regarding the first day of Trump's visit to China is the video of Arabella Kushner for Xi Jinping, which received millions of views on Sina Weibo. It was widely shared online by Chinese official media outlets such as People's Daily and CCTV.
In the short video, that was shown to President Xi during an informal tea at the Forbidden City's Baoyun Building of the Palace Museum, Trump's granddaughter sings Chinese songs and recites some poetry. In the fragment, Arabella is dressed in a Chinese-style dress and stands before the American flag.
After viewing the video, President Xi and the first lady praise the girl for her Chinese skills.
Arabella, born in 2011, is the daughter of Donald Trump's daughter Ivanka and her husband Jared Kushner. She is not the only one in the family learning to speak Mandarin – she has two younger brothers who, as young as they are, are also already learning Chinese.
It is not the first time the young girl plays a role in US-China diplomacy. During Xi's visit to the US in April of this year, Arabella also recited Chinese poetry for the Chinese president and the first lady.
Arabella, at 5 years old, also sung a song in Mandarin for Chinese New Year in February. After that video, which was shared on Instagram, she visited the Chinese Embassy's New Year's Party in 2017 together with her mother Ivanka Trump.
On Weibo, reactions to the video are overall positive, with many describing it as "extremely cute," and as "the best gift" Trump could bring during his visit.
There are also many people, however, who feel bad for Arabella for being used as part of a diplomatic 'charme offensive', having to perform and recite poems: "This is her life fate now."
But others do not necessarily see Arabella's role in Sino-US diplomacy as a bad thing. One of the most popular comments under the video, receiving thousands of likes, said: "This is an intelligent little girl. I hope she'll be able to make even bigger contributions to a better China-US friendship in the future."
Watch the video of Trump's first day in China, and Arabella's song, here:
On Trump's first day in China, granddaughter Arabella steals the show https://t.co/W0UVKKUlmx #TrumpInChina pic.twitter.com/jtAK1jHK2x

— What's On Weibo (@WhatsOnWeibo) November 8, 2017
By Manya Koetse
Follow @whatsonweibo
Spotted a mistake or want to add something? Please let us know in comments below or email us.
©2017 Whatsonweibo. All rights reserved. Do not reproduce our content without permission – you can contact us at info@whatsonweibo.com.
"New Chapter of Sino-Russian Friendship": Putin Publishes Op-Ed in China's People's Daily, Xi in Rossiiskaya Gazeta
In Xi's piece, the word "China" was the most recurring one. In Putin's article, the word "Russia" was repeated the most.
Op-eds authored by Chinese leader Xi Jinping and Russian President Vladimir Putin were published in the other countries' government newspapers ahead of Xi's three-day state visit to Russia. Both articles emphasized the importance of partnership, mutual trust, and friendship between the two nations.
Chinese leader Xi Jinping arrived in Moscow on Monday, March 20, for his scheduled state visit to Russia.
During his three-day Moscow visit, Xi will have one-on-one talks with Russian President Vladimir Putin. This is the first time Xi visits Russia since the Russian invasion of Ukraine.
On the first day of the top-level meeting, the Chinese state media outlet People's Daily headlined that Xi Jinping published an article in the Russian government newspaper Rossiiskaya Gazeta on the occasion of his state visit, while also featuring the news about Putin's signed article on the front page (the actual article was published on page three).
Meanwhile, the Rossiiskaya Gazeta did the same: they also featured Xi's publication on the front page of their digital newspaper, while also turning Putin's contribution to the People's Daily into one of the main headlines. The newspaper also published a special section dedicated to Sino-Russian friendship.
Xi's article, in Russian here and in Chinese here, was also translated to English and published by China's Ministry of Foreign Affairs on their website here.
The article, titled "Forging Ahead to Open a New Chapter of China-Russia Friendship, Cooperation and Common Development" ("踔厉前行,开启中俄友好合作、共同发展新篇章") mainly stresses the strong bond and mutual trust between China and Russia and the future of Sino-Russian relations, with the word "cooperation" being used 22 times and the word "friendship" used 8 times in the text. The most-mentioned word in the text is "China" (24 times); "Russia" was mentioned 22 times.
"Ukraine" was mentioned three times in one paragraph about the 'Ukraine crisis,' which emphasized China's "impartial position" and its active promotion of peace talks.
The article by Putin is titled "Russia and China – A Future-Bound Partnership" ("俄罗斯和中国——面向未来的伙伴关系") (link in Chinese, link in English) and it is similar to Xi's op-ed in multiple ways, and also focused on stressing the special friendship between both countries and how similar they allegedly are in their culture, tradition, and foreign policy.
The article was actually also very similar to an earlier article titled "Russia and China: A Future-Oriented Strategic Partnership" published by Vladimir Putin for Chinese state media outlet Xinhua just before the Winter Olympics and Putin's visit to China in 2022 (link in English).
The current article condemns America's role in the international community and thanks China for its approach to the Ukrainian issue. The word that comes up most often in the text is "Russia" (20 times); "China" is mentioned 18 times. Words such as "cooperation" and "partnership" also come up a lot (7 and 5 times respectively).
The hashtag "Xi Jinping Published Signed Article in Russian Media" (#习近平在俄罗斯媒体发表署名文章#) was posted on social media site Weibo by Xinhua.
China Daily posted images featuring several quotes from Xi's signed article in Chinese and English.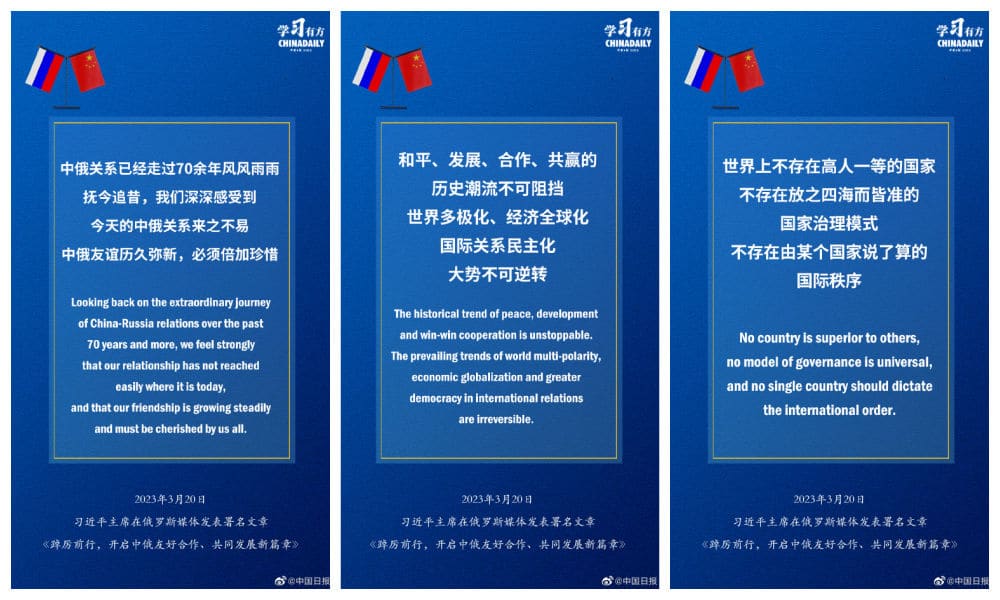 While it was not the first time for Putin to post an op-ed in a Chinese state media newspaper, it was also not the first time for Xi Jinping to publish a signed article in a Russian government newspaper. He also posted one in 2015 (link in Chinese).
Xi previously also published letters or bylined articles in the media of other countries.
Ahead of his state visit to Finland in 2017, the Finnish newspaper Helsinki Times featured Xi's article titled "Our Enduring Friendship" ("穿越历史的友谊"). Xi also stressed bilateral relations in letters to the foreign media of countries such as Myanmar, Greece, Nepal, North Korea, and others.
The term used by Xi in the article, "starting a new chapter" ("开启时代新篇章") was repeated by many commenters replying to the topic on Weibo, where Xi's Russia visit is covered by many media accounts in videos, text, and images.
In a recent post, political commentator Hu Xijin (@胡锡进) noted how Xi's Russia visit made international headlines, underlining the major significance of the meeting. Hu wrote that no third party could hinder the "steady development of Sino-Russian relations." At time of writing, only three out of more than a hundred replies to Hu's post were displayed – the three replies consisted of hearts and thumbs up emoji only – with the other comments being filtered.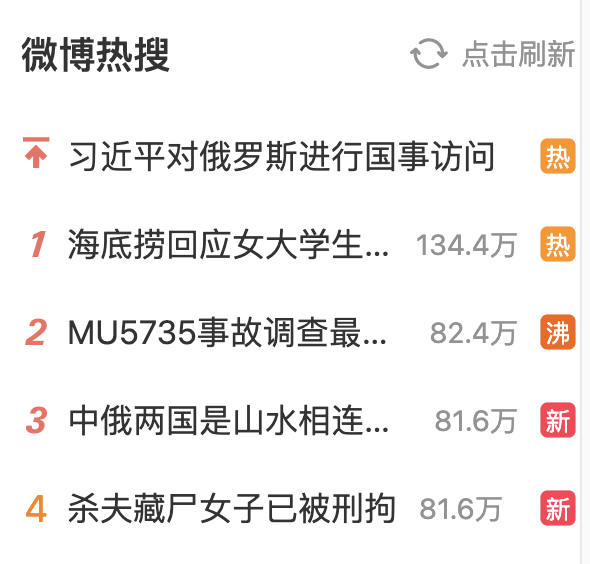 Although the meeting between Xi and Putin was promoted in the Weibo trending lists, most posts about the state visit only allowed some selected replies in the threads below, or simply closed the comment sections. This was also the case went Putin's annual address in Moscow was featured by various accounts on Weibo.
For more articles on China-Russian relations and related Weibo discussions, check our archives here.
By Manya Koetse 
With contributions by Miranda Barnes
Get the story behind the hashtag. Subscribe to What's on Weibo here to receive our newsletter and get access to our latest articles:
Spotted a mistake or want to add something? Please let us know in comments below or email us. First-time commenters, please be patient – we will have to manually approve your comment before it appears.
©2023 Whatsonweibo. All rights reserved. Do not reproduce our content without permission – you can contact us at info@whatsonweibo.com.
Meet Ren Xiaorong, People's Daily AI Virtual News Anchor
Although their functions are still limited, AI news anchors such as Ren Xiaorong are a sign of the future.
Ren Xiaorong (任小融) joined the Chinese state media outlet People's Daily as a virtual presenter/news anchor this week.
Ren Xiaorong is the AI-powered host of an app allowing users to ask questions related to the Two Sessions, the annual plenary sessions of the National People's Congress and of the Chinese People's Political Consultative Conference that have been taking place this week.
Through the People's Daily app, you can ask Ren Xiaorong to tell you more about various topics covered during the Two Sessions, including education, epidemic prevention, housing, employment, environmental protection, and many other issues.
According to the introduction video launched by People's Daily, Ren is also available to discuss other news topics people would like to know more about.
Ren Xiaorong is interactive to a certain (very limited) extent; users can select the topics they want to learn more about, but the app does not yet allow to ask specific questions.
A related hashtag went viral on Weibo on Sunday (#人民日报AI虚拟主播#), triggering discussions on the use of virtual news presenters.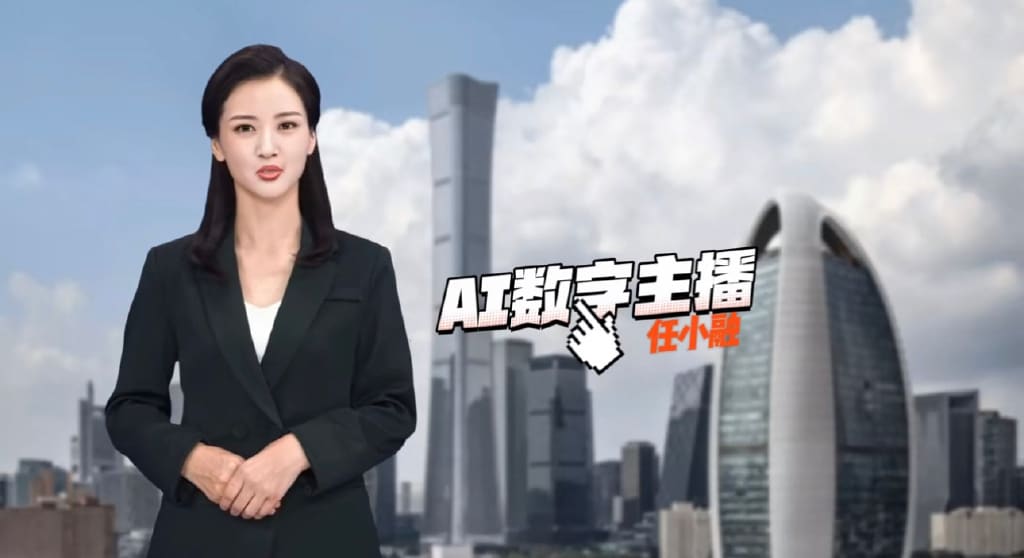 Ren Xiaorong is not the first People's Daily virtual news anchor. In 2019, the very first AI-powered presenter was unveiled at the 2019 Big Data Expo (#人民日报首位AI虚拟主播#). Guo Guo (果果), aka Little Guo Guo (小果果), was based on the real-life Chinese reporter Guo Xinyu (果欣禹).
China's state media outlets Xinhua, Beijing TV, Hunan TV, and CCTV previously also unveiled their own AI-powered virtual news anchors at a time when China's virtual idol market started to explode.
During the 2022 Winter Olympics in Beijing, there was also a virtual host and China's first AI sign language presenter.
Although news media outlets have started experimenting with virtual presenters for some time now, some netizens are still not convinced about the actual purpose of having virtual TV hosts and news anchors, especially when their AI-driven interactive functions are still limited.
Weibo blogging account 'Media People Online' (@传媒人在线) writes: "I've never really understood this, is there a shortage of broadcasting talent, or are AI anchors better at it? Why would you use a robot to broadcast the news? Are you spending so much money on an AI presenter just to show technological progress?"
But other bloggers (@夏日之阳新闻传播考研) think that virtual anchors could improve the quality and availability of news, since they could broadcast around the clock while saving on manpower, alleviating the pressure on newsrooms.
Whether people approve of virtual news readers or not, most agree Ren Xiaorong, along with her virtual colleagues, is a harbinger of the digitalization of the media at a time when artificial intelligence has already come to play a pivotal role in everyday activities.
Want to see Ren Xiaorong at work? Click this link on mobile.
By Manya Koetse 
Get the story behind the hashtag. Subscribe to What's on Weibo here to receive our newsletter and get access to our latest articles:
Spotted a mistake or want to add something? Please let us know in comments below or email us. First-time commenters, please be patient – we will have to manually approve your comment before it appears.
©2023 Whatsonweibo. All rights reserved. Do not reproduce our content without permission – you can contact us at info@whatsonweibo.com.