Before the Xi-Biden Meeting: Chinese Social Media Views of American President Biden
From being dubbed the 'Sleepy King' to being hailed as 'Revive the Country' Biden, the US President is perceived in various ways on Chinese social media.
From positive portrayals by official channels to online banter and critical voices discussing Biden's global policies and his health, there are various sentiments on Chinese social media surrounding US President Joe Biden ahead of the significant Xi-Biden meeting.
"It is a meeting the whole world will be watching," one Weibo blogger wrote. On November 15, Xi Jinping and Joe Biden will meet in California on the sidelines of the APEC summit for their second face-to-face meeting since 2020. The occasion will mark Xi's first trip to the U.S. in six years.
The topic was reported by official channels on Chinese social media using different hashtags, such as "Sino-American Heads of State Meeting" (#中美元首会晤#) and "What Major Issues Will Be Discussed During the Sino-U.S. Summit?" (#中美元首会晤将沟通哪些重大问题#).
The two leaders are expected to discuss various bilateral and global issues. Although Chinese media described the goal of the meetings in very general terms, saying Xi and Biden will talk about "strategic, global, and directional issues concerning China-U.S. relations as well as major matters related to world peace," US officials said that topics will include the Israel-Hamas war, Taiwan, and the war in Ukraine.
While discussions of this nature, particularly on geopolitical matters, are typically closely monitored on Weibo—especially when President Xi is involved—there are still some online threads where netizens express optimism, viewing the meeting as a positive step for the stability and future of US-China relations.
Many of these optimistic sentiments stem from a response to an op-ed published by People's Daily. The op-ed argues that maintaining stable relations between the US and China, fostering peaceful coexistence, is crucial for global future and world peace.
However, discussions about Biden on Chinese social media aren't always this positive and restrained.

Biden Sleepy King

During and after the 2020 American presidential elections, there were numerous discussions on Chinese social media about 'Trump versus Biden.' In the eyes of many, it was a contest between the 'King of Knowing' (懂王) and the 'Sleepy King' (睡王).
These nicknames were attributed to Trump, who frequently boasted about his unparalleled understanding of various matters, and Biden, who gained notoriety for being older and tired. Viral videos, some manipulated, showed him nodding off or seemingly disoriented.
When Biden became president, many Chinese social media users cheered and hoped that this new experienced president, who had also faced family and personal tragedies throughout his political career, would contribute to an improvement in Sino-American relations. They expected that Biden, different from Trump, would be less confrontational and more predictable, albeit more "boring" as well.
However, as we discussed in this 2020 article, various Chinese political commentators suggested that the Biden era would not necessarily signify better relations between China and the US, and that the shift of American leadership would have no intrinsic meaning for Sino-American relations at all.

Revive the Country Biden

In recent years, Biden has come to be referred to with the Chinese nickname "Revive the Country Biden" (Bài Zhènhuá 拜振华), also translatable as 'Thriving China Biden'. This nickname already circulated online since 2020 and matches with one that was previously given to former President Trump, namely that of "Build the Country Trump" (Chuān Jiànguó 川建国).
The idea behind these humorous monikers is that both Trump and Biden are benefitting China by doing a poor job in running the United States and dealing with China.
For instance, citing national-security concerns, both the Trump and Biden administrations have implemented policies and sanctions targeting Huawei. But despite measures to cut the Chinese tech giant off, Huawei launched its own operating system (HarmonyOS) in 2019 and earlier this year, with the launch of its Mate60Pro, introduced its own nanometer (N+2) chip, designed by Huawei's chip division HiSilicon and manufactured by China's largest chip vendor, SMIC.
Chinese social media users therefore joke that 'Revive the Country Biden' and 'Build the Country Trump' are actually the best Huawei brand ambassadors by pushing the Chinese tech brand to the next level.
When Donald Trump recently mocked how President Biden often seems to be disoriented on stage, the video was picked up by a few popular Chinese bloggers and set off dozens of jokes about the absurdity of the situation.
After President Biden was filmed as he seemed unsure what to do during the November 11 wreath-laying ceremony at Arlington Cemetery, footage also went trending on Chinese socials. Some people called him a "robot" who needed new batteries.
Earlier this year, Biden also went viral in China when, while delivering a speech to the Canadian parliament, he accidentally said he "applauded China for stepping up." He quickly corrected himself and clarified he meant to say 'Canada' instead of 'China,' but Chinese web users joked that it was a Freudian slip and he actually said what he meant.
But besides Biden's restrictive measures and sanctions on China and a string of bizarre, confused statements and behaviors, there are more reasons why Chinese netizens have been calling him 'Bai Zhenhua', 'Revive the Country Biden.' After all, in contrast to how Trump consistently framed China as a threat and competitor, Biden has often downplayed the threat China poses to the US ("They're not bad folks, folks," he said in 2019, "they're not competition for us").
Joking about his words, some netizens even called him 'Comrade Bai Zhenhua.'

The Different Faces of Biden

Jokes aside, there are also more serious and negative discussions about the role played by Biden, especially in this time of global unrest and Israel-Hamas war.
Headlines such as Biden personally saying there is "no possibility" of a cease-fire in the Gaza Strip or Biden ordering new airstrikes in Syria to retaliate for attacks on U.S. bases, reported by Chinese media, attract a lot of views on Weibo and Douyin.
Although there are also discussions about the supposed limited power Biden actually has, with some calling him one of America's weakest presidents, he is still seen as the face of the White House, the representation of Washington.
At a time when anti-American sentiments are on the rise, some netizens view Biden as embodying the negative stereotypes prevalent on social media about the United States or the Western world in general.
Within this context, at a time when the majority of Chinese social media users express pro-Palestinian sentiments, Biden is blamed for contributing to or even causing global suffering. Some netizens label him as the "devil" or associate him with a supposed larger geopolitical evil circle ("The wicked United States, Japan, the United Kingdom, and Israel… they're enemies of humanity," one Douyin user writes).
But not all are so harsh, and some think Biden's old state and mental state are also to blame for his political decisions. As one Weibo user writes: "After all, Biden is quite old, his health is not particularly good. With so many responsibilities, it's inevitable that there are things he cannot fully grasp, hear clearly, or contemplate deeply anymore."
Meanwhile, it is evident that in the days leading up the Xi-Biden meeting Chinese official channels are promoting more positive portrayals of U.S. leadership on social media, with online discussions being tightly controlled. Some media outlets refer to the meeting as 'a new chapter' for Sino-American friendship. A day prior to top-level meeting, Xinhua News shared an image with text endorsing and applauding Sino-American exchanges:
"History has already proven that the people of China and the US can fully overcome their differences in systems, culture, and language to establish a profound friendship. The exchanges between the people of China and America are mutually beneficial. Not only are they [these win-win exchanges] the result of independent choices made by the people of both countries, they're also an unstoppable historical trend." ("历史已经充分证明,中美两国人民完全可以跨越制度、文化、语言的差异,建立起深厚的友谊。中美民间交流互利共赢,不仅是两国人民做出的自主选择,更是不可阻挡的历史潮流。")
The comments below the post were censored, and most other comment sections on posts reporting the significant US-China meeting were also empty. One Weibo user commented: "The anti-American netizens don't know if it's okay to criticize them now anymore."
But it seems that directives from higher up have made it clear. For today, perhaps tomorrow, and who knows about the day after, Biden is not the evil, not the Sleepy King nor Bai Zhenhua; he is now a good friend of China.
By Manya Koetse
Get the story behind the hashtag. Subscribe to What's on Weibo here to receive our newsletter and get access to our latest articles:
Spotted a mistake or want to add something? Please let us know in comments below or email us. First-time commenters, please be patient – we will have to manually approve your comment before it appears.
©2023 Whatsonweibo. All rights reserved. Do not reproduce our content without permission – you can contact us at info@whatsonweibo.com.
'Auntie Goose Legs' Goes Viral after Becoming Sensation in Beijing's Student Scene
She has become all the rage in Beijing's student district, but Auntie Goose Legs just wants to run her roasted goose leg stall in peace.
A Beijing food vendor, affectionately known as 'Auntie Goose Legs,' has become a viral sensation after becoming super popular among the city's student community. However, this beloved 'auntie' has caused quite a commotion recently after relocating her stall, triggering debates among local students over which university she truly 'belongs' to.
This winter, students at Peking University, Tsinghua University, and Renmin University are all craving hot, roasted goose legs. This snack has gained quite the reputation in the Beijing's Haidian District, where 'Auntie Goose Legs' has been selling her food near the dorms and entrances of the various local universities.
The food vendor, who is known for wearing a pink helmet, initially sold her goose legs near the entrances of Peking University and Renmin University, not too far from Haidian South Street. All went well for years. She would let students know when she would be setting up her stall near what entrance, and the neighbourhood kids could come and enjoy her roasted goose legs.
Although her business was doing well, Auntie Goose Legs still found it necessary to remind students she was coming and promoted her goose legs through WeChat to ensure sufficient sales.
Then, one day, Auntie made a sudden decision to relocate further north, near the entrance of Tsinghua University. This move stirred conversations in many Beijing students' WeChat groups.
While the Peking University student community mourned the loss of convenient access to their beloved goose legs, the Tsinghua crowd welcomed Auntie with enthusiasm. Besides eagerly buying her goose legs, they went a step further by assisting her in professionalizing her business, setting up special Goose Legs WeChat groups, and implementing online queuing and payment systems.
As reported by WeChat account Meishaonv023 (美少女挖掘机), the students at Peking University pleaded for the return of their beloved Auntie. Meanwhile, concerns arose among Tsinghua students, as the Auntie's skyrocketing popularity made it increasingly challenging to secure their goose leg snacks. Perhaps their campaign to promote her business had become a little bit too successful?
According to Meishaonv023, Auntie Goose Legs has become so famous locally that among Beijing's university students and in Wudaokou circles (Wudaokou is the famous student hub in Beijing's Haidian), there are now only two groups: those who have tasted her goose legs and those who have not.
Roasted goose, with is deep flavor and golden skin, is a dish that is commonly enjoyed in various international cuisines, especially during winter seasons. According to some people who have tasted the Beijing food vendor's goose legs, they are the perfect mix of juicy and tender, sweet and spicy.
Amidst the hype surrounding the goose leg food stall, Auntie decided to raise her prices by 1 yuan, increasing from 15 yuan ($2.12) per goose leg to 16 yuan ($2.26). Unexpectedly, some people also decided to make some extra money by becoming 'Goose Leg scalpers' and adding another 2 yuan to the price of one goose leg when reselling it to other students.
And there were more developments in the Auntie Goose Legs saga. When she decided to announce that she would no longer set up her stall at Tsinghua on Sundays, the students argued that she then should not set up her stall anywhere else on that day, either. If they can't have goose legs on Sundays, then the Peking Uni students certainly shouldn't have goose legs on Sunday either?
Then, the canteen manager at Renmin University suddenly made a surprising move on November 27 and introduced roasted goose legs in the university's canteen, selling them for just 15 yuan. Some people, however, argued that they lacked the 'soul' of Auntie's food. Meanwhile, the people at the nearby Forestry University also showed their interest in joining the Goose Leg battlefield.
One of the reasons why this story has blown up on Chinese social media is because the universities involved are among the most prestigious of the entire country. It strikes people as amusing that instead of focusing on applied mathematical problems, these top academics are actually engaged in bickering over roasted goose legs.
A Covid test line? New bubble tea shop? No, these Beijing students are lining up for the roasted goose legs by 'Auntie Goose Legs.' The local food vendor has gone viral after becoming a sensation in Beijing's student scene, from Beida to Tsinghua 🍗 Read: https://t.co/fCPjFaiaqA pic.twitter.com/VeUVVhD0VP

— Manya Koetse (@manyapan) November 29, 2023
As the success of her business blew up, Auntie Goose Legs, seemingly overwhelmed, announced that she was going to take a short break from her food stall on November 28, writing: "It's all too messy now." One day later, she seemed emotional in a Douyin video, in which she said she felt too much pressure because of how the situation was unfolding, and that she just wanted to sell her goose legs in peace ("只想平平安安做烧烤").
Her story shares some resemblance to that of the duck head seller in Zibo (鸭头, duck head, is a Chinese snack). Earlier this year, when the Shandong town of Zibo became all the rage, a local duck head seller became an online sensation after a video showing how a female tourist touched his muscles went viral overnight. What do you do when you suddenly see 180,000 visitors a day passing by your small duck's head shop?
Although his hit status initially boosted sales, the crowds of people coming to his shop soon became so overwhelming that he could no longer run his business as usual. As some even started harassing and physically assaulting him, he could no longer do his work and had to temporarily close his shop. In a live stream, he tearfully talked about how his business, ironically, was facing difficulties due to his viral success.
"It's not always good to go viral like this," one Weibo commenter wrote about Auntie Goose Legs. "If she wants some peace, just let her." While many share the sentiment, suggesting that the food vendor deserves a break after becoming a local sensation, others just want to try out her food. One thing is certain; goose legs are the trending snack for this Beijing winter.
By Manya Koetse, with contributions by Miranda Barnes
Get the story behind the hashtag. Subscribe to What's on Weibo here to receive our newsletter and get access to our latest articles:
Spotted a mistake or want to add something? Please let us know in comments below or email us. First-time commenters, please be patient – we will have to manually approve your comment before it appears.
©2023 Whatsonweibo. All rights reserved. Do not reproduce our content without permission – you can contact us at info@whatsonweibo.com.
Xi and Biden's "Beautiful" Hongqi Moment: National Pride and Shifting Dynamics in Sino-American Relations
The recognition of the decades-old Chinese Hongqi brand by a U.S. president was a promotion-worthy moment for Chinese official channels, resonating with netizens.
After the much anticipated Xi-Biden meeting in California on November 15, one noteworthy detail quickly hit Weibo's top trending topics, namely Biden's apparent admiration for Xi Jinping's Hongqi car. The hashtag "Biden Points at Hongqi Car, Calls it Beautiful" #拜登指着红旗车说beautiful#) had racked up over 300 million views on Weibo by Thursday night.
The short moment happened as Biden accompanied Xi to his car following their meeting. "It's a beautiful vehicle," Biden remarked. "It's a Hongqi car, made in China," Xi replied. Biden then quickly peek inside before comparing the Hongqi car to his own American Cadillac "beast."
Biden accompanied Xi to his car following their meeting. "It's a beautiful vehicle," he remarked. "It's a Hongqi car, made in China," Xi replied. This brief moment became top trending on Weibo today, where it received over 270 million views. pic.twitter.com/piyhUlCxr6

— Manya Koetse (@manyapan) November 16, 2023
On Chinese social media, the Hongqi car compliment was prominently featured and amplified by various official channels, framing it not only as a testament to the friendly relations between the U.S. and China but also as a triumph for Chinese-made brands.
The recognition of this decades-old Chinese brand by a U.S. president (similarly vintage) added an extra layer of significance, making it a noteworthy promotion-worthy moment that resonated with netizens.
Hongqi holds special significance in China and serves as a symbol of national pride, being the first car and limousine independently produced by the country in 1958 by FAW Group under the guidance of Chairman Mao Zedong. At the front of the car, you find a red flag, while the emblem on the back features Chinese characters for Red Flag in Mao Zedong's calligraphy. Hóngqí (红旗) literally translates to 'red flag.'
In the book Development of a Society on Wheels (2018), the Hongqi car is described as "carrying strong political symbols with a strong socialist flavor" as it stands for the success of China's socialist system and the country's self-reliance (p. 187). The car first premiered during the military parade in 1959, which celebrated the tenth anniversary of the People's Republic of China (Hong 2013, 191).
China's car industry has come a long way since then. China is now the largest automobile market and its car industry has quadrupled exports in just three years, surpassing Japan as the world leader.
Various Chinese media outlet used the context of Biden's remarks to hold polls on the popularity of Chinese brand cars among netizens, asking them if they'd rather purchase a foreign car or a domestically produced brand. A majority of respondents indicated a preference for made-in-China brands.
But the way this incident is showcased on Chinese social media through official channels goes beyond Chinese national pride of esteemed brands and the success of China's car industry. It also serves as a means to highlight the positive relations between Xi and Biden, as well as between China and the U.S., without delving too deeply into the political aspects of the meeting itself.
Recently, there has been a noticeable shift in Chinese official narratives regarding Washington and Biden, a change reflected in the top-down management of social media discussions on these topics and the guidelines on what is permitted or restricted. As is always the case with bigger high-level events and meetings involving leader Xi Jinping, there is stringent control and limited space for open online discussions when it comes to political content. But it is evident that the comments that now do make it to the front pages of Weibo or Douyin are primarily positive and supportive—this, despite the overall surge in anti-American sentiments on Chinese social media (also see our other recent article here).
The brief exchange between Biden and Xi about their cars is not merely positive, non-political, and non-sensitive; it also possesses another layer that makes it the ideal moment to highlight. It portrays a moment of changing power dynamics in bilateral relations, with the American president appreciating the Chinese leader's car as much as he does his own Cadillac. Despite their differences, both are equally powerful and "beautiful." This narrative precisely mirrors the current discourse about Sino-American relations that is especially visible in China's online media sphere.
On X, China's Foreign Ministry spokesperson Hua Chunying (华春莹) dedicated two tweets to the Hongqi moment. One of them showed a picture of the two cars next to eachother at the Filoli estate in Woodside, California, with Hua writing: "🇨🇳Chinese Hongqi and 🇺🇸American Cadillac Beast."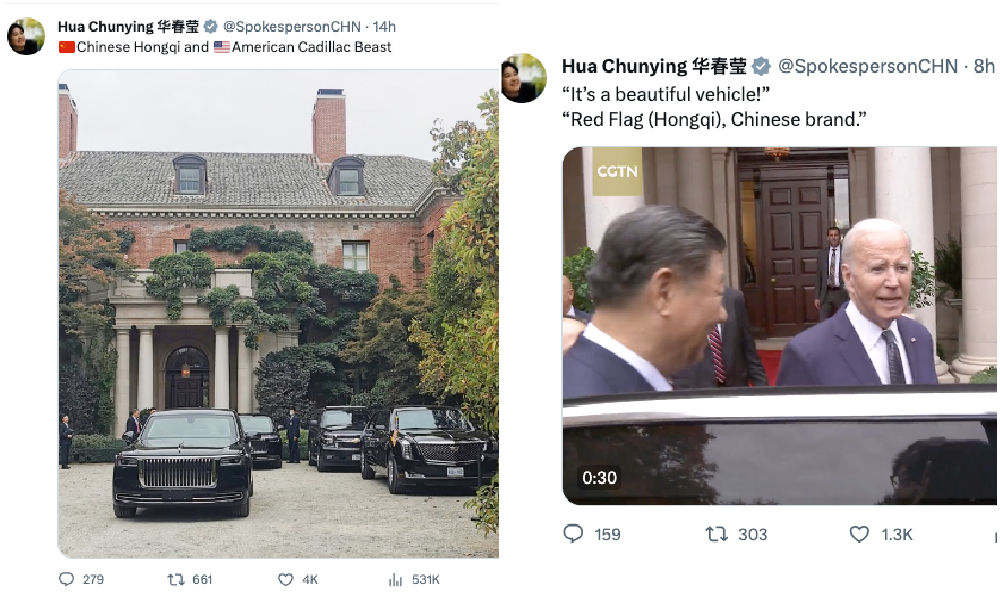 On Weibo, a few commenters playfully suggested that Biden should consider swapping his Cadillac for a Hongqi. "Hey Old Joe, why not opt for a Hongqi, too?" Others humorously proposed that Biden could become an outstanding new spokesperson for the iconic Chinese car brand.
Meanwhile, the Hongqi brand shared the video of the moment on its own social media page with a caption inspired by a quote from Xi: "Staying true to our original aspiration, living up to expectations" ("不忘初心,不负期待").
One Weibo user (@林妹妹有话说) from Guangdong writes:
"Times have really changed. Once, it was us [Chinese] who looked in admiration at the towering skyscrapers and bustling cars and traffic in the United States. Now, the whole situation has turned around and it's America's turn to admire China's infrastructure, Chinese manufacturing, and especially the Chinese automotive industry (..) Our current power has earned us equality, respect, and admiration from the U.S. and the West. This reality is a powerful blow to those 'intellectuals' in the past who wanted us to kneel down in return for "friendship" with the West. It's such a happy moment!"
By Manya Koetse
Get the story behind the hashtag. Subscribe to What's on Weibo here to receive our newsletter and get access to our latest articles:
References
Hong, Song. 2013. "National Patent Regime and Indigenous Innovations in compliance with TRIPS: A Case Study of China." In: Sunil Mani and Richard R Nelson (eds), TRIPS Compliance, National Patent Regimes and Innovation, 172-222. Cheltenham: Edward Elgar Publishing Limited.
Wang, Junxiu. 2018. Development of a Society on Wheels: Understanding the Rise of Automobile-dependency in China Springer Nature Singapore.
Spotted a mistake or want to add something? Please let us know in comments below or email us. First-time commenters, please be patient – we will have to manually approve your comment before it appears.
©2023 Whatsonweibo. All rights reserved. Do not reproduce our content without permission – you can contact us at info@whatsonweibo.com.
Subscribe to our newsletter
Stay updated on what's trending in China & get the story behind the hashtag
Sign up here to become a premium member of What's on Weibo today and gain access to all of our latest and premium content, as well as receive our exclusive Weibo Watch newsletter. If you prefer to only receive our free newsletter with an overview of the latest articles, you can subscribe for free here.
Would you like to become a contributor, or do you have any tips or suggestions for us? Get in touch with us here.