High Hopes, Sober Assessments: China's COVID-19 Vaccines Discussed
Already successful or still a long way to go? Mixed news reports and discussions on China's COVID-19 vaccine program.
There are strikingly different online discussions on China's COVID-19 vaccine candidates. Some already think the vaccines are effective and about to be launched, while others are more apprehensive about the implementation of a successful program in the near future.
It takes time and global collaboration for a massive vaccination program against COVID-19 to succeed, according to Chinese top scientist Zhong Nanshan (钟南山).
On September 24th, the renowned pulmonologist stated that it will take up to two years to roll out a large-scale vaccine program.
Zhong made his sobering statements during the 13th China Bioindustry Convention (第十三届中国生物产业大会) on Thursday, where he joined the Wuhan event via an online connection.
These remarks, posted by a few media outlets on Weibo, are noteworthy in a social media context where China's potential COVID-19 vaccines are presented as being in a highly advanced stage, leading to high hopes of a COVID-19 vaccine program launching in the very near future.
Already Proven Successful?
This week, various state media outlets, including CGTN, propagated the news that some Chinese vaccine candidates have already been proven to be effective during their clinical trials.
The published news, issued on Wednesday, September 23rd, led to the viral hashtag "Chinese COVID-19 Vaccine Proven to Be Successful" (#中国新冠疫苗已被证明有效#), which attracted over 480 million clicks on Weibo.
The hashtag was also used on Weibo in combination with a video showing renowned medical scientist Chen Wei (陈薇), visibly emotional, praising the efforts made in the development of a Chinese vaccine.
For the CanSino company, Chen Wei led a joint team over the past months in developing and registering an experimental COVID-19 vaccine. It was the first vaccine candidate to be approved for clinical trials. In state media, Chen is now described as the "She-power behind China's first COVID-19 vaccine."
"Seeing her cry makes me want to cry," some commenters said: "Our country is fantastic." "I am so proud of China," a typical comment said.
"I hope the people can get the vaccine as soon as possible," some Weibo users said, with others also asking: "When can we get it?"
Any news on China's social media about Chinese vaccines proven to be successful at this stage lead back to one statement allegedly made by WHO Chief Scientist Soumya Swaminathan during a World Health Organization media briefing on Monday, September 21st.
The hashtag "Chinese COVID-19 Vaccine Proven to Be Successful" (#中国新冠疫苗已被证明有效#) attracted 460 million clicks on Weibo this week, the news was hosted by the National Business Daily (每日经济新闻) quoting WHO Chief Scientist Soumya Swaminathan. But here's the problem: pic.twitter.com/hStsjyN1sJ

— Manya Koetse (@manyapan) September 24, 2020
An edited clip of Swaminathan's statement was published by CGTN, but looking back in the actual media briefing, the Chief Scientist can be heard saying "if some of their candidates prove to be successful," rather than saying they have already been proven effective (see twitter thread above for the videos).
The quote by Swaminathan is as follows:
"We have been engaged in discussions with China for the last several months because, as you know, they also have a very active vaccine development program and several of the vaccine candidates are in advanced stages of clinical trials, so this is also of interest to us. We are following those very closely and we have had very constructive and open discussions with them and they have always been reiterating their commitment to global access if some of their candidates actually prove to be successful in the clinical trials that are going on."
Promising Results
Despite the apparent confusion over Swaminathan's remarks, there seems to be enough news on China's ongoing vaccine research for people to be hopeful about the high-speed development of a safe and effective coronavirus vaccine.
China currently is among the major players in the international race to produce a COVID-19 vaccine. The country has eleven different vaccines in clinical trials, four of them in Phase III, meaning the vaccines' safety and effectiveness is being tested on large patient groups.
Out of the four vaccines in this advanced stage, two belong to the state-owned pharmaceutical company Sinopharm (中国医药集团总公司), divided over the Wuhan Institute of Biological Products and the Beijing Institute of Biological Products.
Another vaccine belongs to Chinese vaccine company CanSino (康希诺生物), and the other to the Beijing-based biopharmaceutical company Sinovac (北京科兴生物制品有限公司).
News that an upcoming vaccine by China National Biotec Group (CNBG, subsidiary of the state-owned Sinopharm) would cost only 600 yuan ($88) for two doses, if given the green light, made its rounds on Weibo this week (#国内新冠疫苗两针600元#), many applauding the affordable price.
More positive updates on the development of a Chinese novel coronavirus vaccine are flooding social media on a daily basis (#新冠疫苗工作进展#).
On September 25, the chief epidemiologist of the Chinese Center for Disease Control and Prevention Zeng Guang (曾光) shared an update about the progress of the country's vaccine work during a State Council Information Office conference. He stated that, although further research is still underway, China's earliest vaccine subjects have maintained high levels of antibodies. The hashtag "Chinese Vaccines Possibly Provide Long-Term Protection" (#我国疫苗可能有比较长期的保护作用#) received over 160 million views on Weibo on Saturday.
"Emergency Use"
While research is still ongoing, tens of thousands of people in China have already been given vaccines as part of an "emergency use designation."
The CanSino vaccine candidate (Ad5-nCoV) was approved to be given to members of the military by late June , followed by the approval in July to give the vaccine to those facing high infection risks, such as medical industry workers and border inspectors.
Two other vaccines by Sinovac ("CoronaVac") and by Sinopharm were also given to thousands of people, including the employees of Sinovac and their families, after both being authorized for "emergency use" in late July.
Zhou Song (周颂), secretary for the Commission for Discipline Inspection with China National Biotec Group (most widely used in the emergency scheme), was quoted by SCMP earlier this month, saying: "Hundreds of thousands have taken the shot and no one has shown any obvious adverse effects or got infected."
China's National Health Commission official Zheng Zhongwei (郑忠伟) also stated at a news conference Friday that the vaccines used pose no risks: "Their safety can be ensured but their efficacy is yet to be determined."
According to Chinese state media outlet People's Daily, common people could have access to COVID-19 vaccines as early as November or December of this year.
Sobering Statements
Amid all these positive news reports coming out in the Chinese media and being discussed on social media, the more sobering statements by Zhong Nanshan stand out.
The 83-year-old epidemiologist reportedly does not expect a large-scale vaccine program to roll out until at least one or two years from now. Zhong also stated that the virus will continue to exist and spread this winter and in the spring of next year.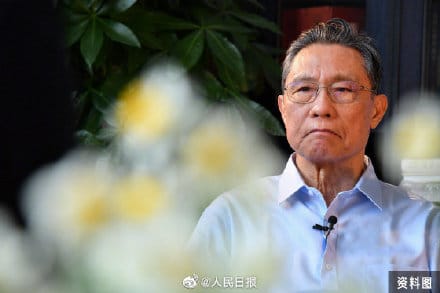 Zhong Nanshan is a pulmonologist who played a key role during the SARS outbreak, gaining international recognition as the 'SARS hero.' In the fight against COVID-19, the respiratory expert was also involved in managing the crisis. He is often on point in assessing the situation at hand. In early March, Zhong said the COVID-19 pandemic would continue until well after June of this year.
In August, Zhong was nominated the Medal of the Republic (共和国勋章) for his contributions, China's highest order of honor.
There are mixed responses to the various reports about China's vaccine program on social media.
When there is news about the vaccines potentially coming out very soon, there is praise but also worry – Weibo users express concern about vaccine safety. Various medical scandals have added to mistrust of vaccines in China. "I am concerned about the side effects," one popular comment said, with others replying that they were also worried about the overall risks of the vaccine.
News of a large-scale vaccine program potentially taking up to two years, however, is also met with criticism. "Do they want to lock up students for two years?!", many people wrote, referring to the closed-off campus policies of Chinese universities. Some social media users seem confused: "First it's three months, then six, now one year, maybe two?"
But many people are also not too worried, praising China's efforts in containing COVID-19 and working on a vaccine. "It's the reliability that counts," they say.
The most recurring comments are those taking pride in what Chinese medical experts have accomplished thus far. "China has become a world leader when it comes to medical technology," some state: "Trump can go to bed. China is the best!"
Read more about the new coronavirus in China here.
By Manya Koetse
Follow @WhatsOnWeibo
Original background of the featured image by Markus Winkler / @markuswinkler
Spotted a mistake or want to add something? Please let us know in comments below or email us. First-time commenters, please be patient – we will have to manually approve your comment before it appears.
©2020 Whatsonweibo. All rights reserved. Do not reproduce our content without permission – you can contact us at info@whatsonweibo.com.
Applying China's New Civil Code, Shanghai Court Annuls Marriage after Husband Hides HIV-positive Status from Wife
The court case triggered discussions on the need for premarital health checks.
Jiang is HIV-positive but did not mention his status to his partner before getting married. Under China's new civil code, the marriage is now annulled.
On January 4, a Shanghai court applied the new rules of China's Civil Code for the first time to annul a marriage.
The Civil Code of the People's Republic of China was adopted by the third session of the 13th National People's Congress in May of last year and is effective since January 1st 2021. Some experts within China call the law a "milestone legislation" that will better protect people's civil rights.
On Monday, January 4, a landmark court case in which the new civil code was applied for the first time in Shanghai went trending on Chinese social media.
The case involves a married couple of which the husband had failed to inform his wife that he was HIV positive before getting married.
In June of 2020, Mr. Jiang and Ms. Li got married after Li became pregnant. Afterward, Jiang confessed that he had been HIV-positive for multiple years, and was taking medication to control his disease.
Jiang alleged that, due to his medication, there was effectively no risk of transmitting HIV to his partner. But Li, who did not contract HIV, could not accept the situation and decided to terminate her pregnancy and applied for a marriage annulment.
Under the new civil code, annulment of marriage is possible when a partner who is "seriously ill" – which now includes HIV/AIDS – fails to inform their fiance of their condition before getting married.
Since Jiang had not informed his wife of his condition before tying the knot, the Shanghai Minhang Court ruled in Li's favor and annulled the marriage.
On Weibo, the case has attracted a lot of attention, with one hashtag about the case (#男方婚前患艾滋未告知婚姻关系被撤销#) attracting 690 million views on Monday.
The news item also led to another hashtag gaining many views: "The Need for Premarital Medical Examination" (#婚前体检的必要性#) had 200 million views on its hashtag page on Monday.
One popular relationship blogger (@感情感分析异地恋) argues that the Shanghai court case shows the importance of couples getting a medical examination before getting married: "It's not to discriminate against those who are HIV positive or who are suffering from other illnesses, but it's about informing your partner about these things before getting married."
Premarital health checks were previously compulsory in China, but these examinations are no longer required since 2003. Many couples do still go for premarital health checkups. According to Xinhua, over 61% of Chinese couples had a medical examination before getting married in 2018.
Although the application of China's new civil code is generally praised by Weibo users in this case, it has previously also received a lot of negative attention. The new law also introduced a mandatory 30-day "cooling off" period for couples seeking divorce.
This "cooling off" period is seen as harmful to those who are suffering abuse within marriage and already have difficulties in leaving their abusive partner. The case of Lamu, a Tibetan vlogger who died after her husband set her on fire, also led to more online discussions of the "cooling off" period and how it makes women more vulnerable within their marriage.
By Manya Koetse
Follow @WhatsOnWeibo
Spotted a mistake or want to add something? Please let us know in comments below or email us. First-time commenters, please be patient – we will have to manually approve your comment before it appears.
©2021 Whatsonweibo. All rights reserved. Do not reproduce our content without permission – you can contact us at info@whatsonweibo.com.
Annual List of China's Best Hospitals: Ranking the Top 10 Hospitals of the Year
These are China's best hospitals according to the Fudan University annual ranking list.
A new list with the 50 highest rated hospitals in China of the year 2019 has been released earlier this month.
A hospital list, ranking the best hospitals in China, was released earlier this month. The list is independently issued annually since 2010 by the Hospital Management Institute of Shanghai's Fudan University. It ranks the top 100 hospitals in China and the top 10 hospitals over various clinical specialties. In doing so, it has become one of the most important hospital rankings in China.
The topic became trending on Weibo with over 110 million views (#复旦版中国医院排行榜#). Although there is a major interest in this topic, there are also those questioning what makes a hospital the 'best' hospital. This list, among other things, is based on the hospital's reputation and its capacity to conduct scientific research.
"What is fame and reputation? What I care about when seeing a doctor is their success rate in curing patients," one social media user wrote – a sentiment shared by many. Others also say it is best to look for the right hospital depending on the patient's personal needs.
Although it is true that these rankings do not include any rates on treatment results, they are relevant to patients for their reputation and size nonetheless.
China currently has a significant shortage of doctors, and the most qualified doctors are more prone to go to the hospitals with the best reputation. It is an ongoing cycle that has left many of the more rural and smaller hospitals lacking qualified staff. (For more about the problems facing China's healthcare system, also see this article.)
We will list the top 10 of China's best hospitals according to the report here, including some basic info.
#1 Peking Union Medical College Hospital
中国医学科学院北京协和医院
Peking Union Medical College Hospital (PUMCH) has topped these rankings consecutively for 11 years. The hospital was founded in 1921 by Rockefeller Foundation and is affiliated to both Peking Union Medical College (PUMC) and the Chinese Academy of Medical Sciences (CAMS).
PUMCH offers 2000 beds, has more than 4000 employees, and 57 clinical and medical departments. The hospital recently also launched its online services, including consultation, prescribing medicine, and electronic medical recording, which reportedly will expand to all clinical sections of the hospital.
Weibo: @北京协和医院 (960906 followers)
Website: link
Address: #9 Dongdan 3rd Alley, Dongcheng, Beijing, China
#2 West China Hospital Sichuan University
四川大学华西医院
Founded in 1872, the West China Medical Center is China's biggest hospital in terms of size, and also ranks number two in the list of the world's largest hospitals (no 1 being the Chang Gung Memorial Hospital in Taiwan). The hospital has a capacity of 4300 beds and there are 46 clinical departments.
West China Hospital has recently been in the news a lot due to the development of its own experimental COVID19 vaccine.
Weibo: @四川大学华西医院 (483829 followers)
Website: link
Address: #37 Guoxue Alley, Wuhou District, Chengdu, Sichuan Province
#3 People's Liberation Army General Hospital / 301 Hospital
中国人民解放军总医院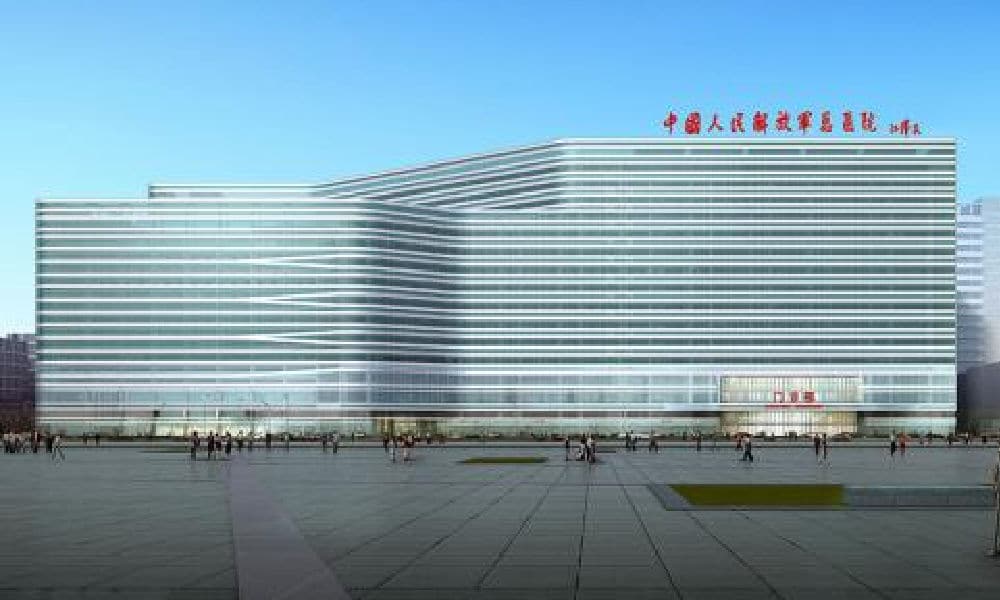 The General Hospital of the People's Liberation Army (PLAGH), also known as 301 Hospital or PLA General Hospital, is the largest general hospital under the auspices of the People's Liberation Army. The military hospital, used by the top leadership, was founded in 1953 and has a capacity of 4000 beds.
Earlier this year, the hospital made headlines for being the first center in Asia to provide newly advanced (ZAP) non-invasive technologies to treat brain tumors.
Website: link
Address: No. 28 Fuxing Road, Haidian District, Beijing
#4 Ruijin Hospital
上海交通大学医学院附属瑞金医院
Ruijin Hospital, formally known as Guangci Hospital, was founded in 1907. The hospital has 34 clinical departments, with a capacity of 1774 beds and a staff of over 3300.
The hospital is known for the rescue of burn victim Qiu Caikang, an iron worker of Shanghai Steel Factory who was burnt by molten steel in 1958. Although he suffered extensive burns to 89% of his body – and was thought unlikely to survive -, the staff at the hospital were able to successfully treat him. The hospital's technologies in treatment of deep burns has since been renowned throughout the country.
Website: link
Address: 197, Rui Jin Er Road,Shanghai 
#5 Zhongshan Hospital Fudan University
复旦大学附属中山医院
This Shanghai hospital, which opened in 1937, is a major teaching hospital affiliated with the Shanghai Medical College of Fudan University. It was the first large-scale general hospital managed by Chinese people at its time of opening.
Zhongshan Hospital is leading in China when it comes to the treatment of heart, kidney, and diseases, and liver cancer. The hospital has over 1900 beds and more than 4000 hospital staff.
Website: link
Address: 180 Fenglin Road, Shanghai
#6 The First Affiliated Hospital, Sun Yat-sen University
中山大学附属第一医院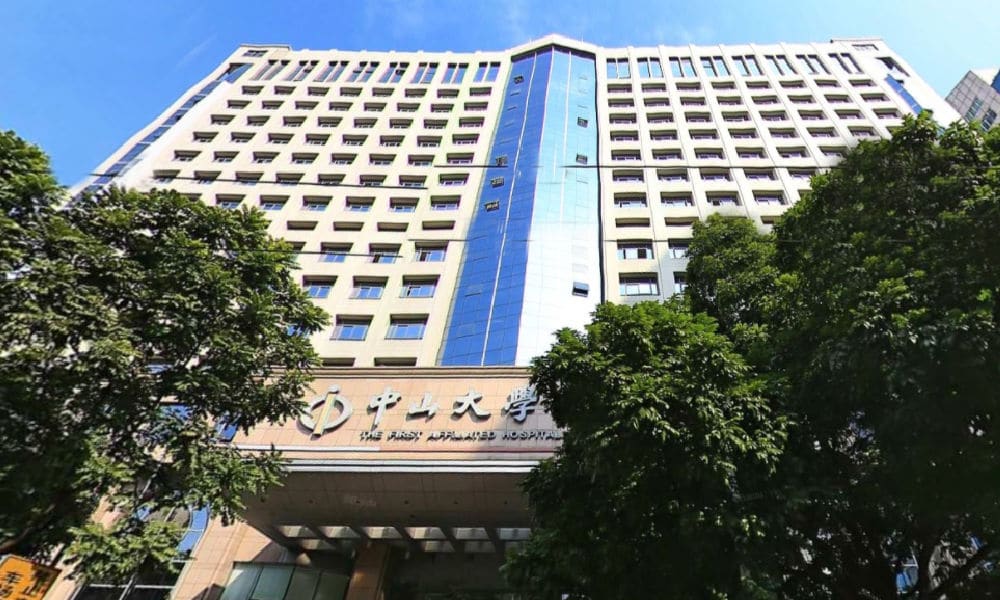 The First Affiliated Hospital of Sun Yat-Sen University is celebrating its 110th anniversary this year. Founded in 1910, the hospital was initially called the Affiliated Hospital of Guangdong Public Institution of Medicine. It is one of the largest hospitals in China.
The hospital is renowned for various medical specialties, including liver and kidney transplantion. The hospital has 72 clinical departments, 3523 beds, and over 6000 staff.
Website: link
Address: 58 Zhongshan 2nd Rd, Yuexiu District, Guangzhou, Guangdong Province
#7 Tongji Hospital, Huazhong University of Science and Technology
华中科技大学同济医学院附属同济医院
Tongji Hospital was officially founded by German doctor Erich Paulun in 1900, located in Shanghai, and did not move the Medical College to Wuhan until 1950. The hospital, which now has some 4000 beds and 7000 staff members, has 52 clinical and paramedical departments.
During the new coronavirus outbreak in Wuhan, the hospital provided 800 beds for severe cases.
Website: link
Address: No.1095 Jie Fang Avenue, Hankou, Wuhan
#8 Xijing Hospital
空军军医大学西京医院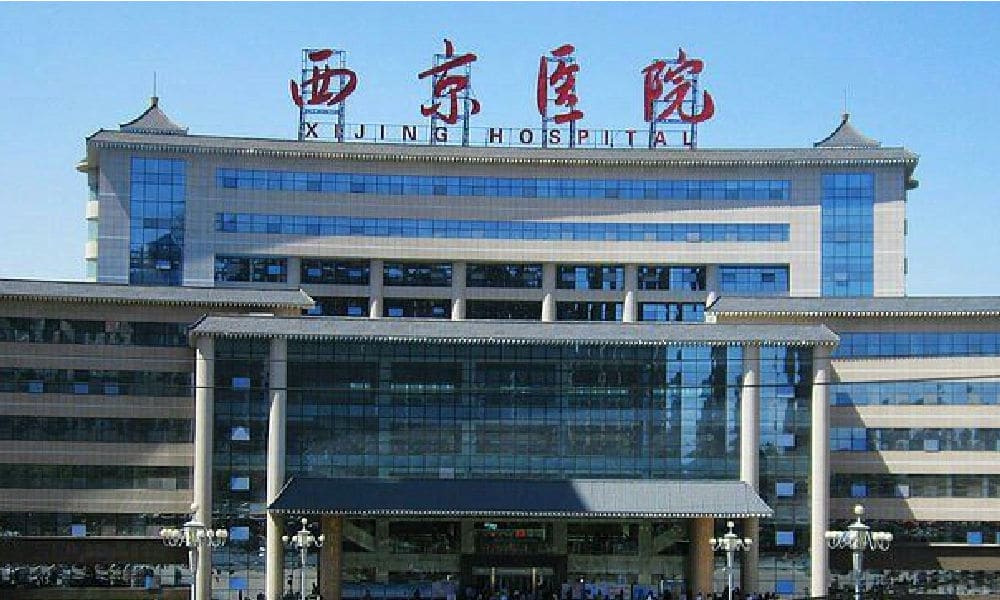 Xijing Hospital was founded in 1939 and has since been a hospital of several 'world's firsts', including being world's first hospital to recreate a '4D'-printed breast for a cancer patient who underwent a mastectomy. The hospital also saw China's first baby born from a transplanted womb.
Xijing Hospital houses 3218 beds.
Website: link
Adress: No. 127 Changle West Road, Xincheng District, Xi'an
#9 Huashan Hospital
复旦大学附属华山医院
Huashan Hospital's main branch is located in the city center of Shanghai, in the former French Concession. The hospital was founded in 1907 as the Chinese Red Cross General Hospital by Governor Shen Dunhe, the founder of the Red Cross Society of China. The hospital opened for business in 1909.
Besides being a general hospital with around 3000 staff members and over 1215 beds at the main branch, it is also Fudan University's major and renowned teaching hospital. Huashan is one of the best-known hospitals in China.
Website: link
Address: 12 Wulumuqi Middle Rd, Jing'an District, Shanghai
#10 Wuhan Union Hospital
华中科技大学同济医学院附属协和医院
Wuhan Union Hospital has a long history; it was founded in 1866 by Griffith John, a Welsh Christian missionary and translator in China. The hospital is an active general hospital, as well as focusing on teaching and scientific research.
The hospital has a total of 5000 beds and more than 8000 staff members. In 2020, the hospital became one of the designated hospitals to treat patients from the COVID-19 pandemic.
Website: link
Address: 1277 Jiefang Avenue, Wuhan, Hubei Province
By Manya Koetse
Follow @WhatsOnWeibo
Original photo used in featured image by Adhy Savala
Spotted a mistake or want to add something? Please let us know in comments below or email us. First-time commenters, please be patient – we will have to manually approve your comment before it appears.
©2020 Whatsonweibo. All rights reserved. Do not reproduce our content without permission – you can contact us at info@whatsonweibo.com.