Banter and Doubts on Weibo after Trump Tests Positive for COVID-19
First published 15:00 CST, updated 20:00 CST
News of U.S. President Donald Trump testing positive for COVID-19 has immediately become one of the most discussed topics on Chinese social media.
"Tonight, @FLOTUS and I tested positive for COVID-19. We will begin our quarantine and recovery process immediately. We will get through this TOGETHER!" – it is the tweet that was sent out by American President Donald Trump on October 2nd, early afternoon Beijing time, on the second day of the Chinese Golden Week holiday.
This Golden Week marks a joyous occasion in China, as the country's National Day and Mid-Autumn Festival both fall on October 1 this year.
News of President Trump testing positive for COVID-19 immediately spread on Chinese social media and reached a top position on the Sina Weibo platform, where many people respond to the news with banter.
"Is this a National Day gift?" ("国庆礼物?") some commenters wonder.
Other responses just say "ha ha ha ha ha ha."
"The whole world rejoices!" a top comment says, using a Chinese expression ("普天同庆") that indirectly is also a reference to Trump's name in Chinese.
Confirmation of President Trump testing positive for COVID-19 comes after Hope Hicks, one of Trump's senior advisers, reportedly also tested positive. Hicks traveled together with President Trump to a rally in Duluth, Minnesota. News of Hicks getting infected with the coronavirus also went trending on Weibo earlier today (#特朗普女助理确诊新冠#).
Within moments, the Weibo hashtag "Mr & Mrs Trump Test Positive for Corona" (#特朗普夫妇确诊新冠#) rose from a few thousand clicks to 280 million views around 14:00 in the afternoon, to 660 million clicks an hour later.
The main news sources shared on Weibo are not official state media sources, but Chinese news outlets such as Phoenix News and Sina World. State media outlets People's Daily and Xinhua News did not report the news on its main news pages at time of writing.
The responses on Chinese social media are partly because of how the American President has dealt with the COVID-19 pandemic in his own country, not just playing down the severity, but also calling it the "Chinese virus."
But there are also Weibo users who doubt that Trump is actually infected with the virus, calling it a "crafty strategy" to win sympathy in the middle of the presidential election campaign. Getting criticism for how he dealt with the COVID-19 epidemic in America, "this is the chance for him to show he stands together with the American people," one news blogger (@财神军哥, 85.550 fans) writes, speculating that the feelings of those people in the US who were infected and criticized Trump will "instantly change from hatred to sympathy."
"If it is really true [that Trump is infected], I hope he drinks enough warm water," one person writes: "If it is not true, I hope he drinks boiling water."
Update 20:15 CST
By 20:00 Beijing time, the topic "Mr & Mrs Trump Test Positive for Corona" (#特朗普夫妇确诊新冠#) has attracted a staggering 1.4 billion clicks on Sina Weibo.
One of the topics discussed on Sina Weibo is "what is your first response to Trump testing positive for the new coronavirus?"
"It is a script that is well-written," one popular comment says: "Pretend to be infected > then cured > no need to fear COVID-19 > it's just like the flu > the economy can be restarted > the support levels [for Trump] will rise > he will be re-elected."
This idea of Trump following a script is further spread on social media via a photoshopped film poster saying "TAKING THE CROWN", "directed and written by Trump." The character for 'crown' (冠) is also the Chinese term for the new coronavirus.
There are other memes and wordplay jokes relating to President Trump "taking the crown" / "getting corona" (夺冠) on Chinese social media. Another image designed by 'Four Four Six Six' (@就是四四六六) also shows Trump being 'crowned.'
In an online poll held by Toutiao News, Weibo users could respond to what they first thought after hearing the news, allowing participants to choose between seven different answers, but the one chosen by a great majority is: "I already expected this to happen."
Meanwhile, under the tagline "Latest news from America – Trump tests positive for COVID19" this photo is being shared. pic.twitter.com/Yk9bbeaHe7

— Manya Koetse (@manyapan) October 2, 2020
In talking about Trump, netizens commonly refer to him as '川建国' ('Chuan Jianguo'), meaning "Build-the-Country Trump," an online joke to refer to the president as someone whose deeds and words only help to accelerate the further rise of China. The fact that the president's positive COVID-19 test comes at a time when the mainland Chinese are celebrating their National Day only further adds to this joke.
One Weibo user jokes: "I didn't expect that Trump would congratulate us on our National Day, let alone that he would do it in this way!"
"It's really not ok to take in other people's misery," one Shanghai netizen says: "…but I really can't help myself."
By Manya Koetse
Follow @WhatsOnWeibo
Spotted a mistake or want to add something? Please let us know in comments below or email us. First-time commenters, please be patient – we will have to manually approve your comment before it appears.
©2020 Whatsonweibo. All rights reserved. Do not reproduce our content without permission – you can contact us at info@whatsonweibo.com.
Chinese Online Responses to the 'TikTok Problem'
Trump's TikTok and WeChat bans have been all the talk over the past weeks. These are the main viewpoints on the issue as recently discussed on Chinese social media.
News of US President Trump signing executive orders on August 6th to prohibit transactions with TikTok and WeChat parent companies Bytedance and Tencent remains a hot topic of discussion on social media.
Both apps have been described as posing a threat to America's national security, with President Trump claiming that the app's use in the United States heightens the risk of potential espionage and blackmailing practices. The apps are also accused of censoring content that is deemed politically sensitive to the Chinese government, and of being channels for disinformation campaigns.
Over the past three years, Bytedance's Tik Tok app has become super popular in the United States, where it has approximately 100 million active users. Tencent's WeChat has 19 million daily active users in the United States.
Until Trump's executive orders go into effect (the September 20th deadline has been moved to November 12th), much is still unclear about the possible consequences of such a ban – and what the (vague) orders actually mean.
Will Tik Tok be sold to an American company? Will TikTok and WeChat be banned from Apple and Google app stores? How will the ban affect those for whom Wechat is an important communication tool in their everyday personal and business life? Will iPhone users in China still be able to use China's number one app?
While news developments are still unfolding, the "TikTok problem" remains to be a hot topic on Chinese social media, with hashtags such as "How Do You See the TikTok Storm?" (#如何看待tiktok风波#) and "What's the Main Goal of Trump Banning TikTok?" (#特朗普封禁TikTok的核心目标是什么#) receiving thousands of views and comments.
These are the main takes on the issue in the Chinese online media spheres recently.
"It's all about US (technological) hegemony"
During a press conference on August 12, China's Ministry of Foreign Affairs spokesperson Zhao Lijian (赵立坚) expressed that America was showing "bad table manners" for pressing down on "non-American companies," and that the Tik Tok app had "nothing to do with national security."
The fragment went viral on Chinese social media and was reposted many times by media accounts and Chinese web users.
Under the hashtag "Zhao Lijian Responds to the Tik Tok Problem" (#赵立坚回应涉TikTok问题#, 87 million views on Weibo), many Weibo users noted how Zhao did not say that the US was pressing down on 'Chinese' companies, but that it is suppressing 'non-American' companies ("非美国企业"), suggesting that it is all about American power and hegemony.
A few days earlier, Chinese state media outlet Global Times also published an article stating that, according to legal experts, the US government will be able to order Apple and Google to remove all products owned by ByteDance from app stores around the world based on the recent executive orders.
Similar to the statement issued by China's MOFA, Global Times also writes that the Trump administration "has displayed its ugly face that prevents any non-US company to break the US technological hegemony." The issue of Chinese apps threatening US "national security" is called "a shameless excuse" that is used to "destroy China's most successful globalized internet company."
The phrase 'non-American companies' was probably also used by Zhao to emphasize that Bytedance has stepped up efforts over the past year to separate its international Tik Tok business from its China-based operations.
The company took on Disney's head of streaming efforts Kevin Mayer to become its CEO of TikTok, an app that is different from its Chinese version, Douyin (抖音).  TikTok claims that all US user data is stored in the United States, with backup redundancy in Singapore, and that their data is not subject to Chinese law.
Other media outlets, such as Sina Tech, also stress the fact that any claims of TikTok or WeChat posing a risk to US national security are completely unsubstantiated and are merely another excuse to target Chinese products.
"The success of TikTok undermines the absolute American influence on the internet," one Weibo commenter (@财务琳姐) writes: "They've nothing left to do but to discredit China." Others say: "They're beating down on China's entire internet business to contain China's developments."
The same sentiments were reiterated by Zhao Lijian in a press conference on August 18, where he said that the US is engaging in a deliberate attempt to "discredit and suppress" Chinese companies.
"Shooting themselves in the foot"
A recurring way of responding to executive orders on WeChat and Tik Tok in Chinese online media, is that a possible ban on these Chinese apps would only have negative consequences for the United States.
Directly after news came out on Trump's executive orders, the question "Apple or WeChat" started trending on Chinese social media, with many assuming that a possible ban would mean that Apple phones will no longer allow WeChat on its phones.
For the majority of people, the question is not a difficult one. As a messaging, social media, payment app and more, WeChat has become virtually indispensable for Chinese web users – they would simply stop buying iPhones.
The hashtag "US Shutting Down WeChat Will Affect iPhone Sales" (#美国封杀微信将影响iphone出货量#) discusses the stance of analyst expert Guo Mingji (郭明錤), who recently said that the ban on WeChat will have major impact on iPhone sales and could possibly lead to a drop of 25-30% in its sales volume.
One Weibo user (@赵皓阳) commented: "For the Chinese market, not using an iPhone could have some impact, but not using WeChat would mean cutting yourself off from society."
"Ban it, just ban it, Chinese people will just switch to the high-end Huawei phones, and it will beat down Apple – great," another netizen (@黄多多成长记) wrote.
"Shifting public attention away from COVID19 crisis"
The COVID19 crisis in the US has been receiving a lot of attention in Chinese media recently, and the American struggle to contain the virus is often linked to Trump's mission to crack down on Tik Tok, WeChat, and Huawei.
"Focus on your own COVID19 epidemic, instead of trying to divert the attention all the time," one Weibo user (@凯MrsL) writes. Similar comments surface all over Chinese social media, suggesting that the 'anti-China' strategy is just a way to distract the attention from the continuing spread of the coronavirus in the US.
Others write that Trump has made "a terrible mess," and that "beating China" is the only card he has left to play. "This all about the upcoming elections," some suggest.
The People's Daily wrote on August 18 that, since the US is confronted with the severest situation of COVID-19, it should make "greater efforts than any country in the world to cope with the pandemic," adding: "Surprisingly, it seems that such normal logic doesn't exist in the minds of certain U.S. politicians."
"An eye for an eye"
Amid all different perspectives in which the recent Tik Tok/WeChat ban developments are discussed, there is also one other recurring sentiment that stands out.
Reflecting on the Chinese online environment, there are also multiple Weibo users who argue that China virtually blocked so many American companies from thriving in the Chinese digital market (unless they would be willing to transform their products to comply with China's strict cyber regulations), that it is not surprising that the US would also strike back to make sure Chinese companies cannot thrive in the American digital environment.
China has already banned so many American products, from Google to Facebook, from Instagram to Pinterest and Twitter, that "there is nothing left to ban" for China: "We have few countermeasures left to take."
By Manya Koetse
Follow @WhatsOnWeibo
Spotted a mistake or want to add something? Please let us know in comments below or email us. First-time commenters, please be patient – we will have to manually approve your comment before it appears.
©2020 Whatsonweibo. All rights reserved. Do not reproduce our content without permission – you can contact us at info@whatsonweibo.com.
News of US Sanctions Against Hong Kong Top Officials is "America Penalizes Chinese Officials" on Weibo
US imposing sanctions on Hong Kong officials is hashtag " America Penalizes Chinese Officials" on Weibo.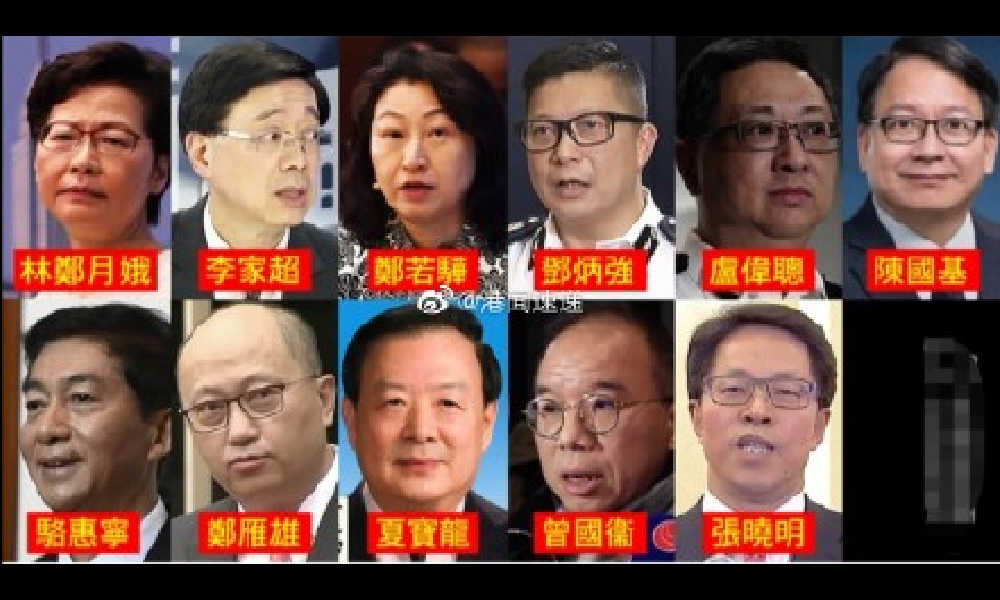 As ensions between the United States and China have been increasing on a daily basis, the US government has announced sanctions against the Hong Kong government senior leadership for carrying out Chinese "policies of suppression," right after signing executive orders to ban Chinese apps TikTok and WeChat from operating in the US.
The targets of the Hong Kong sanctions are eleven individuals, including Hong Kong leader Carrie Lam, and come three weeks after the implementation of the Hong Kong National Security Law.
On Friday, August 7th, the US Department of the Treasury issued the names and personal details (home addresses, ID numbers) of the Hong Kong individuals added to the Office of Foreign Assents Control list of Specially Designated Nationals.
A Washington press release on Friday declared the situation in Hong Kong "a national emergency," stating that the recent actions taken by the People's Republic of China "fundamentally undermine Hong Kong's autonomy and democratic processes," and that these developments provide for "the imposition of sanctions on actors engaged in these malign activities."
The sanctions freeze any property or financial assets the eleven individuals have in the United States, though, as reported by the BBC, Lam has said she does not have assets in the country.
On Chinese social media, where Trump's sanctions on WeChat and Tiktok are still trending at time of writing, news of the second US official move of the day received less attention.
Not only did the news come when it was already night time in Beijing, but some hashtag pages relating to the issue were also taken offline.
The hashtag "America penalizes Chinese officials" (#美国制裁多名中国官员#) is currently online with some 2.7 million views, while the hashtag page for the hashtag "United States Sanctions Hong Kong SAR Chief Executive Carrie Lam" (#美国制裁香港特区行政长官林郑月娥#) was taken offline. This also means that all of these hashtags on Weibo are no longer linked to any page or overview.
The hashtag "America penalizes Chinese officials" (#美国制裁多名中国官员#) was initiated by Chinese media outlet Sina News, which is the current host of the hashtag page.
By Manya Koetse
Follow @WhatsOnWeibo
Spotted a mistake or want to add something? Please let us know in comments below or email us. First-time commenters, please be patient – we will have to manually approve your comment before it appears.
©2020 Whatsonweibo. All rights reserved. Do not reproduce our content without permission – you can contact us at info@whatsonweibo.com.