How 'Chinese' are China's Muslims? Islam in China: An Overview
An overview of Islam in China and China's relation to its Muslim minority.
As Muslim extremist attacks have ignited discussions on Islam in Europe, Chinese leaders increasingly expand restrictions on the Muslims within their borders. What's on Weibo brings you an overview of Islam in China and China's relation to its Muslim minorities.
The January attacks on the headquarters of Charlie Hebdo and a kosher supermarket in Paris by Muslim extremists have ignited heated discussions on radical Islam across Europe. From a distance, Chinese leaders watch Europe's Islam debate and increasingly expand restrictions on the Muslims within their borders. Since this month, the burqa is banned, along with other garments that 'promote religious extremist ideology'. "They see themselves as Muslim, we see them as Chinese," says one Weibo netizen. What is the connection between Islam and China? What's on Weibo brings you an overview of Islam in China and China's relation to its Muslim minorities.
French Muslims: not 'French' enough?
After the Charlie Hebdo attacks, French Prime Minister Manuel Valls declared that France was now at war with "radical Islamism" (Economist 2015). In France, and Europe at large, hard questions have been emerging on Islam-inspired terrorism and the recruitment of people within European countries by radical groups such as Al-Qaeda and ISIS. France has the biggest Muslim minority in Europe, and the country's relationship with them is not easy (Economist/Colchester 2015, 215). In response to the extremist attacks, U.S. President Obama stated that Europe has failed to integrate its Muslims (Francis 2015). About the U.S. he says: "Our biggest advantage is that our Muslim populations, they feel themselves to be Americans." Europe has not had the same process of assimilation and immigration, according to Obama, suggesting that the identification of Muslims with their nation is crucial in combating radical Islam: French Muslims are simply not 'French' enough.
As Chinese President Xi Jinping expressed his sympathy for the victims of the Paris attacks, he said that terrorism was also an enemy to the People's Republic of China (PRC) (SCMP 2015). China has a history of extremist terrorist attacks, linked to its Uyghur Muslim minority. What is the situation on Muslim integration in China? How 'Chinese' are China's Muslims?
Islam in China: an overview
No burqa in Urumqi, no fasting for Ramadan, no niqabs, hijabs or large beards in buses. Since 2014, China has implemented several measures to keep religious expressions to a minimum after a string of attacks allegedly committed by Chinese Muslim extremists. In March 2014, a knife attack at the Kunming railway station left 29 civilians dead. In May, 43 were killed when a Urumqi market was bombed. On June 22, attackers drove into a Kashgar police building and set off explosives. The list continues. The government responded to the increasing violence in 2014 with a crackdown that resulted in more than 380 arrests within one month and public controls on religious expression (Tang 2014). The restrictions continued in 2015, when a ban on wearing burqa's, or 'face masking veils' (面罩袍), was legally approved and went into effect on February 1st. The prohibition on burqa's and other clothing 'promoting religious extremism' applies specifically to Urumqi, the capital of Xinjiang, which is home to the majority of China's Muslims.
Few people in the West are aware of China's large Muslim community. Yet Muslims are part of China's history: they have lived in China from as early as the eighth century (Lipman 1997, xvii). Many Muslims came to China as soldiers, giving military aid to the Tang dynasty government during a rebellion uprise and then settling down afterwards. They also came as traders and diplomats along the Silk Road, setting up compact communities that maintained their own religion and lifestyle. Since intercultural marriages with local Chinese often occurred, the Muslim population increased, as non-Muslims had to convert to Islam before marrying (Mi & You 2004, 3-7). Although Muslims live all over China, the majority lives in the northwestern regions of Xinjiang, Ningxia, Gansu and the Qinghai provinces.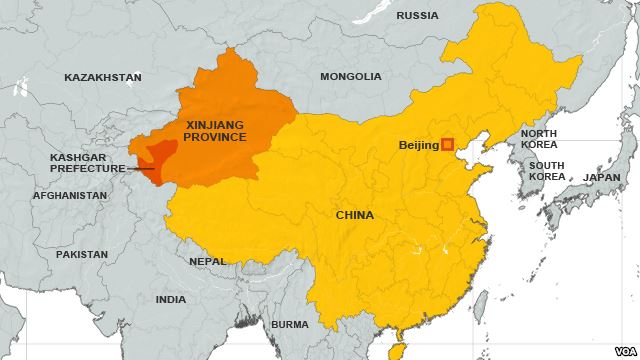 Is there such a thing as a 'Chinese Muslim'? Within the PRC, Muslims are not defined as a specific category. Chinese citizens are divided into 56 different 'minzu' or ethnic groups; a categorization that is separated from religion. The vast majority of Chinese belong to the 'Han', which is considered a 'culturally Chinese' group. Within the other 55 minzu, there are ten that take Islam as their faith: the Huis, Uyghurs, Kazaks, Dongxiangs, Khalkas, Salas, Tajiks, Uzbeks, Bao'ans and Tatars (Mi & You 2004). About half of China's Muslims belong to the Hui, the ethnic minority that descents from the foreign Muslims of the Tang (Lipman 1997, xxiii).
The northwestern region of Xinjiang is almost entirely Muslim, and was only joined by non-Muslims since the last fifty years. Of the 20 million-something people who live there, around eight million belong to the Uyghur minority. Although there are no official government records of how many people practice Islam within the PRC, it is estimated that there are currently are around 23 million Muslims in China, a number that is expected to grow to almost 30 million in 2030 (Pew 2011).
China's northwest has always been a region filled with unrest. While Muslim identity strengthened throughout the 17th and 18th century, other rulers (Arab, Mongols, Russians) were looking for new lands to expand their power in present-day Xinjiang. The situation reached a crisis point. In the 19th century, the Chinese Qing government ordered a suppression of Muslim rebels. It is estimated that 20 to 30 million lives were lost in this suppression (Jones-Leaning & Pratt 2012, 317). During the Mao years, Muslims in the northwestern regions suffered greatly from the Great Leap Forward and the Cultural Revolution (1966-1976), as the famine was especially severe in these provinces. Religious buildings and schools were destroyed by the Red Guards, Arabic script was prohibited, and Muslims were expected to rear pigs and eat pork (ibid., 318).
Believe it, don't show it
After the Mao years, it was acknowledged that religious beliefs could not be completely abolished (ibid., 318). Freedom of religion was officially declared in 1949, but the Communist Party believed that theistic religion would ultimately disappear. Atheism was therefore propagated amongst the people. In current-day China, religion is more or less tolerated, as long as it conforms to state-approved principles and organization (Boyle & Sheen 2003, 179-180). Instead of guaranteeing free exercise of religion, the constitution only guarantees freedom of religious belief. In other words; you can believe what you want, but how you engage with your religion in everyday life has to comply with what the state deems right.
In the reform period of the 1980s, the PRC had a policy of cultural liberalization that also applied to China's northwest. Mosques were reopened and religion was revived. But as extremist Islamic movements expanded internationally, radical groups mushroomed in China's northwest. Muslim separatist groups called for Xinjiang to form an independent East Turkestan state. Especially after September 11, Chinese authorities focused on its northwest, that had by now become its most politically sensitive region – Western media were also watching the "Islamic terrorism" in Xinjiang (Dwyer 2005, 3). For the last decades, Beijing has been propagating Chinese monoculturalism, trying to assimilate the major minorities of the northwest (especially the Uyghurs) to the dominant Chinese culture (ibid., 2).
Amnesty International has reported harsh measures taken by Chinese authorities to suppress unrest in the northwest, including executions and unfair trials (Jones-Leaning & Pratt 2012, 328). "The fight against terrorism is no excuse for repression," says Amnesty. In its crackdown on terrorism, the government has introduced several policies, including those on language: they prioritize Chinese language before minority language. It also also closed several mosques and islamic schools because of "anti-Chinese activity" (ibid., 328). Ramadan has been officially discouraged, religious dress restricted, and media freedom constrained.
How 'Chinese' are China's Muslims?
The burqa ban has stirred online discussions on what does and does not belong to the identity of China's Muslims. "I fully support the ban on face-covering veils," says one netizen: "Uyghurs can wear authentic Uyghur clothing,  but the black veil definitely is not part of it – it belongs to terrorism." Another netizen agrees: "The burqa is part of an evil cult, and has no place within the Uyghur community."
Although there definitely are various traditional styles of clothing within the different Muslim communities of China, their clothing also follow the Quran's instructions on moderate dress. Women in some parts of Xinjiang are expected to cover their heads and faces (ibid., 327). Chinese authorities have been trying to root out orthodox Islam wear within Muslim minorities by launching the 'Beauty Project' (靓丽工程), discouraging men to grow beards and women to wear veils.
Propaganda murals painted next to a mosque in Kashgar, Xinjiang, showing what the Chinese government deems as acceptable (BBC 2015).
"They identify themselves through their religion," says a Weibo user about Chinese Muslims: "They only identify themselves with Islam. But we identify them as Chinese." Is this the key to the problem of China's relations with its Muslims? Does the majority of China really see their Muslim minorities as 'Chinese'? Do the Muslim minorities see themselves only as 'Muslim'? The truth probably lies in the middle, and relates to problematic questions on what it means to be 'Chinese' or what identifies a 'Muslim' in China.
The fact is that Muslims are part of modern-day China. It is their motherland; the only home they have ever known. Yet they are still working to make a place for themselves. Historically, they are more 'Chinese' than America's Muslims are 'American'. Culturally, they are less 'Chinese' than the Muslims of France are 'French'.
The wider problem remains; China's relations to its Muslim minorities in the northwest has no sign of progress. Meanwhile, Islam-related terrorist attacks continue. Not enough integration? Too much suppression? China's government, propagating monoculturalism, does not hold the key to the Islam problem. Nor do European leaders, who have advocated multiculturalism. Obama emphasises the importance of Muslim integration, but it needs two things in order to be successful: a free society that protects faith, and a faith that protects free society. Unfortunately, there is still a long road ahead.
– by Manya Koetse
Did you know…? 
* The majority of China's muslims are orthodox Sunni Muslim.
* The oldest mosque of China is the Great Mosque of Xi'an from 742, covering 130,000 square meters.
* Before 1884, present-day Xinjiang was divided in a northern part (Dzugaria) and southern part (Tarim Basim). It was designated as Xinjiang Uyghur Autonomous Region in 1955.
* Xinjiang borders on eight different countries: Afghanistan, Pakistan, India, Mongolia, Russia, Kazakstan, Kyrgystan and Tajikistan.
* Xinjiang literally means 'new border' in Chinese.
* Beijing has 40 mosques, whereas Kashgar currently has over 6000, which is only half of the number prior to the Cultural Revolution.
*China's Hui Muslim minority has a long cultural tradition of female imams. There are hundreds of female imams leading mosques around the country.
References
Abe, Tetsuya. 2015. "Living with terror: China clamps down on Uighurs after Paris attacks." Nikkei Asian Review, 15 January http://asia.nikkei.com/magazine/20150115-Living-with-terror/Politics-Economy/Living-with-terror-China-clamps-down-on-Uighurs-after-Paris-attacks  [17.1.15].
BBC. 2015. "The Colorful Propaganda of Xijiang." BBC News, January 15 http://www.bbc.com/news/world-asia-china-30722268 [17.1.15].
Boyle, Kevin and Juliet Sheen. 2003 (1997). Freedom of Religion and Belief: A World Report. London: Routledge.
Cartillier, Jerome. 2015. "Obama: Europe should better integrate Muslims." Yahoo News, 16
January http://news.yahoo.com/us-britain-vow-help-france-paris-attacks-obama-
175747690.html [18.1.15].
Colchester, Max. 2015. "France Mulls Deep-Rooted Problems Behind Attacks." Wall Street
Journal, 9 January http://www.wsj.com/articles/france-mulls-deep-rooted-problems-behind-attacks-
1420824161 [17.1.15].
Dwyer, Arienne M. 2005. "The Xinjiang Conflict: Uyghur Identity, Language Policy, and Political Discourse." Policy Studies: 15.
Economist. 2015. "Terror and Islam: After the Atrocities." Economist, 17 January
http://www.economist.com/news/briefing/21639540-attacks-charlie-hebdo-and-kosher-supermarket-brought-french-together-unity [17.1.15].
Francis, David. 2015. "Obama Slaps Europe for Failing to Integrate Muslims." Foreign
Policy, 16 January http://foreignpolicy.com/2015/01/16/obama-slaps-europe-for-failing-to-
integrate-muslims/ [18.1.15].
Jones-Leaning, Melanie and Douglas Pratt. 2012. "Islam in China, From Silk Road to Separatism." Muslim World 102: 308-334.
Koetse, Manya. 2015. "Chinese reacties op de aanslag op Charlie Hebdo." 360 Magazine, 15
January http://www.360magazine.nl/politiek/4274/chinese-reacties-op-de-aanslag-op-charlie-
hebdo#.VLvM-YrF_xg [18.1.15].
Lipman, Jonathan. 1997. Familiar Strangers, A History of Muslims in Northwest China. Washington: University of Washington Press.
Mi, Shoujiang and Jia You (translated by Min Chang). 2004. Islam in China. Beijing: China Intercontinental Press.
Pew 2011. "The Future of the Global Muslim Population." Pew Research Center, January 27
http://www.pewforum.org/2011/01/27/the-future-of-the-global-muslim-population/ [18.1.15].
SCMP. 2015. "France mourns victims in Charlie Hebdo attack as police hunt gunmen." South
China Morning Post, 9 January http://www.scmp.com/news/world/article/1677755/france-mourns-
police-hunt-charlie-hebdo-gunmen [18.1.15].
Tang, Didi. 2014. "China Bans Ramadan Fast In Schools." The Huffington Post. June 2 http://www.huffingtonpost.com/2014/07/02/china-bans-ramadan_n_5551063.html [11.2.15]
Images
http://d.ibtimes.co.uk/en/full/1392110/xinjiang.jpg
http://www.bbc.com/news/world-asia-china-30722268
http://www.scmp.com/news/china/article/1567483/xinjiang-city-bans-muslim-clothing-and-large-beards-public-buses?page=all
©2014 Whatsonweibo. All rights reserved. Do not reproduce our content without permission – you can contact us at info@whatsonweibo.com.
'Good Doctor', Digital Hospitals: How Mobile Apps Are Alleviating China's Healthcare Problems
With the rapid digitalization of China's healthcare, Chinese patients now have more ways than one to receive medical assistance.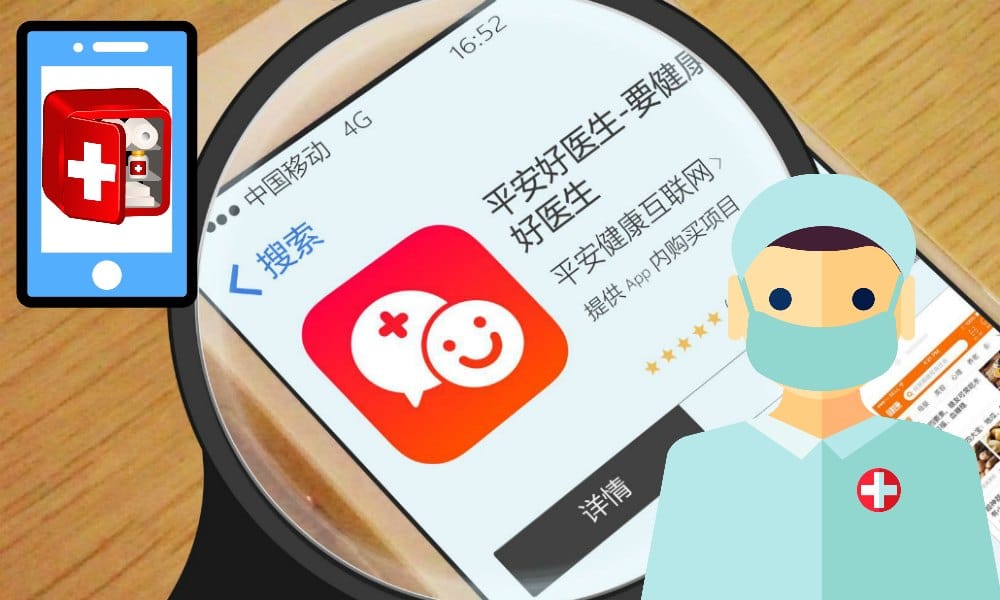 China's healthcare industry is facing some serious challenges. As Chinese society is rapidly digitalizing, mobile apps now provide innovative solutions to alleviate pressing problems in the country's health services sector.

This is the "WE…WEI…WHAT?" column by Manya Koetse, originally published in German by Goethe Institut China on Goethe.de: "Good-Doctor Apps und Digitale Krankenhäuser." 

Social Credit System, artificial intelligence, surveillance cameras; these are some of the hottest topics making headlines in mainstream Western media when discussing China-related developments recently.
With the rapid digitalization of Chinese society, these topics certainly have come to play a more important role in social media discussions within the People's Republic of China (PRC). But if there is one issue that seems to concern Chinese social media users the most, it is not facial recognition nor their 'Sesame score': it is the topic of healthcare.
In December of 2017, a photo showing a crying mother kneeling down beside a toddler on the sidewalk in front of a Shanghai hospital went viral overnight. The moment was captured on camera by a reporter who was visiting Shanghai's Children's Hospital.
The mother, Guo Yinzhen, is a single parent who had traveled from a remote village to seek medical help for her 3-old-son, who was suffering from congenital hydrocephalus or 'water on the brain.' Already having traveled to the city multiple times and spending all her money on medical bills, Guo could not afford the additional 100.000 yuan (€ 12.600) for medical procedures needed to save her son's life.
Guo's story struck a chord with Chinese netizens, who continue to share the heartbreaking photo on social media to this day. It has become emblematic of China's healthcare problems.
Crowded Hospitals and 'Healthcare Disturbance'
The key to an adequate healthcare system, no matter where in the world, is that there is a right balancing in the "iron triangle" of efficiency/cost containment, high quality care, and patient access.[1] China, however, struggles with all three sides of this triangle.
Guo's case is an extreme example, but many people in China dealing with less serious health issues and needing basic medical services also struggle to afford and access the healthcare they need.
Over 95% of people in China have health insurance, but people from different regions do not enjoy the same benefits and their out-of-pocket expenses can vary greatly. Uncovered medical costs can sometimes be catastrophic and simply unaffordable for patients and their families.
As more money flows are going to healthcare facilities in China's cities, there is also the issue of varying levels of providers' medical education and the overall healthcare quality, with the substantial majority of modern hospitals still existing in urban areas.
Easy access to the right kind of healthcare can be especially problematic for China's rural population, as people often need to travel long distances and have to go through the lengthy process of registering and waiting for their doctor's appointment, which sometimes requires them to stay in the city overnight.
For all of these reasons, China's bigger public hospitals can get super crowded, sometimes resembling shopping malls on an end-of-season sales day. On social media, both patients and medical workers often complain about the stress brought about by the huge crowds and the shortage of doctors in hospitals across the country.
Perhaps it is no wonder that China even has a word to describe outbursts of violence between patients and doctors: 'Yī nào' (医闹, literally: "healthcare disturbance").
One major problem within China's healthcare conundrum is the lack of local family or primary-care doctors, which often makes bigger hospitals the first stop to any kind of medical treatment for Chinese patients.
The reasons for this issue are manifold. There is a general lack of trust in private and smaller local healthcare clinics, for example, and patients often choose to go directly to a bigger hospital to avoid making extra costs.
This makes it extra difficult for many community health care centers – that are already struggling – to make enough money and to retain qualified staff. In a society that is rapidly aging, the challenges facing China's healthcare industry are only becoming more pressing.
A Doctor Today, Just an App Away
As China's online environment is thriving, new innovative online apps are popping up on a daily basis. Some of these apps, that have found their ways into China's most popular app rankings, are offering solutions to some of the country's most pressing healthcare problems.
One of these apps is Ping'an Good Doctor (平安好医生), which was developed by health insurance provider Ping'an in 2015 and calls itself China's "one-stop healthcare ecosystem."
Employing some 1000 medical staff in its in-house team, contracting over 5,200 external doctors, and collaborating with 3000 hospitals and thousands of pharmacy outlets across the country, the app is somewhat of an "online hospital."
Through the app, users can look through an online database of medical professionals, order medicine at nearby pharmacies, get 24/7 online medical consultancy, search for information about both Western and Chinese Traditional Medicine, etc., but they can also use Ping'an Good Doctor as a fitness app to track their own health.
When looking for a specific doctor for a one-on-one consult, the app first lets users select an area of expertise (e.g. dermatology or gynecology), and then offers a list of different specialists in various price categories.
Doctors from well-known hospitals, for example, or those with excellent ratings, have a one-time consultation fee of 100 yuan (€ 12,60). Other doctors can be consulted starting from 30 yuan (€3,70). All costs can be paid efficiently via online payment apps.
Ping'an Good Doctor uses an AI-driven system to ask patients various questions about their symptoms and to automatically create a user's medical record to save time. Based on the AI-generated record and the conversation with the patients – files such as photos can also be uploaded to the app -, the doctors can prescribe medicine or refer the patient to a hospital for an offline appointment if needed.
Ping'an recently announced that its number of registered users exceeded 300 million users, with 62 million monthly active users. Because the app keeps building on its AI-driven system, Ping'an Good Doctor can be expected to only become a 'smarter' smart health app the more popular it gets.
Although Ping'an is now leading within China's medical app category, there are many other apps providing similar services, such as Chunyu Yisheng (春雨医生), Haodafu Online (好大夫在线), or DingXiang Doctor (丁香医生).
The emergence of these apps is just one of the many ways in which China's digital developments, online media, and tech giants are impacting the healthcare industry, profoundly changing how patients receive healthcare information and access medical services now and in the future.
In a way, China's medical consultation apps fill the void in offline primary care. Patients who would otherwise turn to hospital care as their first stop can now  access medical consultations any time, any day, at a relatively low cost. Those who suffer from relatively harmless conditions could be diagnosed by a medical specialist via the app and get the medicine they need within a matter of minutes. With the growing popularity of these kinds of apps, many patients no longer need to visit a hospital at all.
Are smart health apps such as Ping'an Good Doctor the solution to China's healthcare problems? No, they're not. Struggling mums like Guo Yinzhen will not find the help they need there. But they do contribute to a more efficient healthcare environment where crowd flows in hospitals can be reduced, and patients do not need to spend a lot of time and money to stand in hour-long queues to get five minutes of their doctor's time.
Although smart health apps could not help Guo Yinzhen and her son, social media apps could. As soon as their story went viral in late 2017, Shanghai Children's Welfare Foundation Xiaoxingxin offered to cover medical treatments for the little boy, with a notable pediatric neurosurgeon operating the child. According to the latest updates, the boy's situation was "looking good."
Hopefully, the same holds true for the challenging sides of China's healthcare industry.
By Manya Koetse
Follow @whatsonweibo
[1] Burns & Liu, 2017: 3-4.
References/Linked Sources
Burns, Lawton Robert, and Gordon G. Liu. 2017. "Introduction." In China's Healthcare Industry: A System Perspective, Lawton Robert Burns and Gordon G. Liu (eds), pp-1-116. Cambridge: Cambridge University Press.
Economist, 2017. "China needs many more primary-care doctors." The Economist, May 11 https://www.economist.com/china/2017/05/11/china-needs-many-more-primary-care-doctors [20.10.19].
Zhou, Viola. 2018. "Does China Have Universal Healthcare? A Long (And Better) Answer." Inkstone, Oct 10 https://www.inkstonenews.com/health/china-translated-does-china-have-universal-health-care/article/2167579
This text was first published by Goethe-Institut China under a CC-BY-NC-ND-4.0-DE license (Creative Commons) as part of a monthly column in collaboration with What's On Weibo.
How Chinese Kuaishou Rebel 'Pangzai' Became a Twitter King
He's been called a 'Twitter king', but how did the unexpected online fame of this 'Hebei Pangzai' start?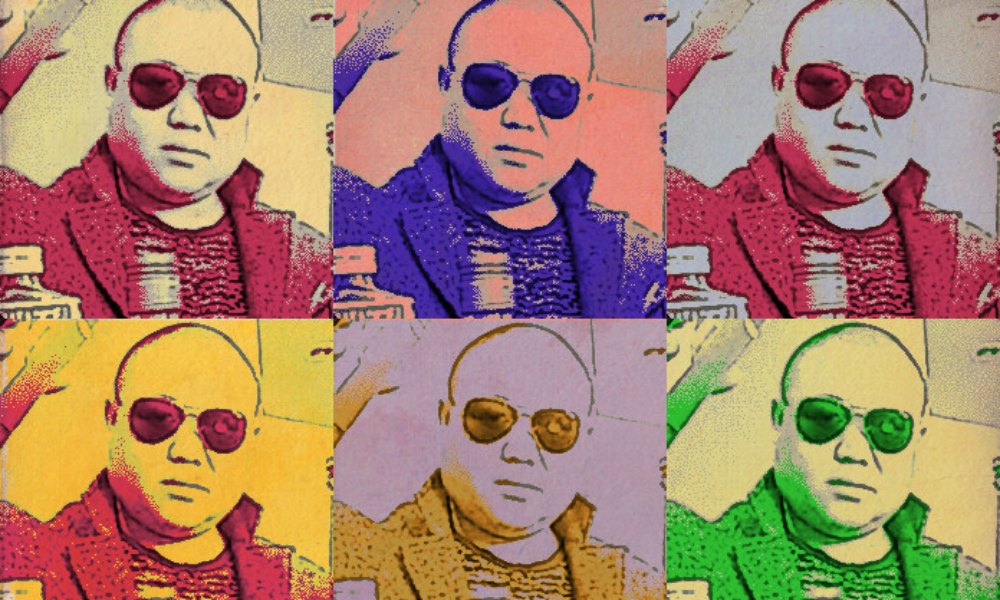 Twitter has fallen in love with a Chinese farmer after his drinking videos on Kuaishou were cross-posted abroad and went viral. He has embraced his new fans and Western social media, arguably becoming one of China's most successful cultural ambassadors of the year.
He describes himself as the "inventor of tornado beer drinking style" and as an "ordinary peasant from China." 'Hebei Pangzai' only joined Twitter in August of 2019, but he already has a Twitter following of more than 111.6K.
Although his account is temporarily restricted by Twitter at time of writing ("due to suspicious activity"), his popularity is only growing. Some Twitterers, such as the China twitterer Carl Zha (@CarlZha), are even initiating a "#FreePangzai campaign" to restore the account of the "one true King."

But where and when did the online fame of 'Hebei Pangzai' start?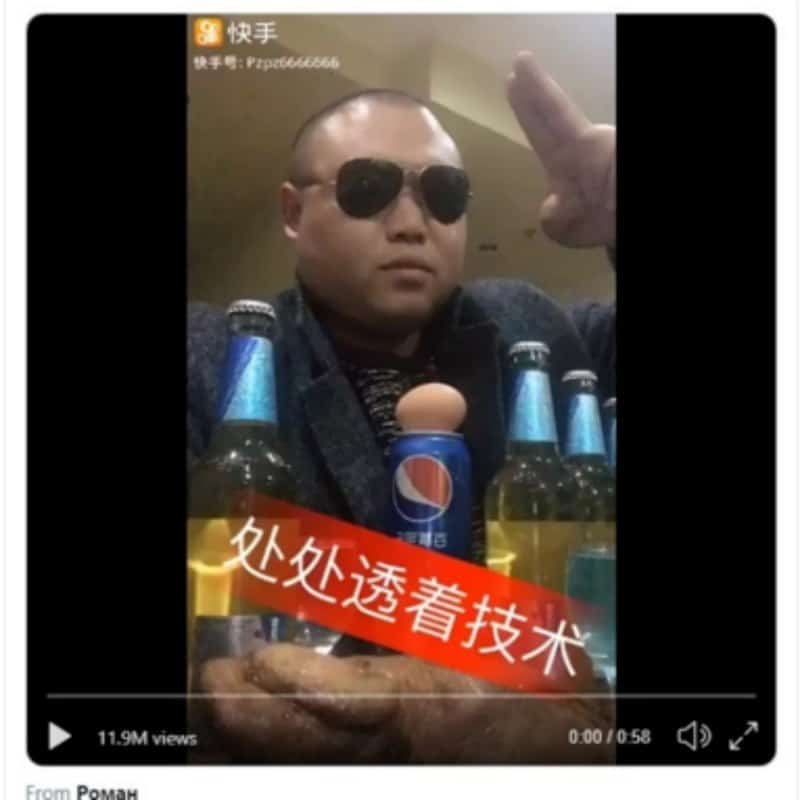 Let's begin our introduction to Pangzai with one tweet from March of this year, when Twitter user 'Hunnaban Trenchboss' posted a video from Chinese short video app Kuaishou (快手) showing a man – 'Pangzai' – wearing sunglasses and smoking a cigarette while preparing an incredible mixed drink.
The man in the video smoothly pops the cap off a bottle of beer with a chopstick, pours some in a large jar, then twirls the bottle and propels the rest of the beer in a tornado of force down his throat.
He follows that up by pouring in more beer, some blue liquor, an egg, some Pepsi, and a hefty glass of baijiu – which he dumps in only after lighting it on fire, igniting his finger, and coolly lighting his cigarette. He then chugs the entire concoction in a matter of seconds.
"How do I become as cool as this guy, The Coolest Guy?", the tweet said.
The same video was shared again in August by a few Russian accounts, was retweeted by an American account, and then went completely viral, racking up millions of views and tens of thousands of retweets.
That video has now been viewed almost 12 million times on Twitter, and has inspired tens of thousands of fans who herald him as 'king.'
The man in the video referred to as 'Pangzai' (胖仔, 'chubby dude') is Liu Shichao (刘世超), a 33-year-old farmer and small-time Chinese internet celebrity from a city called Xingtai in Hebei Province.
According to an interview with Technode, he found out about the video on Twitter when some of his new foreign fans opened Chinese social media accounts to find him and tell him about his overnight online fame.
"One message told me that I was a celebrity now in America," he told Technode: "So I chatted with the person [who sent the message] for a whole day, with the help of translation software."
Within two days of his video going viral, Pangzai had figured out how to use a VPN, opened his own Twitter account and started uploading videos.
He even posted a reply on the original viral video to alert everybody to his account.
Since then, Liu 'Pangzai' has amassed over 111,000 followers and has posted many more videos of everything from drinking, to cooking, to exploring his countryside hometown.
But it was the drinking videos specifically that earned him his following, both abroad and in China.
IT STARTED ON KUAISHOU
"Pangzai epitomizes the typical Kuaishou account."
Liu began his internet career three years ago on Kuaishou, a Chinese short video app massively popular among China's lower-tier cities and countryside.
In contrast to the polished, celeb-heavy platform Douyin, which is most popular among urban youths, Kuaishou is a platform for the masses. Its users are known for their crazy antics and general disregard for personal safety.
Pangzai epitomizes the typical Kuaishou account. Posting under the handle "Chubby Dude from Hebei" (@河北胖仔), he uploads videos of himself eating and drinking in eye-popping combinations, or sometimes smashing things – from bricks to unopened water bottles – with his bare hands.
Liu also gained notoriety, and a couple hundred thousand followers, from his mastery of the so-called 'beer tornado technique' (小旋风 xiǎo xuànfēng).
According to an interview with the BBC, he peaked at 470,000 followers on Kuaishou and was monetizing his online fame with some 10,000 RMB ($1420) per month.
Unfortunately for Liu, China's Cyberspace Administration announced a crackdown on vulgar and illegal content across multiple social media platforms in spring of 2018, with a focus on Douyin, Kuaishou, and its sister news company Jinri Toutiao. Kuaishou was pulled from app stores until it cleaned up its act.
It is unclear just how many videos and accounts have been removed as a result of the cleanup. We can get a rough idea from an announcement by Kuaishou earlier this year that in March of 2019 alone, it removed an average of over 11,000 videos and blocked almost 1,000 accounts every day.
The result for Liu was that his account was suspended for four months and the majority of his most popular videos, including the one that went viral abroad, were removed for promoting 'unhealthy drinking habits.'
When you look at his Kuaishou account today, you won't see many videos focused solely on baijiu and beer chugging.
The videos that remain on his account do include drinking (and his signature tornado move) but it is always accompanied by eating food or some other activity (such as sitting deep in a field of corn, munching on roast duck and dribbling baijiu down a corn leaf into a glass.)
Liu still has 354,000 followers on Kuaishou. His Chinese fans, like his foreign ones, marvel at his cool and collected manner as he eats and drinks all sorts of disgusting things.
Canned herring features heavily in his most popular recent videos, where he can be seen sipping the juice directly from the can.
"This has to be the most unaffected anyone has ever been by eating canned herring," says one fan. "The flavor is disgusting! 99.9% of people who try this would vomit," another online commenter replies.
AN UNEXPECTED TWITTER KING
"Liu is like many young men from the countryside of Northern China: open, friendly, humble, and genuinely excited to share his life."
This year, Liu seems to have embraced his newfound international stardom with grace and savvy.
He uses Twitter's in-app translation to help him communicate with fans and has been highly interactive on the platform.
Liu 'Pangzai' was also quick to open up a Paypal account and share it with followers, and has recently made YouTube and Instagram accounts to prevent scams pretending to be him. He has also collaborated with a Twitter fan to sell T-shirts online in America.
Many online fans have dubbed him 'king', perhaps the highest praise one can receive on the internet today.
But in contrast to the sunglasses and chill demeanor of his videos, Liu does not appear to be an internet celebrity overly obsessed with being cool.
Instead, he is like many young men from the countryside of Northern China: open, friendly, humble, and genuinely excited to share his life (and drinking habits) with the rest of the world.
After reposting all of his old drinking videos from Kuaishou, Liu started asking Twitter fans what they would like to see from him. Many responded that they wanted more about his life in rural China.
He has since followed up with videos showing him fixing a pipe with his friends, exploring his local market, cooking sweet potatoes, and, of course, a tutorial on how to master the 'tornado beer' technique.
Many have expressed concern for his health in light of his drinking habits, but he has assured everybody that everything he does is "within his ability" and that he doesn't drink like that very often.
Liu is grateful for all the support and praise he has received from abroad. "It's crazy to have all of these foreign friends all of a sudden," he recently said in an interview with Deadspin: "I really have to thank them a lot. If I have a chance I will find them and we can drink together."
Seemingly to that end, Liu has recently organized a party to be held near his hometown in China, exciting fans all over the world and spurring many to apply for passports and visas.
The date is set for December 14, 2019 in Zhuamadian City, Hebei Province; too soon for many to make it, but he promises another party in the spring. There is talk also of organizing a visit for Liu 'Pangzai' to go to America.
WINDOW INTO CHINESE SOCIAL MEDIA
"Liu's growing notoriety abroad seems to have flown completely under the radar of the Chinese internet."
Although there are many vloggers like Pangzai in China, he stands out on Twitter as some sort of window into Chinese social media, especially because this online world is usually so separate from the Western realms of social media.
The recent explosive growth of Chinese social media apps such as TikTok has not done much to facilitate this kind of cultural interaction between China and the West.
Although Tiktok is, in fact, a Chinese app (called Douyin 抖音 in China), there are actually two different versions of the same app in mainland China and abroad, meaning that the other 'Pangzais' of the Chinese internet still remain within the social media spheres of the PRC, rarely gaining fame outside of the Great Firewall.
In China, aside from his fans on Kuaishou, Liu's growing notoriety abroad seems to have flown completely under the radar of the Chinese internet. He is mentioned only one or two times across Weibo, and searches for his name and handle on WeChat, Baidu, and various Chinese tech news sites bring up nothing.
Liu is a rare example of genuine soft power coming out of China. A pure, grassroots man of the people with strong cultural appeal who sincerely enjoys sharing his life and his culture with the rest of the world. His tweets are full of affection and appreciation for his fans, as well as frequent prompts for followers to share their own lives and customs of their home countries.
To watch his introduction to Twitter and rise to fame is to see the best of the internet: cultural interaction, genuinely shared delight, and mutual admiration inspired by hilarious antics caught on camera.
His Twitter fans express their hope that Twitter Support will soon lift the temporary ban on their 'Twitter king.' To them, it's perfectly clear: this online king is nowhere near dead, long live Pangzai!
Follow the #FreePangzai hashtag on Twitter.
Update: Panghaizi is out of Twitter jail!

Want to read more about unexpected online celebrities from China? Also see:
The Story of Two Farmers Who Became Internet Celebrities;
The "Vagrant Shanghai Professor";
From Farmgirl to Fashionista: Weibo Celebrity Fairy Wang.

By Jessica Colwell
Follow @whatsonweibo
It's almost Black Friday! We've already listed the best VPN deal for you here.
Spotted a mistake or want to add something? Please let us know in comments below or email us. First-time commenters, please be patient – we will have to manually approve your comment before it appears.
©2019 Whatsonweibo. All rights reserved. Do not reproduce our content without permission – you can contact us at info@whatsonweibo.com.