How 'Chinese' are China's Muslims? Islam in China: An Overview
An overview of Islam in China and China's relation to its Muslim minority.
As Muslim extremist attacks have ignited discussions on Islam in Europe, Chinese leaders increasingly expand restrictions on the Muslims within their borders. What's on Weibo brings you an overview of Islam in China and China's relation to its Muslim minorities.
The January attacks on the headquarters of Charlie Hebdo and a kosher supermarket in Paris by Muslim extremists have ignited heated discussions on radical Islam across Europe. From a distance, Chinese leaders watch Europe's Islam debate and increasingly expand restrictions on the Muslims within their borders. Since this month, the burqa is banned, along with other garments that 'promote religious extremist ideology'. "They see themselves as Muslim, we see them as Chinese," says one Weibo netizen. What is the connection between Islam and China? What's on Weibo brings you an overview of Islam in China and China's relation to its Muslim minorities.
French Muslims: not 'French' enough?
After the Charlie Hebdo attacks, French Prime Minister Manuel Valls declared that France was now at war with "radical Islamism" (Economist 2015). In France, and Europe at large, hard questions have been emerging on Islam-inspired terrorism and the recruitment of people within European countries by radical groups such as Al-Qaeda and ISIS. France has the biggest Muslim minority in Europe, and the country's relationship with them is not easy (Economist/Colchester 2015, 215). In response to the extremist attacks, U.S. President Obama stated that Europe has failed to integrate its Muslims (Francis 2015). About the U.S. he says: "Our biggest advantage is that our Muslim populations, they feel themselves to be Americans." Europe has not had the same process of assimilation and immigration, according to Obama, suggesting that the identification of Muslims with their nation is crucial in combating radical Islam: French Muslims are simply not 'French' enough.
As Chinese President Xi Jinping expressed his sympathy for the victims of the Paris attacks, he said that terrorism was also an enemy to the People's Republic of China (PRC) (SCMP 2015). China has a history of extremist terrorist attacks, linked to its Uyghur Muslim minority. What is the situation on Muslim integration in China? How 'Chinese' are China's Muslims?
Islam in China: an overview
No burqa in Urumqi, no fasting for Ramadan, no niqabs, hijabs or large beards in buses. Since 2014, China has implemented several measures to keep religious expressions to a minimum after a string of attacks allegedly committed by Chinese Muslim extremists. In March 2014, a knife attack at the Kunming railway station left 29 civilians dead. In May, 43 were killed when a Urumqi market was bombed. On June 22, attackers drove into a Kashgar police building and set off explosives. The list continues. The government responded to the increasing violence in 2014 with a crackdown that resulted in more than 380 arrests within one month and public controls on religious expression (Tang 2014). The restrictions continued in 2015, when a ban on wearing burqa's, or 'face masking veils' (面罩袍), was legally approved and went into effect on February 1st. The prohibition on burqa's and other clothing 'promoting religious extremism' applies specifically to Urumqi, the capital of Xinjiang, which is home to the majority of China's Muslims.
Few people in the West are aware of China's large Muslim community. Yet Muslims are part of China's history: they have lived in China from as early as the eighth century (Lipman 1997, xvii). Many Muslims came to China as soldiers, giving military aid to the Tang dynasty government during a rebellion uprise and then settling down afterwards. They also came as traders and diplomats along the Silk Road, setting up compact communities that maintained their own religion and lifestyle. Since intercultural marriages with local Chinese often occurred, the Muslim population increased, as non-Muslims had to convert to Islam before marrying (Mi & You 2004, 3-7). Although Muslims live all over China, the majority lives in the northwestern regions of Xinjiang, Ningxia, Gansu and the Qinghai provinces.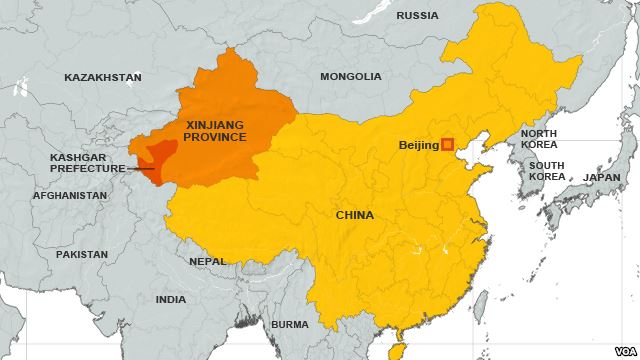 Is there such a thing as a 'Chinese Muslim'? Within the PRC, Muslims are not defined as a specific category. Chinese citizens are divided into 56 different 'minzu' or ethnic groups; a categorization that is separated from religion. The vast majority of Chinese belong to the 'Han', which is considered a 'culturally Chinese' group. Within the other 55 minzu, there are ten that take Islam as their faith: the Huis, Uyghurs, Kazaks, Dongxiangs, Khalkas, Salas, Tajiks, Uzbeks, Bao'ans and Tatars (Mi & You 2004). About half of China's Muslims belong to the Hui, the ethnic minority that descents from the foreign Muslims of the Tang (Lipman 1997, xxiii).
The northwestern region of Xinjiang is almost entirely Muslim, and was only joined by non-Muslims since the last fifty years. Of the 20 million-something people who live there, around eight million belong to the Uyghur minority. Although there are no official government records of how many people practice Islam within the PRC, it is estimated that there are currently are around 23 million Muslims in China, a number that is expected to grow to almost 30 million in 2030 (Pew 2011).
China's northwest has always been a region filled with unrest. While Muslim identity strengthened throughout the 17th and 18th century, other rulers (Arab, Mongols, Russians) were looking for new lands to expand their power in present-day Xinjiang. The situation reached a crisis point. In the 19th century, the Chinese Qing government ordered a suppression of Muslim rebels. It is estimated that 20 to 30 million lives were lost in this suppression (Jones-Leaning & Pratt 2012, 317). During the Mao years, Muslims in the northwestern regions suffered greatly from the Great Leap Forward and the Cultural Revolution (1966-1976), as the famine was especially severe in these provinces. Religious buildings and schools were destroyed by the Red Guards, Arabic script was prohibited, and Muslims were expected to rear pigs and eat pork (ibid., 318).
Believe it, don't show it
After the Mao years, it was acknowledged that religious beliefs could not be completely abolished (ibid., 318). Freedom of religion was officially declared in 1949, but the Communist Party believed that theistic religion would ultimately disappear. Atheism was therefore propagated amongst the people. In current-day China, religion is more or less tolerated, as long as it conforms to state-approved principles and organization (Boyle & Sheen 2003, 179-180). Instead of guaranteeing free exercise of religion, the constitution only guarantees freedom of religious belief. In other words; you can believe what you want, but how you engage with your religion in everyday life has to comply with what the state deems right.
In the reform period of the 1980s, the PRC had a policy of cultural liberalization that also applied to China's northwest. Mosques were reopened and religion was revived. But as extremist Islamic movements expanded internationally, radical groups mushroomed in China's northwest. Muslim separatist groups called for Xinjiang to form an independent East Turkestan state. Especially after September 11, Chinese authorities focused on its northwest, that had by now become its most politically sensitive region – Western media were also watching the "Islamic terrorism" in Xinjiang (Dwyer 2005, 3). For the last decades, Beijing has been propagating Chinese monoculturalism, trying to assimilate the major minorities of the northwest (especially the Uyghurs) to the dominant Chinese culture (ibid., 2).
Amnesty International has reported harsh measures taken by Chinese authorities to suppress unrest in the northwest, including executions and unfair trials (Jones-Leaning & Pratt 2012, 328). "The fight against terrorism is no excuse for repression," says Amnesty. In its crackdown on terrorism, the government has introduced several policies, including those on language: they prioritize Chinese language before minority language. It also also closed several mosques and islamic schools because of "anti-Chinese activity" (ibid., 328). Ramadan has been officially discouraged, religious dress restricted, and media freedom constrained.
How 'Chinese' are China's Muslims?
The burqa ban has stirred online discussions on what does and does not belong to the identity of China's Muslims. "I fully support the ban on face-covering veils," says one netizen: "Uyghurs can wear authentic Uyghur clothing,  but the black veil definitely is not part of it – it belongs to terrorism." Another netizen agrees: "The burqa is part of an evil cult, and has no place within the Uyghur community."
Although there definitely are various traditional styles of clothing within the different Muslim communities of China, their clothing also follow the Quran's instructions on moderate dress. Women in some parts of Xinjiang are expected to cover their heads and faces (ibid., 327). Chinese authorities have been trying to root out orthodox Islam wear within Muslim minorities by launching the 'Beauty Project' (靓丽工程), discouraging men to grow beards and women to wear veils.
Propaganda murals painted next to a mosque in Kashgar, Xinjiang, showing what the Chinese government deems as acceptable (BBC 2015).
"They identify themselves through their religion," says a Weibo user about Chinese Muslims: "They only identify themselves with Islam. But we identify them as Chinese." Is this the key to the problem of China's relations with its Muslims? Does the majority of China really see their Muslim minorities as 'Chinese'? Do the Muslim minorities see themselves only as 'Muslim'? The truth probably lies in the middle, and relates to problematic questions on what it means to be 'Chinese' or what identifies a 'Muslim' in China.
The fact is that Muslims are part of modern-day China. It is their motherland; the only home they have ever known. Yet they are still working to make a place for themselves. Historically, they are more 'Chinese' than America's Muslims are 'American'. Culturally, they are less 'Chinese' than the Muslims of France are 'French'.
The wider problem remains; China's relations to its Muslim minorities in the northwest has no sign of progress. Meanwhile, Islam-related terrorist attacks continue. Not enough integration? Too much suppression? China's government, propagating monoculturalism, does not hold the key to the Islam problem. Nor do European leaders, who have advocated multiculturalism. Obama emphasises the importance of Muslim integration, but it needs two things in order to be successful: a free society that protects faith, and a faith that protects free society. Unfortunately, there is still a long road ahead.
– by Manya Koetse
Did you know…? 
* The majority of China's muslims are orthodox Sunni Muslim.
* The oldest mosque of China is the Great Mosque of Xi'an from 742, covering 130,000 square meters.
* Before 1884, present-day Xinjiang was divided in a northern part (Dzugaria) and southern part (Tarim Basim). It was designated as Xinjiang Uyghur Autonomous Region in 1955.
* Xinjiang borders on eight different countries: Afghanistan, Pakistan, India, Mongolia, Russia, Kazakstan, Kyrgystan and Tajikistan.
* Xinjiang literally means 'new border' in Chinese.
* Beijing has 40 mosques, whereas Kashgar currently has over 6000, which is only half of the number prior to the Cultural Revolution.
*China's Hui Muslim minority has a long cultural tradition of female imams. There are hundreds of female imams leading mosques around the country.
References
Abe, Tetsuya. 2015. "Living with terror: China clamps down on Uighurs after Paris attacks." Nikkei Asian Review, 15 January http://asia.nikkei.com/magazine/20150115-Living-with-terror/Politics-Economy/Living-with-terror-China-clamps-down-on-Uighurs-after-Paris-attacks  [17.1.15].
BBC. 2015. "The Colorful Propaganda of Xijiang." BBC News, January 15 http://www.bbc.com/news/world-asia-china-30722268 [17.1.15].
Boyle, Kevin and Juliet Sheen. 2003 (1997). Freedom of Religion and Belief: A World Report. London: Routledge.
Cartillier, Jerome. 2015. "Obama: Europe should better integrate Muslims." Yahoo News, 16
January http://news.yahoo.com/us-britain-vow-help-france-paris-attacks-obama-
175747690.html [18.1.15].
Colchester, Max. 2015. "France Mulls Deep-Rooted Problems Behind Attacks." Wall Street
Journal, 9 January http://www.wsj.com/articles/france-mulls-deep-rooted-problems-behind-attacks-
1420824161 [17.1.15].
Dwyer, Arienne M. 2005. "The Xinjiang Conflict: Uyghur Identity, Language Policy, and Political Discourse." Policy Studies: 15.
Economist. 2015. "Terror and Islam: After the Atrocities." Economist, 17 January
http://www.economist.com/news/briefing/21639540-attacks-charlie-hebdo-and-kosher-supermarket-brought-french-together-unity [17.1.15].
Francis, David. 2015. "Obama Slaps Europe for Failing to Integrate Muslims." Foreign
Policy, 16 January http://foreignpolicy.com/2015/01/16/obama-slaps-europe-for-failing-to-
integrate-muslims/ [18.1.15].
Jones-Leaning, Melanie and Douglas Pratt. 2012. "Islam in China, From Silk Road to Separatism." Muslim World 102: 308-334.
Koetse, Manya. 2015. "Chinese reacties op de aanslag op Charlie Hebdo." 360 Magazine, 15
January http://www.360magazine.nl/politiek/4274/chinese-reacties-op-de-aanslag-op-charlie-
hebdo#.VLvM-YrF_xg [18.1.15].
Lipman, Jonathan. 1997. Familiar Strangers, A History of Muslims in Northwest China. Washington: University of Washington Press.
Mi, Shoujiang and Jia You (translated by Min Chang). 2004. Islam in China. Beijing: China Intercontinental Press.
Pew 2011. "The Future of the Global Muslim Population." Pew Research Center, January 27
http://www.pewforum.org/2011/01/27/the-future-of-the-global-muslim-population/ [18.1.15].
SCMP. 2015. "France mourns victims in Charlie Hebdo attack as police hunt gunmen." South
China Morning Post, 9 January http://www.scmp.com/news/world/article/1677755/france-mourns-
police-hunt-charlie-hebdo-gunmen [18.1.15].
Tang, Didi. 2014. "China Bans Ramadan Fast In Schools." The Huffington Post. June 2 http://www.huffingtonpost.com/2014/07/02/china-bans-ramadan_n_5551063.html [11.2.15]
Images
http://d.ibtimes.co.uk/en/full/1392110/xinjiang.jpg
http://www.bbc.com/news/world-asia-china-30722268
http://www.scmp.com/news/china/article/1567483/xinjiang-city-bans-muslim-clothing-and-large-beards-public-buses?page=all
©2014 Whatsonweibo. All rights reserved. Do not reproduce our content without permission – you can contact us at info@whatsonweibo.com.
What Are Weibo's "Super Topics"?
Explaining Weibo's "Super Topics"
What are Weibo's "Super Topics" (超级话题) and what makes them different from normal hashtags?
Over the past year, Weibo's so-called "Super Topics" (超级话题) have become more popular on the social media platform as online spaces for people to connect and share information.
Weibo's "super topic" function has been around since 2016. The function allows Weibo users to create and join interest-based content community pages that are online groups separated from the main Weibo space. One could perhaps compare these Weibo Super Groups to 'mega-threads' or 'subreddits' on Reddit.
These are the most important things to know about Weibo's Super Topics:
#1 A Super Topic is Not the Same as a Hashtag
Similar to Twitter, hashtags make it possible for Weibo users to tag a topic they are addressing in their post so that their content pops up whenever other people search for that hashtag.
Different from Twitter, Weibo hashtags also have their own page where the hashtag is displayed on top, displaying how many people have viewed the hashtag, how many comments the hashtag is tagged in, and allowing users to share the hashtag page with others.
A Super Topic goes beyond the hashtag. It basically is a community account where all sort of information is shared and organized. People can 'follow' (关注) a Super Topic and can also 'sign in' (签到).
On the main page of every Super Topic page, the main subject or purpose of the super topic is briefly explained, and the number of views, followers, and posts are displayed.
A super topic-page can be created by any Weibo user and can have up to three major hosts, and ten sub-hosts. The main host(s) can decide which content will be featured as essential, they can place sticky notes, and post links to suggested topics.
#2 A Super Topic Is a Way to Organize Content
Super Topic pages allow hosts to organize relevant content in the way they want. Besides the comment area, the page consists of multiple tabs.
A tab right underneath the main featured information on the page, for example, shows the "sticky posts" (置顶帖) that the host(s) of the page have placed there, linking to relevant information or trending hashtag pages. Below the sticky notes, all the posts posted in the Super Topic community are displayed.
One of the most important tabs within the Super Topic page is called "essential content" (精花), which only shows the content that is manually selected by the host(s). This is often where opinion pieces, articles, official news, or photos, etc. are collected and separated from all the other posts.
Another tab is the "Hall of Fame" (名人堂), which mainly functions as a reference page. It features links to the personal Weibo pages of the super topic page host(s), links to the Weibo pages of top contributors, and shows a list of the biggest fans of the Super Topic. Who the biggest fan of the page is, is decided by the number of consecutive days a person has "checked-in" on the page.
#3 Super Topics Are a Place for Fans to Gather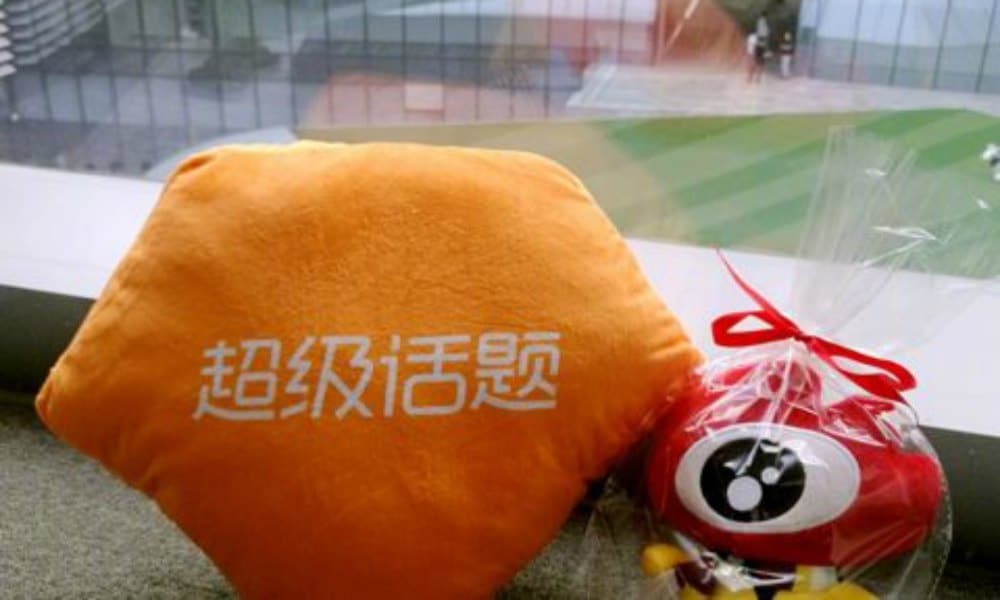 Although a Super Topic could basically be about anything, from cities to products or hobbies, Super Topics are often created for Chinese celebrities, video games, football clubs, or TV dramas.
Through Super Topic pages, a sense of community can be created. People can be ranked for being the most contributive or for checking in daily, and comment on each other's posts, making it a home base for many fan clubs across China.
The host(s) can also help somebody's page (e.g. a celebrity account) grow by proposing them to others within the group.
Super Groups are ranked on Weibo based on their popularity. This also gives fans more reason to stay active in the group, making their Super Topic top ranking within their specific category (TV drama, food, photography, sports, games, etc).
What makes the Super Topic group more 'private' than the common Weibo area, is that people posting within the Super Topic can decide whether or not they also want their comment shared on their own Weibo page or not. If they choose not to, their comments or posts will only be visible within the Super Topic community.
By Manya Koetse & Gabi Verberg, with contributions from Boyu Xiao
Spotted a mistake or want to add something? Please let us know in comments below or email us.
©2019 Whatsonweibo. All rights reserved. Do not reproduce our content without permission – you can contact us at info@whatsonweibo.com
Why Trump Has Two Different Names in Chinese
Why does 'Trump' have multiple names in Chinese?
First published , updated version published March 7, 2019
It is confusing even for Chinese netizens and journalists: why does Donald Trump have multiple names in Chinese? And which is the right one to use? What's on Weibo explains.
Donald Trump has two most commonly used different names in Chinese. In Mandarin*, they are Tèlǎngpǔ (特朗普) and Chuānpǔ (川普). Both names have been used by Chinese mainstream media and netizens for years.
*(Due to the scope of this article, we'll just use the Mandarin pinyin here.)
In the Chinese translation of Donald Trump's autobiography The Art of the Deal (1987), the 'Tèlǎngpǔ' transliteration is used, whereas the translation of the George Ross book Trump-Style Negotiations (2008) uses 'Chuānpǔ' as the Chinese name for Trump.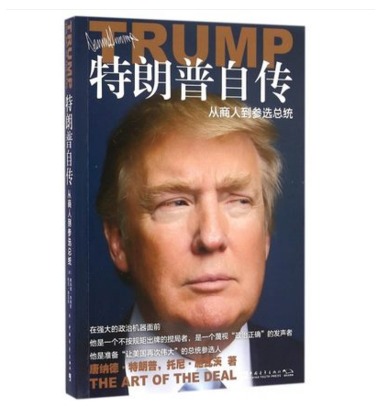 Considering that Trump is making headlines every day, more people are wondering why Trump has two Chinese names, and which one is the correct name to use. There are even discussions about the topic on Chinese social media.
Why are foreign names translated?
Why are non-Chinese names actually translated into Chinese at all? With English and Chinese being such vastly different languages with entirely different phonetics and script, the majority of Chinese people will find it hard to pronounce a foreign name that is written in English.
Writing foreign names or terms in Chinese script has a long history and practical reasons which won't be further elaborated on here. At present, aside from being standardized, it does not just help Chinese speakers to pronounce these words, it also makes it easier to remember them. Most Chinese names usually consist of two or three characters; the first character is the surname, and the last character(s) is the given name.
Translating a name to better adapt to the culture in which it is used does not only happen with English names in China; you often see the same happening with Chinese names in foreign countries.
In that case, the first character (surname) is moved to the back, and the given name changed into an English one. Alibaba's Ma Yun, for example, has become globally known as 'Jack Ma.' Film star Zhao Wei is called 'Vicky Zhao', Tencent's Ma Huateng is known as 'Pony Ma,' and the popular actress Lin Yun is called 'Jelly Lin.'
The right way to translate a foreign name in Chinese
There are multiple ways to translate a foreign name to Chinese. Most commonly, a name is translated into Chinese characters that are phonetically similar to the original name, without necessarily being very meaningful. The transliteration of 'Hillary' (Clinton), for example, is 'Xīlālǐ' (希拉里). 'Bush' is translated as 'Bùshí' (布什).
Another option is to choose a name purely based on meaning rather than phonetics. One example is Elvis Presley, who is called 'Cat King' (Māo Wáng 猫王) in Chinese, which stays close to his nickname "The Hillbilly Cat."
The best option when translating a foreign name into Chinese, however, is to make sure it stays close to its original pronunciation while also using elegant characters. In other words; it is nice when a name's translation makes sense both phonetically and semantically. Marilyn Monroe's last name in Chinese is Mènglù (梦露), for example, which sounds like 'Monroe' and has the characters for 'Dream Dew' – a perfect transliteration for such a dreamy actress.
Even when the characters used for a foreign name in Chinese are not necessarily intended to convey a certain meaning, it is important that they do not have any negative connotations. Nobody wants a character in their name associated with divorce, disease or death – it is believed to bring bad luck.
Another thing is that it is considered helpful for foreign names in Chinese is to maintain a 'foreign flavor' to it, to make it clear that the name is actually a transliteration. To give an example raised in this Nikkei article: President Reagan's name is generally translated as Lǐgēn 里根 in Chinese – the characters being somewhat uncommon for a Chinese name.
The same name could also be written with the characters 李根, very common for a Chinese name, but then it would be difficult to know whether a media report is talking about Reagan the President or just a local Chinese person by the same name. Transliterations of foreign names, therefore, are often easily recognizable as foreign names on purpose.
Trump, Tèlǎngpǔ, and Chuānpǔ
In the case of Trump, his Chinese names are mainly chosen for phonetic reasons, with different sources using different characters. Part of the challenge in deciding the right Chinese translation for his name, is the fact that Chinese does not have consonant cluster 'tr' as one sound.
The Chinese-language Nikkei newspaper dedicated an op-ed written by Chinese scholar Ke Long (柯隆) to the matter, who argues that although it may all seem trivial, it is actually quite confusing and unpractical for president Trump to have more than one name in Chinese.
The Chinese media in Taiwan, Hong Kong, and most overseas Chinese-language media, refer to Trump as 'Chuānpǔ' (川普).* According to the World Journal, the biggest Chinese-language newspaper in the US, it is the only proper way to translate this name, yet most Chinese state media and Chinese-language UK media (such as BBC) all use 'Tèlǎngpǔ.'
* (The Chinese version of The New York Times 纽约时报中文版 is an exception, as 'Tèlǎngpǔ' 特朗普 is generally also used in this publication.)
Author Ke Long explains that Chinese translations of foreign names try to stay as close as possible to the pronunciation of a name in its original language. This is why the name of the city 'Paris' is pronounced 'Bālí' (巴黎) in Mandarin Chinese, staying close to the French pronunciation, and 'Amsterdam' being 'Āmǔsītèdān' (阿姆斯特丹), which follows the city's Dutch pronunciation.
If the British would pronounce 'Trump' as 'te-lan-pu,' then it would thus perhaps be more understandable why media such as the BBC would write Tèlǎngpǔ. But they don't pronounce it like that, Ke Long argues, saying that the use of 'Tèlǎngpǔ' thus does not make sense, and is actually closer to the Japanese way of writing Trump's name ('トランプ': to-ra-n-pu).
More so, the author writes, it does not make sense for Chinese media to take over the British transliteration of the Trump name. Considering Trump is American, Chinese media should follow the translations made by American media. He also notes that if it would be about the Prime Minister of Britain, the Chinese transliteration should follow the one used by the media in the UK.
Although the Nikkei author seems to advocate for a singular use of 'Chuānpǔ' by all media, no Chinese media are necessarily 'wrong' in their transliteration of the name Trump. The 'Tèlǎngpǔ' 特朗普 translation follows the example of outlets such as the BBC, while Chuānpǔ 川普 follows that of other media.
Some Chinese bloggers argue that Chuānpǔ 川普 is the best way to write Trump's name, because the first character, that actually means 'river,' is commonly used in Chinese, making the name sound more 'natural' and easy to pronounce than 'Tèlǎngpǔ.' Moreover, they argue that the Mandarin 'chuan' sound is more appropriate to convey the pronunciation of 'tr' than the 'te-lang' way.
In the end, the reason why Trump has two names most commonly used in Chinese is just a matter of media, with various mainstream outlets adopting different names since Trump first made headlines, and without there being any clear consensus on which Chinese name to use across all these different Chinese-language media platforms around the world.
Chuángpù and Chuángpò?
On Chinese social media, President Trump even has more than two names. There are also netizens referring to him as 床鋪, 闯破 or 床破 (Chuángpù/Chuángpò); these are all transliterations that contain strange or negative characters, making the name unrefined and harsh-sounding on purpose to make the name 'Trump' look and sound bad.
Although there have been online discussions on the right transliteration for the name Trump, it is unlikely that there will be one official Chinese name for the US President in the near future. Xinhua News, China's official state-run press agency, has consistently been using Tèlǎngpǔ 特朗普 for years, and will probably continue to use it.
Many netizens simply use both versions of his name in one post to avoid confusion, and some news reports have even started using both names in its headlines (image below).
Despite the somewhat confusing situation at hand, there are also those who do not seem to mind at all. "Who cares if it is Tèlǎngpǔ or Chuānpǔ anyway?" one netizen says: "In this day and age, we all know who it is we are talking about."
– By Manya Koetse
Follow on Twitter or Like on Facebook
This article first appeared in 2017 and has been republished with various corrections:
– The first version did not properly convey the argument made by author Ke Long in his Nikkei piece, which is more clearly laid out in this version.
– This version has added some extra information coming from sources after 2017.
Spotted a mistake or want to add something? Please email us.
©2019 Whatsonweibo. All rights reserved. Do not reproduce our content without permission – you can contact us at info@whatsonweibo.com