Chinese Blue Rabbit Zodiac Stamp Becomes Unexpected Viral Hit for Looking "Horrific"
This year's China Post zodiac stamp triggered controversy and immediately sold out. Some think it's cute, others say it's "nightmare fuel."
A zodiac stamp issued by China Post on the occasion of the Year of the Rabbit has become an unexpected viral hit. Not because of its pretty design, but because the red-eyed blue rabbit triggered controversy for being "monster-like."
This year's Chinese New Year's stamp has become an absolute hit after heated online discussions about the striking stamp design.
Every year since 1980, China Post releases official zodiac stamps before the Spring Festival. This year, to celebrate the upcoming Year of the Rabbit, China Post released two stamps: one featuring a blue rabbit with hands holding a pen (a wordplay because 'blue rabbit' and 'blueprint' sound similar in Chinese), the other showing three rabbits jumping in a circle.
Although the design of the stamps already came out on 26 December, when advance sales commenced, China Post did not officially release the stamps until 5 January.
The blue rabbit design has become a topic of discussion on Chinese social media, where some think the red-eyed blue rabbit looks like a rat. Others think it looks "evil" or "monster-like," and some even called it "horrific."
Others wondered if the blue rabbit on the official Spring Festival zodiac stamp looked so wild because it just had Covid.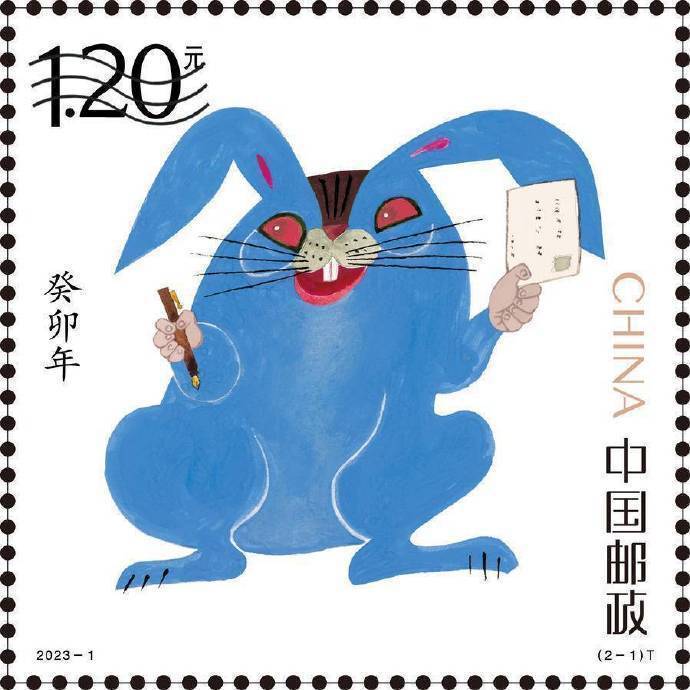 The stamps were designed by the 99-year-old artist Huang Yongyu (黄永玉), who previously also designed the iconic monkey zodiac stamp in 1980, which was the first year that China Post started issuing its annual zodiac stamps. Huang is therefore also referred to as "the father of the monkey stamp" (猴票之父).
Despite the controversy – or actually because of it – the stamps were reportedly sold out within an hour. The stamp was called "ugly cute" (丑萌 chǒuméng) by some, meaning something can be considered somewhat charming for being so unattractive.
"I first saw it and thought it was ugly, then the more I looked at it, I started to think it was ugly cute and maybe even cute," one Chongqing-based commenter wrote.
The stamps were sold both online and offline, and some netizens shared photos of people lining up in front of the post office on Thursday. The stamps were completely sold out on Taobao.
Taobao also initiated a ceremony to launch the stamps where the blue rabbit appeared as an actual character. The blue rabbit mascot costume did not actually change public opinion and arguably even made it worse. "The [rabbit] theme itself is so good," one commenter wrote: "This is just inexcusable."
One Weibo commenter called old Huang's artwork "interesting," saying that "people have different tastes." Others also expressed their surprise about the stamps being sold out so soon, although they did think the unusual design increases its value as a collectible item.
On January 5th, the designer Huang Yongyu spoke about the stamps in a livestream. The 99-year-old artist claimed he had just drawn the rabbit to make everyone happy and celebrate the new year, also saying: "Painting a rabbit stamp is a happy thing. Everyone could draw my rabbit. It's not like I'm the only one who can draw this."
Huang's response also went viral, with one Weibo hashtag dedicated to the topic receiving over 12 million views (#蓝兔邮票设计者直播回应争议#).
"His original intention was just to make people happy, I don't know why everyone's so mean about it," one popular comment said.
"But it doesn't make us happy," some replied.
"Is he 99 or 9 years old?" one person wondered, another wrote: "It's not cute, it's bizarre." Some commenters were really upset about the stamp design, and blamed the artist for purposely making it look ugly.
There were also netizens who defended Huang's artistic talent. "If you look at his other designs, you can understand his humor," one person wrote. "Just look him up, he is a painter who has a very strong individual style," another Weibo user said.
Chinese blogger Wulongxu (@乌龙徐) also wrote: "I won't evaluate if Huang Yongyu's rabbit is ugly or not, but he's had this painting style all along. He even has an entire series of rabbits. Don't say he purposely made it look ugly, he's 99 years old, show some kindness."
The blue rabbit controversy made some social media commenters draw comparisons to the math schoolbook controversy of 2022. The schoolbook series went trending after some parents complained about the illustrations on social media. People mainly took issue with the teaching material because they thought the illustrations were ugly and overall weird.
In 2016, CCTV launched its mascot 'Kang Kang' for the Year of the Monkey. That design was also mocked on social media, as many called Kang Kang ugly and wondered if the two balls near its head were tumors.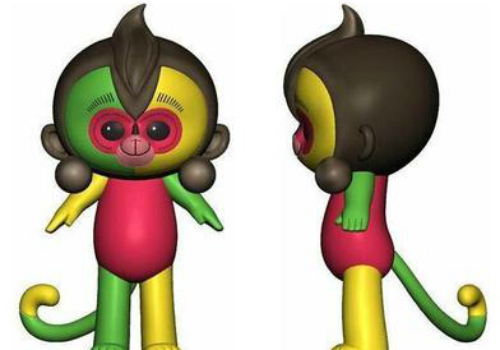 People started sympathizing with Kang Kang when he was eliminated from the CCTV Spring Festival Gala after the criticism. "He was just so ugly that he did not dare go on stage," some wrote, reposting images of a crying Kang Kang.
Although Huang's blue rabbit stamp will definitely not be eliminated – au contraire, it's a collector's item now – the Guangxi Museum in Nanning where the blue rabbit mascot was prancing around did decide to get rid of it following controversy.
Although some commenters replied that they liked how "wacky" the blue rabbit looked, most people did not agree: "It's nightmare fuel."
By Manya Koetse 
Get the story behind the hashtag. Subscribe to What's on Weibo here to receive our newsletter and get access to our latest articles:
Spotted a mistake or want to add something? Please let us know in comments below or email us. First-time commenters, please be patient – we will have to manually approve your comment before it appears.
©2023 Whatsonweibo. All rights reserved. Do not reproduce our content without permission – you can contact us at info@whatsonweibo.com.
Let's Plant: China's Variety Show "Become a Farmer" Is Harvesting Success Online
As iQIYI's 'Become a Farmer' gains momentum, it highlights China's growing trend of embracing rural themes in mainstream entertainment.
With its focus on hard farm work and meeting actual targets, Become a Farmer is a fresh breeze of air for China's variety show business, especially among young Chinese viewers who appreciate the show's authenticity and the calmness of the rural scenes that pose a stark contrast with stressful urban life.
The Chinese variety show Become A Farmer has achieved tremendous popularity in China recently through the iQIYI platform, which is often hailed as the Chinese equivalent of Netflix. Become A Farmer recently gained over 4.6 billion (!) views on Weibo through the hashtag #种地吧# (Zhǒng dì ba), which translates to "Let's Plant" or "Let's Farm" in English and also happens to be the show's name in Chinese.
Produced by iQIYI and Blue Sky Media Group (BSMG), Become A Farmer (Young Men edition) is a documentary-style interactive reality show that revolves around the theme of farming, with actual farm work as its central focus.
The show handpicked ten young men out of 300 candidates to assemble a "farming team." With unwavering dedication, they toiled for over 190 days, diligently cultivating 142.8 mu (approximately 95,200 square meters) of land. They actively engaged in every aspect of farm work, starting from planting a single seed and guiding the audience through the complete journey of rice germination, growth, flowering, and ultimately reaping the harvest.
Chinese netizens have drawn comparisons between the show and the British television documentary series Clarkson's Farm. Playfully, they remarked that if Clarkson's Farm were to be introduced in the Chinese market, it could aptly be renamed "Become A Farmer (Old Men Edition)."
Become A Farmer released its first episode on February 4 of this year, initially receiving limited attention. However, as subsequent episodes were released, the show started garnering increased interest, with the audience discovering the genuine dedication of the ten young men towards their farming endeavors – and that it was not just for show.
Its rating on Douban, China's IMDB, has climbed up to 8.9 out of 10. Meanwhile, the series has been nominated for the prestigious Magnolia Award for Best Variety Program at the 28th Shanghai TV Festival.
A Fresh Take on Chinese Idol Survival Shows
Become A Farmer initially caught the attention of many Chinese netizens through the humorous jokes of veteran comedian Pang Bo during the fifth season of the stand-up comedy competition Rock & Roast.
At that time, the show had not yet been aired but its format had already been introduced during a media conference, and Pang Bo (庞博) had heard about it.
In Pang's joke, he compared the show to a farmer version of idol survival shows, proposing that the four individuals who made the greatest contributions to the final harvest could come together as a group, forming a new generation of F4 (referring to the popular Asian boy band), playfully dubbed "Farmer 4."
While Chinese netizens were initially amused by this joke, little did they realize that iQIYI was actually turning it into a reality, albeit without the comedic intent.
"Food is not something we can take lightly with jokes and banter, especially considering the size of our farmland, which spans approximately 140 mu and has the potential to provide sustenance for many people. This is a matter of responsibility and morality," stated Yang Changling (杨长岭), the show's director.
Normally, Chinese entertainers are compensated for their involvement in reality or variety shows, as they play a crucial role in generating engaging content. Such shows often seek out celebrities with a large online fan base to ensure a favorable viewership.
But Become A Farmer is different. Among the ten young men, no one is a typical celebrity that has a huge fan base online. Moreover, they are not paid for filming the show but have to earn from the land rented from local farmers through their own hard work.
To legally sell the products grown on their farmland, the ten young men took the step of registering an official company. This registration allowed Chinese netizens to verify the company's information on the government website, providing evidence of the project's authenticity. As the information about the company circulated, the related hashtag (#种地吧 开公司#) gained traction on Weibo, eventually trending when the ten young men received their official company certificate.
Become A Farmer leans more towards being a documentary rather than a traditional entertainment program. To underscore its authenticity, a novel approach has been adopted in China's variety show landscape. It airs live for one hour every day, beginning at 9:30 am, synchronizing with the young men's start of work. This timing allows netizens, who typically commence their own workday around that time, to actively participate as 'online supervisors,' overseeing the ten young men's daily tasks while starting on their own tasks of the day.
Through livestreaming on both Weibo and Douyin (the Chinese version of TikTok), the show creates a natural teaser for the edited reality series while embodying its interactive nature.
As an additional element, the ten young men occasionally share vlogs on Weibo and Douyin during the filming process. This unique combination of long-form reality show footage + livestreaming + vlogs allows the audience to closely follow and stay updated on the progress of the ten young men's work over the span of more than 190 days.
The show's concept of gathering relatively unknown young men aspiring to make a breakthrough in the entertainment industry bears resemblance to popular shows like Youth With You, also produced by iQIYI. However, Youth With You's third season was suspended in 2021 for wasting large amounts of milk amid the China's strengthened efforts in eradicating wasting food; viewers were ecouraged to buy bottled Mengniu milk and scan QR codes inside the caps to vote for their favorite trainees, which led to fans buying tons of bottles only to vote and getting rid of the milk.
Clearly, iQIYI has learned from the past and taken a different approach with Become A Farmer. In this show, there are no milk-wasting competitions or cutthroat rivalries. Instead, the ten young men are united in their goal to complete the farm work together and to run the company and get rid of its debt.
Focus on Vital China Topics: Empowering Youth, Food Security, and Rural Revitalization
Various topics that are relevant in today's China come together in Become a Farmer. The show also explicitly addressed its objectives in producing this diverse variety show and released a pre-episode to emphasize the importance of food security and shed light on the challenges faced by Chinese youth upon entering the workforce.
In recent years, China has placed significant emphasis on food security, with leaders repeatedly stressing the need to ensure that "the Chinese rice bowl is firmly held in our own hands."
The China Agricultural Outlook Report (2023-2032), released on April 20, outlined the ongoing consolidation of China's food security foundation for the next decade. Notably, all 103 million hectares of permanent farmland will be transformed into high-standard farmland. The report also highlighted plans to diversify import channels for agricultural products, improve the trade structure, and reduce grain imports by 19.7 percent over the next decade.
During the pre-episode of the show, an expert who provided training courses to ten young men emphasized the need to address the aging agricultural workforce in China's agricultural development.
Simultaneously, in 2023, China witnessed a record-breaking number of graduates, reaching 11.58 million.
Given the increasing digitalization in agriculture, encouraging young people to pursue farming careers emerges as a viable solution. By becoming New Era Farmers (新农人) and actively participating in the nine tasks outlined in China's "No. 1 central document" for 2023, which promotes rural vitalization comprehensively, young talent can contribute to the development of rural areas instead of solely pursuing white-collar jobs in urban areas.
A Rural Trend in Chinese Entertainment
The increasing appeal of rural life among young people in China is reflected in a survey conducted by the Social Survey Center of China Youth Daily (中国青年报社社会调查中心) in September 2022. The survey revealed that 70.9% of the respondents believed that the countryside has become more attractive to young individuals. Factors such as a slower pace of life, lower pressure, and reduced costs were cited as the main reasons why young people find rural areas appealing.
As transportation and internet connectivity have gradually improved, rural life in China is no longer seen as isolated and cut off from the rest of the world. This transformation has sparked a growing interest in living in the countryside, particularly among young people. The countryside's allure lies in its simplicity, natural beauty, and the chance to escape the fast-paced and hectic city life.
This growing interest in rural life may explain the popularity of shows like Become a Farmer. The commitment demonstrated by the ten young men to their farm work has garnered applause from Chinese netizens. Overcoming challenges such as working in adverse weather conditions, assisting with difficult births for animals, and engaging in physically demanding tasks have showcased their dedication and hard work. These aspects have resonated with the audience and contributed to the show's success.
Originally planned to conclude after 39 episodes, the show's production team has decided to extend it to 50 episodes due to the abundance of material gathered from over 190 days of farm work and the increasing interest and positive feedback from viewers. This extended episode count goes beyond the typical duration for a variety show, highlighting its exceptional popularity.
It is evident that iQIYI, the broadcasting platform behind the show, is keen on fulfilling its alleged social responsibility to promote the importance of food security and sustainable food production, farming, and showing that young individuals that they can thrive in rural areas.
Capitalizing on the success of the reality show, iQIYI has also released a teaser for an upcoming drama called Romance on the Farm (田耕纪), which also revolves around farming. This drama portrays a contemporary woman unexpectedly finding herself in the countryside during the Song Dynasty and embarking on a journey of farming, prosperity, and love alongside the enigmatic Shen Nuo.
In the last couple of years, there were several countryside-themed dramas that showcased China's rural revitalization efforts and highlighted the involvement of younger generations in supporting their rural hometowns, such as On The Way to Hope (在希望的田野上) or The Story of Xing Fu (幸福到万家) which starred the renowned Chinese actress Zhao Liying.
The success of Become a Farmer, the upcoming Romance on the Farm, and the overwhelming enthusiasm among Chinese viewers for these shows suggest that farming has become the latest 'hip' trend in China's entertainment industry. It seems that plowing fields and tending to crops have now found their place in the limelight. With the growing interest and excitement surrounding these shows, it's safe to say that we can expect a blooming harvest of more Chinese productions focused on farm work and rural life in the near future.
Watch "Become a Farmer" on Youtube here (including English subtitles).
By Wendy Huang
Follow @whatsonweibo
Spotted a mistake or want to add something? Please let us know in comments below or email us. Please note that your comment below will need to be manually approved if you're a first-time poster here.
©2023 Whatsonweibo. All rights reserved. Do not reproduce our content without permission – you can contact us at info@whatsonweibo.com
China's Celebrity Weight Craze: Qin Hao's Viral Diet and Body Anxiety Behind the Weight-Loss Trend
The extreme diet of Chinese actor Qin Hao has sparked a trend of people sharing photos of their corn and egg meals. It's yet another celebrity weight-loss trend that is more about unrealistic expectations than healthy ways of shedding pounds.
Actor Qin Hao's remarkable weight loss has sparked waves of online excitement over a potential new diet plan. Qin is not the only Chinese celebrity whose weight loss journey has become an online hype. But behind the relentless pursuit of celebrity weight loss plans lies the issue of body anxiety, particularly among young Chinese women.
Why do we see so many photos with one ear of corn on Weibo these days? It has everything to do with Qin Hao (秦昊). The actor, renowned for his role in the highly acclaimed 2020 Chinese drama series "The Bad Kids" (隐秘的角落), has recently garnered significant attention for his appearance in another compelling series titled "The Long Wait" (漫长的等待).
This time, his surge in popularity is not just because of his exceptional acting abilities or the captivating character he portrayed, but mostly because of the remarkable diet plan he followed to lose weight during the filming of the series.
In his latest role, Qin played a middle-aged man with a chubby physique, round cheeks, and a beer belly. He had put on a lot of weight to play this character. However, later on, the director asked him to quickly lose weight and "sharpen up" ("必须瘦出棱角").
Qin's wife, Yi Nengjing (@伊能靜), discovered an online diet menu that helped Qin successfully lose over 20 pounds, resulting in a significant transformation in his appearance. Due to numerous inquiries from fans and followers, Yi decided to share the diet plan on her Weibo account.
The five-day diet plan consists of the following meals:
Day 1: Only unsweetened soy milk is consumed throughout the day.
Day 2: Each meal consists of one ear of corn.
Day 3: Breakfast includes dragon fruit, lunch consists of an apple, and dinner consists of blueberries.
Day 4: Breakfast consists of one boiled egg, while lunch and dinner consist of boiled shrimp.
Day 5: Breakfast includes broccoli, lunch consists of spinach, and dinner consists of lettuce.
On Weibo, many people trying out this diet are posting photos of their daily meals, resulting in dozens of photos of a single ear of corn being posted on the platform these days.
Despite the supposed effectiveness of the diet, Yi also issued a warning to her followers. "I want to emphasize once again that I do not recommend this menu to anyone," she wrote on Weibo. "The entire process is incredibly arduous, and Qin experienced weakness in his legs due to hunger for some days."
Despite the warning, the menu still managed to attract a significant number of netizens willing to give it a try. With titles like "Challenging Qin Hao's Diet Plan (挑战秦昊饮食法)" and "Losing 8 Pounds in Five Days (五天瘦八斤)," many people took to platforms such as WeChat, Bilibili, and Weibo to share videos, images and texts documenting their experiences with the same diet plan and the amount of weight they lost each day.
Among those who decided to try the diet plan was the renowned screenwriter and producer Yu Zheng (于正), known for his works such as "The Palace" (宫) and "The Story of Yanxi" (延禧攻略). Yu shared on his Weibo account that he successfully lost 10 pounds in just a few days by following Qin's diet plan. In doing so, he also inspired others to give it a try.
While some individuals recognize the extreme nature of Qin Hao's diet plan, they have made modifications by adding carbohydrates and proteins on certain days or incorporating other "diet foods" like cucumbers or healthy snacks.
However, many choose to strictly adhere to the original plan, expressing sentiments such as "As long as I'm not starving to death, I'll push myself to the limit" or "Even though I'm so hungry that I could eat a person, I'm still very happy with my progress."
EXTREME CELEBRITY DIETS
"You are truly too fat."
Qin is not the only celebrity whose weight loss journey has captured widespread attention. Earlier this year, another viral trend emerged among netizens, who urged director Guo Jingming (郭敬明) to establish a weight loss camp due to the noticeable weight loss among actresses who had worked on his film sets. On Weibo, this phenomenon was described as "no one can leave Guo Jingming's film crew without losing weight" ("没有人能够胖着走出郭敬明剧组").
Guo later disclosed his diet plan for actors and actresses during a television program. According to Guo, they were required to adhere to a diet that excluded oil, salt, and sugar. Additionally, he admitted that he would tell them "you are truly too fat (你真的太胖了)" on a daily basis, as a form of persuasion for those who were reluctant to follow the diet plan. Despite the extreme nature of this diet and his 'brainwashing' methods, many individuals continued to express their desire for Guo to realize an actual weight loss camp for them to join.
The trend of following celebrity diets for weight loss remains popular, with an increasing number of individuals adopting the diet plans promoted by celebrities like Yu Shuxin, IU, Zhang Tianai, and others.
These diets come in various forms, ranging from single-food diets like cucumber and egg or boiled broccoli with plain porridge, to more restrictive approaches that eliminate specific ingredients, such as carbohydrates, or advocate for skipping evening meals. The widespread popularity of these diets is evident on social media, where netizens, mostly female, try them out and document their weight-loss journeys, sharing their progress with a wider audience.
The majority of posts and short videos revolving around these diet plans often feature attention-grabbing titles like "losing xx pounds in xx days," accompanied by celebrities showcasing their slimmed body shapes.
CONCERNS SURROUNDING CELEBRITY CRASH DIETS
"Let me advise you: never, ever go down this terrible path."
With the increasing popularity of celebrity diets, concerns about their impact on (mental) health have arisen. Doctors have issued warnings against attempting Qin Hao's diet plan, cautioning that it can cause significant harm to the body and result in weight gain once discontinued.
Diets that severely restrict calorie intake, like this one, can have detrimental effects such as weakened immunity, decreased bone density, impaired memory, hair loss, and an increased risk of depression. Netizens commenting on posts of people trying these diets often warn others against blindly following their lead. One user offered a stern warning, saying: "To my sisters who haven't started dieting, let me advise you: never, ever go down this terrible path."
Despite the prevailing health concerns associated with celebrity diets, not everyone places their well-being above achieving a desired body shape. In response to a diet plan video by Kpop singer IU, one user acknowledged the potential harm it could cause but still said losing weight was their primary goal, as being overweight made them feel miserable: "I don't care if it's harmful to my body, as long as I can lose weight."
Other users argue that everyone has the right to do whatever they want with their body: "We are all adults and responsible for our own affairs. If you want to lose weight, eat less. If you don't want to lose weight, then continue to be overweight." 
PURSUIT OF THE PERFECT BODY
"For female celebrities, being fat destroys everything."
Behind the never-ending new celebrity diet plans is the question of why celebrities losing weight garners such significant attention. It appears that shedding pounds has become a convenient method for celebrities to attract public interest and enhance their overall image. Losing weight is often portrayed as a symbol of willpower and dedication to one's career.
For instance, Yuan Shanshan, who previously faced criticism for her appearance in certain TV series, received applause and positive attention after slimming down and achieving a V-line figure. Media reports frequently associate female celebrities' dietary practices with the concept of "self-discipline," utilizing titles such as "How self-disciplined are female celebrities?" to highlight their various weight-loss approaches.
On the other hand, when female celebrities gain weight, they are often accused of "betraying" their professional careers or "giving up" on their ambitions.
A quick online search reveals how numerous news articles and blog titles highlight female celebrities' self-discipline through their successful weight loss. These pieces often showcase extraordinary diet methods, like relying on single strands of noodle as a carbohydrate source or consuming plain, boiled vegetables without any additional ingredients.
SLIM LIKE A CELEBRITY
"Will your boss promote you because you're as thin as a celebrity?"
The public's scrutiny of celebrities' weight, often using it as a measure of willpower and success, is a common phenomenon, but celebrities themselves also influence the public's perception of the 'perfect' figure. On various variety shows, female celebrities' heights and weights are increasingly showcased, which inadvertently contributes to viewers' anxieties about their own bodies.
Articles on social media treat these measurements as if they represent the standard for the majority, presenting titles such as "After looking at the heights and weights of these female celebrities, I swear I will never eat again," or "The true heights and weights of female celebrities – a reference for weight loss," and: "How light is thin? Revealing female celebrities' heights and weights." These articles contribute to the idolization of specific body shapes and weights as symbols of beauty and perfection.
'Am I too fat weighing xx pounds?' 'What weight is considered "fat" in today's society?' 'Why do people care about women's weight so much?' 'Why am I so obsessed with my own weight?' As women track and critique the weight fluctuations of female celebrities, many are grappling with questions about body image on social media. They seek answers to their own concerns, shaped by constant exposure to the seemingly ideal body weights of these celebrities.
Amidst all the celebrity weight craze, more critical voices are emerging in the Chinese social media sphere. Witnessing people blindly following celebrities' weight loss journeys, one Zhihu user recently wondered: "Why should everyone strive to have the same bodies as the ones displayed by celebrities? Is there any tangible benefit for ordinary individuals to achieve the same level of thinness as these celebrities? Will your boss promote you or increase your salary simply because you're as slim as a celebrity?"
Many individuals also question the connection between weight loss, self-discipline, and professional success. They assert that celebrities' ability to maintain a slim figure is predominantly driven by financial incentives rather than exceptional personal qualities.
One Weibo user commented on Qin Hao's diet plan, highlighting the disparities between celebrity lifestyles and those of everyday individuals: "Most people don't have jobs that demand such extreme measures, nor do they lead a celebrity lifestyle with chauffeured transportation and dedicated services for nutrition and exercise management. Furthermore, everyday individuals don't need to rely on weight loss as a means to seek public attention or stay in the spotlight."
Chinese author Mao Li (毛利), in a Zhihu post, shared her perspective on the issue and acknowledged that she also has wasted valuable time on futile body image anxieties. She suggests breaking free from the media's "perfect body" hype, embracing self-acceptance, and finding joy in living together with our bodies. She encourages people to "accept it, enjoy it, and praise it."
By Zilan Qian
Get the story behind the hashtag. Subscribe to What's on Weibo here to receive our newsletter and get access to our latest articles:
Spotted a mistake or want to add something? Please let us know in comments below or email us. First-time commenters, please be patient – we will have to manually approve your comment before it appears.
©2023 Whatsonweibo. All rights reserved. Do not reproduce our content without permission – you can contact us at info@whatsonweibo.com.
Subscribe to our newsletter
Stay updated on what's trending in China & get the story behind the hashtag
Sign up here to become a premium member of What's on Weibo today and gain access to all of our latest and premium content, as well as receive our exclusive newsletter. If you prefer to receive just our weekly newsletter with an overview of the latest, you can subscribe for free here.
Would you like to become a contributor, or do you have any tips or suggestions for us? Get in touch with us here.