"Support Xinjiang MianHua!" – China's Social Media Storm over Xinjiang Cotton Ban
The hashtag "Wo Zhichi Xinjiang Mianhua" – "I Support Xinjiang Cotton" – received over 6 billion views on Weibo.
Western brands faced heavy criticism in China this week when a social media storm erupted over the Better Cotton Initiative (BCI) and its brand members for no longer sourcing from China's Xinjiang region. The 'Xinjiang cotton ban' led to a major 'Xinjiang cotton support' campaign on Weibo, and a boycott for those brands siding with BCI.
In 2019, an extensive brand 'witch hunt' took place on Weibo and other Chinese social media networks in light of the protests in Hong Kong, with international fashion and luxury brands, from Versace to Swarovski, getting caught in the crossfire for listing Hong Kong, Macau, and Taiwan as separate countries or regions – not part of China – on their official websites or brand T-shirts.
Now, another brand 'witch hunt' is taking place on Chinese social media. This time, it is not about Hong Kong, but about Xinjiang and its cotton industry.
H&M, Uniqlo, Nike, Adidas and other international brands have caused public outrage for the stand they've taken against the alleged use of forced labor involving the Muslim Uyghur minority to produce cotton in China's western region of Xinjiang.
The social media storm started earlier this week on Wednesday, March 24, and is linked to H&M and the 'BCI' (Better Cotton Initiative), a Swiss NGO that aims to promote better standards in cotton farming.
In October 2020, H&M shared a statement on its site in which the Swedish retailer said it was "deeply concerned" over reports of forced labor in the production of cotton in Xinjiang, officially Xinjiang Uygur Autonomous Region (XUAR).
H&M stated that it would no longer source cotton from Xinjiang, following the BCI decision to suspend licensing of BCI cotton in the region.
BCI and its Suspension of Activities in Xinjiang
The Better Cotton Initiative (BCI) is the largest cotton sustainability program in the world. It practices across 23 countries and accounts for 22% of global cotton production. The governance group was established in 2005 in cooperation with WWF and leading retailers, with the aim of promoting the widespread use of improved farm practices.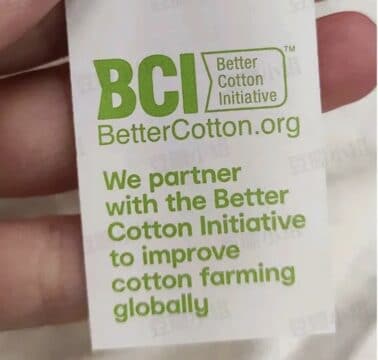 While H&M is a 'top member' of the Better Cotton Initiative (link), many others brands such as IKEA, Gap, Adidas, Nike, Levi's, and C&A are also brand members.
January 2020
In January of 2020, the BCI was slammed by Dr Adrian Zenz, a senior fellow with the Victims of Communism Memorial Foundation in Washington DC, for its refusal to pull out of the Xinjiang region. At the time, 20 percent of its 'better cotton' was sourced from Xinjiang, which is China's largest cotton growing area.
According to a 2020 report by EcoTextile, the BCI maintained that its implicated council member, the yarn producer Huafu, denied the allegations and that an independent audit of the company's Aksu facility in Xinjiang had failed to identify any instances of forced labor. An earlier report by Adidas from 2019 also stated that their independent investigations found no evidence of forced labor.
March 2020
In late March of 2020, the BCI reportedly did suspend activities with licensed farmers in the Xinjiang region for the 2020/21 cotton season while also contracting a global expert to conduct an external review of the Xinjiang situation. Chinese state media Global Times later reported that despite suspending its licensing activities, the BCI would remain committed to cotton farming communities in Xinjiang and would continue to engage in activities in the region.
July 2020
The pressure on BCI and other brands to stop sourcing from Xinjiang was heightened when a coalition of civil society groups raised concerns over the treatment of the Uyghur Muslim minority in China and the "grave risk of forced labor." Reuters reported that more than 180 organizations urged brands from Adidas to Amazon to end sourcing of cotton and clothing from the region and cut ties with any suppliers in China that would benefit from the alleged forced labour of Uyghur other Muslim groups.
October 2020
In October of 2020, the Better Cotton Initiative announced it would cease all field-level activities in Xinjiang with immediate effect because the region had reportedly become "an increasingly untenable operating environment." The aforementioned statement by H&M came out in the same month.
March 2021
By late March 2021, various Chinese state media reported on the BCI suspension. These reports came days after a coordinated effort by the United States, the European Union, Britain and Canada to impose sanctions on Chinese officials over China's alleged human rights violations and abuses in Xinjiang, something which was called a "concerted effort to slander China's policies in its Xinjiang region" by Global Times. The news outlet linked these "anti-China forces' efforts" to the BCI decision to suspend its Xinjiang activities.
A Social Media Storm over Xinjiang Cotton
The news developments were followed by a wave of social media boycott movements and Chinese brand ambassadors cutting ties with international brands, with H&M being the main target over its Xinjiang statement.
Chinese e-commerce platforms Taobao, JD.com, Pinduoduo, Suning.com, and Meituan's Dianping on Thursday all removed H&M from their platforms, with Chinese Android app stores also removing H&M. On Thursday, a search for "H&M" came up with no results on these sites (see images below).
Two of China's largest online maps also removed H&M from its systems.
On Thursday, virtually all topics in Weibo's top trending lists related to the Xinjiang cotton ban (see image below), with Chinese famous influencers and celebrities one by one announcing they would terminate their contracts with international brands related to the Xinjiang cotton ban.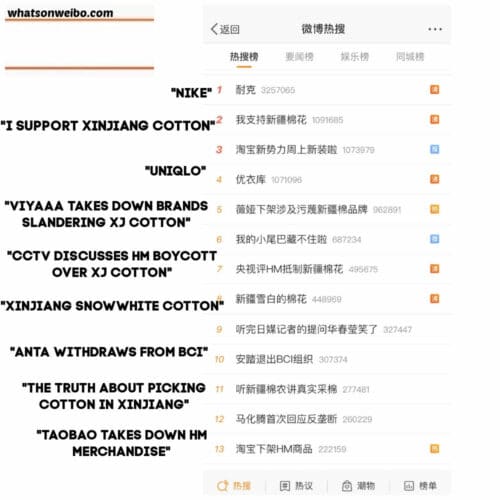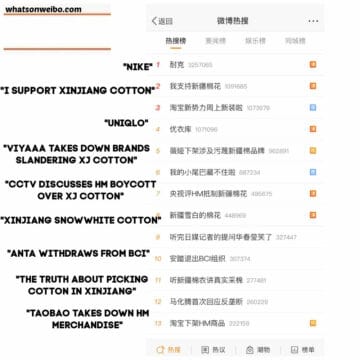 The storm became so big this week that some people on social media even commented that "if you're a Chinese celebrity and you don't have any contracts to terminate now, you're not doing so well."
After H&M, an entire list of brands was targeted, including Adidas, Nike, Calvin Klein, New Balance, Tommy Hilfiger, Uniqlo, Converse, Puma, Burberry, and Lacoste.
In light of the heated discussions and calls for boycotts, there was also another hashtag that popped up on Weibo, namely that of "don't make it hard for the workers" (不要为难打工人). The hashtag came up after some Chinese staff members at Nike and Adidas stores were scolded on a live stream, with netizens calling on people to stay rational and not let the boycott turn into personal attacks on people. But another popular video showed a man in Chongqing calling customers out in an H&M store for buying their "trash."
Another hashtag gaining many views, 520 million in total, was that of two 'girls from Xinjiang dancing outside H&M' (#新疆小姐姐在HM门店外跳新疆舞#) – it was linked to a video that showed two women performing outside of a H&M store in Chongqing.
Meanwhile, some brands, including Chinese company Anta Sports and the Japanese Asics, reportedly announced they would leave the Better Cotton Initiative in order to continue sourcing cotton from Xinjiang.
The discussions on Xinjiang as Weibo saw this week are unprecedented, as 'Xinjiang' was previously a sensitive topic on Chinese social media and was barely discussed in political contexts. The last time Xinjiang became a big topic of discussion on Chinese social media was in 2018, when CCTV aired a program on the region's "vocational education programs" in Xinjiang. That media moment triggered mixed reactions on Weibo, with some commenters wondering what the difference between a 're-education center' and a 'prison' is.
Chinese State Media and the 'Xinjiang Cotton Ban'
While Chinese netizens and celebrities play a major role in the storm that erupted over BCI, H&M, and Xinjiang cotton, the role of Chinese state media is pivotal.
Over the past week, various state media outlets posted strong messages regarding the ban in various ways, the most noteworthy one being People's Daily's "I Support Xinjiang Cotton" (#我支持新疆棉花#) hashtag, which had garnered six billion views by the weekend. "The H&M Group released a statement that sparked outrage among netizens. Let's pass it on together: Support Xinjiang Cotton," the tagline of the hashtag page said.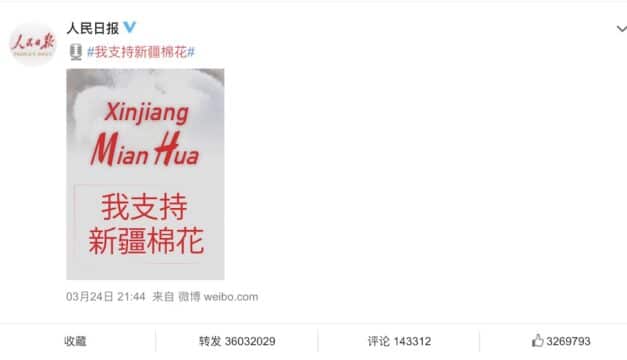 The message came with an image saying "Xinjiang Mianhua" (Xinjiang cotton) in a similar font to the H&M logo, the "H" and "M" within 'mianhua' being identical to the H&M letters.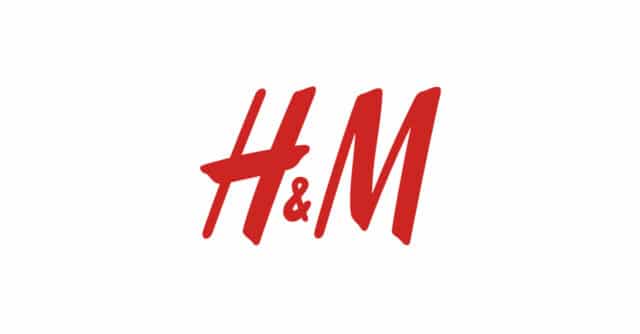 The image and post by People's Daily was shared over 36 million times.
Another image by People's Daily published on March 25 said that the Chinese market does not welcome those who slander China.
The Communist Youth League also contributed to the online storm by posting about H&M, writing: "On the one hand they are starting rumors and boycotting Xinjiang cotton, on the other hand they want to make money in China. Dream on, H&M!" That post received around 430,000 likes.
Various official media, including Global Times and China Daily, posted about cotton production in Xinjiang. Besides refuting the forced labor accusations and accusing Western players of hypocrisy and ulterior motives, a recurring issue stressed is how 42 percent of Xinjiang's cotton is harvested by machines. Ministry of Commerce spokesman Gao Feng was quoted as saying that "the so-called forced labor in Xinjiang is nonexistent and entirely imaginary. The spotless white Xinjiang cotton brooks no slander."
On March 27, People's Daily posted a rap video by 'Xinjiang Youth' (新疆青年) on its official Weibo channel (video below) that included some tough lines attacking Western powers, companies, and media.
Chinese state media are now posting this rap song on social media about the "Western forces slandering Xinjiang cotton." pic.twitter.com/piouahMf80

— Manya Koetse (@manyapan) March 27, 2021
Also noteworthy in this propaganda campaign is how the Canadian YouTuber Daniel Dumbrill got caught up, as what he said in one of his videos was quoted by Foreign Ministry spokesperson Hua Chunying (华春莹) on March 27 during a press conference, with his video being screened before the conference.
In this video, that was part of a larger panel on Xinjiang, Dumbrill responded to the decision-making process on how China's treatment of Uyghurs is called a "genocide."
Recently, a number of countries and parliaments including the U.S., Canada and the Netherlands have declared that China's crackdown on the Muslim minorities amounts to "genocide" in violation of the U.N. Genocide Convention. Dumbrill talks about why the Xinjiang narratives matter to both the foreign and domestic politics of the US and other Western countries, with Dumbril claiming it "isn't really about human rights and a care for overseas Muslims" but about other political goals. Dumbrill's video was praised by authorities, state media, and by Chinese netizens.
"We have to push for the truth to come out," some netizens commented. Others wrote: "But we're only allowed to discuss it from within [the country]."
Meanwhile, while many companies are seeing sales falling, there are also many who are benefiting from the current developments. Some sellers on Taobao have found another way to attract customers, promoting their products as being made with "100% Xinjiang Cotton!"
As this is an ongoing topic, we will report more later. Meanwhile, don't forget to follow us on Twitter.
By Manya Koetse, with contributions by Miranda Barnes
Spotted a mistake or want to add something? Please let us know in comments below or email us. First-time commenters, please be patient – we will have to manually approve your comment before it appears.
©2021 Whatsonweibo. All rights reserved. Do not reproduce our content without permission – you can contact us at info@whatsonweibo.com.
About Lipstick King's Comeback and His 'Mysterious' Disappearance
After Li Jiaqi's return to livestreaming, the 'tank cake incident' has become the elephant in the room on social media.
Earlier this week, the return of China's famous livestreamer Li Jiaqi, also known as the 'Lipstick King', became a hot topic on Chinese social media where his three-month 'disappearance' from the social commerce scene triggered online discussions.
He is known as Austin Li, Lipstick King, or Lipstick Brother, but most of all he is known as one of China's most successful e-commerce livestreaming hosts.
After being offline for over 100 days, Li Jiaqi (李佳琦) finally came back and did a livestreaming session on September 20th, attracting over 60 million viewers and selling over $17 million in products.
The 30-year-old beauty influencer, a former L'Oreal beauty consultant, rose to fame in 2017 after he became a successful livestreamer focusing on lipstick and other beauty products.
Li broke several records during his live streaming career. In 2018, he broke the Guinness World Record for "the most lipstick applications in 30 seconds." He once sold 15000 lipsticks in 5 minutes, and also managed to apply 380 different lipsticks in another seven-hour live stream session. Li made international headlines in 2021 when he sold $1.9 billion in goods during a 12-hour-long promotion livestream for Alibaba's shopping festival.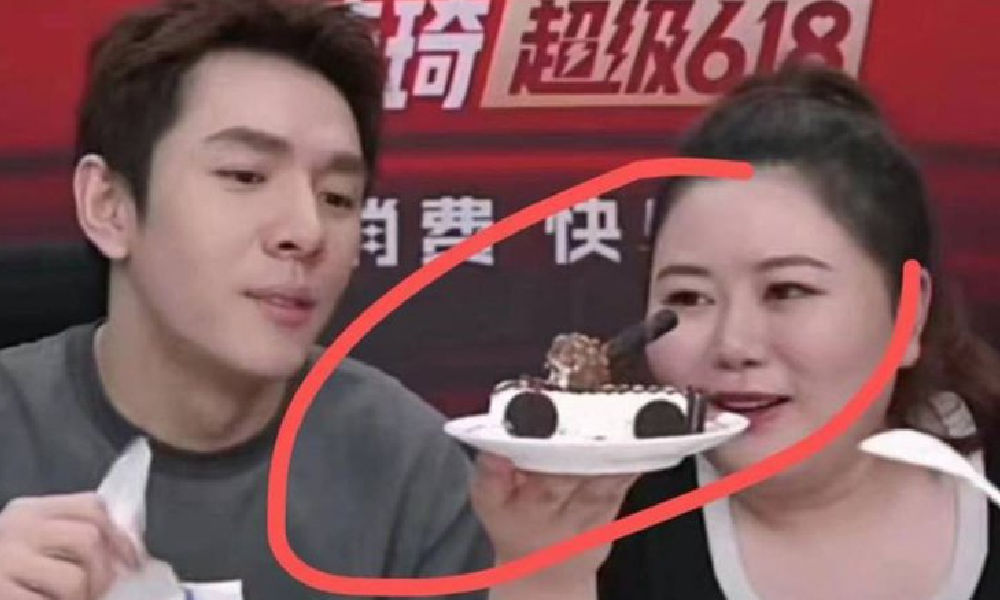 But during a Taobao livestream on June 3rd of this year, something peculiar happened. After Li Jiaqi and his co-host introduced an interestingly shaped chocolate cake – which seemed to resemble a tank, – a male assistant in the back mentioned something about the sound of shooting coming from a tank ("坦克突突").
Although Li Jiaqi and the others laughed about the comment, Li also seemed a bit unsure and the woman next to him then said: "Stay tuned for 23:00 to see if Li Jiaqi and I will still be in this position."
The session then suddenly stopped, and at 23:38 that night Li wrote on Weibo that the channel was experiencing some "technical problems."
But those "technical problems" lasted, and Li did not come back. His June 3rd post about the technical problems would be the last one on his Weibo account for the months to come.
The 'cake tank incident' (坦克蛋糕事件) occurred on the night before June 4, the 33rd anniversary of the violent crackdown of the Tiananmen student demonstrations. The iconic image of the so-called 'tank man' blocking the tanks at Tiananmen has become world famous and is censored on China's internet. The control of information flows is especially strict before and on June 4, making Li's 'tank cake incident' all the more controversial.
But no official media nor the official Li Jiaqi accounts acknowledged the tank cake incident, and his absence remained unexplained. Meanwhile, there was a silent acknowledgment among netizens that the reason Li was not coming online anymore was related to the 'tank cake incident.'
During Li's long hiatus, fans flocked to his Weibo page where they left thousands of messages.
"I'm afraid people have been plotting against you," many commenters wrote, suggesting that the cake was deliberately introduced by someone else during the livestream as a way to commemorate June 4.
Many fans also expressed their appreciation of Li, saying how watching his streams helped them cope with depression or cheered them up during hard times. "What would we do without you?" some wrote. Even after 80 days without Li Jiaqi's livestreams, people still commented: "I am waiting for you every day."
On September 21st, Li Jiaqi finally – and somewhat quietly – returned and some people said they were moved to see their lipstick hero return to the livestream scene.
Although many were overjoyed with Li's return, it also triggered more conversations on why he had disappeared and what happened to him during the 3+ months of absence. "He talked about a sensitive topic," one commenter said when a Weibo user asked about Li's disappearance.
One self-media accountpublished a video titled "Li Jiaqi has returned." The voiceover repeatedly asks why Li would have disappeared and even speculates about what might have caused it, without once mentioning the tank cake.
"This cracks me up," one commenter wrote: "On the outside we all know what's going on, on the inside there's no information whatsoever."
"It's tacit mutual understanding," some wrote. "It's the elephant in the room," others said.
Some people, however, did not care about discussing Li's disappearance at all anymore and just expressed joy about seeing him again: "It's like seeing a good friend after being apart for a long time."
By Manya Koetse 
Elements in the featured image by @karishea and @kaffeebart.
Get the story behind the hashtag. Subscribe to What's on Weibo here to receive our weekly newsletter and get access to our latest articles:
Spotted a mistake or want to add something? Please let us know in comments below or email us. First-time commenters, please be patient – we will have to manually approve your comment before it appears.
©2022 Whatsonweibo. All rights reserved. Do not reproduce our content without permission – you can contact us at info@whatsonweibo.com.
Happiest Lockdown in China: Guests Undergo Mandatory Quarantine at Shanghai Disneyland Hotel
"I wish I could be quarantined at Disney too!" The Shanghai Disney hotel apparently is the happiest place to get locked in.
While many cities across China are experiencing new (partial) lockdowns and millions of people are confined to their homes, there was also a group of people that had to undergo mandatory quarantine at a very special place: the Shanghai Disneyland Hotel.
On September 7, social media posts started surfacing online from people who said they were required to quarantine while they were at the Shanghai Disneyland hotel. Disneyland reportedly had received a notification from the local health authorities that a visitor who previously stayed at the Disneyland hotel was found to be a close contact of a newly confirmed Covid case.
In line with the Center for Disease Control requirements, Disney created a 'closed loop system' by locking in all hotel residents and staff members and doing daily Covid tests. While the Disneyland theme park was open as usual, the hotel became a temporary isolation site where people's health would be monitored for the next few days while all staff members would also be screened.
During their mandatory quarantine, guests stayed at the hotel for free and did not need to pay for their rooms. Room prices at the Shanghai Disneyland hotel start at around 3000 yuan/night ($433).
Some guests shared photos of their Disneyland quarantine stay on social media, showing how Disney staff provided them with free breakfast, lunch, a surprise afternoon tea, delicious dinner, fun snacks, and Disney toys and stickers.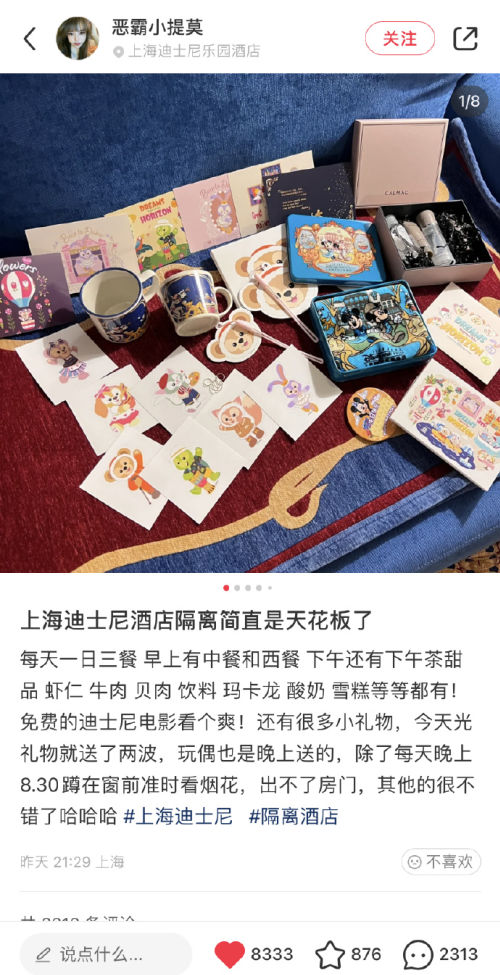 On the Little Red Book (Xiaohongshu) app, one Shanghai Disney visitor (nickname @恶霸小提莫) wrote: "We have three meals a day, there is both Chinese and Western-style breakfast, we also get afternoon tea and desserts, they have shrimp, beef, scallops, drinks, French macarons, yogurt, ice cream, and much more. We watched so many Disney movies for free. We are given so many little gifts, they brought us gifts twice today as they also brought us toy figures at night. We watch the fireworks from our windows every night at 8.30 pm. Although we weren't allowed to go out, we really had a pleasant stay."
Another Disney guest named Zoea (Xiaohongshu ID: yiya0313) also shared many photos of the mandatory quarantine and wrote: "When the staff knocked on the door to tell me they were bringing dinner, I even wondered how it was possible that they brought food again. Afternoon tea during quarantine, can you believe it? And fruit before dinner? And midnight snacks brought to us after dinner? And it was so nice to watch all the Disney movies on tv. Disney really is the most magical place."
"I'm just so happy," another locked-in Disney guest posted on social media, sharing pictures of Mickey Mouse cakes.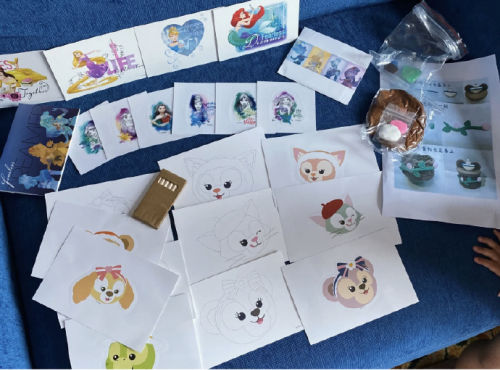 Other guests also posted about their experiences on social media. "They probably feared we would get bored so they brought us glue, stickers, and painting brushes, the kids loved it and so did we!"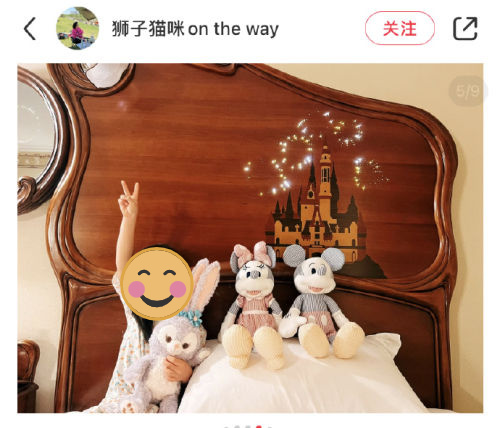 Reading about the happy quarantine at Disney, many Weibo users responded that they envied the guests, writing: "I wish I could be quarantined at Disney too."
"I need to find a way to get in, too," others wrote.
Earlier this year, one Chinese woman shared her story of being quarantined inside a hotpot restaurant for three days. Although many people also envied the woman, who could eat all she wanted during her stay, she later said she felt like she had enough hotpot for the rest of her life.
By Manya Koetse 
Get the story behind the hashtag. Subscribe to What's on Weibo here to receive our weekly newsletter and get access to our latest articles:
Spotted a mistake or want to add something? Please let us know in comments below or email us. First-time commenters, please be patient – we will have to manually approve your comment before it appears.
©2022 Whatsonweibo. All rights reserved. Do not reproduce our content without permission – you can contact us at info@whatsonweibo.com.