Mimeng and 'Self-Media' under Attack for Promoting Fake News Stories to Chinese Readers
Chinese 'zimeiti' or 'self media' have become a topic of discussion after this Mimeng scandal.
First published
China's "Queen of Self-media," Mimeng, is under attack after publishing a story that has been labeled 'fake news.' The scandal has triggered discussions on the status-quo of Zimeiti (自媒体/We Media) on the Chinese internet.
It was one of the most-discussed topics on Weibo and WeChat right before the Chinese New Year: the scandal involving Chinese blogging account 'Mimeng' (咪蒙), which sparked discussions on Mimeng herself and on the regulation and responsibility of 'we media' accounts on the Chinese internet.
Who or what is 'Mimeng'? First and foremost, Mimeng is an online social media account with an enormous fanbase: 13 million followers on WeChat, 2.6 followers on Weibo.
The person behind the Mimeng blogging account is Ma Ling (马凌), a Chinese female author and Literature graduate who was born in 1976 in Sichuan's Nanchong.
Over the past few years, 'Mimeng' has grown into a so-called 'we media' or 'self media' platform (zimeiti 自媒体), referring to private, independent, online publishing accounts that get their content across through blogs, podcasts, and other online channels. Mimeng is now more than Ma Ling alone: there's an entire team behind it.
Mimeng has been controversial for years because of its clickbait titles and controversial stances on various issues. The topics most addressed in Mimeng's publications are relationships between men and women, love, marriage, quarreling, and extramarital affairs.
Previous articles published by Mimeng, who is a self-labeled 'feminist' (and often mocked for it), include titles such as "This Is Why You're Poor," "Jealously Means Progress," "I Love Money, It's True," "Men Don't Cheat for Sex," or "How to Kill Your Wife."
Besides its content, there are also other reasons why Mimeng has triggered controversy in the past. The fact that Mimeng charges a staggering amount of money to advertisers, for example, is also something that previously became a topic of discussion – Mimeng allegedly charges some 750,000 yuan ($113,000) for a post mention.
SELLING FAKE STORIES
"As an influential We Media source, we must take on our social responsibility"
This time, however, Mimeng is hit by the biggest controversy thus far. The media group is under attack after publishing a story that turned out to be (partly) fabricated. The story was published on a WeChat account called Talented Limited Youth (才华有限青年), which is registered under the same legal entity as Mimeng. Its primary author, according to Sixth Tone, is a former intern of Ma Ling called Yang Yueduo.
The publication in question is a long story titled "The Death of a Top Scorer from a Poor Family" ("一个出身寒门的状元之死") which allegedly portrayed the short life of the author's old classmate: a young, bright mind, born in an impoverished family in Sichuan province. In the story, the protagonist did all he could to create a better life for him and his family.
He studied hard, got the best university entrance score of his city, and successfully graduated from university. But despite his efforts to start a life in the big city, he failed to succeed and tragically died of cancer at the young age of 24.
Shortly after publication, the moving and tragic story went viral on social media. However, several details made online readers doubt the story's authenticity. It did not take long before readers proved that several aspects of the story were indeed untrue.
In light of the fake news allegations, Talented Limited Youth quickly deleted the story from WeChat. They also issued a statement defending the story's authenticity, explaining that for privacy reasons, various details of the story were altered. According to Beijing News, Talented Limited Youth was then banned from posting on WeChat for 60 days.
In response to the allegations, Mimeng offered its "sincerest apologies" on Weibo on February 1st, saying: "The Mimeng Group has decided to completely withdraw from Weibo and take a two-month break from WeChat. We will use that time to carry out serious and profound self-reflection." The post continued saying that "as an influential We Media source, we must take on our social responsibility and pass on positive energy and values."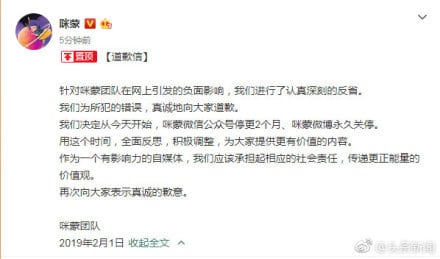 The announcement went trending under the hashtag "Mimeng Shuts Down Weibo Indefinitely" (#咪蒙微博永久关停#), which has received over 210 million views at time of writing.
POISONED CHICKEN SOUP
"Mimeng, for you, patriotism is only business"
On social media, there is a clear divide between those who support and oppose Mimeng. While some are calling for a "complete shutdown" of Mimeng, there are also those who say they will keep on following Mimeng and that they enjoy their publications.
The controversial Mimeng account has even brought about a so-called "Following Mimeng Rate" (含咪率), a number based on how many of your WeChat friends are following Mimeng's public WeChat account (by checking Mimeng's account on WeChat, WeChat users can see how many of their friends are following this account).
Mimeng opposers allege that the more friends you have that follow the Miming account, the more likely you are "to fail in life."
The official Weibo account of the Jiangsu Public Security's Bureau of 'Internet Safety' (@江苏网警) is also a clear Mimeng opposer. Last week, they lashed out against Mimeng in a post titled "Mimeng, for you, patriotism is only business."
The post hints at Mimeng's inconsistent stance on patriotism, and it included screenshots from two earlier Mimeng posts from 2013 and 2016, one in which patriotism is referred to as a kind of "forced love," and the other one saying: "I'll love my country forever, its greatness will forever move me to tears."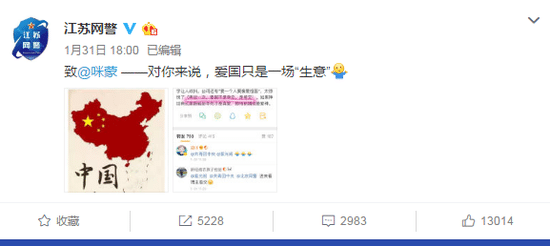 The post by the Jiangsu Bureau itself then also blew up on Weibo, with the hashtag "Jiangsu Internet Police calls out Mimeng" (#江苏网警点名咪蒙#) soon gaining over 210 million views. In the comment sections, many people criticize Mimeng for "deceiving people," "promoting negative values" and "using anything to get clicks."
One person wrote: "These self-regulated media only care about making money, they have no sense of social responsibility."
Others said that the fake news story was nothing but 'poisoned chicken soup' (毒鸡汤).
This is a term that is often used to describe Mimeng's content, and that of other self-media accounts, meaning that from the outside, it looks like "feel-good content" or "chicken soup [for the soul]" while it is actually 'poisonous' content with a marketing strategy or money-making machine behind it.
ZIMEITI CHAOS
"Self- media cannot become a spiritual pyramid scheme"
The Mimeng case has led to discussions in Chinese media on the status of 'we media' or 'self-media' platforms and their influence.
People's Daily responded to the Mimeng scandal with a post on February 1st titled "Self-media Cannot Become a Spiritual Pyramid Scheme" ("自媒体不能搞成精神传销"), which argued that unless self-media accounts such as Mimeng actually work on establishing "healthy social values," their apologies are only a way to temporarily dodge negative public attention.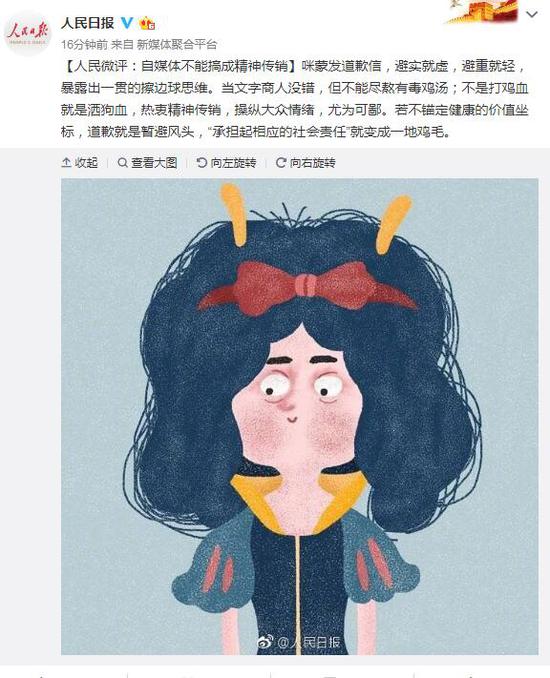 In late January, Chongqing Internet authorities launched an investigation into 48 'self-media' accounts, suspending two for spreading "fake news."
State media outlet China News published an article, also this week, that describes 'self-media' as a 'hypermarket' where publishers will go to extreme measures, such as selling 'fake news' for clicks, spreading negative influences and anxiety among the people.
But these discussions are somewhat blurred, as it is not entirely clear what 'self-media' actually is in this context. Generally speaking, the term could include any micro-blogger who identifies themselves as 'self-media' or 'we media' (zimeiti 自媒体). But in the current discussion, it seems to only relate to those publishing accounts that have a certain influence on social media and the (online) media environment, posing a challenge to traditional news outlets.
Some definitions of Chinese 'we media' say it is basically is "an umbrella term for self-posted content on social media platforms" (Qin 2016; Jiang & Sun 2017) – this suggests that everyone who is active on WeChat and Weibo or elsewhere is basically in 'self-media.'
A clearer description is given by Week in China, writing that "zimeiti typically operate as social media accounts run by individuals or as small firms established by a handful of former journalists."
What makes it different from any other social media account, is that in 'we-media' or 'zimeiti' "the blogging has been professionalized and that the authors can make a living from it" (WiC 2018). It is a trend that has become especially visible in China's online environment since 2012-2014.
This highly commercial side of 'we media' matters. If a publisher, such as Mimeng, charges advertisers exorbitant amounts of money, they also have to maintain a certain number of readers. They don't just post as a hobby, it is serious business.
In a highly competitive online media environment, where hundreds of media outlets are fighting over the clicks of China's online population of over 800 people, clickbait titles have almost become somewhat of a necessity for some of these publishers, with some even resorting to publishing "fake news" to get the attention – and the clicks.
China's Newsweek Magazine (新闻周刊) calls the situation at hand a "self-media chaos" (自媒体乱象) that poses an "unprecedented challenge" for governing society in the 3.0 era. They call for "healthy development of self-media" and better legislation to control the mushrooming zimeiti, that, despite strong online censorship, are not as tightly controlled as China's traditional media.
"Nowadays, we have less and less intellectuals, and more and more 'people selling words.' The chaos of self-media needs to be controlled," one commenter on Weibo says (@ZY盒子).
But other people deem that readers themselves should pick what they read instead of authorities regulating it for them: "The important thing is that every reader must have the independence to judge for themselves [what they read]; just let the 'poisonous chicken soup' [naturally] lose their market."
The Mimeng scandal shows that for social media accounts with a large following, one misstep can have huge consequences. This is something that Papi Jiang, a 'self-media' personality who became huge in 2015/2016, also experienced; she was reprimanded for disseminating "vulgar language and content" in April of 2016.
Very similar to Mimeng's statement, Papi also issued an apology at the time, saying she supported the requirement for correction, and that she would attempt to convey "positive power" (正能量) in the future. "As a media personality," she said, "I will watch my words and my image." Papi's CEO also expressed the company's willingness to produce "healthier contents." At the time, her videos were temporarily taken offline.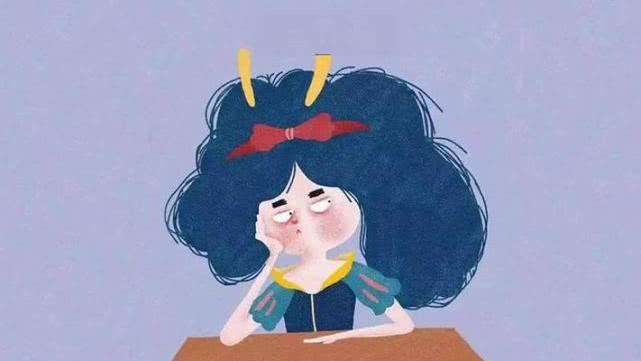 Meanwhile, some people think that the fact that Mimeng will stay silent for the coming two months is not necessarily a bad thing for the publisher: "They can take an extra long Spring Festival holiday." As for Mimeng's Weibo 'holiday' – that one is likely to be permanent.
By Gabi Verberg and Manya Koetse
References
-Qin, Amy. 2016. "China's Viral Idol: Papi Jiang, a Girl Next Door With Attitude." New York Times, 24 Aug https://www.nytimes.com/2016/08/25/arts/international/chinas-viral-idol-papi-jiang-a-girl-next-door-with-attitude.html [2.6.19].
-Sun, Yanran and Jiang. 2017. "A Study on the Effectiveness of We-Media as a Platform for Intercultural Communication." In New Media and Chinese Society, Ke Xue & Mingyang Yu (Eds.), 271-284. Singapore: Springer.
-WiC. 2018. "Headline earnings – Zimeiti hunt media profits but they still need to play by the rules." Week in China, 15 June https://www.weekinchina.com/2018/06/headline-earnings/ [2.6.19].
Spotted a mistake or want to add something? Please let us know in comments below or email us.
©2019 Whatsonweibo. All rights reserved. Do not reproduce our content without permission – you can contact us at info@whatsonweibo.com
TikTok CEO Shou Zi Chew Hailed as Asian "Solitary Hero" on Chinese Social Media
After the congressional hearing of the TikTok CEO, some called Shou Zi Chew "Mr. Perfect in the eye of the storm."
While there were enough people on Chinese social media swooning over celebrities this weekend during the Weibo Award Night, there were also many netizens admiring another person, namely Shou Zi Chew (周受资, Zhou Shouzi), the CEO of TikTok.
Earlier this week, Shou Zi Chew appeared before the House Energy and Commerce Committee in the United States, facing a four-and-a-half-hour hearing over data security and harmful content on the TikTok app.
The hearing took place in light of Washington's increasing concerns over TikTok "as a threat to national and personal security," with officials calling for a nationwide ban on the app's U.S. operations – unless Chinese owners sell their stake in the social media platform (more here).
TikTok is a super popular short video app by Chinese company Bytedance, which also runs Douyin, the Chinese counterpart of the international Tiktok app. TikTok has over 150 million users in the U.S. alone.
Being grilled about concerns over China's influence over the Beijing-based Bytedance and China's access to American data, Chew emphasized that ByteDance is a private business and "not an agent of China or any other country."
During the hearing, Chew faced various questions from officials. One clip that was shared a lot on Twitter showed Arizona Republican Congresswoman Debbie Lesko asking Shou Zi Chew:
– "Do you agree that the Chinese government has persecuted the Uyghur population?"
"It's deeply concerning to hear about all accounts of human rights abuse," Shou answered: "My role here is to explain – "
– "I think you're being pretty evasive. It's a pretty easy question. Do you agree that the Chinese government has persecuted the Uyghur population?"
"Congresswoman, I'm here to describe TikTok, and what we do as a platform, and as a platform, we allow our users to freely express their views on this issue and any other issue that matters to them," Shou replied.
– "Well, you didn't answer the question, " Lesko said while interrupting Shou.
Another moment that was widely shared was when Congressman Richard Hudson asked Shou Chew: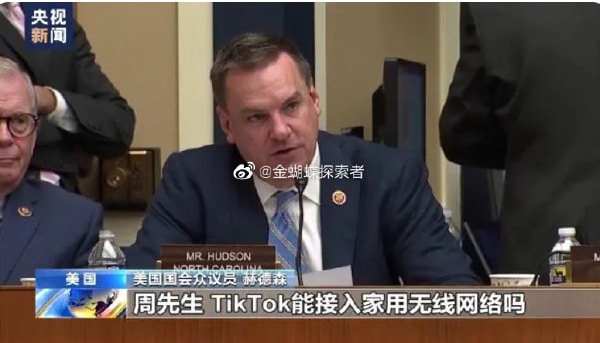 – "Does TikTok access the home WiFi network?"
"Only if the user turns on the wifi," Shou replied: "I'm sorry I may not understand the.."
– "So if I have TikTok on my phone, and my phone is on my home wifi, does TikTok access that network?", Hudson asked.
"It will have to access the network to get connected to the internet, if that is your question."
– "Is it possible then that it can access other devices on that home wifi network?" Hudson asked.
"Congressman, we do not do anything that is beyond any industry norms. I believe the answer to your question is no," Chew replied.
On Chinese social media, the hearing received extensive discussion and analysis.

A "Collective Cursing Activity"

Chinese blogger Chairman Rabbit (兔主席), a conservative political commentator who often comments on US-related issues (read more), analyzed the hearing in a recent blog.
According to Chairman Rabbit, the hearing was a one-way conversation from the Congress side, and was more like a "collective 'cursing' activity" ("一场集体"骂娘"活动") than dialogue, with the American officials not giving Shou the time to reply and basically – and rudely – answering their own questions.
The blogger also suggested that Chew was questioned as if he himself represented the Communist Party of China, even though he is Singaporean and the CEO of a private company. Regardless, the Americans seemed to take this time of questioning Shou as an opportunity to vent their anger at the Party and the Chinese government at large.
The main gist of Chairman Rabbit's blog was shared by many others on social media, with some calling the hearing not much more intelligent than a "kindergarten fight" ("比幼儿园吵架高明不了多少").
One meme making its rounds on Weibo and Wechat showed a photo of Apple CEO Tim Cook in China versus TikTok CEO Shou Zi Chew in the U.S., suggesting that while the Chinese side treated an American tech giant CEO with warmth and kindness, the American side had treated a Chinese tech giant CEO with coldness and paranoia.
Another image circulating on Weibo is a political cartoon by the Singaporean artist Heng that was also published on Twitter by Lianhe Zaobao, the largest Singaporean Chinese-language newspaper.
The image shows the TikTok CEO tied to a tree, and a pile of wood stacked around him. Three 'executioners,' including Uncle Sam, are about to burn Chew at the stake with the help of some "Anti-Chinese Sentiment" fuel.

Shou Zi Chew: Mr. Perfect in the Eye of the Storm

Meanwhile, Chew himself has become super popular on Chinese social media, including on Weibo, Douyin, and Xiaohongshu, where he has become idolized by some ("I won't even compare you with the stars, you're much better than the stars.")
Some bloggers and commenters noted how Chew fits the supposed idea of a 'perfect Asian' by staying calm despite unreasonable allegations and emphasizing business interests over culture. One Weibo user (@老叔开画) called Shou Zi Chew "Mr. Perfect in the eye of the storm."
Mostly, people admire how he stood up against Congress despite being "bullied" by American officials and "defended" China's interests although he is Singaporean himself. Some called him a "solitary hero" ("孤胆英雄").
Then there are those who praise the Singaporean businessman and entrepreneur for his career journey and his work ethic. The now 40-year-old studied in London and graduated from Harvard, he previously worked at Goldman Sachs and Xiaomi, and became the CEO of TikTok at 38 years old.
On the Xiaohongshu app, Chew is mentioned as a source of inspiration on how to remain calm and professional when facing a difficult situation.
Lastly, many fans just think Chew is "charming" and "handsome" – and they focus on details of Chew and his life that have nothing to do with the contents of the hearing. Some Weibo users pointed out how he came to his hearing well-prepared with four bottles of water, others discuss his personal life, including his wife Vivian Kao.

From Weibo to TikTok: Criticism from Two Sides

Besides receiving support from Chinese social media users, Chew's handling of the hearing was also praised on the TikTok app by international users, including many Americans.
One popular Chew quote during the U.S. congressional hearing that came up on TikTok is how Chew said:
"I don't think the [Chinese] ownership is the issue here, with a lot of respect, American social companies do not have a good track record when it comes to data security and privacy, just look at Facebook and Cambridge Analytica – and that's just one example."
Another popular quote was Chew defending TikTok, saying:
"There are more than 150 million Americans who love our platform, and we know we have a responsibility to protect them, which I'm making the following commitments to you and all our users. Number one: we will keep safety, particularly for teenagers, as a top priority for us. Number two: we will firewall protect the U.S. data from unwanted foreign access. Number three: TikTok will remain a place for free expression and will not be manipulated by any government. And fourth, we will be transparent and we will give access to third-party independent monitors to remain accountable for our commitments."
Many TikTok users are not just fond of the app – and do not want it to get banned, – they also criticize the U.S. officials for how they handled the hearing, with their lack of technological knowledge and unfamiliarity with the TikTok app shining through in their questions.
Some TikTok creators suggested that the officials missed an opportunity to gain actual knowledge of TikTok's data handling, and should have asked things like (suggested by TikTok user @sharonsaysso):
– "Are you collecting any passive data from the back end of the phones, even if the person isn't logged in?"
– "How long are you storing this data for?"
– "What data is being passed to advertisers?"
– "If a user would like to have their data expunged from your systems, is there a process in place with them to easily and fairly quickly have that done?"
– "Have you ever willingly or unwillingly relinquished any of your user data to the government of China or any other country?"
– "Please explain in detail what elements your algorithm considers in its optimization process?"
After American media outlet NBC reported about how TikTok users declared their support for the platform and its CEO after the hearing, screenshots of the article were also shared on Chinese social media.
Chinese political commentator Hu Xijin (@胡锡进) wrote a lengthy post about the TikTok hearing on Weibo, and he also criticized how Chew was facing questions that were already framed and filled with "imaginary accusations" against China.
Hu Xijin and others do not necessarily hail Chew as a "hero," but instead point out the arrogance and biased approach taken by U.S. official during the hearing.
"They give a dog a bad name and hang him," some say, with others agreeing that this matter is no longer about the actual facts regarding TikTok's operations, but about how American authorities have already set their agenda on how TikTok content is problematic and how the app is controlled by Beijing and cannot guarantee the security of U.S. users' data and privacy.
Some commenters are already predicting the outcome of this matter: "You should prepare for the possibility of being banned or forced to sell."
Watch a video of the hearing on YouTube here.

By Manya Koetse 
With contributions by Miranda Barnes and Zilan Qian
Get the story behind the hashtag. Subscribe to What's on Weibo here to receive our newsletter and get access to our latest articles:
Spotted a mistake or want to add something? Please let us know in the comments below or email us. First-time commenters, please be patient – we will have to manually approve your comment before it appears.
©2023 Whatsonweibo. All rights reserved. Do not reproduce our content without permission – you can contact us at info@whatsonweibo.com.
Meet Ren Xiaorong, People's Daily AI Virtual News Anchor
Although their functions are still limited, AI news anchors such as Ren Xiaorong are a sign of the future.
Ren Xiaorong (任小融) joined the Chinese state media outlet People's Daily as a virtual presenter/news anchor this week.
Ren Xiaorong is the AI-powered host of an app allowing users to ask questions related to the Two Sessions, the annual plenary sessions of the National People's Congress and of the Chinese People's Political Consultative Conference that have been taking place this week.
Through the People's Daily app, you can ask Ren Xiaorong to tell you more about various topics covered during the Two Sessions, including education, epidemic prevention, housing, employment, environmental protection, and many other issues.
According to the introduction video launched by People's Daily, Ren is also available to discuss other news topics people would like to know more about.
Ren Xiaorong is interactive to a certain (very limited) extent; users can select the topics they want to learn more about, but the app does not yet allow to ask specific questions.
A related hashtag went viral on Weibo on Sunday (#人民日报AI虚拟主播#), triggering discussions on the use of virtual news presenters.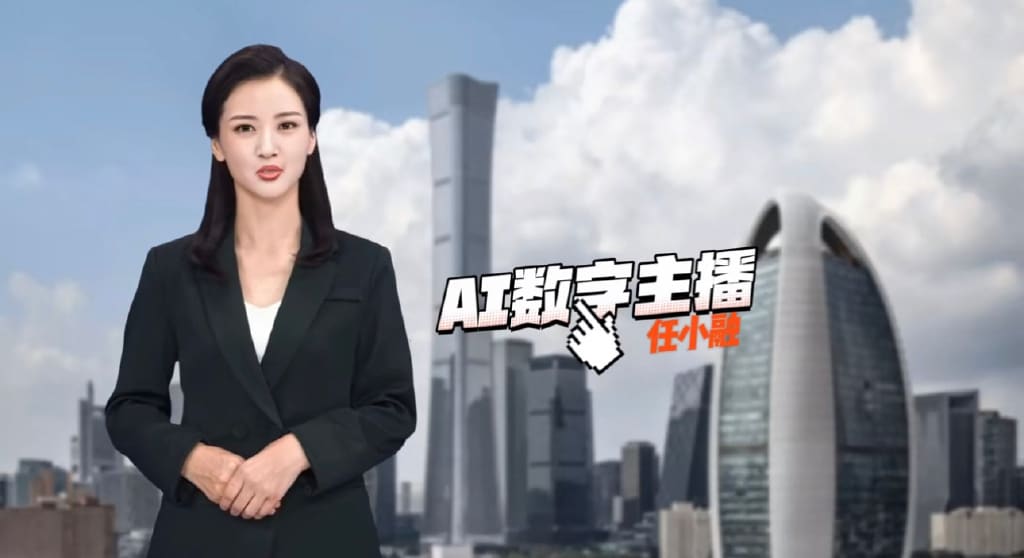 Ren Xiaorong is not the first People's Daily virtual news anchor. In 2019, the very first AI-powered presenter was unveiled at the 2019 Big Data Expo (#人民日报首位AI虚拟主播#). Guo Guo (果果), aka Little Guo Guo (小果果), was based on the real-life Chinese reporter Guo Xinyu (果欣禹).
China's state media outlets Xinhua, Beijing TV, Hunan TV, and CCTV previously also unveiled their own AI-powered virtual news anchors at a time when China's virtual idol market started to explode.
During the 2022 Winter Olympics in Beijing, there was also a virtual host and China's first AI sign language presenter.
Although news media outlets have started experimenting with virtual presenters for some time now, some netizens are still not convinced about the actual purpose of having virtual TV hosts and news anchors, especially when their AI-driven interactive functions are still limited.
Weibo blogging account 'Media People Online' (@传媒人在线) writes: "I've never really understood this, is there a shortage of broadcasting talent, or are AI anchors better at it? Why would you use a robot to broadcast the news? Are you spending so much money on an AI presenter just to show technological progress?"
But other bloggers (@夏日之阳新闻传播考研) think that virtual anchors could improve the quality and availability of news, since they could broadcast around the clock while saving on manpower, alleviating the pressure on newsrooms.
Whether people approve of virtual news readers or not, most agree Ren Xiaorong, along with her virtual colleagues, is a harbinger of the digitalization of the media at a time when artificial intelligence has already come to play a pivotal role in everyday activities.
Want to see Ren Xiaorong at work? Click this link on mobile.
By Manya Koetse 
Get the story behind the hashtag. Subscribe to What's on Weibo here to receive our newsletter and get access to our latest articles:
Spotted a mistake or want to add something? Please let us know in comments below or email us. First-time commenters, please be patient – we will have to manually approve your comment before it appears.
©2023 Whatsonweibo. All rights reserved. Do not reproduce our content without permission – you can contact us at info@whatsonweibo.com.