Papi Jiang: "I'll Watch My Words"
"As a media personality", she will pay more attention to her "words and image," Papi Jiang has promised.
After Chinese online celebrity 'Papi Jiang' (aka 'Papi Chan') recently became the target of state censorship, she has now publicly stated that "as a media personality", she will have to pay more attention to her "words and image." She promises to adjust her popular videos to meet the guidelines of the state. A Sina survey points out that most of China's netizens are against Papi's reprimand.
Papi Jiang (papi酱) is China's new favorite online celebrity. With her sharp and sarcastic videos that humorously address relevant topics in Chinese society, she has become a top trending Weibo celebrity. But with now over 11 million fans on her official Weibo page, the vlogger has learnt that fame can be a double-edged sword.
"Vulgar language and content"
Papi recently was targeted by censors, who took down her popular videos from all major online video platforms for containing "vulgar content".
On April 18, state newspaper People's Daily published a post on its Weibo account (@民日报), announcing that Papi Jiang's videos have been taken offline by the State Administration of Press, Publication, Radio, Film and Television (SAPPRFT). The supposed reason for the removal was that the videos contained "vulgar language and content". Her videos will be available again once their content is adjusted. This decision was said to be based on public reports and expert evaluation.
National swear word
As of April 18, Papi Jiangs videos are no longer available on Chinese online video platforms. On one of China's biggest video platforms Youku.com, the search term "Papi酱" gives no relevant results. Search results are still displayed on Aiqiyi.com, but viewing of videos is impossible.
Papi Jiang is known for her creative use of language in her videos, that also contain swear words. They include the Chinese equivalent of f*ck or sh*t, although Papi often uses them with an alternative pronunciation; most of the time, these words are silenced and only the subtitle remains. Some words Papi Jiang uses more freely. One example is the word 'TaMaDe' (他妈的, comparable to 'Damn it!'), wich is considered a "national swear word" (国骂).
"I will watch my words and image"
After the reprimand, Papi made an immediate announcement on Weibo, saying that she is willing to accept the criticism and make adjustments. She also conveyed she supported SAPRFT's requirement for correction, and that she will attempt to convey "positive power" (正能量) in the future. "As a media personality," she said: "I will watch my words and my image." Yang Ming, Papi's CEO, also expresses the company's willingness to produce "healthier contents".
Most netizens, however, do not accept the censors' decision that easily. According to a Sina survey, more than 70% people are against the decision, believing that internet content should develop its own norms. As for the "healthiness" of online videos in general, around 60% of the surveyees think that the content is overall positive, and that producers are quite 'disciplined'. For 22% of netizens, "healthiness" of content is not a big concern.
"A positive and healthy cyber culture will be good for everyone"
One day after Papi's videos were taken down, a symposium on cyberspace security and informatization was held in Beijing (April 19), where President Xi Jinping called for "enhanced development of the Internet and harnessing it for the benefit of the country and the people," in which "better cyberspace management and a positive and healthy cyber culture will be good for everyone" (Xinhua News).
Many netizens, however, have expressed they believe SAPPRFT's content censorship is too strict and often unreasonable. One netizen sarcastically commented under the post of People's Daily (@人民日报): "Why not go back to the old ways and have only the eight Model Operas?"
Side-effect of popularity
There are also jokes about state newspaper People's Daily, which is 'Renmin Ribao' in Chinese. One comment reads, "I have to stop reading Renmin Ribao now, because there is a 'Ri' in it" [Ri in Chinese is a euphemism of f*ck]
By now, Papi's Weibo statement has become a well-discussed topic in itself. By Wednesday afternoon, it had received over 61000 comments and 380000 likes. Fans express their unwavering support for Papi, saying that this drawback is just a side-effect of her popularity.
But there are also others who think the adjustments are necessary. "Once you become a public figure, you will need to comply to certain rules. The more popular, the greater your responsibility", one netizen writes.
As for Papi's popularity and fame – the reprimand from censors will not harm it. On the contrary, it has made Papi, once again, the talk of the day.
– By Diandian Guo 
Additional editing by Manya Koetse
Follow @WhatsOnWeibo
©2016 Whatsonweibo. All rights reserved. Do not reproduce our content without permission – you can contact us at info@whatsonweibo.com.
Angelababy, Huang Xiaoming, Li Fei'er: Love Triangle Rumors From Decade Ago Revisited
Weibo explodes after Angelababy addresses rumors that have been going on for over ten years.
On Wednesday afternoon, Beijing time, Weibo exploded when Chinese celebrity couple Huang Xiaoming and Angelababy addressed some strong rumors about the start of their relationship.
Their posts resulted in various hashtags and search terms going viral, including the phrases "When Angelababy Met Huang Xiaoming, He Said He Was Single" and "Angelababy Was Not My Mistress." At least three out of today's top trending Weibo topics are related to Angelababy and Huang Xiaoming.
Angelababy (nickname for Yang Ying 杨颖) is practically a household name in China. The famous actress and model married actor Huang Xiaoming (黄晓明) in 2015, and ever since, their marriage and relationship status is a popular gossip topic on social media. The two have a son together.
With Angelababy having over 100 million fans on her Weibo page (@angelababy) and Huang Xiaoming having over 61 million followers on his (@黄晓明), the two are practically Weibo's most followed couple. Their $31 million wedding is probably the most-discussed Chinese weddings of the past decade.
Chinese actress Li Fei'er (李菲儿) previously dated Huang Xiaoming after working with him in the 2008 television series Royal Tramp (鹿鼎记). The two are said to have started a relationship in 2007, and to have broken up in 2010 – the same year when Huang got together with Angelababy. The ending of the relationship with Li and the start of the new love affair with Angelababy has been a source of gossip for over a decade.
In a 2011 interview with a Hong Kong magazine, Li had hinted that Angelababy was previously 'the other woman' during her relationship with Huang.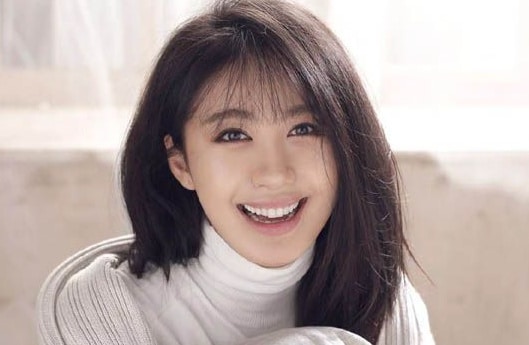 The rumors surrounding that alleged love triangle between Angelababy, Li, and Huang reached a new peak this week when Huang Xiaoming and Li Fei'er shared a stage on the super popular reality series Sisters Who Make Waves 2, which features 30 female celebrities over the age of 30. Huang hosts the show.
Apparently, Angelababy felt that the waves of rumors became too strong for her not to speak out. In the late afternoon of January 6, she posted a Weibo post in which she stated that Huang Xiaoming told her he was single when they first met. When Li made 'groundless' comments about Angelababy in a magazine interview, she asked Huang about it, and "he told me they had broken up."
"A decade has passed by. Today, I've chosen to stand up for myself and to explain the entire thing clearly. I don't want to take the blame anymore," Angelababy writes.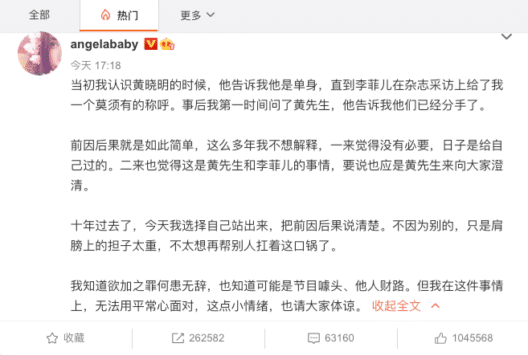 She also added that she felt this is "a matter between Mister Huang and Li Fei'er," suggesting that Huang is the person who needs to clarify the matter to the public.
Angelababy's post was followed up by a post by Huang just an hour later, in which he stated the success of the Sister Who Make Waves tv show lies in the values it conveys to respect women, suggesting that the recent flood of rumors is harmful to the show's central theme, the women participating in it, as well as to his own family.
He further clarifies that Angelababy "was not a mistress," refuting ongoing rumors about the start of their relationship.
The huge attention for this matter seemed to temporarily put a strain on Weibo's servers, with the site momentarily showing a notification that its servers were too busy. In 2017, Weibo servers could no longer handle the peak in traffic after Chinese singer ad actor Lu Han announced his new relationship.
For now, the statements by Angelababy and Huang have only brought about more speculation. The fact that Angelababy refers to her husband as "Mr. Huang" in her post intensifies ongoing rumors that Huang and Angelababy might already be separated.
Meanwhile, Li Fei'er, who has over 11 million followers on her Weibo page (@李菲儿love) has not posted anything about the recent developments. In her last post on January 1st, she wished her followers a happy new year.
By Wednesday night, Beijing time, Angelababy's post had received over 1,3 million likes and 100,000 comments; Huang's post got over 850,000 likes, already making this celebrity news one of the most talked-about topics this week.
By Manya Koetse, with contributions from Miranda Barnes
Follow @WhatsOnWeibo
Spotted a mistake or want to add something? Please let us know in comments below or email us. First-time commenters, please be patient – we will have to manually approve your comment before it appears.
©2021 Whatsonweibo. All rights reserved. Do not reproduce our content without permission – you can contact us at info@whatsonweibo.com.
What's on Weibo Podcast #4: Horse Prince, Ambassador, Money Maker – Ding Zhen is China's 2020 Viral Hit
The rise of Ding Zhen: it started with one Douyin clip and triggered a social media storm.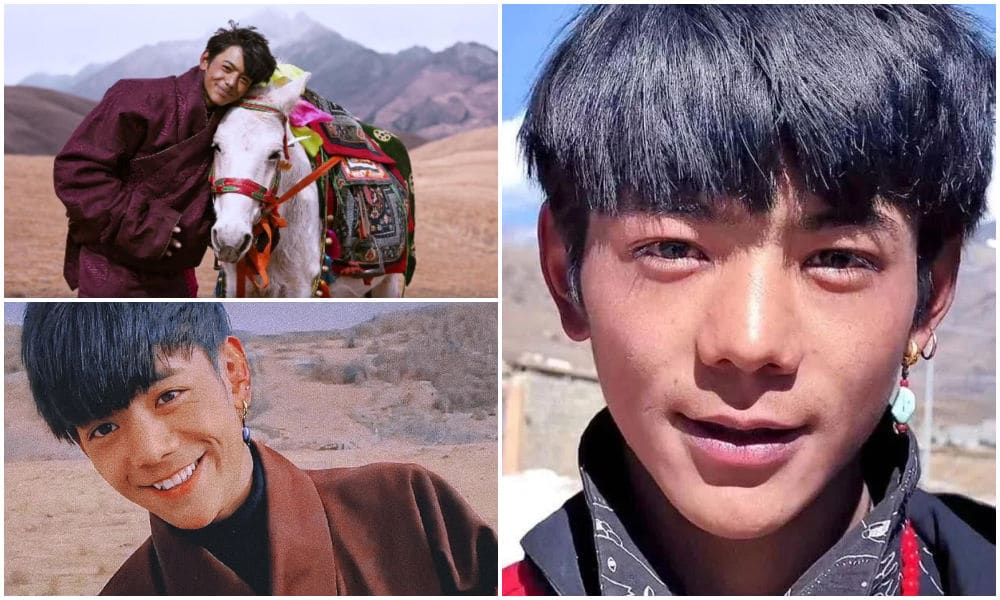 His name is Tenzin, now known as Ding Zhen, and this Khampa Tibetan young man is China's online sensation of the year. Within a matter of days, the 20-year-old from Litang has taken Chinese social media by storm.
In this latest What's on Weibo podcast, we explain Ding Zhen's fame from the very beginning, showing how one video clip snowballed into something much bigger than Ding Zhen alone.
Listen to our latest podcast here!
Spotted a mistake or want to add something? Please let us know in comments below or email us. First-time commenters, please be patient – we will have to manually approve your comment before it appears.
©2020 Whatsonweibo. All rights reserved. Do not reproduce our content without permission – you can contact us at info@whatsonweibo.com.