Mimeng and 'Self-Media' under Attack for Promoting Fake News Stories to Chinese Readers
Chinese 'zimeiti' or 'self media' have become a topic of discussion after this Mimeng scandal.
First published
China's "Queen of Self-media," Mimeng, is under attack after publishing a story that has been labeled 'fake news.' The scandal has triggered discussions on the status-quo of Zimeiti (自媒体/We Media) on the Chinese internet.
It was one of the most-discussed topics on Weibo and WeChat right before the Chinese New Year: the scandal involving Chinese blogging account 'Mimeng' (咪蒙), which sparked discussions on Mimeng herself and on the regulation and responsibility of 'we media' accounts on the Chinese internet.
Who or what is 'Mimeng'? First and foremost, Mimeng is an online social media account with an enormous fanbase: 13 million followers on WeChat, 2.6 followers on Weibo.
The person behind the Mimeng blogging account is Ma Ling (马凌), a Chinese female author and Literature graduate who was born in 1976 in Sichuan's Nanchong.
Over the past few years, 'Mimeng' has grown into a so-called 'we media' or 'self media' platform (zimeiti 自媒体), referring to private, independent, online publishing accounts that get their content across through blogs, podcasts, and other online channels. Mimeng is now more than Ma Ling alone: there's an entire team behind it.
Mimeng has been controversial for years because of its clickbait titles and controversial stances on various issues. The topics most addressed in Mimeng's publications are relationships between men and women, love, marriage, quarreling, and extramarital affairs.
Previous articles published by Mimeng, who is a self-labeled 'feminist' (and often mocked for it), include titles such as "This Is Why You're Poor," "Jealously Means Progress," "I Love Money, It's True," "Men Don't Cheat for Sex," or "How to Kill Your Wife."
Besides its content, there are also other reasons why Mimeng has triggered controversy in the past. The fact that Mimeng charges a staggering amount of money to advertisers, for example, is also something that previously became a topic of discussion – Mimeng allegedly charges some 750,000 yuan ($113,000) for a post mention.
SELLING FAKE STORIES
"As an influential We Media source, we must take on our social responsibility"
This time, however, Mimeng is hit by the biggest controversy thus far. The media group is under attack after publishing a story that turned out to be (partly) fabricated. The story was published on a WeChat account called Talented Limited Youth (才华有限青年), which is registered under the same legal entity as Mimeng. Its primary author, according to Sixth Tone, is a former intern of Ma Ling called Yang Yueduo.
The publication in question is a long story titled "The Death of a Top Scorer from a Poor Family" ("一个出身寒门的状元之死") which allegedly portrayed the short life of the author's old classmate: a young, bright mind, born in an impoverished family in Sichuan province. In the story, the protagonist did all he could to create a better life for him and his family.
He studied hard, got the best university entrance score of his city, and successfully graduated from university. But despite his efforts to start a life in the big city, he failed to succeed and tragically died of cancer at the young age of 24.
Shortly after publication, the moving and tragic story went viral on social media. However, several details made online readers doubt the story's authenticity. It did not take long before readers proved that several aspects of the story were indeed untrue.
In light of the fake news allegations, Talented Limited Youth quickly deleted the story from WeChat. They also issued a statement defending the story's authenticity, explaining that for privacy reasons, various details of the story were altered. According to Beijing News, Talented Limited Youth was then banned from posting on WeChat for 60 days.
In response to the allegations, Mimeng offered its "sincerest apologies" on Weibo on February 1st, saying: "The Mimeng Group has decided to completely withdraw from Weibo and take a two-month break from WeChat. We will use that time to carry out serious and profound self-reflection." The post continued saying that "as an influential We Media source, we must take on our social responsibility and pass on positive energy and values."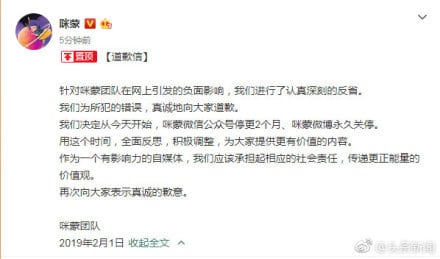 The announcement went trending under the hashtag "Mimeng Shuts Down Weibo Indefinitely" (#咪蒙微博永久关停#), which has received over 210 million views at time of writing.
POISONED CHICKEN SOUP
"Mimeng, for you, patriotism is only business"
On social media, there is a clear divide between those who support and oppose Mimeng. While some are calling for a "complete shutdown" of Mimeng, there are also those who say they will keep on following Mimeng and that they enjoy their publications.
The controversial Mimeng account has even brought about a so-called "Following Mimeng Rate" (含咪率), a number based on how many of your WeChat friends are following Mimeng's public WeChat account (by checking Mimeng's account on WeChat, WeChat users can see how many of their friends are following this account).
Mimeng opposers allege that the more friends you have that follow the Miming account, the more likely you are "to fail in life."
The official Weibo account of the Jiangsu Public Security's Bureau of 'Internet Safety' (@江苏网警) is also a clear Mimeng opposer. Last week, they lashed out against Mimeng in a post titled "Mimeng, for you, patriotism is only business."
The post hints at Mimeng's inconsistent stance on patriotism, and it included screenshots from two earlier Mimeng posts from 2013 and 2016, one in which patriotism is referred to as a kind of "forced love," and the other one saying: "I'll love my country forever, its greatness will forever move me to tears."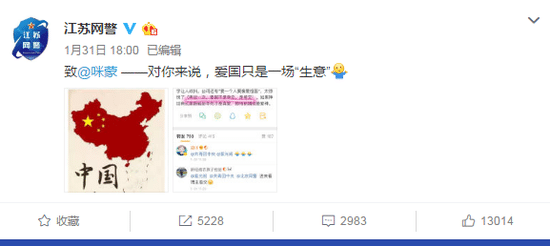 The post by the Jiangsu Bureau itself then also blew up on Weibo, with the hashtag "Jiangsu Internet Police calls out Mimeng" (#江苏网警点名咪蒙#) soon gaining over 210 million views. In the comment sections, many people criticize Mimeng for "deceiving people," "promoting negative values" and "using anything to get clicks."
One person wrote: "These self-regulated media only care about making money, they have no sense of social responsibility."
Others said that the fake news story was nothing but 'poisoned chicken soup' (毒鸡汤).
This is a term that is often used to describe Mimeng's content, and that of other self-media accounts, meaning that from the outside, it looks like "feel-good content" or "chicken soup [for the soul]" while it is actually 'poisonous' content with a marketing strategy or money-making machine behind it.
ZIMEITI CHAOS
"Self- media cannot become a spiritual pyramid scheme"
The Mimeng case has led to discussions in Chinese media on the status of 'we media' or 'self-media' platforms and their influence.
People's Daily responded to the Mimeng scandal with a post on February 1st titled "Self-media Cannot Become a Spiritual Pyramid Scheme" ("自媒体不能搞成精神传销"), which argued that unless self-media accounts such as Mimeng actually work on establishing "healthy social values," their apologies are only a way to temporarily dodge negative public attention.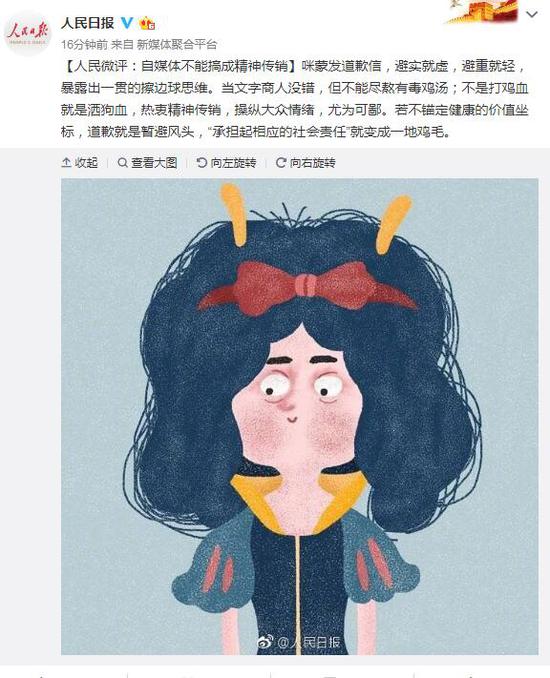 In late January, Chongqing Internet authorities launched an investigation into 48 'self-media' accounts, suspending two for spreading "fake news."
State media outlet China News published an article, also this week, that describes 'self-media' as a 'hypermarket' where publishers will go to extreme measures, such as selling 'fake news' for clicks, spreading negative influences and anxiety among the people.
But these discussions are somewhat blurred, as it is not entirely clear what 'self-media' actually is in this context. Generally speaking, the term could include any micro-blogger who identifies themselves as 'self-media' or 'we media' (zimeiti 自媒体). But in the current discussion, it seems to only relate to those publishing accounts that have a certain influence on social media and the (online) media environment, posing a challenge to traditional news outlets.
Some definitions of Chinese 'we media' say it is basically is "an umbrella term for self-posted content on social media platforms" (Qin 2016; Jiang & Sun 2017) – this suggests that everyone who is active on WeChat and Weibo or elsewhere is basically in 'self-media.'
A clearer description is given by Week in China, writing that "zimeiti typically operate as social media accounts run by individuals or as small firms established by a handful of former journalists."
What makes it different from any other social media account, is that in 'we-media' or 'zimeiti' "the blogging has been professionalized and that the authors can make a living from it" (WiC 2018). It is a trend that has become especially visible in China's online environment since 2012-2014.
This highly commercial side of 'we media' matters. If a publisher, such as Mimeng, charges advertisers exorbitant amounts of money, they also have to maintain a certain number of readers. They don't just post as a hobby, it is serious business.
In a highly competitive online media environment, where hundreds of media outlets are fighting over the clicks of China's online population of over 800 people, clickbait titles have almost become somewhat of a necessity for some of these publishers, with some even resorting to publishing "fake news" to get the attention – and the clicks.
China's Newsweek Magazine (新闻周刊) calls the situation at hand a "self-media chaos" (自媒体乱象) that poses an "unprecedented challenge" for governing society in the 3.0 era. They call for "healthy development of self-media" and better legislation to control the mushrooming zimeiti, that, despite strong online censorship, are not as tightly controlled as China's traditional media.
"Nowadays, we have less and less intellectuals, and more and more 'people selling words.' The chaos of self-media needs to be controlled," one commenter on Weibo says (@ZY盒子).
But other people deem that readers themselves should pick what they read instead of authorities regulating it for them: "The important thing is that every reader must have the independence to judge for themselves [what they read]; just let the 'poisonous chicken soup' [naturally] lose their market."
The Mimeng scandal shows that for social media accounts with a large following, one misstep can have huge consequences. This is something that Papi Jiang, a 'self-media' personality who became huge in 2015/2016, also experienced; she was reprimanded for disseminating "vulgar language and content" in April of 2016.
Very similar to Mimeng's statement, Papi also issued an apology at the time, saying she supported the requirement for correction, and that she would attempt to convey "positive power" (正能量) in the future. "As a media personality," she said, "I will watch my words and my image." Papi's CEO also expressed the company's willingness to produce "healthier contents." At the time, her videos were temporarily taken offline.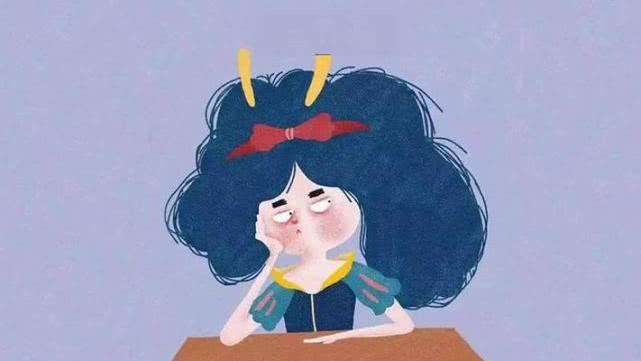 Meanwhile, some people think that the fact that Mimeng will stay silent for the coming two months is not necessarily a bad thing for the publisher: "They can take an extra long Spring Festival holiday." As for Mimeng's Weibo 'holiday' – that one is likely to be permanent.
By Gabi Verberg and Manya Koetse
References
-Qin, Amy. 2016. "China's Viral Idol: Papi Jiang, a Girl Next Door With Attitude." New York Times, 24 Aug https://www.nytimes.com/2016/08/25/arts/international/chinas-viral-idol-papi-jiang-a-girl-next-door-with-attitude.html [2.6.19].
-Sun, Yanran and Jiang. 2017. "A Study on the Effectiveness of We-Media as a Platform for Intercultural Communication." In New Media and Chinese Society, Ke Xue & Mingyang Yu (Eds.), 271-284. Singapore: Springer.
-WiC. 2018. "Headline earnings – Zimeiti hunt media profits but they still need to play by the rules." Week in China, 15 June https://www.weekinchina.com/2018/06/headline-earnings/ [2.6.19].
Spotted a mistake or want to add something? Please let us know in comments below or email us.
©2019 Whatsonweibo. All rights reserved. Do not reproduce our content without permission – you can contact us at info@whatsonweibo.com
The Disappearing Emoji on Weibo in Light of June 4
No candle or cake emoji on Weibo on June 4th.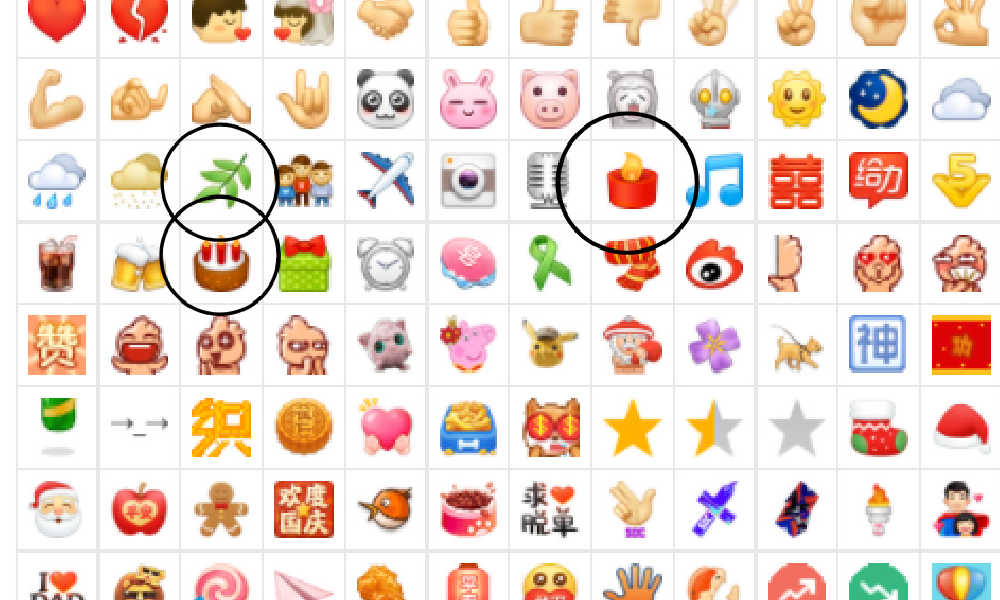 This week marks the anniversary of the Tiananmen student protests which started in April 1989 and ended with the violent crackdown on June 4th of that year.
It is the time of the year that censorship on Chinese social media intensifies, which is noticeable in various ways.
One noteworthy change is the disappearance of various Weibo emoji. Already in 2012, China Digital Times reported that the Sina Weibo platform quietly removed the candle icon from its collection of "frequently used emoticons" just before June 4. A year later, Shanghaiist also reported that the candle emoji had once again been removed, making the disappearing emoji a questionable annual Weibo tradition.
On Twitter, BBC reporter Kerry Allen (@kerrya11en) posted earlier that usually at this of year, it is not just the candle that disappears from Weibo's list of emoji, but also the leaf, the cake, the ribbon, and the present.
It's that time of year where I start watching #Weibo closely as emojis suddenly disappear ahead of the Tiananmen anniversary.

There don't appear to be any restrictions on the platform just yet, but the four clumsily circled emojis always vanish around this time. pic.twitter.com/kHuOPrVaqE

— Kerry Allen 凯丽 (@kerrya11en) June 1, 2021
A screenshot taken by What's on Weibo on June 1st of this year showed that all emoji were still available.
But on June 3rd, three emoji had disappeared from the list, including the falling leaf (风吹叶落), candle (蜡烛), and cake (生日蛋糕).
The disappearance of the emoji means that Weibo posts that were previously made by official media using these emoji also no longer contain them – instead, only the emoji description shows up.
To circumvent censorship, social media users in China often use emoji, creative language, or images to get their message across. To keep discussions on the violent events of June 4 contained, online censors also crack down on sensitive words, numbers, photographs, and symbols.
At this time, the term 'Tiananmen' has not been banned on Weibo, but the only posts using the term are official ones about another anniversary, namely that of the Communist Party. The Communist Party of China will mark its 100th anniversary in July.
By Manya Koetse
Spotted a mistake or want to add something? Please let us know in comments below or email us. First-time commenters, please be patient – we will have to manually approve your comment before it appears.
©2021 Whatsonweibo. All rights reserved. Do not reproduce our content without permission – you can contact us at info@whatsonweibo.com.
Chinese E-Readers: The Best E-book Devices in China
Overview of the top 10 e-readers in China in 2021.
From Onyx to Xiaomi, these are the top selling e-readers in China right now.
Ereaders have become booming business over recent years. Some people prefer an e-reader because it is easier on their eyes than reading from phone screens, others want a distraction-free digital reading style, and some just like the idea of carrying their own mini-library with them with a battery that lasts much longer than those of tablets or smartphones.
While Amazon's Kindle is the biggest brand name in the American and European e-book reader market, the Chinese e-reader market also has several domestic brands topping the popularity lists.
Here is an overview of the top 10 brands currently dominating the lists in China. This list is based on the rankings of Zol.com, one of China's leading IT information and business portals.
The devices mentioned in this list are all devices with E Ink ("electronic ink") display technology, which gives them that low-power paper-like display. Devices using E Ink technology are usually in grayscale, but color e-paper technologies are now also available.
1. ONYX BOOX (CHINESE BRAND)
BOOX, also known as Onyx Boox (文石BOOX), currently is China's top e-book reader brand, produced by Onyx International Inc., which mostly produces E Ink (ePaper) devices. Onyx Boox was founded in 2008 by a team from IBM, Google, and Microsoft. It is headquartered in Guangzhou.
What sets Onyx apart from many other e-book reader brands is that they offer devices from 7.8 to 13.3 inches that can also function as digital note-taking tablets, equipped with a pen that allows users to pen down their notes as they would in any paper notebook.
The latest Onyx devices such as the Max Lumi (13.3 inch), Onyx Boox Note Air (10.3 inch), the Note 3 (10.3 inch), and the Nova 3 and Nova 3 Color (7.8 inch) all have a wide variety of functions. Besides the common e-reading functions and digital note-taking possibilities, these devices run Android, handle many different file formats, and allow an install of Google Play, Kindle, OneDrive, and more, which really make them "like a tablet unlike any tablet" (which just happens to be their slogan).
Currently, the Boox Nova 3 is the brand's most popular model in China. Priced at ¥2480 ($377), it is also among the pricier models in the markets due to its multifunctionality. It has 32GB of storage, E Ink Carta Plus (the latest generation of screens made by "electronic paper" technology) and also has a screen front light system, allowing users to keep on reading in the dark.
At ¥2780 ($423), the Onyx Boox Note S, which features a 9.7-inch screen, is also rising in popularity. Then there is also the Nova 3 Color 7.8-inch color E Ink tablet with a new Kaleido (Kaleido Plus) screen.
The Onyx is also sold outside of China, check it out here on Amazon.
2. AMAZON
The American Amazon brand is also popular in China when it comes to its e-reader devices. While compiling this list, the Onyx and Amazon brands actually competed over the number one spot, so there is not much difference there in terms of ranking.
Along with the entry-level Kindle Migu X, the 4th generation (2018) Kindle Paperwhite (6 inches, 1448x1072px) is among the most popular e-reader models in China, priced at ¥998 ($152). Like the Onyx Nova 3, it is also available with 32GB storage, but keep in mind that the screen is smaller.
The Kindle e-book devices are much more affordable than the Onyx ones, and their functionality is more straightforward as an e-book reader. They are known for their great battery life, and since the first Kindle was introduced in 2007 it has become the world's most famous dedicated e-reader. Kindles are designed to interface seamlessly with Amazon's online store, which makes them perfect for Amazon fans and less appealing for those who have no desire to use the Amazon ecosystem.
The Paperwhite model has an extra advantage to it, as it allows to keep on reading while taking a bath or sitting by the pool since it is water-resistant. The Paperwhite is currently the no.2 best-sold e-book reader on Chinese major shopping platform JD. It is sold through Amazon here.
3. iFLYTEK (科大讯飞) (CHINESE BRAND)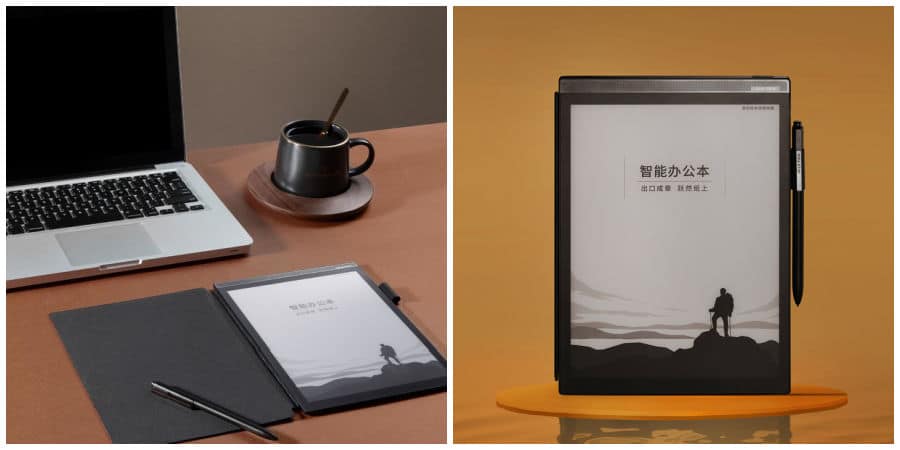 iFlytek is a partially state-owned Chinese AI firm established in 1999 that also produces e-book readers. The company made headlines in 2019-2020 when it was blacklisted in the US for allegedly using its technology for surveillance and human rights abuses in Xinjiang.
Its iFlytek Smart Office X2 (科大讯飞智能办公本X2) is the e-book reader that is currently in the top 5 list of most popular ink screen devices in China (it even scores no 1 on e-commerce platform JD.com at the time of writing), and it is also among the most expensive (¥4999/$762). The X2 is a 10.3-inch E Ink device.
Similar to the Onyx Boox devices, it is much more than an e-reader alone; it is also a note-taking device (comes with the Wacom stylus) and incorporates fingerprint authentication, Wifi/4G, (offline) voice recognition, and transcription functions; it probably is the smartest e-reader around.
The iFlytek also has a whopping 64GB storage, which can be expanded to 128GB. GizTechReview did a review of the Smart Office X2 here.
4. IREADER / ZHANGYUE (掌阅) (CHINESE BRAND)
Ebook reader Zhangyue (掌阅) made headlines in late 2020 when it was announced that Tiktok owner Bytedance would invest $170 million in the company.
Zhangyue, founded in 2008 in Beijing, is not just a producer of e-readers, it is also the online literature publisher behind the iReader platform (掌阅书城). Its most popular ebook reader in China at this time is the 6-inch Zhangyue iReader Light (掌阅iReader Light青春版), which is priced at ¥638 ($97) and comes with 8GB storage.
A much pricier model is the Smart X (¥3499/$539), which has 32GB storage and a 10.3 inch 1872×1404 resolution screen, making it just as big as the Onyx Boox Note Air and the iFlytek Smart Office X2. The iReader Smart X also comes with a Wacom pen for note-taking. There's a review of this device on Gearbest.
The iReader Smart 2 is popular on shopping site JD.com, priced at ¥2299 ($353). It came out in 2020, and also is a note-taking device with 32GB storage and a 10.3 inch screen. The difference with the Smart X device mainly lies in its screen quality.
5. XIAOMI (CHINESE BRAND)
Beijing-brand Xiaomi is mostly known for being one of the world's largest smartphone makers, but the tech company does so much more, from watches to earphones, TVs, scooters, and e-readers.
Priced at ¥599 ($92), the Xiaomi MiReader (小米多看电纸书), released in November 2019, is among the more popular e-reader devices in China at the moment. Mainly marketed for the Chinese market, it is Xiaomi's first ebook reader which comes with a 6-inch e-Ink screen and 16GB storage. With its 1024×768 pixels at 212 PPI screen, it might not be as crisp and fast as other devices in this list, but its price is also much lower. This review at Goodereader was not positive at all, calling it "super slow and plodding."
The MiReader also has a Pro device (小米多看电纸书Pro) available in China, which is ¥1299 ($200) and comes with a 7.8-inch 300 PPI screen and 32GB storage. The Xiaomi e-readers allow access to the WeChat Library, which is a great advantage for Chinese consumers (Kindle doesn't allow access to the WeChat Library).
6. HANVON (汉王) (CHINESE BRAND)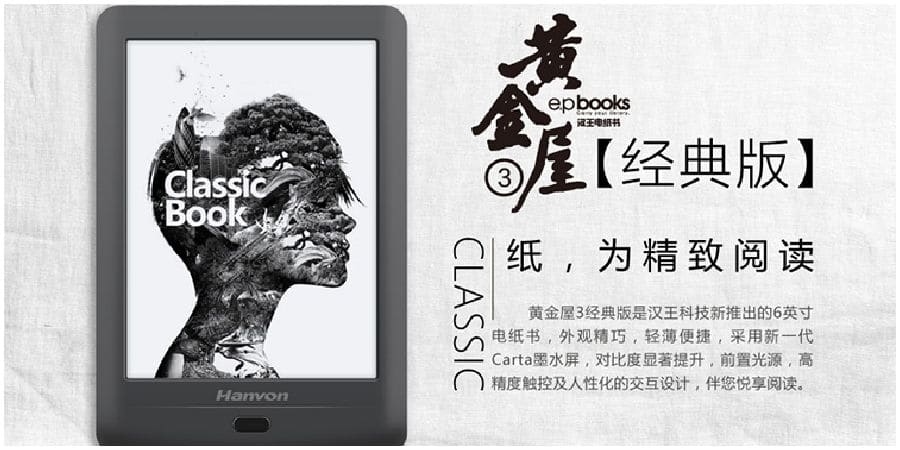 Established in 1998, Hanwang is a pioneering company in character recognition technology and intelligent interactive products.
Although Hanvon is in the top 10 of China's hottest e-book device brands, its Hanvon Gold House 3 model (汉王黄金屋3), priced at ¥799 ($123), is not nearly as popular as other devices in this list. The Hanvon Gold House comes with a 6-inch 1024×758 resolution screen and 4GB in storage. The device is marketed as being simple, stylish, and ergonomic.
7. TENCENT (CHINESE BRAND)
Chinese tech giant Tencent is mostly known for its social media and gaming products, but it also produces e-book devices.
The Tencent Pocket Reader (腾讯口袋阅) is small and lightweight with its 5.2 inches 1280×720 eInk screen, it comes with 8GB storage and is priced at ¥889 ($136). The device is centered around the Tencent ecosystem and provides access to the Tencent Library and bookstore.
Its small size makes this device different from other e-readers. It is the size of a smartphone, which is great if you really want an e-reader in your pocket, but less ideal if you are looking for a more comfortable reading experience. The Pocket Reader supports a 4G mobile card and can also make calls and do text messaging.
8. BOYUE (博阅) (CHINESE BRAND)
Boyue is a digital reading technology company founded in 2009. Throughout the years the company has released different e-book devices as well as digital note-taking devices.
The Boyue T80 model and its Likebook Mars are its best-sold devices in China. The Boyue T80 is priced at ¥1199 ($184) and has 8GB of storage, features an 8-inches 1024×768 screen, and supports SD.
The Likebook Mars is ¥1380 ($212) and comes with 16GB of storage, a 7.8 inch 1872×1404 screen, and it also has SD card support, which allows you to extend the storage capacity to 128GB.
9. OBOOK (国文) (CHINESE BRAND)
Guowen or OBOOK is an e-reader company established in 2010 as what was meant to be the Chinese answer to Kindle.
Its Dangdang E-reader 8 (当当阅读器8) is currently rising in popularity. It features a 6-inch 300 PPI resolution screen and 16GB of storage and is priced at ¥918 ($141).
10. SONY
Sony is perhaps not a name you'd expect in this list, since Sony seems to have exited the e-reader business some time ago.
There are only a few e-book devices by Sony that are still popular in China right now, and one of them is the 10.3-inch 1404×1872 screen Sony DPT-CP1 model that is priced at ¥4888 ($750). For this price, you get a lightweight, thin device that also serves as a digital note-taking tablet that syncs with PC or Mac.
The DPT-RP1/WC model is even pricier at ¥5299 ($815), for which you get a 13.3 inch 1650×2200 screen, which is comparable to the Onyx Boox Max Lumi.
By Manya Koetse
This is not a sponsored post. This article could contain links to online shops, which might allow us to earn a very small affiliate commission at zero extra cost to you – it helps us in maintaining this site. Spotted a mistake or want to add something? Please let us know in comments below or email us. First-time commenters, please be patient – we will have to manually approve your comment before it appears.
©2021 Whatsonweibo. All rights reserved. Do not reproduce our content without permission – you can contact us at info@whatsonweibo.com.