Mimeng and 'Self-Media' under Attack for Promoting Fake News Stories to Chinese Readers
Chinese 'zimeiti' or 'self media' have become a topic of discussion after this Mimeng scandal.
First published
China's "Queen of Self-media," Mimeng, is under attack after publishing a story that has been labeled 'fake news.' The scandal has triggered discussions on the status-quo of Zimeiti (自媒体/We Media) on the Chinese internet.
It was one of the most-discussed topics on Weibo and WeChat right before the Chinese New Year: the scandal involving Chinese blogging account 'Mimeng' (咪蒙), which sparked discussions on Mimeng herself and on the regulation and responsibility of 'we media' accounts on the Chinese internet.
Who or what is 'Mimeng'? First and foremost, Mimeng is an online social media account with an enormous fanbase: 13 million followers on WeChat, 2.6 followers on Weibo.
The person behind the Mimeng blogging account is Ma Ling (马凌), a Chinese female author and Literature graduate who was born in 1976 in Sichuan's Nanchong.
Over the past few years, 'Mimeng' has grown into a so-called 'we media' or 'self media' platform (zimeiti 自媒体), referring to private, independent, online publishing accounts that get their content across through blogs, podcasts, and other online channels. Mimeng is now more than Ma Ling alone: there's an entire team behind it.
Mimeng has been controversial for years because of its clickbait titles and controversial stances on various issues. The topics most addressed in Mimeng's publications are relationships between men and women, love, marriage, quarreling, and extramarital affairs.
Previous articles published by Mimeng, who is a self-labeled 'feminist' (and often mocked for it), include titles such as "This Is Why You're Poor," "Jealously Means Progress," "I Love Money, It's True," "Men Don't Cheat for Sex," or "How to Kill Your Wife."
Besides its content, there are also other reasons why Mimeng has triggered controversy in the past. The fact that Mimeng charges a staggering amount of money to advertisers, for example, is also something that previously became a topic of discussion – Mimeng allegedly charges some 750,000 yuan ($113,000) for a post mention.
SELLING FAKE STORIES
"As an influential We Media source, we must take on our social responsibility"
This time, however, Mimeng is hit by the biggest controversy thus far. The media group is under attack after publishing a story that turned out to be (partly) fabricated. The story was published on a WeChat account called Talented Limited Youth (才华有限青年), which is registered under the same legal entity as Mimeng. Its primary author, according to Sixth Tone, is a former intern of Ma Ling called Yang Yueduo.
The publication in question is a long story titled "The Death of a Top Scorer from a Poor Family" ("一个出身寒门的状元之死") which allegedly portrayed the short life of the author's old classmate: a young, bright mind, born in an impoverished family in Sichuan province. In the story, the protagonist did all he could to create a better life for him and his family.
He studied hard, got the best university entrance score of his city, and successfully graduated from university. But despite his efforts to start a life in the big city, he failed to succeed and tragically died of cancer at the young age of 24.
Shortly after publication, the moving and tragic story went viral on social media. However, several details made online readers doubt the story's authenticity. It did not take long before readers proved that several aspects of the story were indeed untrue.
In light of the fake news allegations, Talented Limited Youth quickly deleted the story from WeChat. They also issued a statement defending the story's authenticity, explaining that for privacy reasons, various details of the story were altered. According to Beijing News, Talented Limited Youth was then banned from posting on WeChat for 60 days.
In response to the allegations, Mimeng offered its "sincerest apologies" on Weibo on February 1st, saying: "The Mimeng Group has decided to completely withdraw from Weibo and take a two-month break from WeChat. We will use that time to carry out serious and profound self-reflection." The post continued saying that "as an influential We Media source, we must take on our social responsibility and pass on positive energy and values."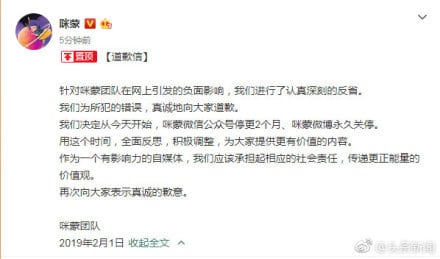 The announcement went trending under the hashtag "Mimeng Shuts Down Weibo Indefinitely" (#咪蒙微博永久关停#), which has received over 210 million views at time of writing.
POISONED CHICKEN SOUP
"Mimeng, for you, patriotism is only business"
On social media, there is a clear divide between those who support and oppose Mimeng. While some are calling for a "complete shutdown" of Mimeng, there are also those who say they will keep on following Mimeng and that they enjoy their publications.
The controversial Mimeng account has even brought about a so-called "Following Mimeng Rate" (含咪率), a number based on how many of your WeChat friends are following Mimeng's public WeChat account (by checking Mimeng's account on WeChat, WeChat users can see how many of their friends are following this account).
Mimeng opposers allege that the more friends you have that follow the Miming account, the more likely you are "to fail in life."
The official Weibo account of the Jiangsu Public Security's Bureau of 'Internet Safety' (@江苏网警) is also a clear Mimeng opposer. Last week, they lashed out against Mimeng in a post titled "Mimeng, for you, patriotism is only business."
The post hints at Mimeng's inconsistent stance on patriotism, and it included screenshots from two earlier Mimeng posts from 2013 and 2016, one in which patriotism is referred to as a kind of "forced love," and the other one saying: "I'll love my country forever, its greatness will forever move me to tears."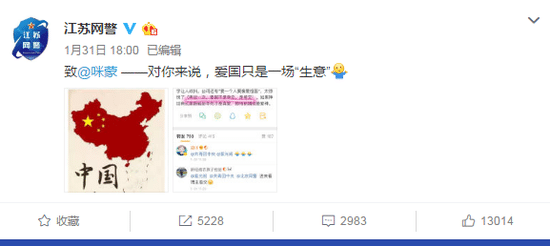 The post by the Jiangsu Bureau itself then also blew up on Weibo, with the hashtag "Jiangsu Internet Police calls out Mimeng" (#江苏网警点名咪蒙#) soon gaining over 210 million views. In the comment sections, many people criticize Mimeng for "deceiving people," "promoting negative values" and "using anything to get clicks."
One person wrote: "These self-regulated media only care about making money, they have no sense of social responsibility."
Others said that the fake news story was nothing but 'poisoned chicken soup' (毒鸡汤).
This is a term that is often used to describe Mimeng's content, and that of other self-media accounts, meaning that from the outside, it looks like "feel-good content" or "chicken soup [for the soul]" while it is actually 'poisonous' content with a marketing strategy or money-making machine behind it.
ZIMEITI CHAOS
"Self- media cannot become a spiritual pyramid scheme"
The Mimeng case has led to discussions in Chinese media on the status of 'we media' or 'self-media' platforms and their influence.
People's Daily responded to the Mimeng scandal with a post on February 1st titled "Self-media Cannot Become a Spiritual Pyramid Scheme" ("自媒体不能搞成精神传销"), which argued that unless self-media accounts such as Mimeng actually work on establishing "healthy social values," their apologies are only a way to temporarily dodge negative public attention.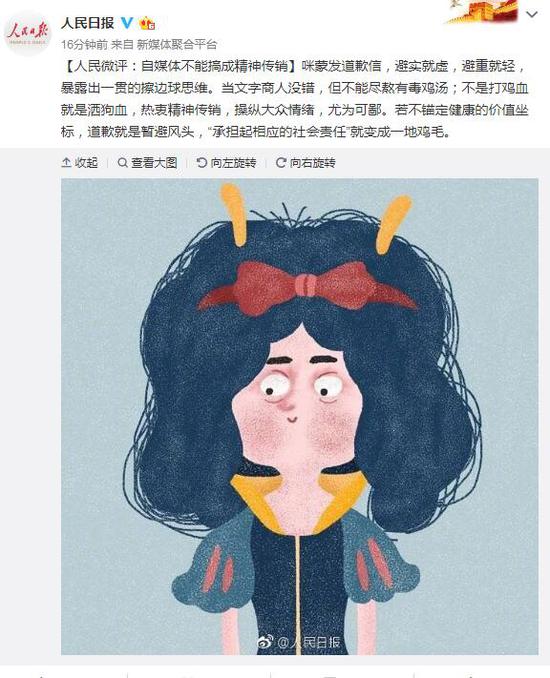 In late January, Chongqing Internet authorities launched an investigation into 48 'self-media' accounts, suspending two for spreading "fake news."
State media outlet China News published an article, also this week, that describes 'self-media' as a 'hypermarket' where publishers will go to extreme measures, such as selling 'fake news' for clicks, spreading negative influences and anxiety among the people.
But these discussions are somewhat blurred, as it is not entirely clear what 'self-media' actually is in this context. Generally speaking, the term could include any micro-blogger who identifies themselves as 'self-media' or 'we media' (zimeiti 自媒体). But in the current discussion, it seems to only relate to those publishing accounts that have a certain influence on social media and the (online) media environment, posing a challenge to traditional news outlets.
Some definitions of Chinese 'we media' say it is basically is "an umbrella term for self-posted content on social media platforms" (Qin 2016; Jiang & Sun 2017) – this suggests that everyone who is active on WeChat and Weibo or elsewhere is basically in 'self-media.'
A clearer description is given by Week in China, writing that "zimeiti typically operate as social media accounts run by individuals or as small firms established by a handful of former journalists."
What makes it different from any other social media account, is that in 'we-media' or 'zimeiti' "the blogging has been professionalized and that the authors can make a living from it" (WiC 2018). It is a trend that has become especially visible in China's online environment since 2012-2014.
This highly commercial side of 'we media' matters. If a publisher, such as Mimeng, charges advertisers exorbitant amounts of money, they also have to maintain a certain number of readers. They don't just post as a hobby, it is serious business.
In a highly competitive online media environment, where hundreds of media outlets are fighting over the clicks of China's online population of over 800 people, clickbait titles have almost become somewhat of a necessity for some of these publishers, with some even resorting to publishing "fake news" to get the attention – and the clicks.
China's Newsweek Magazine (新闻周刊) calls the situation at hand a "self-media chaos" (自媒体乱象) that poses an "unprecedented challenge" for governing society in the 3.0 era. They call for "healthy development of self-media" and better legislation to control the mushrooming zimeiti, that, despite strong online censorship, are not as tightly controlled as China's traditional media.
"Nowadays, we have less and less intellectuals, and more and more 'people selling words.' The chaos of self-media needs to be controlled," one commenter on Weibo says (@ZY盒子).
But other people deem that readers themselves should pick what they read instead of authorities regulating it for them: "The important thing is that every reader must have the independence to judge for themselves [what they read]; just let the 'poisonous chicken soup' [naturally] lose their market."
The Mimeng scandal shows that for social media accounts with a large following, one misstep can have huge consequences. This is something that Papi Jiang, a 'self-media' personality who became huge in 2015/2016, also experienced; she was reprimanded for disseminating "vulgar language and content" in April of 2016.
Very similar to Mimeng's statement, Papi also issued an apology at the time, saying she supported the requirement for correction, and that she would attempt to convey "positive power" (正能量) in the future. "As a media personality," she said, "I will watch my words and my image." Papi's CEO also expressed the company's willingness to produce "healthier contents." At the time, her videos were temporarily taken offline.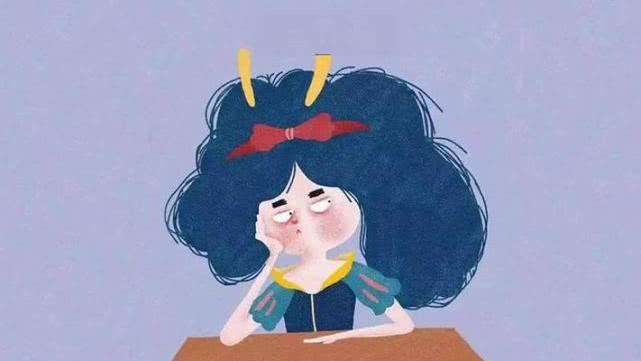 Meanwhile, some people think that the fact that Mimeng will stay silent for the coming two months is not necessarily a bad thing for the publisher: "They can take an extra long Spring Festival holiday." As for Mimeng's Weibo 'holiday' – that one is likely to be permanent.
By Gabi Verberg and Manya Koetse
References
-Qin, Amy. 2016. "China's Viral Idol: Papi Jiang, a Girl Next Door With Attitude." New York Times, 24 Aug https://www.nytimes.com/2016/08/25/arts/international/chinas-viral-idol-papi-jiang-a-girl-next-door-with-attitude.html [2.6.19].
-Sun, Yanran and Jiang. 2017. "A Study on the Effectiveness of We-Media as a Platform for Intercultural Communication." In New Media and Chinese Society, Ke Xue & Mingyang Yu (Eds.), 271-284. Singapore: Springer.
-WiC. 2018. "Headline earnings – Zimeiti hunt media profits but they still need to play by the rules." Week in China, 15 June https://www.weekinchina.com/2018/06/headline-earnings/ [2.6.19].
Spotted a mistake or want to add something? Please let us know in comments below or email us.
©2019 Whatsonweibo. All rights reserved. Do not reproduce our content without permission – you can contact us at info@whatsonweibo.com
BMW Ice Cream Gate: Three Reasons Why a MINI Story Became a Major Incident
There is more behind the BMW MINI ice cream incident than ice cream alone.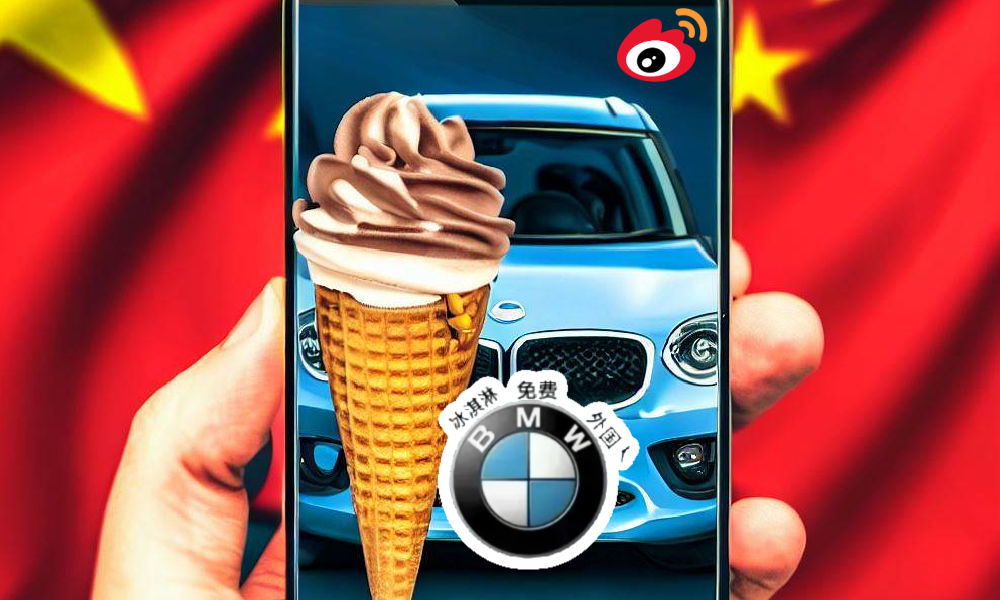 The Shanghai Auto Show's BMW MINI booth and its employees found themselves at the center of a social media storm after a video of their free ice cream promotional campaign made it seem like foreigners got free ice cream while Chinese visitors were told no. The incident has had a major impact, both online and offline. What caused a seemingly minor event to escalate into a significant controversy?
It is the noteworthy incident that made international headlines over the past week: a freebie marketing campaign by German automotive company BMW at the Shanghai Auto Show went horribly wrong.
The incident happened on April 20, 2023, at the Shanghai show's MINI booth, where two Chinese female workers were giving out free ice cream from a local brand.
A video was posted on Chinese video platforms Bilibili and Douyin that showed staff at the booth refusing ice cream to a local visitor by stating that it had all been given away. However, when a foreign attendee approached, the staff suddenly had ice cream readily available for them.
The person who was filming, a Chinese man named Sun, then stepped up to the booth and ask for ice cream himself. The girls then suggested an app was needed for that, and that they had limited supplies. The video further showed that the only people actually enjoying the Luneurs brand ice cream were all foreigners.
The video footage soon went viral and sparked public outrage over discrimination against Chinese visitors of the show.
BMW MINI tried to avert a marketing disaster by issuing an official apology via its social media channels in China on the same day, stating that they regretted that their sweet promotional campaign caused unhappiness "due to the lack of internal management and staff negligence."
Many people, however, thought the apology was insufficient. "ChatGPT could write [a better apology] than this," a typical comment said, and some even gave examples of ChatGPT writing a better apology.
"If I can speak English can I have some ice cream?", another popular comment said. Others said they would never consider buying BMW again.
On April 21, BMW MINI released another statement on its Weibo account, in which they indicated that they had given away 600 ice creams in two days for people coming to the booth with vouchers distributed via the MINI app. At the booth, they had also set aside a few ice creams for their own "very hard-working colleagues" at the show. The statement said that the foreigners in the video were all BMW colleagues, wearing a badge.
They again apologized for the controversy and admitted they had mismanaged the situation, adding that they hope that people can have some tolerance and space for the two female workers who are young and were just newly employed.
The two female employees were reportedly dismissed and the ice cream promotional campaign was stopped (#宝马mini两名发冰淇淋女生已离职#). "You should replace your PR team," some people suggested.
The controversy further intensified when news came out that, also on Thursday, one female live blogging at the BMW MINI booth was sent away and removed by security.
How could ice creams at an auto show trigger such heated nationwide discussions? There are multiple factors, including historical, societal, marketing, and online media dynamics, that contributed to the incident becoming such a significant issue.
1. Painful History: "No Dogs and Chinese Allowed"
One of the reasons why the BMW MINI story triggered such sharp criticism, accusations of racism, and emotional reactions, is because the incident stirs up collective memories of a sensitive period in history when Chinese faced humiliation and discrimination by the hands of foreign powers.
In discussions on the BMW MINI ice cream incident, the phrase "Chinese and Dogs Not Admitted" ("华人与狗不得入内") came up again and again in online comments and memes.
The phrase is widely remembered in the context of a sign in front of Shanghai's Huangpu Park that was closed to Chinese people in the late 19th and early 20th centuries during the International Settlement. The fact that the ice cream incident took place in Shanghai further reinforced the connection to this local history.
The "No Dogs and Chinese Allowed" sentence, by the way, was never actually displayed as an official sign at the park gate. But there was still a regulation at some point that Chinese visitors, except servants, were not allowed in the park. Bicycles and dogs were also not allowed in the park. Eventually, "No Dogs and Chinese Allowed" turned into a symbol of the nation's "historical humiliation" (Bickers & Wasserstrom 1995: 446-449).
The sign was also featured in the Bruce Lee film Fist of Fury, and one relevant scene in the film was also shared on Weibo in light of the BMW MINI controversy (watch the scene here).
Because the (imagined) Huangpu sign has left such a lasting imprint on the collective memory of the Chinese public, it comes back up in online discussions whenever there are viral incidents in which Chinese people are made to feel unequal to foreigners in any way.
"So many years have passed, yet still fundamentally there is still [the idea] that foreigners are above us," one commenter wrote. Others spoke of "BMW's 'Chinese and dogs not allowed' attitude," and one article called the BMW ice cream incident the 21st century version of "Chinese and dogs not allowed" ("宝马mini冰淇淋事件,是21世纪的"华人与狗不得入内").
In 2018, Chinese bike-sharing service Ofo received massive criticism when it was exposed that they would give foreigners their deposits back while Chinese customers were ignored. One news headline about special tourist trains for Chinese tourists in Switzerland also triggered controversy in 2015.
When various foreign countries imposed Covid-related travel restrictions only for passengers from China in January of 2023, many netizens also responded with resentment and anger, partly fuelled by Chinese media reports describing the rules as a form of foreign revenge, discrimination against the Chinese, and political conspiracy.
2. Consumer Nationalism amd Western Brands
Another reason why the Shanghai Auto Show incident received so much attention relates to the specific dynamics of consumer nationalism in China and the BMW brand reputation.
One type of nationalism that has become especially prevalent on Chinese social media in recent years involves online anger Chinese netizens demonstrate toward Western brands. This goes hand in hand with a shift in consumer sentiments, a growing popularity of made-in-China brands along with a rise in cultural nationalism and changing international dynamics (read more).
In July of 2022, the French luxury fashion house Dior came under fire after netizens discovered one of its skirts resembled a Chinese traditional skirt known as mǎmiànqún (马面裙). The brand did not acknowledge that it had used the Chinese traditional design and online anger grew, with many netizens accusing Dior of cultural appropriation (read here).
Western brands faced heavy criticism in China in 2021 when a social media storm erupted over the Better Cotton Initiative (BCI) and its brand members for no longer sourcing from China's Xinjiang region. The 'Xinjiang cotton ban' led to a major 'Xinjiang cotton support' campaign on Weibo, and a boycott for those brands siding with BCI (read here).
Condemnation and boycotting of Western brands also became prevalent during the Hong Kong protests in 2019, when Chinese social media users and state media condemned foreign brands for showing any signs of disregarding the One-China Policy. Asics, Calvin Klein, Coach, Givenchy, Versace, Swarovksi, and others were blamed for not respecting China's sovereignty by listing Hong Kong and Taiwan as different countries on their websites or other products (read here).
In 2018, Italian fashion house D&G got caught up in a major controversy when its promo video campaign came under fire. In of their videos, a Chinese female model clumsily attempted to eat a large cannoli bread with chopsticks; a voice-over said that the cannoli might be "too big" for her. It was not received very well by many netizens on Chinese social media, where people called it "outdated and stereotypical," "racist," and "disrespectful." The controversy snowballed out of control from there and became much worse after screenshots of racist comments attributed to fashion designer Stefano Gabba went viral (read here).
The recent BMW incident is thus part of a larger pattern of Western brands being accused of insulting and disrespecting Chinese people, while the popularity of Chinese (car) brands is rising. Earlier this month, What's on Weibo wrote an article about how BMW often makes headlines in China in the context of horrific hit-and-run incidents and how the negative headlines are impacting BMW's brand image in China.
BMW's negative brand reputation in China exacerbates the impact of the ice cream incident, rather than alleviating it.
Although the brand has had a positive image for its high-quality and luxurious cars, it has also received a lot of unfavorable publicity, creating more negative associations – BMW drivers are generally seen as materialstic and flaunting their wealth. The nationwide attention for the ice cream incident and BMW MINI's response to it has further damaged the brand's reputation. The BMW stocks saw a price dip following the incident.
For some BMW car owners, the incident has also had negative consequences. According to various social media posts and photos, some BMW MINI owners saw their cars being scratched or vandalized over the past few days. At least one BMW MINI owner saw ice cream smeared over the front of their car.
3. The Snowball Effect of Social Media Storms
The incident involving BMW sparked a massive online controversy on Chinese social media, which quickly gained momentum. Initially triggered by one single video, it rapidly spiraled out of control as thousands of netizens joined in, expressing their views and creating their own videos and memes (also see this Twitter thread).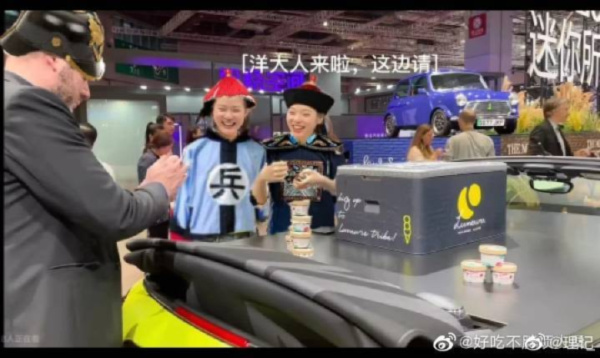 Some social media users also used old cartoons ridiculing preferential treatment for foreigners.
One meme suggested that "BMW" stands for: Bīngqílín (冰淇淋, Ice cream), Miǎnfèi (免费, Free), and Wàiguórén (外国人, Foreigners).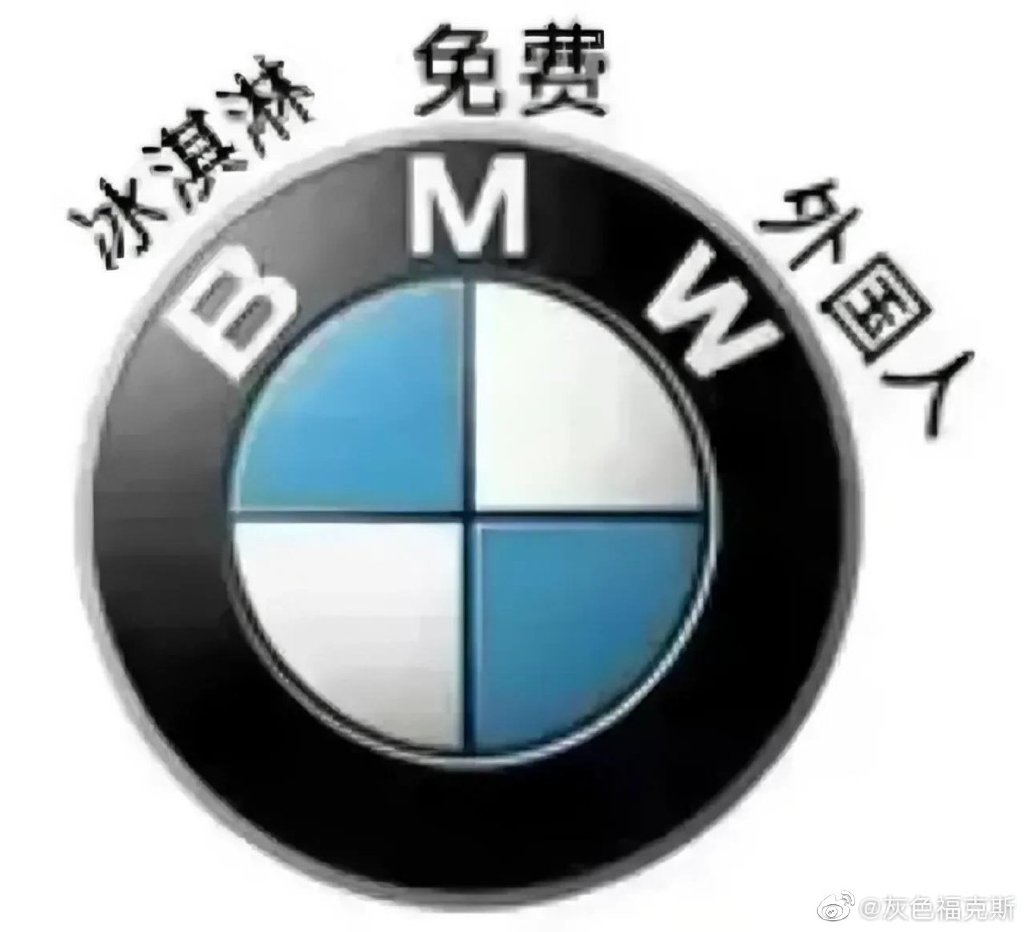 Besides general social media users, major brands also played a role in hyping up the incident. Other brands and companies used the firestorm to their advantage. Audi, for example, announced via social media that they would also be handing out ice cream only for Chinese people and other brands also started their own ice cream campaigns.
Chinese media outlets also played a major role in the incident as they kept reporting about the incident and promoted it on social media. By now, there are dozens of Weibo hashtags surrounding the incident and its aftermath, and the majority of them are initiated by Chinese media channels.
Chinese state media accounts also jabbed at BMW. CCTV aired an item showing that there is plenty of ice cream for all staff members on board of the Shandong PLA Navy aircraft carrier. Xinhua News even turned it into a hashtag, accompanied by a laughing emoji (#山东舰今天的冰淇淋是草莓味的#).
"We won't give it to other countries," some commenters joked: "Only Chinese can eat it."
Meanwhile, some big KOL and influencer acounts also helped to attract more attention to the case by discussing it. Chinese political commentator Hu Xijin (@胡锡进), for example, also analyzed the incident. Although Hu called on netizens to be reasonable and have some understanding for the ordinary people who suddenly find themselves at the center of a social media storm, the mere fact that Hu brought the incident up multiple times to his 25 million Weibo followers perhaps did not exactly help in quieting things down.
For now, it seems that the BMW incident might keep fermenting for some time to come. While everyone is still talking about the ice cream incident, a second marketing faux-pas has already come up again as the next promotional freebie given away to visitors at the Shanghai Auto Show BMW booth is a wooden dog-shaped key hanger, giving people the option to engrave their name on it.
Many people also had an issue with this promo campaign: "So first they won't give us ice cream, now they're handing out dog tags with our name on it?"
Despite the controversy, many people still lined up at the BMW booth to get their freebies. The online discussions on the issue only seemed to bring more people to the car show. Turns out that bad publicity, after all, is still publicity.
Read more BMW-related articles here.
By Manya Koetse, with contributions by Miranda Barnes  
Follow @whatsonweibo
Get the story behind the hashtag. Subscribe to What's on Weibo here to receive our newsletter and get access to our latest articles:
References
Bickers, Robert A., and Jeffrey N. Wasserstrom. 1995. "Shanghai's 'Dogs and Chinese Not Admitted' Sign: Legend, History and Contemporary Symbol." The China Quarterly 142: pp. 444–66. JSTOR, http://www.jstor.org/stable/655423. Accessed 24 Apr. 2023.
Image
Part of featured image by Mae Mu on Unsplash
Spotted a mistake or want to add something? Please let us know in comments below or email us. First-time commenters, please be patient – we will have to manually approve your comment before it appears.
©2023 Whatsonweibo. All rights reserved. Do not reproduce our content without permission – you can contact us at info@whatsonweibo.com.
Cyberspace Administration of China Lays Out Rules for Generative AI Content: "Should Reflect the Core Values of Socialism"
Stricter control of AI services is widely supported, but some think China inevitably will fall behind in the generative AI race.
China's central internet regulator, the Cyberspace Administration of China (国家互联网信息办公室), issued proposed measures relating to the development and use of AI chatbots and other AI tools in China to solicit feedback from the public during the initial legislative drafting process. People can send in their views and comments on the draft until May 10 of this year.
The current draft, published on April 11 (translation here), explicitly focuses on managing the "healthy development" of generative artificial intelligence (AI) technology, referring to any type of AI system capable of generating text, images, or other media in response to prompts. Over the past few months, ChatGPT in particular has become a widely used tool across the world to generate human-like responses to a wide range of questions and topics, but services such as Midjourney have also become popular to generate images.
In China, ChatGPT has also triggered a lot of online discussions on the ways in which it could be used, the effect it will have on the labor market, and issues related to privacy, copyright, and censorship in China (read 'ChatGPT in China').
Although users in mainland China officially cannot sign up to use Open AI's ChatGPT, many people do find ways to use the platform. Earlier this year, while discussions about ChatGPT were prevalent in Weibo's trending lists, Chinese tech giants announced their own plans to develop similar ChatGPT-like services: Baidu has Erniebot, Alibaba is rolling out Tongyi Qianwen, while Bytedance, Tencent, and Netease are also working on their own LLM (Large Language Models) chatbots.
As 2023 is already the year of the chatbot, it is perhaps unsurprising for China's internet authorities to lay out the rules surrounding generative AI technologies.
There are a total of 21 sections or articles listed in the document. Many of the proposed rules are quite general and are about AI-generated content and ChatGPT-like services having to be in line with China's overall internet and privacy laws.
The draft suggests that AI-generated content should "reflect the core values of socialism" ("应当体现社会主义核心价值观"), should not undermine the state authority nor the socialist system, cannot be harmful to national unity or social cohesion, and it also may not promote terrorism, extremism, discrimination, violence, obscenities, nor spread false information (article 1).
AI-generated content should not just be true and accurate, it should also ensure that the legitimate interests of others are respected and prevent harm to their physical and mental well-being, as well as damage to their reputation, privacy, and intellectual property rights (article 4).
In accordance with the Cybersecurity Law of the People's Republic of China (中华人民共和国网络安全法), users of generative AI models should also register under their real name (article 9).
These kinds of AI service providers also should take clear and transparent measures to prevent users from becoming overly dependent or addicted to AI-generated content (article 10).
On Weibo, many comments relating to the proposed measures are supportive of them, as netizens especially express concerns over copyright issues and the problems surrounding 'deepfake' and AI services allowing users to swop faces or generate images using people's faces.
But other people also think that when it comes to AI generated content, the rules are vague and hard to control – and comply with. How could AI-generated content always be "true and accurate" if the prompt given by a user, for example, is to create a fairytale or other fictional content? And how does one actually measure an "addiction" to AI services if they are part of a person's everyday workflow? Some commenters fear that the rules could be arbitrarily applied because they are so broad and general.
Then there are those who think that AI services like the American OpenAI's ChatGPT are developing so rapidly that China is already falling behind and that, especially in the light of these rules, ChatGPT will be much stronger than Chinese equivalents.
By having to embody socialist values and stay in line with strict Cyberspace rules, chatbot services will have to stay aligned with China's traditional media and publishers. Some Weibo commenters discuss how ChatGPT also has bias and alleged anti-China sentiments. "We'll have to add the 'Party spirit' to our AI," one person replies.
"It's the survival of the fittest," another commenter wrote: "If there is no innovation, they'll be eliminated."
For a full translation of the "Measures on the Administration of Generative Artificial Intelligence Services (Draft for Solicitation of Comments)", check out China Law Translate here.
By Manya Koetse , with contributions by Miranda Barnes
Get the story behind the hashtag. Subscribe to What's on Weibo here to receive our newsletter and get access to our latest articles:
Spotted a mistake or want to add something? Please let us know in comments below or email us. First-time commenters, please be patient – we will have to manually approve your comment before it appears.
©2023 Whatsonweibo. All rights reserved. Do not reproduce our content without permission – you can contact us at info@whatsonweibo.com.
Subscribe to our newsletter
Stay updated on what's trending in China & get the story behind the hashtag
Sign up here to become a premium member of What's on Weibo today and gain access to all of our latest and premium content, as well as receive our exclusive newsletter. If you prefer to receive just our weekly newsletter with an overview of the latest, you can subscribe for free here.
Would you like to become a contributor, or do you have any tips or suggestions for us? Get in touch with us here.