Chunwan Is Here! The CCTV Spring Festival Gala 2019 Live Blog
The CCTV New Year Gala is here! We're live-blogging and keep you updated with the highlights and the low points.
First published
It is time for China's biggest TV event of the year! Chunwan (春晚) aka the CCTV Spring Festival Gala is celebrating its 37th edition and kicks off the Year of the Pig. Watch the festival together with What's on Weibo, as we'll keep you updated with the ins & outs of the Gala here.
It is that time of the year again. The Chinese New Year, better known as Spring Festival, is about to start. The annual CCTV Gala celebrates the start of the festival with its 4 hours long live televised show. After live-blogging this event in 2016, in 2017, and in 2018, we're here this year again to keep you updated throughout the show on what's going on.
A live-streaming of the Gala is embedded in this post and will be live on Monday, February 4, 20.00 pm China Standard Time. If you have any difficulties watching, check out this YouTube link, livestream from Weibo, or watch straight from CCTV. We will be live-blogging on this page here (NOTE: this liveblog is now closed, the event is over. We'll provide you with the entire text of the liveblog below this article!)
About the show
The CCTV New Year's Gala (中国中央电视台春节联欢晚会 or Chunwan 春晚) is an annual live television event that is broadcasted by the national television station CCTV on New Year's Eve. It first aired in 1983, and is watched by millions of people. In 2012, it broke the Guinness records for being the "most watched national network broadcast in the world" when it had over 500 million viewers. Last year, the show drew more than one billion viewers (Gao 2012; Jing 2019).
Despite the common criticism on the show, it is still much anticipated every year. The Gala features different acts, including singing, dancing, and comedy. It is a tradition for families to gather around the TV to watch the Gala before the New Year comes at midnight. It has also become a tradition to comment on the show and complain about it, something that is especially visible on Chinese social media, where the show inevitably becomes a trending topic every year. Criticism on the Gala is actually so commonplace that the sentence "there'll never be a 'worst', just 'worse than last year' (央视春晚,没有最烂,只有更烂) has become a popular saying over the years (Wang 2015, 192).
Although the Gala is a live broadcast from CCTV's No.1 Studio, every year's show has a taped version of the full dress rehearsal. As described by Scocca (2011), the tape runs together with the live broadcast, so that in the event of a problem or disruption, the producers can seamlessly switch to the taped version without TV audiences noticing anything.
Liveblog CCTV Gala 2019 (in order of appearance)
It is time for China's biggest TV event of the year! Chunwan (春晚) aka the CCTV Spring Festival Gala is celebrating its 37th edition and kicks off the Year of the Pig. Watch the festival together with What's on Weibo, as we'll keep you updated with the ins & outs of the Gala.
(13:30) Six Hours To Go before the CCTV Gala, And Already Sparking Controversy
Just some six hours to go before the annual biggest live televised event in the world, the Chunwan, kicks off, and already the program's timetable is sparking controversy: one of China's biggest comical actors, Feng Gong (1957), will not participate in tonight's event after performing there for 32 years.
Feng Gong's 'xiangsheng' crosstalk sketch apparently did not meet the requirements of the show's strict screening, meaning his act will not come up tonight. Thousands of Chinese netizens are disgruntled, saying that Feng Gong's appearance during the show has a certain nostalgic meaning to them. The topic has hit Weibo's top trending lists, already hitting 130 million views earlier this afternoon. Read more about this during our live blog later today.
(19:15) The "Real" Very First Spring Festival Gala
The CCTV Gala was first aired in 1983, a year that is thus marked as the start of the Spring Festival TV Gala. But before this time, as early as 1956, Beijing Television's also had irregular New Year's Eve broadcasts. Trending on Chinese social media now is the hashtag "The Real First Chunwan" (#真正的第一届春晚#), with footage going viral of the 1956 edition (link) – receiving 250 million views at time of writing.
Beijing opera master Mei Lanfang participated in this event, along with other renowned names, such as Chinese novelist/dramatist Lao She and famous scientists.
"That [Gala] was better then than it is nowadays," many commenters write. "We're at a historical low," others say, suggesting that the CCTV Gala as it is now is focusing too much on popular celebrities rather than on intellectuals, artists, and scientists.
The complaining has already started, and the Gala is yet to begin!
(19:55) It's starting! What can we expect tonight?
If you've previously seen the CCTV Gala, you probably know the sort of things you can expect tonight. The Spring Festival spectacle is always a mix of Chinese culture, commerce, and politics.
The show is notorious for carrying official propaganda and clearly emphasizing the themes that matter to the Party. However, no CCTV Gala is exactly the same, and there are always some noteworthy things about every annual show – in a rapidly changing China, the show always has certain changing features or styles that highlight a specific image of China and Chinese society, which can be telling for the official strategies on Chinese domestic and international affairs that lie beneath this constructed narrative & image.
Last year, for example, it was quite remarkable that although the show had many political underlying themes, such as China's military expansion and the One Belt One Road initiative, there were no performances explicitly focusing on Chinese leaders, such as in previous years, nor were there obvious Party-focused songs such as "Without the Communist Party, There is No New China."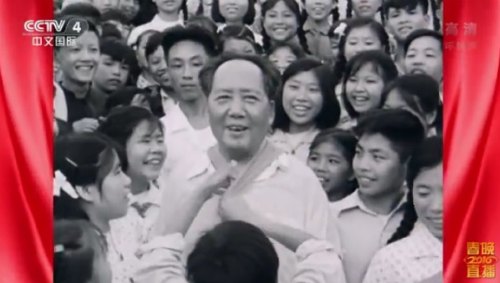 Tonight might see a similar trend as last year; the various acts and clips might not necessarily focus on the Communist Party and its leaders, but instead focus more on society, the people, 'coming together,' ethnic unity, and traditional Chinese culture.
There will be plenty of singing, dancing, and comical skits as well as 'crosstalk' sketches, some magic, opera, and acrobatics. Some 40 performances will take place over the next four hours.
There will also be a few short clips, 'public service announcements,' that usually focus on family values and socio-cultural unity. And we're likely to see Jackie Chan again with a patriotic song.
(20:02) Dreamy Opening Dance
The opening act is titled "Sea of Spring' (春海), led by, among others, Wang Qian, Song Yulong, Li Xiang, Yan Dingwen, Li Rongzhi, and Lin Qingjing. Various dance troupes are on stage, including that of the Shandong Art School and Shandong Normal University.
On social media, some netizens think the dance looks like a cake…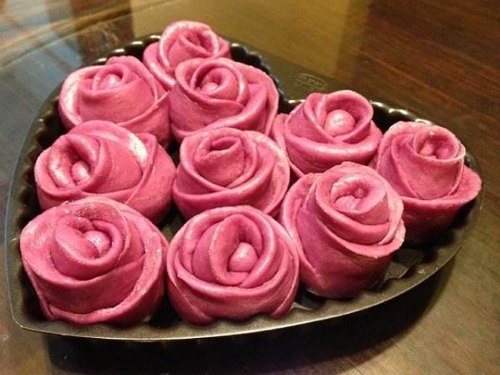 (20:06) Chunwan Social Media Buzz
The 'Chunwan', the CCTV New Year's Gala, is all the talk on Chinese social media.
The hashtag "Chunwan" (春晚) has been dominating top trending lists on Weibo since Saturday, and has been a topic of discussion on Chinese social media for weeks.
"Fake schedules" of the program were leaked, hyped, and recalled. The real program was only shared by various Chinese state media one day before the start of the event, making the hashtag "CCTV Chunwan Programme" (#央视春晚节目单#) one of the biggest trending topics on Weibo right away.
For this year, the hashtags "2019 CCTV Gala" (#2019央视春晚#) and "CCTV Year of the Pig Gala" (#央视猪年春晚#) are particularly used to discuss the variety show on Weibo. Just days ago, the hashtags were already viewed millions of times, going up to 600 million views before the Gala even started.
Many netizens are anticipating to see top Weibo star 'Angelababy,' as well as famous actors Ge You and Cai Ming. The members of the super popular pop group TFBoys have also become a topic of discussion.
One noteworthy aspect of tonight's Gala is its new cooperation with Baidu. Since 2015, one important feature of the CCTV Gala that links it to social media platforms is the exchange of hongbao, red envelopes with money, which is a Chinese New Year's tradition.
Over the past few years, viewers were able to receive 'virtual hongbao' by shaking their smartphones – this has drawn in a lot of young viewers who'd like to get a chance to win some money. This year, instead of cooperating with Tencent's WeChat or with Alibaba, some RMB 900 million (around $133 million) worth of hongbao is promised to be given to viewers by the Baidu Wallet app during the show. The show will have various moments where this Baidu activity will be promoted.
(20:10) The Presenters introducing themselves..
As you just saw, the presenters briefly already said hello to the audience. We'll see them throughout the night tonight.
The top five presenters are all familiar faces. In fact, the exact same five hosts also presented the 2018 CCTV Gala. They are Kang Hui (康辉), Zhu Xun (朱迅), Ren Luyu (任鲁豫), Li Sisi (李思思), and Nëghmet Raxman(尼格买提).
The two ladies: Zhu Xun (1973) is a well-known presenter and actress from Suzhou, who is presenting the Gala for the 6th time now. Li Sisi (1986) is a Chinese television host and media personality most known for her role as host of the Gala since 2012.
The three gentlemen: Kang Hui (1972) is a Hebei-born influential CCTV news anchor who has hosted the Gala since 2015. Ren Luyu (1978) is a Chinese television host from Henan, who has also presented the Gala multiple times (2010, 2016, 2018). Nëghmet (1983) is a Chinese television host, born and raised in Ürümqi, Xinjiang, who also is not a newcomer; this will be the fifth year in a row that he hosts the gala.
The presenter who is not here on stage is Zhu Jun (朱军), one of the most well-known CCTV faces. He was involved in a 'metoo'-like scandal in 2018 when he was accused of sexual harassment by a former intern, something which Zhu has denied. If the case goes to court, might become the first-ever civil sexual-harassment lawsuit in China, Quartz reported in January of this year.
Although probably, it is unsure if Zhu Jun's absence tonight has to do with this case. Another familiar face, CCTV hostess Dong Qing (董卿), is also not here tonight, although she hosted the CCTV Gala since 2005.
(20:10)  DRAGONS!
Ok, so now we've really started. Next up is a dragon dance led by male dancer Liu Jia (刘迦). The Nanjing-born dancer is 28 years old and was trained as a dancer in the People's Liberation Army Art and Drama College.
The dragon dance is a form of traditional performance that is particular to the Chinese New Year. The dragon is believed to bring good luck. Did you know that the Beijing Aquarium even holds underwater dragon dances?!
Some netizens think that the strips falling from the air look like "sausages falling from the air." Oh, the creativity!
(20:15) Tonight's Venues
Since 2016, the CCTV Gala has adopted a "multi-venue plan," meaning that apart from the main Beijing CCTV no1 studio there are other 'subvenues' from where the show will be broadcasted. In 2018, these were locations in Guizhou, Guangdong, Shandong, and Hainan. The years prior, both in 2016 and 2017, there were also four other locations.
This year, there are three sub-venues: Jinggangshan (Jiangxi), Changchun (Jilin), and Shenzhen (Guangdong). Each venue also has its own hosts, different from the Beijing main studio presenters. Each sub-venue has two hosts, equally divided between male and female presenters.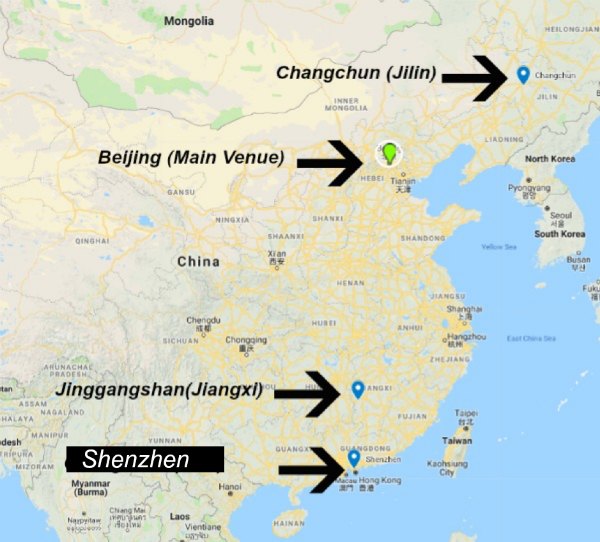 (Noteworthy: there are two presenters with the name of 'Yang Fan': both in Jilin's Changchun (female), as Shenzhen (male), something which many netizens seem to find quite funny..)
(20:18) Here comes the first crosstalk, but one VIP is missing..
Wonderful words, interesting talk" (妙言趣语 ) is the name of this comical sketch, that features Yue Yunpeng and Sun Yue (岳云鹏、孙越). Xiangsheng (相声), or 'crosstalk,' is a dialogue between actors with rich puns and word jokes, that usually sees two actors with one playing the "joker" and the other playing the "teaser. "
Together with well-known Beijing-born comedian Sun Yue (1979), we see Chinese actor Yue Yunpeng (1985), who is particularly known for his xiangsheng performances.
One of the topics that people on social media are discussing is the absence of Feng Gong. Feng Gong (冯巩) is one of China's most renowned xiangsheng performers. He is best known for his performances in this CCTV New Year's Gala and has made more appearances on the show than any other major performer. "But where is Feng Gong tonight?" is the question many netizens were asking on Sunday: "This is the first time in 32 years he's not there, what happened?"
Today, the topic received even more attention, with the hashtag "Feng Gong Not Appearing the Chunwan" (#冯巩无缘央视春晚#) ending up in the top trending lists with 160 million views on Weibo.
Earlier today, Chinese state media reported that Feng Gong was supposed to perform with a traditional 'xiangsheng' act that continued last year's theme, titled 'I love memorizing verses 2' (我爱记诗词2), but that it did not pass the final screening of the show because it allegedly was "not funny enough" ("笑果不足").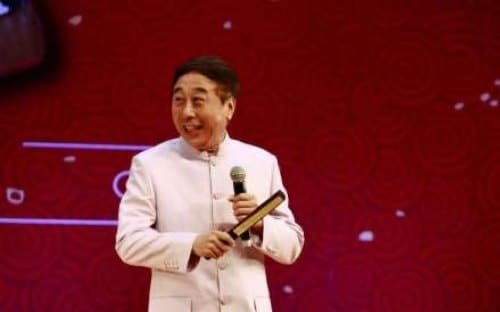 On Weibo, many netizens are disgruntled with the decision, writing: "Honestly, I didn't think he was that funny last year, but I still want to see him – it's not about being funny, Feng Gong means more to me than that." Others are wishing him a happy Chinese New Year, saying: "At least he'll be able to celebrate it at home with his family tonight."
As for this act, some people online are joking about it, saying that left is how you look before the Chinese New Year, and right is how you look after (stuffing your face with dumplings..)
(20:26) "The single dog" and the lipstick
As first jokes on the Gala are going viral, some people think five presenters might not be the right number. Kang Hui here seems to be the "single dog caught between two couples" – something that many people experience during Chinese New Year.
Meanwhile, other viewers are more occupied with the color of the lipstick worn by the presenters. They've already been identified as Yves Saint Laurent and Armani brand lipstick colors, 405 and cpb311 respectively.
(20:36) "China's Happy Event"
This performance, titled "China's Happy Event" (中国喜事), was joined by Chinese singer Zhang Yixing (张艺兴), popular actress Zhou Dongyu (周冬雨), Hong Kong actor Wallace Chung, Dilraba Dilmurat (迪丽热巴), and Phoenix Legend (凤凰传奇), a Chinese popular music duo consisting of female vocalist Yangwei Linghua and male rapper Zeng Yi. The duo was also part of the CCTV Gala in 2016 and in 2018.
Chinese singer Lay Zhang aka Zhang Yixing (张艺兴) debuted as a member of the South Korean-Chinese boy group Exo and he is quite popular on Weibo.
Is it the sound here, or did that sound very strange? The colors were very very bright though..
(20:38) "Youth Jumps Up"
This is one of the acts that was quite talked about before tonight. It features Chinese actor and singer Li Yifeng, together with the popular actor Zhu Yilong.
It was rumored before that the retired professional basketball player Yao Ming would also be a part of this act. (2.29 m (7 ft 6 in) tall). Don't see him yet.
It is quite obvious that this act is lip-synced, something that is discussed annually. It is often claimed that as long as it's the singer's own voices that are used to lip-sync to, it is allegedly "justified." Because the show is live and so big, singing "live" might be too much of a risk, as some performances in the past have shown. Lip-syncing, however, is also not without dangers, as some singers can really be quite off.
Various fan clubs of these artists don't care about lip-syncing, though. Screenshots of fans going ab-so-lu-tely crazy over this performance are making their rounds on Wechat.

(20:48) "Platform"
First skit of the night!
These sketches are called 'xiǎopǐn'小品 in Mandarin, which basically is a Chinese comedic performance in the form of a short skit between two or more performers. It is similar to xiangsheng or crosstalk. Both are often performed together in Lunar New Year galas. The main difference between the two forms is that xiaopin often involves the use of stage props and physical actions of the actors, similar to western comedic skits, while xiangsheng is closer to stand up comedy, relying primarily on speech and word jokes.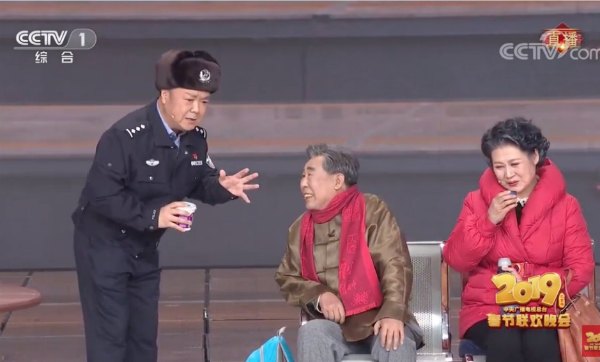 This sketch is titled "platform" and is performed by various well-known actors, who are all playing people waiting for their train. An elder couple where the man has called the wife "honey" for a long time (before he actually forgot her name), and then there's a young man whose wife left on a train with his jacket and mobile phone. He is worried about leaving his wife with his mobile phone since he transferred 10,000 rmb to his parents before Chinese New Year, something she was not supposed to know about. When he manages to get in touch with her via the guard's phone, it turns out she just transferred 20,000 rmb to both parents. Meanwhile, another couple is fighting about whose home to visit for the Spring Festival. This sketch clearly touches upon the issue of love issues among various generations. Of course, it all ends with a happy ending, where all couples find a solution for their problems they're all happy with.
A special role in this sketch is the train that comes. It is the "Revival" (Fuxing) train, which first started running in 2017 and was further developed in 2018. The train is promoted for being "made in China."
(21:04) Home, home, home, from Hong Kong to Taiwan and beyond
This year is clearly about "home," "going home," as stressed by the presenters. This song is titled "Mum, I'm home." There's a political message in the selection of singers. This song is sung by Taiwanese singer Terry Lin, the Hong Kong singer Joey Yung, and the overseas Chinese singers Sha Baoliang and Han Zi.
(21:08) Moving over to Jiangxi province
We're in Jinggangsheng (井冈山) now, the first sub venue of the night, which is also known as the "cradle of the communist revolution" or the "holy land of China's revolution" in the southeastern province of Jiangxi.
Two songs are performed here, along with a recital. One of the stars here is Chinese actress and singer Liu Tao, who is from Jiangxi herself. She sings together with actor Huang Xiaoming.
Jike Junyi (吉克隽逸) sings the other song. She won third place in the first season of the reality talent show The Voice of China in 2014, which is when she became instantly famous.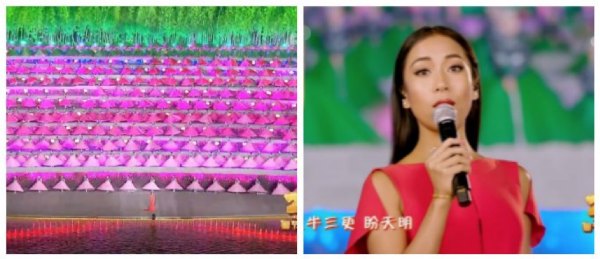 (21:13) Peking Opera
Time for some Traditional Opera by Yan Wei, Yuan Huiqin, and others, who perform "Beautiful Pear Garden" (锦绣梨园). This is the 9th act of tonight, of some 35+ acts in total. This is the only opera act, as far as I now know.
The Peking Opera actress Yuan Huiqin, whom we see here, previously expressed her love for Peking Opera in an interview with The Telegraph, saying: "Love and hatred, vulnerability and fearlessness, life and death: Peking Opera can communicate raw emotions with sophisticated body language that no words can match."
Some people joking with this scene: "Don't stand in front of people when they're trying to make a selfie."
(21:17) Meanwhile, in the audience..
A guy spotted in the audience with his phone is generating some jokes on Weibo. "This is me [on my phone]," some say, while the rest of the audience is "my family."
(21:23) "Year of the Pig"
We'll update you soon with the sketch that's currently airing, but didn't want you to miss out on this image that's going around social media currently. It's the year of the Pig, it's the year of Peppa, but for many people, Spring Festival is all about the food. This image shows all the different dishes you can make with pork…
(21:26) The CCTV Gala Theme
Every year, the CCTV Gala is themed around a certain topic. This topic, obviously, is in accordance with the official state ideology and is quite telling on what specific aspects the Party would like to propagate for the upcoming year.
As said earlier in this liveblog; although the CCTV Gala is also a commercial event (the station is state-owned but also profit-seeking in a highly competitive media environment), it is also still highly political, and carries official propaganda along with consolidating political centralism.
The central theme of 2018, for example, was "Chinese values, Chinese power." Other previous themes are "National Unity" or "Chinese Dream."
This year, the Gala is themed around the idea of "New China." The full theme, as described by CCTV, is: "Advancing the New Era, Celebrating a Happy Year" (奋进新时代、欢度幸福年).
The past two years, the Gala has been directed by Yang Dongsheng. This year, Liu Zhen (刘真), Deputy Director of CCTV arts channel, is in charge of the program. He is known for previously directing the 2009 anniversary night of the Great Sichuan earthquake.
(21:31) Office Time
This office skit is performed by Chinese actresses Yan Ni and Ya Hailong, together with actor Zhou Yiwei.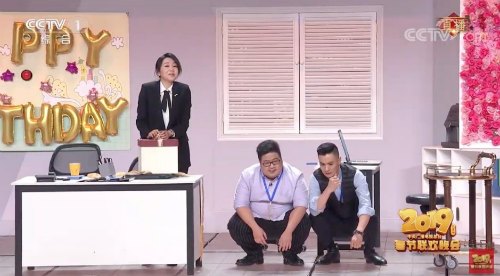 The skit evolves around a rehearsed marriage proposal going wrong, with one worker accidentally proposing to the company director. The boss walked in when they were practicing, and misunderstood the gifts and cakes they prepared, thinking they were for her instead. Later on in the act, the secret is revealed, but the boss responds surprisingly ok when the office worker revealed he was always working overtime, having no time for these personal matters. Work pressure is a recurring theme on social media too, a theme incorporated in this sketch.
(21:42) Dance/song "The Distance of Time" (with flying drones)
Two 'kings' of Mandopop, Sun Nan and Zhang Jie (also known as Jason Zhang) perform on stage here.
Sun Nan has performed at the CCTV Gala several times before. His 2016 performance with 540 robots, all dancing simultaneously, was quite spectacular.
They are accompanied by the Zhongnan Minzu University Music Dance Troupe, and you can see drones flying all around them.
(21:46) "The Spirit of Shaolin"
The first martial arts performance of the night, really quite spectacular, performed by members of the Shaolin Tagou Martial Arts School from Henan.
This is also the first big Chinese flag we spotted tonight, and it's HUGE!!!
(21:54) "'Son' is here" sketch with Cai Ming
The third sketch of the night features an all-star cast with actors Ge You, Cai Ming, and Pan Changjiang.
Cai Ming (1961) is known for performing sketch comedy in CCTV New Year's Gala since 1991. She is known for her sharp language. Cai is quite active on Weibo. Earlier this week, she posted a 'selfie' of her and Dilraba Dilmurat, the singer of Uyghur heritage who appeared in the show earlier tonight.
Pan Changjiang (潘长江, 1957) is a famous skit actor who has regularly appeared in the Gala since his younger years. His colleague Ge You (also 1957) is one of the most recognizable acting personalities in China. He plays a man who is selling "health products," conning older people out of their money.
(22:04) "Me Watching the Gala vs Me Watching Weibo"
This post is making its rounds on Weibo now, saying "Me watching the CCTV Gala versus me watching Weibo."
It really seems that the Gala has turned into a social media craze, where people are more interested in the jokes going around Wechat and Weibo than the actual event itself. This also means that the Gala is becoming more popular among young people, who are creating their own traditions from the classic 'Spring Festival ritual' of gathering around the TV with the family to watch the Gala together.
(22:07) About that Shaolin Act…
It was the most spectacular act of the night thus far. But were those real people or were they Minions? This is the joke that's going viral now.
(22:09) TFBoys here!
This is one of the most anticipated acts of the night, since it is performed by members of the hugely popular TFBOYS. This act is titled "We're All Pursuing Dreams" (我们都是追梦人), and is likely hinting at the "Chinese Dream."
This is the fourth time that members of TFBoys are making their appearance at the show since their first performance at the 2016 CCTV Gala.
(22:13) A bit of magic
Taiwanese magician Lu 'Louis' Liu (刘谦, 1976) is at the center of this magic act. He is known as the only Taiwanese magician to perform in Hollywood's 'Magic Castle,' and is commonly referred to as 'Taiwan's most renowned magician.' He previously performed at the CCTV Gala in 2009.
(22:25) "Seizing a seat"
This sketch is called "Seizing a seat," and I'd actually expected it to be hinting at two separate incidents on Chinese high-speed trains in 2018 that became huge trending topics. In late August of 2018, one rude man from Shandong who refused to give up the seat he took from another passenger became known as the "High-Speed Train Tyrant" (高铁霸座男 gāotiě bà zuò nán) on Chinese social media. Later, a woman from Hunan was dubbed 'High-Speed Train Tyrant Woman' (高铁霸座女 gāotiě bà zuò nǚ") by Weibo netizens, when a video of her bizarre behavior also became trending; she had taken a seat assigned to another passenger while riding the train from Yongzhou to Shenzhen and refused to give it up.
But this particular sketch now seems to be focused on "seizing a seat" in a classroom instead, with parents during a parent's meeting fighting over who gets the best seat at the school. The story focuses on parents who are not involved in their kid's education, leaving the responsibility to the school, with the moral behind the story allegedly being that parents should be more involved in their child's education.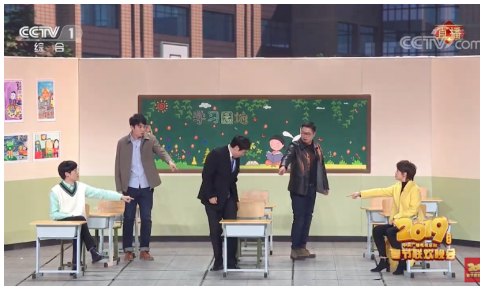 "This is my life," some online commenters are saying, posting the meme below (the speed in which Gala-related memes are spreading on Weibo and Wechat is incredible!).
(22:35) The sellers who are making money through the Gala
Throughout the Gala, there are smart people who are tracing down the clothes and shoes worn by the performers, which are also for sale.
(22:41) All over the place!
After a brief public announcement, we're now watching the dance "Looking for Friends." This dance is performed by the 'Air Force Blue Sky' children's dance troupe (空军蓝天幼儿艺术团) and it is all over the place!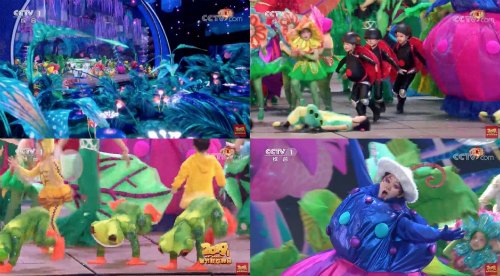 (22:43) Sleepless night
The song "No Sleep Tonight" (费玉清) is brought by Fei Yu-ching. This Taiwanese singer recently became a topic on Chinese social media with a video featuring his cool dance moves during his younger years. After 46 years in showbiz, his Farewell Tour is taking place this year.
He is joined on stage by Kelly Chen, a Hong Kong Cantopop singer and actress. She is also known as the "diva of Asia."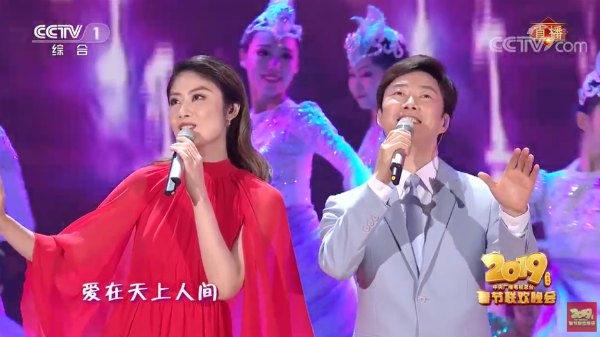 Some good Monday vibes: Taiwanese singer Fei Yuching in his younger years with some oldskool moves. Really loving this! After 46 years in showbiz, his Farewell Tour is taking place this year #费玉清 pic.twitter.com/aWW0TPazDd

— Manya Koetse (@manyapan) 28 januari 2019
(22:46) The Baidu sponsor
Now it is time for the aforementioned Baidu activity. At this year's event, China's search giant Baidu, has the exclusive right to interact with the huge audience of the CCTV Gala via red packets interactive activity. The audience can get red packets through shaking, searching and watching video clips on Baidu app.
(22:49) Xiaopin "Show you the drill"
On stage, we see the award-winning (stage) actor Lin Yongjian, together with Sun Tao and Ju Hao, a well-known comedian.
Usually, the sketches performed during the Gala can be quite controversial. Sometimes for the way they depict women, last year specifically for the Africa blackface skit. It seems that this year, the sketches are quite safe and aren't triggering any controversy, yet. But the night is still young!
(22:57) Air Jordan Craze
Many of the clothes and shoes and other items featured in today's Gala are becoming hot selling items. Right now, people are going crazy over the Air Jordans that were worn in one of the acts earlier tonight.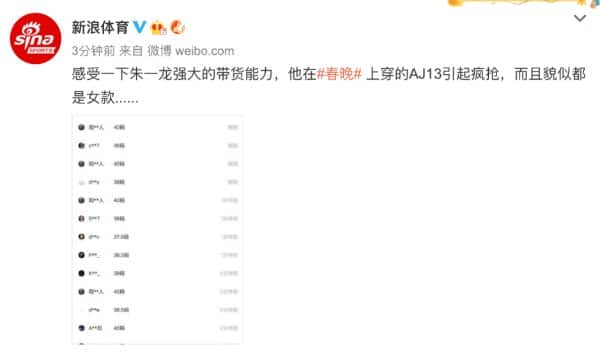 (23:04) Moving over to Changchun
Moving over to the second sub-venue of the night now, where we see Aska Yang (Yang Zongwei) singing on stage. Aska Yang had his debut in Taiwan as a contestant on season one of Taiwanese TV singing contest One Million Star.
He is joined by Angela Yeung Wing, better known by her stage name Angelababy, a Chinese model, actress, and singer based in Hong Kong, who is one of the Weibo stars with the most followers.
The second Changchun act is performed by Chinese actors Liu Ye and 'Johnny Bai.'
Fireworks! Drones! And one of the cars turning into a 'Transformer'! So far, the sub-venues offer some of the most spectacular performances of the night.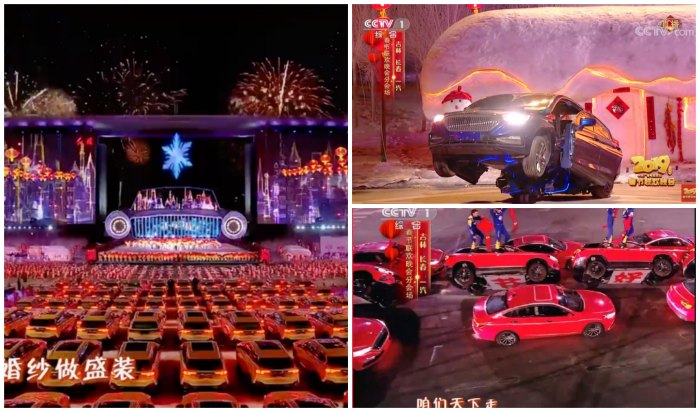 The focus on cars here relates to Changchun as one of China's 'car cities' as it is home to the brand that produced the first national auto brand (长春一汽), last year was the 65th anniversary of the factory's founding.
(23:09) National Ballet of China
This is yet another dance, there are supposed to be four big dancing acts tonight. The dance is titled the "Dunhuang Flying Asparas" (敦煌飞天), and is performed by the National Ballet of China, also known as the Central Ballet Troupe, which employs over 70 dancers.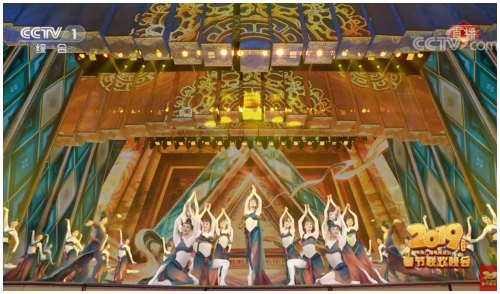 (23:13) The Legends are Here! "My Motherland and I"
This song, titled "My Motherland And I" (我和我的祖国), is one of the acts that has received quite some attention in Chinese media prior to the Gala because of the very special reunion between some of China's older legendary musical artists.
This special reunion also shows that this year, the Gala wants to pay extra attention to China's elderly, something that contrasts with last year's Gala, that was very much focused on young people and new talent.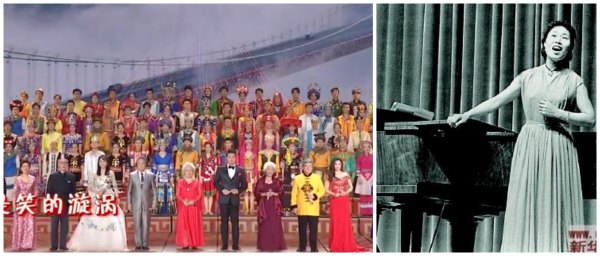 One of the performers here on stage is Guo Shuzhen, who is 92 years old and is a famous "legend" within China's music education.
All artists here are very famous 'legends'; Li Guangxi (1929), Hu Songhua (1931), Liu Bingyi (1935), Yu Shuzhen (1936), De Dema (1947).
Also on stage is Yang Hongji (杨洪基, 1941), a Chinese national-level actor and one of China's most outstanding baritones.
And there's Guan Mucun (关牧村,1953), a female Chinese mezzo-soprano singer from Henan province who is known for developing her own musical style by blending Western and traditional Chinese melodies.
They all perform together with Chinese artists of the younger generations.
(23:25) Xiaopin "Don't Know Whether to Laugh or Cry"
Chinese xiangsheng performer, actress and comedian Jia Ling (1982) stars in this comical skit together with Zhang Xiaofei and Xu Juncong.
The story features a young man who ordered a cleaning lady to clean his apartment, but the woman (in red) has an injured shoulder so she can't really do it. She ordered another service to do the cleaning for her (in yellow) instead. That young woman then thinks the lady in red is actually the wife in the house who refuses to clean the house – all the confusion between the people is creating a chaotic and comical situation.
(23:39) Here comes Jackie Chan!
Jackie Chan (成龙) has become an annually returning performer at the CCTV Gala. Although his performances are always much-anticipated, they've also been pretty cringe-worthy. In 2017, the song performed by Jackie that was simply titled "Nation" was met with criticism for being overly political. Last year, the Hong Kong martial artist sung a song that was called "China."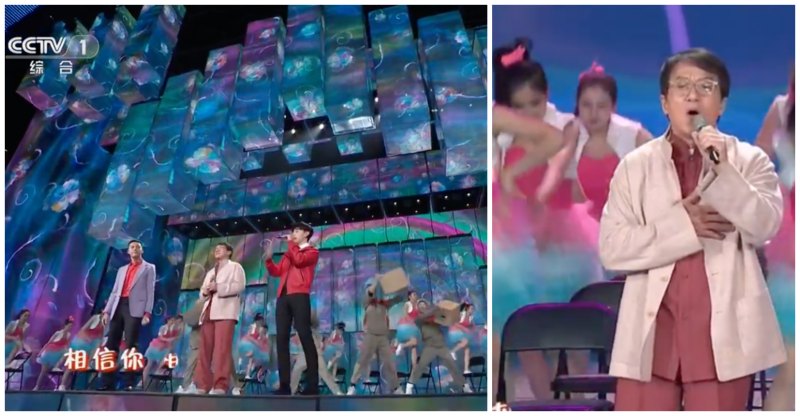 This year, the title of the song is a bit deeper than in previous years: it is titled 'My Struggle, My Happiness' (我奋斗我幸福), and is sung together with Hong Kong singer and actor William Chan and with Deng Lun.
Deng Lun (邓伦) (1992) is a Chinese actor who gained widespread popularity with the family drama "Because of You", an adaptation from the 2014 Korean drama "Jang Bo-ri is Here."
Also on stage are performers from Bapaweilai, a children's art education group based in Hong Kong.
(23:44) Meanwhile backstage…
While "Together towards Happy China" is being performed on stage by Zhang Ye and Lu Jihong, famous Chinese actor Ge You is all the talk on Weibo for a photo that has popped up of him backstage, showing the actor tired on the couch.
A famous meme in China also shows the actor in a similar position.
(23:45) "Hero Flight Sichuan Flight 3U8633"
As every year, this is the part of the show where some 'exemplary persons' get honored for their accomplishments. Noteworthy is that the crew of Sichuan Airlines is honored tonight.
In May of 2018, pilot Liu Chuanjian on Sichuan Airlines 3U8633 made an emergency landing in southwest China after a broken cockpit window sucked his co-pilot halfway out of the aircraft. He braved the intense cold and blasting wind to land the plane in about 20 minutes, and in doing so, rescuing all 128 people aboard the Airbus A319.
(23:48) "Thumbs up for the New Era"
This song really resonates with the Gala's "New China" theme. The singer is Wulan Tuya (乌兰图雅), who is also known as the "Flower of Mongolia." She was born and raised in Inner Mongolia, and now combines elements of Mongolian traditional music with electronic beats in her music.
This is one of the spectacular performances of the night, that is joined by a number of artists who were selected through a special CCTV Gala contest.
The other performers come from various performance groups from Beijing, Shandong. Harbin, Sichuan, etc.
(23:50) Last sub-venue of the night: Shenzhen
The last sub-venue of the night is Shenzhen, which is often also called China's "Silicon Valley" or the "tech capital of China." This venue features two different acts, both songs, titled "Let youth Be Free" and "Friends."
(23:58) Some old-school propaganda
"Together With my Homeland," sung by Lei Jia and Han Lei, is the last song before the 0.00 countdown moment.
Lei Jia is a Chinese folk soprano and 'national class one performer.' Han Lei is a singer-songwriter of Mongol descent who is also known as Senbor. He rose to prominence in 1997 on the CCTV New Year's Gala. The screen behind the artists shows some old-school flag raising and China's urban skylines.
(0:00) Time for the Countdown!!!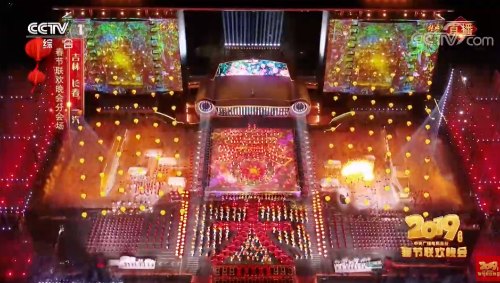 (0:05) Building Together on the Chinese Dream
Fireworks everywhere, firecrackers everywhere. Time to sing about building on the Chinese Dream together, a theme that has been consistently featured in the Gala over the past years. Singers: Cao Fujia, Xian Zi, A Yunga, Ju Laiti, and 'Xingguang Dadao' talent show winner Ang Sa.
(0:14) Acrobatics
We're reaching the final acts of the night. This performance shows acrobatics by various renowned acrobatic groups from Henan, Guangxi, Dalian, and other places.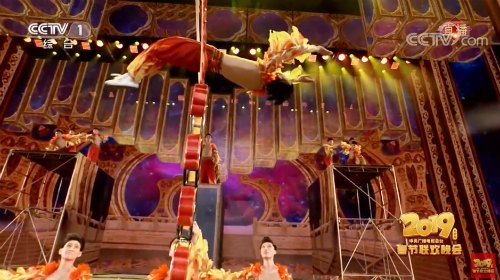 Thus far noticeable tonight: the skits have been very 'safe' and there has been no *excessive* display of straightforward political (Party) themes compared to other shows in earlier years; the images of Mao, Deng, Xi, and others that would usually make their way into the show have not been there (or I haven't noticed them). Although there's usually a very clear focus on unity in bringing together various ethnic groups, that has not popped up in this show as much as it has in the past. Instead, there has been more focus on 'old' and 'young' uniting, with "China's New Era" being the clear theme of the night.
The acrobatic performance is followed by a special segment that shows water ballet. The act is titled "Burst into Bloom" (绽放).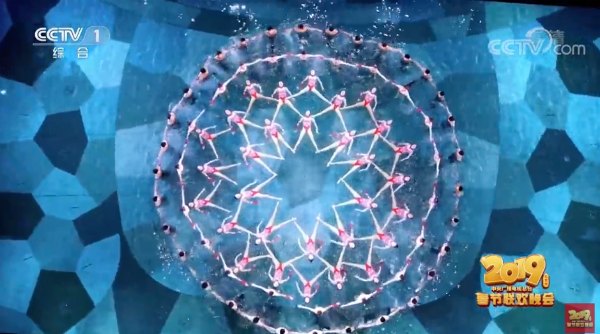 (0:19) "Love Substitute Driver"
'Daijia' is a service that is provided by various companies in China, where one can hire a substitute driver to drive them home in their own vehicles. This is what this last skit of the night focuses on.
The service is encouraged because it decreases the risk of people drunk driving. The driver will usually arrive by bike, then drives the person home in their own car, with the bike in the back, and then cycles on to the next customer from there -quite convenient and safe (for the people who've been drinking and can no longer drive)!
In this sketch, with Guo Donglin and Shao Fenghe, the drunk man actually has no money and just called the driver because he is lonely, lovesick, and needs some companionship. The moral of the story? No matter how low you are, you can always get back up.
(0:38) "Outstanding Beauty"
After the song "The Brightest Star in the Sky," we've now arrived at the final of the night, featuring the dance performance "Outstanding Beauty" with lead dancers Li Yanran, Wang Jiaxin, and Hu Tulan.
A noteworthy moment before this segment is that the presenters of the night asked the viewers when they'd get married and have a (second) baby…(啥时候结婚啊?啥时候要二胎啊). Perhaps it's mocking the pressure many young people at home are facing.
Unforgettable Night!
The last song of this night is "Unforgettable Night" (难忘今宵). It is sung by the 74-year-old singer and dancer Li Guyi (李谷一), who became famous with the song 'Homeland Love' (乡恋) around the time of China's Reform and Opening Up – the singer and her songs are nostalgic for many viewers.
Li Guyi also appeared at the very first version of the Gala in 1983, and became the singer that sang the most at the event.
Li Guyi sings the same song every year at the end of this show. The last song ends with all performers of the Beijing venue on stage. The song repeats the phrases 共祝愿 祖国好: let's all wish together that the country will be good, that is will last long and be prosperous. The hosts wish everyone a happy new year. It's a wrap!
Thank you all for watching the CCTV Gala with us and happy new year to you.
– By Manya Koetse & Miranda Barnes
References
Gao, Yuan. 2012. "Constructing National Idenitiy through Media Ritual: A Case Study of the CCTv spring Festival Gala." Master's Thesis, Media and Communication Studies, Uppsala University.
Jing, Meng. 2019. "Baidu seeks to play catch up in mobile app race with bet on world's most-watched TV show." South China Morning Post, 18 January https://www.scmp.com/tech/big-tech/article/2182616/baidu-seeks-play-catch-mobile-app-race-bet-worlds-most-watched-tv-show [2.2.19].
Scocca, Tom. 2011. Beijing Welcomes You: Unveiling the Capital City of the Future. New York: Riverhead Books.
Wang Ge. 2015. "Popular Spring Festival Gala language: Sociocultural Observations." In Linda Tsung and Wei Wang, Contemporary Chinese Discourse and Social Practice in China, 185-200. Amsterdam/Philadelpia: John Benjamins Publishing Company.
If you enjoy What's on Weibo and support the way we report the latest trends in China, we would appreciate your donation. It does not need to be much; we can use every penny to help pay for the upkeep, maintenance, and betterment of this site. See this page for more information.
Spotted a mistake or want to add something? Please let us know through email.
©2019 Whatsonweibo. All rights reserved. Do not reproduce our content without permission – you can contact us at info@whatsonweibo.com
KFC China's Psyduck Toy is a Viral Hit
As Psyduck goes viral, KFC Children's Day toys are deemed "too childish for children but just perfect for us adults."
American fast-food chain KFC recently introduced three new Pokémon toys to go with its kids' meals in various regions across China, with one of the toys, in particular, becoming a viral hit: Psyduck (可达鸭).
The new Pokémon toys were introduced on May 21st to celebrate Children's Day (June 1). As reported by Shanghai Daily, the toys are randomly distributed in Children's Day meals and will be released in different regions at different times.
Psyduck is a yellow duck-like Pokémon that is known to be confused because it's bothered by headaches. One of the reasons why the Psyduck toy might be more popular than its fellow (Pikachu) toys, is because it dances, with its arms going up and down, and because of the catchy tune that starts once it starts moving. Psyduck is also a bit more dopey and 'uncool' than Pikachu, which makes him all the cooler (remember the Peppa Pig craze?)
Since its release, many people have been going crazy over the KFC toy. Psyduck fans have been hunting for the KFC treasure, and some have even turned it into a side business: they offer their services in getting as many KFC meals as necessary before grabbing the Psyduck toy – you'll have to pay for their meal – and they'll send the toy to their 'customers' later on.
The #Psyduck hashtag saw the first spike on Weibo on May 21st, the day of its release, when it received nearly 135 million views.
Although the toys were released for Children's Day, most of these Psyduck fans are not kids at all. In one interview moment that went viral, an older man was asked about the Psyduck while he was standing in line at KFC. "I'm only here because my son wants it," the man says. When he is asked how old his boy is, he answers: "He's over thirty years old."
A popular comment about the craze over the kids' meal toys said: "This toy is perhaps too childish for children, but it's just perfect for us adults." The comment received nearly 20,000 likes.
If you buy a set meal including the toy, you will spend in between 59-109 yuan ($9-$16), but the reselling price of Psyduck has reportedly been as high as US$200 for just the Pokémon figure alone. KFC China has stated that it does not support this kind of reselling.
Especially among students, it has become popular to stick messages to the arms of the dancing Psyduck with motivational or humorous messages. Some students say the Psyduck keeps them company while they are studying.
Since short funny videos featuring Psyduck are going viral on Weibo and Douyin, a lot of Psyduck's appeal relates to its social media success and joining in on the hype. People post videos of themselves unboxing their Psyduck, introducing it to their cat, imitating it, or they use the Psyduck in various creative ways.
We need to talk about Psyduck. pic.twitter.com/MZSWqrNoTJ

— Manya Koetse (@manyapan) May 28, 2022
This is not the first time for KFC toys to become a national craze. Earlier this year, KFC came out with limited edition blind boxes in a collaboration with Chinese toymaker Pop Mart. To get one of the dolls, customers needed to buy a 99 yuan (US$15.5) family set meal.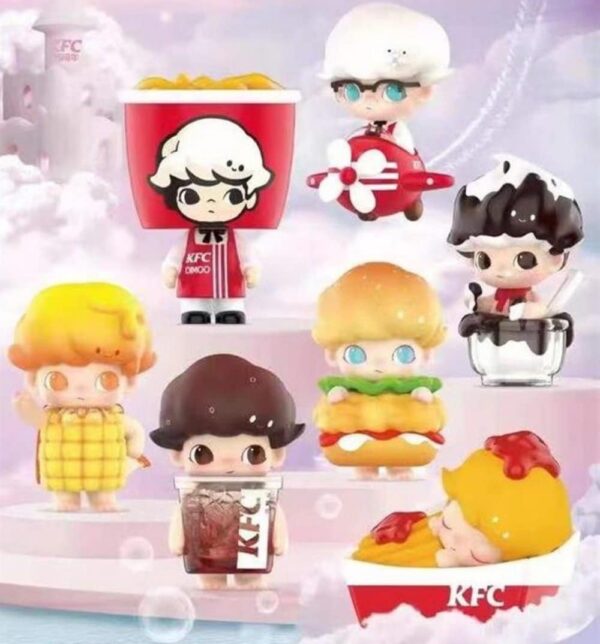 But the blind box sales also sparked criticism from China's Consumer Association for promoting over-purchasing of its food and causing food waste. In order to get all of the six collectible dolls, including the rarest ones, customers would start buying many meals just for the dolls. As reported by SCMP at the time, one customer went as far as to spend US$1,650 on a total of 106 meals to collect all six dolls.
KFC is the most popular fast-food chain in China. People outside of China are sometimes surprised to find that KFC is so hugely popular in the mainland.
As explained in the book written about KFC China's popularity ("Secret Recipe for Success"), its success story goes back to 1987, when the restaurant opened its first doors near Tiananmen Square in Beijing. Some reasons that contributed to KFC's success in China are the popularity of chicken in China, the chain's management system, the restaurant's adaptation to local taste, and its successful marketing campaigns.
Now, Psyduck can be added as one of the ingredients in KFC China's perhaps not-so-secret recipe for success.
By Manya Koetse
With contributions by Miranda Barnes
Featured image via @Baaaaaaaaal, Weibo.com
Get the story behind the hashtag. Subscribe to What's on Weibo here to receive our weekly newsletter and get access to our latest articles:
Spotted a mistake or want to add something? Please let us know in comments below or email us. First-time commenters, please be patient – we will have to manually approve your comment before it appears.
©2022 Whatsonweibo. All rights reserved. Do not reproduce our content without permission – you can contact us at info@whatsonweibo.com.
Chinese Elementary School Textbook Triggers Controversy for Being "Tragically Ugly"
This elementary schoolbook by the People's Education Press went viral for being ugly.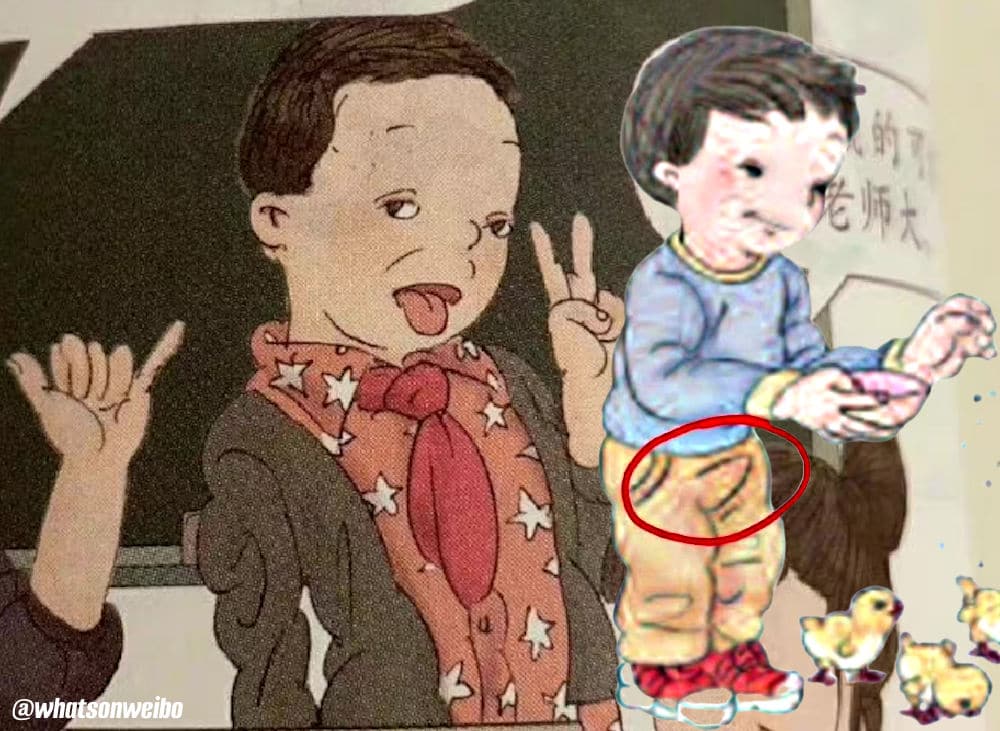 The illustrations in a Chinese schoolbook series for children have triggered controversy on social media platform Weibo, where the hashtag "People's Education Press Math Teaching Material" (#人教版数学教材#) attracted over 860 million views by Thursday afternoon, with the "People's Education Press Mathbook Illustration Controversy" (#人教版数学教材插图引争议#) garnering over 190 million views.
The illustrations went viral after some netizens spotted that the quality of the design in one math textbook series stood out from other books in how 'aesthetically displeasing' it is.
The children depicted in the teaching material have small, droopy eyes and big foreheads. Some commenters think their clothing also looks weird and that the overall design is just strange and "tragically ugly."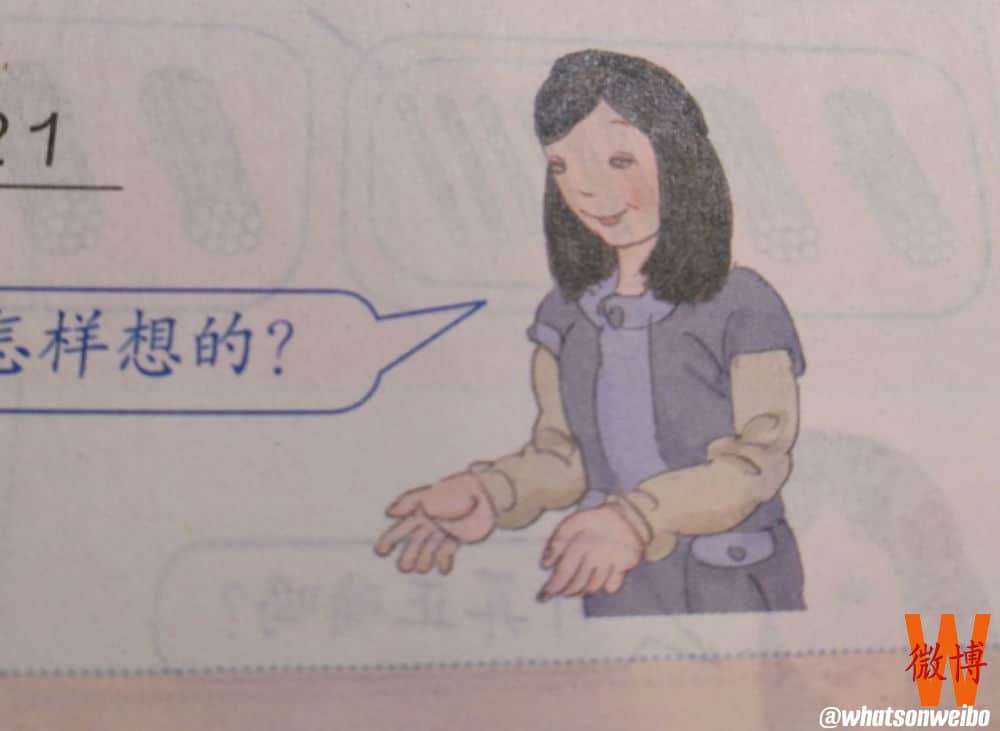 Some images depicting little boys also drew controversy for allegedly showing a bulge in the pants. Adding girls sticking out their tongues, boys grabbing girls, a reversed Chinese flag, and some depictions of children's clothing in the American flag colors, many people think the books are not just ugly but also have "evil intentions."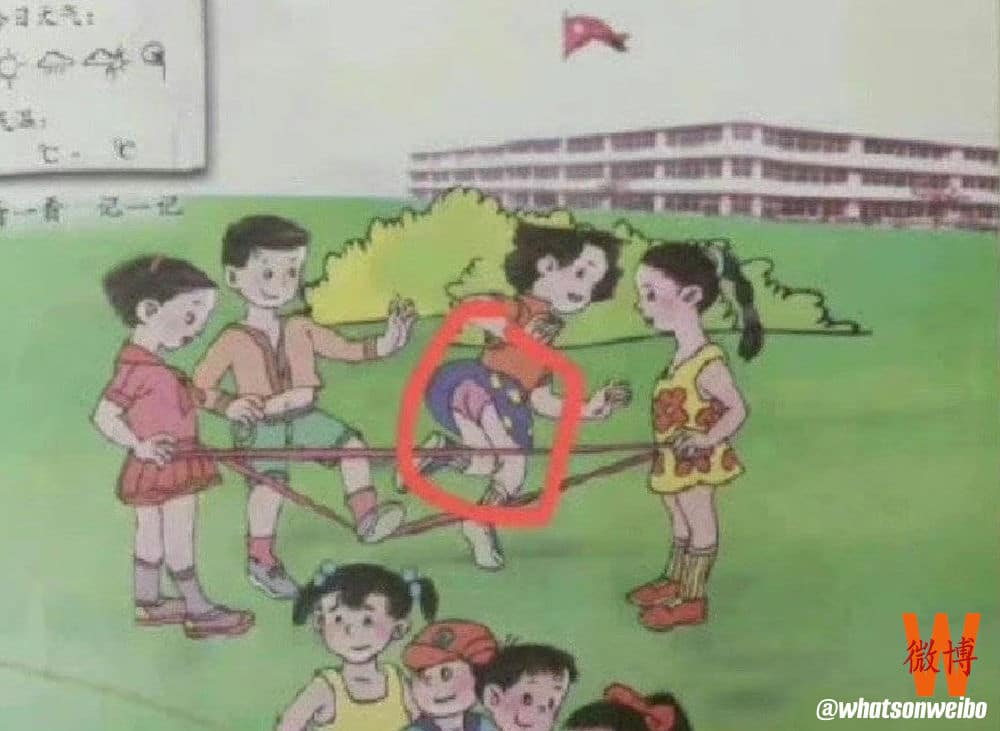 Besides the people who think the design of the textbook series is so ugly that it must have been purposely drawn like this, there are also those who are angry, suggesting China has thousands of talented art students who would welcome a project like this and do it much better.
Some parents are also concerned that such poor quality design will negatively influence the aesthetic appreciation of the children using the books.
Fueling the controversy is the fact that the textbook in question has been published and designed by a team of relatively influential and experienced designers and publishers.
The design was done by, among others, Lu Min (吕旻) and Zheng Wenjuan (郑文娟) of the Beijing Wuyong Design Studio (北京吴勇设计工作室). The book is published by the People's Education Press.
The People's Education Press (PEP) is a major publishing house directly under the leadership of the Ministry of Education. Founded in 1950, it is responsible for compiling and publishing all kinds of teaching material for elementary education.
The textbook already caught the attention of some parents in early May. One parent shared photos of the textbook illustration on Q&A site Zhihu.com, writing: "This textbook is so ugly! How did it ever pass the review?"
The ugly textbook design has made many netizens look back on their own childhood textbooks, suggesting that more traditional Chinese design is much better than what is being produced nowadays.
On May 26, the People's Education Press responded to the controversy on Weibo. In its statement, the publishing house said it would reevaluate its elementary school mathematics textbooks illustrations and improve the quality of the design. In doing so, the publishing house said it would welcome feedback from the public. The statement soon received over 600,000 likes.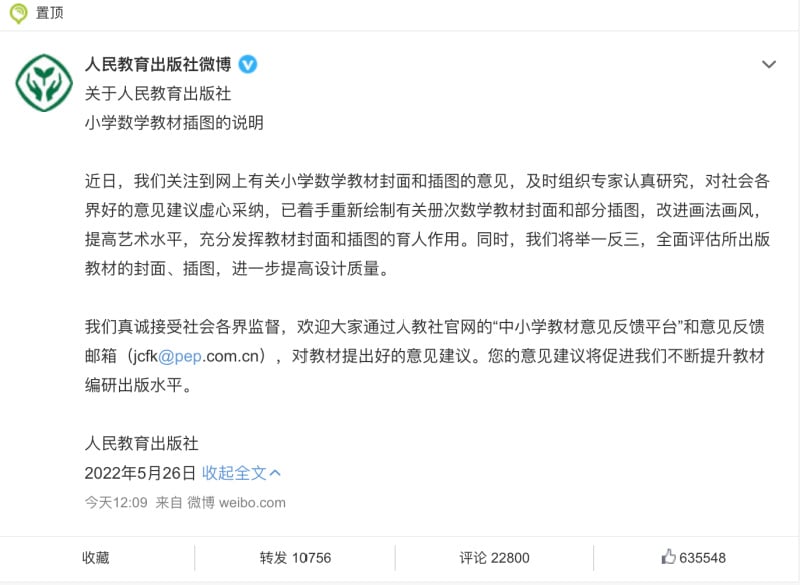 Professional graphic design artist Wuheqilin also weighed in on the discussion (read more about Wuheqilin here). In a lengthy Weibo post, Wuheqilin argues it is too easy for people to share their old textbook covers and images to show how much better they used to be, blaming poor design on the quality of illustrators in modern times.
According to Wuheqilin, it is not so much a matter of illustrators who have become worse, but of publishing houses saving more money on illustrations. Publishers do not prioritize design and are still offering the same prices to illustrators as they did a decade ago.
"The market has expanded, illustrators' prices have gone up, but the philosophy of publishing houses hasn't kept up with the times. This has led to them not really raising their budgets. When I entered the industry some 12 years ago, publishers could still a good artist for 500-800 RMB [$75-$120] to do a fine cover illustration, but now it would be difficult to find an artist to do it for 8000 RMB [$1188]. Around 2015 I was asked by a publishing house to do the cover of a sci-fi novel series they produced, and the process of our talks all went smoothly, but when I quoted my price they looked displeased and told me that even if they would do their best to give me the highest budget possible, it would still only be one-tenth of my quoted price. The price I quoted was just the normal price for a game poster illustration at the time. I never spoke to that publisher again afterward. And this was 2015, let alone how the situation is nowadays."
This is not the first time Chinese school textbooks trigger controversy online. In 2017, an elementary school sexual education textbook caused a stir for being "too explicit" (read here).
Read more about (controversial) Chinese children's books here.
By Manya Koetse
Get the story behind the hashtag. Subscribe to What's on Weibo here to receive our weekly newsletter and get access to our latest articles:
Spotted a mistake or want to add something? Please let us know in comments below or email us. First-time commenters, please be patient – we will have to manually approve your comment before it appears.
©2022 Whatsonweibo. All rights reserved. Do not reproduce our content without permission – you can contact us at info@whatsonweibo.com.