The Lianghui "Question-Asking Bitch" Incident: Eye-Rolling Journalist Goes Viral on Weibo
One moment during a media conference of China's Two Sessions sparked the "Question-Asking Bitch" (提问婊) controversy and is generating dozens of memes.
A remarkable moment during a media conference of the 13th National People's Congress has ignited a social media storm. On the morning of March 13, a female journalist attracted the attention of Chinese netizens when she disapprovingly glanced at the woman next to her posing a question, and then rolled her eyes.
The incident sparked online discussions and a 'human flesh search' into the matter, with people wondering who the two female journalists are and what the story behind the moment is.
See video below:
The blue dress journalist named Liang Xiangyi (梁相宜) works for the Shanghai-based financial media outlet Yicai.com (第一财经), whereas the reporter in red (Zhang Huijun (张慧君) works for a US-based news media channel named AMTV (全美电视台).
The moment happened during the National People's Congress press conference when journalists are expected to ask short and concise questions. When the AMTV reporter poses her question relating to China's One Belt One Road initiative in a somewhat stylized and long-winding way, it apparently greatly annoys the Yicai reporter, who then cannot contain her contempt for her colleague.
In screenshots of an Yicai chat group later leaked online, one colleague told Liang Xiangyi that her eye-rolling moment was broadcasted live, to which she replied: "Because the woman next to me was being an idiot."
Screenshots of a WeChat conversation between reporter Zhang Huijun and a friend also made it online, with Zhang commenting: "What the heck was she doing looking at me like that?!"
The scene made the term 'Question-Asking Bitch' (提问婊) emerge on Chinese social media to make fun of self-important women working in the media industry. It also launched the term 'Lianghui Elegant Sister' (两会气质姐), which is a nickname Zhang Huijun uses for herself on WeChat and Weibo.
"Today these two beautiful women are breaking the internet – red or blue, which one do you like more?"
Some people from Chinese media circles spoke negatively about both reporters in their Weibo posts. Guangzhou Daily staff member Dai Bin (@戴斌) commented: "This is a serious occasion, and people have to pay attention to the time they use asking a question – after all, it's the National People's Congress. As for the woman who rolls her eyes, perhaps she is forgetting that she is being filmed, and forgot about her manners. May this be a lesson for her."
Other commenters are less earnest about the matter, saying: "Today, these two beautiful women are breaking the internet! The red beauty reporter is asking an intelligent question, and the blue beauty looks charmingly stupefied! Such a difference between red and blue, which one do you like more?"
The remarkable moment is a huge change from the usual proceedings during these type of happenings. China's annual parliamentary sessions (lianghui 两会 'Two Meetings') are a very serious political event that makes headlines every single day over the course of two weeks. Generally, nothing really exciting happens, making lianghui-related news quite dull and dry for many netizens.
The vivid eye-rolling scene brings a personal and saucy touch to the otherwise unemotional occasions, making the story an instant viral phenomenon that generated dozens of memes today.
People are even acting out the scene and posting videos of it:
While "eye-rolling" (翻白眼) became one of the keywords of the day on Chinese social media, the name of blue-dress reporter Liang Xiangyi had become one of the most censored words by Tuesday night (Beijing time).
蓝衣女名字"梁相宜"超过"修宪"和"宪法"成为微博第一屏蔽词。
As of now "Liang Xiangyi" (name of the eye-rolling Chinese reporter in blue suit) has overtaken "constitutional amendments" and "constitutions" to become the No.1 most censored Weibo word.https://t.co/YgTUSp5iEy pic.twitter.com/hTZAroS9iF

— KurikoC (@kuriko_c) 13 maart 2018
For many netizens, the incident was also a reason to further investigate the media channel red-dress reporter Zhang Huijun works for. American Multimedia Television USA (AMTV) describes on its website that it has a 5.6 million household reach and 18 million potential viewers in California, while some on Weibo point out that its viewer ratings and online fans seem to be quite low.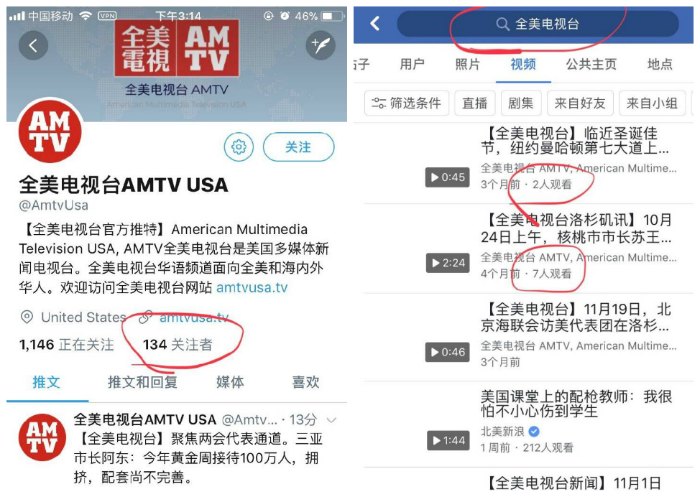 They question Zhang's apparent status as a "foreign journalist." "She pretends to come from outside, but she is actually an insider," some Weibo users write.
But for the majority of netizens, the incident is just a juicy detail of an otherwise monotonous event. As the trend has gone beyond viral, some social media users now say that today can officially be called a Weibo's "roll your eyes" day.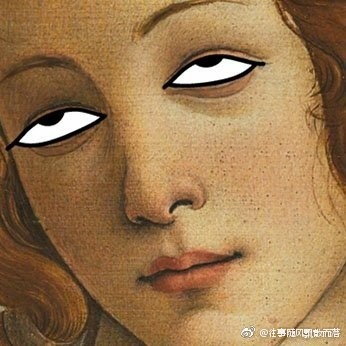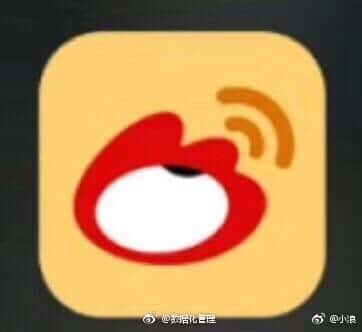 UPDATE: Check our latest vlog on this incident below for an overview and its aftermath:
By Manya Koetse and Miranda Barnes
Follow @whatsonweibo
Spotted a mistake or want to add something? Please let us know in comments below or email us.
©2018 Whatsonweibo. All rights reserved. Do not reproduce our content without permission – you can contact us at info@whatsonweibo.com.
No Hashtags for Mahsa Amini on Chinese Social Media
"Why is that every time Mahsa Amini is mentioned, it somehow gets linked to America?"
While the death of Mahsa Amini and the unrest in Iran is a major news story worldwide, the incident and its aftermath received relatively little attention in Chinese media, where the narrative is more focused on how Western responses to the issue are intensifying anti-American sentiments within Iran.
Her name in Chinese is written as 玛莎·阿米尼, Mǎshā Āmǐní. Mahsa Amini is the young Iranian woman whose death made international headlines this month and triggered social unrest and fierce protests across Iran for the past ten days, killing at least 41 people.
The 22-year-old Amini was arrested by morality police in Tehran on 16 September for allegedly not wearing her hijab according to the mandatory dress code for women while she was visiting the city together with her family. According to eyewitness accounts, Amini was severely beaten by officers before she collapsed and was taken to the hospital where she died three days later.
The protests following Amani's death were visible in the streets, but also on social media where Iranian women posted videos of themselves cutting off their hair as a sign of mourning and protest, asking others to help raise awareness on Amini's death and violence against women amid internet shutdowns in the country.
There were also protests outside of Iran in other places across the world. In London, protesters clashed with police officers during a demonstration outside the Iranian embassy on Monday.
On Chinese social media platform Weibo, Chinese news site The Observer (观察者网) reported Amini's death and the ensuing protests on September 22, but the hashtag selected to highlight the post did not focus on Amini.
Instead, it emphasized the reaction of the Iranian Foreign Ministry, which accused the United States and other Western countries of using the unrest as an opportunity to interfere in Iran's internal affairs (hashtag: "Iran Denounces the US and other Western Countries #伊朗谴责美西方#).
The hashtag decision is noteworthy and also telling of how the developments in Iran have been reported by Chinese (online) media sources, which evade the topic of anti-government protests and instead focus on pro-regime marches and anti-American sentiments.
On China's Tiktok, Douyin, as well as on Weibo, the Chinese media outlet iFeng News posted a video showing Iranian pro-government, anti-American protests on September 25, featuring interviews with veiled women speaking out in support of their country and showing "down with America" slogans and people burning the American flag.
In the comment sections, however, people were critical. One of the most popular comments said: "It must have been difficult organizing all these people." Another person wrote: "Ah now I am starting to understand that it must have been Americans who beat the girl to death for not properly wearing her hijab."
But there were also Chinese netizens who said that Iran was seeing a "color revolution" (颜色革命) initiated by the West, suggesting that foreign forces, mainly the U.S., are trying to get local people to cause unrest through riots or demonstrations to undermine the stability of the government.
China Daily also published a video on Douyin in which they featured Iranian political analyst Foad Izadi who said that the demonstrators in Iran could be divided into two groups: one group cared about "a young woman losing her life," but a second group are people "linked to terrorist organisations based outside Iran."
Chinese media commentator Zhao Lingmin (赵灵敏) posted a video in which she spoke about the situation in Iran and provided more background information on the history of the country, during which she noted how one Iranian official had supposedly said that "the only two civilizations in Asia worth mentioning are Iran and China."
Zhao explained how Iran officially became the Islamic Republic in April of 1979 as 98.2% of the Iranian voters voted for the establishment of the republic system in a national referendum.
Videos using the Douyin hashtag "Iran's Amini" (#伊朗阿米尼) were seemingly taken offline while various images included in Weibo posts about Mahsa Amini and the unrest in Iran were also censored.
"It's good that we can follow the situation here [on this account], because it's been removed at others," one commenter said in response to one post about the many protests following the young woman's death.
Searches for Amini's name came up with zero results on the website of Chinese state media outlets CCTV and Xinhua, where the last article about Iran was about how Iranian people think "America can't be trusted."
The official Weibo account of the Iranian Embassy in China did post a statement about Amini on September 23, writing that Iranian authorities have ordered an investigation into her tragic death and that the protection of human rights is an intrinsic value to Iran, "unlike those who use 'human rights' as a tool to suppress others." "America must end its economic terrorism instead of shedding crocodile tears," the last line said. That post received over 11,000 likes.
"Why is that everytime the Mahsa incident is mentioned, it somehow gets linked to America?!" one popular comment said, with another person also responding: "Sure enough, the U.S. gets blamed for everything."
"So it was the Americans who killed her?" some Chinese netizens sarcastically wrote in response to the post by The Observer, which also mentioned the U.S. in their report of Mahsa's death.
"I don't know the exact circumstances, but I support the right of women not to wear a veil," others said. "Men and women are equal, women should have the freedom to wear what they want and have education and get a job and have some fun," another Weibo commenter wrote.
One Zhejiang-based Weibo user wrote: "The courage of people marching in the streets for freedom is moving. I wish that women will no longer have their freedom restricted through a hijab. What will the 21st century look like? The answer is still blowing in the wind."
By Manya Koetse 
Get the story behind the hashtag. Subscribe to What's on Weibo here to receive our weekly newsletter and get access to our latest articles:
Spotted a mistake or want to add something? Please let us know in comments below or email us. First-time commenters, please be patient – we will have to manually approve your comment before it appears.
©2022 Whatsonweibo. All rights reserved. Do not reproduce our content without permission – you can contact us at info@whatsonweibo.com.
Courage, Camaraderie, and Criticism: The 2022 Sichuan Earthquake on Chinese Social Media
Hashtags and online stories shared on Chinese social media in the aftermath of the devastating earthquake in China's Sichuan.
These are the hashtags and online stories that are shared on Chinese social media this week during the aftermath of the devastating earthquake in China's Sichuan.
On Monday September 5, at 12:52 local time, a strong earthquake struck southwestern China's Sichuan Province. The 6.8-magnitude earthquake jolted Luding County, Ganzi Tibetan Autonomous Prefecture, and killed at least 88 people.
The tremor could be felt miles away from the epicenter, including in the provincial capital Chengdu, which is about 220 kilometers from Luding. The earthquake injured more than 270 people, while 30 persons are still missing.
As many netizens shared videos of how they experienced the earthquake, dozens of hashtags went trending on Chinese social media relating to the earthquake and its aftermath, including the 2.9 magnitude aftershock Luding experienced on Wednesday.
There were many stories shared on Weibo relating to the extensive damage and devastation caused by the earthquake. But besides the solidarity statements expressed online, there was also criticism coming from netizens about local authorities prioritising the battle against Covid-19 at such a critical moment.

Sharing Stories of Compassion and Camaraderie after Earthquake

Bad times sometimes bring out the best in people, and this was shown in the many stories circulating online this week.
The 56-year-old Ms. Gao, who runs a local chicken noodle soup restaurant in the town of Moxi in Luding county, was not at her restaurant when the earthquake hit. But she soon rushed to the disaster area and used all she had left to provide free soup and noodles to local residents and rescue workers, even though Gao, who suffers from breast cancer, is struggling herself (#患癌女子用仅剩一罐气为震区居民做汤面#).
Another Luding country resident, a local farmer named Chen, reportedly spent 12,000 yuan ($1730) out of his own pocket to buy and butcher three giant pigs in order to provide the local residents and fire fighters with roast pork. Chen's brother additionally donated 1000 kilos of rice so that people in the disaster zone could have some warm meals (#四川兄弟给震区捐3头猪2000斤米#).
On September 9, one Chinese TV reporter who was working in the disaster zone rescued a young child who was separated from his parents during the chaos. Videos showed how the reporter, determined to find the child's parents, prioritized the child over his work. The little boy was eventually reunited with his mother, who had not slept for 48 hours (#记者受人之托紧抱孩子不撒手#).
These kind gestures and efforts were much needed for those dealing with grief and loss after the earthquake. One man in Luding smiled when a reporter approached him, but he broke down in tears the moment he started talking about losing his sister in the earthquake (#大哥微笑接受采访一开口泪崩了#).
Chinese media outlet Fengmian reported that the 26-year-old rescue worker Qin Xiaoqiang (秦晓强) worked around the clock to rescue and dig out three people who were trapped under the rubble. Afterward, he learned that his own father and sister were killed in the earthquake (#痛失家人特警说要让更多家庭团圆#).
Some families lost all they had in the earthquake. On Weibo, many people donated to various earthquake-related causes via the Weibo Public Good platform (微公益).
Besides the aid charities raising funds thanks to Weibo and Wechat users, there are also dozens of Chinese celebrities who stepped up and donated money to help rescue work in the region. Among them were Chinese actor Leo Wu (Wu Lei, 吴磊) and Chinese actress Rosy (Zhao Lusi, 赵露思) – both made headlines for their contributions to the rescue operation (#吴磊为四川震区捐赠物资#, #赵露思向四川泸定捐赠物资#).
There were also other celebrities, including names such as Zhang Tian'ai and Wang Yibo, who donated money to help fund five Sichuan rescue teams to go to the front lines and to transport basic necessities to Luding County and other affected regions (#王一博为四川震区捐赠物资#).

Official Media Accounts Highlight Compassionate & Courageous Rescue Efforts

Over the past week, Chinese official state media outlets such as People's Daily, Xinhua, and CCTV published countless posts on Weibo relating to the earthquake. In covering the earthquake on social media, Chinese state media have a clear human interest angle and make a strong appeal to emotion as many of these posts specifically focus on the rescue and relief efforts and the bravery, compassion, and humanity shown by Chinese rescue workers (#消防武警民兵公安奔赴震区救援#).
On September 8, People's Daily highlighted the moment an armed officer evacuated a baby from the disaster zone, the small child calmy drinking their milk while safely strapped on the soldier's back (#震区宝宝在武警背上乖乖喝奶#).
People's Daily also reported about several firefighters carrying an old lady and getting her out of the earthquake zone.
Global Times published a story and video about a firefighter whose feet were completely blistered and battered after working in the earthquake-hit zones (#震区消防员脚底被磨破#).
Official media published various propaganda posters showing emergency workers, including firefighters, paramedics, and police officers, during the rescue operations. One poster compared the ongoing relief efforts in Luding to those during the 2008 Great Sichuan earthquake or Wenchuan earthquake, during which a devastating 69,000 people lost their lives.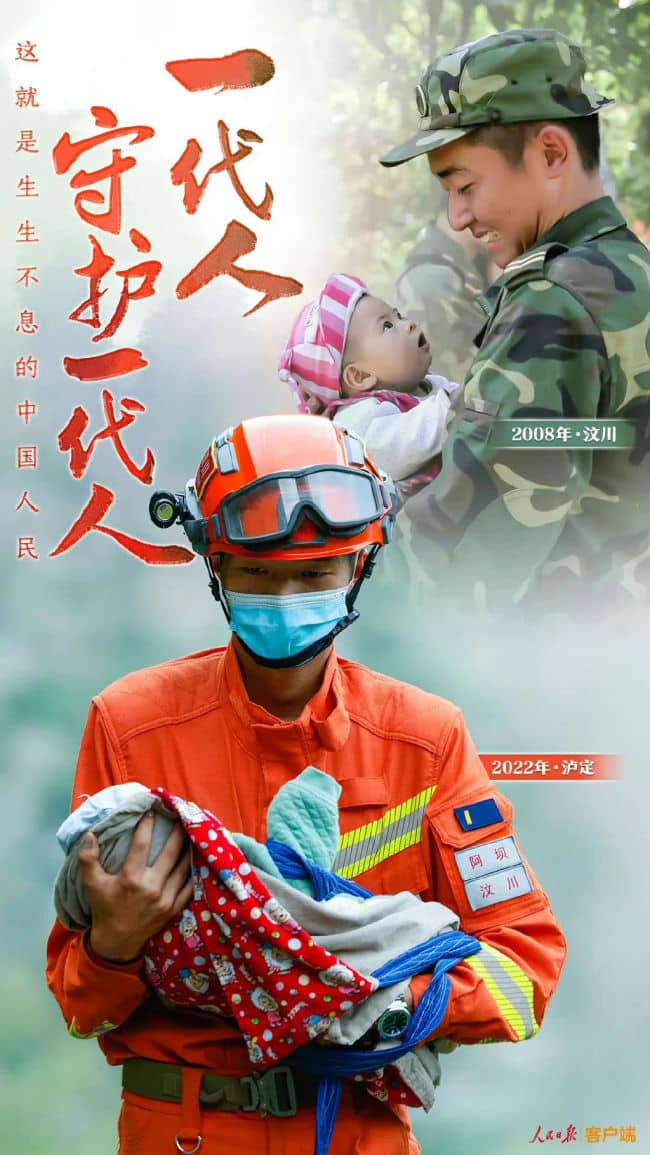 The China Fire and Rescue account shared a "Pray for Luding" poster on Weibo showing emergency workers carrying a special rescue stretcher with the help of volunteers. The hashtag "Pray for Luding" (#为泸定祈福#) received over 280 million clicks within four days time.
State media outlet Xinhua emphasized the bravery shown by young workers operating excavators on dangerously steep hills to clear roads of debris (#震区绝壁上的挖掘机手是90后# and #泸定地震中打通生命通道的孤勇者#).
The story of a team of 24 rescue workers who got stranded in the Hailuogou Scenic Area near Moxi Town also was covered a lot; the rescue workers were at the scene shortly after the earthquake hit but then were unable to get back to due to changing weather conditions. Their safe return was celebrated by various Chinese state media on September 10 (#24名滞留震区孤岛特警全部平安#).

Online Grassroots Criticism on Prioritizing Anti-Epidemic Efforts

But amid all the online stories and Chinese media narratives focusing on courage, compassion, and camaraderie, there was also criticism, as the strong earthquake put things into perspective regarding China's ongoing fight against COVID-19 and the zero-Covid policy.
After local health authorities in the disaster area announced a strengthening of epidemic prevention and control measures on September 7, including daily nucleic acid testing for rescue workers and a stop on volunteer rescue workers coming into the area, many people showed little understanding.
"The earthquake is not as important as epidemic prevention," some wrote.
"People's lives are at stake and we're still all about epidemic prevention. The earthquake [apparently] is not as powerful as the 'big flu' – it's really hopeless."
"Trivia. During the few years of epidemic in Sichuan, a total of three people died. During a few minutes of the earthquake, more than 70 died." "By now, the mortality rate of this virus is less than the flu," one person responded.
"The epidemic prevention comes first, people's lives come second," others wrote. "What happened to 'putting people and life first?'" some wondered, mentioning the famous quote by Xi Jinping.
One Weibo user posted a photo of a dog getting tested for Covid, writing: "[China's] major nucleic acid testing companies allegedly made $16 billion in the first half of this year, so it's certainly wouldn't be excessive if they donated some money to the earthquake area, right?"
By Manya Koetse 
Get the story behind the hashtag. Subscribe to What's on Weibo here to receive our weekly newsletter and get access to our latest articles:
Spotted a mistake or want to add something? Please let us know in comments below or email us. First-time commenters, please be patient – we will have to manually approve your comment before it appears.
©2022 Whatsonweibo. All rights reserved. Do not reproduce our content without permission – you can contact us at info@whatsonweibo.com.