The Lianghui "Question-Asking Bitch" Incident: Eye-Rolling Journalist Goes Viral on Weibo
One moment during a media conference of China's Two Sessions sparked the "Question-Asking Bitch" (提问婊) controversy and is generating dozens of memes.
A remarkable moment during a media conference of the 13th National People's Congress has ignited a social media storm. On the morning of March 13, a female journalist attracted the attention of Chinese netizens when she disapprovingly glanced at the woman next to her posing a question, and then rolled her eyes.
The incident sparked online discussions and a 'human flesh search' into the matter, with people wondering who the two female journalists are and what the story behind the moment is.
See video below:
The blue dress journalist named Liang Xiangyi (梁相宜) works for the Shanghai-based financial media outlet Yicai.com (第一财经), whereas the reporter in red (Zhang Huijun (张慧君) works for a US-based news media channel named AMTV (全美电视台).
The moment happened during the National People's Congress press conference when journalists are expected to ask short and concise questions. When the AMTV reporter poses her question relating to China's One Belt One Road initiative in a somewhat stylized and long-winding way, it apparently greatly annoys the Yicai reporter, who then cannot contain her contempt for her colleague.
In screenshots of an Yicai chat group later leaked online, one colleague told Liang Xiangyi that her eye-rolling moment was broadcasted live, to which she replied: "Because the woman next to me was being an idiot."
Screenshots of a WeChat conversation between reporter Zhang Huijun and a friend also made it online, with Zhang commenting: "What the heck was she doing looking at me like that?!"
The scene made the term 'Question-Asking Bitch' (提问婊) emerge on Chinese social media to make fun of self-important women working in the media industry. It also launched the term 'Lianghui Elegant Sister' (两会气质姐), which is a nickname Zhang Huijun uses for herself on WeChat and Weibo.
"Today these two beautiful women are breaking the internet – red or blue, which one do you like more?"
Some people from Chinese media circles spoke negatively about both reporters in their Weibo posts. Guangzhou Daily staff member Dai Bin (@戴斌) commented: "This is a serious occasion, and people have to pay attention to the time they use asking a question – after all, it's the National People's Congress. As for the woman who rolls her eyes, perhaps she is forgetting that she is being filmed, and forgot about her manners. May this be a lesson for her."
Other commenters are less earnest about the matter, saying: "Today, these two beautiful women are breaking the internet! The red beauty reporter is asking an intelligent question, and the blue beauty looks charmingly stupefied! Such a difference between red and blue, which one do you like more?"
The remarkable moment is a huge change from the usual proceedings during these type of happenings. China's annual parliamentary sessions (lianghui 两会 'Two Meetings') are a very serious political event that makes headlines every single day over the course of two weeks. Generally, nothing really exciting happens, making lianghui-related news quite dull and dry for many netizens.
The vivid eye-rolling scene brings a personal and saucy touch to the otherwise unemotional occasions, making the story an instant viral phenomenon that generated dozens of memes today.
People are even acting out the scene and posting videos of it:
While "eye-rolling" (翻白眼) became one of the keywords of the day on Chinese social media, the name of blue-dress reporter Liang Xiangyi had become one of the most censored words by Tuesday night (Beijing time).
蓝衣女名字"梁相宜"超过"修宪"和"宪法"成为微博第一屏蔽词。
As of now "Liang Xiangyi" (name of the eye-rolling Chinese reporter in blue suit) has overtaken "constitutional amendments" and "constitutions" to become the No.1 most censored Weibo word.https://t.co/YgTUSp5iEy pic.twitter.com/hTZAroS9iF

— KurikoC (@kuriko_c) 13 maart 2018
For many netizens, the incident was also a reason to further investigate the media channel red-dress reporter Zhang Huijun works for. American Multimedia Television USA (AMTV) describes on its website that it has a 5.6 million household reach and 18 million potential viewers in California, while some on Weibo point out that its viewer ratings and online fans seem to be quite low.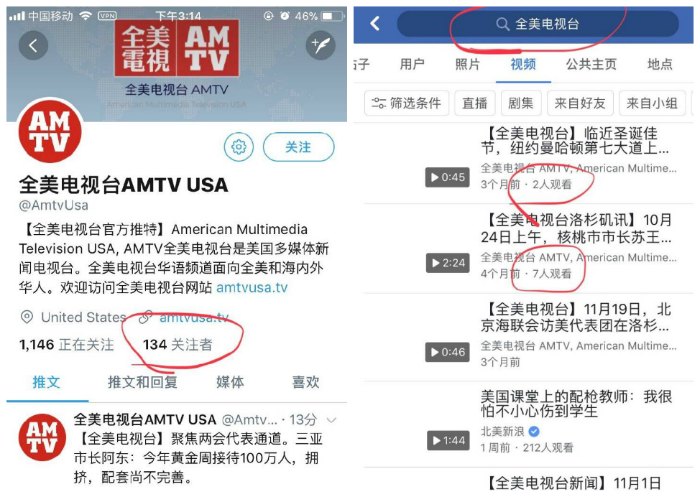 They question Zhang's apparent status as a "foreign journalist." "She pretends to come from outside, but she is actually an insider," some Weibo users write.
But for the majority of netizens, the incident is just a juicy detail of an otherwise monotonous event. As the trend has gone beyond viral, some social media users now say that today can officially be called a Weibo's "roll your eyes" day.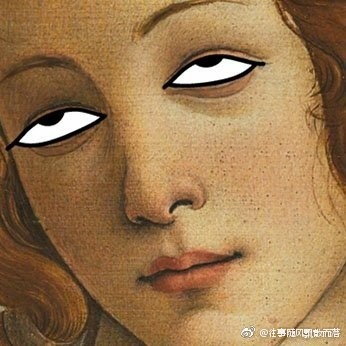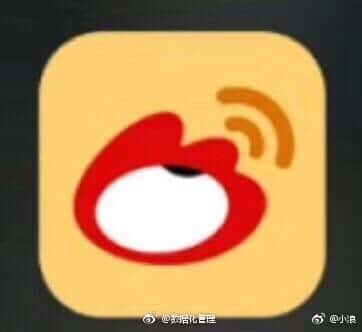 UPDATE: Check our latest vlog on this incident below for an overview and its aftermath:
By Manya Koetse and Miranda Barnes
Follow @whatsonweibo
Spotted a mistake or want to add something? Please let us know in comments below or email us.
©2018 Whatsonweibo. All rights reserved. Do not reproduce our content without permission – you can contact us at info@whatsonweibo.com.
On Wuhan's 'Reopening Day', Even Traffic Jams Are Celebrated
As the COVID-19 lockdown has ended in Wuhan, many people are happy to see the city's traffic finally getting busy again. "I hated traffic jams before, now it makes me happy to see them."
It was chilly and grey in Wuhan when the coronavirus epicenter city went into a full lockdown on January 23 of this year. On April 8, 76 days later, it is sunny and twenty degrees warmer outside as people leave their homes to resume work or go for a stroll.
The end of the Wuhan lockdown is a special day for many, as the city finally lifted the 11-week-long ban that shut down all travel to and from the city in a radical effort to curb the spread of COVID-19.
On Wednesday, city residents returned to work as public transport started again. Roads, bridges, and tunnels were reopened, and the local airport resumed flights.
On Chinese social media, various hashtags relating to the Wuhan lockdown end have become popular topics. Using hashtags such as "Wuhan Lifts the Ban" (#武汉解封#), "Wuhan Open Again after 76 Days" (#武汉暂停76天后重启#), and "Wuhan Reopens" (#武汉重启#), the end of the coronavirus ban is a much-discussed news item, along with the spectacular midnight light show that was organized to celebrate the city's reopening.
"Today has finally arrived! It's been difficult for the people of Wuhan," some commenters write.
According to China's official statistics, that are disputed, over 3330 people have died from the new coronavirus since its outbreak; 80% of these fatal cases were reported in Wuhan. On April 6, authorities claimed that for the first time since the virus outbreak, there were zero new COVID-19 deaths.
Some state media, including People's Daily, report that the reopening of restaurants and food shops is going smoothly in the city, as people – for the first time since January – are back to buying pan-fried dumplings and noodles from their favorite vendors.
Meanwhile, the fact that the traffic in some Wuhan areas is back to being somewhat congested is something that is widely celebrated on social media.
On Wuhan's 'Reopening Day', even traffic jams are celebrated after 76 days of quiet streets. "I hated traffic congestion before, now it makes me happy" – https://t.co/affNFah073 #Wuhan #COVID19 pic.twitter.com/yhaY3PAi7S

— What's on Weibo (@WhatsOnWeibo) April 8, 2020
Some call the mild traffic congestions "great", viewing it as a sign that the city is coming back to life again after practically turning into a ghost town for all these weeks.
"I hated traffic jams before, now it makes me happy to see them," one Weibo commenter writes.
"I won't complain about congested traffic again, because it's a sign the streets are flourishing," another Weibo user posted.
While netizens and media outlets are celebrating the end of the lockdown, several Chinese media accounts also remind people on social media that although the ban has been lifted, people still need to be vigilant and refrain from gathering in groups and standing close to each other.
For more COVID-19 related articles, please click here.
By Manya Koetse (@manyapan)
Follow @whatsonweibo
Spotted a mistake or want to add something? Please let us know in comments below or email us. First-time commenters, please be patient – we will have to manually approve your comment before it appears.
©2020 Whatsonweibo. All rights reserved. Do not reproduce our content without permission – you can contact us at info@whatsonweibo.com.
Online Anger over "Special Treatment" for Quarantined Foreigners in China
Are foreigners in quarantine being treated better than Chinese nationals? This Nanjing Daily article has triggered controversy.
On March 27, an article titled "For the Good Health of 684 Foreigners" ("为了684个"老外"的安康") sparked controversy online over the alleged special treatment of foreign nationals during their mandatory 14-day quarantine period.
According to the article published by Nanjing Daily, Nanjing's Xianlin Subdistrict set up a special WeChat group for foreign nationals and their families returning to the city after the Spring Festival holiday, which coincided with the outbreak of the new coronavirus.
In special WeChat groups, subdistrict officers, doctors, translators, and property managers provide assistance and daily services to these China-based foreigners. Examples of such "daily services" include delivering fresh bread or contacting pet boarding facilities.
"One young man loved online shopping on Taobao, and once we delivered twenty packages for him within one day," one member of the service group told Nanjing Daily.
Although foreign residents in China and foreigners with previously issued visas are currently no longer allowed to enter China, they needed to undergo a two-week quarantine period upon entry until the travel ban of a few days ago.
Jiangsu Province, of which Nanjing is the capital, tightened quarantine rules on March 23, making every traveler from abroad subject to a centralized quarantine (e.g. in a hotel) for fourteen days.
The special services for returning foreigners reported by Nanjing Daily triggered controversy on Chinese social media this week. Many netizens criticized it as a "supra-nationals treatment" (超国民待遇).
Under one Weibo post by media outlet The Cover (@封面新闻), which received over one million views, many people are criticizing local officers' favorable treatment of foreigners. One commenter writes: "Will they provide the same comprehensive services to their compatriots?"
Another person writes: "Why don't they also adhere to the slogan of 'Serve the People' (..) when dealing with Chinese citizens?"
In discussing the supposed inequality between the treatment of foreigners and Chinese nationals in quarantine, many netizens raise a recent example of a quarantined Chinese student who asked the civil police staff for mineral water. In a video that circulated online in mid-March, the girl quarrels with the police for not being offered mineral water. The student, demanding mineral water over the available boiled tap water, was ridiculed for suggesting that having mineral spring water is a "human right."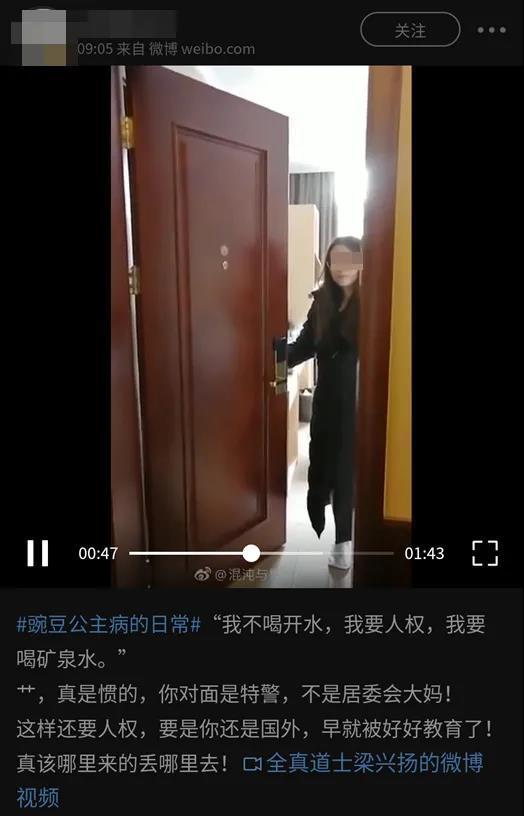 Ironically, the Nanjing Daily article explicitly mentions how the Xianlin Subdistrict deals with foreigners drinking purified water: "[This] Laowai [foreigner] wants to drink bottled purified water, [so] we bought four barrels for him (..) and carried them from the community gate to his apartment."
The contrast in treatment of quarantined foreigners versus Chinese nationals prompted some Weibo users to reflect on their previous remarks on the female student: "I apologize for previously mocking the Chinese student at the quarantine center in Pudong, Shanghai, for demanding to drink mineral water," one commenter writes.
In response to the online controversy, the office of the Xianlin Subdistrict clarified that Chinese nationals would receive "corresponding services" during their quarantine period. Some netizens question what these alleged "corresponding services" exactly entail.
In another media report, the official reply was that "the Subdistrict treats Chinese and foreign citizens the same."
Over recent years, there have been many online controversies on the issue of privilege in China. Earlier this year, there was public outrage over two women driving a Benz SUV into the Palace Museum, where cars are usually not allowed.
The issue of the perceived privileges of foreigners in China has particularly triggered anger among netizens. The "preferential treatment" of overseas students and the "dorm disparities" between Chinese and foreign students in China, for example, previously became major topics of online discussion.
A popular WeChat article that comments on the Nanjing controversy of this week also lists examples of special treatment for foreigners, including cases where foreigners were not fined when breaking rules in China or being "treated better" in other ways. By now, the article has received over 100,000 views.
For more COVID-19 related articles, please click here.
By Bobby Fung (@bobbyfungmr)
Spotted a mistake or want to add something? Please let us know in comments below or email us. First-time commenters, please be patient – we will have to manually approve your comment before it appears.
©2020 Whatsonweibo. All rights reserved. Do not reproduce our content without permission – you can contact us at info@whatsonweibo.com.