The Lianghui "Question-Asking Bitch" Incident: Eye-Rolling Journalist Goes Viral on Weibo
One moment during a media conference of China's Two Sessions sparked the "Question-Asking Bitch" (提问婊) controversy and is generating dozens of memes.
A remarkable moment during a media conference of the 13th National People's Congress has ignited a social media storm. On the morning of March 13, a female journalist attracted the attention of Chinese netizens when she disapprovingly glanced at the woman next to her posing a question, and then rolled her eyes.
The incident sparked online discussions and a 'human flesh search' into the matter, with people wondering who the two female journalists are and what the story behind the moment is.
See video below:
The blue dress journalist named Liang Xiangyi (梁相宜) works for the Shanghai-based financial media outlet Yicai.com (第一财经), whereas the reporter in red (Zhang Huijun (张慧君) works for a US-based news media channel named AMTV (全美电视台).
The moment happened during the National People's Congress press conference when journalists are expected to ask short and concise questions. When the AMTV reporter poses her question relating to China's One Belt One Road initiative in a somewhat stylized and long-winding way, it apparently greatly annoys the Yicai reporter, who then cannot contain her contempt for her colleague.
In screenshots of an Yicai chat group later leaked online, one colleague told Liang Xiangyi that her eye-rolling moment was broadcasted live, to which she replied: "Because the woman next to me was being an idiot."
Screenshots of a WeChat conversation between reporter Zhang Huijun and a friend also made it online, with Zhang commenting: "What the heck was she doing looking at me like that?!"
The scene made the term 'Question-Asking Bitch' (提问婊) emerge on Chinese social media to make fun of self-important women working in the media industry. It also launched the term 'Lianghui Elegant Sister' (两会气质姐), which is a nickname Zhang Huijun uses for herself on WeChat and Weibo.
"Today these two beautiful women are breaking the internet – red or blue, which one do you like more?"
Some people from Chinese media circles spoke negatively about both reporters in their Weibo posts. Guangzhou Daily staff member Dai Bin (@戴斌) commented: "This is a serious occasion, and people have to pay attention to the time they use asking a question – after all, it's the National People's Congress. As for the woman who rolls her eyes, perhaps she is forgetting that she is being filmed, and forgot about her manners. May this be a lesson for her."
Other commenters are less earnest about the matter, saying: "Today, these two beautiful women are breaking the internet! The red beauty reporter is asking an intelligent question, and the blue beauty looks charmingly stupefied! Such a difference between red and blue, which one do you like more?"
The remarkable moment is a huge change from the usual proceedings during these type of happenings. China's annual parliamentary sessions (lianghui 两会 'Two Meetings') are a very serious political event that makes headlines every single day over the course of two weeks. Generally, nothing really exciting happens, making lianghui-related news quite dull and dry for many netizens.
The vivid eye-rolling scene brings a personal and saucy touch to the otherwise unemotional occasions, making the story an instant viral phenomenon that generated dozens of memes today.
People are even acting out the scene and posting videos of it:
While "eye-rolling" (翻白眼) became one of the keywords of the day on Chinese social media, the name of blue-dress reporter Liang Xiangyi had become one of the most censored words by Tuesday night (Beijing time).
蓝衣女名字"梁相宜"超过"修宪"和"宪法"成为微博第一屏蔽词。
As of now "Liang Xiangyi" (name of the eye-rolling Chinese reporter in blue suit) has overtaken "constitutional amendments" and "constitutions" to become the No.1 most censored Weibo word.https://t.co/YgTUSp5iEy pic.twitter.com/hTZAroS9iF

— KurikoC (@kuriko_c) 13 maart 2018
For many netizens, the incident was also a reason to further investigate the media channel red-dress reporter Zhang Huijun works for. American Multimedia Television USA (AMTV) describes on its website that it has a 5.6 million household reach and 18 million potential viewers in California, while some on Weibo point out that its viewer ratings and online fans seem to be quite low.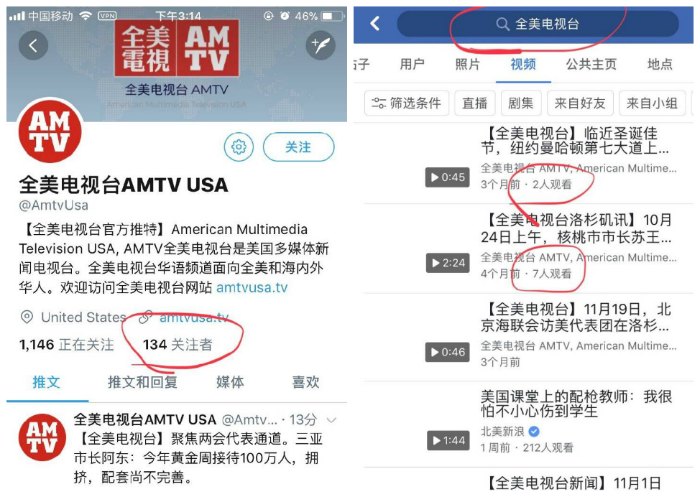 They question Zhang's apparent status as a "foreign journalist." "She pretends to come from outside, but she is actually an insider," some Weibo users write.
But for the majority of netizens, the incident is just a juicy detail of an otherwise monotonous event. As the trend has gone beyond viral, some social media users now say that today can officially be called a Weibo's "roll your eyes" day.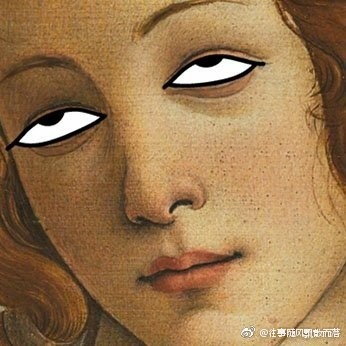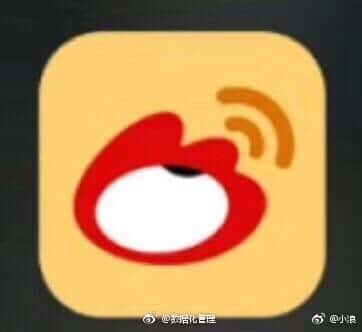 UPDATE: Check our latest vlog on this incident below for an overview and its aftermath:
By Manya Koetse and Miranda Barnes
Follow @whatsonweibo
Spotted a mistake or want to add something? Please let us know in comments below or email us.
©2018 Whatsonweibo. All rights reserved. Do not reproduce our content without permission – you can contact us at info@whatsonweibo.com.
Chinese Actor Zhao Lixin Banned from Weibo over Comments on Second Sino-Japanese War
The actor was banned for "downplaying" the Japanese aggression in China during the Second Sino-Japanese War.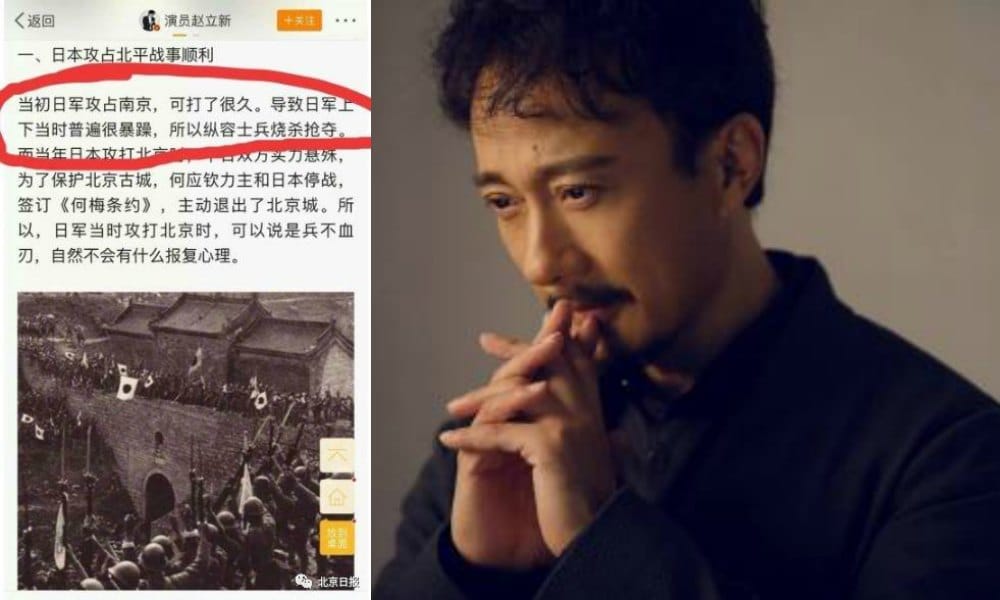 Sina Weibo issued a statement on April 16 that the Weibo account of the Chinese-Swedish actor Zhao Lixin has been terminated following remarks he made about Japan's invasion of China and the Second Sino-Japanese War.
The Weibo account of Zhao Lixin (赵立新, 1968) has been closed after the Chinese-Swedish actor made controversial comments on the Second Sino-Japanese War.
On April 2nd, Zhao Lixin, who had more than 7 million followers, posted a message on Weibo that questioned why the Japanese military did not pillage and destroy the Beijing Palace Museum during the Second Sino-Japanese War:
"The Japanese occupied Beijing for eight years. Why didn't they steal relics from the Palace Museum and burn it down [during that time]? Is this in line with the nature of an invader?"
The actor also commented on the Nanjing Massacre of 1937, suggesting that it was a consequence of Chinese resistance to the Japanese invasion.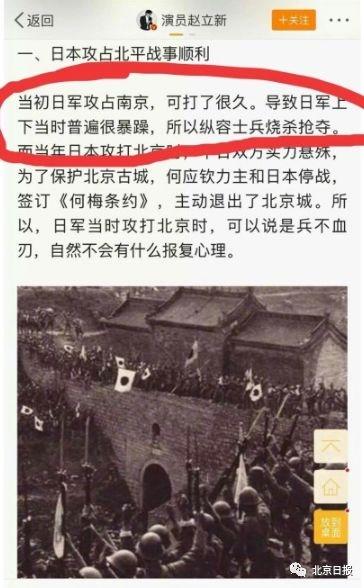 Zhao's post led to much controversy in early April, followed by a lengthy apology statement from the actor on April 3rd, in which he said he did not phrase his comments carefully enough and that he was remorseful over the storm of criticism he had ignited. His controversial Weibo post was soon taken offline.
Many people were mostly angered because they felt Zhao's comments "defended" the Japanese invaders. "Zhao's permit to work in China should be terminated forever!", some commenters posted on Weibo.
The Second Sino-Japanese War is still a highly sensitive topic in China today, with anti-Japanese sentiments often flaring up when Japan-related topics go trending on Chinese social media.
The 'Nanjing massacre' or 'Rape of Nanjing' is an especially sensitive topic within the history of the Second Sino-Japanese War, also because some Japanese politicians and scholars consistently deny it even happened, heightening the tension between the two countries. For a Chinese celebrity to seemingly 'downplay' the aggression and atrocities committed by Japanese invaders in the 1937-1945 period is therefore highly controversial.
Despite Zhao's apologies, Sina Weibo issued a notice on April 16 "Relating to Harmful Political Information" (关于时政有害信息的处理公告), stating that the account of Zhao Lixin, along with some others, had been closed for spreading this kind of information.
The hashtag relating to Zhao's social media suspension received more than 57 million views on Weibo today.
"It's good that his account was taken down," a popular comment said: "It's insulting our country." Others said that Zhao should not have posted something that is "out of line" "considering his position as an actor."
Zhao Lixin is mainly known for his roles in TV dramas such as The Legend of Mi Yue, Memoirs In China, and In the Silence.
Zhao is not the first KOL (Key Opinion Leader) to have been banned from Weibo after making controversial remarks relating to China's history. In 2016 the famous entrepreneur Ren Zhiqiang disappeared from Weibo after publishing various posts on his experience with communism in the past, and the status quo of media in China.
By Manya Koetse , with contributions from Miranda Barnes
Spotted a mistake or want to add something? Please email us.
©2019 Whatsonweibo. All rights reserved. Do not reproduce our content without permission – you can contact us at info@whatsonweibo.com.
Top 6 of China's Popular News Apps
In an online environment with hundreds of news apps, these are some must-know apps Chinese netizens use to stay updated on the news.
In China's dynamic online media environment, where hundreds of news apps are competing over clicks, these are five different news apps that are currently popular among Chinese netizens.
China is the world's largest smartphone market, and the mobile app business is booming. Chinese netizens, of which some 98% access the internet via mobile phone, have thousands of app to choose from across dozens of app stores.
To provide some insights into this huge market, What's on Weibo has listed some of the most popular and noteworthy apps in China today in various categories, namely news, education, health, games, and short video & live streaming. Check our top 5 of most popular short video apps here. This article will focus on some of China's most popular news apps. Stay tuned for the other categories, that will follow shortly and will be listed below this article.
We made our selection based on the data from the Android app stores Tencent, Baidu, Huawei, and Zhushou360. We tried our best to give you a representative overview of a variety of apps that are currently most used in China, but want to remind you that these lists are by no official "top 5" charts.
When it comes to news apps, we see there's a clear preference for the more commercial media outlets rather than traditional Chinese state media newspaper titles, and that besides gaming, live streaming, shopping, and music, news gathering is still very much a popular online activity among Chinese netizens.
#1 Jinri Toutiao 今日头条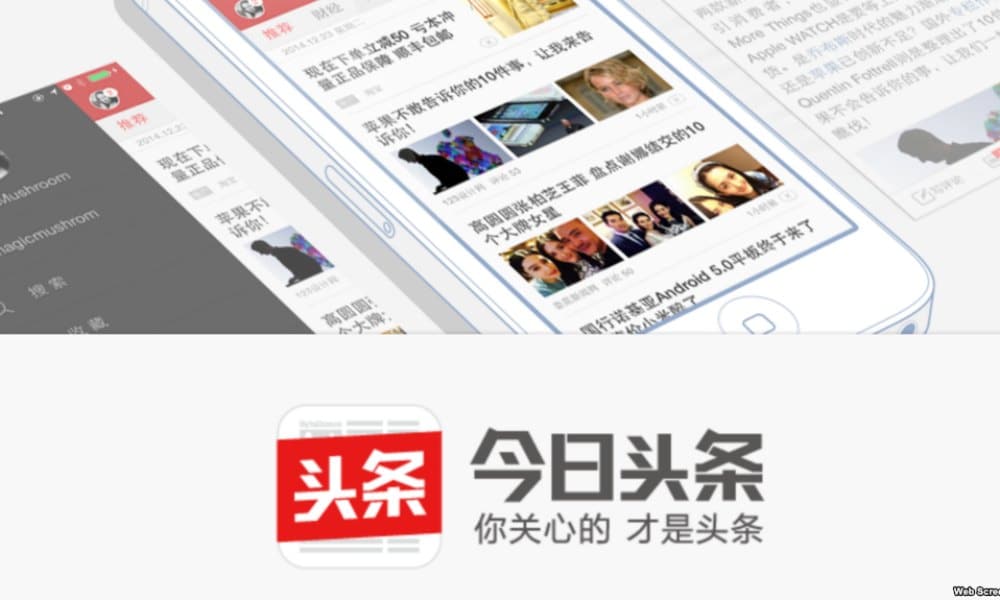 Jinri Toutiao, which translates as 'Today's Headlines', currently ranks as the most popular app in the Chinese Apple store, together with its 'speed version' (今日头条极速版) version, which offers a different interface.
The Jinri Toutiao app is a core product of China's tech giant Bytedance Inc., which has also developed popular apps such as TikTok, Douyin (抖音), Xigua (西瓜) and Huoshan (火山).
The main difference between the normal and speed version app is that the Jinri Toutiao has some extended features; its layout can be adjusted according to user's preferences and its installment takes up more space on the device.
Toutiao's success is mainly due to its artificial intelligence functions that sources news and other articles for its users. Through the app's machine-learning algorithm, Jinri Toutiao can understand its user's preferences and personalizes the selected content its shows on the main page. In doing so, Toutiao is a so-called news aggregator that has some 4000 news providing partners and is comparable to American apps such as Flipboard.
In 2018, Jinri Toutiao had 700 million registered users, with 120 million daily readers, spending approximately 76 minutes on the app, viewing a total of 4.2 billion(!) articles.
#2 Ifeng News 凤凰新闻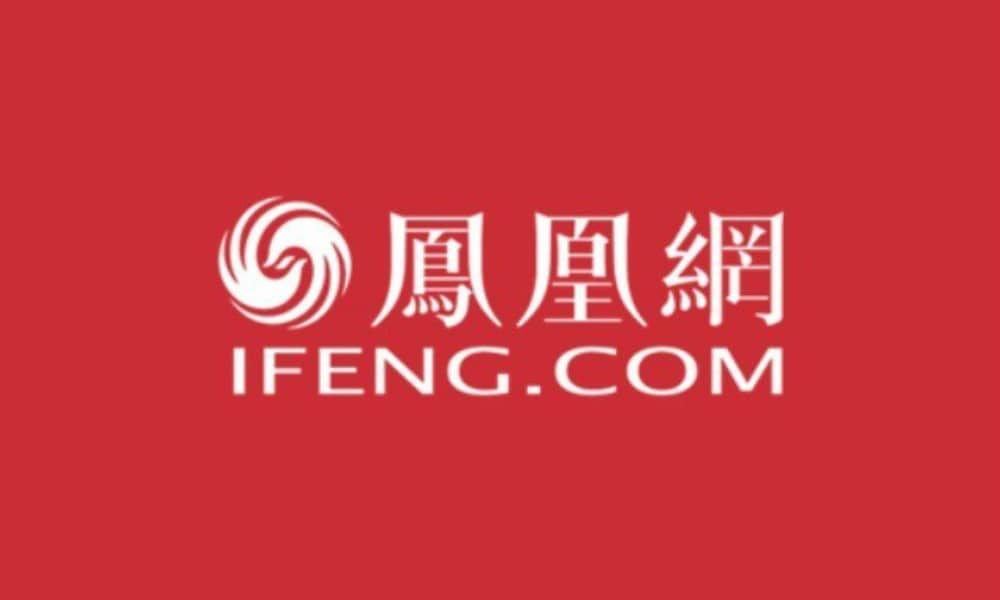 Ifeng News or Phoenix News is part of Phoenix TV, a broadcasting company established in 1996. The media company, that is headquartered in Hong Kong, is active in traditional media as well as in new media.
According to Phoenix TV, users of the Ifeng News app approximately spend more than 37 minutes on the app daily.
Like Toutiao, the Ifeng News app also offers personalized content for users based on AI algorithms. Different from Toutiao, Ifeng is not just a news aggregator but also produces its own content.
Ifeng News is the app to consult when you want to get somewhat more in-depth insights into the main headlines from around globe. In addition, Ifeng also offers 24/7 live news broadcasts from mainland China, Hong Kong, and Taiwan.
#3 Caijing Toutiao 财经头条
Caijing Toutiao is an app developed by Caijing Magazine, an independent financial magazine based in Beijing that, in addition to economic issues, also focuses on social and public affairs and civil rights. It has long been known for its progressive and critical content, which is why we list it here, although some other commercial news apps, such as Tencent News, Sohu News, Netease, and The Paper, might be more popular in terms of the total number of downloads.
Caijing Magazine was established in 1998 by Hu Shuli (胡舒立) as part of the Media Group Limited. Especially in the first ten years of the magazine's existence, it enjoyed relative freedom regarding press restrictions. But the 'golden era' of Caijing came to an end in 2009, when Hu Shili resigned after facing more control over news by the authorities.
Nevertheless, Caijing is still known as an authoritative news platform for business and financial issues in China.
The Caijing app, in addition to its live stream and headlines, offers rich financial content organized in various categories. The app is not only among the most popular news apps, but it was also ranked the most downloaded financial app in the first half of 2018.
#4 People's Daily 人民日报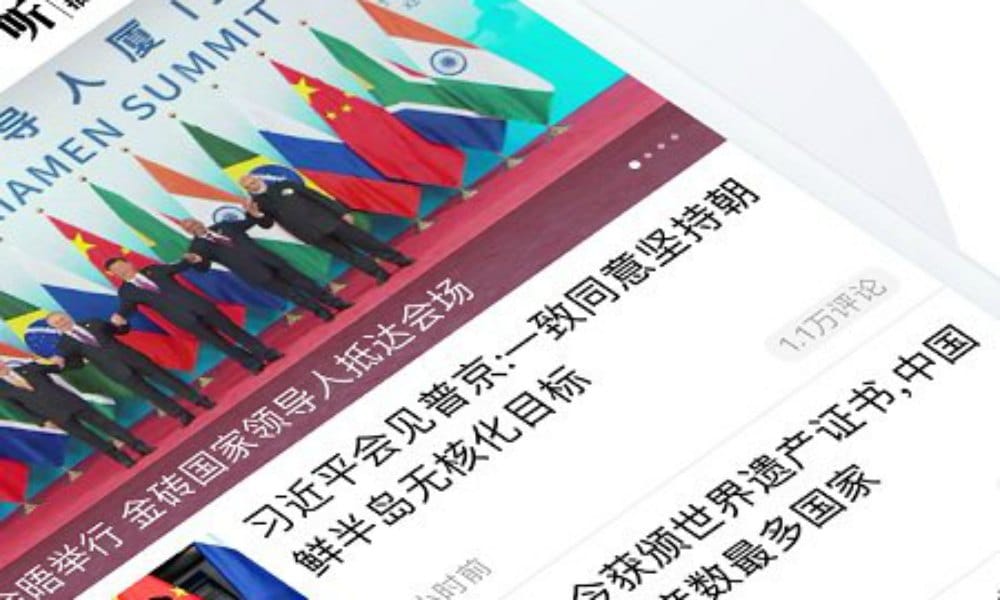 People's Daily, one of the leading news outlets of China, is the official newspaper of the Central Committee of the Communist Party of China. The news office was established in 1948 and is headquartered in Beijing.
Despite being seventy years old, People's Daily has adopted various strategies over the past years to reach Chinese younger audiences in the digital era. The news app, launched in 2014, is part of its digital strategy, and now ranks amongst the most popular news apps of China across different app app stores.
A large number of People's Daily's news articles focus on political matters. Users of the app can choose whether they want to see the standardized content showed to all users, or opt-in to recommended articles based on monitored personal preferences.
#5 Tencent News 腾讯新闻
Tencent News, which is part of the Shenzhen-based Tencent Group, is one of the leading news-apps of China. In addition to the app, the company also has its online portal QQ.com, where they release the same content as the app, complemented with other services.
In 2017, Tencent brought the two apps together when it added a news feed and search function to its super app WeChat. This means that, regardless if you have the Tencent News app installed on your device, you will be directed to Tencent News when you enter certain search words in WeChat. With WeChat's 1.08 billion monthly active users globally, this sets off a tremendous user flow from WeChat to Tencent News.
The majority of the news articles on the app come from third-party platforms. In addition to the news, the app features other Tencent products such as Tencent Video and their live streaming service.
In the final quarter of 2018, Tencent News users grew from 94 million to 97.6 million daily active users, making it the second most popular news app of China.
#6 Zhihu 知乎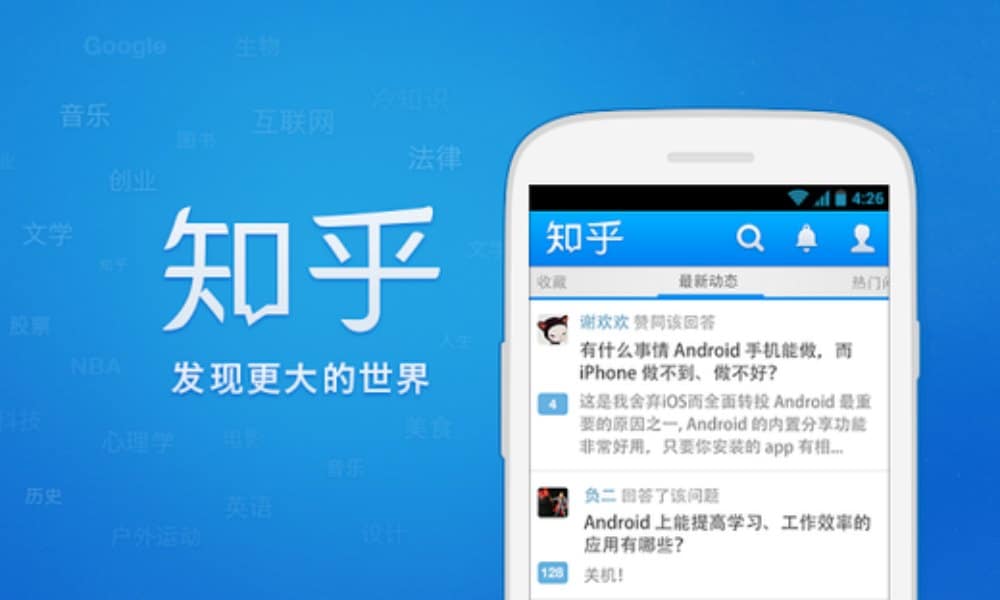 Zhihu is no typical news app: it actually is China's biggest Q&A platform, comparable to Quora.
In 2018, Zhihu had 160 million registered users, of which 26 million visited the app daily. Despite the fact that Zhihu is not a traditional news content app, it plays an important role in China's online news media landscape, as it provides an open space where users get (news) information and can get answers to their questions relating to the news and other things.
What sets it apart from other social media platforms is that users do not need to be 'connected' or 'follow' each other in order to see each other's questions and comments. Zhihu's algorithm pushes up the most popular content, driving engagement.
How does Zhihu exactly work? All Zhihu users can create topics or questions, and reply to those of others. By voting on the best response of other users, the app automatically features the most appreciated comments on the top of the page.
To guarantee the reliability of the information provided by users, Zhihu has rolled out a 'point system' that credits users for their content, profile, and behavior on the platform. By giving every user a personal score, Zhihu allegedly hopes to promote more "trustworthy" content.
Apart from the Q&A feature, Zhihu also offers electronic books and paid live streaming. Zhihu also launched the so-called 'Zhihu University' that offers paid online courses in business, science, and humanities.
Also see:
By Gabi Verberg, edited by Manya Koetse
Spotted a mistake or want to add something? Please let us know in comments below or email us.
©2019 Whatsonweibo. All rights reserved. Do not reproduce our content without permission – you can contact us at info@whatsonweibo.com