After More Than a Decade, the Human Flesh Search Engine Is Still Raging Across Chinese Social Media
At times unjust, excessive, or even illegal – but the Human Flesh Search still is an inherent part of Weibo.
Since the early years of microblogging in China, the so-called 'Human Flesh Search Engine', a phenomenon in which Internet users hunt down and punish people, has repeatedly attracted the attention of the media. More than 10 years later, the 'Human Flesh Search Engine' is still raging on Chinese social media.
While surfing Weibo, a Changsha police officer named Hu Hanlin (@老囧货) recently came across an article titled "Violent Murder of Golden Retriever." The article discussed a video posted on the afternoon of December 31st, 2017, showing a Changsha police officer bludgeoning a golden retriever. The article caught Hu off guard – it was about him.
As Hu wrote in a January 2nd Weibo post; "I was surprised to find that [the article] included my official position, work photo, name, phone number, and even described me as this event's perpetrator."
Hu Hanlin is a victim of what has been called the "Human Flesh Search Engine" (renrou sousuo yinqing 人肉搜索引擎), the Chinese term for the phenomenon of netizens distributing the personal information of individuals people feel 'deserve' public interest or scorn.
In Hu Hanlin's case, the attack was unjust. As Hu wrote on his Weibo account: "I was not at all involved (..) For quite some time I have only investigated crimes through video footage, I have never directly responded to 110 calls." In Hu's case, as with many other instances of Human-Flesh-Searching, a viral online video had instigated netizen's search for the culprit, at which point they mistook Hu's picture for the man in the video.

Human-Flesh-Searching: Identifying the 'Culprit'

'Human-Flesh-Searching' is a group endeavor to reveal someone's identity and personal details online. Targets are often individuals who have disrupted public order in some way and have angered netizens for their behavior and actions; such as a Ms. Luo, who was recently caught on camera blocking a train door and fighting off a conductor as she refused to allow a high-speed train to depart from Hefei station – she was determined to let her tardy husband get on board.
While online outcry directed at the individual is the norm, the result of a Human Flesh Search can also come to personal confrontations, or to netizens sending unsavory items, such as cockroaches or funerary objects, to a person's personal address.
Media have been reporting about the Human Flesh Search phenomenon since the early beginnings of Chinese social media. One of the first big cases from 2006 involved a video that spread through chatrooms of a woman purposely killing a kitten with the sharp point of her high heel. Enraged netizens soon came into action to search for the identity and personal information of this so-called 'Hangzhou Kitten Killer,' and discovered she was a 41-year-old nurse named Wang Jue. She was later suspended from her job.
Digging further back into China's internet history, Human-Flesh-Searching first became popular in 2001 on MOP, one of China's most influential online forums, when a netizen posted a photo of his alleged girlfriend that turned out to be model Chen Ziyao. Her personal information was publicized to prove he was lying.
One explanation of the practice's jarring name is that it originally referred not to the hunt for an individual per se, but to how the information is collected. Instead of entering their question into a search engine, netizens who want to 'activate' the 'Human Flesh Search Engine' call on the online community to find the answers for them in a collective effort. Online community members usually gather this kind of information from their personal resources and networks. "Human Flesh" therefore actually refers to the searchers – not the searched.

From Animal Cruelty to Media Bias

Human Flesh Searches are often used in cases involving animal cruelty. A case that recently made headlines occurred in the capital of Sichuan province. On December 12th, a woman's Corgi dog 'Lion' went missing and was found by another woman named He Hengli who then blackmailed the owner over its release.
When the 'hostage' negotiations reached a deadlock, the dog's owner finally went to He's apartment to fetch her dog with police offers and reporters. While they knocked the door, Lion was thrown to his death from He's sixth story apartment.
The story caused huge outrage on Chinese social media, where details of He were released online, including her phone number and (work) address, leading to netizens harassing and threatening her at her home.
But besides coming into action with cases that involve animal cruelty, there are countless of other types of cases in which it also happens.
Just last week, the huge 'Tang Lanlan' case on Weibo ignited an 'online war' between netizens and the media over reports of a decade-old sexual abuse case. When many netizens felt that journalists reporting the case were biased and favored the suspects over the victim, personal details of the reporters were gathered by netizens and leaked online.

Voices Calling for More Privacy Laws

While 2018 has already seen several viral cases of Human-Flesh-Searching, these fly in the face of current Chinese internet privacy laws.
Voices calling for more privacy laws grew stronger in late 2014, when a Guangzhou shopkeeper named Ms. Cai was sentenced to one year in prison for instigating a Human-Flesh-Searching campaign over an alleged case of theft that resulted in the suicide of an 18-year-old high schooler.
Becoming the (unjust) target of a Human Flesh Search can ruin people's lives and careers, as well as jeopardize their safety. Whether it concerns alleged theft, animal abuse, or an extramarital affair, the 'culprits' will be hit equally hard by the impact of the 'online mob'.
Ma Rong, the ex-wife of Chinese celebrity Wang Baoqian, was slandered online in 2016, with people exposing her phone and address when news of her secret love affair went viral. Do a thief, an unfaithful wife, and a kitten killer all deserve the same scorn, and should it be up to the online community to punish them for their alleged deeds? While some support the human-flesh-search-engine approach for those who abuse animals and show off their violence, others point out its dangers.
In a further effort to limit Human Flesh Searching, legal punishment for the practice grew stricter last year. The Supreme People's Court and Supreme People's Procuratorate released a joint statement clarifying that, depending upon the severity of the invasion and dispersion of personal information, a perpetrator could be sentenced to up to 7 years in jail.

An Alternative Punishment

These previous legal warnings, however, have not seemed to stop individuals from exposing other people's personal information; neither has it stopped individuals from acting upon available details. Some argue that Human Flesh Searching plays a valuable societal role in China's online community.
One Weibo blogger (@灰鸽叔叔) concluded a post on the subject by writing: "Some people don't do bad things because they have a kind heart. Some people don't do bad things because they are unwilling to bear the responsibilities of doing bad things. If you don't allow people to suffer [the humiliation of Human Flesh Searching] they will begin to feel that they are above the consequences…If the law is momentarily unable to solve this problem, then netizens using human-flesh-searching, or even collectively speaking ill of them surely can supply this kind of punishment."
This blogger is not the only one arguing that Human Flesh Searching is an important way to battle social injustice; many other netizens also say that when the law cannot punish people for their deeds (f.e. China lacks a solid legislation against animal cruelty), a Human Flesh Search is an alternative form of retribution.
As for the case of Officer Hu – in the two days after being falsely accused he received more than a thousand texts. The texts contained messages such as "I wish Hu Hanlin a 2018 full of death for him and his whole family by evisceration…," or "Hu Hanlin's body should fester in the wilderness, to be slowly consumed by wild dogs."
On Weibo, meanwhile, despite a seeming majority of people supporting the practice of the Human Flesh Search Engine, there are more and more voices opposing it. One netizen pleads: "No matter for what purpose you do it, no matter what kind of evidence you are trying to get, the Human Flesh Search method is undoubtedly the most stupid and the most dangerous – please stop this crazy criminal behavior."
For Hu, however, any movements against the practice come too late. For him, the Human Flesh Search has even resulted in netizens coming to his house. The funeral flowers and funeral money on his doorstep are a reminder of how far the Human Flesh Search Engine can go.
By Brydon Brancart, edited by Manya Koetse
Follow @whatsonweibo
Spotted a mistake or want to add something? Please let us know in comments below or email us.
©2018 Whatsonweibo. All rights reserved. Do not reproduce our content without permission – you can contact us at info@whatsonweibo.com.
Uh Oh, IP: Chinese Social Media Platforms Now Display Users' Geolocation
From Weibo to Zhihu, Chinese social media platforms now display netizens' geolocation to ensure a 'healthy online environment.'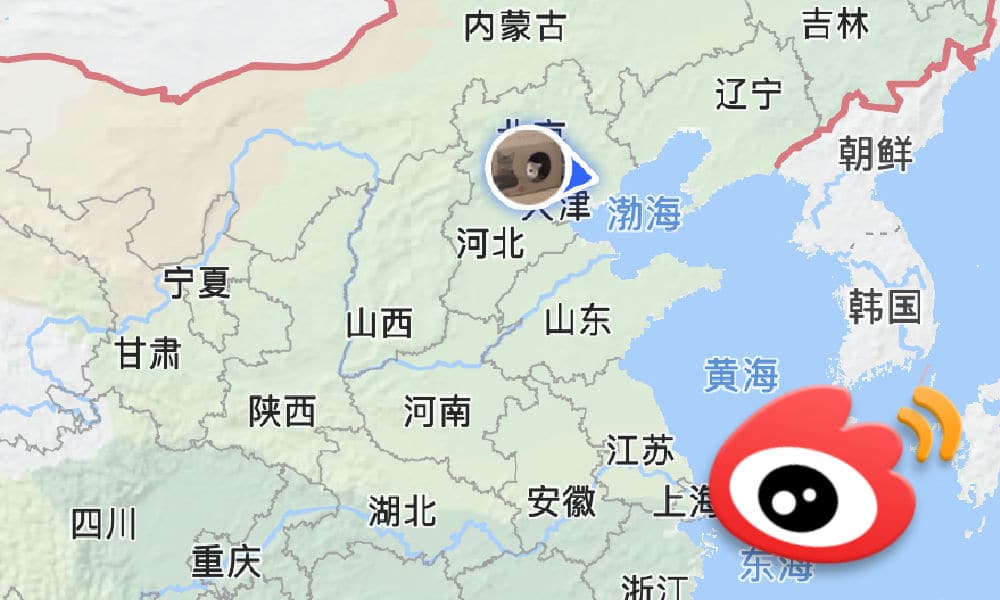 Over the past few days, Chinese social media platforms have started to introduce a new function that displays the IP location of online commenters.
Weibo was the first platform to introduce the function on Thursday – the topic also became top trending on April 28 – and social media platforms Douyin, Toutiao, Xiaohongshu and others followed later. Zhihu announced the measure on April 30 (#知乎宣布全面上线显示用户IP属地#).
Weibo has experimented with the function since March 22 of this year before completely rolling it out on April 28. Whenever users post a reply or comment to a thread, their Internet Protocol (IP) address location will be displayed underneath their comment, right next to the post date and time information. The location will also be displayed on the personal account page of Weibo users.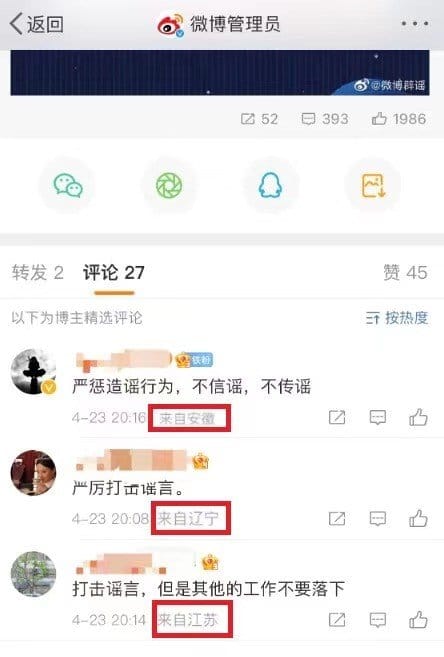 According to Sina Weibo, the function was introduced to ensure a "healthy and orderly discussion atmosphere" on the platform and to reduce the spread of fake news and invidious rumors by people pretending to be part of an issue or city that they are actually not part of. To keep online discussions "authentic and transparent," social media users' specific region, city, province, or country will show up below their names. The function can not be turned off by users.
'Refuting rumors' is a priority for Weibo management and has only become more relevant during the Covid-19 pandemic outbreak in China and the recent Shanghai outbreak.
On Saturday, the hashtag "What Does It Mean That Platforms Are Unrolling the IP Function?" (#平台开放IP属地功能意味着什么#) was trending on Weibo, attracting over 170 million views.
The new measure has attracted mixed reactions on Chinese social media, where some users think it is useful that you can now discern users located abroad from those who are based in China, making it easier to draw conclusions on what is really going on in society (you can now spot trends that are particularly taking place within one region) and what is merely taking place in cyberspace.

But there are many users who think the new function is just another layer of control and does not really help to combat fake news or malicious rumors, since the IP location could actually still be changed.
Although the entire idea of displaying the IP location is to minimize the gap between cyberspace and reality based on one's location, the location is merely the geographic location of the internet from the connected device and does not always correspond with the actual location of the social media user.
Once a person is connected to a Virtual Private Network (VPN), for example, internet traffic is sent through a server in another location, and the IP address will be replaced by the IP address of the VPN server in a different location from people's actual address.
Some Weibo account are also not run by the persons themselves but by a social media or marketing company.
In this way, Bill Gates unexpectedly turned out to be located in Henan province, and Lionel Messi's location showed up as Shanghai.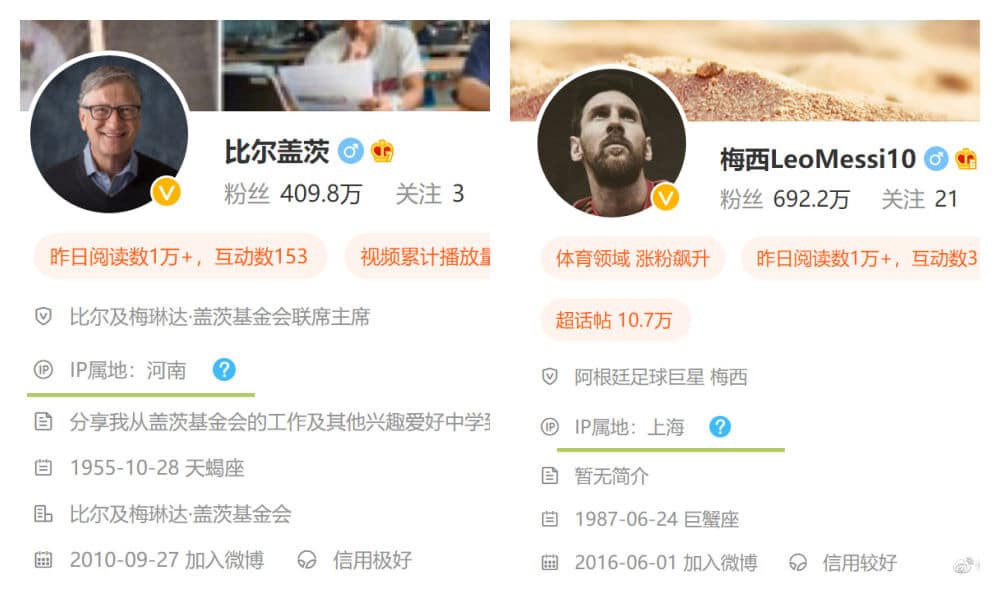 Others think that the new rule will only lead to more online polarization and self-censorship: "Who made this unsettling decision?! From now on, Chinese nationals who are studying or living abroad will be extra extra careful in what they write, otherwise, they'll be labeled as 'foreign forces.'"
Some people joked about the new function revealing their location, writing: "It made me so embarrassed. I'm pretending to be studying in the UK, while I'm actually in the mountains feeding the pigs." Others were also surprised that their IP location was completely different from the place where they are actually living: "Weibo, what are you doing? I've never even been to Jilin," one commenter wrote.
According to an online poll held by Fengmian News, 56% of the participants (nearly 300,000 at time of writing) said they supported the new function. 21% did not like the function, 17% said they did not care, and 6% were just curious to see their own IP location and if it matches their actual location.
"I'm gonna go and delete my more extreme comments," one person wrote: "I don't wanna give my hometown a bad reputation."
Global Times commentator Hu Xijin (胡锡进) also gave his views on the new measure, saying that people's viewpoints and values will always be more important than where they come from, and that all friends of China matter, no matter where they are based. However, he argued, it is also good to know where those who openly express anti-Chinese sentiments come from, exposing those 'evil foreign force' who are trying to disrupt social cohesion within the country.
Noteworthy enough, Hu Xijin's own IP location was not displayed on his Weibo account, as some celebrities seem to have been excluded from this measure or can decide themselves whether or not they would like to display their IP location or not.
One Weibo user wrote: "Twitter can follow its own regulations in banning Trump, while Weibo can transcend its own regulations and not show Hu Xijin's IP location."
For recent articles Covid-19 topics on Chinese social media, check here.
By Manya Koetse
Get the story behind the hashtag. Subscribe to What's on Weibo here to receive our weekly newsletter and get access to our latest articles:
Spotted a mistake or want to add something? Please let us know in comments below or email us. First-time commenters, please be patient – we will have to manually approve your comment before it appears.
©2022 Whatsonweibo. All rights reserved. Do not reproduce our content without permission – you can contact us at info@whatsonweibo.com.
'Voices of April': The Day After
"The best way to make videos go viral is by censoring them."
On April 23, a day after the video 'Voices of April' briefly took over social media before it was censored, the trending topic of the day is a hashtag related to new Covid cases reported in Shanghai.
Shanghai reported higher Covid-19 cases and deaths on Friday than the five days prior, which showed a daily decline in new cases. Shanghai reported a total of 23,370 new cases (including 20,634 asymptomatic ones), the municipal health commission said Saturday. A related hashtag by Xinhua News received over 910 million views on Weibo on Saturday (#上海新增本土确诊2736例无症状20634例#).
Although the hashtag was initiated by state media to inform about the Shanghai Covid situation, netizens started using it to criticize Shanghai's handling of the crisis, with more commenters questioning China's zero-Covid strategy. Similarly, other state media-initiated hashtag places also became online spaces where Weibo users vented their frustrations earlier this month.
Besides the ongoing online criticism and vocal disagreement with China's Covid handling and policies, there are also many who express shock at the recent crackdown of any form of protest or criticism regarding the situation in Shanghai.
"'Voices of April' has been shutdown all over the internet, I'm simply dumbfounded," one person said about the popular video that contained real recordings of events that happened during the city's lockdown.
"If you still can find the video anywhere, forward it," another person writes.
Besides Voices of April (四月之声), there have also been other videos over the past week that are meant to expose the mishandling of the Covid situation in Shanghai.
One of them is titled Farewell, Language (再见语言), another one is Shanghai Late Spring (上海晚春).
Farewell, Language (再见语言) is a 42-second sound art video by artist Yang Xiao (杨潇), who used over 600 commonly used propaganda phrases from Chinese official channels and randomly broadcasted the audio in the community where he lives.
The anti-epidemic workers just continue their work and do not seem to notice anything out of the ordinary at all. The video shows how this kind of language has been so normalized that for most, it has just become background noise in their everyday life – without even noticing nor critically assessing its meaning or logic anymore.
The Shanghai Late Spring (上海晚春) video is a compilation of video footage from the Shanghai lockdown, showing people struggling to get food, violent altercations between anti-epidemic workers and residents, people living in deplorable conditions in quarantine centers, and more (link to video).
The video uses the song Cheer Up London by Slaves, its chorus being:
"You're dead, already, dead, dead, already-ready
Dead, already, dead, dead, already-ready
Dead, already, dead, dead, already-ready
Dead, already, dead."
One Weibo commenter responded to the video in English, using a text from Les Misérables: "Do you hear the people sing / Singing the song of angry men / It is the music of a people / Who will not be slaves again!" The phrase "do you hear the people sing" was also used by other social media users to address the situation in Shanghai and the censorship of related topics.
"The best way to make videos go viral is by censoring them," one commenter replied.
Read our previous article about 'Voices of April' here.
For more articles on the Covid-19 topics on Chinese social media, check here.
By Manya Koetse, with contributions by Miranda Barnes
Get the story behind the hashtag. Subscribe to What's on Weibo here to receive our weekly newsletter and get access to our latest articles:
Spotted a mistake or want to add something? Please let us know in comments below or email us. First-time commenters, please be patient – we will have to manually approve your comment before it appears.
©2022 Whatsonweibo. All rights reserved. Do not reproduce our content without permission – you can contact us at info@whatsonweibo.com.