After More Than a Decade, the Human Flesh Search Engine Is Still Raging Across Chinese Social Media
At times unjust, excessive, or even illegal – but the Human Flesh Search still is an inherent part of Weibo.
Since the early years of microblogging in China, the so-called 'Human Flesh Search Engine', a phenomenon in which Internet users hunt down and punish people, has repeatedly attracted the attention of the media. More than 10 years later, the 'Human Flesh Search Engine' is still raging on Chinese social media.
While surfing Weibo, a Changsha police officer named Hu Hanlin (@老囧货) recently came across an article titled "Violent Murder of Golden Retriever." The article discussed a video posted on the afternoon of December 31st, 2017, showing a Changsha police officer bludgeoning a golden retriever. The article caught Hu off guard – it was about him.
As Hu wrote in a January 2nd Weibo post; "I was surprised to find that [the article] included my official position, work photo, name, phone number, and even described me as this event's perpetrator."
Hu Hanlin is a victim of what has been called the "Human Flesh Search Engine" (renrou sousuo yinqing 人肉搜索引擎), the Chinese term for the phenomenon of netizens distributing the personal information of individuals people feel 'deserve' public interest or scorn.
In Hu Hanlin's case, the attack was unjust. As Hu wrote on his Weibo account: "I was not at all involved (..) For quite some time I have only investigated crimes through video footage, I have never directly responded to 110 calls." In Hu's case, as with many other instances of Human-Flesh-Searching, a viral online video had instigated netizen's search for the culprit, at which point they mistook Hu's picture for the man in the video.

Human-Flesh-Searching: Identifying the 'Culprit'

'Human-Flesh-Searching' is a group endeavor to reveal someone's identity and personal details online. Targets are often individuals who have disrupted public order in some way and have angered netizens for their behavior and actions; such as a Ms. Luo, who was recently caught on camera blocking a train door and fighting off a conductor as she refused to allow a high-speed train to depart from Hefei station – she was determined to let her tardy husband get on board.
While online outcry directed at the individual is the norm, the result of a Human Flesh Search can also come to personal confrontations, or to netizens sending unsavory items, such as cockroaches or funerary objects, to a person's personal address.
Media have been reporting about the Human Flesh Search phenomenon since the early beginnings of Chinese social media. One of the first big cases from 2006 involved a video that spread through chatrooms of a woman purposely killing a kitten with the sharp point of her high heel. Enraged netizens soon came into action to search for the identity and personal information of this so-called 'Hangzhou Kitten Killer,' and discovered she was a 41-year-old nurse named Wang Jue. She was later suspended from her job.
Digging further back into China's internet history, Human-Flesh-Searching first became popular in 2001 on MOP, one of China's most influential online forums, when a netizen posted a photo of his alleged girlfriend that turned out to be model Chen Ziyao. Her personal information was publicized to prove he was lying.
One explanation of the practice's jarring name is that it originally referred not to the hunt for an individual per se, but to how the information is collected. Instead of entering their question into a search engine, netizens who want to 'activate' the 'Human Flesh Search Engine' call on the online community to find the answers for them in a collective effort. Online community members usually gather this kind of information from their personal resources and networks. "Human Flesh" therefore actually refers to the searchers – not the searched.

From Animal Cruelty to Media Bias

Human Flesh Searches are often used in cases involving animal cruelty. A case that recently made headlines occurred in the capital of Sichuan province. On December 12th, a woman's Corgi dog 'Lion' went missing and was found by another woman named He Hengli who then blackmailed the owner over its release.
When the 'hostage' negotiations reached a deadlock, the dog's owner finally went to He's apartment to fetch her dog with police offers and reporters. While they knocked the door, Lion was thrown to his death from He's sixth story apartment.
The story caused huge outrage on Chinese social media, where details of He were released online, including her phone number and (work) address, leading to netizens harassing and threatening her at her home.
But besides coming into action with cases that involve animal cruelty, there are countless of other types of cases in which it also happens.
Just last week, the huge 'Tang Lanlan' case on Weibo ignited an 'online war' between netizens and the media over reports of a decade-old sexual abuse case. When many netizens felt that journalists reporting the case were biased and favored the suspects over the victim, personal details of the reporters were gathered by netizens and leaked online.

Voices Calling for More Privacy Laws

While 2018 has already seen several viral cases of Human-Flesh-Searching, these fly in the face of current Chinese internet privacy laws.
Voices calling for more privacy laws grew stronger in late 2014, when a Guangzhou shopkeeper named Ms. Cai was sentenced to one year in prison for instigating a Human-Flesh-Searching campaign over an alleged case of theft that resulted in the suicide of an 18-year-old high schooler.
Becoming the (unjust) target of a Human Flesh Search can ruin people's lives and careers, as well as jeopardize their safety. Whether it concerns alleged theft, animal abuse, or an extramarital affair, the 'culprits' will be hit equally hard by the impact of the 'online mob'.
Ma Rong, the ex-wife of Chinese celebrity Wang Baoqian, was slandered online in 2016, with people exposing her phone and address when news of her secret love affair went viral. Do a thief, an unfaithful wife, and a kitten killer all deserve the same scorn, and should it be up to the online community to punish them for their alleged deeds? While some support the human-flesh-search-engine approach for those who abuse animals and show off their violence, others point out its dangers.
In a further effort to limit Human Flesh Searching, legal punishment for the practice grew stricter last year. The Supreme People's Court and Supreme People's Procuratorate released a joint statement clarifying that, depending upon the severity of the invasion and dispersion of personal information, a perpetrator could be sentenced to up to 7 years in jail.

An Alternative Punishment

These previous legal warnings, however, have not seemed to stop individuals from exposing other people's personal information; neither has it stopped individuals from acting upon available details. Some argue that Human Flesh Searching plays a valuable societal role in China's online community.
One Weibo blogger (@灰鸽叔叔) concluded a post on the subject by writing: "Some people don't do bad things because they have a kind heart. Some people don't do bad things because they are unwilling to bear the responsibilities of doing bad things. If you don't allow people to suffer [the humiliation of Human Flesh Searching] they will begin to feel that they are above the consequences…If the law is momentarily unable to solve this problem, then netizens using human-flesh-searching, or even collectively speaking ill of them surely can supply this kind of punishment."
This blogger is not the only one arguing that Human Flesh Searching is an important way to battle social injustice; many other netizens also say that when the law cannot punish people for their deeds (f.e. China lacks a solid legislation against animal cruelty), a Human Flesh Search is an alternative form of retribution.
As for the case of Officer Hu – in the two days after being falsely accused he received more than a thousand texts. The texts contained messages such as "I wish Hu Hanlin a 2018 full of death for him and his whole family by evisceration…," or "Hu Hanlin's body should fester in the wilderness, to be slowly consumed by wild dogs."
On Weibo, meanwhile, despite a seeming majority of people supporting the practice of the Human Flesh Search Engine, there are more and more voices opposing it. One netizen pleads: "No matter for what purpose you do it, no matter what kind of evidence you are trying to get, the Human Flesh Search method is undoubtedly the most stupid and the most dangerous – please stop this crazy criminal behavior."
For Hu, however, any movements against the practice come too late. For him, the Human Flesh Search has even resulted in netizens coming to his house. The funeral flowers and funeral money on his doorstep are a reminder of how far the Human Flesh Search Engine can go.
By Brydon Brancart, edited by Manya Koetse
Follow @whatsonweibo
Spotted a mistake or want to add something? Please let us know in comments below or email us.
©2018 Whatsonweibo. All rights reserved. Do not reproduce our content without permission – you can contact us at info@whatsonweibo.com.
"I Decided Not To Learn English Anymore" Video Goes Viral on Chinese Social Media
"The 'not learning English anymore' part actually means she is no longer pursuing the cultural identity behind the language."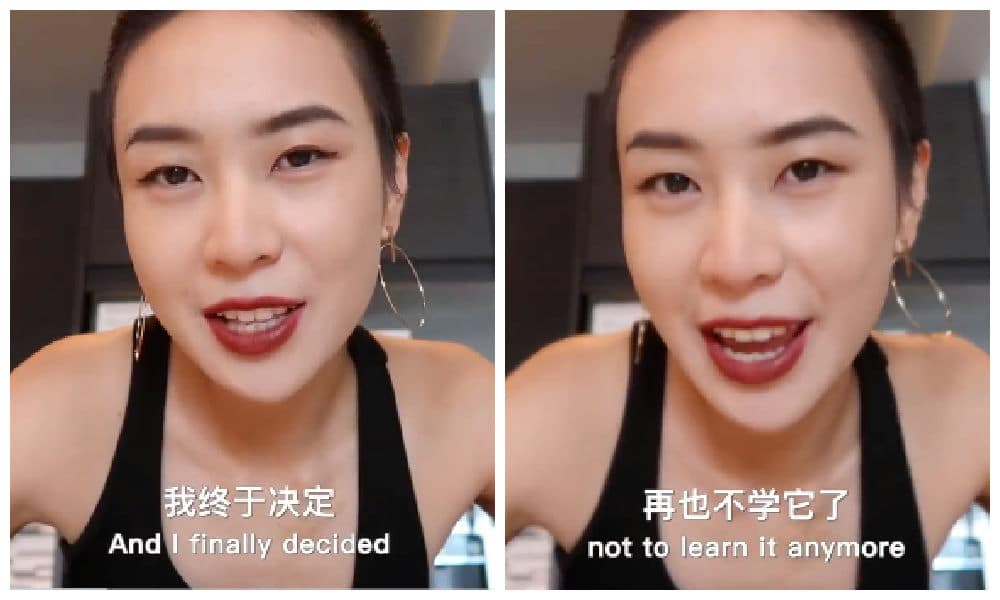 A video in which a Chinese Harvard student shares how she wants to "stop trying to learn English" has gone viral on Chinese social media. While some blame the student for flaunting her privilege, others said the video actually inspires them to study more English.
"Today is September 1st, 2022. The 20th anniversary of me learning English. And I finally decided not to learn it anymore." This is the beginning of a 7-minute video posted on social media by the Chinese vlogger 'Tatala' (@他塔拉).
The video, which Tatala says was submitted as an assignment for a Harvard course on Language & Equality, received over 122,000 likes and the hashtag "When You Decide Not to Learn English Anymore" (#当你决定以后不学英语#) garnered over 110 million views on Weibo over the past few days.
Although the 24-year-old vlogger is critical of how she is perceived as a Chinese non-native English speaker – claiming she will 'stop trying' to learn the language, – she is receiving a lot of backlash from netizens who say she is unaware of her own privilege.
In the video, Tatala says she has always been a good student of English, but that she has never been satisfied throughout her language-learning journey. In the video, she gives multiple examples of how her confidence was affected during the process of studying English.
"I have my name, in my language, that you didn't even try to enunciate."
In primary school, Tatala says, her American teacher randomly gave her the name 'Wency', which she found hard to pronounce due to the northern Chinese dialect she grew up speaking. She ended up pronouncing 'Wency' as 'Vency', after which her teacher corrected her again and again: "You are not Vency. You are Wency!" Tatala says: "But he never realized that I was not even Wency. I have my name, in my language, that you didn't even try to enunciate."
In middle school, Tatala continued to get high grades in English and she traveled to Britain where she was invited for brunch by a friend, who asked if she preferred ham or turkey. When Tatala asked her friend "what's the difference?", she was laughed at by her friend and their mum, who then proceeded to explain the difference between a pig saying 'oink oink' and a turkey saying 'clunk clunk.' Tatala explains: "I just didn't know the vocabulary. It's not that I'm too stupid to recognize animals."
Although Tatala says her confidence in speaking English peaked during high school, it vanished once she became an international student in Australia, where she had great difficulties understanding what local people were talking about. When she struggled to comprehend English-language works by authors such as Bourdieu or Butler, she worked harder and got high grades, but she was still not satisfied and started dreading her studies.
Tatala then explains: "I realized something went wrong when I took a course called 'Women in Chinese Literature' where all the readings were translated from Chinese to English. I read the Chinese version – three chapters per hour – and my Australian classmates read the English version – one chapter a day. Some of them reported the course being too hard and some dropped out, because they did not understand the context behind the words. But that's what I felt for every single class here."
"Even if I am just not perfect at English, so what? This is my second language."
Tatala's 'light bulb' moment was when she realized that it was not necessarily her level of English that determined how difficult or easy her life was, but so many other factors relating to language: "Native speakers found their lives easier not because their English is better than mine, it is because they had the 'good fortune' to be raised in environments where their native language acquisition coincides with the dominant linguistic group," Tatala says, explaining that she blamed everything on language alone while the barriers she faced also had to do with her own confidence level, communication skills, and the prejudices of others.
Tatala suggests that when someone feels attacked on how they use language, they might feel attacked as a person since their language is also a part of their identity. At the same time, people also judge others and draw conclusions about their background, personality, or intentions solely based on language knowledge, dialect, or how they use a single word.
Tatala's conclusion is that her use of English is not a result of her not speaking "perfect English" but just a "plurality of [her] identity." Although she mentions she got into Harvard, she says she is determined to "stop learning English" and to just use language as a "tool" instead.
She says: "Even if I am just not perfect at English, so what? This is my second language. This is the lingua franca I was pushed to learn. No matter how well or how bad I speak English, I will have my voice. Ethic minority, Chinese, Asian, I will have my serpent's tongue, my woman's voice, my international student's voice, my influencer's voice – I will overcome the tradition of silence."
Tatala's video triggered online discussions on Weibo on learning English, but perhaps in a different way than Tatala might have expected it to.
Since Tatala's English level is so high, and she is an Ivy League student, many people do not relate to the struggles she encountered when speaking English at her level. On the contrary, many just hope to reach such a level of English that they would be able to face these kinds of struggles at all.
"Since you decided not to study English in the future, why don't you drop out of Harvard and come back?"
"After watching this video, I decided I want to try my best to study English, improve my vocabulary and speaking skills, and I will try to get 8.5 in the IELTS, so that one day I can help foreigners by giving directions, eat turkey sandwiches in the UK, listen to the small talk of students in Australia, confidently do international work, and use my proficient English to reflect on culture and language hegemony. But I realize it is very unlikely for me to attain that goal in my lifetime."
"I watched her video and gosh, what can I say, it's like those experts suggesting it's better to buy a house than to rent one," another blogger says, suggesting Tatala is too privileged to see that many people do not have the luxury to stop studying English because of linguistic hegemony.
"Since you decided not to study English in the future, why don't you drop out of Harvard and come back?" another Weibo user wrote.
There were also people defending Tatala, suggesting that her point was not to discourage others from studying English: "What she expresses in the video is to use English as 'a tool' and not to reject a person because you reject their language," one commenter wrote, with one netizen adding: "The 'not learning English anymore' part actually means she is no longer pursuing the cultural identity behind the language."
Another person posted: "Some of the people here either have problems understanding or they just have bad intentions. 'Not learning English anymore' was just an opening line, what the vlogger is conveying here is the prejudice and discrimination in linguistics, which is a common phenomenon in the context of American culture. Ofcourse, we can't deny the 'privilege' of the vlogger, but this doesn't change the fact that she has come up with though-provoking content."
"She is saying you should have pride in your mother tongue, she is not really saying you should not learn English. She's at Harvard – ofcourse that's not what she's gonna say."
Other Weibo users said that they felt that Tatala should not have used a 'clickbait' title for a video that discusses cultural confidence. "It's just awkward that this has even become a trending topic," one person wrote.
"Not learning English or another foreign language is just unacceptable, especially for students who are still in school. But since our requirements are different, the levels we reach in speaking a foreign language will be different. Because of different cultures and upbringings, we will inescapably have communication barriers between us and native speakers. But we must try hard, because it is always good to have a greater understanding of other cultures and customs. Just don't be too demanding."
You can watch Tatala's video here.
By Manya Koetse 
Get the story behind the hashtag. Subscribe to What's on Weibo here to receive our weekly newsletter and get access to our latest articles:
Spotted a mistake or want to add something? Please let us know in comments below or email us. First-time commenters, please be patient – we will have to manually approve your comment before it appears.
©2022 Whatsonweibo. All rights reserved. Do not reproduce our content without permission – you can contact us at info@whatsonweibo.com.
Discussions on Didi After $1.2 Billion Fine for User-Data Violations
"Don't even worry about rectifying, just go away," some commenters wrote about Didi after learning the car-hailing company illegally and excessively collected user data.
One of the topics trending on Chinese social media this week is Chinese ride-hailing giant Didi and the precarious situation the company is in. Online discussions are ongoing after the Cyberspace Administration of China (CAC) imposed a fine of 8.026 billion yuan [US$1.19 billion] on Didi Global on July 21 due to its alleged violation of at least three major laws, namely China's Network Security Law, Data Security Law, and the Personal Information Protection Law.
Didi CEO Cheng Wei and President Liu Qing also each received a fine of one million yuan (US$148,000) personally as they were held responsible for the company's violations.
Beijing launched a cybersecurity investigation into Didi on July 2nd of 2021, just days after the company's June 30 US$4.4 billion initial public offering in New York. The investigation was launched "to protect national security and the public interest," and also came at a time when Didi reportedly went against the CAC by pressing ahead with its New York stock listing despite allegedly being urged to wait until a cybersecurity review of its data practices was conducted. Shortly after, the CAC ordered domestic app stores to remove all of Didi's services.
Now that the investigation into Didi is completed, the CAC states that there is conclusive evidence that Didi committed 16 law violations including illegally obtaining information from users' smartphones – such as collecting information from users' clipboards and photo albums – and "excessively" collecting personal data, including facial recognition and information relating to age, occupation, home/work addresses, and family relations (also see Zichen Wang's write-up on this here).
Didi Chuxing, China's biggest taxi-hailing service, has over 550 million users and 31 million drivers. Besides taxi-hailing, Didi also offers other app-based transportation services, such as private car-hailing and social ride-sharing.
It is not the first time for the company to be in hot water. In 2018, the murders of two young women by Didi drivers caused national outrage and sparked concerns over customers' safety when hailing a car through the Didi company.
On Weibo, various hashtags relating to Didi went trending over the past week, such as "Didi fined 8.026 billion yuan" (#滴滴被处80.26亿元罚款#), "Didi excessively collected 107 million pieces of passengers' facial recognition information" (#滴滴过度收集1.07亿条乘客人脸识别信息#), and "Cyberspace Administration of China imposes administrative penalty on Didi" (#网信办对滴滴作出行政处罚#).
Some Weibo users wonder why Didi is just receiving a fine rather than being immediately shut down over the serious violations they committed. "You still not shutting them down?" was a popular recurring comment. Although rumors surfaced over Didi's car-sharing business going bankrupt, some expert bloggers claimed the company still would have enough financial power to go on after paying the fine.
The CAC has not provided details about the exact nature of the previously reported government's "national security concerns" regarding Didi, but on Weibo, some netizens share their ideas on the matter: "Didi has a lot of people's data. Just by hailing a car, they determine your cellphone number, your occupation, address, family member information, The U.S. could carry out targeted bribery or intimidation of some important people in China, as well as obtaining the geographic data Didi has, which would mean a heavy blow to China's cyber security." Another commenter wrote: "Didn't they already sell this illegally obtained user information? Is it a threat to national security?"
Others worry about their own privacy, writing: "Do people still have privacy nowadays? We talk about one thing today, tomorrow we'll be bombarded with advertisements for that very same thing."
But others mentioned that the general consumer will keep using Didi when booking a taxi via app, simply because it's still the major player in the market.
On Weibo, Didi responded to the administrative punishment via their official Weibo account, writing:
"We sincerely thank the departments in charge for their inspection and guidance, and we thank the public for their criticism and supervision. We will draw a lesson from this, and will pay equal attention to the importance of security and development, and we will further strengthen the construction of our network security and data security, enhance the protection of personal information, effectively fulfill our social responsibility, serve all of our passengers, drivers, and partners, for the company's safe, healthy, and sustainable development."
"Don't even worry about rectifying, just go away," some commenters wrote.
Read more of our articles about Didi Chuxing here.
By Manya Koetse
With contributions by Miranda Barnes
Get the story behind the hashtag. Subscribe to What's on Weibo here to receive our weekly newsletter and get access to our latest articles:
Spotted a mistake or want to add something? Please let us know in comments below or email us. First-time commenters, please be patient – we will have to manually approve your comment before it appears.
©2022 Whatsonweibo. All rights reserved. Do not reproduce our content without permission – you can contact us at info@whatsonweibo.com.