After More Than a Decade, the Human Flesh Search Engine Is Still Raging Across Chinese Social Media
At times unjust, excessive, or even illegal – but the Human Flesh Search still is an inherent part of Weibo.
Since the early years of microblogging in China, the so-called 'Human Flesh Search Engine', a phenomenon in which Internet users hunt down and punish people, has repeatedly attracted the attention of the media. More than 10 years later, the 'Human Flesh Search Engine' is still raging on Chinese social media.
While surfing Weibo, a Changsha police officer named Hu Hanlin (@老囧货) recently came across an article titled "Violent Murder of Golden Retriever." The article discussed a video posted on the afternoon of December 31st, 2017, showing a Changsha police officer bludgeoning a golden retriever. The article caught Hu off guard – it was about him.
As Hu wrote in a January 2nd Weibo post; "I was surprised to find that [the article] included my official position, work photo, name, phone number, and even described me as this event's perpetrator."
Hu Hanlin is a victim of what has been called the "Human Flesh Search Engine" (renrou sousuo yinqing 人肉搜索引擎), the Chinese term for the phenomenon of netizens distributing the personal information of individuals people feel 'deserve' public interest or scorn.
In Hu Hanlin's case, the attack was unjust. As Hu wrote on his Weibo account: "I was not at all involved (..) For quite some time I have only investigated crimes through video footage, I have never directly responded to 110 calls." In Hu's case, as with many other instances of Human-Flesh-Searching, a viral online video had instigated netizen's search for the culprit, at which point they mistook Hu's picture for the man in the video.

Human-Flesh-Searching: Identifying the 'Culprit'

'Human-Flesh-Searching' is a group endeavor to reveal someone's identity and personal details online. Targets are often individuals who have disrupted public order in some way and have angered netizens for their behavior and actions; such as a Ms. Luo, who was recently caught on camera blocking a train door and fighting off a conductor as she refused to allow a high-speed train to depart from Hefei station – she was determined to let her tardy husband get on board.
While online outcry directed at the individual is the norm, the result of a Human Flesh Search can also come to personal confrontations, or to netizens sending unsavory items, such as cockroaches or funerary objects, to a person's personal address.
Media have been reporting about the Human Flesh Search phenomenon since the early beginnings of Chinese social media. One of the first big cases from 2006 involved a video that spread through chatrooms of a woman purposely killing a kitten with the sharp point of her high heel. Enraged netizens soon came into action to search for the identity and personal information of this so-called 'Hangzhou Kitten Killer,' and discovered she was a 41-year-old nurse named Wang Jue. She was later suspended from her job.
Digging further back into China's internet history, Human-Flesh-Searching first became popular in 2001 on MOP, one of China's most influential online forums, when a netizen posted a photo of his alleged girlfriend that turned out to be model Chen Ziyao. Her personal information was publicized to prove he was lying.
One explanation of the practice's jarring name is that it originally referred not to the hunt for an individual per se, but to how the information is collected. Instead of entering their question into a search engine, netizens who want to 'activate' the 'Human Flesh Search Engine' call on the online community to find the answers for them in a collective effort. Online community members usually gather this kind of information from their personal resources and networks. "Human Flesh" therefore actually refers to the searchers – not the searched.

From Animal Cruelty to Media Bias

Human Flesh Searches are often used in cases involving animal cruelty. A case that recently made headlines occurred in the capital of Sichuan province. On December 12th, a woman's Corgi dog 'Lion' went missing and was found by another woman named He Hengli who then blackmailed the owner over its release.
When the 'hostage' negotiations reached a deadlock, the dog's owner finally went to He's apartment to fetch her dog with police offers and reporters. While they knocked the door, Lion was thrown to his death from He's sixth story apartment.
The story caused huge outrage on Chinese social media, where details of He were released online, including her phone number and (work) address, leading to netizens harassing and threatening her at her home.
But besides coming into action with cases that involve animal cruelty, there are countless of other types of cases in which it also happens.
Just last week, the huge 'Tang Lanlan' case on Weibo ignited an 'online war' between netizens and the media over reports of a decade-old sexual abuse case. When many netizens felt that journalists reporting the case were biased and favored the suspects over the victim, personal details of the reporters were gathered by netizens and leaked online.

Voices Calling for More Privacy Laws

While 2018 has already seen several viral cases of Human-Flesh-Searching, these fly in the face of current Chinese internet privacy laws.
Voices calling for more privacy laws grew stronger in late 2014, when a Guangzhou shopkeeper named Ms. Cai was sentenced to one year in prison for instigating a Human-Flesh-Searching campaign over an alleged case of theft that resulted in the suicide of an 18-year-old high schooler.
Becoming the (unjust) target of a Human Flesh Search can ruin people's lives and careers, as well as jeopardize their safety. Whether it concerns alleged theft, animal abuse, or an extramarital affair, the 'culprits' will be hit equally hard by the impact of the 'online mob'.
Ma Rong, the ex-wife of Chinese celebrity Wang Baoqian, was slandered online in 2016, with people exposing her phone and address when news of her secret love affair went viral. Do a thief, an unfaithful wife, and a kitten killer all deserve the same scorn, and should it be up to the online community to punish them for their alleged deeds? While some support the human-flesh-search-engine approach for those who abuse animals and show off their violence, others point out its dangers.
In a further effort to limit Human Flesh Searching, legal punishment for the practice grew stricter last year. The Supreme People's Court and Supreme People's Procuratorate released a joint statement clarifying that, depending upon the severity of the invasion and dispersion of personal information, a perpetrator could be sentenced to up to 7 years in jail.

An Alternative Punishment

These previous legal warnings, however, have not seemed to stop individuals from exposing other people's personal information; neither has it stopped individuals from acting upon available details. Some argue that Human Flesh Searching plays a valuable societal role in China's online community.
One Weibo blogger (@灰鸽叔叔) concluded a post on the subject by writing: "Some people don't do bad things because they have a kind heart. Some people don't do bad things because they are unwilling to bear the responsibilities of doing bad things. If you don't allow people to suffer [the humiliation of Human Flesh Searching] they will begin to feel that they are above the consequences…If the law is momentarily unable to solve this problem, then netizens using human-flesh-searching, or even collectively speaking ill of them surely can supply this kind of punishment."
This blogger is not the only one arguing that Human Flesh Searching is an important way to battle social injustice; many other netizens also say that when the law cannot punish people for their deeds (f.e. China lacks a solid legislation against animal cruelty), a Human Flesh Search is an alternative form of retribution.
As for the case of Officer Hu – in the two days after being falsely accused he received more than a thousand texts. The texts contained messages such as "I wish Hu Hanlin a 2018 full of death for him and his whole family by evisceration…," or "Hu Hanlin's body should fester in the wilderness, to be slowly consumed by wild dogs."
On Weibo, meanwhile, despite a seeming majority of people supporting the practice of the Human Flesh Search Engine, there are more and more voices opposing it. One netizen pleads: "No matter for what purpose you do it, no matter what kind of evidence you are trying to get, the Human Flesh Search method is undoubtedly the most stupid and the most dangerous – please stop this crazy criminal behavior."
For Hu, however, any movements against the practice come too late. For him, the Human Flesh Search has even resulted in netizens coming to his house. The funeral flowers and funeral money on his doorstep are a reminder of how far the Human Flesh Search Engine can go.
By Brydon Bracart, edited by Manya Koetse
Follow @whatsonweibo
Spotted a mistake or want to add something? Please let us know in comments below or email us.
©2018 Whatsonweibo. All rights reserved. Do not reproduce our content without permission – you can contact us at info@whatsonweibo.com.
Are Douyin and TikTok the Same?
China's popular "Douyin" app is known as "TikTok" in markets outside of China. But is it really one app?
TikTok, known as the international version of the Chinese successful short video app Douyin, is a global hit. Despite Bytedance's efforts to present Douyin and TikTok as being the same product, they are actually two separate entities.
Douyin, (抖音, literally "shaking sound" in Chinese) is a short video media app owned by China's young tech giant Bytedance (字节跳动). The app allows users to create, edit, and share short videos as well as livestreams, often featuring music in the background.
Douyin's international name is TikTok, an app that looks the same as Douyin, while in fact, the two are not one and the same, despite Bytedance's efforts to brand it as such.
This is not the first time a Chinese tech company presents one app as being the same everywhere, while it actually is not. Tencent's super app Weixin (微信), also known as WeChat, runs two different systems for its Chinese and international version, as explained here.
When downloading either WeChat or Weixin, both being the same app, the app determines what features you can use and what information you can see based on the telephone number you register your account with.
In practice, this means that when you are a non-Chinese resident, you will be using the 'international version,' meaning you will have access to (international-specific) content that a user registered with a Chinese telephone number will not be able to see. The overseas version also does not have the same Wallet functions the Chinese version has.
Two apps, two systems
The difference between WeChat vs Weixin and TikTok vs Douyin, however, is not the same. Whereas the first is basically one app with two different modes, Douyin and TikTok are two completely separate entities.
Depending on the app store you use, you will either be able to download Douyin or TikTok. Users of Chinese app stores can only find Douyin, whereas users of the overseas Apple store or Google Play will only find TikTok available for download.
That the apps are actually separate systems becomes clear when running the same search words in both apps. As shown below, both apps provide different content for the same search words.
For example, one of TikTok's most popular channels of this moment is called 'LisaandLena,' a verified account by two German twins which has over 32 million fans. However, when you enter 'LisaandLena' in Douyin, the only result is an unverfied account which only has 102 fans and shows seven videos.
Results are the same the other way around. One of Douyin's most popular accounts is that of Chinese actor Chen He (陈赫), who has over 52 million fans features 62 videos at this week. However, when running the same name search in TikTok, several unverified accounts come up, all showing some similar videos like those on Chen He's Douyin account.
This suggests that, although Tiktok and Douyin have the same functions, layout, and logos, its users in China and overseas are kept completely separate and are not able to interact with eachother, something that a recent Chinese blog also discusses in detail.
The Rise of Douyin and TikTok
Ever since its launch in September 2016, Douyin has grown immensely popular. Just one year after its release, Douyin had more than 100 million users and became the second most downloaded app in the Chinese Apple store.
In September 2017, ByteDance took its app overseas; branding Douyin as TikTok for the international market, while keeping the app's original name, Douyin, for its Chinese market.
Similar to Douyin, TikTok appeared to strike the right chord among internet users right away. In the first quarter of 2018 (note: within half a year after release), TikTok was the 6th most downloaded non-game app in the Apple app store and Google play store combined. In the Apple app store, it was even the most downloaded app. With its 45,8 downloads in the first quarter, TikTok beat apps such as Facebook, Youtube, or Instagram in the popularity rankings.
But that is not where TikTok's short-video craze halted. In August 2018, TikTok merged with short video app Musical.ly (founded in 2014), that had over 100 million monthly active users at the time. In October last year, after receiving several investments, ByteDance Ltd. officially became the worlds most valuable private start-up, valued at 75 billion dollars.
By summer, ByteDance announced that TikTok, (meaning both apps combined) had more than 500 million monthly active users worldwide. About 300 million of these 500 million monthly active users are China's domestic users.
Why does ByteDance separate Douyin and TikTok?
Why would Bytedance go through the effort to create two apps running on different systems? The answer partly lies in China's strictly controlled online environment, where (social) media companies have to adhere to local policies on what is and what is not allowed to be published on their (user-generated) platforms.
In 2018, Bytedance was already criticized by authorities for hosting 'inappropriate content' on its news platform Jinri Toutiao. The joke app Neihan Duanzi, also run by Bytedance, was forced to shut down. Afterward, the company vowed to hire 4,000 additional censors, clearly not taking any risks in getting more warnings from authorities.
Tik Tok doesn't allow Chinese users to download the international version, as this blogger found out. Strict firewall separating the two apps (Douyin and Tik Tok). Obviously, it has to be done this way to comply with censorship. https://t.co/bCFfTd0Ukm

— Rui Ma (@ruima) 7 januari 2019
By separating Tiktok from Douyin, ByteDance can closely regulate the contents uploaded to Douyin, as they will be disseminated within China, while leaving overseas TikTok and its users relatively free to share whatever content they want to share (do note that the app also set up a team of 20 censors in Indonesia to monitor and 'sanitize' content from the platform there, after receiving complaints from Indonesian authorities).

New regulations for online video content

In light of tighter control on online video platforms, it seems that Bytedance's monitoring team will have to work around the clock. On January 9, China's Netcasting Services Association (中国网络视听节目服务协会), an association directly managed by the Ministry of Civil Affairs, issued new regulations that online short video platforms in China should adhere to. One of the new guidelines requires all online video service providers to carefully examine content before it is published.
Tech Sina reports that the new stipulations require that all online video content, from titles to comments and even the use of emoticons, has to be in accordance with regulations, which prohibit any content that is 'vulgar,' is offending to the Chinese political system, puts revolutionary leaders in a negative light, or undermines social stability in any way.
On Weibo, the newest regulations became a topic of discussion, with many netizens wondering how short video apps such as Douyin are going to comply, and how its users will be affected.
Although Douyin has not responded to how and if its platform will change in light of the latest regulations, we can expect that TikTok will not be affected – it will be marching to the beat of his own app.
By Gabi Verberg, with contributions by Manya Koetse
Interested to know more about Bytedance and TikTok? We recommend listening to this podcast by Techbuzz China.
Spotted a mistake or want to add something? Please let us know in comments below or email us.
©2019 Whatsonweibo. All rights reserved. Do not reproduce our content without permission – you can contact us at info@whatsonweibo.com
Alipay Changes Name to Hanbao (But for Users, Nothing Will Change)
Alipay, oh, Alipay, wherefore art thou Hanbao now?
First published .
What's in a name? That which we call Alipay, by any other name would do the trick. But although the title has changed, nothing will change for Alipay users.
On January 8, news that Alibaba's online payment platform 'Alipay' (Zhifubao 支付宝) changed its official name to Hanbao (瀚宝), became a big topic of discussion on Chinese social media. The hashtag 'Zhifubao Company Changes Name' (#支付宝公司更名#) received millions of views on Tuesday, reaching over 30 million by Tuesday night.
Zhifubao (支付宝) is the Chinese name for the country's leading mobile and online payment app. The brand 'Zhifubao' literally means 'payment treasure.' Outside of China, Zhifubao is known by its English name 'Alipay.'
Alipay is operated by the Ant Financial Services Group (蚂蚁金服), an affiliate company of Alibaba.
The name change was reportedly registered for the 'Zhifubao (China) Information Technology Company' (支付宝[中国]信息技术有限公司), that changed into 'Hanbao (Shanghai) Information Technology Company' (瀚宝[上海]信息技术有限公司), just as 'Alipay China Holding Limited' has been changed to 'Hanbao China Holding Limited.'
The name change was registered on December 18th of 2018. The legal ownership of the company has also been changed from Ma Yun (Jack Ma) to Ye Yuqing (叶郁青), who is the Ant Financial Chairman. Yicai Global already reported about a change to Alipay's legal entity in the summer of 2018.
In October of 2018, the Financial Times reported that Jack Ma had quietly relinquished his ownership of the legal entities at the heart of Alibaba, after announcing he would retire as Alibaba's chairman.
The Alipay company responded to the commotion, saying that the name change is just an "administrative matter" that will not affect consumers using the app in any way.
On Weibo, however, not everyone is happy with the change. "I owe Jack Ma some money, why do I now need to return it to Ye Yuqing?" one commenter wonders. Many others say similar things, jokingly saying they now no longer owe Jack Ma money. The Alipay platform allows users to buy items with credit through their 'Huabei' loan tool.
"Is Jack Ma no longer looking after us?!", others say. "Being legal representative and being a shareholder are two different things," one Weibo user replies.
The fact that the 'Hanbao' name is pronounced the same way as 'Hamburger' (汉堡) in Mandarin is also a reason some people are mocking the name change. Some netizens wonder if 'Alipay' will now change into 'Hanbaopay.'
In 2017, there was also some online commotion when it was announced that McDonald's China would change its name from Maidanglao to Jin Gongmen ('Golden Arches'). At the time, McDonald's China also responded to its name change, saying that it was for "official certification" only.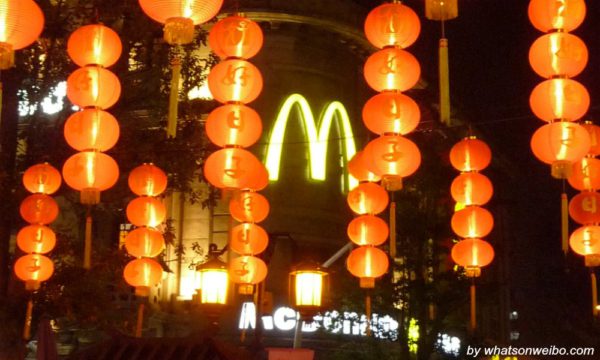 Time has shown that indeed nothing changed; just as the McDonald's hamburgers are still the same, Alipay's official hamburger-sounding new name is unlikely to affect its payment convenience.
Read more: Insights into Sesame Credit & Top 5 Ways to Use a High Sesame Score
By Manya Koetse
Follow @whatsonweibo
Spotted a mistake or want to add something? Please let us know in comments below or email us.
©2019 Whatsonweibo. All rights reserved. Do not reproduce our content without permission – you can contact us at info@whatsonweibo.com