After More Than a Decade, the Human Flesh Search Engine Is Still Raging Across Chinese Social Media
At times unjust, excessive, or even illegal – but the Human Flesh Search still is an inherent part of Weibo.
Since the early years of microblogging in China, the so-called 'Human Flesh Search Engine', a phenomenon in which Internet users hunt down and punish people, has repeatedly attracted the attention of the media. More than 10 years later, the 'Human Flesh Search Engine' is still raging on Chinese social media.
While surfing Weibo, a Changsha police officer named Hu Hanlin (@老囧货) recently came across an article titled "Violent Murder of Golden Retriever." The article discussed a video posted on the afternoon of December 31st, 2017, showing a Changsha police officer bludgeoning a golden retriever. The article caught Hu off guard – it was about him.
As Hu wrote in a January 2nd Weibo post; "I was surprised to find that [the article] included my official position, work photo, name, phone number, and even described me as this event's perpetrator."
Hu Hanlin is a victim of what has been called the "Human Flesh Search Engine" (renrou sousuo yinqing 人肉搜索引擎), the Chinese term for the phenomenon of netizens distributing the personal information of individuals people feel 'deserve' public interest or scorn.
In Hu Hanlin's case, the attack was unjust. As Hu wrote on his Weibo account: "I was not at all involved (..) For quite some time I have only investigated crimes through video footage, I have never directly responded to 110 calls." In Hu's case, as with many other instances of Human-Flesh-Searching, a viral online video had instigated netizen's search for the culprit, at which point they mistook Hu's picture for the man in the video.

Human-Flesh-Searching: Identifying the 'Culprit'

'Human-Flesh-Searching' is a group endeavor to reveal someone's identity and personal details online. Targets are often individuals who have disrupted public order in some way and have angered netizens for their behavior and actions; such as a Ms. Luo, who was recently caught on camera blocking a train door and fighting off a conductor as she refused to allow a high-speed train to depart from Hefei station – she was determined to let her tardy husband get on board.
While online outcry directed at the individual is the norm, the result of a Human Flesh Search can also come to personal confrontations, or to netizens sending unsavory items, such as cockroaches or funerary objects, to a person's personal address.
Media have been reporting about the Human Flesh Search phenomenon since the early beginnings of Chinese social media. One of the first big cases from 2006 involved a video that spread through chatrooms of a woman purposely killing a kitten with the sharp point of her high heel. Enraged netizens soon came into action to search for the identity and personal information of this so-called 'Hangzhou Kitten Killer,' and discovered she was a 41-year-old nurse named Wang Jue. She was later suspended from her job.
Digging further back into China's internet history, Human-Flesh-Searching first became popular in 2001 on MOP, one of China's most influential online forums, when a netizen posted a photo of his alleged girlfriend that turned out to be model Chen Ziyao. Her personal information was publicized to prove he was lying.
One explanation of the practice's jarring name is that it originally referred not to the hunt for an individual per se, but to how the information is collected. Instead of entering their question into a search engine, netizens who want to 'activate' the 'Human Flesh Search Engine' call on the online community to find the answers for them in a collective effort. Online community members usually gather this kind of information from their personal resources and networks. "Human Flesh" therefore actually refers to the searchers – not the searched.

From Animal Cruelty to Media Bias

Human Flesh Searches are often used in cases involving animal cruelty. A case that recently made headlines occurred in the capital of Sichuan province. On December 12th, a woman's Corgi dog 'Lion' went missing and was found by another woman named He Hengli who then blackmailed the owner over its release.
When the 'hostage' negotiations reached a deadlock, the dog's owner finally went to He's apartment to fetch her dog with police offers and reporters. While they knocked the door, Lion was thrown to his death from He's sixth story apartment.
The story caused huge outrage on Chinese social media, where details of He were released online, including her phone number and (work) address, leading to netizens harassing and threatening her at her home.
But besides coming into action with cases that involve animal cruelty, there are countless of other types of cases in which it also happens.
Just last week, the huge 'Tang Lanlan' case on Weibo ignited an 'online war' between netizens and the media over reports of a decade-old sexual abuse case. When many netizens felt that journalists reporting the case were biased and favored the suspects over the victim, personal details of the reporters were gathered by netizens and leaked online.

Voices Calling for More Privacy Laws

While 2018 has already seen several viral cases of Human-Flesh-Searching, these fly in the face of current Chinese internet privacy laws.
Voices calling for more privacy laws grew stronger in late 2014, when a Guangzhou shopkeeper named Ms. Cai was sentenced to one year in prison for instigating a Human-Flesh-Searching campaign over an alleged case of theft that resulted in the suicide of an 18-year-old high schooler.
Becoming the (unjust) target of a Human Flesh Search can ruin people's lives and careers, as well as jeopardize their safety. Whether it concerns alleged theft, animal abuse, or an extramarital affair, the 'culprits' will be hit equally hard by the impact of the 'online mob'.
Ma Rong, the ex-wife of Chinese celebrity Wang Baoqian, was slandered online in 2016, with people exposing her phone and address when news of her secret love affair went viral. Do a thief, an unfaithful wife, and a kitten killer all deserve the same scorn, and should it be up to the online community to punish them for their alleged deeds? While some support the human-flesh-search-engine approach for those who abuse animals and show off their violence, others point out its dangers.
In a further effort to limit Human Flesh Searching, legal punishment for the practice grew stricter last year. The Supreme People's Court and Supreme People's Procuratorate released a joint statement clarifying that, depending upon the severity of the invasion and dispersion of personal information, a perpetrator could be sentenced to up to 7 years in jail.

An Alternative Punishment

These previous legal warnings, however, have not seemed to stop individuals from exposing other people's personal information; neither has it stopped individuals from acting upon available details. Some argue that Human Flesh Searching plays a valuable societal role in China's online community.
One Weibo blogger (@灰鸽叔叔) concluded a post on the subject by writing: "Some people don't do bad things because they have a kind heart. Some people don't do bad things because they are unwilling to bear the responsibilities of doing bad things. If you don't allow people to suffer [the humiliation of Human Flesh Searching] they will begin to feel that they are above the consequences…If the law is momentarily unable to solve this problem, then netizens using human-flesh-searching, or even collectively speaking ill of them surely can supply this kind of punishment."
This blogger is not the only one arguing that Human Flesh Searching is an important way to battle social injustice; many other netizens also say that when the law cannot punish people for their deeds (f.e. China lacks a solid legislation against animal cruelty), a Human Flesh Search is an alternative form of retribution.
As for the case of Officer Hu – in the two days after being falsely accused he received more than a thousand texts. The texts contained messages such as "I wish Hu Hanlin a 2018 full of death for him and his whole family by evisceration…," or "Hu Hanlin's body should fester in the wilderness, to be slowly consumed by wild dogs."
On Weibo, meanwhile, despite a seeming majority of people supporting the practice of the Human Flesh Search Engine, there are more and more voices opposing it. One netizen pleads: "No matter for what purpose you do it, no matter what kind of evidence you are trying to get, the Human Flesh Search method is undoubtedly the most stupid and the most dangerous – please stop this crazy criminal behavior."
For Hu, however, any movements against the practice come too late. For him, the Human Flesh Search has even resulted in netizens coming to his house. The funeral flowers and funeral money on his doorstep are a reminder of how far the Human Flesh Search Engine can go.
By Brydon Brancart, edited by Manya Koetse
Follow @whatsonweibo
Spotted a mistake or want to add something? Please let us know in comments below or email us.
©2018 Whatsonweibo. All rights reserved. Do not reproduce our content without permission – you can contact us at info@whatsonweibo.com.
From Red Packet to Virtual Hongbao: Lucky Envelopes in China's Digital Era
Raising virtual cows, shaking with phones – this is the Chinese New Year tradition of giving red envelopes in the digital era.
The custom of giving out red paper envelopes has evolved into a world of virtual lucky money and online games. This is the transformation of a Chinese New Year's tradition, reported by Koen van der Lijn and Xiaojun Zhang.

When objects meet social media, two websites meet as well. This is a collaboration between What's on Weibo and Things That Talk (follow on Insta @thingsthattalk).

Ever wanted to raise a digital cow? This year, you can raise your own lucky cow (福牛) for Chinese New Year on Weibo. Through maintaining and raising their virtual cow (or ox), users can participate in this online game to win red envelopes, a well-known and beloved tradition linked to Chinese New Year.
The hashtag "Lucky Cow's New Year's Travelogue" (#福牛新春旅行记#) is linked to Weibo's celebration of Chinese Spring Festival and the Year of the Ox. Users are expected to be active on Weibo daily to raise their cow/ox, similar to the once so popular Tamagotchi. Whilst leveling up their cow, users get the possibility to earn digital red envelopes.
The online game is another development in the story of the red envelopes, known in China as hongbao (红包). Often given during Chinese New Year, the envelopes can also be given at other joyous occasions like weddings. These red envelopes are given to each other by friends and family members to wish each other a happy new year and are always filled with an amount of money.
The practice of giving money during Chinese New Year goes far back in Chinese history. The earliest form of the red envelope is said to be yasuiqian (压祟钱). In order to keep evil spirits away, called sui (祟), people put money underneath children's pillow since the evil spirits were said to be warded off by coins.1 These coins were woven together using a string.
As time went by and paper money and envelopes became more widespread, string and coins were replaced and the red envelope was created.
Red envelopes are used by Chinese all over the world nowadays. The amount of money inside depends on many factors. Recently, the tradition has left behind its tangible form and entered the digital era.
"Adding the thrill of gambling to the practice of giving away red envelopes"
In 2014, the popular Chinese messaging app WeChat (微信) launched a new function that allowed users to send virtual red envelopes. Users could send an amount of money directly to another user, or an amount of red envelopes could be sent into a groupchat. When the function launched, users worldwide could shake their phones in order to receive free red envelopes. The amount of money that was given to users surpassed 500 million yuan ($77.5 million).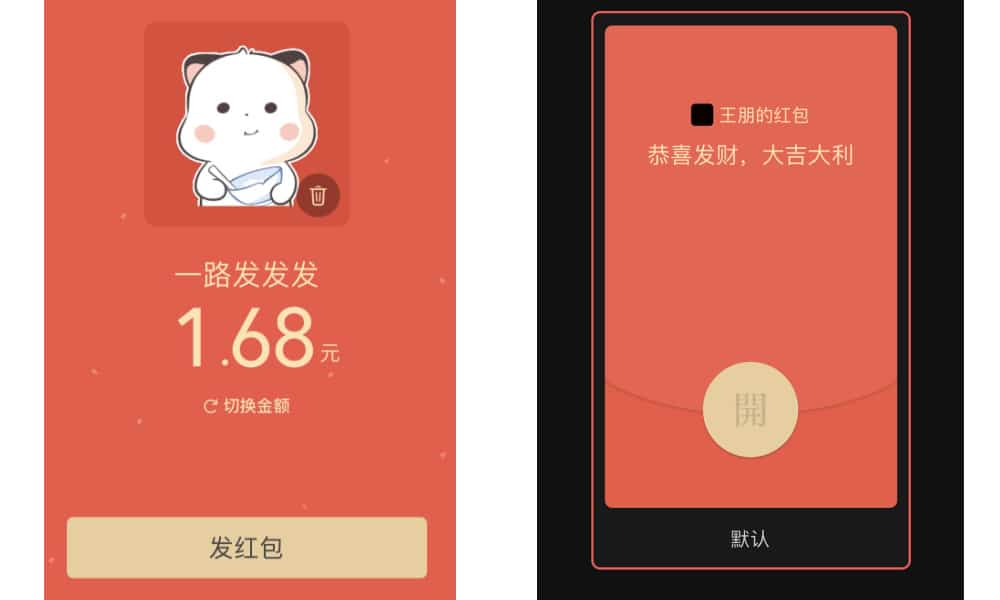 WeChat's inventive idea put digital red envelopes on the map in China. During the peak of the event, 800 million shakes were recorded per minute. There were two types of envelopes introduced in 2014 by Tencent, the company that owns WeChat:
1. A regular red envelope that could be sent directly from one user to another.
2. A 'group' red envelope, with a limited number to be grabbed and a limited sum of money which can be grabbed by all users in a group if they are fast enough. The sum inside this envelope is randomized, adding the thrill of gambling to the practice of giving away red envelopes.
Other companies also wanted a piece of the digital red envelope cake: Weibo and AliPay combined their strengths a year after WeChat introduced its digital hongbao in order to promote their version of the digital red envelope.
A 'war' then broke out between the two companies. AliPay handed out 600 million renminbi ($93 million) worth of red envelopes as a response to WeChat's 120 million envelopes sent out during the televised celebration of Chinese New Year.2
"Digital red envelopes can cross time and place, but cannot replace the method of face-to-face contact"
In the years after, the digital red envelope became more and more popular. Weibo and Alipay also came with their version of sending red envelopes online. The companies organized large-scale actions to make users make use of their form of digital red envelopes.
WeChat, for instance, gives users the option to make the red envelopes very personal through adding stickers and personal messages, making the digital red envelope an even more enjoyable experience.
Does this new development of the traditional red envelope make the tangible envelope obsolete?
When asked by the digital newspaper The Paper (澎湃新闻) about whether the digital red envelope might replace its tangible brother, scholar Tian Zhaoyuan (田兆元) of East China Normal University said that the digital red envelope can cross time and place, but cannot replace the method of face-to-face contact. Though friends and family may send one another digital red envelopes, it does not mean that it replaces the tangible red envelopes.3
The tradition of sending red envelopes is and will be inherently linked to Chinese New Year. Though both the paper and digital forms of the tradition remain incredibly popular, the virtual hongbao will definitely win territory once more this year as travel is restricted due to COVID-19. Especially in these times, the digital red envelope is the best digital way of wishing family and friends a happy new year.
Why are 'lucky envelopes' not just red, but sometimes also green or purple? Read more via Things That Talk here.

By Koen van der Lijn and Xiaojun Zhang
Follow @WhatsOnWeibo
Koen van der Lijn (China Studies, BA) is a ResMa student Asian Studies at Leiden University focused on Chinese history and its international relations. He is a student ambassador at Things That Talk.
Xiaojun Zhang (China Studies, BA) is an MA student Asian Studies at Leiden University focused on contemporary Chinese culture, symbolism and food. For Things That Talk, she currently works on a project about Chinese-Indonesian restaurants in the Netherlands.
This story was made in collaboration with ThingsThatTalk.net – exploring humanities through the life of objects. Things That Talk is an educational digital project where staff and students produce narratives and metadata about objects in Leiden collections and beyond. Check out the story "Hongbao: from paper envelope to digital gift" on Things That Talk here!

Footnotes (other sources hyperlinked within the article)
1 Kin Wai Michael Siu. 2001. "Red Packet: a Traditional Object in the Modern World." Journal of Popular Culture 35 (3), 103.
2 Chen, Liyan. 2015. "Red Envelope War: How Alibaba and Tencent Fight Over Chinese New Year." Forbes, Feb 19 https://www.forbes.com/sites/liyanchen/2015/02/19/red-envelope-war-how-alibaba-and-tencent-fight-over-chinese-new-year/?sh=1b88bccccddd.
3 The Paper, Zuowei yi zhong "xinnian su", weixin hongbao hui qudai zhizhi hongbao ma? 作为一种"新年俗",微信红包会取代纸质红包吗?, https://cul.qq.com/a/20160208/012888.htm.
Spotted a mistake or want to add something? Please let us know in comments below or email us. First-time commenters, please be patient – we will have to manually approve your comment before it appears.
©2021 Whatsonweibo. All rights reserved. Do not reproduce our content without permission – you can contact us at info@whatsonweibo.com.
Conversations Behind the Wall: Clubhouse App Now Blocked in China
While the Clubhouse app is no longer accessible from within the PRC, conversations continue behind the wall.
The Clubhouse app became a hot topic among web users in mainland China this weekend. On Monday, the platform was no longer accessible from within the PRC.
On Saturday, we posted an article about the surge in popularity of American 'drop-in audio chat' social media platform Clubhouse in mainland China.
As conversations about the popular app continued throughout the weekend, the app was no longer accessible from within mainland China on Monday.
Clubhouse describes itself as "a space for casual, drop-in audio conversations—with friends and other interesting people around the world" where you can "go online anytime to chat with the people you follow, or hop in as a listener and hear what others are talking about."
The app has virtual rooms and events themed around various topics – anything from politics to music – and lets hundreds of members join conversations as moderators, speakers, or listeners.
The Clubhouse app was developed by Silicon Valley entrepreneur Paul Davison and ex-Google employee Rohan Seth. It was first launched in April 2020 on iOS only, and is still only accessible through iPhone for users who have an invite.
Before Monday, the Clubhouse app was freely accessible from within China for those people who had an invite, but only if they had access to the non-Chinese Apple store to download the app.
The app was a hot topic on various Chinese social media platforms this weekend. On Weibo, the civilized and open character of the Clubhouse conversations were praised, allowing a broader understanding of issues that otherwise remain untouched or are limited within the Chinese social media sphere.
One Chinese-language virtual room about the Xinjiang camps was joined by hundreds of people on Saturday. But besides the room focused on Xinjiang, there were also other rooms where discussions took place about the status of Hong Kong and about issues such as whether or not (overseas) Chinese are willing to return to the mainland and why.
"It is like a small crack in a window," one person on Weibo said about Clubhouse, while others already predicted the app would become unavailable from within mainland China soon.
When it finally happened on Monday, the responses on Weibo were mainly those of disappointment. "Bye bye Clubhouse," some Weibo users wrote, with others expressing their surprise: "What?! It was just popular for two days and it's already blocked? They move so fast it's scary."
"I was active on Clubhouse for two days. I didn't expect it to be shut down so soon already."
Although many commenters previously expressed that they expected the app to become unavailable within the PRC, the fact that it was shutdown while it was just exploding online comes as a surprise to some, as various commenters write.
The term 'Clubhouse' was also temporarily blocked on Weibo by Monday night Beijing time; over the weekend various hashtags relating to the app made their rounds on Chinese social media, but the hashtag pages were no longer online by Monday evening.
Meanwhile, various Chinese-language rooms on Clubhouse discussed the topic of its disappearance in China.
A room titled "Clubhouse is blocked, and now?" was joined by over a hundred people on Monday night. The room "Clubhouse is blocked" attracted over 3000 participants. These conversations are likely to continue for the time to come, but now they must continue behind the Great Firewall of China.
By Manya Koetse
Follow @whatsonweibo
Spotted a mistake or want to add something? Please let us know in comments below or email us. First-time commenters, please be patient – we will have to manually approve your comment before it appears.
©2021 Whatsonweibo. All rights reserved. Do not reproduce our content without permission – you can contact us at info@whatsonweibo.com.