Liberal Writer Li Jingrui Angers Chinese Feminists: "Weaklings and Warriors Are Not Defined by Gender"
Why do prominent mainland liberals speak out against Chinese feminism?
While Chinese feminist social media accounts are facing an online crackdown, a major discussion has erupted on Weibo after prominent liberal writer Li Jingrui voiced her negative stance on the feminist movement in the PRC today. The incident highlights the existing conflict between 'mainland liberals' and 'mainland feminists.'
In the days following International Women's Day, discussions on feminism in the PRC have been buzzing on Chinese social media.
A discussion that particularly received attention on Chinese social media this week is one that is taking place between mainland liberal thinkers and Chinese feminists on the issue of women's power struggle in China.
The discussion was triggered when Li Jingrui (李静睿), a well-known female author and supporter of Chinese democratic activists, spoke out about China's feminist movement. An online crackdown affecting various feminism-related social media accounts fuelled the debate.
FEMINIST VOICES SILENCED

"The account won't be reactivated because it has posted 'sensitive and illegal information.'"
On the eve of March 8, the renowned feminist Weibo account 'Feminist Voices' (@女权之声), which had over 181,000 followers, was pulled offline after it had actively posted about Women's Day during the day. The Feminist Voices' Wechat account also disappeared the next day.
The Feminist Voices platform's founding editor Lü Pin (吕频) spoke out on Twitter about the issue, saying that she was told by Sina Weibo's customer service staff that the account would not be reactivated because it has posted "sensitive and illegal information."
Lü Pin stated that preceding the account's deletion, Feminist Voices had encouraged people on Weibo to announce their "anti-sexual harassment declaration" in response to the international #MeToo campaign.
Besides Feminist Voices, other accounts were also affected by the online crackdown around Women's Day 2018. Amongst them was the 'Feminist Forum' (女权主义贴吧), which saw more than 19,000 Weibo posts erased from the internet by late February.
THE LI JINGRUI CONTROVERSY

"I would never use my female sex as an excuse for being weak. Weaklings and warriors are not defined by gender."
While the heightened censorship caused outrage amongst many feminists on social media, a controversial post by the liberal writer and former legal journalist Li Jingrui (李静睿) popped up on Weibo. Li is well known for her involvement in social justice movements together with her husband Xiao Han (萧瀚), a prominent liberal scholar.
In her post, Li addressed the Chinese feminist movement, writing:
"I have no interest in the concept of social collectives, and I have no strong sense of gender awareness. I like to cook and do housework. I don't feel angered when I do these things, nor do I feel enslaved. Instead of focusing on gender issues, I prefer to study and discuss broader political and cultural issues, and spare no efforts to lead a serious and full intellectual life. I feel no hostility towards the male sex, and I do not feel like fighting them. I just feel guilty that I know there are certain things I really want to fight, but I do not have the guts to do so. I would never use my female gender as an excuse for being weak. Weaklings and warriors are not defined by gender. Lin Zhao* stood on the barricades. I hope I'll [continue to be] be aware of power and treasure freedom – I'll always fight for it. This has nothing to do with being a woman. It is a matter of humanity. Gender is not an obstacle, nor should it ever be an excuse."
*Lin Zhao is a prominent Chinese dissident who was imprisoned and later executed during the Cultural Revolution for her criticism of Mao Zedong's policies.
Shortly after Li Jingrui published her post, she received a lot of criticism from the online feminist community, of which many people previously supported Li for her contribution to civil rights activism in China, and for the fact that she and her husband address politic issues while facing strict censorship.
Some of the main problematic points of Li's post as addressed by disgruntled feminists on Weibo are the following:
– That Li considers feminism as a social collective.
– That she reinforces the stereotype that feminists hate cooking and cleaning, and that they dislike men.
– That Li is unaware of her privilege to be able to choose if she wants to cook or clean, but that many women do not enjoy that same privilege.
– That she implies that her intellectual goals are more important and of a 'higher standard' than feminist goals are.
– That she hints that feminists are cowards who hide behind their gender.
– That she does not realize that feminists pursue the same human equality and freedom as she herself does.
Another issue that caused some consternation online is that Li's husband Xiao Han also left a comment on Li's post saying he agreed with her stance. Some commenters used this against Li, saying that she is "brainwashed" by her husband and relies on him to build her self-worth.
BROADER POLITICAL TOPICS

"My friends who are lawyers, public intellectuals, or Tibetan, have no platform to have their voices heard."
In response to the controversy her post evoked, Li Jingrui published another post on March 8 in which she reiterated her idea that there are more important matters in China's public debate than feminist issues.
In this post, Li warns Chinese feminists that they still enjoy relative freedom of discussion compared to other activists in the PRC. Li mentions that lawyers, public intellectuals, and her "Tibetan friends" have since long been silenced and have no platform to speak from, something which seems to have already been "taken for granted."
Li explains that, instead of a focus on Chinese feminism, she would rather see attention shifted towards more "broad political topics" and to those whose voices are consistently silenced.
Her second post again received much criticism, with some commenters from feminist circles arguing that they were all facing "high censorship," and that those topics undergoing more censorship were not necessarily more important than those facing less control.
Li's main opponents come from a new generation of young Chinese feminists (both male and female) and online influentials such as Zhou Yun (周韵, @一音顷夏) or '@Linsantu.'[1]
But Li also received much support from like-minded commenters, including from influential accounts such as Luo Zhiqiu (@洛之秋) and Dagudu (@大咕咕咕鸡).
People speaking out for Li claimed that Chinese feminists are not "real feminists," but "feminazis" (女权纳粹) or "countryside feminists" (中华田园女权: a term to describe women who label themselves as feminists but cherry pick the rights they think they should have).
In their defense of Li Jingrui, these commenters say that people such as Li and her husband are fighting the "real fight," and are in touch with reality, supposedly unlike the Chinese feminists they attack.
MAINLAND LIBERALS VERSUS CHINESE FEMINISTS

"Li Jingrui just prioritizes human rights over women's rights, what's wrong with that?"
This is not the first time that China's 'mainland liberals' clash with feminists. In "Mainland Liberalism and Feminism" (大陆自由派和女权主义 2016), Weibo blogger @bdf84 writes: "We may think that liberals pursue freedom and democracy, and oppose the oppression of totalitarianism. And since feminists oppose the oppression of women, the two are seemingly natural allies. But this is not true." [2]
Although both mainland liberals and feminists care about people's equality and oppression, their perspective on how oppression works and freedom can be attained is radically different. Whereas feminists mostly seek to explain (female) oppression through social and cultural (gender) constructions, mainland liberals are concerned with political systems, and generally, do not believe that culturally constructed power dimensions constitute oppression.
Now that the Li Jingrui has gained much attention on Chinese social media, there are also some people who do not understand the two sides of the discussion. "Since when do human rights oppose women's rights?", one netizen (@文盲摇曳有声) wonders. "Li Jingrui just prioritizes human rights over women's rights, what's wrong with that?", others write.
But the two sides of the discussion show no signs of mutual understanding, as some feminist commenters respond with much indignation and are met with derision by their opponents.
Meanwhile, as fierce online debates continue, Li Jingrui has deleted the posts on her Weibo account related to the discussion. "My personal life has come under attack," she says: "It's useless. In the future, I will not participate in these kinds of discussions again."
On Twitter, the editor of Feminist Voices is not involved in these discussions – she is mourning the account's erasure during the recent crackdown. "The trace of us has been totally erased from social media in China," Lü Pin writes: "We are still in shock."
By Boyu Xiao & Manya Koetse
Follow @whatsonweibo
[1] As described by Hariette Evans on Wagic.com, these new feminist communities are often transnational. @Linsantu, for example, is a Columbia University graduate, whereas Zhou Yun is a PhD candidate at Harvard University's Sociology department.
[2] A 2013 article by Li Sipan (李思磐, alias of the political sociologist Li Jun) titled "Why don't Chinese mainland liberals support feminism?" ("中国大陆自由主义者为何不支持女权主义?") is also fully focused on this polarized discussion.
Spotted a mistake or want to add something? Please let us know in comments below or email us.
©2018 Whatsonweibo. All rights reserved. Do not reproduce our content without permission – you can contact us at info@whatsonweibo.com.
Footage from Inside the "Virtue Class for Women" Stirs Controversy on Weibo
"Obedience is the core value for women," is a message that is being propagated in "female virtue classes."
In 2017, news of a "female virtue class" (女德班) taking place in Fushun, Liaoning province, triggered controversy in China when it was exposed that young women were taught to conform to sexist stereotypes. That "female virtue class" was ordered to shut down after it made headlines.
But now, the same class taking place in Wenzhou has become the talk of the day on Chinese social media, as footage from inside the class made its way around Weibo and Wechat. Chinese media outlet Pear Video reported the news.
The class, with 56 students from 5 up to 18 years old (44 female), reportedly took place in August of this year during a Summer Camp on "traditional culture."
This is the video with footage from an insider attending the 'Summer Camp', by Pear Video (no subtitles):
Just as in Fushun, girls in Wenzhou were also taught that men are superior to women, that married women should obey their husbands and not talk or hit back, and that wearing revealing clothing will lead to rape.
The video also shows that 'obedience' was presented as being a core value for women, along with filial piety.
These views often pop up on social media. Also in 2017, a university lecture by Ding Xuan, an alleged expert on China's women's issues, stirred controversy on Weibo after her statements on female chastity went viral. According to Ding Xuan, "being a virgin is the best gift for a husband."
Classes such as these are often presented as being "traditional culture" training.
On Weibo, the hashtag "Female virtue class for minors" (#未成年人女德班#) has received over 110 million views at time of writing, with thousands of netizens condemning the message that these students are being taught. "It's 2018 now, how can you still have these kinds of fools?!", a popular Weibo comment said.
"It's scary that parents would let their children participate in these classes," others wrote. "The worst part is that people actually believe this." "What era are we living in?!", many commented.
As this topic is currently going trending, it is yet unclear if these classes are still being taught to students, or if they, again, have been ordered to shut down.
By Manya Koetse
Follow @whatsonweibo
Spotted a mistake or want to add something? Please let us know in comments below or email us.
©2018 Whatsonweibo. All rights reserved. Do not reproduce our content without permission – you can contact us at info@whatsonweibo.com
Let's Talk about Sex, Grandpa: HIV on the Rise among China's Elderly Men
There's a sharp rise in HIV among Chinese elderly men, partly caused by a general lack of HIV & safe sex awareness.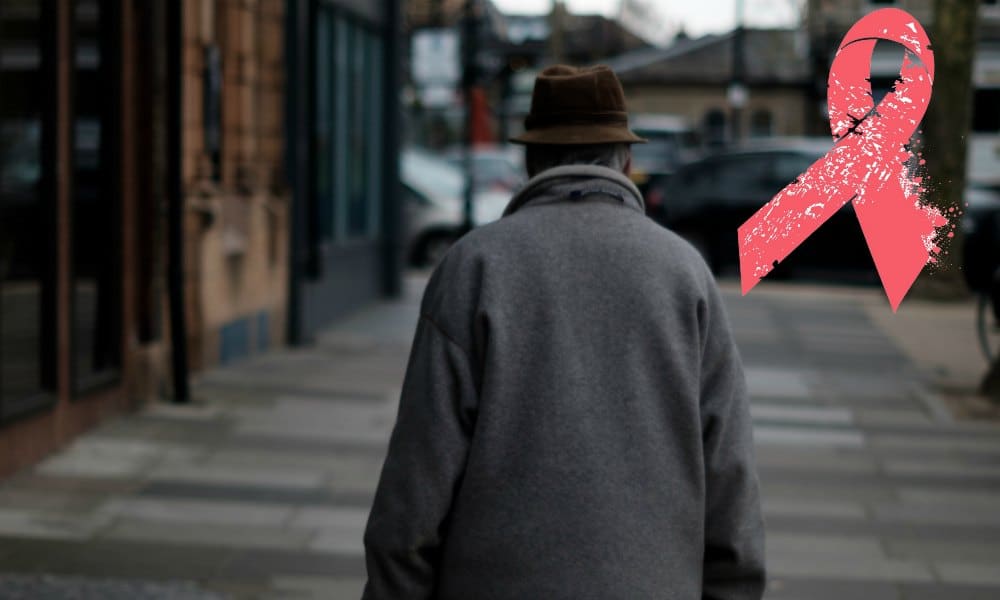 First published
HIV among China's elderly is a growing problem; it is mostly older men who get infected with HIV through extramarital sex. Their knowledge regarding safe sex is often lacking.
As it is World AIDS Day on December 1st, and while major discussions on the alleged first gene-edited babies immune to HIV are still top trending, other noteworthy HIV-related news is also gaining a lot of attention on Chinese social media these days.
At time of writing, more than 220 million people have viewed the Weibo hashtag "Number of Elderly AIDS Cases on the Rise" (#老年艾滋病病例上升#). The hashtag has emerged amidst news reports that there is a significant rise in the number of HIV cases among the elderly in China, particularly among men.
According to an article published on Weibo by Chinese news outlet The Paper, the number of known cases of HIV among Chinese men above the age of 60 has risen from 8391 cases in 2012 to 19815 cases in 2017.
On November 27, the Hangzhou Center for Disease Control and Prevention (杭州市疾控中心) released news information relating to the problems of the rising cases of HIV and AIDS among the elderly.
In the city of Hangzhou, the detection of HIV among patients who are over 50 years old has doubled over the past three years.
According to a specialist from the Hangzhou center, this rise of HIV has to do with the limited HIV awareness among elderly communities, and with the fact that they are often not accustomed to using condoms.
Extramarital heterosexual sex is the main way of transmission for elderly men, with some also getting HIV because of homosexual sex. For elderly women, marital sex is the main way of transmission.
Because they are often late in seeking medical treatment when they feel unwell, the detection of HIV is often late, which makes that there is a relatively high number of AIDS-related deaths among elderly patients.
The problem of the rising number of HIV patients among China's elderly population has received more scholarly attention of the past few years. According to a 2014 study by Tang et al, the sharp rise of HIV among elderly became more visible after 2010. In 2011, people over the age of 60 accounted for 28.4% of the total HIV cases Guangxi province (this was 18.7% in 2009).
A study in Nanning, capital of Guangxi, found that heterosexual transmission accounted for 90% of HIV cases among those over 50 years old, and that low-cost commercial sex venues were a primary site of infection (Tang et al 2014, 2).
The research by Tang et al shows that the use of aphrodisiacs (cheaper alternatives to Viagra, often illegally produced in local workshops) is significantly associated with an increased HIV risk for men over 50 who purchase commercial sex with female prostitutes (3).
One popular WeChat blog explained the reasons behind the problem of HIV among China's elderly as follows:
1. They see prostitutes because they are seeking ways to fulfill their sexual needs.
2. There is little awareness on HIV or AIDS. (According to one story quoted in the blog, an elderly man who was diagnosed with HIV even told the doctor he had washed himself with detergent every time after he had sex with a prostitute – he "did not understand" how he got infected.)
3. They do not know how to use condoms / they are not accustomed to using condoms.
On Weibo, there are many commenters who show their sympathy for the elderly women who get infected with HIV within their marriage because of their husband's extramarital sexual behaviors. "How tragic for them," a popular comment said, while others wonder: "What's the purpose of marriage then?"
The Center for Disease Control and Prevention advises people who have had extramarital sex, homosexual or heterosexual, to get themselves checked on HIV – also if there are people who suspect that their partner might have had sexual encounters outside of the marriage.
"The sex life of the elderly is a sensitive topic, but it needs to be talked about," well-known lawyer Yi Shenghua (易胜华) writes on Weibo: "If we do not attach importance to the [open] discussion of this topic, the problem of AIDS among China's eldery will only grow bigger."
By Manya Koetse and Miranda Barnes
Follow @whatsonweibo
Tang Z, Wu X, Li G, Shen Z, Zhang H, et al. 2014. "Aphrodisiac Use Associated with HIV Infection in Elderly Male Clients of Low-Cost Commercial Sex Venues in Guangxi, China: A Matched Case-Control Study." PLOS ONE 9(10): e109452. https://doi.org/10.1371/journal.pone.0109452.
Photo used in featured image by David Sinclair.
Spotted a mistake or want to add something? Please let us know in comments below or email us.
©2018 Whatsonweibo. All rights reserved. Do not reproduce our content without permission – you can contact us at info@whatsonweibo.com