Liberal Writer Li Jingrui Angers Chinese Feminists: "Weaklings and Warriors Are Not Defined by Gender"
Why do prominent mainland liberals speak out against Chinese feminism?
While Chinese feminist social media accounts are facing an online crackdown, a major discussion has erupted on Weibo after prominent liberal writer Li Jingrui voiced her negative stance on the feminist movement in the PRC today. The incident highlights the existing conflict between 'mainland liberals' and 'mainland feminists.'
In the days following International Women's Day, discussions on feminism in the PRC have been buzzing on Chinese social media.
A discussion that particularly received attention on Chinese social media this week is one that is taking place between mainland liberal thinkers and Chinese feminists on the issue of women's power struggle in China.
The discussion was triggered when Li Jingrui (李静睿), a well-known female author and supporter of Chinese democratic activists, spoke out about China's feminist movement. An online crackdown affecting various feminism-related social media accounts fuelled the debate.
FEMINIST VOICES SILENCED

"The account won't be reactivated because it has posted 'sensitive and illegal information.'"
On the eve of March 8, the renowned feminist Weibo account 'Feminist Voices' (@女权之声), which had over 181,000 followers, was pulled offline after it had actively posted about Women's Day during the day. The Feminist Voices' Wechat account also disappeared the next day.
The Feminist Voices platform's founding editor Lü Pin (吕频) spoke out on Twitter about the issue, saying that she was told by Sina Weibo's customer service staff that the account would not be reactivated because it has posted "sensitive and illegal information."
Lü Pin stated that preceding the account's deletion, Feminist Voices had encouraged people on Weibo to announce their "anti-sexual harassment declaration" in response to the international #MeToo campaign.
Besides Feminist Voices, other accounts were also affected by the online crackdown around Women's Day 2018. Amongst them was the 'Feminist Forum' (女权主义贴吧), which saw more than 19,000 Weibo posts erased from the internet by late February.
THE LI JINGRUI CONTROVERSY

"I would never use my female sex as an excuse for being weak. Weaklings and warriors are not defined by gender."
While the heightened censorship caused outrage amongst many feminists on social media, a controversial post by the liberal writer and former legal journalist Li Jingrui (李静睿) popped up on Weibo. Li is well known for her involvement in social justice movements together with her husband Xiao Han (萧瀚), a prominent liberal scholar.
In her post, Li addressed the Chinese feminist movement, writing:
"I have no interest in the concept of social collectives, and I have no strong sense of gender awareness. I like to cook and do housework. I don't feel angered when I do these things, nor do I feel enslaved. Instead of focusing on gender issues, I prefer to study and discuss broader political and cultural issues, and spare no efforts to lead a serious and full intellectual life. I feel no hostility towards the male sex, and I do not feel like fighting them. I just feel guilty that I know there are certain things I really want to fight, but I do not have the guts to do so. I would never use my female gender as an excuse for being weak. Weaklings and warriors are not defined by gender. Lin Zhao* stood on the barricades. I hope I'll [continue to be] be aware of power and treasure freedom – I'll always fight for it. This has nothing to do with being a woman. It is a matter of humanity. Gender is not an obstacle, nor should it ever be an excuse."
*Lin Zhao is a prominent Chinese dissident who was imprisoned and later executed during the Cultural Revolution for her criticism of Mao Zedong's policies.
Shortly after Li Jingrui published her post, she received a lot of criticism from the online feminist community, of which many people previously supported Li for her contribution to civil rights activism in China, and for the fact that she and her husband address politic issues while facing strict censorship.
Some of the main problematic points of Li's post as addressed by disgruntled feminists on Weibo are the following:
– That Li considers feminism as a social collective.
– That she reinforces the stereotype that feminists hate cooking and cleaning, and that they dislike men.
– That Li is unaware of her privilege to be able to choose if she wants to cook or clean, but that many women do not enjoy that same privilege.
– That she implies that her intellectual goals are more important and of a 'higher standard' than feminist goals are.
– That she hints that feminists are cowards who hide behind their gender.
– That she does not realize that feminists pursue the same human equality and freedom as she herself does.
Another issue that caused some consternation online is that Li's husband Xiao Han also left a comment on Li's post saying he agreed with her stance. Some commenters used this against Li, saying that she is "brainwashed" by her husband and relies on him to build her self-worth.
BROADER POLITICAL TOPICS

"My friends who are lawyers, public intellectuals, or Tibetan, have no platform to have their voices heard."
In response to the controversy her post evoked, Li Jingrui published another post on March 8 in which she reiterated her idea that there are more important matters in China's public debate than feminist issues.
In this post, Li warns Chinese feminists that they still enjoy relative freedom of discussion compared to other activists in the PRC. Li mentions that lawyers, public intellectuals, and her "Tibetan friends" have since long been silenced and have no platform to speak from, something which seems to have already been "taken for granted."
Li explains that, instead of a focus on Chinese feminism, she would rather see attention shifted towards more "broad political topics" and to those whose voices are consistently silenced.
Her second post again received much criticism, with some commenters from feminist circles arguing that they were all facing "high censorship," and that those topics undergoing more censorship were not necessarily more important than those facing less control.
Li's main opponents come from a new generation of young Chinese feminists (both male and female) and online influentials such as Zhou Yun (周韵, @一音顷夏) or '@Linsantu.'[1]
But Li also received much support from like-minded commenters, including from influential accounts such as Luo Zhiqiu (@洛之秋) and Dagudu (@大咕咕咕鸡).
People speaking out for Li claimed that Chinese feminists are not "real feminists," but "feminazis" (女权纳粹) or "countryside feminists" (中华田园女权: a term to describe women who label themselves as feminists but cherry pick the rights they think they should have).
In their defense of Li Jingrui, these commenters say that people such as Li and her husband are fighting the "real fight," and are in touch with reality, supposedly unlike the Chinese feminists they attack.
MAINLAND LIBERALS VERSUS CHINESE FEMINISTS

"Li Jingrui just prioritizes human rights over women's rights, what's wrong with that?"
This is not the first time that China's 'mainland liberals' clash with feminists. In "Mainland Liberalism and Feminism" (大陆自由派和女权主义 2016), Weibo blogger @bdf84 writes: "We may think that liberals pursue freedom and democracy, and oppose the oppression of totalitarianism. And since feminists oppose the oppression of women, the two are seemingly natural allies. But this is not true." [2]
Although both mainland liberals and feminists care about people's equality and oppression, their perspective on how oppression works and freedom can be attained is radically different. Whereas feminists mostly seek to explain (female) oppression through social and cultural (gender) constructions, mainland liberals are concerned with political systems, and generally, do not believe that culturally constructed power dimensions constitute oppression.
Now that the Li Jingrui has gained much attention on Chinese social media, there are also some people who do not understand the two sides of the discussion. "Since when do human rights oppose women's rights?", one netizen (@文盲摇曳有声) wonders. "Li Jingrui just prioritizes human rights over women's rights, what's wrong with that?", others write.
But the two sides of the discussion show no signs of mutual understanding, as some feminist commenters respond with much indignation and are met with derision by their opponents.
Meanwhile, as fierce online debates continue, Li Jingrui has deleted the posts on her Weibo account related to the discussion. "My personal life has come under attack," she says: "It's useless. In the future, I will not participate in these kinds of discussions again."
On Twitter, the editor of Feminist Voices is not involved in these discussions – she is mourning the account's erasure during the recent crackdown. "The trace of us has been totally erased from social media in China," Lü Pin writes: "We are still in shock."
By Boyu Xiao & Manya Koetse
Follow @whatsonweibo
[1] As described by Hariette Evans on Wagic.com, these new feminist communities are often transnational. @Linsantu, for example, is a Columbia University graduate, whereas Zhou Yun is a PhD candidate at Harvard University's Sociology department.
[2] A 2013 article by Li Sipan (李思磐, alias of the political sociologist Li Jun) titled "Why don't Chinese mainland liberals support feminism?" ("中国大陆自由主义者为何不支持女权主义?") is also fully focused on this polarized discussion.
Spotted a mistake or want to add something? Please let us know in comments below or email us.
©2018 Whatsonweibo. All rights reserved. Do not reproduce our content without permission – you can contact us at info@whatsonweibo.com.
Nobody's Baby? Chinese Girl in Canceled Surrogacy Case Has No Birth Certificate, No Hukou
From surrogacy baby to 'heihaizi' – her biological parents canceled the surrogacy agreement, but she was born anyway.
The news story of a child born through surrogacy is the talk of the day on Weibo, leading to heated discussions on China's 'underground' surrogacy practices.
The tragic story of a 3-year-old girl born through surrogacy is top trending on Chinese social media today, where the child is referred to as the 'unregistered surrogacy girl' ("黑户代孕女童").
The child was meant to grow up with her two biological parents, but when the surrogate mother tested positive for a syphilis infection halfway through the pregnancy, the intended parents canceled the surrogacy agreement. The story was told in a short video report by Chinese news outlet The Paper.
The poverty-stricken surrogate mother ended up having the baby herself, but could not afford her bills and sold the baby's birth certificate. The biological parents have refused to take responsibility for the girl.
Without her formal papers and household registration, the 3-year-old girl cannot go to school and is not registered anywhere.
From Surrogacy Baby to 'Heihaizi'
On January 12, Chinese media outlet Time Weekly (时代周报) published a lengthy interview with the surrogacy mother recounting the entire story of the canceled surrogacy agreement.
The story starts in 2016 when the then 38-year-old* Wu Chuanchuan (吴川川, alias) became a surrogate mother as a way to earn money. The older couple who wanted a baby came from Inner Mongolia and had previously lost a child. *(In the interview, Wu claims she is actually younger than the age indicated on her official papers, which say she is now 47.)
The surrogacy agreement, arranged through an underground company, was settled at 170,000 yuan ($26,200). It concerned a gestational surrogacy, in which the child is not biologically related to the surrogate mother.
During the pregnancy, Wu was living together with other surrogate mothers. When she was four months pregnant, she unexpectedly tested positive for syphilis. Wu says she suspects that the infection was spread within the small surrogacy mother community she lived in.
Syphilis in pregnant women is risky and can have a major impact on the baby's health. It can cause miscarriage, stillbirth, or death as a result of the infection as a newborn.
"The intended parents decided to withdraw from the surrogacy arrangement, asking for a refund and offering to pay for an abortion."
Due to syphilis, the intended parents of the baby decided to withdraw from the surrogacy arrangement, asking for a refund and offering to pay for an abortion. Wu would only receive 20,000 yuan ($3085).
This situation left Wu, who already felt the fetus moving, in a very difficult situation. She eventually refused to terminate the pregnancy and withdrew from the surrogacy agency's home.
Staying at cheap hotels in the city of Chengdu and unable to find a suitable adoption family, Wu eventually gave birth to a baby girl that she would raise herself.
But there was one major issue: money. Wu already could not afford the hospital admittance fee, let alone the 12,000 yuan ($1850) in hospital bills she had to pay after needing a C-section delivery.
To pay for her medical bills, Wu was forced to take desperate measures and ended up selling her baby's birth certificate. Through the internet's black market, she found someone who would pay 20,000 yuan ($3085) for it.
Once the baby was born, things looked up for Wu. She soon married a kind man who was willing to raise baby girl 'Xiao Rang' (小让, alias) together with her, and the child's congenital syphilis was cured.
But Xiao Rang still had no birth certificate, and thus no hukou.
The hukou or 'household registration' system is a registered permanent residence policy. A hukou is assigned at birth based on one's community and family. China's hukou system, amongst others, separates rural from urban citizens and is essential to access social services, including education and healthcare.
Without a hukou, the child cannot attend kindergarten, and will not be able to go to school – she will be a heihaizi (黑孩子, lit. 'black child'), an 'illegal child' not registered anywhere.
In December of 2020, as reported by The Paper, Wu traveled from Chengdu to Inner Mongolia in search of her daughter's biological parents.
The girl's intended parents turned out to have twin sons now. They bought a house and went through the process to get their twins through another surrogate mother. After spending approximately 700,000 yuan ($108,000), the family allegedly could not afford to also be legally responsible for Xiao Rang. Afraid of the consequences, the 50-year-old biological father initially also seemed unwilling to formally arrange adoption papers for his daughter, Wu told Time Weekly.
Banned Baby Business
On Weibo, a hashtag page about Xiao Rang's story received over 550 million views on Tuesday, making it one of the most-discussed topics on January 12 (#首个遭代孕客户退单女童无法上户#).
Due to the media attention, and the biological father's identity being exposed, the case was still developing while Chinese netizens looked on.
According to the latest reports, Xiao Rang's biological father will now provide assistance in arranging registration papers for the little girl while Wu Chuanchuan will still raise the child.
The fact that the father himself came forward to tell his side of the story also became a trending topic (#遭退单代孕女童生物学父亲现身#), garnering over 260 million views by Tuesday night Beijing time. The biological father confirms that they gave up on the baby once they were informed of Wu's syphilis infection, and that they did not expect Wu to have the baby after all.
Meanwhile, on social media, there seems to have been a shift in sentiments regarding this story. Netizens initially sided with the surrogate mother and her tragic story.
But as the media continue to report on this story, more and more people are starting to doubt Wu's sincerity, wondering if she used media exposure to portray herself as a victim to gain the public's sympathy.
Online commenters criticize Wu for being part of the surrogacy agreement, for choosing to have the child despite her syphilis, and for selling the child's birth certificate. Many call her 'immoral' and 'irresponsible.'
"Surrogacy exploits women, and it is a serious violation of social ethics and morals. Taking part in surrogacy should be severely punished."
Surrogacy has been a hot topic on Chinese social media recently. Just a month ago, a short film titled "10 Months With You" ('宝贝儿') by famous Chinese director Chen Kaige (陈凯歌) also stirred controversy for supposedly presenting surrogacy in China in a relatively positive light.
The 30-minute film revolves around a young girl who signs a surrogacy contract with intended parents without telling her boyfriend. When she gets emotionally attached to the baby during her pregnancy, things get complicated. But she eventually is persuaded by her boyfriend that the child is not intended to be with them, after which she is willing to part with the baby.
Chinese state media outlets, including Global Times and China Daily emphasized that surrogacy is illegal in China and that those who take part in surrogacy will face fines or even criminal prosecution.
Nevertheless, the practice of surrogacy is a somewhat legislative grey area in China. China's Ministry of Health introduced regulations in 2001 that made it illegal for medical staff to offer surrogacy services. In 2015, there were official plans to completely curb surrogate pregnancies. But that strict ban on surrogacy pregnancies was later reversed.
In 2017, People's Daily even published a controversial article that suggested a loosening of surrogacy bans to boost China's birth rates. Meanwhile, there have been ongoing reports about China's booming underground surrogacy market (here, here ).
In 2018, state media outlet Global Times quoted Qiu Renzong, a bioethics expert at the Chinese Academy of Social Science in saying: "The Chinese government should consider setting some rules to allow surrogacy in certain circumstances."
With discussions on Xiao Rang's case and surrogacy in China being a major topic on Weibo, the legal side is also receiving much attention. Law expert Zhang San (@普法达人张三) uses the hashtag "Criminalize Surrogacy" (#建议代孕入刑#) when he writes:
"Although surrogacy is illegal, it is a blank space in the criminal law. Surrogacy exploits women, and it is a serious violation of social ethics and morals. Taking part in surrogacy should be severely punished. If the freedom is not restricted, it will surely lead to exploitation of the weak by the strong."
Some people on Weibo argue that most of the people involved in Xiao Rang's story are filthy and immoral, and that they need to be punished. But virtually everyone agrees that the little girl needs to be registered in order to still have a chance to lead a normal life: "The child is innocent."
By Manya Koetse
Follow @WhatsOnWeibo
Spotted a mistake or want to add something? Please let us know in comments below or email us. First-time commenters, please be patient – we will have to manually approve your comment before it appears.
©2021 Whatsonweibo. All rights reserved. Do not reproduce our content without permission – you can contact us at info@whatsonweibo.com.
Wedding Canceled over Too-Tight Underwear: Chinese Local Wedding Tradition Goes Trending
Chinese local traditions still matter. A size too small was the end of this Guizhou wedding day.
A wedding in Guizhou was canceled after the bride discovered the underwear bought for her as part of a local wedding tradition was too small. The incident has sparked discussions on old-fashioned customs in modern-day weddings.
There is so much happening in the world right now, but besides the bigger issues, a local Chinese wedding scandal has been attracting major attention on social media over the past few days.
On January 2nd, a young man from Zunyi in Guizhou province had his own wedding day canceled by his prospective in-laws because the underwear that was bought for his bride turned out to be too small.
According to local customs, the groom's side was supposed to buy the bride a new outfit from top to bottom, including shoes (a custom called shàngtoulǐ "上头礼"). But because the undergarment purchased by the groom was too tight, the wedding ceremony was called off at the very last moment.
Not wanting to waste the expensive food and arrangements, the groom's relatives decided to turn the wedding reception into a New Year's party instead.
A video that has been circulating on Weibo, also reposted by Xinhua News, shows how the wedding reception host explains to the guests why the wedding ceremony cannot proceed, proposing to continue the festivities anyway as a casual New Year's social gathering.
The incident received massive attention on social media, with one hashtag about the news garnering over 740 million views (#小伙因买内衣不合适迎亲被拒#). On Q&A site Zhihu.com, one thread about the issue received over 4200 replies.
Size does matter
Although there are many commenters who say the bride "made a big fuss over nothing", there are also those who think bad communication and outdated customs and beliefs are at the root of the canceled wedding.
Many people on social media also express their surprise at the different local wedding traditions within China, which can greatly vary from region to region.
The too-tight underwear case is about more than just being a size too small. The Chinese idiom "wear tight shoes" (chuān xiǎoxié '穿小鞋') means "to make life difficult." Giving someone tight shoes to wear (给人穿小鞋) means making things hard for someone by abusing one's power.
In this case, although it is about the groom's side giving the bride too-tight underwear instead of shoes, the bride's side allegedly took it as a sign that the groom wanted to teach his future wife a lesson that he would not make life easy for her and would want her to be obedient.
The bride later spoke to Red Star News (红星新闻) to clarify that things were not as simple as presented in the viral news story. The fact that the underwear that was bought for her was too tight – the bra was two sizes too small – was indeed a problem, but it was just the straw that broke the camel's back.
The couple had conflicts before this occurred, and when the bride wanted to discuss the problem of the tight underwear, she was met with an unpleasant response from the groom's side, as they refused to buy her suitable underwear.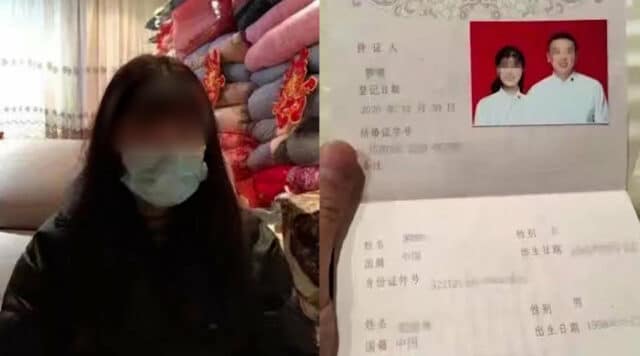 She also said that after the wedding was canceled the bride price of 88,000 yuan ($13,650) was returned to the groom's family.
The couple had previously already officially registered for marriage. The two are now filing for divorce.
"A struggle between modern society and feudal rubbish"
On WeChat, popular blogging account Xinwenge also posted about this matter, suggesting it was actually the groom's mother who bought the tight underwear.
Xinwenge quotes some netizens from Guizhou who allege that in-laws often buy clothes or shoes for their future daughter-in-law to show the bride their own dominant position. "It's a struggle between modern society and feudal rubbish," the author writes.
Other netizens also share their own stories, such as the experience of 'King Cat Wants To Travel', who says that her mother-in-law was never involved in the planning of her wedding until she absolutely insisted on making the bed on the night before the wedding.
"I found out why on our wedding day," she writes: "She put the duvet from their family on top of mine", implying the husband's side would be 'on top' in the marriage. She adds: "PS: we're now divorced."
Another local custom mentioned is that of the bride having to wait outside the house, not being able to go in until someone from her new husband's family tells her to – allegedly in order to make the bride a more obedient wife afterward.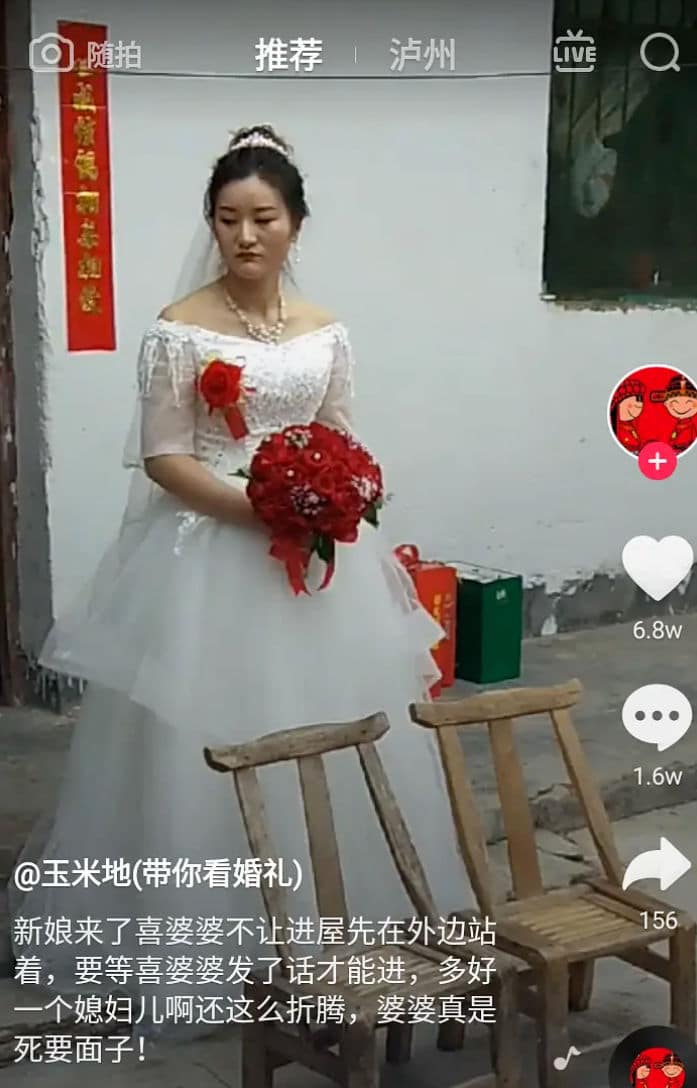 One Weibo user commented that local traditions and customs are getting in the way of the true meaning of marriage. Regardless of what the groom's parents say, what the bride's parents do, what the bride price is, how the guests behave, "do these two people who are getting married actually feel good about it? Do they approve of each other's values and ideas about life? Do they feel they're suitable to spend their lives together?"
"If this is a modern-day wedding, why should the bride still be expected to wear the underwear bought for her by her mother-in-law?" another person writes.
"It's 2021. You're not getting married over customs, nor over underwear," another person says.
But not everyone agrees, with some still valuing the power of tradition: "Buying her small underwear means making her life difficult. It's impossible that they did not know this. It's good that they didn't marry."
By Manya Koetse, with contributions from Miranda Barnes
Follow @WhatsOnWeibo
Spotted a mistake or want to add something? Please let us know in comments below or email us. First-time commenters, please be patient – we will have to manually approve your comment before it appears.
©2021 Whatsonweibo. All rights reserved. Do not reproduce our content without permission – you can contact us at info@whatsonweibo.com.