Liberal Writer Li Jingrui Angers Chinese Feminists: "Weaklings and Warriors Are Not Defined by Gender"
Why do prominent mainland liberals speak out against Chinese feminism?
While Chinese feminist social media accounts are facing an online crackdown, a major discussion has erupted on Weibo after prominent liberal writer Li Jingrui voiced her negative stance on the feminist movement in the PRC today. The incident highlights the existing conflict between 'mainland liberals' and 'mainland feminists.'
In the days following International Women's Day, discussions on feminism in the PRC have been buzzing on Chinese social media.
A discussion that particularly received attention on Chinese social media this week is one that is taking place between mainland liberal thinkers and Chinese feminists on the issue of women's power struggle in China.
The discussion was triggered when Li Jingrui (李静睿), a well-known female author and supporter of Chinese democratic activists, spoke out about China's feminist movement. An online crackdown affecting various feminism-related social media accounts fuelled the debate.
FEMINIST VOICES SILENCED

"The account won't be reactivated because it has posted 'sensitive and illegal information.'"
On the eve of March 8, the renowned feminist Weibo account 'Feminist Voices' (@女权之声), which had over 181,000 followers, was pulled offline after it had actively posted about Women's Day during the day. The Feminist Voices' Wechat account also disappeared the next day.
The Feminist Voices platform's founding editor Lü Pin (吕频) spoke out on Twitter about the issue, saying that she was told by Sina Weibo's customer service staff that the account would not be reactivated because it has posted "sensitive and illegal information."
Lü Pin stated that preceding the account's deletion, Feminist Voices had encouraged people on Weibo to announce their "anti-sexual harassment declaration" in response to the international #MeToo campaign.
Besides Feminist Voices, other accounts were also affected by the online crackdown around Women's Day 2018. Amongst them was the 'Feminist Forum' (女权主义贴吧), which saw more than 19,000 Weibo posts erased from the internet by late February.
THE LI JINGRUI CONTROVERSY

"I would never use my female sex as an excuse for being weak. Weaklings and warriors are not defined by gender."
While the heightened censorship caused outrage amongst many feminists on social media, a controversial post by the liberal writer and former legal journalist Li Jingrui (李静睿) popped up on Weibo. Li is well known for her involvement in social justice movements together with her husband Xiao Han (萧瀚), a prominent liberal scholar.
In her post, Li addressed the Chinese feminist movement, writing:
"I have no interest in the concept of social collectives, and I have no strong sense of gender awareness. I like to cook and do housework. I don't feel angered when I do these things, nor do I feel enslaved. Instead of focusing on gender issues, I prefer to study and discuss broader political and cultural issues, and spare no efforts to lead a serious and full intellectual life. I feel no hostility towards the male sex, and I do not feel like fighting them. I just feel guilty that I know there are certain things I really want to fight, but I do not have the guts to do so. I would never use my female gender as an excuse for being weak. Weaklings and warriors are not defined by gender. Lin Zhao* stood on the barricades. I hope I'll [continue to be] be aware of power and treasure freedom – I'll always fight for it. This has nothing to do with being a woman. It is a matter of humanity. Gender is not an obstacle, nor should it ever be an excuse."
*Lin Zhao is a prominent Chinese dissident who was imprisoned and later executed during the Cultural Revolution for her criticism of Mao Zedong's policies.
Shortly after Li Jingrui published her post, she received a lot of criticism from the online feminist community, of which many people previously supported Li for her contribution to civil rights activism in China, and for the fact that she and her husband address politic issues while facing strict censorship.
Some of the main problematic points of Li's post as addressed by disgruntled feminists on Weibo are the following:
– That Li considers feminism as a social collective.
– That she reinforces the stereotype that feminists hate cooking and cleaning, and that they dislike men.
– That Li is unaware of her privilege to be able to choose if she wants to cook or clean, but that many women do not enjoy that same privilege.
– That she implies that her intellectual goals are more important and of a 'higher standard' than feminist goals are.
– That she hints that feminists are cowards who hide behind their gender.
– That she does not realize that feminists pursue the same human equality and freedom as she herself does.
Another issue that caused some consternation online is that Li's husband Xiao Han also left a comment on Li's post saying he agreed with her stance. Some commenters used this against Li, saying that she is "brainwashed" by her husband and relies on him to build her self-worth.
BROADER POLITICAL TOPICS

"My friends who are lawyers, public intellectuals, or Tibetan, have no platform to have their voices heard."
In response to the controversy her post evoked, Li Jingrui published another post on March 8 in which she reiterated her idea that there are more important matters in China's public debate than feminist issues.
In this post, Li warns Chinese feminists that they still enjoy relative freedom of discussion compared to other activists in the PRC. Li mentions that lawyers, public intellectuals, and her "Tibetan friends" have since long been silenced and have no platform to speak from, something which seems to have already been "taken for granted."
Li explains that, instead of a focus on Chinese feminism, she would rather see attention shifted towards more "broad political topics" and to those whose voices are consistently silenced.
Her second post again received much criticism, with some commenters from feminist circles arguing that they were all facing "high censorship," and that those topics undergoing more censorship were not necessarily more important than those facing less control.
Li's main opponents come from a new generation of young Chinese feminists (both male and female) and online influentials such as Zhou Yun (周韵, @一音顷夏) or '@Linsantu.'[1]
But Li also received much support from like-minded commenters, including from influential accounts such as Luo Zhiqiu (@洛之秋) and Dagudu (@大咕咕咕鸡).
People speaking out for Li claimed that Chinese feminists are not "real feminists," but "feminazis" (女权纳粹) or "countryside feminists" (中华田园女权: a term to describe women who label themselves as feminists but cherry pick the rights they think they should have).
In their defense of Li Jingrui, these commenters say that people such as Li and her husband are fighting the "real fight," and are in touch with reality, supposedly unlike the Chinese feminists they attack.
MAINLAND LIBERALS VERSUS CHINESE FEMINISTS

"Li Jingrui just prioritizes human rights over women's rights, what's wrong with that?"
This is not the first time that China's 'mainland liberals' clash with feminists. In "Mainland Liberalism and Feminism" (大陆自由派和女权主义 2016), Weibo blogger @bdf84 writes: "We may think that liberals pursue freedom and democracy, and oppose the oppression of totalitarianism. And since feminists oppose the oppression of women, the two are seemingly natural allies. But this is not true." [2]
Although both mainland liberals and feminists care about people's equality and oppression, their perspective on how oppression works and freedom can be attained is radically different. Whereas feminists mostly seek to explain (female) oppression through social and cultural (gender) constructions, mainland liberals are concerned with political systems, and generally, do not believe that culturally constructed power dimensions constitute oppression.
Now that the Li Jingrui has gained much attention on Chinese social media, there are also some people who do not understand the two sides of the discussion. "Since when do human rights oppose women's rights?", one netizen (@文盲摇曳有声) wonders. "Li Jingrui just prioritizes human rights over women's rights, what's wrong with that?", others write.
But the two sides of the discussion show no signs of mutual understanding, as some feminist commenters respond with much indignation and are met with derision by their opponents.
Meanwhile, as fierce online debates continue, Li Jingrui has deleted the posts on her Weibo account related to the discussion. "My personal life has come under attack," she says: "It's useless. In the future, I will not participate in these kinds of discussions again."
On Twitter, the editor of Feminist Voices is not involved in these discussions – she is mourning the account's erasure during the recent crackdown. "The trace of us has been totally erased from social media in China," Lü Pin writes: "We are still in shock."
By Boyu Xiao & Manya Koetse
Follow @whatsonweibo
[1] As described by Hariette Evans on Wagic.com, these new feminist communities are often transnational. @Linsantu, for example, is a Columbia University graduate, whereas Zhou Yun is a PhD candidate at Harvard University's Sociology department.
[2] A 2013 article by Li Sipan (李思磐, alias of the political sociologist Li Jun) titled "Why don't Chinese mainland liberals support feminism?" ("中国大陆自由主义者为何不支持女权主义?") is also fully focused on this polarized discussion.
Spotted a mistake or want to add something? Please let us know in comments below or email us.
©2018 Whatsonweibo. All rights reserved. Do not reproduce our content without permission – you can contact us at info@whatsonweibo.com.
Slip of the Tongue: Biden Accidentally Says He "Applauds China"
On Weibo, people joke that Biden's gaffe was a Freudian slip: "He finally said how he really feels about China."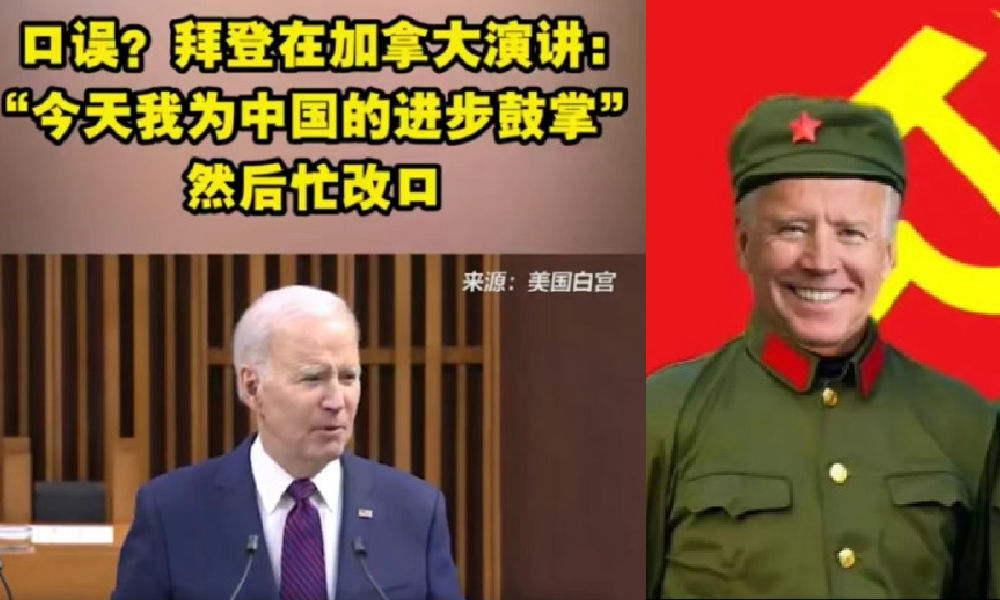 It was a top headline on Baidu News on Saturday, March 25: while delivering a speech to the Canadian parliament on Friday, U.S. President Biden said he "applauded China for stepping up," quickly correcting himself and saying he meant to say 'Canada' instead of 'China.'
Biden was giving the speech in Ottowa during a state visit to Canada, during which the U.S. President and Canadian Prime Minister Trudeau held bilateral talks discussing various security issues.
In the speech, Biden reaffirmed the strong relations between Canada and the United States.
At the moment of Biden's gaffe, he said: "So today I applaud China for stepping up," before correcting himself and making a quick joke: "Excuse me, I applaud Canada. You can tell what I'm thinking…about China. We won't get into that yet."
Ahead of the state visit, Trudeau spoke to CNN about U.S.-Canada relations and China, stating that there are areas in which they will "going to have to directly challenge China" on issues such as human rights and security. He said: "We're going to have to continue to be wide-eyed and clear about the threat that China poses and wants to pose to the stability of our democracies."
Regarding Biden's gaffe, Chinese media were quick to jump on it and soon the incident spread on Weibo using various hashtags ("Biden Corrects Himself after Saying He Applauds China" #拜登称为中国鼓掌后改口#; "Biden Accidentally Says He Applauds China" #拜登口误为中国鼓掌#).
Chinese state media outlet Global Times (环球网) posted one of the most popular posts on the matter, which included a video of the moment, receiving over 82,000 likes.
But other big accounts, such as the Communist Youth League, also posted about the moment.
"Even if he dreams, he still thinks of China," one top comment said, with others replying things such as: "He just can't keep China out of his mouth."
Some people also suggested it was a Freudian slip, and that Biden actually said what he was thinking: "Finally he said what he feels!" and "he loves China."
China's Communist Youth League also posted a meme about Biden allegedly also saying "US-China relations" instead of "US-Canada relations" during a bilateral meeting in 2021.
At one time in 2022, Biden apparently also mixed up "Ukraine" and "China" during a speech.
By now, Biden's mix-ups and mistakes have become a regular occurrence, something that was already covered by The New York Times as early as 2019.
One meme on Chinese social media featured Joe Biden and Donald Trump side by side wearing a 1960s PLA uniform, the flag of the Communist Party in the background.
Trump was previously also jokingly called "Comrade Trump" on Chinese social media, saying he was the man "making China great again," suggesting that his policies and actions inadvertently contributed to China's rise. For this reason, he was also nicknamed "Build the Country Trump" (川建国) and 'Comrade Jianguo' (建国同志 [Comrade Build-Country]).
For a similar reason, Biden is now also nicknamed "Boosting China Biden" (拜振华). Both 'Build the Country Trump' and 'Boosting China Biden' are written in such ways that they could pass as Chinese names, which is part of the joke.
Some netizens playfully warned Biden and Trump about being careful not to give themselves away: "Please, comrades, be careful about hiding your true identity!"
"Comrade Boost China Biden, thanks for your hard work," another jokingly wrote.
By Manya Koetse 
Get the story behind the hashtag. Subscribe to What's on Weibo here to receive our newsletter and get access to our latest articles:
Spotted a mistake or want to add something? Please let us know in comments below or email us. First-time commenters, please be patient – we will have to manually approve your comment before it appears.
©2023 Whatsonweibo. All rights reserved. Do not reproduce our content without permission – you can contact us at info@whatsonweibo.com.
By Manya Koetse 
With contributions by Miranda Barnes
Get the story behind the hashtag. Subscribe to What's on Weibo here to receive our newsletter and get access to our latest articles:
Spotted a mistake or want to add something? Please let us know in comments below or email us. First-time commenters, please be patient – we will have to manually approve your comment before it appears.
©2023 Whatsonweibo. All rights reserved. Do not reproduce our content without permission – you can contact us at info@whatsonweibo.com.
"Brainless" Local Policy to Boost Birthrates: Bonus Points for Kids from Bigger Families
Having a second or third baby? Zhezhou County will give you bonus points for that.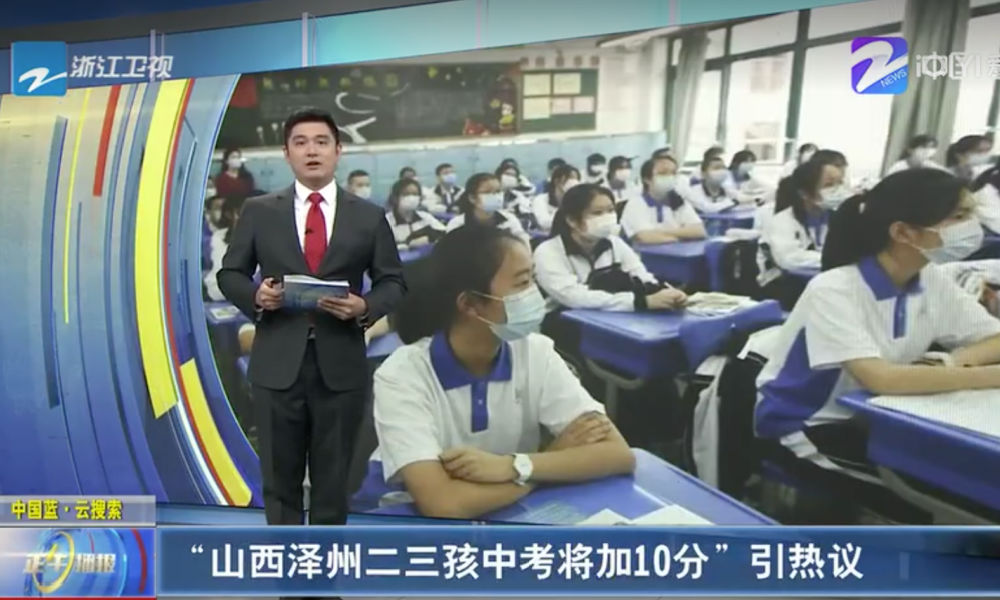 As Chinese experts and local authorities across the country are thinking of new ways to encourage couples to have more children in light of China's dropping birth rates, this latest measure announced by Shanxi's Zhezhou County has sparked controversy.
Dropping birth rates have been a major concern for Chinese authorities for years now, and in light of the recent Two Sessions and its aftermath, it has become a bigger topic of discussion on Chinese social media.
To encourage young people to marry and have more children, various initiatives have been suggested or implemented, with a particular focus on the role education plays in this matter.
One recent proposal from an expert has been to shorten the education period as a means to promote China's birth rates. This includes the idea of eliminating the middle school entrance exam to reduce two years of elementary and middle school education to allow young people to start their post-graduate life at an earlier age.
Earlier this month, another measure that also focuses on education in the context of boosting birth rates sparked heated debates on Weibo.
The measure was introduced by the local government of Zezhou County, a county in the southeast of Shanxi province. The idea entails that families of two children or more will receive benefits in education; their second or third child would get ten additional points in their senior high school exams (zhongkao 中考).
The related hashtag, titled "Second or Third Children from Shanxi's Zezhou County Will Receive an Additional 10 points in the Senior High School Entrance Exam" (#山西泽州二三孩中考将加10分#) received over 120 million views in less than two days.
On Chinese social media, most netizens responded to this proposed measure with indignation, arguing that it violates the basic principle of exam equality.
In response, one popular legal blogger on Weibo called 'Lawyer Zhuang Zhiming' (@庄志明律师) published an article titled: "Shanxi's Zezhou County Giving Families with Two/Three Kids Extra Zhongkao Points – How Did Such a Brainless Policy Come About?" ("山西泽州二、三孩家庭中考加分,如此弱智政策是怎么出台的?")
In the article, the author vehemently criticized the policy, stating that it goes against the basic spirit of education equality and describing it as a "devilish measure against the times" ("逆时代的魔鬼之操作").
In addition to being unfair to one-child families, the author argues that the policy also treats the first child of two or three children families unequally since they cannot receive the extra bonus points while their younger siblings can.
Many users on Weibo also agree with this argument, stating that the policy creates a situation where the first-born child is "inherently placed at a disadvantage," "starting one step behind the others."
Other netizens also criticized this policy, viewing it as an extreme family planning policy. One Weibo post under the hashtag suggests that this policy is similar to measures taken during the one-child policy era and creates inequality to compel people to realize the state's birth rate goals.
Another Weibo user stated: "When we were young, our parents were fined for having multiple children, while we watched families with one child or two daughters receive bonus points. Now that we've grown up and can't afford to have more children, we're watching those with two or three children receive bonus points."
Some also expressed anger and frustration in the comments sections, saying these kinds of policies make them feel pressured to have children and actually makes them feel like not having kids altogether.
"Just don't have babies at all," one person wrote, while another comment said: "If we would treat humans as actual humans, we could avoid strange occurrences like this."
In mid-March, Sina News reported that the local government responded that the policy is not active yet and is being implemented in "one or two years."
In addition to the extra points for the senior high school entrance exam, the local authorities have come up with other measures that benefit families with two or three children, including exemption from outpatient registration fees in the county's public hospitals, an additional sixty days of maternity leave for the third child, 50% off (second child) or no fees (third child) for county public kindergartens, and free after-school childcare services.
Although these local initiatives have drawn a lot of criticism, some people also applaud them.
Phoenix Weekly's Weibo account posted about all the measures taken by the local government, and one person replied: "This is the most effective policy I have seen so far. If Shanghai were to implement such measures, the birth rate would increase very quickly."
Other netizens also suggested that the policy may not be as harmful as some claim it is. In response to concerns about the policy's impact on education equality, some point out that the extra points are only added if students take the zhongkao for high schools located within the county. They, therefore, suggest the measure could actually decrease competition for urban schools, since there will be no bonus points for those entrance exams.
Another Weibo user trivialized the policy's impact by suggesting that "there are no good high schools in the county, so [the policy] won't have much of an influence [on education equality] at all."
While the policy's scope is limited to the county level and may not significantly affect the lives of most individuals, most commenters in these online discussions still see it as a challenge to the fundamental values of equality, merit-based education, and individual autonomy over family planning.
Many people doubt the effectiveness of manipulating the education system to boost birth rates and argue that addressing the broader socio-economic context is the only viable solution: "The government's priority should be to ensure high-quality basic services for children and to maintain these standards. When people feel happy, they may be more willing to have children. Improving the quality of child-rearing and education is more crucial than increasing the quantity of children."
By Zilan Qian
Get the story behind the hashtag. Subscribe to What's on Weibo here to receive our newsletter and get access to our latest articles. Follow us on Twitter here.
Spotted a mistake or want to add something? Please let us know in comments below or email us. First-time commenters, please be patient – we will have to manually approve your comment before it appears.
©2023 Whatsonweibo. All rights reserved. Do not reproduce our content without permission – you can contact us at info@whatsonweibo.com