"Be as Good as Your Word": The Chinese Social Credit Song is Here
Chinese pop stars sing about the importance of trust in this 'social credit' music video launched by the Communist Youth League.
First published
"Be as Good as Your Word" is a pop song featuring young Chinese celebrities who sing about the importance of being 'trustworthy.' The new music video is part of a bigger initiative propagating China's Social Credit System among the younger generation.
No matter where you go in China nowadays, the idea of 'trust,' 'integrity,' 'creditworthiness,' and 'social credit' is promoted virtually everywhere: in the media, in trains, in banks, in traffic, and in public announcements on the streets.
Now, there is a song that comes with China's ubiquitous official government and media narrative on the importance of 'trust' and 'credit' in Chinese culture and society.
"Be as Good as Your Word" (Shuō dào zuò dào 说到做到) is a song and music video released under the guidance of the Communist Youth League (共青团), China Youth Daily (中国青年报), and the China Youth Creditworthiness Operation Office (中国青年诚信行动办公室), in cooperation with Chinese music streaming platform Kugou (酷狗音乐).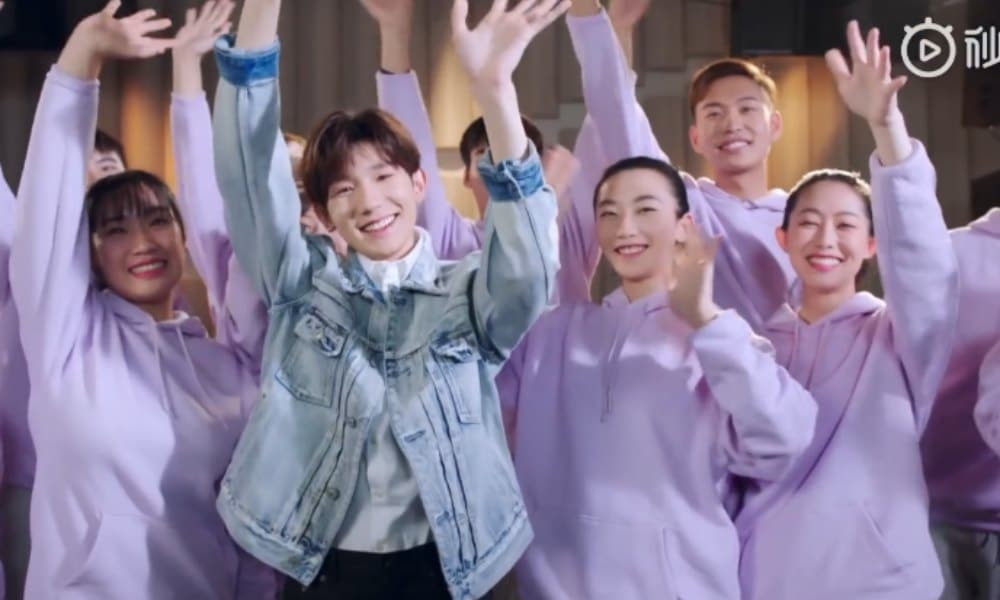 The song is performed by Roy Wang (王源) from the ever-popular Chinese boy band TFBoys, Chinese actor and singer-songwriter Timmy Xu (许魏洲), actor Wei Daxun (魏大勋), actresses Crystal Zhang (张天爱) and Shen Yue (沈月), Chinese actress/dancer Wang Likun (王丽坤), and a group of Chinese students.
The lyrics are by well-known musician Cui Shu (崔恕), and the music is by composer Zhao Jialin (赵佳霖), who had an Internet hit with "Little Apple" and also worked on the theme song for the Beijing 2022 Winter Olympics bid.
In the song, the performers sing about living up to one's promises, stressing the importance of credit for the future, and that "being as good as your word" ("说到做到") is what the "trustworthy youth" ("诚信青年") is all about.
The word 'chéngxìn' (诚信) is mentioned and displayed throughout this music video. It stands for 'integrity,' 'honesty,' and 'trustworthiness,' and is one of China's Core Socialist Values. In light of China's emerging Social Credit System, as pointed out by China Law Translate here, it is mostly used "in terms of a moral assessment component," and also stands for "creditworthiness."
This idea is also reiterated in the video, that shows various levels of being 'creditworthy,' for example as a consumer of the sharing economy, but also as a businessman sealing deals.
Although this pop song makes no direct reference to China's nascent Social Credit implementation and is quite general (and poetic) in stressing the importance of honesty and "matching one's deeds to one's words," it was launched in the context of "Credit China" (信用中国) and is part of a bigger initiative propagating the Social Credit System among China's younger generations.
In November of 2013, during the Third Plenary Session of the 18th CPC Congress, new plans were adopted to "establish and improve a social credit system to commend honesty and punish dishonesty" (USC 2013). In 2014, the Chinese State Council officially announced its plans on building and standardizing a 'Social Credit' system, that should go nationwide in 2020.
Under this scheme, as explained by Genia Kostka, "individuals, businesses, social organizations, and government agencies are assessed based on their 'trustworthiness'" (2018, 1).
As of now, there is no unified system in place yet, although there are many different local initiatives relating to Social Credit. Daum (2017) describes it as a 'policy' or 'ideology of data use' rather than a 'system', characterizing this policy as "the Chinese Party-State's shorthand for a broad range of efforts to improve market security and public safety by increasing integrity and mutual trust in society."
(For more information about China and Social Credit, please check our articles here).
"Creditworthiness Lights Up China"
The hashtag used to promote the Be as Good as Your Word song on social media platform Weibo is "Creditworthiness Lights Up China" (#诚信点亮中国#, also translated as 'Integrity Lights Up China').
The Weibo hashtag page, which has now been viewed over 340 million times, is hosted by China Youth Daily, the official newspaper of Communist Youth League of China. The description of 'Creditworthiness Lights Up China' is as follows:
"The youth emphasizes trustworthiness, credit is valuable; every aspect of life contains concepts of creditworthiness [integrity]. Let's give the thumbs up for creditworthiness, and unite in building Credit China together."**
'Creditworthiness Lights Up China' is a project that was launched in 2017 by the Communist Youth League, China's National Development and Reform Commission, and the People's Bank of China. Its specific aim is encouraging China's younger generations to be trustworthy and educating them about credit.
Last year, there was even a national 'Creditworthiness Lights Up China' tour, which visited 300 universities in 100 cities throughout the nation to teach young people about China's establishment of the Social Credit System and the country's nascent 'trust culture' at large (Xinhua 2018).
The Be as Good as Your Word music video focuses on the importance of trustworthiness in multiple realms of society. The scenes are set in various settings, showing school life, business meetings, and Chinese consumers embracing new technology.
China's sharing economy is specifically highlighted in the video, making it clear that 'trustworthy' people can enjoy the benefits of using shared bikes or credit-based libraries.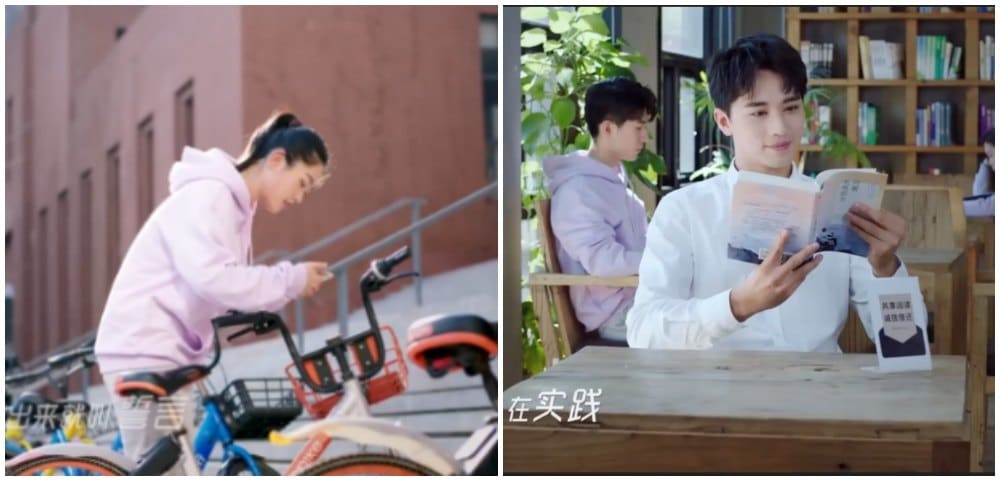 By also integrating these scenes, this video is not only about the nascent Social Credit scheme, but also about China becoming a more credit-based society overall.
The government's plans on China's 'Social Credit System' (社会信用体系), the Central Bank's endeavors to build a stronger personal credit industry (个人征信行业), and commercial credit initiatives such as Alibaba's Sesame Credit (芝麻信用), have been major developments over the past six years, all contributing to the 'credit-ification' of China.
"We'll Build on Trustworthiness Together"
Since Be as Good as Your Word was launched on April 22, the initial post promoting the music video has been shared more than 492,400 times on Weibo.
The video's popularity, however, perhaps says more about the pop stars it features than the message it propagates.
Crystal Zhang, for example, has 15.6 million followers on her Weibo account. TFBoys member Roy Wang is among the top Weibo celebrities and has more than 72 million fans on his Weibo page.
Wang's own post about the video attracted more than 170,000 likes and nearly 350,000 shares.
"We'll build on trustworthiness together with you, brother," many fans write, with others stressing the importance of credit and trust.
Although virtually no one among the thousands of commenters mentions Social Credit, the video seems to have reached its goal of propagating the concept of 'trustworthiness' among young people and reaching China's music-loving, social media generations.
Check out the video here:
By Manya Koetse
*"青年讲信用,信用有价值,生活的点点滴滴都蕴涵着诚信理念,让我们点赞诚信,同心共筑信用中国."
*'Credit China' (信用中国) is translated as such here because the centralized website dedicated to the nascent Social Credit scheme is literally translated this way in English too (creditchina.org). The term itself, however, could also be translated as 'Trustworthy China.'
References
Daum, Jeremy. 2017. "China through a glass, darkly." China Law Translate, Dec 24 https://www.chinalawtranslate.com/seeing-chinese-social-credit-through-a-glass-darkly/?lang=en [24.5.18].
Daum, Jeremy. 2017b. "Giving Credit 2: Carrots and Sticks." China Law Translate, Dec 15 https://www.chinalawtranslate.com/giving-credit-2-carrots-and-sticks/?lang=en [27.5.18].
Kostka, Genia. 2018. "China's Social Credit Systems and Public Opinion: Explaining High Levels of Approval" SSRN, July 23. Available at https://ssrn.com/abstract=3215138 or http://dx.doi.org/10.2139/ssrn.3215138 [29.10.18].
USC. 2013. "Decision Of The Central Committee Of The Communist Party Of China On Some Major Issues Concerning Comprehensively Deepening The Reform, November 12, 2013." USC, 12 November https://china.usc.edu/decision-central-committee-communist-party-china-some-major-issues-concerning-comprehensively [10.9.18].
Xinhua 新华网. 2018. "Official Launch of the 2018 Nationwide 'Creditworthiness Lights Up China' Tour [2018年"诚信点亮中国"全国巡回活动正式启动]." Xinhua, May 10 http://www.xinhuanet.com/local/2018-05/10/c_129869294.htm [30.4.19].
Spotted a mistake or want to add something? Please let us know in comments below or email us.
©2019 Whatsonweibo. All rights reserved. Do not reproduce our content without permission – you can contact us at info@whatsonweibo.com
Modern-Day Yugong or Greedy Wolf? Critical Discussions after Ningxia Land Owner Goes Viral Begging for Water
Is Sun Guoyou the victim of bad coal mine practices or did he throw dust in netizens' eyes? The viral Ningxia story is getting more complex.
As a video of him crying out and begging for water went super viral on March 29, Ningxia land owner Sun Guoyou suddenly became a public figure. But while Chinese netizens initially sympathized with the local landowner whose water was cut off by a big coal mine, he is now increasingly seen as a businessman who used social media to exploit his situation.
This week, the story of Ningxia land owner Sun Guoyou (孙国友) went completely viral on Chinese social media.
Various Chinese media outlets, from Sina News to Beijing News and The Paper all covered the story of the old man who was seeing his enormous land destroyed because a nearby coal mine had cut off water supplies. Although they had allegedly promised Guo to resume water supplies on March 27, they did not follow through.
A video of Sun kneeling on the ground and begging for water went viral on Douyin and Weibo, where dozens of hashtags relating to the story received millions of views (read our earlier story here).
One crucial aspect of the story is how Sun Guoyou allegedly has been combating desertification and improving the soil conditions of the barren land through afforestation, by planting trees and irrigating the land.
This is one of the various reasons why netizens initially felt sorry for Sun and wanted to help him out. People were rooting for the underdog, supporting the seemingly weaker Sun against the more powerful coal mine company and local authorities.
He was also called the 'modern-day Yugong' by some, referring to the old Chinese fable about an old man who was called foolish for persistently trying to move a mountain, yet finally succeeded in doing so. The Chinese idiom about "the foolish old man moving a mountain" (愚公移山 yúgōng yíshān) is often used as a figure of speech for persisting despite hardship.
But the more viral Sun's story went since March 29, the more people started doubting his story and called into question whether Sun was genuinely an underdog or just a business owner exploiting his land and, through the help of social media, manipulating the circumstances to his benefit.
On March 30, Weibo knowledge blogger 'PYGZ' (@平原公子赵胜) was among many other netizens accusing Sun of planting the wrong species of trees and raising cattle and sheep on his land, causing more soil erosion instead of improving soil quality. Rather than controlling desertification ("治沙"), Sun's practices are creating sand dunes ("造沙") instead, the blogger argued.
Why would Sun do such a thing? According to PYGZ, the state subsidizes windbreak forests that help prevent desertification ("防沙林"): 500-800 yuan ($72-$116) per Chinese "mu" (亩), which is about 666 square meters / 0.165 acre. With a land as big as Sun's, the annual subsidy would be millions of yuan (or more than $1M per year).
"This is what combating desertification in Ningxia actually looks like," charity blogger Sui Jiao (@碎叫) wrote, sharing photos of desert control work: "If you are concerned about desertification control, you can donate money to the China Green Foundation (中国绿化基金会) to plant trees."
Another thing that came up in critical discussions on Sun's case is how he previously received over seven million yuan (more than $1M) in compensation from the Shenhua Ningxia Coal Industry Group (神华宁夏煤业集团) for economic losses caused by them occupying forest land (#孙国友此前727万判决书曝光#).
As more netizens are starting to dive deeper into the facts behind Sun's desperate kneeling video, Sun's family stated that they did not want to further escalate the issue and were just focused on saving their trees for now (#跪地求水林场主家属称不想事情升级#).
The nationalist Weibo blogger Ziwuxiashi (@子午侠士), who has over one million followers, posted an image of a wolf sneaking away, writing: "They want to get away, but I'm afraid it's too late, the [wolf's ] tail has already been exposed." The blogger suggested that the Sun family might have enjoyed the spotlight, but do not want people to dig deeper.
Many others agreed, suggesting that Sun and his family staged the dramatic video to draw attention to their case, but now want to retreat before more details come out showing that Sun might not be the underdog he made himself out to be.
"Netizens are not like toilet paper that you can wipe your ass with and get rid of once no longer needed," one Weibo user wrote.
Chinese political commentator Hu Xijin (@胡锡进) also commented on the issue – as he does whenever social stories go viral like this, – and wrote that he understood why netizens would doubt Guo's sincerity or even say the entire video was staged.
At the same time, he reminded people that issues such as these are never black and white, arguing it is understandable that Guo earns income from his land and that it would only be right for the coal mine company to supply water to Guo if that is what they legally agreed on.
Hu suggested that, while many details in this story still have not come out, netizens might want to wait to make an absolute judgment in the case since issues such as these are usually not clear-cut and can be more complex than they initially seem.
More updates will follow.
By Manya Koetse 
Get the story behind the hashtag. Subscribe to What's on Weibo here to receive our newsletter and get access to our latest articles:
Spotted a mistake or want to add something? Please let us know in comments below or email us. First-time commenters, please be patient – we will have to manually approve your comment before it appears.
©2023 Whatsonweibo. All rights reserved. Do not reproduce our content without permission – you can contact us at info@whatsonweibo.com.
Pregnancy Discrimination in the Workplace: Three Major Problems Faced by Chinese Female Workers
Weibo discussions about a woman from Wuhan who was fired after sharing news of her pregnancy for "inability" to do her job.
Workplace pregnancy and maternity discrimination is a deep-rooted problem that has recently triggered online discussions in China, where netizens highlight common ways in which companies still try to avoid dealing with pregnant workers.
The official Weibo account of Legal Daily (法治日报), a Chinese state-owned newspaper, recently launched a social media hashtag about employers not being allowed to terminate female employees because they are pregnant (#不得因怀孕辞退女职工#).
Legal Daily reported that a female employee in Wuhan was fired from her job due to her pregnancy earlier this year (#武汉一女子怀孕后遭公司辞退#). After returning to work after the Spring Festival break, the woman informed the company about her pregnancy. In early February, the company asked her to accept a demotion and salary reduction, which she declined. Later that month, she received a termination letter from the company, stating that the employee was being terminated due to her "inability to do her job."
Legal Daily's Weibo account cited Article 5 of the "Special Provisions on Labor Protection for Female Employees," which prohibits employers from reducing the wages of female employees or terminating their employment contract due to them being pregnant, giving birth, or breastfeeding. It also stipulates a basic maternity leave of 98 days.
The female employee in question is currently suing the company for terminating her job. While this case may have a positive outcome, the issue of workplace discrimination against female employees due to pregnancy is more complicated than it appears, regardless of the Chinese laws designed to protect female workers.
Despite legal prohibitions against pregnancy discrimination in employment, some employers still circumvent the rules in various ways and in doing so, continue to engage in discrimination against female workers. This topic has recently also generated discussions on Chinese social media about the problems women face in the workplace.

Problem #1: Companies Not Hiring Female Workers At All

"It [the law] is not very useful," one Weibo user wrote under the related hashtag: "Companies do not usually fire female workers who are pregnant. They will solve the problem from the beginning by not hiring female workers at all."
Some smaller private companies do not want to take the risk of dealing with potentially prolonged maternity leave and pregnant workers that they cannot fire nor reduce their wages.
They also fear that workers who are pregnant or are taking care of young children will have reduced energy and might face challenges in the workplace. To avoid the presumed risk that comes with hiring a female worker, Weibo commenters discuss how many companies would "rather hire men directly" to evade the issue of dealing with pregnant workers altogether.
Some voices note how female job-seekers are facing gender discrimination in hiring, regardless of their marital status or the number of children they have.
Another post under the same hashtag (#不得因怀孕辞退女职工#) mentioned:
"It is so hard for females to find jobs. [From the company's perspective:] 1. Unmarried female: they're here for the marriage leave; 2. Married but no children yet: they're here for the pregnancy leave; 3. Married and have one child: here to have their second child (and the maternity leave); 4. Married and have two children: here to have their third child (and the maternity leave); 5. Married and have three children: they have no time for work because need to take care of the family; 6. Do not want to marry: they are having problematic thoughts [思想有问题]."

Problem #2: Going to Extremes to Avoid Paying for Maternity Leave

Despite Chinse labor law prohibiting companies from reducing wages or terminating the contracts of pregnant employees, some companies still attempt to circumvent paying for maternity leave through various means, as was the case with the Wuhan company.
One extreme way to avoid dealing with maternity leave pay is to cancel the company's registration altogether, which is also called "dying together" ("同归于尽", also: "to perish together with one's foe").
A recent news story about a boss who canceled his company's registration overnight due to a female employee's pregnancy received widespread attention on the internet.
According to a March 5 report by Netease (网易), the woman informed her boss that she was three months pregnant right after signing her work contract. The boss was so afraid of the potential costs for maternity leave pay and other benefits that he decided to immediately cancel the company's registration.
While the boss claimed that the cancellation was due to the fact that the company was operating at a loss for the past two years, he reportedly spoke with each employee and compensated them accordingly. However, the pregnant female employee in question refused to leave. After the cancellation, the boss formed a new company including all the former employees – except for the pregnant one.
While some netizens expressed concerns over the extreme actions of the company, others also blamed the woman for "blackmailing" the company into supporting her pregnancy and childbirth. Additionally, many netizens argued that the woman's actions also make it more difficult for other job-seeking females to find employment, especially with small companies that may become more cautious about hiring female workers.

Problem #3: Maternity Harassment on the Workfloor

"Dying together" is not the only way for companies to get rid of "troublesome" pregnant workers. There are many other low-cost ways to avoid dealing with pregnant employees and working mothers, such as making life in the workplace so difficult for them that they will voluntarily resign.
In Chinese, this kind of 'maternity harassment' is also called "chuān xiǎo xié" (穿小鞋), which literally means giving someone tight shoes to wear and making them uncomfortable. The phenomenon is also widespread in Japan, where the word 'matahara' was coined as an abbreviated form of the words 'maternity' and 'harassment' to describe the unfair treatment of pregnant women and young mothers in the workforce.
By pushing employees to resign voluntarily, the company not only saves on the costs of female workers' maternity leave pay but also avoids paying for a severance package.
Under the report by Jingshi Live-Streaming (经视直播) about the woman in Wuhan who was fired from her job due to her pregnancy, one Weibo user commented that many companies fire female workers who are pregnant, but they usually do not state it upfront and instead secretly force them to leave.
This comment received over 1500 likes, with many sharing their own similar experiences. One person wrote: "I was in that situation. The company explicitly persuaded me to resign and covertly marginalized me."
Another person shared: "After I announced my pregnancy, my year-end bonus was reduced by more than half, and my colleagues immediately treated me with coldness." One woman mentioned that "companies overtly use polite language while covertly giving the lowest performance evaluation to force employees to resign."
One Weibo user complained about how female workers first face nagging questions about their future plans to have children, then face criticism from employees and colleagues after announcing their pregnancy and then have to worry about getting fired or seeing their salary reduced after giving birth.

No Way Out?

Despite laws and regulations requiring companies to provide maternity leave for female employees, there are still loopholes that are used by businesses to avoid responsibility. This leaves women in a vulnerable position in the workplace and limits economic opportunities. Weibo users come up with several suggestions in recent online discussions on how to solve the problems female workers face.
Some suggest that women should "just be realistic" and settle for a second-best option ("退而求其次"). One Weibo post argued that since it is difficult for women to secure permanent positions in both government institutions and big private companies, they should consider becoming temporary workers in government departments as a secondary option.
Others disagreed with this hot take, stating that the average wages and benefits for temporary workers in government departments are not enough to make a living.
Another suggestion raised to combat pregnancy discrimination is to offer equal parental leave to both men and women. However, this proposal was also met with resistance from some who argued that it does not solve anything since fathers have the option to forgo paternity leave, but women do not have that choice. They also cited examples of male colleagues who voluntarily waived their 15-day paternity leave.
Some are skeptical about finding a solution to the problem of women facing pregnancy discrimination in the workplace, and also raise the issue of this problem decreasing women's willingness to have babies at all. Some netizens jokingly comment: "Do women need to provide their certificate of sterilization from the hospitals?" or "I suggest females just remove the uterus [as a solution]."
Facing low fertility rates and a large aging population, boosting birthrates is a priority for Chinese authorities. While Chinese experts look for ways to motivate couples to have (more) children at an earlier age, combating pregnancy discrimination in the workplace is also more important than ever.
One Weibo user bitterly joked about the apparent contradiction of boosting national birth rates while also promoting equal positions in the workplace:
"Women say: "If I get pregnant, I will face workplace discrimination."
The government says: "How dare companies discriminate against women? I will fine them."
Companies say: "You're good at playing tricks. I won't hire women anymore."
Women say: "If I have a child, I can't even find a job. I won't have children in the future."
Society says: "China is getting old before it gets rich. What should we do?"
The media says: "There is news every day. It's great!"
By Zilan Qian
Get the story behind the hashtag. Subscribe to What's on Weibo here to receive our newsletter and get access to our latest articles. Follow us on Twitter here.
Relevant Vocabulary
◼︎ 同归于尽 Tóng guī yú jìn
Dying together; suffering a downfall together; perishing together with one's foe
◼︎ 穿小鞋 Chuān xiǎo xié
Giving someone tight shoes to wear; making things hard for someone by abusing one's power
◼︎ 退而求其次 Tuì ér qíu qí cì
To settle for the second best thing
Images in featured image:
http://www.xinqtech.com/startup/201806/291055.html
https://www.maxlaw.cn/n/20220316/10379852097730.shtml
https://www.maxlaw.cn/n/20180823/923419931554.shtml
https://www.sohu.com/a/325722786_120156585
http://k.sina.com.cn/article_2090512390_7c9ab00602000n007.html
Spotted a mistake or want to add something? Please let us know in comments below or email us. First-time commenters, please be patient – we will have to manually approve your comment before it appears.
©2023 Whatsonweibo. All rights reserved. Do not reproduce our content without permission – you can contact us at info@whatsonweibo.com