Follow-Up to the Story of the Xuzhou Mother-of-Eight Chained in Hut
The Xuzhou mother-of-eight turns out to be Xiao Huamei from a Yunnan village.
The Xuzhou mother-of-eight who was found to be chained inside a small hut next to the family home has already become one of the biggest social stories on Weibo this year. Now, local authorities have provided an update on their ongoing investigation into the woman's background.
Find the latest update to this story here.
It's been well over a week since the story of a mother of eight children living in a small hut with an iron chain around her neck sent shockwaves across Chinese social media (link).
The story first went viral on January 28 after a Chinese vlogger showed the horrifying living conditions of the woman in a short video.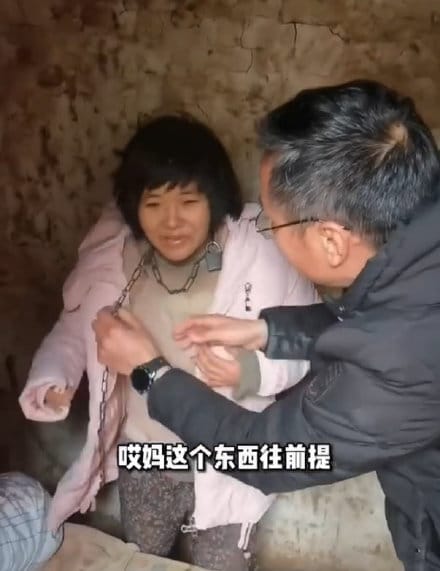 The footage, filmed in Xuzhou, was widely shared on Chinese social media and triggered massive outrage. Since it was said that the woman suffers from mental illness, netizens asked how it was possible for her to have no less than eight children with her husband.
How was this all even legal? Many netizens wondered if the woman was abducted and kept against her will and abused as some sort of breeding machine by her husband and his family. The fact that the couple had seven sons and only one daughter also fuelled online rumors, and there was also a lot of speculation about why Yang seemed to have lost her teeth.
On January 30, local officials responded to the controversy. In a statement issued by the 'Feng County Joint Investigation Team,' the situation of the woman and her husband was partly explained. The woman, Yang *Xia (杨某侠), reportedly was a beggar on the streets in the summer of 1998 when she was taken in by the Dong family in the town of Huankou and she ended up marrying their 30-something son Dong *Min (董某民).
According to the statement, the local officials did not properly check and verify Yang's identity information when they registered the marriage certificate. The local family planning department apparently also made some errors. They did "implement birth control measures" after the couple had two children, but that obviously did not work out and they failed to follow up.
The family did notice that Yang had mental problems, but her condition allegedly did not worsen until June of 2021 when she would also display aggressive and violent behavior. In order to prevent her from hitting the children or others, she would be tied up by her husband until she was more stable. The statement further said that Yang's DNA was entered into the national database for missing persons in 2020, but that no match was found.
Feng County authorities claimed that following the online controversy, Yang was diagnosed with schizophrenia and was receiving treatment in the hospital, while a special team was also investigating if Dong could be held criminally liable.
The statement did not succeed in calming the storm. On the contrary, it only seemed to spark more anger as netizens now also knew that the family was receiving subsidies from their town and that Dong *Min was profiting from his sudden online 'fame' by creating his own online channel and appearing in several local marketing promotional videos. The fact that many posts, videos, and hashtags relating to this story were taken offline only added fuel to the fire.
Yang is actually Xiao Huamei
On Monday, February 7th, at 23:00 pm, Xuzhou authorities released an update to the investigation on Weibo.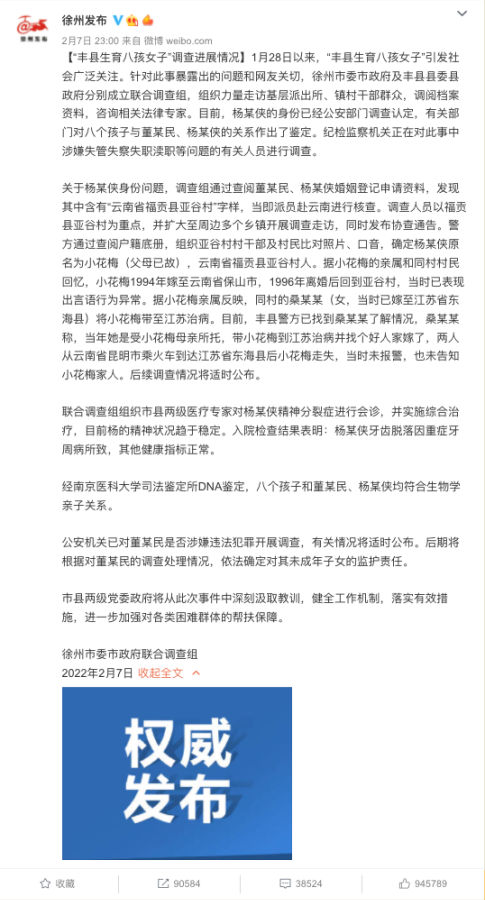 Because Yang's marriage certificate contained mention of Yagu Village (亚谷村) in Fugong County in Yunnan Province, investigators went there to do research. With the help of local authorities, villagers, and household registers, they were able to determine Yang's identity.
Her name is Xiao Huamei (小花梅) and she was born and raised in Yagu. In 1994, she married and moved to the city of Baoshan, but she divorced and returned to her village two years later, which is also when local villagers remember detecting that Xiao seemed to have a disorder. Her parents, now deceased, ordered a female fellow villager who had married someone from Jiangsu to take Xiao with her to receive treatment and look for a suitable partner for marriage.
Although the woman took Xiao with her on a train from Yunnan's Kunming city to Jiangsu's Donghai, Xiao went missing shortly after arrival. The woman, named Sang (桑), never reported Xiao Huamei missing to the police and she also did not notify Xiao's family. Local authorities have spoken to Sang and they will later follow up on this story.
As for the current situation of Yang (or Xiao), they state that her condition has stabilized and that she is received proper treatment for her schizophrenia. Medical reports indicate that Yang lost her teeth due to a severe gum infection but her overall health is otherwise normal.
The Xuzhou authorities further write that DNA research has confirmed that all of the eight children are the parents' biological children.
Although the statement does say that the public security bureau is still looking into Dong's criminal liability, it does not provide any information on the current living situation of Xiao, Dong, and their eight children.
In the early morning of February 8, the statement had been shared over 112,000 times on Weibo, getting over 1,3 million likes and garnering thousands of comments.
Not Only Yang
Despite the most recent statement, Weibo netizens still have many questions about the situation and the online anger has not subsided. A much-recurring comment is that the statement is mentioning trivial things while ignoring major issues. It does not disclose, for example, how old Yang is now and whether or not she was still a minor in 1998.
Some mention how the public's trust in the local authorities is gone, others say they suspect that the female villager named Sang might have been a human trafficker, and then there are those who still believe that the mother-of-eight still has another identity.
Those talking about a "third identity" refer to one theory that kept surfacing over the past week, namely that the Xuzhou mother is actually Li Ying (李莹), a woman who went missing in 1996. Old photos of Li showed a remarkable resemblance to the Xuzhou woman.
But Chinese media outlet The Paper reported on Monday that the family of Li Ying received official confirmation that there is no DNA match between Li Ying and Yang.
Besides the fact that the online anger over Yang's situation helped launch a local investigation into her identity and circumstances, it has also raised more awareness of the fact that there might be many more women like her.
Another recent video shows how a disabled woman who is also said to be living in a village in Xuzhou, Feng County, is kept chained on the floor.
Some netizens are saying that (e-commerce) products from Xuzhou and Feng County should be boycotted as a way to condemn the local government. Others are sharing art dedicated to Yang.
"Why are these statements always posted so late at night?" some sleepless netizens wonder: "I am so angry I can no longer sleep."
Many people are still waiting for more answers: "Please investigate thoroughly, please punish severely, don't be overly tolerant, no forgiveness."
By Manya Koetse
With contributions by Miranda Barnes.
Spotted a mistake or want to add something? Please let us know in comments below or email us. First-time commenters, please be patient – we will have to manually approve your comment before it appears.
©2022 Whatsonweibo. All rights reserved. Do not reproduce our content without permission – you can contact us at info@whatsonweibo.com.
"Hideous" and "Scary": Giant Chongqing Rabbit Lantern Gets Roasted by Residents
More rabbits are getting roasted this year. This giant Chongqing rabbit was removed after sparking criticism for being ugly.
Earlier this month, the design of the latest zodiac stamp by China Post when viral after the little blue rabbit with red eyes and human hands triggered controversy for being "monster-like." Now, another rabbit is criticized for its questionable design. This time, it concerns a giant rabbit lantern in Chongqing.
The giant rabbit lantern appeared at Sanxia Square in Chongqing's Shapingpa District. As the Year of the Rabbit is about to start, huge rabbit decorations have popped up all over China.
But this particular Chongqing rabbit was received with disapproval from residents who said it looked uncanny and so ugly it almost made them cry. "Giant Chongqing rabbit lantern gets roasted for being scary," Beijing Headlines wrote (#重庆巨型兔子灯被吐槽吓人#).
The rabbit is different from a more standard and cute cartoon rabbit, as it has human-like eyes and eyebrows and a serious expression on its face. Its body has festive orange, green, and yellow colors.
Although its design was not received well by many, others also said they liked the more traditional paper cutting-style of the rabbit.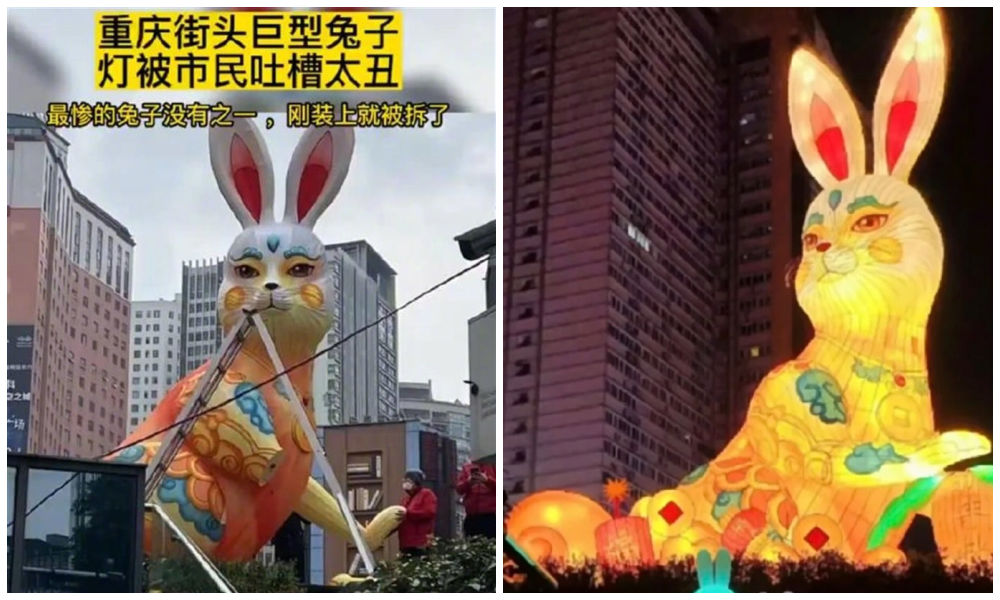 "I don't think it's ugly," one person commented: "But it's certainly not pretty."
Nevertheless, it was apparently decided that the bunny needed to go, and workers came to Sanxia Square to get rid of the rabbit lantern (hashtag #被吐槽吓人巨型兔子灯已被拆除#).
The district management committee told Chinese reporters on January 18 that they gave orders to dismantle the lanterns after receiving reports from residents that the giant rabbit was "appalling" (#官方回应巨型兔子灯被吐槽吓人#).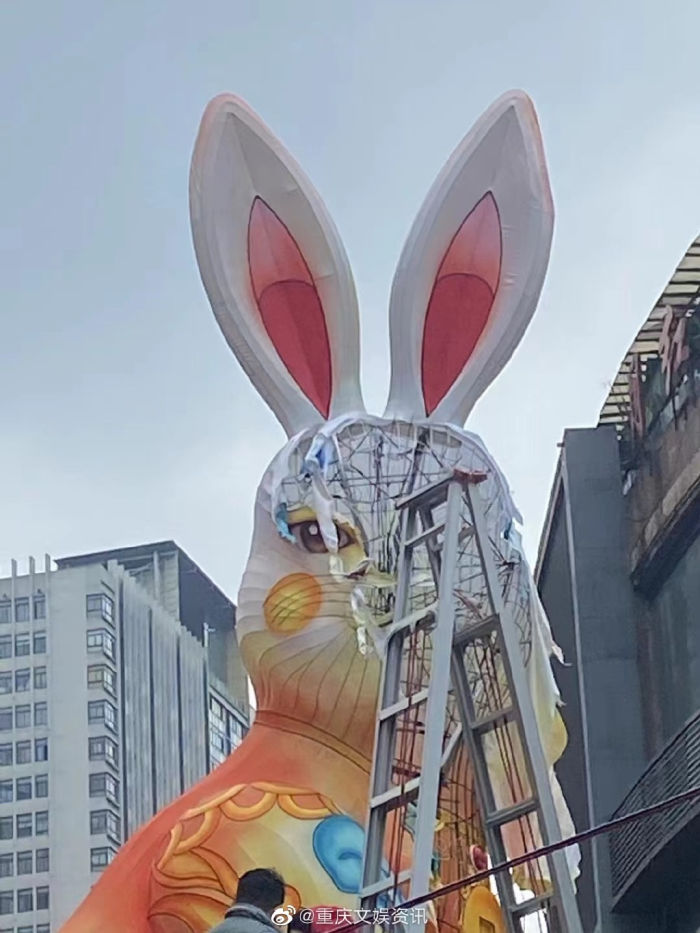 In the case of the blue rabbit stamp, a mascot that was specially designed to celebrate the launch of the zodiac stamp and the Year of the Rabbit was also discarded after people said they found the red-eyed rabbit "rat-like" and "horrible."
Earlier this week, an art sculpture created by artist Xu Hongfei (许鸿飞) which is displayed inside Guangzhou Airport, also became a topic of discussion on Chinese social media as many could not appreciate the work of art and its representation of women. Airport management is reportedly now "investigating" how to deal with the controversy and the sculpture itself (#机场回应大厅雕塑被指有损女性形象#).
The Shanghai Morning Post (新闻晨报) wrote a post about the rabbit incident on Weibo, in which the newspaper – that falls under the Shanghai party newspaper Jiefang Daily – implicitly criticized the way in which both the blue rabbit stamp and the colorful Chongqing rabbit have recently come under fire and how the situations were handled.
"Give creativity some room!", the news outlet wrote, arguing that rabbits aren't always only "cute," and that works that are more innovative, unique, and creative inevitably will cause some controversy because they make more impact and people have different views on what is considered beautiful and what is considered ugly.
Simply getting rid of artworks or public installations because many people don't like them is unconstructive and a waste of public resources, according to the post. It would be better to actively engage in conversations, in the earlier phases of a project, but also once a work of art is already completed and if it is met with some controversy, the post argues; let people think about it, explore it, reflect on it – but do not just cover it up, tear it down, and throw the baby out with the bathwater.
Although some Weibo commenters applauded how Chongqing authorities listened to the people, others did not agree with the rabbit being removed because people thought it was ugly: "What are you taking it down for? If it's ugly, just let it be ugly, at least it's unforgettable!"
In light of the discussion, other social media users, including Zhihu user 'Hǎiniú móumóu' (海牛眸眸) and Weibo blogger Kai Lei (凯雷), took the initiative to make a collection of other rabbits on display in Chinese cities for the Year of the Rabbit. Some of them made the Chongqing rabbit look perfectly normal.
Such as the cyberpunk rabbit on display in Zigong.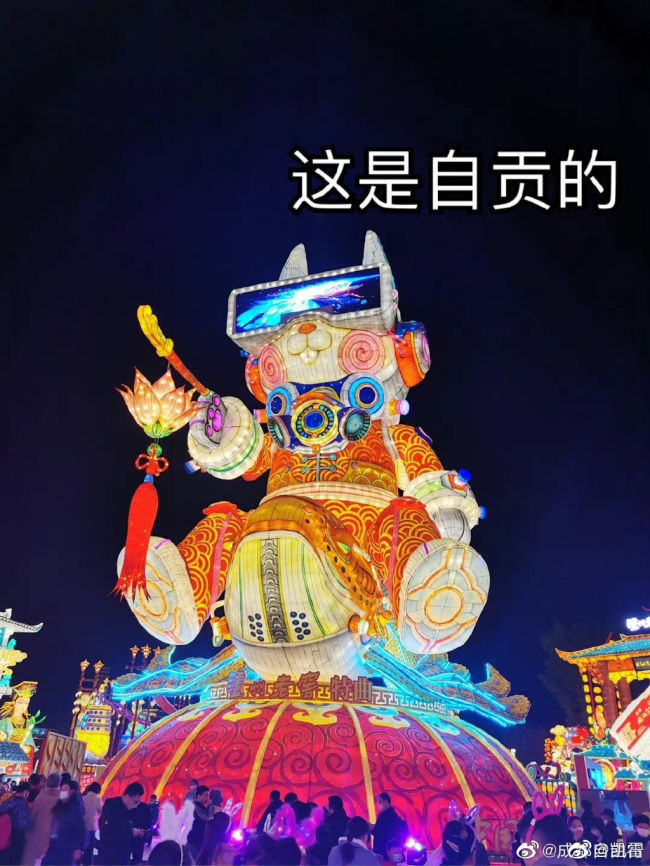 Or the peaceful bunny from Quanzhou.
The big-eyed Nanjing one.
The Shanghai angry, boxing bunny.
But the one in Nanning takes the crown, as it left people utterly confused (#南宁兔子灯被嘲羊不羊兔不兔#).
"I guess you can't please everyone," one Weibo user wrote: "But you can displease everyone."
By Manya Koetse , with contributions by Zilan Qian
Get the story behind the hashtag. Subscribe to What's on Weibo here to receive our newsletter and get access to our latest articles:
Spotted a mistake or want to add something? Please let us know in comments below or email us. First-time commenters, please be patient – we will have to manually approve your comment before it appears.
©2023 Whatsonweibo. All rights reserved. Do not reproduce our content without permission – you can contact us at info@whatsonweibo.com.
Less Education, More Babies? Discussions Surrounding China's Falling Birth Rate
Another year, another drop in birth rates: according to the latest statistics, China's 2022 saw more deaths than births.
China's falling birth rates have been a topic of discussion for years. With the latest statistics marking another record low in birth rates, Chinese experts look for ways to motivate couples to have (more) children at an earlier age.
Official yearbook data, released by China's National Bureau of Statistics (国家统计局) on Jan. 17, 2023, shows that the total Chinese mainland population was 1.4118 billion by late 2022. Last year, 9.56 million people were born, while 10.41 million people died. The population in 2022 fell by 850,000 from 2021.
As reported by The New York Times, according to the latest data, 2022 was not just the first time deaths outnumbered births in China since the Great Leap Forward in 1960s, it was also one of the worst performance years for the Chinese economy since 1976.
China's dropping birth rates have been a topic of discussion for years. The annual statistics that were published three years ago, in January 2020, showed that China's birth rate in 2019 had fallen to its lowest since the founding of the People's Republic of China. In that year, the birth rate was 10.48 per thousand, and 14.65 million babies were born in mainland China.
The data from later years showed that just 12 million babies were born in 2020 (8.5 births per thousand) and that only 10.6 million babies were born in 2021 – a rate of 7.52 births per thousand. The latest number is another record low.
Over recent years, various trends in Chinese (online) media have highlighted the social issues behind China's dropping marriage and birth rates. The rising costs of living and the fact that Chinese younger generations "prefer to marry late," are often mentioned as an explanation for China's decline in marriage rates and the interrelated lowering birth rates.
But China's so-called 'leftover' single men have also been pointed out as a "crisis," with China having millions of more men than women of marriageable age – partly a consequence of the one-child policy combined with a traditional preference for baby boys.
For years, China's 'leftover women' were also mentioned as a reason for the country's declining marriage rates; China's well-educated, career-oriented, urban single women were singled out for making it harder for China's unmarried men to find a wife because of their 'choice' to postpone marriage and family life. This increased the pressure on China's single women to get married, including facing an associated social stigma, which has become a recurring topic of debate on Chinese social media.
Chinese couples are allowed to have two children since 2015, three children since 2021, and it was later widely reported that parents with more than three children would also no longer receive fines according to a draft law amendment.
But the new regulations have not had the desired effect, with many couples simply not wanting a second child or being unable to afford it. The pandemic and zero Covid policy also haven't exactly helped to boost China's birth rates.
On social media, official media put out the two hashtags "9.56 Million People born in China in 2022" and "In 2022, China's Population Decreased by 850,000 people" (#2022中国全年出生人口956万人#, #2022年中国人口减少85万人#). Among commenters, the latest data have led to various discussions.
Some are about the costs of living:
"There's so much to consider if you want to have a child, the costs are just too high, and I wouldn't be able to support it."
Others are about increasing social pressure:
"These days there's too much pressure on men to get married, they're not confident and at ease anymore."
And then there are those who see no problem in a population drop:
"It's only natural for the population to decline, how can you expect it to be like the old days when people would have five or six kids; the people like my grandma in my hometown all come from families with at least four kids."
"This country of 1,5 billion people is constantly worried about going extinct, people are crazy!"
"The Information Age doesn't need so many people anyway."
HOW TO BOOST BIRTH RATES?
But while netizens' opinions on the matter vary, experts, politicians, and media outlets focus on the topic of how China's birth rates can be boosted.
Various places across China have already announced policies to encourage families to raise more than one child, including prolonged maternity leave, increased maternity allowances, and support for home purchases.
One hashtag that was popular on Weibo this week was about a statement made by the billionaire businessman Zong Qinghou (宗庆后), CEO of leading beverage company Wahaha Group (哇哈哈).
Zong is a proponent of offering affordable housing to young people. In a video that has since gone viral – and which was a segment from a CCTV interview, – Zong talks about his low-cost housing project and also called on China's young people to find a partner, get married earlier and have children sooner to "contribute" to the country's birth rates (#宗庆后希望年轻人早点结婚生娃#).
The hashtag triggered many replies. Most of them criticized Zong's remarks, and many commenters expressed that they did not like being told to marry and have kids. Some also remarked how Zong's own forty-something daughter allegedly is not married herself.
It is not the first time for an opinion leader or expert to frame marriage and childbirth as a "contribution" to the country.  In 2015, the Chinese scholar Yang Zao (杨早) wrote an essay in which he explained China's falling birth rates as "a clash between individualist and collectivist values." At the time, he wrote: "For the country, for society, for parents, can't you let go a bit of personal happiness? After all, isn't marriage key to solving China's present-day problems?"
Another hashtag that went viral this week is "Could Shortening Education Time Increase Birth Rates?" (#缩短教育时间能提高生育率吗#).
The topic relates to an article published by Zhejiang News on Jan. 16, 2023, about China's Education and Population Report (中国教育和人口报告). In this report, James Jianzhang Liang (梁建章, a demographer who is better known as the Ctrip CEO) and other authors suggest that shortening the duration of education might help boost the country's birth rates. The authors suggest that the middle and elementary education time could be cut down by two years by eliminating the Senior High School Entrance Examination (Zhongkao 中考).
There are two ways in which this idea might benefit China's birth rates. On the one hand, the authors argue, China's highly competitive education system puts a lot of pressure on children and financial strain on their parents, who struggle to invest as much time and money into their children's education as they can. The pressure is real: the exam results during the last year of junior high school are of crucial importance regarding admission to the preferred senior high school, which also profoundly influences education after high school and students' future careers. So the reasoning is that couples are more likely to have children if the financial burdens on parents are alleviated.
On the other hand, the authors argue that when people finish school two years earlier, this will give them more time to start their life after graduation, making it more likely for women to have children at an earlier age.
One post about this topic, in which netizens were asked how they felt about the idea, received over 225,000 likes and nearly 13,000 comments.
A typical reply suggested that all these 'experts' should have more children themselves, reiterating a widespread criticism of opinion makers and experts who often do not practice what they preach.
Others expressed that they did not think that China's lower birth rates were related to education, while others felt that a shortened education time would be a step back for China.
Some also criticized Zhejiang News. The media outlet itself indicated that the idea of shortening school years to boost fertility rates was like treating people as "tools." But some commenters said: "The sad thing is not that people are treated as tools, the sad thing is that it took you this long to realize it."
There are more Weibo bloggers and commenters suggesting that people paid a heavy price for the One Child policy that was implemented between 1980-2015, and that its effects will have a significant impact on society for a long time to come. After decades of only allowing couples to have one child, the shift to now introducing policies to encourage people to have more children is a strange reality.
One popular blogger (@峰哥亡命天涯) posted a photo that showed an old One Child Policy slogan on a building [少生优生,幸福一生 'Have fewer but healthier babies and a happier life'], and he wrote: "The effects of family planning have contributed to contemporary times and bring benefits for future centuries!"
Another poster said they felt bad for the one-child generation born in the 1980s:
"I really feel sorry for those born in the 1980s. They've always dealt with problems in attending school from young to old, then when they were all grown up faced problems with the job [market], then the issue of marrying and the bride price, and most importantly the high price of housing and caring for the elderly – the 1980s generation is carrying the burden. Those born in the 1970s can no longer have children, and those born after '95 or 2000 are not giving birth. So we can only squeeze the post-1980s (..) Let them finally take a breather."
By Manya Koetse 
with contributions by Zilan Qian
Get the story behind the hashtag. Subscribe to What's on Weibo here to receive our newsletter and get access to our latest articles:
Spotted a mistake or want to add something? Please let us know in comments below or email us. First-time commenters, please be patient – we will have to manually approve your comment before it appears.
©2023 Whatsonweibo. All rights reserved. Do not reproduce our content without permission – you can contact us at info@whatsonweibo.com.