Twist and Turns in the Tragic Story of the Xuzhou Chained Mother
There are still many questions about the Xuzhou woman, but what is clear is that she now has come to represent many women like her.
It's been three weeks and there were four official statements, but the story of the Xuzhou mother-of-eight is still seeing new developments, and it is sparking even more anger on Chinese social media.
While the Beijing Olympics are still in full swing, many on Chinese social media are focused on developments taking place some 430 miles south of the capital. Three weeks after the story of a mother of eight children being chained up in a hut next to the family home first sent shockwaves across Chinese social media, the Xuzhou chained mother is still one of the biggest topics discussed on Weibo.
The ball started rolling in late January of this year when a video of the woman, filmed by a local TikTok user, went viral online and triggered massive outrage with thousands of people demanding answers about the woman's circumstances. The woman, who seemed confused, was kept in a dirty shed without a door in the freezing cold – she did not even wear a coat. Videos showed how her husband Dong Zhimin (董志民) and their eight children were playing and talking in the family home right next to the hut. These videos were all filmed in the village of Huankou.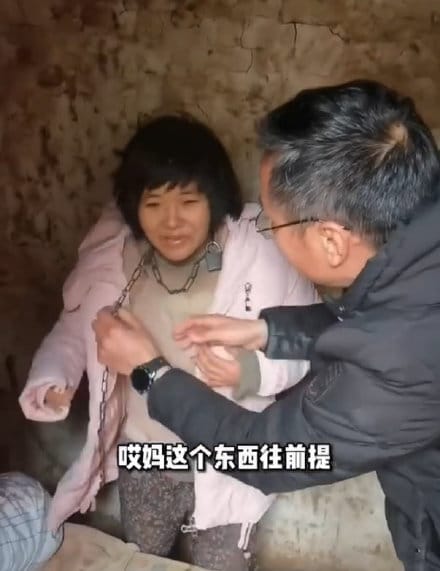 What's on Weibo first reported this trending topic on January 29, and after BBC also reported the story on January 31st, the Xuzhou mother also started making international headlines. Meanwhile, on Chinese social media, updates to new developments in the story continued to go viral.
A Douyin vlogger exposed the living conditions of this mother of eight in a small village in Xuzhou. Heartbreaking and inhumane – she was literally chained up and left out in the cold. Full story here: https://t.co/AzCHwBU6mU pic.twitter.com/WLLhjpd4Zr

— Manya Koetse (@manyapan) January 29, 2022
Local authorities in Xuzhou, the largest city of northern Jiangsu, and the Feng county-level division, where the village of Huankou is located, started looking into the case after the video went trending. The first statement by Feng County was issued on January 28 and it said that the woman, named Yang (杨), married her husband Dong Zhimin in 1998 and that there was no indication that she was a victim of human trafficking, which was a concern raised by so many netizens.
The woman was dealing with mental problems and would display sudden violent outbursts, beating children and older people. The family allegedly thought it was best to separate her from the family home during these episodes, letting her stay chained up in a small hut next to the house.
The first statement raised more questions than it answered. Many people on Weibo were angry and drew comparisons to the 2007 movie Blind Mountain (盲山). That movie, directed by Li Yang (李杨), tells the story of a woman named Bai who is kidnapped and sold to a villager in the mountains, leaving Bai completely trapped.
Netizens started to do their own research and suggested that 'Yang' could actually be Li Ying (李莹), a woman who went missing in Sichuan's Nanchong 26 years ago. Online, many people called for DNA research to see if Yang was indeed related to Li Ying's family.
While netizens were speculating about the case, it became clear that the husband Dong Zhimin was giving more interviews about his eight children (seven sons, one daughter), spoke of how his sons would become providers for the family in the future, and even promoted local companies. This only led to more speculation and online anger, and Weibo shut down some of the hashtags dedicated to this topic.
More Statements
On January 30, Feng County local officials responded to the controversy in a second statement, in which the Xuzhou mother was identified as Yang *Xia (杨某侠) who allegedly once was "a beggar on the streets" in the summer of 1998 when she was taken in by Dong family and ended up marrying their 30-something son Dong Zhimin.
Local officials did not properly check and verify Yang's identity information when registering the marriage certificate and the local family planning department also made errors in implementing birth control measures and following up with the family.
Yang did have mental problems before, but her condition allegedly worsened in June of 2021 when she displayed more aggressive behavior and was tied up in the shed. The statement said that Yang had been diagnosed with schizophrenia and was receiving treatment.
On February 7th, Xuzhou authorities released a third statement with an update of their investigation, which had brought them to the village of Yagu (亚谷村) in Yunnan – a place that was mentioned on Yang's marriage certificate.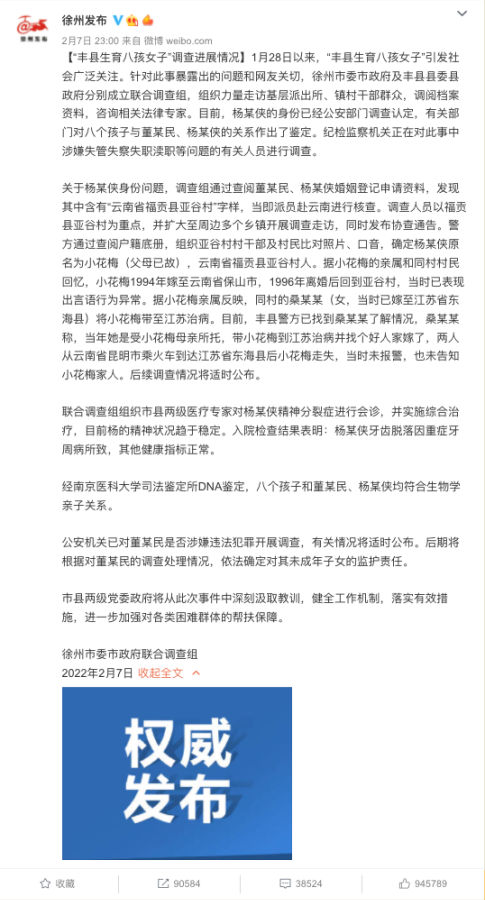 With the help of local authorities, villagers, and household registers, they were able to determine Yang's identity and stated that she was actually Xiao Huamei (小花梅) who was born and raised in Yagu, Fugong county. In 1994, she married and moved to the city of Baoshan, but she divorced and returned to her village two years later.
Her parents, now deceased, ordered a female fellow villager who had married someone from Jiangsu to take Xiao with her to receive treatment and look for a suitable partner for marriage. Although the woman took Xiao with her on a train from Yunnan's Kunming city to Jiangsu's Donghai, Xiao allegedly went missing shortly after arrival. The woman, named Sang (桑), never reported Xiao Huamei missing to the police and she also did not notify Xiao's family.
The Xuzhou authorities further write that DNA research has confirmed that all of the eight children are the parents' biological children.
A fourth statement was issued on February 10th through the Xuzhou official Weibo channel (@徐州发布). According to that statement, Yang's DNA had been compared to that of the family of Xiao Huamei and it was determined that Yang and Xiao Huamei were definitely the same person.
The statement further said that three persons were held criminally responsible for illegal detainment and human trafficking in the case of Xiao Huamei: Sang, her husband, and Dong Zhimin, the father of the eight children.
Meanwhile, Chinese news outlet The Paper reported that the family of Li Ying, the missing woman who resembled Yang so much, received official confirmation that there was no DNA match between Li Ying and Yang.
Weibo Detectives and Journalists
Following the last statement, online anger did not subside. Was Yang's husband only accused of 'illegal detention'? What about rape and abuse?
By now, there are multiple stories going around the Chinese internet of other women living in Xuzhou who might have also been a victim of human trafficking. What about them? What are their names? Who cares about them? Who is still out there looking for them?
Another issue raised by Weibo users was that of the age of Xiao Huamei, which was never mentioned in the official statement. Was Xiao Huamei underage when she was trafficked? How old is the Xuzhou mother of eight?
Determined to find out the truth, some investigative journalists and concerned netizens decided to do their own research.
Two Weibo users (using the accounts @小梦姐姐小拳拳, @乌衣古城, and @我能抱起120斤) drove to Feng County, Xuzhou, with the goal of verifying the information disclosed by the local government and pressuring them to arrest husband Dong for his crime. The women, who had been sharing all details of their trip on Weibo, were planning on visiting Yang and talking to other people in the area.
After they arrived in Feng County, the local police allegedly removed the slogans they had written on their own car, calling for Dong's arrest. They were denied entrance at the facility where Yang supposedly is treated and someone tried to take their phone. When the two women went to the police station to report the attempted phone robbery, the police detained them for "picking quarrels and provoking trouble" ("寻衅滋事罪"). A supertopic on Weibo dedicated to helping the two women was taken offline.
One other important person dedicated to this case is the Chinese investigative journalist Deng Fei (邓飞), who has over five million followers on his Weibo account. On February 13, Deng said that according to Yang's verified ID card, which he obtained via online channels, her date of birth is June 6, 1969. This means Yang's age would be 52.
Deng and others questioned Yang's age, especially considering their youngest baby just turned two. Would a woman in her mid and late 40s, living in such harsh conditions, still be able to have multiple babies? Why was her hair not greying at all? Were authorities lying about her age?
Deng Fei later obtained and published a photo of the marriage certificate of 'Yang Qingxiang' and 'Dong Zhimin,' which shows their marriage was registered in August of 1998 and was approved by the Huankou township. Here, Yang's date of birth is also said to be June of 1969. However, what struck Deng and many others is that the photo on the marriage certificate seems to be a different woman from Yang.
The well-known screenwriter and author Li Yaling (@李亚玲) also researched the Xuzhou case, and she claimed that according to her sources, Xiao Huamei was born in 1977 and was initially sold to another man by Sang for 6000 yuan ($950) before she ended up marrying Dong. Li also claims that the vlogger who filmed the first viral video put the chains around the woman's neck himself. The chains were already there, and were in fact used to sometimes tie up the mother, but they were allegedly only put on her to help get more attention for the woman and her impoverished family.
The account of the vlogger who originally posted the viral video has since been deleted.
After three weeks of developments and four statements later, there are still so many questions, and there are still many doubts about whether or not Xiao Huamei from Yagu village is really Yang from Huankou village, and who the woman in the photo is.
Another issue raised is that the oldest son of the family, Dong *gang (董某港) was born in March of 1997, but according to one of the earlier statements issued in this case, Dong Zhimin's father took in Yang in the summer of 1998 and their marriage certificate was issued in August of that year. So whose child is the oldest kid?
Many people think that perhaps Xiao Huamei – who was trafficked in 1996 – was actually once married to Dong and is the mother of the oldest child, but that the chained mother in Xuzhou is another woman. Since Xiao Huamei was married before in 1994, the ex-husband could surely confirm if Yang in Xuzhou is indeed the woman he was once married to, but so far his identity has not been disclosed.
The Women in the Dark Rooms
While details surrounding the case of the 'chained Xuzhou mother of eight' are still being discussed a lot, it has become clear that by now, Yang has come to represent many more women like her.
Since early February, more stories have surfaced of other women like Yang, often suffering from a mental or physical handicap. One of these stories involved a disabled woman also from Xuzhou, Feng County – a video that showed her lying on the floor also went viral on social media including a second video showing the woman living in terrible conditions, although there has not been a follow-up on her specific situation.
In light of the recent developments, media insider Zhang Xiaolei (@媒体人张晓磊) posted a segment of a TV documentary from ten years ago on Weibo titled "The Woman Leaving the Dark Room" (走出黑屋的女人), in which a naked and confused middle-aged woman was kept locked in a hut in a village in Shandong province, just a one-hour drive from Huankou village. Zhang wrote that the reporter, with the help of local authorities, was able to rescue the woman and eventually succeeded in locating her family.
Zhang's post was taken offline, as were other initiatives to raise more awareness. On Valentine's Day, a group of people from Yueyang, Hunan, spoke up for the Xuzhou mother and posted a group photo in which they carried banners and hashtagged the post "stand up for human rights." That post was also soon deleted, along with a letter signed by 10 graduates of Peking University to call for an investigation of local officials involved in the case, changes to the law, and more details on the Xuzhou woman's identity.
Despite censorship, netizens keep posting about the case and putting pressure on authorities to do more research and take more action. How could Yang have been so neglected? Why didn't authorities do more to prevent such a tragedy from happening?
Their calls do seem to have some impact, as the higher authorities of Jiangsu provincial government have reportedly now also decided to set up an investigation team to conduct an investigation into the Xuzhou case.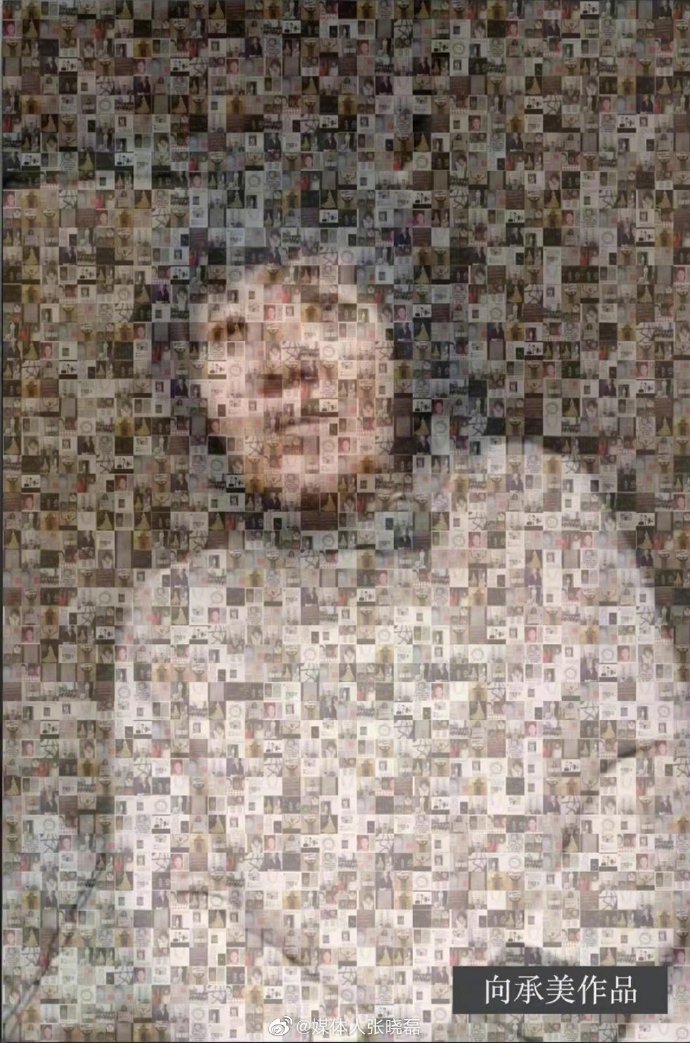 Meanwhile, there are many artists who are using their artwork, from sculptures to graphic design, to express their feelings about the case and condemn how local authorities have dealt with this case.
They also pay their respects to the chained-up woman in the video. Regardless of who she is, and how she got there, there is one thing everyone agrees on; her story is a tragic one, and no matter who gets punished for what happened to her, there are no winners here.
By Manya Koetse
With contributions by Miranda Barnes.
Spotted a mistake or want to add something? Please let us know in comments below or email us. First-time commenters, please be patient – we will have to manually approve your comment before it appears.
©2022 Whatsonweibo. All rights reserved. Do not reproduce our content without permission – you can contact us at info@whatsonweibo.com.
Fangcang Forever: China's Temporary Covid19 Makeshift Hospitals To Become Permanent
China's temporary 'Fangcang' shelter hospitals are here to stay.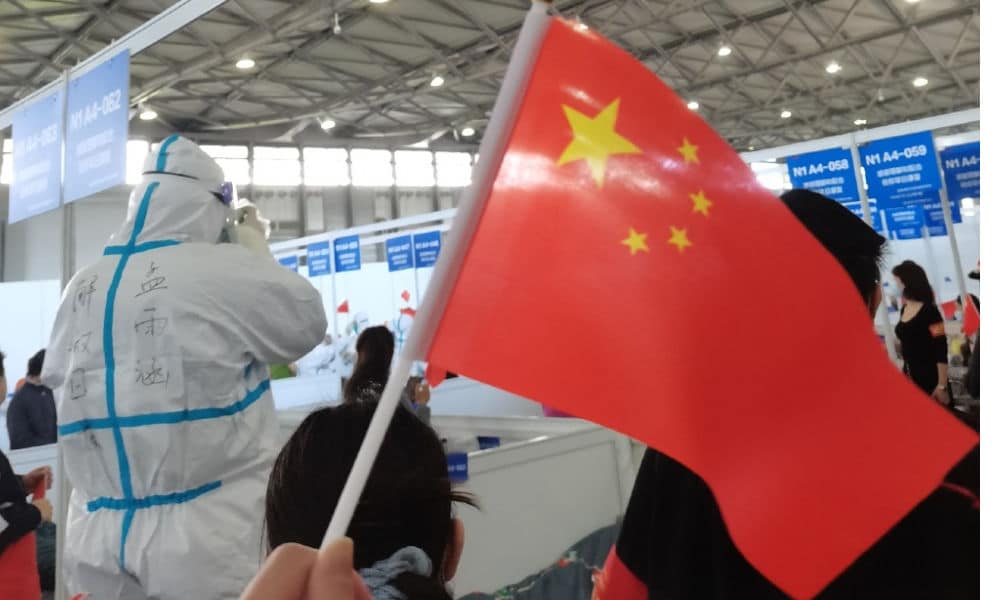 A new term has been added to China's pandemic lexicon today: Permanent Fangcang Hospital. Although China's 'Fangcang' shelter hospitals are, by definition, temporary, these healthcare facilities to isolate and treat Covid patients are now becoming a permanent feature of China's Zero-Covid approach.
Over the past few days, Chinese authorities have emphasized the need for China's bigger cities to build or renovate existing makeshift Covid hospitals, and turn them into permanent sites.
So-called 'Fangcang hospitals' (方舱医院, square cabin hospitals) are large, temporary makeshift shelter hospitals to isolate and treat Covid-19 patients. Fangcang shelter hospitals were first established in China during the Wuhan outbreak as a countermeasure to stop the spread of the virus.
They have since become an important part of China's management of the pandemic and the country's Zero-Covid policy as a place to isolate and treat people who have tested positive for Covid-19, both asymptomatic and mild-to-moderate symptomatic cases. In this way, the Fangcang hospitals alleviate the pressure on (designated) hospitals, so that they have more beds for patients with serious or severe symptoms.
On May 5th, Chinese state media reported about an important top leadership meeting regarding China's Covid-19 situation. In this meeting, the Politburo Standing Committee stressed that China would "unswervingly adhere to the general Zero-Covid policy" and that victory over the virus would come with persistence. At the meeting, chaired by Xi Jinping, the seven-member Politburo Standing Committee also declared that China would fight against any words or acts that "distort, doubt, or deny" the country's dynamic Zero-Covid policy.
Following the meeting, there have been multiple official reports and statements that provide a peek into China's 'zero Covid' future.
On May 13, China's National Health Commission called on all provinces to build or renovate city-level Fangcang hospitals, and to make sure they are equipped with electricity, ventilation systems, medical appliances, toilets, and washing facilities (Weibo hashtag ##以地级市为单位建设或者改造方舱医院#).
On May 16, the term 'Permanent Fangcang Hospital' (Weibo hashtag #永久性方舱医院) became a trending topic on Weibo after Ma Xiaowei (马晓伟), Minister of China's National Health Commission, introduced the term in Qiushi (求是), the leading official theoretical journal of the Chinese Communist Party.
The term is new and is somewhat contradictory as a concept, since 'Fangcang hospitals' are actually defined by their temporary nature.
Ma Xiaowei stressed the need for Chinese bigger cities to be ready for the next stage of China's Covid control. This also includes the need for some central 'Fangcang' makeshift hospitals to become permanent ones.
In order to 'normalize' the control and monitoring that comes with living in Zero-Covid society, Chinese provincial capitals and bigger cities (more than ten million inhabitants) should do more to improve Covid testing capacities and procedures. Ma proposes that there should be nucleic acid sample collection points across the city within a 15-minute walking distance radius, and testing frequency should be increased to maximize efficient control and prevention.
Cities should be prepared to take in patients for isolation and/or treatment at designated hospitals, centralized isolation sites, and the permanent Fangcang hospitals. The recent Covid outbreak in Shanghai showed that local authorities were unprepared to deal with the outbreak, and sites that were used as Fangcang hospitals often lacked proper facilities, leading to chaotic scenes.
The hashtag "Permanent Fangcang Hospitals" received over 140 million views on Weibo on Monday.
One of the Weibo threads by state media reporting on the Permanent Fangcang hospitals and the publication by Ma Xiaowei received nearly 2000 comments, yet the comment section only displayed three comments praising the newly announced measures, leaving out the other 1987 comments.
Elsewhere on Weibo, people shared their views on the Permanent Fangcang Hospitals, and most were not very positive – most commenters shared their worries about China's Covid situation about the stringent measures being a never-ending story.
"We're normalizing nucleic acid test, we're introducing permanent fangcang hospitals, [but] why isn't the third Covid vaccination coming through?" one person wondered.
"If there was still a little bit of passion inside me, it was just killed by reading these words 'Permanent Fangcang Hospital,'" another commenter writes, with one Weibo user adding: "I feel desperate hearing the words 'Permanent Fangcang Hospital.'"
"Building permanent Fangcang? Why? Why don't you use the resources you're now spending on normalizing testing to create more hospital beds, more medical staff and more medications?"
Another commenter wrote: "China itself is one giant permanent Fangcang hospital."
"The forever Fangcang are being built," one Weibo user from Guangdong writes: "This will never end. We'll be locked up like birds in a cage for our entire life."
For more articles on the Covid-19 topics on Chinese social media, check here.
By Manya Koetse, with contributions by Miranda Barnes
Get the story behind the hashtag. Subscribe to What's on Weibo here to receive our weekly newsletter and get access to our latest articles:
Featured image via user tongtong [nickname] Weibo.com.
Spotted a mistake or want to add something? Please let us know in comments below or email us. First-time commenters, please be patient – we will have to manually approve your comment before it appears.
©2022 Whatsonweibo. All rights reserved. Do not reproduce our content without permission – you can contact us at info@whatsonweibo.com.
'Hard Isolation' is Shanghai's New Word of the Day
In line with a new 'hard isolation' measure, the entrances of some Shanghai residential buildings were fenced up.
While some Shanghai households have already endured weeks of isolation, a new word was added to their epidemic vocabulary today: 'hard isolation' or 'strong quarantine' (yìng gélí 硬隔离)
The word popped up on Chinese social media on April 23rd after some Shanghai netizens posted photos of fences being set up around their community building to keep residents from walking out.
"New word: hard isolation. Shanghai is rotten to the core," one commenter wrote.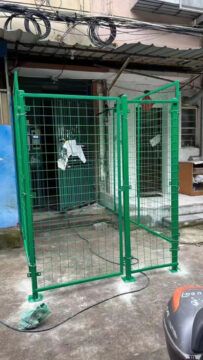 The word soon turned into a hashtag page where people started commenting on the issue of fences being placed around residential buildings, voicing concerns on what a fence around buildings would mean for fire safety, especially after online rumors suggested that there had been a fire at one community in Pudong on Saturday night.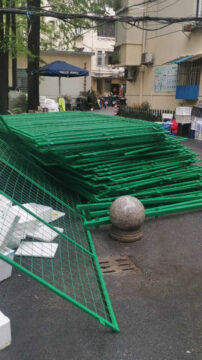 An official document regarding the 'hard isolation' measure was also shared online on Saturday. It is dated April 23, 2022, and its source is the Pudong New Area Office for Epidemic Control.
The document states that in line with the guidelines for the city's epidemic prevention and control, the division between areas or zones that are in certain risk categories should be 'optimized,' with those in the high-risk category requiring a 'hard isolation.' Security guards should also be on duty 24 hours a day at the entrance of the buildings.
Earlier this month, Shanghai adopted "3-level control measures" after its initial phased lockdown. It means that local areas will be classified as "locked-down," "controlled" or "precautionary," based on their Covid19 risk.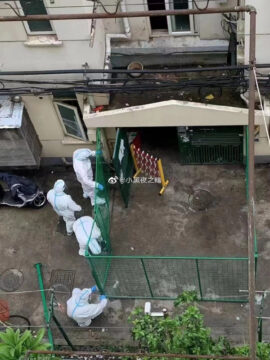 "Could we also put fences around the homes of Shanghai leaders?", one person suggested, while others posted images from the Walking Dead to mock the situation.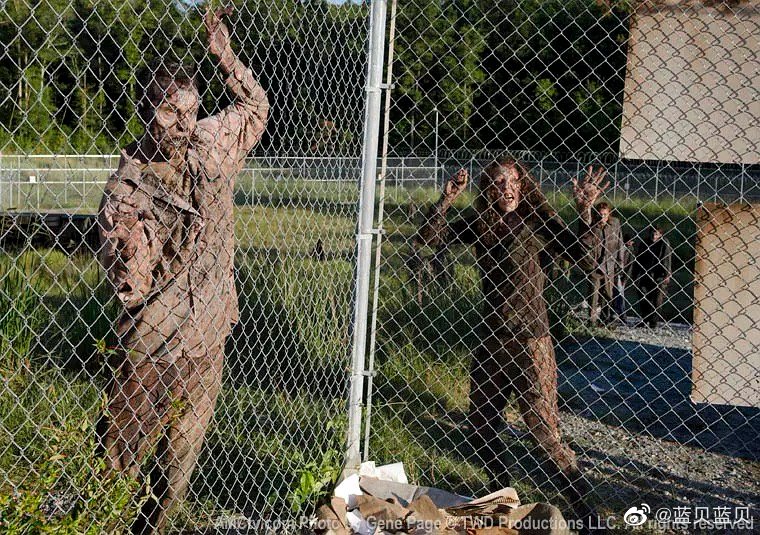 In the hope of Shanghai soon tackling the Covid situation, not everybody disagreed with the decision to fence some buildings or communities in the Pudong area: "I don't disagree with it, as long as there is always someone there to open the fence in case of fire," one person stated.
Although having a fence around their building is currently not a reality for most in Shanghai, the online photos of some communities seeing their buildings being fenced up is a reason to worry for some: "It's been 40 days, and now they start hard isolation? This actually scares me. Before we know it, it's June."
One Weibo user asked: "Why is it possible to implement this hard isolation now? Was this created by the same persons who also implemented the rule to separate children from parents at isolation sites?"
"I truly can't imagine why some people thought this is a good idea," others wrote.
For more articles on the Covid-19 topics on Chinese social media, check here.
By Manya Koetse
Get the story behind the hashtag. Subscribe to What's on Weibo here to receive our weekly newsletter and get access to our latest articles:
Spotted a mistake or want to add something? Please let us know in comments below or email us. First-time commenters, please be patient – we will have to manually approve your comment before it appears.
©2022 Whatsonweibo. All rights reserved. Do not reproduce our content without permission – you can contact us at info@whatsonweibo.com.