Two Sides of the Olympic Medal: Eileen Gu's Gold and Beverly Zhu's Fall on Weibo
Eileen Gu and Beverly Zhu seem similar in many ways, but their Olympic journey in China turned out so differently.
This week, Chinese social media saw two sides of the Olympic coin. Eileen Gu and Beverly Zhu are both American-born teenagers competing for China in the Olympics, but while Gu was celebrated, Zhu was condemned.
A day after grabbing gold at the Olympics, the 18-year-old Chinese American freestyle skier Gu Ailing (谷爱凌 Eileen Gu) is front-page news in China. She is China's biggest Olympic social media hit since female swimmer Fu Yuanhui became an online sensation during the Summer Olympics in Rio.
Eileen Gu's gold medal at the women's Freeski Big Air final was the third gold medal for China and Gu also became China's first female gold medalist in snow sports.
Gu is popular for her athletic talent and disarming smile, but the American-born teenager also garnered huge attention online for switching national affiliations and competing for China, a decision she announced in June of 2019. At the time, Gu called the decision "incredibly tough," writing:
"I am extremely thankful for U.S. Ski & Snowboard and the Chinese Ski Association for having the vision and belief in me to make my dreams come true. I am proud of my heritage and equally proud of my American upbringing. The opportunity to help inspire millions of young people where my mum was born, during the 2022 Beijing Winter Games is a once-in-a-lifetime opportunity to help to promote the sport I love. Through skiing, I hope to unite people, promote common understanding, create communication, and forge friendships between nations."
Now, 2.5 years later, Gu has not just won gold, she has also won the hearts of millions of netizens who call her the "snow princess" – the hashtag "Gu Ailing's Gold Medal" (谷爱凌金牌) received over two billion views on Weibo and the platform's servers even temporarily went down after Gu's win (this, by the way, also once happened back in 2017 when Chinese singer and actor Lu Han announced his new relationship).
Gu: An Online Sensation and Rolemodel for Girls
This week, Gu is all over Chinese social media, with videos and images of her epic win dominating feeds on Weibo and Douyin and an advertisement for Chinese sports brand Anta featuring the medalist popping up everywhere. Chinese super celebrities such as Roy Wang (TFBoys) are drawing even more attention to Gu by publicly congratulating her – Wang's message to Gu received some 400,000 likes on Tuesday.
On February 8, 520 drones formed a portrait of Gu in the city of Sanya to celebrate her gold medal. A video and images of the moment went viral (#三亚520架无人机庆谷爱凌夺金#).
But there is much more. There's Gu wearing a panda hat, Gu eating dumplings, Gu saying she's never been to Hainan (#谷爱凌说自己没有去过海南#), Gu talking about how she handles fear (#谷爱凌谈如何应对恐惧#), and then there's the viral video of her cooking together with her Chinese grandmother (#谷爱凌姥姥冯工#); almost anything Gu does or says nowadays seems to go viral.
It should be noted that the Olympic athlete was already popular before she snatched the gold medal. According to Chinese domestic consumer research platform CBNData, Gu promoted at least twenty brands and companies in 2021 alone, including Anta Sportswear, Midea, Luckin Coffee, China Mobile and Bank of China. Based on the information regarding Gu's brand endorsement fees, CBNData estimates the teenager must have made at least 200 million yuan ($31,4 million) over the past year for doing work related to promotions and brand ambassadorship.
For many, Gu is an inspiration. The young athlete is hard-working and smart – she was admitted to Stanford – and she is not afraid to speak her mind when reporters ask her tricky questions.
"Gu Ailing's positivity gives me strength," one female Weibo user writes:
"She's dealing with an American upbringing, Chinese ethnic identity, being a girl in extreme sports, public opinions about her nationality, all kinds of people speaking for her, yet she is always outgoing and steady. Really, it doesn't matter what happens, what matters is what makes you happy. Are you happy in your life? Don't dwell on loss and regret, ok?"
Debates about Gu's citizenship have played out across international social media over the past few weeks. Since China does not recognize dual nationality, the general assumption is that athletes like Gu who compete under its banner are required to renounce their non-Chinese citizenship, but reporters' questions regarding Gu's current citizenship were recurrently avoided, leading to more speculation on whether or not she actually gave up her American passport or not.
On Chinese social media, many thought these discussions were irrelevant, stressing that Gu represented China for the Olympics now and that the issue of her citizenship was only brought up to polarize.
One Weibo user (@远望白洞) wrote:
"The people who care too much about what nationality she is only want to criticize her for 1) potentially someday returning to US citizenship and 2) using dual citizenship to get special treatment. Either way, I don't think there's anything wrong with it. It's her freedom to go back to the US and the positive effect she has on so many young people will not disappear because of it."
That Gu is praised as an example and role model for women also relates to her background. Gu was raised by her Chinese mother, a molecular biology graduate and former ski instructor, and her maternal grandmother, a former official at China's Ministry of Transport. Not much is known about who her (American) father is, and it seems clear that the upbringing by these two powerful women has contributed to Gu's determination and drive, and her own ambition to inspire other girls and young women.
Beverly Zhu: Olympic Cyber Bullying
Just some 48 hours before Gu's Olympic success, there was the Olympic debut of another US-born athlete representing China. Like Gu, Beverly Zhu is a California-born teenager who changed her citizenship to compete for China during the Winter Olympics. Her parents, both Chinese, moved to the US in the 1990s.
The 19-year-old figure skater announced she would be representing China in September of 2018 and changed her name to Zhu Yi (朱易).
Zhu already was not as popular as Gu on Chinese social media before the Olympics. Her Weibo account has some 110,000 fans, while Gu now has over 4,2 million fans on her personal Weibo page.
But the contrast with her fellow California-born Olympic colleague became even starker when Zhu's Olympic debut turned out to be somewhat of a disappointment. The athlete ended with the lowest score after she crashed into a wall and failed to correctly land two jumps in the women's singles short program on Sunday, pushing Team China out of the medals – she was almost unable to hold back her tears.
Afterward, she told reporters:
"I guess I felt a lot of pressure because I know everybody in China was pretty surprised with the selection for ladies' singles, and I just really wanted to show them what I was able to do, but unfortunately I didn't."
Zhu then fell twice in the free skate on Monday, after which she openly sobbed.
During the week, Zhu was criticized and even ridiculed on Chinese social media. There was the Weibo hashtag "Zhu Yi Cries Again in the Arena" (#朱易再度泪洒冰场#), "Zhu Yi Cries" (#朱易哭了#), and "Zhu Yi Fell" (#朱易摔了#), which was later taken offline by online censors along with some ninety Weibo accounts and hundreds of messages bullying Zhu.
But even after the meanest comments were taken offline, Weibo users still expressed their apparent dislike for Zhu. "If you can't handle the pressure, what are you doing here?", some said, with others writing: "What is she crying about? It should be us crying while watching her."
Zhu is by no means the first Chinese female Olympic athlete to experience cyberbullying. During the Tokyo Olympics, athletes Wang Luyao and Yang Qian were also attacked by netizens, showing just how quickly public sentiment can turn against those who are in the limelight.
Did Zhu receive so much criticism just because of her performance, or is there more behind it? For both Zhu and Gu, the fact that they represented China as American-born teenagers automatically meant more eyes were focused on them already.
While Gu seems carefree in talking to the media, Zhu appears more timid and soft-spoken. This might have contributed to Zhu being not as popular online, especially after Zhu cried after her disappointing performance. When Chinese swimmer Fu Yuanhui (傅园慧) became an overnight online sensation during Rio, it was not her bronze medal that made her popular but her enthusiasm and confidence.
Another reason which perhaps prevented Zhu from becoming more of an idol among the public is the fact that there have been many rumors about how Zhu allegedly did "not deserve" her Olympic spot and those regarding her father's role. Zhu's father is a renowned Chinese professor who, along with his daughter's move, also came back to work at prestigious universities in Beijing. It was rumored that Zhu's father might have helped his daughter get a spot on the Olympic team. Although the rumor was later later refuted, many people were already prejudiced about the young figure skater.
It's worth noting that there are also hundreds of Weibo users jumping to Zhu's defense and those condemning the cyberbullying surrounding her. Just like Gu, she sacrificed a lot and worked very hard to get where she is today, even if it did not lead to her grabbing a medal.
There are also those netizens who remind others that Zhu is just a teenager, as is Gu. Some are already worried about Gu's sudden rise to fame, too. One netizen (@哭泣的空肚子) wrote:
"Fame is a double-edged sword. Your success can be magnified to an extreme, and your mistakes can also be enlarged without boundaries. From now on, she will face the days in which she'll be carefully walking on the sharp edge of that sword because if she does something that does not conform to what people expect of her, the same people who praise you today will then step on you."
Perhaps, it is not Zhu Yi but Eileen Gu who will be walking on eggshells for the time to come.
Read more about China and the Olympics here.
By Manya Koetse
With contributions by Miranda Barnes.
Spotted a mistake or want to add something? Please let us know in comments below or email us. First-time commenters, please be patient – we will have to manually approve your comment before it appears.
©2022 Whatsonweibo. All rights reserved. Do not reproduce our content without permission – you can contact us at info@whatsonweibo.com.
When a Scene from a 2010 Chinese TV Drama Goes Viral: The 'Cao Cao Flips Rice Bowl' Meme
Cao Cao flipping the rice bowl is another Cao Cao meme that's widely used to convey internal struggles about facing reality.
These days, a viral meme originating from the Chinese TV series Three Kingdoms (三国) has gained significant traction on Chinese social media.
In a memorable scene from the 2010 series, Cao Cao, a prominent warlord in Chinese history played by actor Chen Jianbin (陈建斌), angrily flips his rice bowl upon receiving news of a surprise attack, only to gather the spilled rice back into the bowl later.
This scene featuring an enraged Cao Cao has resurfaced and struck a chord with individuals reluctantly facing reality.
This short scene from the 2010 Chinese historical drama "Three Kingdoms" – in which Cao Cao angrily flips over his rice bowl on the table and then shortly after puts it all back in the bowl – has gained significant traction on Chinese social media recently. pic.twitter.com/DrM3Xgi35F

— What's on Weibo (@WhatsOnWeibo) June 3, 2023
Turning into a popular meme, Cao Cao flipping the rice bowl has become widely employed to convey sentiments of self-inflicted humiliation or the hesitation to undertake certain actions.
The Context of the Scene
The specific scene comes from episode 12 of the Three Kingdoms. Warlord Cao Cao, who is governor of Yan Province, is enjoying his meal when his advisor comes in to inform him about a surprise attack by Chinese military general Lü Bu (吕布), capturing almost the entire province.
Upon receiving this alarming report, Cao Cao's anger flared, and he promptly flipped his rice bowl upside down on the table, an act now commonly referred to as "Cao Cao flips the rice bowl" (曹操盖饭).
Cao Cao's anger was intertwined with disbelief at Lü Bu's audacity to execute such a daring attack. Cao Cao's advisor swiftly clarified that the mastermind behind the attack was Lü Bu's strategist, Chen Gong (陈宫), who was also renowned as a brilliant strategist during the Three Kingdoms era.
As he grasped the true situation, Cao Cao gradually regained his composure and meticulously gathered the spilled rice back into his bowl – an act now known as "Cao Cao retrieving his bowl of rice" (曹操撤回了一碗饭),- before resuming his meal.
The catchphrase that is used to describe Cao Cao retrieving his rice utilizes the word "chèhuí" (撤回), which means "to recall" or "to retract." It can be understood as "Cao Cao recalled his bowl of rice," drawing a parallel to the recall function in WeChat that allows users to retract or cancel a message after it has been sent.
How To Use the Meme
The contrast between the forceful act of flipping the rice bowl and the subsequent unwillingness and silence displayed while putting the scattered rice back into the bowl is a key factor contributing to the meme's viral nature on the internet.
Netizens have creatively applied Cao Cao's meme in various situations to express their own internal struggles or a sense of self-inflicted humiliation they experience (自己打自己脸).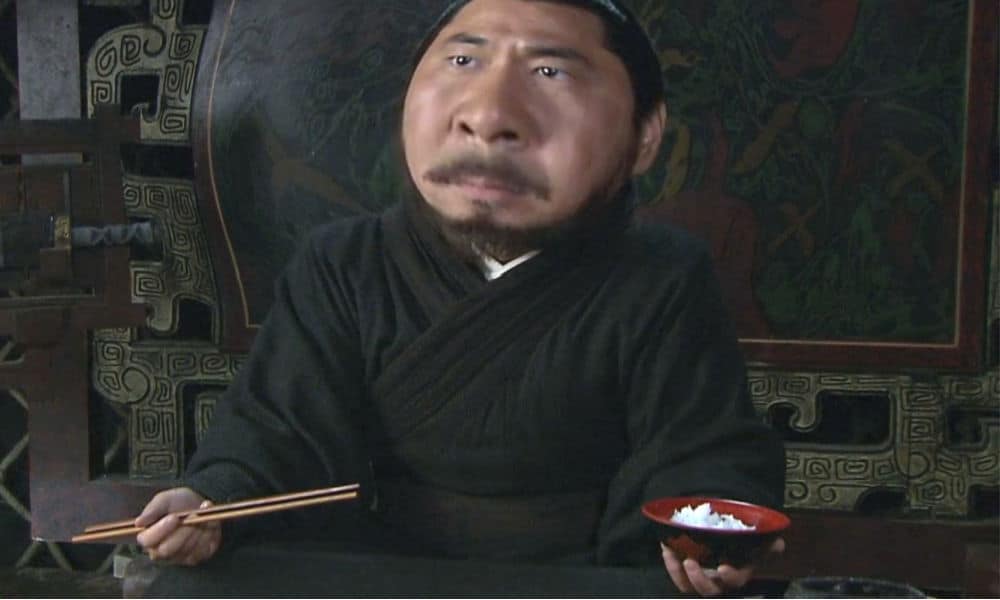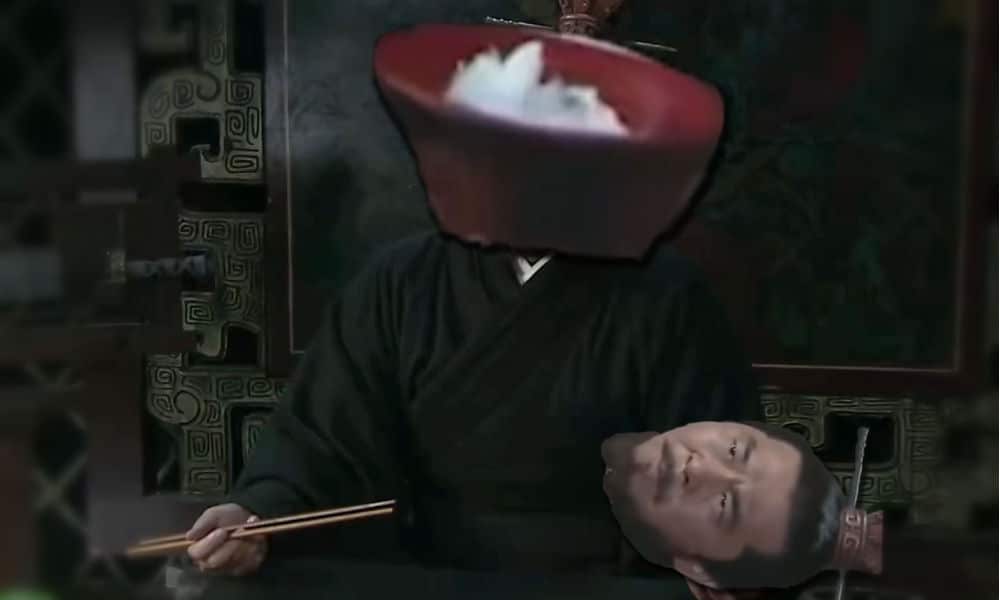 For instance, the meme effectively captures the feelings of both white-collar workers and students who utilize the "Cao Cao flips the rice bowl" meme on Fridays. On this day, they express their frustration with the demanding work week and their eagerness to leave their tasks behind.
On Friday it's f*ck this job… pic.twitter.com/S8cHTQOzgX

— What's on Weibo (@WhatsOnWeibo) June 3, 2023
However, the arrival of Monday brings a sense of reality as they realize the necessity of returning to the office or school. The "Cao Cao retrieves his bowl of rice" meme is then employed to represent the unavoidable resumption of their daily routines.
…on Monday, it's back to work… pic.twitter.com/ST1v8eqjyq

— What's on Weibo (@WhatsOnWeibo) June 3, 2023
In this regard, the meme is somewhat comparable to the English "F*ck This Job, *Goes to Work*" meme (link).
"Not Possible, Absolutely Not Possible"
It is not the first time for Three Kingdom's Cao Cao to achieve viral status through memes.
Prior to the emergence of the 'Cao Cao flips/retrieves the rice' meme, Cao Cao was already well-known for another meme phrase: "Not possible, absolutely not possible" ("不可能,绝对不可能").
This meme originated from a scene where Cao Cao received news of Liu Bei's rebellion, immediately after confidently asserting that Liu Bei, another major warlord, would never betray him.
The meme captures the essence of self-deception and the unwillingness to accept the truth. Similar to the current popular meme, this meme is often used to depict situations where someone unintentionally exposes their own flaws or contradicts their previous statements, symbolizing a self-inflicted "slap in the face."
Read more of our articles about memes in China here.
By Zilan Qian
Get the story behind the hashtag. Subscribe to What's on Weibo here to receive our newsletter and get access to our latest articles:
Spotted a mistake or want to add something? Please let us know in comments below or email us. First-time commenters, please be patient – we will have to manually approve your comment before it appears.
©2023 Whatsonweibo. All rights reserved. Do not reproduce our content without permission – you can contact us at info@whatsonweibo.com.
Fandom Meets Matrimony: Sea of Brides at Roy Wang's Concert as Female Fans Show Up in Wedding Gowns
After showing up as brides at Roy Wang's concert, some female fans attempted to return their gowns within the store's 7-day 'No Questions Asked Return Policy'.
A recent concert by Chinese celebrity Roy Wang (Wang Yuan 王源) has become a hot topic on Chinese social media as female fans attending the show collectively decided to wear wedding dresses to express their love for the singer.
Born in 2000, Roy Wang is best known as a member of the hugely popular TFboys idol group that debuted in 2013, but his solo career has also been thriving for years. Wang is an award-winning musician, who is now among China's most influential young celebrities. On Weibo, he has nearly 85 million followers.
The sight of so many fans coming to Wang's Chongqing concert wearing wedding dresses was already remarkable, but it garnered even greater attention when it turned out that some of the women's boyfriends were so upset over their girlfriends wearing a wedding dress for another man that they ended the relationship because of it.
On Douyin (China's TikTok), the related discussion made it to the top 5 trending daily topics list.
The story gained further traction when reports emerged that some female fans who had recently purchased wedding dresses for the concert attempted to return them to the store the next day, taking advantage of the store's policy that allows returns within seven days without requiring a specific reason (7天无理由退货).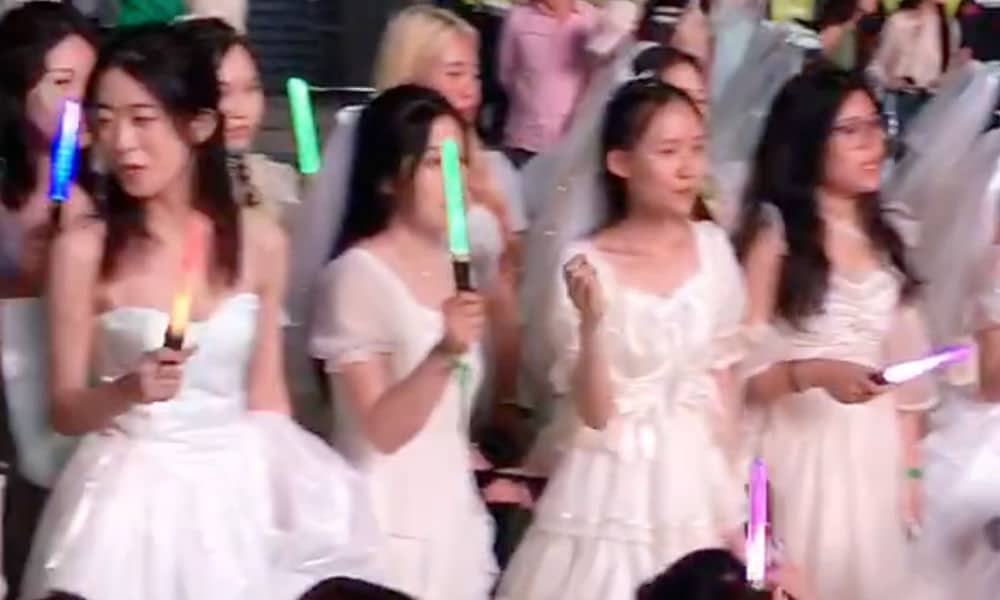 "I already wondered why business was suddenly booming," one Chongqing wedding gown seller wrote on social media, complaining how the return policy was being abused by some of Roy Wang's fans.
Others saw the fact that they wore the wedding dress to the concert as a unique selling point, and tried to resell their gowns online for more than the original price, claiming that the dress still had "a hint of the concert's aroma."
Commenters bombarded these women with negative comments, as the topic also drew wider discussions on how far some fans are willing to go to show their love for their idols.
Some social media users expressed that a wedding dress has a symbolical or even sacred function, and that tying the concept of fandom to matrimony is inappropriate. They condemned the women for showing up to the concert as brides.
Given that many of the commenters criticizing the women were male, there were also feminist voices that condemned these men for their pettiness and chauvinistic attitudes. One comment stood out: "There will always be men whose ego is bruised when women they don't even know won't wear a wedding dress and save their chastity for them. Thanks to Roy Wang's concert, I once again realize the diversity of species."
In an online poll asking people "Can women only wear a wedding dress once in their lives" (#女生一生只能穿一次婚纱吗#) the majority of people replied that they should just wear whatever they like.
"My first thought is that this is romantic," one popular entertainment blogging account (@娱大蜀黍) wrote: "My second thought is that it's actually quite moving. In the midst of their youth, they are writing a passionate chapter for themselves. They will treasure it as a beautiful memory later on in life. They do what they love and they're not bothering anyone. It's perfectly fine."
By Manya Koetse & Miranda Barnes
Get the story behind the hashtag. Subscribe to What's on Weibo here to receive our newsletter and get access to our latest articles:
Spotted a mistake or want to add something? Please let us know in comments below or email us. First-time commenters, please be patient – we will have to manually approve your comment before it appears.
©2023 Whatsonweibo. All rights reserved. Do not reproduce our content without permission – you can contact us at info@whatsonweibo.com.
Subscribe to our newsletter
Stay updated on what's trending in China & get the story behind the hashtag
Sign up here to become a premium member of What's on Weibo today and gain access to all of our latest and premium content, as well as receive our exclusive newsletter. If you prefer to receive just our weekly newsletter with an overview of the latest, you can subscribe for free here.
Would you like to become a contributor, or do you have any tips or suggestions for us? Get in touch with us here.