Two Sides of the Olympic Medal: Eileen Gu's Gold and Beverly Zhu's Fall on Weibo
Eileen Gu and Beverly Zhu seem similar in many ways, but their Olympic journey in China turned out so differently.
This week, Chinese social media saw two sides of the Olympic coin. Eileen Gu and Beverly Zhu are both American-born teenagers competing for China in the Olympics, but while Gu was celebrated, Zhu was condemned.
A day after grabbing gold at the Olympics, the 18-year-old Chinese American freestyle skier Gu Ailing (谷爱凌 Eileen Gu) is front-page news in China. She is China's biggest Olympic social media hit since female swimmer Fu Yuanhui became an online sensation during the Summer Olympics in Rio.
Eileen Gu's gold medal at the women's Freeski Big Air final was the third gold medal for China and Gu also became China's first female gold medalist in snow sports.
Gu is popular for her athletic talent and disarming smile, but the American-born teenager also garnered huge attention online for switching national affiliations and competing for China, a decision she announced in June of 2019. At the time, Gu called the decision "incredibly tough," writing:
"I am extremely thankful for U.S. Ski & Snowboard and the Chinese Ski Association for having the vision and belief in me to make my dreams come true. I am proud of my heritage and equally proud of my American upbringing. The opportunity to help inspire millions of young people where my mum was born, during the 2022 Beijing Winter Games is a once-in-a-lifetime opportunity to help to promote the sport I love. Through skiing, I hope to unite people, promote common understanding, create communication, and forge friendships between nations."
Now, 2.5 years later, Gu has not just won gold, she has also won the hearts of millions of netizens who call her the "snow princess" – the hashtag "Gu Ailing's Gold Medal" (谷爱凌金牌) received over two billion views on Weibo and the platform's servers even temporarily went down after Gu's win (this, by the way, also once happened back in 2017 when Chinese singer and actor Lu Han announced his new relationship).
Gu: An Online Sensation and Rolemodel for Girls
This week, Gu is all over Chinese social media, with videos and images of her epic win dominating feeds on Weibo and Douyin and an advertisement for Chinese sports brand Anta featuring the medalist popping up everywhere. Chinese super celebrities such as Roy Wang (TFBoys) are drawing even more attention to Gu by publicly congratulating her – Wang's message to Gu received some 400,000 likes on Tuesday.
On February 8, 520 drones formed a portrait of Gu in the city of Sanya to celebrate her gold medal. A video and images of the moment went viral (#三亚520架无人机庆谷爱凌夺金#).
But there is much more. There's Gu wearing a panda hat, Gu eating dumplings, Gu saying she's never been to Hainan (#谷爱凌说自己没有去过海南#), Gu talking about how she handles fear (#谷爱凌谈如何应对恐惧#), and then there's the viral video of her cooking together with her Chinese grandmother (#谷爱凌姥姥冯工#); almost anything Gu does or says nowadays seems to go viral.
It should be noted that the Olympic athlete was already popular before she snatched the gold medal. According to Chinese domestic consumer research platform CBNData, Gu promoted at least twenty brands and companies in 2021 alone, including Anta Sportswear, Midea, Luckin Coffee, China Mobile and Bank of China. Based on the information regarding Gu's brand endorsement fees, CBNData estimates the teenager must have made at least 200 million yuan ($31,4 million) over the past year for doing work related to promotions and brand ambassadorship.
For many, Gu is an inspiration. The young athlete is hard-working and smart – she was admitted to Stanford – and she is not afraid to speak her mind when reporters ask her tricky questions.
"Gu Ailing's positivity gives me strength," one female Weibo user writes:
"She's dealing with an American upbringing, Chinese ethnic identity, being a girl in extreme sports, public opinions about her nationality, all kinds of people speaking for her, yet she is always outgoing and steady. Really, it doesn't matter what happens, what matters is what makes you happy. Are you happy in your life? Don't dwell on loss and regret, ok?"
Debates about Gu's citizenship have played out across international social media over the past few weeks. Since China does not recognize dual nationality, the general assumption is that athletes like Gu who compete under its banner are required to renounce their non-Chinese citizenship, but reporters' questions regarding Gu's current citizenship were recurrently avoided, leading to more speculation on whether or not she actually gave up her American passport or not.
On Chinese social media, many thought these discussions were irrelevant, stressing that Gu represented China for the Olympics now and that the issue of her citizenship was only brought up to polarize.
One Weibo user (@远望白洞) wrote:
"The people who care too much about what nationality she is only want to criticize her for 1) potentially someday returning to US citizenship and 2) using dual citizenship to get special treatment. Either way, I don't think there's anything wrong with it. It's her freedom to go back to the US and the positive effect she has on so many young people will not disappear because of it."
That Gu is praised as an example and role model for women also relates to her background. Gu was raised by her Chinese mother, a molecular biology graduate and former ski instructor, and her maternal grandmother, a former official at China's Ministry of Transport. Not much is known about who her (American) father is, and it seems clear that the upbringing by these two powerful women has contributed to Gu's determination and drive, and her own ambition to inspire other girls and young women.
Beverly Zhu: Olympic Cyber Bullying
Just some 48 hours before Gu's Olympic success, there was the Olympic debut of another US-born athlete representing China. Like Gu, Beverly Zhu is a California-born teenager who changed her citizenship to compete for China during the Winter Olympics. Her parents, both Chinese, moved to the US in the 1990s.
The 19-year-old figure skater announced she would be representing China in September of 2018 and changed her name to Zhu Yi (朱易).
Zhu already was not as popular as Gu on Chinese social media before the Olympics. Her Weibo account has some 110,000 fans, while Gu now has over 4,2 million fans on her personal Weibo page.
But the contrast with her fellow California-born Olympic colleague became even starker when Zhu's Olympic debut turned out to be somewhat of a disappointment. The athlete ended with the lowest score after she crashed into a wall and failed to correctly land two jumps in the women's singles short program on Sunday, pushing Team China out of the medals – she was almost unable to hold back her tears.
Afterward, she told reporters:
"I guess I felt a lot of pressure because I know everybody in China was pretty surprised with the selection for ladies' singles, and I just really wanted to show them what I was able to do, but unfortunately I didn't."
Zhu then fell twice in the free skate on Monday, after which she openly sobbed.
During the week, Zhu was criticized and even ridiculed on Chinese social media. There was the Weibo hashtag "Zhu Yi Cries Again in the Arena" (#朱易再度泪洒冰场#), "Zhu Yi Cries" (#朱易哭了#), and "Zhu Yi Fell" (#朱易摔了#), which was later taken offline by online censors along with some ninety Weibo accounts and hundreds of messages bullying Zhu.
But even after the meanest comments were taken offline, Weibo users still expressed their apparent dislike for Zhu. "If you can't handle the pressure, what are you doing here?", some said, with others writing: "What is she crying about? It should be us crying while watching her."
Zhu is by no means the first Chinese female Olympic athlete to experience cyberbullying. During the Tokyo Olympics, athletes Wang Luyao and Yang Qian were also attacked by netizens, showing just how quickly public sentiment can turn against those who are in the limelight.
Did Zhu receive so much criticism just because of her performance, or is there more behind it? For both Zhu and Gu, the fact that they represented China as American-born teenagers automatically meant more eyes were focused on them already.
While Gu seems carefree in talking to the media, Zhu appears more timid and soft-spoken. This might have contributed to Zhu being not as popular online, especially after Zhu cried after her disappointing performance. When Chinese swimmer Fu Yuanhui (傅园慧) became an overnight online sensation during Rio, it was not her bronze medal that made her popular but her enthusiasm and confidence.
Another reason which perhaps prevented Zhu from becoming more of an idol among the public is the fact that there have been many rumors about how Zhu allegedly did "not deserve" her Olympic spot and those regarding her father's role. Zhu's father is a renowned Chinese professor who, along with his daughter's move, also came back to work at prestigious universities in Beijing. It was rumored that Zhu's father might have helped his daughter get a spot on the Olympic team. Although the rumor was later later refuted, many people were already prejudiced about the young figure skater.
It's worth noting that there are also hundreds of Weibo users jumping to Zhu's defense and those condemning the cyberbullying surrounding her. Just like Gu, she sacrificed a lot and worked very hard to get where she is today, even if it did not lead to her grabbing a medal.
There are also those netizens who remind others that Zhu is just a teenager, as is Gu. Some are already worried about Gu's sudden rise to fame, too. One netizen (@哭泣的空肚子) wrote:
"Fame is a double-edged sword. Your success can be magnified to an extreme, and your mistakes can also be enlarged without boundaries. From now on, she will face the days in which she'll be carefully walking on the sharp edge of that sword because if she does something that does not conform to what people expect of her, the same people who praise you today will then step on you."
Perhaps, it is not Zhu Yi but Eileen Gu who will be walking on eggshells for the time to come.
Read more about China and the Olympics here.
By Manya Koetse
With contributions by Miranda Barnes.
Spotted a mistake or want to add something? Please let us know in comments below or email us. First-time commenters, please be patient – we will have to manually approve your comment before it appears.
©2022 Whatsonweibo. All rights reserved. Do not reproduce our content without permission – you can contact us at info@whatsonweibo.com.
Stinky Marketing: Chinese Feminine Hygiene Brand Fuyanjie Stirs Controversy with "Dark and Smelly" Ad
Feminine hygiene brand Fuyanjie is caught in a social media storm over its "dark and stinky" marketing campaign.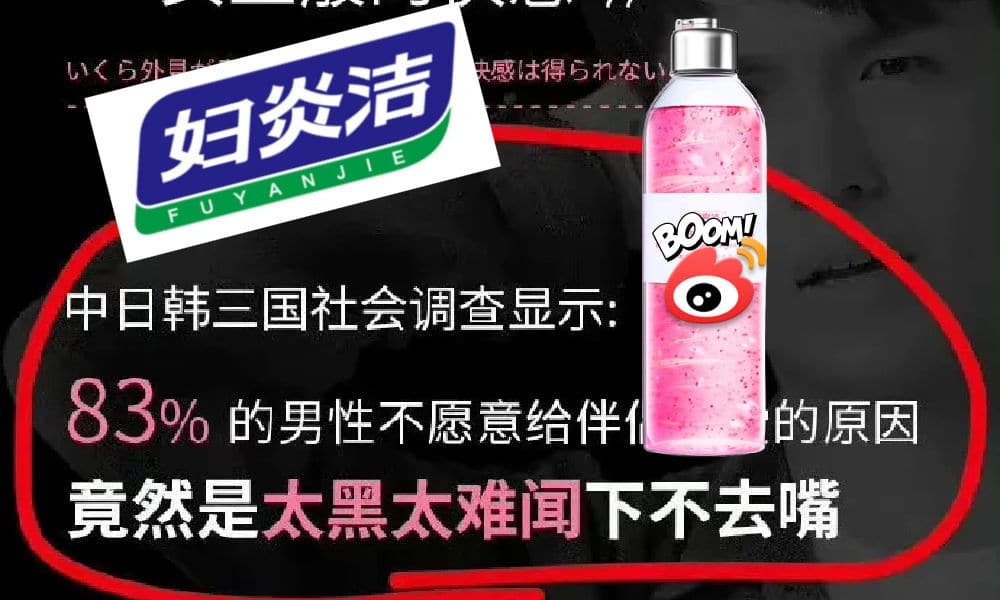 'Insulting' and 'unscientific': Chinese female hygiene brand Fuyanjie has come under fire on social media after suggesting that most men do not want to perform oral sex on women due to the vaginal area being "too dark and too smelly." Their new product promised a 'clean, odorless, and pink' genital area.
The Chinese feminine hygiene brand Fuyanjie (妇炎洁) has caused controversy on Chinese social media this week because of its latest marketing campaign.
The brand recently came out with a new product promotion campaign via its online flagship store. The campaign promoted the pink-colored lotion by claiming that "surveys show that 83% of men from South Korea, Japan, and China are not willing to go down on their partner because it's too dark and stinky."
Of course, the brand promised a solution for this alleged widespread bedroom problem. The campaign suggested that Fuyanjie's lotion will clean the genital area while also lightening darkened vaginal area skin and make it more "pink."

Besides claiming to make the skin more pink-colored, the campaign also suggested that hyperpigmentation of the genital area can be caused by wearing tight pants and having too much sex.
The brand drew widespread criticism from netizens for being vulgar, insulting to women, and completely unscientific. By Saturday, the hashtag "Fuyanjie Ad Insults Women" (#妇炎洁广告被指侮辱女性#) had received over 130 million views on Weibo.
China Women's News also condemned Fuyanjie on May 17th for its ad, saying that the brand ruined its own reputation by using women's bodies for distasteful marketing practices.
Following the controversy, Fuyanjie published an apology on social media on May 20th, saying they offered their sincere apologies for their "inappropriate content" and that they will make sure something like this will not happen again in the future. They also stated that the product in question has now been taken off the shelves.
The "Fuyanjie Apologizes" hashtag (#妇炎洁道歉#) received over 80 million views on Weibo, but most netizens were not buying it, blaming the company for deceiving and discriminating women while also making money off of them.
Fuyanjie is a well-known female product brand in China that has been around since 1998. It is part of the Renhe Pharmaceuticals Group, a pharmaceutical company that specializes in the manufacture and marketing of over-the-counter (OTC) drugs and other healthcare products. Besides female intimate hygiene products, Fuyanjie also sells sanitary napkins and other related products.
"I can't wash away your past, but I can clean up your future"
Fuyanjie became a household name in the 1990s and early 2000s, mainly due to its marketing strategy which involved a catchy song by a couple singing a love song ('Lover' 知心爱人 by Ren Jing and Fu Disheng) and the slogan: "Washing is Healthier" ("洗洗更健康").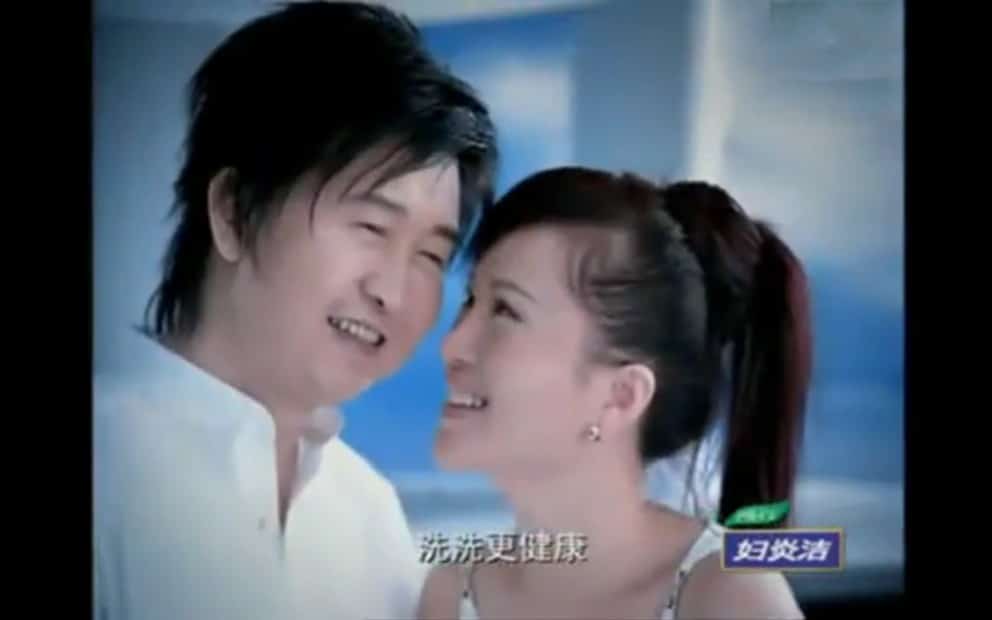 The brand name Fuyanjie (妇炎洁) literally means 'cleansing women's vaginitis,' with the company claiming that their products kill germs, make you feel fresh and clean, and that using their intimate care products somehow makes you "more healthy" (Li 2016).
In its commercials and ads, Fuyanjie also makes a connection between their products and romantic relationships, showing happy couples buying Fuyanjie products together. In between the lines, the company suggests that using Fuyanjie feminine hygiene products will magically boost your love life.
Nevertheless, it has been pointed out many times before that these kinds of female hygiene products are unnecessary and misleading. Rather than maintaining genital health, some of these intimate washing products actually might disrupt the intimate balance of the vagina and give rise to infections.
One popular Weibo comment said: "Unless your doctor says otherwise, the best way to wash your private parts is with water. And regarding the pigment – it's normal to have darker skin there."
It is not the first time Fuyanjie gets caught in controversy. As reported by Jiemian News, the brand also sparked criticism from netizens in 2016 when it used the marketing slogan "I can't wash away your past, but I can clean up your future" ("我不能洗掉你的过去,但我能洗干净你的未来") for one of their intimate care products.
Other Chinese brands were previously also criticized for insulting women. Chinese underwear brand Ubras caused controversy online last year after suggesting that its underwear was so good that it helped women "lie to win in the workplace." Sexist and offensive, according to many Weibo users. An ad by Chinese cotton product brand Purcotton also sparked controversy in 2021 for showing a woman wiping away her makeup to scare off a male stalker, with many finding the ad sexist and hurtful to women.
"They don't respect women at all," one Weibo commenter said about Fuyanjie. "They should make their own penises pink instead," another person suggested.
By Manya Koetse
With contributions by Miranda Barnes
Get the story behind the hashtag. Subscribe to What's on Weibo here to receive our weekly newsletter and get access to our latest articles:
References
Li, Hongmei. 2016. Advertising and Consumer Culture in China. Cambridge: Polity.
Spotted a mistake or want to add something? Please let us know in comments below or email us. First-time commenters, please be patient – we will have to manually approve your comment before it appears.
©2022 Whatsonweibo. All rights reserved. Do not reproduce our content without permission – you can contact us at info@whatsonweibo.com.
'Welcome Home, Molly' – Chinese Zoo Elephant Returns to Kunming after Online Protest
One small step for animal protection in China, one giant leap for Molly the elephant.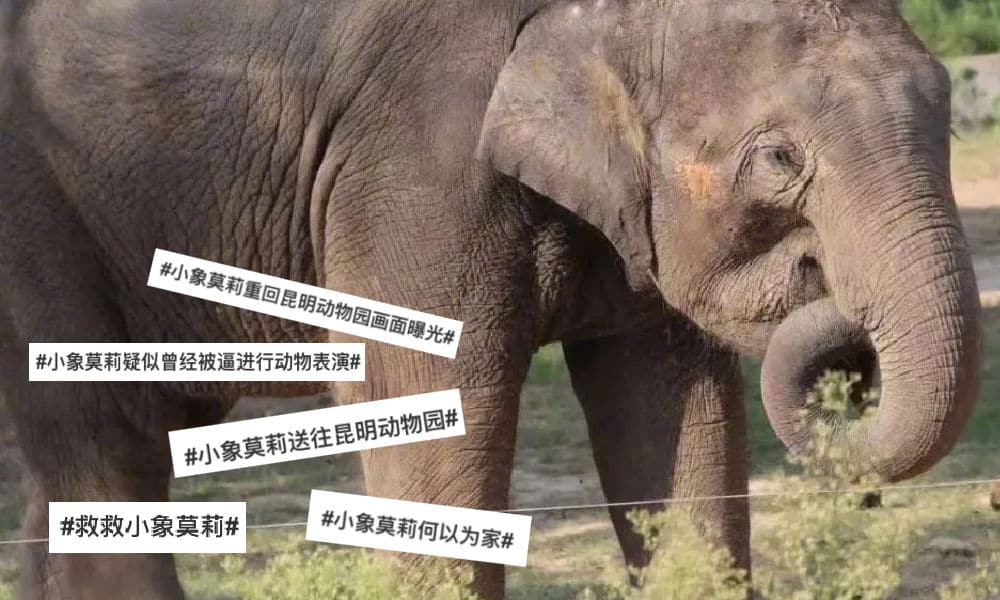 Following online protest and the efforts of animal activists, Molly has returned to the Kunming Zoo where she was born and where mother elephant Mopo is.
The little elephant named Molly is a big topic of discussion on Chinese social media recently.
The popular Asian elephant, born in the Kunming Zoo in 2016, was separated from her mother at the age of two in April of 2018. Molly was then transferred from Kunming Zoo to Qinyang, Jiaozuo (Henan), in exchange for another elephant. Over the past few years, fans of Molly started voicing their concerns online as the elephant was trained to do tricks and performances and to carry around tourists on her back at the Qinyang Swan Lake Ecological Garden (沁阳天鹅湖生态园), the Qinyang Hesheng Forest Zoo (沁阳和生森林动物园), the Jiaozuo Forestry Zoo (焦作森林动物园), and the Zhoukou Safari Park (周口野生动物世界).
Since the summer of 2021, more people started speaking out for Molly's welfare when they spotted the elephant chained up and seemingly unhappy, forced to do handstands or play harmonica, with Molly's handlers using iron hooks to coerce her into performing.
Earlier this month, Molly became a big topic on Chinese social media again due to various big accounts on Xiaohongshu and Weibo posting about the 'Save Molly' campaign and calling for an elephant performance ban in China (read more).
Due 2 pandemic prevention measures in China, Molly's zoo had been closed for long. It was just re-open & a Molly Group friend went to see her 2 days ago, shared a video and photos. The zoo was under much pressure from netizens, so no 🐘 shows, rides, at the moment. #FreeMolly pic.twitter.com/4BjoVk2DBC

— Diving paddler (@KU09814701) April 25, 2022
Although zookeepers denied any animal abuse and previously stated that the elephant is kept in good living conditions and that animal performances are no longer taking place, Molly's story saw an unexpected turn this week. Thanks to the efforts of online netizens, Molly fans, and animal welfare activists, Molly was removed from Qinyang.
On May 15, the Henan Forestry Bureau – which regulates the holding of all exotic species, including those in city zoos – announced that Molly would return to Kunming in order to provide "better living circumstances" for the elephant. A day later, on Monday, Molly left Qinyang and returned to the Kunming Zoo where she was born. In Kunming, Molly will first receive a thorough health check during the observation period.
Good news. After many people's working together for months, Molly's going back to Kunming Zoo to stay with her mom. Though Kunming Zoo has a very dark history, we will keep monitoring it to ensure Molly living in good condition. We will save other performing 🐘. #FreeMolly https://t.co/kC1uByyVpG pic.twitter.com/KhFlLpQgaa

— Diving paddler (@KU09814701) May 16, 2022
Many online commenters were happy to see Molly returning home. "Finally! This is great news," many wrote, with others saying: "Please be good to her" and "Finally, after four years of hardship, Molly will be reunited with her mother."
Besides regular Weibo accounts celebrating Molly's return to Kunming, various Chinese state media accounts and official accounts (e.g. the Liaocheng Communist Youth League) also posted about Molly's case and wished her a warm welcome and good wishes. One Weibo post on the matter by China News received over 76,000 likes on Monday.
Although many view the effective online 'Save Molly' campaign as an important milestone for animal welfare in China, some animal activists remind others that there are still other elephants in Chinese zoos who need help and better wildlife protection laws. Among them are the elephant Kamuli (卡目里) and two others who are still left in Qinyang.
For years, animal welfare activists in China and in other countries have been calling for Chinese animal protection laws. China does have wildlife protection laws, but they are often conflicting and do not apply to pets and there is no clear anti-animal abuse law.
"I'll continue to follow this. What are the next arrangements? What is the plan for Molly and the other elephants? How will you guarantee a safe and proper living environment?"
Another Weibo user writes: "This is just a first step, there is much more to be done."
To follow more updates regarding Molly, check out Twitter user 'Diving Paddler' here. We thank them for their contributions to this article.
To read more about zoos and wildlife parks causing online commotion in China, check our articles here.
By Manya Koetse
References (other sources linked to within text)
Arcus Foundation (Ed.). 2021. State of the Apes: Killing, Capture, Trade and Ape Conservation. Cambridge: Cambridge University Press.
China Daily. 2012. "Animal Rights Groups Seek Performance Ban." China Daily, April 16 http://www.china.org.cn/environment/2012-04/16/content_25152066.htm [Accessed May 1 2022].
Li, Peter J. 2021. Animal Welfare in China: Culture, Politics and Crisis. Sydney: Sydney University Press.
Get the story behind the hashtag. Subscribe to What's on Weibo here to receive our weekly newsletter and get access to our latest articles:
Spotted a mistake or want to add something? Please let us know in comments below or email us. First-time commenters, please be patient – we will have to manually approve your comment before it appears.
©2022 Whatsonweibo. All rights reserved. Do not reproduce our content without permission – you can contact us at info@whatsonweibo.com.