GOBI HAS BEEN FOUND! – Marathon Runner Finds Back Dog in Urumqi
It was the news everybody was hoping for. Gobi, the desert dog that joined Australian runner on his marathon across China and went missing before he could be adopted, has been found back after a long search in the city of Urumqi, China.
It was the news everybody was hoping for. Gobi, the desert dog that joined Australian runner on his marathon across China and went missing before he could be adopted, has been found back after a long search in the city of Urumqi, China.
The story that melted netizens' hearts this summer was that of runner Dion Leonard who found a true friend in a little stray dog during his participation in the Gobi March of 2016.
The stray dog joined the runner on his run after he hung around the runners' camp on the first day of the march. The two became inseparable after running for days on end together. The love grew so big that Leonard decided to set up a crowdfunding campaign to cover the costs for bringing the dog he named Gobi back with him to Scotland, where Leonard resides.
But during the first period of quarantine in the city of Urumqi, Gobi unexpectedly run away and went missing. Leonard did not hesitate and flew to China to look for his friend. The search started on August 15 and continued for nine days, with chances and hopes of finding the little stray dog growing smaller every day. Leonard and his helpers asked the help of Weibo netizens, who also spread the news about the missing dog.
Today Leonard and his search team announced on the Bring Gobi Home Facebook page that Gobi had been found:
"Gobi has been found!!! She's safe & well, a wee sore leg but over joyed to see Dion as you will see in the video! Sticks to him like glue! A massive thank you to all the support, especially the group of Volunteers that have been working tirelessly to find her!
Thank you thank you from the bottom of our hearts, we are overjoyed!"
They also posted a short video that shows a happy Gobi cuddling with Leonard.
Gobi is expected to fly home to Leonard in Edinburg in December, when the quarantine period is finished. That will undoubtedly be one fluffy, merry Christmas.
– By Manya Koetse
Follow @WhatsOnWeibo
©2016 Whatsonweibo. All rights reserved. Do not reproduce our content without permission – you can contact us at info@whatsonweibo.com.
"Opposing Dog Meat Consumption Is Hypocritical" – Weibo Discussions on Anti-Dog Meat Protests
Eating dog meat is a personal choice, many commenters argue.
Last week's anti-dog meat protests in South Korea have triggered discussions on Chinese social media on the status quo of the dog meat industry in China. An overview of the sentiments on social media and the background of dog eating in the PRC.
South Korea's dog meat industry made headlines on Friday after protesters in Seoul, joined by actress Kim Basinger, called for an end to the decade-old dog meat trade in the country.
Not far from the protesters were farmers who raise dogs that are sold to restaurants. They brought steamed dog meat and ate it with kimchi.
In China, where the eating of dog meat has a long history, the Seoul protests triggered some discussions on social media.
Kim Basinger joins protest against the dog meat trade in Seoul https://t.co/tkW2rwkzbI pic.twitter.com/lVeqTUz4yA

— CNN International (@cnni) July 12, 2019
The hashtags "Hundred People Gather in South Korea to Stop the Eating of Dog Meat" (#韩国百人集会呼吁停食狗肉#) and "Big Protest in South Korea against Eating of Dog Meat" (#韩国大规模抗议吃狗肉#) received over 83 million views.
In South Korea, the overall demand for dog meat has plummeted over the years. Earlier this month, one of the largest dog meat markets in the country, the Gupo dog meat market, was shut down. In November of 2018, Seongnam city already demolished South Korea's largest dog slaughterhouse.
Friday's protesters hope to shut down dog meat trade in the country completely. The latest protests have put the thorny issue of the dog meat industry back in the limelight.
HYPOCRITICAL PROTESTS?
"I don't eat dog meat, but I don't oppose it."
On Chinese social media site Weibo, hundreds of netizens expressed their opinion on the matter, that has been a hot topic in China for years.
According to polls from the past and present, the topic of dog meat in China is clearly a divisive one.
But over the past few days a seeming majority of commenters on Weibo spoke out about the issue in a remarkably similar way, with thousands of netizens highlighting one issue in the matter: hypocrisy.
"I won't oppose to the eating of dog meat," one person writes: "Because if I support the anti-dog meat movement today, then tomorrow it will turn against the eating of cows, then the eating of pigs, and then the eating of fish.."
Many people on social media agree with this point of view, arguing that no matter one's personal ideas about dog meat, condemning the dog meat practice in specific would be hypocritical: "Pigs are so cute, why do we eat pigs then?" many say, with others arguing: "Aren't cows also spiritual animals?"
"I also raise dogs, I also love dogs," another commenter says: "But I think that if they legally breed dogs for the dog meat [industry], then we have no right to prevent them from doing so."
"I don't eat dog meat, but I don't oppose it, as long as it's legal it's ok," with others writing: "I am opposed to the eating of any living creature."
"Eating dog is not illegal, why all this sentimental nonsense? Why don't you also defend chickens, ducks, geese, pigs, sheep, and cows?!"
"As long as they're not abused, I don't see a problem with it."
"Dog meat is tasty," one commenter from Zhejiang writes: "I like it, although I rarely eat it. I don't see a problem with it, it's a personal choice."
SHORT OVERVIEW OF DOG EATING IN CHINA
"To them, dog meat was just like any other meat."
The tradition of dog eating in China can be traced back as far as the Shang Dynasty (ca. 1558 to 1046 BC), when dog meat was considered a delicacy for the upper class.
Later on in Chinese history, during the Han Dynasty (202 BC-220 AD), it became more and more common until the practice saw a general decline, especially in northern China, during and after the tenth century (Li et al 2017, 513-514).
Despite the rising and declining popularity of dog meat throughout China's history, the practice of eating dog has never completely disappeared, particularly in southern China.
In a book on China from 1878 by John Henry Gray, the author notes the popularity of restaurants serving dog and cat meat in 'Canton' (Guangzhou):
"I do not think (..) that I exaggerate in saying that there are no fewer than twenty such places in Canton. Each restaurant contains only one public apartment. The approach to this dining-room is generally through the kitchen, where cooks may be seen standing in front of slow fires over which the flesh of cats and dogs is being cooked. The flesh is cut into small pieces and fried with water chestnuts and garlic in oil. In the windows of the restaurant dogs' carcasses are suspended, for the purpose, I suppose, of attracting the attention of passengers" (75).
He further writes:
"The flesh of black dogs and cats is generally preferred because it is supposed to possess more nutriment than that of cats and dogs of any other color. At Ying-tong, a suburban district of Canton, a fair is held at which dogs are sold for food; and in one of the streets dogs and cats are daily exposed for sale. The dogs are put to death by strangling, stabbing, or felling with clubs" (76).
Something that has not changed since the days described in Gray's book is the belief in the medicinal benefits of dog meat.
Especially in summer, dog's flesh is believed to serve as an antidote against summer heat, and to be nutritious and beneficial as a source to enhance male virility or to boost the liver. Even at present, Chinese media promote the eating of dog meat to boost the immune system and help stimulate better blood circulation.
It should be noted that although China has a long history of dog meat consumption, it also has a long history of dog domestication and dog-human comradery. Dogs were pets, guarded the house, used in hunting, and also used in rituals of sacrifice.
Most of the 20th century (1900-1978) was a tough time for people in mainland China, and it was a tough time for dogs too. In many times, there was barely enough food to eat, and under Mao's rule, dogs were considered "parasites" and were outlawed as pets (Coren 2018; Li et al 2017, 514).
Those who kept pets were seen as part of the 'bourgeoisie,' and during the Cultural Revolution, pet dogs were reportedly seized and beaten to death in front of their owners (Coren 2008, ch. 21).
Much has changed since those days. Although (stray) dogs, as carriers of diseases and potentially aggressive, are often still considered a drain on society, having a dog as a pet has become much more commonplace in China since the late 1980s and early 1990s.
Eating dog meat has become less popular, especially among young people in China, who have grown up very differently from their parents and have different perceptions of dogs.
Chinese writer Bang Xiao looks back on the first time his mother served him dog meat during Chinese New Year, writing:
"For them, dog meat was just like any of the other meats, and coming from a generation who lived through famine and the Cultural Revolution, I was told I should be grateful. For me though, it meant I was eating my own pet Duo Duo. I cried."
Later on, he writes about his parents:
"They weren't "dog eaters". They were just people that happened to have a different history that led to different animals being on the menu."
THE YULIN DOG MEAT FESTIVAL
"Don't go, don't eat it, don't pay attention to it."
Despite the general unpopularity of dog meat in China, there is one time of the year when the discussions on the practice of dog eating flare up again, and that is during the Yulin Lychee & Dog Meat Festival, an annual event that's been held over the past decade in the Chinese city of Yulin intended to generate income from tourism (Brown 2018).
Some 10,000 to 15,000 dogs and cats are slaughtered during the 10-day event that starts on June 21st every year. The event attracts hundreds of people every day. There is a restaurant strip and a market where dozens of vendors cook various dog meat dishes in large woks and where live dogs are sold and slaughtered.
Although the voices of those people protesting the festival seem to grow louder year on year, the dog meat festival continues. It is not illegal, and its economic benefits have become of crucial importance for many in the city of Yulin.
A 2016 media survey held among 2000 people from various ages and places in China found that 64% of the people opposed to the festival, 52% thinks that dog meat should be banned in China, and 70% said they had never had dog meat themselves.
"Don't go, don't eat it, don't pay attention to it. When there's no business, the killing will stop," one Weibo commenter suggests.
A MURKY MARKET
"There does not seem to be a Chinese dog meat market that is both cruel-free and completely legal."
Apart from Yulin, the eating of dog meat is barely a celebrated tradition in China anymore.
For a What's on Weibo article from 2015, we could still find 122 restaurants listed as 'dog meat' specialty restaurants in the city of Beijing on restaurant site Dianping. But at present, Dianping no longer publicly lists any restaurants when searching for 'dog meat' specialty places (note that there still are restaurants serving dog meat, but they might not be listed due to controversy or for fear for activists).
China's biggest e-commerce websites sell different herb mixes for dog stews or dog meat hotpots (see tweet below), but the market could hardly be called thriving.
What to put on a package for spicy dog meat stew? A happy dog, of course🙄 #taobao #dubiousmarketing pic.twitter.com/XYsXBebYbB

— Manya Koetse (@manyapan) July 12, 2019
Yet, despite all those people on Chinese social media saying that eating dog meat should not be a problem for those who still want to eat it, China's dog meat market does actually have a problem.
China has no law that bans the eating of dogs; eating dog meat is a personal freedom. But what makes the issue murky and troublesome is that China actually has no large-scale legal dog farms, nor legal dog slaughterhouses.
The very few dog farms in existence in China would never be adequate to provide the meat for the industry in southern China, let alone for the estimated 10,000+ dogs slaughtered in Yulin every year.
It is therefore not clear where the dogs that are used for their meat in China come from. Are they stray dogs? Are they stolen from the streets? And if so, would this not be considered illegal (Brown 2018; Cao 2014; Yan 2015, 46)?
Every now and then scandals appear in the media of restaurants slaughtering and killing dogs that were actually people's pets (for example, this scandal in Jilin in 2018 or in Chengdu this year).
Another issue making the dog meat market a problematic one is the cruel treatment of the dogs.
China has seen countless of food scandals over the years, and some of them involve the selling of poisoned dog meat. As a result, many people have a general distrust in (frozen) meat products and want to make sure they are consuming good quality meat.
Dog meat markets such as Yulin, therefore, often sell living dogs. They are virtually like 'wet markets' for dogs, where those who want to eat dog meat can do so with the assurance that the meat they are eating is fresh and safe. The dogs are slaughtered at the spot or are sold alive for home consumption (Brown 2018).
The process of being transported, being displayed in tiny cases in the summer heat, and being killed in often cruel ways all add to the enormous stress and pain the animals at the live dog market are suffering.
China currently has no laws from the perspective of animal welfare to minimize the pain and suffering during transport, the selling, or at the point of slaughter (Brown 2018).
For the aforementioned reasons and more, festivals such as the Yulin Dog Meat one are getting more controversial year on year, with more and more Chinese calling for a boycott and a ban.
DISTORTED DISCUSSIONS
"If you eat dog meat of unknown origin, you might be participating in the killing of someone else's pet."
As the discussions on dog meat in China are ongoing following the South Korea protests, one blogger posted a survey asking netizens if they support the eating of dog meat.
Despite the many commenters who also defend the practice of dog eating, a majority of 67% percent among the 32.000 participants said they do not support it as "dogs are our friends."
A recurring sentiment expressed on Chinese social media on the issue is that there essentially is nothing wrong with eating dog meat – and that it would be hypocritical to only oppose to eating dog without also opposing eating sheep, cows, chickens, and so on – as long as it is legal, and as long as the dogs are not stolen, poisoned, or abused.
But that's the whole issue at hand: all those things are in fact happening in the dog meat industry today. It is difficult to discuss the eating of dogs based on the hypothetical assumption that these things are not occurring.
Consumers are not buying (frozen) meat from legal dog farms and certified dog slaughterhouses, they are mostly buying living dogs or dog meat from unknown origins, and the process of selling and slaughtering often goes hand in hand with cruel treatment.
"I don't oppose to eating dog, but I hate the dog trafficking market," one person says. Another commenter agrees, writing: "I don't oppose to the eating [of dogs] that are bred for it, but I do oppose to those who steal other people's dogs. Most of the dog meat I've seen comes from unknown origins. (..) If you eat dog meat that you don't know the origin of, you might be participating in the killing of someone else's pet."
For now, China and South Korea are very different when it comes to their dog meat industries and their (legal) changes. The countries do seem to have one thing in common, which is that the practice of eating dog meat is no longer popular among the younger generations.
This might suggest that as sales are dropping, the dog meat market will shrink and might eventually disappear altogether if there is no interest in it.
"Don't hype the dog meat festival," one Weibo commenter writes: "It's the hype that made it big and that led to more dogs being killed.
This basically reiterates the advice of one of the aforementioned commenters: don't go, don't eat it, don't pay attention to it, and the business will, eventually, die out.
Want to read more? Also see:
20 Facts About Dogs & Dog-Eating in China
The Yulin Dog Meat Festival: 10 Views From Chinese Netizens
Tradition or Abuse? Chinese Views on the Yulin Dog Meat Festival
By Manya Koetse
Want to see more articles such as these? Please donate to keep What's on Weibo going.
References
Brown. Hannah. 2018. "Yulin Lychee and Dog Meat Festival: A Shift in Focus." In: Tourism Experiences and Animal Consumption: Contested Values, Morality and Ethics, Carol Kline (eds), Chapter 15. London: Routledge.
Cao Yin. 2014. "Experts: Dog Meat Festival 'Illegal'." China Daily (June 16). Online at http://www.chinadaily.com.cn/china/2014-06/16/content_17589087.htm [6.23.16].
Coren, Stanley. 2008. The Modern Dog: A Joyful Exploration of How We Live with Dogs Today. New York: Free Press.
–. 2018. "What Is China's Current Attitude Concerning Dogs?" Psychology Today, Feb 21 https://www.psychologytoday.com/us/blog/canine-corner/201802/what-is-chinas-current-attitude-concerning-dogs [7.15.19].
Gray, John Henry. 1878. China: A History of the Laws, Manners, and Customs of the People (Volume II). London: MacMillan & Co.
Li, P. J., Sun, J., & Yu, D. 2017. "Dog "Meat" Consumption in China: A Survey of the Controversial Eating Habit in Two Cities." Society and Animals, 25(6), 513–532. http://doi.org/10.1163/15685306-12341471
Xiao, Bang. 2018. "Chinese New Year: Remembering how I first ate dog meat, and how differences bring us together." ABC, February 17 https://www.abc.net.au/news/2018-02-17/chinese-dog-meat-eating-linked-to-history-of-famine/9454394 [7.15.19].
Yan Wei. 2015. "Dog Meat Festival: Traditional Custom or Abuse?" Beijing Review (29): 46-47.
Spotted a mistake or want to add something? Please let us know in comments below or email us. Please note that your comment below will need to be manually approved if you're a first-time poster here.
©2019 Whatsonweibo. All rights reserved. Do not reproduce our content without permission – you can contact us at info@whatsonweibo.com
China's Woman Warrior Goes America Again: The Disneyfication of Mulan
The story of Mulan is ingrained in Chinese culture, but Disney has made her an international classic.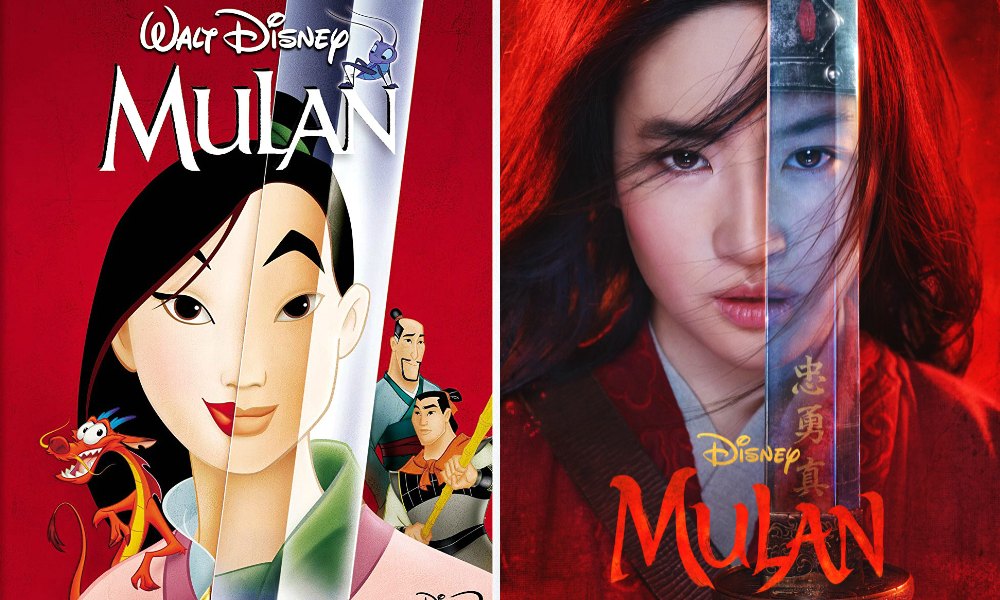 Disney's upcoming live-action remake of Mulan has become a recurring topic of debate on social media recently. The movie is much-anticipated in China, but there are also critical voices suggesting the American Disney company "doesn't understand China at all." How 'Chinese' is Disney's Mulan really? 
Ever since news came out that Disney would turn Mulan into a live-action movie the topic has been frequently popping up in the top trending lists on Chinese social media.
The movie has been especially top trending on Weibo this week since the official trailer was released.
Mulan is the much-anticipated live-action remake of Disney's 1998 animated Mulan movie, which tells the story of the legendary female warrior Hua Mulan (花木兰) who disguises as a man to take her father's place in the army.
Over recent years, Disney has released and announced the live-action adaptations of many of its animated classics. Remakes such as Cinderella (2015), The Jungle Book (2016), Beauty and the Beast (2017), Dumbo (2019), and Aladdin (2019), have all been successful and, besides Mulan, they are now being followed up by the remakes of The Lion King, The Little Mermaid, Lady and the Tramp, and The Hunchback of Notre Dame.
Disney's new Mulan movie is directed by the New Zealand film director Niki Caro.
The role of Mulan will be played by the (mainland-born) Chinese American actress Crystal Liu Fei (刘亦菲). The film also features Yoson An as Mulan's love interest, Tzi Ma as Mulan's father, Donnie Yen as Mulan's Commander mentor, Gong Li as the evil witch, Jason Scott Lee as the enemy warrior leader, and Jet Li as the Emperor of China.
MULAN: WEIBO MANIA AND CRITICISM
"Americans really have no idea about China."
Since the story of Mulan is a Chinese legend that has a history of over 1500 years in China, Chinese audiences are particularly invested in the topic of the upcoming Disney movie. Every new detail concerning Mulan seems to become another trending topic on social media.
On Weibo, "Disney's Mulan" (#迪士尼花木兰#) has seen over 420 million views by now, while the hashtag "Mulan Trailer" (#花木兰预告#) alone received a staggering 1.2 billion views.
Following the release of the movie poster made by Chinese visual artist Chen Man, the relating hashtag (#花木兰海报是陈漫拍的#) was viewed more than 260 million times.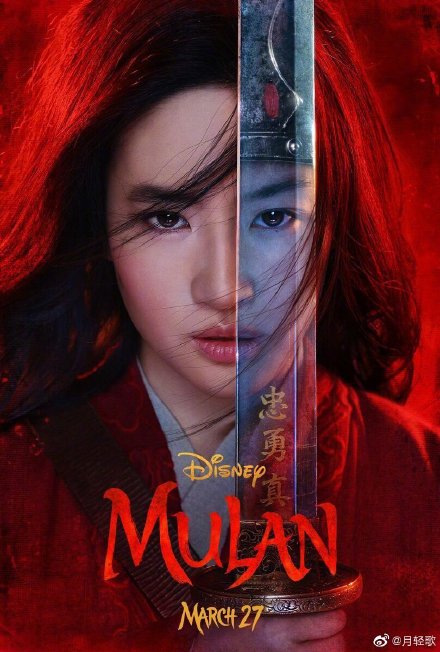 A topic dedicated to the missing Mushu, a talking dragon that is the closest companion to Mulan in the animated film, also received 310 million views (#花木兰里没有木须龙#).
Online discussions on Mulan show that there already is quite a lot of criticism on the movie and its historical accuracy, even though its release is still months away.
Some commenters criticized Mulan's makeup in one of the movie scenes as being too exaggerated and unflattering.
The fact that the actors in the movie all speak English also did not sit well with some people, writing: "Why is it all in English?!" and "I understand the logic, but why would a group of Chinese people speak English while it's filmed in China? Even if it's a Disney movie, it seems awkward."
Another controversy that has been especially making its rounds for the past few days is the one relating to the traditional tulou round communal residences that are featured in the movie trailer (#花木兰 福建土楼#, 170 million clicks).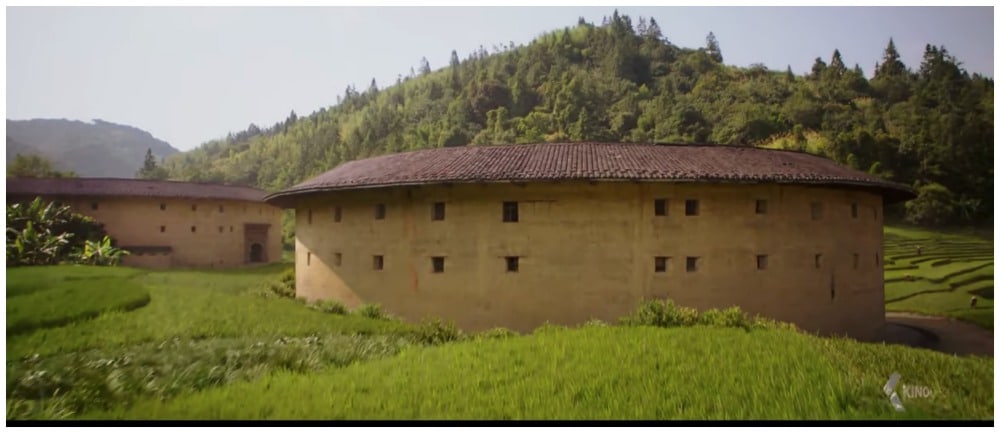 The tulou are Chinese rural, earthen dwellings. Although the buildings are part of Chinese traditional architecture, they are also unique to mountainous areas in Fujian province. Not only is Mulan not from Fujian, her story also takes place long before these tulou were built – something that many Chinese netizens find "nonsensical" and "distracting."
"Americans really have no idea about China," some people on Weibo commented, with others writing: "We can't expect Disney to research everything, but they can't not do research. They shouldn't let Mulan live in a tulou just because it looks pretty, she is not from Fujian!"
"Why on earth would she live in a tulou," others write: "Isn't she a northerner?"
"Foreigners just don't understand China," one among thousands of commenters said.
Another Weibo user writes: "Americans should first thoroughly understand the Northern and Southern Dynasties, and Chinese geography, and Mulan's ethnic background, and then they can give it another try."
FROM SELF-SACRIFICE TO SELF-DISCOVERY
"The meaning of the story of Mulan varies depending on how it is told, when it is told, and by whom it is told."
Although many people outside of China only know about Mulan through the 1998 Disney animation that made the story of this Chinese warrior go global, Hua Mulan's story has seen continued popularity in China for more than a thousand years.
The first known written version of the Mulan legend is the anonymous sixth-century Poem of Mulan (木兰辞), followed by other plays and novels in the sixteenth and seventeenth centuries (Edwards 2016, 19-20; Li 2018, 368).
Especially since the twentieth century, the story of Mulan has become a recurring theme in China's popular culture, appearing in various plays, movies, TV series, operas, and even in games. Some of China's earliest films were about Mulan; from 1927 to 1939, three different films came out on the female heroine, all titled Mulan Joins the Army (木兰从军).
The meaning of the Mulan legend varies depending on how it is told, when it is told, and by whom it is told. The story has seen a centuries-long period of change and development, with different perspectives being presented depending on the region and genre (Kwa & Idema 2010, xii).
The basic outline of the story is always the same: Mulan is the daughter who disguises as a man to protect her father and take his place in the army, where she fights for twelve years before being promoted to a high-ranking position by the emperor. Mulan declines and asks for an honorable discharge instead, so she can return home to her family. Once she is home, Mulan changes into women's clothing again.
Chastity, filial piety, feminism, perseverance, sacrifice, militarism, patriotism – the Mulan story has it all, but which motives are given prominence is always different. Within China, the Mulan narrative is related to issues of China's national identity and political goals.
In Chinese literary versions before the twentieth century, Mulan is presented as a northerner of uncertain ethnicity, a figure of resistance, who sacrifices her own safety to protect her father and show filial piety. Confucian values and the importance of family are at the core of the Mulan story (Edwards 2016, 19-20).
In Chinese versions after the twentieth century, Mulan is implicitly presented as being Han Chinese and as a "loyal patriot defending China." The focus is no longer solely on Mulan giving up her own freedom for the sake of her father; it is her militarised sacrifice to the state and the importance of patriotism that is highlighted instead (ibid., 19-20).
With Disney's 1998 adaptation of Mulan as an animated film, the main focus of the story was again shifted. Disney presented Mulan not so much as a patriot or as a Confucian daughter, but as a somewhat goofy and free-spirited young woman on her "Americanized self-realization journey" (Li 2018, 362-363).
Mulan's individual coming of age and feminist story is echoed in the film's Reflection song, in which Mulan sings:
"I am now
In a world where I have to hide my heart
And what I believe in
But somehow
I will show the world
What's inside my heart
And be loved for who I am"
Although the narrative of the young woman who finds her own true voice resonated with many around the world – Mulan became an international box office smash hit -, it did not resonate with Chinese audiences.
In China, the Disney film grossed only about one-sixth of its expected box office income and was even among the lowest scoring big imported US films since 1994 (Li 2018, 362-363).
According to scholar Lan Dong, the Mulan flop in China indicated Disney's failure to anticipate how the film would be received in China and how the Chinese audience's familiarity with Mulan's story had already shaped their expectations of the film (ibid.): Disney's Mulan clearly was not the same as China's Mulan.
THE DISNEYFICATION OF A CHINESE FOLK HEROINE
"The animated Mulan film clearly Disneyfied the story by playing into various American stereotypes of feudal China."
But who is "China's Mulan"? And who is "Disney's Mulan"?
As described, Chinese versions of Mulan have significantly changed through times. And Disney's Mulan of 2020 is also very different from the Disney princess that stole the hearts of viewers around the world in 1998.
Judging from the trailer, the upcoming Mulan will be a much more serious movie that focuses on the action and martial arts, and seems to represent Mulan as a self-sacrificing woman warrior (nothing goofy).
There's an apparent risk in this route taken by Disney. On Chinese social media, the complaints about the movie relate mostly to the movie not being 'Chinese' enough when it comes to historical accuracy and language.
In English-language media, the movie is criticized for omitting the talking dragon and the songs and for "bowing to China's nationalistic agenda" with its patriotic theme (Jingan Young in The Guardian, also see Vice).
The Disney company aims to entertain children and adults all around the world. In doing so, they convert "cultural capital" to "economic capital"1 and create content with universal appeal for global audiences, virtually always requiring commercial concessions to adapt to tastes and expectations of their mass audience.
Since tastes and audience expectations change over time, it seems logical for Disney to make different choices for its Mulan feature film in 2020 than it did in 1998, and not only because the company might have learned from its past mistakes in mainland China. China's role in the world, and how people view China, has also greatly changed over the past twenty years.
National cultures, stories, and legends go through a process of 'Disneyfication' once they became part of the Disney canon. The term 'Disneyfication' has been coined since the 1990s to describe this phenomenon and has been used in various ways since.
Speaking of globalization and literature, author David Damrosch (What is World Literature?, 2003) uses 'Disneyfication' to describe how many foreign literary works will only be translated and sold in the West when its content 'fits' the image audiences have of that certain culture. What remains is actually a 'fake' cultural product that holds up certain stereotypes and clichés in order to please the audience (Koetse 2010).
In the 1998 animated film, Mulan was clearly 'Disneyfied' by playing into various American values and stereotypes of feudal China that were most dominant at the time.
Although the upcoming Mulan movie will be very different from its animated predecessor, we already know that it will play with some of those stereotypes again in a way that you could call 'market realistic': viewers will see an English-speaking Mulan that lives in a traditional Fujian tulou building. Some of the sceneries and settings will have absolutely nothing to do with the authentic story, but much more to do with how viewers around the world now imagine China.
The movie will undoubtedly present folk heroine Mulan and ancient China in a way that is aesthetically pleasing and accessible, making Mulan and her story easy to understand, digest, and love.
WHOSE MULAN IS IT ANYWAY?
"For many Chinese viewers, Mulan has become 'too American', while foreign media criticize the film for being 'too Chinese.'"
The irony in the criticism that has emerged over Disney's Mulan recently, is that in the eyes of many Chinese viewers, Mulan has become 'too American', while foreign media criticize the production for being 'too Chinese.'
This is by no means the first time the Disney company is under attack for the way in which it adapts local legends or stories into international feature films.
With Pocahontas, Disney was accused of "whitewashing horrific past," the Moana movie was said to show "insensitivity to Polynesian cultures," some critics found Aladdin to be "rooted by racism and Orientalism," and recently, Disney's choice to cast a black actress for the remake of The Little Mermaid triggered controversy for removing "the essence of Ariel."
There are two sides to the controversial 'Disneyfication' coin. On the one hand, one could argue that some of the cultural value of the original local myths, legends, and stories are lost once they are transformed and simplified to satisfy mass market demand.
On the other hand, the Disney corporation also truly makes these local stories go global and in doing so, further adds to their cultural significance and worldwide recognition.
Mulan is now a Chinese legend that has gone beyond its borders and is no longer 'truly Chinese' – whatever that might mean. She has become a part of people's childhood memories and popular culture in many countries around the world.
Just as The Little Mermaid no longer solely belongs to the realm of feudal Nordic folklore, Quasimodo no longer just exists in French literary canon, and just as Aladdin has become so much more than part of the The Thousand and One Nights, Mulan has also come to represent more than a Chinese folk heroine. She has become a world-famous woman warrior whose story will keep evolving for the years to come.
About the upcoming Mulan movie and its criticism, one Weibo commenter writes: "I find it hard to understand why people are so fussy. They have a problem with Mulan's make-up, or with the fact that there's no singing and no Mushu, or with the scenery. This is a movie. It can only stay close to the original work, but it will never be the original work."
Luckily for Disney, many Chinese viewers are still very keen to watch the Mulan premiere despite – or perhaps thanks to – the ongoing controversies. The casting of Liu Fei as Mulan has also been met with praise and excitement.
Popular Weibo law blogger Kevin (@Kevin在纽约) writes: "On the first day that the trailer for Disney's live-action Mulan was released, it had 175.1 million global views, making it the number two Disney adaption. The number one is The Lion King which had 224.6 global views [on its first day]. Although the Americans made Mulan live in a tulou, and made her speak English with a Chinese accent, it all won't prevent Hua Mulan from having great success in 2020."
Other netizens also agree, and they do not seem to mind sharing 'their' Mulan with the rest of the world.
"Some people are being too obstinate," one female Weibo user writes in response to all the criticism: "This is the American Disney company, and all princesses speak English first. Jasmine in Aladdin also did not speak Arabic. I gather that in the film there will definitely be some subjective ideas or errors based on Western conceptions of China. As Chinese, we might find them misrepresentative or laughable. But from the trailer, I can already see that [this film] matches our esthetics and imagination. Most importantly, this film expresses the strength and beauty of Chinese women, and of women in general – that's what matters."
Discussions on Disney's Mulan will certainly continue in the time to come. The movie is scheduled to be released in theatres on March 27 of 2020.
Too Chinese? Too American? Too Disneyfied? Too patriotic? Disney's Mulan might not please all viewers. Fortunately, there are and will be dozens of other Mulan versions providing viewers and readers with new and different perspectives on the centuries-old legend. But who is the 'real' Mulan in the end? We'll probably never know.
By Manya Koetse
1 (Harris 2005, 50).
Dong, Lan. 2010. Mulan's Legend and Legacy in China and the United States. Bibliovault OAI Repository, the University of Chicago Press.
Edwards, Louise. 2016. "The Archetypal Woman Warrior, Hua Mulan: Militarising Filial Piety." In: Women Warriors and Wartime Spies of China, pp. 17-39.
Cambridge: Cambridge University Press.
Harris, David. 2005. Key Concepts in Leisure Studies. SAGE Key Concepts. London: SAGE Publications Ltd.
Koetse, Manya. 2010. "The Imagined Space of Chinatown: An Amsterdam Case Study." Leiden University, https://www.manyakoetse.com/the-imagined-space-of-chinatown/ [July 12, 2019].
Kwa, Shiamin and Wilt I. Idema (eds). 2010. Mulan: Five Versions of a Classic Chinese Legend with Related Texts." Indianapolis/Cambridge: Hackett Publishing Company.
Li, Jing. 2018. "Retelling the Story of a Woman Warrior in Hua Mulan (花木兰, 2009): Constructed Chineseness and the Female Voice." Marvels & Tales 32 (2): 362-387.
Young, Jingan. 2019. "The Mulan trailer is a dismal sign Disney is bowing to China's nationalistic agenda." The Guardian, July 8 https://www.theguardian.com/film/2019/jul/08/mulan-trailer-is-a-dismal-sign-disney-is-bowing-to-china-anti-democratic-agenda [July 12, 2019].
Spotted a mistake or want to add something? Please let us know in comments below or email us. Please note that your comment below will need to be manually approved if you're a first-time poster here.
©2019 Whatsonweibo. All rights reserved. Do not reproduce our content without permission – you can contact us at info@whatsonweibo.com