"Without Limits, There is No Freedom" – Controversial French Burkini Ban Goes Trending on Weibo
France's 'burkini' bans recently sparked outrage on Twitter, where many netizens called them "racist" and "oppressive". On Chinese social media, however, many netizens seem to support the French ban on Islamic swimwear, while other Weibo users just don't understand what all the "fuss" is about
France's 'burkini' bans recently sparked outrage on Twitter, where many netizens called them "racist" and "oppressive". On Chinese social media, however, many netizens seem to support the French ban on Islamic swimwear, while other Weibo users just don't understand what all the "fuss" is about.
On Weibo, various Chinese media recently reported about mayors in different French cities banning the 'burkini', a type of Islamic swimwear for women. The news of the ban, and photographs of police allegedly asking a woman to remove her conservative beachwear, were shared amongst Chinese netizens and attracted many comments.
On Twitter, the ban has led to a stream of angry reactions, with many calling it "oppressive", "racist" and "absurd", while defending wearing the right to wear a burkini as "the right to cover up".
The French burkini bans are based on ideas that the body wear item is "not just a casual choice", but "part of an attempt by political Islamism to win recruits and test the resilience of the French republic" (Economist 2016). The bans come after a series of deadly terrorist attacks over the past 1,5 years.
Religious neutrality is a value that has been strongly upheld in France, where the government adheres to a strict form of secularism known as laïcité – designed to keep religion out of public life (Economist 2014). Since 2004, wearing conspicuous religious symbols in public schools became illegal. According to Brookings, that law was widely condemned in the United States, where high schools allow students to wear head scarfs, Jewish caps, large Christian crosses, or other conspicuous religious signs.
But French supporters argued that in the existing social, political and cultural context of France, they could not tolerate these religious symbols. In 2010, wearing a full face veil was also prohibited by law.
"Don't you get it? This is all for the safety of the country."
On August 24, Chinese news site The Observer (观察者网) posted on Weibo: "Where are the human rights? French police force women to take off her muslim swimwear. Recently, at a beach in the French city of Nice, French police requested a woman to take off her muslim swimwear, which triggered much controversy. At the time, the woman was wearing a so-called 'burkini' (布基尼) while sunbathing. Four tall men went to her while holding their police stick and pepper-spray."
The post, just one out of many micro-blogs posted on this topic on Sina Weibo, attracted near 6000 comments. The most popular comment (i.e. receiving the most 'likes' from other netizens) said: "The rule of France banning clear religious symbols in public does not just apply to muslims. This rule is the same for all religions."1
A burkini sold on a swimwear website.
The number two most popular comment read: "Don't blame the police for this! France is afraid to get bombed! They are afraid of people hiding bombs in their clothing in crowded places."2
"Don't you get it? This is all for the safety of the country," the following commenter wrote.3
"Freedom is not unlimited, freedom is relative, freedom is limited – without limits, there is no freedom."
Many Chinese netizens see the burkini ban as a direct consequence of the strings of islamist terrorist attack occurring in France over the past 18 months. "This is how it should be, China is the same, there can be no exemptions,"4 one netizen says.
In China, a ban on wearing burqa's, or 'face masking veils' (蒙面罩袍), was legally approved in January of 2015. The prohibition on burqa's applies specifically to Urumqi, the capital of Xinjiang, home to the majority of China's muslims.
A year earlier, Chinese authorities also implemented several measures in Xinjiang to keep religious expressions to a minimum after a string of attacks allegedly committed by Chinese muslim extremists. The measures, amongst others, did not allow fasting for Ramadan, no niqabs, hijabs or large beards in buses.
[rp4wp]
Underneath a Weibo post on the burkini ban by China's Lifeweek (@三联生活周刊), the number one popular comment says: "To all the people here saying that what you wear is a personal freedom: it was also enforced that women could no longer have bound feet [in China], with the police parading the foot binding cloths out in the streets. Some women felt so humiliated that they committed suicide. Do you also feel that their right needed to be defended? (..) Freedom is not unlimited, freedom is relative, freedom is limited – without limits, there is no freedom."5
" What is all the fuss about?"
But not all netizens agree with these views. One micro-blogger, who goes by the name of 'Demons and Monsters', said: "Although I am opposed to the burqa, I am also against the enforcement of wearing less clothing. What if you caught a cold? You are an endangerment to others if you fully cover yourself in a public place, but it is your freedom not to expose too much."
"What about the West and its human rights? Its freedom of religion?" another Weibo user remarks.6
Noteworthy about the burkini ban issue on Weibo, is that although (state) media seem to denounce it in their reporting ("Where are the human rights?"), the majority of netizens seem to support it. When Chinese news site Jiemian posted the news on Weibo saying: "A setback for freedom? Three cities in France prohibit muslim swimsuits", it got the response from netizens: "A setback? This is progression!"7, and others saying: "People keep mentioning human rights, and freedom. Take a look at Europe's terrorist attacks – what does it [still] mean?"8
"When you come to a place, you follow their guidelines and customs. This is normal. It is also a way of showing respect to the local [culture]. What is all the fuss about? Should muslims be an exception to the rule?", one 45-year-old Weibo user from Shandong writes.
"I thought we were talking about facekini's here."
Another person compares the burkini to the Japanese kimono: "I think a lot of people here do not understand the feeling of French people. For example, what if you would walk down the street and see that in China people are wearing kimono's? When in Rome, do as the Romans do, or just go back to your own country. Don't use religion as an excuse."9
Although the majority of the netizen's reactions on Weibo are different than those on Twitter, a recurring issue on both social media networks is the focus on 'freedom', with some Chinese netizens emphasizing the fact that what you wear is your own freedom. But the most-liked comments on Weibo are those stressing that freedom is relative: "Many people say that a woman can wear what she likes, that it's her freedom. But did you ever think about whether these women have the freedom not to wear it? They clearly don't."10
There are also those who confuse the 'burkini' (布基尼) with China's 'facekini' (脸基尼) ("I thought we were talking about facekini's for a moment!"), although for now, it is highly likely that neither are welcome on the beaches of Nice.
China's infamous 'facekini'
– By Manya Koetse
Follow @WhatsOnWeibo
1 "但其实法国禁止民众在公共场合显露出明显的宗教标志的规定,不只是针对穆斯林。 这个法规对各大宗教是平等的,比如在公共场所佩戴十字架,佩戴佛珠,严格的说,都是不符合法规的。"
2 "别喷警察了!法国是被炸怕了 就怕人群密集的地方 衣服里那么厚有藏炸弹"
3 "那是为了国家安全,你懂个屁[doge]"
4"必须这样,中国的也一样,不能搞特殊化"
5 "评论里谈到穿什么是个人自由,当年女性不能再裹脚也是强制性的,警察们挑着裹脚布招摇过市,无数女性感觉被羞辱自杀,你是否认为她们的自由也应该被捍卫?就是现在很多女性也自愿回家自愿生多胎自愿流产自愿被打死,她们的自由呢?自由不是无限的,自由是相对的,自由是受限的,没有限制就没有自由。"
6 西方的人权呢?宗教自由呢?
7"这是倒退?这是进步!"
8"还有人提人权,自由。不看看欧洲被恐袭搞成什么了么?"
9 "我看很多人不了解法国人是怎样一种感受,打个比方,就跟你走在街上看到中国有人穿和服的时候[微笑]所谓入乡要随俗,不然真的请回自己国家。别拿宗教当借口这里不适合这样的宗教,你为何还来呢?"
10"很多人都说那些女性喜欢穿什么就穿什么,是她们的自由。但是洗地的那些人有没有想过,她们有不穿这个的自由吗,很明显没有"
©2016 Whatsonweibo. All rights reserved. Do not reproduce our content without permission – you can contact us at info@whatsonweibo.com.
[showad block=2]
After 88 Days of 'Missing in Action,' Jack Ma Appears in Public Again
"Daddy, you're back!" – Jack Ma reappears after three months of silence.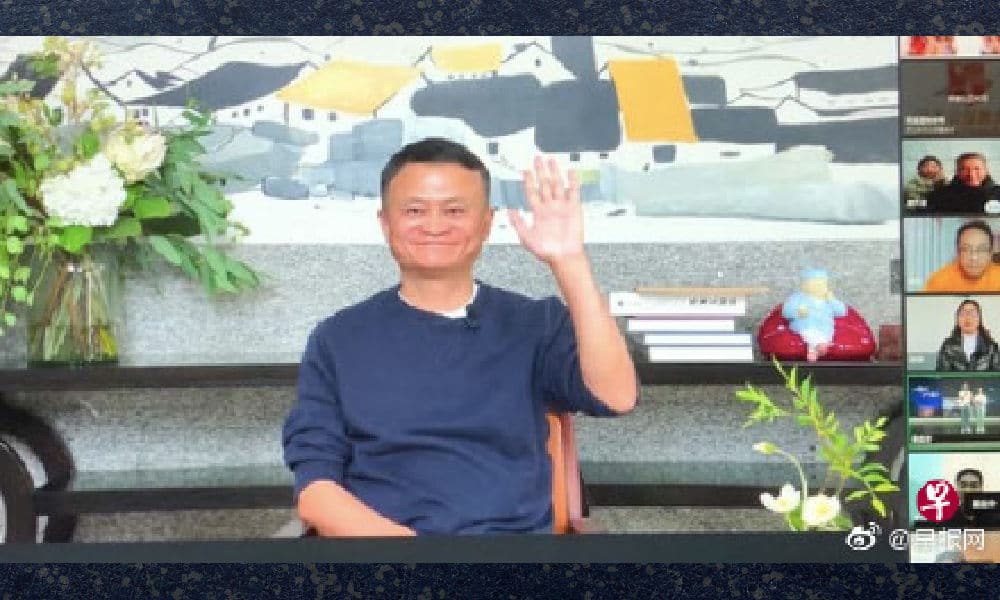 Jack Ma's alleged 'disappearance' made international headlines and also generated many discussions on Chinese social media.
But now, after not appearing in public for 88 days, the Alibaba founder has finally popped up again in a video that is circulating online. News of his appearance was first reported by Tianmu News (天目新闻), a news platform under the umbrella of the Zhejiang Daily.
The video was recorded during an online award ceremony for rural teachers, which was attended by 100 educators from around the country. In his speech, Ma expressed his respect for China's 2.9 million countryside teachers and said that although the physical event for the rural teaching initiative was canceled due to COVID19, they would all meet again once the epidemic is over. The event is usually held annually in Sanya, Hainan.
Jack Ma, who used to be a teacher himself, previously put forward the Rural Teachers Program to further develop and modernize education in China's countryside areas.
Chinese media report that Alibaba shares immediately went up after Ma's online appearance.
Meanwhile, Jack Ma personally still has not posted anything on his Weibo account, where his latest post of October 17th 2020 is still attracting new comments every day. Today, some people commented: "Teacher Ma, I finally saw your face again in a video! It made me happy."
Other wrote: "Daddy, you're back!"
For more on Jack Ma and his recent 'disappearance', read "Daddy Ma, Are You OK?" – Jack Ma's Situation Discussed on Chinese Social Media.
By Manya Koetse
Follow @WhatsOnWeibo
Spotted a mistake or want to add something? Please let us know in comments below or email us. First-time commenters, please be patient – we will have to manually approve your comment before it appears.
©2021 Whatsonweibo. All rights reserved. Do not reproduce our content without permission – you can contact us at info@whatsonweibo.com.
The Top 10 Buzzwords in Chinese Online Media in 2020 (咬文嚼字)
Some of the buzzwords that were most noteworthy in Chinese media this year.
These are some of the expressions and idioms that have been buzzing in Chinese media in 2020. What's on Weibo's Jialing Xie explains.
China's online media environment is a breeding ground for new terms and niche expressions that suddenly make it to mainstream discussions.
Every year, the most popular new words and expressions are listed by the Chinese magazine 咬文嚼字 (yǎo wén jiáo zì). The magazine selects buzzwords that reflect present-day society and the changing times.
Yǎo Wén Jiáozì, which means "to pay excessive attention to wording,"* is a monthly publication featuring commentary, criticism, and essays on the Chinese language.
Founded in 1995, the magazine has gained social influence for correcting typos in the language used by media and celebrities. Some of these corrections have been impactful, such as their correction of the 2006 CCTV Chinese New Year Gala on writing 'Shenzhou 6' (the second human spaceflight of the Chinese space program) as "神州六号" rather than "神舟六号" (different character for 'zhōu'). It was included in their "Ten Biggest Language Mistakes" list (十大语文差错) of that year.
On social media, Chinese online (state) media always promote the magazine's selection of the top words and terms of the past year. The ten terms have also become a relatively big topic on Weibo over the past month, with the list of Top 10 Buzzwords in 2020 #2020年度十大流行语# already garnering 460 million views.
*yǎo wén jiáo zì, literal meaning: to talk pedantically and pay excessive attention to wording, often referring to a stickler for detail with an intent to display their fine knowledge; often used negatively or neutrally.
We've listed the top 10 buzzwords for you here:
1. 人民至上,生命至上 (Rénmín zhìshàng, shēngmìng zhìshàng): "People First"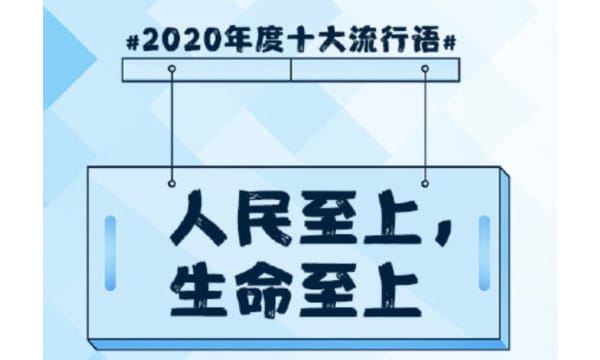 Literal Meaning

: "People are above everything else, life is above everything else."

The context of this phrase in 2020:

On May 22 of 2020, Chinese President Xi Jinping took part in the deliberation of the Inner Mongolia delegation at the annual legislative session

, where he stated that "our people come first, people's lives come first, and the safety and health of our people should be secured at all costs." "People first, life first" has since become a widely circulated slogan and guiding principle for government and society to combat Covid-19 across the country. 
2. 逆行者 (Nìxíng zhě): "People Going against the Tide"
Literal Meaning

: "People who swim upstream / people who go against the current."

The context of this phrase in 2020:

In a broad sense, this phrase shares a similar meaning as its English counterpart, describing people who dare to differ from the mainstream and to go above and beyond their call of duty. In 2020, it has become a term often used by state media to refer to frontline workers and individuals who made a significant contribution or sacrifice during the battle against the novel coronavirus.
3. 飒 (Sà): "Spirited"
Literal Meaning

: "

1) Chill and refreshing 2) Onomatopoeia: the sound of the wind 

The context of this word in 2020: In modern Chinese literature, this word is commonly used in the idiom "英姿飒爽" (yīng zī sà shuǎng), illustrating how a person, either a man or woman, is high of energy and full of morale and is showing an attitude of heroism and prestige. According to People's Daily, half of the doctors and more than 90% of the nurses working in healthcare during the fight against COVID19 are female. State media started to use 飒 (sà) as an adjective to eulogize these female medical workers. The word was later used to praise both men and women working in other industries as well. 
4. 后浪 (Hòu làng): "The Rear Waves"
Literal Meaning

: "The rear waves."

The context of this phrase in 2020: 后浪 hòulàng is often used within the idiom "长江后浪推前浪" (cháng jiāng hòu làng tuī qián làng) which literally means "the rear waves in the Yangtze River drive on those before," and figuratively referring to how the new generation excels beyond the one before, or how the new is constantly replacing the old. This phrase became an internet meme regarding the young generation in China – specifically, those born in the 90s and 00s – as a result of heated online discussions about a video launched on Bilibili and other social media for Youth Day (May 4th), in which the older actor He Bing talks about the rights and opportunities enjoyed by young people in China today. On various occasions, this word is used to address the more privileged young people. Some associated stereotypes about this group include studying or living abroad, high-quality lifestyle, and luxury material possessions. Those who don't identify with this privileged group tend to refer to themselves as "韭菜" (Jiǔcài, chives), which shares a similar sentiment as "屌丝" (Diǎosī, loser), as opposed to "the rear waves."
5. 神兽 (Shén shòu): "Divine Beasts"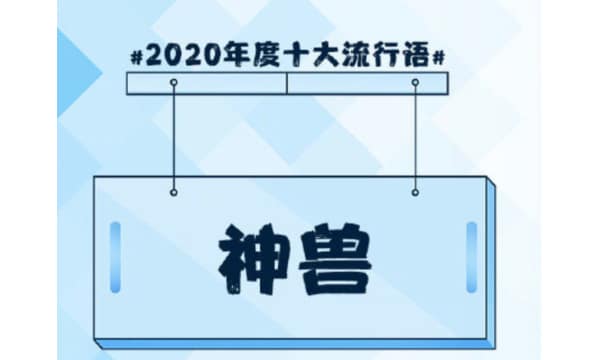 Literal Meaning

: "Divine beasts."

The context of this word in 2020: Totem worshiping is deeply rooted in the religion and tradition of many ancient cultures. Divine beasts in China are in fact deities, also known as the Four Symbols (四象), as a mixed product of Chinese ancient cosmology and mythology.

Since the beginning of remote learning and delay in schools reopening across the country, many parents and caregivers have posted their experience balancing work and remote learning with their children from home. In these posts, parents often call their children 'divine beasts' then share their children's naughty behavior and how they struggled to deal with them. 
6. 直播带货 (Zhíbò dài huò): "Live commerce"
Literal Meaning

: "Live commerce", "

Influencer marketing via live streaming.

"

The context of this phrase in 2020:

China's live-streaming economy played an important role in the country's economic market recovery amidst COVID19. I

nfluencer marketing via live streaming combines talk show-like entertainment and the convenience of online shopping, at times even leveraging social proof and the reputation of influencers themselves to crack astonishing sales records.

Apart from internet celebrities, many business executives (i.e. Jack Ma) and even government officials (

i.e. 13 local mayors in Hubei Province

) also took advantage of the booming live-streaming and appeared in front of webcams to promote certain products which resulted in millions of views on TikTok.

On the flip-side of the business, there have been concerns about the quality of the products as well as lawsuits against fraudulent sales practices. Popular topics on Weibo as such include #如何看待直播带货卖假货#("What do you think of counterfeit goods in live-streaming sales"). 
7. 双循环 (Shuāng xún huán): "Dual Cycle"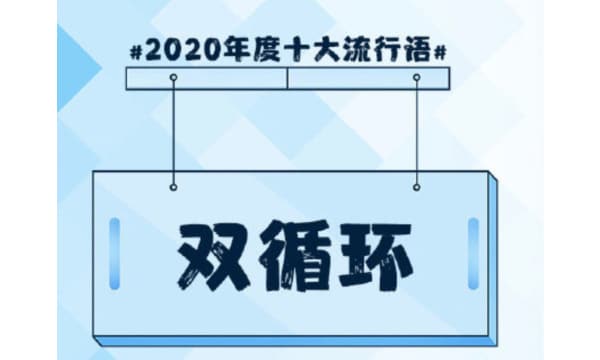 Literal Meaning

: "

Dual cycle

."

The context of this word in 2020:

This term comes from President Xi's speech at the meeting of the Politburo of the Chinese Communist Party on May 4, 2020, during which he stated that the dual-cycle system will be the party's strategy for China's economic and political development for the near future following COVID19 recovery. The system focuses on recovering and growing the economy by primarily expanding domestic demand mixed with healthy participation in international trade.

While it certainly was not the first time the Communist Party introduced this concept of prioritizing the domestic market, according to Xinhua News Agency, the dual-cycle system has been regarded as a suitable strategy given current restrictions facing international trade due to the pandemic and the ongoing trade tensions between China and a few western powers.
8. 打工人 (Dǎ gōng rén): "Working People"
Literal Meaning

: "Working people"

The context of this phrase in 2020: As agriculture, foreign trade, and investment sectors developed following the economic reform in 1978, a social-economic trend emerged in the 80s during which labor forces across China's villages and countrysides migrated to cities and worked in blue-collar jobs. These migrant workers are called 打工人 (Dǎ gōng rén) / 打工仔 (Dǎ gōng zǎi). The word later evolved and was used to address the entire working class and salaried employees. For example, the memoir written by Shujuan Liu of the former president of Microsoft China, Jun Tang, was titled "I'm the 高级打工仔 (Gāojí dǎgōng zǎi, high-class worker) at Microsoft". The term was frequently used as an internet buzzword in 2020 after appearing in a viral video in which a man acted as a migrant worker and showed watchers warm and positive encouragement. The video ended with a "good morning" greeting and addressed watchers as 打工人.  
9. 内卷  (Nèi juǎn): "Involution"
Literal Meaning

: "

Involution

"

The context of this phrase in 2020: According to People's Daily, this word is a direct translation of the concept of 'involution' brought up by the American anthropologist Clifford Geertz. Involution describes the economic situation in which as the population grows, per capita wealth decreases.

This year, this word is used to represent the competitive circumstances in academic or professional settings where individuals are compelled to overwork because of the standard raised by their peers who appear to be even more hard working.

In the latter half of 2020, a few pictures capturing college students' multitasking went viral on Weibo. One of the images shows a person working on his computer while riding his bike. These people were then called "卷王" (Juǎn wáng, meaning they are the example of overworking) on social media and became the origin of this buzzword. You can find this word sometimes associated with

the 996 working hour system

on Weibo.
10. 凡尔赛文学 (Fán'ěrsài wénxué): "Versailles Literature"
Literal Meaning

: "Versailles literature."

The context of this phrase in 2020: 

Social media has made displaying wealth and superiority easier than ever before. Instead of showing off explicitly, some find a way to both satisfy their desire for publicity and avoid doing so ostentatiously, by flaunting wealth and material possessions in an indirect and often negative-toned message. This writing style for social media posts is then referred to as "Versailles literature."

Admittedly not all posts labeled as "Versailles literature" were written with the intent to show off, but those with clear intention are often easily spotted and circulated online and became funny memes. This then led to a wave of discussions and a contest of "Versailles literature" on social media, which became a form of entertainment itself.
By Jialing Xie
Follow @WhatsOnWeibo
Spotted a mistake or want to add something? Please let us know in comments below or email us. First-time commenters, please be patient – we will have to manually approve your comment before it appears.
©2020 Whatsonweibo. All rights reserved. Do not reproduce our content without permission – you can contact us at info@whatsonweibo.com.