"Without Limits, There is No Freedom" – Controversial French Burkini Ban Goes Trending on Weibo
France's 'burkini' bans recently sparked outrage on Twitter, where many netizens called them "racist" and "oppressive". On Chinese social media, however, many netizens seem to support the French ban on Islamic swimwear, while other Weibo users just don't understand what all the "fuss" is about
France's 'burkini' bans recently sparked outrage on Twitter, where many netizens called them "racist" and "oppressive". On Chinese social media, however, many netizens seem to support the French ban on Islamic swimwear, while other Weibo users just don't understand what all the "fuss" is about.
On Weibo, various Chinese media recently reported about mayors in different French cities banning the 'burkini', a type of Islamic swimwear for women. The news of the ban, and photographs of police allegedly asking a woman to remove her conservative beachwear, were shared amongst Chinese netizens and attracted many comments.
On Twitter, the ban has led to a stream of angry reactions, with many calling it "oppressive", "racist" and "absurd", while defending wearing the right to wear a burkini as "the right to cover up".
The French burkini bans are based on ideas that the body wear item is "not just a casual choice", but "part of an attempt by political Islamism to win recruits and test the resilience of the French republic" (Economist 2016). The bans come after a series of deadly terrorist attacks over the past 1,5 years.
Religious neutrality is a value that has been strongly upheld in France, where the government adheres to a strict form of secularism known as laïcité – designed to keep religion out of public life (Economist 2014). Since 2004, wearing conspicuous religious symbols in public schools became illegal. According to Brookings, that law was widely condemned in the United States, where high schools allow students to wear head scarfs, Jewish caps, large Christian crosses, or other conspicuous religious signs.
But French supporters argued that in the existing social, political and cultural context of France, they could not tolerate these religious symbols. In 2010, wearing a full face veil was also prohibited by law.
"Don't you get it? This is all for the safety of the country."
On August 24, Chinese news site The Observer (观察者网) posted on Weibo: "Where are the human rights? French police force women to take off her muslim swimwear. Recently, at a beach in the French city of Nice, French police requested a woman to take off her muslim swimwear, which triggered much controversy. At the time, the woman was wearing a so-called 'burkini' (布基尼) while sunbathing. Four tall men went to her while holding their police stick and pepper-spray."
The post, just one out of many micro-blogs posted on this topic on Sina Weibo, attracted near 6000 comments. The most popular comment (i.e. receiving the most 'likes' from other netizens) said: "The rule of France banning clear religious symbols in public does not just apply to muslims. This rule is the same for all religions."1
A burkini sold on a swimwear website.
The number two most popular comment read: "Don't blame the police for this! France is afraid to get bombed! They are afraid of people hiding bombs in their clothing in crowded places."2
"Don't you get it? This is all for the safety of the country," the following commenter wrote.3
"Freedom is not unlimited, freedom is relative, freedom is limited – without limits, there is no freedom."
Many Chinese netizens see the burkini ban as a direct consequence of the strings of islamist terrorist attack occurring in France over the past 18 months. "This is how it should be, China is the same, there can be no exemptions,"4 one netizen says.
In China, a ban on wearing burqa's, or 'face masking veils' (蒙面罩袍), was legally approved in January of 2015. The prohibition on burqa's applies specifically to Urumqi, the capital of Xinjiang, home to the majority of China's muslims.
A year earlier, Chinese authorities also implemented several measures in Xinjiang to keep religious expressions to a minimum after a string of attacks allegedly committed by Chinese muslim extremists. The measures, amongst others, did not allow fasting for Ramadan, no niqabs, hijabs or large beards in buses.
[rp4wp]
Underneath a Weibo post on the burkini ban by China's Lifeweek (@三联生活周刊), the number one popular comment says: "To all the people here saying that what you wear is a personal freedom: it was also enforced that women could no longer have bound feet [in China], with the police parading the foot binding cloths out in the streets. Some women felt so humiliated that they committed suicide. Do you also feel that their right needed to be defended? (..) Freedom is not unlimited, freedom is relative, freedom is limited – without limits, there is no freedom."5
" What is all the fuss about?"
But not all netizens agree with these views. One micro-blogger, who goes by the name of 'Demons and Monsters', said: "Although I am opposed to the burqa, I am also against the enforcement of wearing less clothing. What if you caught a cold? You are an endangerment to others if you fully cover yourself in a public place, but it is your freedom not to expose too much."
"What about the West and its human rights? Its freedom of religion?" another Weibo user remarks.6
Noteworthy about the burkini ban issue on Weibo, is that although (state) media seem to denounce it in their reporting ("Where are the human rights?"), the majority of netizens seem to support it. When Chinese news site Jiemian posted the news on Weibo saying: "A setback for freedom? Three cities in France prohibit muslim swimsuits", it got the response from netizens: "A setback? This is progression!"7, and others saying: "People keep mentioning human rights, and freedom. Take a look at Europe's terrorist attacks – what does it [still] mean?"8
"When you come to a place, you follow their guidelines and customs. This is normal. It is also a way of showing respect to the local [culture]. What is all the fuss about? Should muslims be an exception to the rule?", one 45-year-old Weibo user from Shandong writes.
"I thought we were talking about facekini's here."
Another person compares the burkini to the Japanese kimono: "I think a lot of people here do not understand the feeling of French people. For example, what if you would walk down the street and see that in China people are wearing kimono's? When in Rome, do as the Romans do, or just go back to your own country. Don't use religion as an excuse."9
Although the majority of the netizen's reactions on Weibo are different than those on Twitter, a recurring issue on both social media networks is the focus on 'freedom', with some Chinese netizens emphasizing the fact that what you wear is your own freedom. But the most-liked comments on Weibo are those stressing that freedom is relative: "Many people say that a woman can wear what she likes, that it's her freedom. But did you ever think about whether these women have the freedom not to wear it? They clearly don't."10
There are also those who confuse the 'burkini' (布基尼) with China's 'facekini' (脸基尼) ("I thought we were talking about facekini's for a moment!"), although for now, it is highly likely that neither are welcome on the beaches of Nice.
China's infamous 'facekini'
– By Manya Koetse
Follow @WhatsOnWeibo
1 "但其实法国禁止民众在公共场合显露出明显的宗教标志的规定,不只是针对穆斯林。 这个法规对各大宗教是平等的,比如在公共场所佩戴十字架,佩戴佛珠,严格的说,都是不符合法规的。"
2 "别喷警察了!法国是被炸怕了 就怕人群密集的地方 衣服里那么厚有藏炸弹"
3 "那是为了国家安全,你懂个屁[doge]"
4"必须这样,中国的也一样,不能搞特殊化"
5 "评论里谈到穿什么是个人自由,当年女性不能再裹脚也是强制性的,警察们挑着裹脚布招摇过市,无数女性感觉被羞辱自杀,你是否认为她们的自由也应该被捍卫?就是现在很多女性也自愿回家自愿生多胎自愿流产自愿被打死,她们的自由呢?自由不是无限的,自由是相对的,自由是受限的,没有限制就没有自由。"
6 西方的人权呢?宗教自由呢?
7"这是倒退?这是进步!"
8"还有人提人权,自由。不看看欧洲被恐袭搞成什么了么?"
9 "我看很多人不了解法国人是怎样一种感受,打个比方,就跟你走在街上看到中国有人穿和服的时候[微笑]所谓入乡要随俗,不然真的请回自己国家。别拿宗教当借口这里不适合这样的宗教,你为何还来呢?"
10"很多人都说那些女性喜欢穿什么就穿什么,是她们的自由。但是洗地的那些人有没有想过,她们有不穿这个的自由吗,很明显没有"
©2016 Whatsonweibo. All rights reserved. Do not reproduce our content without permission – you can contact us at info@whatsonweibo.com.
[showad block=2]
From Hong Kong Protests to 'Bright Future' – The Top 3 Most Popular Posts on Weibo This Week
These are the most-read posts on Weibo this week.
The three most-read posts on Weibo over the past week – an overview by What's on Weibo.
The protests in Hong Kong have been dominating Chinese social media throughout August, and the past week has been no different. Two out of three most-read posts on Weibo, one of China's most popular social media platforms, were about Hong Kong this week.
A wrap-up:
#1 Hundreds of Hong Kong Taxi's Flying Chinese National Flag
While Hong Kong is gearing up for the 13th consecutive weekend of mass anti-government demonstrations, there are no signs of the protests fizzling out any time soon.
The Hong Kong protests started in March and April of this year against an extradition bill that would allow local authorities to detain and extradite people wanted in mainland China, and have intensified over the past weeks.
Although authorities in mainland China initially remained quiet on the topic, the Hong Kong demonstrations have been dominating the trending streams on China's popular social media platforms for all of August.
Through videos, online posters, and slogans, Chinese state media have propagated a clear narrative on the situation in Hong Kong; namely that a group of "separatists" or "bandits" are to blame for the riots that aim to "damage public security" in Hong Kong and are "dividing the nation."
News outlets such as People's Daily and CCTV are sharing many stories that emphasize the One China principle and praise the Hong Kong police force. Those voices in Hong Kong speaking up for the police force and condemning protesters using violence have been amplified in Chinese media.
One story that became the number one trending post on Weibo this week is that of dozens of Hong Kong taxi drivers hanging the Chinese national flag from their cars (video).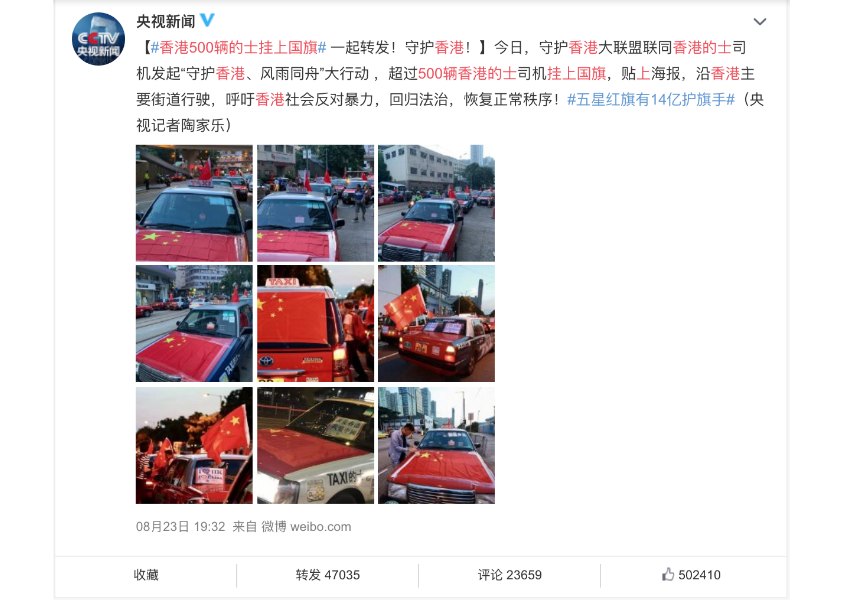 On August 23, the taxi drivers reportedly formed a rally against violence at Tsim Sha Tsui, waving the flags and putting up signs saying "I love HK, I love China."
The hashtag "500 Hong Kong Taxi's Hanging up Chinese National Flags" (#香港500辆的士挂上国旗#), hosted by CCTV, attracted over 700 million views on Weibo. The CCTV post reporting on the event received over half a million likes and 47000 shares.
The commenters mostly praise the Hong Kong taxi drivers for "standing up for Hong Kong" and flying the Chinese flag.
In English-language media, it has mostly been Chinese state media reporting on the rally. Xinhua, Women of China, ECNS, and Global Times all reported on the August 23 peace rally.
CNN only shortly reported how "a number of taxis have been spotted driving around the city displaying Chinese flags — something that has not happened on this scale during previous protests" (link).
#2 'Bright Future' Title Song for Upcoming Movie 'The Moon Remembers All'
Over 266.000 Weibo users have been sharing a post by Chinese actor Li Xian (李现) on the title track for the new Chinese movie The Moon Remembers All or River on a Spring Night (Chinese title: 春江花月夜).
The upcoming movie itself is a very popular topic on Weibo recently, attracting 430 million views on its hashtag page alone. The movie just finished shooting and will be released in 2020.
The song titled "Bright Future" (前程似锦) is sung by Taiwanese singer Chen Linong (陈立农) and Li Xian, who are both the leading actors in the fantasy movie. The song was released on August 29.
The Moon Remembers All is produced by Edko Films and directed by Song Haolin (宋灏霖), also known for Mr. Zhu's Summer (2017) and Fatal Love (2016).
#3 Interview with Hong Kong Pro-Beijing LegCo Member Junius Ho
The third most popular Weibo post of this week comes from Xia Kedao (侠客岛), a popular commentator account for the People's Daily Overseas Edition, and concerns a live broadcasted interview with Hong Kong lawmaker and Legislative Council (LegCo) member Junius Kwan-yiu Ho.
Junius Ho (何君尧) is known as being 'pro-Beijing' and stirred controversy earlier this summer when a viral video showed him shaking hands with men wearing white T-shirts who allegedly were linked to the mob attacking people at the Yuen Long MTR station on July 21.
Xia Kedao describes Junius Ho as a "straightforward" politician who "speaks out for justice" and denounces "reactionaries."
In the August 28 interview, that was live-streamed on Sina Weibo and later also written up, the Hong Kong legislator discussed the background of the protests.
Ho argues that the people with "ulterior motives" used the extradition bill for their own power struggle, distorting and exaggerating the facts behind the regulation.
The politician also partly links the protests to a "weak national consciousness" in Hong Kong due to its education curriculum and says that there have not been enough legal consequences for those participating in illegal activities and riots.
Thousands of commenters on Weibo write that they appreciate Ho for speaking out against the "pro-independence riot youth" and praise him for his "deep understanding" of mainland China.
By now, Junius Ho, who is also active on Weibo with his own account, has gathered more than half a million fans on his page.
By Manya Koetse
Follow @whatsonweibo
Spotted a mistake or want to add something? Please let us know in comments below or email us. Please note that your comment below will need to be manually approved if you're a first-time poster here.
©2019 Whatsonweibo. All rights reserved. Do not reproduce our content without permission – you can contact us at info@whatsonweibo.com
CCTV Launches Dramatic Propaganda Video Condemning Hong Kong Protests, Praising HK Police Force
This CCTV video leaves no doubt about what narrative on the Hong Kong protests it's trying to convey.
This week, while the protests in Hong Kong were intensifying, Chinese state broadcaster CCTV published a video on its social media channels in support of the Hong Kong Police Force. The hashtag used with the video is "HK Police, We Support You!" (香港警察我们挺你#).
"Evil will not press [us] down! A Sir [HK Officers], 1.4 billion compatriots support you!" is the sentence used to promote the video.
The video was initially issued by Xiaoyang Video (小央视频), CCTV's short video platform, on August 13. There is a Cantonese and a Mandarin version of the same video, which is spread on various channels from Weibo to Bilibili, from YouTube to iQiyi.
"Hong Kong is not a place you can do whatever you please with" is the other message promoted in the video, that uses words such as "terrorists" and "bandits" to describe the Hong Kong protesters.
The sentence that Hong Kong is not a place "to do whatever you like with" ("香港,不是你们为所欲为的地方") comes from one of the movie scenes incorporated in the video (Hong Kong movie Cold War 2 / 寒战2).
The video is a compilation of footage using TV dramas and movies combined with actual footage from the recent protests.
By using spectacular images and dramatic film scenes, the video conveys a dramatic narrative on the Hong Kong protests, clearly portraying the Police Force as the good guys fighting against evil.
As the video is being liked and shared by thousands of web users on various platform, one popular comment on video platform Bilibili says: "No matter whether it's a natural disaster, or a man-made disaster, we can overcome this."
Some of the footage used in this video comes from Firestorm, a 2013 Hong Kong action film (the first 3D Hong Kong police action film). Hong Kong police thriller films Cold War and its sequel are also used, along with Hong film The White Storm (2013), Shock Wave (2017), Tactical Unit: Comrades in Arms (2009), Kill Zone (2005), crime drama Line Walker, L Storm (2018), Project Gutenberg (2018), The Menu (2015), and Chasing the Dragon and its sequal (2017/2019).
All of the fictional segments are from made-in-Hong Kong productions.
Watch the propaganda video here.
By Manya Koetse
Follow @whatsonweibo
Spotted a mistake or want to add something? Please let us know in comments below or email us. Please note that your comment below will need to be manually approved if you're a first-time poster here.
©2019 Whatsonweibo. All rights reserved. Do not reproduce our content without permission – you can contact us at info@whatsonweibo.com