"Without Limits, There is No Freedom" – Controversial French Burkini Ban Goes Trending on Weibo
France's 'burkini' bans recently sparked outrage on Twitter, where many netizens called them "racist" and "oppressive". On Chinese social media, however, many netizens seem to support the French ban on Islamic swimwear, while other Weibo users just don't understand what all the "fuss" is about
France's 'burkini' bans recently sparked outrage on Twitter, where many netizens called them "racist" and "oppressive". On Chinese social media, however, many netizens seem to support the French ban on Islamic swimwear, while other Weibo users just don't understand what all the "fuss" is about.
On Weibo, various Chinese media recently reported about mayors in different French cities banning the 'burkini', a type of Islamic swimwear for women. The news of the ban, and photographs of police allegedly asking a woman to remove her conservative beachwear, were shared amongst Chinese netizens and attracted many comments.
On Twitter, the ban has led to a stream of angry reactions, with many calling it "oppressive", "racist" and "absurd", while defending wearing the right to wear a burkini as "the right to cover up".
The French burkini bans are based on ideas that the body wear item is "not just a casual choice", but "part of an attempt by political Islamism to win recruits and test the resilience of the French republic" (Economist 2016). The bans come after a series of deadly terrorist attacks over the past 1,5 years.
Religious neutrality is a value that has been strongly upheld in France, where the government adheres to a strict form of secularism known as laïcité – designed to keep religion out of public life (Economist 2014). Since 2004, wearing conspicuous religious symbols in public schools became illegal. According to Brookings, that law was widely condemned in the United States, where high schools allow students to wear head scarfs, Jewish caps, large Christian crosses, or other conspicuous religious signs.
But French supporters argued that in the existing social, political and cultural context of France, they could not tolerate these religious symbols. In 2010, wearing a full face veil was also prohibited by law.
"Don't you get it? This is all for the safety of the country."
On August 24, Chinese news site The Observer (观察者网) posted on Weibo: "Where are the human rights? French police force women to take off her muslim swimwear. Recently, at a beach in the French city of Nice, French police requested a woman to take off her muslim swimwear, which triggered much controversy. At the time, the woman was wearing a so-called 'burkini' (布基尼) while sunbathing. Four tall men went to her while holding their police stick and pepper-spray."
The post, just one out of many micro-blogs posted on this topic on Sina Weibo, attracted near 6000 comments. The most popular comment (i.e. receiving the most 'likes' from other netizens) said: "The rule of France banning clear religious symbols in public does not just apply to muslims. This rule is the same for all religions."1
A burkini sold on a swimwear website.
The number two most popular comment read: "Don't blame the police for this! France is afraid to get bombed! They are afraid of people hiding bombs in their clothing in crowded places."2
"Don't you get it? This is all for the safety of the country," the following commenter wrote.3
"Freedom is not unlimited, freedom is relative, freedom is limited – without limits, there is no freedom."
Many Chinese netizens see the burkini ban as a direct consequence of the strings of islamist terrorist attack occurring in France over the past 18 months. "This is how it should be, China is the same, there can be no exemptions,"4 one netizen says.
In China, a ban on wearing burqa's, or 'face masking veils' (蒙面罩袍), was legally approved in January of 2015. The prohibition on burqa's applies specifically to Urumqi, the capital of Xinjiang, home to the majority of China's muslims.
A year earlier, Chinese authorities also implemented several measures in Xinjiang to keep religious expressions to a minimum after a string of attacks allegedly committed by Chinese muslim extremists. The measures, amongst others, did not allow fasting for Ramadan, no niqabs, hijabs or large beards in buses.
[rp4wp]
Underneath a Weibo post on the burkini ban by China's Lifeweek (@三联生活周刊), the number one popular comment says: "To all the people here saying that what you wear is a personal freedom: it was also enforced that women could no longer have bound feet [in China], with the police parading the foot binding cloths out in the streets. Some women felt so humiliated that they committed suicide. Do you also feel that their right needed to be defended? (..) Freedom is not unlimited, freedom is relative, freedom is limited – without limits, there is no freedom."5
" What is all the fuss about?"
But not all netizens agree with these views. One micro-blogger, who goes by the name of 'Demons and Monsters', said: "Although I am opposed to the burqa, I am also against the enforcement of wearing less clothing. What if you caught a cold? You are an endangerment to others if you fully cover yourself in a public place, but it is your freedom not to expose too much."
"What about the West and its human rights? Its freedom of religion?" another Weibo user remarks.6
Noteworthy about the burkini ban issue on Weibo, is that although (state) media seem to denounce it in their reporting ("Where are the human rights?"), the majority of netizens seem to support it. When Chinese news site Jiemian posted the news on Weibo saying: "A setback for freedom? Three cities in France prohibit muslim swimsuits", it got the response from netizens: "A setback? This is progression!"7, and others saying: "People keep mentioning human rights, and freedom. Take a look at Europe's terrorist attacks – what does it [still] mean?"8
"When you come to a place, you follow their guidelines and customs. This is normal. It is also a way of showing respect to the local [culture]. What is all the fuss about? Should muslims be an exception to the rule?", one 45-year-old Weibo user from Shandong writes.
"I thought we were talking about facekini's here."
Another person compares the burkini to the Japanese kimono: "I think a lot of people here do not understand the feeling of French people. For example, what if you would walk down the street and see that in China people are wearing kimono's? When in Rome, do as the Romans do, or just go back to your own country. Don't use religion as an excuse."9
Although the majority of the netizen's reactions on Weibo are different than those on Twitter, a recurring issue on both social media networks is the focus on 'freedom', with some Chinese netizens emphasizing the fact that what you wear is your own freedom. But the most-liked comments on Weibo are those stressing that freedom is relative: "Many people say that a woman can wear what she likes, that it's her freedom. But did you ever think about whether these women have the freedom not to wear it? They clearly don't."10
There are also those who confuse the 'burkini' (布基尼) with China's 'facekini' (脸基尼) ("I thought we were talking about facekini's for a moment!"), although for now, it is highly likely that neither are welcome on the beaches of Nice.
China's infamous 'facekini'
– By Manya Koetse
Follow @WhatsOnWeibo
1 "但其实法国禁止民众在公共场合显露出明显的宗教标志的规定,不只是针对穆斯林。 这个法规对各大宗教是平等的,比如在公共场所佩戴十字架,佩戴佛珠,严格的说,都是不符合法规的。"
2 "别喷警察了!法国是被炸怕了 就怕人群密集的地方 衣服里那么厚有藏炸弹"
3 "那是为了国家安全,你懂个屁[doge]"
4"必须这样,中国的也一样,不能搞特殊化"
5 "评论里谈到穿什么是个人自由,当年女性不能再裹脚也是强制性的,警察们挑着裹脚布招摇过市,无数女性感觉被羞辱自杀,你是否认为她们的自由也应该被捍卫?就是现在很多女性也自愿回家自愿生多胎自愿流产自愿被打死,她们的自由呢?自由不是无限的,自由是相对的,自由是受限的,没有限制就没有自由。"
6 西方的人权呢?宗教自由呢?
7"这是倒退?这是进步!"
8"还有人提人权,自由。不看看欧洲被恐袭搞成什么了么?"
9 "我看很多人不了解法国人是怎样一种感受,打个比方,就跟你走在街上看到中国有人穿和服的时候[微笑]所谓入乡要随俗,不然真的请回自己国家。别拿宗教当借口这里不适合这样的宗教,你为何还来呢?"
10"很多人都说那些女性喜欢穿什么就穿什么,是她们的自由。但是洗地的那些人有没有想过,她们有不穿这个的自由吗,很明显没有"
©2016 Whatsonweibo. All rights reserved. Do not reproduce our content without permission – you can contact us at info@whatsonweibo.com.
[showad block=2]
News of Pelosi Bringing Son on Taiwan Trip Goes Trending on Weibo
News of 'Little Paul' quietly joining Pelosi to Taiwan received over 380 million views on Weibo on Friday.
Perhaps one would not expect Chinese state tabloid Global Times to care about American taxpayers' money being spent responsibly, but in today's trending headline on Weibo, they suggest they do:
"As American media have discovered, Pelosi's son Paul Pelosi Jr., who is not an official nor an adviser to her, has followed Pelosi around Asia at the expense of the American taxpayer," Global Times wrote.
The topic "Pelosi Secretly Brought her Son to Visit Taiwan" (#佩洛西窜台偷偷带儿子#) garnered over 380 million views on Weibo on Friday.
Earlier this week, various American media outlets, including The New York Post, reported that the 53-year-old Pelosi Jr. ​traveled together with Nancy Pelosi during her Asia trip, but his name was not included in the official list of officials on the trip released by the speaker's office.
The Chinese-language Global Times report on this issue is largely based on America's Fox News host Jesse Watters reacting to Nancy Pelosi bringing her son on the Asia trip in his 'Primetime' show, with many of his words being directly translated in the Chinese news report: "He is not an elected official, he is not an advisor Nancy, he doesn't even live in Washington, but he was greeted as royalty by the President of Taiwan."
Jesse Watters' suggested that Pelosi Jr. was involved in "shady" business, being on the payroll of two lithium mining companies and then visiting Taiwan, a world leader in lithium battery production. "Prince Pelosi will go wherever the money is," Watters said, a sentiment that was reiterated by Global Times.
During a press conference, Pelosi confirmed that her son had joined her on the trip, saying: "His role was to be my escort. Usually, we – we invited spouses. Not all could come. But I had him come. And I was very proud that he was there. And I'm thrilled – and it was nice for me."
When Pelosi was asked if her son had any business dealings while they were in Asia, she replied: "No, he did not. Of course, he did not."
In response to Pelosi's highly controversial visit to Taiwan, the Chinese government took sanctions against Pelosi and her immediate family.
According to Global Times, this might also affect Paul Pelosi Jr., who allegedly sought business opportunities in China via two companies, International Media Acquisition Corp and Global Tech Industries Group.
Some Chinese online satire showing Tsai Ing-wen crying, Taiwan surrounded by the Chinese military, and a smiling Pelosi with her long tall hat flying away on her broom with a U.S. flag cape saying "I standed [sic] with Taiwan!" pic.twitter.com/4w5hdxhoPR

— Manya Koetse (@manyapan) August 12, 2022
Many netizens are also ridiculing 'Little Paulie' (小保罗), especially because, based on the reports, they had somehow expected Pelosi's son to be a child or young man instead of a 52-year-old. Part of the confusion stems from the Chinese translation for "Jr.", xiǎo (小), which also means "little."
"He's 52! I though we were talking about a little kid," some wrote, with others calling him a 'mama's boy.'
"That entire family will just do anything for money," others wrote.
More than a week after Pelosi's visit, news of 'Little Paul' joining her on the controversial trip just reinforces existing narratives on Chinese social media, led by official media, that Pelosi's Taipei decision was more about self-interest than serving her country – and its taxpayers.
By Manya Koetse
Get the story behind the hashtag. Subscribe to What's on Weibo here to receive our weekly newsletter and get access to our latest articles:
Spotted a mistake or want to add something? Please let us know in comments below or email us. First-time commenters, please be patient – we will have to manually approve your comment before it appears.
©2022 Whatsonweibo. All rights reserved. Do not reproduce our content without permission – you can contact us at info@whatsonweibo.com.
Chairman Rabbit vs Hu Xijin: Divided Nationalists on Weibo
Hu's personal opinions should not be mistaken for China's official stance nor guide Chinese online public opinion, Chairman Rabbit argues.
Political commentator Hu Xijin was an influential online voice in the days surrounding Pelosi's visit to Taiwan. Chinese blogging account Chairman Rabbit lashed out against Hu, saying he misled public opinion at a time when his statements should have matched the official stance.
On August 3rd, a day after Nancy Pelosi's visit to Taiwan, Chinese blogger Chairman Rabbit (兔主席) posted a long piece of text on Weibo rebuking political commentator Hu Xijin (胡锡进) for his overdosed hawkish claims leading up to Pelosi's controversial visit.
Following the post by Chairman Rabbit, grandson of a former CCP leader, Chinese social media saw many discussions and a wave of criticism against Hu and his overaggressive position.
In his since-deleted post, Chairman Rabbit demanded stricter regulation of Hu's public statements due to his perceived ties with the Chinese government.
Hu Xijin is a Chinese journalist and the former editor-in-chief and party secretary of Global Times, a Chinese and English-language media outlet under the auspices of the Chinese Communist Party's official People's Daily newspaper.
Although he retired from his job, Hu is still a very active commentator on political affairs via social media. With nearly 25 million fans on Weibo and over half a million followers on Twitter, his posts and statements often go trending and influence public opinions.
Chairman Rabbit argued that Hu has built a credible reputation in his field, both within China and abroad, where he is generally perceived as having certain authority to speak about China's political affairs – with some foreign media almost regarding him as some sort of spokesman for the Chinese government. Meanwhile, according to Chairman Rabbit, Hu uses this credibility to promote his own personal views.
"He was too loud. It would make the people think that [China's] actions are not enough, bringing about disappointment and distrust. This is damaging to the morale of the people and also to the credibility of the government," Chairman Rabbit wrote.
Two Political Commentators "Protecting China's National Interests"
Chairman Rabbit is the alias of Ren Yi (任意), a Harvard-educated Chinese blogger who currently has over 1.8 million followers on Weibo, where he calls himself a 'history blogger.' He is also the grandson of former Chinese politician Ren Zhongyi (任仲夷), who was a leader in China's reform period since the late 1970s. 'Chairman Rabbit' is known as a nationalist, conservative political commentator who often comments on US-related issues and current affairs (for more on his background, check out this article by Tianyi Xu).
The Chinese blogger's post came after a week in which Hu Xijin recurringly went trending for his strong condemnation of a potential visit to Taiwan by U.S. House Speaker Pelosi.
Hu suggested that a Taiwan visit by Pelosi would be a clear provocation of China, giving the PLA "good reason" for "waging a war." One of Hu's tweets, in which he voiced the view that U.S. military planes escorting Pelosi to Taiwan could potentially be shot down, was deleted by Twitter on July 30. Afterward, Hu reiterated his views on Weibo and criticized Western censorship.
Chairman Rabbit wrote about Hu:
"(..) as we can see time and again, he lacks judgment and accurate sources of information on some major issues (..), and he represents only his personal views, which may be misdirected. If his views were perceived as being purely personal, they would not receive nearly as much attention – his "authority figure" status is the key to everything, and he is perceived as having a special channel to represent authorities."
In the post, Chairman Rabbit accuses Hu of using his status to promote his own views and to influence the public debate and the international view of China to gain clout.
Hu Xijin responded to the post himself on his Weibo account, suggesting he felt betrayed and "deeply puzzled" to be attacked by someone he considered a "friend who worked together [with me] to defend China's national interests," writing: "I originally saw them as allies, yet right in the heat of the moment, I was surprised to find that that they suddenly turned their guns to aim it at me."
In the same post, Hu still defended his own words, arguing that despite his "limited power" he still does what he can to "protect China's national interests."
"Frisbee Hu"
The Chairman Rabbit vs Hu Xijin dispute caught the attention of Chinese netizens, including the liberals and conservatives on Chinese social media.
With his muscle-flexing language, Hu seemingly regained popularity amongst die-hard nationalists on Weibo after long being suspected of being a "gongzhi" (公知), a derogatory use of the term "public intellectual." The latest controversy shows that the interests of online nationalists do not always align with the official government stances.
It also shows a division between populist nationalists and the more elite or 'establishment' nationalists on Chinese social media. The former operate independently and are willing to pressure the government toward a more hostile foreign policy, while the latter follow the decisions of the government and respond to them.
Hu is known for commenting on political issues and tuning into official narratives, which even led to him being nicknamed "Frisbee Hu" (胡叼盘), suggesting he can catch the 'frisbees' thrown by the Communist Party like a dog catches his toy.
However, it seems he did not catch their 'frisbee' this time. For the CCP, it arguably would be not a wise choice to engage in any kind of military conflict at this time, knowing the unpredictable societal changes it may bring to its regime, especially ahead of Xi Jinping's bid for a third term in office at the 20th party congress later this year.
Authorities did emphasize that China would not "idly sit by" if Pelosi would visit Taiwan. Chinese Ministry of Foreign Affairs spokesperson Zhao Lijian warned the U.S. on August 1st that if the U.S. House speaker would visit Taipei, "the Chinese side will respond resolutely and take strong countermeasures to defend our sovereignty and territorial integrity."
But the aggressiveness of Hu Xijin's posts perhaps went beyond what the authorities had in mind. According to Chairman Rabbit, Hu "influenced public opinion, and China's international image as well. What he got in the end was traffic for his own account."
Instruments to Govern the Public Sphere
On social media, Hu still received a lot of support while others agreed with Chairman Rabbit that Hu was chasing clout and that his words have consequences. Although that is not necessarily bad – as his influence can mobilize and channel public rage in a time of strict Covid measures and a declining economy, – it can also backfire and reflect negatively on the government when they fail to meet the public's expectations.
Chairman Rabbit suggests that it might be better for Hu to put a disclaimer and clarification at the top of any statement to make it clear that his views are personal and do not represent the official view.
This is not the first time Hu gets caught up in a conflict between Chinese populist and establishment nationalists. In 2021, Hu had a public spat with Shen Yi, a professor at Fudan University. When Shen Yi defended a controversial post by the CCP Central Political and Legal Affairs Commission which put an image of the Chinese rocket launch besides that of a mass cremation in India, Hu argued that official accounts should not ridicule India's Covid deaths but "express sympathy for India, and place Chinese society firmly on the moral high ground" (read here).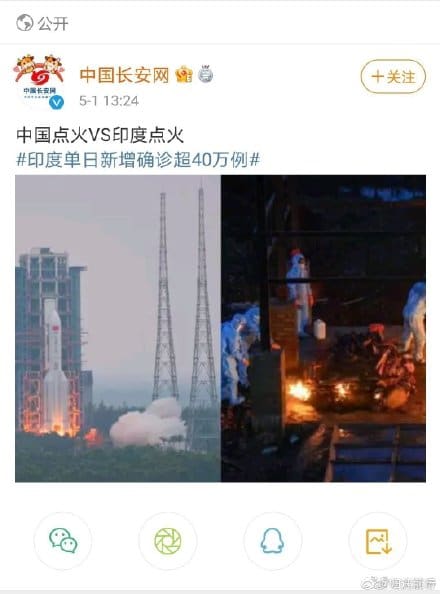 At that time, however, Hu sided with the so-called 'establishment nationalists' advocating for more decent public expressions from an official government account at a time when their neighboring country was mourning the victims of their Covid outbreak.
Disputes such as 'Hu vs Shen' and 'Hu vs Chairman Rabbit' could be seen as instruments to govern the public sphere, shifting the focus of attention amid online storms. The 'Hu vs Shen' public spat shifted the subject from whether it is moral to ridicule a neighboring country for its tragedy to whether it is good for an official government account to ridicule a neighboring country for its tragedy.
Similarly, the 'Hu vs. Chairman Rabbit' dispute shifted the subject from whether it is moral to wage a war over Pelosi's visit to whether it would be in China's best national interests to wage a war and to the influence of online public commentators within this matter.
Chairman Rabbit posted a second lengthy post regarding the dispute on August 4th, in which he again reiterated his stance that Hu Xijin's tone on social media did not match the official stance, and that Hu, with limited diplomatic and military knowledge, miscalculated his response to the Pelosi issue and guided public opinion in the wrong direction.
The dispute between the two influential commentators triggered discussions, with some bloggers wondering when the next round of bickering is going to take place. In doing so, Chairman Rabbit has also been instrumental in channeling nationalist sentiments and creating some calm after the online storm following Pelosi's visit.
"I think the Propaganda Department needs take responsibility, as they tacitly accepted Hu Xijin's influence on public opinion. They can't later shift all the blame to a person who's already retired," one popular comment said: "Those who are responsible should take responsibility! Our propaganda has always seen some problems, both internally as well as externally."
Other commenters think Hu Xijin is getting too much credit for being held responsible for shifting public opinion. "My friends don't even know who Hu Xijin is, yet they had also shifted in the 'prepare for war' direction," one Weibo user writes, with another person adding: "He's just saying out loud what I was thinking already. If everyone said it, it might be blocked, but he can speak for us."
"Hindsight is 20/20," others say: "And we might need hawkish expressions such as those published by Hu. I still support him."
By Xiuyu Lian and Manya Koetse
Get the story behind the hashtag. Subscribe to What's on Weibo here to receive our weekly newsletter and get access to our latest articles:
Spotted a mistake or want to add something? Please let us know in comments below or email us. First-time commenters, please be patient – we will have to manually approve your comment before it appears.
©2022 Whatsonweibo. All rights reserved. Do not reproduce our content without permission – you can contact us at info@whatsonweibo.com.