"Without Limits, There is No Freedom" – Controversial French Burkini Ban Goes Trending on Weibo
France's 'burkini' bans recently sparked outrage on Twitter, where many netizens called them "racist" and "oppressive". On Chinese social media, however, many netizens seem to support the French ban on Islamic swimwear, while other Weibo users just don't understand what all the "fuss" is about
France's 'burkini' bans recently sparked outrage on Twitter, where many netizens called them "racist" and "oppressive". On Chinese social media, however, many netizens seem to support the French ban on Islamic swimwear, while other Weibo users just don't understand what all the "fuss" is about.
On Weibo, various Chinese media recently reported about mayors in different French cities banning the 'burkini', a type of Islamic swimwear for women. The news of the ban, and photographs of police allegedly asking a woman to remove her conservative beachwear, were shared amongst Chinese netizens and attracted many comments.
On Twitter, the ban has led to a stream of angry reactions, with many calling it "oppressive", "racist" and "absurd", while defending wearing the right to wear a burkini as "the right to cover up".
The French burkini bans are based on ideas that the body wear item is "not just a casual choice", but "part of an attempt by political Islamism to win recruits and test the resilience of the French republic" (Economist 2016). The bans come after a series of deadly terrorist attacks over the past 1,5 years.
Religious neutrality is a value that has been strongly upheld in France, where the government adheres to a strict form of secularism known as laïcité – designed to keep religion out of public life (Economist 2014). Since 2004, wearing conspicuous religious symbols in public schools became illegal. According to Brookings, that law was widely condemned in the United States, where high schools allow students to wear head scarfs, Jewish caps, large Christian crosses, or other conspicuous religious signs.
But French supporters argued that in the existing social, political and cultural context of France, they could not tolerate these religious symbols. In 2010, wearing a full face veil was also prohibited by law.
"Don't you get it? This is all for the safety of the country."
On August 24, Chinese news site The Observer (观察者网) posted on Weibo: "Where are the human rights? French police force women to take off her muslim swimwear. Recently, at a beach in the French city of Nice, French police requested a woman to take off her muslim swimwear, which triggered much controversy. At the time, the woman was wearing a so-called 'burkini' (布基尼) while sunbathing. Four tall men went to her while holding their police stick and pepper-spray."
The post, just one out of many micro-blogs posted on this topic on Sina Weibo, attracted near 6000 comments. The most popular comment (i.e. receiving the most 'likes' from other netizens) said: "The rule of France banning clear religious symbols in public does not just apply to muslims. This rule is the same for all religions."1
A burkini sold on a swimwear website.
The number two most popular comment read: "Don't blame the police for this! France is afraid to get bombed! They are afraid of people hiding bombs in their clothing in crowded places."2
"Don't you get it? This is all for the safety of the country," the following commenter wrote.3
"Freedom is not unlimited, freedom is relative, freedom is limited – without limits, there is no freedom."
Many Chinese netizens see the burkini ban as a direct consequence of the strings of islamist terrorist attack occurring in France over the past 18 months. "This is how it should be, China is the same, there can be no exemptions,"4 one netizen says.
In China, a ban on wearing burqa's, or 'face masking veils' (蒙面罩袍), was legally approved in January of 2015. The prohibition on burqa's applies specifically to Urumqi, the capital of Xinjiang, home to the majority of China's muslims.
A year earlier, Chinese authorities also implemented several measures in Xinjiang to keep religious expressions to a minimum after a string of attacks allegedly committed by Chinese muslim extremists. The measures, amongst others, did not allow fasting for Ramadan, no niqabs, hijabs or large beards in buses.
[rp4wp]
Underneath a Weibo post on the burkini ban by China's Lifeweek (@三联生活周刊), the number one popular comment says: "To all the people here saying that what you wear is a personal freedom: it was also enforced that women could no longer have bound feet [in China], with the police parading the foot binding cloths out in the streets. Some women felt so humiliated that they committed suicide. Do you also feel that their right needed to be defended? (..) Freedom is not unlimited, freedom is relative, freedom is limited – without limits, there is no freedom."5
" What is all the fuss about?"
But not all netizens agree with these views. One micro-blogger, who goes by the name of 'Demons and Monsters', said: "Although I am opposed to the burqa, I am also against the enforcement of wearing less clothing. What if you caught a cold? You are an endangerment to others if you fully cover yourself in a public place, but it is your freedom not to expose too much."
"What about the West and its human rights? Its freedom of religion?" another Weibo user remarks.6
Noteworthy about the burkini ban issue on Weibo, is that although (state) media seem to denounce it in their reporting ("Where are the human rights?"), the majority of netizens seem to support it. When Chinese news site Jiemian posted the news on Weibo saying: "A setback for freedom? Three cities in France prohibit muslim swimsuits", it got the response from netizens: "A setback? This is progression!"7, and others saying: "People keep mentioning human rights, and freedom. Take a look at Europe's terrorist attacks – what does it [still] mean?"8
"When you come to a place, you follow their guidelines and customs. This is normal. It is also a way of showing respect to the local [culture]. What is all the fuss about? Should muslims be an exception to the rule?", one 45-year-old Weibo user from Shandong writes.
"I thought we were talking about facekini's here."
Another person compares the burkini to the Japanese kimono: "I think a lot of people here do not understand the feeling of French people. For example, what if you would walk down the street and see that in China people are wearing kimono's? When in Rome, do as the Romans do, or just go back to your own country. Don't use religion as an excuse."9
Although the majority of the netizen's reactions on Weibo are different than those on Twitter, a recurring issue on both social media networks is the focus on 'freedom', with some Chinese netizens emphasizing the fact that what you wear is your own freedom. But the most-liked comments on Weibo are those stressing that freedom is relative: "Many people say that a woman can wear what she likes, that it's her freedom. But did you ever think about whether these women have the freedom not to wear it? They clearly don't."10
There are also those who confuse the 'burkini' (布基尼) with China's 'facekini' (脸基尼) ("I thought we were talking about facekini's for a moment!"), although for now, it is highly likely that neither are welcome on the beaches of Nice.
China's infamous 'facekini'
– By Manya Koetse
Follow @WhatsOnWeibo
1 "但其实法国禁止民众在公共场合显露出明显的宗教标志的规定,不只是针对穆斯林。 这个法规对各大宗教是平等的,比如在公共场所佩戴十字架,佩戴佛珠,严格的说,都是不符合法规的。"
2 "别喷警察了!法国是被炸怕了 就怕人群密集的地方 衣服里那么厚有藏炸弹"
3 "那是为了国家安全,你懂个屁[doge]"
4"必须这样,中国的也一样,不能搞特殊化"
5 "评论里谈到穿什么是个人自由,当年女性不能再裹脚也是强制性的,警察们挑着裹脚布招摇过市,无数女性感觉被羞辱自杀,你是否认为她们的自由也应该被捍卫?就是现在很多女性也自愿回家自愿生多胎自愿流产自愿被打死,她们的自由呢?自由不是无限的,自由是相对的,自由是受限的,没有限制就没有自由。"
6 西方的人权呢?宗教自由呢?
7"这是倒退?这是进步!"
8"还有人提人权,自由。不看看欧洲被恐袭搞成什么了么?"
9 "我看很多人不了解法国人是怎样一种感受,打个比方,就跟你走在街上看到中国有人穿和服的时候[微笑]所谓入乡要随俗,不然真的请回自己国家。别拿宗教当借口这里不适合这样的宗教,你为何还来呢?"
10"很多人都说那些女性喜欢穿什么就穿什么,是她们的自由。但是洗地的那些人有没有想过,她们有不穿这个的自由吗,很明显没有"
©2016 Whatsonweibo. All rights reserved. Do not reproduce our content without permission – you can contact us at info@whatsonweibo.com.
[showad block=2]
Iran "Unintentionally" Shot Down Ukrainian Airlines Flight 752
Despite the overall condemnation of Iran, there are also many pointing the fingers at the US, writing: "It's all because of America."
First published
Shortly after Iran's military announced on Saturday that it shot down Ukrainian Airlines flight 752 on Wednesday, killing all 176 passengers on board, the topic has become the number one trending hashtag on Chinese social media platform Weibo.
In a statement by the military, Iran admitted that the Boeing 737 was flying "close to a sensitive military site" when it was "mistaken for a threat" and taken down with two missiles.
Among the passengers were 82 Iranians, 63 Canadians, 11 Ukrainians, 10 Swedes, four Afghans, three Germans, and three British nationals.
Earlier this week, Iranian authorities denied that the crash of the Ukrainian jetliner in Tehran was caused by an Iranian missile.
The conflict between US and Iran has been a much-discussed topic on Chinese social media, also because the embassies of both countries have been openly fighting about the issue on Weibo.
Although many Chinese netizens seemed to enjoy the political spectacle on Weibo over the past few days, with anti-American sentiments flaring up and memes making their rounds, today's news about the Iranian role in the Ukrainian passenger plane crash is condemned by thousands of commenters.
"Iran is shameless!", one popular comment says. "This is the outcome of a battle between two terrorists!"
"Regular people are paying the price for these political games," others write: "So many lives lost, this is the terror of war."
The Iranian Embassy in China also posted a translated statement by President Hassan Rouhani on its Weibo account, saying the missiles were fired "due to human error."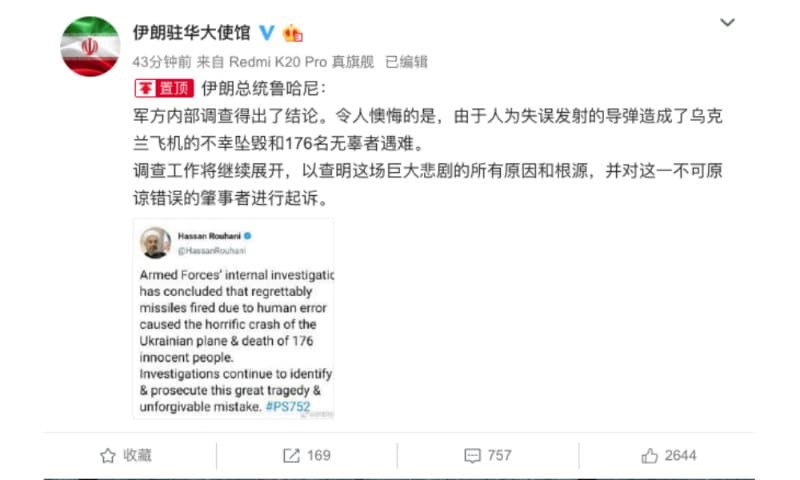 Despite the overall condemnation, there are also many commenters pointing the fingers at the US, writing: "It's all because of America."
Meanwhile, the American Embassy has not published anything about the issue on its Weibo account at time of writing.
The hashtag "Iran Admits to Unintentionally Shooting Down Ukrainian Plane" (#伊朗承认意外击落乌克兰客机#) gathered over 420 million views on Weibo by Saturday afternoon, Beijing time.
Chinese state media outlet CCTV has shared an infographic about the US-Iran conflict and the passenger jet news, writing they hope that these "flames of war" will never happen again.
By Manya Koetse
Follow @whatsonweibo
Spotted a mistake or want to add something? Please let us know in comments below or email us. First-time commenters, please be patient – we will have to manually approve your comment before it appears.
©2020 Whatsonweibo. All rights reserved. Do not reproduce our content without permission – you can contact us at info@whatsonweibo.com.
The Weibo Battlefield in the US-Iran Conflict: Iranian and American Embassies 'Argue' on Chinese Social Media
The US-Iran conflict has extended to Weibo, where Chinese netizens watch the online 'battle' unfold.
"Don't know if you all have discovered it yet, but the Iranian Embassy in China and the American Embassy in China have started to fight on Weibo," prominent Chinese media outlet 21st Century Business Herald (21世纪经济报道) writes on Weibo on January 10th.
The Iranian and American embassies have been all the talk on Chinese social media this week. While US-Iran tensions are dominating international media headlines, the embassies of Iran and US have been taking their conflict to the Chinese social media platform.
Ever since January 3rd, when the head of Iran's Quds Force Qasem Soleimani was killed by a US airstrike in Iraq, the Beijing embassies of both the USA and Iran have engaged in an online argument over the conflict between their two countries.
The Iranian Embassy (@伊朗驻华大使馆), that has 254670 followers on its Weibo account, condemned the assassination of Soleimani on January 3rd by reposting and translating a Twitter post by Iranian Foreign Minister Javad Zarif, calling it a "dangerous and foolish" act of "international terrorism."
That post received over 23,000 likes and thousands of comments, with many of them showing support for Iran.
The US Embassy Weibo account (@美国驻华大使馆), that has over 2,5 million followers, also posted a response to the attack on January 4 by translating several quotes by US Secretary of State Mike Pompeo asserting that the decision to kill Soleimani was the right one and that it made the world a safer place.
Although many of the thousands of netizens responding to the American Embassy's post praised the attack, there was also a lot of criticism.
"The terrorist group 'USA' has claimed responsibility for this act of terrorism," one popular comment said, with others also pointing the finger at the American government for behaving as 'terrorists.'
With the deepening of the US-Iran crisis after the Iranian military launched missiles against US bases in Iraq earlier this week, the Weibo posts and comments just keep coming in.
On January 8, the Iranian Embassy wrote that the "end of malign US presence in West Asia has begun," a sentence also posted on Twitter by Foreign Minister Javad Zarif.
In between some light-footed Weibo posts about the Golden Globes, the American Embassy published various Weibo posts explaining its stance on the situation. One post of January 7 detailed the "bloody history" of Qassem Soleimani, writing about him as a terrorist and evil man who killed hundreds of people.
The online 'battle' between Iran and the US has led to various hashtags, such as "The Weibo Fight of the Iranian and US Embassy of China" (#美伊驻华大使馆微博互斗#), a topic that is receiving a lot of attention on Chinese social media.
The official accounts of two foreign powers' embassies, discussing their conflict on a Chinese social media platform, in Chinese; it's not common, and Chinese netizens talk about it while Chinese media write about it.
One sentence* has been reposted dozens of times by Weibo users over the past days: "Here's the world's largest imperialist country and the world's largest theocratic republic, on a social media platform of the world's largest socialist nation, using Standard Chinese to engage in a fierce diplomatic fight."
"And we're all watching and eating popcorn," one commenter added [literal expression used is "Chī guā qúnzhòng" (吃瓜群众), online expression for "watermelon eating masses," meaning clueless bystanders watching the situation unfold].
The Weibo battleground has seemingly also turned into a way for the embassies to win the favor of the Chinese public; the Iranian Embassy, for example, published a post on its Weibo account that invites Chinese tourists to visit Iran during the Spring Festival and pinned it to its main page to attract the attention of readers amidst the recent online upheaval.
The online presence of the US-Iran conflict shows the importance of 'Weibo diplomacy,' also known as 'Weiplomacy.' A large number of foreign embassies in China have a presence on Sina Weibo to engage with local audiences. It is a low-cost, convenient, and seemingly effective tool to promote their countries, political goals, and inform people about their latest activities.
Over the past week, it seems that the majority of Chinese netizens have sided with Iran and condemned the US. This public sentiment, however, might have more to do with the prevailing anti-American sentiments over the past year than a general pro-Iranian stance.
In a 2016 overview of most popular foreign embassies on Weibo, the US embassy scored a number three position with its 1+ million followers, while the Iranian account only came in at number 39 with a mere 6000+ fans on its account.
Although it is unusual for foreign embassies to use Weibo as an online battleground for their offline conflicts, it is not the first time it has happened. In 2014, What's on Weibo reported how the Beijing embassies of Russia and Poland also argued on Weibo during the aftermath of MH17 crash.
This time around, some netizens conclude that the only one to really 'win' in online conflicts such as these is the Weibo platform itself. As the Weibo posts keep going, the 'melon eating masses' keep coming. "The Sina Weibo company must be secretly laughing at this ordeal," one person writes.
By Manya Koetse, with contributions from Miranda Barnes
Follow @whatsonweibo
* Chinese sentence: "世界上最大的帝国主义国家,跟世界上最大的政教合一的神权共和国,在世界上最大的社会主义国家的网络平台上,使用标准的汉语进行激烈的外交缠斗"
Spotted a mistake or want to add something? Please let us know in comments below or email us. First-time commenters, please be patient – we will have to manually approve your comment before it appears.
©2020 Whatsonweibo. All rights reserved. Do not reproduce our content without permission – you can contact us at info@whatsonweibo.com.