Ministry of Education Bans the Idolization of China's Top Gaokao Scorers
Stories of the top achievers of China's national exams can no longer be propagated by state media; the emphasis should shift to the average, harmonious student.
The countdown has started for China's national exams, the gaokao. Although the top scorers of these decisive exams are usually praised as champions, the Ministry of Education now warns against their idolization and orders schools and media to use 'Xi Jinping Thought' as their guide.
China's Ministry of Education has issued an official announcement this week that it is no longer allowed to idolize the top scorers of China's upcoming National Higher Education Entrance Examinations, usually abbreviated to gaokao (高考, 'high exams').
The notice was issued after a top-level conference on May 8, which focused on the enrollment process for China's national graduation exams.
The gaokao will take place in June and always attract nationwide attention – both offline and online – in the weeks before they start. The exams are the most important moment of the year for those taking part; they are a prerequisite for entering China's higher education institutions and are usually taken by students in their last year of senior high school.
"It is strictly prohibited to give publicity to gaokao top scorers."
"It is strictly prohibited to give publicity to gaokao top scorers," the head of the Ministry of Education, Chen Baosheng (陈宝生), was quoted saying by various state media outlets on Weibo, adding that "those who do so anyway will be dealt with accordingly."
In the Ministry of Education's announcement, it further said that education departments all over China should use Xi Jinping's socialist ideology with Chinese characteristics as a guide to their work relating to the college national entrance exams this year.
The exams, that take place during a period of 2 days, are so important because scoring high grades for this exam can give high school students access to a better college, which enlarges their chances of obtaining a good job after graduation. Because the exam results are potentially life-changing, the gaokao period is generally a highly stressful time for students and their parents.
Those who succeed in becoming the number one scorers in their field and area, also known as the gāokǎo zhuàngyuán (高考状元, 'gaokao champions'), are usually widely praised by Chinese media and educational institutions.
Year on year, the scores, names, photos, and stories of those students excelling in the humanities (文理状元) and science (理科状元) are publicized by national, provincial, and local newspapers.
Changing Propaganda: From Top Achievers to Harmonious Students
The announcement by the Chinese Ministry of Education to ban the promotion of the top scorers in the university entrance exams became a much-discussed topic on Chinese social media today.
In their report of the ban, Party newspaper People's Daily published pictures showing how students and schools are preparing for the upcoming exams.
The photos are full of socialist-style propaganda-like slogans (e.g. "trials and hardships strengthen determination"), encouraging students to work and study hard and to repay their parents for the efforts they put into them.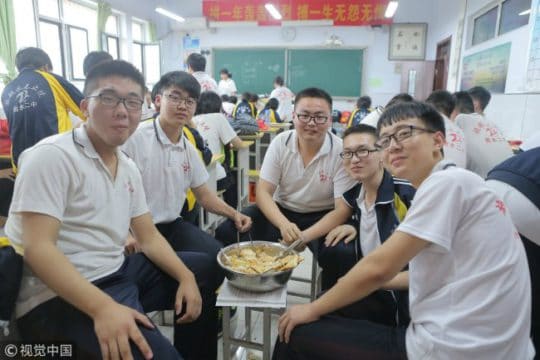 Various pictures show how, to prepare for the decisive exams next month, students in Hengshui, Hebei, bring in meals for the class and then eat together from the same bowl in order to not waste valuable study time.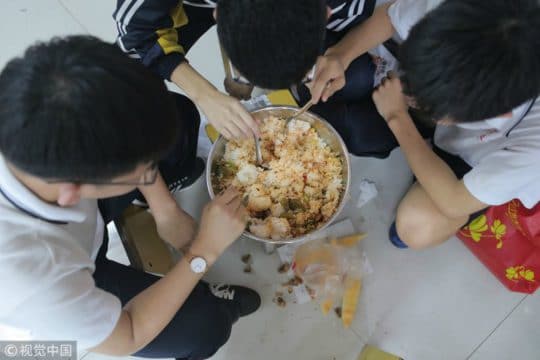 Instead of promoting and propagating the stories of China's top scorers, Chinese state media now seem to shift their focus to students' hard work and collaborate efforts to prepare for the exam.
In line with Xi Jinping's socialist thought, which also promotes equality in education and the nurturing of "a new generation of capable young people who (..) are well-prepared to join the socialist cause", the official focus has now apparently changed from top achievers to the average, harmonious and social student.
China's higher education is extremely competitive, and so is the battle for the high gaokao scores; although as much as 9.75 million senior high school students are going to take part in the 2018 University Entrance Exams, only less than 100 of them will have the opportunity to become an actual gāokǎo zhuàngyuán or 'top-score champion.'
Inequality behind the 'zhuàngyuán'?
The gaokao top-score achievers are not just the minority when it comes to statistics, they are also the 'elites' of the supposed socialist society.
After claiming the title of 2017 Beijing University Entrance Exam top scorer, the 2017 zhuàngyuán Xiong Xuan'an was interviewed by Chinese media outlet The Paper and addressed some controversial issues on becoming one of the top scorers.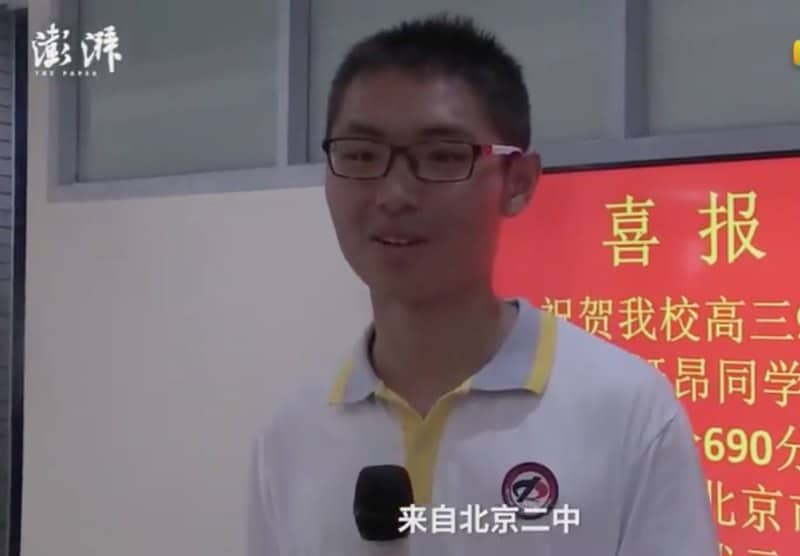 Xiong, during the interview, said that for students coming from rural areas, it is much harder to get into good universities, saying: "People like me are from middle-class families. We do not have to worry about food or clothes. Our parents are educated."
He added: "We were born in large cities like Beijing. We simply got better education resources than the rest. Students from other places and rural areas are not able to get these benefits."
"The top scorers nowadays are, generally speaking, coming from prestigious families."
Over the past years, Chinese parents are increasingly spending huge amounts of money towards their children's education, varying from extravagant summer programs to hiring 'gaokao nannies' to support children taking the exams. Spending money on high-quality private schools and tutoring starts as early as kindergarten.
But not all families can afford top-notch schools for their children. Official statistics show that in 2017, dispensable income per capita in China is approximately 25,974 yuan (±US$4072).
Xiong told reporters that his parents are diplomats, saying: "It made my learning path easier. And the top scorers nowadays are, generally speaking, coming from prestigious families and are good at studying."
Perhaps the general promotion of top-score achievers used to be an efficient way for state media to promote hard-working attitudes and the 'Chinese dream', but the emergence of the more elite zhuàngyuán now has come to show how differences in educational resources have created inequality in educational opportunities.
Weibo Discussions
The recent ban on stories about the 2018 gaokao top scorers is an indication that the Chinese Ministry of Education now wants to de-emphasize worsening disparities within society, but not all commenters on Weibo agree with this shift.
"Why can't we give publicity to the top scorers?", author Tan Yantong (@谭延桐) asks on Weibo: "There is so much rotten entertainment news (..) and bullsh*t news, unbearable news, ruining our value system – why don't you ban that sort of news?"
"What's the use for me to become a number one scorer now?"
"Then you might as well ban the top scorers in sports," others say: "That's also highly competitive."
"Now what's the use for me to become a number one scorer anyway?" another commenter jokingly says.
But there are also supporters of the new guideline. "This is a good start," one other Weibo user writes: "Elementary education is general education – not elite education. How to provide efficient and equal education is something the Ministry of Education needs to figure out through new strategies."
By Chauncey Jung and Manya Koetse
Follow @whatsonweibo
Spotted a mistake or want to add something? Please let us know in comments below or email us.
©2018 Whatsonweibo. All rights reserved. Do not reproduce our content without permission – you can contact us at info@whatsonweibo.com.
Why a "High-Speed Train Slapping Incident" Went Viral on Chinese Social Media
An altercation between passengers on a high-speed train to Chengdu has caused a stir on Chinese social media, sparking discussions about some long-standing social issues.
An explosive argument between two female passengers on a high-speed train has gone viral on Chinese social media this week. The fight has triggered widespread discussions on the issue of 'mutual assault,' the problem of 'brat children,' and why it might be wiser to avoid intervening in these types of disputes altogether.
An argument between two female passengers on a Chinese high-speed train has recently attracted a lot of attention on Chinese social media. (See video, around the 4:10 mark.)
The incident, which has been dubbed "the high-speed rail slapping incident" ("高铁掌掴事件"), happened on the C6276 train on May 2, 2023, between Meishan East Railway Station and Chengdu East Railway station.
This is the incident that happened on a high-speed train to Chengdu that has gone completely viral over the past week, triggering discussions on right&wrong and long-standing social issues. https://t.co/vmgXWS8jqz pic.twitter.com/9MHcjIdZL6

— Manya Koetse (@manyapan) May 12, 2023
Two female passengers seated on the train got into an argument after one woman (Wang 王) got angry over the other woman's children kicking against the back of her seat. She turned around and scolded them, after which the mother (named Yang 杨) got upset. Both women took their phones and argued while filming each other.
The situation soon escalated from there, and the argument turned physical when Yang first slapped Wang in her face. Several videos of the incident that have since gone viral show that Wang then also slapped Yang in the face, and did it again shortly after.
Train staff and other passengers tried to mediate the situation and calm the women down. One man in specific raised his voice to mediate, while also condemning the parents for not correcting their children's behavior.
Wang posted about the incident on social media on the night of May 2nd, and it has blown up since then.
Wang was later summoned to the police station and reportedly was fined 200 yuan ($30) by the police for her role in the incident. On the night of May 4th, Wang arrived at the police station at 8 pm, and did not leave until 3.30 am.
In a video posted online, the woman explained that she refused to reconcile with the other party, insisting that they should receive the appropriate punishment for their actions (#高铁上被掌掴女孩坚决不和解#). She said she would accept the fine she received, but stressed that the party that initiated the fight should be punished more harshly.
"To give each one a flogging of fifty strokes" (各打五十大板)
One of the main reasons why the case became so big is because the incident was ruled as "mutual assault" (hù'ǒu 互殴). On Chinese social media, many netizens express that the judgement is not correct since Yang was the first to attack and Wang defended herself (zhèng dàng fáng wèi 正当防卫).
The issue of self-defense being ruled as a 'mutual assault' is a recurring one in Chinese social media discussions. A popular opinion is that the police often rule something as 'mutual assault' to just settle the matter and be done with it. This is also referred to as gè dǎ wǔshí dà bǎn (各打五十大板), a Chinese idiom that translates to "each person gets a flogging of fifty strokes," meaning the guilty and innocent are being punished in the same way.
Since the slapping incident continued to trigger discussions online, the Chengdu Railway Police issued a statement on May 10, in which they provided exact details on how the incident unfolded. They concluded that both parties were guilty of assault, and that Wang had received the 200 yuan ($30) fine while Yang had received an administrative penalty of 500 yuan ($72).
Still, many people feel that punishing the instigator as well as the person who strikes back is not fair, since it allegedly prevents people from trying to defend themselves.
"The woman who was beaten showed great perseverance," one person commented: "Hopefully, this case can serve as a milestone event, thoroughly correcting the society's long-standing habit of taking this approach [of ruling it as 'mutual assault'] to smooth things over."
In 2020, Jeremy Daum at China Law Translate published an article about self-defence and on how cases related to the right to protect oneself can evoke passionate public responses. The article describes how then-released guidelines help authorities navigate cases involving the right to protect oneself and the determinations of when such a defense is justified.
As Daum points out, one remarkable feature of the 2020 guidelines is their explicit concern for public opinion. In light of some cases triggering massive public debates, the guidelines call for greater transparency in explaining the law to the public and on how verdicts are reached.
The 2020 guidelines are evident in this specific 'train slapping incident,' as it is clear that the reason for penalizing both parties was clearly communicated to the public as the incident went trending online.
"Brat children" (熊孩子)
Another reason why this particular incident received so much attention has to do with the issue of so-called "brat children." In Chinese, they are referred to as xióng háizi ("熊孩子"), which literally means 'bear children' and is used to describe unruly, naughty children (often boys) who are prone to cause trouble.
In The Historical Dictionary of Chinese Culture (Sullivan & Sullivan 2021), it is explained that the rise of the "xióng háizi" phenomenon in China during the 2000s was due to the prevalence of a parenting style known as "soft-touch parenting."
This approach to parenting was significantly different from previous decades and emphasized gentle and nurturing methods. As a result, many of these children, who are often only children who are pampered by doting grandparents, developed a reputation for their disruptive and self-absorbed behavior in public places (p. 130).
The behaviour of these "little brats" often makes headlines. Like the time when security cameras captured how a young boy urinated in an elevator and broke it, or when a little kid crashed and destroyed a Lego sculpture within an hour after it was displayed in a Chinese mall.
Many commenters on social media say that they have had it with these "little brats" and their parents. In one of her social media posts, Wang argued that there should be designated carriages for passengers traveling with children on high-speed trains to avoid bothering other passengers.
Regarding the incident, many people believe that the intensity of the argument was due to the fact that people have become increasingly intolerant of unruly children and their parents who fail to discipline them. Although Wang also slapped Yang, many people still side with her, saying they understand her frustrations and supporting her right to criticize the children and their parents.
One commenter (@陌川_MC) writes: "Lots of things are happening every day, yet why do we always see incidents involving 'brat children' pop up in the trending lists? The basic reason is that it strikes our travel pain point: we constantly get annoyed by little brats. Behind every 'bear child' there is a 'bear parent.' People are very disgusted with such parents, but can not do anything about it, which is why they cannot help but feel indignant when they see these types of incidents happening."
"I was on a high-speed train for three hours yesterday, and all of these three hours a brat child was crying. Didn't it wear him out? Even I was exhausted by listening to his cries, and the train attendants didn't do anything about it."
The hashtag "Should Trains Set Up Special Carriages for Children" (#列车有必要设置携带儿童车厢吗#) received comments from many people who applaud the idea.
"Dongbei Brother" (东北大哥)
One of the other reasons why the train slapping incident has become such a big topic is due to the role played by one of the passengers who stepped in and 'mediated' during the fight. As he comes from Northeast China, the man has now come to be known simply as the 'Dongbei Brother' or 'Northeastern big brother' (东北大哥).
During the incident, the man came up and meddled in the argument. Although 'Dongbei Brother' has become an online celebrity, netizens also accuse him of taking sides during the altercation, labeling the child as a troublemaker and completely ignoring the fact that Wang was filming the children and yelling at them.
Others suggest he only intervened to gain attention for himself and increase his social media following.
In response to these accusations, then man said on a recent livestream that he only stepped in because he saw the two parties arguing and wanted to prevent the altercation getting any worse. The man also stated that he received a call from the child's mother, thanking him for his intervention. Neverthless, in light of all the negative comments he received, he also stated that he would not intervene in similar situations in the future. That topic also went trending (#东北大哥称不想再管吵架事件#), receiving 180 million views on Friday.
Some people took the backlash against 'Dongbei Brother' as a lesson, suggesting that it might be wiser to avoid intervening in these types of disputes altogether.
Lastly, the recent incident not only sparked discussions on the issue of "mutual assault" and "brat children," as well as the role of those who intervene, but it has also shed light on the issue of cyberbullying. The individuals involved in the incident have all faced online abuse, highlighting the harmful impact of cyberbullying.
Despite all the people who have strong opinions about the incident and the various people involved, there are also those calling on netizens to stay reasonable above all else. After all, the best thing people can do to set the right example for so-called "brat children" is to try and stay civilized online.
By Manya Koetse, with contributions by Miranda Barnes
Get the story behind the hashtag. Subscribe to What's on Weibo here to receive our newsletter and get access to our latest articles:
References
Daum, Jeremy. 2020. "Standing your ground, China Style." China Law Translate, October 5 https://www.chinalawtranslate.com/en/standing-your-ground-china-style/ [May 12, 2023].
Sullivan, Lawrence R. and Nancy Sullivan. 2021. Historical Dictionary of Chinese Culture. New York and London: Rowman & Littlefield
Spotted a mistake or want to add something? Please let us know in comments below or email us. First-time commenters, please be patient – we will have to manually approve your comment before it appears.
©2023 Whatsonweibo. All rights reserved. Do not reproduce our content without permission – you can contact us at info@whatsonweibo.com.
Beijing Changfeng Hospital Fire: Five Things To Know
29 people lost their lives due to the devastating fire that occurred in Beijing's Changfeng Hospital on Tuesday. These are 5 things to know.
On Tuesday, April 18, a big fire broke out inside Changfeng Hospital, a private hospital located in Beijing's Fengtai District. The incident, which killed 29 people, is now known as the "4.18 Beijing Changfeng Hospital Fire Incident" (4•18北京长峰医院火灾事故).
Videos of the incident that circulated on Chinese social media (see here) showed smoke coming out of the hospital windows on different floors, with patients hanging on to air conditioning units outside of the windows. The footage also showed patients falling down the building from higher floors.
This is the timeline of the incident as reported by Chinese official media:
• April 18 / 13:00-15:00
At 12:57 on April 18, the Fengtai District fire and emergency services received an alert that a fire had broken out in the east building of the inpatient department of Beijing Changfeng Hospital. The fire, which was extinguished at 13:33, killed 21 people. The cause of the incident was still under investigation.
• April 18 / 15:30
At 15:30, the rescue work was finished and a total of 71 patients were evacuated and transferred to other hospitals in Beijing.
• April 18 / Evening
Changfeng Hospital closed its doors and only allowed immediate family members of inpatients to still enter the hospital. The Chinese Non-government Medical Institutions Association, the largest association of private hospitals in China, later also announced that they had canceled the membership of Beijing Changfeng Hospital in light of the incident.
• April 19 / 9:00
As of 9:00 local time, official sources reported that the death toll of the fire incident had risen to 29 people. 27 of them were patients who were treated at the hospital, and some of them died after their transfer to another hospital. The average age was 71.2 according to China Youth Daily.
• April 19 / 12:00
In a briefing held by Beijing authorities, it was said that the fire originated from sparks that arose during renovation and construction work at the hospital, according to Chinese media reports. Authorities stated that the Changfeng Hospital director, along with 11 others (including the hospital's Vice President, the construction company's leader, and one construction workers on site), had been detained for their criminal liability in the fire incident.
• April 19 / Late afternoon
According to CCTV, Beijing's Fengtai District has set up a community working group (群众工作组) to provide assistance and support to patient's families and help with any practical problems at the scene.
Here are five important things to know regarding the deadly fire at Beijing's Changfeng Hospital:
1. The Patients Were Especially Vulnerable
The fire reportedly broke out at the 5th floor of the Changfeng Hospital, which is a private hospital specializing in neurology, vascular tumors, and arteriovenous malformations.
The patients that were staying at the higher floors at the affected building were especially weak, as they were mostly elderly patients and those receiving critical or end-of-life care. Many of them were mobility-limited patients who could not easily get out of bed and escape the fire by themselves.
2. There Were No Adequate Fire Evacuation Measures in Place
There were no adequate fire evacuation measures in place at the hospital, where hospital rooms were crowded with multiple patients. According to one nurse who was quoted by China Youth Daily, she had to climb down a water pipe from the 8th floor of the hospital, which is the building's top floor. The videos that circulated also showed the lack of fire stairs, as patients fled from windows and held on to air conditioning units.
Because the fire occurred during daylight hours, emergency responders were able to act quickly, the hospital building had only 8 floors, and rescue efforts were not hindered by road obstructions, the high death toll resulting from the Changfeng fire is all the more surprising and tragic.
In late February of this year, Changfeng Hospital had released news about strictly implementing fire prevention and control measures. The hospital reportedly also held a fire prevention and control meeting according to government regulator requirements, but the April 18 fire showed that these measures were not actively implemented.
3. The Construction Work on the Hospital Seemed Unregulated
Chinese media source The Time Weekly (时代周报) reported that residents in the hospital's neighborhood stated that the renovation of the building had been going on for some time and that many wires could be seen outside of the building where the fire occurred, expected to be illegal power lines (私拉电线) without proper safety measures.
The cause of the fire can be traced back to sparks that were generated during renovations on the inside of the hospital, at the inpatient department, and they reportedly ignited volatile fumes from combustible paint on the site.
This also suggests that the construction workers and the renovation procedures in general did not follow proper safety or risk assessment protocols that could have prevented the fire from breaking out.
4. Media Coverage of the Fire Was Initially Limited, Comments Censored
Although the Changfeng Hospital fire is now all over Chinese social media, news about the fire was strictly controlled in the direct aftermath of the incident.
On Twitter, VOA News reporter Wen Hao (@ThisIsWenhao) noted how public anger erupted across Chinese social media on Tuesday as videos and social media posts about the fire were taken down. Wen states that it was not until 20:49 that local official media first announced the fire and the number of deaths.
Reporter Vivian Wu (@vivianwubeijing) also noted how it was not until about 21:00 before Chinese news outlets received the "green light" to report on the incident.
All the big reports about the incident only were released eight hours after the fire started, suggesting that local authorities wanted to make sure the fire was under control and that there was enough information on the incident – and how to communicate it to family members and the general audience – before further news was released and went viral on social media.
In a blog that has now been censored on socials titled "5 Facts the News Conference Didn't Tell You About the Changfeng Hospital Fire that Killed 29 People" ("长峰医院火灾致29人死亡,发布会没告诉你的5条真相")* – still online at iFeng – the author called it "a mystery" that such a major fire in Beijing could stay under wraps for eight hours until the official announcement came out. The author, along with other sources, also claimed that some family members did not know about the fire until they saw the news pop up.
In 2022, a fire that occurred in Urumqi city, Xinjiang, triggered waves of mourning and anger on Chinese social media. On Weibo, there were many questions and rumors surrounding the incident at a particularly sensitive zero-Covid time, when frustrations were already building (read all about the aftermath here).
Although the context and location of the Urumqi fire is very different from the Changfeng one, it seems clear that there was a government-orchestrated media strategy following the direct aftermath of the April 18 fire to keep information flows under control.
5. The Incident Reignited Scrutiny on Private Hospitals in China
The fire at Changfeng Hospital has reignited scrutiny on the role of private hospitals in China, which have been previously also been criticized for prioritizing financial gain over the well-being of patients.
In light of this incident, some netizens mention Putian Medical Group, a powerful player in China's healthcare industry that has set up private hospitals all over the country. Putian has previously been criticized for overpricing patients, working together with Baidu to lead patients to their clinics, and fraudulent affairs (read more here).
Now, Changfeng Hospital – which runs a number of hospitals in twenty cities across the country – is also facing backlash for spending hundreds of millions of yuan on advertising their medical services while suffering financial losses. At the same time, they were clearly not allocating enough resources for proper fire control and safety measures in their buildings.
Chinese media outlet The Observer wrote that the hospital actually shows similarities with the Putian Medical Group, as various clinics or hospitals led by Changfeng were previously also reported for medical scams. The Fengtai branch itself was penalized a total of 11 times since 2016 for various reasons (#长峰医院7年间至少被罚11次#).
For now, many people are still questioning how the incident could have happened and why its outcome is so tragic. While further investigations are still underway, some of these questions will hopefully be answered in the near future.
By Manya Koetse 
Follow @whatsonweibo
* The five questions that the news conference did not answer according to the blogger relate to: 1. Why family members and the general audience only learnt about the fire at such a relatively late time; 2. Why the death toll of the incident was so high considering the circumstances; 3. Why the hospital was allowed to do interior construction work while also resuming normal operations; 4. Why the owner of the Changfeng Hospital group is not among the 12 people detained after the fire; 5. Why Hunan patients who were treated at the hospital were allegedly transferred to private secondary hospitals in Beijing.
Get the story behind the hashtag. Subscribe to What's on Weibo here to receive our newsletter and get access to our latest articles:
Spotted a mistake or want to add something? Please let us know in comments below or email us. First-time commenters, please be patient – we will have to manually approve your comment before it appears.
©2023 Whatsonweibo. All rights reserved. Do not reproduce our content without permission – you can contact us at info@whatsonweibo.com.
Subscribe to our newsletter
Stay updated on what's trending in China & get the story behind the hashtag
Sign up here to become a premium member of What's on Weibo today and gain access to all of our latest and premium content, as well as receive our exclusive newsletter. If you prefer to receive just our weekly newsletter with an overview of the latest, you can subscribe for free here.
Would you like to become a contributor, or do you have any tips or suggestions for us? Get in touch with us here.