Ministry of Education Bans the Idolization of China's Top Gaokao Scorers
Stories of the top achievers of China's national exams can no longer be propagated by state media; the emphasis should shift to the average, harmonious student.
The countdown has started for China's national exams, the gaokao. Although the top scorers of these decisive exams are usually praised as champions, the Ministry of Education now warns against their idolization and orders schools and media to use 'Xi Jinping Thought' as their guide.
China's Ministry of Education has issued an official announcement this week that it is no longer allowed to idolize the top scorers of China's upcoming National Higher Education Entrance Examinations, usually abbreviated to gaokao (高考, 'high exams').
The notice was issued after a top-level conference on May 8, which focused on the enrollment process for China's national graduation exams.
The gaokao will take place in June and always attract nationwide attention – both offline and online – in the weeks before they start. The exams are the most important moment of the year for those taking part; they are a prerequisite for entering China's higher education institutions and are usually taken by students in their last year of senior high school.
"It is strictly prohibited to give publicity to gaokao top scorers."
"It is strictly prohibited to give publicity to gaokao top scorers," the head of the Ministry of Education, Chen Baosheng (陈宝生), was quoted saying by various state media outlets on Weibo, adding that "those who do so anyway will be dealt with accordingly."
In the Ministry of Education's announcement, it further said that education departments all over China should use Xi Jinping's socialist ideology with Chinese characteristics as a guide to their work relating to the college national entrance exams this year.
The exams, that take place during a period of 2 days, are so important because scoring high grades for this exam can give high school students access to a better college, which enlarges their chances of obtaining a good job after graduation. Because the exam results are potentially life-changing, the gaokao period is generally a highly stressful time for students and their parents.
Those who succeed in becoming the number one scorers in their field and area, also known as the gāokǎo zhuàngyuán (高考状元, 'gaokao champions'), are usually widely praised by Chinese media and educational institutions.
Year on year, the scores, names, photos, and stories of those students excelling in the humanities (文理状元) and science (理科状元) are publicized by national, provincial, and local newspapers.
Changing Propaganda: From Top Achievers to Harmonious Students
The announcement by the Chinese Ministry of Education to ban the promotion of the top scorers in the university entrance exams became a much-discussed topic on Chinese social media today.
In their report of the ban, Party newspaper People's Daily published pictures showing how students and schools are preparing for the upcoming exams.
The photos are full of socialist-style propaganda-like slogans (e.g. "trials and hardships strengthen determination"), encouraging students to work and study hard and to repay their parents for the efforts they put into them.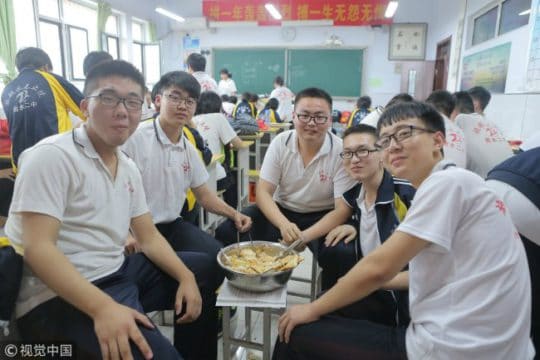 Various pictures show how, to prepare for the decisive exams next month, students in Hengshui, Hebei, bring in meals for the class and then eat together from the same bowl in order to not waste valuable study time.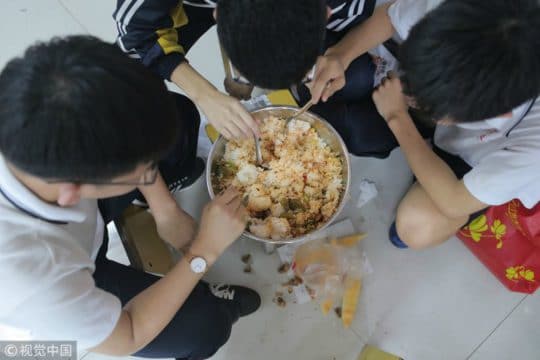 Instead of promoting and propagating the stories of China's top scorers, Chinese state media now seem to shift their focus to students' hard work and collaborate efforts to prepare for the exam.
In line with Xi Jinping's socialist thought, which also promotes equality in education and the nurturing of "a new generation of capable young people who (..) are well-prepared to join the socialist cause", the official focus has now apparently changed from top achievers to the average, harmonious and social student.
China's higher education is extremely competitive, and so is the battle for the high gaokao scores; although as much as 9.75 million senior high school students are going to take part in the 2018 University Entrance Exams, only less than 100 of them will have the opportunity to become an actual gāokǎo zhuàngyuán or 'top-score champion.'
Inequality behind the 'zhuàngyuán'?
The gaokao top-score achievers are not just the minority when it comes to statistics, they are also the 'elites' of the supposed socialist society.
After claiming the title of 2017 Beijing University Entrance Exam top scorer, the 2017 zhuàngyuán Xiong Xuan'an was interviewed by Chinese media outlet The Paper and addressed some controversial issues on becoming one of the top scorers.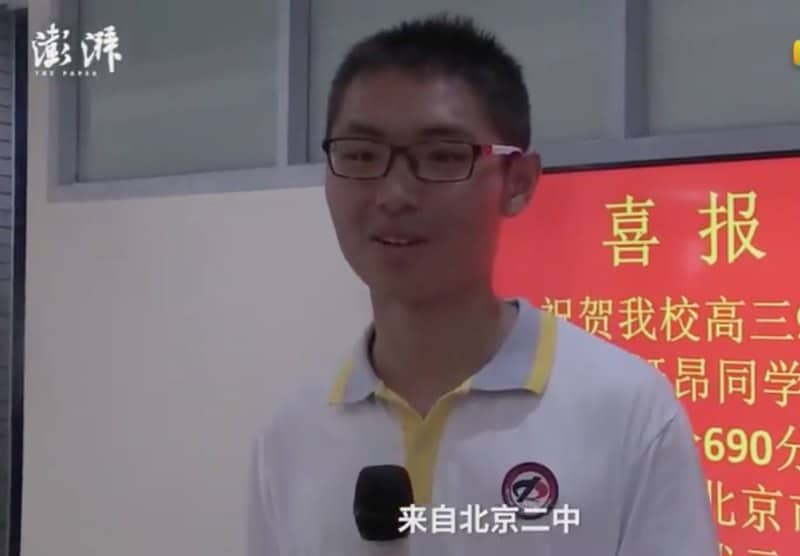 Xiong, during the interview, said that for students coming from rural areas, it is much harder to get into good universities, saying: "People like me are from middle-class families. We do not have to worry about food or clothes. Our parents are educated."
He added: "We were born in large cities like Beijing. We simply got better education resources than the rest. Students from other places and rural areas are not able to get these benefits."
"The top scorers nowadays are, generally speaking, coming from prestigious families."
Over the past years, Chinese parents are increasingly spending huge amounts of money towards their children's education, varying from extravagant summer programs to hiring 'gaokao nannies' to support children taking the exams. Spending money on high-quality private schools and tutoring starts as early as kindergarten.
But not all families can afford top-notch schools for their children. Official statistics show that in 2017, dispensable income per capita in China is approximately 25,974 yuan (±US$4072).
Xiong told reporters that his parents are diplomats, saying: "It made my learning path easier. And the top scorers nowadays are, generally speaking, coming from prestigious families and are good at studying."
Perhaps the general promotion of top-score achievers used to be an efficient way for state media to promote hard-working attitudes and the 'Chinese dream', but the emergence of the more elite zhuàngyuán now has come to show how differences in educational resources have created inequality in educational opportunities.
Weibo Discussions
The recent ban on stories about the 2018 gaokao top scorers is an indication that the Chinese Ministry of Education now wants to de-emphasize worsening disparities within society, but not all commenters on Weibo agree with this shift.
"Why can't we give publicity to the top scorers?", author Tan Yantong (@谭延桐) asks on Weibo: "There is so much rotten entertainment news (..) and bullsh*t news, unbearable news, ruining our value system – why don't you ban that sort of news?"
"What's the use for me to become a number one scorer now?"
"Then you might as well ban the top scorers in sports," others say: "That's also highly competitive."
"Now what's the use for me to become a number one scorer anyway?" another commenter jokingly says.
But there are also supporters of the new guideline. "This is a good start," one other Weibo user writes: "Elementary education is general education – not elite education. How to provide efficient and equal education is something the Ministry of Education needs to figure out through new strategies."
By Chauncey Jung and Manya Koetse
Follow @whatsonweibo
Spotted a mistake or want to add something? Please let us know in comments below or email us.
©2018 Whatsonweibo. All rights reserved. Do not reproduce our content without permission – you can contact us at info@whatsonweibo.com.
Wilders' Win on Weibo: Hu Xijin and Others Discuss the "Dutch Trump"
Chinese netizens on Weibo have placed Wilders' victory in a broader geopolitical context.
The Dutch general elections on Tuesday, November 2022, resulted in a victory for the right-wing Freedom Party (PVV). The party, established in 2006, is led by the 60-year-old Dutch politician Geert Wilders who is known for his outspoken populist rhetoric and anti-establishment sentiments.
On Chinese social media, the Dutch election outcome became a topic discussed by some well-known bloggers.
The PVV secured 37 of the 150 seats in the Second Chamber, making it the largest party by a significant margin, followed by the left-wing Groen Links-PvdA (25 seats), center-right liberal VVD (24), and the brand-new centrist party NSC (20). The remaining seats were distributed among eleven other parties, each claiming between 9 and 1 seat in the Second Chamber.
Wilders' triumph garnered international attention. As reported in 2017, the PVV's popularity had been steadily increasing for years, drawing particular notice in Chinese media and other international publications in the wake of Trump's victory and Brexit.
Dutch politician Wilders, referred to as Wéi'ěrdésī (维尔德斯 or 威尔德斯) in Chinese, became a recurring subject in Chinese media, with his success viewed as a harbinger for other elections across Continental Europe.
Wilders and his PVV are known for their strong anti-Islam stance, Euroskepticism, aspirations to significantly limit immigration, and populist commitment to "put the Dutch first."
On Weibo, the well-known Chinese political commentator Hu Xijin (@胡锡进) wrote a column about Wilders' win on November 23. Here's a translation of Hu's post:
"It shocked Europe, it shocked the West! The Freedom Party led by Wilders, the 'Dutch version of Trump,' received the most votes on Wednesday. His slogans and labels are anti-immigrant, anti-Europe, anti-Islam. The leader of the French extreme right-wing political party Le Pen immediately extended his congratulations through social media."
"The results of the Dutch elections again show that xenophobic and intolerant political retrogressions are like cancer cells spreading across Europe and the West. However, the far-right line will not become the overwhelming new political choice in the West, as many Western societies are painfully going from side to side. Wilders also proposes that the Netherlands should stop providing weapons to the Ukraine, which goes against the mainstream European line. This is something that should be quite popular among Chinese."
"It's not clear yet if Wilders will actually become the premier of the Netherlands. Although his party received the most votes he only took about 37 seats of the 150 seats in the Dutch House of Representatives and will need to form a coalition government. Because it's an extreme rightwing party, whether or not he will be able to pull allies in is hard to say. If Wilders fails, the Netherlands will not rule out a minority government."
"Regardless, the victory of the Freedom Party is a heavy blow to Europe. There are concerns that it will become a model, that it will boost the rise of other extreme right-wing parties on the stage. In short, the West is becoming more and more chaotic and is becoming more lost."
On Weibo, Hu Xijin's post about Wilders received hundreds of replies, but many netizens did not agree with his stance on the victory of the Dutch right-wing party.
"You don't represent the Chinese people," one commenter wrote: "You just represent yourself. Don't overstep your boundaries."
"You're actually so leftist underneath," another reply said.
"Why did we witness a UK 'Trump,' a Brazilian 'Trump,' an Argentinian 'Trump,' a Dutch 'Trump'?"
Among the numerous comments below Hu's post, quite a few expressed sympathy for the populist stance advocated by PVV and Wilders. One popular comment reads, "Anti-immigration, anti-EU, anti-Islamic—sounds about right?" "Europe is waking up."
Another person commented: "Over the past couple of years, the population of Muslim immigrants in Europe and the United States has been rapidly expanding, bringing about serious social problems when it comes to public security, employment, fertility rates, and religious beliefs etc., which has since long been a source of distress for the local population."
Apart from Hu's post, Chinese netizens elsewhere on Weibo have also placed Wilders' victory in a broader geopolitical context. Blogger Xiaosunchu (@小笋初) writes, "Why did America have Trump? Why did we witness a UK 'Trump,' a Brazilian 'Trump,' an Argentinian 'Trump,' a Dutch 'Trump,' and so on – all these non-traditional, anti-establishment 'crazy' candidates?"
According to Xiaochunchu, the election of these kinds of political figures is a result of a so-called 'democratic illusion' ("民主幻觉") in the West, in which voters are perpetually disappointed in politicians as they end up getting "a different broth but the same old medicine" ("换汤不换药"): the names may change, but the system does not, leading voters to blame themselves for picking the wrong candidates when, in reality, it's actually deep-rooted political structures that prevent actual change from happening.
Regardless of whether others agree with Xiaochunchu's idea that voters' preference for unconventional political figures is linked to a 'democratic illusion,' many do acknowledge that 'Trump-style' politics represents a broader political trend that began with the election of Donald Trump in 2016.
Other bloggers called the election of different 'Trumps' a "new change in global democratic politics" and even labeled the current international political arena the "Trump era" ("特朗普时代"). "Who's next?" one Weibo user wonders.
"Let's wait and see," other people write, "It might not be easy for him to form a cabinet."
While the Dutch formation has begun, the world will be watching to see which parties will govern together and whether Wilders might become the next Dutch Prime Minister, and the so-called 'next Trump.'
Also read: Chinese Reactions on Wilders and "The Rise of the Right"
By Manya Koetse
Get the story behind the hashtag. Subscribe to What's on Weibo here to receive our newsletter and get access to our latest articles:
Spotted a mistake or want to add something? Please let us know in comments below or email us. First-time commenters, please be patient – we will have to manually approve your comment before it appears.
©2023 Whatsonweibo. All rights reserved. Do not reproduce our content without permission – you can contact us at info@whatsonweibo.com.
Tick, Tock, Time to Pay Up? Douyin Is Testing Out Paywalled Short Videos
Is content payment a new beginning for the popular short video app Douyin (China's TikTok) or would it be the end?
The introduction of a Douyin novel feature, that would enable content creators to impose a fee for accessing their short video content, has sparked discussions across Chinese social media. Although the feature would benefit creators, many Douyin users are skeptical.
News that Chinese social media app Douyin is rolling out a new feature which allows creators to introduce a paywall for their short video content has triggered online discussions in China this week.
The feature, which made headlines on November 16, is presently in the testing phase. A number of influential content creators are now allowed to 'paywall' part of their video content.
Douyin is the hugely popular app by Chinese tech giant Bytedance. TikTok is the international version of the Chinese successful short video app, and although they're often presented as being the same product, Douyin and Tiktok are actually two separate entities.
In addition to variations in content management and general usage, Douyin differs from TikTok in terms of features. Douyin previously experimented with functionalities such as charging users for accessing mini-dramas on the platform or the ability to tip content creators.
The pay-to-view feature on Douyin would require users to pay a certain fee in Douyin coins (抖币) in order to view paywalled content. One Douyin coin is equivalent to 0.1 yuan ($0,014). The platform itself takes 30% of the income as a service charge.
According to China Securities Times or STCN (证券时报网), Douyin insiders said that any short video content meeting Douyin's requirements could be set as "pay-per-view."
Creators, who can set their own paywall prices, should reportedly meet three criteria to qualify for the pay-to-view feature: their account cannot have any violation records for a period of 90 days, they should have at least 100,000 followers, and they have to have completed the real-name authentication process.
On Douyin and Weibo, Chinese netizens express various views on the feature. Many people do not think it would be a good idea to charge money for short videos. One video blogger (@小片片说大片) pointed out the existing challenge of persuading netizens to pay for longer videos, let alone expecting them to pay for shorter ones.
"The moment I'd need to pay money for it, I'll delete the app," some commenters write.
This statement appears to capture the prevailing sentiment among most internet users regarding a subscription-based Douyin environment. According to a survey conducted by the media platform Pear Video, more than 93% of respondents expressed they would not be willing to pay for short videos.
"This could be a breaking point for Douyin," one person predicts: "Other platforms could replace it." There are more people who think it would be the end of Douyin and that other (free) short video platforms might take its place.
Some commenters, however, had their own reasons for supporting a pay-per-view function on the platform, suggesting it would help them solve their Douyin addiction. One commenter remarked, "Fantastic, this might finally help me break free from watching short videos!" Another individual responded, "Perhaps this could serve as a remedy for my procrastination."
As discussions about the new feature trended, Douyin's customer service responded, stating that it would eventually be up to content creators whether or not they want to activate the paid feature for their videos, and that it would be up to users whether or not they would be interested in such content – otherwise they can just swipe away.
Another social media user wrote: "There's only one kind of video I'm willing to pay for, and it's not on Douyin."
By Manya Koetse
Get the story behind the hashtag. Subscribe to What's on Weibo here to receive our newsletter and get access to our latest articles:
Spotted a mistake or want to add something? Please let us know in comments below or email us. First-time commenters, please be patient – we will have to manually approve your comment before it appears.
©2023 Whatsonweibo. All rights reserved. Do not reproduce our content without permission – you can contact us at info@whatsonweibo.com.
Subscribe to our newsletter
Stay updated on what's trending in China & get the story behind the hashtag
Sign up here to become a premium member of What's on Weibo today and gain access to all of our latest and premium content, as well as receive our exclusive Weibo Watch newsletter. If you prefer to only receive our free newsletter with an overview of the latest articles, you can subscribe for free here.
Would you like to become a contributor, or do you have any tips or suggestions for us? Get in touch with us here.