Ministry of Education Bans the Idolization of China's Top Gaokao Scorers
Stories of the top achievers of China's national exams can no longer be propagated by state media; the emphasis should shift to the average, harmonious student.
The countdown has started for China's national exams, the gaokao. Although the top scorers of these decisive exams are usually praised as champions, the Ministry of Education now warns against their idolization and orders schools and media to use 'Xi Jinping Thought' as their guide.
China's Ministry of Education has issued an official announcement this week that it is no longer allowed to idolize the top scorers of China's upcoming National Higher Education Entrance Examinations, usually abbreviated to gaokao (高考, 'high exams').
The notice was issued after a top-level conference on May 8, which focused on the enrollment process for China's national graduation exams.
The gaokao will take place in June and always attract nationwide attention – both offline and online – in the weeks before they start. The exams are the most important moment of the year for those taking part; they are a prerequisite for entering China's higher education institutions and are usually taken by students in their last year of senior high school.
"It is strictly prohibited to give publicity to gaokao top scorers."
"It is strictly prohibited to give publicity to gaokao top scorers," the head of the Ministry of Education, Chen Baosheng (陈宝生), was quoted saying by various state media outlets on Weibo, adding that "those who do so anyway will be dealt with accordingly."
In the Ministry of Education's announcement, it further said that education departments all over China should use Xi Jinping's socialist ideology with Chinese characteristics as a guide to their work relating to the college national entrance exams this year.
The exams, that take place during a period of 2 days, are so important because scoring high grades for this exam can give high school students access to a better college, which enlarges their chances of obtaining a good job after graduation. Because the exam results are potentially life-changing, the gaokao period is generally a highly stressful time for students and their parents.
Those who succeed in becoming the number one scorers in their field and area, also known as the gāokǎo zhuàngyuán (高考状元, 'gaokao champions'), are usually widely praised by Chinese media and educational institutions.
Year on year, the scores, names, photos, and stories of those students excelling in the humanities (文理状元) and science (理科状元) are publicized by national, provincial, and local newspapers.
Changing Propaganda: From Top Achievers to Harmonious Students
The announcement by the Chinese Ministry of Education to ban the promotion of the top scorers in the university entrance exams became a much-discussed topic on Chinese social media today.
In their report of the ban, Party newspaper People's Daily published pictures showing how students and schools are preparing for the upcoming exams.
The photos are full of socialist-style propaganda-like slogans (e.g. "trials and hardships strengthen determination"), encouraging students to work and study hard and to repay their parents for the efforts they put into them.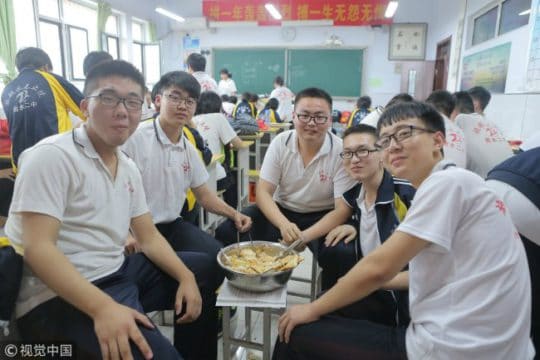 Various pictures show how, to prepare for the decisive exams next month, students in Hengshui, Hebei, bring in meals for the class and then eat together from the same bowl in order to not waste valuable study time.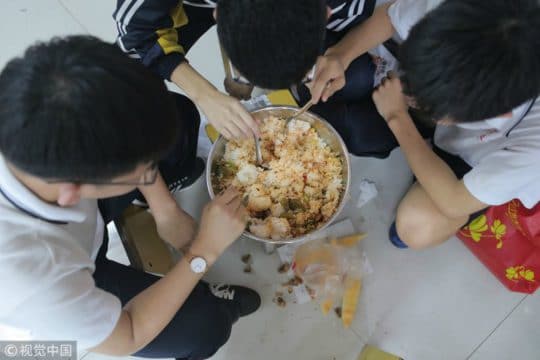 Instead of promoting and propagating the stories of China's top scorers, Chinese state media now seem to shift their focus to students' hard work and collaborate efforts to prepare for the exam.
In line with Xi Jinping's socialist thought, which also promotes equality in education and the nurturing of "a new generation of capable young people who (..) are well-prepared to join the socialist cause", the official focus has now apparently changed from top achievers to the average, harmonious and social student.
China's higher education is extremely competitive, and so is the battle for the high gaokao scores; although as much as 9.75 million senior high school students are going to take part in the 2018 University Entrance Exams, only less than 100 of them will have the opportunity to become an actual gāokǎo zhuàngyuán or 'top-score champion.'
Inequality behind the 'zhuàngyuán'?
The gaokao top-score achievers are not just the minority when it comes to statistics, they are also the 'elites' of the supposed socialist society.
After claiming the title of 2017 Beijing University Entrance Exam top scorer, the 2017 zhuàngyuán Xiong Xuan'an was interviewed by Chinese media outlet The Paper and addressed some controversial issues on becoming one of the top scorers.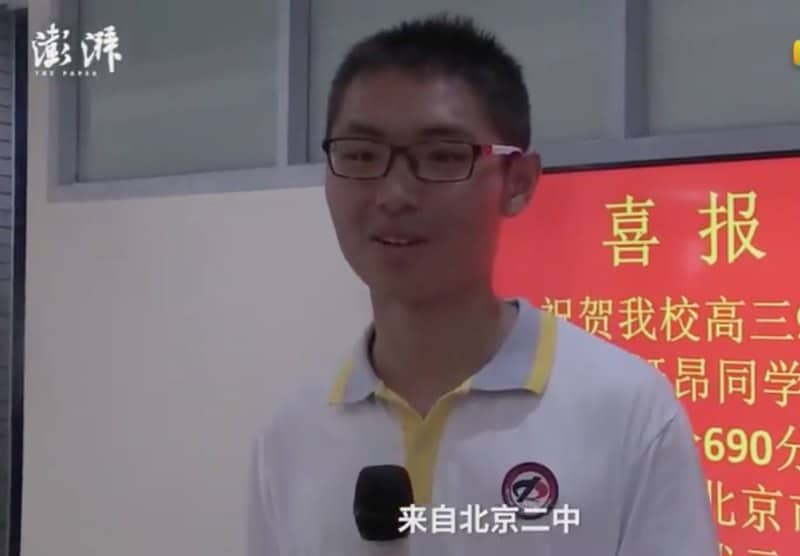 Xiong, during the interview, said that for students coming from rural areas, it is much harder to get into good universities, saying: "People like me are from middle-class families. We do not have to worry about food or clothes. Our parents are educated."
He added: "We were born in large cities like Beijing. We simply got better education resources than the rest. Students from other places and rural areas are not able to get these benefits."
"The top scorers nowadays are, generally speaking, coming from prestigious families."
Over the past years, Chinese parents are increasingly spending huge amounts of money towards their children's education, varying from extravagant summer programs to hiring 'gaokao nannies' to support children taking the exams. Spending money on high-quality private schools and tutoring starts as early as kindergarten.
But not all families can afford top-notch schools for their children. Official statistics show that in 2017, dispensable income per capita in China is approximately 25,974 yuan (±US$4072).
Xiong told reporters that his parents are diplomats, saying: "It made my learning path easier. And the top scorers nowadays are, generally speaking, coming from prestigious families and are good at studying."
Perhaps the general promotion of top-score achievers used to be an efficient way for state media to promote hard-working attitudes and the 'Chinese dream', but the emergence of the more elite zhuàngyuán now has come to show how differences in educational resources have created inequality in educational opportunities.
Weibo Discussions
The recent ban on stories about the 2018 gaokao top scorers is an indication that the Chinese Ministry of Education now wants to de-emphasize worsening disparities within society, but not all commenters on Weibo agree with this shift.
"Why can't we give publicity to the top scorers?", author Tan Yantong (@谭延桐) asks on Weibo: "There is so much rotten entertainment news (..) and bullsh*t news, unbearable news, ruining our value system – why don't you ban that sort of news?"
"What's the use for me to become a number one scorer now?"
"Then you might as well ban the top scorers in sports," others say: "That's also highly competitive."
"Now what's the use for me to become a number one scorer anyway?" another commenter jokingly says.
But there are also supporters of the new guideline. "This is a good start," one other Weibo user writes: "Elementary education is general education – not elite education. How to provide efficient and equal education is something the Ministry of Education needs to figure out through new strategies."
By Chauncey Jung and Manya Koetse
Follow @whatsonweibo
Spotted a mistake or want to add something? Please let us know in comments below or email us.
©2018 Whatsonweibo. All rights reserved. Do not reproduce our content without permission – you can contact us at info@whatsonweibo.com.
Lost in Translation? UBS's "Chinese Pig" Comment Stirs Controversy
"Chinese pig" – much ado about nothing or an insulting remark?
A report by the UBS titled "Very Normal Inflation" caused controversy on Chinese social media on Thursday for containing the term "Chinese pig."
The UBS, a Swiss multinational investment bank, published the article on consumer price inflation on June 12. The author, economist Paul Donovan, wrote: "Chinese consumer prices rose. This was mainly due to sick pigs. Does it matter? It matters if you are a Chinese pig." The same text also appeared in a podcast on inflation in China.
Global Times (环球时报), a Chinese and English language media outlet under the People's Daily newspaper, lashed out against the USB for its "insulting" and "discrimatory" remarks.
Many netizens agreed with the Global Times, and see the "Chinese pig" remark as a joke with a double meaning, assuming that Donovan was both talking about pigs in China, as well as insulting Chinese people.
Some people suggest that if Donovan did not intend to make a pun, he could have written "it matters if it is a pig in China" instead. They argue that UBS and Donovan could have avoided using the term to begin with, and intentionally wrote it up like this to insult Chinese people.
There are also social media users who come to Donovan's defense. Author Deborah Chen (陈叠) writes on Weibo that she has known Paul for a long time and that she knows him as a straightforward and humorous commentator. "There is just one kind of translation for 'pigs of China' (中国的猪) and 'Chinese pigs' (中国猪) in English," she says: "If you look at the context, you'll see he's talking about farm animals, and is not humiliating the people of the nation."
On Weibo, multiple people called the reactions to the article "overly sensitive."
A commenter nicknamed "Taxpayer0211809" wrote: "The way I understood is just that China's consumer prices have inflated and that this is because of the swine fever. Is this thing important? It is important if you are a pig in China, or if you like eating pork, for the rest of the world there won't be a big influence."
Shortly after the controversy erupted, the UBS and Donovan sent their apologies, which were also published by Global Times: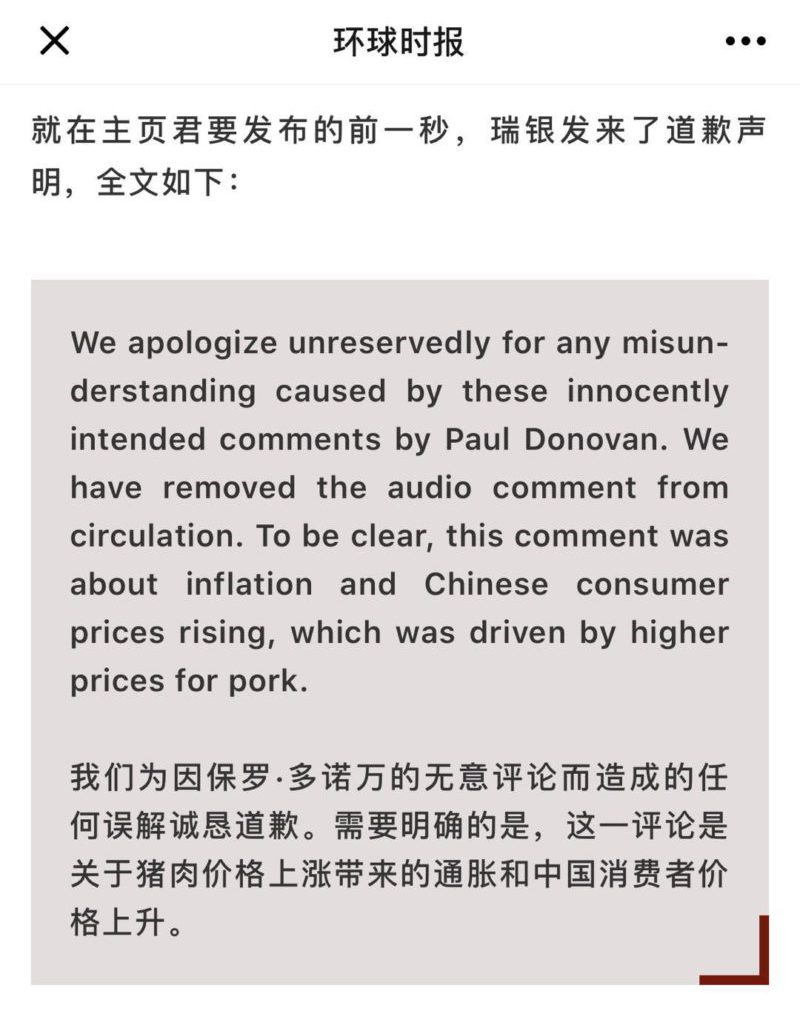 But some Chinese web users did not accept those apologies. One Chinese author wrote there was nothing "innocent" about the remarks made.
The article in question has since been removed from the USB website.

Also read: Bulgari's Noteworthy New China Marketing Campaign on a Happy 'Jew' Year of the Pig (Zhu)

By Manya Koetse and Miranda Barnes
Follow @whatsonweibo
Photo by Fabian Blank on Unsplash
Spotted a mistake or want to add something? Please let us know in comments below or email us. Please note that your comment below will need to be manually approved if you're a first-time poster here.
©2019 Whatsonweibo. All rights reserved. Do not reproduce our content without permission – you can contact us at info@whatsonweibo.com
On 30th Anniversary of the Tiananmen Protests, Weibo Completely Cracks Down on the T-Word
The T-word is the taboo subject, but not for the State Office.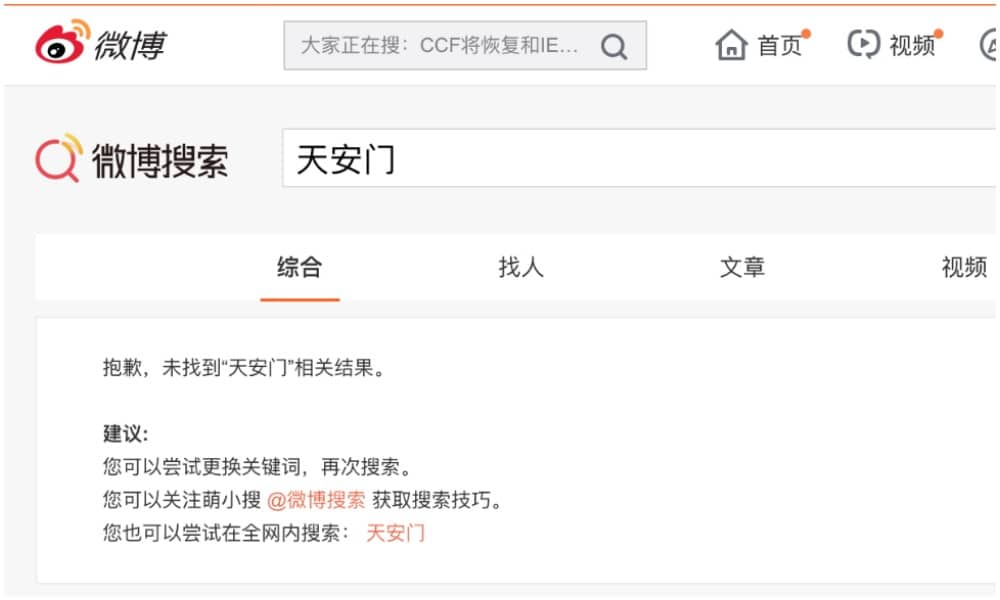 Nobody can mention the T-word on social media this week, except for the State Council Information Office.
It is the time of the year that censorship on Chinese internet intensifies, and this year the date carries even more weight, as it marks the 30th anniversary of the Tiananmen student protests that started in April 1989 and ended with the violent crackdown on June 4th of that year.
What is noticeable about this anniversary on Weibo this year? Whereas certain combinations of 'Tiananmen' together with 'protests' or '6.4' are always controlled on the social media site, searching for the Chinese word 'Tiananmen' now only shows a series of media posts about the celebration of the 70th anniversary of the People's Republic of China (#庆祝新中国成立70年#).
The posts all come from Chinese (state) media outlets and mention the word 'Tiananmen' in it, with different state media outlets all posting the same post after the other starting from Monday night local time (e.g. one posts at 19:35, the other at 19:36, 19:45, etc).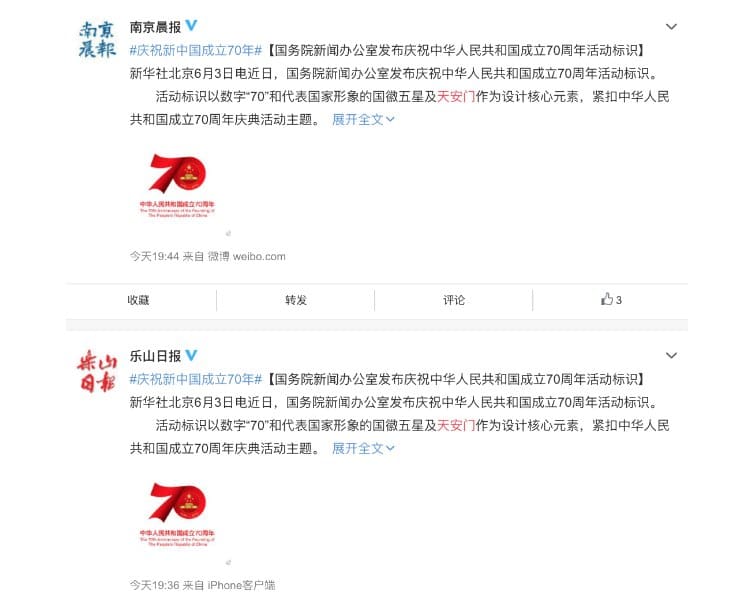 The post is a press release from the State Council Information Office that for the first time now shares the official logo to celebrate the 70th anniversary of the founding of the People's Republic of China.
The logo is the number "70" and the National Emblem of the People's Republic of China, which contains in a red circle a representation of Tiananmen Gate and the five stars of the national flag. The word 'Tiananmen' is mentioned twice in the official state media Weibo posts.
Earlier on Monday, shortly before the press release, searching for 'Tiananmen' on Weibo showed that there were over 18 million posts containing the word 'Tiananmen,' but when clicking the results page, it suddenly showed that there were "no results" at all, suggesting a complete shutdown of searches for this term.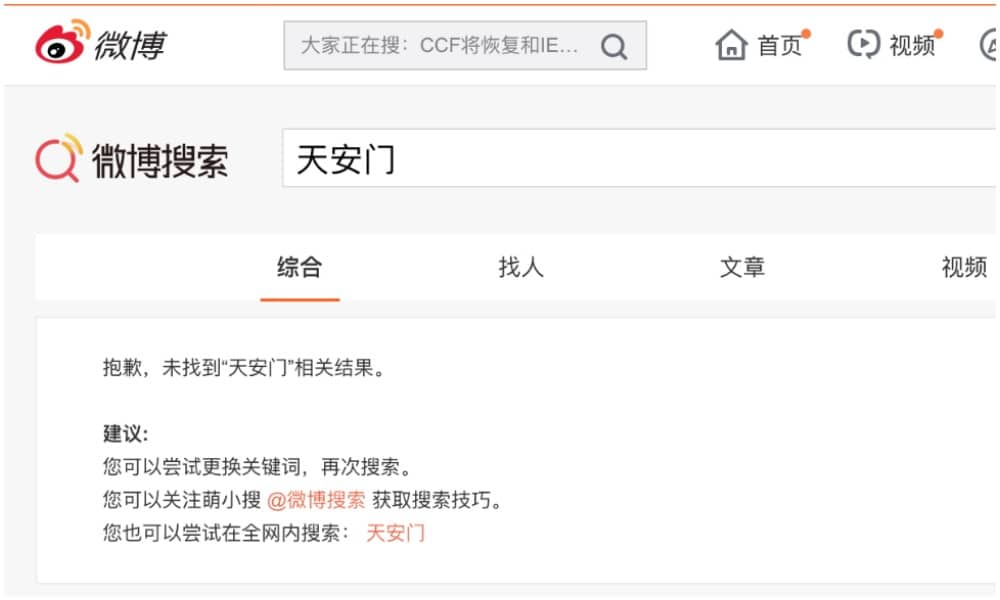 The hashtag page for #Tiananmen# (#天安门#) also comes up with zero results at time of writing.
For more on this subject, also read: Tiananmen Without the Tanks – The 1980s China Wants to Remember and the interview with musician Jeroen den Hengst, who was in Beijing in 1989.
By Manya Koetse
Follow @whatsonweibo
Spotted a mistake or want to add something? Please let us know in comments below or email us. Please note that your comment below will need to be manually approved if you're a first-time poster here.
©2019 Whatsonweibo. All rights reserved. Do not reproduce our content without permission – you can contact us at info@whatsonweibo.com