One Kuaidi's Signature Leads to US$47,000 Fine for Jiangsu Courier Delivery Company
Signature forgery by Chinese kuaidi (couriers) happens on a daily basis. For a delivery company in Jiangsu, one false signature ended up costing a lot of money.
It happens on a daily basis in China, but how much could a courier's (kuaidi's) signature forgery end up costing a delivery company? According to a local Chinese court: 300,000 yuan (±US$47,300).
For many people in China, it might have happened before; the kuaidi delivers a package but finds no one at home – some kuaidi then decide to sign off the delivery themselves.
A recent case involving such a signature forgery by a local courier became a trending post on Weibo earlier this week, after a Chinese kuaidi from Jiangsu's Sihong County decided to personally sign a receipt for the recipient without actually delivering the parcel back in February of this year.
Unlike other ordinary parcels, the package contained a rather important document for the recipient, namely a court subpoena. Not receiving the subpoena, the intended recipient missed the designated court date, causing his case to be dismissed due to his absence, China News Agency reports.
Realizing that the parcel was signed, received, yet wrongfully handled by the courier, the plaintiff sued the courier service firm for this error. A local Sihong court made a verdict in favor of the plaintiff and imposed a 300,000 yuan (US$47,300) fine to the person in charge of the courier service firm.
According to the verdict, the courier did not notify the recipient regarding the delivery, and left it in a convenience store near the recipient's neighborhood. In what was ruled a "fraudulent act", the courier not only counterfeited a signature but also misspelled two out of three characters in the recipient's name.
Since unsuccessful delivery caused the recipient to miss their supposed court date, the court ruled the incident "a waste of legal resources."
Although the kuaidi was legally at fault for providing a false acceptance signature in order to receive the letter, it is something that often happens in Chinese cities. With thousands of packages being shipped every single day, many recipients are often not at home to personally receive them.
The absence of the actual recipients to sign for the delivery have made many Chinese couriers – often migrant workers who are cramped for time and underpaid – form the habit to sign the receipts on behalf of their customers. Lack of legal knowledge and proper training also adds to the problem.
"Who sends legal documents by courier services anyway?", some people on Weibo comment: "There's always a risk in using kuaidi services."
"The whole courier industry needs to be put in order," another person writes: "It's all a big mess."
"Kuaidi should not be able to sign for someone yet it happens all the time," a typical comment read: "The company deserves to be punished for it."
Much different from the person they were supposed to deliver the court documents to, the courier service company in question did properly and officially receive the court's verdict.
A spokesperson has stated that the company will put more effort into training their staffs on the proper procedure in parcel deliveries to avoid similar errors – and fines – in the future.
By Chauncey Jung
Follow @whatsonweibo
Spotted a mistake or want to add something? Please let us know in comments below or email us.
©2018 Whatsonweibo. All rights reserved. Do not reproduce our content without permission – you can contact us at info@whatsonweibo.com.
Meng Wanzhou "Back to the Motherland," Michael Kovrig and Michael Spavor Return to Canada
Meng Wanzhou (孟晚舟) is coming home to China. It has been nearly three years since the CFO of Huawei, and the daughter of Huawei founder Ren Zhengfei (任正非), was first detained in Canada during transit at Vancouver airport at the request of United States officials.
Meng Wangzhou was accused of fraud charges for violating US sanctions on Iran. Ever since late 2018, Chinese officials have been demanding Meng's release and called the arrest "a violation of a person's human rights." Meng was under house arrest in Vancouver while battling extradition to the United States.
At the same time, in December of 2018, Canadian national Michael Kovrig was detained in the Chinese capital by the Beijing Bureau of Chinese State Security. Kovrig, who is known as Kang Mingkai (康明凯) in Chinese, served as a diplomat in Beijing and Hong Kong until 2016, and then became a Hong Kong-based Senior Adviser at the International Crisis Group, where he worked on foreign affairs and global security issues in Northeast Asia.
Kovrig was accused of espionage in China, although many called the arrest a case of "hostage diplomacy" ("人质外交"). In late 2018, Kovrig's case went trending on Chinese social media. Although many online discussions were censored, popular comments said: "You take one of ours, we take one of yours" (more here).
Also detained in December of 2018 was the Canadian Michael Spavor (迈克尔‧斯帕弗), a China-based consultant and director of Paektu Cultural Exchange, an organization promoting investment and tourism in North Korea. In August of this year, a Chinese court sentenced Spavor to 11 years in prison after declaring him guilty of spying, while Kovrig had still been awaiting a verdict in his case.
Now, as announced by Canadian PM Trudeau on Friday night, the two Michaels and Meng are free and on their way home. Meng was discharged by the Supreme Court in British Columbia after an agreement was reached with American authorities to resolve the criminal charges against her. While Meng boarded a flight to Shenzhen, Kovrig and Spavor were heading back to Canada.
On the Chinese social media platform Weibo, Meng's return to China became the top trending topic of the day. "Meng Wanzhou About to Return to the Motherland" became the no 1 hashtag (#孟晚舟即将回到祖国#), receiving 1.5 billion views by Saturday afternoon (CST).
State media outlet People's Daily was one of the main accounts pushing hashtags related to Meng. They also released the hashtag "Meng Wanzhou Just Updated her Moments" (#孟晚舟刚刚更新朋友圈#), referring to a social media post by Meng on WeChat, in which she wrote that she was on her way home to China and just crossing the North Pole, adding "under the leadership of the Communist Party of China, our motherland is becoming glorious and flourishing; without a strong motherland, I would not have had my freedom today."
State media also issued online images featuring Meng, welcoming her back home after 1028 days.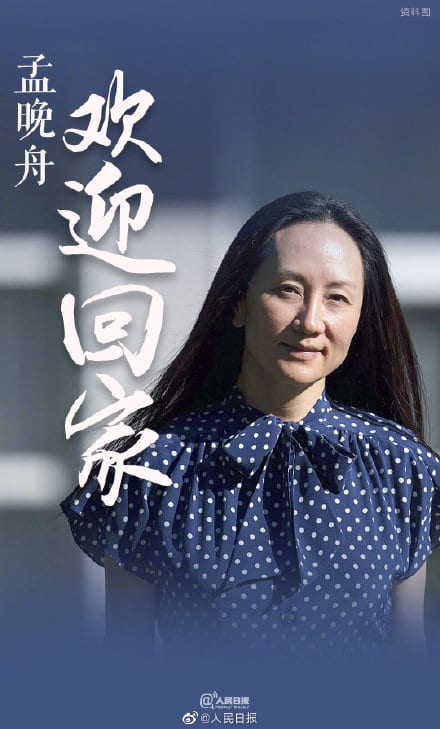 While Meng's return triggered thousands of posts and comments on Weibo, the release of Kovrig and Spavor did not get nearly as much attention on Chinese social media – it also was not reported on social media by any Chinese official media accounts at time of writing.
In some online discussions on Weibo, commenters called the release of Kovrig and Spavor an "exchange" or "a business deal," with others writing: "This is better, as long as Meng returns home, it's alright."
Meng Wanzhou's detainment became one of the biggest topics on Chinese social media back in 2018, and it sparked anti-American sentiments – many netizens expressed how the United States was allegedly using the judicial system in a battle that was actually all about politics.
A political satire image of Meng Wanzhou being rescued by the Chinese authorities as an American shark is trying to eat her alive also circulated on Chinese social media this weekend. The image ("归舟") was created and posted by digital artist Wuheqilin (乌合麒麟), who also welcomed Meng back home.
Meanwhile, some social media users in China have started a countdown to Meng's arrival, tracking the flight on live tracking maps. Her CA552 plane is scheduled to arrive in Shenzhen at 21:14 local time, September 25.
By Manya Koetse (@manyapan)
Spotted a mistake or want to add something? Please let us know in comments below or email us. First-time commenters, please be patient – we will have to manually approve your comment before it appears.
©2021 Whatsonweibo. All rights reserved. Do not reproduce our content without permission – you can contact us at info@whatsonweibo.com.
Key Players, Digital Trends & Deep Dives: China Internet Report 2021
SCMP just launched its latest China Internet Report. (And What's on Weibo readers can get a 30% discount on the Pro Edition!)
As China's tech sector has been facing an ongoing crackdown by Beijing regulations, a lot has been changing in the country's digital environment over the past year. The new China Internet Report 2021 by SCMP gives an overview of the latest trends and developments.
When it comes to China's online landscape, nothing ever stays the same. Over the past year, political, economic, and social developments and measures have once again changed the Chinese digital environment.
Giving a comprehensive overview of the key leaders and major trends dominating the Chinese online field, South China Morning Post (SCMP) issued its fourth annual China Internet Report.
China's internet population has now risen to 989 million – last year's report indicated an internet population of 904 million. By now, there are 853 million mobile payment users, which indicates that over 86% of the entire mobile internet population uses mobile as a way to pay.
As China's internet population is still growing, and new online startups are still popping up every day, there have been tightening regulations on multiple fronts.
As laid out in SCMP's report, regulations mainly focus on the four areas of antitrust, finance, cybersecurity, and data privacy. Regulatory actions targeting the monopolistic behaviours of China's biggest internet companies are still ongoing, and the new Data Security Law came into effect on September 1st of this year.
While Chinese tech companies are seeing increased scrutiny at home, they have also been facing intensifying geopolitical tensions between China and other countries. Over the past year, the various probes and shutdowns into Chinese companies by countries such as the US and India have meant a serious blow to the market share of Chinese apps.
Meanwhile, the SCMP report highlights the trend of various older and newer Chinese (e-commerce) apps "downplaying" their Chinese origins when entering foreign markets. Shein is a good example of this development, but other players including Zaful, Urbanic, and Cider are also experiencing more success outside of China while not explicitly marketing themselves as Chinese e-commerce apps.
Another noteworthy trend explained in the new report is how China's shifting demographics are creating new niche segments to compete over. The COVID-19 crisis is partially a reason why China has seen an increase in senior internet users, with an increasing number of online products and content catering to the elderly.
China's Ministry of Industry and Information Technology (MIIT) even issued special guidelines earlier this year for web pages and mobile apps to carry out so-called "elderly friendliness modifications." Since this user group is still expected to see significant growth, the "silver economy" is an area that will only become more important in the years to come.
To check out all the main trends for 2021, China's latest internet statistics, its top tech competitors, internet companies, and more, here's a link to the free report.
The free report is 55 pages long and gives an overview of China's latest internet numbers and players, covers the top cross-sector trends for 2021, including the tightening regulations and the bumpy road ahead for China's tech IPOs.
The Pro Edition of China's Internet Report 2021, also launched by SCMP, is 138 pages long and provides a deep-dive into ten relevant sectors – featuring insightful and useful analysis, data, and case studies relating to China's e-commerce market, content & media, gaming, blockchain, fintech, online education, healthtech, smart cars, 5G, and Artificial Intelligence.
The China Internet Report Pro Edition is priced at US$400, but the team at SCMP has kindly reached out and made it possible for us to offer a special 30% discount to What's on Weibo readers.
You'll get the discount by using the discount code: WHATSONWEIBO30, or by clicking this link that will automatically include your discount code.
By Manya Koetse
Spotted a mistake or want to add something? Please let us know in comments below or email us. First-time commenters, please be patient – we will have to manually approve your comment before it appears.
©2021 Whatsonweibo. All rights reserved. Do not reproduce our content without permission – you can contact us at info@whatsonweibo.com.