One Kuaidi's Signature Leads to US$47,000 Fine for Jiangsu Courier Delivery Company
Signature forgery by Chinese kuaidi (couriers) happens on a daily basis. For a delivery company in Jiangsu, one false signature ended up costing a lot of money.
It happens on a daily basis in China, but how much could a courier's (kuaidi's) signature forgery end up costing a delivery company? According to a local Chinese court: 300,000 yuan (±US$47,300).
For many people in China, it might have happened before; the kuaidi delivers a package but finds no one at home – some kuaidi then decide to sign off the delivery themselves.
A recent case involving such a signature forgery by a local courier became a trending post on Weibo earlier this week, after a Chinese kuaidi from Jiangsu's Sihong County decided to personally sign a receipt for the recipient without actually delivering the parcel back in February of this year.
Unlike other ordinary parcels, the package contained a rather important document for the recipient, namely a court subpoena. Not receiving the subpoena, the intended recipient missed the designated court date, causing his case to be dismissed due to his absence, China News Agency reports.
Realizing that the parcel was signed, received, yet wrongfully handled by the courier, the plaintiff sued the courier service firm for this error. A local Sihong court made a verdict in favor of the plaintiff and imposed a 300,000 yuan (US$47,300) fine to the person in charge of the courier service firm.
According to the verdict, the courier did not notify the recipient regarding the delivery, and left it in a convenience store near the recipient's neighborhood. In what was ruled a "fraudulent act", the courier not only counterfeited a signature but also misspelled two out of three characters in the recipient's name.
Since unsuccessful delivery caused the recipient to miss their supposed court date, the court ruled the incident "a waste of legal resources."
Although the kuaidi was legally at fault for providing a false acceptance signature in order to receive the letter, it is something that often happens in Chinese cities. With thousands of packages being shipped every single day, many recipients are often not at home to personally receive them.
The absence of the actual recipients to sign for the delivery have made many Chinese couriers – often migrant workers who are cramped for time and underpaid – form the habit to sign the receipts on behalf of their customers. Lack of legal knowledge and proper training also adds to the problem.
"Who sends legal documents by courier services anyway?", some people on Weibo comment: "There's always a risk in using kuaidi services."
"The whole courier industry needs to be put in order," another person writes: "It's all a big mess."
"Kuaidi should not be able to sign for someone yet it happens all the time," a typical comment read: "The company deserves to be punished for it."
Much different from the person they were supposed to deliver the court documents to, the courier service company in question did properly and officially receive the court's verdict.
A spokesperson has stated that the company will put more effort into training their staffs on the proper procedure in parcel deliveries to avoid similar errors – and fines – in the future.
By Chauncey Jung
Follow @whatsonweibo
Spotted a mistake or want to add something? Please let us know in comments below or email us.
©2018 Whatsonweibo. All rights reserved. Do not reproduce our content without permission – you can contact us at info@whatsonweibo.com.
"It'll Only Get Better" – The Week of Hong Kong National Security Law on Weibo
"Horses will still run, stocks will still sizzle, and dancers will still dance."
The implementation of the Hong Kong National Security Law has been a hot topic in international media over the past week. On Chinese social media, the law and the global responses to it have also triggered widespread discussions.
The new National Security Law (NSL) that came into effect on June 30 has caused alarm in Hong Kong, where people have protested for greater freedom, democracy, and independence from the political influences of Beijing since March of last year.
Although the law has been described as a "nightmare" by some critics, there are Beijing supporters who claim it is "huge progress."
Pro-regime author Thomas Hon Wing Polin, for example, called the implementation of the law "the most hopeful day in the life of Hong Kong since its return to China in 1997."
The law's full name is the "Safeguarding National Security Law of the Hong Kong Special Administrative Region of the People's Republic of China" (中华人民共和国香港特别行政区维护国家安全法), and it basically stands for everything Hong Kong demonstrators have protested against for so long – less autonomy and more Beijing influence over the city.
On July 8, the national security office was officially opened in Hong Kong.
About the National Security Law
The NSL provides legal guarantee for police to "safeguard China's national interest" and apply the law, that imposes criminal penalties for secession, subversion against state power, terrorist activities, and collusion with foreign forces.
The NSL has many vague provisions, and the legislative interpretation is up to Beijing. This makes it easier for Chinese authorities to punish protesters and those who criticize the government. People convicted of national security crimes could face up to life imprisonment.
The law (see full text here) has garnered special attention for its Article 38 and Article 43, the latter of which took effect on July 7.
Article 38 mainly triggered controversy for stating that every provision of the NSL also applies to everyone outside of Hong Kong:
"This Law shall apply to offenses under this Law committed against the Hong Kong Special Administrative Region from outside the Region by a person who is not a permanent resident of the Region."
Oh my god am I reading this right???

Article 38: The law applies to persons who do NOT have permanent resident status in HK and commit crimes under this law OUTSIDE Hong Kong.

Did Beijing just grant itself sweeping extraterritoriality to…everyone on the planet?

— B. Allen-Ebrahimian (@BethanyAllenEbr) June 30, 2020
Article 43 includes seven implementation rules, including one that allows Hong Kong authorities to demand tech companies to remove information and to share private user data. Noncompliance could result in fines or even imprisonment for staff members.
Hong Kong government released a 7-point enforcement guideline for Article 43 of the #NSL, which was passed during the first meeting of the national security commission chaired by the Chief Executive. The guideline allows #HK police to do …https://t.co/trh8wZ8rIw

— William Yang (@WilliamYang120) July 6, 2020
China Law Translate's Jeremy Daum commented on Twitter: "Regardless of how often such requests are made, even the possibility of such harsh penalties for protecting user data will leave foreign businesses in an incredibly difficult position. They may well be left with no choice but to leave HK, which may be the goal."
"Schedule 4" of these implementation rules for HK Natsec law's article 43(4) police powers seem to be to present a massive challenge for foreign tech companies. https://t.co/02LNixtjPP

— China Law Translate / Jeremy Daum (@ChinaLawTransl8) July 7, 2020
International Responses to Beijing's NSL in Hong Kong
Over the past few days, foreign companies and governments have responded to the law's enactment with their own measures.
Both Canada and Australia have suspended extradition treaties with Hong Kong. New Zealand's Foreign Minister stated the country is "deeply concerned at the imposition of this legislation" and that it would "review" its relationship with Hong Kong.
UK has offered citizenship options to Hong Kong residents, while France and Germany proposed EU countermeasures.
Major tech companies such as Facebook, Twitter, Google, Zoom and LinkedIn have indicated they will "pause" requests for data from authorities while they are assessing the situation and their position.
Beijing-headquartered ByteDance told Reuters that it will withdraw its TikTok app out of the region. (Note that there is a difference between the Tiktok app and Douyin app, that is available in mainland China).
During a press conference on July 7, China's Foreign Ministry Spokesperson Zhao Lijian reacted to a question regarding these responses to the National Security Law, reassuring that "horses will still run, stocks will still sizzle, and dancers will still dance" in Hong Kong – referring to the famous words Deng Xiaoping once said about Britain's handover of Hong Kong to Chinese rule in 1997.
Weibo Discussions
On Chinese social media platform Weibo, there have been discussions on the National Security Law developments under various hashtags – all hosted by the Weibo accounts of state media outlets such as People's Daily or CCTV – since June of this year.
Some of the main hashtags:
"Hong Kong National Security Law" #港区国安法# (260 million views at the time of writing)
"Hong Kong National Security Law Takes Effect" #香港国安法正式生效# (380 million views)
"Hong Kong National Security Law Full Text" #香港维护国家安全法全文# (280 million views)
"Hong Kong National Security Law's Implementation Rules Effective as of July" 7 #香港国安法实施细则7月7日生效# (81+ million views at the time of writing)
"Hong Kong's National Security Law Specifies Four Types of Criminal Acts that Endanger National Security" #香港国安法明确4类危害国家安全犯罪行为#
(13+ million views)
"Member of Hong Police Force Says Deterrence of National Security Law Is Already Apparent" #港警一哥说港区国安法的震慑力已显现# (67+ million views)
"Hong Kong Will Introduce the National Security Law to Students in Class Curriculum" #香港将在课程中向学生介绍国安法# (210 million views)
Although, as always, most comment threads below news articles on Weibo are heavily censored, there still are thousands of comments on these news developments.
A recurring comment is that the implementation of the law will make Hong Kong "more stable" and therefore "more prosperous." Also: "Hong Kong is part of China. I hope our country will only get better."
About Facebook and other tech companies "pausing" data requests from local authorities until further notice, some commenters say that this shows that these platforms are biased or hold a double standard. (Facebook has a page about its requests for user data here.) "They hand over data to other countries, but not to China?"
"If you don't approve of China, if you don't like Hong Kong, just get out instead of earning money from Chinese."
Among all comments, there are also those acknowledging the forms of (silent) protest going on in Hong Kong, with sheets of blank paper becoming the latest protest symbol to avoid using slogans banned under the new national security law.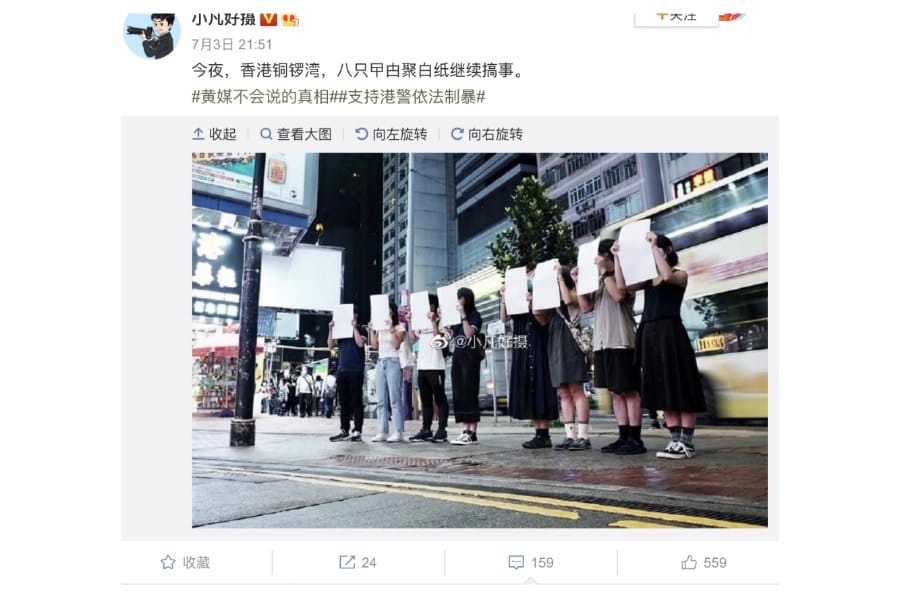 Others make fun of the subdued protests after the implementation of the NSL, posting photos of "before" and "after" the law took effect (image below).
Last year during the Hong Kong protests, many Chinese social media users praised the Hong Kong police force and condemned the "angry youth."
As explained in this article, the ideas shaping the discussions on Hong Kong on Chinese social media platforms such as Weibo mainly were that Western media were biased in reporting the demonstrations and that Hong Kong youth were stuck in a 'colonial mentality' and lacked patriotic education.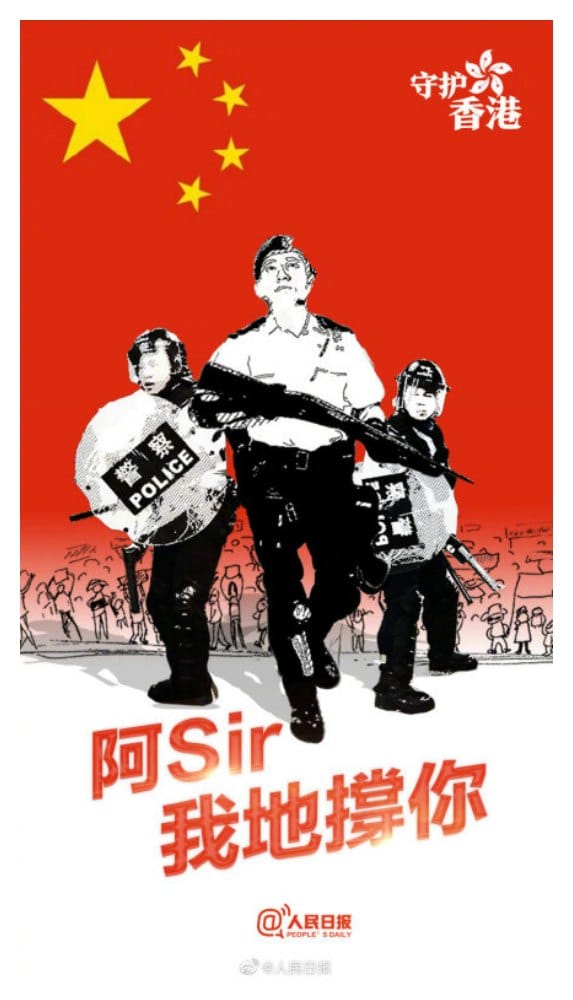 "We support the Hong Kong police force" was one of the slogans going around in 2019.
New Law, Same Ideas
This time around, the same rhetorical perspectives reappear on Chinese social media as during the start of the Hong Kong protests.
Firstly, there is a clear focus on the Hong Kong police force and the power they (should) have. Weibo users collectively praise the implementation of the NSL because the authorities now have more legal power to punish those who are "disturbing" Hong Kong's prosperity and stability.
The apparent general support for tough laws against anti-Beijing protesters also becomes clear looking at the recent news regarding the "Hong Kong Man Who Trampled and Burned Flag Sentenced to Five-Week Imprisonment" (#香港踩踏焚烧国旗男子改判入狱5周#), which was viewed 190 million times on Weibo on Friday.
A 21-year-old man who burned the national flag during protests in September last year was initially sentenced to 240 hours of community service. After prosecutors, pushing for tougher sentencing, requested a review of the case, the man was resentenced.
On Weibo, thousands of people responded to this news, saying his punishment was "too light" and that it should have been "five years rather than five weeks."
"Even five years would not be enough for these kinds of cockroaches [蟑螂]," blogger Taogewang (@淘歌王) writes.
Second, there is also, again, a focus on the lack of patriotic education among Hong Kong youth.
On July 11, Hong Kong leader Carrie Lam spoke at a local education forum, where she said that over 3,000 students have been arrested during the Hong Kong protests since June of last year. Lam pointed out that the NSL was an important moment to "let education return to education" and to let "student's study return to the right track."
On Weibo, this news item (#3000多名香港学生因修例风波被捕#) was discussed with a seeming general consensus that "patriotism starts with education" and that patriotism should be taught in Hong Kong schools.
Some argued that when teaching Hong Kong students about "One Country, Two Systems," there should be more focus on the 'One Country' aspect rather than on the 'Two Systems.'
Third, the supposed Western media bias in reporting about the Hong Kong National Security Law is again used in pro-Beijing discussions in Chinese online media, suggesting that Western media are prejudiced and show anti-Chinese sentiments in how they report about the developments in Hong Kong.
On July 11, Chinese media outlet The Observer (观察者) posted a fragment of a BBC Hardtalk interview about the National Security Law from July 7, in which BBC's Stephen Sackur repeatedly interrupted Hong Kong Senior Counsel and politician Ronny Tong (汤家骅), who defended the implementation of the law (see full interview here).
"They don't want to hear your opinion at all," one Weibo commenter said about Western media: "They just want you to make a mistake that suits their narrative."
"Why do you invite a guest if you want to answer the questions you pose yourself?" others wonder.
Fragments of this BBC HARDline interview with Ronny Tong (汤家骅), who defended the implementation of the National Security Law, was posted on Weibo by Chinese media to show how host Sackur "frantically interrupts" Tong, not allowing him to explain his stance #遭BBC主持人疯狂打断 pic.twitter.com/mMWYUsGSvf

— Manya Koetse (@manyapan) July 11, 2020
For many on Chinese social media, the implementation of the law means that Hong Kong will see more law and order after a year filled with unrest. For others it simply means that the city has "finally" has returned to the motherland.
Many netizens keep repeating the same phrase: "Now that the National Security Law takes effect, Hong Kong will only get better."
Also read: How the Hong Kong Protests Are Discussed on Chinese Social Media
By Manya Koetse
Follow @WhatsOnWeibo
Spotted a mistake or want to add something? Please let us know in comments below or email us. First-time commenters, please be patient – we will have to manually approve your comment before it appears.
©2020 Whatsonweibo. All rights reserved. Do not reproduce our content without permission – you can contact us at info@whatsonweibo.com.
Must-Read: SCMP's China Internet Report 2020
The China Internet Report brings order to the chaos of China's ever-changing digital environment. There's a special What's on Weibo discount for the Pro-edition.
First published
SCMP Research's China Internet Report 2020 is here, covering the country's biggest tech trends, breaking down the major players and key markets, and bringing some order to the chaos of China's rapidly changing digital environment.
Today, the South China Morning Post (SCMP) has launched its third edition of the China Internet Report – a super-comprehensive resource on China's technology landscape offering insights into the most important trends and players shaping the world's biggest internet community.
This year, China's online population has reached the staggering number of 904 million users, with the average daily time spent on the internet rising to 7.2 hours in March.
COVID-19 has significantly increased online media consumption across China.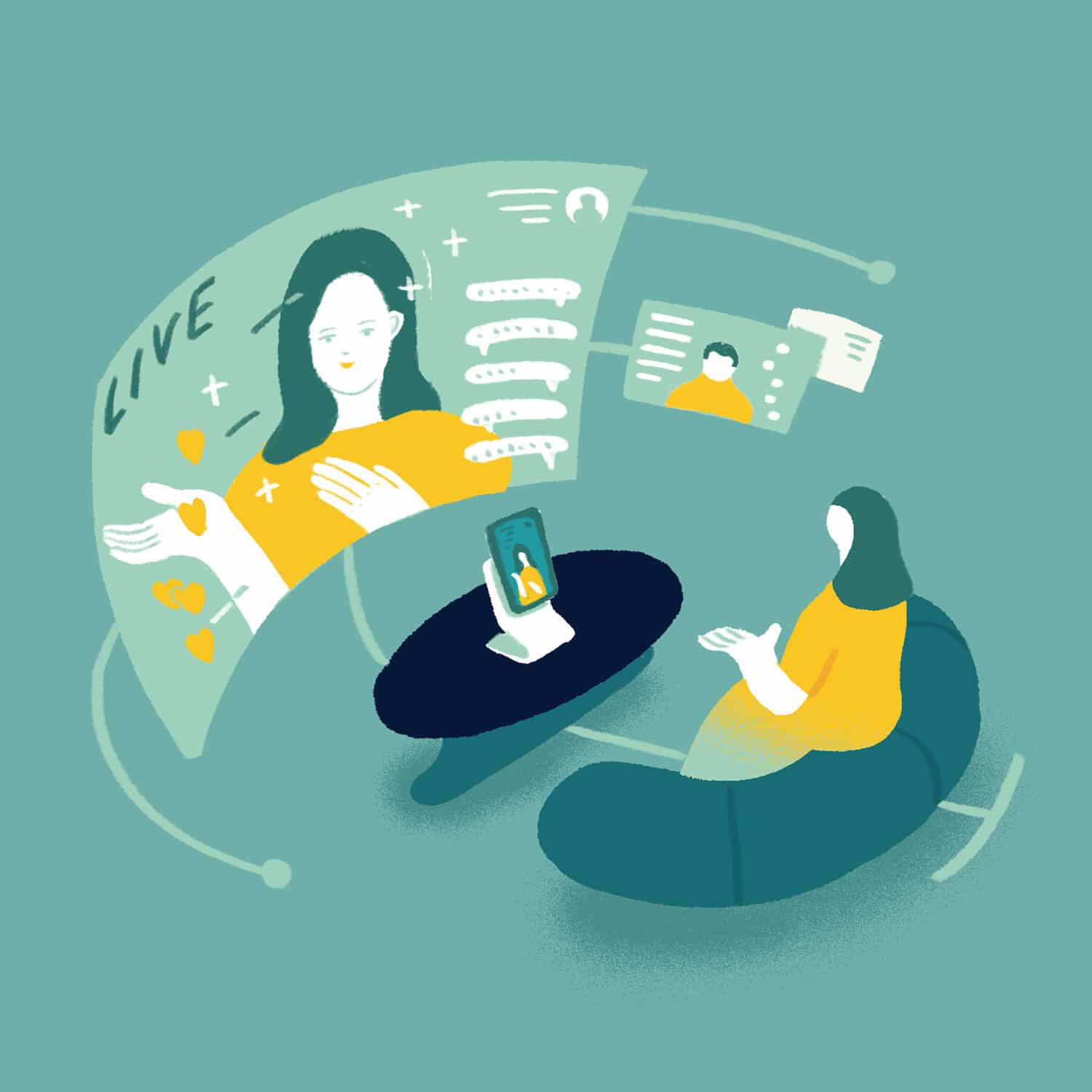 China's rapid digitization has not just radically altered Chinese society – it is also increasingly impacting the global internet ecosystem at large.
With yesterday's local startups becoming tomorrow's international tech leaders, and today's trends soon becoming worldwide shifts, understanding China's latest digital developments has never been more important.
The new coronavirus outbreak in China has not just temporarily affected people's online behavior, the report finds, suggesting that COVID-19 will have a lasting impact on China's tech sectors.
Besides social media platforms and other apps becoming a crucial tool of mass communication and information for Chinese netizens in times of COVID-19, the pandemic also changed how people in China started using technology in their everyday lives, from online learning to digital healthcare seeking. These trends have brought about permanent changes.
The accelerated digitization and the innovative tech use in times of the coronavirus crisis are listed as one of the major trends of 2020, among other vital digital shifts changing China's online landscape, from the mass adoption of 5G to live streaming in China reaching its third phase.
To check out the main trends for 2020, China's latest internet statistics, its top tech competitors, internet companies, and more, here's a link to the report.
This year, in addition to the free report, SCMP Research also introduces its Pro Edition (US$400) that features more than a hundred pages of deep-dive per sector – from e-commerce to healthtech, 5G and more – providing additional analysis, data, as well as access to six closed-door webinars with leading C-level executives of internet and technology companies in China.
The folks at SCMP have been kind enough to reach out and offer a special 30% discount on the Pro Edition report for What's on Weibo readers.
You'll get the discount by using the discount code: "WHATSONWEIBO", or by clicking this link that will automatically include your discount code.
By Manya Koetse
Follow @WhatsOnWeibo
Spotted a mistake or want to add something? Please let us know in comments below or email us. First-time commenters, please be patient – we will have to manually approve your comment before it appears.
©2020 Whatsonweibo. All rights reserved. Do not reproduce our content without permission – you can contact us at info@whatsonweibo.com.