One Kuaidi's Signature Leads to US$47,000 Fine for Jiangsu Courier Delivery Company
Signature forgery by Chinese kuaidi (couriers) happens on a daily basis. For a delivery company in Jiangsu, one false signature ended up costing a lot of money.
It happens on a daily basis in China, but how much could a courier's (kuaidi's) signature forgery end up costing a delivery company? According to a local Chinese court: 300,000 yuan (±US$47,300).
For many people in China, it might have happened before; the kuaidi delivers a package but finds no one at home – some kuaidi then decide to sign off the delivery themselves.
A recent case involving such a signature forgery by a local courier became a trending post on Weibo earlier this week, after a Chinese kuaidi from Jiangsu's Sihong County decided to personally sign a receipt for the recipient without actually delivering the parcel back in February of this year.
Unlike other ordinary parcels, the package contained a rather important document for the recipient, namely a court subpoena. Not receiving the subpoena, the intended recipient missed the designated court date, causing his case to be dismissed due to his absence, China News Agency reports.
Realizing that the parcel was signed, received, yet wrongfully handled by the courier, the plaintiff sued the courier service firm for this error. A local Sihong court made a verdict in favor of the plaintiff and imposed a 300,000 yuan (US$47,300) fine to the person in charge of the courier service firm.
According to the verdict, the courier did not notify the recipient regarding the delivery, and left it in a convenience store near the recipient's neighborhood. In what was ruled a "fraudulent act", the courier not only counterfeited a signature but also misspelled two out of three characters in the recipient's name.
Since unsuccessful delivery caused the recipient to miss their supposed court date, the court ruled the incident "a waste of legal resources."
Although the kuaidi was legally at fault for providing a false acceptance signature in order to receive the letter, it is something that often happens in Chinese cities. With thousands of packages being shipped every single day, many recipients are often not at home to personally receive them.
The absence of the actual recipients to sign for the delivery have made many Chinese couriers – often migrant workers who are cramped for time and underpaid – form the habit to sign the receipts on behalf of their customers. Lack of legal knowledge and proper training also adds to the problem.
"Who sends legal documents by courier services anyway?", some people on Weibo comment: "There's always a risk in using kuaidi services."
"The whole courier industry needs to be put in order," another person writes: "It's all a big mess."
"Kuaidi should not be able to sign for someone yet it happens all the time," a typical comment read: "The company deserves to be punished for it."
Much different from the person they were supposed to deliver the court documents to, the courier service company in question did properly and officially receive the court's verdict.
A spokesperson has stated that the company will put more effort into training their staffs on the proper procedure in parcel deliveries to avoid similar errors – and fines – in the future.
By Chauncey Jung
Follow @whatsonweibo
Spotted a mistake or want to add something? Please let us know in comments below or email us.
©2018 Whatsonweibo. All rights reserved. Do not reproduce our content without permission – you can contact us at info@whatsonweibo.com.
Tick, Tock, Time to Pay Up? Douyin Is Testing Out Paywalled Short Videos
Is content payment a new beginning for the popular short video app Douyin (China's TikTok) or would it be the end?
The introduction of a Douyin novel feature, that would enable content creators to impose a fee for accessing their short video content, has sparked discussions across Chinese social media. Although the feature would benefit creators, many Douyin users are skeptical.
News that Chinese social media app Douyin is rolling out a new feature which allows creators to introduce a paywall for their short video content has triggered online discussions in China this week.
The feature, which made headlines on November 16, is presently in the testing phase. A number of influential content creators are now allowed to 'paywall' part of their video content.
Douyin is the hugely popular app by Chinese tech giant Bytedance. TikTok is the international version of the Chinese successful short video app, and although they're often presented as being the same product, Douyin and Tiktok are actually two separate entities.
In addition to variations in content management and general usage, Douyin differs from TikTok in terms of features. Douyin previously experimented with functionalities such as charging users for accessing mini-dramas on the platform or the ability to tip content creators.
The pay-to-view feature on Douyin would require users to pay a certain fee in Douyin coins (抖币) in order to view paywalled content. One Douyin coin is equivalent to 0.1 yuan ($0,014). The platform itself takes 30% of the income as a service charge.
According to China Securities Times or STCN (证券时报网), Douyin insiders said that any short video content meeting Douyin's requirements could be set as "pay-per-view."
Creators, who can set their own paywall prices, should reportedly meet three criteria to qualify for the pay-to-view feature: their account cannot have any violation records for a period of 90 days, they should have at least 100,000 followers, and they have to have completed the real-name authentication process.
On Douyin and Weibo, Chinese netizens express various views on the feature. Many people do not think it would be a good idea to charge money for short videos. One video blogger (@小片片说大片) pointed out the existing challenge of persuading netizens to pay for longer videos, let alone expecting them to pay for shorter ones.
"The moment I'd need to pay money for it, I'll delete the app," some commenters write.
This statement appears to capture the prevailing sentiment among most internet users regarding a subscription-based Douyin environment. According to a survey conducted by the media platform Pear Video, more than 93% of respondents expressed they would not be willing to pay for short videos.
"This could be a breaking point for Douyin," one person predicts: "Other platforms could replace it." There are more people who think it would be the end of Douyin and that other (free) short video platforms might take its place.
Some commenters, however, had their own reasons for supporting a pay-per-view function on the platform, suggesting it would help them solve their Douyin addiction. One commenter remarked, "Fantastic, this might finally help me break free from watching short videos!" Another individual responded, "Perhaps this could serve as a remedy for my procrastination."
As discussions about the new feature trended, Douyin's customer service responded, stating that it would eventually be up to content creators whether or not they want to activate the paid feature for their videos, and that it would be up to users whether or not they would be interested in such content – otherwise they can just swipe away.
Another social media user wrote: "There's only one kind of video I'm willing to pay for, and it's not on Douyin."
By Manya Koetse
Get the story behind the hashtag. Subscribe to What's on Weibo here to receive our newsletter and get access to our latest articles:
Spotted a mistake or want to add something? Please let us know in comments below or email us. First-time commenters, please be patient – we will have to manually approve your comment before it appears.
©2023 Whatsonweibo. All rights reserved. Do not reproduce our content without permission – you can contact us at info@whatsonweibo.com.
Bad Apples? Chinese Actor Liu Jin Smashes iPhone 13 Pro Max, Anger over 'Chinese' Employee Photo on Apple Website
Who's the bad Apple? There's much ado about Apple on Chinese social media this week, but things turn out differently than expected.
There is a lot of Apple anger on Chinese social media this week. Two separate trending topics have ignited discussions. One revolves around Chinese actor Liu Jin, who smashed his iPhone 13 Pro Max in front of the Apple flagship store, while another one centers on an image of an Apple employee deemed inappropriate by Chinese netizens. But both viral trends have unfolded with surprisingly 'juicy' twists.
The Chinese actor Liu Jin (刘金) has become a big topic of discussion on Chinese social media this week for a remarkable statement he made in a 2-minute video that has gone viral.
The 'statement video' shows the actor angrily throwing his iPhone 13 Pro Max on the ground until it breaks, right in front of the Wangfujing Apple flagship store in Beijing, pledging he will never buy another Apple product again and accusing the company of being arrogant and overbearing after running into some repair issues.
Liu Jin is an actor who played in various productions, but he made his major breakthrough in 2015 when he played in the Chinese CCTV series Don't Let me See (别让我看见) and in the successful comedy movie Goodbye Mr Loser (夏洛特烦恼).
This was not the only Apple incident going viral on Chinese social media this week. Another trending topic revolves around actor Liu Jin, who angrily smashed his iPhone 13 Pro Max in front of the Apple flagship store in Beijing. (Caps autogenerated, but you get the idea.) pic.twitter.com/MdPvnKqh1T

— Manya Koetse (@manyapan) September 19, 2023
In the video, recorded on September 17, Liu explains he just visited the Apple store to get his iPhone back after bringing it in for repair. Liu claimed that he bought his iPhone 13 Pro Max in August of 2022 through the official store and that, after a year, it had a hardware problem that needed to be fixed.
According to Liu, the Apple store has now returned the iPhone to him without repairing it, saying that the phone was "modified without authoritization" by a third party, and that Liu should pay a 6,960 yuan ($950) fee to get it fixed.
Refusing to pay such an amount of money, and denying he got the phone through a third party, Liu then smashes the iPhone on the ground until it is broken, promising never to buy Apple again.
A hashtag related to the video was viewed a staggering 270 million times on Weibo, where it became a top trending topic (#演员刘金苹果店前怒摔iphone#).

Apple vs Huawei Rivalry

The actor's recent actions have garnered considerable attention, primarily because they coincide with the escalating rivalry between Huawei and Apple. This rivalry has become a prominent topic of discussion in China recently, due to various things coming together at the same time.
Notably, Apple unveiled its iPhone 15 shortly after Huawei introduced its latest flagship, the Mate 60 Pro 5G. Noteworthy enough (and unlikely coincidentally),it was launched on the same date as the return of Huawei executive daughter Meng Wanzhou from Canada in 2021 (read here).
The official launch ceremony for Huawei's new products is coming up on September 25, and people are hoping to find out more about the powerful Kirin 90000s chip that is being used by Huawei despite facing heavy US sanctions regarding Chinese access to crucial chip technology.
Simultaneously, reports emerged about alleged Chinese restrictions on iPhones within government and state agencies, resulting in a significant decline in Apple's stock value. The Foreign Ministry later stated that that China has actually not issued any law, regulation, or policy document to ban the use of Apple phones.
All of these developments have reignited the ongoing tech giant competition in China, that is now about much more than smartphones alone and has come to symbolize geopolitical rivalry, encompassing themes of nationalism, anti-Western sentiments, and a growing sense of pride in products made in China.

Much Ado about Apple Employee Photo

As Liu's phone-smashing video went viral, so did another controversy concerning an Apple customer service employee's photo depicted on the official website of Apple.
A Chinese netizen pointed out that a photo of an Apple Watch Specialist representative on the Apple site may have been purposely "insulting China" (辱华) due to the appearance of the person in the photo.
Initially, many people thought the image was specifically used on the Chinese-language Apple site, and that it concerned a Chinese individual with a hairstyle that resembles a queue: a single long braid of hair that was traditionally worn by male subjects of China during the Qing.
Some people also thought the individual had a pockmark near the mouth and that their looks reinforces stereotypes surrounding Chinese appearances regarding eyes and forehead. The image therefore sparked wide-spread resistance among netizens who thought Apple deliberately and inappropriately used such an image to show Chinese individuals as being backward and unattractive.
On the same day as Liu's video first came out, September 17, the topic of the "braid-wearing customer service representative" went trending, and the hashtag of "how do you feel about the Apple China website image of the braided customer service representative" (#如何看苹果中国官网辫子客服形象#) has since received over 200 million views on Weibo.
Political commentator Hu Xijin (胡锡进) also responded to the issue, explaining how the Chinese people are particularly sensitive to issues related to "perceived insults to China by Westerners," due to historical and cultural factors which are further amplified by current tensions in US-China and broader China-Western relations.
Hu therefore argues that "American and Western companies should be more careful and cautious when promoting their products and try to avoid using images and texts that could be misinterpreted by Chinese people."1

Who's the Bad Apple?

But to what extent is criticism of Apple reasonable in both incidents?
In the case of the "braid-wearing customer service representative", it soon triggered a response from Apple's customer service (#苹果客服回应辫子客服形象#, hashtag with 180 million views) and led to more information.
It has since become evident that many assumptions about the image were unfounded. Contrary to the initial belief that the photo was exclusive to the Chinese page, it was also featured on Apple's official websites in the United States, Japan, South Korea, and other countries.
Furthermore, it was revealed that the Apple employee in question is not of Chinese descent at all; she is a Native American female employee (also see Wen Hao's post on this). Additionally, the perceived pockmark near her mouth was, in fact, a piercing.
In response to this, some people mocked Hu Xijin for how he responded to the controversy.
But Liu's video also turns out to be a bit different than the version of the story he presented.
The actor seemed to voice a popular public sentiment by taking a stand against Apple's dominant position, that rivals that of China's tech darling Huawei, by smashing an Apple smartphone in public.
But where is the proof that Liu actually bought his iPhone at an Apple store in 2022? Where is the receipt showing that his phone was indeed not coming from a third party that might have modified it?
To the dismay of many netizens, the actor refused to show the official store receipt of his Apple phone, and many people started to doubt if the actor might have just put on a show to gain attention at a critical moment in the market competition between Apple and Huawei.
Moreover, the actor's story seemed even less credible when he tried to further explain it in a recent social media post.
Why?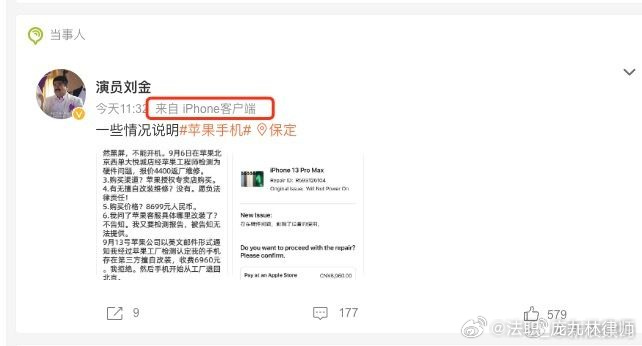 As many netizens noted: the post he sent was actually sent from an iPhone.
By Manya Koetse
1 "(..)一些国人在西方人"辱华"的问题上很敏感,有其真实的历史和文化原因。目前中美关系很紧张,中西关系也不如过去,美国和西方公司在做产品宣传时,多一些细心、谨慎,尽量不要选用有可能引发中国人误解的图文,这是他们开展跨文化交流时一份应有的素养和水平。"
Get the story behind the hashtag. Subscribe to What's on Weibo here to receive our newsletter and get access to our latest articles:
Spotted a mistake or want to add something? Please let us know in comments below or email us. First-time commenters, please be patient – we will have to manually approve your comment before it appears.
©2023 Whatsonweibo. All rights reserved. Do not reproduce our content without permission – you can contact us at info@whatsonweibo.com.
Subscribe to our newsletter
Stay updated on what's trending in China & get the story behind the hashtag
Sign up here to become a premium member of What's on Weibo today and gain access to all of our latest and premium content, as well as receive our exclusive Weibo Watch newsletter. If you prefer to only receive our free newsletter with an overview of the latest articles, you can subscribe for free here.
Would you like to become a contributor, or do you have any tips or suggestions for us? Get in touch with us here.