Why Chinese Parents Spend Huge Amounts of Money on Children's Summer Programs
An essay titled "A Monthly Salary of 30,000 RMB [±4490$] Is Not Enough for a Child's Summer Holiday" has recently gone viral on Chinese social media, triggering hot debates on how more and more Chinese parents spend huge amounts of money to educate their children during school holidays. Are they simply showing off their money, or is there more behind this trend?
An essay titled "A Monthly Salary of 30,000 RMB Is Not Enough for a Child's Summer Holiday" has recently gone viral on Chinese social media, triggering hot debates on how more and more Chinese parents spend huge amounts of money to educate their children during school holidays. Are they simply concerned about their child's education, or is there more behind this trend?
An article titled "A Monthly Salary of 30,000 RMB [±4490$] Is Not Enough for a Child's Summer Vacation" ("月薪三万,还是撑不起孩子的一个暑假"), which recently went viral on WeChat, describes how a woman with a well-paid job hardly earns enough money to pay for her daughter's summer schedule during her school vacation.
The mother, who works as a senior executive in Guangzhou, earns nearly $4500 per month. Although this is 13 times higher than the minimum monthly wage in China, the woman still said she was afraid to buy new clothes due to the costs of the busy summer program of her daughter, a 5th grader at a well-known Guangzhou school.
"If you spend this money, it makes you feel bad. But if you don't spend this money, it makes you feel bad for your child."
The extravagant summer program highlighted in the article includes a ten-day study tour through the USA, a daytime nanny, piano lessons, swimming classes, and summer classes in English language, Olympic maths, and Writing. In total, the mother spent at least 35,000 RMB (±5240$) on her daughter's summer 'vacation.'
"The most torturous is that if you spend this money, it makes you feel bad. But if you don't spend this money, it makes you feel bad for your child," the mother said.
It's not uncommon to see competition between Chinese parents over who are investing the most in their child's education. The idea of never letting children "lose at the starting line" has become a common belief.
During school holidays, China's wealthy families often send their children abroad for high-profile education. Middle-class parents struggle to compete with them, filling up their children's holidays with English classes and overseas summer camps. Also at the lower-class levels, parents aim to educate their children during summer to become the next top scorers at the Gaokao (the national college entrance examination).
In the online essay, the daughter's study trip to America is the most expensive activity of her summer program. Besides special classes and language training, the popularity of these types of expensive overseas summer camps is growing. According to a survey conducted by China Daily on these summer camps abroad, its participants are mainly middle-school and high-school students.
The most popular destinations are mainly English-speaking countries such as the USA, Canada, Australia or the UK, but Germany and Japan also have a high ranking. Although the prices vary, these trips never come cheap. Most of these programs cost around 20,000 to 30,000 RMB (3000$-4500$).
"They compare it like they compare luxury clothes or cars."
Through overseas summer programs, parents hope that their children will practice their English, learn to be more independent, and experience "Western education" – and they are more than willing to pay for it, even if it costs them thousands of dollars.
But there is more to this than the mere hope that busy summer programs will contribute to a child's personal development. As recently reported by Chinese newspaper Global Times, Chinese parents in the urban middle class are increasingly suffering from peer pressure when it comes to investing in their child's education.
Xiong Bingqi, deputy director of the 21st Century Education Research Institute, told Global Times: "(..) if a monthly salary of 30,000 yuan could not support a holiday, there must be irrational comparisons going on," adding: "They compare it [overseas study trips] like they compare luxury clothes or cars."
"If a monthly salary of 30,000 RMB is not enough for a kid's summer holiday, parents should do some self-reflection."
Meanwhile, many educational companies and institutions smell the business opportunities and are out to make a quick buck. Some of them charge huge amounts of money for low-quality accommodations or cheap food – sometimes even causing a safety hazard for children. This trendy summer activity has become a lucrative but under-regulated phenomenon, forming a potential risk to children.
After the aforementioned article went viral, several state-run Chinese media such as the People's Daily and Beijing Youth Daily immediately posted articles denouncing parents' decisions to enroll their children in overseas study trips. They mentioned another reason for the extravagant study trips, saying it is a way for parents to "show off their money" through their children's education.
The Beijing Youth Daily wrote: "If a monthly salary of 30,000 RMB is not enough for a kid's summer holiday, parents should do some self-reflection to ask themselves if this is reasonable."
The People's Daily also criticized the current pressure on children in their education, appealing to "lighten the burden on children" and to "diminish the tendency of comparison among parents."
"Only ridiculous people will object to this mother's decisions. She merely wants to create better education opportunities for her daughter."
The debate on children's expensive summer program also unfolded among Chinese Weibo users, who are mainly divided into three groups.
One group firmly supports the mother's decision on investing in her child's education. They think it's important and worthwhile. As one commenter wrote:
"Only ridiculous people will object to this mother's decisions. She merely wants to create better education opportunities for her daughter to expand her horizons and make her more knowledge. Is this called 'showing off money'(..)? Now that we have these bettered conditions for our younger generations, there's nothing wrong with using them to help them become all-round individuals. Do you want them to be like you in the future, so poor and useless?"
The second group of people firmly rejects how parents are overspending on education: "What do you want me to say if you earn 30,000 RMB per month but live the life of someone who makes 50,000 RMB?" They also condemn how the mother burdens her child with a busy schedule, ruining her holiday.
The third group of commenters blames China's education system for the extravagant summer study trips. The Chinese school system heavily relies on comparing children through their grades.
"No amount of money is when it comes to comparison and vanity. It is this comparison that makes children and parents feel inferior and unsatisfied. What if we cancel the system of Gaokao and encourage a system that celebrates diversity?"
Besides all this critique on children's summer trips, there are also people who bring the discussion to a next level and question China's class division and unbalanced education resources.
As reported by China Daily, Shanghai, Beijing, and Guangzhou are the top three cities where students participate in overseas summer programs.
Uncoincidentally, these are also cities that are top-ranking when it comes to the highest salaries in China. For parents from less developed cities with less income, the chances of being able to afford a proper education for their children are much smaller. For them, it is simply impossible to send their children on extravagant study trips to America or Europe.
– By Yue Xin
Follow on Twitter or Like on Facebook
Additional editing by Manya Koetse
©2017 Whatsonweibo. All rights reserved. Do not reproduce our content without permission – you can contact us at info@whatsonweibo.com.
"What Is Peppa?" – Viral Ad Campaign for 'Peppa Pig' Movie Makes the British Pig More Chinese Than Ever
It's the Chinese new year of Peppa Pig.
A new ad campaign for the upcoming Peppa Pig movie features a grandfather living in rural China who goes on a quest to find out what Peppa is. The commercial is a huge success on Chinese social media, and strikes a chord with netizens for touching upon various societal and cultural issues. Peppa is more Chinese than ever now.
"What is Peppa?" That is the question that is currently going viral on Chinese social media, with the hashtag #WhatisPeppa (#啥是佩奇#) receiving a staggering 400 million times on social media platform Weibo at time of writing.
The reason for the trend is an ad campaign, titled 'What's Peppa', promoting the Peppa Pig Celebrates Chinese New Year film, a production by Entertainment One and China's Alibaba Pictures.
The promotional video (5:39 length, watch featured video), that came out via various online channels on January 17, focuses on a grandfather living in a remote rural village who is anticipating the Spring Festival reunion with his son and his family, who now live in a big city.
The grandfather, named Yu Bao, wants to know what gift to get for his little grandson. When calling his family on a bad connection through his old 2G mobile phone, the word "Peppa" is all he gets from his little grandson before his phone breaks down. But what's Peppa?
Yu Bao then goes on a comical mission to find out what Peppa is: looking it up in the dictionary, asking his friends -who are just as oblivious as he is-, and asking the entire village.
At the local shop, it is suggested that 'Peppa' is some kind of shampoo.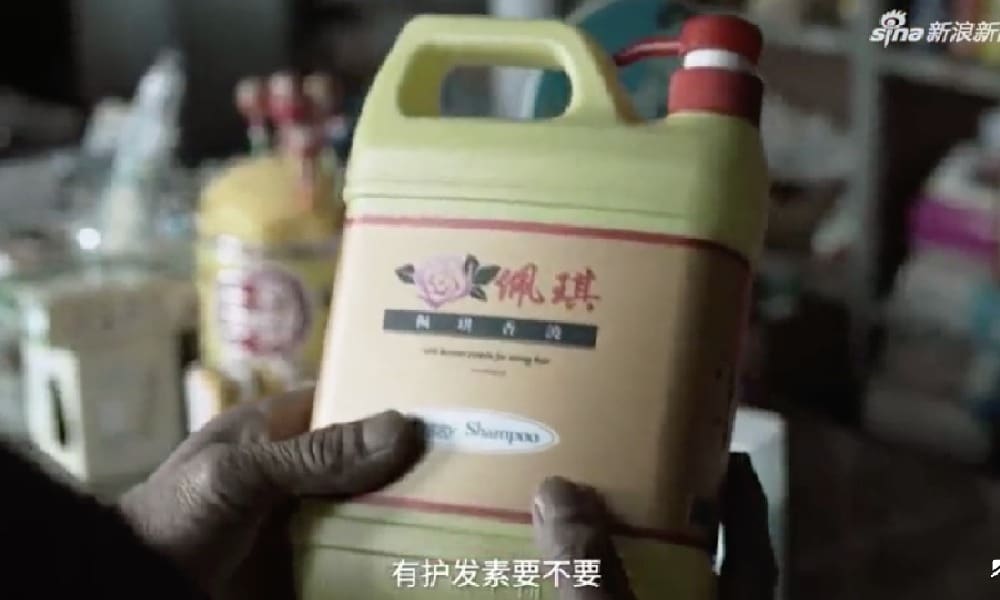 Eventually, one of the female villagers, who used to be a nanny, knows what Peppa is. She tries to explain it to Yu Bao, who now even seems willing to paint his own pig pink for his grandson. She explains that it is a pink cartoon pig whose face looks somewhat like a traditional fire blower.
With some guidance, the grandfather then goes to work and creates a unique 'Peppa Pig' gift from a metal air-blower to surprise his grandson during Chinese New Year.
But much to his disappointment, he then receives a phone call from his son, who tells him they are not coming home for Chinese New Year – before the connection drops again.
As grandpa, sad and lonely, is walking by the side of the road, his son suddenly appears in his car, telling him that the connection dropped too soon; he was not just telling him the family was not coming for Chinese New Year, he was trying to tell him that they invited him to come to their home instead.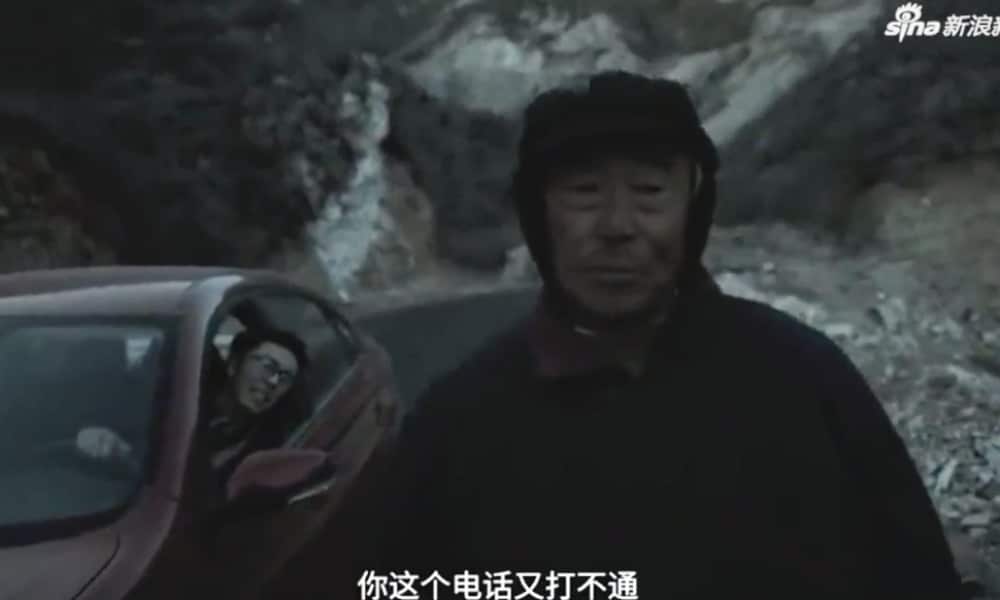 When the family is finally reunited, it is time for the proud grandfather to show the result of his difficult quest for Peppa to his grandson.
The grandpa's mission is complete: he gives his grandson a one-of-a-kind Peppa Pig.
The commercial ends with the entire family enjoying the upcoming Peppa film in the cinema together. When a friend from the village calls the grandfather to let him know he finally found Peppa thanks to his new smartphone, Yu Bao says: "It's okay, I found Peppa already!"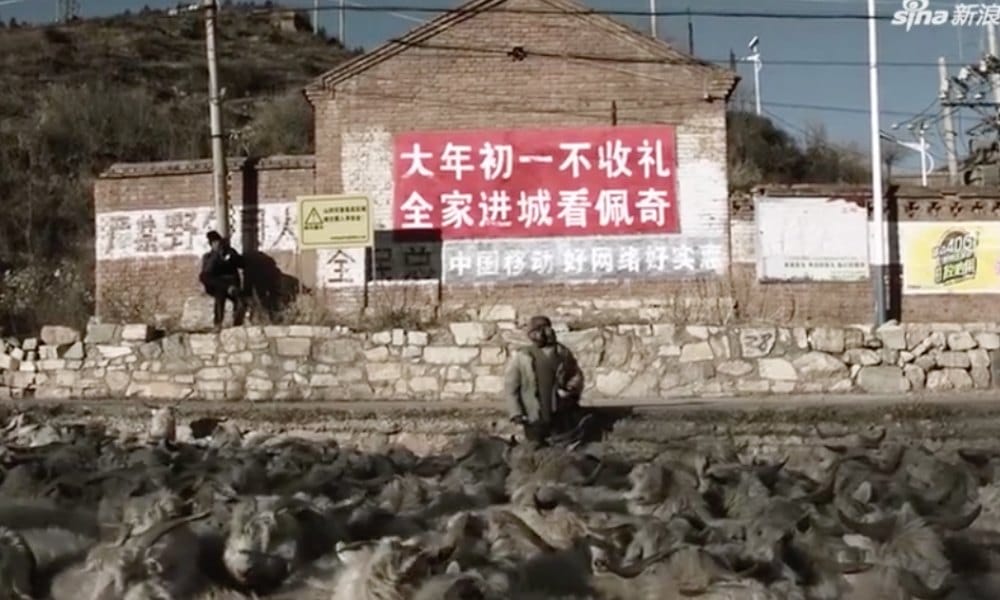 The last shot of the video shows Yu Bao's friend, a sheepherder, standing with his new phone, while someone in the back plays the tune of the Peppa cartoon. The big slogan on the wall is partly based on a popular catchphrase from another Chinese ad, and says: "At the start of the New Year, don't accept gifts; the whole family goes to the city to watch Peppa instead."
What's Peppa Pig?
Peppa Pig is a popular children's cartoon that first aired as a British animated television series (produced by Astley Baker Davies) in May of 2004. It took more than eleven years before the show was officially launched in the PRC (CCTV/June 2015).
Since then, Peppa Pig has become one of the most popular programs for preschoolers in China. But not just preschoolers love the pig; it has also become highly popular among young adults, who wear Peppa t-shirts, Peppa watches, and are major consumers of China's thriving Peppa industry.
In 2018, Chinese popular short video app Douyin (also known in English as Tik Tok) removed approximately 30,000 short videos relating to British cartoon Peppa Pig from its platform, as Peppa had turned into somewhat of a subversive symbol to a Chinese online youth subculture dubbed 'shehuiren' (社会人) (read more here).
This news item led to some confusion in Western media, where it was often suggested that Peppa was completely banned in China. She is, in fact, not banned; she is now more popular than ever.
Peppa the Movie
Amid the huge success of Peppa in China, it was announced in the summer of 2018 that Chinese tech giant Alibaba was working together with Entertainment One on the release of a Peppa Pig movie especially for the Chinese market, as this year's Chinese New Year is the start of the Year of the Pig.
The movie, titled 'Peppa Pig Celebrates New Year' (小猪佩奇过大年), is set for a nationwide release on February 5, the first day of the Chinese Lunar New Year. This is the most popular time for big blockbusters to come out, as many people are free during Chinese New Year and have the time to go out to the cinema together with their families.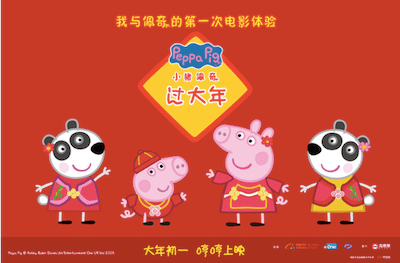 The movie itself revolves around Peppa and little brother George and their parents, who are having a reunion for the Spring Festival. It features various Chinese traditions, and of course, something unexpected will happen.
Why This Peppa Ad Campaign is So Brilliant 
The Peppa ad has really struck a chord on Chinese social media for various reasons. The video was directed by Beijing director Zhang Dapeng (张大鹏, 1984), who also directed the actual Peppa movie, and the campaign is also sponsored by China Mobile.
What this ad campaign does:
– It mixes the love for Peppa with the warm feeling of Chinese family reunions during Chinese New Year.
– It presents a nostalgic idea of the Chinese village community, where neighbors come together and look out for each other.
– It touches upon the issue of China's rapid urbanization, that has caused many villages to become deserted and isolated as younger generations have settled in the cities.
– It highlights how China's digitalization is leaving behind its elderly population (read more here).
– It shows the strong grandparent–grandchild relationship; usually, Chinese grandparents play an active role in raising grandchildren, something that has been changing due to younger generations moving to the city.
In other words; the advertisement completely draws the figure of Peppa Pig into a Chinese socio-cultural context, where it symbolizes the strong connection between Chinese families amid China's rapid urbanization and digitalization.
By now, the Peppa campaign is making its rounds from Weibo to WeChat and elsewhere on the Chinese internet, with some online sellers already offering a remake of the Peppa present for sale as a collector's item. Bloomberg reports that Chinese stocks connected to Peppa Pig have surged after the clip went viral yesterday and today.
"I give this video 100 points!" some commenters on social media write, with others saying it has made them tear up. "This already is the best ad campaign of the year."
Peppa was already a famous figure in China, but with this viral hit and the upcoming movie, the British pig really has become a part of China's popular culture and media environment: it's the Chinese new year of Peppa Pig.
By Manya Koetse and Miranda Barnes
Follow @whatsonweibo
Spotted a mistake or want to add something? Please let us know in comments below or email us.
©2019 Whatsonweibo. All rights reserved. Do not reproduce our content without permission – you can contact us at info@whatsonweibo.com
Are Douyin and TikTok the Same?
China's popular "Douyin" app is known as "TikTok" in markets outside of China. But is it really one app?
TikTok, known as the international version of the Chinese successful short video app Douyin, is a global hit. Despite Bytedance's efforts to present Douyin and TikTok as being the same product, they are actually two separate entities.
Douyin, (抖音, literally "shaking sound" in Chinese) is a short video media app owned by China's young tech giant Bytedance (字节跳动). The app allows users to create, edit, and share short videos as well as livestreams, often featuring music in the background.
Douyin's international name is TikTok, an app that looks the same as Douyin, while in fact, the two are not one and the same, despite Bytedance's efforts to brand it as such.
This is not the first time a Chinese tech company presents one app as being the same everywhere, while it actually is not. Tencent's super app Weixin (微信), also known as WeChat, runs two different systems for its Chinese and international version, as explained here.
When downloading either WeChat or Weixin, both being the same app, the app determines what features you can use and what information you can see based on the telephone number you register your account with.
In practice, this means that when you are a non-Chinese resident, you will be using the 'international version,' meaning you will have access to (international-specific) content that a user registered with a Chinese telephone number will not be able to see. The overseas version also does not have the same Wallet functions the Chinese version has.
Two apps, two systems
The difference between WeChat vs Weixin and TikTok vs Douyin, however, is not the same. Whereas the first is basically one app with two different modes, Douyin and TikTok are two completely separate entities.
Depending on the app store you use, you will either be able to download Douyin or TikTok. Users of Chinese app stores can only find Douyin, whereas users of the overseas Apple store or Google Play will only find TikTok available for download.
That the apps are actually separate systems becomes clear when running the same search words in both apps. As shown below, both apps provide different content for the same search words.
For example, one of TikTok's most popular channels of this moment is called 'LisaandLena,' a verified account by two German twins which has over 32 million fans. However, when you enter 'LisaandLena' in Douyin, the only result is an unverfied account which only has 102 fans and shows seven videos.
Results are the same the other way around. One of Douyin's most popular accounts is that of Chinese actor Chen He (陈赫), who has over 52 million fans features 62 videos at this week. However, when running the same name search in TikTok, several unverified accounts come up, all showing some similar videos like those on Chen He's Douyin account.
This suggests that, although Tiktok and Douyin have the same functions, layout, and logos, its users in China and overseas are kept completely separate and are not able to interact with eachother, something that a recent Chinese blog also discusses in detail.
The Rise of Douyin and TikTok
Ever since its launch in September 2016, Douyin has grown immensely popular. Just one year after its release, Douyin had more than 100 million users and became the second most downloaded app in the Chinese Apple store.
In September 2017, ByteDance took its app overseas; branding Douyin as TikTok for the international market, while keeping the app's original name, Douyin, for its Chinese market.
Similar to Douyin, TikTok appeared to strike the right chord among internet users right away. In the first quarter of 2018 (note: within half a year after release), TikTok was the 6th most downloaded non-game app in the Apple app store and Google play store combined. In the Apple app store, it was even the most downloaded app. With its 45,8 downloads in the first quarter, TikTok beat apps such as Facebook, Youtube, or Instagram in the popularity rankings.
But that is not where TikTok's short-video craze halted. In August 2018, TikTok merged with short video app Musical.ly (founded in 2014), that had over 100 million monthly active users at the time. In October last year, after receiving several investments, ByteDance Ltd. officially became the worlds most valuable private start-up, valued at 75 billion dollars.
By summer, ByteDance announced that TikTok, (meaning both apps combined) had more than 500 million monthly active users worldwide. About 300 million of these 500 million monthly active users are China's domestic users.
Why does ByteDance separate Douyin and TikTok?
Why would Bytedance go through the effort to create two apps running on different systems? The answer partly lies in China's strictly controlled online environment, where (social) media companies have to adhere to local policies on what is and what is not allowed to be published on their (user-generated) platforms.
In 2018, Bytedance was already criticized by authorities for hosting 'inappropriate content' on its news platform Jinri Toutiao. The joke app Neihan Duanzi, also run by Bytedance, was forced to shut down. Afterward, the company vowed to hire 4,000 additional censors, clearly not taking any risks in getting more warnings from authorities.
Tik Tok doesn't allow Chinese users to download the international version, as this blogger found out. Strict firewall separating the two apps (Douyin and Tik Tok). Obviously, it has to be done this way to comply with censorship. https://t.co/bCFfTd0Ukm

— Rui Ma (@ruima) 7 januari 2019
By separating Tiktok from Douyin, ByteDance can closely regulate the contents uploaded to Douyin, as they will be disseminated within China, while leaving overseas TikTok and its users relatively free to share whatever content they want to share (do note that the app also set up a team of 20 censors in Indonesia to monitor and 'sanitize' content from the platform there, after receiving complaints from Indonesian authorities).

New regulations for online video content

In light of tighter control on online video platforms, it seems that Bytedance's monitoring team will have to work around the clock. On January 9, China's Netcasting Services Association (中国网络视听节目服务协会), an association directly managed by the Ministry of Civil Affairs, issued new regulations that online short video platforms in China should adhere to. One of the new guidelines requires all online video service providers to carefully examine content before it is published.
Tech Sina reports that the new stipulations require that all online video content, from titles to comments and even the use of emoticons, has to be in accordance with regulations, which prohibit any content that is 'vulgar,' is offending to the Chinese political system, puts revolutionary leaders in a negative light, or undermines social stability in any way.
On Weibo, the newest regulations became a topic of discussion, with many netizens wondering how short video apps such as Douyin are going to comply, and how its users will be affected.
Although Douyin has not responded to how and if its platform will change in light of the latest regulations, we can expect that TikTok will not be affected – it will be marching to the beat of his own app.
By Gabi Verberg, with contributions by Manya Koetse
Interested to know more about Bytedance and TikTok? We recommend listening to this podcast by Techbuzz China.
Spotted a mistake or want to add something? Please let us know in comments below or email us.
©2019 Whatsonweibo. All rights reserved. Do not reproduce our content without permission – you can contact us at info@whatsonweibo.com