When Parental Pressure Literally Becomes Too Much: Anxious Parents Make School Gates Collapse
There was so much pressure from the parents that the school gates came down.
A remarkable incident occurred on April 22nd in Shandong's Liaochang, where parents were waiting outside a private primary school for their children to finish their school entry interviews.
The parents, eager to find out how their children performed, were leaning at the school gate to get in when the entire gate suddenly collapsed, causing a chaotic scene.
It is generally believed that children's educational future is decided as early as getting admitted to that one kindergarten or primary school, which adds to the stress among Chinese parents to get their child into the school of their choice; academic pressure starts from an early age.
China's private education sector is flourishing. Depending on the school, there is often a wide variety of private classes and after-school activities and full-time or parttime boarding-school options. These private schools, such as the one in Liaochang, often have a strict selection procedure, including interviews with prospective students – as young as they may be.
In this case, the school had not anticipated the crowd and chaos during the interview procedures. Because of the sea of people, parents were unable to reach their children inside the school building. Eventually, the school had to bring all children to the more spacious playground so that their parents could collect them from there.
Although this incident is a rare example of parental pressure at school, it is not uncommon for Chinese parents to be so anxious to know about their children's academic performance that they will go to extremes.
During the first day of school, dozens of parents often stand outside the school windows to catch a glimpse of their child; a post about this phenomenon went viral on Weibo last year when it said that: "If you spot these kinds of people near a preschool today, there's no need to worry about them. They're not bad people, they're no kidnappers, it's just that their child has their first day of school."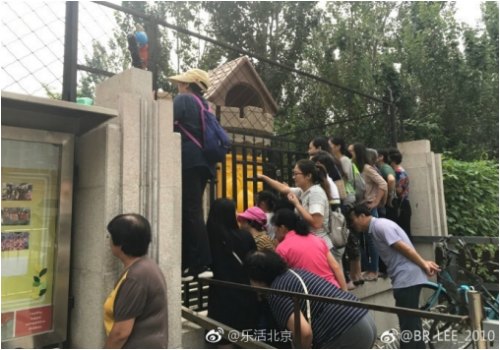 The phenomenon of Chinese parents who cannot say goodbye to their schoolgoing children does not just occur outside kindergartens. In 2016, the so-called 'tents of love' (爱心帐篷) became a hot topic on Chinese social media.
When students have their first day at college, parents who come from far will often travel along with their children and spent the first days sleeping in tents outside the school. They do this to give their children both emotional and practical support, but perhaps more so to soothe their own separation anxiety.
About the Liaochang incident, some people on Weibo comment: "It must be so difficult for children to go to school and having to deal with their parents!"
Our video on this topic below:
By Manya Koetse and Miranda Barnes
Follow @whatsonweibo
Spotted a mistake or want to add something? Please let us know in comments below or email us.
©2018 Whatsonweibo. All rights reserved. Do not reproduce our content without permission – you can contact us at info@whatsonweibo.com.
Chinese Student Forced to Undergo "Fake Surgery" and Borrow Money While Lying on the Operating Table
The 17-year-old girl from Shaanxi underwent surgery for no reason at all, without her parents' consent.
The story of a 17-year-old girl who was forced to undergo a "fake surgery" at Shaanxi's Ankang Xing'an Hospital has gone viral on Chinese social media.
One of the netizens to break the story on social media is the Weibo user @QinguanSihai (@秦观四海, 90,000+ followers), who posted about the incident on October 6.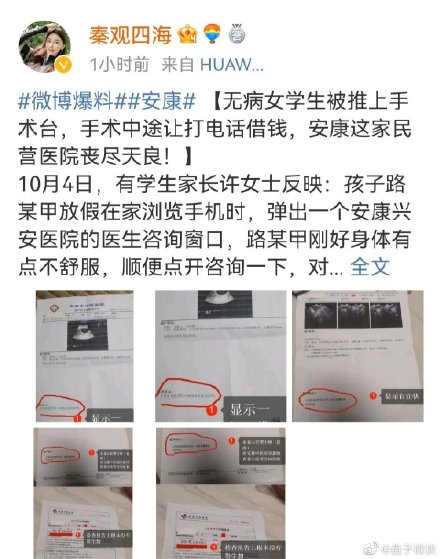 According to the post, the incident occurred on October 4 when a young woman named Lu went online to seek medical attention because she was not feeling well. Since there was an available spot for a medical consultation at the private Ankang Xing'an Hospital, Lu went to see a doctor there.
While she was at the hospital in the city of Ankang, the woman allegedly was directly taken to the operating room and placed on the operating table after a short consultation; not for a medical examination, but for surgery.
The girl initially thought she was undergoing a routine medical check. As the surgery was already underway, the doctor stopped to let Lu sign some papers and then asked her if she could gather the money to pay for her medical procedure. When Lu protested and demanded to get off the surgery table, the doctor warned her that she was losing blood and that interrupting the procedure would be life-threatening.
Lying on the operating table, Lu called some of her friends to gather the money, all the while being pressured by the doctor that the money she had (1200 yuan/$185) was not enough to cover for the costs of surgery – which was still ongoing. The doctor allegedly even told Lu to get more money via the Alipay 'Huabei' loaning app.
Lu's parents, who were contacted by concerned friends, soon showed up at the hospital as the doctor hastily ended the surgery. The parents, who were furious to discover their underage daughter had undergone a medical procedure without their consent, became even more upset when they later found out that Lu had undergone surgery to remove cervical polyps, while Lu's medical reports showed that she actually had no cervical polyps at all. No reason could be found for their healthy daughter to have been operated on her cervix.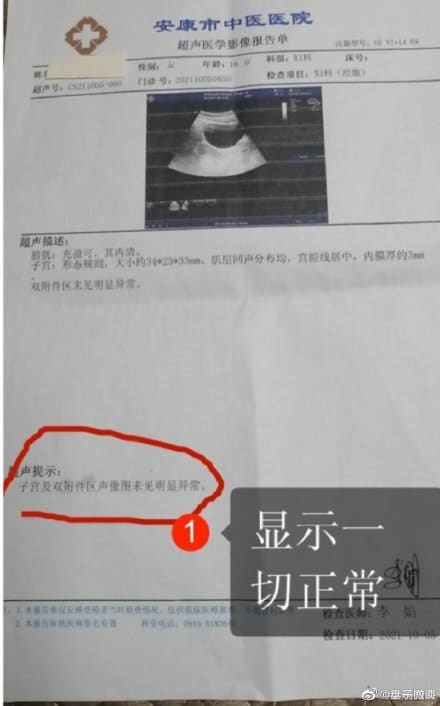 After Lu's story went viral on social media, local authorities quickly started an investigation into the matter and soon confirmed that the story was real. An initial statement said that Angkang Xing'an Hospital is at fault for performing surgery on a minor without the consent of a guardian or parent. It was also recognized that the hospital has committed serious ethical violations. The hospital, located on 78 Bashan Middle Road (巴山中路), is now temporarily closed, and the doctor in question has since been fired.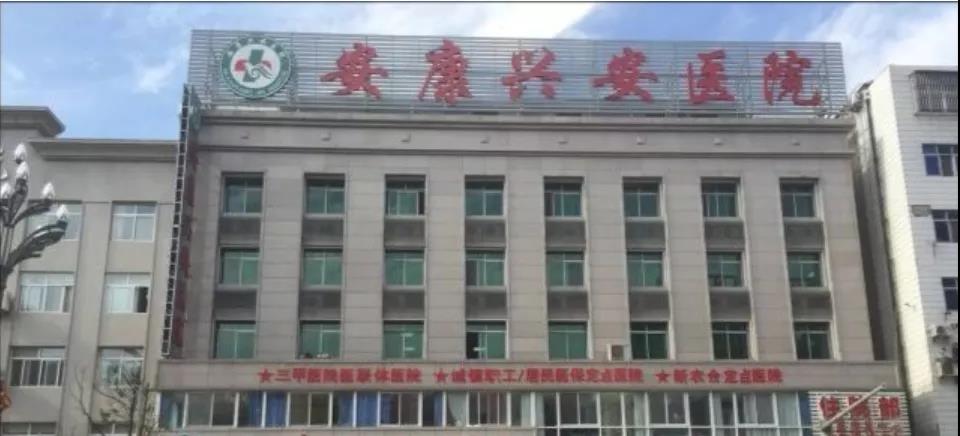 Many Chinese netizens are angered about the incident, calling private hospitals such as Ankang Xing'an a "disgrace" to China's healthcare industry.
This is by no means the first time that malpractices at Chinese local hospitals or clinics trigger online controversy. Various incidents that previously went viral show how some clinics put commercial interests above the health of their patients, and how some doctors think they can get away with abusing and scamming their patients.
In 2016, the death of the 21-year-old cancer patient Wei Zexi (魏则西) sparked online outrage. Wei Zexi, who shared his medical experiences on social media, spent 200,000 RMB to receive contested form of immunotherapy at the Beijing Armed Police Corps No. 2 Hospital (武警二院). The treatment, that was promoted on China's leading search engine Baidu, was actually completely ineffective and the advertising for it was false.
By now, one hashtag relating to the Ankang incident has received over 270 million views on Weibo (#官方通报无病女生被推上手术台#), with other relating hashtags also circulating on social media (#家属回应无病女学生被迫手术#, #无病女学生被推上手术台涉事医院停业整顿#).
"This can't be a real hospital, right?!" some worried netizens write, with others expressing the hopes that the medical institution will be severely punished for their wrongdoings.
By Manya Koetse
Spotted a mistake or want to add something? Please let us know in comments below or email us. First-time commenters, please be patient – we will have to manually approve your comment before it appears.
©2021 Whatsonweibo. All rights reserved. Do not reproduce our content without permission – you can contact us at info@whatsonweibo.com.
Humans Fight at Beijing Wildlife Park, "Setting the Wrong Example" for the Animals
When the humans started fighting at this Beijing zoo, the animals followed suit.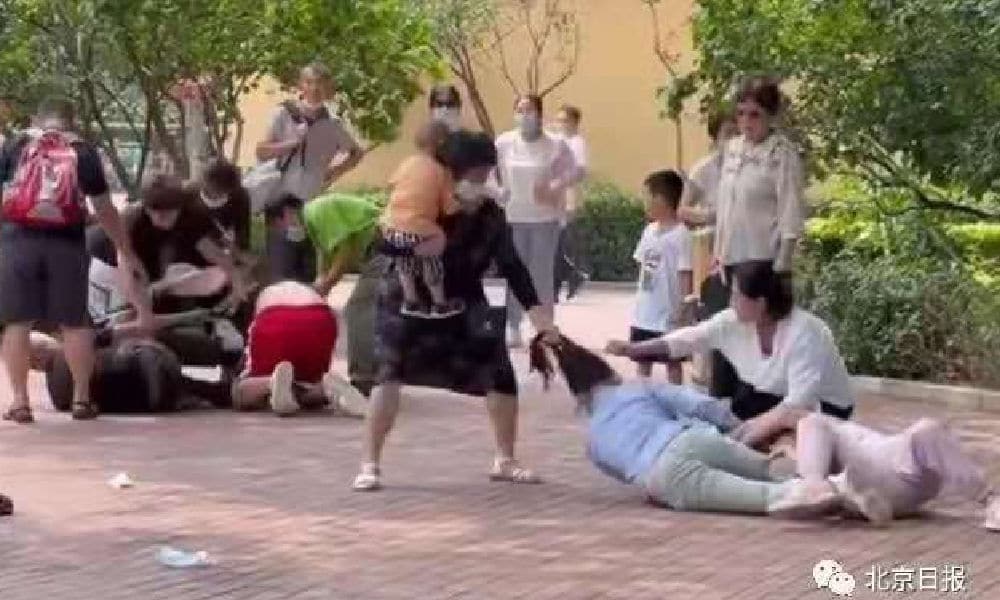 A fight between visitors of the Beijing Wildlife Park has gone viral on Chinese social media. The altercation happened on the afternoon of August 7 at the Wildlife Park in the Daxing District.
According to the WeChat account of the Beijing Wildlife Park, the fight erupted after two visitors had a dispute over something trivial. Their clash initially was only a verbal one, but soon turned physical.
A big fight that occurred at the Beijing Wildlife Park yesterday apparently set a very bad example for the animals witnessing it. According to the park, the animals imitated these wild humans and had their own altercation at night. (Video via Beijing Life/北京生活) pic.twitter.com/ldgn63ya6g

— Manya Koetse (@manyapan) August 8, 2021
A video of the incident published on Weibo by Beijing Life (@北京生活) shows that at least six people were involved in the fight, which included hair pulling, kicking, tearing clothes, and slapping. Even the people who were already lying on the ground still continued wrestling and kicking.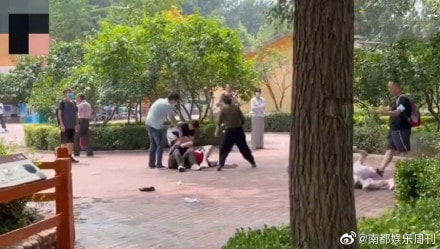 Not just children stood by during the altercation, many animals also witnessed the dramatic fight. Some netizens said the incident took place near the gorilla area.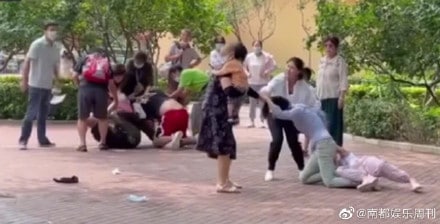 Although local security guards were able to calm the fighting parties down and settle the matter, the violent altercation allegedly had some unexpected consequences.
According to the park statement (#园方回应动物效仿游客打架#), this was the first time for the park animals to witness such a fight between humans. For some animals, the event apparently left such an impression that they also started fighting together that same night.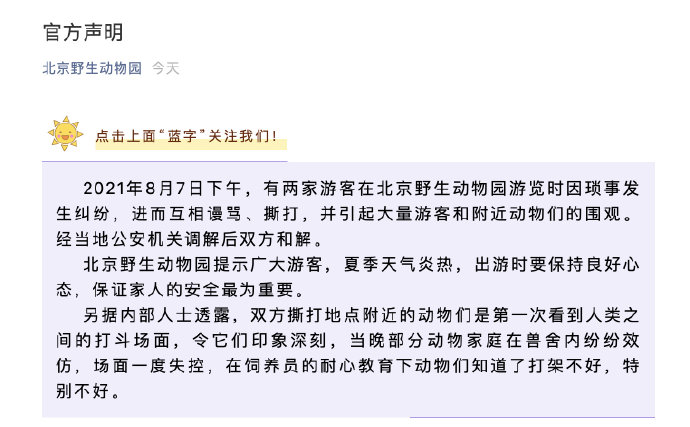 The Beijing Wildlife conveyed how the humans had set a bad example for the animals, writing that the animals imitated them and that their fighting was "out of control."
The park also writes that zookeepers stepped in, letting the animals know that "fighting is bad", "really bad."
By Manya Koetse (@manyapan) and Miranda Barnes
Spotted a mistake or want to add something? Please let us know in comments below or email us. First-time commenters, please be patient – we will have to manually approve your comment before it appears.
©2021 Whatsonweibo. All rights reserved. Do not reproduce our content without permission – you can contact us at info@whatsonweibo.com.