When Parental Pressure Literally Becomes Too Much: Anxious Parents Make School Gates Collapse
There was so much pressure from the parents that the school gates came down.
A remarkable incident occurred on April 22nd in Shandong's Liaochang, where parents were waiting outside a private primary school for their children to finish their school entry interviews.
The parents, eager to find out how their children performed, were leaning at the school gate to get in when the entire gate suddenly collapsed, causing a chaotic scene.
It is generally believed that children's educational future is decided as early as getting admitted to that one kindergarten or primary school, which adds to the stress among Chinese parents to get their child into the school of their choice; academic pressure starts from an early age.
China's private education sector is flourishing. Depending on the school, there is often a wide variety of private classes and after-school activities and full-time or parttime boarding-school options. These private schools, such as the one in Liaochang, often have a strict selection procedure, including interviews with prospective students – as young as they may be.
In this case, the school had not anticipated the crowd and chaos during the interview procedures. Because of the sea of people, parents were unable to reach their children inside the school building. Eventually, the school had to bring all children to the more spacious playground so that their parents could collect them from there.
Although this incident is a rare example of parental pressure at school, it is not uncommon for Chinese parents to be so anxious to know about their children's academic performance that they will go to extremes.
During the first day of school, dozens of parents often stand outside the school windows to catch a glimpse of their child; a post about this phenomenon went viral on Weibo last year when it said that: "If you spot these kinds of people near a preschool today, there's no need to worry about them. They're not bad people, they're no kidnappers, it's just that their child has their first day of school."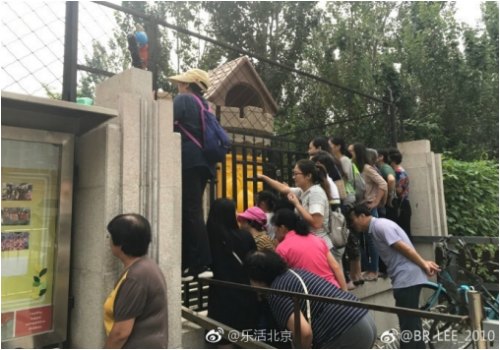 The phenomenon of Chinese parents who cannot say goodbye to their schoolgoing children does not just occur outside kindergartens. In 2016, the so-called 'tents of love' (爱心帐篷) became a hot topic on Chinese social media.
When students have their first day at college, parents who come from far will often travel along with their children and spent the first days sleeping in tents outside the school. They do this to give their children both emotional and practical support, but perhaps more so to soothe their own separation anxiety.
About the Liaochang incident, some people on Weibo comment: "It must be so difficult for children to go to school and having to deal with their parents!"
Our video on this topic below:
By Manya Koetse and Miranda Barnes
Follow @whatsonweibo
Spotted a mistake or want to add something? Please let us know in comments below or email us.
©2018 Whatsonweibo. All rights reserved. Do not reproduce our content without permission – you can contact us at info@whatsonweibo.com.
World's Largest Terminal: Spectacular Photos of Beijing's New Airport
The city's new international airport will be the biggest one in the world.
Its opening is more than a year from now, but Beijing's new international airport is already a spectacular sight.
Beijing's new airport, that is expected to open in fall of 2019, is attracting some attention on Chinese social media lately as construction work on the major airport is speeding up.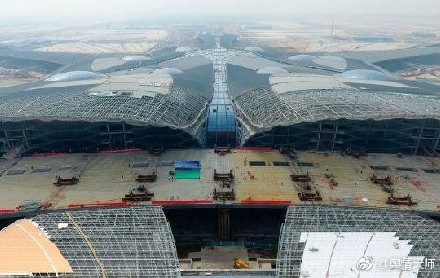 A 7,200 tons and 404.5-meter-long roof was placed on the airport's no.1 hangar earlier this week.
The airport is located in southern Beijing in Daxing (大兴区), and is expected to welcome some 72 million travelers per year in the future. The terminal area will cover some 700,000 square meter.
According to Sina News, at most 8000 builders are working on the construction site at the same time.
The terminal building was designed by ADPI in collaboration with, amongst other consultants, Zaha Hadid Architects, who are known for their futuristic structures.
The airport is also called the "alien base" (外星人基地) by some netizens due to its extraordinary size and design.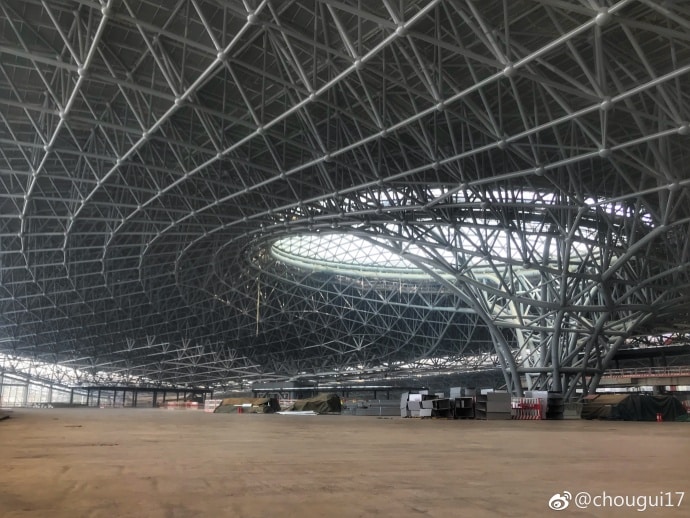 Dozens of photos of the airport construction site are circulating on Weibo.
Photographer Chou Gui (@chougui17) posted a collection of various photos of the upcoming airport on their Weibo account.
Chinese state media propagate Beijing's Daxing International Airport as being "100% China-made." Located in the Daxing district of southern Beijing, it will become an important part of the Beijing-Tianjin-Hebei city cluster.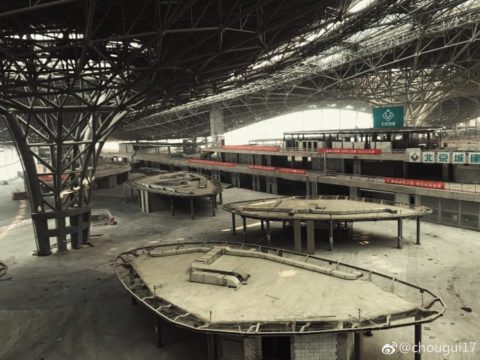 You might also like to read: Real-Life Fairy Tale Landscape: Abandoned Fishing Village Houtouwan.
By Manya Koetse
Follow @whatsonweibo
Spotted a mistake or want to add something? Please let us know in comments below or email us.
©2018 Whatsonweibo. All rights reserved. Do not reproduce our content without permission – you can contact us at info@whatsonweibo.com.
Chongqing Man Throws Golden Retriever and Cat from 21st Floor
A brutal case of pet killing has shocked Chinese social media users this week. On September 6, a man from the Shapingba district of Chongqing threw his golden retriever and a pregnant cat from the 21st floor of an apartment building. Both animals died.
Various Chinese media report that the man supposedly committed the cruel act after learning his wife was pregnant and not wanting her to keep pets in the house while expecting. After an argument with his wife, he allegedly threw the pets out of the window.
Shocked neighbors told reporters that the incident occurred around five o'clock on Thursday, when they heard a loud thump and found the animals on the pavement.
Some neighbours recognized the animals, as their own dog would play with the golden retriever. They called the pet owner, who said he no longer wanted anything to do with the dog and the cat. The neighbors, some crying, later gave the dog and cat a respectful burial.
On Weibo, the hashtag "Man Throws Dog and Cat from 21st Floor" (#男子21楼扔下一猫一狗#) was viewed almost three million times.
Animal cruelty often becomes a topic of debate on Weibo. One of the biggest social media trending cases of animal abuse of the past years is that of the dog Lion, who went missing in December of 2017 and was found by a woman named He Hengli who then blackmailed the dog's owner over its release.
When the 'hostage negotiations' reached a deadlock, the dog's owner finally went to He's apartment to fetch her dog together with police offers and reporters. While they knocked the door, Lion was thrown to his death from He's sixth story apartment.
As in many cases in which animal cruelty has been exposed on social media, Lion's killer became a target of the so-called 'human flesh search engine,' with people leaking her personal information online and threatening her at her workplace and home.
Such cases have previously even led to mob justice, with people dragging abusers out of their homes and beating them.
People often resort to this kind of 'jungle justice' because China currently has no laws preventing animal abuse. The voices calling for legal protection of animals in China have gotten louder over the past years.
"I just cannot understand these kinds of people's way of thinking," one commenter said: "They now throw a dog, what will they throw next time?"
"[If you no longer want your pets], you could just give them away, instead of cruelly throwing them to their death. Also – if someone would've walked there, they might have died, too," others wrote.
Some write: "If someone mistreats an animal it's a clear sign they're abnormal maniacs," with many others worrying about the future child of the pet killer: "He's surely not fit to be a father."
By Manya Koetse
Follow @whatsonweibo
Spotted a mistake or want to add something? Please let us know in comments below or email us.
©2018 Whatsonweibo. All rights reserved. Do not reproduce our content without permission – you can contact us at info@whatsonweibo.com.