When Parental Pressure Literally Becomes Too Much: Anxious Parents Make School Gates Collapse
There was so much pressure from the parents that the school gates came down.
A remarkable incident occurred on April 22nd in Shandong's Liaochang, where parents were waiting outside a private primary school for their children to finish their school entry interviews.
The parents, eager to find out how their children performed, were leaning at the school gate to get in when the entire gate suddenly collapsed, causing a chaotic scene.
It is generally believed that children's educational future is decided as early as getting admitted to that one kindergarten or primary school, which adds to the stress among Chinese parents to get their child into the school of their choice; academic pressure starts from an early age.
China's private education sector is flourishing. Depending on the school, there is often a wide variety of private classes and after-school activities and full-time or parttime boarding-school options. These private schools, such as the one in Liaochang, often have a strict selection procedure, including interviews with prospective students – as young as they may be.
In this case, the school had not anticipated the crowd and chaos during the interview procedures. Because of the sea of people, parents were unable to reach their children inside the school building. Eventually, the school had to bring all children to the more spacious playground so that their parents could collect them from there.
Although this incident is a rare example of parental pressure at school, it is not uncommon for Chinese parents to be so anxious to know about their children's academic performance that they will go to extremes.
During the first day of school, dozens of parents often stand outside the school windows to catch a glimpse of their child; a post about this phenomenon went viral on Weibo last year when it said that: "If you spot these kinds of people near a preschool today, there's no need to worry about them. They're not bad people, they're no kidnappers, it's just that their child has their first day of school."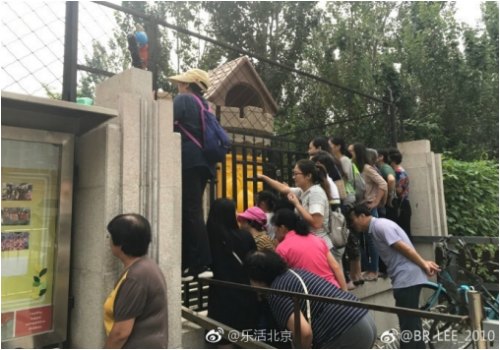 The phenomenon of Chinese parents who cannot say goodbye to their schoolgoing children does not just occur outside kindergartens. In 2016, the so-called 'tents of love' (爱心帐篷) became a hot topic on Chinese social media.
When students have their first day at college, parents who come from far will often travel along with their children and spent the first days sleeping in tents outside the school. They do this to give their children both emotional and practical support, but perhaps more so to soothe their own separation anxiety.
About the Liaochang incident, some people on Weibo comment: "It must be so difficult for children to go to school and having to deal with their parents!"
Our video on this topic below:
By Manya Koetse and Miranda Barnes
Follow @whatsonweibo
Spotted a mistake or want to add something? Please let us know in comments below or email us.
©2018 Whatsonweibo. All rights reserved. Do not reproduce our content without permission – you can contact us at info@whatsonweibo.com.
Online Anger over Inappropriate Toast by Dutch Watch Brand Executive at Chinese Dinner Party
This is how NOT to do a toast in Dutch!
Instead of teaching guests at a Chinese dinner party how to say "cheers" in Dutch, this viral video shows how the Chinese are told to join in saying "dikke lul," the Dutch expression for "big d*ck."
UPDATE: FYI – the videos relating to this incident have been taken offline after the publication of this article. There are no active video links in this article.
The Amsterdam-based watch & jewelry brand Rosefield has recently come under fire within the Chinese community in the Netherlands after a video went viral showing Rosefield's CEO and its Head of Sourcing proposing an unusual toast at a Chinese dinner party.
The video, that was viewed over 173,000 times on Dutch site Dumpert.nl, shows a woman in a white blouse bringing out a toast, saying:
"In Dutch, we say 'ganbei' or 'cheers' in this way, and it would be nice if you all can say the same, we say: 'dikke lul.'"
The people at the table then proceed to toast saying "Dikke lul" – which, in fact, is not the Dutch word for 'cheers' but for 'big dick,' something that the Chinese people at the table are seemingly not aware of.
On WeChat, Chinese-language newspaper Asian News (华侨新天地) reported about the video and identified the Dutch woman and man at the table as the CPO and CEO of Rosefield Watches, a fast-growing luxury brand that is active in various countries.
Asian News describes the incident as a way of "ridiculing Chinese friends," and writes it has triggered anger online.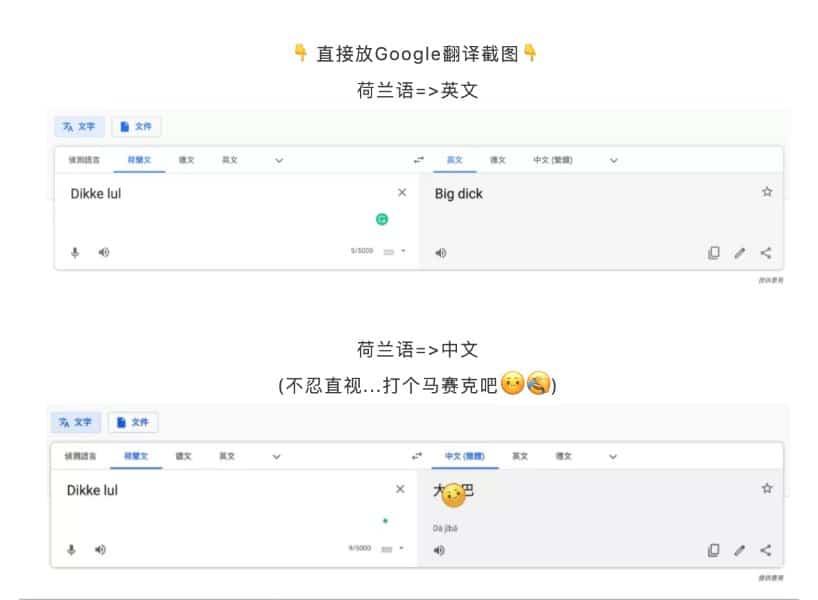 Asian News (华侨新天地) is a Chinese language newspaper founded in 1992. It is mainly distributed in the Netherlands, Belgium, and Germany. Its WeChat account has some 120,200 followers, and the post on the 'cheers' video was among its most-well read on WeChat this week.
The blog post noted that ever since the 'dikke lul' video has gone viral in the Netherlands, it has become one of the first results showing up when searching for the vulgar expression 'dikke lul' on Google.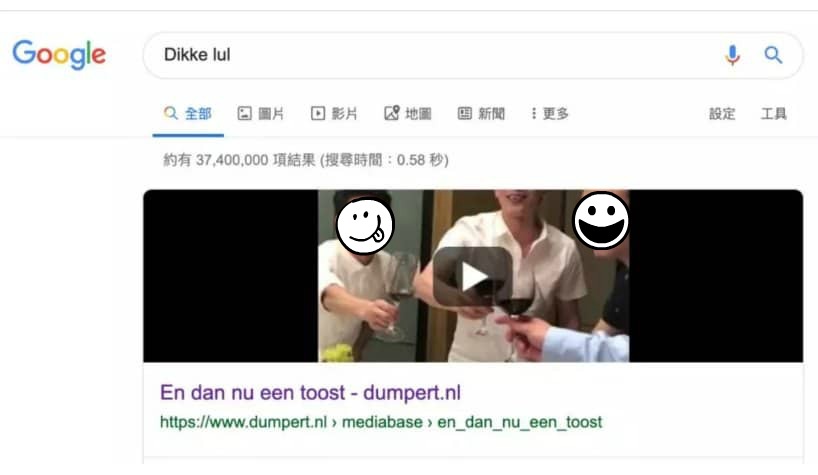 Although it is not clear where the video was filmed and how it ended up on short video site Dumpert, it is rumored in WeChat groups that it was recorded during the Hong Kong Watch and Clock Fair earlier this month, and that the Chinese guests are business relations of the Dutch brand (unconfirmed).
The comment section on the Dumpert site shows that although some Dutch commenters think the video is funny, there are many who find it "vulgar," "rude," and "distasteful."
Although many (overseas) Chinese expressed anger in various WeChat groups – some expressing regret over a Rosefield watch they recently purchased – the Asia News blog does remind readers that we do not know the context of the video, and whether or not there was a certain pretext or common understanding to the joke.
Nevertheless, the blog states, this kind of behavior is not professional and if a company such as Rosefield wants to earn money in China, "it should also respect Chinese culture and people."
Although there have been ample discussions about the controversial video on Wechat, there are no online discussions about this issue on Weibo at the time of writing.
Over the past year, many foreign brands became a focus for controversy in China.
In November of 2018, Italian fashion house D&G faced consumer outrage and backlash on Chinese social media for a video that was deemed 'racist' to China and for insulting remarks about Chinese people allegedly made by designer Stefano Gabbana.
Swiss investment bank UBS sparked controversy in June for a column which mentioned "Chinese pigs."
Over this summer, various foreign companies apologized to China for listing 'Hong Kong' as a separate country or region on its websites and/or t-shirts.
Still curious about how to actually say 'cheers' in Dutch? It's 'proost' and this is how you pronounce it correctly.
By Manya Koetse
Follow @whatsonweibo
Spotted a mistake or want to add something? Please let us know in comments below or email us. Please note that your comment below will need to be manually approved if you're a first-time poster here.
©2019 Whatsonweibo. All rights reserved. Do not reproduce our content without permission – you can contact us at info@whatsonweibo.com
This Is the BBQ Restaurant Jack Ma Visited in Zhengzhou
Jack Ma's late-night snack means overnight success for this Zhengzhou skewer place.
Whatever Jack Ma does or says makes headlines in China. The superstar Alibaba founder has especially been a topic of discussion over the past week since his meeting with Tesla's Elon Musk at the World AI Conference in Shanghai, where the two billionaires had a discussion about the risks and rewards of AI development.
But on social media platform Weibo, Chinese netizens have not just been discussing what Jack Ma has been saying over the past few days – what he has been eating has also become a topic that has attracted thousands of views and comments this week.
A BBQ skewer restaurant in Zhengzhou, Henan Province, gained overnight fame after a visit from the business magnate and his group. The Alibaba delegation visited Zhengzhou for a meeting concerning a strategic partnership between Alibaba and the local government.
Jack Ma visited the barbecue skewer restaurant around one o'clock in the morning, and was photographed and filmed by many people standing around.
Ma visited Dehua Pedestrian Street and Zhengdong New Area before arriving at the Zheng Xiwang restaurant. Ma was with a small group of people and spent a total of 700 yuan (around 100 US dollars).
Grilled skewers are popular all across China, but especially in the Zhengzhou region, which is also nicknamed the "holy land of skewers."
The Zheng Xiwang restaurant visited by Ma was founded in 1991 – although it was just a street stall at the time – and has been thriving ever since.
Besides skewers, Jack Ma allegedly ordered stir-fried Hunan prawns and spicy clams.
As Ma's visit to Zhengzhou and the restaurant has gone viral, some social media users write that they have also visited the restaurant immediately after, sharing photos and their receipts as proof.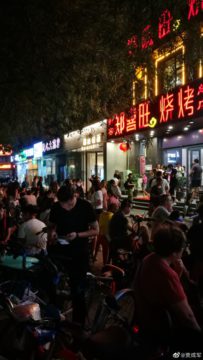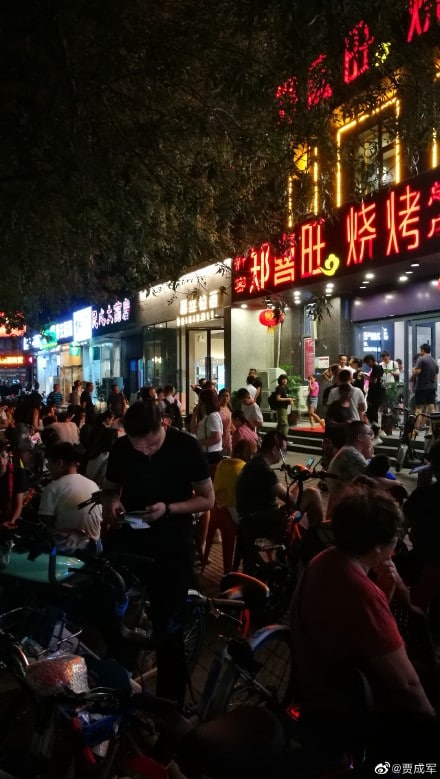 Weibo user Jia Chengjun (@贾成军) from Henan shared photos of people lining up to get a table at the popular restaurant.
According to various reports on Weibo, the restaurant's owner initially offered Jack Ma the dinner for free, but the billionaire refused and paid anyway. His payment method will not come as a surprise; he paid with Alibaba's online payment platform Alipay.
"Why would you offer him a free meal anyway?" some netizens wondered: "He surely has more money than you!"
Curious to try the same food as Ma? Zheng Xi Wang is located at the intersection of Fuyuan Street and Yingxie Street in Zhengzhou (福元路与英协路交叉口向西160米路北(银基王朝南门)).
By Manya Koetse
Follow @whatsonweibo
Spotted a mistake or want to add something? Please let us know in comments below or email us. Please note that your comment below will need to be manually approved if you're a first-time poster here.
©2019 Whatsonweibo. All rights reserved. Do not reproduce our content without permission – you can contact us at info@whatsonweibo.com