China's Exam Fever and 'Gaokao Economy'
It is time for China's gaokao (高考) – the national college entrance exams. The exams, that are taking place on June 7 and 8, are attracting nationwide attention – both offline and online. Not only does the gaokao dominate the top trending lists on China's social media, companies also profit from the so-called "gaokao economy" (高考经济).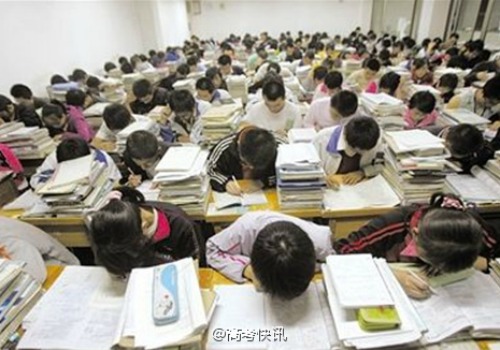 It is time for the gaokao (高考) – China's national college entrance exams. The exams, that are taking place on June 7 and 8, are attracting nationwide attention both offline and online. Not only do the gaokao dominate the top trending lists on China's social media, companies also profit from the booming "gaokao economy" (高考经济).
China's gaokao (高考) week, the time of the national college entrance exam, is one of the biggest events of the year. During this time, topics like 'the 2016 Exams' (#2016高考#) are trending on social media, and Weibo accounts revolving around the exams, like Sina's Gaokao Newsflash (@高考快讯), are suddenly very popular.
More than 9 million students are taking the exams this year. The gaokao (literally: 'higher exams') are a prerequisite for entering China's higher education institutions, and are usually taken by students in their last year of senior high school. The exams take place during a period of 2 days. Scoring high grades for this exam can give high school students access to a better college, which enlarges their chances of obtaining a good job after graduation. Because the exam results are potentially life-changing, the gaokao period is generally a stressful time for students and their parents.
[rp4wp]
China's social media platforms are well-visited during the exam period. Many exam candidates post photos of their study material or go online for support, posting encouraging words to themselves and to their fellow students on Sina Weibo. Weibo is also the go-to platform for parents whose children are taking exams, as these strenuous times are generally stressful for the entire family. Weibo currently therefore also has trending hashtags like "Respect for all parents supporting their kids during exams" (#向高考陪读父母致敬#).
"Gaokao Economy"
Many businesses and universities profit from the nationwide gaokao fever by drawing attention to themselves and trying to make money during this time. "Gaokao economics" (高考经济) refers to this phenomenon of businesses specifically using the exam-period to promote their brands and make more profit.
On Weibo, gaokao economics are mainly visible through brands wishing exam students good luck; making sure they link their logo to the exams. The trending topic '2016 exams', for example, is sponsored by the popular herbal tea brand Wong Lo Kat.
There are also various brands and companies that organize special exam activities and advertise them through social media. Wenzhou radio announced that they are organizing special local taxi's to drive students to their exam rooms and back.
App developers and app stores take this opportunity to promote apps focused on studying and concentration. The weekly recommendations of the Chinese Apple app store are specially themed around "Exam Preparation" (专注备考), with various apps listed to help students organize their study information, improve time efficiency, relax in between studying, and meditate for better focus.
Many educational institutes also profit from the exam fever, either by offering expensive cram courses or by using this time for promotion. While the exams are still in full swing, universities are already trying their best to attract prospective students. Under the hashtag "I Will be Waiting for You in University" (#我在大学等你#), many universities are posting their campaign videos and publicity photos, featuring university students holding signs saying "I will be waiting for you at [university name]".
But the gaokao economy goes far beyond the digital environment. Many companies jump at this opportunity to offer anything students might need, from clothes to food and other basic needs. There are also many hotels, for example, providing hourly rooms and special discounts for gaokao candidates who need some room for study or accommodation. These so-called 'exam rooms' (高考房) are currently very popular, as they give students the opportunity to concentrate and get a good night sleep. One Shijiazhuang hotel provides free yogurt and chocolate for exam candidates, as well as lucky signs in their hotel rooms to boost their chances of success.
There are also companies offering special 'gaokao nanny' (高考保姆) services, as reported by 961 News. 'Gaokao nannies' do everything they can to make the exam student as comfortable and focused at possible; cooking them the right food, taking them to the exam room and alleviate their stress through talking.
As the 'gaokao economy' has grown bigger through the years, there are also media criticizing the phenomenon. Some media say businesses shouldn't profit from students, others say it is not good as it puts extra strain on those families that are already having financial struggles, as they cannot afford to spend more during their child's exam period.
But not all netizens agree with the media's critical stance: "Don't these companies just need to make money too? It's not like they're cheating people," one netizen writes: "I am not in this business, but you're making a big fuss over nothing." Another Weibo user responds: "There are just so many people who need to make money in this country – and they'll think of anything to do so."
– By Diandian Guo & Manya Koetse
Follow @WhatsOnWeibo
©2016 Whatsonweibo. All rights reserved. Do not reproduce our content without permission – you can contact us at info@whatsonweibo.com.
The Fisherman's Advantange? China Post Starts Partnership with Huawei
Today marks the start of an unexpected 'romance' between Huawei and China Post, as the two just announced their strategic cooperation.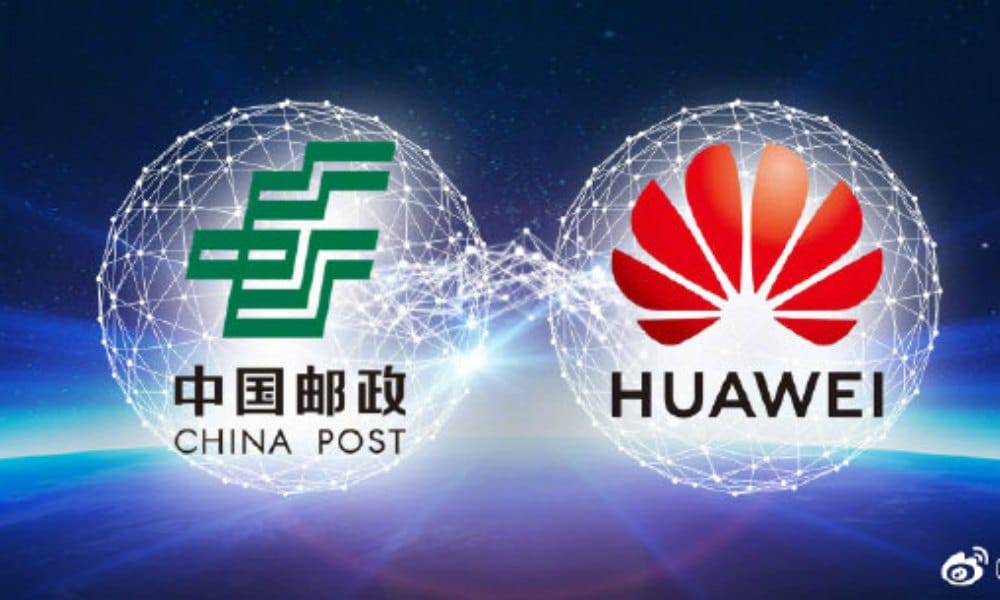 First published
Just in! Huawei and China Post announce a close partnership. Is China Post profiting from Huawei's tough spot amid China-US trade tensions? The strategic cooperation inspired the creative writing of Weibo users today.
On June 5, the topic "China Post Starts Cooperation with Huawei" (#中国邮政与华为合作#) became one of the hottest topics on social media site Weibo shortly after the state-owned China Post Group Corporation announced that it would start a strategic partnership with the Chinese multinational tech company.
According to CNbeta.com, one of China's major tech news sites, China Post and Huawei will start a close partnership and set up a "China Post Huawei New Technology Application Lab" (中国邮政·华为新技术应用实验室) to jointly develop strategies concerning financial services, tech innovation, big data, post logistics, and more.
News of the cooperation was widely shared on Chinese social media today by various state media outlets, with some threads attracting thousands of comments.
For many Chinese netizens, the press release apparently was the right time to complain about China Post being "too slow," expressing hopes that the new partnership would make the postal services run more smoothly.
"Little Huawei crying on the shoulders of China Post."
Others suggested that the recent trade war with the US, in which Huawei plays a key role, might have to do with this new move. "This is like little Huawei was being bullied outside, and then came back home to cry on the shoulders of China Post," one Weibo user jokingly writes, soon receiving over 10,000 likes.
Others called China Post the "the fisherman with an advantage." This comes from a Chinese saying, that goes 鹬蚌相争,渔翁得利 Yù bàng xiāng zhēng, yúwēng dé lì : "When the snipe and the clam fight, the fisherman has an advantage," with the 'fisherman' being the third party who catches both the snipe and the clam, profiting from the conflict of two others.
The Chinese telecom giant Huawei was added to a trade blacklist earlier last month, as the China-US trade war reached another tipping point. Some experts suggest that US President Trump is using Huawei as a bargaining chip after he earlier stated that Huawei could be included in "some kind of trade deal" with China.
News of the Huawei/China Post partnership also comes days after China's postal regulator said it would launch an investigation into US delivery company FedEx, which diverted two parcels destined for Huawei in China to the US. Chinese government authorities reportedly issued a statement saying that FedEx's actions had "violated Chinese laws and regulations on the express delivery sector."
"China Post kissed Huawei's face and said: I will handle this for you."
Chinese netizens seem to be creatively inspired by Huawei's tough spot in the China-US trade war situation and the sudden appearance of China Post in this story. Many commenters personify 'Little Huawei' and 'Big China Post,' imagining that China Post comforts the crying Huawei and takes it in its arms.
One person writes:
"One day, Hua returned home, and went straight to bed. China Post saw it, and softly asked 'What happened, who made you upset?' Huawei pulled the blanket over his head and sighed: 'Nothing, it's a trivial matter, I can handle it myself.' But the Post pulled down the blanket, bowed down to kiss Huawei's face and said: 'You go and rest now. I will handle this for you.'"
"They're so cute together!", multiple Weibo users write, suggesting that the Huawei China Post partnership has a 'romantic' element to it.
Although some people expect that there are ulterior motives behind the sudden cooperation between China Post and Huawei, many do applaud the fact that it is truly a 'Chinese' cooperation. "In crucial times we always rely most on our own family," a student remarks.
By now, the cooperation is not just triggering people's fictional creativity, it is also setting off the online meme machine, with a potential new logo for the China Post x Huawei company circulating online (see below).
Whether or not Huawei and China Post indeed get to live happily ever after? We'll just have to wait and see.
Also read: Waves of Support for Huawei on Chinese Social Media following US Blacklisting
Also read: CNN Question "What Do You Think Is the Main Reason Behind the US Campaign against Huawei?" Goes Trending on Weibo
By Manya Koetse
Follow @whatsonweibo
Spotted a mistake or want to add something? Please let us know in comments below or email us. Please note that your comment below will need to be manually approved if you're a first-time poster here.
©2019 Whatsonweibo. All rights reserved. Do not reproduce our content without permission – you can contact us at info@whatsonweibo.com
Chinese Shoppers Are Going Absolutely Crazy over UNIQLO x KAWS Collection
Everybody wants KAWS – Chinese shoppers were even spotted fighting in front of a UNIQLO store today.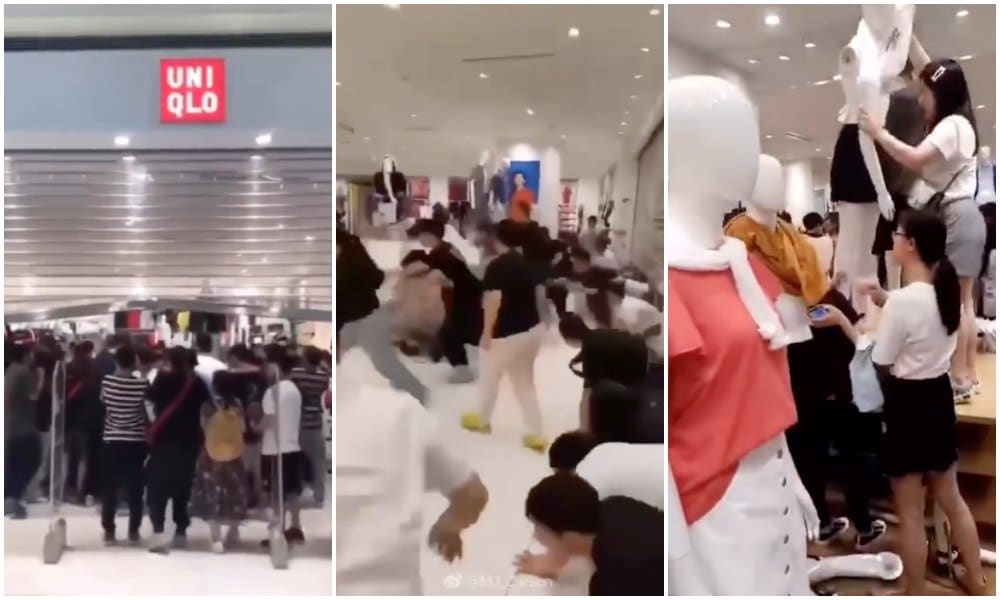 First published
The Chinese sales of the UNIQLO KAWS collection are so crazy that the craze itself has become an online hit. "I don't even like UNIQLO, I just like to compete," some shoppers say.
Chinese shoppers are going completely crazy over the latest collection sold by Japanese fashion company UNIQLO (优衣库) today. The summer collection is a cooperation between UNIQLO and the renowned American artist and designer KAWS (Brian Donnelly).
It is not the first time for the American street artist to partner with the Japanese chain: they previously also collaborated on a Sesame Street-themed collection.
The current collection first started selling in mainland China stores in the early morning of Monday, June 3, and soon became a top trending topic on social media.
The online sales reportedly were sold out in seconds.
Photos and videos circulating on Weibo show people fighting to get into UNIQLO stores, pulling clothes off the shop mannequins, and buying piles of clothes from the stores (see embedded tweet below):
Chinese shoppers are going absolutely crazy over UNIQLO x KAWS collection: https://t.co/DeC9xNgpOk pic.twitter.com/T01gYCAHXB

— Manya Koetse (@manyapan) 3 juni 2019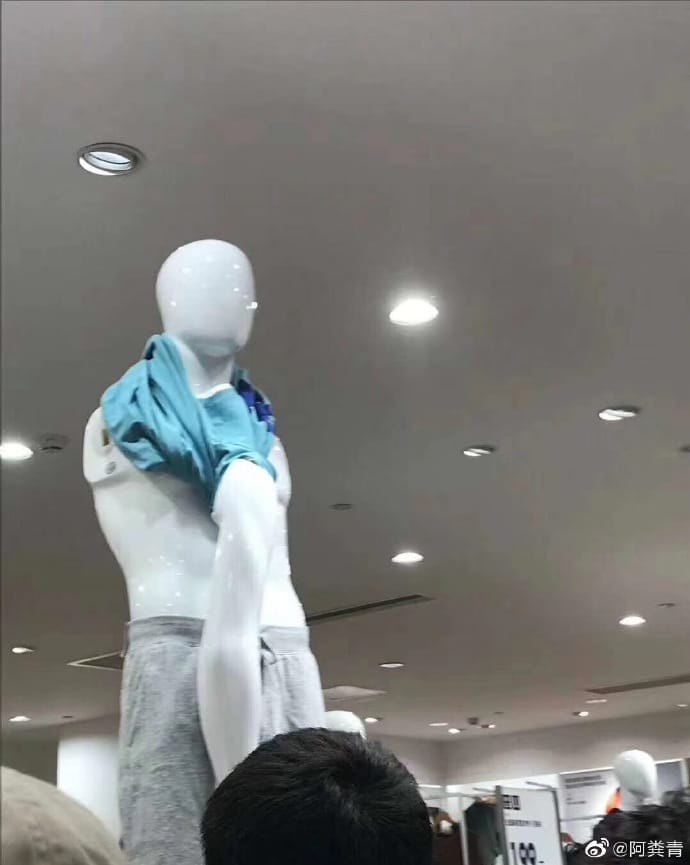 The hashtag "Everybody KAWS" (#全员kaws#) had received 140 million views on Weibo by Monday evening, China time.
Many netizens on Weibo are confused about the big hype surrounding the latest UNIQLO selection, with some wondering who KAWS is, and why people are so eager to wear his design.
Some commenters joke that it actually is not really about the KAWS collection at all, but more about the competition between shoppers on who can score the most clothes from the special product line.
The topic has set off various memes and online jokes, with some people saying: "I don't think there is any need to learn self-defense skills. I only need to wear UNIQLO KAWS clothes, and no one will dare to touch me. They will all know that I can not only fight very well but also run very fast!"
Some memes suggest that KAWS sales have been so successful that everybody on the street or at work will walk around in the same t-shirts this week.
"I finally understand now," one Weibo user writes: "What I love is not UNIQLO, nor KAWS – what I love is to rush and clash with all these people!"
The online sales of the UNIQLO x KAWS collection will start on June 6 in Europe. Its American sales started on Monday 10 AM ET.
Meanwhile, in China, the T-shirts that were bought for RMB 99 ($14) today are being resold online for four-five times their original price.
This is not the first time the Japanese UNIQLO brand becomes a viral hit on Chinese social media, albeit for different reasons. In 2015, the brand became the talk of the week when a naked girl and a man recorded an adult video in the fitting room of their Beijing flag store.
Also read:
* Chinese Kid Destroys Lego Sculpture Within Hour After It Is Displayed
* Kidnappers? Crazy Fans? No, It's Chinese Parents on Their Kids' First Day at School
By Manya Koetse and Miranda Barnes
Follow @whatsonweibo
Spotted a mistake or want to add something? Please let us know in comments below or email us. Please note that your comment below will need to be manually approved if you're a first-time poster here.
©2019 Whatsonweibo. All rights reserved. Do not reproduce our content without permission – you can contact us at info@whatsonweibo.com