China's Exam Fever and 'Gaokao Economy'
It is time for China's gaokao (高考) – the national college entrance exams. The exams, that are taking place on June 7 and 8, are attracting nationwide attention – both offline and online. Not only does the gaokao dominate the top trending lists on China's social media, companies also profit from the so-called "gaokao economy" (高考经济).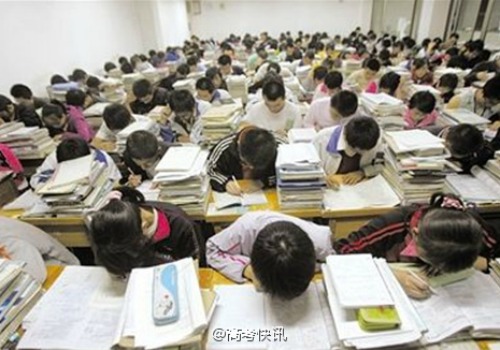 It is time for the gaokao (高考) – China's national college entrance exams. The exams, that are taking place on June 7 and 8, are attracting nationwide attention both offline and online. Not only do the gaokao dominate the top trending lists on China's social media, companies also profit from the booming "gaokao economy" (高考经济).
China's gaokao (高考) week, the time of the national college entrance exam, is one of the biggest events of the year. During this time, topics like 'the 2016 Exams' (#2016高考#) are trending on social media, and Weibo accounts revolving around the exams, like Sina's Gaokao Newsflash (@高考快讯), are suddenly very popular.
More than 9 million students are taking the exams this year. The gaokao (literally: 'higher exams') are a prerequisite for entering China's higher education institutions, and are usually taken by students in their last year of senior high school. The exams take place during a period of 2 days. Scoring high grades for this exam can give high school students access to a better college, which enlarges their chances of obtaining a good job after graduation. Because the exam results are potentially life-changing, the gaokao period is generally a stressful time for students and their parents.
[rp4wp]
China's social media platforms are well-visited during the exam period. Many exam candidates post photos of their study material or go online for support, posting encouraging words to themselves and to their fellow students on Sina Weibo. Weibo is also the go-to platform for parents whose children are taking exams, as these strenuous times are generally stressful for the entire family. Weibo currently therefore also has trending hashtags like "Respect for all parents supporting their kids during exams" (#向高考陪读父母致敬#).
"Gaokao Economy"
Many businesses and universities profit from the nationwide gaokao fever by drawing attention to themselves and trying to make money during this time. "Gaokao economics" (高考经济) refers to this phenomenon of businesses specifically using the exam-period to promote their brands and make more profit.
On Weibo, gaokao economics are mainly visible through brands wishing exam students good luck; making sure they link their logo to the exams. The trending topic '2016 exams', for example, is sponsored by the popular herbal tea brand Wong Lo Kat.
There are also various brands and companies that organize special exam activities and advertise them through social media. Wenzhou radio announced that they are organizing special local taxi's to drive students to their exam rooms and back.
App developers and app stores take this opportunity to promote apps focused on studying and concentration. The weekly recommendations of the Chinese Apple app store are specially themed around "Exam Preparation" (专注备考), with various apps listed to help students organize their study information, improve time efficiency, relax in between studying, and meditate for better focus.
Many educational institutes also profit from the exam fever, either by offering expensive cram courses or by using this time for promotion. While the exams are still in full swing, universities are already trying their best to attract prospective students. Under the hashtag "I Will be Waiting for You in University" (#我在大学等你#), many universities are posting their campaign videos and publicity photos, featuring university students holding signs saying "I will be waiting for you at [university name]".
But the gaokao economy goes far beyond the digital environment. Many companies jump at this opportunity to offer anything students might need, from clothes to food and other basic needs. There are also many hotels, for example, providing hourly rooms and special discounts for gaokao candidates who need some room for study or accommodation. These so-called 'exam rooms' (高考房) are currently very popular, as they give students the opportunity to concentrate and get a good night sleep. One Shijiazhuang hotel provides free yogurt and chocolate for exam candidates, as well as lucky signs in their hotel rooms to boost their chances of success.
There are also companies offering special 'gaokao nanny' (高考保姆) services, as reported by 961 News. 'Gaokao nannies' do everything they can to make the exam student as comfortable and focused at possible; cooking them the right food, taking them to the exam room and alleviate their stress through talking.
As the 'gaokao economy' has grown bigger through the years, there are also media criticizing the phenomenon. Some media say businesses shouldn't profit from students, others say it is not good as it puts extra strain on those families that are already having financial struggles, as they cannot afford to spend more during their child's exam period.
But not all netizens agree with the media's critical stance: "Don't these companies just need to make money too? It's not like they're cheating people," one netizen writes: "I am not in this business, but you're making a big fuss over nothing." Another Weibo user responds: "There are just so many people who need to make money in this country – and they'll think of anything to do so."
– By Diandian Guo & Manya Koetse
Follow @WhatsOnWeibo
©2016 Whatsonweibo. All rights reserved. Do not reproduce our content without permission – you can contact us at info@whatsonweibo.com.
The Huawei Case Sparks Anti-American, "Support Huawei" Sentiments on Weibo
"Ever since all the news came out on Meng Wanzhou's arrest I feel like this is Cold War 2.0," some commenters say.
First published
The latest developments in the Huawei case are a major topic of discussion on Chinese social media, sparking anti-American sentiments, along with hundreds of netizens calling for the support of Huawei.
The case involving Huawei and Meng Wanzhou is making international headlines today, now that the US Justice Department has officially filed charges against Chinese smartphone maker Huawei for allegedly stealing trade secrets from T-Mobile.
Among many other things, US prosecutors allege that Huawei launched a formal policy in which bonuses were offered to employees who succeeded in stealing confidential information from competitors (full papers here, page 19).
The Department also filed criminal charges against Meng Wanzhou (孟晚舟), who is the chief financial officer of Huawei and the daughter of the company's founder Ren Zhengfei (任正非). The US is seeking the extradition of Meng Wanzhou from Canada.
Meng was detained in Canada on December 1st of 2018 during transit at the Vancouver airport at the request of United States officials. She was released on bail on December 11. Meng's next court date is set for February 6, 2019, in Vancouver.
"To the Chinese who proclaim that the American lawsuit against Huawei makes sense, where's your conscience?"
Huawei responded to the accusations in state media on Tuesday, saying they were "very disappointed" about the charges, and denying that Huawei, nor its affiliates, had committed violations of US law.
China's Ministry of Foreign Affairs urged the US to revoke its charges against Meng and to "stop the unreasonable suppression of Chinese companies, including Huawei, and to treat Chinese enterprises objectively and fairly."
Meanwhile, on Chinese social media platform Weibo, the hashtag "Huawei responds to US accusations" (#华为回应美国指控#) received some 1,5 million views on Tuesday.
Among hundreds of comments, many netizens express their apparent belief that the United States is using the judicial system in a battle that is actually politically motivated, and that China's rise as a competing technological power plays a major role in this issue.
"America has no confidence in its own technological power anymore, and has come to a point of such weakness that China's technological strength is frightening to them," one commenter named 'Battle Wolf Wang Jie' (@战狼-王杰) said.
"The goal of the US clearly is to suppress Huawei and its 5G technology, it is a fight over leadership," one commenter wrote.
One popular Weibo tech blogging account (@科技阿宽) described the US as "a cornered dog jumping over a wall" ("狗急跳墙"), a Chinese idiom for describing desperate people resorting to desperate measures. This idiom was also used by other Weibo users commenting on the Huawei issue.
"Ever since all the news came out on the Meng Wanzhou arrest I feel like this is Cold War 2.0," a Weibo user named Wei Zhong (@卫中) wrote about the issue: "This arms race in the field of technology can't be avoided, and it will spread to other fields, posing a challenge to America's leading position."
But there are also commenters who want to know more about whether there are reasonable grounds to believe Huawei and Meng actually committed a crime: "So did they, or didn't they?"
"Huawei needs to operate in accordance with international laws, otherwise there will be no end to the trouble," some said, with others adding: "If they did nothing wrong, they shouldn't be afraid to face the Americans."
The editor-in-chief of the Chinese and English Global Times, Hu Xijin (胡锡进), called out those who suggested that the US might have sound legal grounds for the charges, writing on Weibo: "To the Chinese who proclaim today that the American lawsuit against Huawei makes sense, where's your conscience? Have your brains been eaten by the dogs?"
"Was the Canadian Ambassador sacked for speaking the truth?"
The Huawei case news story has been developing and has been a topic of discussion ever since Meng's arrest in December. A social media post issued by Meng shortly after her arrest became one of the biggest trending topics on Weibo of 2018.
The news that former Canadian diplomat Michael Kovrig was detained in Beijing on December 10th of 2018 also generated online discussions on the Huawei issue, with many linking his arrest to Meng's case.
Earlier this week, the dismissal of the Canadian ambassador to China, John McCallum, also became big news.
McCallum's exit was preceded by his different interview comments on the Meng Wanzhou case. He told Chinese-language journalists that Meng had "strong arguments that she can make before a judge," and reportedly told The Star's Joanna Chiu that it would be "great" if the US could drop the request for Meng's extradition.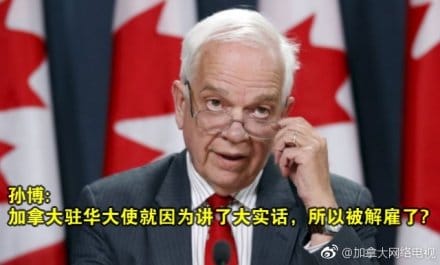 On social media, news of McCallum's dismissal was shared hundreds of times this week. In response to the case, Chinese columnist Sun Bo published an article titled "Was the Canadian Ambassador sacked for Speaking the Truth?" in The Observer (观察者). On Weibo, similar attitudes are expressed, with many arguing that McCallum was punished for simply "expressing his thoughts."
Some netizens argued that McCallum had been "set up" by the interviewer and that he had said nothing wrong. One Weibo user simply argued: "If America would no longer request Meng's extradition, then Canada would not need to detain Meng and would not need to become hostile with China, which would also be better for Canada."
A recurring sentiment expressed by netizens on the issue was that McCallum's dismissal clashed with Canada's "so-called freedom of speech," although there are also other voices stating: "When an ambassador for the government publicly issues their own personal views as they like, they do need to step down."
"He talked about how we should support Huawei, but sent it from his iPhone."
Amid all discussions on Weibo (where some comment threads jumped from having some hundreds comments to "no comments" and then reopened with some hundred comments again), the support for Huawei is one sentiment that stands out.
"I will stand by Huawei," many commenters write across various threads.
"I support Huawei! America and Canada need to set Meng free!"
Others call for a boycott on Apple and American products, urging Chinese netizens to purchase Huawei instead.
There are also some, however, who point out there is some hypocrisy behind some of these statements: "I just saw a 'Huawei defender,'", popular tech blogger 'Keji Xinyi' (@科技新一) writes: "He was talking about how we should support the made-in-China Huawei brand, and that Huawei is China's pride, that Huawei will astonish the world. Then I saw his Weibo post was sent from an iPhone."
Others joke around: "I support Huawei! I use the Honor 7 [device] by Huawei. I absolutely will not buy an iPhone. It's too expensive and I can't afford it."
Jokes aside, the Huawei case is certainly one that will continue to be discussed in many corners of Chinese social media, with many expressing concern on how this case will develop in the future – as it is not likely to blow over any time soon.
"The law will rule based on evidence," some commenters write: "So let's just wait and see."
By Manya Koetse
Spotted a mistake or want to add something? Please let us know through email.
©2019 Whatsonweibo. All rights reserved. Do not reproduce our content without permission – you can contact us at info@whatsonweibo.com
China's Peppa Pig Movie Promo Craze: Understanding the Video and the Trend Behind It
Why Peppa is breaking the Chinese internet.
The Peppa Pig movie promo is breaking the Chinese internet right now. Our latest Weivlog explains the video, its social context, and its background.
China's Peppa Pig movie promo video might already be one of Weibo's biggest trending topics of the year.
To know more about this video and its background, check out our full latest video featured here, explaining the trend in full detail – the original video lacks English subs, so we explain the video from A-Z there.
Check it out, and please subscribe to our YouTube channel if you'd like to see more explanations of Chinese trends through video.
By Manya Koetse 
Follow @whatsonweibo
Spotted a mistake or want to add something? Please let us know in comments below or email us.
©2019 Whatsonweibo. All rights reserved. Do not reproduce our content without permission – you can contact us at info@whatsonweibo.com