Mirror of Time: Chinese Weddings Through the Decades
Changing wedding customs are the mirror of a rapidly changing China. Over the past 50 years, China has seen drastic changes in the process of getting married and how weddings are celebrated. What's on Weibo gives an overview of Chinese weddings since the 1950s.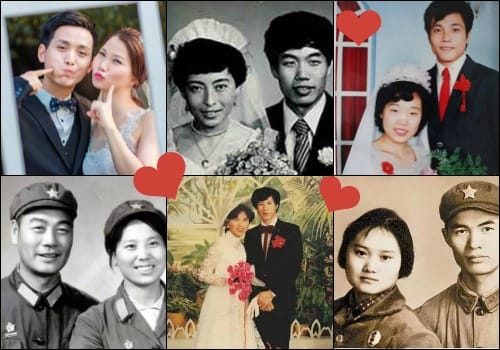 Changing wedding customs are the mirror of a rapidly changing China. Over the past 50 years, China has seen drastic changes in the process of getting married and how weddings are celebrated. What's on Weibo gives an overview of Chinese weddings since the 1950s.
The staggering increase of bride prices in China's rural areas has been a much-discussed topic in Chinese (social) media, as prices have increased sixty-fold (!) since the late 1990s.
But it is not just the custom of bride prices that has drastically changed over the past decades. In pace with a rapidly-changing China, the whole process of getting married and wedding traditions have undergone enormous changes.
Liu Tong (@丹东刘彤), deputy director of a Liaoning local TV channel, writes on Weibo: "In my parent's generation, picking up the bride by bicycle was the equivalent of what the BMW car norm is now. After the establishment of a new China, the era of changes is reflected in the wedding transformations."
Liu writes about what has characterized Chinese weddings through the ages, using a widespread Chinese phrase: "In the 1950s it was about having a bed, in the 1960s it was just about a bag of sweets, in the 1970s it was the Little Red Book, in the 1980s it was about having a radio, in the 1990s there was the extravagance of top-class hotels, and in the 2000s the wedding reception is a display of individuality".*
Others on Weibo call China's changing wedding traditions a "mirror of their time."
Since China's 1940s, the custom of wearing a white dress and making wedding photos had come into fashion (see image below).
But with the 1949 founding of the People's Republic of China, wedding customs changed enormously within a relatively short time frame.
1950s: Plain and simple
In the 1950s, getting married was not much of a fuss, as China's political situation and social revolution were deeply influencing people's lives.
Getting a marriage certificate was enough to consider yourself married.
An elder female resident from Hubei province named Mrs. Zhang tells Chinese media channel Cnchu.com that the weddings in those days were nothing comparable to what they are today: the marriage certificate was not much more than a paper with an official seal on it.
People did not buy special clothes or gifts for the occasion: a simple gathering with some friends, neighbors, or family was enough.
Mrs. Zhang says: "What left the deepest impression on me, was that I lived in a dorm for singles and had to go and collect my luggage and take it to my husband's house to start my new life."
"Although the wedding was very simple," she says: "It was in fact very meaningful. We had the wedding certificate framed."
1960s: Politics First
The 1960s wedding were similar to those in the 1950s in that they were quite simple, and that they would be celebrated with "just a few sweets and a plate of peanuts" (Liu 2013, 27). But with the launch of the Great Proletarian Cultural Revolution (1966-1976), the impact of the Communist Revolution on people's everyday lives was pushed a step further.
There would be no flowers, no gown. Couples would get married by bowing their heads to a portrait of Mao Zedong at the local government office, holding the Little Red Book in their hands.
The idea of free marriage, and marrying for love rather than material possessions, was something that had become the norm in most areas throughout China in the 1960s (Yu 1993, 110); the Marriage Law of the PRC was already introduced in 1950, and one its main principles was the free choice of partners.
For a wedding, friends would gather for some peanuts, sweets, and tea, but there would not be big celebrations: people had to get up for work early the next morning, like any other day.
Journalist Li Zhensheng, who got married in 1968 at his work in the Heilongjiang Daily Newspaper's office (see photo below), writes on iFeng Blog that it already cost one month's wages (56 RMB/±8$)* to buy some candies, tea, and cigarettes. *(Please note that this is the present conversion rate and does not reflect the worth of 56 RMB in 1968).
Li tells that together with their co-workers, the married couple sang some revolutionary songs. Their friends gave them some signs to hang on their necks as a sort of joke, saying: "The bride/groom taking the socialist way."
1970s: The Three Most-Wanted Items
In the late 1970s, after the ending of the Cultural Revolution, getting married became more connected to material possessions and a dowry. The idea of having "the three essential items" (三大件) came into fashion upon getting married. These items were a watch, a bicycle, and a sewing machine. A radio was later also included (三转一响).
Although these items were generally the most desirable ones in the 1950s-1970s period, there were unattainable to many, as were things like leather shoes.
Household furniture was also becoming more important; newlyweds were expected to own at least one complete set of furniture (including a table, 4 chairs, a bed, a writing desk, a couch, a coffee table, besides cabinet, etc.)
Nevertheless, the wedding ceremony itself would still be relatively simple: there was a marriage certificate, the couple would face the portrait of Mao Zedong and have one witness, which would be enough.
One Weibo user from Beijing (@婷是我六六也是我) shared the wedding picture and certificate of her parents, who got married in this era (images below).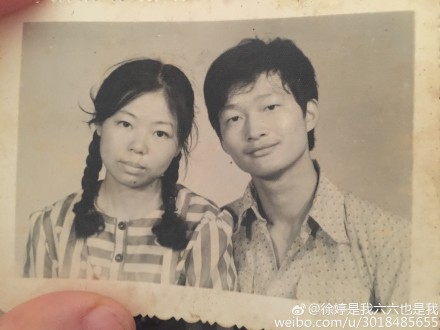 According to wedding service company Jieqinwang, the price of a wedding ceremony in those days would be around 700 RMB (±100 US$ presently), with around a 420 RMB (60 US$) for the 'three main items' (watch, bicycle, and sewing machine) (this China.org article points out people would need coupons to purchase these items).
The rest of the money could be used for clothes (180 RMB/26$), and a wedding meal for 10 people (100 RMB/14$).
Not all couples would be able to purchase new clothes, but if they could, they would. For many people, their wedding photo would be their first real portrait photo. Besides the photo in the Communist outfit, they would also have a photo in normal clothes.
1980s: Real Dress, Fake Flowers
After the end of the Mao era and the introduction of economic reforms by Deng Xiaoping, the 1980s showed some drastic changes to the previous decennia in wedding customs.
The general necessities for a marriage were now household electric appliances. Instead of items such as a watch, sewing machine, and bicycle, the new "three main items" were a television set, washing machine, and refrigerator – although not many people could actually afford them.
The custom of taking one's vows in front of the Mao Zedong portrait was slowly disappearing, and weddings were becoming more formal again.
Those who could afford it would wear a Western-style dress and carry plastic flowers. Weddings would increasingly often take place outside the home, in hotels or restaurants.
The custom of picking up the bride with a group was also becoming more prevalent – she could sit on the back of the bike.
According to Jieqinwang and Phoenix News, the cost for a somewhat extravagant wedding in the 1980s would be around 3300 RMB (±480$), including the price for the "three items", clothing, wedding pictures, and a wedding banquet for 10 people.
1990s: Higher Expectations
In the 1990s, the costs and expectations of wedding ceremonies became much higher than in the previous decades. The custom of making pre-wedding pictures came into fashion and the so-called bride prices or dowries came to play a more important role.
The day itself was also a much bigger event than in previous era's. On the day of the wedding, the groom's side would often rent a car to pick up the bride, and the wedding would often be celebrated in a hotel or restaurant.
Owning a house also became to play a more important role, although this was financially impossible for many.
One Chinese man born in 1967 shares the story of his marriage day in 1995 with China.com, saying: "Getting married in the 1990s had become a lot more complicated and needed a lot of preparation, selecting the day, settling the dowry, seeing the new house (..), everything had to be prepared."
The average price of a wedding had become about ten times higher in the 1990s than in the 1980s. People would spend about 500 RMB (±75$) on taking wedding photos in a studio.
Other costs included the buying of the 'must-have' electrical appliances of the 1990s (motorbike, air-conditioning, video recorder), buying a wedding dress and the suit, renting a wedding car, and paying for a lavish wedding banquet for about 20 people.
Excluding the price of buying or renovating the house, this would still make the wedding price of around 33000 RMB (±4800-5000$, estimated by Jieqinwang).
2000s: Individuality & Extravagance
Since the 2000s, the organization and payment of weddings have become an increasingly heavy burden, especially for the groom's family.
Although the custom of bride prices varies across China, it has come to play a more significant role in China's countryside, where bride prices reached a new height due to the shortage of women of marriage age.
Whereas the 'three main items' of the 1970s-1980s period were a sewing machine, bike, and a watch – later substituted with a washing machine, TV set, and fridge, and a motorbike, video recorder and air-conditioning – the magic words of the 2000s became 'house' and 'car' (买房买车); meaning that for a man to be considered eligible for marriage, they are usually expected to buy a house and own a car.
Chinese weddings after 2000 are especially marked by their combination of traditional and western influences. Around 2003, a survey by People's Daily revealed that an average newly married couple in Tianjin would spend around 191,000 RMB (±27,800$) on their wedding. This money would go towards the banquet, housing and furniture, wedding pictures, etc. (Liu 2013, 27).
The pre-wedding photo sessions have now become an integral part of the Chinese wedding customs. As Cat Hanson wrote here previously, the perfect wedding shoot has actually become a top priority in Chinese wedding arrangements. Many couples even travel abroad for their pre-wedding photo session.
On Chinese social media, wedding photography companies offer all-inclusive packages that promise couples 10 different outfits (including make-up and hair) in 10 different scenic scenes, including hotel stays and free drinks. The photo tradition has become a honeymoon of its own.
Those wedding photos now also show that besides all the lavishness, people also find it increasingly more important to stress individuality: from traditional clothes to western style dresses to unique creations, the majority of China's early 21st century couples like to keep their weddings classy, original, and expensive.
– By Manya Koetse
Follow on Twitter or Like on Facebook
* loose translation of the sentence: "五十年代一张床,六十年代一包糖,七十年代红宝书,八十年代三转一响,九十年代星级宾馆讲排场,二十一世纪特色婚宴个性张扬."
Sources & Further Reading
Chen Mingyuan 陈明远. 2010. "20世纪中国的结婚照 [20th Century Chinese Wedding Photos]" (In Chinese). Sina Blog, May 3 http://blog.sina.com.cn/s/blog_4bbb74a50100g4u7.html [20.2.17].
Cnchu.com. 2015. "50年代一张床 荆州社区居民话说那个年代的婚礼 [In the 1950s a Bed Was Enough – Jingzhou Community Residents Talk About the Weddings of The Time]." Cnchu, Oct 24 http://www.cnchu.com/viewnews-212816.html [19.2.17].
iFeng/Phoenix News. 2016. "父辈们的婚礼:自行车接新娘相当于现在宝马." Phoenix News, Dec 16 http://share.iclient.ifeng.com/news/sharenews.f?aid=116557303&channelId=default&mid=&vt=5&srctag=cpz_sh_imtj_a [19.2.17].
Jieqingwang. "婚礼中婚纱最耀眼 盘点中国婚纱的变化" http://www.jieqinwang.com/article/detail/id/992
iFeng/Phoenix News. Special "Getting Married in the 1980s." http://js.ifeng.com/special/80nd-hunli/#p1 [21.2.17].
Liu, Fengshu. 2013 (2011). "Social Transformation in China." In Fengshu Liu, Urban Youth in China: Modernity, the Internet and the Self, 15-35. New York: Routledge.
Liu Qingmei 刘清梅. 2016. "六十年婚礼进行曲 [Sixty Years Wedding March]." Sina Blog, June 8 http://blog.sina.com.cn/s/blog_4e74289e0102x7y5.html [19.2.17].
Li Zhensheng 李振盛. 2010. "我在1968年的"文革"婚礼 [My 'Revolutionary' Wedding in 1968]." iFeng Blog, Dec 24 http://blog.ifeng.com/article/9306039.html [21.2.17].
Steinfeld, Jemimah. 2015. Little Emperors and Material Girls: Youth and Sex in Modern China. I.B.Tauris.
TJFER. 2016 "老照片:90年代农村结婚场面 [Old Photos: 1990s Weddings in the Countryside]." TJFER, 23 Nov http://www.tjfer.com/detail/g6356076561996906754/ [21.2.17].
Vision Times. 2011. "清末到80年代 百年婚纱照的演变 [From the End of the Qing to 1980s: The Development of 100 Years Marriage Pictures]." Vision Times, Dec 20 http://m.secretchina.com/news/gb/2011/12/20/433617.html.%E6%B8%85%E6%9C%AB%E5%88%B080%E5%B9%B4%E4%BB%A3%E3%80%80%E7%99%BE%E5%B9%B4%E5%A9%9A%E7%BA%B1%E7%85%A7%E7%9A%84%E6%BC%94%E5%8F%98(%E7%BB%84%E5%9B%BE).html [20.2.17].
Wanhuajing. "父辈们的婚礼:自行车接新娘相当于现在宝马 [The Weddings of Our Parents: Today's BMW is the Bike that Picked Up the Bride Then]" Wanhuajing, Dec 29 http://m.wanhuajing.com/d673875 [19.2.17].
Women of China. 2009. "Changes in Chinese Weddings Over 60 Years." Women of China, http://www.womenofchina.cn/womenofchina/html1/features/family/10/2641-1.htm [19.2.17].
Women of China. 2011. "'Barometers' of Fashion: Chinese Women's Hairstyles Change; Reflect Altering Trends Over Past 60 Years." Women of China, 14 Dec http://www.womenofchina.cn/womenofchina/html1/special/13/6006-1.htm [21.2.17].
YCWB. 2015. "婚礼中婚纱最耀眼 盘点中国婚纱的变化 [The Wedding Dress Is The Most Dazzling Part – Inventory of Chinese Wedding Changes]." YCWB, July 27 http://life.ycwb.com/2015-07/29/content_20473410.htm [19.2.17].
Yu, George T. 1993. China in Transition: Economic, Political, and Social Developments. Lanham: University Press of America.
©2017 Whatsonweibo. All rights reserved. Do not reproduce our content without permission – you can contact us at info@whatsonweibo.com
What Are Weibo's "Super Topics"?
Explaining Weibo's "Super Topics"
What are Weibo's "Super Topics" (超级话题) and what makes them different from normal hashtags?
Over the past year, Weibo's so-called "Super Topics" (超级话题) have become more popular on the social media platform as online spaces for people to connect and share information.
Weibo's "super topic" function has been around since 2016. The function allows Weibo users to create and join interest-based content community pages that are online groups separated from the main Weibo space. One could perhaps compare these Weibo Super Groups to 'mega-threads' or 'subreddits' on Reddit.
These are the most important things to know about Weibo's Super Topics:
#1 A Super Topic is Not the Same as a Hashtag
Similar to Twitter, hashtags make it possible for Weibo users to tag a topic they are addressing in their post so that their content pops up whenever other people search for that hashtag.
Different from Twitter, Weibo hashtags also have their own page where the hashtag is displayed on top, displaying how many people have viewed the hashtag, how many comments the hashtag is tagged in, and allowing users to share the hashtag page with others.
A Super Topic goes beyond the hashtag. It basically is a community account where all sort of information is shared and organized. People can 'follow' (关注) a Super Topic and can also 'sign in' (签到).
On the main page of every Super Topic page, the main subject or purpose of the super topic is briefly explained, and the number of views, followers, and posts are displayed.
A super topic-page can be created by any Weibo user and can have up to three major hosts, and ten sub-hosts. The main host(s) can decide which content will be featured as essential, they can place sticky notes, and post links to suggested topics.
#2 A Super Topic Is a Way to Organize Content
Super Topic pages allow hosts to organize relevant content in the way they want. Besides the comment area, the page consists of multiple tabs.
A tab right underneath the main featured information on the page, for example, shows the "sticky posts" (置顶帖) that the host(s) of the page have placed there, linking to relevant information or trending hashtag pages. Below the sticky notes, all the posts posted in the Super Topic community are displayed.
One of the most important tabs within the Super Topic page is called "essential content" (精花), which only shows the content that is manually selected by the host(s). This is often where opinion pieces, articles, official news, or photos, etc. are collected and separated from all the other posts.
Another tab is the "Hall of Fame" (名人堂), which mainly functions as a reference page. It features links to the personal Weibo pages of the super topic page host(s), links to the Weibo pages of top contributors, and shows a list of the biggest fans of the Super Topic. Who the biggest fan of the page is, is decided by the number of consecutive days a person has "checked-in" on the page.
#3 Super Topics Are a Place for Fans to Gather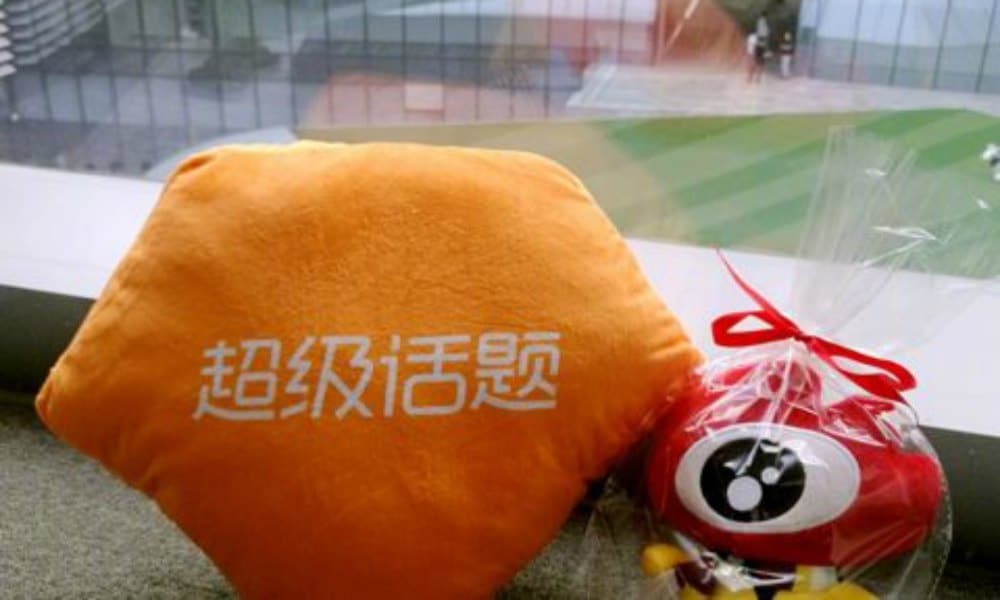 Although a Super Topic could basically be about anything, from cities to products or hobbies, Super Topics are often created for Chinese celebrities, video games, football clubs, or TV dramas.
Through Super Topic pages, a sense of community can be created. People can be ranked for being the most contributive or for checking in daily, and comment on each other's posts, making it a home base for many fan clubs across China.
The host(s) can also help somebody's page (e.g. a celebrity account) grow by proposing them to others within the group.
Super Groups are ranked on Weibo based on their popularity. This also gives fans more reason to stay active in the group, making their Super Topic top ranking within their specific category (TV drama, food, photography, sports, games, etc).
What makes the Super Topic group more 'private' than the common Weibo area, is that people posting within the Super Topic can decide whether or not they also want their comment shared on their own Weibo page or not. If they choose not to, their comments or posts will only be visible within the Super Topic community.
By Manya Koetse & Gabi Verberg, with contributions from Boyu Xiao
Spotted a mistake or want to add something? Please let us know in comments below or email us.
©2019 Whatsonweibo. All rights reserved. Do not reproduce our content without permission – you can contact us at info@whatsonweibo.com
Why Trump Has Two Different Names in Chinese
Why does 'Trump' have multiple names in Chinese?
First published , updated version published March 7, 2019
It is confusing even for Chinese netizens and journalists: why does Donald Trump have multiple names in Chinese? And which is the right one to use? What's on Weibo explains.
Donald Trump has two most commonly used different names in Chinese. In Mandarin*, they are Tèlǎngpǔ (特朗普) and Chuānpǔ (川普). Both names have been used by Chinese mainstream media and netizens for years.
*(Due to the scope of this article, we'll just use the Mandarin pinyin here.)
In the Chinese translation of Donald Trump's autobiography The Art of the Deal (1987), the 'Tèlǎngpǔ' transliteration is used, whereas the translation of the George Ross book Trump-Style Negotiations (2008) uses 'Chuānpǔ' as the Chinese name for Trump.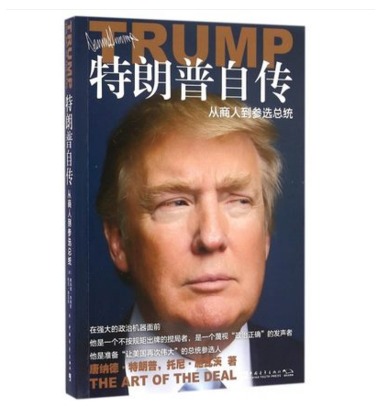 Considering that Trump is making headlines every day, more people are wondering why Trump has two Chinese names, and which one is the correct name to use. There are even discussions about the topic on Chinese social media.
Why are foreign names translated?
Why are non-Chinese names actually translated into Chinese at all? With English and Chinese being such vastly different languages with entirely different phonetics and script, the majority of Chinese people will find it hard to pronounce a foreign name that is written in English.
Writing foreign names or terms in Chinese script has a long history and practical reasons which won't be further elaborated on here. At present, aside from being standardized, it does not just help Chinese speakers to pronounce these words, it also makes it easier to remember them. Most Chinese names usually consist of two or three characters; the first character is the surname, and the last character(s) is the given name.
Translating a name to better adapt to the culture in which it is used does not only happen with English names in China; you often see the same happening with Chinese names in foreign countries.
In that case, the first character (surname) is moved to the back, and the given name changed into an English one. Alibaba's Ma Yun, for example, has become globally known as 'Jack Ma.' Film star Zhao Wei is called 'Vicky Zhao', Tencent's Ma Huateng is known as 'Pony Ma,' and the popular actress Lin Yun is called 'Jelly Lin.'
The right way to translate a foreign name in Chinese
There are multiple ways to translate a foreign name to Chinese. Most commonly, a name is translated into Chinese characters that are phonetically similar to the original name, without necessarily being very meaningful. The transliteration of 'Hillary' (Clinton), for example, is 'Xīlālǐ' (希拉里). 'Bush' is translated as 'Bùshí' (布什).
Another option is to choose a name purely based on meaning rather than phonetics. One example is Elvis Presley, who is called 'Cat King' (Māo Wáng 猫王) in Chinese, which stays close to his nickname "The Hillbilly Cat."
The best option when translating a foreign name into Chinese, however, is to make sure it stays close to its original pronunciation while also using elegant characters. In other words; it is nice when a name's translation makes sense both phonetically and semantically. Marilyn Monroe's last name in Chinese is Mènglù (梦露), for example, which sounds like 'Monroe' and has the characters for 'Dream Dew' – a perfect transliteration for such a dreamy actress.
Even when the characters used for a foreign name in Chinese are not necessarily intended to convey a certain meaning, it is important that they do not have any negative connotations. Nobody wants a character in their name associated with divorce, disease or death – it is believed to bring bad luck.
Another thing is that it is considered helpful for foreign names in Chinese is to maintain a 'foreign flavor' to it, to make it clear that the name is actually a transliteration. To give an example raised in this Nikkei article: President Reagan's name is generally translated as Lǐgēn 里根 in Chinese – the characters being somewhat uncommon for a Chinese name.
The same name could also be written with the characters 李根, very common for a Chinese name, but then it would be difficult to know whether a media report is talking about Reagan the President or just a local Chinese person by the same name. Transliterations of foreign names, therefore, are often easily recognizable as foreign names on purpose.
Trump, Tèlǎngpǔ, and Chuānpǔ
In the case of Trump, his Chinese names are mainly chosen for phonetic reasons, with different sources using different characters. Part of the challenge in deciding the right Chinese translation for his name, is the fact that Chinese does not have consonant cluster 'tr' as one sound.
The Chinese-language Nikkei newspaper dedicated an op-ed written by Chinese scholar Ke Long (柯隆) to the matter, who argues that although it may all seem trivial, it is actually quite confusing and unpractical for president Trump to have more than one name in Chinese.
The Chinese media in Taiwan, Hong Kong, and most overseas Chinese-language media, refer to Trump as 'Chuānpǔ' (川普).* According to the World Journal, the biggest Chinese-language newspaper in the US, it is the only proper way to translate this name, yet most Chinese state media and Chinese-language UK media (such as BBC) all use 'Tèlǎngpǔ.'
* (The Chinese version of The New York Times 纽约时报中文版 is an exception, as 'Tèlǎngpǔ' 特朗普 is generally also used in this publication.)
Author Ke Long explains that Chinese translations of foreign names try to stay as close as possible to the pronunciation of a name in its original language. This is why the name of the city 'Paris' is pronounced 'Bālí' (巴黎) in Mandarin Chinese, staying close to the French pronunciation, and 'Amsterdam' being 'Āmǔsītèdān' (阿姆斯特丹), which follows the city's Dutch pronunciation.
If the British would pronounce 'Trump' as 'te-lan-pu,' then it would thus perhaps be more understandable why media such as the BBC would write Tèlǎngpǔ. But they don't pronounce it like that, Ke Long argues, saying that the use of 'Tèlǎngpǔ' thus does not make sense, and is actually closer to the Japanese way of writing Trump's name ('トランプ': to-ra-n-pu).
More so, the author writes, it does not make sense for Chinese media to take over the British transliteration of the Trump name. Considering Trump is American, Chinese media should follow the translations made by American media. He also notes that if it would be about the Prime Minister of Britain, the Chinese transliteration should follow the one used by the media in the UK.
Although the Nikkei author seems to advocate for a singular use of 'Chuānpǔ' by all media, no Chinese media are necessarily 'wrong' in their transliteration of the name Trump. The 'Tèlǎngpǔ' 特朗普 translation follows the example of outlets such as the BBC, while Chuānpǔ 川普 follows that of other media.
Some Chinese bloggers argue that Chuānpǔ 川普 is the best way to write Trump's name, because the first character, that actually means 'river,' is commonly used in Chinese, making the name sound more 'natural' and easy to pronounce than 'Tèlǎngpǔ.' Moreover, they argue that the Mandarin 'chuan' sound is more appropriate to convey the pronunciation of 'tr' than the 'te-lang' way.
In the end, the reason why Trump has two names most commonly used in Chinese is just a matter of media, with various mainstream outlets adopting different names since Trump first made headlines, and without there being any clear consensus on which Chinese name to use across all these different Chinese-language media platforms around the world.
Chuángpù and Chuángpò?
On Chinese social media, President Trump even has more than two names. There are also netizens referring to him as 床鋪, 闯破 or 床破 (Chuángpù/Chuángpò); these are all transliterations that contain strange or negative characters, making the name unrefined and harsh-sounding on purpose to make the name 'Trump' look and sound bad.
Although there have been online discussions on the right transliteration for the name Trump, it is unlikely that there will be one official Chinese name for the US President in the near future. Xinhua News, China's official state-run press agency, has consistently been using Tèlǎngpǔ 特朗普 for years, and will probably continue to use it.
Many netizens simply use both versions of his name in one post to avoid confusion, and some news reports have even started using both names in its headlines (image below).
Despite the somewhat confusing situation at hand, there are also those who do not seem to mind at all. "Who cares if it is Tèlǎngpǔ or Chuānpǔ anyway?" one netizen says: "In this day and age, we all know who it is we are talking about."
– By Manya Koetse
Follow on Twitter or Like on Facebook
This article first appeared in 2017 and has been republished with various corrections:
– The first version did not properly convey the argument made by author Ke Long in his Nikkei piece, which is more clearly laid out in this version.
– This version has added some extra information coming from sources after 2017.
Spotted a mistake or want to add something? Please email us.
©2019 Whatsonweibo. All rights reserved. Do not reproduce our content without permission – you can contact us at info@whatsonweibo.com