CCTV: Bride Prices in China Are Sky-High
Getting married is a costly affair in China. Especially in China's rural areas, men are expected to pay staggering prices to their bride's family before marriage.
Getting married is a costly affair in China. Especially in China's rural areas, families on the men's side are expected to pay staggering prices to the bride's family before marriage.
Earlier this week, news of a pregnant woman forced into abortion by her father after her husband-to-be could not afford her bride price became trending on Sina Weibo. The father of the bride wanted him to pay 200,000 RMB (30,680 US$) to get married to his daughter.
Bride prices are a long-standing tradition in China. A 'bride price' is an amount of money or goods paid by the groom's family to the bride's family upon marriage. Since China's gender imbalance has made it more difficult for men to find a bride, the 'bridewealth' prices have gone up drastically. This holds especially true for the poorer, rural areas in China.
CCTV's TV programme News 1+1 explores the bride price phenomenon in their programme about the 'price of love'.
According to CCTV, the bride price phenomenon has changed significantly over the past fifty years. During the 1950s, the 'bridewealth' would mostly consist of some material items such as a thermos bottle or bedding. In later decades, this changed to more costly things such as furniture, radio's, watches, or a sewing machine.
But in the rural areas of contemporary China, the bride price is now all about hard cash. In some places, like in Shandong province, it is common for the bride's family to ask for more than 100,000 RMB (15,340 US$) before their daughter marries – a staggering figure for average rural households in Shandong province.
According to sociologist Zhang Yi (张翼), who was interviewed by CCTV, rising bride prices have three major reasons. The first is China's gender imbalance, that has caused a surplus in men, making it statistically more difficult for them to find a wife. The second reason has to do with the population division in China – the majority of China's single, young men live in the rural areas, whereas the majority of China's single young women live in the bigger cities. It has caused a highly competitive marriage market, where the bride's families can ask for a high price. The third reason is the growing trend of the so-called "bride price culture", where many families now feel a low bride price means losing face – if one's daughter or future wife is 'too cheap' it is generally seen as a bad thing, both by the bride's side as the groom's.
According to Zhang Yi, is is highly unlikely that bride prices will go down in the decade to come.
On Weibo, not all netizens seem convinced that CCTV's conclusion about the sky-high bride prices is realistic: "I'm from the countryside, but I've never heard about sky-high bride prices," one netizen comments.
Another Weibo user says: "Where I'm from, the bride price is used to take back home and is considered the "start-up capital" (启动资金) for the new family."
Some netizens see the sky-high bride prices as a serious problem: "Authorities should standardise bride prices, based on the average income of the locals. Whoever exceeds the standardised price should be punished by law as a human trafficker," one netizen writes.
– By Manya Koetse
Follow @WhatsOnWeibo
©2016 Whatsonweibo. All rights reserved. Do not reproduce our content without permission – you can contact us at info@whatsonweibo.com.
CCTV Launches Dramatic Propaganda Video Condemning Hong Kong Protests, Praising HK Police Force
This CCTV video leaves no doubt about what narrative on the Hong Kong protests it's trying to convey.
This week, while the protests in Hong Kong were intensifying, Chinese state broadcaster CCTV published a video on its social media channels in support of the Hong Kong Police Force. The hashtag used with the video is "HK Police, We Support You!" (香港警察我们挺你#).
"Evil will not press [us] down! A Sir [HK Officers], 1.4 billion compatriots support you!" is the sentence used to promote the video.
The video was initially issued by Xiaoyang Video (小央视频), CCTV's short video platform, on August 13. There is a Cantonese and a Mandarin version of the same video, which is spread on various channels from Weibo to Bilibili, from YouTube to iQiyi.
"Hong Kong is not a place you can do whatever you please with" is the other message promoted in the video, that uses words such as "terrorists" and "bandits" to describe the Hong Kong protesters.
The sentence that Hong Kong is not a place "to do whatever you like with" ("香港,不是你们为所欲为的地方") comes from one of the movie scenes incorporated in the video (Hong Kong movie Cold War 2 / 寒战2).
The video is a compilation of footage using TV dramas and movies combined with actual footage from the recent protests.
By using spectacular images and dramatic film scenes, the video conveys a dramatic narrative on the Hong Kong protests, clearly portraying the Police Force as the good guys fighting against evil.
As the video is being liked and shared by thousands of web users on various platform, one popular comment on video platform Bilibili says: "No matter whether it's a natural disaster, or a man-made disaster, we can overcome this."
Some of the footage used in this video comes from Firestorm, a 2013 Hong Kong action film (the first 3D Hong Kong police action film). Hong Kong police thriller films Cold War and its sequel are also used, along with Hong film The White Storm (2013), Shock Wave (2017), Tactical Unit: Comrades in Arms (2009), Kill Zone (2005), crime drama Line Walker, L Storm (2018), Project Gutenberg (2018), The Menu (2015), and Chasing the Dragon and its sequal (2017/2019).
All of the fictional segments are from made-in-Hong Kong productions.
Watch the propaganda video here.
By Manya Koetse
Follow @whatsonweibo
Spotted a mistake or want to add something? Please let us know in comments below or email us. Please note that your comment below will need to be manually approved if you're a first-time poster here.
©2019 Whatsonweibo. All rights reserved. Do not reproduce our content without permission – you can contact us at info@whatsonweibo.com
How the Hong Kong Protests Are Discussed on Chinese Social Media
"Hong Kong, the Pearl of the Orient, is no longer blooming, but covered in cuts and bruises."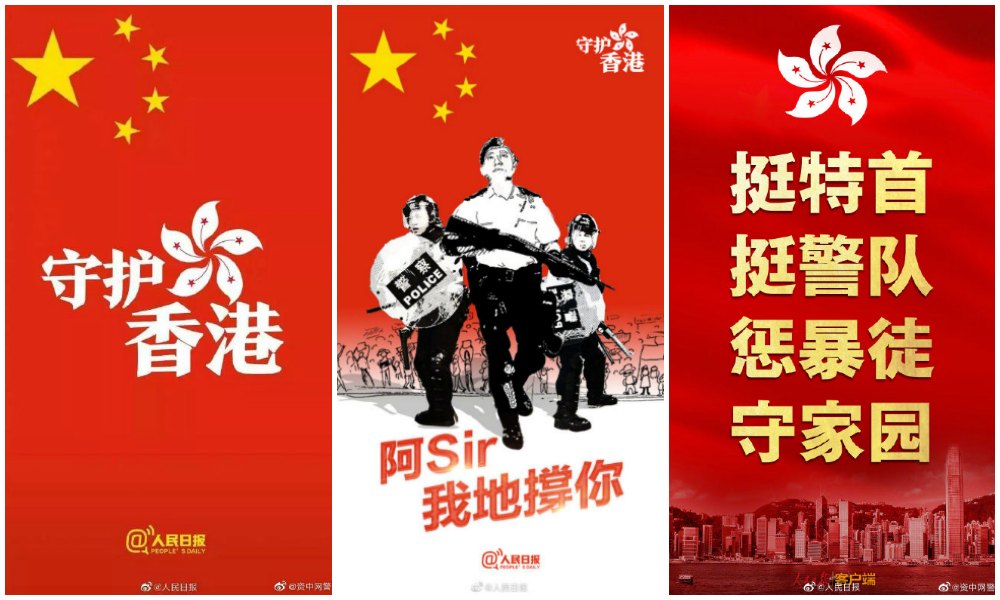 Although discussions on the Hong Kong protests were initially silenced on Chinese social media, the demonstrations are now trending all over Weibo, with state media propagating hashtags and illustrations in favor of Hong Kong government and in support of the Hong Kong Police Force.
The political crisis in Hong Kong shows no signs of de-escalating after another series of mass demonstrations and violent clashes between police and protesters.
This week marks the ninth consecutive week of protests in Hong Kong. The first demonstrations started in March and April of this year against an extradition bill that would allow local authorities to detain and extradite people wanted in mainland China.
After demonstrations escalated in June, the bill was declared "dead" and suspended by Hong Kong leader Carrie Lam, but it was not formally withdrawn.
Protests have since continued throughout June, July, and into August, and are now about much more than the extradition bill alone – they are, amongst others, about greater freedom and democracy in Hong Kong, and about less political influence from the Beijing government.
Protesters are calling for Lam's resignation and for democratic elections, and have denounced violent tactics and "abuse of power" used by the Hong Kong Police Force.
The absence of the police during an attack on residents by suspected gang members dressed in white shirts at the Yuen Long station on July 21 is one of the incidents protesters mention as police misconduct.
But there is also a division between demonstrators, and not necessarily one unified voice. There are also those, for example, who support Hong Kong police. And those who denounce the actions of angry protesters.
China's Central Government Condemns Protests
Although authorities in mainland China initially remained quiet on the topic of the Hong Kong protests, the Hong Kong and Macau Affairs Office of the State Council, China's top agency for handling Hong Kong affairs, held its first press conference on its stance regarding Hong Kong demonstrations on July 29.
Yang Guang, the office's spokesperson, condemned the actions of protesters over recent weeks, saying that they "exceeded the boundaries of acceptable protest."
On August 6, there was another press briefing where Yang Guang used stronger language to denounce the protests, saying that the "radical protests (..) severely impacted Hong Kong's prosperity and stability, pushing it into a dangerous abyss" and that those behind the demonstrations should not "misjudge" the situation and "mistake our restraint for weakness."
Main Stances on Chinese Social Media
On Chinese social media sites, news and discussions on the Hong Kong protest were initially silenced (also see this article), but that has changed now.
Although discussions are still heavily controlled, the topic of the Hong Kong demonstrations has been dominating the trending streams over the past days on China's popular social media platforms.
On Douyin, one of the most popular short video / social media apps in mainland China, there are dozens of different videos of violent incidents in Hong Kong that are being reposted and liked thousands of times.
On news app Toutiao, articles relating to the Hong Kong protests are in the recommended and 'hot' sections, while bloggers and news accounts on WeChat are also posting and reposting Hong Kong related content.
For the scope of this article, we will solely focus on Weibo – the narratives that are spread in daily discussions on the platform are comparable to those on other platforms.
Although the ensuing examples are the main types of posts on Hong Kong that are most popular on Chinese social media now, and definitely receive a lot of support, there are also posts with other views and ideas that might be blocked before ever making it to Weibo or other apps/platforms.
But the restrictions on free discussions on social media do not only relate to platform censorship.
Recently, there are also instances in which Chinese netizens speak out in support of the protesters in Hong Kong who then become a victim of the so-called "human flesh search engine."
One female Weibo user, responding to the demonstrations in Hong Kong, wrote on August 5th: "Respect to every person out there striking and protesting!" Other Weibo users then made screenshots of her comment and revealed personal details about the woman (a 26-year-old Chinese citizen), labeling her a traitor.
One blogger reposting the woman's photo and Weibo profile has 1,3 million followers, making this incident quite big and serving as a warning to other Weibo users not to spread their 'politically incorrect' views on the Hong Kong protests.
"Protect Hong Kong, Support the Police Force"
With over 5 billion views, the hashtag "Protect Hong Kong" (#守护香港#) is very popular on Weibo these days.
The hashtag is promoted by Party newspaper People's Daily, that also launched another viral hashtag, namely "Officers, We Support You" (#阿sir我们挺你#, 300 million views).  The word for 'officer' used in this hashtag is "Ah Sir" or "阿Sir", a uniquely Hong Kong form of address used for policemen and teachers.
Using the "Protect Hong Kong" and "Officers, We Support You" slogans, People's Daily has also issued an illustration that shows three police officers carrying weapons and protective screens. Behind them are protesters, and above them is China's Five-starred Red Flag.
The main idea behind these hashtags/illustrations is that the People's Republic of China (PRC) firmly supports the Hong Kong government and the Hong Kong Police Force in dealing with so-called "thugs" or "bandits"  ("暴徒").
A common stance expressed by Chinese netizens is that pro-democracy protesters are "damaging public security" in Hong Kong and are "dividing the nation."
"Talk about democracy and freedom in a fair and reasonable way," one commenter writes: "Don't talk about freedom and democracy while breaking the law and acting outrageous."
"It's horrible to see," another person says: "The Pearl of the Orient is no longer blooming, but is now covered with cuts and bruises."
Many stories of violence used against the police force are circulating on Chinese social media. Some videos show protesters using potentially dangerous laser pointers to shine directly in faces of police officers. Last Tuesday, student leader Keith Fong was arrested for possession of such lasers.
One particular trending story concerns a bald police officer named 'Liu Sir' (刘sir) who was violently attacked by a group of protesters on July 31st. The mob allegedly punched and kicked him, and assaulted him with sticks and objects before he pulled out his gun.
Officer Liu, who has sustained some minor injuries from the incident, responded to the incident writing in a text: "[I] just hate the fact that they are also Chinese – it feels wrong to hit them and also wrong not to. It really pains me!"
Officer Liu has become somewhat of a hero on Chinese social media, as his image is propagated by Chinese state media through photos and illustrations.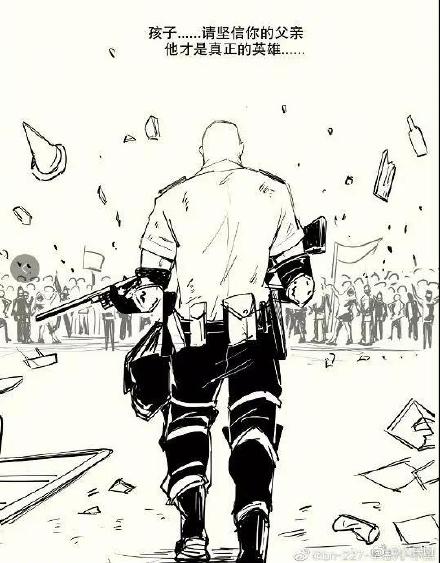 The idea of 'protecting' Hong Kong and supporting its police force goes hand in hand with the idea that Hong Kong is, and "always will be," a "part of China."
Many commenters in the comment sections express their anger about Hong Kong protesters attacking police and throwing the Chinese flag into the water. "If you do not want to be Chinese, then don't live on Chinese territory," some write.
"Hong Kong's Colonial Mentality" 
A post by an economics blogger (@同行中的我, 14674 fans) that received more than 6500 'likes' on Weibo argues that one problem behind the protests is that Hong Kong youth are stuck in a "colonial mentality."
The blogger says that Hong Kong people have a lack of patriotic education and have no "sense of belonging." It is this Hong Kong mentality, the writer argues, that prevents the region from blooming. Without mainland China, Hong Kong is nothing, the post says.
This sentiment is reiterated by many commenters on Weibo, who write things such as "Without a country, you have no home."
Hong Kong Island was ceded to Britain in 1842 as part of the Treaty of Nanjing. July 1st of 1997 marked Hong Kong's return to China, and the moment it became a Special Administrative Region (SAR) of the PRC, based on the principle of "one country, two systems."
Those who are protesting for Hong Kong independence are also called "Pro HK Independence 'Poison'" on Weibo (港毒分子, a wordplay with characters meaning 'Hong Kong-independence/poison-members': a derogatory term for those supporting Hong Kong independence).
"The Pro HK Independence Poison comes from Hong Kong education. Its education comes from its system. So to get rid of this poison, you first need to replace the system, and then change education in Hong Kong," one person suggests.
"Biased Media Representations"
"Western media only use pictures that are taken out of context -they have an ulterior motive," Weibo news blogger Jianhua (@建华Wei业) writes: "They fabricate news about Hong Kong police power abuse and violence."
The accusation of Western media representing the Hong Kong protesters as the 'good guys' and the Hong Kong police as the 'bad guys' is repeated on Chinese social media quite a lot these days.
One major example is the aforementioned case of Sir Liu, as many media allegedly only forwarded those images or footage of the police pulling his gun, leaving out the part where he was attacked by protesters first.
Since there is a clear pro-Hong Kong Police Force dominant narrative on Weibo, many netizens defend the police and describe the protesters as violent and unreasonable rioters.
"US Meddling in Hong Kong Affairs"
Besides criticism on supposed biased media representations of the situation in Hong Kong, there is also criticism on the role of the United States in the Hong Kong protests.
One photo of American diplomat Julie Eadeh meeting up with student leaders involved in Hong Kong's pro-democracy movement circulated on Chinese social media this week, with state media accusing the US of playing a role in "creating disorder" in Hong Kong.
"What Is America Up To?"(#美国居心何在#) is one of the hashtags related to the incident that is shared on Chinese social media, promoted by CCTV.
"America has no right to meddle in Hong Kong affairs," commenters on Weibo respond: "Hong Kong is China's Hong Kong."
Adding fuel to this discussion is the fact that some Hong Kong protesters have recently started waving American flags at demonstrations (read more about that here).
Trending on August 9 is an incident in which a woman angrily pulled the American flags from protesters' hands at Hong Kong airport. Many people on Weibo praise the woman for being so "courageous" to stand up to the demonstrators. "We just want Hong Kong to be stable and peaceful," the woman stated to the media.
Others on Weibo call on protesters in Hong Kong to be reasonable. "I feel that the situation in Hong Kong is getting more and more complicated," one commenter writes: "I hope the protesters can rationally overthink why they are participating in these demonstrations; they shouldn't let themselves be used by others."
"I just cannot make sense of what these angry youth are doing," another commenter writes: "They are waving the American flag. But when they leave [Hong Kong], people won't see them as Hong Kongnese – foreigners will all think they are Chinese. I just don't get where they're going."

Keep an eye on What's on Weibo for more related stories in the time to come. Follow us on Facebook, Twitter, and subscribe to notifications via the bell in this screen (Chrome/Firefox/Android).

By Manya Koetse
Follow @whatsonweibo
Spotted a mistake or want to add something? Please let us know in comments below or email us. Please note that your comment below will need to be manually approved if you're a first-time poster here.
©2019 Whatsonweibo. All rights reserved. Do not reproduce our content without permission – you can contact us at info@whatsonweibo.com