'Preferential Treatment' of Foreign Students in China: Top 3 Controversies This Week
The treatment of foreign students in China is a major topic of discussion this week, as various stories involving apparent favoritism of exchange students are making their rounds on Chinese social media. This is a top 3 of trending issues.
Recently, there have been many discussions on Chinese social media on the alleged preferential treatment of foreign (exchange) students in China.
Various topics popping up over the past week have triggered anger among netizens about foreign students being allowed to come and study China under favorable conditions.
Some netizens think foreign students make use of the situation and refer to these students as 'foreign trash' (洋垃圾).
Although there are many different stories making their rounds, these are the three main news topics of the moment relating to 'favoritism' of foreign students compared to Chinese students.
1. Arranging 'Girlfriends': Shandong's Study Buddy System Sparks Outrage Online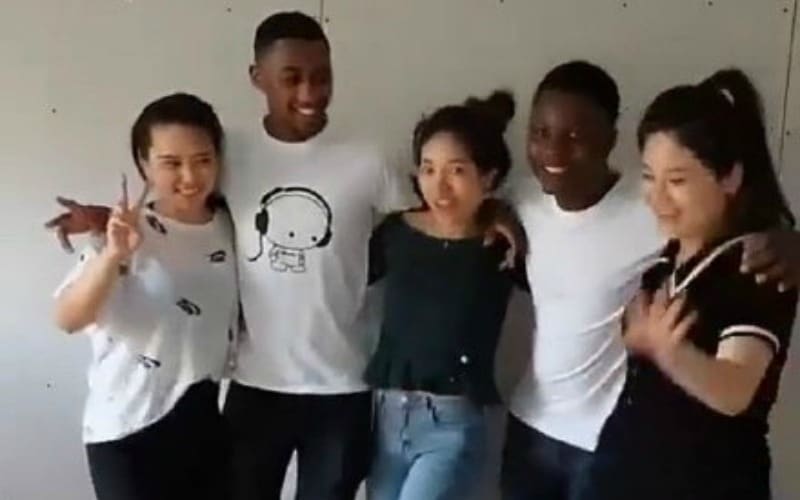 The first story relating to foreign students that has been making news recently is that of preferential treatment of foreigners at Shandong University.
It is this story that later led to more stories coming out about supposed unequal standards for overseas students in China.
The outrage started after a registration form from Shandong University for students to apply as a "buddy" to exchange students made its rounds on Chinese social media.
As explained by SupChina, the study buddy program (学伴制度) was established in 2016 to promote cooperation between foreign and Chinese students.
This year's application forms show that multiple Chinese volunteers are now grouped and assigned to one foreign student to assist them with school assignments or to keep them company during other (social) activities.
One extreme case in which 25 Chinese students attended to the needs of one single exchange student stirred discussions online. The graduate student from Zimbabwe, who did not speak Chinese, was admitted to the hospital for 25 days for a broken leg and the university had arranged one volunteering student to come to the hospital every day.
The form also showed a specific focus on gender, requiring students to choose options for becoming a study buddy, including that of "making foreign friends of the opposite sex" ("结交外国异性友人") and allowing them to indicate their preference for their matched buddy's personality.
A notice circulating on Weibo from the university showed that 47 foreigners taking part in the program were each matched with three Chinese students, most of them female.
This led to people wondering if Shandong University was acting as an educational institute or a matchmaking company, and accused the university of arranging girlfriends for male foreign students.
Shandong University has since apologized and said it would conduct a "thorough research" of its Buddy Programme.
Not all people, however, understand what all the fuss is about. As one popular Weibo blogger noted: "Shandong University's Buddy System is voluntary, and it is optional to choose the preferred gender of the exchange student, there is no need to fill this out."
2. Lenient Laws? Foreign Student Traffic Police Incident
Another incident sparking controversy occurred on July 9 in the city of Fuzhou, where an international student from the Fujian Agriculture and Forestry University was caught breaking traffic rules on his electric scooter – he was carrying another individual.
When the traffic police stopped the man, he resisted with violence and tried to push the officer out of his way.
Yet, despite his apparent aggressive behavior, the man reportedly was only penalized for his traffic offense and did not face any other legal punishments.
The man has been identified as an Egyptian student by the name of Younes.
One Weibo thread reporting on the incident received approximately 37,000 comments and neared half a million likes.
Although Chinese social media users were angered that the man was let go so easily, the Epoch Times, a news outlet highly critical of China, stated that laws in China about carrying passengers on mopeds are loosely and often arbitrarily enforced.
Instead of reporting favoritism, the Epoch Times article suggests that the incident actually signals towards a bias against foreigners, which is allegedly part of a Chinese media campaign that "portrays Westerners inside China in an increasingly negative light."
A bystander video of the incident shows the foreign man shouting at the traffic police and even chasing him.
"Why was he not punished for attacking the policeman?" many on Weibo wonder: "He should be expelled from school and sent back home!"
The hashtag "Foreign Student Violates Law, Then Jostles with Traffic Police" (#外籍学生违反交规推搡交警), hosted by CCTV, received 110 million views on Weibo.
On July 15, the Ministry of Foreign Affairs also responded to these online discussions, saying that China welcomes foreign students to study in China to promote mutual understanding and friendships between China and other countries. They also stressed that foreign students should always abide by Chinese laws and regulations.
3. Unequal Standards: Dorm Disparity
Dorm disparity between Chinese and foreign students has been a topic of discussion for some time.
In 2018, a short movie went viral on Chinese social media exposing the big differences between the dorm conditions of Chinese students and of foreigners studying in China, causing controversy online.
Amidst all recent discussions on foreign students in China, the dorm discussion has also flared up again.
On July 19, one Chinese netizen noted that the Shandong Agriculture University was refurbishing its guesthouse facilities, where the foreign students live, while photos showed that the Chinese dorms are in abominable conditions.
"Why can't they live together with Chinese students?" many commenters wonder: "Are Chinese students of a lower rank?"
On July 12, the Shandong Finance & Economics University dorms also became a topic of discussion on Weibo after management required Chinese students to move to another dorm twenty minutes further away so that they could let foreign students live in their dorms instead.
Following online protests, the management decided to halt the dorm move.
Another story getting big this week involves the different electricity quota for foreign students at a Shandong University dorm, where 'exchange students' as a separate category are allowed to freely use 30 kWh per month, more than double of what (Chinese) graduate students are allowed to use.
"This is a disgrace to our country," some commenters said.
Depending on the university, Chinese students often do not have the option to live in foreign dorms, while foreigners often also do not have the option to live in Chinese dorms. In some universities, however, students live together.
At present, just as in the discussions in 2018, there are also commenters noting that foreign students often pay much more for their dorms; exchange students often pay daily fees whereas Chinese students pay per semester. Price differences can be as much as 8 to 10 times more for foreign students' dormitories.
University Swimming Pool 'Only for Foreigners'
While more and more people are now calling for more equal standards between Chinese and foreign dormitories, "Capital Normal University discriminates against Chinese" is the statement that is now making its rounds on Chinese social media – further heightening discussions on unequal dorm situations.
On July 17, one netizen posted photos of the regulations at the swimming pool of the Capital Normal University in Beijing.
According to the sign, teachers and staff are allowed to enter the swimming pool for 60 yuan ($8,7), exchange students can enter for 30 yuan ($4,3),  and Chinese students cannot enter at all.
Many people on social media responded to the issue with anger, saying that Chinese students were being "treated like dogs."
The university issued a response to the controversy on July 18, stating that the swimming pool in question is located in the university's Grand Building and is part of its facilities.
Because the pool is small (25 x 12.5 meters), it is only meant to be used by those teachers, staff, and students, who are living or working within the Grand Building, with staff paying full price and students paying half.
The statement says that the sign as posted on social media contained "an error" which was already adjusted in January of 2019.
The hashtag "Normal University Responds to Swimming Pool Issue" (#首师大回应游泳馆问题#) received 160 million views at the time of writing. Many people among the thousands who reacted still think the sign is unforgivable.
Although all these controversies led to some people negatively expressing themselves about foreign students, there are also many who note that it is not about foreign students per se, but about their selective treatment by universities and/or authorities.
In response to these controversies, state media outlet Global Times published an 'opinion piece' on July 17 which stated that offering foreigners certain special treatment has been the norm in China for a long time, as only a small number of foreigners would come to China, and Chinese were eager to show courtesy to every guest.
But, "times have changed," the author argues: "With more expats [sic] living in China, some people's obsequiousness for foreigners might lead to resentment and social unease."
The author notes that some foreigners receive preferential treatment in China while being outlawed in their own countries.
"We should be neither xenophobic nor xenocentric," the conclusion says: "As a rising power that is looking at opening up wider, fair and equal treatment of foreigners is a lesson we ought to learn."
By Manya Koetse and Miranda Barnes
Follow @whatsonweibo
Spotted a mistake or want to add something? Please let us know in comments below or email us. Please note that your comment below will need to be manually approved if you're a first-time poster here.
©2019 Whatsonweibo. All rights reserved. Do not reproduce our content without permission – you can contact us at info@whatsonweibo.com