'Preferential Treatment' of Foreign Students in China: Top 3 Controversies This Week
A wave of sentiment against foreign students is taking over Chinese social media this week.
The treatment of foreign students in China is a major topic of discussion this week, as various stories involving apparent favoritism of exchange students are making their rounds on Chinese social media. This is a top 3 of trending issues.
Recently, there have been many discussions on Chinese social media on the alleged preferential treatment of foreign (exchange) students in China.
Various topics popping up over the past week have triggered anger among netizens about foreign students being allowed to come and study China under favorable conditions.
Some netizens think foreign students make use of the situation and refer to these students as 'foreign trash' (洋垃圾).
Although there are many different stories making their rounds, these are the three main news topics of the moment relating to 'favoritism' of foreign students compared to Chinese students.
1. Arranging 'Girlfriends': Shandong's Study Buddy System Sparks Outrage Online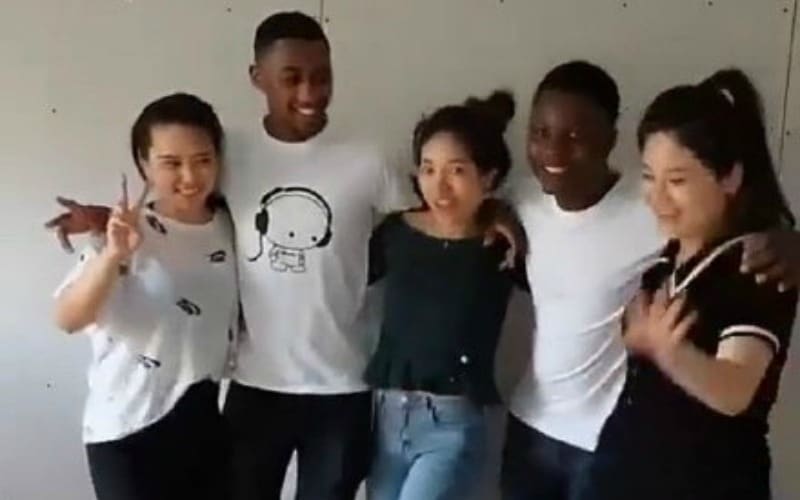 The first story relating to foreign students that has been making news recently is that of preferential treatment of foreigners at Shandong University.
It is this story that later led to more stories coming out about supposed unequal standards for overseas students in China.
The outrage started after a registration form from Shandong University for students to apply as a "buddy" to exchange students made its rounds on Chinese social media.
As explained by SupChina, the study buddy program (学伴制度) was established in 2016 to promote cooperation between foreign and Chinese students.
This year's application forms show that multiple Chinese volunteers are now grouped and assigned to one foreign student to assist them with school assignments or to keep them company during other (social) activities.
One extreme case in which 25 Chinese students attended to the needs of one single exchange student stirred discussions online. The graduate student from Zimbabwe, who did not speak Chinese, was admitted to the hospital for 25 days for a broken leg and the university had arranged one volunteering student to come to the hospital every day.
The form also showed a specific focus on gender, requiring students to choose options for becoming a study buddy, including that of "making foreign friends of the opposite sex" ("结交外国异性友人") and allowing them to indicate their preference for their matched buddy's personality.
A notice circulating on Weibo from the university showed that 47 foreigners taking part in the program were each matched with three Chinese students, most of them female.
This led to people wondering if Shandong University was acting as an educational institute or a matchmaking company, and accused the university of arranging girlfriends for male foreign students.
Shandong University has since apologized and said it would conduct a "thorough research" of its Buddy Programme.
Not all people, however, understand what all the fuss is about. As one popular Weibo blogger noted: "Shandong University's Buddy System is voluntary, and it is optional to choose the preferred gender of the exchange student, there is no need to fill this out."
2. Lenient Laws? Foreign Student Traffic Police Incident
Another incident sparking controversy occurred on July 9 in the city of Fuzhou, where an international student from the Fujian Agriculture and Forestry University was caught breaking traffic rules on his electric scooter – he was carrying another individual.
When the traffic police stopped the man, he resisted with violence and tried to push the officer out of his way.
Yet, despite his apparent aggressive behavior, the man reportedly was only penalized for his traffic offense and did not face any other legal punishments.
The man has been identified as an Egyptian student by the name of Younes.
One Weibo thread reporting on the incident received approximately 37,000 comments and neared half a million likes.
Although Chinese social media users were angered that the man was let go so easily, the Epoch Times, a news outlet highly critical of China, stated that laws in China about carrying passengers on mopeds are loosely and often arbitrarily enforced.
Instead of reporting favoritism, the Epoch Times article suggests that the incident actually signals towards a bias against foreigners, which is allegedly part of a Chinese media campaign that "portrays Westerners inside China in an increasingly negative light."
A bystander video of the incident shows the foreign man shouting at the traffic police and even chasing him.
"Why was he not punished for attacking the policeman?" many on Weibo wonder: "He should be expelled from school and sent back home!"
The hashtag "Foreign Student Violates Law, Then Jostles with Traffic Police" (#外籍学生违反交规推搡交警), hosted by CCTV, received 110 million views on Weibo.
On July 15, the Ministry of Foreign Affairs also responded to these online discussions, saying that China welcomes foreign students to study in China to promote mutual understanding and friendships between China and other countries. They also stressed that foreign students should always abide by Chinese laws and regulations.
3. Unequal Standards: Dorm Disparity
Dorm disparity between Chinese and foreign students has been a topic of discussion for some time.
In 2018, a short movie went viral on Chinese social media exposing the big differences between the dorm conditions of Chinese students and of foreigners studying in China, causing controversy online.
Amidst all recent discussions on foreign students in China, the dorm discussion has also flared up again.
On July 19, one Chinese netizen noted that the Shandong Agriculture University was refurbishing its guesthouse facilities, where the foreign students live, while photos showed that the Chinese dorms are in abominable conditions.
"Why can't they live together with Chinese students?" many commenters wonder: "Are Chinese students of a lower rank?"
On July 12, the Shandong Finance & Economics University dorms also became a topic of discussion on Weibo after management required Chinese students to move to another dorm twenty minutes further away so that they could let foreign students live in their dorms instead.
Following online protests, the management decided to halt the dorm move.
Another story getting big this week involves the different electricity quota for foreign students at a Shandong University dorm, where 'exchange students' as a separate category are allowed to freely use 30 kWh per month, more than double of what (Chinese) graduate students are allowed to use.
"This is a disgrace to our country," some commenters said.
Depending on the university, Chinese students often do not have the option to live in foreign dorms, while foreigners often also do not have the option to live in Chinese dorms. In some universities, however, students live together.
At present, just as in the discussions in 2018, there are also commenters noting that foreign students often pay much more for their dorms; exchange students often pay daily fees whereas Chinese students pay per semester. Price differences can be as much as 8 to 10 times more for foreign students' dormitories.
University Swimming Pool 'Only for Foreigners'
While more and more people are now calling for more equal standards between Chinese and foreign dormitories, "Capital Normal University discriminates against Chinese" is the statement that is now making its rounds on Chinese social media – further heightening discussions on unequal dorm situations.
On July 17, one netizen posted photos of the regulations at the swimming pool of the Capital Normal University in Beijing.
According to the sign, teachers and staff are allowed to enter the swimming pool for 60 yuan ($8,7), exchange students can enter for 30 yuan ($4,3),  and Chinese students cannot enter at all.
Many people on social media responded to the issue with anger, saying that Chinese students were being "treated like dogs."
The university issued a response to the controversy on July 18, stating that the swimming pool in question is located in the university's Grand Building and is part of its facilities.
Because the pool is small (25 x 12.5 meters), it is only meant to be used by those teachers, staff, and students, who are living or working within the Grand Building, with staff paying full price and students paying half.
The statement says that the sign as posted on social media contained "an error" which was already adjusted in January of 2019.
The hashtag "Normal University Responds to Swimming Pool Issue" (#首师大回应游泳馆问题#) received 160 million views at the time of writing. Many people among the thousands who reacted still think the sign is unforgivable.
Although all these controversies led to some people negatively expressing themselves about foreign students, there are also many who note that it is not about foreign students per se, but about their selective treatment by universities and/or authorities.
In response to these controversies, state media outlet Global Times published an 'opinion piece' on July 17 which stated that offering foreigners certain special treatment has been the norm in China for a long time, as only a small number of foreigners would come to China, and Chinese were eager to show courtesy to every guest.
But, "times have changed," the author argues: "With more expats [sic] living in China, some people's obsequiousness for foreigners might lead to resentment and social unease."
The author notes that some foreigners receive preferential treatment in China while being outlawed in their own countries.
"We should be neither xenophobic nor xenocentric," the conclusion says: "As a rising power that is looking at opening up wider, fair and equal treatment of foreigners is a lesson we ought to learn."
By Manya Koetse and Miranda Barnes
Follow @whatsonweibo
Spotted a mistake or want to add something? Please let us know in comments below or email us. Please note that your comment below will need to be manually approved if you're a first-time poster here.
©2019 Whatsonweibo. All rights reserved. Do not reproduce our content without permission – you can contact us at info@whatsonweibo.com
Clean Your Plate, Waste No Food – China's Anti Food Waste Campaign Is Sweeping the Nation
These are the main trends and topics in the context of China's nationwide 'Clean Plate campaign.'
Empty plates, small orders, stop promoting excessive eating – China's anti-food waste campaign is alive and kicking all across the country. These are some of the main social media topics and trends in the context of the 'Clean Plate campaign.'
Since the call by President Xi Jinping to fight against food waste earlier this month, new regulations, initiatives and trends are popping up all over the nation to curb the problem of food loss.
Following China's COVID-19 crisis, the ongoing trade war with the US, and mass flooding, President Xi called the issue of food waste "shocking and distressing," as he stressed that the country needs to "maintain a sense of crisis about food security."
According to numbers posted in online information sheets by state media, some 38% of the food at Chinese banquets goes to waste. In 2015 alone, an estimated 17 million to 18 million tons of food was wasted.
This is the second time in a decade for China to launch a 'Clean Plate' campaign (光盘行动). There was a previous campaign in 2013 that used the slogan "I'm proud of my clear plate." The estimated annual wastage of grain in China at the time was estimated to be 50 million tons.
On Chinese social media, the 2020 "Operation Clean Plate" is receiving a lot of attention. These are some of the trending topics we have seen on Weibo in relation to the anti-food waste campaign.
RESTAURANTS
"N-1" Is the Way to Order, the "Waste Prevention Supervisor" Will Help You
One way restaurants are now addressing the problem of food waste is implementing the "N-1 ordering mode" (N-1点餐模式) which basically means that instead of a group of ten people ordering eleven dishes (N+1), they are advised to only order nine.
Famous Peking roast duck restaurant company Quanjude (全聚德) now advises groups of, for example, seven people to either take their set meal or to order no more than five or six dishes from the menu to avoid wasting food.
They have even appointed a "Waste Prevention Supervisor" (制止浪费监督员) in their restaurants to oversee customers' orders.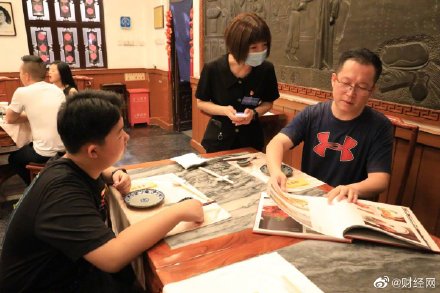 The "N-1" idea is now being implemented in various cities across China.
Earlier this month, Sixth Tone reported that the Wuhan Catering Industry Association (武汉餐饮行业协会) was taking measures to limit the number of portions restaurant patrons can order. Now, the same measures are also being taken in other cities, like in Shijiazhuang (Hebei), Xianning (Hubei), Xinyang (Henan), Guangzhou (Guangdong), Quanzhou (Fujian), and other places.
One restaurant in Changsha got a bit too carried away recently, as it encouraged customers to weigh themselves and order food accordingly. The restaurant apologized after causing some controversy on social media.
TRAINS
Smaller Portions on the Gaotie
In line with the country's anti-food waste campaign, some Chinese highspeed railway trains have also started introducing smaller portions for their in-train food services.
Instead of larger portioned rice meals or noodles, the Nanchang Highspeed Train now offers customers different small size portions in 'blue and white porcelain' bowls.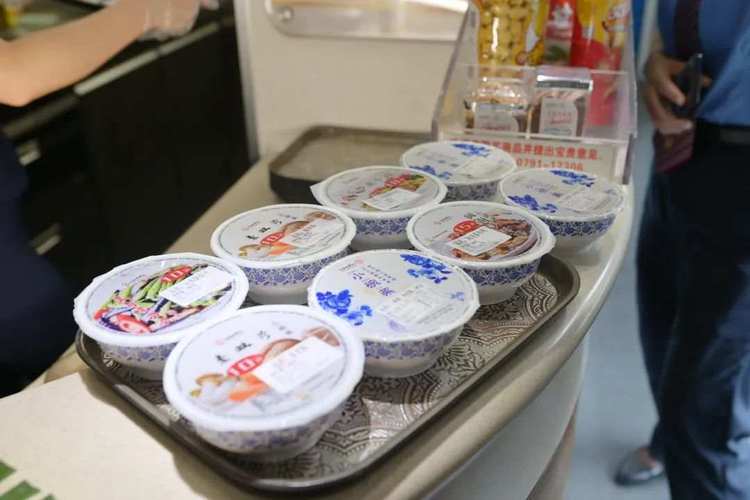 The initiative became a topic of discussion on Weibo (#南昌高铁推出青花瓷小碗菜#), where some applauded it while others complained that the meals were still relatively expensive while being small.
SCHOOLS
Be an "Empty Plate Hero"
China's anti-food waste campaign is also actively promoted in schools across the country. Hundred primary schools in Jinan, for example, teach their students about combating food waste with a slogan along the lines of "Don't leave food behind, be a 'clean plate' hero" (*the original slogan "不做"必剩客",争做"光盘侠"" also has some word jokes in it).
The schools have also set up various activities to raise awareness of food waste.
ONLINE MEDIA
Operation Clean Plate: Empty Plates Snapshot
"Operation Clean Plate" is not just actively promoted in Chinese restaurants and in schools; Chinese state media and official (government) accounts are also promoting the campaign through social media.
The Weibo hashtag "Operation Clean Plate" (#光盘行动#), initiated by the Chinese Communist Youth League, had over 610 million views by August 21st, promoting the idea of "treasuring food, and refusing to waste it."
Besides the Communist Youth League, other official accounts including China Youth Daily and People's Daily also actively promote awareness on wasting food and encourage people to empty their plates. China Youth Daily even initiated the online trend of posting a pic of your own empty plate under the hashtag "Clean Plate Snapshots" (#光盘随手拍#)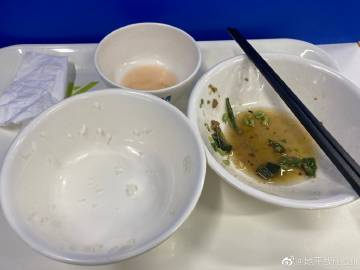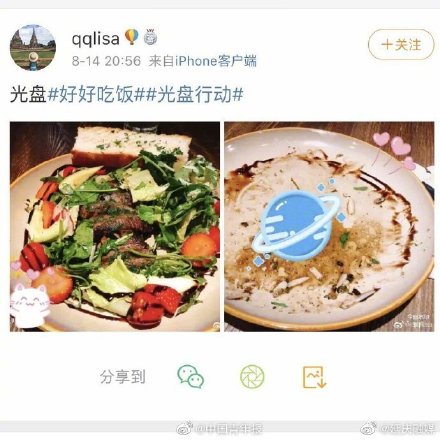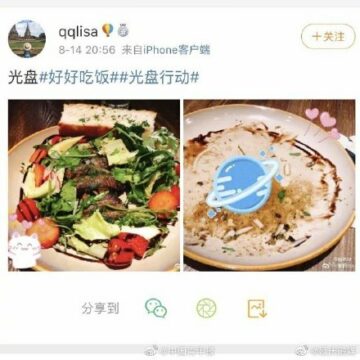 Another hashtag, the Big Clean Plate Challenge (#光盘挑战大赛#), initiated by People's Daily, had 290 million views by August 21, with hundreds of netizens posting photos of their before and after dinner plates.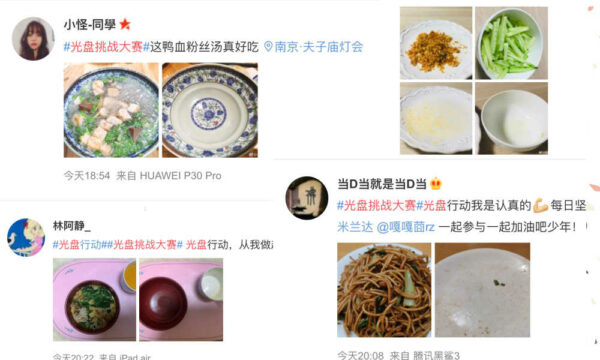 Using the "clean plate" hashtags, many netizens are posting evidence that they are not squandering food.
EATING INFLUENCERS
Big Stomach Stars Need to Turn it Down a Notch
In 2018, we wrote about the trend of China's "big stomach stars" (大胃王) or "eating vloggers' (吃播女博主), an online video genre in which hosts will consume extremely large amounts of food (also known as the 'mukbang' phenomenon in South Korea).
Since attempting to eat 17 kg (35 pounds) of meat by oneself – something that is actually done on camera by these kinds of vloggers – does not exactly fit the idea of China's anti-food waste campaign, these eating vloggers are now being criticized in Chinese media.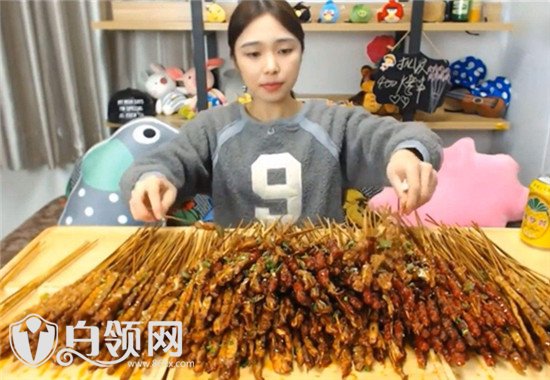 Social media platforms such as Douyin (the Chinese Tiktok) have also taken action against the 'big stomach stars.' On August 12, the Douyin Safety Center published a video saying the app will not allow any behavior on its platform showing food-wasting or otherwise promoting activities that lead to food loss.
For now, popular Chinese eating influencers will have to adjust the content of their videos. Little Pigs Can Eat (逛吃小猪猪) is one of these influencers who recently has showed smaller portions and more empty plates in her videos.
By Manya Koetse, with contributions by Miranda Barnes
Follow @WhatsOnWeibo
Spotted a mistake or want to add something? Please let us know in comments below or email us. First-time commenters, please be patient – we will have to manually approve your comment before it appears.
©2020 Whatsonweibo. All rights reserved. Do not reproduce our content without permission – you can contact us at info@whatsonweibo.com.
Chinese Online Responses to the 'TikTok Problem'
Trump's TikTok and WeChat bans have been all the talk over the past weeks. These are the main viewpoints on the issue as recently discussed on Chinese social media.
News of US President Trump signing executive orders on August 6th to prohibit transactions with TikTok and WeChat parent companies Bytedance and Tencent remains a hot topic of discussion on social media.
Both apps have been described as posing a threat to America's national security, with President Trump claiming that the app's use in the United States heightens the risk of potential espionage and blackmailing practices. The apps are also accused of censoring content that is deemed politically sensitive to the Chinese government, and of being channels for disinformation campaigns.
Over the past three years, Bytedance's Tik Tok app has become super popular in the United States, where it has approximately 100 million active users. Tencent's WeChat has 19 million daily active users in the United States.
Until Trump's executive orders go into effect (the September 20th deadline has been moved to November 12th), much is still unclear about the possible consequences of such a ban – and what the (vague) orders actually mean.
Will Tik Tok be sold to an American company? Will TikTok and WeChat be banned from Apple and Google app stores? How will the ban affect those for whom Wechat is an important communication tool in their everyday personal and business life? Will iPhone users in China still be able to use China's number one app?
While news developments are still unfolding, the "TikTok problem" remains to be a hot topic on Chinese social media, with hashtags such as "How Do You See the TikTok Storm?" (#如何看待tiktok风波#) and "What's the Main Goal of Trump Banning TikTok?" (#特朗普封禁TikTok的核心目标是什么#) receiving thousands of views and comments.
These are the main takes on the issue in the Chinese online media spheres recently.
"It's all about US (technological) hegemony"
During a press conference on August 12, China's Ministry of Foreign Affairs spokesperson Zhao Lijian (赵立坚) expressed that America was showing "bad table manners" for pressing down on "non-American companies," and that the Tik Tok app had "nothing to do with national security."
The fragment went viral on Chinese social media and was reposted many times by media accounts and Chinese web users.
Under the hashtag "Zhao Lijian Responds to the Tik Tok Problem" (#赵立坚回应涉TikTok问题#, 87 million views on Weibo), many Weibo users noted how Zhao did not say that the US was pressing down on 'Chinese' companies, but that it is suppressing 'non-American' companies ("非美国企业"), suggesting that it is all about American power and hegemony.
A few days earlier, Chinese state media outlet Global Times also published an article stating that, according to legal experts, the US government will be able to order Apple and Google to remove all products owned by ByteDance from app stores around the world based on the recent executive orders.
Similar to the statement issued by China's MOFA, Global Times also writes that the Trump administration "has displayed its ugly face that prevents any non-US company to break the US technological hegemony." The issue of Chinese apps threatening US "national security" is called "a shameless excuse" that is used to "destroy China's most successful globalized internet company."
The phrase 'non-American companies' was probably also used by Zhao to emphasize that Bytedance has stepped up efforts over the past year to separate its international Tik Tok business from its China-based operations.
The company took on Disney's head of streaming efforts Kevin Mayer to become its CEO of TikTok, an app that is different from its Chinese version, Douyin (抖音).  TikTok claims that all US user data is stored in the United States, with backup redundancy in Singapore, and that their data is not subject to Chinese law.
Other media outlets, such as Sina Tech, also stress the fact that any claims of TikTok or WeChat posing a risk to US national security are completely unsubstantiated and are merely another excuse to target Chinese products.
"The success of TikTok undermines the absolute American influence on the internet," one Weibo commenter (@财务琳姐) writes: "They've nothing left to do but to discredit China." Others say: "They're beating down on China's entire internet business to contain China's developments."
The same sentiments were reiterated by Zhao Lijian in a press conference on August 18, where he said that the US is engaging in a deliberate attempt to "discredit and suppress" Chinese companies.
"Shooting themselves in the foot"
A recurring way of responding to executive orders on WeChat and Tik Tok in Chinese online media, is that a possible ban on these Chinese apps would only have negative consequences for the United States.
Directly after news came out on Trump's executive orders, the question "Apple or WeChat" started trending on Chinese social media, with many assuming that a possible ban would mean that Apple phones will no longer allow WeChat on its phones.
For the majority of people, the question is not a difficult one. As a messaging, social media, payment app and more, WeChat has become virtually indispensable for Chinese web users – they would simply stop buying iPhones.
The hashtag "US Shutting Down WeChat Will Affect iPhone Sales" (#美国封杀微信将影响iphone出货量#) discusses the stance of analyst expert Guo Mingji (郭明錤), who recently said that the ban on WeChat will have major impact on iPhone sales and could possibly lead to a drop of 25-30% in its sales volume.
One Weibo user (@赵皓阳) commented: "For the Chinese market, not using an iPhone could have some impact, but not using WeChat would mean cutting yourself off from society."
"Ban it, just ban it, Chinese people will just switch to the high-end Huawei phones, and it will beat down Apple – great," another netizen (@黄多多成长记) wrote.
"Shifting public attention away from COVID19 crisis"
The COVID19 crisis in the US has been receiving a lot of attention in Chinese media recently, and the American struggle to contain the virus is often linked to Trump's mission to crack down on Tik Tok, WeChat, and Huawei.
"Focus on your own COVID19 epidemic, instead of trying to divert the attention all the time," one Weibo user (@凯MrsL) writes. Similar comments surface all over Chinese social media, suggesting that the 'anti-China' strategy is just a way to distract the attention from the continuing spread of the coronavirus in the US.
Others write that Trump has made "a terrible mess," and that "beating China" is the only card he has left to play. "This all about the upcoming elections," some suggest.
The People's Daily wrote on August 18 that, since the US is confronted with the severest situation of COVID-19, it should make "greater efforts than any country in the world to cope with the pandemic," adding: "Surprisingly, it seems that such normal logic doesn't exist in the minds of certain U.S. politicians."
"An eye for an eye"
Amid all different perspectives in which the recent Tik Tok/WeChat ban developments are discussed, there is also one other recurring sentiment that stands out.
Reflecting on the Chinese online environment, there are also multiple Weibo users who argue that China virtually blocked so many American companies from thriving in the Chinese digital market (unless they would be willing to transform their products to comply with China's strict cyber regulations), that it is not surprising that the US would also strike back to make sure Chinese companies cannot thrive in the American digital environment.
China has already banned so many American products, from Google to Facebook, from Instagram to Pinterest and Twitter, that "there is nothing left to ban" for China: "We have few countermeasures left to take."
By Manya Koetse
Follow @WhatsOnWeibo
Spotted a mistake or want to add something? Please let us know in comments below or email us. First-time commenters, please be patient – we will have to manually approve your comment before it appears.
©2020 Whatsonweibo. All rights reserved. Do not reproduce our content without permission – you can contact us at info@whatsonweibo.com.