"One Country, Two Dorms": Short Movie Exposes Dorm Disparities Between Chinese and Foreign Students
Are foreign students privileged in China? Most netizens think they are.
A short movie that has gone viral on Chinese social media exposes the big differences between the dorm conditions of Chinese students and of foreigners studying in China. The dorm disparities have caused controversy online.
A short movie made by foreign student Futura Costaglione went viral on Sina Weibo this week. The film, titled "One Country, Two Dorms", features the 'two different worlds' within Chinese university dormitories.
In the short movie project made for a class assignment, Costaglione interviewed 12 students (six Chinese and six foreign) from two colleges in Lanzhou and Beijing, and compared their dorm conditions.
The movie shows that Chinese students have very different living conditions from their foreign counterparts; while the foreign students enjoy spacious 2-person dorm rooms, the local Chinese students have crowded 6 to 8-people rooms to live in.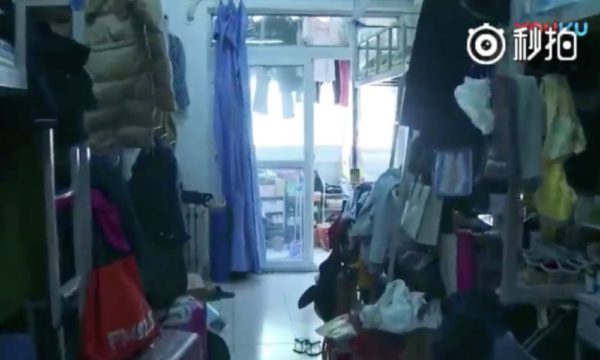 Chinese students are also subject to restrictions that foreign students do not have, such as limited electricity and hot water supplies, or time curfews. The full movie can be watched here.
By now, the original video has been viewed over 340,000 times. However, after numerous reposts, the video went completely viral and received more than 10,000 reposts and thousands of comments.
"It is not fair that Chinese students should live like this," Costaglione states in her movie: "As a foreigner, I feel guilty for my living standards if I think about how my Chinese counterparts live."
"Investing into international standards – but at what price?"
"Thanks to some initiatives like the 'One Belt, One Road,' launched in these recent years, the number of foreign students studying in China has constantly increased, arriving to 450,000 in 2016," Costaglione explains: "The Chinese government is, therefore, investing millions of yuan to make their living conditions respectable for international standards. But at what price?"
According to a report from the Chinese Ministry of Education in 2016, there are more than 442,000 foreign students studying in 829 different Chinese universities. Comparing to statistics in 2015, the number of foreign students increased by 11.35% in just one year.
For the Chinese government, the increasing number of foreign students is not just a sign of the country's own economic prosperity, but also an opportunity to show a good image of China to the world. The use of foreign students in Chinese propaganda campaigns is something that has been highlighted in foreign media before.
It is not the first time that foreign students' alleged privilege has become a trending topic in China. In 2011, online discussions were fueled after Beijing News reported that Peking University had renovated the dorms for its foreign students, but not for the Chinese local students, who were living in rooms without air conditioning.
In 2018, the issue became a topic of discussion again when the Ministry of Education allocated twice the budget to foreign students than to local elementary schools and middle schools. Although the Ministry of Education denied the allegations, it still triggered anger among netizens, who suggested that foreign students in China were wasting government money.
"Second-class citizens"
Costaglione's movie has also received many angry comments on Weibo, where users are not upset by the movie itself, but with the university administrations responsible for the existing inequalities.
"Many stupid schools are doing this! It seems like more foreigners on campus would be a pride for them, LOL," one commenter points out. Another Weibo user writes: "My university is like, foreign students have air conditioners, while we only have fans. There are eight people in one room."
Some time ago, Weibo users collectively shared pictures of their dorm conditions online. While some showed how a girl's dorm at Sichuan Agricultural University is equipped with TV, air-conditioning, elevator, and mattresses, others showed how one dormitory in Guangzhou is among the worst in the country; its main point of interest being its bathroom with two squat toilets right next to each other. "Ideal for lovebirds," netizens mockingly said (Read more at: "A peek inside China's (worst) dormitories").
"We are always second-class citizens," one Weibo user posted, sarcastically adding: "Why don't we just kneel down all the time already? Stop peeking at the noble foreigners."
"The Party has these foreigners living in these nice places, so let's just shut up," another commenter says, hinting at the major role politics play in creating these kinds of privilege and disparity.
While most of the commenters express their concerns about the unfair policies Chinese university administrations make, there are also those who express blatant hate towards foreigners: "Chinese universities want to show that they are globalized. They pay a lot of money to import rubbish foreign students. These students are scammers, rapists, and bring AIDS into our country."
Another person writes: "China is the only country that treats its own citizens worse than foreigners."
"One country, two systems"
There are also many people, however, who do not seem to understand what the fuss is about and mention the price difference between the dorms. In Costaglione's movie, one Chinese student mentions the yearly fee of her dorm is 1500 yuan (±US$230), while the foreign students, with a daily fee of 40 yuan, pay 13,440 yuan (±US$2045) per year.
"I won't say anything," one Weibo user says: "They pay way more for their dorms." Another commenter adds: "Don't you all know that foreigners also pay so much for their dorm daily that it costs them ten-thousands of yuan yearly? Chinese students only pay about 1000 yuan per year. There's nothing to be sour about."
"I study in Beijing and we pay 600-800 yuan (±US$90-122) for our dorms per semester," another person writes: "The foreigners pay a daily fee. Different prices will give you different conditions."
Yet many people do not think the comparison is fair, with some saying: "The thing is, they generally receive a scholarship and don't even need to pay."
Depending on the university, Chinese students often do not have the option to live in foreign dorms, while foreigners often also do not have the option to live in Chinese dorms. In some universities, however, students live together.
One commenter on Q & A platform Quora, where the issue was previously also discussed, writes: "The university I went to has a program where domestic students can apply for international dorms, as long as they agree to host parties for foreign students during some Chinese festivals – but not vice versa."
"It's just a matter of 'one country, two systems,'" one Weibo commenter writes: "That's not too hard to understand, or is it?"
By Chauncey Jung
Follow @whatsonweibo
This article has been edited and altered by Manya Koetse
Spotted a mistake or want to add something? Please let us know in comments below or email us.
©2018 Whatsonweibo. All rights reserved. Do not reproduce our content without permission – you can contact us at info@whatsonweibo.com.
Can't Enter Uni Because of Daddy's Bad Social Credit – The Blacklist Story That's Got Weibo Talking
When one bad social credit listing affects the entire family.
The story of a Chinese student who got admitted to a renowned university and was then denied access because of his father's bad social credit has got Chinese social media talking.
Getting access to a top university is not easy in China's fiercely competitive education environment. For one student from Wenzhou, Zhejiang province, the results of his gaokao (national university entrance exams) were so good that he received the happy news that he was accepted into one of these renowned universities in Beijing.
Unfortunately for him, that news was later followed up with an update that he could not be accepted due to his father's bad social credit standing.
The story, which was widely covered by Chinese state media (including the English-language CGTN), received much attention on Chinese social media this week.
The young man's father, named only as 'Mr. Rao' (饶先生), ended up with a bad credit standing after owing a debt of 200,000 RMB (±US$29,900) to a local bank for more than two years. Since Rao did not succeed in paying off his debt after warnings given, he was informed by a local court that he had ended up on a so-called "lose trust list" or "black list" (失信名单/失信黑名单).
Towards a More Credit-Based Society
In 2014, China's government first announced plans of its "Social Credit System" (社会信用体系) that focuses on accumulating and integrating information, and will create measures that encourage 'trustworthy behavior' and punishes those who are not 'trustworthy.'
The system is planned to go national by 2020, and is currently implemented in various regions across the country.
However, the public black list was introduced before this time, with Chinese courts in 2013 starting to publicly give out the names online of people who have not complied with court orders.
Additionally, In 2006, the People's Bank of China (PBOC) also already began operating its own independent Credit Reference Center tasked with managing a national commercial and consumer credit reporting system. With the recent launch of the so-called 'trust alliance' (信联), a new unified platform that has access to an enormous number of personal credit data, China's credit-based society has taken another leap – with state level and commercial organizations joining forces in further developing China's credit systems.
In recent (English-language) media reports, the lines are often blurred between the Social Credit system and a number of private programs, including the Sesame Credit program. These misunderstandings partly come from the fact that both the government's plans on introducing their 'Social Credit System' (社会信用体系) and the Central Bank's endeavors to build a stronger personal credit industry (个人征信行业) were major developments in the period from 2013-2015 up to the present. Together with the 2013 judicial online blacklist, these policies and programs all built on a stronger credit-based society that governs both economic and social areas.
The 'system' (there is not one system in place yet) works through rewards and punishment mechanisms. In the city of Zhuhai, for example, individuals or companies with good credit are put on a "red list" which potentially means they could be praised online (Zhuhai credit website) or given rewards, whereas those put on the "black list" (f.e. due to serious misbehavior or promise-breaching) will be subject to various restrictions (Zhang & Zhang 2016, 157).
Those restrictions could include a halt on loans or a national ban from traveling by air or train. Since private programs and institutions also have access to the public blacklists, one company or person's bad credit status can affect their status among various platforms and for various institutions – and thus, potentially, could also influence their children's access to schools and universities.
A Controversial Measure
The recent story of Rao's son paying the price for this father's bad credit listing has stirred controversy online over children being affected by their parents' bad credit listing.
One Weibo news thread on the issue received nearly 30,000 comments.
One of the most popular remarks on the story said: "If it is okay to treat those who are associated with an offender as guilty (连坐), then it's time to punish the sons and daughters of corrupt officials, too."
"A father's bad credit has nothing to do with the children!", another Weibo user said.
But another popular comment called the measure "effective," with others agreeing: "If he waited two years to pay off his debt, he was basically asking to be on the blacklist. That his bad credit influences his child's education is just to reap what one has sown."
Various Chinese media, including financial newspaper Caijing, report that the boy's father was previously warned by the local court that his bad credit standing could potentially have consequences for his children too, but that he still did not comply with court orders to pay back his loans.
Since Rao's son has been denied access to the university as long as his father has a bad credit standing, Rao has allegedly paid back the loan and has asked the local court to be removed from the blacklist.
There are also commenters on Weibo, such as @闪电McQueen, who say the university's actions are nothing newsworthy: "This is just the [political] examination of people's records, it's not specifically about the black list, it's common knowledge, let's not make it all about that black list."
This commenter's reaction reiterates the idea that the social credit system and black list system is actually not that new, as Rogier Creemers has previously described in Foreign Policy (2016): "The Chinese Communist Party government has always sought to keep tabs on its citizens, for instance through the "personal file" (dang'an) system of a few decades ago."
Another person on Weibo says: "The people who are saying the child is the victim here should also know that people who end up on the blacklist are generally not people without money, their kids have enough opportunities, it's just that if they owe money [to the bank], paying the tuition fee for their kids would become a problem."
As for Rao's son, whether or not he will be able to start at his new university in Beijing in the new semester, now that his dad has paid off debts, is yet unclear. Some commenters say it would be better if he didn't: "Who wants to go to a university who does this anyway?"
UPDATE (7.16.18): Jeremy Daum at the ever-insighful China Law Translate blog has further looked into this case and found that the institution in this article, which has not been named in Chinese media, is most probably a private academy. He was also able to verify that this concerns a real story with no fake names used – he was able track Rao down in the public blacklist.
UPDATE: A quick review of published enforcement actions in the relevant region by @yiqinfu was able to identify the case and verify entry onto the judgment defaulters list. This includes name and address etc, so I will not post it here, but can confirm there is a real case. https://t.co/yUw5DVAqgX

— China Law Translate (@ChinaLawTransl8) 16 juli 2018
By Manya Koetse, with contributions from Miranda Barnes
Follow @whatsonweibo
References
Creemers, Rogier; Peter Marris; Samantha Hoffman; Pamela Kyle Crossley. 2016. "What Could China's 'Social Credit System' Mean for its Citizens?" Foreign Policy, Aug 15
http://foreignpolicy.com/2016/08/15/what-could-chinas-social-credit-system-mean-for-its-citizens/ [15.7.18].
Zhang, Keting, and Fang Zhang. 201. "Report on the Construction of the Social Credit System in China's Special Economic Zones." In: Yitao Tao and Yiming Yuan (eds), Annual Report on the Development of China's Special Economic Zones (2016): Blue Book of China's Special Economic Zones, 153-171. Singapore: Social Science Academic Press.
Spotted a mistake or want to add something? Please let us know in comments below or email us.
©2018 Whatsonweibo. All rights reserved. Do not reproduce our content without permission – you can contact us at info@whatsonweibo.com.
China's "University Counseling" Business: High School Graduates Pay over $7,500 to Pick the Right University
How much is the selection of the right university worth?
Many Chinese high school graduates are willing to pay a high price for the right selection of their higher education institutions. Paying over US$7,550 for so-called 'university counselors,' Chinese students pay a higher price for the process preceding their uni years than the total cost of their entire college education.
A recent news item reported by China News Agency on the growing popularity of university counseling services has generated discussions on Chinese social media.
University counseling services have become an especially hot business now that the gaokao, China's national university entrance exams, are over.
These kinds of counseling services help students to choose the best available institution based on their exam results, but they also include personality tests and the exploration of the potential future majors students could take on.
Promising to help students through big data and one-on-one consultations with experts, these university counseling agencies charge high prices. Service prices range from a few thousand Chinese Yuan to as high as ¥50,000 (±US$7,550).
According to Tsinghua University's official admission guidelines, undergraduates are generally charged a ¥5,000 (±US$642) annual tuition fee, meaning that (parents of) high school graduates are willing to pay much more for the selection process of the university than the entire 4-year tuition of the educational institute.
Unlike university applications in western countries, Chinese high school graduates generally face stricter limitations in their selection of future colleges and universities. A high mark in the gaokao does not necessarily guarantee the admission to a top-level university; competition is fierce, and, depending on the location, universities will reserve spots for students depending on their hukou (residence permit).
Chinese universities are generally not flexible in letting students switch university majors, meaning that even if students change their preferences, they are still likely to stick to their majors for their entire undergraduate life. This also adds to the weight of the decision to enroll in a certain university programme.

Real Demands

Besides the high price, there is another downside to these consulting services. According to the China News Agency, these consulting services are not always reliable, as the 'experts' and 'big-data analysis' are not always subjective but promotion-focused.
Those downsides, however, have not halted the boom in demands for these counselling services.
Statistics from the Chinese Ministry of Education show that as of 2016, there are 2596 universities and 506 different majors in China. For high school graduates and parents with little knowledge of university admissions, anyone helping them find their way in this world of higher education is of great value to them.
Chinese media outlet Jiemian notes that China's different provinces have different rules for filing university enrollment applications. In Inner Mongolia, for example, there is only one opportunity to apply for a higher education institution, for which students can select a maximum of six majors. If these students do not have an effective application strategy, they might end up going to a second-level institution.
Those with limited knowledge of Chinese higher education are also more prone to fall for one of the many scams; non-MOE-approved 'universities' take advantage of the sometimes confusing names of Chinese universities by luring students into enrolling at their fake university that has a name very similar to a top-notch one.
Although high school teachers sometimes assist their pupils in the search for the right college, they are not capable of helping all students – most students end up doing the university application themselves.

A Waste of Money?

On Weibo, this topic has sparked some discussions among users, especially those who have negative experiences with these expensive services.
"I spent a lot of money on these services," one Weibo commenter says: "Now I am in a school in a rural suburb that takes 90 minutes to get to. If I were to see that consultant again, I would beat the crap out of him."
Other users deem the services unnecessary: "I don't think it is necessary to spend that money. Asking friends and elders will be enough." Another user also does not believe in wasting money on a service that he sees no value in: "I am glad I saved that ¥50,000."
There are also people, however, who do think the booming university counseling business is helpful: " I think there are many problems people get to deal with at university. If you're clueless, it is good to get other people's advice."
"There are many universities in China. It might be easy for those who can make it to the '985/211' [the top level schools in the PRC], but not for the others," another commenter suggests.
Both sides have a clear point: some counseling services may not be reliable and will not offer their clients the best university selection. But there are also those who actually benefit from getting their advice. In the end, it is the university counseling companies that get the short end of the stick.
By Chauncey Jung
Follow @whatsonweibo
Spotted a mistake or want to add something? Please let us know in comments below or email us.
©2018 Whatsonweibo. All rights reserved. Do not reproduce our content without permission – you can contact us at info@whatsonweibo.com.