"This is Swedish Police!" – Sweden under Fire in China for "Brutal Abuse" of Chinese Tourists
Swedish police drag Chinese tourists out of hotel – some call them thugs, but others say it is the Chinese who were misbehaving.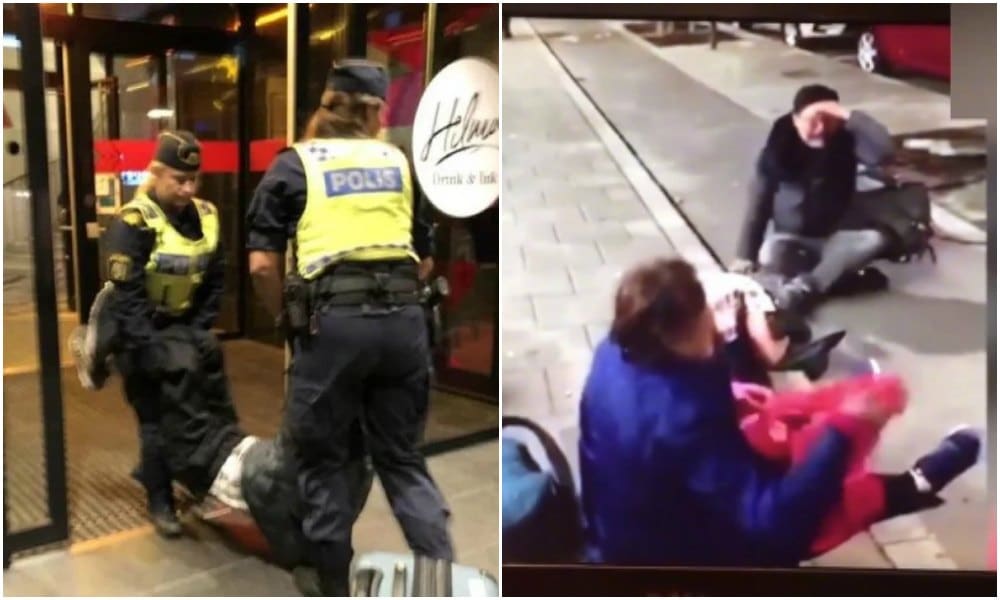 The maltreatment of a Chinese family in Stockholm earlier this month has ignited major discussions on Chinese social media, and has led to the Chinese Embassy in Sweden issuing a safety alert for Chinese tourists visiting the country. Many netizens are skeptical of the trending incident.
Over the past few days, an incident that took place in Sweden earlier this month has attracted major attention on Chinese social media.
Bystander videos going around Chinese social media show how a Chinese man is dragged out of a hotel by Swedish police, and later shows a woman and young man are crying on the street outside of a hotel (see embedded video below).
According to various Chinese news reports, the incident involves the Chinese family Zeng (曾), a younger man and his two senior parents, that was traveling to Sweden's capital Stockholm on September 2nd.
When they arrived at their hotel, the Generator Stockholm hostel, it was not yet check-in time. The family suggested they would pay a fee to the hotel as long as they could wait in the lobby until they could check in to their hotel rooms. Zeng's father reportedly is 67 years old and suffers from cardiovascular disease.
Sina News reports that the hotel refused the family's request and even called the police to have the Chinese tourists removed from their lobby in the middle of the night, though both parents claimed they were feeling sick.
State media outlet ECNS writes that the police also denied the family's request to stay at the hotel, and dragged his father out of the lobby and threw him to the ground outside.
The man later claimed on Chinese social media that his father consequently lost consciousness and that his body started twitching. Zeng and his parents were allegedly taken away from the hotel in a police car and were dropped off near a cemetery in the city's suburbs.
The family then received help from bystanders in getting back to the city center, where they reported the incident to the Chinese embassy.
THE AFTERMATH
"This has inevitably raised questions over Sweden's ability to protect human rights and conduct law enforcement in a civilized manner."
Chinese media are greatly criticizing Swedish authorities for how they have handled the incident; both that night and during the aftermath. Swedish authorities did not respond to the issue for two weeks after it occurred.
On Friday, September 14, the Chinese Embassy in Sweden issued a safety alert, stating that recently, there are more cases where Chinese tourists have been victims of theft and robbery, as well as cases where victims were treated poorly by Swedish police.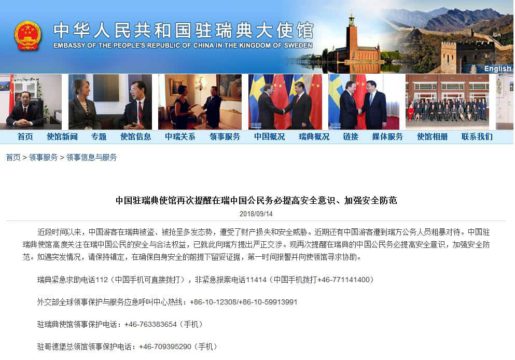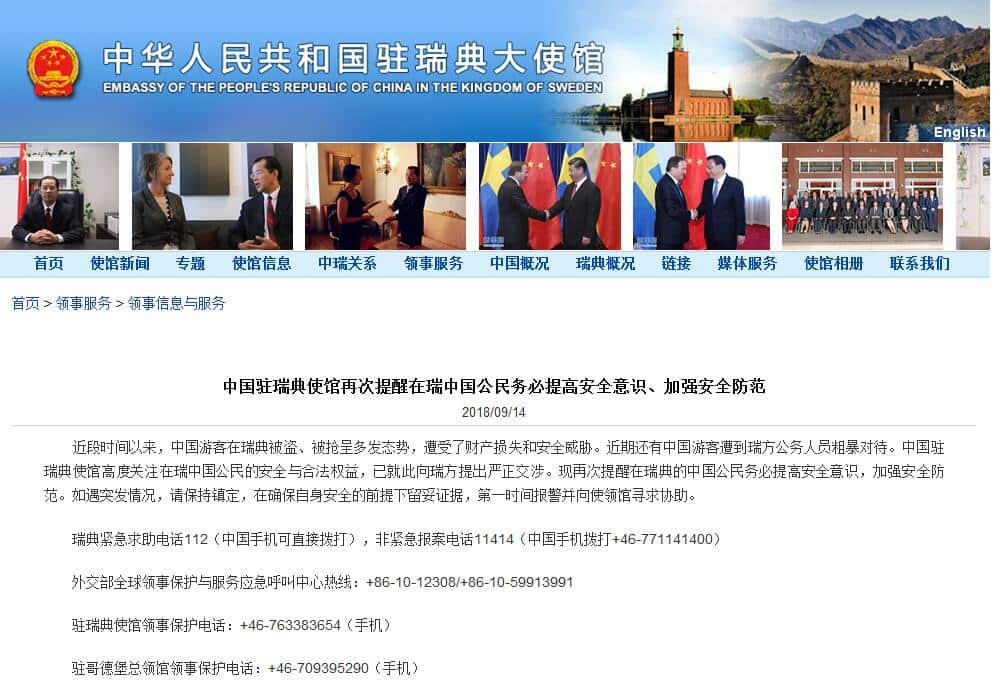 A day later, the Chinese Embassy in Sweden also issued a statement regarding the "brutal abuse of Chinese tourists by Swedish police," writing:
"Around midnight on 2 September, three Chinese tourists were brutally abused by the Swedish police. The Chinese Embassy in Sweden is deeply appalled and angered by what happened and strongly condemns the behavior of the Swedish police. The Embassy and Ministry of Foreign Affairs of China have made solemn representations to the Swedish government respectively in Stockholm and Beijing, stressing that what the police had done severely endangered the life and violated the basic human rights of the Chinese citizens. We urged the Swedish government to conduct thorough and immediate investigation, and respond to the Chinese citizens' requests for punishment, apology and compensation in time. We cannot understand why the Swedish side has not given us any feedback. We hope that the Swedish side will handle the case in accordance with law, and urge the Swedish side again to take immediate actions to protect the safety and legitimate rights and interests of Chinese citizens in Sweden."
Swedish media first reported the incident on Saturday, September 15 (Aftonbladet). On Sunday, September 16, the Swedish Embassy finally responded to the issue.  A statement on their official Weibo account said that the Embassy is aware of the case and is assigning a special prosecutor to investigate the case and to determine whether or not the Swedish police have used improper violence. As clarified by a spokesperson of the Embassy of Sweden to What's on Weibo: "The Embassy has not assigned the special prosecutor, as you can read in our statement. Instead, the prosecutor is assigned automatically every time an incident of alleged police misconduct is reported."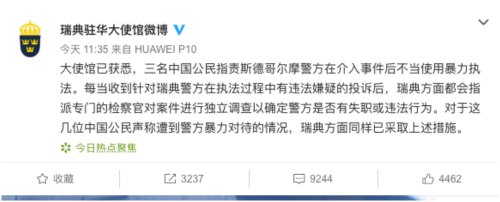 According to a column on the website of English-language Chinese state broadcaster CGTN, the incident is now also one about a Swedish human rights protection:
"(..) the way the local police in downtown Stockholm conducted themselves during the incident in a city hotel and on the streets on September 2 has inevitably raised questions over Sweden's ability to protect human rights and conduct law enforcement in a civilized manner."
SOCIAL MEDIA RESPONSES
"Is this the police or the criminal underworld?"
On Chinese social media, responses to the incident have been mixed. Many people feel that the family unnecessarily "made a big scene," and condemn the young Mr. Zeng for "falling down on the ground as a crying baby." They also say that these Chinese tourists are a "disgrace": "They might as well have buried them at the graveyard," some commenters write.
But there are also those who do not understand why the Swedish police handled the case in this way, taking the family in a police car and dropping them on a suburban curbside some six kilometers away, instead of bringing them to the police station or another hotel for the night.
"Perhaps the behavior of these three Chinese citizens was not very appropriate, but two of them are old people, they are not familiar with the area. To throw them out in the early morning, miles away at a cemetery where there are no hotels or stores, is really incorrect behavior by the Swedish police."
One well-known law blogger (@易辩任煜) wrote on Weibo: "It's ok to enforce law and to bring people back to the police station and to give them a fine or something like that, but to throw them out like that? Is this the police or the criminal underworld?
There are also Chinese (micro-) bloggers who claim that the fact that this incident is making headlines in Chinese state media now relates to the Dalai Lama's recent visit to Sweden, writing: "China just needs a reason to put pressure on them."
"This is all about the visit of the Dalai Lama Sweden on the 12th," many others claim.
By now, the hashtag "Chinese Tourists Maltreated by Swedish Police" (#中国游客遭瑞典警察粗暴对待#) has received more than 100 million views.
This is not the first time the maltreatment of Chinese tourists abroad receives mass attention in Chinese media. In January of 2016, pictures and a video of two Dutch boys emptying boxes of milk powder over Chinese tourists in Amsterdam also ignited major discussions.
In 2017, a video of a Chinese-looking man being dragged out of an overbooked United Airlines flight also went viral online in China, attracting tens of thousands of outraged posts on the discrimination of Chinese abroad. It later turned out that the passenger involved in the incident, now called the "United Express Flight 3411 Incident", was not a Chinese citizen, but a 69-year-old Asian-American doctor from Kentucky.
About this incident, some Chinese social media users say that they think it will affect international relations between China and Sweden.
Update: since this original article was published on Sunday (Sept 16), this news item has made international headlines. For the latest developments and news facts in this matter check, for example, this Washington Post article.
By Manya Koetse
With contributions by Miranda Barnes
Follow @whatsonweibo
Spotted a mistake or want to add something? Please let us know in comments below or email us.
©2018 Whatsonweibo. All rights reserved. Do not reproduce our content without permission – you can contact us at info@whatsonweibo.com.
How China's New Anti-Crime Policy Made a Hunt for Two Jailbreak Fugitives Go Viral
The CPC actively involves and rewards citizens in their new policy on combatting crimes.
In early October of 2018, a major manhunt on two jailbreak fugitives from a Liaoning prison dominated the news for days and caused a sensation on the Chinese internet. With the 100,000 yuan (US$14,500) reward notice going viral, it marked the first grand online exposure of the Chinese government's policy to involve its citizens in combatting crime actively, but many netizens question how safe it is for citizens to meddle in criminal affairs.
News about a prison escape of two convicted criminals captured the attention of netizens for days in the first week of October, with the fugitives' background information, the thrilling chase, and the 100,000 yuan (US$14,500) reward notice all turning out to be the perfect ingredients to keep people hooked on the story, that also happened to occur during the National Day holiday.
The incident was extra special because it was the first major case in which the Chinese government's 'new' method on battling crime by actively involving the public, received massive attention.
Timeline of the Chase
* Thursday, October 4th, morning:
News comes out that two prisoners have managed to escape from Lingyuan Third Prison in Liaoning province. According to the Beijing Youth Daily, the two criminals stole prison guards' uniforms and used the attached security cards to get out of the building.
The fugitives, two men by the names of Zhang Guilin (33, 张贵林) and Wang Lei (39, 王磊), were both sentenced to life imprisonment for, respectively, armed robbery and the involvement in kidnapping and murder of an 11-year-old child. Zhang, also nicknamed "Flying Zhang," gained a reputation for previous prison escapes in 2011 and 2012; the October jailbreak marks his third successful prison escape.
*October 4th, morning:
Soon after the criminals escaped from prison, the Lingyuan Municipal Public Security Bureau issues a notice sharing the identity of the fugitives, asking the public to provide clues about their whereabouts. They also announce the clue leading to their arrest will be rewarded with a staggering US$14,500.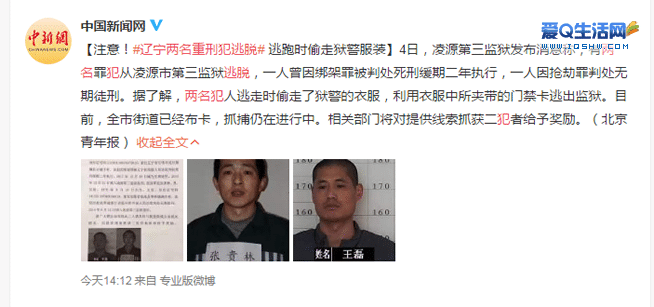 The news quickly spreads on Chinese social media, and within no time, the hashtag "Two heavy criminals escaped from prison" #两名重刑犯逃脱# goes viral and receives 170 million views.
*October 4th, 11 am:
The first tip-off: Beijing News publishes crucial surveillance camera footage that was given to police by a small shop in Songzhangzi, only 20 kilometers away from Lingyuan Third prison. It shows the two fugitives buying some food, beverages, and cigarettes, just hours after their escape from prison.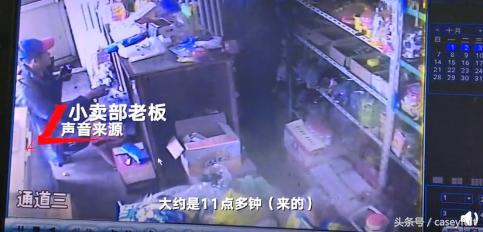 *October 4th, 5 pm:
Wang is spotted at another shop in a village in Pingquan County, in neighboring Hebei province, where he stays for about 10 minutes to buy liquor, beer, mineral water, and sausages.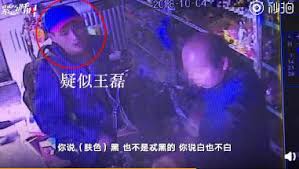 Police rush to the kiosk shortly after. According to China Daily, about 800 police quickly arrive and nearly 1,000 villagers assist in the manhunt, searching the area from north to south.
*Friday, October 5th:
On the second day of the nationwide manhunt, a fatal crash occurs with a police car involved in the chase for the fugitives. The police car, with four police officers from the Hebei Police Department, was on its way to catch the breakers when it crashed into a tree. Two police officers did not survive the crash.
On Friday night, 430 officers are dispatched to Pingquan, along with 100 prison guards.
*Saturday afternoon, October 6th:
Within 50 hours of their escape, Wang and Zhang are captured. Police in the Hebei city of Chengde dispatch drones to scour the area and spot the convicts in the village of Taitoushan.
According to news reports, Zhang is arrested when he stops to ask a villager for directions. His fellow escapee is caught 20 minutes later.
The hashtags "Two escaped criminals from Liaoning are caught" #逃犯落网视频曝光# and "Video showing arrested fugitives" 逃犯落网视频曝光 are viewed millions of times.
Authorities in Liaoning launch an investigation, and the warden of Lingyuan Prison is dismissed from his position.
"Public Reporting on Crime"
The Lingyuan jailbreak fugitive case is the first example of a reward notice going viral since the PRC government launched a new trial policy in combatting corruption and other illegal practices earlier in 2018.
The 'new' policy is called "Public Reporting on Crime" (群众举报黑恶势力违法犯罪), and aims at actively involving and rewarding citizens in providing information about the whereabouts of criminals.
The policy was featured in various media reports in summer of 2018, as a method introduced by the State Council of the People's Republic of China, the Supreme's People's Court, Ministry of Public Security, and the Ministry of Justice.
The policy defines 11 categories in which citizens can report illegal practices, including the misuse of (political) power, illegal gambling practices, fraud in various industry sectors, and extortion.
The official document in which the role of the public in the combat of illegal activities was especially stressed, was already issued by authorities in February of 2018 ("关于依法严厉打击黑恶势力违法犯罪的通告", see Pkulaw.cn).
Amongst the first provinces to experiment with the police are, among others, Henan province, Hainan, and Liaoning province, where the method seems fruitful. In August, the Hainan Police department issued a notice asking for the public's help in finding 17 fugitives. Attached to the notice where their names, addresses, and photographs. Within two days, 11 of these 17 fugitives were caught by the police.
In Liaoning province, the police started a campaign providing digital and non-digital information about the new policy and the criminals they were looking for. According to local media, they soon received 300 clues and 158 fugitives who turned themselves in.
Possibly as a result of the first successes of the trial policy, the Ministry of Public Security of the People's Republic of China, wrote an extension on the policy concerning drugs. On the official website of the Ministry, they published a list of rewards for providing information about 'drugs practices'. On the list, it says precisely what people can earn for providing clues about several kinds of drugs, where clues relating to soft drugs such as marihuana will receive a lower reward than those relating to hard drugs such as heroin.
State media have been actively propagating the measure in 2018, also reporting on occasions where people are rewarded for giving clues to the police. To protect their identity, these people will commonly wear masks – sometimes even cute panda ones.
Scepticism on Safety
Wearing panda masks or not, there is ample skepticism online on whether or not providing information to the police is a dangerous move for those involved.
In the case of the Liaoning fugitives, many worried about the identity of the shopkeepers who provided the police with clues and security footage after the fugitives had visited their shops.
After the first sighting of the two criminals in the small store in Songzhangzi, Chinese media reported details on the shop and its owner, which led to much criticism on Weibo. Some commenters wrote: "You brain-dead media, how can you bring out information like this, and who is going to take responsibility when people retaliate against this man?"
Many others expressed their worries, saying: "Isn't is dangerous to expose the boss [of the shop] like this?", and "Please do protect this shop owner, thank you!"
Other netizens wrote: "After seeing this news, I know for sure, I will never report on crimes. It's too dangerous, I don't want to die."
The public reporting policy states that the personal safety and confidentiality of 'whistleblowers' is guaranteed and that those who turn against these people will be punished severely. According to a post on Weibo by Beijing News, the small shopkeeper in question also received 24-hour police protection in front of his shop.
Concerning the case of the two escaped prisoners, so far, it is not yet clear if the main reward has been given out to citizens for giving the main clue that led to their recapture.
What does seem evident in this case, is that people, despite some worries about their safety, are more than willing to report illegal practices to the police when they know there might be a big reward waiting for them.
By Gabi Verberg and Manya Koetse
Follow @whatsonweibo
Spotted a mistake or want to add something? Please let us know in comments below or email us.
©2018 Whatsonweibo. All rights reserved. Do not reproduce our content without permission – you can contact us at info@whatsonweibo.com.
Beyond Four Walls: 'Home' and 'Unhomeliness' in a Rapidly Transforming China
About changing concepts of home in China: from 'home is where my pig is' to 'has your frog returned home yet?'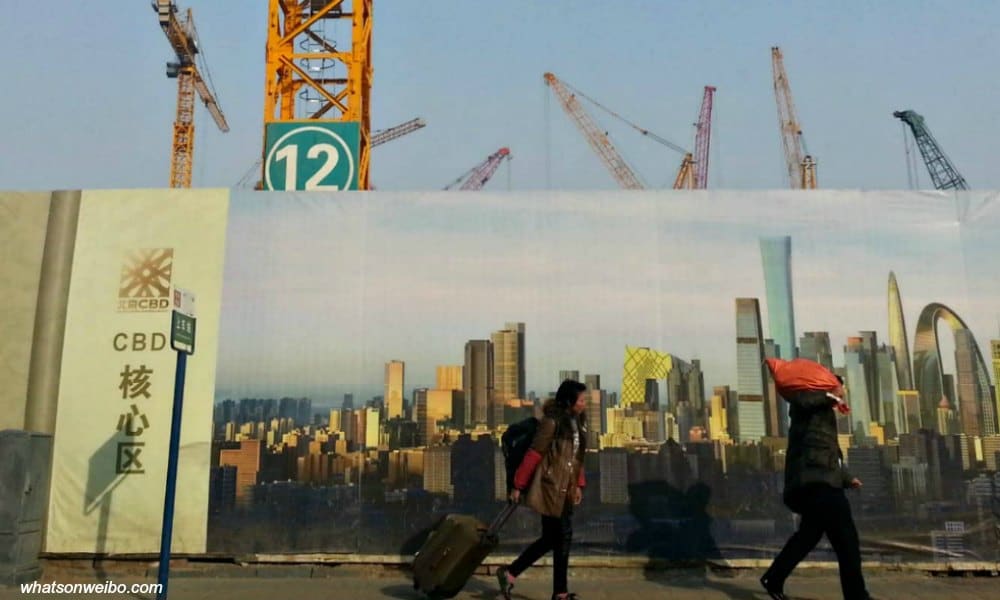 First published
A new global research report by IKEA has found that, increasingly, the feeling of home is no longer restricted to the four walls of residential buildings. In China, the study finds, approximately one-third of people in cities feel more 'at home' at other places than the space they live in. How can we translate these findings into present-day China? An overview by What's on Weibo editor Manya Koetse.
According to a global research report released by IKEA Group this week, traditional ideas of where people "feel at home" are drastically changing. The annual study on international living trends found that 35% of people feel more at home elsewhere than the place where they live, with a staggering 29% of people not feeling at home where they live at all.
The findings show remarkable changes associated with "feeling at home" compared to earlier annual reports, indicating that demographic, technological, and cultural forces are rapidly transforming conceptions of "home" in various places across the world.
China is part of this trend. The report, undertaken by London-based agency C Space, is based on studies that were conducted from March to August of 2018. Besides China, a large-scale survey was undertaken in 21 other countries among 22,854 respondents (11,325 from urban areas), and qualitative research was conducted in China, US, Germany, Denmark, Italy, and the UK.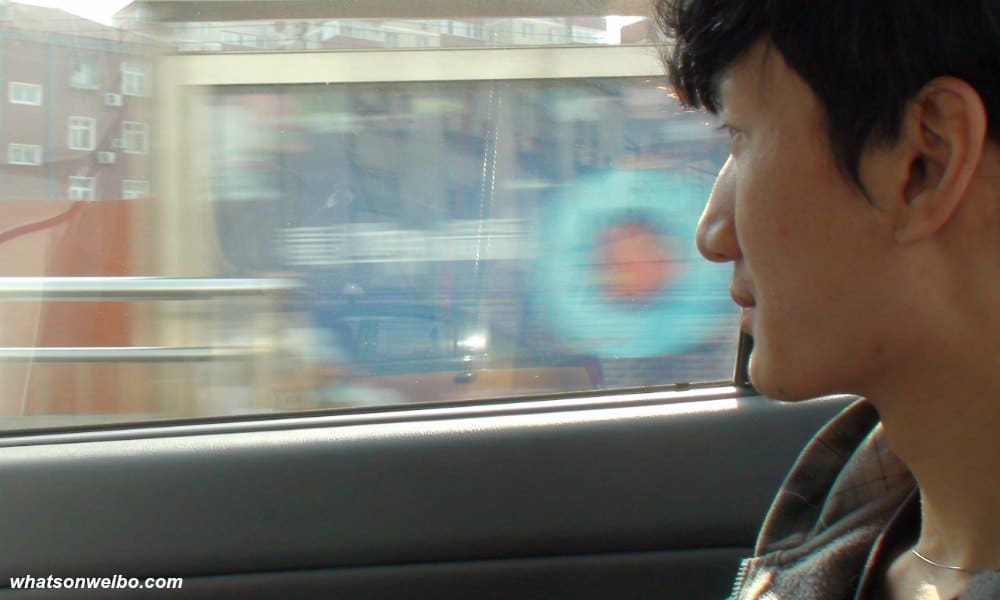 The results of the study might resonate with what many experience in Europe and the US, but also with the societal changes they have seen in China over the past decade – although the reasons for these developments are different between these places.
These are transformations that do not only become clear from the trends on Chinese social media, but, for me personally, also from the lives of friends and social circles in Beijing and Shanghai, and the rapid pace in which I have seen them moving from residence to residence, from neighborhood to neighborhood, and sometimes even from city to city, often with seemingly little emotional attachment to the houses where they have lived for years as urban dwellers. Where is that place called 'home'?
Going "Home" in China
"'Home' is much more than the place where people sleep at night: it is there where the (grand)mother cooks."
Every year at the time of China's Spring Festival, there is one hashtag that always goes trending on Chinese social media platform Weibo: "Return Home", #回家, Huíjiā.
For many people, the Spring Festival is the only time of the year they can return to their hometowns to celebrate the new year with their family and friends. As many now know, the travel season leading up to the Festival, the chūnyùn (春运), is the biggest annual mass migration of the world. Many of China's urban areas become deserted as people return to their native provinces to be 'home.'
The word for 'home' in Chinese, '家' jiā, means both 'home' and 'family.' The character has a history of some 3000 years; first depicting a house with a pig inside, as this article explains, and then evolving into the character it is today (see image below). In its earliest meanings, the 'home' was simply there where pigs were raised and where family activities took place; there where the family house was situated.
This duality in the concept of jiā still plays an important role in how the meaning of 'home' is understood in China today. In a small-scale survey that was done for the dissertation research of Wei Zhao (2015), for example, participants had various answers to the simple question of "what is jiā?", some describing it as a space or place, some seeing it as an abstract concept (representing, amongst others, 'harmony'), with others understanding it as the (extended) family itself (Zhao 2015, 125).
A simple search for the words 'going home' (回家) on Chinese social media today comes up with dozens of photos of mostly food, with Weibo users describing 'home' as that place where they eat the traditional home cooking from their family, also suggesting that 'home' is much more than the place where people sleep at night: it is there where the (grand)mother cooks, it is there where the land is, it is there where the family residence might have been situated for decades.
According to Wei Zhao's research, people from Yanxia, a town in the Zhejiang region of China, often associate 'home' with the various forms of land, both in the present and past, that is tied to where their families live or lived. It is a "place-bound relationship," Zhao writes (2015, 123), "enriched with social meanings," where the land incorporates those places that "support various kinds of daily activities, help construct social relations, and sustain cultural performances."
Many people who have moved from outside their family homes or villages to far away places or cities are no longer physically connected with this concept of 'home', drastically impacting how people experience "feelings of home" and how it relates to the places where they actually reside.
Unhomeliness and the City
"36% of Chinese renters get a sense of "belonging" from other spaces outside their residential home."
Due to many different factors, including the privatization of farmland, surplus of rural labor, and increased labor demands in the city, China is currently seeing the largest rural-to-urban migration in human history.
Rural residents who have lived in the same homes for decades are being relocated to new settlements, old houses are being demolished, and China's so-called 'ghost cities' are rapidly coming to life.
For the first time in Chinese history, more people are living in China's cities than they do in the countryside. In 2020, it is expected that 60 percent of the Chinese population will be permanent urban residents (Xinhua 2018).
A significant percentage of China's population is what is called a "floating population," China's internal migratory population; those who are living as temporary residents or 'migrant workers' in the cities (without changes in their 'hukou' or household registration). According to data provided by Chinese state media, that number of people is expected to hit 291 million in 2020 (Xinhua 2015).
As described by Yang et al (2014) in their article in Transforming Chinese Cities, there is a gap in living conditions between household residents and the 'floating' population, with the latter holding an 11,4 square meter size residence per capita, compared to 27.1 square meter per capita for the household population. Besides size, the 'floating' population also has less access to the more basic necessities in a home such as a kitchen (more than 45% has no kitchen) or flushing toilet (nearly 75% have to do without) (Yang et al 2014, 71).
In cities such as Beijing, underground nuclear bunkers from the Cold War era still serve as a residence to many urban dwellers. According to some sources, there are still one million people living in this underground world in Beijing alone, often dealing with poor air circulation and tiny living spaces with no daylight.
Although the nuclear bunkers are an extreme example, the living conditions of many people in Chinese cities, whether they are migrant workers, students, or those who have restricted access to urban housing, are far from ideal; think of overcrowdedness and a lack of what many would consider basic conditions for comfortable housing.
So, without even considering the idea that the perfect concept of "home" might always be a place outside of one's (urban) residence, it perhaps does not come as a surprise that many people do not always feel at home at all in their own house.
In China, the IKEA-commissioned study* found that 32% of those surveyed felt more at home outside their residential home, and that 36% of Chinese renters get a sense of "belonging" from other spaces than where they actually live (in other physical and/or virtual environments).* Since 89% of those surveyed lives in an urban location, these sentiments are especially telling about experiences of 'home' in the city.
A Sense of Belonging
"I felt that my house was the place I rented, but it was not my 'home'."
When residences are experienced as "unhomely," it could mean many things. There might be a lack of comfort, a lacking sense of community, a feeling of security/privacy that is not there, or a missing feeling of 'rootedness' in the place where one lives.
The findings of IKEA's study in China perhaps makes more sense when one considers the study's results that found that 62% of those surveyed believe that community is an extension of the residential home. This strengthens the idea that 'home' is not the four walls one lives in, but an emotional landscape that is influenced by all kinds of factors.
An interesting 2013 study by scholar Xiaobo Su argues that ideas of 'home' are made through social and emotional relationships, and that 'houses' in China are often perceived as exchangeable commodities to which one does not necessarily have these emotional connections, whereas 'home' is a sphere where one feels free and at ease.
People, therefore, go looking for that 'experience of home' through other ways; it might be through friends and social events, through (digital) communities, or through tourism: traveling to those places where people do get that sense of home. Su (2013) suggests that Chinese domestic tourists consume the idea of 'home' by visiting (heritage) tourist sites that embody that image for them.
Earlier this year, the huge success of the mobile 'Travelling Frog' game in China became a media hype. The game revolves around the travels of a little frog who lives in a stone cave and goes on frequent trips. Although perhaps far-fetched, some Chinese media tied the success of this game to a need for belonging and family, saying that higher house prices, intensive jobs, and the collapse of the pyramid family structure had led to a decline in young people starting their own family and homes; and started looking to these type of games or digital communities to fill the gap. "Has your frog returned home yet?" even became somewhat of a common question among young people in January of 2018.
Besides the rise of various online communities, the rapid digitalization of China has also made it easier for families and friends to stay in touch through social media and messaging apps. This also brought about that physical proximity to relatives has become less of a priority now than in earlier (nondigital) times (Tao et al 2014, 197).
A China Merchants Bank commercial that went viral in late 2017 titled 'The world is no bigger than a fried tomato omelette' ("世界再大,大不过一盘番茄炒蛋") shows how a mother helps her son to cook a home-made dish via mobile video while he is studying abroad. The viral campaign hit home for many exchange students.
Despite the fact that the dwellings of many people in present-day China lack space, privacy, or comfort, it does not necessarily mean that those living in these houses are dissatisfied. An interesting study by Li Tao et al (2014) on residential satisfaction of migrant workers in China found that kinship, family, friendship, and mobility, all play a significant role in how people feel about how they live. Additionally, instead of a focus on the sizes of their houses or the privacy they have, there is also a heightened focus on the low costs and transportation convenience of where one lives.
The fact that 'home' is an ever-changing and hot topic also becomes evident from the many posts on Chinese social media dedicated to this issue. As said, food is a recurring topic in these posts. On October 9, one Weibo netizen named Zhang Xizi (@张西子) wrote:
"What do you think is 'home'? For me, at one time, I felt that my house was the place I rented, but it was not my 'home'. If I was hungry, I would just order something, and I hardly touched my stove at all. But then I started feeling that although I rent my home, it is still my life. Home should be a place with character. And then I started to enjoy cooking, especially when other people enjoy the food with me, is when I feel happy. So feel welcome to come to my home."
Another Weibo user nicknamed 'I love rabbits' (@我爱兔子) writes:
"What is home? It's a person's most private space. What is happiness? It is the warmth one feels with every dish at the dining table after returning home."
A person named Sofo concludes: "What home is? If the people I love are there, then even a tent on the beach could be my home."
Interested to read more relating to this topic?
* Viral Merchants Bank Commercial Hits Close to Home for Chinese Students Abroad
* Chinese Ghost Cities Coming to Life
* Chinese Media Ascribe 'Traveling Frog' Game Hype to China's Low Birth Rates
* "I Am Fan Yusu" – Beijing Migrant Worker's Writing Takes Chinese Internet by Storm
Find the IKEA Life at Home report here.
By Manya Koetse
Follow @whatsonweibo
* Note that not all of the market specific results have been publicly issued by IKEA. What's on Weibo author has access to the market-specific results. Please email us if you have further questions about this data and the report's findings or contact IKEA.
* The report says that "36% of renters look to other physical spaces or even virtual environments for a sense of belonging"; for Chinese home-owners, this is 22%.
References
IKEA. 2018. Beyond Four Walls: Life at Home Report 2018. October. https://lifeathome.ikea.com/home/ [9.10.18].
Su, Xiaobo. 2014. "Tourism, Modernity and the Consumption of Home in China." Transactions of the Institute of British Geographers, 39(1): 50-61.
Tao, Li, Francis K.W. Wong, Eddie C.M. Hui. 2014. "Residential Satisfaction of Migrant Workers in China: A Case Study of Shenzhen." Habitat International 42:193–202
Xinhua. 2015. "China's floating population to hit 291 million in 2020: report." China Daily, Nov 12. http://www.chinadaily.com.cn/business/2015-11/12/content_22438127.htm [9.10.18].
Xinhua. 2018. "Urbanization rate of China's agricultural province exceeds 50 pct." Xinhua, March 5. http://www.xinhuanet.com/english/2018-03/05/c_137017957.htm [9.10.18].
Yang, Shangguan, Chunlan Wang and Mark Y. Wang.2014."Synergistic Evolution of Shanghai Urban Economic Development Transition and Social Spatial Structure." In Transforming Chinese Cities, Mark Y. Wang, Pookong Kee, and Jia Gao (eds). London: Routledge.
Zhao, Wei. 2015. "Home Beyond the House: The Meaning of Home for People Living in Yanxia Village, Zhejiang Province, China." Dissertation / Degree of Doctor of Philosophy in Architecture, Graduate College of the University of Illinois at Urbana-Champaign.
Spotted a mistake or want to add something? Please let us know in comments below or email us.
©2018 Whatsonweibo. All rights reserved. Do not reproduce our content without permission – you can contact us at info@whatsonweibo.com