"This is Swedish Police!" – Sweden under Fire in China for "Brutal Abuse" of Chinese Tourists
Swedish police drag Chinese tourists out of hotel – some call them thugs, but others say it is the Chinese who were misbehaving.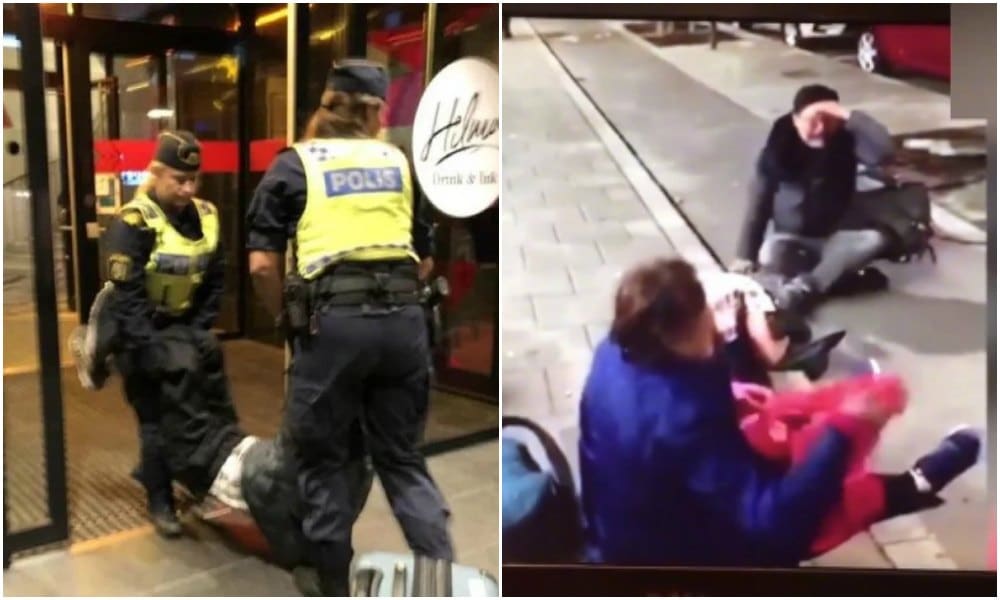 The maltreatment of a Chinese family in Stockholm earlier this month has ignited major discussions on Chinese social media, and has led to the Chinese Embassy in Sweden issuing a safety alert for Chinese tourists visiting the country. Many netizens are skeptical of the trending incident.
Over the past few days, an incident that took place in Sweden earlier this month has attracted major attention on Chinese social media.
Bystander videos going around Chinese social media show how a Chinese man is dragged out of a hotel by Swedish police, and later shows a woman and young man are crying on the street outside of a hotel (see embedded video below).
According to various Chinese news reports, the incident involves the Chinese family Zeng (曾), a younger man and his two senior parents, that was traveling to Sweden's capital Stockholm on September 2nd.
When they arrived at their hotel, the Generator Stockholm hostel, it was not yet check-in time. The family suggested they would pay a fee to the hotel as long as they could wait in the lobby until they could check in to their hotel rooms. Zeng's father reportedly is 67 years old and suffers from cardiovascular disease.
Sina News reports that the hotel refused the family's request and even called the police to have the Chinese tourists removed from their lobby in the middle of the night, though both parents claimed they were feeling sick.
State media outlet ECNS writes that the police also denied the family's request to stay at the hotel, and dragged his father out of the lobby and threw him to the ground outside.
The man later claimed on Chinese social media that his father consequently lost consciousness and that his body started twitching. Zeng and his parents were allegedly taken away from the hotel in a police car and were dropped off near a cemetery in the city's suburbs.
The family then received help from bystanders in getting back to the city center, where they reported the incident to the Chinese embassy.
THE AFTERMATH
"This has inevitably raised questions over Sweden's ability to protect human rights and conduct law enforcement in a civilized manner."
Chinese media are greatly criticizing Swedish authorities for how they have handled the incident; both that night and during the aftermath. Swedish authorities did not respond to the issue for two weeks after it occurred.
On Friday, September 14, the Chinese Embassy in Sweden issued a safety alert, stating that recently, there are more cases where Chinese tourists have been victims of theft and robbery, as well as cases where victims were treated poorly by Swedish police.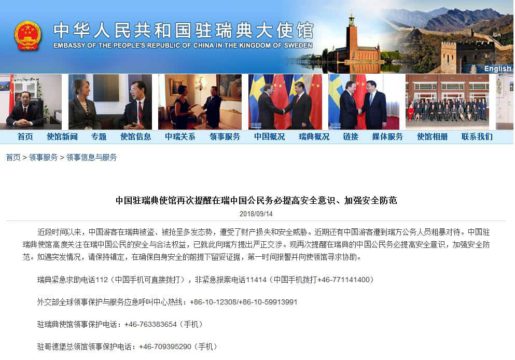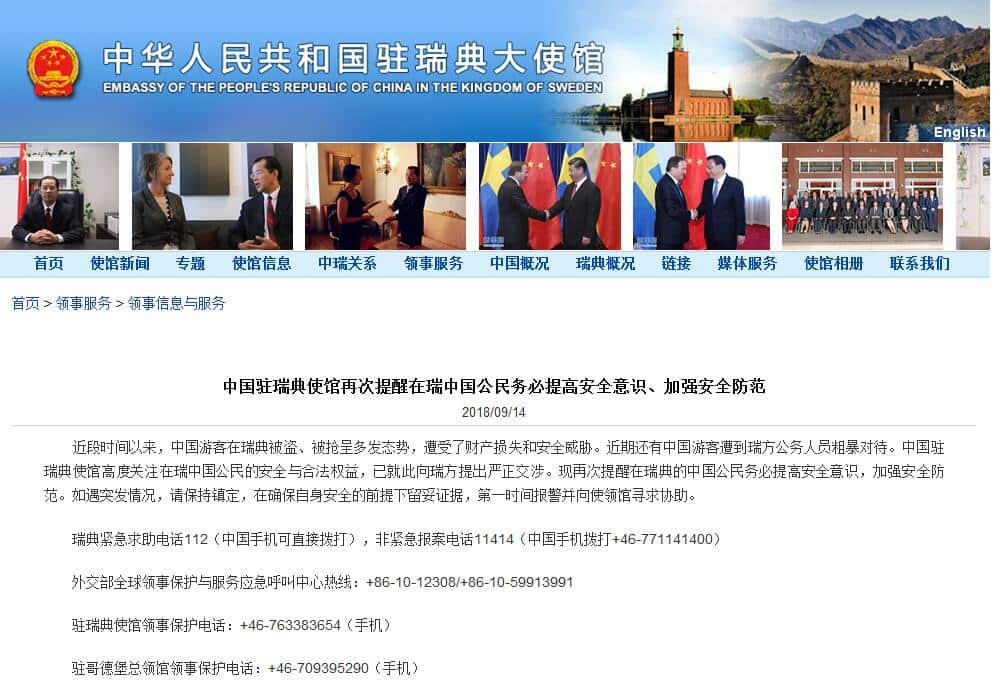 A day later, the Chinese Embassy in Sweden also issued a statement regarding the "brutal abuse of Chinese tourists by Swedish police," writing:
"Around midnight on 2 September, three Chinese tourists were brutally abused by the Swedish police. The Chinese Embassy in Sweden is deeply appalled and angered by what happened and strongly condemns the behavior of the Swedish police. The Embassy and Ministry of Foreign Affairs of China have made solemn representations to the Swedish government respectively in Stockholm and Beijing, stressing that what the police had done severely endangered the life and violated the basic human rights of the Chinese citizens. We urged the Swedish government to conduct thorough and immediate investigation, and respond to the Chinese citizens' requests for punishment, apology and compensation in time. We cannot understand why the Swedish side has not given us any feedback. We hope that the Swedish side will handle the case in accordance with law, and urge the Swedish side again to take immediate actions to protect the safety and legitimate rights and interests of Chinese citizens in Sweden."
Swedish media first reported the incident on Saturday, September 15 (Aftonbladet). On Sunday, September 16, the Swedish Embassy finally responded to the issue.  A statement on their official Weibo account said that the Embassy is aware of the case and is assigning a special prosecutor to investigate the case and to determine whether or not the Swedish police have used improper violence. As clarified by a spokesperson of the Embassy of Sweden to What's on Weibo: "The Embassy has not assigned the special prosecutor, as you can read in our statement. Instead, the prosecutor is assigned automatically every time an incident of alleged police misconduct is reported."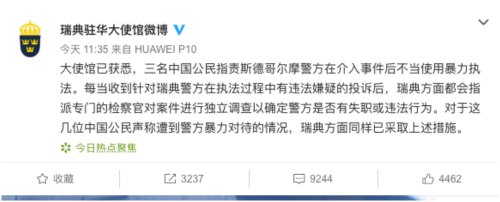 According to a column on the website of English-language Chinese state broadcaster CGTN, the incident is now also one about a Swedish human rights protection:
"(..) the way the local police in downtown Stockholm conducted themselves during the incident in a city hotel and on the streets on September 2 has inevitably raised questions over Sweden's ability to protect human rights and conduct law enforcement in a civilized manner."
SOCIAL MEDIA RESPONSES
"Is this the police or the criminal underworld?"
On Chinese social media, responses to the incident have been mixed. Many people feel that the family unnecessarily "made a big scene," and condemn the young Mr. Zeng for "falling down on the ground as a crying baby." They also say that these Chinese tourists are a "disgrace": "They might as well have buried them at the graveyard," some commenters write.
But there are also those who do not understand why the Swedish police handled the case in this way, taking the family in a police car and dropping them on a suburban curbside some six kilometers away, instead of bringing them to the police station or another hotel for the night.
"Perhaps the behavior of these three Chinese citizens was not very appropriate, but two of them are old people, they are not familiar with the area. To throw them out in the early morning, miles away at a cemetery where there are no hotels or stores, is really incorrect behavior by the Swedish police."
One well-known law blogger (@易辩任煜) wrote on Weibo: "It's ok to enforce law and to bring people back to the police station and to give them a fine or something like that, but to throw them out like that? Is this the police or the criminal underworld?
There are also Chinese (micro-) bloggers who claim that the fact that this incident is making headlines in Chinese state media now relates to the Dalai Lama's recent visit to Sweden, writing: "China just needs a reason to put pressure on them."
"This is all about the visit of the Dalai Lama Sweden on the 12th," many others claim.
By now, the hashtag "Chinese Tourists Maltreated by Swedish Police" (#中国游客遭瑞典警察粗暴对待#) has received more than 100 million views.
This is not the first time the maltreatment of Chinese tourists abroad receives mass attention in Chinese media. In January of 2016, pictures and a video of two Dutch boys emptying boxes of milk powder over Chinese tourists in Amsterdam also ignited major discussions.
In 2017, a video of a Chinese-looking man being dragged out of an overbooked United Airlines flight also went viral online in China, attracting tens of thousands of outraged posts on the discrimination of Chinese abroad. It later turned out that the passenger involved in the incident, now called the "United Express Flight 3411 Incident", was not a Chinese citizen, but a 69-year-old Asian-American doctor from Kentucky.
About this incident, some Chinese social media users say that they think it will affect international relations between China and Sweden.
Update: since this original article was published on Sunday (Sept 16), this news item has made international headlines. For the latest developments and news facts in this matter check, for example, this Washington Post article.
By Manya Koetse
With contributions by Miranda Barnes
Follow @whatsonweibo
Spotted a mistake or want to add something? Please let us know in comments below or email us.
©2018 Whatsonweibo. All rights reserved. Do not reproduce our content without permission – you can contact us at info@whatsonweibo.com.
Exchange Student to Be Deported from China for Harassing Young Woman at University
An exchange student studying at the Hebei University of Engineering has been expelled and will soon be deported after harassing a female student.
An exchange student from Pakistan who was studying at the Hebei University of Engineering (河北工程大学) has been expelled and detained after harassing a female student at the same university.
The incident, that is attracting much attention on Chinese social media this week, adds to the wave of recent controversies over the behavior and status of overseas students in mainland China.
On July 31, a female student at the Hebei university filed a police report against a Pakistani student who allegedly harassed her and attempted to forcefully kiss her and touch her breasts.
Screenshots of a supposed WeChat conversation between the exchange student and the female student, in which the man apologizes and claims the interaction is a "requirement for friendship," are being shared on social media.
According to various reports, the police initially tried to mediate between the two students, which the female student refused.
Together with the school principal, the police then further investigated the case and found ample evidence of harassment after examining the university's surveillance system.
On August 1st, the Hebei University of Engineering announced that they had expelled the student and that he will be deported from China. The announcement received more than 14,000 reactions and 150,000 'likes' on Weibo.
The student is now detained at the local Public Security Bureau and is awaiting his deportation.
A photo of two officers together with a man in front of the detention center in Handan is circulating on social media in relation to this incident.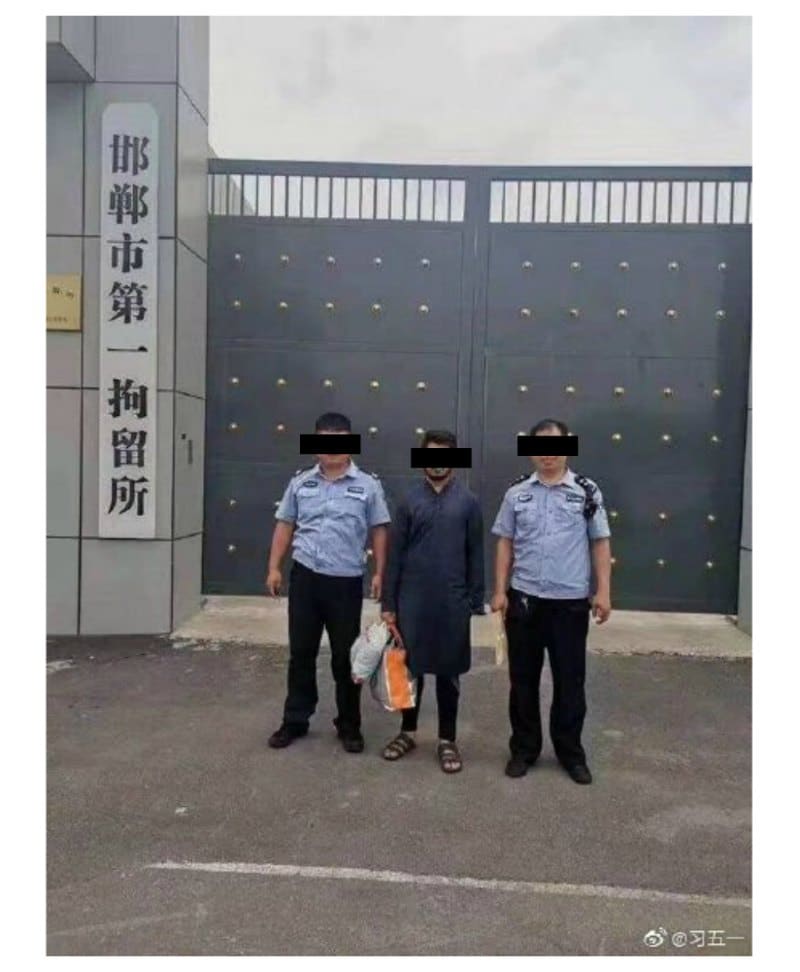 At time of writing, the hashtag page "Exchange Student to Be Deported after Molesting Female Student" (#留学生猥亵女学生将被遣送出境#) has been viewed over 310 million times on Weibo.
Among thousands of reactions, there are many who praise the Hebei university for supporting the female student after she reported the exchange student to the police.
"This may not be the best university, but at least they stand behind their students!", some say, with others calling the university "awesome."
Many say that the Hebei university should serve as an example for other Chinese universities to follow, with Shandong University being specifically mentioned by Weibo users.
Shandong University was widely criticized earlier this summer for its "buddy exchange program," which was accused of being a way to arrange Chinese "girlfriends" for male foreign students.
Another incident that is mentioned in relation to this trending story is that of an exchange student who displayed aggressive behavior towards a Chinese police officer in July of this year. The student was not punished for his actions, which sparked anger on Chinese social media.
By Manya Koetse
Follow @whatsonweibo
Spotted a mistake or want to add something? Please let us know in comments below or email us. Please note that your comment below will need to be manually approved if you're a first-time poster here.
©2019 Whatsonweibo. All rights reserved. Do not reproduce our content without permission – you can contact us at info@whatsonweibo.com
"Bolt from the Blue": Mainland Tourists Can No Longer Independently Travel to Taiwan
Chinese tourists who were planning a solo trip to Taiwan are out of luck.
Starting from August 1st, 2019, mainland residents can no longer individually travel to Taiwan for tourism purposes, and can only visit the island with a pre-approved travel group until further notice. The news has become top trending on Chinese social media.
After Chinese authorities announced on July 31st that China will stop issuing individual travel permits for mainland residents visiting Taiwan, the topic became one of the most-discussed topics on social media this week.
China's Ministry of Culture and Tourism stated on its website that independent travel to Taiwan will be suspended from August 1st "in view of the current cross-strait situation."
State media outlet Global Times writes that the individual travel suspension is a result of "repeated provocative actions by the Tsai Ing-wen administration and secessionist forces on the island."
Taipei Times explained the move as "another attempt to isolate Taiwan in the hope of spoiling President Tsai Ing-wen's re-election chances." Taiwan will hold its presidential elections in January 2020.
On Wednesday night local time, hashtags relating to the individual travel ban had gathered millions of views and comments on Sina Weibo.
ROC Restrictions for Mainland Travelers
Tourists from mainland China face restrictions when traveling to Taiwan, Republic of China (ROC), and must hold a travel permit to visit.
In July of 2008, PRC passport holders were first legally allowed to visit Taiwan for tourism purposes, but only if they joined a pre-approved group tour organized by a selected travel agency.
In 2011, these rules were relaxed after Taiwanese and mainland authorities agreed on a trial to allow mainland residents visiting Taiwan as individual tourists.
Under the terms of that 'trial,' mainland residents from 47 cities could apply for individual entry permits to Taiwan. These cities included places such as Beijing, Tianjin, Shanghai, Harbin, Xiamen, and others.
With Wednesday's statement, that program is currently put on hold. According to Focus Taiwan, this is the first time Beijing authorities have banned individual travelers from visiting Taiwan since June 2011.
Mainland tourists who want to visit Taiwan will now have to go back to joining tour groups again.
The Taiwanese tourism industry relies heavily on Chinese tourists. In 2015, the year before Taiwan President Tsai Ing-wen was elected, 4.2 million mainlanders visited the island, making up 40 percent of all tourists.
"A Bolt From the Blue"
On Weibo, the "Taiwan Individual Travel" account, an information channel for tourists, called the ban "a bolt from the blue" and said that it is unclear how long the restrictions will last: "We just hope that it is temporary."
The post received over 11,500 comments from netizens, many of whom are confused about the ban and concerned on how it will affect their personal travel plans.
"I already received my permit, can I still go?" many wondered.
According to the China International Travel Service, mainland travelers with permits issued before August 1st can still go on their planned individual trips.
In a Weibo poll answered by more than 210,000 social media users, state media outlet China Daily asked people if they would still consider visiting Taiwan after the restrictions on individual travel permits.
While more than 10 percent indicated they would be willing to join a tour group and still visit, a staggering 89,5 percent indicated they preferred free traveling and would not go at all.
"I will go once [the mainland and Taiwan are] unified," some popular comments said.
Discussions over the ongoing Taiwan Strait Issue often flare up on Chinese social media. In August of 2018 for example, Taipei-born actress Vivian Sung ignited a storm of criticism on Weibo for a comment she made about Taiwan being her "favorite country."
Last November, Taipei's Golden Horse Film Festival was overclouded by controversy due to a speech about Taiwan independence (read here). Chinese state media responded to the issue by promoting the hashtags "China Can't Become Smaller" and "Not Even a Bit Can Be Removed from China" (#中国一点都不能少#).
Earlier this year, many Chinese netizens were furious to discover that the super popular Taiwanese online game Devotion contained secret insults toward President Xi Jinping.
Although big discussions on the current Taiwan travel ban are filtered on Chinese social media, there are still some smaller threads where Weibo users are speculating about the reasons behind the move.
Some blame Taiwan leader Tsai Ing-wen, and see the latest travel measures as a way for Beijing to economically impact the island's tourism industry to influence upcoming elections.
Others argue that the current ban is more of a "protective measure," to make sure Chinese travelers who individually roam Taiwan will not be influenced by its election campaigns and media.
Then there are also those who think the entire issue is all about the ongoing Hong Kong protests.
Responses are overall very mixed. Although there are netizens supporting the solo travel ban, there are also those who think the measure will have an 'opposite effect' of that desired.
Although Weibo is mostly popular in mainland China, the social media platform is also used by Taiwanese netizens.
"I heard many of our Taiwanese online friends are happy to hear the news [about the travel restrictions]. Finally, this is something that cross-strait netizens can agree on!" one popular Beijing blogger (@地瓜熊老六) writes, sharing an online meme that shows Taiwanese scenery with the line 'Welcome to Taiwan, without Chinese.'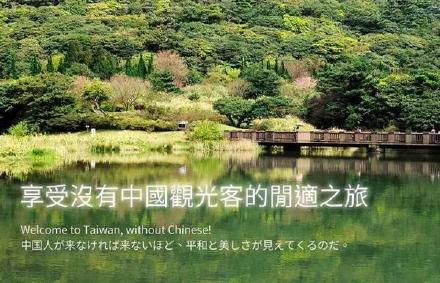 Still, there are also many Weibo users who want to visit Taiwan by themselves and are just concerned about the practicalities: "So, when do you think I will be able to visit again?"
"I was just preparing to go and visit Taiwan," one commenter writes, posting a crying emoji: "Nevertheless, I will still support China in this."
By Manya Koetse , with contributions from Miranda Barnes
Follow @whatsonweibo
Featured image: Photo by Vernon Raineil Cenzon
Spotted a mistake or want to add something? Please let us know in comments below or email us. Please note that your comment below will need to be manually approved if you're a first-time poster here.
©2019 Whatsonweibo. All rights reserved. Do not reproduce our content without permission – you can contact us at info@whatsonweibo.com