"This is Swedish Police!" – Sweden under Fire in China for "Brutal Abuse" of Chinese Tourists
Swedish police drag Chinese tourists out of hotel – some call them thugs, but others say it is the Chinese who were misbehaving.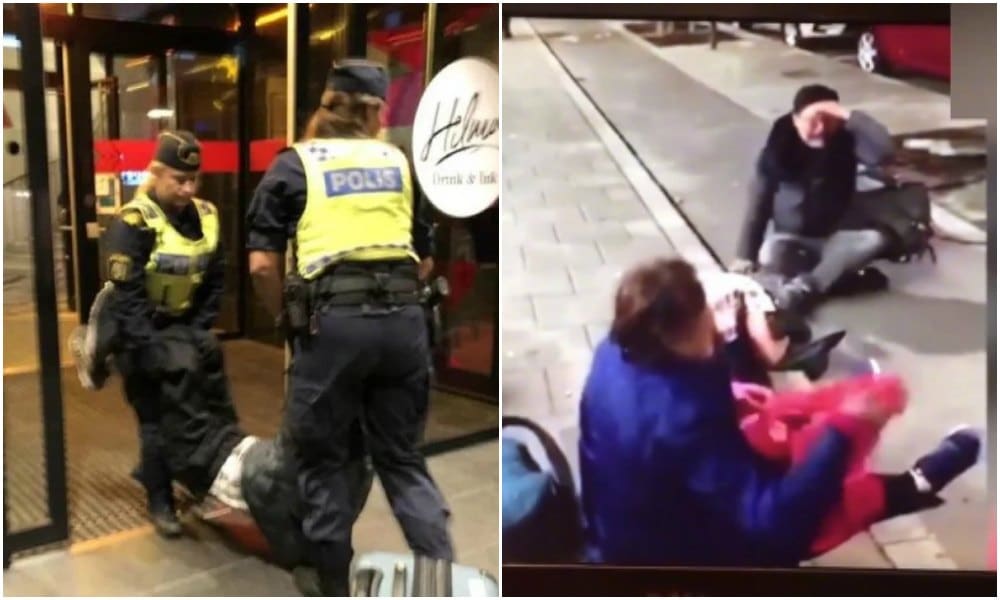 The maltreatment of a Chinese family in Stockholm earlier this month has ignited major discussions on Chinese social media, and has led to the Chinese Embassy in Sweden issuing a safety alert for Chinese tourists visiting the country. Many netizens are skeptical of the trending incident.
Over the past few days, an incident that took place in Sweden earlier this month has attracted major attention on Chinese social media.
Bystander videos going around Chinese social media show how a Chinese man is dragged out of a hotel by Swedish police, and later shows a woman and young man are crying on the street outside of a hotel (see embedded video below).
According to various Chinese news reports, the incident involves the Chinese family Zeng (曾), a younger man and his two senior parents, that was traveling to Sweden's capital Stockholm on September 2nd.
When they arrived at their hotel, the Generator Stockholm hostel, it was not yet check-in time. The family suggested they would pay a fee to the hotel as long as they could wait in the lobby until they could check in to their hotel rooms. Zeng's father reportedly is 67 years old and suffers from cardiovascular disease.
Sina News reports that the hotel refused the family's request and even called the police to have the Chinese tourists removed from their lobby in the middle of the night, though both parents claimed they were feeling sick.
State media outlet ECNS writes that the police also denied the family's request to stay at the hotel, and dragged his father out of the lobby and threw him to the ground outside.
The man later claimed on Chinese social media that his father consequently lost consciousness and that his body started twitching. Zeng and his parents were allegedly taken away from the hotel in a police car and were dropped off near a cemetery in the city's suburbs.
The family then received help from bystanders in getting back to the city center, where they reported the incident to the Chinese embassy.
THE AFTERMATH
"This has inevitably raised questions over Sweden's ability to protect human rights and conduct law enforcement in a civilized manner."
Chinese media are greatly criticizing Swedish authorities for how they have handled the incident; both that night and during the aftermath. Swedish authorities did not respond to the issue for two weeks after it occurred.
On Friday, September 14, the Chinese Embassy in Sweden issued a safety alert, stating that recently, there are more cases where Chinese tourists have been victims of theft and robbery, as well as cases where victims were treated poorly by Swedish police.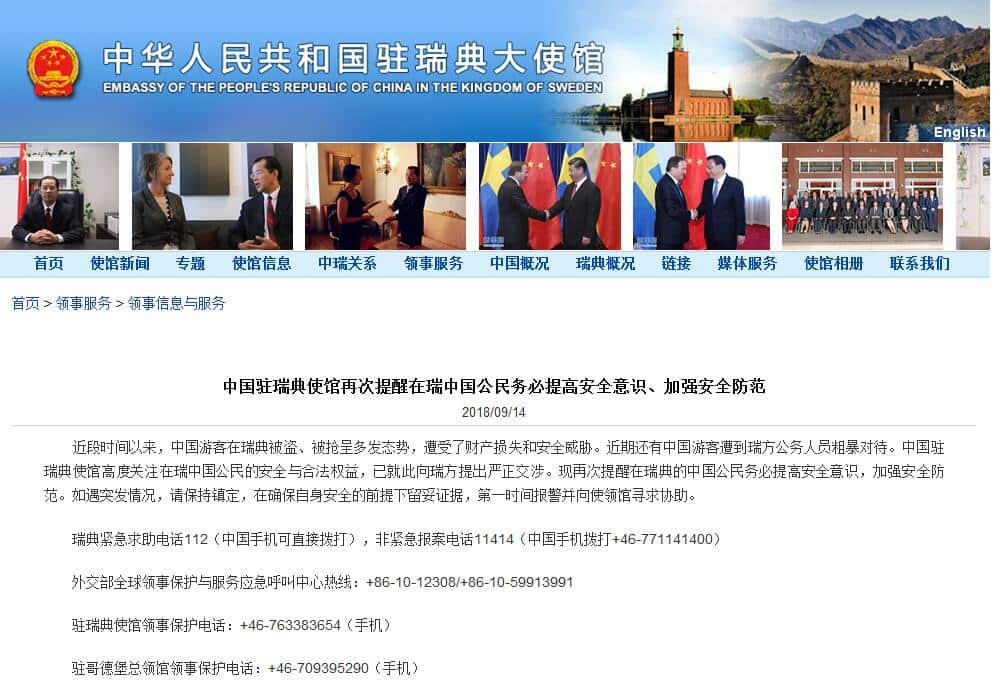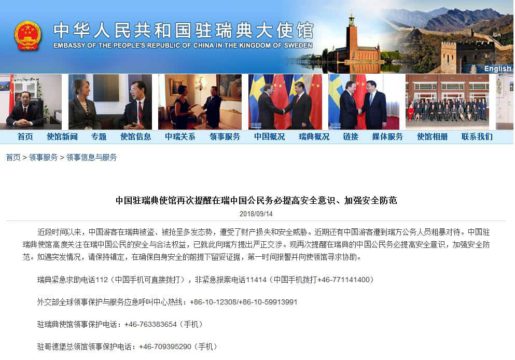 A day later, the Chinese Embassy in Sweden also issued a statement regarding the "brutal abuse of Chinese tourists by Swedish police," writing:
"Around midnight on 2 September, three Chinese tourists were brutally abused by the Swedish police. The Chinese Embassy in Sweden is deeply appalled and angered by what happened and strongly condemns the behavior of the Swedish police. The Embassy and Ministry of Foreign Affairs of China have made solemn representations to the Swedish government respectively in Stockholm and Beijing, stressing that what the police had done severely endangered the life and violated the basic human rights of the Chinese citizens. We urged the Swedish government to conduct thorough and immediate investigation, and respond to the Chinese citizens' requests for punishment, apology and compensation in time. We cannot understand why the Swedish side has not given us any feedback. We hope that the Swedish side will handle the case in accordance with law, and urge the Swedish side again to take immediate actions to protect the safety and legitimate rights and interests of Chinese citizens in Sweden."
Swedish media first reported the incident on Saturday, September 15 (Aftonbladet). On Sunday, September 16, the Swedish Embassy finally responded to the issue.  A statement on their official Weibo account said that the Embassy is aware of the case and is assigning a special prosecutor to investigate the case and to determine whether or not the Swedish police have used improper violence. As clarified by a spokesperson of the Embassy of Sweden to What's on Weibo: "The Embassy has not assigned the special prosecutor, as you can read in our statement. Instead, the prosecutor is assigned automatically every time an incident of alleged police misconduct is reported."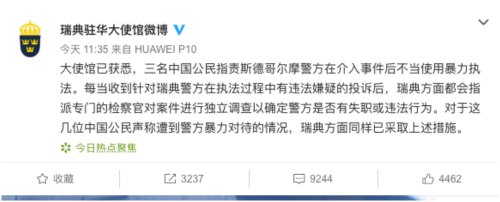 According to a column on the website of English-language Chinese state broadcaster CGTN, the incident is now also one about a Swedish human rights protection:
"(..) the way the local police in downtown Stockholm conducted themselves during the incident in a city hotel and on the streets on September 2 has inevitably raised questions over Sweden's ability to protect human rights and conduct law enforcement in a civilized manner."
SOCIAL MEDIA RESPONSES
"Is this the police or the criminal underworld?"
On Chinese social media, responses to the incident have been mixed. Many people feel that the family unnecessarily "made a big scene," and condemn the young Mr. Zeng for "falling down on the ground as a crying baby." They also say that these Chinese tourists are a "disgrace": "They might as well have buried them at the graveyard," some commenters write.
But there are also those who do not understand why the Swedish police handled the case in this way, taking the family in a police car and dropping them on a suburban curbside some six kilometers away, instead of bringing them to the police station or another hotel for the night.
"Perhaps the behavior of these three Chinese citizens was not very appropriate, but two of them are old people, they are not familiar with the area. To throw them out in the early morning, miles away at a cemetery where there are no hotels or stores, is really incorrect behavior by the Swedish police."
One well-known law blogger (@易辩任煜) wrote on Weibo: "It's ok to enforce law and to bring people back to the police station and to give them a fine or something like that, but to throw them out like that? Is this the police or the criminal underworld?
There are also Chinese (micro-) bloggers who claim that the fact that this incident is making headlines in Chinese state media now relates to the Dalai Lama's recent visit to Sweden, writing: "China just needs a reason to put pressure on them."
"This is all about the visit of the Dalai Lama Sweden on the 12th," many others claim.
By now, the hashtag "Chinese Tourists Maltreated by Swedish Police" (#中国游客遭瑞典警察粗暴对待#) has received more than 100 million views.
This is not the first time the maltreatment of Chinese tourists abroad receives mass attention in Chinese media. In January of 2016, pictures and a video of two Dutch boys emptying boxes of milk powder over Chinese tourists in Amsterdam also ignited major discussions.
In 2017, a video of a Chinese-looking man being dragged out of an overbooked United Airlines flight also went viral online in China, attracting tens of thousands of outraged posts on the discrimination of Chinese abroad. It later turned out that the passenger involved in the incident, now called the "United Express Flight 3411 Incident", was not a Chinese citizen, but a 69-year-old Asian-American doctor from Kentucky.
About this incident, some Chinese social media users say that they think it will affect international relations between China and Sweden.
Update: since this original article was published on Sunday (Sept 16), this news item has made international headlines. For the latest developments and news facts in this matter check, for example, this Washington Post article.
By Manya Koetse
With contributions by Miranda Barnes
Follow @whatsonweibo
Spotted a mistake or want to add something? Please let us know in comments below or email us.
©2018 Whatsonweibo. All rights reserved. Do not reproduce our content without permission – you can contact us at info@whatsonweibo.com.
China's 'Three Child Era' Announcement Is Met with Banter and Backlash on Weibo
"The three-child policy is here, and it's terrifying!"
Four decades after the introduction of the one-child policy and five years after the start of a two-child policy, the Communist Party of China has now issued a statement on May 31 that all Chinese couples are allowed to have three children.
On May 31, after a meeting by the Politburo, Chinese authorities announced that all married couples would be allowed to have three children. The announcement comes over five years after an earlier law came into effect allowing Chinese couples to have a second child.
On Weibo, the topic immediately became top trending, with the Xinhua News hashtag page on the issue (#三孩生育政策来了#) going from 800 million views to 2.2 billion views within just an hour on Monday afternoon local time.
An illustrated image showing three small children was shared on social media by Xinhua, saying: "The three-child policy is here! Actively responding to the aging population, the Central Committee of the Communist Party of China convened a meeting on May 31 on the implementation of a policy allowing couples to have a third child and interrelated support measures."
State media outlet China Youth Daily also published an image depicting two children playing on the floor, the text saying: "The three-child policy has come. They will have a brother or sister."
Loosening policies and plummeting birth rates
Facing a rapidly aging population, China has been loosening its previous 'one-child policy' for years.
China initiated the one-child policy in 1979 with an aim to control the nation's rapid population growth. It was successful in doing so: the government estimates that it prevented over 400 million extra births. The policy has also been blamed for innumerable cases of forced abortions and mandatory sterilizations.
Ethnic minorities or couples in rural areas were already allowed to have more than one child if their firstborn was a girl. Since 2013, couples were entitled to have a second child if they themselves were an only child. Richer families could also choose to have a second child and simply pay the high fine they would get for having another baby.
In October of 2015, the Communist Party of China (CPC) issued an official statement that all couples would be allowed to have two children. That law went into effect on 1 January 2016. Although the new policy led to a brief 'baby boom' – birth rates in China rose to their highest level since 2000 – the number still fell short of government estimation's and the birth rates soon dropped again. In 2019, the birth rate of 10.48 per thousand marked the lowest number since 1949.
More kids, more stress?
When the shift from the one-child policy to a 'two-child policy' was announced in 2015, the expected change created a major buzz on social media. Although many people applauded the change in policy, there were also those who thought the end of the one-child policy came too late to counter the slow growth in population.
'Many Chinese families cannot afford to have a second child,' was one of the most recurring online comments at the time. For many Chinese couples, as only children, the everyday pressure of taking care of their elderly parents and carrying the financial burden for their own household was already very high. "We need more financial support from the government so that we can actually consider having a second child," Chinese Weibo users said in 2015.
The introduction of a possible 'three-child policy' first became a trending topic on Chinese social media in 2018. In that year, Chinese bloggers and netizens denounced the potential measure in saying that an extension from a 'two-child policy' to a 'three-child policy' would add to the burden of Chinese women. Such a policy, they argued, would lead to Chinese women facing social expectations to birth a third child. And with supposed longer maternity leaves, they would also face unequal opportunities in the employment market.
But it is not just about the financial burden and economic pressure. In a 2018 column for What's on Weibo, writer Frankie Huang emphasized that China's declining birth rates are often explained through an economic lens, while the social and historical background that has shaped the ways Chinese young parents think about family life today is perhaps more crucial in understanding people's decision to postpone a second child or eschew one entirely. "We must take into account how the One Child Policy made the single child family normative by erasing the experience of having siblings from the lives of millions," Huang wrote.
The 'terrifying' three child era
Looking back at the online sentiments that dominated Chinese social media before, it is perhaps unsurprising that many commenters on social media platforms in China today are somewhat skeptical about the introduction of a 'three child policy' (三孩生育政策).
A Weibo poll by Chinese state media outlet Xinhua asking "Are You Ready for the Three Child Policy?" was ridiculed by some when nearly 30,000 people replied "I am not considering it [three kids] at all", with only a few hundred people indicating a more positive stance on the policy. The poll was apparently soon deleted.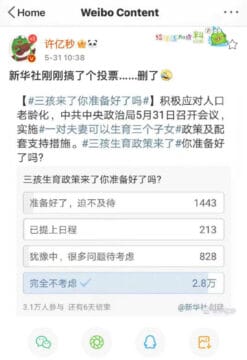 Many people raise issues and concerns that come with having multiple children, including those related to the position of women in the employment market, the high cost of daycare, and children's education.
One popular comment even suggested that China's post-80s and post-90s generations deserve to get a medal if they actually had three children, which would mean that – as only children themselves – they would need to look after four elderly parents, three young children, and then continue working while facing a gradually delayed legal retirement age.
"The three-child policy is here, and it's terrifying!" one popular female Weibo blogger (@Alex绝对是个妞儿) writes: "Many girls around me are already afraid to have one child, and I personally think having one is the limit – I didn't expect the policy to be so ahead of its time! No kidding, if other supporting policies and guarantees are not in place, it will be very difficult to change women's willingness to have children. It's not that we don't want to have children, it's not that the policy doesn't allow us to have children, it's that once we have children, women's lives will collapse and fall apart, and that's what makes women not want to have children."
"This just gives my parents more reasons to pressure me to find a partner," others complained.
"This cracks me up. My monthly income is already barely enough to cover for me alone."
Besides those expressing concerns, there are also many jokes circulating online, such as a supposed Durex ad saying: "I'll go, you guys have fun."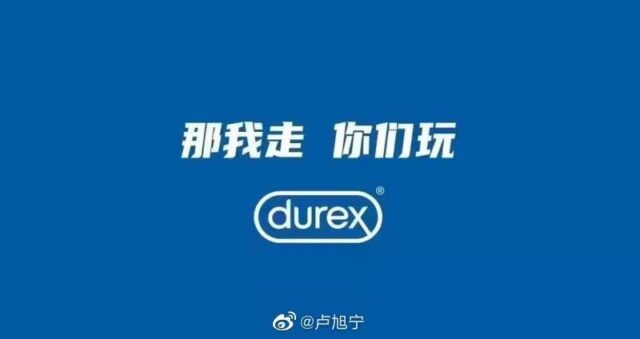 In light of the new announcement, an older interview with Chinese businessman Shih Wing-ching (施永青), chairman of the Centaline Group, caused some controversy online when he suggested that Chinese couples should only be allowed to use contraception after having two children. According to the real estate mogul, it would be an effective way to solve China's declining fertility rates.
"It would be better for him to wear a condom around his brain to protect him from these bewildering thoughts," one Weibo commenter suggested.
Another topic of public ridicule was the image announcing the 'three child policy' by Chinese state media outlet Xinhua for containing a typo, with the wrong character being used in the word 生育, "give birth to" (using 肓 instead of 育).
"Shouldn't we eliminate illiteracy first before letting people have three kids?" one Weibo user jokingly commented.
Despite all the criticism and online jokes, there are also those who are genuinely happy that having three children is now allowed for all couples. Recurring comments praise the freedom that comes with the loosening of family planning policies: "If you want to have more children, you can. If you don't want to, you don't have to."
One woman on Weibo wrote: "When the two-child policy was introduced, I soon became pregnant with my second child. Yesterday I was thinking if we could try to have a baby girl, and just like that, the 'three-child policy' is here!"
By Manya Koetse, with contributions by Miranda Barnes
Spotted a mistake or want to add something? Please let us know in comments below or email us. First-time commenters, please be patient – we will have to manually approve your comment before it appears.
©2021 Whatsonweibo. All rights reserved. Do not reproduce our content without permission – you can contact us at info@whatsonweibo.com.
The Gansu Marathon Tragedy: Chinese Netizens Are Looking for Answers
The Gansu ultramarathon tragedy has sent shock waves on social media: "The organization needs to be held accountable."
What was supposed to be an exciting ultramarathon race turned into a terrible tragedy. In Gansu's Baiyin, 21 runners died this weekend in the mountainous high-altitude track under extreme weather conditions. On Chinese social media, people are shocked and are left with many unanswered questions.
Twenty-one people participating in a mountain marathon race have died in Gansu, China, after extreme weather hit the high-altitude track. The 100-kilometer race, which started on May 22, took place at the Yellow River Stone Forest tourist site in Baiyin city.
In the morning of Sunday, May 23, a total of 151 participants were rescued in a major rescue operation. Eight people had minor injuries and were sent to the hospital. Twenty-one people were already lifeless when they were found. Among those killed were top cross-country runner Liang Jing (梁晶) and the Paralympic champion Huang Guanjun (黄关军).
On Weibo, the hashtag "21 People Killed in Gansu Mountain Marathon Accident" (#甘肃山地马拉松事故21人遇难#) received over 930 million views by Sunday afternoon. Another hashtag "Is the Gansu Marathon Accident is a Natural Disaster or Man-made Disaster?" (#甘肃马拉松事故是天灾还是人祸#) became top trending on Sunday afternoon, with netizens wondering if the organization of the race was up to standard and if the necessary safety guarantees were taken.
The daughter of a participant who was killed during the ultramarathon wanted to know why her family was only informed of his death on the morning of May 23 and why the organizing committee did not make sure the participants were better prepared following the local weather forecasts.
The Gansu provincial government has set up an incident investigation team to further investigate the cause of the incident. On the morning of May 23, the mayor of Baiyin Zhang Xuchen (张旭晨) spoke at a local press conference, where he called the incident a "public safety incident" due to sudden changes in local weather conditions.
The Huanghe Shilin Mountain Marathon (黄河石林山地马拉松) was first held in 2018, and this was its fourth edition. The event, hosted by Jingtai County, was sponsored by the Baiyin Municipal Party Committee and the municipal government. The ultramarathon was organized by a local company, Gansu Shengjing Sports, which had also organized the previous marathons.
According to The Paper, participants must be between the ages of 18-60 and must submit proof that they have completed a similar level race within the last year. The long-distance ultramarathon race is known as a difficult one, with its steep tracks, high altitudes, and a great part of the route being in no man's land.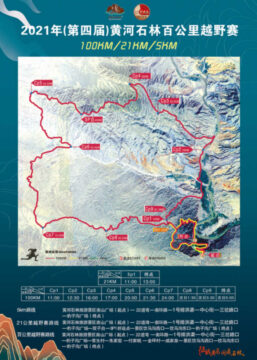 The race started at 9.00 in the morning on Saturday the 22nd, with many of the 172 participating runners wearing shorts and short-sleeve running shirts. The extreme weather – including local hail, freezing rain, and strong wind – hit the mountain race in the afternoon. One participant shared their story of what happened during the marathon in a blog article.
The participant describes the weather conditions at the start of the race as "breezy and sunny," but that soon changed as the wind picked up and the temperatures dropped.
When it started to rain and hail, various runners who had been going up the mountains already withdrew from the race and returned as the conditions became harsher. The runner describes how the gloves and insulation blanket that they carried were insufficient to protect them from the cold, and that he finally decided to withdraw from the race when his hands were frozen and his body temperature dropped.
By that time, according to the account, there were already approximately fifty runners who had withdrawn from the race and had gathered in a hut to warm up and wait for rescue. As more participants came down from the mountain to the hut, there were already some who had seen people lying motionless on the ground. The rescue team could not reach the area by car. The first group of people, including the person writing the account, came down and were able to get on a bus and get back to the race finish line around 16:00 on Saturday afternoon.
In a video shared by Fengmian News, several runners can be seen sharing their experiences as they go on the bus returning from the scene, with some saying they had already seen various people lying on the ground shivering. Others called the drop of body temperature "terrible," saying that even experiencing the cold for a few minutes was already unbearable.
The race was stopped immediately and local forces organized to search and rescue the runners who were left behind. People's Daily shared photos of rescue operations continuing in the mountainous area at night. More than 700 people were involved in the rescue.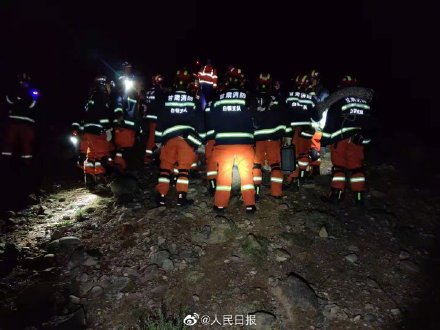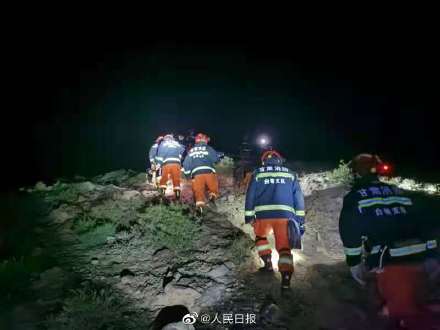 On Sunday, the news that multiple runners had been rescued by local villagers and shepherds who offered them shelter and warmth also went trending on social media.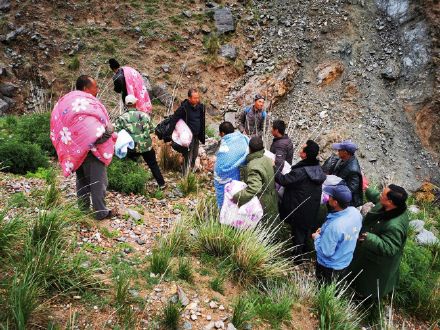 Another runner who participated in the ultramarathon shared his story on Weibo, writing that he was among the six top runners when the extreme weather conditions started, and the only one of the top runners who survived because he was rescued by local villagers after falling and passing out.
The rescue operation was concluded at 12:00 in the afternoon on Sunday. Xinhua News reported that the remains of all 21 victims were recovered from the marathon site.
"Is this a natural disaster or a human-made one?" many netizens on Weibo ask, with a majority saying that although the weather conditions were particularly bad, the tragedy was mostly caused by human errors.
Why were the runners not required to carry better equipment and warmer clothes with them? Why was there no security along the track of this off-the-beaten-path race? Why were there no logistics and rescue teams set up along the tracks? Why was there no detailed security and rescue plan in place for emergency situations? These questions and many more are circulating on social media.
"The organization needs to be held accountable," many people say, while official investigations into the incident are still ongoing. "I can't believe the organization would make these kinds of errors in 2021," one person wrote.
"This is unbelievable, 21 people died," another commenter wrote: "So many families have been broken."
By Manya Koetse, with contributions by Miranda Barnes
Spotted a mistake or want to add something? Please let us know in comments below or email us. First-time commenters, please be patient – we will have to manually approve your comment before it appears.
©2021 Whatsonweibo. All rights reserved. Do not reproduce our content without permission – you can contact us at info@whatsonweibo.com.