China's 'Masculinity Crisis': The Internet Slang That Stereotypes Chinese Men
How a Chinese boyband triggered social media discussions on what it means to be 'masculine'.
This month, a well-known Chinese educational program for children that featured a 'feminine-looking' boyband ignited discussions on masculinity in China. What's on Weibo provides an overview of Chinese media's stance on the recent discussion, and an introduction to five popular social media slang terms stereotyping Chinese men.

At the beginning of this month, a discussion about the meaning of 'masculinity' sparked discussions on Chinese social media. Discussions started when Chinese state broadcaster CCTV aired Back to School: The First Class (开学第一课).
The programme is an annual educational television program by CCTV and the Ministry of Education, dedicated to the celebration of the new school year. The show, that had one of the highest viewers ratings since years, opened with a performance of the boy band New F4 (新F4).
The boy band New F4 consists of Guan Hong (官鸿), Dylan (王鹤棣), Wu Xize (吴希泽), and Liang Jingkang (梁靖康). In China, the four young men are known to be 'feminine-looking' or so-called 'sissies' (娘炮男), meaning they pay much attention to their clothing, hair, and make-up.
Since the airing of the 'Back to School' programme, many parents questioned the suitability of the performance of New F4, calling for some more 'masculinity' ("阳刚之气") on social media. They criticized the program for being "too entertaining" and having "not enough educational value."
SISSY BOYS? CHINESE MEDIA RESPOND
A few days after the controversial show broadcasted, state media outlet Xinhua News published a commentary calling the New F4 'sissies' (娘炮). Xinhua stated:
" (..) "these sissies promote an unhealthy and unnatural culture which has a not-to-underestimate negative impact on the youth. The sissy culture, driven by consumption, challenges the public order and worships a decadent lifestyle."
Within a few hours after Xinhua News published the article, a column published on the platform of Party newspaper People's Daily (author @百家号) responded with an article titled 'People's Daily Review: What Should Today's 'Masculine Traits' be?' (人民日报评论:什么是今天该有的"男性气质") questioning the definition and purpose of masculinity in modern society.
People's Daily Review column's author stated that:
" (..) modern society broadened the perception of aesthetics, and in a mature society, people should be tolerant towards other people and no longer [should] evaluate a person based on its gender characteristics only."
Later in the article, the author proposes a new construction of masculinity; one that has not much to do with one's appearance but more with one's inner qualities. It also criticizes the use of derogatory terms such as 'sissy' for failing to "respect individual choices."
This is not the first time that a voice featured on a People's Daily platform supports so-called feminine-looking men. On the 13th of August this year, the People's Daily Overseas Edition also published an editorial article, calling for tolerance towards this new lifestyle.
DISCUSSIONS ON WEIBO
On Chinese social media, there are also many netizens who see no threat in the rising popularity of the androgyne looking men. A typical comment said:
"What is a good man? A good man's most essential qualities are to have an idea and be responsible, be brave and kind. These are the things that are important. Only looking at somebody's appearance is too simplistic."
Other Weibo users responded: "Determining whether a man is effeminate or not has nothing to do with his appearance. It can be found his sense of responsibility."
Also, the hashtag "I've deleted the names of people who call feminine-looking men names" (#骂娘炮的人已经被我拉黑了#), initiated by the Chinese edition of News China, has since gone viral on Chinese social media.
But the supposed 'disappearance of masculinity' also led many to worry about an alleged 'masculinity crisis.'
One Weibo user wrote a typical comment saying: "Men should stand up and be more masculine!", with many more praising Xinhua for sending out a strong and clear message, warning society for the rise of 'sissy-culture'.
5 TERMS STEROTYPING CHINESE MEN
This is not the first time that there is talk of a supposed 'crisis of masculinity'. Throughout the years, various terms have popped up on Chinese social media defining certain types of men and their traits. These are five popular examples:
1. Sissy boy (娘炮男, pinyin: niángpàonán)
Derogatory term for androgyne men whose personality and appearance is quite feminine. They often like to put much care into their appearance, including wearing makeup, and a love for shopping. On social media, many claim the reason for this alleged 'soft behavior' is said to be nurtured by the overprotection of children and the lack of gender awareness in upbringing.
2. The Chauvinist(男子汉,pinyin: nánzǐhàn; or 'Straight Man Cancer' 直男癌 zhínán'ái)
Refers to men who live in their own world, with their own values and who tend to reveal their dissatisfaction towards other people. The general view is that these 'Chauvinist men' are self-righteous and indifferent to women's values. Their way of getting acquainted with a woman is often through buying her gifts and spending a lot of money.
3. Phoenix man (凤凰男,pinyin: fènghuángnán)
'Phoenix male' refers to those men who came from poor rural areas and who have been admitted to college after hard work and dwelling in the city to work after graduation. Although they have left the countryside, they still hold on to many rural and traditional concepts and ideas.
4. Wretched or Vulgar Man (猥琐男,pinyin: wěisuǒnán), also often referred to as loser (男屌丝,pinyin: nándiǎosī)
The terms 'vulgar man', 'loser' or 'pervert' are given to a person making other people feel uneasy and uncomfortable. These men are said to be shameless and show an abnormal and inferior behavior caused by long-term sexual repression.
5. Mommy's Boy (妈宝男,pinyin: mābǎonán)
The 'mommy's boy' label refers to men who listen to everything their mother says. Whatever it is that their mother says, they regard it as the truth, and they live by the decisions their mother takes – including what job to take on, who to marry, and where to live.
For now, discussions on what a 'real man' is seem to be continuing on Chinese social media. In the meanwhile, the Weibo page of the 'feminine-looking boyband' New F4 already received 110 million views- a number that just keeps on growing.
Link to the New F4 performance on the CCTV program Back to School: The first class (开学第一课): here.
By Gabi Verberg
Follow @whatsonweibo
Spotted a mistake or want to add something? Please let us know in comments below or email us.
©2018 Whatsonweibo. All rights reserved. Do not reproduce our content without permission – you can contact us at info@whatsonweibo.com.
Weibo is Watching the DJs & Sports Presentation Team at the Winter Olympics Venues
Chinese netizens are not just closely following the athletes, they are also paying more attention to the "atmosphere enliveners" at the 2022 Beijing Winter Olympics.
Chinese netizens are not just closely watching the athletes at the 2022 Winter Olympics – the DJs who are performing at the various venues and their noteworthy song selections have also become a popular topic on social media.
On Feb 8th, the US-born freestyle skier Eileen Gu (谷爱凌, Gu Aling) became the youngest ever gold medalist in freestyle skiing, winning the big air event for China. The American-born Gu has become a superstar in China, and everything related to her is going viral these days, including the songs that were playing when Gu had won gold.
The hashtag "When Gu Ailing Won the Gold, Jay Chou's Song Huo Yuan Jia is Played" (#谷爱凌夺冠现场放周杰伦的霍元甲#) has received more than 29 million on Weibo. Chinese netizens praised the DJs for the song selection, saying it perfectly captured the scene as the song has a strong rhythm, and is also known as 'Fearless.'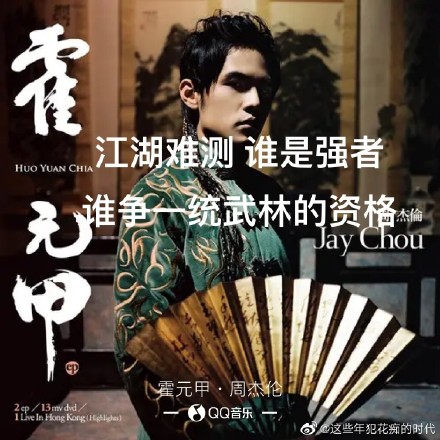 Before the hashtag about Gu went trending, the DJ team already attracted attention on Chinese social media for the interesting and noteworthy music selection at various events.
During the Ice Hockey Women's Preliminary Round Group A, when Team US competed against Team ROC, there was a conflict between the two teams and the DJ played a remixed version of Katyusha, a Russian song that became famous during World War II. The dramatic effect of the scene and wartime song pairing made the song's name (#喀秋莎#) and a video of the DJ trying to 'make some noise' on the venue go trending on Weibo with over 53 million views. Many netizens thought the music selection was humorous, with some joking that the DJ was adding oil to a burning fire.
Xie Xiao (@篮球DJ小牛), the ice hockey stadium music director for the 2022 Beijing Winter Olympics who played the song that day, later clarified on Douyin that the selection of Katyusha was not a response to the conflict. Before that game, he allegedly had already planned to use it because it is a famous song in Russia, and he already played a lot of well-known American songs.
Another creative song choice by this DJ team that resonated with Chinese netizens occurred during another ice hockey match between Team China and Team Japan, when an American DJ performed Defending the Yellow River on a keyboard. In China, Defending the Yellow River is a famous patriotic song. It was the seventh chapter of the classic Yellow River Cantata, written in 1939 to praise the fighting spirit of the Chinese people (#美国DJ现学后现场弹奏保卫黄河#).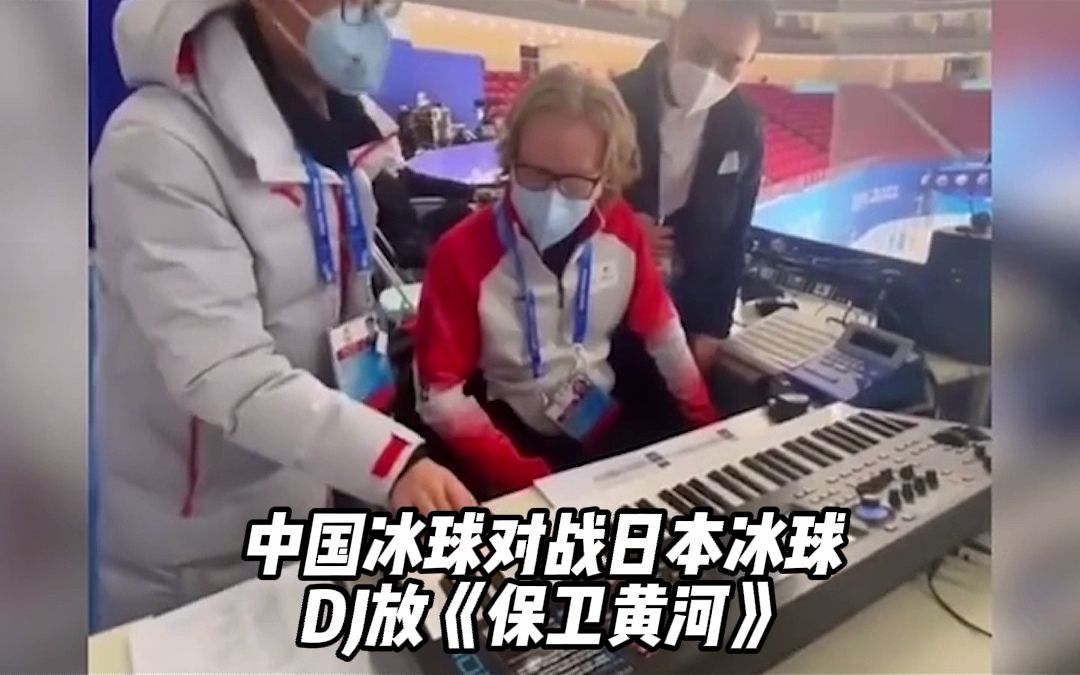 A list of popular hashtags on Weibo relating to which songs are played at the venue of the Winter Olympics also demonstrates that music has become a more relevant and popular part of the Olympics, and is also an attractive component of the event that is encouraging more people, especially younger generations, to watch and participate in the Games.
Xie also said that the team is only allowed to select songs from a specific Winter Olympics music library due to copyright and licensing. The library includes 16000 musical tracks divided into various (sub)categories based on music styles, language, and themes, covering many hit songs and different music from all across the world. On the first event day of speed skating, for example, Adele's Rolling in the Deep blasted through the speakers.
The pandemic has made the role of so-called 'atmosphere enliveners' or 'vibe teams' (气氛组, 氛围组) more important. This already became clear during the Tokyo Olympics, where we saw empty stadiums due to coronavirus measures, with DJs creating playlists to motivate athletes in the absence of cheering fans. This shift has also brought more online attention for DJs and other crew members, who would usually stay behind the scenes.
On the venues, the atmosphere is raised by Olympic mascots walking, jumping, and running around the venues interacting with smaller audiences. Meanwhile, the DJs are playing energetic tracks or are creating remixes and mash-ups while producers use different elements at the venue to enhance the audience's experience.
Li Helin, the deputy manager of the venue operations team at Beijing National Speed Skating Oval, takes care of the event presentation at the venue. He also worked as an MC at the volleyball stadium during the 2020 Tokyo Olympics. Li has also been in charge of some popular music selections played by the DJs during events involving the China team, including Calorie (卡路里) by the Chinese idol girl group Rocket Girls 101 and Immortal Sound Above Cloud Palace (云宫迅音), the opening theme of Journey to the West, a 1986 TV series that is still considered one of China's most popular TV dramas. These song selections also were popular on Weibo.
Li previously said he believed that using DJs to connect with the audiences and to enliven the atmosphere at the venues will become a bigger trend for big sports events in the future. As the standard of sports presentation and fan engagement rises, more new elements, such as spectacular lighting, drones, 3D projects, etc. will also be included: "Sports presentation serves the game, but also adds fresh elements to it."
Meanwhile, many social media users praise the music crew: "This time, the DJs at the Olympics are really awesome and their song selection is on point."  "If you don't know what kind of work you want to do, becoming an Olympic DJ is a good choice," one Weibo user writes, with others agreeing: "Seriously, if I cannot be an Olympic athlete, then I'll strive to be an Olympic DJ."
By Wendy Huang
Follow @whatsonweibo
Spotted a mistake or want to add something? Please let us know in comments below or email us. Please note that your comment below will need to be manually approved if you're a first-time poster here.
©2022 Whatsonweibo. All rights reserved. Do not reproduce our content without permission – you can contact us at info@whatsonweibo.com
Mainstream, Underground, and Online: Electronic Dance Music in China
A peek into China's electronic dance music scene, from Jean Michel Jarre to the country's post-covid club scene.
China has been called the "promised land for electronic dance music," but some critics say the industry is negatively affected by those prioritizing money over music. Still, the country's mainstream and underground dance scenes are thriving and the pandemic has brought increased recognition of local artists. This is a peek into China's electronic music scene, from Jean Michel Jarre to the country's post-covid dance scene.
This is the "WE…WEI…WHAT?" column by Manya Koetse, original publication in German by Goethe Institut China, visit Yi Magazin: WE…WEI…WHAT? Manya Koetse erklärt das chinesische Internet.

More DJs, more festivals, more fans, more online communities. Over the past few years, China's dance music scene has seen enormous growth in popularity, and electronic music now appears wherever people go, both online and offline, from live music events, night clubs, and fashion shows to reality shows, movies, and social media.
Following the continued explosion of electronic music culture in China's major cities, DJMag, a renowned UK-based platform dedicated to electronic dance music, even launched a special China Awards section in 2021. In this year's Top 100 DJ list there are eight Chinese DJs, the highest number ever since a DJ from China first made the list in 2017.
As an unexpected consequence of the pandemic, China's local dance community has seen heightened popularity of local DJs. While Covid19 has seriously affected the global dance music scene, it has been an ongoing opportunity to shine for local talents in mainland China.
Just five years ago, China-based DJ Spencer Tarring discussed the huge potential of China as "the rising promised land for electronic dance music." But what's the status quo of China's dance and DJ culture? Here we'll explore China's electronic music scene, from mainstream to underground and the online community.
From 'EDM' to 'Haoshi'
Let's first explain some terminology. 'Electronic dance music' is actually a huge umbrella term for percussion-based electronic music produced primarily for nightclubs, raves, and festivals, and performed/presented by DJs. In Europe, electronic dance music is often simply called 'dance' or 'dance music,' with subgenres including techno, house, trance, and many others (deBoni 2018).
There's also the acronym 'EDM.' Although it literally stands for 'Electronic Dance Music,' it is not the same as the overarching 'electronic dance music' genre, as it was adopted in the US to label commercial dance music. It has since been commonly used to solely describe the mainstream electronic dance music that is represented by world-famous DJs such as Tiësto, Martin Garrix, Armin van Buuren, or David Guetta (see Androids 2017; Jori 2021; Magnetic 2021).
In Mandarin Chinese, the term Diànzǐ yīnyuè (电子音乐), often abbreviated as Diànyīn (电音), literally means 'electronic music' and is used as a catch-all term for any music made using electronic instruments or involving electronic processing.
EDM is translated as Diànzǐ wǔqǔ (电子舞曲) ('Electronic Dance Music'), and also refers to commercial dance music. House is generally translated as Hàoshì yīnyuè (浩室音乐), techno as Tiěkènuò yīnyuè (铁克诺音乐), and trance as Chūshén yīnyuè (出神音乐).
Rewind: A Very Short History of Electronic Music in China
The history of electronic dance music in China brings us back to the early 1980s. In the decades and years before, there was strict music censorship under Mao's rule and the influx of Western music was limited. After Mao's death and the start of the Open Door policy, modern music from outside of mainland China became increasingly popular among young Chinese, inspiring local musicians to start writing and recording their own pop, rock, and modern music (Holm 1983; Latham 2007: 336).
China's 'New Wave' movement was partly triggered by 'The Concerts in China' by the French electronic music pioneer Jean Michel Jarre in 1981, who performed in Beijing and Shanghai in October-November of that year for a combined audience of 150,000 people (Billboard 1982).
Following the Jarre concerts, the New Wave movement also became visible at conservatories and music schools across China in the early 1980s when Chinese composers started to experiment with electronic music. While influenced by Western music, many examples of Chinese electronic music created in these years featured Chinese traditional musical elements (Li 2018).
Many Chinese people became more familiar with modern Western music in the 1980s and 1990s through cassette tapes that were shared and copied hundreds of times, and the so-called dakou culture which emerged in the mid-90s.
Dakou (打口) CDs were dumped by Western countries and imported into China as plastic garbage, intended to be recycled, but then flowed into Chinese cities and became available for listeners to buy from black markets.
Dakou CDs (and tapes) have a cut-out, a punch hole, or crack in them to mark them as waste and prevent them from being resold, but people were still able to restore them and listen to most of the music. The dakou culture greatly influenced China's music scene.1
Proper nightclubs first started to open up in big Chinese cities in the early 1990s, a time in which many people in the electronic music scene were more focused on the music rather than the money.
This is also when Ben Huang, who would become one of China's most well-known DJs, started his career. The Shanghai-born Huang was a student of modern dance and fine arts before he became active in the Beijing music scene and kick-started China's club culture.
Other big names emerging around this time are the so-called "godfather of Chinese dance music" Mickey Zhang, DJ Youdai (Zhang Youdai), Yang Bing, and famous electronic musician Weng Weng. They later also started organizing dance parties or setting up their own labels.
Although illegal rave parties emerged in various cities across the country since the mid-90s, China's first big rave party took place in the late 1990s at the Great Wall, organized by the Swiss collective 'Cheese' (Grefer 2016; Yiu & Charrieras 2021: 233). Vice China (2019) writes:
"What was most magical about China's party culture in the 1990s, is that it miraculously united all participants of any subculture. The people coming to these rave parties could come from completely different communities, from doctors to lawyers, from hoodlums to diplomats, local punks and sightseeing exchange students (..), on the dance floor surrounded by electronic music, nobody would talk about ideals and doctrines, actions and problems, everyone put all their conflicts aside and danced."
Nevertheless, much of the scene remained underground and many people in China had not been exposed to electronic dance music yet or did not understand it.
When the renowned British-Canadian electronic musician Richie Hawtin performed in Shanghai at some of the city's earliest techno events in the 1990s, some people wondered if the CD was stuck and if the mixer needed to be fixed.2
The Mainstream Scene: "Tuhai" and Rock Music Envy
Starting in the 2000s, more money-driven clubs started to open and the electronic dance music scene in China started to develop into two separate worlds; the underground with its underground scene and the mainstream with its mainstream scene.
"And there I am in the middle," DJ Ben Huang said in a 2009 interview.
Huang's comment is telling for a market where electronic music has become the second most popular music genre, while the 'real' Chinese fans of electronic dance still complain that there has been too little progress in the scene in recent years.
Online discussions indicate that many think that electronic dance music in China has become too commercialized too quickly and has become all about the money rather than the music – leaving little space for the underground scene to flourish, and lacking breeding ground to boost a stronger development of the local electronic music scene.
In 2016, Jiangsu television aired China's first-ever variety show featuring Electronic Dance Music (EDM) titled Heroes of Remix (盖世英雄remix). The show introduced international electronic dance music genres to a mainstream audience, mixing it with Chinese traditional influences. Two years later, the talent reality show Rave Now (即刻电音) premiered on Tencent Video, further promoting the popularity of EDM in China.
Against the backdrop of an ever-growing EDM industry in China with numerous nightclubs opening up all over the country, the release of the 2021 movie Upcoming Summer (盛夏未来), which focuses on electronic music, further assimilated dance music into China's mainstream pop culture. A hashtag dedicated to the movie on Chinese social media received over 650 million views (#电影盛夏未来#). (Note: the movie can now also be viewed through Netflix.)
While electronic music is divided into many genres, commercial EDM is by far the most popular type of electronic music in China. Some of the music played by Chinese local DJs that is deemed to be of lower quality than 'legitimate' EDM is also called 'Tuhai' (土嗨), a wordplay on 'too high' that refers to unoriginal bounce music with whistles and repetitive melodies.
The more the popularity of electric dance music is growing among the masses, the more music fans speak out, saying that China's mainstream electronic music does not represent authentic electronic dance music, even arguing it that it negatively influences the development of the entire genre; excessive commercialization has neglected the music itself.
The recent surge of Tuhai in Chinese clubs is also a side-effect of the pandemic, during which clubs have started booking far more local DJs with little experience to keep the shows going. To counter the so-called 'Tuhai virus', China's top DJ Carta launched the 'Chinese Bounce Mafia' alias together with trance DJ Luminn and DJ/producer Unity to mock the repetitive music genre.
In an interview with MixMag (Wycech 2020), Carta says:
"We started Chinese Bounce Mafia after seeing the number of shows these guys were doing and what was happening to the market. We all hated the music, so we said 'fuck these guys, if they can get all these shows, so can we'. So Chinese Bounce Mafia is our stand against what we see as a problem within the market. The name is a troll because people thought we've all sold out and given into bounce but we actually play anything from house to trance to big room to techno."
It is not easy to counter the Tuhai trend, which is not just ubiquitous in China's clubs but is also everywhere in the Chinese online music environment, triggering online discussions on how the low-standard music is negatively impacting the overall music quality in the online libraries of platforms such as QQ Music, Kugou, and Tencent Music.
Some Chinese electronic music fans even say they envy China's rock music scene. One article by the Music Economy Official Weibo Account (@音乐财经官方微博) on Sina said:
"As a fan of electronic music, I feel envious [of the rock music scene]. I envy their music festivals, I envy their good musicians, I envy their good fans, and this isn't the first time for me to admire China's rock scene in this way."
The Music Economy author argues that although it's been a bumpy ride for rock music in China, the genre has come a long way over the past four decades and has since been embraced by the general public.
One of the reasons why the author argues that China's dance music community has reason to envy the rock music scene is that there is an alleged pure love for music that draws people into the rock scene, while many people coming to the DJ culture enter the market for the money, not for the music. Because people are prioritizing money over music, too many compromises are often made, resulting in low-effort productions or mediocre festivals.
Another difference between China's dance and DJ culture compared to the rock scene, is that many rock music fans have grown up listening to the music and have followed their favorite musicians for years. China does not (yet) have a greater electronic music history to build on.
The author writes:
"I know it's not very scientific to compare rock to electronic music, but they are both imported products and when I see how rock is finally flourishing after having been through so much, I can't help feeling envious. Electronic dance music and electronic music in China still need to build on more experience. I hope more musicians can stop worrying about income and focus on the music, following their own dreams. I also hope more people will really start caring about electronic music and dance, and that they will start spending money on tickets and records to support their organizers and favorite musicians."
What also plays a role in this, is that DJ culture mostly takes place inside nightclubs and entertainment venues, where drinks and socializing are often considered more important by Chinese clubgoers than whoever is standing behind the DJ table. China's current commercial club culture is not a fruitful breeding ground for the further development of China's electronic dance music scene, the author claims.
Underground & Online Electronic Dance in Post-Covid China
Despite all negative consequences of Covid19 for the music industry, the pandemic has also had an unexpected positive influence on China's dance culture. With no international DJs allowed to travel into China, local DJ talents are getting increased recognition and there is more interest in the domestic dance scene.
As clubs were shutting down across the world in the spring of 2020, China entered its post-lockdown phase and nightclubs came back to life, with more people ready to explore the club scene.
Despite those voices expressing concern about the lower-quality EDM that is dominating China's club scene, there are also those who think it is not necessarily bad for electronic dance to go mainstream this way because it also indirectly creates more acceptance for non-mainstream sub-genres and electronic music at large.
In recent years, new underground nightclubs, festivals and independent labels have mushroomed in China. There is now a flourishing club music scene in various cities across the country: Beijing, Shanghai, Shenzhen, Hangzhou, Wuhan, Kunming, and Guangzhou have all played a pivotal role in the development of China's electro dance music culture, with Chengdu leading the way (Neocha 2021).
Among Chengdu's many electronic music clubs, there's .TAG ('To Another Galaxy'). The club, located on the 21st floor of Chengdu's Poly Centre, was founded by a small group of Chinese and Dutch music lovers and entrepreneurs, taking inspiration from clubs in Amsterdam and Berlin. TAG has become a city hotspot for underground house and techno, with local DJs such as Cora and HAO attracting a young and free-spirited clubbing crowd.
TAG was founded in 2013, the same year in which renowned record label SVBKVLT was established in Shanghai. SVBKVLT has pushed works from many local talents, including the Beijing-based electronic music duo Zaliva-D and Shanghai producer and artist 33EMYBW (Wu Shanmin).
Chengdu's .TAG and Shanghai's SVBKVLT are just some examples of China's thriving underground scene, as there are many other important players, including Beijing's underground techno club Zhao Dai, Shanghai's 3NTRY, club Elevator and ALL, or OIL in Shenzhen, featuring Chinese DJs and electronic music artists such as Slowcook, Yang Yang, Temple Rat, Knopha, Chuan, Max Shen, Luna Li, and many, many more.
China's electro music culture goes beyond clubs and festivals – the online environment is a big part of it. Although the 2021 shutdown of the Xiami Music app from the Chinese market created a vacuum for online electronic music streaming, other online music libraries such as QQ Music, Netease Cloud Music, Kuwo and Kugou are now competing over listeners.
On social media platforms Weibo and Wechat, there are various electronic music blogging accounts with thousands of followers but there are also hundreds of festival accounts, club accounts, label accounts, and DJ/creator accounts.
More in-depth discussions on China's electronic music scene can also be found on Chinese Q&A platform Zhihu.com, the social networking sites QQ and Douban, and on Bilibili. Over the past few years, other smaller online communities, from Moresound to Abletive, have also arrived at the scene for people to discuss the development of Chinese dance music.
Although many online discussions about the state of China's electronic dance music scene are quite critical of how the scene is evolving, it could still be seen as a sign of how the industry and its audience are maturing – growth comes with growing pains.
Despite all hurdles, new China-based talents are gaining traction and electronic music labels are popping up one after another. Covid has posed a major challenge to the scene but has also injected new energy into the domestic market.
Electronic music in China has come a long way since Jean Michel Jarre first made waves in the country, and after all these years, the genre is entering a new era. The next few years will show which direction Chinese electronic music is moving in, but one thing is certain: electronic music is part of China's music scene today and, whether or not everyone agrees on the quality of the beats that are booming, the music is here to stay.
On one online discussion page about Chinese electronic music, someone asked how others feel about Chinese DJ PantaQ arriving in the DJMag Top 100 DJ list. One commenter answered: "This is only the beginning. Chinese electronic music will start to shine on the international stage."
By Manya Koetse
Follow @whatsonweibo
1 Professor Jeroen de Kloet did extensive research into China's dakou culture. For more on China's dakou generation, we recommend reading: Jeroen de Kloet, China with a Cut: Globalisation, Urban Youth and Popular Music (Amsterdam: Amsterdam University Press, 2010).
2 This scene was described by Chinese DJ / producer Ma Haiing (MHP) in the book by Matthew Collin, Rave On: Global Adventures in Electronic Dance Music (London: Profile Books, 2018), Chapter 6.
References
– Androids. 2017. "An Idiot's Guide to EDM Genres." Complex.com, October 13: https://www.complex.com/music/an-idiots-guide-to-edm-genres/ [Oct 11, 2021].
– Billboard. 1982. "Jarre Fame Spreads – Even to China." Billboard Magazine (March 13): page 22.
– Collin, Matthew. 2018. Rave On: Global Adventures in Electronic Dance Music, London: Profile Books.
– De Boni, Luka. 2018. "The Rise of China's Electronic Dance Music Scene: From Underground Culture to Online Communities." What's on Weibo, August 26
https://www.whatsonweibo.com/the-rise-of-chinas-electronic-dance-music-scene-from-underground-culture-to-online-communities/ [Nov 1, 2021].
– De Kloet, Jeroen. 2010. China with a Cut: Globalisation, Urban Youth and Popular Music. Amsterdam: Amsterdam University Press
– Grefer, Philipp. 2016. "Disco(s), Techno and the EDM Storm: A Brief (and Personal) History of Electronic Music in China." The Beijinger, Nov 16 https://www.thebeijinger.com/blog/2016/11/04/discos-techno-and-edm-storm-brief-and-personal-history-electronic-music-china [Nov 12, 2021].
– Holm, David. 1983. "The Difficulty of 'Walking on Two Legs.'" Index on Censorship: 12 (1): 34-37.
– Jori, Anita. 2021 "The Meanings of 'electronic dance music' and EDM." In: The Evolution of Electronic Dance Music , edited by Ewa Mazierska, Tony Rigg and Les Gillon, Chapter 1. New York: Bloomsbury Academic.
– Latham, Kevin. 2007. Pop Culture China! Media, Arts, and Lifestyle. California: ABC-CLIO.
– Li, Qiuxiao. 2018. "Characteristics of Early Electronic Music Composition in China's Mainland," Contemporary Music Review 37:1-2.
– Magnetic. 2021. "STOP CALLING EDM EDM – HERE IS A PROPER DEFINITION." Magnetic Magazine, Jan 13 https://www.magneticmag.com/2015/10/stop-calling-edm-edm-here-is-a-proper-definition/ [Oct 12, 2021].
– Music Economy Official Weibo Account 音乐财经官方微博.2020. "电音圈有什么资格羡慕滚圈." Sina News, August 20 https://k.sina.com.cn/article_5255791141_13945022501900poao.html [Nov 27, 2021].
– Neocha. 2021. "Sleepless in Chengdu." July 5, https://neocha.com/magazine/sleepless-in-chengdu/ [Nov 27, 2021].
– Yiu, Alex and Damien Charrieras. 2021. "On the Fence: Electronic Dance Music Cultures in Hong Kong and Shenzhen." In: Sébastien Darchen, Damien Charrieras, John Willsteed (eds), Electronic Cities – Music, Policies and Space in the 21st Century, 223-243. Singapore: Palgrave Macmillan.
– Vice China. 2019. "触电中国 EP1:从荷东到锐舞,中国电音的起源与脉络." Tencent News, July 30 https://new.qq.com/omn/20190730/20190730A0CTCB00.html?pc [Oct 12, 2021].
– Wycech, Olivia. 2020. "An Edm Club In Taipei Has Unabashedly Banned Bounce Music…But What Even Is Bounce Music?" MixMag, October 20 https://mixmag.asia/feature/what-is-chinese-bounce-music [Nov 17, 2021].
Featured image by Ama for Yi Magazin.
This text was written for Goethe-Institut China under a CC-BY-NC-ND-4.0-DE license (Creative Commons) as part of a monthly column in collaboration with What's On Weibo.
Spotted a mistake or want to add something? Please let us know in comments below or email us. First-time commenters, please be patient – we will have to manually approve your comment before it appears.