China's 'Masculinity Crisis': The Internet Slang That Stereotypes Chinese Men
How a Chinese boyband triggered social media discussions on what it means to be 'masculine'.
This month, a well-known Chinese educational program for children that featured a 'feminine-looking' boyband ignited discussions on masculinity in China. What's on Weibo provides an overview of Chinese media's stance on the recent discussion, and an introduction to five popular social media slang terms stereotyping Chinese men.

At the beginning of this month, a discussion about the meaning of 'masculinity' sparked discussions on Chinese social media. Discussions started when Chinese state broadcaster CCTV aired Back to School: The First Class (开学第一课).
The programme is an annual educational television program by CCTV and the Ministry of Education, dedicated to the celebration of the new school year. The show, that had one of the highest viewers ratings since years, opened with a performance of the boy band New F4 (新F4).
The boy band New F4 consists of Guan Hong (官鸿), Dylan (王鹤棣), Wu Xize (吴希泽), and Liang Jingkang (梁靖康). In China, the four young men are known to be 'feminine-looking' or so-called 'sissies' (娘炮男), meaning they pay much attention to their clothing, hair, and make-up.
Since the airing of the 'Back to School' programme, many parents questioned the suitability of the performance of New F4, calling for some more 'masculinity' ("阳刚之气") on social media. They criticized the program for being "too entertaining" and having "not enough educational value."
SISSY BOYS? CHINESE MEDIA RESPOND
A few days after the controversial show broadcasted, state media outlet Xinhua News published a commentary calling the New F4 'sissies' (娘炮). Xinhua stated:
" (..) "these sissies promote an unhealthy and unnatural culture which has a not-to-underestimate negative impact on the youth. The sissy culture, driven by consumption, challenges the public order and worships a decadent lifestyle."
Within a few hours after Xinhua News published the article, a column published on the platform of Party newspaper People's Daily (author @百家号) responded with an article titled 'People's Daily Review: What Should Today's 'Masculine Traits' be?' (人民日报评论:什么是今天该有的"男性气质") questioning the definition and purpose of masculinity in modern society.
People's Daily Review column's author stated that:
" (..) modern society broadened the perception of aesthetics, and in a mature society, people should be tolerant towards other people and no longer [should] evaluate a person based on its gender characteristics only."
Later in the article, the author proposes a new construction of masculinity; one that has not much to do with one's appearance but more with one's inner qualities. It also criticizes the use of derogatory terms such as 'sissy' for failing to "respect individual choices."
This is not the first time that a voice featured on a People's Daily platform supports so-called feminine-looking men. On the 13th of August this year, the People's Daily Overseas Edition also published an editorial article, calling for tolerance towards this new lifestyle.
DISCUSSIONS ON WEIBO
On Chinese social media, there are also many netizens who see no threat in the rising popularity of the androgyne looking men. A typical comment said:
"What is a good man? A good man's most essential qualities are to have an idea and be responsible, be brave and kind. These are the things that are important. Only looking at somebody's appearance is too simplistic."
Other Weibo users responded: "Determining whether a man is effeminate or not has nothing to do with his appearance. It can be found his sense of responsibility."
Also, the hashtag "I've deleted the names of people who call feminine-looking men names" (#骂娘炮的人已经被我拉黑了#), initiated by the Chinese edition of News China, has since gone viral on Chinese social media.
But the supposed 'disappearance of masculinity' also led many to worry about an alleged 'masculinity crisis.'
One Weibo user wrote a typical comment saying: "Men should stand up and be more masculine!", with many more praising Xinhua for sending out a strong and clear message, warning society for the rise of 'sissy-culture'.
5 TERMS STEROTYPING CHINESE MEN
This is not the first time that there is talk of a supposed 'crisis of masculinity'. Throughout the years, various terms have popped up on Chinese social media defining certain types of men and their traits. These are five popular examples:
1. Sissy boy (娘炮男, pinyin: niángpàonán)
Derogatory term for androgyne men whose personality and appearance is quite feminine. They often like to put much care into their appearance, including wearing makeup, and a love for shopping. On social media, many claim the reason for this alleged 'soft behavior' is said to be nurtured by the overprotection of children and the lack of gender awareness in upbringing.
2. The Chauvinist(男子汉,pinyin: nánzǐhàn; or 'Straight Man Cancer' 直男癌 zhínán'ái)
Refers to men who live in their own world, with their own values and who tend to reveal their dissatisfaction towards other people. The general view is that these 'Chauvinist men' are self-righteous and indifferent to women's values. Their way of getting acquainted with a woman is often through buying her gifts and spending a lot of money.
3. Phoenix man (凤凰男,pinyin: fènghuángnán)
'Phoenix male' refers to those men who came from poor rural areas and who have been admitted to college after hard work and dwelling in the city to work after graduation. Although they have left the countryside, they still hold on to many rural and traditional concepts and ideas.
4. Wretched or Vulgar Man (猥琐男,pinyin: wěisuǒnán), also often referred to as loser (男屌丝,pinyin: nándiǎosī)
The terms 'vulgar man', 'loser' or 'pervert' are given to a person making other people feel uneasy and uncomfortable. These men are said to be shameless and show an abnormal and inferior behavior caused by long-term sexual repression.
5. Mommy's Boy (妈宝男,pinyin: mābǎonán)
The 'mommy's boy' label refers to men who listen to everything their mother says. Whatever it is that their mother says, they regard it as the truth, and they live by the decisions their mother takes – including what job to take on, who to marry, and where to live.
For now, discussions on what a 'real man' is seem to be continuing on Chinese social media. In the meanwhile, the Weibo page of the 'feminine-looking boyband' New F4 already received 110 million views- a number that just keeps on growing.
Link to the New F4 performance on the CCTV program Back to School: The first class (开学第一课): here.
By Gabi Verberg
Follow @whatsonweibo
Spotted a mistake or want to add something? Please let us know in comments below or email us.
©2018 Whatsonweibo. All rights reserved. Do not reproduce our content without permission – you can contact us at info@whatsonweibo.com.
Leaked Audio Clip of Deceased Pop Star Coco Lee Denouncing 'Sing! China' Sparks Anger on Chinese Social Media
The leaked Coco Lee recording has been dominating online discussions, with one related hashtag receiving over 2,6 billion (!) views on Weibo.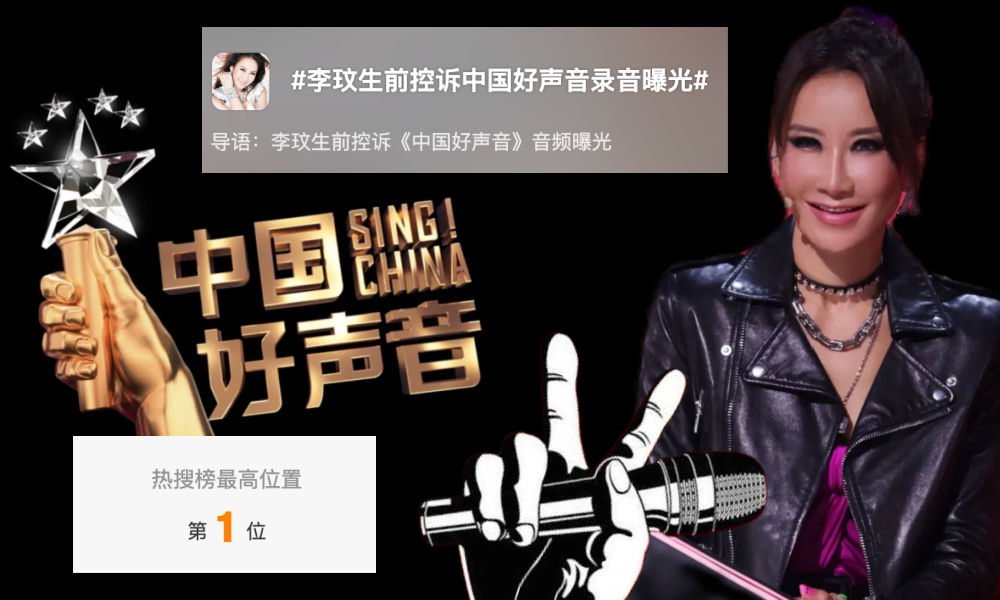 A leaked audio recording of the late superstar Coco Lee discussing her negative experiences with Chinese talent show Sing! China (中国好声音/The Voice of China) has become the no 1 searched topic on Weibo these days. The accusations against the popular show have shaken up China's entertainment circles and the online condemnation of ethical standards in the industry also has offline consequences.
Coco Lee (李玟), an iconic Hong Kong-born pop star who had been active in the music industry for nearly three decades, tragically ended her own life on July 5th of this year. Her passing unveiled her previously hidden struggle with depression, exposing a more vulnerable side to her glamorous and impeccable image. Later, public discussions about Coco Lee focused on her marriage and family situation.
That is until this week, when a troubling audio clip featuring Coco Lee was exposed in which the singer accused the production team of talent show Sing! China (a revamped editon of The Voice of China), alleging mistreatment. This revelation has sparked public discontent and reshaped public perceptions of both the singer and the show.
The 9-minute-long audio recording surfaced on Weibo on August 17, originating from undisclosed sources. It presented a candid and emotionally charged narrative of Coco Lee's experiences as a mentor/judge on the talent show.
Sing! China (中国好声音) is a music competition show broadcasted by Zhejiang TV (浙江卫视) and produced by Star (CM) Holdings Ltd. It is the Chinese version of the international reality television singing competition franchise The Voice, based on the reality singing show The Voice of Holland.
Not long after Coco Lee's passing, fans raised concerns about the alleged unpleasant experiences Coco had with Sing! China and its production team back in 2022, during the recording of the seventh season. This included a fall that resulted in a leg injury, which further exacerbated Coco Lee's already declining mental and physical health condition.
The leaked recording of Coco Lee's experiences on the show primarily covers several points:
◼︎ First, while she was secretly battling breast cancer, Coco Lee chose to participate in The Voice of China to support young music enthusiasts. She joined without even knowing what the exact compensation would be.
◼︎ Coco Lee disagreed with the show's competition format, which eliminated contestants without assigning scores. She advocated for fairness but faced resistance from the program. The production team allegedly even physically confronted her, grabbing her clothes, and a director's assistant threatened her to leave immediately.
◼︎ Coco spoke out for contestant Fige (菲戈), who she thought faced unfair treatment. A video of her defending Fige circulated online, pressuring the production team to address the issue. They eventually gave Fige another chance in the show but demanded that Coco Lee would clarify on Weibo that there were no problems with the production team, attributing the issue to misunderstandings.
◼︎ On the final recording day of Sing! China on October 14th, despite Coco Lee's declining health—complaining of numbness and loss of warmth in her left leg—she chose not to use a wheelchair or crutches. She wanted to maintain her appearance by wearing high heels. However, the production team denied her request to have guest artist Wang Zepeng stand by her side.
◼︎ Last, following the show's airing, Coco Lee expressed deep disappointment. She felt as if her efforts and dedication were invisible, and her body had suffered for the sake of the show.
By now, the related Weibo hashtag "Leaked Recording of Coco Lee Denouncing 'Voice of China' Before her Death" (#李玟生前控诉中国好声音录音曝光#) has received a staggering 2,6 billion views.
After the recording was exposed, the production team behind Sing! China issued a late-night statement on August 17. The statement said:
"Recently, some self-media accounts have spread maliciously edited audio clips regarding Coco Lee denouncing 'The Voice of China' before her death, in 2022. This is disresprectful to the deceased and also seriously damages the show's image. We strongly condemn it. As a coach on 'Sing! China' 2022, Ms. Coco Lee fully devoted herself to her work. Any misunderstandings that might have come up during the period have already been dealt with. Out of respect for the deceased, we won't go into this matter too much and we will always remember her true dedication to the show. Let the deceased rest in peace!"
Although the talent show accused netizens of editing the audio recordings, Coco Lee's own sister confirmed the authenticity of the recording. A related hashtag garned over 400 million views (#李玟姐姐称网传视频属实#).

Sending Ripples Through China's Entertainment Sphere

By now, the Coco Lee audio clip has completely shaken up China's entertainment circles and has been dominating social media platforms. Many Coco Lee fans, as well as regular netizens, have united in outrage over her alleged mistreatment.
Other Chinese celebrities have also voiced their support for Coco Lee. The hashtag "Celebrities Speaking Out for Coco Lee" (#为李玟发声的明星#) has garnered over 170 million views on Weibo by now. Respected Chinese stars such as Jin Xing (金星), Hang Hong (韩红), Yang Pei-an (杨培安) say they believe Coco Lee and hope for justice.
Following the viral spread of the clip, 'Jammy' Li Jiajie, a previous contestant on Sing! China, also expressed his solidarity with Coco Lee on Weibo and further condemned the show. He accused the program of engaging in practices such as position buying, enforcing extensive binding contracts, and showing disregard for rules and disrespect towards contestants.
The next morning, however, Li's posts were removed and he suddenly issued a statement expressing that the comments he made were not actually "based on facts," making apologies and asking netizens to refrain from spreading misinformation (#李嘉捷向好声音致歉#). If anything, Li's words and their sudden disappearance caused more confusion and added fuel to the fire.
"This only further strenghthens my believe that Sing! China is rotten to the core," a popular comment said.

Online Crusade Against Zhejiang TV

As public indignation grew, people started shifting the blame from the Sing! China show to the broadcaster behind the program, Zhejiang Television (浙江卫视), as well as producer Star Holdings (星空华文传媒).
Some netizens even coined the term "Murderer TV" (杀人卫视) to refer to Zhejiang TV, pointing out other disturbing incidents associated with this network's reality shows.
As early as 2013, Zhejiang TV was condemned by netizens for "disregarding human life" after a young team assistant drowned during a training session for the show Celebrity Splash China.
One of the most notable cases mentioned is the tragic death of 35-year-old actor Godfrey Gao (高以翔) during the filming of the sports reality show Chase Me (追我吧) by Zhejiang TV in 2019. The Taiwanese-Canadian model and actor reportedly suffered a heart attack while on set. Afterward, the show faced criticism for pushing contestants to physical exhaustion and reportedly failing to implement proper safety measures – both factors allegedly contributing to Gao's unexpected death.
The massive online critique on the TV station also has some potential offline consequences. On social media platforms such as Douban, netizens have compiled lists of sponsors for the upcoming 2023 Sing! China season, urging others to join them in boycotting them.
According to Bloomberg, producer Star Holdings witnessed a significant decline in its stock by 23%, marking the largest drop since the company's listing in December. This decrease resulted in the eradication of approximately $1.5 billion in market value from the stock, which had surged to more than quadruple its initial value at its highest point.
Rather than solely targeting Zhejiang TV, some netizens have implicated the broader Chinese entertainment industry for putting too much pressure on the people working on their programs. They argue that the industry's prioritization of viewership and profitability has seemingly contributed to the blurring of ethical boundaries across the sector, and netizens have collectively been calling for more transparency and fairness in China's entertainment industry.
For now, people are demanding that Sing! China should stop airing until they have corrected their mistakes; Zhejiang TV should critically do a self-inspection and publicly disclose the results. Lastly, audiences are waiting for a public apology to Coco Lee from Sing! China, and an acknowledgement that those involved should be penalized.
Many believe that the truth will eventually always come to light. The fact that Coco Lee, from beyond her grave, managed to cause such a storm in the Chinese entertainment realm is yet another testament to her influence in China's pop culture and her pursuit of justice within a profit-oriented industry. Weeks after her death, it is her voice that has managed to make a huge impact in China, and there is a hopeful sentiment that the current shock following the recording will bring about positive changes in the future.
By Ruixin Zhang and Manya Koetse
Part of featured image via Nextapple.com
Get the story behind the hashtag. Subscribe to What's on Weibo here to receive our newsletter and get access to our latest articles:
Spotted a mistake or want to add something? Please let us know in comments below or email us. First-time commenters, please be patient – we will have to manually approve your comment before it appears.
©2023 Whatsonweibo. All rights reserved. Do not reproduce our content without permission – you can contact us at info@whatsonweibo.com.
Behind 8 Billion Streams: Who is Dao Lang Cursing in the Chinese Hit Song 'Luocha Kingdom'?
What's behind the Dao Lang hit song that has everyone talking these days?
"Who is being mocked and cursed in this song?" This question has ignited a wildfire of speculation across the Chinese internet, as a recently released folk song by a relatively low-profile singer has amassed a staggering 8 billion plays, surpassing the success of previous hit songs.
A newly released Chinese song, composed and sung by a 52-year-old singer who was primarily active in the 2000s, has achieved an astounding milestone of 8 billion streams in less than two weeks since its release.
The song, titled "Luosha Haishi" (罗刹海市; "Raksha Sea Market" or "Luocha Kingdom"), has been widely acclaimed on various social media platforms, with many claiming that it has surpassed the Guinness World Record for the most streamed track worldwide, a record previously held by "Despacito" in 2017 with 5.5 billion plays. The official Weibo account of Guinness World Records recently stated that they haven't received any application for a new record yet, and thus, no record has been officially confirmed broken at this time.
However, even 8 billion plays alone are enough to marvel at. The sudden surge in popularity of a song created by a low-profile singer, who has not participated in any major shows or held performances for the last few decades, has raised numerous questions: Who is the singer? What is in the song? And why has it become viral in China? We'll answer some of these questions for you here.
Question 1: Who is Dao Lang?
Dao Lang (刀郎), whose real name is Luo Lin (罗林), embarked on his musical journey at a young age. Born in 1971, he made the decision to leave school at the age of 17 and fully immerse himself in learning keyboard instruments at a music hall in Neijiang. Over the next four years, he ventured to different locations such as Chengdu, Chongqing, Tibet, and Xi'an, where he gained experience and honed his musical skills. Throughout the 1990s, he actively participated in various music projects and bands, shaping his career in the music industry.
In 2004, Dao Lang's album The First Snow of 2022 (2002年的第一场雪) was unexpectedly well-received, winning him nationwide popularity. After enjoying success with previous albums, Dao Lang diversified his musical endeavors, collaborating with other artists and exploring different genres, such as folk and ethnic music. Between 2010 and 2012, he participated in various performances and events, including appearing at Hong Kong singer Alan Tam's concert and the Television Arts Evening Celebration for the 90th Anniversary of the Communist Party of China's founding.
Subsequently, Dao Lang appeared to withdraw from social media, only resurfacing with two albums in 2020 and 2021, which were released with minimal promotion. However, it is his latest album, titled There Are Few Folk Songs (山歌寥哉) that has brought him back into the public eye, primarily due to the "Luosha Haishi" song.
Question 2: What's the Song About?
What makes a song so powerful that it has brought Dao Lang back into the public's attention after almost 20 years?
The song carries strong folk and ethnic elements, and the lyrics are quite cryptic. The song itself has the same title as an ironic story in the famous Liaozhai Zhiyi (聊斋志异), or Strange Stories from a Chinese Studio, a collection of supernatural and ghostly tales written by Pu Songling (蒲松龄) during the Qing Dynasty (1644-1911).
The song's sudden popularity is mainly attributed to the mocking implication embedded in the lyrics.
One particular verse, in particular, has sparked significant discussion:
那马户不知道他是一头驴
That Don Kee does not know that he is a donkey
那又鸟不知道他是一只鸡
That Scarlet does not know that she is a whore
勾栏从来扮高雅
Brothels have always pretended to be elegant
自古公公好威名
Since ancient times, eunuchs are fond of their mighty reputation
The terms "Mǎ Hù" (马户) and "Yòu Niǎo" (又鸟), translated here as 'Don Kee' and 'Scarlet' 1, are not commonly used terms in modern Chinese. Mǎ Hù (马户) is a combination of the characters 马 (mǎ), meaning "horse," and 户 (hù), meaning "household" or "family." If these two are combined as one character, you get "驴" (lü), meaning "donkey," hence the 'Don Kee' translation to English.
Similarly, "Yòu Niǎo" (又鸟) is a made-up term consisting of two character components that, when put together, means "chicken" ("鸡", jī).
Both 'donkey' and 'chicken' have been used as curses in China. People use phrases such as "as silly as a donkey" ("蠢得像头驴") to describe foolish behavior. On the other hand, the term "chicken" (鸡) often implies prostitution when used in the singular form, but it can also take on the meaning of "trashy" (辣鸡, a phonetic adaptation of the word 垃圾, rubbish) or "weak" (菜鸡) when combined with other characters.
The term that is translated as "brothel" here is "gōulán" (勾栏), which refers to a type of performance venue for opera in urban areas during the Song and Yuan dynasties but is also used to refer to brothels.
The term "gōng gong" (公公) is used to address the father of one's spouse, but is also has additional meanings and was historically used as an appellation for eunuchs, (castrated) male servants in the imperial court.
So we could say that the first two lines of these lyrics can be interpreted as mocking or cursing people who are unaware of their own silliness or weak status. When combined with the third and fourth lines, which describe things that are pretentious, we can deduce that these lyrics are meant to point out how some people perceive themselves as much more than they actually are, vainly focused on how they portray themselves to others and their status.
Question 3: Who is Dao Lang Cursing in This Song?
There are various online theories on what or who Dao Lang is actually referring to in this song.
◼︎ One trending theory is that it is about Na Ying (那英). Na Ying is a Chinese singer who rose to national fame after serving as a coach in the the popular television singing show The Voice of China in 2012.
Despite gaining recognition in 2004 for his album The First Snow of 2002 (2003), Dao Lang was not widely celebrated as an artist at that time. When Chinese media asked various artists about their thoughts on the 'rising star' Dao Lang, he was often criticized and belittled. Among those with the deepest grudge against Dao Lang, it is widely rumored that Na Ying was the one.
In 2010, during the selection of the "Top 10 Most Influential Singers of the Decade," Na Ying, as the jury chairwoman, vehemently opposed Dao Lang's inclusion. She allegedly believed that Dao Lang's songs lacked aesthetic value, despite their high sales, and that music should not be solely judged based on sales volume.
This publicly known clash with Na Ying has sparked widespread speculation that the person subtly mocked by Dao Lang in his song is actually her. Moreover, some interpret the repetition of the character "那" (nà, "that") throughout the song as a reference to Na Ying's surname.
Soon after the album's release, Na Ying's social media accounts were inundated with netizens convinced that the song was directed at her. Her follower count on Douyin (Chinese TikTok) surged from 770,000 to 1,800,000, and her recent video garnered millions of comments, with many referencing Dao Lang's song and blaming her for belittling Dao Lang back in the day.
◼︎ Another trending theory is that Dao Lang is cursing the popular music talent show The Voice of China and its coaching panel. Besides Na Ying, singers Yang Kun and Wang Feng also received ten thousands of comments related to Dao Lang's song on their social media accounts.
One of the reasons why people think the song refers to the show is because it contains the line "Before speaking, they turn around" ("未曾开言先转腚"), which reminds people of the show's "chair turning moment" in which coaches, whose chairs are turned away from the blind audition stage, can press a button that turns their chair around to face the stage if they are impressed by the contestant's voice and want to work with them.
◼︎ A third trending theory suggests that the song's meaning extends far beyond the music industry and carries geopolitical implications. Some netizens have let their imaginations run wild, arguing that the song is actually mocking the United States. The opening line "The land of Rakshasa extends 26,000 li to the east, crossing the Seven Gorges and the scorched Yellow Mud Land of three inches" ("罗刹国向东两万六千里,过七冲越焦海三寸的黄泥地") is a point of focus.
Since 26,000 li is a traditional Chinese unit of distance, equivalent to half a kilometer, some believe it aligns precisely with China's territory. Consequently, they speculate that the Rakshasa country, located 13,000 kilometers west of China, is a metaphor for the United States.
The Aftermath
Amidst the nationwide speculation on whom Dao Lang is targeting in his song, several "suspects" have responded to netizens' guesses. Some chose to resolve the controversy humorously, while others indirectly expressed their distress over the online abuse stemming from these unfounded speculations. Recent reports indicate that Na Ying, in her latest debut, seemed to be greatly affected by the harsh comments made by netizens.
While the speculations surrounding the song have garnered significant attention for both the song and the singer, some discussions are not necessarily constructive. As some netizens point out, the song might not even aim to curse anyone.
It could also be that the song is simply inspired by one of the stories in the book Strange Stories from a Chinese Studio (聊斋志异), which is set in a place called Rakshasa Country, located 26,000 li west of China, resembling a bustling market. In this country, people have peculiar and bizarre appearances, and the more non-human they look, the more attention they receive, while those who appear human live at the bottom of society. Therefore, it is possible that the song aims to narrate these stories instead of attacking someone in particular.
Moreover, the extensive speculations surrounding the song's intention have also seemingly transformed Dao Lang's music from a source of enjoyment into a source of analysis, with netizens now meticulously scrutinizing every lyric line.
Among the billions of streams, it begs the question: how many listeners are genuinely enjoying Dao Lang's music, and how many are just eager sleuths, searching for clues to support their theories about the song's targets? This raises some curiosity about the true significance of the song's popularity.
On the other hand, Dao Lang would likely not mind if the song eventually finds its place in the Guinness Book of Records, alongside a note that recognizes it as "the no 1 one most-played hit song that kept everyone guessing."
By Zilan Qian
Follow @whatsonweibo
1. Part of the translation provided, namely the translation of 'Ma Hu' 马户 as 'Don Kee' and 'You Niao' 又鸟 as 'the scarlet woman' was created by Xiangdong Zhu & Ning Wan on Wenxuecity.com on August 1st 2023, although the original page has since been deleted.
This article has been edited for clarity by Manya Koetse
Get the story behind the hashtag. Subscribe to What's on Weibo here to receive our newsletter and get access to our latest articles:
Part of featured image via Xigua Shipin.
Spotted a mistake or want to add something? Please let us know in comments below or email us. First-time commenters, please be patient – we will have to manually approve your comment before it appears.
©2023 Whatsonweibo. All rights reserved. Do not reproduce our content without permission – you can contact us at info@whatsonweibo.com.
Subscribe to our newsletter
Stay updated on what's trending in China & get the story behind the hashtag
Sign up
here
to become a premium member of What's on Weibo today and gain access to all of our latest and premium content, as well as receive our exclusive Weibo Watch newsletter. If you prefer to only receive our free newsletter with an overview of the latest articles, you can
subscribe for free
here.
Would you like to become a contributor, or do you have any tips or suggestions for us? Get in touch with us here.