China's 'Masculinity Crisis': The Internet Slang That Stereotypes Chinese Men
How a Chinese boyband triggered social media discussions on what it means to be 'masculine'.
This month, a well-known Chinese educational program for children that featured a 'feminine-looking' boyband ignited discussions on masculinity in China. What's on Weibo provides an overview of Chinese media's stance on the recent discussion, and an introduction to five popular social media slang terms stereotyping Chinese men.

At the beginning of this month, a discussion about the meaning of 'masculinity' sparked discussions on Chinese social media. Discussions started when Chinese state broadcaster CCTV aired Back to School: The First Class (开学第一课).
The programme is an annual educational television program by CCTV and the Ministry of Education, dedicated to the celebration of the new school year. The show, that had one of the highest viewers ratings since years, opened with a performance of the boy band New F4 (新F4).
The boy band New F4 consists of Guan Hong (官鸿), Dylan (王鹤棣), Wu Xize (吴希泽), and Liang Jingkang (梁靖康). In China, the four young men are known to be 'feminine-looking' or so-called 'sissies' (娘炮男), meaning they pay much attention to their clothing, hair, and make-up.
Since the airing of the 'Back to School' programme, many parents questioned the suitability of the performance of New F4, calling for some more 'masculinity' ("阳刚之气") on social media. They criticized the program for being "too entertaining" and having "not enough educational value."
SISSY BOYS? CHINESE MEDIA RESPOND
A few days after the controversial show broadcasted, state media outlet Xinhua News published a commentary calling the New F4 'sissies' (娘炮). Xinhua stated:
" (..) "these sissies promote an unhealthy and unnatural culture which has a not-to-underestimate negative impact on the youth. The sissy culture, driven by consumption, challenges the public order and worships a decadent lifestyle."
Within a few hours after Xinhua News published the article, a column published on the platform of Party newspaper People's Daily (author @百家号) responded with an article titled 'People's Daily Review: What Should Today's 'Masculine Traits' be?' (人民日报评论:什么是今天该有的"男性气质") questioning the definition and purpose of masculinity in modern society.
People's Daily Review column's author stated that:
" (..) modern society broadened the perception of aesthetics, and in a mature society, people should be tolerant towards other people and no longer [should] evaluate a person based on its gender characteristics only."
Later in the article, the author proposes a new construction of masculinity; one that has not much to do with one's appearance but more with one's inner qualities. It also criticizes the use of derogatory terms such as 'sissy' for failing to "respect individual choices."
This is not the first time that a voice featured on a People's Daily platform supports so-called feminine-looking men. On the 13th of August this year, the People's Daily Overseas Edition also published an editorial article, calling for tolerance towards this new lifestyle.
DISCUSSIONS ON WEIBO
On Chinese social media, there are also many netizens who see no threat in the rising popularity of the androgyne looking men. A typical comment said:
"What is a good man? A good man's most essential qualities are to have an idea and be responsible, be brave and kind. These are the things that are important. Only looking at somebody's appearance is too simplistic."
Other Weibo users responded: "Determining whether a man is effeminate or not has nothing to do with his appearance. It can be found his sense of responsibility."
Also, the hashtag "I've deleted the names of people who call feminine-looking men names" (#骂娘炮的人已经被我拉黑了#), initiated by the Chinese edition of News China, has since gone viral on Chinese social media.
But the supposed 'disappearance of masculinity' also led many to worry about an alleged 'masculinity crisis.'
One Weibo user wrote a typical comment saying: "Men should stand up and be more masculine!", with many more praising Xinhua for sending out a strong and clear message, warning society for the rise of 'sissy-culture'.
5 TERMS STEROTYPING CHINESE MEN
This is not the first time that there is talk of a supposed 'crisis of masculinity'. Throughout the years, various terms have popped up on Chinese social media defining certain types of men and their traits. These are five popular examples:
1. Sissy boy (娘炮男, pinyin: niángpàonán)
Derogatory term for androgyne men whose personality and appearance is quite feminine. They often like to put much care into their appearance, including wearing makeup, and a love for shopping. On social media, many claim the reason for this alleged 'soft behavior' is said to be nurtured by the overprotection of children and the lack of gender awareness in upbringing.
2. The Chauvinist(男子汉,pinyin: nánzǐhàn; or 'Straight Man Cancer' 直男癌 zhínán'ái)
Refers to men who live in their own world, with their own values and who tend to reveal their dissatisfaction towards other people. The general view is that these 'Chauvinist men' are self-righteous and indifferent to women's values. Their way of getting acquainted with a woman is often through buying her gifts and spending a lot of money.
3. Phoenix man (凤凰男,pinyin: fènghuángnán)
'Phoenix male' refers to those men who came from poor rural areas and who have been admitted to college after hard work and dwelling in the city to work after graduation. Although they have left the countryside, they still hold on to many rural and traditional concepts and ideas.
4. Wretched or Vulgar Man (猥琐男,pinyin: wěisuǒnán), also often referred to as loser (男屌丝,pinyin: nándiǎosī)
The terms 'vulgar man', 'loser' or 'pervert' are given to a person making other people feel uneasy and uncomfortable. These men are said to be shameless and show an abnormal and inferior behavior caused by long-term sexual repression.
5. Mommy's Boy (妈宝男,pinyin: mābǎonán)
The 'mommy's boy' label refers to men who listen to everything their mother says. Whatever it is that their mother says, they regard it as the truth, and they live by the decisions their mother takes – including what job to take on, who to marry, and where to live.
For now, discussions on what a 'real man' is seem to be continuing on Chinese social media. In the meanwhile, the Weibo page of the 'feminine-looking boyband' New F4 already received 110 million views- a number that just keeps on growing.
Link to the New F4 performance on the CCTV program Back to School: The first class (开学第一课): here.
By Gabi Verberg
Follow @whatsonweibo
Spotted a mistake or want to add something? Please let us know in comments below or email us.
©2018 Whatsonweibo. All rights reserved. Do not reproduce our content without permission – you can contact us at info@whatsonweibo.com.
'Call Me By Fire' All-Male Variety Show Becomes Social Media Hit
'Call Me By Fire' is the male version of 'Sister Who Make Waves' and it's an instant hit.
A Chinese reality show starring 33 male celebrities titled Call Me By Fire (披荆斩棘的哥哥) has become an instant hit after its premiere on Mango TV last week.
The show is considered the male version of the hit variety show Sisters Who Make Waves (乘风破浪的姐姐, read more here) but with different rules. The contestants, ranging from age 27 to 57, are all in the entertainment industry; the group includes pianists, singers, dancers, actors, hosts, and rappers.
They are required to perform individually and in a team for the first episode's performances. Chinese viewers were surprised to see some of the high-quality performances, which then went viral on social media.
Li Chengxuan (@李承铉 a.k.a. Nathan Lee), who was previously mostly known for being the husband of Chinese actress Qi Wei (戚薇), rapped in a low voice and wowed the audience. The hashtag about his first stage performance on the show garnered more than 120 million views ( #李承铉天上飞舞台#). A video of his performance can be found here.
Li is a former member of the South Korean boy band TAKE. In 2014, the Korean-American pop star married Qi, who later gave birth to their first daughter Lucky. When Qi went back to focusing on her career, Li decided to be a stay-at-home dad.
Just like some of the other show contestants, Li also appeared on the talk show Definition (定义), where he spoke to the female journalist Yi Lijing about his life as a full-time father. In that show, he expressed how he used to think being a full-time parent would be easy. "It takes a lot of time and energy to take care of the baby and the family, but as a result, it always looks like you haven't done anything all day."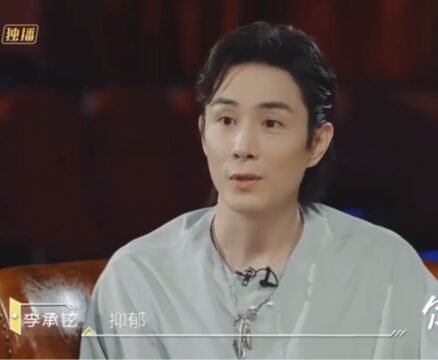 He describes how he experienced a time of depression during which he tried his best to be a good parent but sometimes just could not control his temper. Li explains how he would regret these moments of anger and then would cry at night when his daughter was asleep.  (Interview video here.)
Li's experiences as a full-time parent struck a chord among Chinese netizens, especially among stay-at-home moms. The hashtag "Li Chengxuan Was Depressed for Over a Year As a Full-Time Dad" (#李承铉当全职爸爸抑郁了一年多#) received more than 600 million views on Weibo. Under the hashtag, commenters shared their experiences and struggles in being full-time parents.
One netizen wrote: "This is so true. We do so much when taking care of our children, but other people often feel like it's nothing. When you lose your temper in front of the kid, you feel terrible inside and start to question yourself about why you failed to control yourself, and then you make another promise not to lose your temper anymore."

Another Weibo user wrote: "See, when a mom looking after her kids feels depressed, it is not because she is weak and sensitive! It is because the job itself will make any human being depressed."
Li later responded on his Weibo account, saying he just did his part as a parent, and this is what any new mom or new dad will face. That post also received thousands of comments and over 285,000 likes.
So far, the hashtag of the Call me By Fire TV show has received a staggering 4.4 billion views on Weibo (#披荆斩棘的哥哥#).
The show's performances and Li sharing his struggles as a stay-at-home dad are not the only reasons for the show's massive success on Chinese social media. Some other related issues also made the show gain more attention.
Even before Call Me By Fire aired, the show already made headlines when the 55-year-old Taiwanese singer Terry Lin Zhixuan (林志炫) reportedly fell off the stage while filming.
Later, one of the contestants left the show after some social media drama. Chinese singer Huo Zun (霍尊) announced his withdrawal from the show after his ex-girlfriend accused him of being a cheater and leaking some WeChat conversation screenshots to prove that he actually disliked the show.
The remaining 32 contestants will enter the real 'elimination stages' in the following episodes. The show and highlight clips can be viewed on the Mango TV official site here.
By Wendy Huang
Follow @whatsonweibo
Spotted a mistake or want to add something? Please let us know in comments below or email us. Please note that your comment below will need to be manually approved if you're a first-time poster here.
©2021 Whatsonweibo. All rights reserved. Do not reproduce our content without permission – you can contact us at info@whatsonweibo.com
Chinese Idol Survival Shows – The Start of a New 'Idol Era'
Idol reality survival shows are riding a new wave of popularity in China.
China has a vibrant online popular culture media environment, where new trends and genres come and go every single day. Chinese idol survival shows, however, have seen continued success and now seem to go through another major peak in popularity. What's on Weibo's Yin Lin explains.
On May 30, the finale of Chinese online video platform iQIYI's Youth With You 2 (青春有你2) broke the Internet. Official videos on iQIYI's Youtube channel garnered over 300 million views. At the time of writing, the hashtag "Youth With You 2 Finale" (#青春有你2总决赛#) has 3.15 billion views; the hashtag "Youth With You 2" (#青春有你2#) has 14.5 billion views. 
In recent years, China has produced a slew of so-called 'idol survival shows.' They have enjoyed much popularity among local audiences, as well as overseas—more than 393 hashtags related to Youth With You 2 trended in Asia, Europe, South America, and North America. In this overview, we explore the background, status quo, and future of China's idol survival shows.
The Start of The 'Idol Wave' in China 
In China's idol survival reality shows, so-called 'trainees', or aspiring idols, participate in a series of different challenges to compete for a chance to debut.
The 'idol culture' (偶像文化) has been dominating popular culture in Japan and South Korea for many years. An idol is, in short, a heavily commercialized multi-talented entertainer that is marketed – sometimes as a product – for image, attractiveness, and personality, either alone or with a group.
Especially K-pop and the Korean entertainment industry have since long been extremely popular among Chinese youth, heavily influencing pop culture in China today (more about Korean and Japanese idols here and here, and also read our article "Why Korean Idol Groups Got So Big in China and are Conquering the World").
These kinds of shows are ubiquitous in South Korea's popular culture, with Produce 101 (2016) becoming one of the most popular and successful South Korean reality series ever. 
The concept is simple. Every week, viewers vote for their favorite contestant. Trainees with insufficient votes during elimination rounds are eliminated from the competition. 
The group formed from the final trainees then goes on to 'promote' for a period of time, usually one to two years.
This method of creating an idol group, in which the members are basically selected by their own fans, is a major way to bridge existing distances between fans and their idols. Fan participation is a key factor in the success of idol reality shows.
While China has had several idol survival shows, iQIYI's Idol Producer (青春有你, 2018) was the first to reach levels of popularity similar to that of South Korea's Produce 101. 
Idol Producer premiered in January 2018 with Zhang Yixing as the host and Li Ronghao, MC Jin, Cheng Xiao, Zhou Jieqiong, and Jackson Wang serving as mentors.
This first season of Idol Producer brought together a total of hundred trainees. Though most trainees were from China, there were a few from overseas, such as You Zhangjing from Malaysia and Huang Shuhao from Thailand. The younger brother of Chinese actress Fan Bingbing, Fan Chengcheng, also participated in the show.
The first episode of Idol Producer attracted more than 100 million views within the first hour of broadcasting. In the final episode, more than 180 million votes were cast, with first-place winner Cai Xukun raking in more than 47 million votes.  
Two months after Idol Producer, Tencent launched Produce 101 China (创造101) in March 2018. Both shows marked the start of the 'idol wave' in China. 
In the next two years, more idol survival shows would dominate the Chinese entertainment scene. iQIYI released Youth With You 1 (青春有你) and Youth With You 2 (青春有你2) in 2019 and 2020 respectively. Tencent, too, released Produce Camp 2019 (创造营2019) and Produce Camp 2020 (创造营2020), the latter of which is currently airing. 
China's New Idol Survival Show Era 
In 2018, both Produce 101 China and Idol Producer enjoyed overwhelming popularity, accumulating more than 4.73 billion views and 3 billion views respectively. Their sequels, however, have failed to achieve the same level of success.
At the time of writing, 150,000 viewers have completed Youth With You 1 on Chinese community site Douban, versus 470,000 viewers for its predecessor, Idol Producer. Additionally, the number of votes cast for the first episode of Youth With You 1 was much lower compared to its Idol Producer equivalent. 
As for Produce 101 China, 510,000 viewers have completed the show on Douban, but only 340,000 viewers have finished watching its sequel. 
Groups formed from these shows have met with varying amounts of success and have run into problems regarding scheduling conflicts. 
Nine Percent, the boy group formed from Idol Producer in 2018, was known as a group that rarely met. Their second album was a compilation of tracks from solo members. Members had existing contracts with their own companies while simultaneously promoting with Nine Percent; hence, due to scheduling conflicts, members would often forgo Nine Percent activities for those of their own company. 
Rocket Girls, formed from Produce 101 China, also faced problems after debuting. Due to conflicts between Tencent and their management company, Yuehua Entertainment, Meng Meiqi and Wu Xuanyi, who placed first and second respectively, left the group two months after debut.
Despite the problems faced by groups formed from such shows, some idols were able to ride on the momentum they gained from participating.
For instance, Cai Xukun, first-place winner of Idol Producer, swiftly rose to become one of the most popular trainees on the show, consistently ranking first place in every round of elimination. He was also the host of the recently concluded Youth With You 2.
Other trainees have also seen individual success. Liu Yuxin, the first-place winner of Youth With You 2, gained attention for her androgynous look: short hair, a cool personality, and wearing shorts instead of a skirt. Her hashtag "Liu Yuxin" (#刘雨昕#) has been viewed more than 550 million times on Weibo. In the final episode, she received more than 17 million votes.
Despite the lowering audience ratings for other recent idol shows, the success of Youth With You 2 might mark the start of a new 'idol era'. Even Chinese netizens wondered why the show is so popular compared to Youth With You 1.
Just one day after the finale premiered, the hashtag "Youth With You 2 Finale" had already been viewed more than 2.2 billion times on Weibo. On Douban, 580,000 viewers have finished the show—more than any of the previous idol survival shows by iQIYI and Tencent.
The Future of Idol Survival Shows 
Chinese idol survival shows were received with much fanfare when they first entered mainstream popular culture in 2018. But the ensuing conflicts that the resulting groups ran into resulted in netizens doubting the success and effectiveness of these shows. 
This year, however, the popularity of both Youth With You 2 and Produce Camp 2020 might signal a comeback for the idol era in China.
And this time around, Chinese idol survival shows are also gaining more traction outside of the PRC, becoming more and more popular among global audiences. Both Youth With You 2 and Produce Camp 2020 have been well-received by viewers from many different countries.
On social media, online commenters praise the two shows – and Chinese idol survival shows in general – for having a more "laid-back atmosphere" between the trainees and mentors. Web users also comment that they enjoy how the shows highlight the friendship between the trainees, rather than the feuds.
It seems that what sets Chinese idol survival shows apart from the South Korean ones is precisely why some viewers prefer them. The longer running times, for example, makes it possible to give more screen time to the different trainees and to give a deeper understanding of the relations between them.
With the popularity of idols like Liu Yuxin and Wang Ju who challenge conventional beauty standards, shows can also look into moving away from the cookie-cutter aesthetic that idols usually adhere to. 
Furthermore, management companies and broadcasting companies have to come to an agreement regarding what scheduling arrangement would benefit all parties and be conducive towards the idols' physical and mental health. 
It remains to be seen whether THE9, the newly formed group from Youth With You 2, will be able to flourish in the time to come and avoid the troubles that other groups ran into. 
As for Produce Camp 2020, it seems set to enjoy just as much success as Youth With You 2 did – if not more. Only five episodes have been released, but the show's hashtag already has 16.1 billion views.
A reviewer on Douban writes: "The trainees are all confident, taking opportunities to express themselves and actively showcase their talents. So much youthful and positive energy!" 
The latest newcomers to the idol reality show genre further consolidate the success of the format. Recently, Mango TV released Sisters Who Make Waves (乘风波浪的姐姐们, 2020), where female celebrities above 30 years old compete to make it into the final five-member girl group. The first episode was viewed more than 370 million times within the first three days of release and immediately became top trending on Weibo.
The number of survival shows in China right now and their growing popularity shows that audiences seemingly can't get enough of the genre. It is an indication that, despite setbacks in the past, China's idol survival reality show genre is still going strong and might be here to stay.
You can watch the currently airing Produce Camp 2020 and Sisters Who Make Waves here and here.
By Yin Lin Tan
Follow @WhatsOnWeibo
 Spotted a mistake or want to add something? Please let us know in comments below or email us. First-time commenters, please be patient – we will have to manually approve your comment before it appears.
©2020 Whatsonweibo. All rights reserved. Do not reproduce our content without permission – you can contact us at info@whatsonweibo.com.