China's 'Masculinity Crisis': The Internet Slang That Stereotypes Chinese Men
How a Chinese boyband triggered social media discussions on what it means to be 'masculine'.
This month, a well-known Chinese educational program for children that featured a 'feminine-looking' boyband ignited discussions on masculinity in China. What's on Weibo provides an overview of Chinese media's stance on the recent discussion, and an introduction to five popular social media slang terms stereotyping Chinese men.

At the beginning of this month, a discussion about the meaning of 'masculinity' sparked discussions on Chinese social media. Discussions started when Chinese state broadcaster CCTV aired Back to School: The First Class (开学第一课).
The programme is an annual educational television program by CCTV and the Ministry of Education, dedicated to the celebration of the new school year. The show, that had one of the highest viewers ratings since years, opened with a performance of the boy band New F4 (新F4).
The boy band New F4 consists of Guan Hong (官鸿), Dylan (王鹤棣), Wu Xize (吴希泽), and Liang Jingkang (梁靖康). In China, the four young men are known to be 'feminine-looking' or so-called 'sissies' (娘炮男), meaning they pay much attention to their clothing, hair, and make-up.
Since the airing of the 'Back to School' programme, many parents questioned the suitability of the performance of New F4, calling for some more 'masculinity' ("阳刚之气") on social media. They criticized the program for being "too entertaining" and having "not enough educational value."
SISSY BOYS? CHINESE MEDIA RESPOND
A few days after the controversial show broadcasted, state media outlet Xinhua News published a commentary calling the New F4 'sissies' (娘炮). Xinhua stated:
" (..) "these sissies promote an unhealthy and unnatural culture which has a not-to-underestimate negative impact on the youth. The sissy culture, driven by consumption, challenges the public order and worships a decadent lifestyle."
Within a few hours after Xinhua News published the article, a column published on the platform of Party newspaper People's Daily (author @百家号) responded with an article titled 'People's Daily Review: What Should Today's 'Masculine Traits' be?' (人民日报评论:什么是今天该有的"男性气质") questioning the definition and purpose of masculinity in modern society.
People's Daily Review column's author stated that:
" (..) modern society broadened the perception of aesthetics, and in a mature society, people should be tolerant towards other people and no longer [should] evaluate a person based on its gender characteristics only."
Later in the article, the author proposes a new construction of masculinity; one that has not much to do with one's appearance but more with one's inner qualities. It also criticizes the use of derogatory terms such as 'sissy' for failing to "respect individual choices."
This is not the first time that a voice featured on a People's Daily platform supports so-called feminine-looking men. On the 13th of August this year, the People's Daily Overseas Edition also published an editorial article, calling for tolerance towards this new lifestyle.
DISCUSSIONS ON WEIBO
On Chinese social media, there are also many netizens who see no threat in the rising popularity of the androgyne looking men. A typical comment said:
"What is a good man? A good man's most essential qualities are to have an idea and be responsible, be brave and kind. These are the things that are important. Only looking at somebody's appearance is too simplistic."
Other Weibo users responded: "Determining whether a man is effeminate or not has nothing to do with his appearance. It can be found his sense of responsibility."
Also, the hashtag "I've deleted the names of people who call feminine-looking men names" (#骂娘炮的人已经被我拉黑了#), initiated by the Chinese edition of News China, has since gone viral on Chinese social media.
But the supposed 'disappearance of masculinity' also led many to worry about an alleged 'masculinity crisis.'
One Weibo user wrote a typical comment saying: "Men should stand up and be more masculine!", with many more praising Xinhua for sending out a strong and clear message, warning society for the rise of 'sissy-culture'.
5 TERMS STEROTYPING CHINESE MEN
This is not the first time that there is talk of a supposed 'crisis of masculinity'. Throughout the years, various terms have popped up on Chinese social media defining certain types of men and their traits. These are five popular examples:
1. Sissy boy (娘炮男, pinyin: niángpàonán)
Derogatory term for androgyne men whose personality and appearance is quite feminine. They often like to put much care into their appearance, including wearing makeup, and a love for shopping. On social media, many claim the reason for this alleged 'soft behavior' is said to be nurtured by the overprotection of children and the lack of gender awareness in upbringing.
2. The Chauvinist(男子汉,pinyin: nánzǐhàn; or 'Straight Man Cancer' 直男癌 zhínán'ái)
Refers to men who live in their own world, with their own values and who tend to reveal their dissatisfaction towards other people. The general view is that these 'Chauvinist men' are self-righteous and indifferent to women's values. Their way of getting acquainted with a woman is often through buying her gifts and spending a lot of money.
3. Phoenix man (凤凰男,pinyin: fènghuángnán)
'Phoenix male' refers to those men who came from poor rural areas and who have been admitted to college after hard work and dwelling in the city to work after graduation. Although they have left the countryside, they still hold on to many rural and traditional concepts and ideas.
4. Wretched or Vulgar Man (猥琐男,pinyin: wěisuǒnán), also often referred to as loser (男屌丝,pinyin: nándiǎosī)
The terms 'vulgar man', 'loser' or 'pervert' are given to a person making other people feel uneasy and uncomfortable. These men are said to be shameless and show an abnormal and inferior behavior caused by long-term sexual repression.
5. Mommy's Boy (妈宝男,pinyin: mābǎonán)
The 'mommy's boy' label refers to men who listen to everything their mother says. Whatever it is that their mother says, they regard it as the truth, and they live by the decisions their mother takes – including what job to take on, who to marry, and where to live.
For now, discussions on what a 'real man' is seem to be continuing on Chinese social media. In the meanwhile, the Weibo page of the 'feminine-looking boyband' New F4 already received 110 million views- a number that just keeps on growing.
Link to the New F4 performance on the CCTV program Back to School: The first class (开学第一课): here.
By Gabi Verberg
Follow @whatsonweibo
Spotted a mistake or want to add something? Please let us know in comments below or email us.
©2018 Whatsonweibo. All rights reserved. Do not reproduce our content without permission – you can contact us at info@whatsonweibo.com.
K-Pop's Recipe for Success: Why Korean Idol Groups Got So Big in China and are Conquering the World
The success of K-Pop in China and beyond is evident – the causes for its success are less obvious.
K-Pop (Korean pop music) is one of South Korea's most successful export products today. With bands such as BTS that are dubbed the 'biggest boy band on the planet', it is obvious that the locally produced K-Pop has become a globally well-liked phenomenon. Although its popularity is obvious, the reasons why K-Pop became so big, from China to the US and beyond, are less evident.
On coming Saturday, October 13, the South-Korean boy band BTS will perform in an Amsterdam area in front of thousands of fans who have been looking forward to this event for months. Ticket sales for the first concert of the 7-member boy group in the Netherlands were sold out within minutes, despite their relatively high prices, with people paying up to €250 ($290) in the official sales, or even €400 ($460) and more for a single ticket in the unofficial online sales afterward.
It is not just the success of the BTS European tour that is making headlines; the record-breaking views on YouTube on their videos – the latest being the song 'Idol', that had more than 200 million views in little over a month – is also attracting the attention of the media.
And BTS is not alone. Other Korean pop (K-Pop) groups such as EXO, BIGBANG, TWICE, Shinee, or Got7, have also broken records when it comes to online video views or Spotify plays.
Although the English-language media attention for the K-pop phenomenon is more recent, the Korean entertainment industry has since long been extremely popular in China and on Chinese social media. In this overview, What's on Weibo explores the K-Pop popularity (focusing on its idol boy and girl groups), its short history, and success formula.
BTS and More: An Army of Fans
The pop group BTS (방탄소년단), also known as the Bangtan Boys (防弹少年团, lit: 'Bulletproof Boyscouts'), is an award-winning seven-member South Korean boy band formed by Big Hit Entertainment that debuted in the summer of 2013. They are currently hyped as the "biggest boy band on the planet."
Initial auditions for the band were held in 2010, followed by roughly three years during which the band was formed and prepared for their major debut, that was promoted on social media months before their actual launch in June of 2013.
The band consists of multi-talented young men. Singer-songwriter Kim Seokjin (Jin) (1992) was studying film at Konkuk University when he was invited to audition by Big Hit; rapper Min Yoongi (Suga) (1993) was an underground rapper before he was signed; dancer and rapper Jung Hoseok (J-Hope) (1994) was part of a dance team in his pre-BTS life.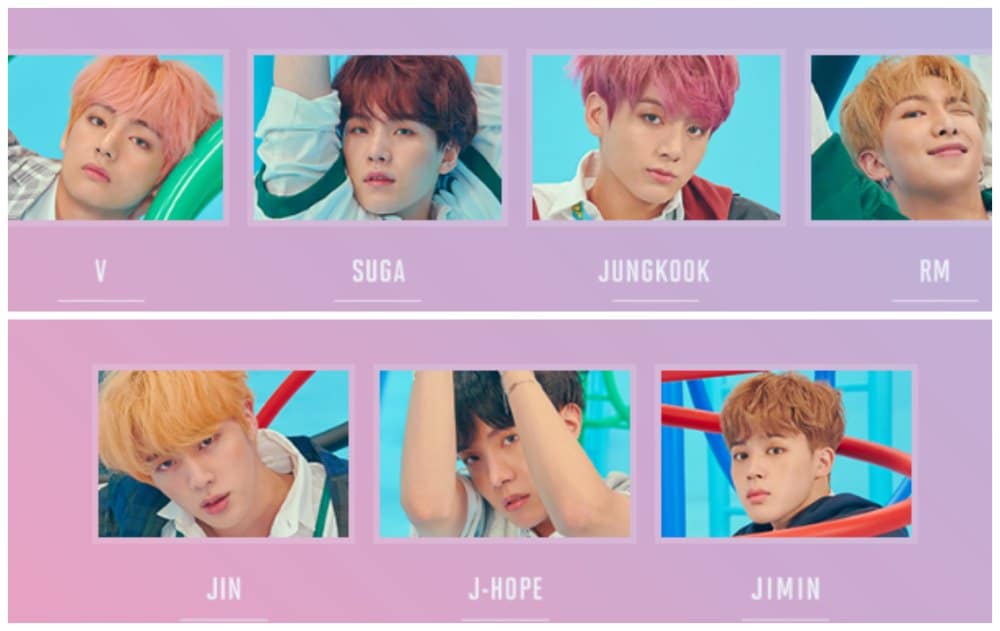 Lead rapper Kim Namjoon (RM) (aka Rap Monster, 1994) was already active in the music scene as rapper and producer; dancer and vocalist Park Jimin (Jimin) (1995) was a top student as Busan School of Arts before joining; vocalist Kim Taehyung (V) (1995) is known to have one of the most expressing voices of the group; and main vocalist Jeon Jungguk (Jungkook) (1997) was only 12 years old when he auditioned for BTS, followed by three years of intense training.
BTS, formerly 'Behind The Scenes', is known for its strong social media presence, which helps to spread its music and connect to its fans, who call themselves an 'ARMY' (also stands for Adorable Representative Master of ceremonies for Youth). The band has more than 16 million followers on Twitter, 3.3 million fans on Weibo, 12 million subscribers on Youtube, and nearly 8 million followers on Facebook.
Although BTS is the band that is currently dominating the headlines, there are many more K-Pop bands that are extremely popular on Weibo and beyond. The nine-member South Korean–Chinese boy band EXO, for example, has dozens of fanclubs on Chinese social media. Band member Oh Se-hun alone already has almost 9,5 million fans on his Weibo page. BIGBANG has more than 7 million Weibo fans, the eight-member girl band Girl's Generation (少女时代) is on the rise with 1,5 million Weibo followers, Super Junior over a million, and the list goes on.
CREATING SUCCESS
A Short History of K-Pop: Finding a Sublime Entertainment Formula
Besides media attention, there has been ample scholarly attention for the Korean pop culture phenomenon over the past decade. The year 2012 especially marked a special moment in the history of K-Pop, when the song 'Gangnam Style' by Korean rapper Psy broke all YouTube records and became a global hit.
But before K-Pop became a global force to reckon with – that seemingly rose out of nowhere -, it had already made its first international successes in neighboring countries China and Japan since the early 2000s.
In China, the success of Korean popular culture is defined as Hallyu (韩流)*, the 'Korean Wave' since 1997 (Yang 2012, 105). Hallyu encompasses far more than idol bands; it includes the boom of South-Korean dramas, films, celebrity idols, and entertainment programs. In 2002, for example, the South-Korean soap opera 'Winter Sonata' became a hit in both China and Japan.
The early 2000s mark the 'first Korean wave' in China, that mainly revolved around TV dramas produced in South Korea and were liked by females above the age of 30. It was followed by the second wave from the mid-2000s to 2010, when the K-Pop music genre popularized in China.
The third period, after 2010, marks the moment when K-Pop was further incorporated into mainstream Chinese popular culture, with a ubiquity of K-Pop idols in everyday Chinese pop culture, and the launch of Chinese versions of Korean entertainment programs (Ahn 2014, 47). It was also in this 'third wave' that you saw the debut of pop groups such as EXO. Formed in 2012, that band incorporates both Korean and Chinese members, performing in both languages.
Although K-Pop from South Korea became somewhat less visible in the PRC during the past few years, mainly because the industry suffered from various politically-motivated bans on Hallyu in China, the genre's influence on China's mainstream pop culture is evident, with some Chinese groups, for example, also being modeled after K-Pop bands.
Entertainment Powerhouses
Many studies explain the foreign success of Korean popular culture in Asia, mainly China and Japan, through "cultural proximity," saying that the success of K-Pop especially occurred in China and Japan because they have, for example, linguistic similarities and corresponding Confucian values (Ahn 2014, 47; Messerlin & Shin 2017, 412).
But the more recent global wave of K-Pop shows that cultural proximity is not the sole answer to the genre's success. Besides, there is actually nothing traditionally "Korean" about K-Pop, which only emerged in the 1990s (Shin & Kim 2013, 256).
The genre's success mainly lies in the big players that brought forth the first Korean pop idol groups and have excelled (and still do) in selecting the right entertainment "products" to invest in, with a strong focus on both on the production side and the market demand side.
SM Entertainment, JYP, and YG Entertainment are the first major and leading entertainment houses of the 1990s. Big Hit Entertainment, home to BTS, followed later; founder Bang Si-Hyuk (1972) used to collaborate with JYP Entertainment founder Park Jin-Young (1971) before going his own way in 2005.
-SM Entertainment, founded 1988 by musician and TV host Lee Soo Man (1952)
-YG Entertainment, founded in 1996 by musician Yang Hyun-Suk (1970)
-JYP Entertainment, founded in 1997 by musician and producer Park Jin-Young (1971)
-Big Hit Entertainment, founded in 2005 by producer/songwriter Bang Si-hyuk (1972)

What characterizes these entertainment houses is that they are/were small in terms of revenue and employees (very different from big labels such as Sony or Universal), and play multiple roles as intermediate between musicians and consumers, as well as producers.
Different from many international big players in the entertainment world, K-Pop entertainment companies integrate processes of artist selection, songwriting, management, signing advertisement deals, etc. in-house rather than leaving these processes to various parties outside their own studio (Shin & Kim 2013, 260). Significant about the founders of these entertainment powerhouses is that they all had ample experience in the music industry themselves before starting their studios.
The story of SM Entertainment, which was founded by musician and TV host Lee Soo Man in 1988, is crucial in understanding the beginning of the K-Pop industry. Lee was inspired by the transforming American music market after spending time there in the 1980s, and decided to replicate US entertainment in a new way. In his first studio he brought together the right equipment, the right expertise, and the right talent all in one place to kick-start his business (Shin & Kim 2013, 263).
Although the first acts that came from SM's studio were no instant success, Lee was determined in learning through trial and error until he found the right beat and image that struck a chord with young consumers. In doing so, he adopted a strategy in which teenagers were surveyed on what they wanted, and in which he focused on scouting new talent from all over the country to give them intensive training in dancing, singing, and acting at the SM Studio (Shin & Kin 2013, 264).
In 1996, eight years after Lee Soo Man started his entertainment company, and going through years of changing, refining, and improving his strategies, the first success was there. The boy band H.O.T., consisting of five hand-picked members who each had their own strength, debuted in 1996 and became the first major success in the short history of K-Pop.
Companies that followed after SM's initial successes further experimented in adopting new strategies and trying out new styles of music, but stayed true to the idea of in-house training of young, new artists, rather than selecting renowned artists with defined styles (Shin & Kim 2013, 264). With frequently held auditions and training programmes that can last for years, some trainees start as young as 5 or 6 so that they are fully equipped for the entertainment industry by the time they reach adolescence (ibid., 265).
More than being teachers, producers, songwriters, marketers, etc., these entertainment houses are also trend watchers; training their talents in various areas now in order to be able to place them in the right setting and format in the future, corresponding with (global) market demands.
Companies such as SM place an emphasis on the export of music, and focus on appealing to global audiences, making use of hundreds of composers and experts from around the world in doing so. In producing and performing the K-pop girl band Girl's Generation's song 'Genie', for example, SM Entertainment used a Japanese choreographer, a Norwegian songwriter, and Korean lyricist (Shim 2016, 38).
SHAPING SUCCESS
The Popularisation of K-Pop: A Digital Strategy
Although a main cause of K-Pop's initial success lies in the (training) strategies adopted by the aforementioned entertainment houses, there are also other major factors that have contributed to its global influence.
The Korean government contributed to the initial success of K-Pop by developing a world-leading internet infrastructure (although the goal of developing that infrastructure, obviously, was not to promote K-Pop), which helped the rapid rise of the genre through online strategies.
According to some studies (e.g. Messerlin & Shin 2017, 422-425), Korean entertainment companies have been the first in the world when it comes to realizing the potential of the internet for the distribution and marketing of their performances; they were already long awake to its possibilities and were acting upon them, while many big players in Europe and America were still focusing on traditional album formats.
What also helped the spread of K-Pop at the time were the relatively friendly and equally balanced Korean policies on issues such as copyright, that were (and are) less protective and restrictive compared to America or the EU (Messerlin & Shin 2017, 421).
The first success (1997-2007) of K-Pop and other Korean popular culture products in China, Japan, and other countries within Asia, have also been called the first major Korean Wave, whereas the current period (2008-present), represents the 'New Korean Wave,' that is defined by the role that is played by new media technology and social media as a platform for K-Pop to reach every corner of the world (Jin 2016).
Online strategies were particularly relevant in the context of the (early) K-Pop industry because 1) it was dominated by relatively small businesses that did not have the means to invest in other major publishing platforms than that of efficient online distribution and 2) they did not have costly plants where they could produce CDs, DVDs, or vinyl. Having the high-tech Korean electronical market on their side, online strategies were thus a natural and cost-efficient solution to give publicity to their performances (Messerlin & Shin 2017, 426). More so than focusing on traditional album releases, the release of digital singles that come with visually attractive online videos, for example, is one important K-Pop production characteristic.
Probably the best example showing that this strategy works is the global success of 'Gangnam Style' that was made possible through YouTube. By now, six years after its release, the world-famous song by Psy, who was signed by YG Entertainment, has over 3,2 billion plays on YouTube.
The revenue of concert tickets for K-pop performances, its merchandise industry, the digital singles, advertisement income, the many brands wanting to associate themselves with the star industry that K-pop has generated, etc., makes K-Pop production a money-making machine that shows that the model that focuses on traditional (CD) album formats and promotional single releases has become outdated.
CONTINUING SUCCESS
Marketing more than a Band: Active Fans and Interesting Characters
While South-Korea's innovative music enterprises were crucial for the international launch of K-pop, its worldwide fanbase has now also become a motor driving its continuing success.
Different from the initial spread of K-Pop in China or other Asian countries – where K-Pop has become common in everyday pop culture -, is that many consumers of the genre in the US, Europe, or elsewhere, fully depend on the internet and social media to access K-Pop, as it is not a genre that is prevalent in the mainstream popular culture of their own countries.
The fact that fans of K-Pop in these regions have to actively seek for the latest information and releases of their favorite groups, also means that they have become participatory and engaged consumers in the spread of K-Pop – almost turning them into the 'soldiers' of fandoms such as the BTS 'army'. They have become part of enormous (online) subcultures in various countries across Europe and America.
More than just listening and watching K-pop, these fans become members of the 'culture' by translating material, circulating it to friends, or integrating it on their own social media channels (Jin & Yoon 2016, 1285).
What further strengthens this fandom is that the successful K-Pop bands are anything but one-dimensional. More than just building on their synced choreography, flawless singing, fashionable looks, and visually attractive videos, the band members of groups such as BTS, EXO, or TWICE, have their own identities, voices, and goals that go beyond music; their various characters and roles within the group resonate with their different fans.
The fact that many K-Pop groups and members also have an androgynous and gender-bender appearance also makes them more interesting to many fans, with many K-pop boys being 'pretty and cute' and girls having a 'strong and handsome' look, breaking through typical male and female stereotypes.
Furthermore, more than pop bands, these K-Pop groups have virtually become 'platforms' with their own streaming channels, websites, television shows, merchandise shops, lively online communities, stories, and so on.
In their recent appearance on the US Tonight Show by Jimmy Fallon, BTS frontman RM explained the group's mission in perfect English, saying: "It is about speaking yourself, instead of letting other people speaking for you. Cause in order to truly know ourselves, it is important to firstly know who I am, where I'm from, what my name is, and what my voice is."
Many find their voice in K-Pop. And that is a sound, from a local Korean product to a global force, we can expect to grow much louder in the future.
By Manya Koetse
Follow @whatsonweibo
* For clarity: note that due to scope this article focuses on the development of the K-pop phenomenon, and does not explore the anti-Hallyu or anti-Korean wave movement in China, and the previous bans on Hallyu in the PRC.
References
Ahn, Jungah. 2014. "The New Korean Wave in China: Chinese Uders' Use of Korean Popular Culture via the Internet." International Journal of Contents, 10 (3): 47-54.
Jin, Dal Yong. 2016. New Korean Wave: Transnational Culture in the Age of Social Media. University of Illinois.
Jin, Dal Yong, and Kyong Yoon.2016. "The Social Mediascape of Transnational Korean Pop Culture: Hallyu 2.0 as Spreadable Media Practice." New Media & Society 18 (7): 1277-1292.
Messerlin, Patrick A. and Wonkyu Shin. 2017. "The Success of K-Pop: How Big and Why So Fast?" Asian Journal of Social Science 45: 409-439.
Shim, Doobo. 2016. "Hybridity, Korean Wave, and Asian media." Routledge Handbook of East Asian Popular Culture,Koichi Iwabuchi, Eva Tsai, Chris Berry (eds), Chapter 3. London: Routledge.
Shin, Solee I. and Lanu Kim. "Organizing K-Pop: Emergence and Market Making of Large Korean Entertainment Houses, 1980-2010." East Asia 30: 255-272.
Yang, Jonghoe. 2012. "The Korean Wave (Hallyu) in East Asia: A Comparison of Chinese, Japanese, and Taiwanese Audiences Who Watch Korean TV Dramas." Development and Society, 41 (1): 103-147.
Spotted a mistake or want to add something? Please let us know in comments below or email us.
©2018 Whatsonweibo. All rights reserved. Do not reproduce our content without permission – you can contact us at info@whatsonweibo.com
The Women Changing the Chinese Rap Scene: Top 3 Most Popular Female Rappers of China
These are the three Chinese female rappers to watch this year.
Over the past few years, rap has become a hot music genre in China. Although China's rap scene is a male-dominated space, Chinese female rappers are now stepping up to the stage. These are the top women to follow in the PRC's current hiphop craze.
Rap music has become a hot music genre in China over the past years. One of the reasons why Chinese hip-hop has recently seen a rise in popularity is the TV show The Rap of China (中国有嘻哈/中国新说唱). The rap competition, produced by iQiyi, is among the best-viewed entertainment shows of China over the past two years; some of its recent episodes have already received up to 240 million views on online video platform iQiyi alone.
The show is produced by some of China's most famous producers, i.e. Chen Wei 陈伟, and its jury line-up includes famous singers such as Kris (吴亦凡), G.E.M. (邓紫棋), Wilber Pan (潘玮柏), or underground rapper Hotdog (热狗). In various rounds, contestants have to show they can freestyle to a beat, create their own songs, and perform in front of a live audience.
In the first season (2017), Sichuanese female rapper 'VaVa' was the only woman to make it to the last rounds of the show. In the second season (2018), it is female rapper Lexie Liu who is still going strong. These female rappers show that it is possible for women to break through in this male-dominated genre.
These are the top three Chinese female rappers to keep an eye on in 2018.
#1. VaVa (Mao Yanqi 毛衍七), @VaVaMiss (4+ million fans on Weibo)
Mao Yanqi aka 'VaVa' was born on the 29th of October in 1995 in Ya'an, Sichuan. Growing up with a mother working far away from home, and a violent father who brought home another woman, the young VaVa does not have an easy childhood. From the age of four, she is raised by her grandmother.
VaVa's passion for dancing and singing already stands out during her elementary school years, as recruiters from a local art and drama college notice the third-grader's talent and admit her to their art school. But because her family is unable to pay for tuition, the young VaVa cannot accept the offer and trains herself instead; at the age of 15, she drops out of school to work as an entertainer at a club and further develops her talent as a singer and dancer.
In 2017, the 22-year-old VaVa has her breakthrough when she participates in The Rap of China. In the second round of the show, she especially gains popularity when she performs Life's a Struggle, one of China's most famous rap songs. However, she changes the lyrics to reflect her personal childhood experiences (see link for lyrics in English), leaving all four members of the jury deeply touched, praising VaVa's authenticity.
VaVa finally ends up as one of the final four contestants. A few months later, she brings out her first album, titled 21 (Spotify). Since then, she has gained fame within China and internationally; her new song My New Swag (我的新衣) is featured in Hollywood blockbuster Crazy Rich Asians, she is seated front-row at European fashion shows, and is the new face of sportswear brand Kappa.
Noteworthy:
Many of VaVa's songs focus on her own image and ambition and self-image. In the song U Should Know My Name, she raps: "I am here from the underground. I never curse. I have a top-secret plan for my own future – rise to the throne, be prepared to kneel" ("I am here来自地下. 我从来都没有唱过一句骂. 对自己的未来有着绝密计划. 转身登上宝座吧女王陛下. 准备好了献上你的膝盖"). In People on The Move, she raps: "I climb and will never lose. You need to know that I'll never give up. I pursue reality and the dream world, I'm the coolest when I do my thing" ("加持我登峰I'll never lose。 要知道 我根本没想过退路。 现实和梦境追逐 做我自己才最酷").
#2. Vinida (万妮达), @Vinida万妮达 (1.2+ million fans on Weibo)
Vinida was born on 29th of June 1994 in Fujian, Fuzhou. Because of Vinida's sexy appearance and curvy body, she is sometimes compared to Kim Kardashian.
At the early age of 13, Vinida first comes into contact with hip-hop culture, and she later starts to experiment with producing her own music and joins the local underground rap group Freedom Plant Music.
Vinida gains more mainstream attention after her participation in the show Sing! China (中国新歌声) in 2016, after which state media outlet China Daily calls her "a rare sight on China's music scene." The young rapper later also participates in The Rap of China (中国新说唱), but is eliminated in the 'battle round.'
In 2017, Vinida's first album was released, simply titled Vinida (Spotify). Along with VaVa, Vinida was selected by Forbes China's as one of the most influential artists in the music industry list '30 Under 30' this year.
Noteworthy:
It's often said that Vinida's lyrics are characterized by a glorification of female power, as her two hits 'Queendom' and 'Run This', for example, also show. In Run This, she raps: "I focus more on my career, I have no time for your bickering. I collect diamond necklaces, I am only moving forward" ("更专注于事业 没空和你计较. 收集钻石项链 还在不断向前").
#3. Lexie Liu (刘柏幸), @刘柏辛Lexie (450,000+ fans on Weibo)
Lexie, sometimes referred to as the 'Chinese Rihanna' by the media, currently is one of the youngest well-known Chinese female rappers. She was born on 21 December 1998 in Changsha, Hunan. Lately, she has become very popular through the television show The Rap of China (中国新说唱).
At only four years old, Lexie already starts practicing playing the piano and dancing. She has her breakthrough at the age of 16, when she particpates in a South-Korean Kpop show; two years later, she is also invited to perform at one of the South by Southwest (SXSW) festivals in Austin, Texas.
In that same period, she records a song with the popular Chinese rapper Jony J. and records a music documentary in collaboration with PUMA with a click-through rate of 30 million.
Lexie Liu has now signed with Asian hip-hop collective 88rising and has since released her first song Like a Mercedes (YouTube).
Noteworthy:
Lexie Liu has already announced her second single, titled 'Mulan'. It is scheduled to be released after Liu has finished her adventure at The Rap of China, but she has already released just one sentence from the upcoming song: "Just as the beautiful victory accomplished by the legendary Mulan, I also hope that I, accompanied by you, will be able to leave a memorable story behind" ("就像传说中木兰打了一场漂亮的胜仗,这次,我希望也能在你们的陪伴下,留下一段被铭记的故事").
By Gabi Verberg
Follow @whatsonweibo
Edited for clarity by Manya Koetse
Spotted a mistake or want to add something? Please let us know in comments below or email us.
©2018 Whatsonweibo. All rights reserved. Do not reproduce our content without permission – you can contact us at info@whatsonweibo.com.