Why the Gay Kisses in 'Bohemian Rhapsody' Won't Make It to Chinese Cinemas
Fresh off its Oscar wins, "Bohemian Rhapsody" will hit theaters in China, but some scenes won't make it to the Mainland.
First published
The award-winning movie Bohemian Rhapsody is set to debut in mainland China later this month but foreign media reports on censorship of gay scenes within the movie have prompted animated discussion on Chinese social media. Why are these scenes being cut at all? What's on Weibo explains.
In March 2019, Bohemian Rhapsody, a biopic on the life and career of Freddie Mercury, will be released in theatres across mainland China, with various Chinese news outlets identifying the Chinese National Alliance of Arthouse Cinema (全国艺术电影联盟) as the movie's distributor.
The National Alliance of Arthouse Cinema is a non-profit film distribution organization established in 2016. According to QDaily, the organization cooperates with major Chinese cinemas in distributing films throughout the country and has some 1500 member cinemas – about 3% of the country's total number of movie theatres.
Various foreign media outlets, including The Guardian and The Hollywood Reporter, report that portrayals of drug use and several intimate kisses between Mercury and other male characters will be cut from the Chinese version of the film, a decision that has been regarded as controversial by social media users both inside and outside of China.
Film Censorship in China
The Chinese movie industry is an area that has always been subjected to strict control and censorship. The first movie censorship laws in China were implemented as early as the 1930s, carried out by the Central Film Inspection Committee since 1931, with the purpose of legally prohibiting movies deemed "offensive to the Chinese public" (Pang 2011, 463; Zhu 2003, 202).
Theatrical releases in China are controlled by the SARFT (State Administration for Radio, Film, and Television), which is overseen by the Propaganda Department of the Communist Party (Grimm 162-163).
Throughout the years, China's censorship apparatus has affected the screening of hundreds of foreign films in the PRC in a multitude of ways. The famous Titanic scene in which Rose (Kate Winslet) poses naked for Jack (Leonardo DiCaprio), for instance, was cut from the Chinese version. In Mission: Impossible III a scene in which Ethan Hunt (Tom Cruise) distracts two Chinese henchmen and kills one was also eliminated in China.
In March 2017, a new film censorship law came into force in mainland China, officially titled the 'Film Industry Promotion Law of the People's Republic of China' (中华人民共和国电影产业促进法),  laying out the regulations for prohibited content and content that must be cut. The law applies to the various pre-shooting and pre-screening stages, and is meant to "promote the healthy and prosperous development of the film industry."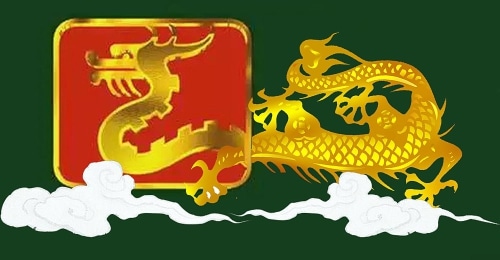 The law, as outlined here, stipulates that, among other things, movies cannot contain any elements that, for example:
violate, resist, or undermine the basic principles of the constitution
"harm national unity, sovereignty, or territorial integrity" or "damage the national dignity"
"slander ethnic cultural traditions" or "instigate hostility towards ethnic groups"
damage the "mental health of minors"
harm China's "social morality" or disturb the "order of society"
promote "obscenities," "gambling," "drug abuse," or "violence"
Although some of the stipulations in the law are straightforward, there are also many parts that are vague. How does one determine what is harmful to the "mental health of minors"? Is there an objective way to judge whether a film is "hurting the feelings of ethnic groups"? What is the censors' definition of "obscene"?
In the end, these regulations leave ample room for the main censorship body, the SARFT, to determine case-by-case how and if foreign films that have been allowed to be screened in mainland China should be altered to stay 'in line' with the country's strict censorship policies.
Banning Gay Content?
Homosexuality is no longer illegal in mainland China since 1997, and has been removed from a list of mental illnesses since 2001, but bans on content displaying homosexuality have made headlines over the years, highlighting the general discomfort of Chinese regulators towards gay-themed dramas and films.
In early 2016, Chinese State Administration released new regulations banning "homosexuality" in filmography for conveying "unnatural" values of love (Guangming Online). That same year, China's popular gay-themed web series Addiction (上瘾) was yanked by censors due to disapproval at the plot's lengthy exploration of homosexuality. A year later, Chinese regulators laid out rules stating that online videos showing "displays of homosexuality" were no longer allowed. In 2018, gay romance Call Me by Your Name was suddenly pulled from the Beijing film festival.
At the same time, there is no shortage of examples that show homosexuality has some leeway in China's (online) film and media landscape. Last year, 2018, saw the mainland release of gay movie Seek McCartney (Looking for Rohmer) (寻找罗麦). Thai gay-themed film Fathers was released on popular video platform Bilibili in 2017.
An online video showing a young Chinese man coming out to his parents as gay became an online hit in 2015. And now, in 2019, Bohemian Rhapsody, centered around one of the LGBT community's most global cultural icons, is set to hit the big screen in China – albeit censored.
Mixed signals? Confused censors? Not necessarily. According to renowned Chinese sexologist Li Yinhe, the Chinese government is not against homosexuality per se. At an Amsterdam symposium in 2014, the LGBT rights activist stated that "the government is not against homosexuality, but against sex in general."
Such a stance was made explicit with the March 2017 Film Industry Promotion Law, which, in the words of a Beijing-based film director, has since forced many in the industry to "prioritize education over art" so that their work can get past the censors. Any scenes including (explicit) portrayals of prostitution, LGBT relations, extramarital affairs, polyamory, or pornography, will generally not be permitted to reach a large Chinese audience, wrapped in conservative rhetoric that accuses such scenes of "promoting obscenities" or being "harmful to the healthy development of Chinese minors."
At a time of a rapidly transforming (and aging) China, "healthy content" is mostly the kind of content that depicts the conventional family – marriage and children – as the cornerstone of a stable Chinese society. Depictions of Freddy Mercury kissing other men, apparently, does not fit the ideal family model propagated by Chinese authorities; with the government's ongoing trumpeting of the two-child policy, homosexuality's refusal to be dictated by the laws of biological fertility may also be one of the many reasons motivating the censors' decision to tone down the 'gayness' of Bohemian Rhapsody.
Weibo Responses
On Weibo, news about censorship of the Chinese release of Bohemian Rhapsody became a trending topic.
Although a large number of netizens are happy that the movie will be released in China, there are also many dissatisfied with the censorship that comes with it.
Some people argue that the selective cutting of scenes will be detrimental to the overall quality of the movie. Popular Weibo user 'Gongyuan 1874' (@公元1874), a self-proclaimed 'author' and 'cultural critic' with more than 3 million online followers, wrote a lengthy post on February 28  in which he describes Freddie Mercury as a "rebel fighter" whose life was defined by freedom. The author argues that the "artistic value of the movie is "greatly reduced" by censoring those parts that show Mercury letting himself go.
Some commenters are so disgruntled at the movie's censorship that they are boycotting it. One Weibo user wrote: "Because I want to protest against the unfair treatment of LGBT by authorities, I will not go and see the edited version of Bohemian Rhapsody."
"I'd advise everyone to go and get a pirated version of the movie," another commenter writes: "Homosexuality and drugs were a part of Freddie Mercury's life, to 'castrate' this movie is disrespectful [to his memory]."
There are also some more moderate netizens, well aware of the current restrictions placed on the film and TV industry, who argue that cutting some scenes – total scene time cut from the Chinese release is alleged to be no longer than two minutes – will leave the message conveyed by the movie unharmed, and that viewers should be grateful such a film is being screened in China at all.
"I have been watching the comments about Bohemian Rhapsody and the deleted gay scenes," one music blogger writes: "Some people think it's an insult to Freddie Mercury, and say we should boycott the movie. I think this kind of reasoning doesn't show much goodwill."
The blogger argues: "I think Freddie Mercury is a great singer, a well-respected artist, and an icon of his time – not just a representative for gays. The exploration of his own identity was a major influence in his life and artistic work, but if you insist on discussing the content of the film, the legendary experiences of the band…their artistic achievements and rock 'n roll spirit are all relevant – all in all, don't hold on to sexual orientation [as the most crucial theme]."
There are some who might agree, asking "is it necessary to screen those deleted gay scenes in China?"
Amid hundreds of comments on the issue, there is no clear consensus. While some point out that the Chinese release of a movie such as Bohemian Rhapsody is a sign of 'progress' in a strictly controlled media environment, others see its censorship as doing a disservice to the film's main themes of artistic freedom and LGBT emancipation.
However, in an age where censors even go after heterosexual, ancient Chinese dramas, the mere entry of Bohemian Rhapsody into the Mainland perhaps suggests an atypical loosening of the stranglehold being placed on China's TV and film industry. Any way the wind blows, apparently, does really matter to Chinese netizens.
By Manya Koetse , edited by Eduardo Baptista
References [online sources via in-text hyperlinks]
Grimm, Jessica. 2015. "The Import of Hollywood Films in China: Censorship and Quotas." Syracuse J. Int'l L. & Com. 43 (1): 155-190.
Pang, Laikwan. 2011. "The State Against Ghosts: A Genealogy of China's Film Censorship Policy." Screen 52 (4): 461-476.
Zhu, Ying. 2003. Chinese Cinema During the Era of Reform: The Ingenuity of the System. Westport, Connecticut, London: Prager.
Spotted a mistake or want to add something? Please email us.
©2019 Whatsonweibo. All rights reserved. Do not reproduce our content without permission – you can contact us at info@whatsonweibo.com.
KFC China's Psyduck Toy is a Viral Hit
As Psyduck goes viral, KFC Children's Day toys are deemed "too childish for children but just perfect for us adults."
American fast-food chain KFC recently introduced three new Pokémon toys to go with its kids' meals in various regions across China, with one of the toys, in particular, becoming a viral hit: Psyduck (可达鸭).
The new Pokémon toys were introduced on May 21st to celebrate Children's Day (June 1). As reported by Shanghai Daily, the toys are randomly distributed in Children's Day meals and will be released in different regions at different times.
Psyduck is a yellow duck-like Pokémon that is known to be confused because it's bothered by headaches. One of the reasons why the Psyduck toy might be more popular than its fellow (Pikachu) toys, is because it dances, with its arms going up and down, and because of the catchy tune that starts once it starts moving. Psyduck is also a bit more dopey and 'uncool' than Pikachu, which makes him all the cooler (remember the Peppa Pig craze?)
Since its release, many people have been going crazy over the KFC toy. Psyduck fans have been hunting for the KFC treasure, and some have even turned it into a side business: they offer their services in getting as many KFC meals as necessary before grabbing the Psyduck toy – you'll have to pay for their meal – and they'll send the toy to their 'customers' later on.
The #Psyduck hashtag saw the first spike on Weibo on May 21st, the day of its release, when it received nearly 135 million views.
Although the toys were released for Children's Day, most of these Psyduck fans are not kids at all. In one interview moment that went viral, an older man was asked about the Psyduck while he was standing in line at KFC. "I'm only here because my son wants it," the man says. When he is asked how old his boy is, he answers: "He's over thirty years old."
A popular comment about the craze over the kids' meal toys said: "This toy is perhaps too childish for children, but it's just perfect for us adults." The comment received nearly 20,000 likes.
If you buy a set meal including the toy, you will spend in between 59-109 yuan ($9-$16), but the reselling price of Psyduck has reportedly been as high as US$200 for just the Pokémon figure alone. KFC China has stated that it does not support this kind of reselling.
Especially among students, it has become popular to stick messages to the arms of the dancing Psyduck with motivational or humorous messages. Some students say the Psyduck keeps them company while they are studying.
Since short funny videos featuring Psyduck are going viral on Weibo and Douyin, a lot of Psyduck's appeal relates to its social media success and joining in on the hype. People post videos of themselves unboxing their Psyduck, introducing it to their cat, imitating it, or they use the Psyduck in various creative ways.
We need to talk about Psyduck. pic.twitter.com/MZSWqrNoTJ

— Manya Koetse (@manyapan) May 28, 2022
This is not the first time for KFC toys to become a national craze. Earlier this year, KFC came out with limited edition blind boxes in a collaboration with Chinese toymaker Pop Mart. To get one of the dolls, customers needed to buy a 99 yuan (US$15.5) family set meal.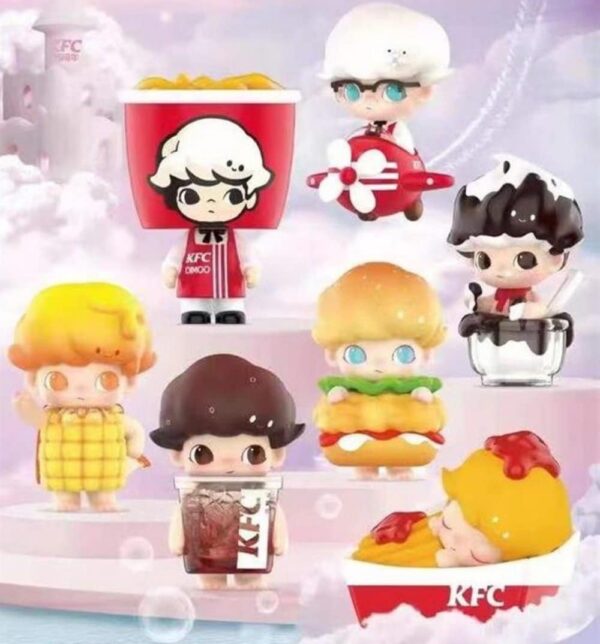 But the blind box sales also sparked criticism from China's Consumer Association for promoting over-purchasing of its food and causing food waste. In order to get all of the six collectible dolls, including the rarest ones, customers would start buying many meals just for the dolls. As reported by SCMP at the time, one customer went as far as to spend US$1,650 on a total of 106 meals to collect all six dolls.
KFC is the most popular fast-food chain in China. People outside of China are sometimes surprised to find that KFC is so hugely popular in the mainland.
As explained in the book written about KFC China's popularity ("Secret Recipe for Success"), its success story goes back to 1987, when the restaurant opened its first doors near Tiananmen Square in Beijing. Some reasons that contributed to KFC's success in China are the popularity of chicken in China, the chain's management system, the restaurant's adaptation to local taste, and its successful marketing campaigns.
Now, Psyduck can be added as one of the ingredients in KFC China's perhaps not-so-secret recipe for success.
By Manya Koetse
With contributions by Miranda Barnes
Featured image via @Baaaaaaaaal, Weibo.com
Get the story behind the hashtag. Subscribe to What's on Weibo here to receive our weekly newsletter and get access to our latest articles:
Spotted a mistake or want to add something? Please let us know in comments below or email us. First-time commenters, please be patient – we will have to manually approve your comment before it appears.
©2022 Whatsonweibo. All rights reserved. Do not reproduce our content without permission – you can contact us at info@whatsonweibo.com.
Chinese Elementary School Textbook Triggers Controversy for Being "Tragically Ugly"
This elementary schoolbook by the People's Education Press went viral for being ugly.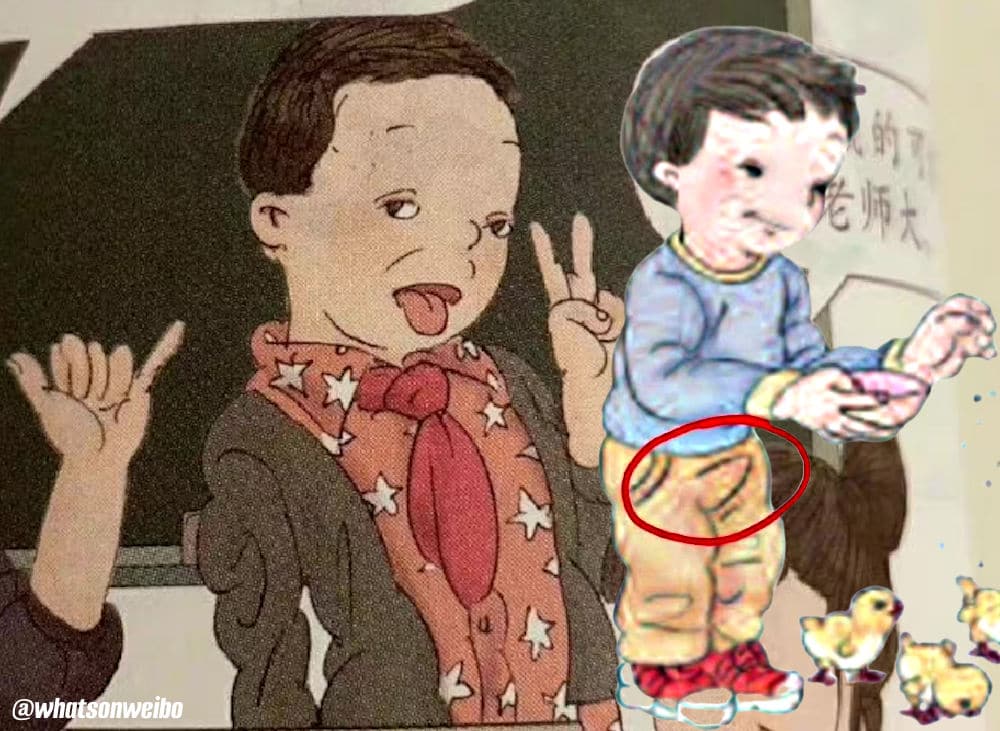 The illustrations in a Chinese schoolbook series for children have triggered controversy on social media platform Weibo, where the hashtag "People's Education Press Math Teaching Material" (#人教版数学教材#) attracted over 860 million views by Thursday afternoon, with the "People's Education Press Mathbook Illustration Controversy" (#人教版数学教材插图引争议#) garnering over 190 million views.
The illustrations went viral after some netizens spotted that the quality of the design in one math textbook series stood out from other books in how 'aesthetically displeasing' it is.
The children depicted in the teaching material have small, droopy eyes and big foreheads. Some commenters think their clothing also looks weird and that the overall design is just strange and "tragically ugly."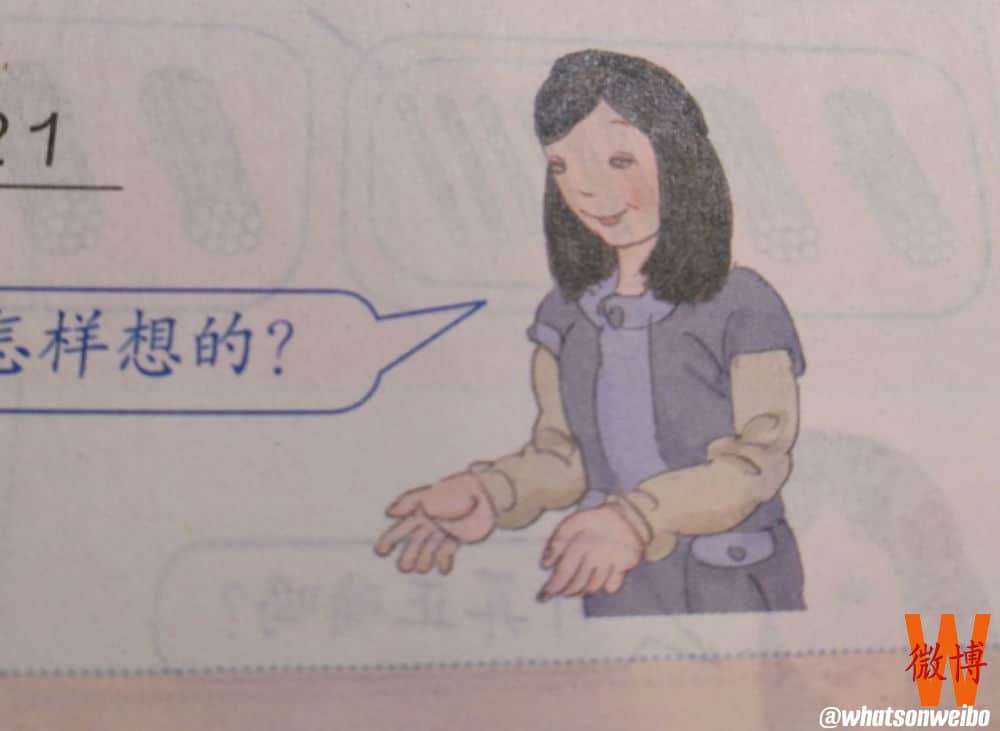 Some images depicting little boys also drew controversy for allegedly showing a bulge in the pants. Adding girls sticking out their tongues, boys grabbing girls, a reversed Chinese flag, and some depictions of children's clothing in the American flag colors, many people think the books are not just ugly but also have "evil intentions."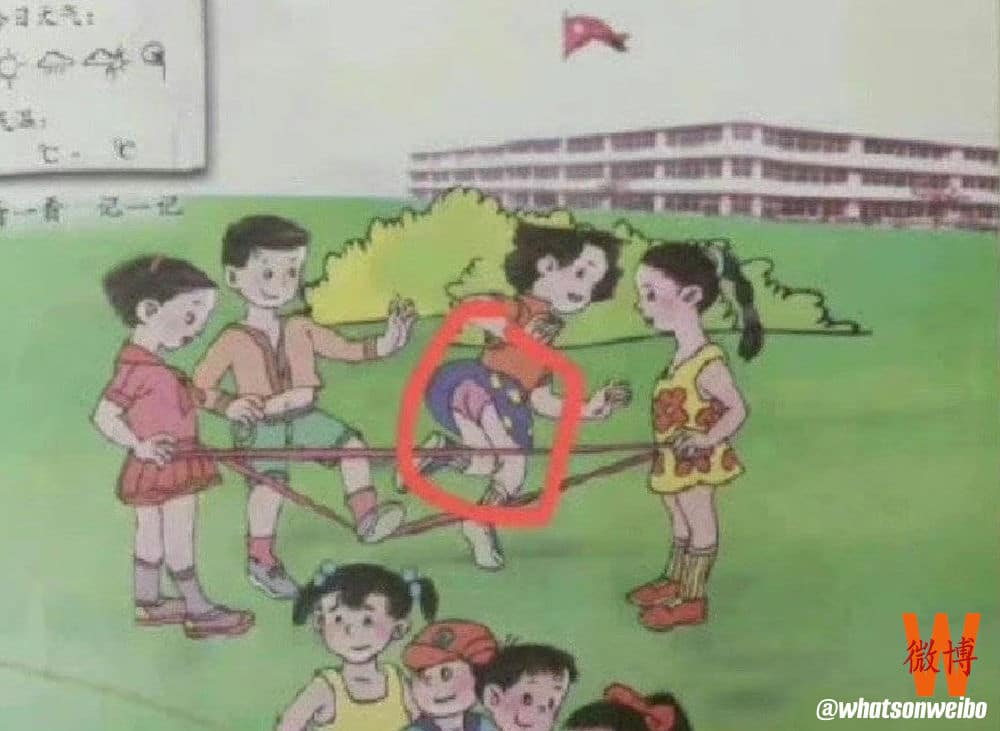 Besides the people who think the design of the textbook series is so ugly that it must have been purposely drawn like this, there are also those who are angry, suggesting China has thousands of talented art students who would welcome a project like this and do it much better.
Some parents are also concerned that such poor quality design will negatively influence the aesthetic appreciation of the children using the books.
Fueling the controversy is the fact that the textbook in question has been published and designed by a team of relatively influential and experienced designers and publishers.
The design was done by, among others, Lu Min (吕旻) and Zheng Wenjuan (郑文娟) of the Beijing Wuyong Design Studio (北京吴勇设计工作室). The book is published by the People's Education Press.
The People's Education Press (PEP) is a major publishing house directly under the leadership of the Ministry of Education. Founded in 1950, it is responsible for compiling and publishing all kinds of teaching material for elementary education.
The textbook already caught the attention of some parents in early May. One parent shared photos of the textbook illustration on Q&A site Zhihu.com, writing: "This textbook is so ugly! How did it ever pass the review?"
The ugly textbook design has made many netizens look back on their own childhood textbooks, suggesting that more traditional Chinese design is much better than what is being produced nowadays.
On May 26, the People's Education Press responded to the controversy on Weibo. In its statement, the publishing house said it would reevaluate its elementary school mathematics textbooks illustrations and improve the quality of the design. In doing so, the publishing house said it would welcome feedback from the public. The statement soon received over 600,000 likes.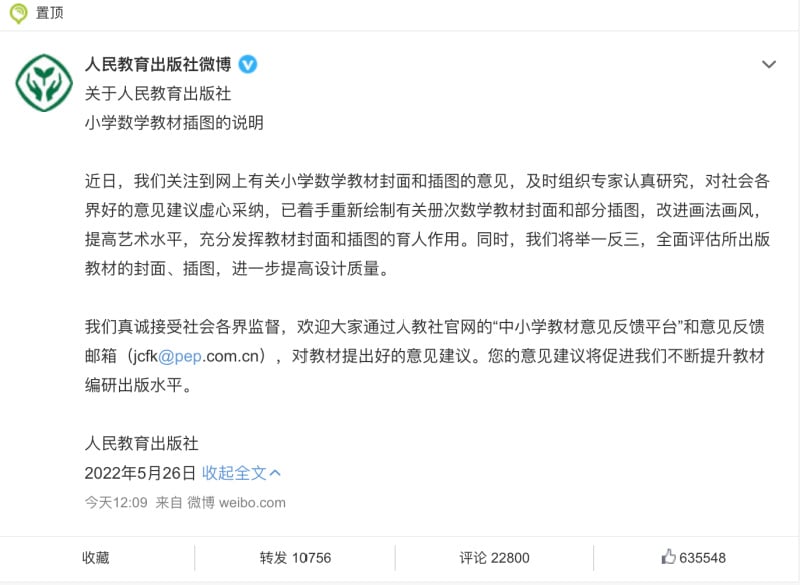 Professional graphic design artist Wuheqilin also weighed in on the discussion (read more about Wuheqilin here). In a lengthy Weibo post, Wuheqilin argues it is too easy for people to share their old textbook covers and images to show how much better they used to be, blaming poor design on the quality of illustrators in modern times.
According to Wuheqilin, it is not so much a matter of illustrators who have become worse, but of publishing houses saving more money on illustrations. Publishers do not prioritize design and are still offering the same prices to illustrators as they did a decade ago.
"The market has expanded, illustrators' prices have gone up, but the philosophy of publishing houses hasn't kept up with the times. This has led to them not really raising their budgets. When I entered the industry some 12 years ago, publishers could still a good artist for 500-800 RMB [$75-$120] to do a fine cover illustration, but now it would be difficult to find an artist to do it for 8000 RMB [$1188]. Around 2015 I was asked by a publishing house to do the cover of a sci-fi novel series they produced, and the process of our talks all went smoothly, but when I quoted my price they looked displeased and told me that even if they would do their best to give me the highest budget possible, it would still only be one-tenth of my quoted price. The price I quoted was just the normal price for a game poster illustration at the time. I never spoke to that publisher again afterward. And this was 2015, let alone how the situation is nowadays."
This is not the first time Chinese school textbooks trigger controversy online. In 2017, an elementary school sexual education textbook caused a stir for being "too explicit" (read here).
Read more about (controversial) Chinese children's books here.
By Manya Koetse
Get the story behind the hashtag. Subscribe to What's on Weibo here to receive our weekly newsletter and get access to our latest articles:
Spotted a mistake or want to add something? Please let us know in comments below or email us. First-time commenters, please be patient – we will have to manually approve your comment before it appears.
©2022 Whatsonweibo. All rights reserved. Do not reproduce our content without permission – you can contact us at info@whatsonweibo.com.