In a statement issued by Chinese state media on June 30, Chinese regulators have laid out new rules for online videos. The regulations say that audio-visual content that shows any "display of homosexuality" will no longer be allowed and will be removed from China's video platforms. Recently, Chinese authorities have sharpened the regulations for online audio-visual content on sites such as Sina Weibo, where live-streaming was banned last week.
The China Netcasting Services Association (CNSA, 中国网络视听节目服务协会) has issued new rules that will further strengthen the regulations of online audio-visual content on Chinese platforms. The rules were released on the official CNSA website on June 30, and disseminated by official media outlets such as China News, Xinhua, Global Times, and others.
Chinese news outlet The Paper reported that one of the new regulations concerns the removal of online content that "displays homosexuality" ("展示同性恋等内容").
Recently, Chinese authorities have sharpened online regulations. One June 22, regulators halted live streaming on various platforms including Sina Weibo, iFeng and ACFUN. The State Administration for Press, Publication, Radio, Film and Televsion (SAPPRFT) issued a statement saying the ban came into effect because these sites were "not complying" with existing online regulations and for "promoting negative comments" ("宣扬负面言论的社会评论性节目").
Weibo responded to the ban with new rules for posting online audiovisual content. According to Technode, users who do not hold a "proper license" may no longer upload audiovisual content, and users who stream movies, TV shows and similar programs will need to hold a permit for public broadcast.
The latest rules issued by Chinese regulators on June 30 concern online audiovisual programs such as online dramas, short clips, online films, cartoons, documentaries, and others.
The rules say that all online content "should adhere to the correct political direction, and strive to disseminate contemporary Chinese values" ("互联网视听节目服务相关单位应坚持正确的政治方向,努力传播体现当代中国价值观念").
Any 'programmes' that are not in line with the regulations will reportedly be deleted. This includes any videos that "are harmful to the country's image" or, in any way, "endanger national unity and social stability."
The regulation specifies that "luxurious lifestyles" should not be promoted, and that any detailed manifestations of violence cannot be depicted.
About sexuality, the rules state that online audio-visual content should not "display abnormal sexual behavior, such as incest, homosexuality, sexual perversions, sexual assault, and other sexual violence." It also specifies that "unhealthy love and marriage situations", including extramarital affairs or one-night stands, or promiscuity should not be promoted.
On Sina Weibo, netizens respond to the new rules, saying: "Why is homosexuality considered 'abnormal'?" and "Is this a joke? Are you turning homosexuality into a disease again?"
"I don't support the politically correct stupid LGBT supporters," one person says: "But isn't it a bit feudal to call homosexuality 'abnormal sexual behaviour'?"
The LGBT Weibo account "Gay Voice" (@同志之声 "Comrade's Voice") responded to the latest regulations with the following statement through their official Weibo page:
"This afternoon, the China Netcasting Services Association convened in Beijing with the members of council to consider and adopt the "General Rules for Examining Audiovisual Programs" (网络视听节目内容审核通则), and publish them. In these general regulations, "homosexuality" is described as "abnormal sexual relations and behavior." This has caused great uproar amongst people in the entertainment industry and among LGBT supporters. Since April 2001, China has already removed homosexuality from the "Standard for Classifying Mental Disorders." In China, homosexuality is now regarded as a normal sexual orientation, and homosexual relationships and sexual behaviors are just as normal as heterosexual relationships and sexual behaviors, and should not be treated differently. The false information in these regulations has already caused harm to Chinese homosexuals – who are already subjected to prejudice and discrimination. We, as the Gay Voice, along with other LGBT organizations, hereby want to correct the error in these regulations, and hope that the relevant authorities will correct it. We have the legal right to defend ourselves."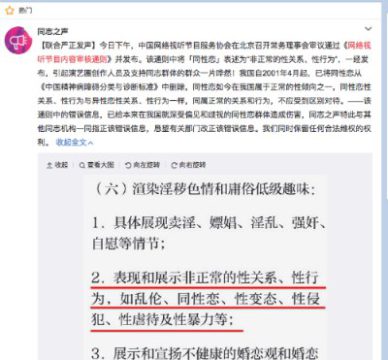 By Manya Koetse
Diandian Guo
Follow @whatsonweibo
©2017 Whatsonweibo. All rights reserved. Do not reproduce our content without permission – you can contact us at info@whatsonweibo.com.